Holland America Line - MV Noordam 1938 & Westerdam 1946 - Passenger-Cargo Liners
Please Note: Firefox and some other search engines are not suitable – Use "Internet Explorer" for this page to load perfectly!

Click the logo above to reach the ssMaritime FrontPage for News Updates & "Ship of the Month"
With Reuben Goossens
Maritime Historian, Cruise'n'Ship Reviewer, Author & Lecturer
Please Note: All ssMaritime and my other related ssMaritime sites are 100% non-commercial and privately owned sites. Be assured that I am NOT associated with any cruise or shipping companies or travel/cruise agencies or any other organisations! The author has been in the passenger shipping industry since May 1960 and is now semi-retired, but continues and I hope that the well over 635 features on Classic Liners and Cargo-Passengers ships I have written on will continue to provide classic ship enthusiasts and continue a great deal of information and pleasure!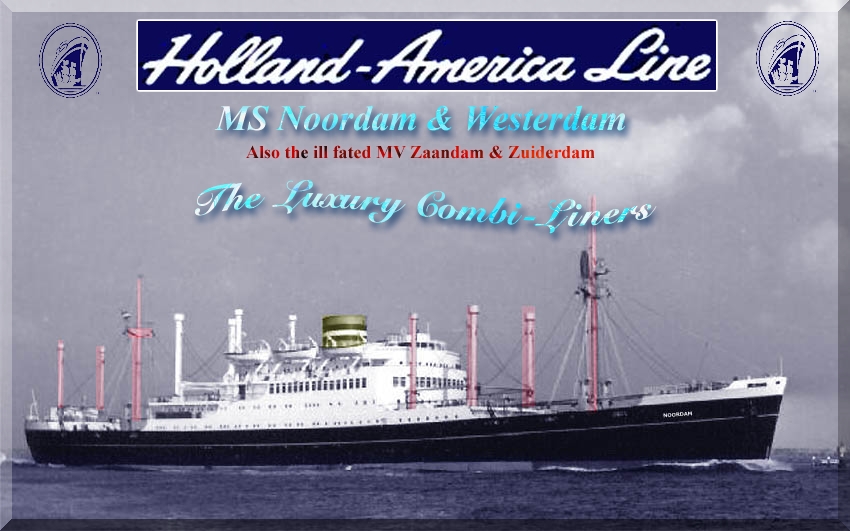 Introduction:
Holland America Line (HAL) had considerable success with their trio of Combi-Liners, such as the MV Dalerdijk, Delfdijk and the SS Duivendijk all having been built in 1929/30, and thus HAL decided that they would build four superior ships with far superior and more luxurious passenger facilities!
The result was an excellent design of a freighter hull, but with a stylish amidships superstructure that offered four decks! These ships were perfectly balanced and HAL employed the same interior stylists as those that were used for the great SS Nieuw Amsterdam, thus their interiors were going to be above anything else ever seen on any other Cargo-Passenger Liner previously! Therefore, as the MS Noordam was the first of the four ships to be built and whilst she was in construction, promotion was well on the way, and she was being touted as being the "Miniature SS Nieuw Amsterdam."
SS Noordam I:
Although the MS Noordam was not the first HAL ship to have this name on her bow, for on September 8, 1901 the 12,531 GRT (Gross Registered Ton) the first SS Noordam was launched and when completed, she departed on her maiden voyage from Rotterdam to New York on May 1, 1902. The main difference between the first and the second Noordam being, is that the Steam Ship Noordam I was a full-fledged Three Class Passenger Liner, but like all ships at her time, her day serving passengers across the Atlantic was interrupted by the Great War (WW2) and although she returned to her duties for three years after the WW1, she was chartered for two years to Swedish North America Line and renamed Kungsholm in 1922, then in 1924 she returned to HAL under her original name and operated her Trans-Atlantic services. But late in 1927 she was laid up and in May 1928 she was sold to be broken up.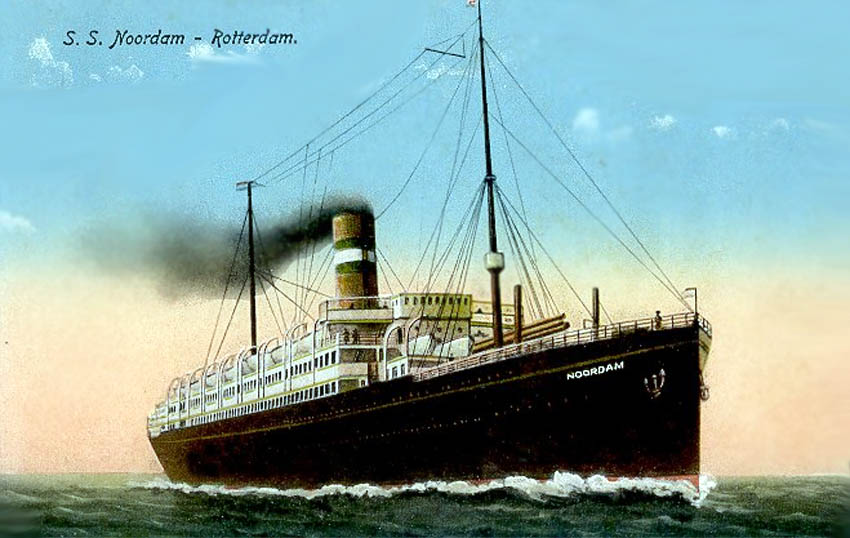 A fine colour Holland America Line postcard of the SS Noordam I
MS Noordam II:
The Noordam was launched in 1937 and she was completed and delivered to HAL on September 15, 1938. In Rotterdam she was made ready for her passenger-Cargo service, thus she was manned and fully stocked. The fully booked MS Noordam departed Rotterdam on her Maiden Trans-Atlantic Voyage on September 28, 1938 for her nine-day voyage to New York. She arrived in New York Harbour on October 7, and she slowly sailed past Manhattan and all the main shipping terminals and headed for her berth at Hoboken.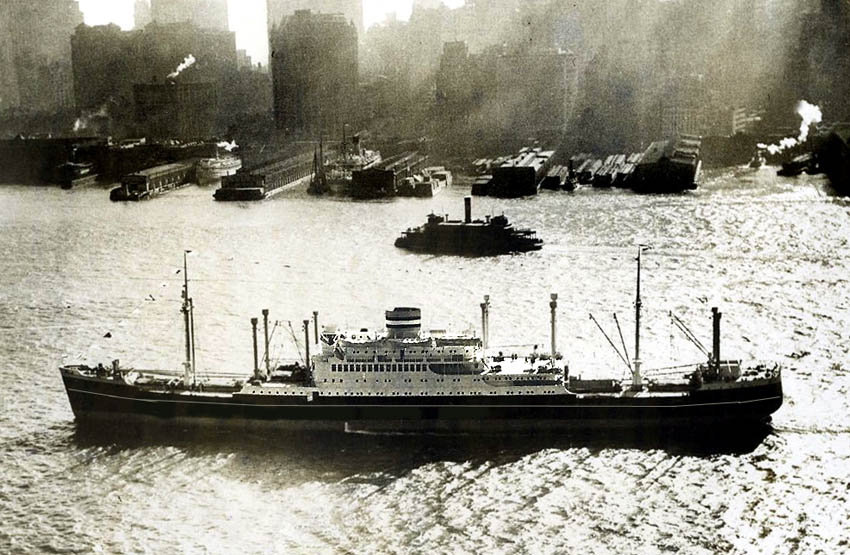 The Noordam is seen arriving in New York whilst on her maiden voyage on October 7, 1938
Interiors:
Ships like the Noordam and her sister the Westerdam appealed to the wealthy passenger, who in were general somewhat older and enjoyed a quieter way of life, but demanded luxurious surroundings, fine food and comfortable cabin accommodations. All cabins except one were located outside having one or two windows, and all cabins had a private bathroom with a single or twin washbasin, WC, bathtub or a shower. Cabins were available as a single, twin bedded and those with a third upper Pullman, making a twin a three-berth cabin.
The Ships Public Venues were certainly luxurious if not sumptuous, such as the Main Lounge on Promenade Deck that offered sheer elegance, style, luxurious comfort and an intimate atmosphere of the kind that is simply not found on the larger and faster passenger liners.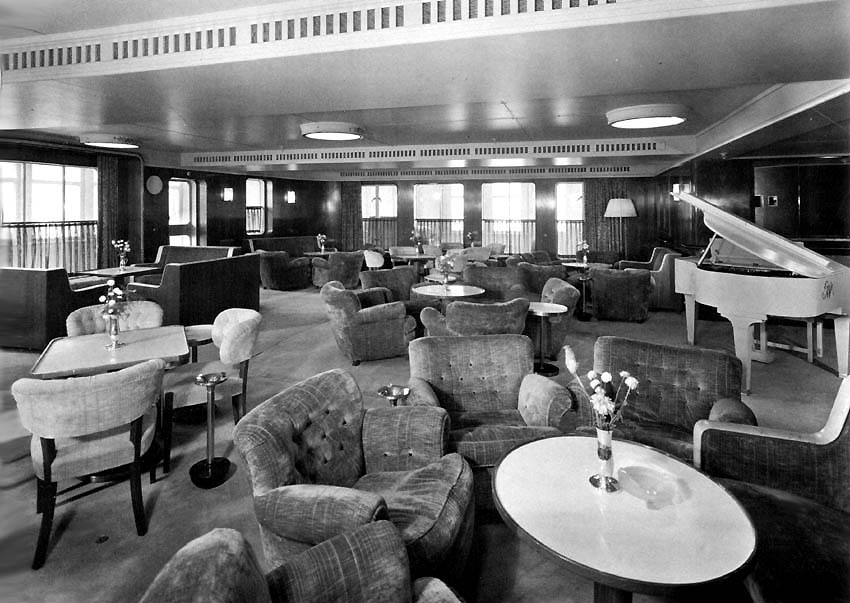 The elegant Main Lounge
As per usual on the ships of this type, there was little entertainment available for there were no bands or professional musicians hired to entertain the guests, as is done by cruise companies these days, etc. However the Lounge did have a Grand Piano and one or more of the crew was usually an able pianist and not to forget often several of the passengers could also play. On occasions, one of the passengers could be an American or Dutch movie, singing star or a musician, and at times they would delight their fellow passengers with a treat!
Of course there was always the Gramophone in the Lounge to enjoy some music or to dance to in the evening. On various nights a movie would be shown and these were always welcome. Games were readily available, such as horseracing and other games, such as the ever popular-game of cards, and the exterior deck games. Aft on Promenade Deck was the sumptuous Smoking Room that also had a splendid Verandah overlooking the aft deck, which had a more modern deluxe style of décor that resembled some of the styles planned for Holland's new largest Liner, the Grandiose SS Nieuw Amsterdam that was only commissioned a number of months prior to the Noordam.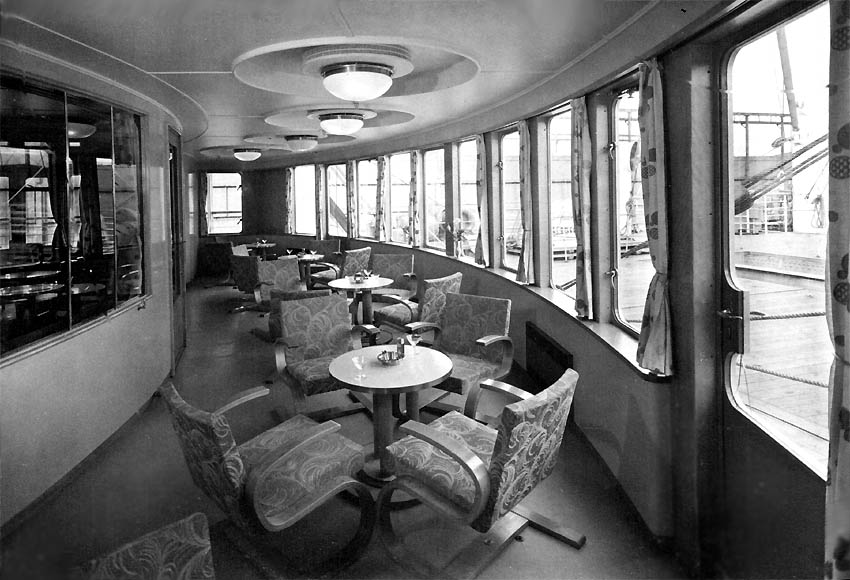 The Smoke Room Verandah was of the more modern style compared to the rest of the ship
The ship had a spacious Cocktail Bar that ran along the side of Promenade Deck and like all the public venues, this long venue also featured fine timbers along the walls and the Bar, and ample leather finishes, making it an elegant venue, thus a room for delights and sheer enjoyment. There was no doubt that these ships offered excellent accommodations, with all cabins being perfectly furnished having every possible comfort including all cabins having private facilities. All this, made these ships "a new concept for their time." And the Noordam and her sister the Westerdam certainly gave HAL passengers the very best quality means of leisurely ocean travel between Europe and the United States in their days!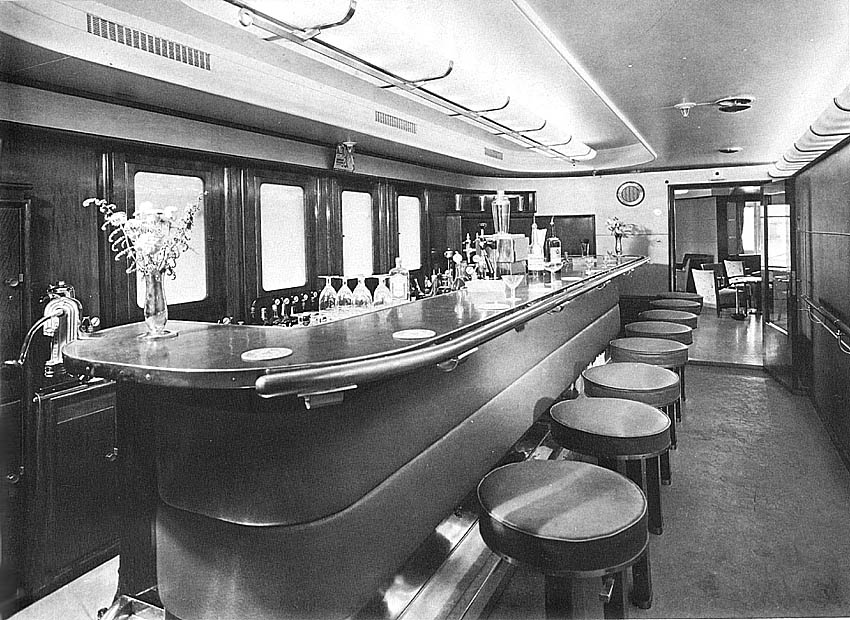 The Ships Cocktail Bar
The MS Noordam continued on her Trans-Atlantic service until the war commenced, but HAL decided to take her out of harms way, thus from 1940 she was transferred to the "Java-New York Line" to operate on the Dutch East Indies (Indonesia) service. She departed on her first voyage to from New York to Java on March 14, 1940, this continued until April 1942.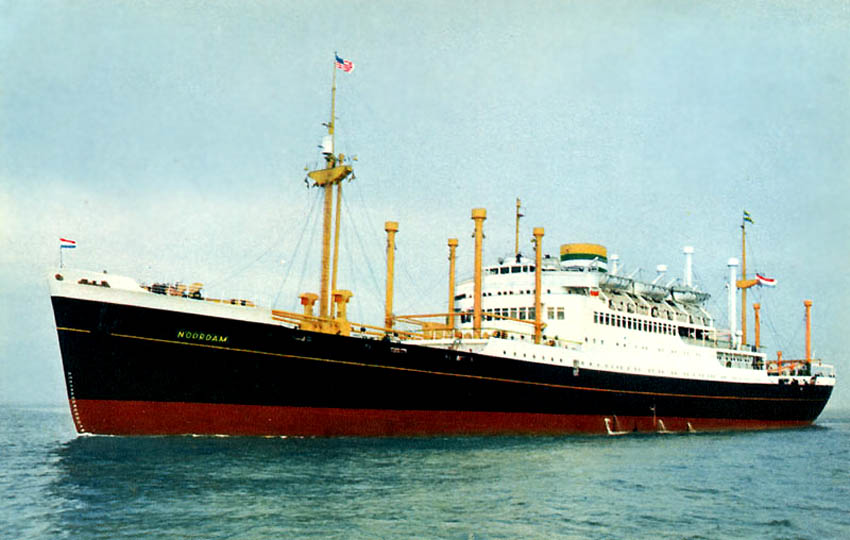 A fine HAL postcard of the MS Noordam
War Duties:
In 1942, the MS Noordam was converted to troopship by the Bethlehem Steel Corporation in San Francisco, with the ship being made suitable to transport up to 2,400 troops and she was made available to the US War Shipping Administration and sent into action and transporting troops where needed. However, throughout her War duties, she remained managed by HAL and the ship was always operated by a Dutch crew as well one or two American Officer's who would be in charge of the military on board. During the war, the Noordam transported an amazing 70,000 servicemen and other individuals to their respective destinations.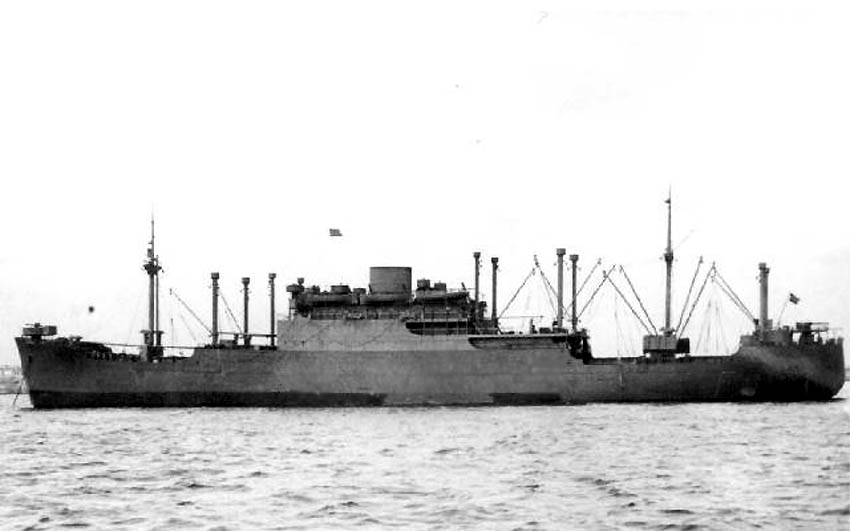 Here wee see a very different Noordam in a war footing for the Allied forces
Photographer unknown - *Please see the photo notes at the bottom of the page
Thankfully, the Noordam remained completely undamaged and surprisingly came home in one piece, unlike her two tragic sisters the Zaandam (1939) and Zuiderdam (1940), whose story will be told a little later.
The ship received some modifications in 1944 and her Promenade Deck windows were re-installed again. However, there were big problems in the Dutch East Indies and it was worsening between the Dutch and the Indonesians who were now fighting for independence.  Thus on October 16, 1944 Colonel Mattheus de Bruyne a Commander of the U.S. Marines was given the job to form the first Dutch Marine Brigade. On November 17, 1945 Colonel Mattheus departed on the MS Noordam from Norfolk Harbour USA, with a complement of 105 Officers and 1,939 service men and they sailed to the Dutch East Indies. They crossed the Atlantic and headed via the Mediterranean Sea, Suez Canal and Ceylon and finally the ship reached Indian waters. But sailing directly to Batavia was not possible, thus it was decided to head for Port Swettenham and Penang first. Then finally on December 30, 1945 the Noordam was able to dock in Tanjung Priok and the next day the Colonel de Bruyne received permission to have the ship to berth in Batavia, thus they departed and finally arrived at their destination being Batavia, today's Jakarta.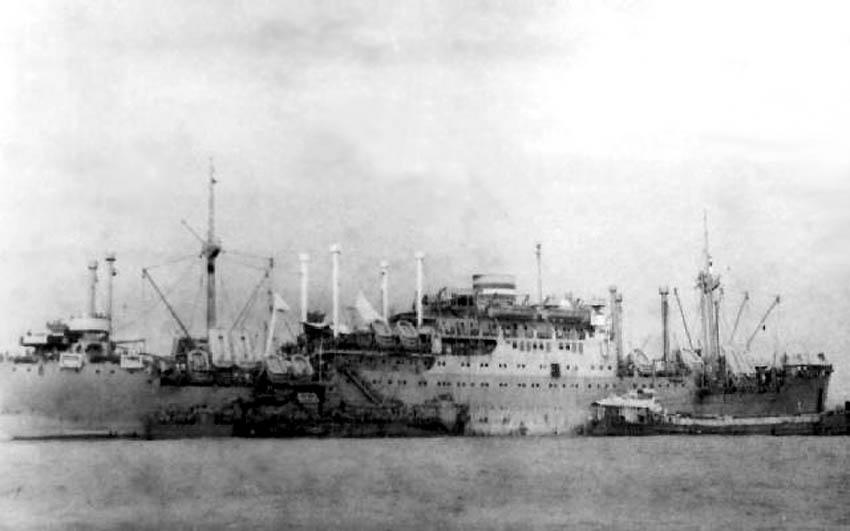 USTS Noordam seen at anchor somewhere in the Dutch East Indies
Photographer unknown - *Please see the photo notes at the bottom of the page
The Colonel found that there was considerable disagreement between and the British regarding the approach of the situation at hand with the people of Indonesia. Soekarno spread his propaganda and wanted to independence of Dutch East Indies no matter what!
Colonel Mattheus de Bruyne returned to the Noordam and sailed to Singapore. There his troops remained there until the end of February 1946 for he decided that he would not get involved as the British were hindering the situation!
Returned to Normal Duties:
Having returned home in 1946 to Rotterdam she headed to her original builders were the Noordam would receive a complete restoration. The work that was done on her was obviously done with such great care that she came out her refit looking very much like her original beautiful self, the magnificent ship that was built, but with improvements. In July 1946, the greatly loved MS Noordam was ready to return to her regular HAL Trans-Atlantic service from Rotterdam to New York.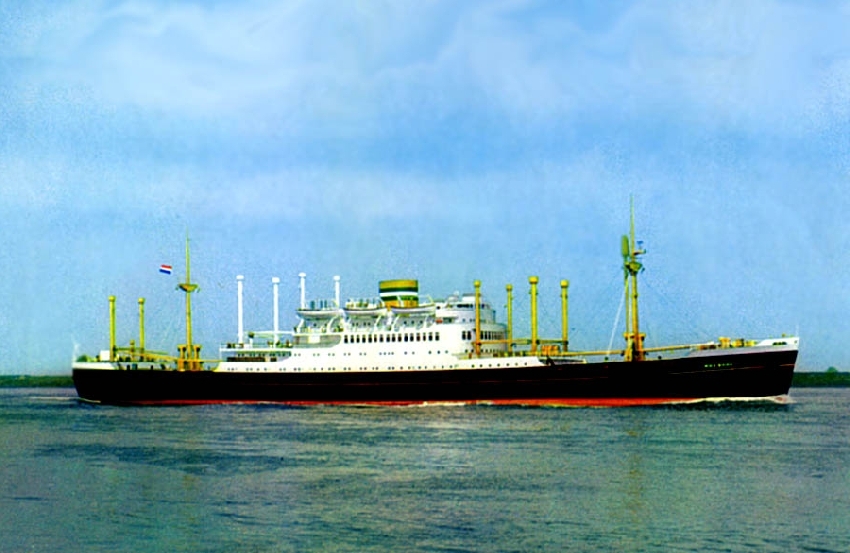 MS Noordam is seen looking just wonderful as a Cargo-Passenger Liner once again
The MS Noordam sailed on and continued with so many happy passengers for a further seventeen years. However, like so many passenger and cargo ships of that time she became caught up with what I call the; "1960's Shipping Vs Containerisation and Air Travel disease!" Thus the MS Noordam II was withdrawn from duties early in 1963.
Then, on April 27, 1963 the Noordam was sold to "Cirlomar S.A." of Panama being a subsidiary of Costa Line. As it turned out, she was obtained for the sole purpose to charter her to the well-known French Shipping Company "Messageries Maritimes."
She was given a refit as they required her to be a Two Class liner accommodating 106 First Class and 96 Tourist Class passengers, when the ship was completed she was renamed MV Oceanien. Externally the only difference were the removal of the famed HAL gold ribbon around her hull, and all her masts and kingposts, etc were now painted white and her funnel was a hideous painted black! Also her tonnage was now registered as being 10,276 GRT.
The MV Oceanien departed Marseilles on August 2, 1963 on her maiden voyage, sailing via the Panama Canal for Papeete - Tahiti, heading for beautiful Port Vila in the New Hebrides and Noumea French New Caledonia.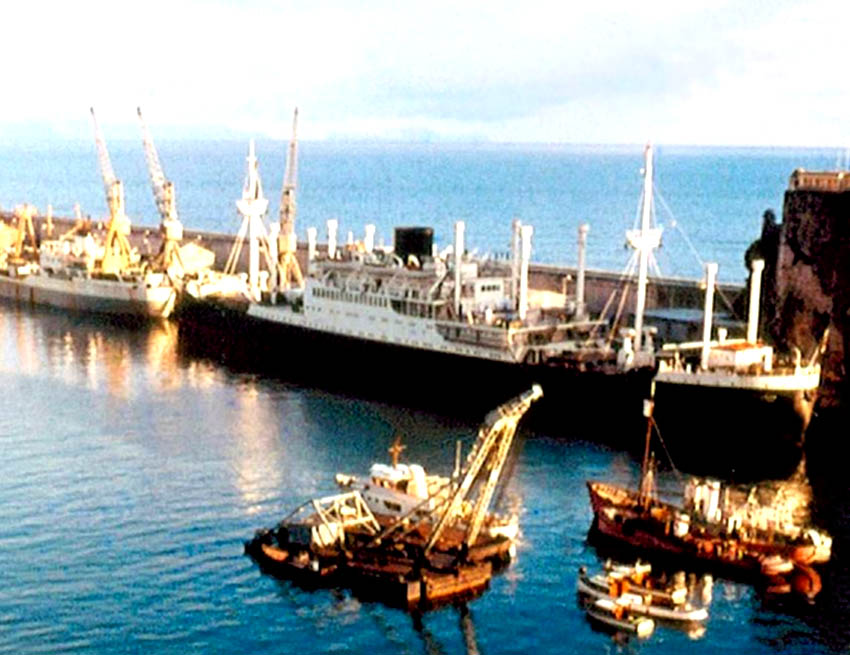 The French France, Pacific to Australia Liner MS Oceanien
Photographer unknown - *Please see the photo notes at the bottom of the page
However, on second departure from Marseilles on November 19, she operated on the same itinerary, but she continued to Sydney Australia, arriving in Sydney on January 9, 1964 and she departed on the 12th. This beautiful ship remained on the Marseilles, Pacific to Australia service until her final departure from Marseilles on March 23, 1966 and she headed for Papeete, Port Vila, Noumea and Sydney, where she arrived May 22. Having had her usual stay in Sydney she departed on from Sydney on May 24, and she headed back to Marseilles. However, once she arrived there her charter agreement officially expired and the ship was returned to her owner; Cirlomar S.A.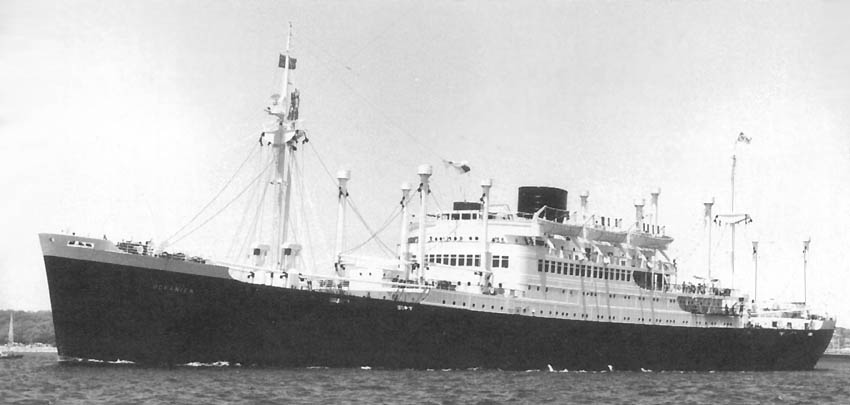 Although her owners sought for other companies to charter her, but none was found as the climate was just not right for she would require far too many alterations, either to be rebuilt into a cattle carrier, or a fulltime container ship! Thus it was decided to dispose of her and she was sold to a Yugoslav ship breaker named "Brodospas" in December 1966, and a little later she departed Marseilles and sailed for Slit, arriving there on February 14, 1967 where the former MS Noordam was demolished.

****************************

MS Noordam Specifications

:

Builder:............................................P. Smit Jr., Rotterdam.

Yard:……………………………………………………..515.

Launched:………………………………………………April 9, 1938.

Delivered:………………………………………………September 15, 1938.

Maiden Voyage:…………………………………….September 28, 1938.

Tonnage:……………………………………………….10,704 GRT - 1946 10,726 GRT.

Length:………………………………………………….152.89m – 501.7ft.

Breadth:…………………………………………………19.62m - 64.4ft.

Draught:………………………………………………..9.34m - 30.7ft

Engines:…………………………………………………Burmeister & Wain Diesels by builder.

Screws:………………………………………………….Twin Screws.

Speed:…………………………………………………..17.5 Knots.

Passengers:…………………………………………..125 - 1946 148 all First Class.

Crew:…………………………………………………….123.

****************************

MS Westerdam I:
A wonderful photograph of the MS Westerdam
The Westerdam was in construction in a construction dock by Wilton Fijenoord at Schiedam, Rotterdam before the war and she was floated out (launched) on July 27, 1940 and she was placed in lay-up. But on August 27, 1940 during an allied air raid the ships was sunk. But the ship was seized by the Germans with the aim to complete her as fast as possible thus they raised her. The Dutch Resistance again sank the Westerdam in September 1944 in order that the Nazis could not use her against the Dutch and her allies!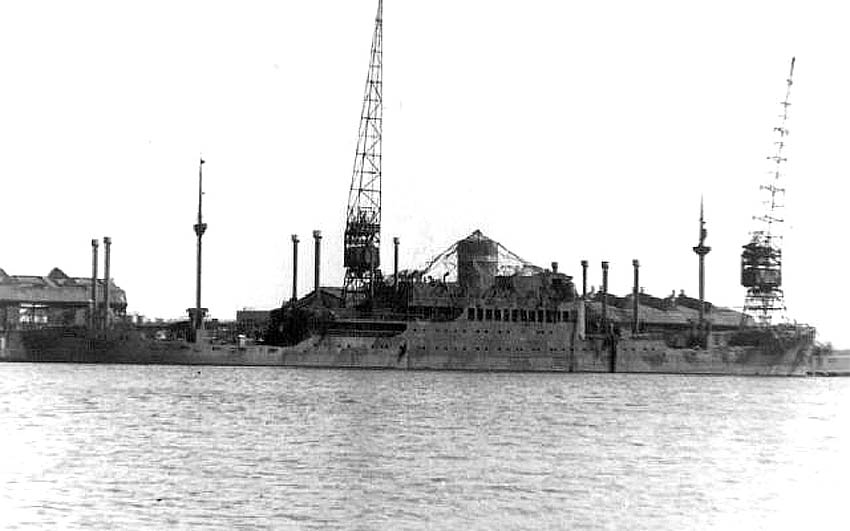 A sad image of the MS Westerdam seen laid up in 1940
Finally, after the War the unfinished Westerdam was refloated on September 13, 1945 and when possible, she was taken to Wilton Fijenoord at Schiedam to be completed as was originally intended, for the Germans had made a number of changes and these had to be corrected. Her Interiors had to be com0letly up to the standard of the MS Noordam including the cabins, all being located outside with windows, except on cabin which was inside, but all cabins had private facilities with a WC, bathtub or a shower.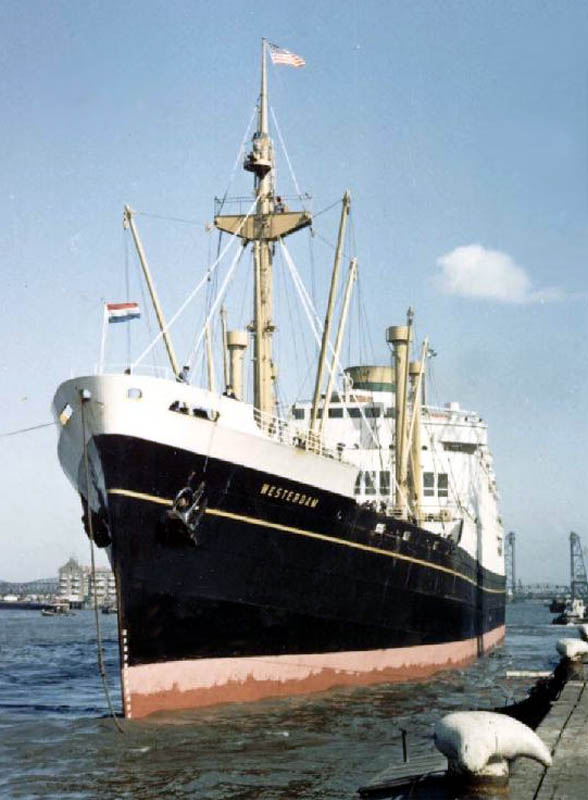 The Westerdam is seen returning to her berth from her trails
Once this fine ship was completed, she undertook her trails and she ran at a good 16 knots. She was delivered to Holland America Line, just a little late, well a good six years late, but finally on June 28, 1946 she departed with a full load of passengers from Rotterdam for her maiden Trans-Atlantic nine-day voyage to New York, where she like the Noordam would be berthed at Hoboken.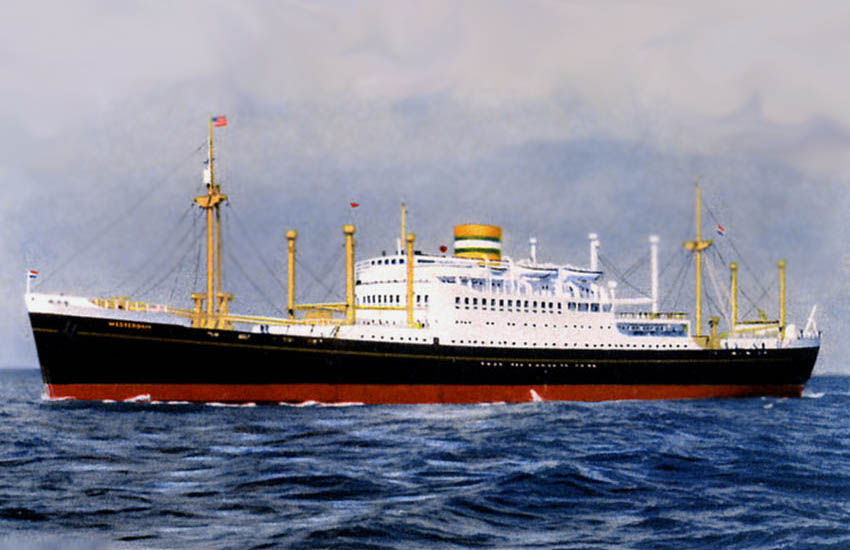 A HAL postcard of the MS Westerdam I
The Westerdam sailed faithfully for the HAL for a good 18 years and transported many happy and satisfied passengers, but the time had come of that evil 1960's disease; being "conventional cargo-passenger shipping Vs the Containerisation and the air travel" and for that reason HAL was forced to lay her on November 21, 1964 in Rotterdam and placed her on the market.
She was soon sold to a Spanish ship breaker and in 1965 the Westerdam was broken up in Alicante, Spain.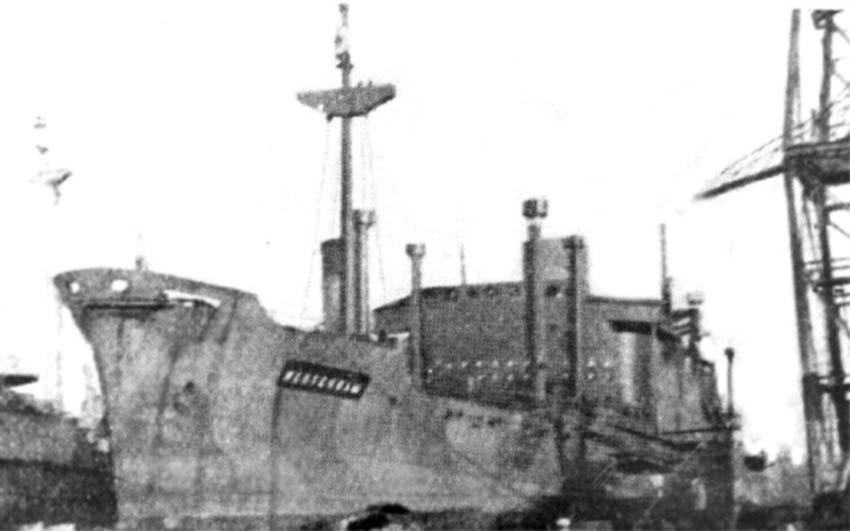 The Westerdam at the breakers Yard

****************************

MS Westerdam Specifications

:

Builder:………………………………………………….Wilton-Fijenoord, Schiedam.

Yard:……………………………………………………..663.

Launched:………………………………………………July 27, 1940 - floated out.

Maiden Voyage:…………………………………….June 28, 1946.

Tonnage:……………………………………………….12,149 GRT.

Length:………………………………………………….157.9m – 518ft.

Breadth:………………………………………………..20.1m - 65.9ft.

Draught:………………………………………………..9.52m - 31.2ft.

Engines:…………………………………………………2 x M.A.N. type Diesels by builder.

Screws:………………………………………………….Twin Screws.

Speed:……………………………………………………16 Knots.

Passengers:…………………………………………..134 all First Class.

Crew:…………………………………………………….126.

****************************

The Two WWII War Casualties:

MS Zaandam:

This ship was originally intended to be named "Schiedam" but it was changed to Zaandam, being the second of the four sisters to be built. She was constructed by Wilton-Fijenoord at Schiedam near Rotterdam and as she was floated (launched) in her construction dock and completed on December 21, 1938. Having been made ready and manned, she departed on her maiden voyage on January 7, 1939 from Rotterdam to New York.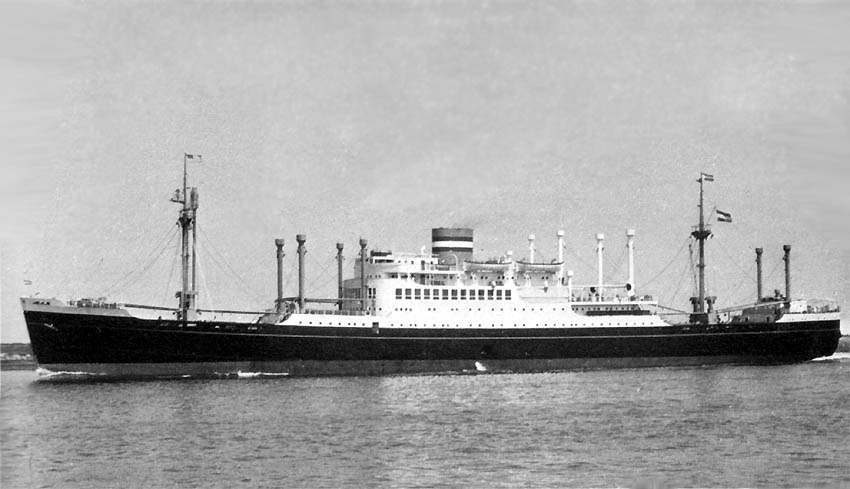 MS Zaandam seen whilst she was on her Trans-Atlantic voyages
She operated her Trans-Atlantic schedule for just over a year, but due to the War, she also was transferred to the America to Java service and she made her first voyage from New York on April 27, bound for the Dutch East Indies.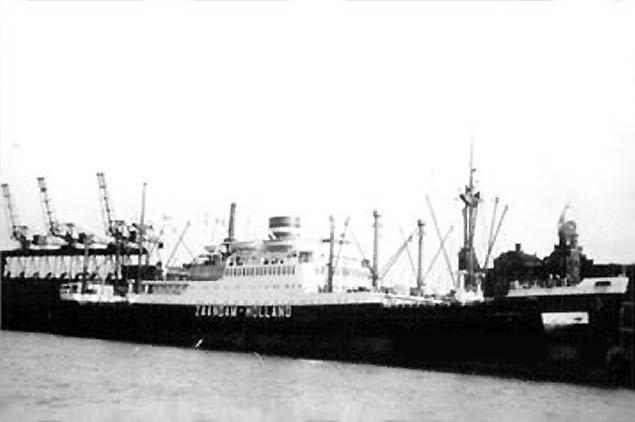 A rare photo of the Zaandam seen in New York whilst on the Java service

In 1942 she was converted into a troopship and she was sent to serve the allies forces.

With the Zaandam being in Cape Town, she was being loaded with 8,600 ton of chrome and 600 ton of general cargo. However boarding the ship for this voyage back to the USA were survivors of various ships that had been sunk of the coast of Africa who were dropped off in Cape Town. British crewmen would obviously join British ships, but the Americans were placed on MS Zaandam for the voyage home.

The survivors of the American ships that had been sunk by German U Boats, were from ships such as the "Chickasaw City," "Firethorn," "Swiftsure," "Examelia" and "Coloradan" and they all boarded the MS Zaandam on October 21, 1942 and she departed Cape Town under the command of Captain Jacob Stamperius, with 57 Dutch crew, 1 Doctor, 33 stewards from the Dutch Indies, 18 American service men as well as 1 each a Danish and a Swedish trainee officer, all stationed on board and 169 passengers, thus a total complement of 299 and all headed for the USA.

But tragedy was about to strike the Zaandam, for on November 2, as she sailed into the waters north of Brazil the officers on duty on the Bridge were completely unaware that the enemy was waiting. For waiting for the Zaandam was the U Boat, U-174-300 that had already attacked and sank two other ships in the region and the Zaandam was about to be her third victim. It would be on this day when the Zaandam sailed about 400 miles north of Brazil that the U-174 fired a torpedo and it hit the ship close to the engine room. Then about nine minutes later a second torpedo slammed into the ship and tragically she went down within just two minutes later.

From the 299 people on board that included survivors from the other five American ships already attacked and sunk it was horrific. One hundred and thirty people were killed in the attack and sinking and according records, this included; 18 men from the Chickasaw City, 8 from Firethorn, 17 from Swiftsure, 21 from Examelia and 15 from Coloradan, these poor men suffered such an hideous event not just once, but twice and finally gave their lives!

Two of the lifeboats containing 106 survivors were picked up on November 7, by an American tanker the SS Gulfstate; however two of the men who were terribly injured sadly died whilst aboard the ship. Another lifeboat with a further 60 survivors made it to land near Barreirinhas in Brazil where again due to hardship two of their survivors died of exposure.

As it turned out, there were three men were unaccounted for and they were presumed lost. However, miraculously 82 days after the Zaandam went down, these three men that included one man from the Firethorn were picked up by the USS PC-576. And astonishingly all three survived, being on an open raft at sea for one of the longest periods of time in history!

Specifications

: Built in Yard 663. Engines: 2 x M.A.N. Diesels by Builder. Propellers: 2. Speed: 18 knots. Tonnage: 10,909 GRT Length: 502ft - 152.89m. Width: 64ft - 19.62m. Draught: 31.2ft - 9.52m.

****************************

MS Zuiderdam:

Sadly the Zaandam is the only ship of the four ships to be built that never sailed a single voyage, as she was never completed due to the War and her fate was a rather sad one. She was to have been the last of a fine quartet of ships to have been built, but only two really continued as successful ships, the MS Noordam and Westerdam.

In 1941 she was floated (launched) in her construction dock and soon after she was laid up at Schiedam unfinished, but as the Germans had invaded, the Allied bombing began over Rotterdam and in August 28, that same year the Zuiderdam was hit during a British air raid and she partially sank and she was tilted to port.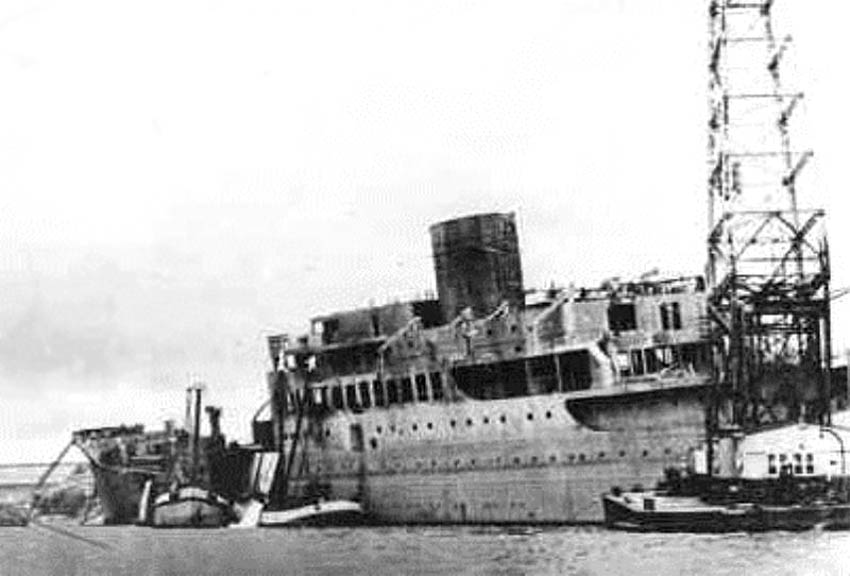 The Zuiderdam is seen partially sunk at Schiedam during the War
Just under a year later on July 25, 1942 she was raised up and had the water pumped out of her and she was cleaned up and was taken to Rotterdam where she was laid up and she remained there until 1944.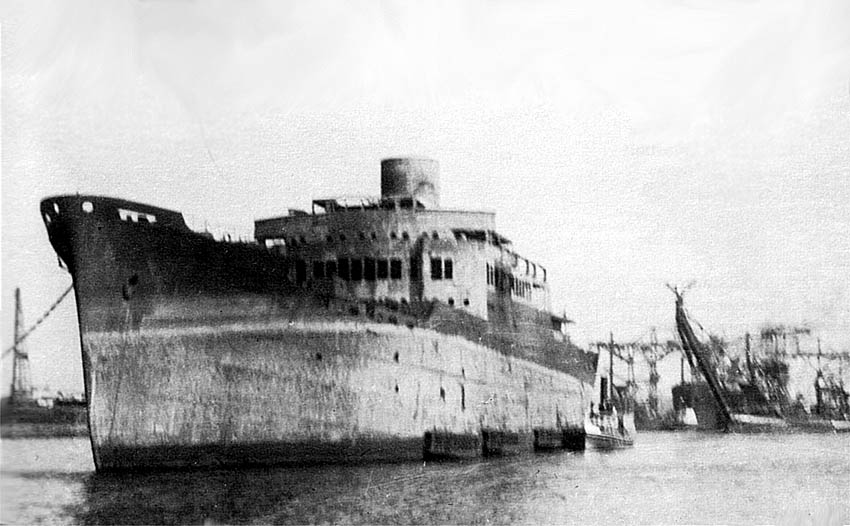 Here we see her after she was raised again and she is now laid up in Rotterdam
However in due course she was taken to the a place where she could be sunk in the channel where ships would sail from the North Sea to Rotterdam, which is Called the "Nieuwe Waterweg" and she was sunk as a blockade ship near the Maassluis (the main lock), to stop any enemy ship entering! She was raised on November 15, 1946 and again laid up for assessment. However by 1948 it had been decided that she was simply not worth spending a great deal of money on for the damage was just too great. Thus she was sold to be broken up to a company in Ghent. She was taken there undertow on June 8, 1948 and the breakers by the name of Van Heyghen Fréres broke her up in due course.
Specifications: Built in Yard: 672. Engines: 2 x M.A.N. Diesels by Builder. Propellers: 2. Speed: 18 knots. Tonnage: 12,150 GRT Length: 518ft - 157.9m. Width: 65.9ft - 20.1m. Draught: 31.2ft - 9.52m.
****************************
Remembering Two of the Finest Luxury Combi-Liners Ever to have been Built!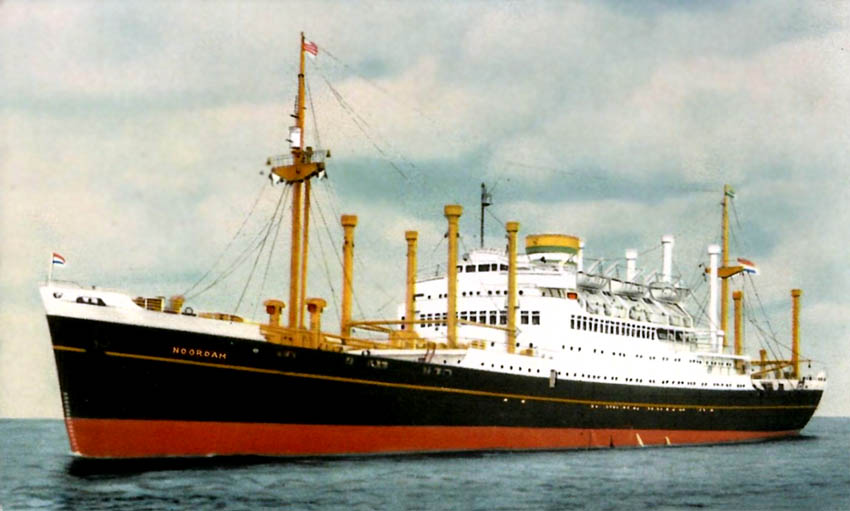 Above & below:
The MS Noordam and MS Westerdam they were the ultimate in perfection when it came to Cargo-Passenger shipping!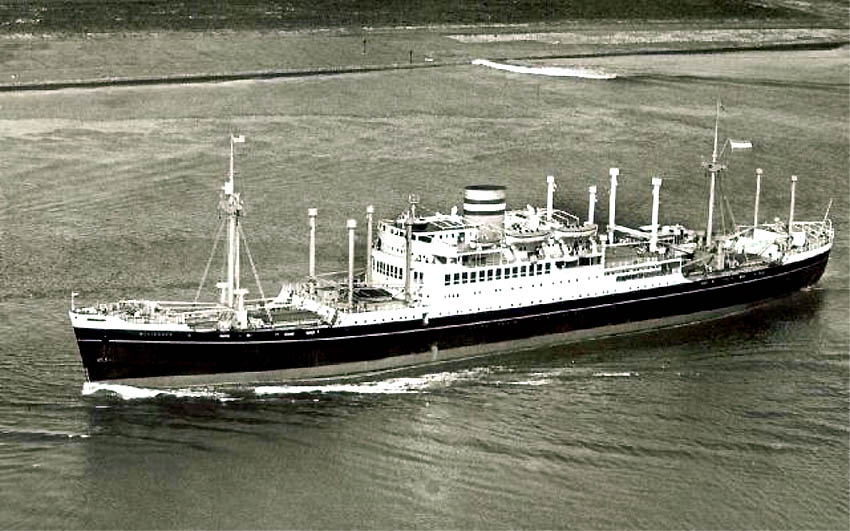 Also Visit … M.V. Dalerdijk, M.V. Delfdijk, S.S. Duivendijk INDEX:
Page One -                The Ships History & Photo Page.
Page Two -               Their Deck Plans.
And ...
Feature 2  -              The MS Noordam & MS Westerdam - This Page.
Feature 3 -                           The SS Diemerdyk & SS Dinteldyk.
"Blue Water Liners sailing to the distant shores.
I watched them come, I watched them go, and I watched them die."
****************************
Visit our ssMaritime Main INDEX
Where you will discover more than 635 Classic Passenger & Cargo-Passenger Liners!
ssMaritime.com & ssMaritime.net
Where the ships of the past make history & the 1914 built MV Doulos Story
Also visit my
"Save The Classic Liners Campaign"
Please Note: ssmaritime and associated sites are 100% non-commercial and the author seeks no funding or favours of any shape or form, never have and never will!
Photographs on ssmaritime and associate pages are by the author or from the author's private collection. In addition there are some images that have been provided by Shipping Companies and private photographers or collectors. Credit is given to all contributors. However, there are some photographs provided to me without details regarding the photographer/owner concerned. I hereby invite if owners of these images would be so kind to make them-selves known to me (my email address may be found on www.ssmaritime.com only), in order that due credit may be given.
ssMaritime is owned & © Copyright by Reuben Goossens - All Rights Reserved