Please Note: Firefox and some other search engines are not suitable – Use "Internet Explorer" for this page to load perfectly!

Click the logo above to reach the ssMaritime FrontPage for News Updates & "Ship of the Month"
With Reuben Goossens
Maritime Historian, Cruise'n'Ship Reviewer, Author & Maritime Lecturer
Please Note: All ssMaritime and other related maritime/cruise sites are 100% non-commercial and privately owned. Be assured that I am NOT associated with any shipping or cruise companies or any travel/cruise agencies or any other organisations! Although the author has been in the passenger shipping industry since 1960, although is now retired but having completed around 680 Classic Liners and Cargo-Passengers Ships features I trust these will continue to provide classic ship enthusiasts the information the are seeking, but above all a great deal of pleasure! Reuben Goossens.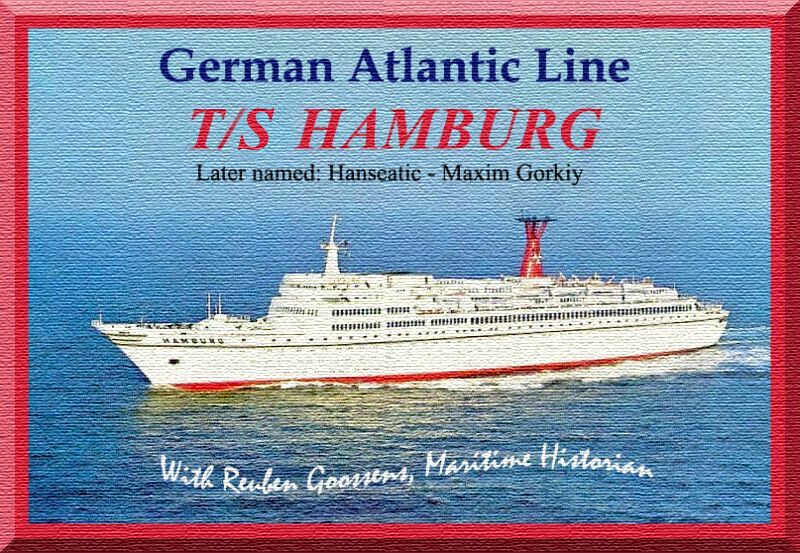 Please Note: All photographs and images are from the author's private collection, unless otherwise noted.
Part One
- The German Atlantic Line and their first two ships
Prior World War Two the Germans were famed for their grand Trans Atlantic liners and it had always been a battle between the British, the Germans and the French as they were always trying to outdo each other with bigger, more luxurious and ever faster ships. Then came the American's with the fastest Trans Atlantic liner in history, the magnificent SS United States, although she may not have quite measured up in the luxury department according to some, having been built entirely out of steel and aluminium. Although glamorous in many ways, for Europeans she was considered a bland ship without much interior appeal, but I believe she was, and is still a great ship indeed!
Now with WW2 concluded and the German fleet in tatters, the Germans had to rebuild their fleet. The German Atlantic Line was officially formed in 1958 when they purchased the magnificent RMS Empress of Scotland, which had been built and delivered to the Canadian Pacific Line on June 8, 1930 as the RMS Empress of Japan, but she was renamed in 1942 due to the war with Japan.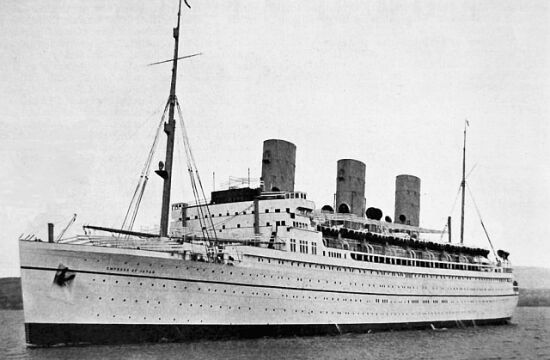 The three funnelled RMS Empress of Japan seen in the late 30s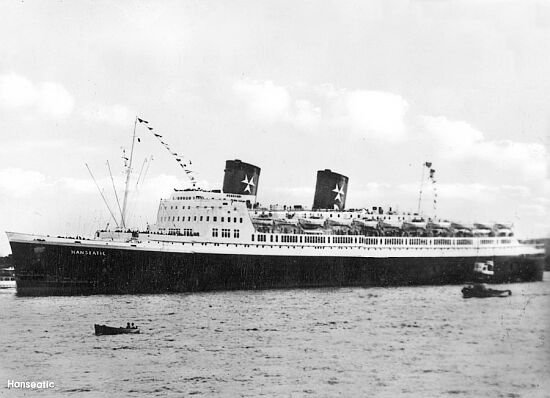 She was built as a three funnelled liner, but she looked grand with her lengthened and heightened superstructure
The Empress of Scotland was given a refit and was transformed into the magnificent SS Hanseatic. She entered into service between Germany and the USA. She commenced her maiden voyage from Cuxhaven, via Le Havre, Southampton to New York in July 1958. The next year, 1959 became the Companies finest year on the New York service. But soon competition with air travel would become more and more significant. In due course it was decided that the SS Hanseatic would spend more time operating on profitable cruise duties, and thus in 1965 she only completed eight round Trans-Tasman voyages.
Two fine SS Hanseatic Photographs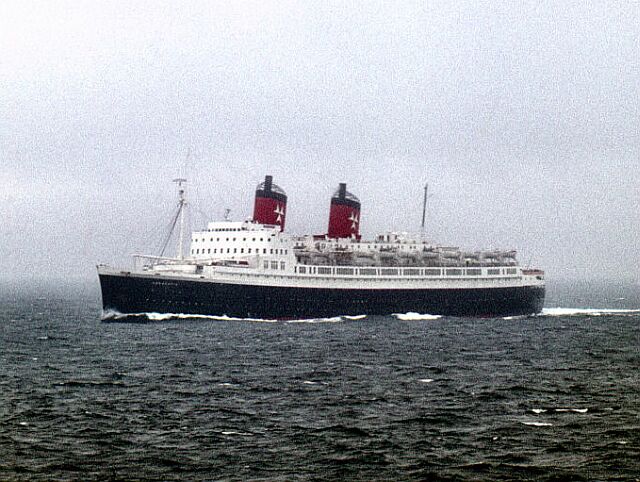 SS Hanseatic having departed from Southampton is seen in the Channel - February 1966
Photo by & ? David Meare
Photographs above and below by & ? copyright David Meare:
"In early 1966 whilst serving as Radio Officer on the tanker ST London Tradition (London & Overseas Freighter s Ltd) we were on passage from Tuapse on the Black Sea to Brunsbuttelkoog. We were approaching the Dover Strait in poor visibility and we saw that we were being overtaken at speed by a big ship. At first we didn't know which ship she was, as she was just a radar target. I put a long telephoto lens on my camera and waited on the bridge wing to take the first picture as she became visible at a distance. The poor visibility made the picture less clear but she looked magnificent. I changed to a smaller telephoto lens as she passed us and took the second and larger photo of the German liner SS Hanseatic. The next day as we passed off Cuxhaven we saw her in port."
Thank you David for these two fine photographs! Please note: These photographs are used with kind permission, but they are owned and protected under the international photo ? copyright laws by David Meare. They may not be copied or reproduced by any means and used on any media, be it for personal use, the net or another media. Just enjoy them!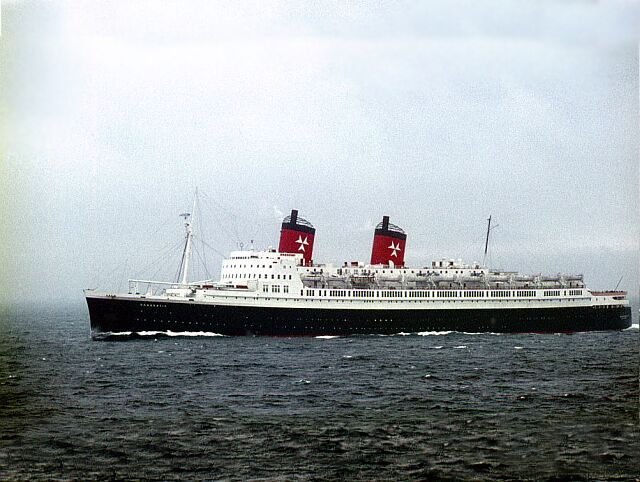 SS Hanseatic seen sailing for Cuxhaven Germany - February 1966, being her last year at sea
Photo by & ? David Meare
Sadly whilst berthed in New York, on September 7, 1966 the Hanseatic was badly damaged by fire which started in the engine room. She was towed back to Hamburg and laid up, however it was deemed that she was unsuitable to be repaired and on December 2, this once beautiful liner was sold to be broken up to Eisen & Metall AG in Hamburg.
With the loss of the Hanseatic (1) the German Atlantic Line had been searching for a new and suitable ship to replace her. They decided that they required a much newer vessel that was more suited to cruising and in 1967 they purchased the magnificent Zim Lines liner SS Shalom.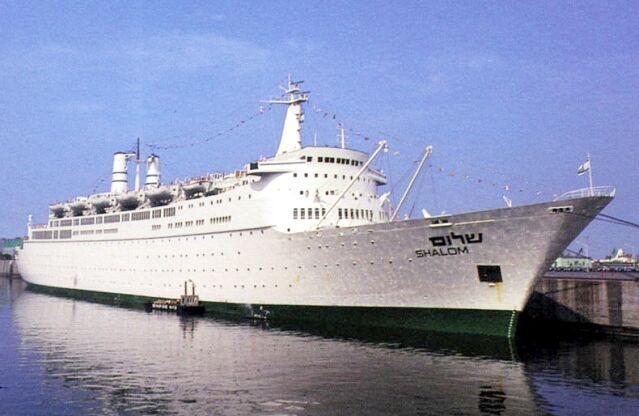 The Israeli Zim liner SS Shalom seen in July 1967 just before being purchased by German Atlantic Line
Photo by & ? Harry Wolf
Renamed Hanseatic (II) she was given a minor refit and she was placed on the Hamburg to New York service until 1969, after which she became a full time cruise ship.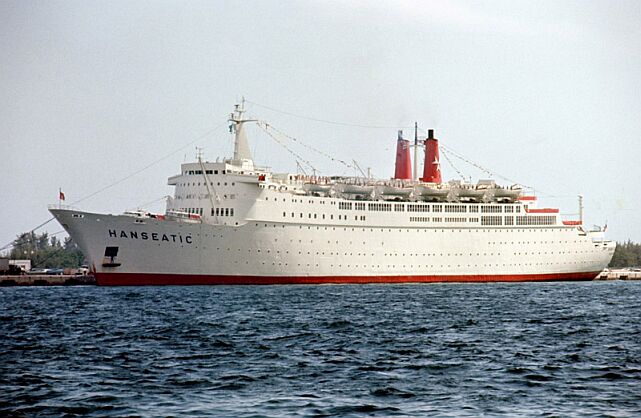 SS Hanseatic (2), ex Shalom
SS Hanseatic (II) proved a popular ship in so many ways and she eventually sailed side by side with the company's newest ship the TN Hamburg, until the company's eventual passenger shipping demise in 1974. The Hanseatic was sold in 1973 to become the Home Lines SS Doric.
Part Two
- TS Hamburg – Her story
The directors of the German Atlantic Line had already been discussing about a second ship in their fleet as far back as the early sixties and they had already commenced raising funds for a new ultra modern ship. They had concluded that their new ship should be 23,500 GRT and after a great deal of thought they selected a forward thinking and a well known German architect Georg Manner as well as a German Ship Yard in Hamburg to build the new vessel. It was to be an all German affair!
We know today that this of sheer genius would become the TS Hamburg, a ship that had one of the most unusual funnels ever seen on any ship! It sort of looked like if there was a flying saucer hovering just over top of it, and that (as well as her spacious interiors) is why she was called "The Space Ship." However, many do not know that there were several other funnel styles were considered; including a rather dull regular funnel as well as twin up pipes, like those on the SS Rotterdam, but shorter. But as plans drew to a close a whole new look came into being and the Hamburg became a one of a kind ship, and there would never be another ship like her!
In November 1966 the new ship was officially ordered to be built by "Howaldtswerke" in Hamburg Germany.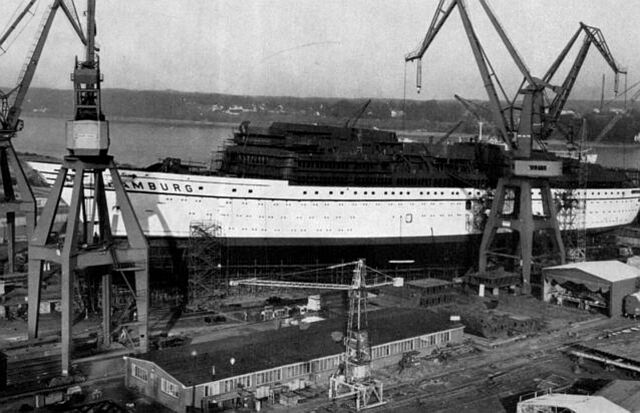 Hamburg is seen with her name proudly painted on her bow, as she nearing the time for her launching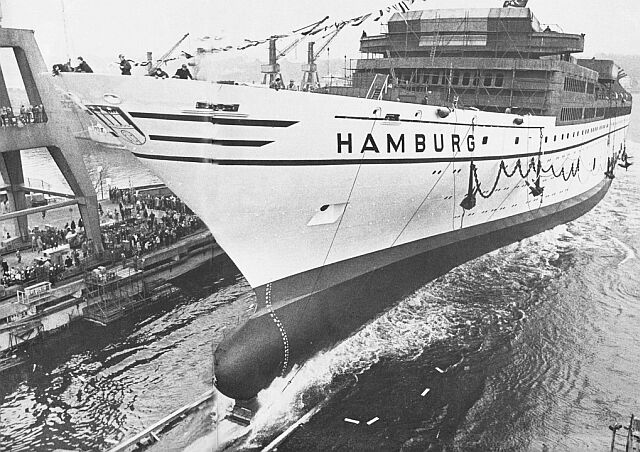 The Ultra modern German cruise ship is launched on February 21 1968
TS Hamburg accommodated 652 passengers and a crew of 403. After being fitted out and completed she ran her sea trials in February 1969. The Hamburg was officially delivered to the German Atlantic Line on March 20, 1969 and she commenced her maiden voyage from Cuxhaven, to the South Atlantic on February 28.
The Hamburg was designed to operate Trans Atlantic voyages and cruises. It was for that reason accommodations were extremely comfortable with all amenities featuring private facilities, with around 95% having full sized bath tubs. All cabins had and closed circuit television and telephone. It is clearly recorded that she ship had a unique "tween-decks construction" the reason for this is that it allowed extra ceiling height in Lounges, etc. Her superior design allowed her to have vast open deck spaces as well as an indoor and a outdoor swimming pool.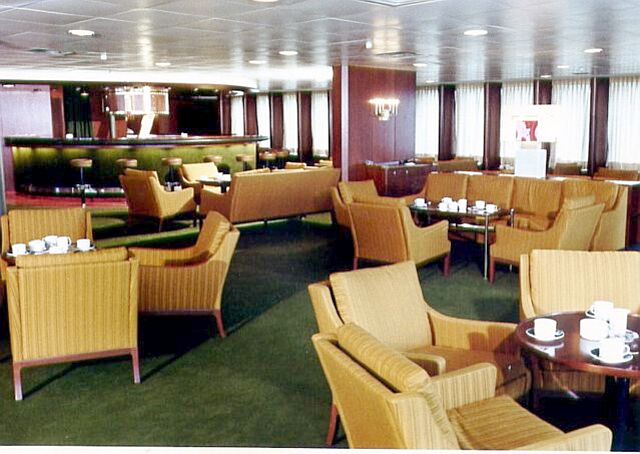 Atlantik Lounge
The TS Hamburg was noteworthy for being the very first German liner to be built since 1939, but sadly she was never really a successful ship for owners, the German Atlantic Line.

Deck Layout
T/N Hamburg specifications:
Builders:???? Howaldstwerke Deutsche Werft, Hamburg.
Yard No:?????????????????????????????? 825.
Cost:??????????????????????????????????? £5.6 million.
IMO:??????????????????????????????????? 6810626.
Launched:???????????????????????????? February 21, 1968.
Maiden voyage:???????????????????? March 28, 1969.
Tonnage:????????????????????????????? 23,500 as built – Maxim Gorkiy 24,962 GRT.
Propulsion:?????????????????????????? AEG Steam Turbines - Foster-Wheeler Boilers - 23,000 SHP.
Screws:??????????????????????????????? Twin.
Speed: ??????????????????????????????? 20 knots – Max 23 at trials.
Length:??????????????????????????????? 195m - 642ft.
Width:????????????????????????????????? 27m - 90ft.
Draught:?????????????????????????????? 8.27m - 27.2ft.
Passengers:????????????????????????? 790 as built – Maxim Gorkiy 840.
Crew:?????????????????????????????????? 340 as built - Maxim Gorkiy 400.
?????????????????????????????????????????? Fully air-Conditioned.
?????????????????????????????????????????? Stabilized.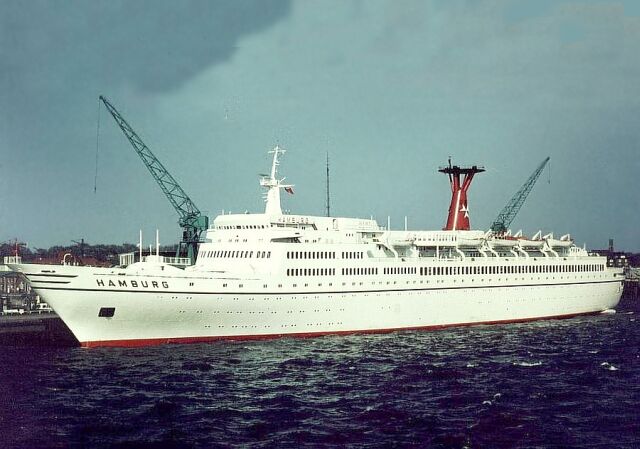 TS Hamburg seen in Rotterdam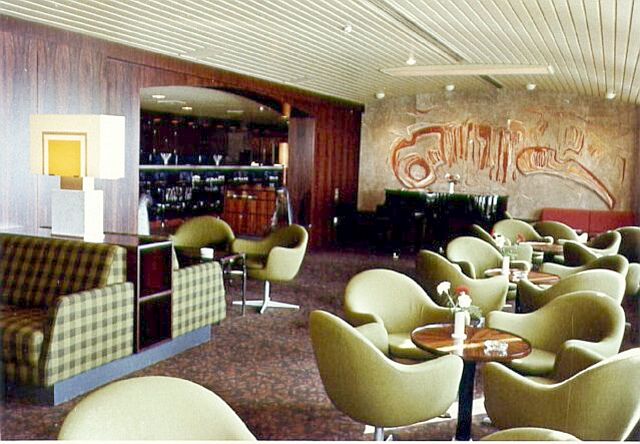 The Alster Club & Bar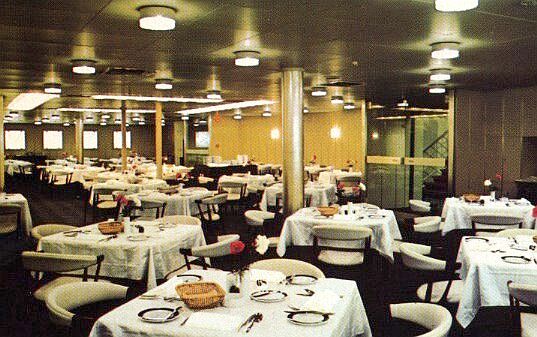 Munich Restaurant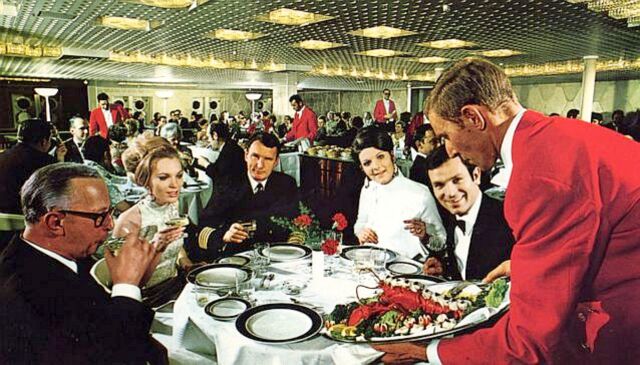 Hamburg Restaurant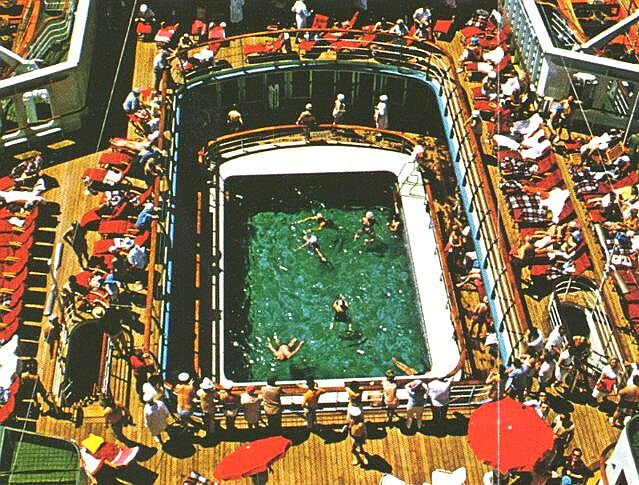 The Midships Pool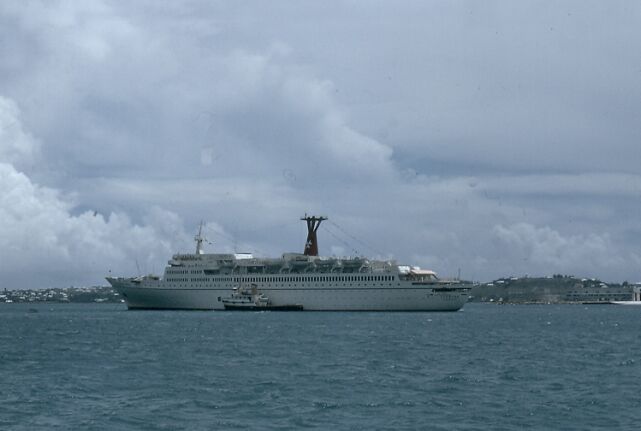 TS Hamburg the cruise ship
Photographer unknown – See photo notes at bottom of page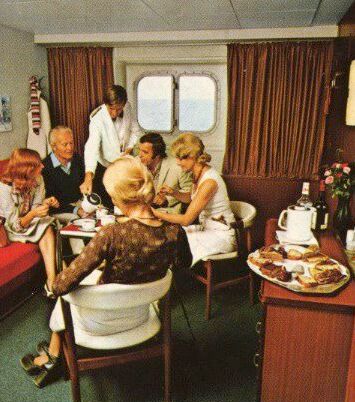 Outside two bedded cabin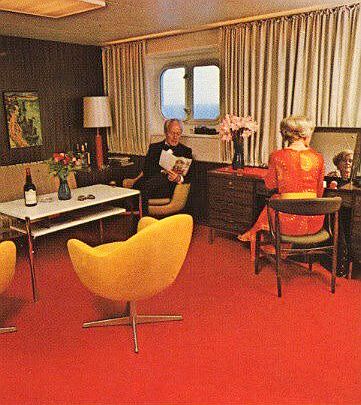 A Grand suite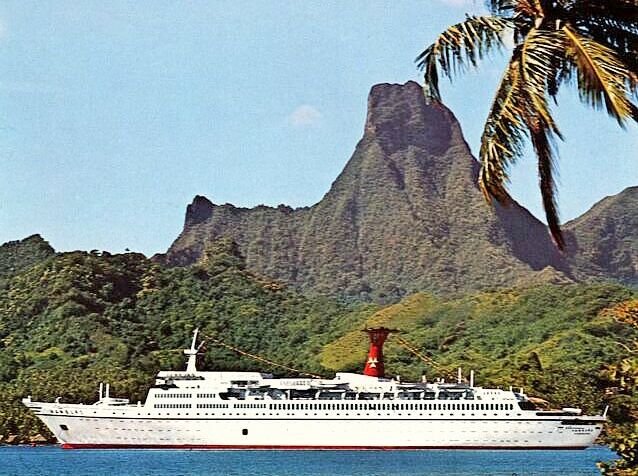 TS Hamburg seen at Bora Bora Tahiti during a world cruise
(From a brochure)
I due course I will add another page with her further details, but in the meantime I will conclude with her final days, for this fine ship has now left all our shores for good!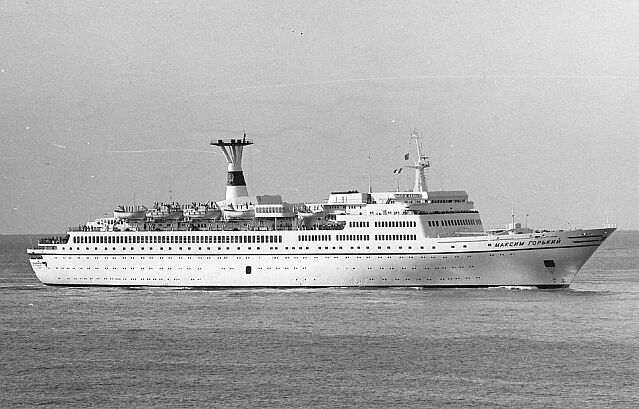 Sold in 1974 to the Black Sea Shipping Company and renamed - Maxsim Gorkij / Maxim Gorkiy
Company photo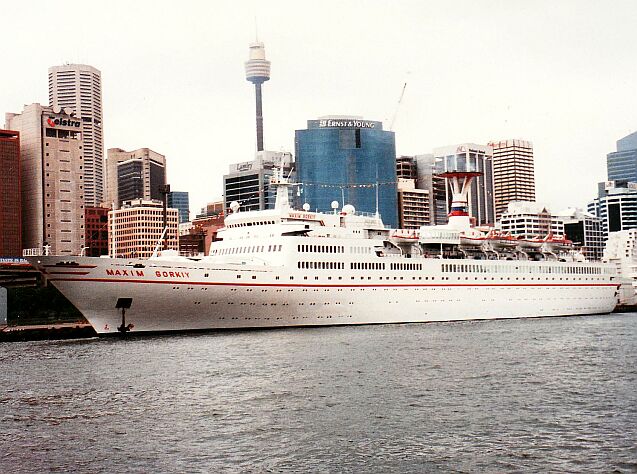 Maxim Gorkiy seen during a world cruise at Sydney's Darling Harbour in 2000
Photograph by & ? Reuben Goossens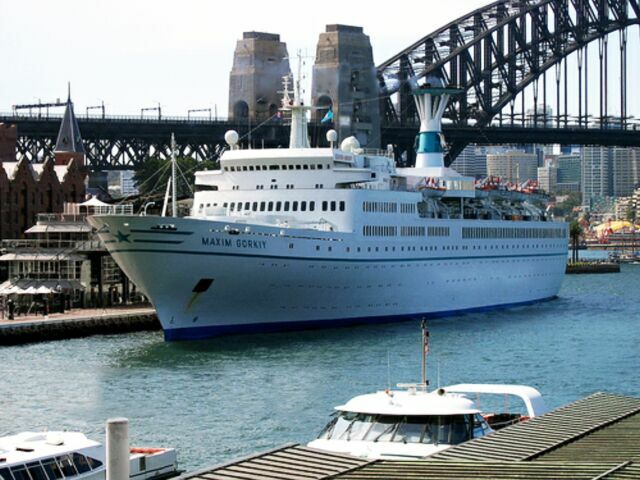 Sydney – International passenger Terminal - Maxim Gorkiy on yet another world cruise in 2007
Photograph by & ? Kosta Specis
Having had a notable career with various charters, sadly toward the end of her days she was to become Marco Polo II and become part of a revived Orient Line, but that did not eventuate. Then, there were moves in Hamburg to have her become a hotel and a maritime museum as she was the last of the great German ships left in the world, but the authorities simply did not play ball, and in addition the financial situation was not on their side as well. Thus sadly in she was sold for 4.2 million Euros to "Priya Blue" being an Indian Alang breaker who renamed her Maxim M. She headed via the Suez for Alang and was beached early in the morning on February 25, 2009 and breaking up soon commenced.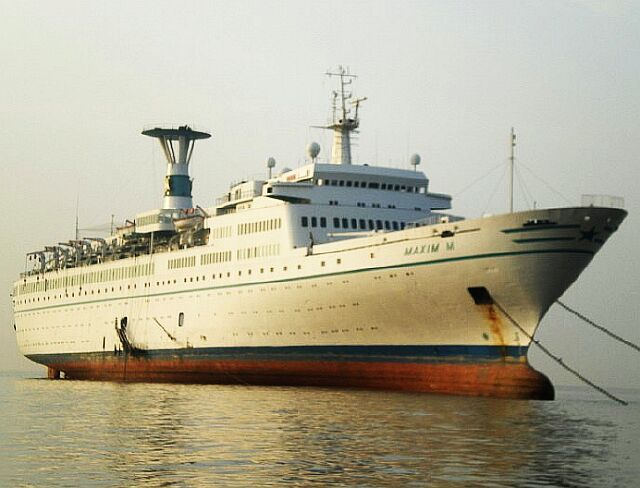 Maxim M is seen beached at the same beach that broke up SS Norway (Blue Lady) "Priya Blue"
Photo provided by Michel Perrin
Such a modern and a magnificent ship that had so many more years left in her went far too soon!
Three YouTube Video's to watch:
Video One: - SS Hamburg. It is in German but a great viewing!
Video Two: - Maxim Gorkiy seen in Dry Dock at Blohm & Voss Hamburg
Video Three: - Maxim Gorkiy as seen from the MS Amadea on 30.09.2008,
"Blue Water Liners sailing to the distant shores.
I watched them come, I watched them go and I watched them die."
****************************
Visit our ssMaritime Main INDEX
Where you will discover around 680 Classic Passenger & Passenger-Cargo Liners!
ssMaritime.com & ssMaritime.net
Where the ships of the past make history & the 1914 built MV Doulos Story
Please Note: ssmaritime and associated sites are 100% non-commercial and the author does not seek funding or favours and never have and never will.
Photographs on ssmaritime and associate pages are either by the author or from the author's private collection. In addition there are some images and photographs that have been provided by Shipping Companies or private photographers or collectors. Credit is given to all contributors, however, there are some photographs provided to me without details regarding the photographer or owner concerned. Therefore, I hereby invite if owners of these images would be so kind to make them-selves known to me (my email address can be found at the bottom of the page on www.ssmaritime.com), in order that due credit may be given.
ssMaritime is owned & ? Copyright by Reuben Goossens - All Rights Reserved