The "French Line" S.S. Île de France - 1927 to 1960
Please Note: Firefox and some other Search Engines may not be suitable
Use Google Chrome for this Web Page to load perfectly!

Please Note: All ssMaritime and other related maritime sites are 100% non-commercial and privately owned, thus ssmaritime is NOT associated with any shipping company or any other organisation! Although the author has worked and been involved in the passenger shipping industry for well over 60 years, but due to his old age and poor health, he was forced to retire. Yet, he has completed well over 1,435 Classic Liners, Passenger-Cargo Liners as well as humble converted C3 converted Migrant Liners, which has transported countless thousands of folk to the new world, as well on vacations'. I trust the features online will continue to provide Classic Liner and Ship enthusiasts both the information they are seeking, but more so provide a great deal of pleasure and relive many happy memories!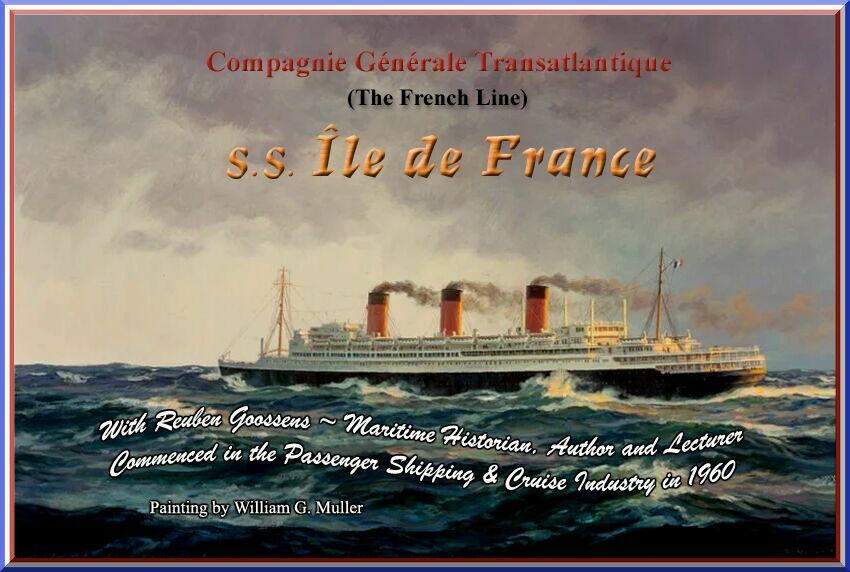 Please Note: Postcards, photographs & other images are either from the author's private collection or from my supporters.
Thus a very special thank you to three very special ssmaritime supporters for sending me their wonderful
photographs & images for I could not have completed this feature to this point.
Gerrit de Weerd (NL), David Dougherty (US) and Jean-Piere Crozier (FR).
I am sorry but some of the images shown may not be of the highest quality, but they are the best that were available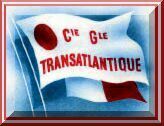 The official logo of "Compagnie Générale Transatlantique" also known as the "French Line"
Page One
Introduction:
In 1912 "Compagnie Générale Transatlantique" - the French Line's only four funnelled liner was the magnificent 23,666 GRT (Gross Registered Tons), S.S. France (II) and she was known for her sumptuous style and had become known as the "Versailles at sea" as her interiors were so grandiose and she was likened to be more like a Palace!
But unlike the British, at this time the French were not so concerned with speed for now it was all about constructing new super luxury liners and that was going to be the trend for their new Liners.
The "French Line" decided that they would order four new ships, and each ship was to be completely unique and different from each other. The first being the 34,569-ton S.S. Paris completed June 1921, the second the smaller 17,759 GRT, S.S. De Grasse completed August 1924. The third being the ship in question, the 43,153 GRT, S.S. Île de France, and later the grandiose 79,280 GRT S.S. Normandie completed in May 1925.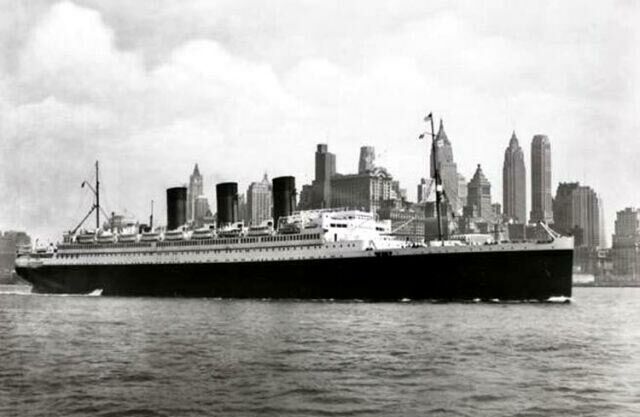 The magnificent S.S. Paris seen departing New York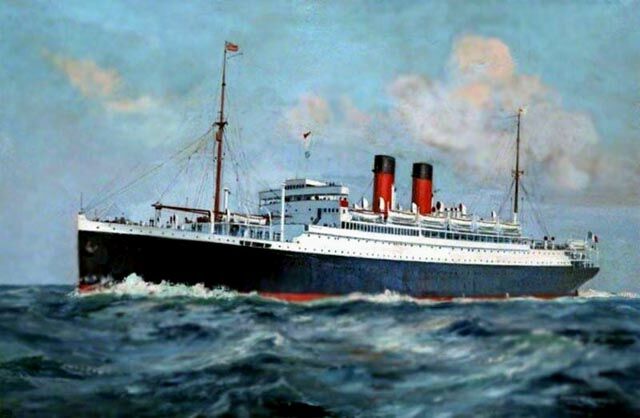 Painting of the more intimate liner the S.S. De Grasse
S.S. Normandie is seen down the page after her completion in 1935
Construction to Completion of "
Île

de France":

The construction of "Île de France" was an agreement signed between the "French Line" and the French Government in November 1912. The ship that would become the "Île de France" was to be built by the "Ateliers et Chantiers de Saint-Nazaire Penhoët" shipyards at Saint-Nazaire, France. However due to World War One her, as well as other ships had their construction halted until the conclusion of the war, and she was finally laid down in 1925.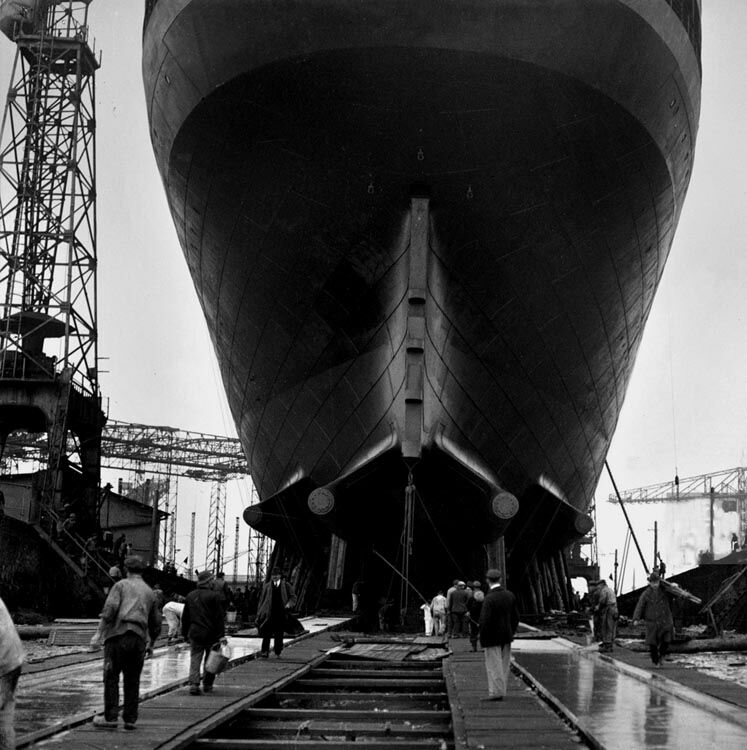 A fine view of her stern not long before her launch date
With a massive crowd present (which can be seen below) this great new liner was officially named "Île de France", and with a bottle of fine French Champagne she was officially launched on March 14, 1926.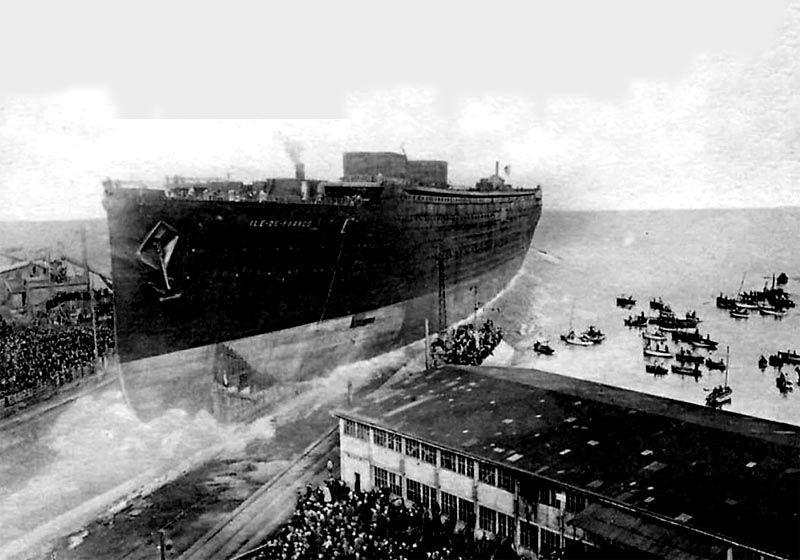 Here we see a massive crowd at her launching on March 14, 1926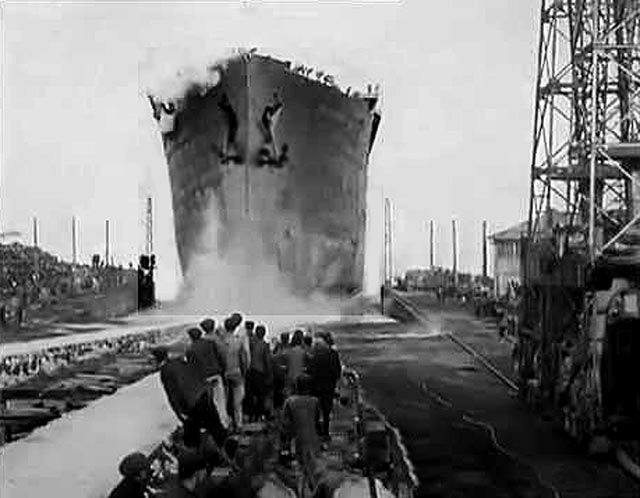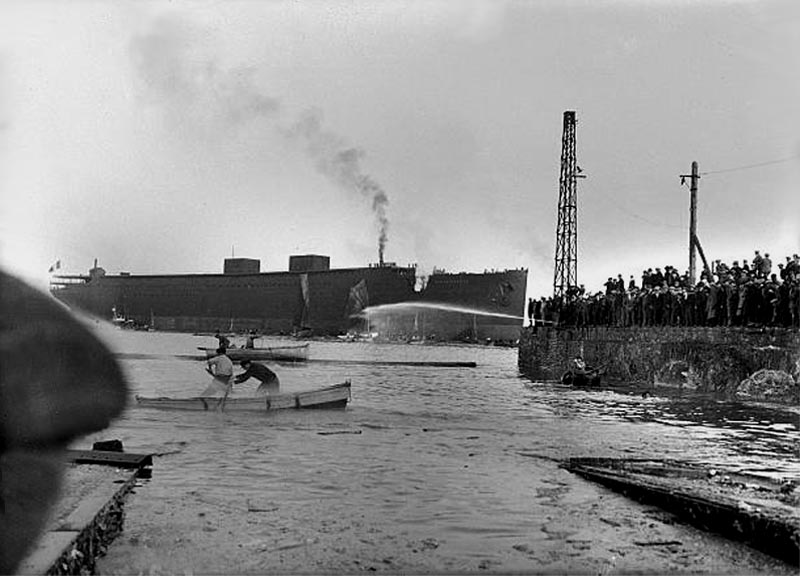 Finally she is afloat and ready to go to her fit-out berth
As soon as the "Île de France" had entered the water she was taken under tow and was taken to the builder's fit-out berth, where she was completed, with her construction costing a total of US$10,000,000.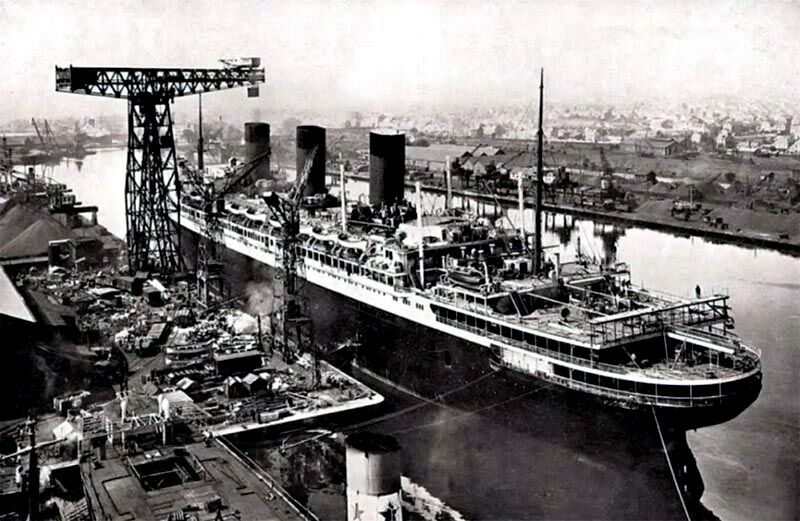 With her funnels fitted she is beginning to look like a stately liner
It would take a good 14 months of fitting her out until she was finally completed, and finished she was 43,153 GRT. Upon completion she left the shipyards and headed off for her official sea and speed trials on May 29, 1927 during which she reached an excellent speed of 25 knots maximum.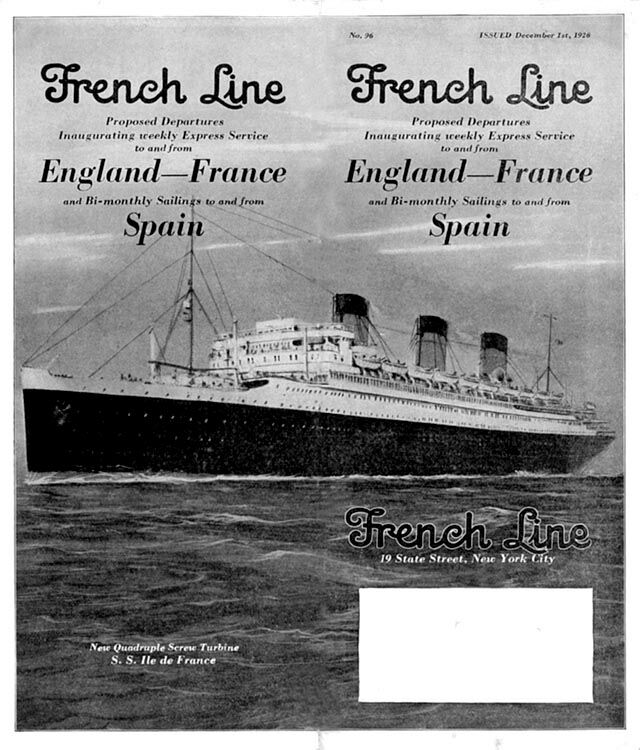 This schedule was released in December 1926 and included
the "Île de France's" maiden voyage in June 1927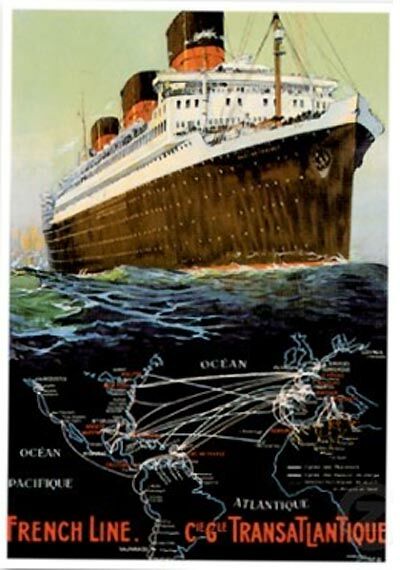 An advanced poster promoting the S.S. Île de France
"Île de France" was given an interior that was very different to any ship before her, as it had been decided that she would be featuring a new type décor, known as the "Art Deco" style. This certainly turned out to be a great move by the "French Line" for the ship became a massive success and beside her massive popularity, she would influence interior design for other ships for the next decade.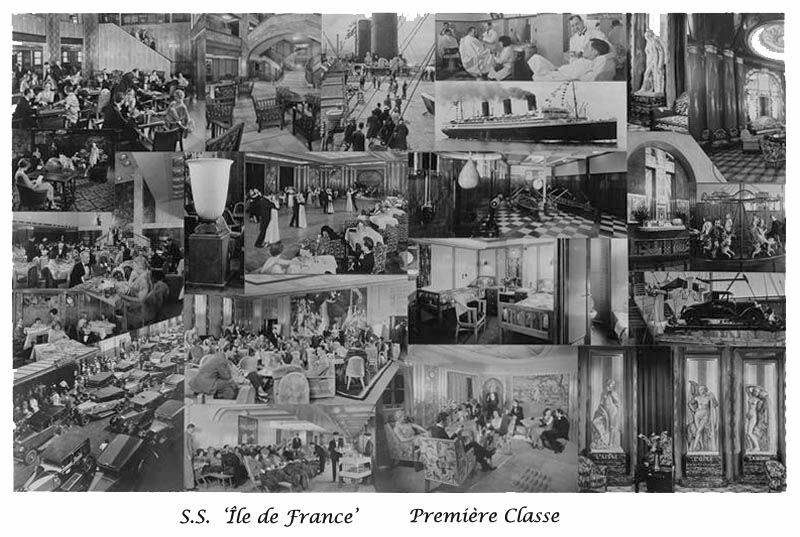 A French Line postcard featuring most of her First Class public venues, suites and decks
She offered a wide range of accommodations for 537 passengers in First Class, 603 in Second Class, and 646 in Third Class, all being superbly cared for by an excellent highly qualified crew of 800 men and women.
Île De France - Starboard Cutaway:

Maiden Voyage:
When she was delivered to her owners at Le Havre she was made ready for departure. Having been fully crewed and stocked she departed on her maiden voyage fully booked on June 22, 1927 sailing from Le Havre, via Plymouth to New York where she arrived six days later.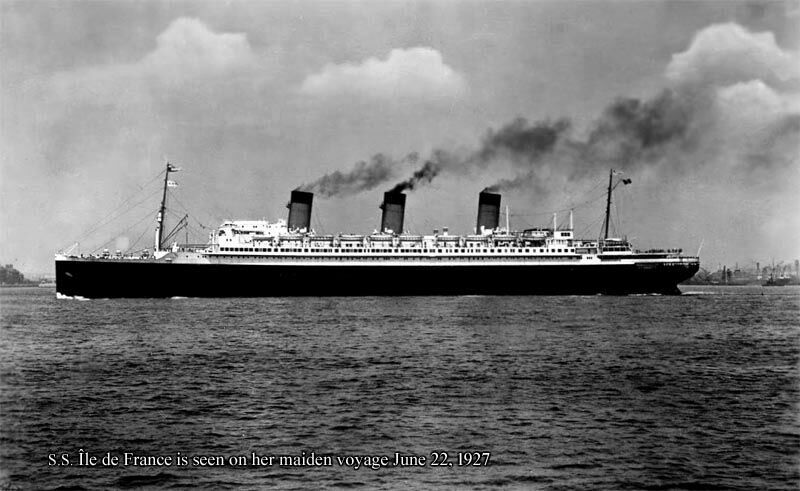 S.S. Île de France is seen on her maiden voyage
Upon arrival in New York's harbour the "Île de France" received a massive gala welcome from the city of New York, with countless small pleasure boats and tugs surrounding the ship as she headed for Pier 57, being the French Line's wharf.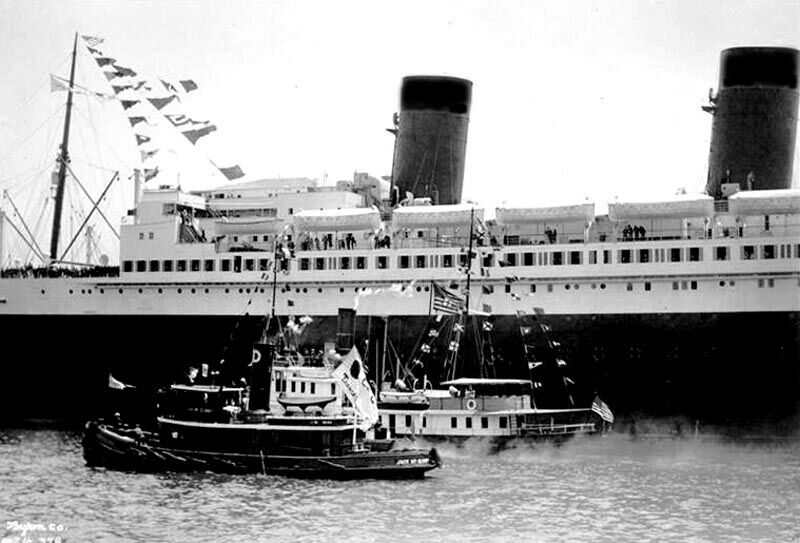 S.S. Île de France is fully dressed with flags, and small boats surrounded her during her arrival
The brand new luxury liner "Île de France" having been introduced in 1927 it was soon realised that she was a very unique and an elegant Liner. Many of the earlier liners so often had their décor in a style that seemed more that it had been copied directly from one of the land based Palaces or a Castles. But the 'Art Deco' style of the "Île de France" commenced a brand new trend and soon her style of decor would be suddenly turning up on land, rather than the other way around.
As by now the migrant trade had slowed down greatly, this new liner having become a fashion icon began to attract the big and super famous names. She became the Hollywood of the Atlantic Ocean attracting film stars, famous vocalists and musicians, politicians, the super-wealthy as well as royalty.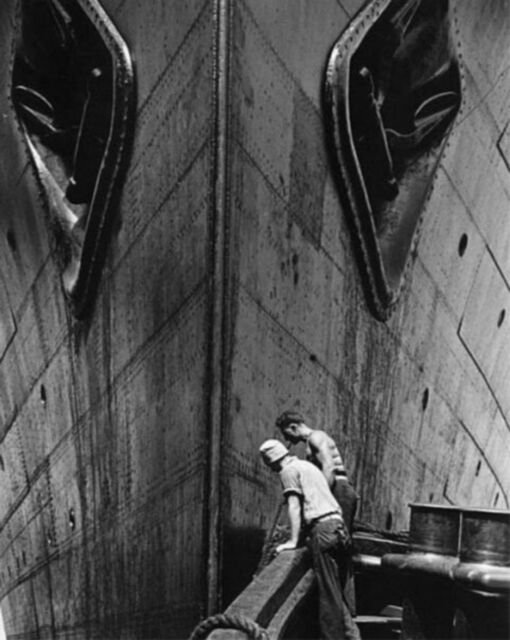 A view from a tug of her mighty bow
S.S. Île de France made a massive profitable financial contribution, and the French Line ended the year of 1928 with record earnings. For the first time in the company's history their receipts exceeded one billion francs, and half of this derived from the Le Havre to New York service, which had transported more than 90,000 passengers. "Île de France's" popularity was such that by 1935, she had carried more big spending First-Class passengers than any other transatlantic liner!
When sadly the stock market crashed in 1929, it set in motion the well known "Great Depression", and there were many Shipping companies that began selling their ships for scrap. Yet the "Île de France" avoided this fate being entirely due to her huge popularity amongst the social elite.
From a technological perspective, the "Île de France" was a good and a reliable liner, but she was far from being ground breaking. She was powered by four Geared (oil burning) Steam Turbines, with 60,000 HP, and it drove her quadruple screws at a service speed of 23.5 knots and she had reached a maximum speed of 25.3 knots.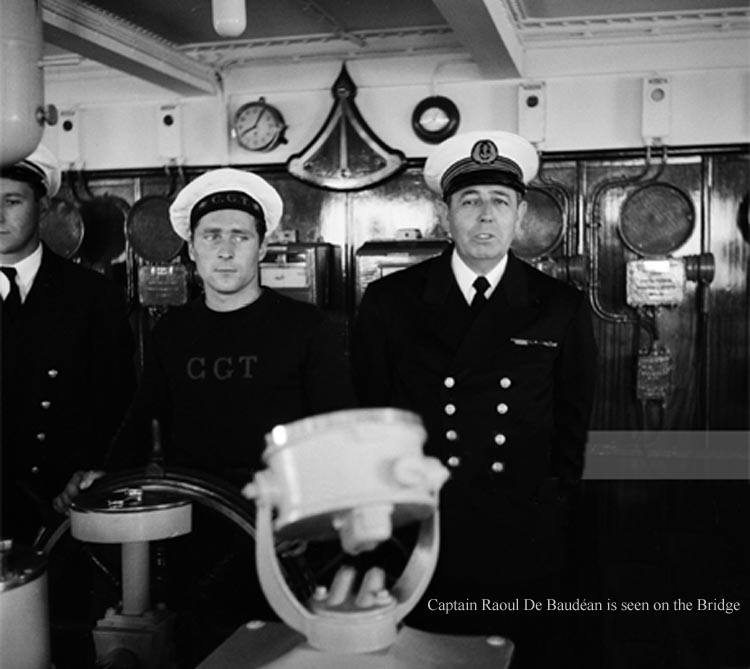 Here we see one of the Île de France's Captains on the Bridge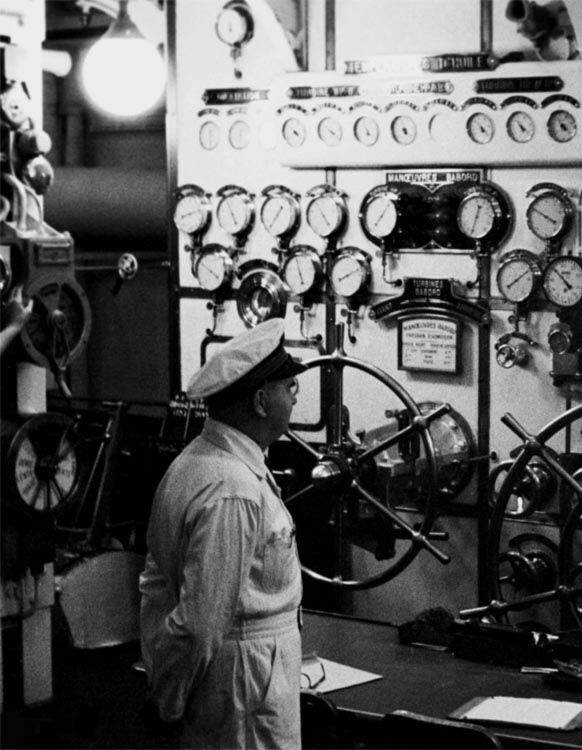 There we see the Engine Room's Starting Platform
The "Île de France" had become the most fashionable liner on the Atlantic and she quickly became one of the most popular and profitable ships of her time for the rich and famous all desired to travel on her, especially as her Deluxe Suites were not only huge, but absolutely magnificent and believe it or not, no two Suites or Staterooms even looked the same as each one was created to be individual!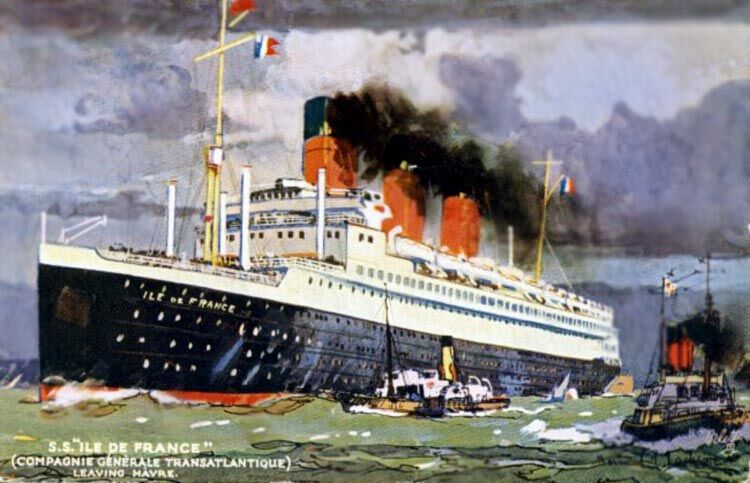 An artistic colour postcard by the French Line
********************
Looking at some of the Ships magnificent Interiors & her Guests:
Although the "Île de France" was neither the largest nor the fastest Trans-Atlantic liner, it was considered as being one of the most magnificently decorated Passenger Liners built by the "French Line".
Her fit-out actually followed the opening of the Paris "Exposition des Arts Decoratifs et Industriels Modernes" of 1925, and this great event gave birth to the term "Art Deco" and it obviously inspired "Île de France's" spectacular décor. Just a few of the army of French artisans who were commissioned to decorate her magnificent interiors were famous names such as; Jean Dunand, Rodier, Jules, Leleu, Le Bucheron, Dupin, Janniot and Pierre Patou.
Throughout the ship the most luxurious materials were used as Suites were all decorated by 'Marc Simon' and they featured *palissandre, lemonwood and white maple walls and palissandre furniture, upholstered in lush dark velvets.
*Palissandre wood is a dark ornamental timber derived from various tropical American trees, especially jacaranda, Brazilian rosewood (Dalbergia nigra), and (US) purple heart (Peltogyne paniculata).
Lemonwood is a hardwood and its grain tends to be straight to slightly interlocked. It has a fine, uniform texture with a slightly lustrous appearance.
It would be the first time that a passenger ship's accommodations would not be designed on a theme of the past but more of what was taking place in the present. In the book "The Only Way to Cross", Jon Maxtone-Graham calls the "Île de France" - "the divide from which point ocean liner decorators reached forward rather than going back."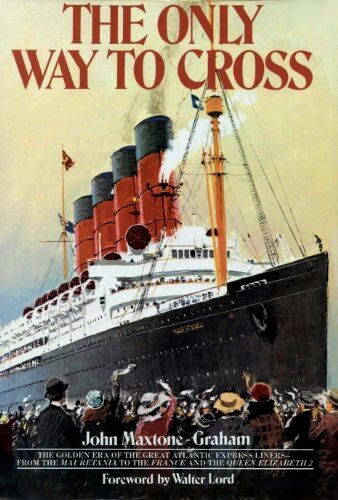 S.S. Île de France very soon held the record for having a huge devoted following when more often than not her passenger list read more like a "Who's Who" of European Aristocracy, politics, business, sports, as well as the American famous Hollywood set, and as I said earlier Royalty! Among her passenger lists were some of the following; the wonderful vocalist 'Lena Horne', actress 'Rita Hayworth', actors 'Cary Grant'' and the great French star 'Maurice Chevalier', not to forget Prince Rainer of Monaco and so many more.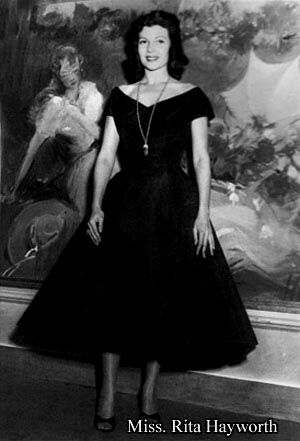 -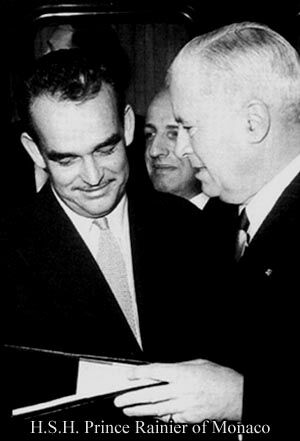 -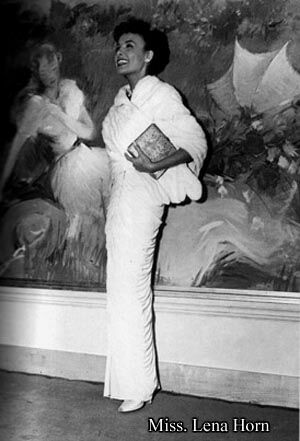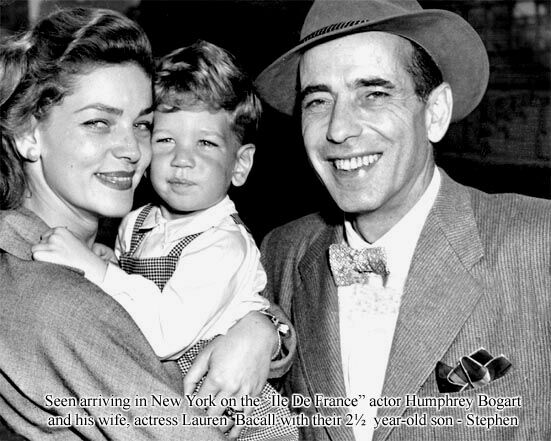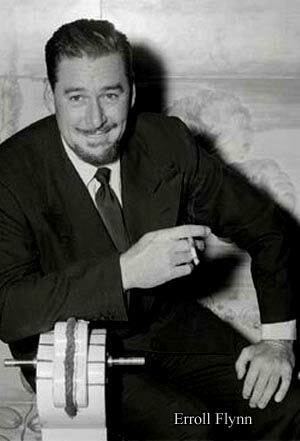 -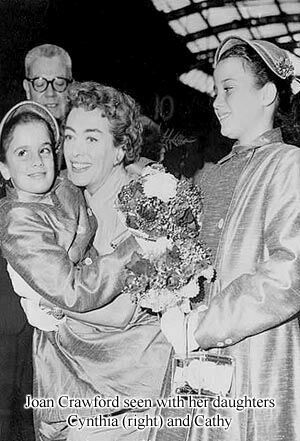 -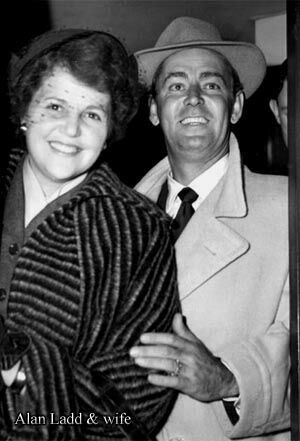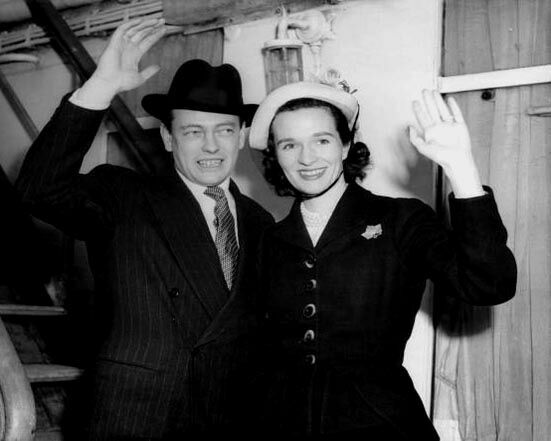 David Mountbatten, 3rd Marquess (Earl) of

Milford Haven and his

wife Marchioness Romaine are seen on board on board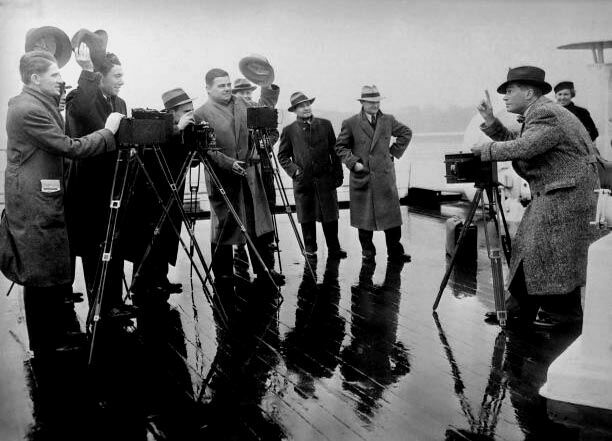 On a rainy day American photographers aboard the "Ile de France" asking
a relatively young Maurice Chevalier to pose for them, on November 14, 1934
The truth was that all these VIP's obviously loved all the glamour and the super luxury on the "Île de France", especially the unusual 'one of a kind' spacious Suites, which were not found on any other ship at sea!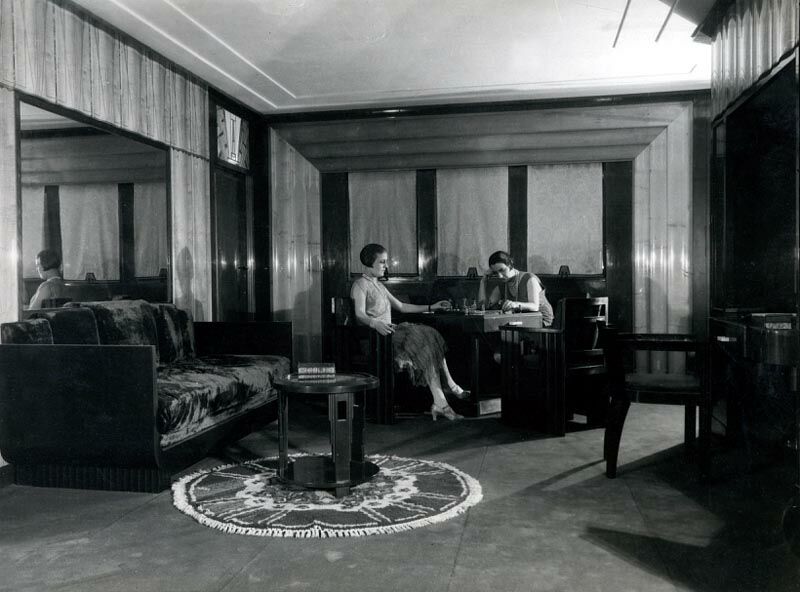 Above & Below: A lounge and a Bedroom in two different Suites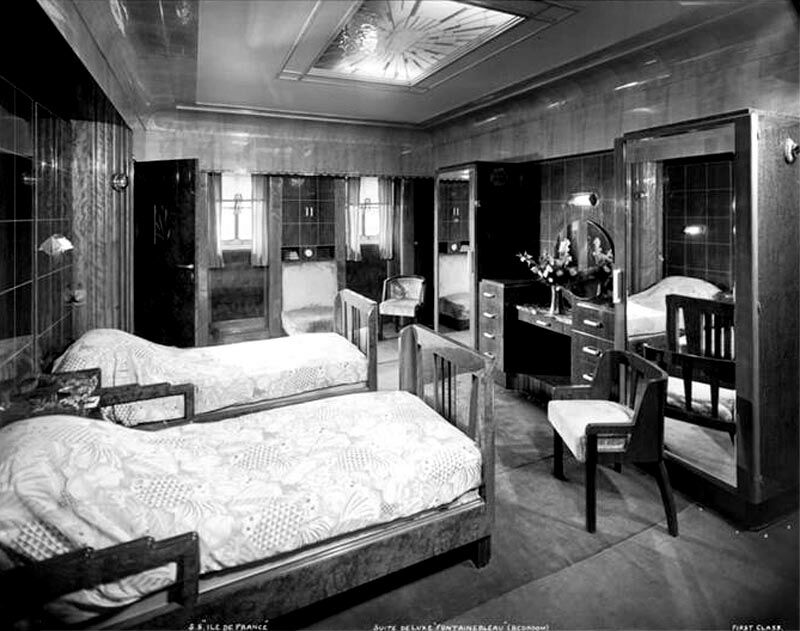 Each of her First Class Suites, Staterooms and Cabins were completely unique for each one had been decorated in its own style, thus each being different from the other. One of the "Grand Apartments" the "Fontainebleau Suite" was priced from US$1,800 per person (which would be approximately US$54,000 in today's currency) for an Atlantic crossing, which lasted a week.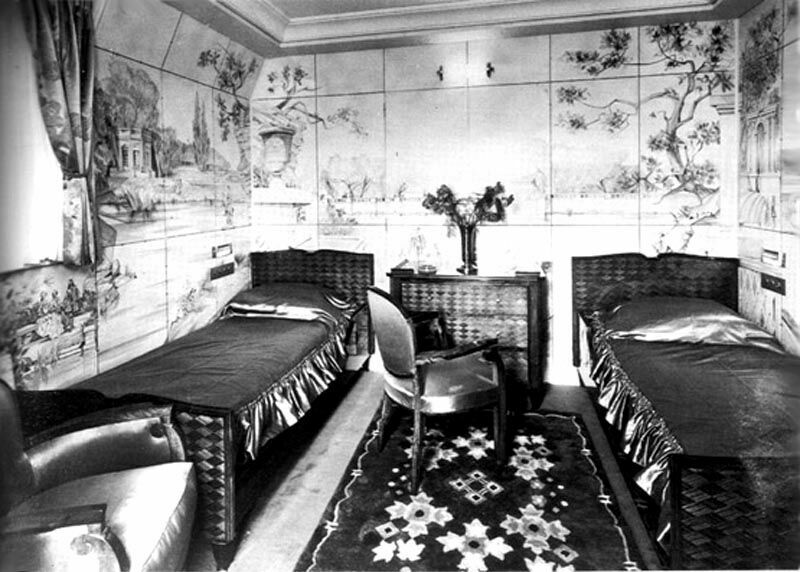 Here we see a Deluxe Stateroom
I was told by a past passenger (now sadly deceased), that he and his lovely wife had sailed on the S.S. Île de France six times, meaning three return voyages across the Atlantic. He wrote the following;
"From the beginning of her days, the Île de France always had a great reputation, and she was without a doubt the happiest and friendliest way to cross the Atlantic. She was a ship with the ultimate of luxury and glamour. On four of our voyages we saw more Celebrities, some of the famous Super Rich, Politicians, but it was the Hollywood stars that sailed on her, which made our voyages so special. We absolutely loved her and the Île as we loved to call her was always so chic, and by that I mean she had a delightfully French chic feel about her! My wife and I absolutely loved her and we sailed in the same Deluxe Stateroom (see above) each time". (J.E.M.).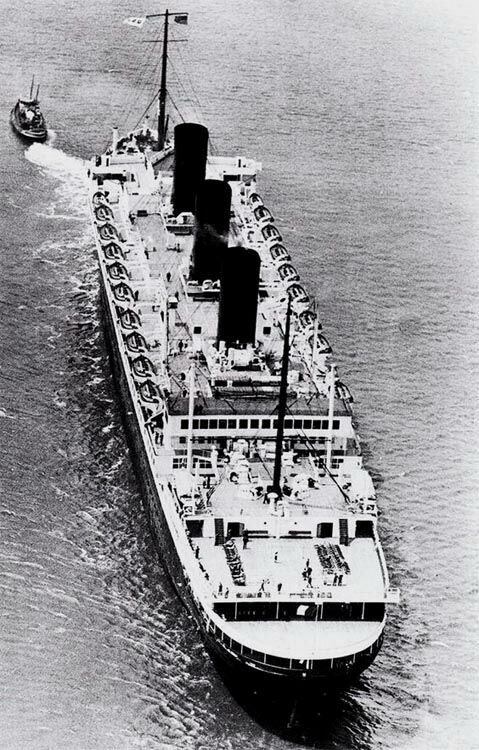 An unusual aerial photograph showing her decks with the "Café Terrace" can be clearly seen far aft up on Sun Deck
The "Île de France" was one of the very first liners to be illuminated throughout with an indirect lighting system. All rooms, even those located in the interior, were lit to give the passenger a sense of natural sunlight.
Grand Salon:
The entrance to the Grand Salon was crafted of oak woodwork, with arched ceiling features with a bubble effect. The spacious Grand Salon featured a coffered ceiling in diamond pattern along the sides with a huge backlit center one in a 32 square pattern. The floor during an activity contained a huge beautifully dark patterned carpe and the venue was filled with the most lavish of furnishings, whilst on all other times this carpet was removed to reveal the wall to wall diamond shaped patterned carpet. Along the outer walls huge columns supported the ceiling. In addition to all the art on forward and aft walls, along the sides there were statues of nude and semi-nude women. At night this vast Room became the Ballroom as chairs would be set aside and the center became the dance floor.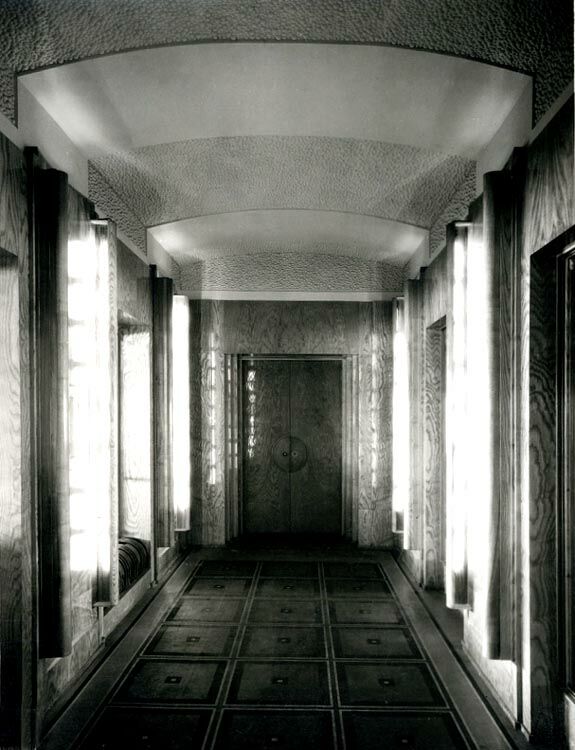 One of two identical entrances to the Grand Salon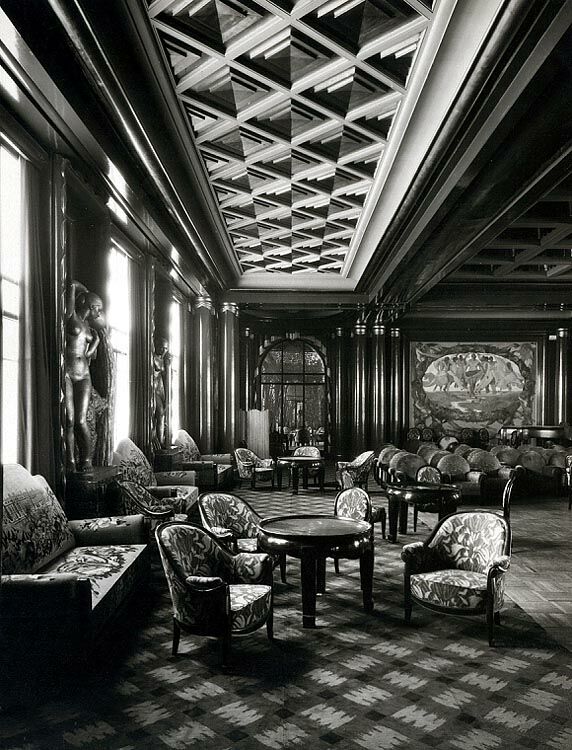 Above and below: Two views of the Grand Salon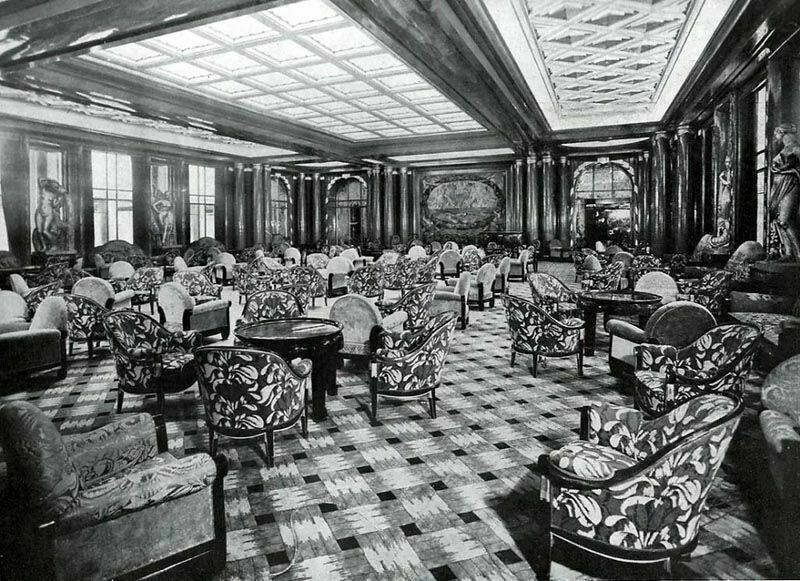 Here we see a view with the special center carpet removed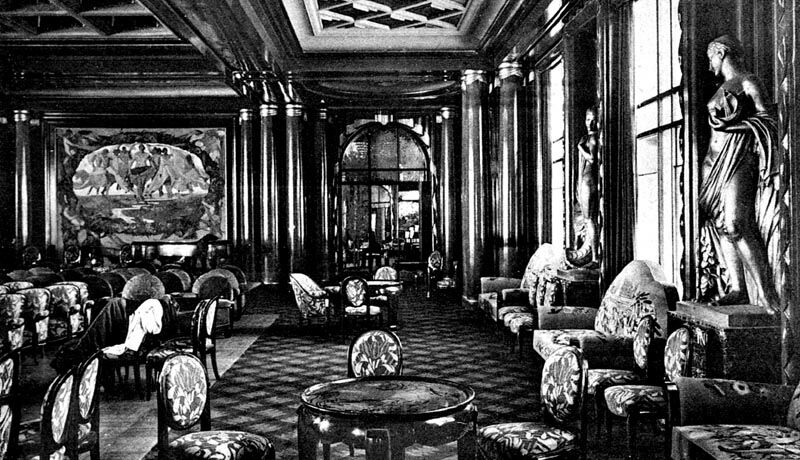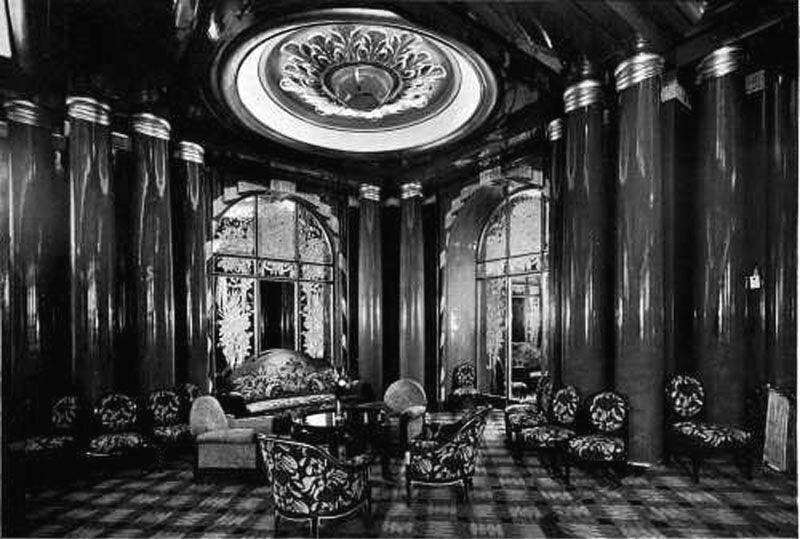 On the opposite side of the Grand Salon from the images above, is this feature in the corners of this fine venue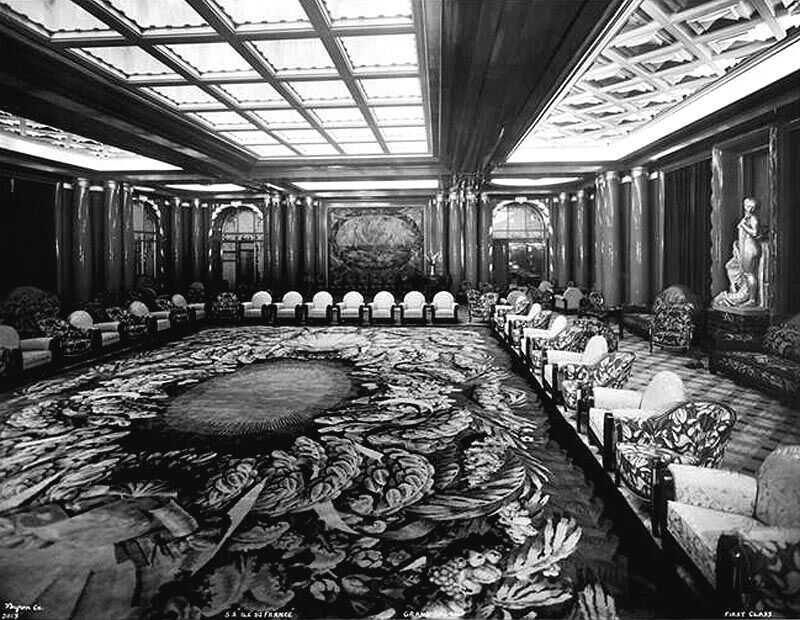 The Grand Salon set up for a special occasion
Salon Mixte: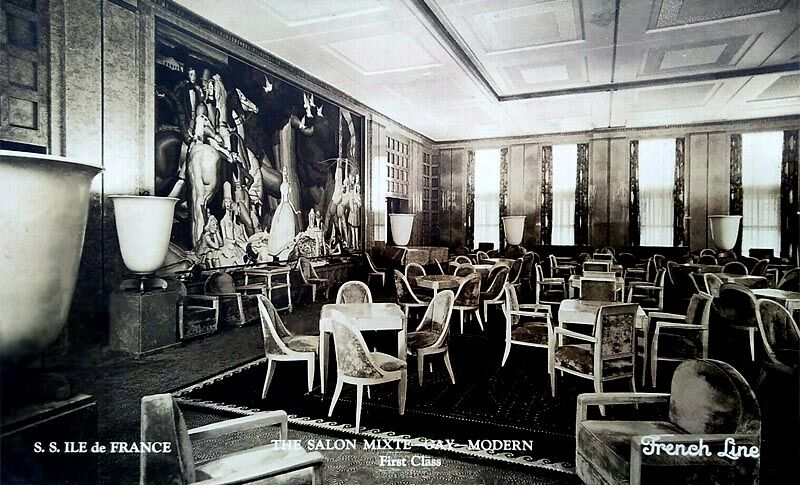 A postcard of "Salon Mixte"
The name of this venue simply means that it is a 'mixed salon' and it is certainly a lavish room featuring fine timbers and a large painting centred on the wall. Again we see two carpets, a less fussy wall to wall carpet and a dark center carpet with a lighter border, and it gave this venue a dramatic feel. Like the rest of the ship, the furnishings are without a doubt the finest available. In the middle of the lounge just aft of the chairs in the image above was a life-sized statue which can be seen below.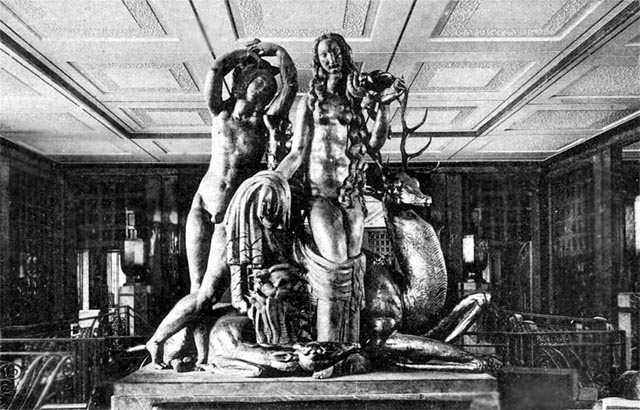 The sculpture was the work of Alfred Janniot
Most sculptures in the other venues were also by him
Below 'Salon Mixte' is seen set-up for a lecture and this venue has many uses for various occasions and is also available to guests for their special functions.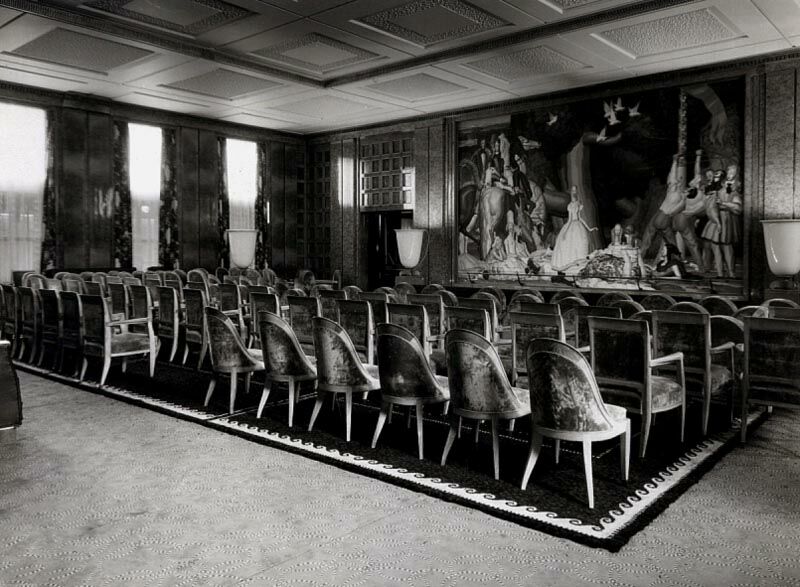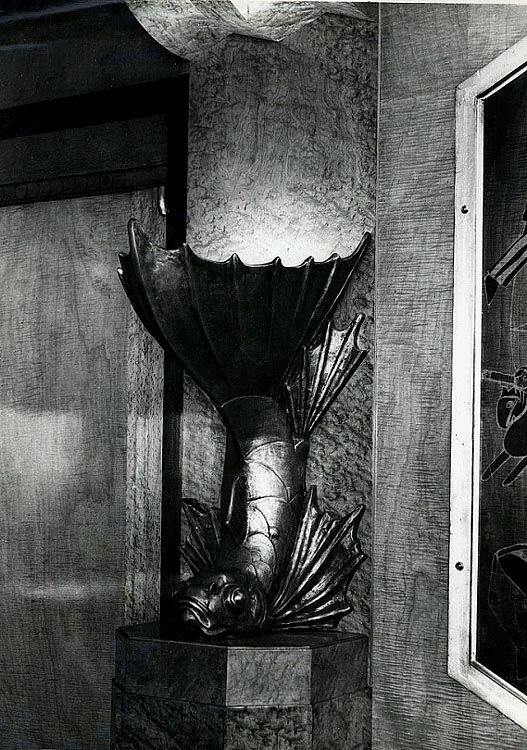 A feature sculpture wall light found in one of the lobby near 'Salon Mixte'
Main Foyer:
The Main Foyer and its Grand Staircase may have been somewhat less magnificent than the Grand Salon, but what it lacked in colour this huge venue certainly made up for it in sheer size.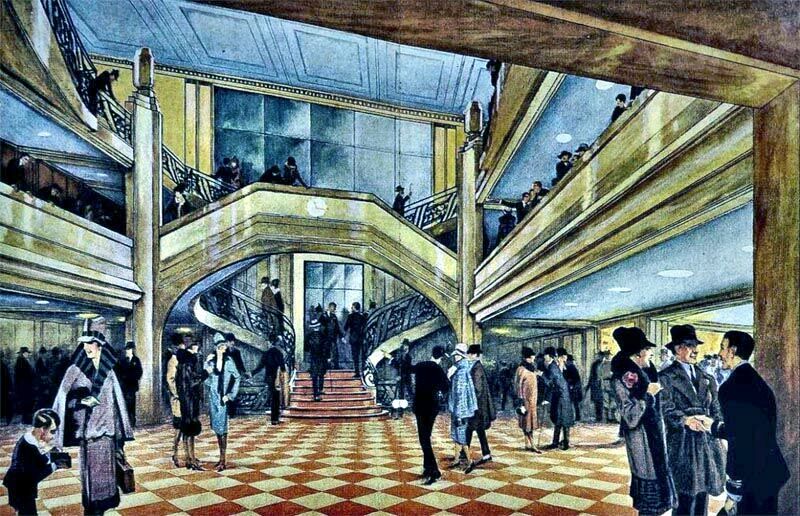 An artist impression of the Grand Lobby and its Stairwell
Thank you Julien Rousseau (FR) for providing this interesting image!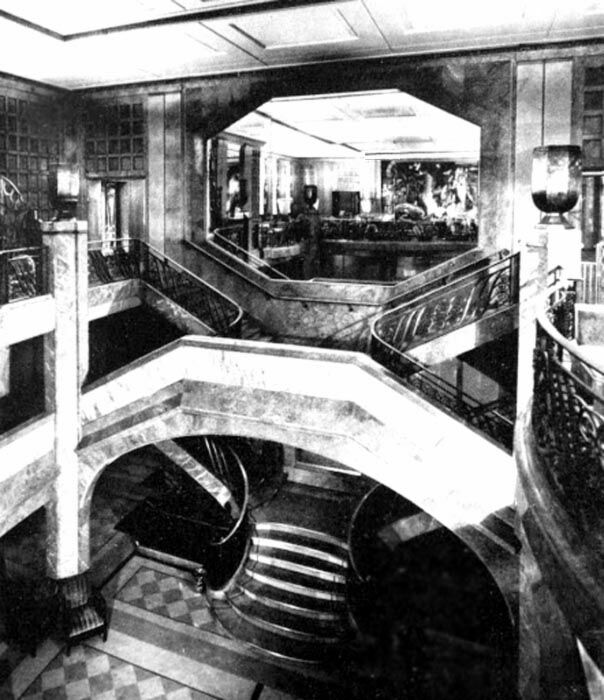 On a typical afternoon in the port of Le Havre, passengers would come on board the "Île de France" and enter the huge four-deck high foyer, which was really a surreal, and an awe-inspiring fantasy. The first thing they would see was that monumental staircase, descending from each side to merge together at the center, and land onto the chequered grey-and-white marble floor.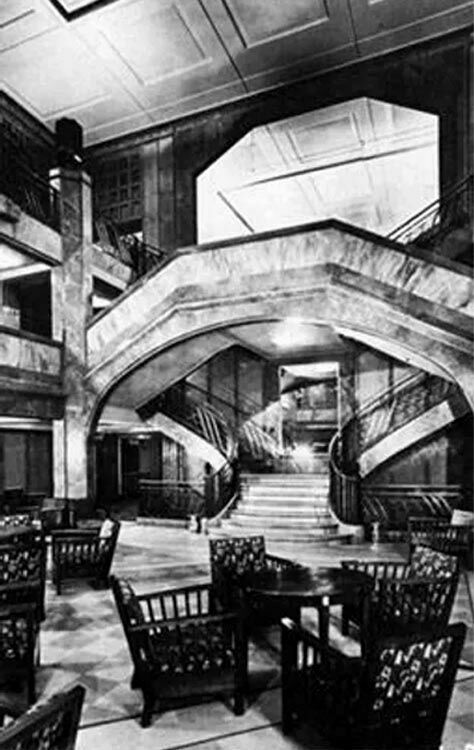 Towering above the staircase, stood an extravagant marble arch, both edgy and rounded, and premium boutiques encircled the foyer, each of them featuring a sparkling display of the very latest fashion and luxury items.
The Long Gallery:
This venue running along one side of the Promenade deck served as both Writing and a Reading Room. The fine timbers used here were lighter, giving the venue a bright light feel. It featured some very unique light features, including a column in the Writing Room section.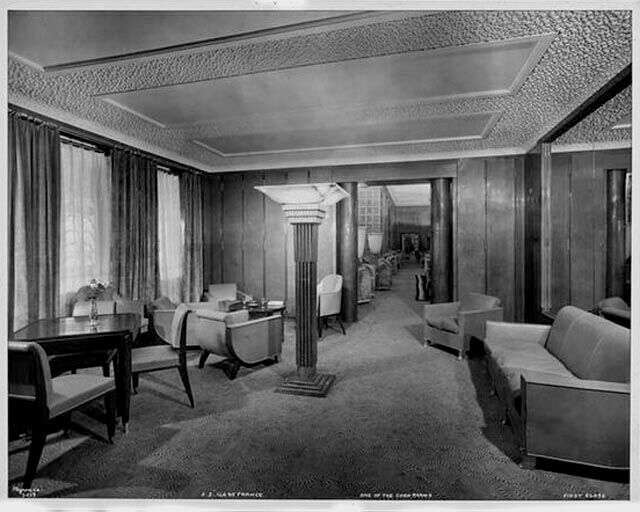 The Long Gallery
The Games Room:
These venues were very popular as many travellers enjoyed a game of cards, or any of the countless games the ship had on offer. Again a light and bright venue with large windows, but the interior chequered feature wall was staggeringly beautiful.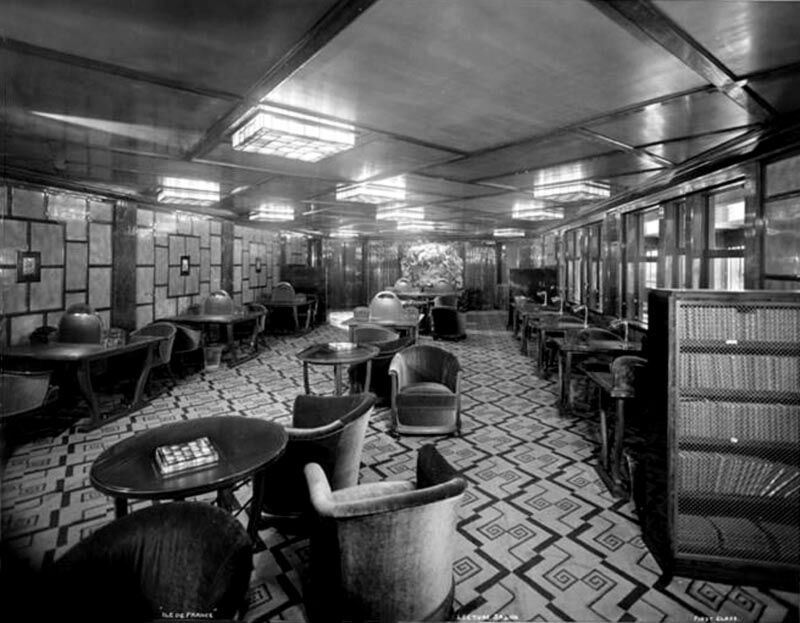 The delightful and popular Games Room
Smoking Room: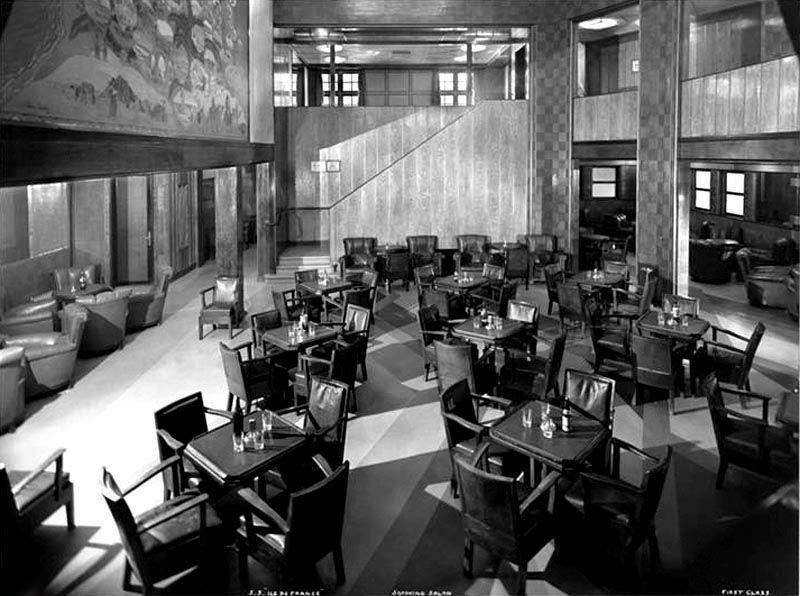 The Smoking Room was another spacious venue being a good two floors high and all the seating featured dark brown leather. The walls in this room featured the beautiful dark lush Palissandre timbers and on one wall there was a massive mirror centred with the timbers at each side, and standing directly in front of the Mirror a huge marble statue of a woman with a round shield. Whilst the wall opposite can be seen in the mirror and it contained a huge copper artwork. The Smoking Room became famous, mostly because it had a 27 ft long Bar being the largest Bar at sea!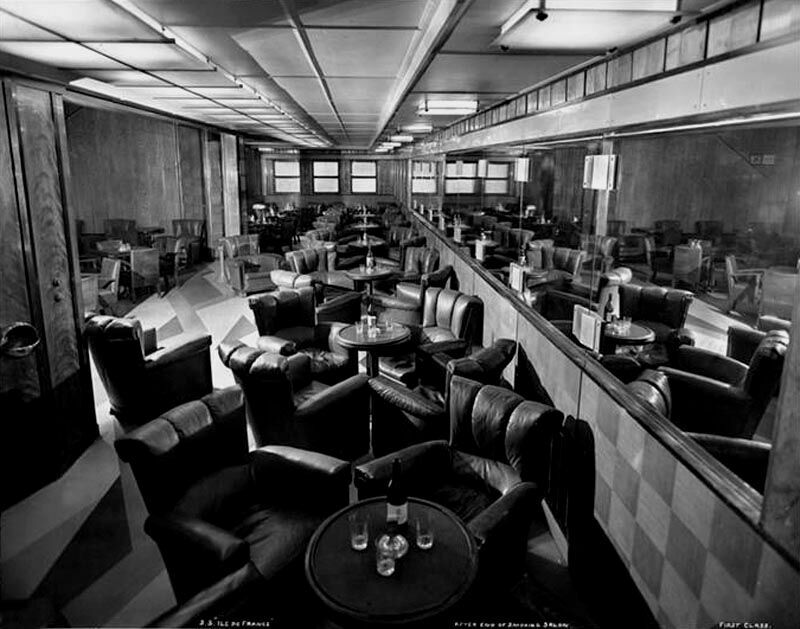 A separate section of the Smoking Room
Café de Paris:
This fine entertainment venue features a range of the finest timbers just as was used throughout the ship such as; Palissandre, lemonwood, and white maple. This lounge has deep comfortable beige leather lounge chairs, small round tables on a single post. In addition there is a Bar and a dance floor and the venue has countless large windows.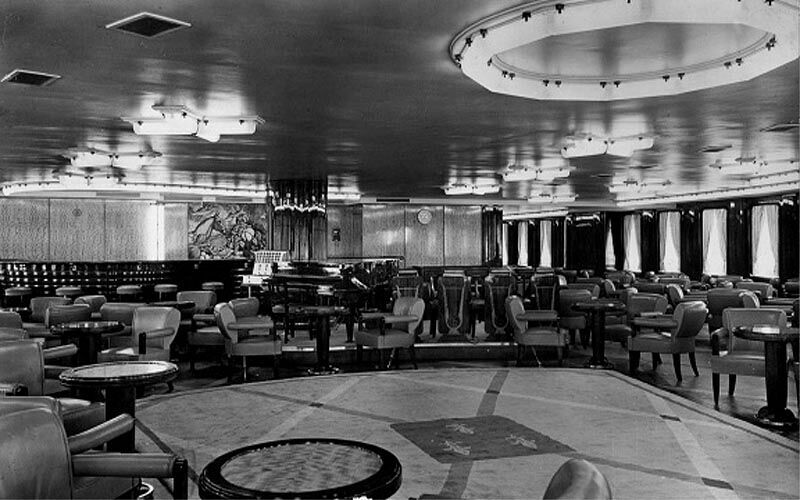 Above & below: Two views of the delightful entertainment and dance venue, "Café de Paris" including the Bar below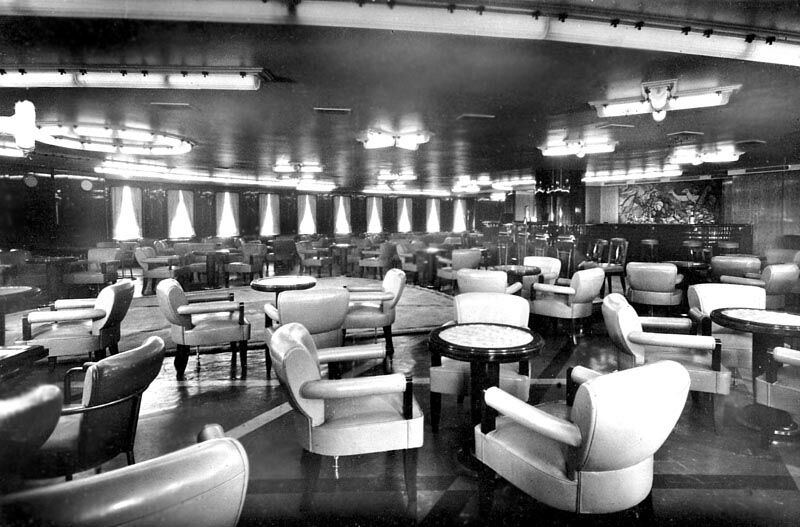 The Café Terrace:
There is also the Café Terrace that was located topside far aft and it overlooked her aft decks, the wake of the ship and excellent views of the ocean.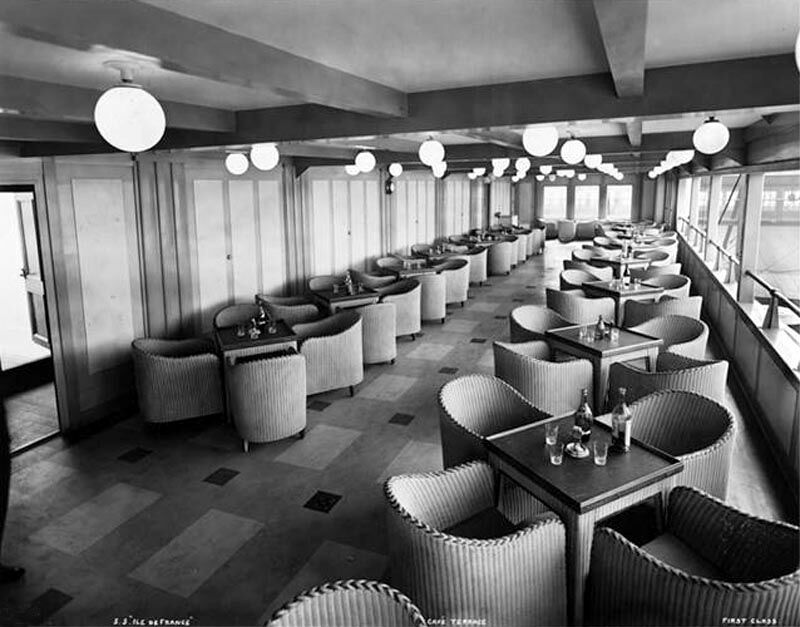 The Dining Room: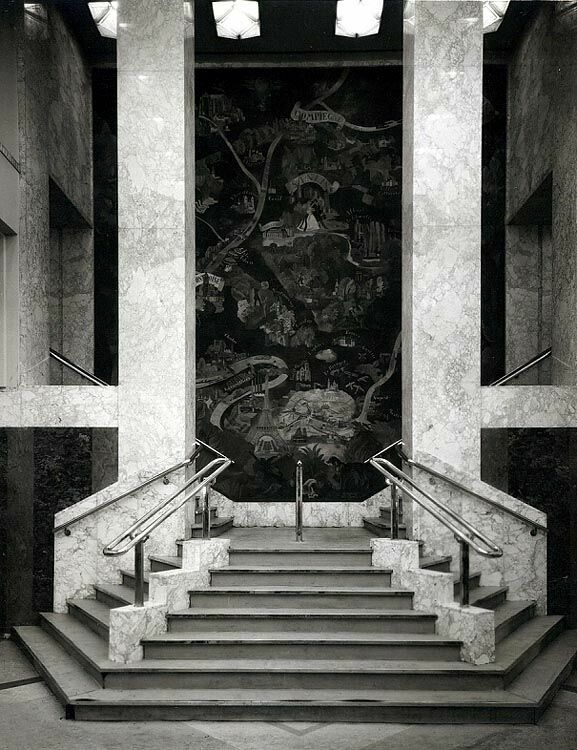 The three level high Grand Marble Staircase into the Dining Room
Note the massive wall artwork
The most striking result of this philosophy was her First-Class Dining Room, which had been designed by the French artist 'Pierre Patou'. The dining hall was shaped like a huge hollow cube, covered with white-grey marble with fine gold decorative elements. Hugging the grand staircase on each side were two massive square marble columns that stood erect, reaching all the way up to the ceiling.
Thus it was without a doubt a dramatic staircase that led down to the Art Deco hall, the likes of which had never been seen before on a ship. We can still see elegant couples dressed in the finest evening gowns and a dinner suit slowly coming down this glamorous staircase and then they would be escorted at the bottom to their table where champagne would be flowing and some of the finest French cuisine being served, for on the "Île de France" there were no limits as the menu was vast!
The venue vertically was over three decks high and it was the largest room at sea at the time. In one seating alone, the room was able to accommodate 537 passengers, with guests usually showing off the latest collections of "Chanel', "Lanvin", and "Schiaparelli".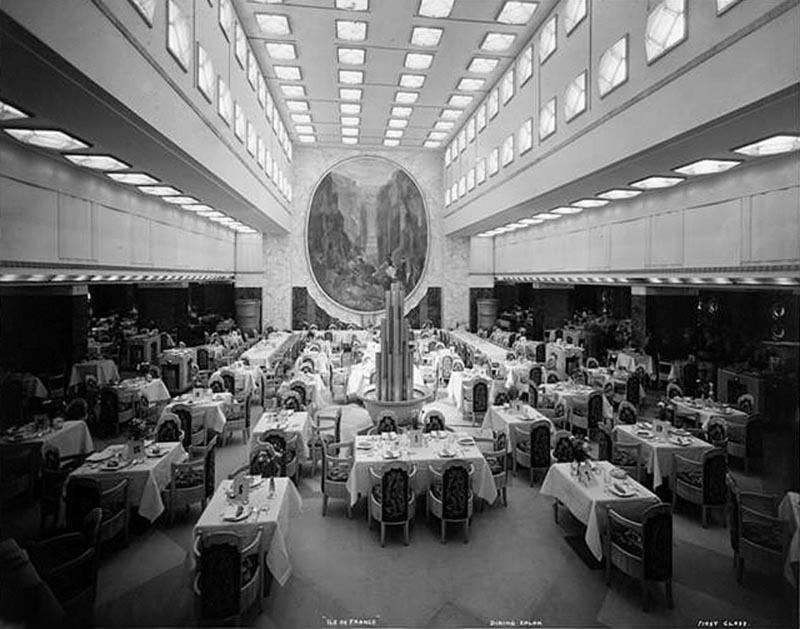 Above & below: Two great views of this amazing Dining Room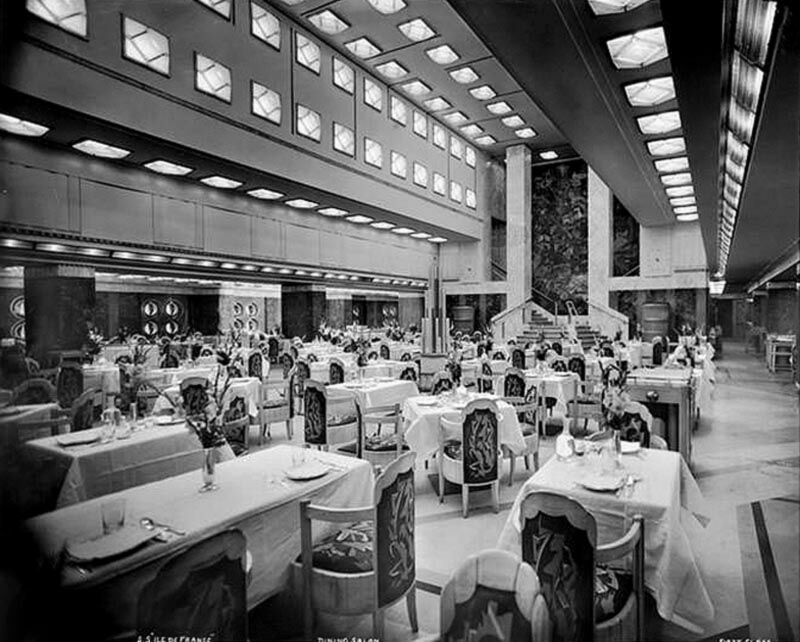 You will note that there was a fountain sculpture of chrome tubes that contained hidden lights and it was the feature in the center of the venue, and above, rows of glass-panelled lamps ran across the ceiling from one end to the other. Every detail of the room was designed to highlight and magnify its huge size and its angular shape, the only rounded form being the giant oval mural behind the huge U shaped Captain's Table. The Dining Room was a huge success among designers and passengers alike!
The ship's stewards were very carefully selected as they would be serving an elite guest list, their knowledge and style of service was well known to be of the very highest standard and their uniforms were immaculate.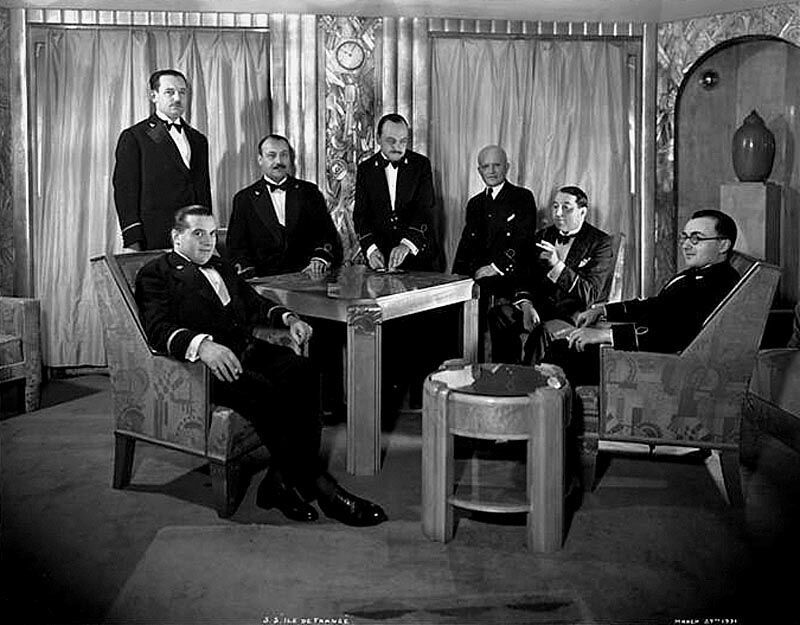 A group of stewards are seen during a break in their beautiful crew lounge
In addition forward of the Main Dining Room there were four luxurious intimate Private Dining Rooms and these rooms were available for special and exclusive dining parties, and in general they would be booked out for the entire voyage prior departures.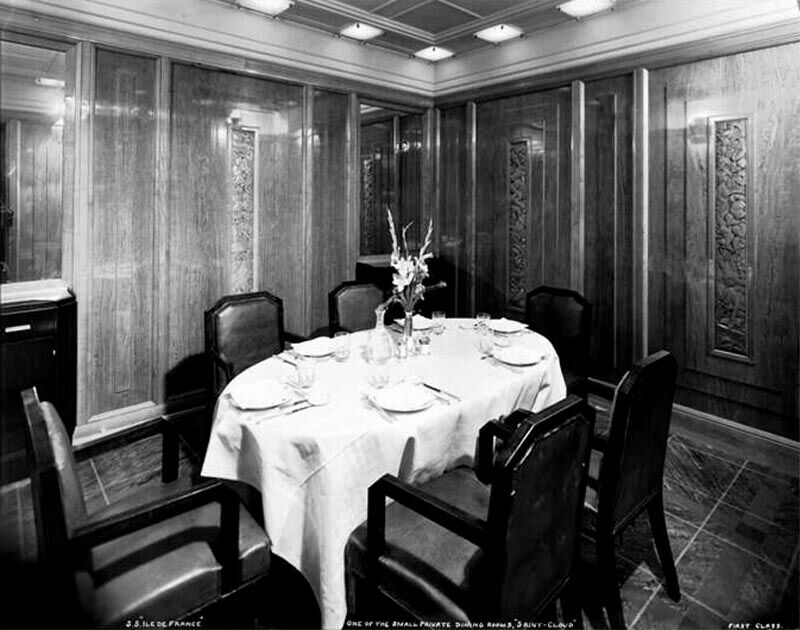 One of the Private Dinning Rooms
The ships Galleys were as impressive as the rest of the ship, as it created a reputation for serving the finest high quality Cuisine on the Atlantic.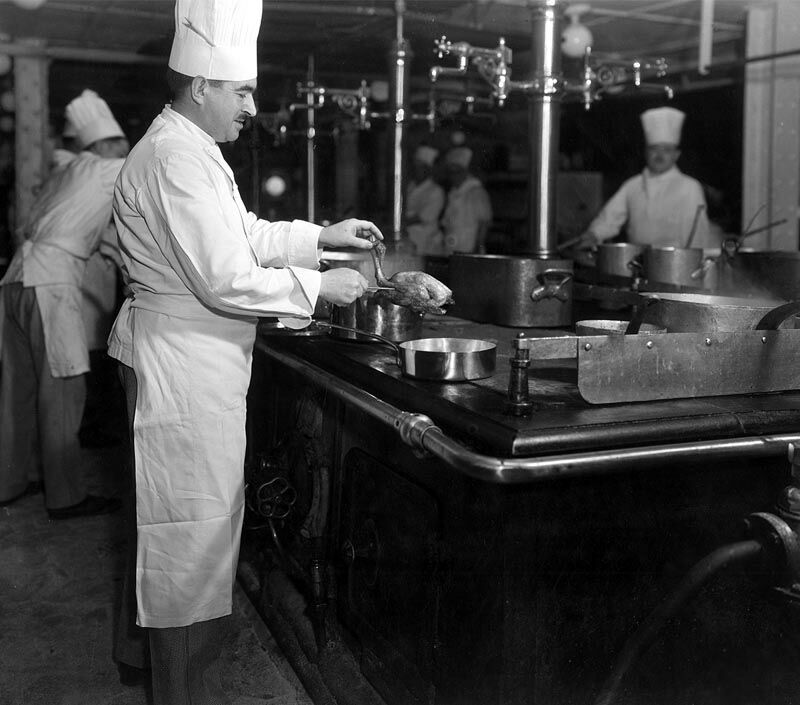 The Sous Chef is seen at the stove preparing a special order for a guest
In fact some of the genuine gourmet found their imagination tickled to discover that the S.S. Île de France had as many as 100 French chefs and cooks aboard the liner!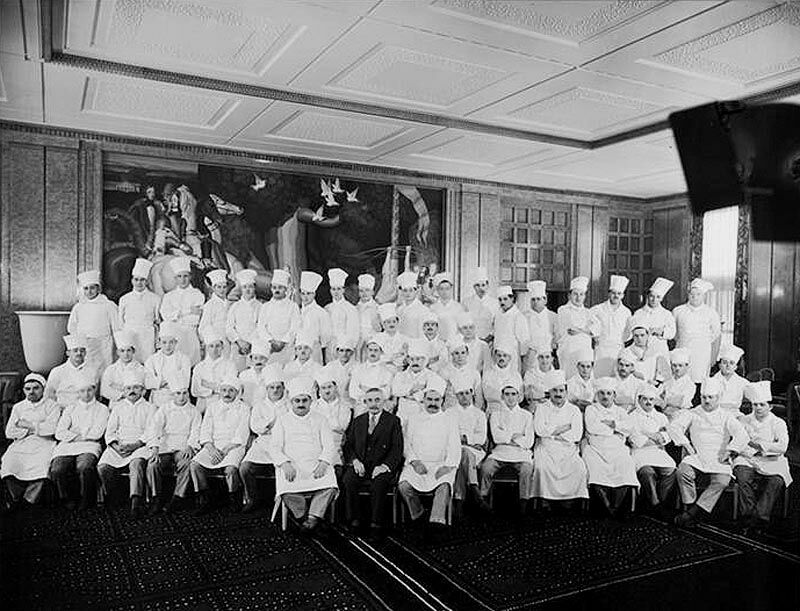 Here we see the Maitre 'D and some of the 100 chefs on board
In fact the evening Menu on "Île de France" offered no less than two hundred and seventy-five separate items! The multiple course meals were accompanied by the finest Champagnes and carefully selected French wines. And when it comes to alcohol, the "Île de France's" bar was claimed to be the largest afloat and contained one of the largest variety of drinks that could possibly be found.
The culinary artists aboard used only the finest ingredients to create a perfect harmony of tastes and textures. It became known that the presentation of the cuisine on "Île de France" was absolutely impeccable. In addition the service was famous as it was simply outstanding. This majestic liner was more of a floating kingdom for all *'Bon Vivants'!
*'Bon Vivants' means; A sociable person who has highly cultivated and refined tastes, especially with respect to the finest of food and drinks.
Above & below: A Diner Menu Cover and its Menu dated July 29, 1932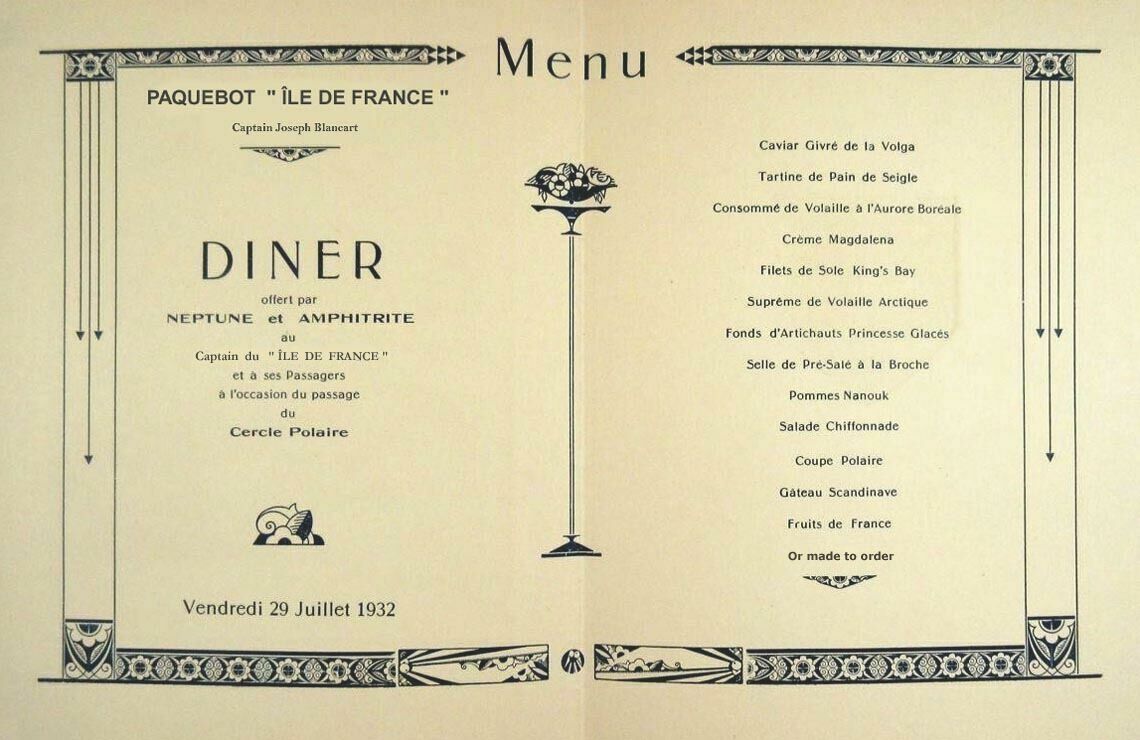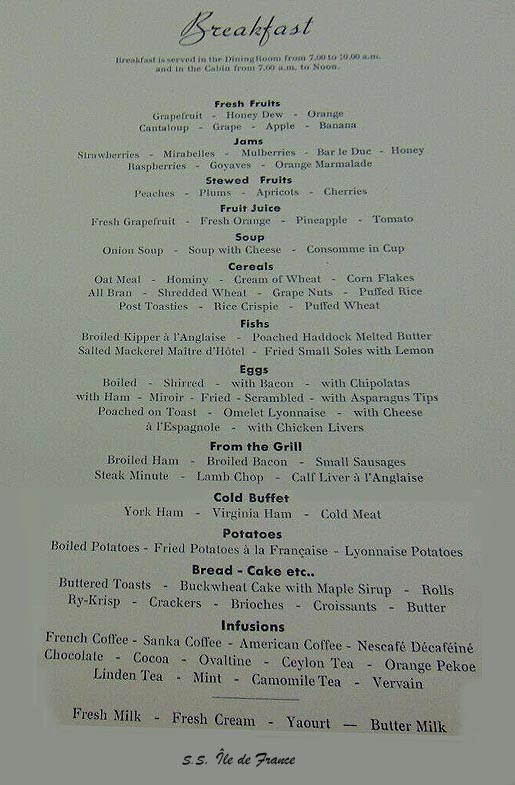 This is one of the daily Breakfast Menus
Thanks to her world famous Galley together with her up-market Interiors, the French Line's had a most successful advertising campaign, and the S.S. Île de France averaged, as I have already said, many more First Class passengers and VIP's than any other liner of the 1920 & 30's.
Another amenity on board was the "Chapel" which had been executed in a Gothic style, having some fourteen pillars and seating for 100 persons. There was also a Shooting Gallery, a magnificent Indoor Swimming Pool, and a Bowling Alley, a Children's Merry-go-round, a 350 seat Cinema, as a state of the art Gymnasium, and below there was a sixty Car Garage.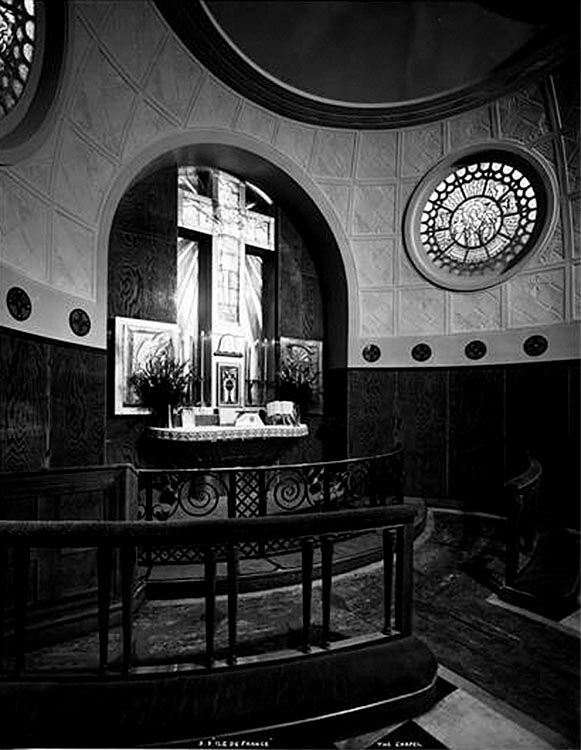 The "Chapel" or "Sanctuary"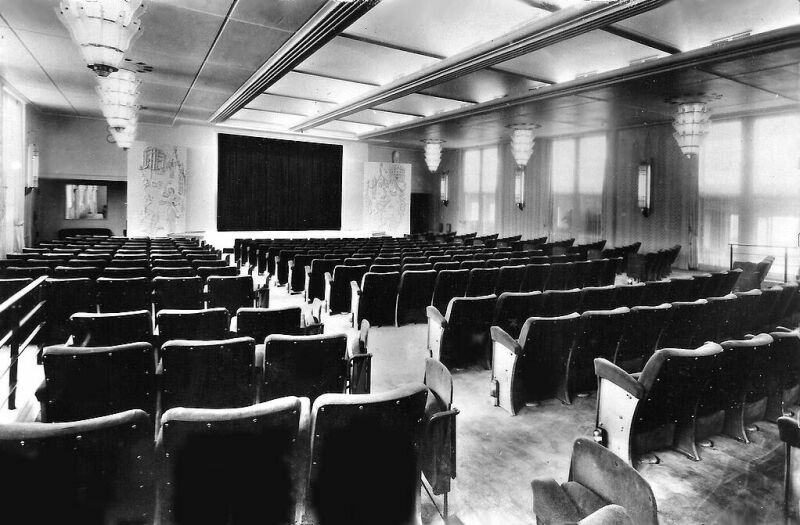 The Cinema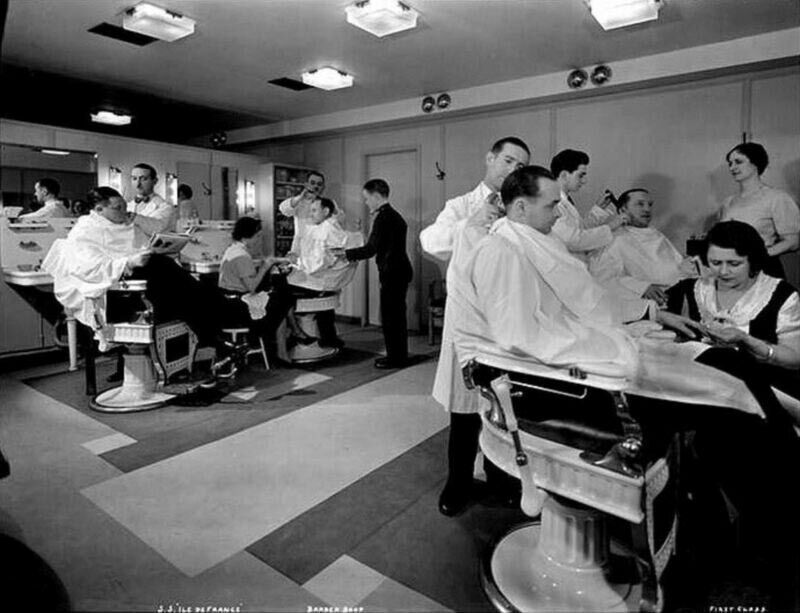 The Barber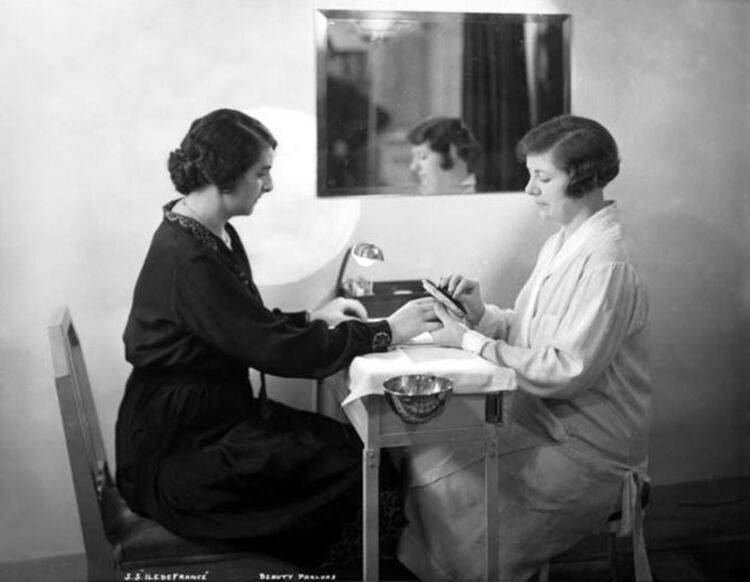 Beauty Parlor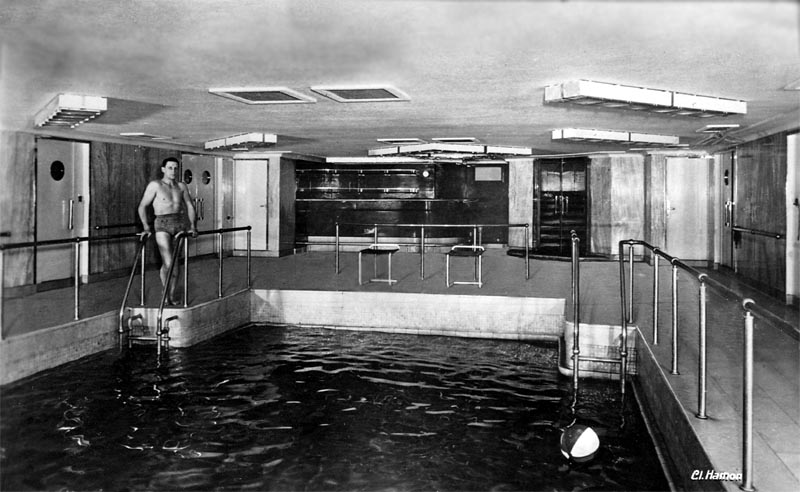 The indoor Swimming Pool and its Bar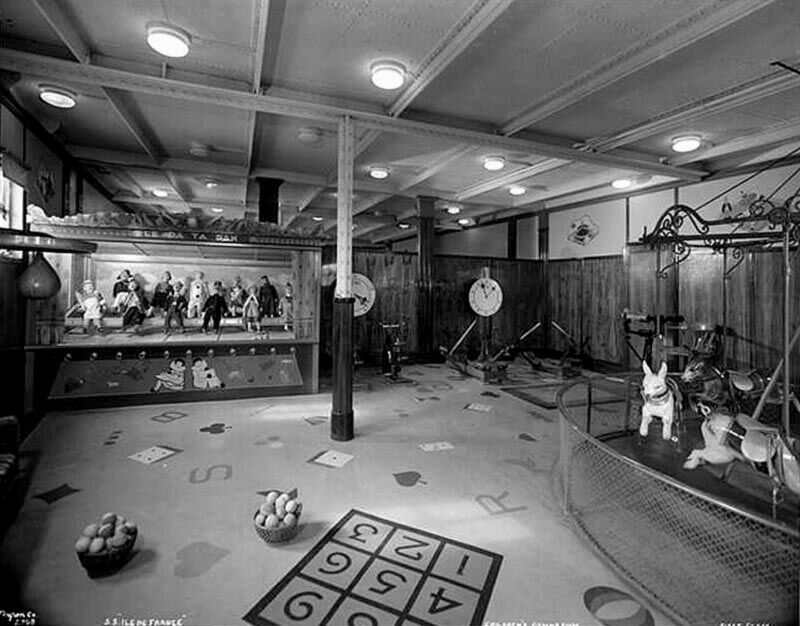 The Children's Playroom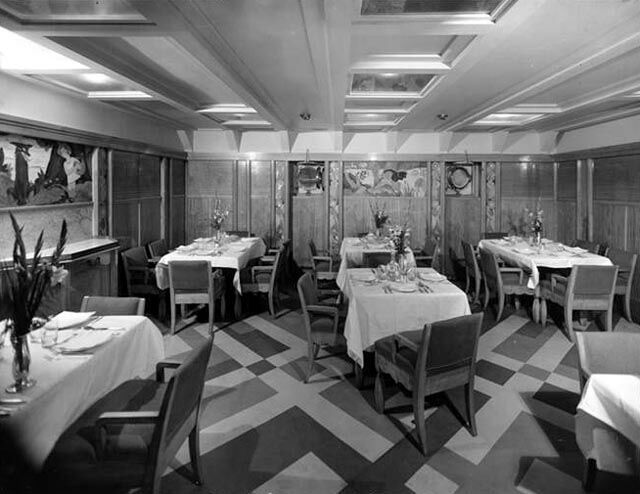 The Children's Dining Room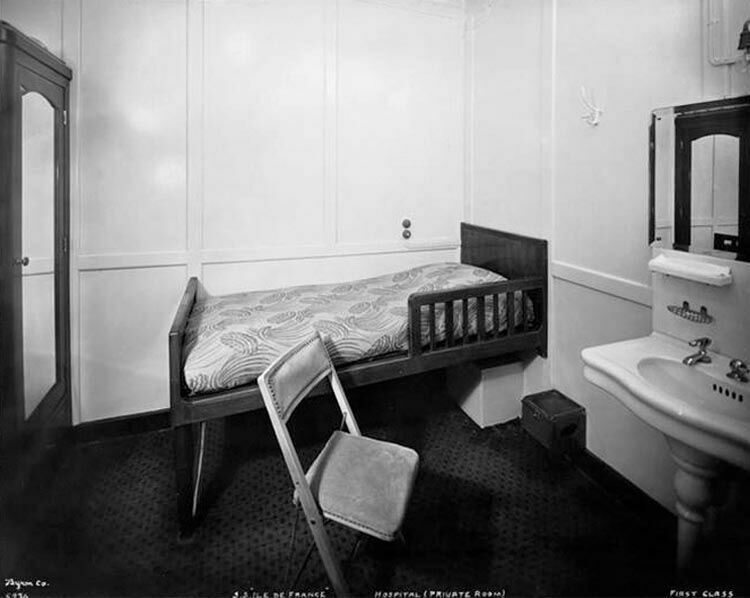 As there were a good number of Doctors and Nurses, there was an excellent fully equipped Ships Hospital.
Above we see a private hospital room should it be needed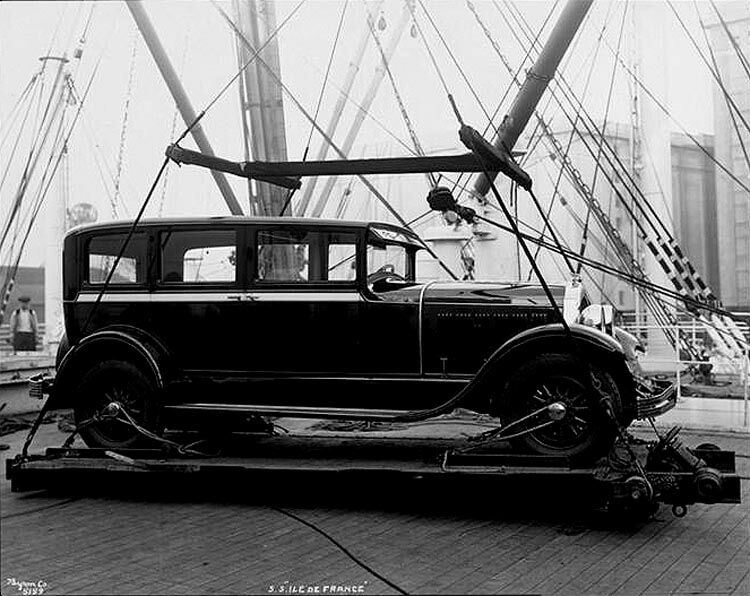 A car is being loaded at Pier 57 New York to be placed in the Ship's Garage
Deck Space: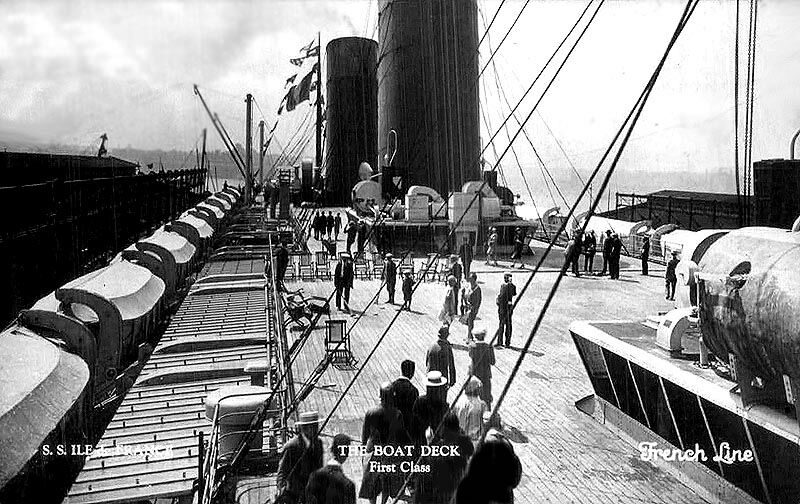 A vast topside Sun Deck (called Boat Deck on the postcard) the perfect place
for guests to enjoy a walk or relaxing in a sun lounge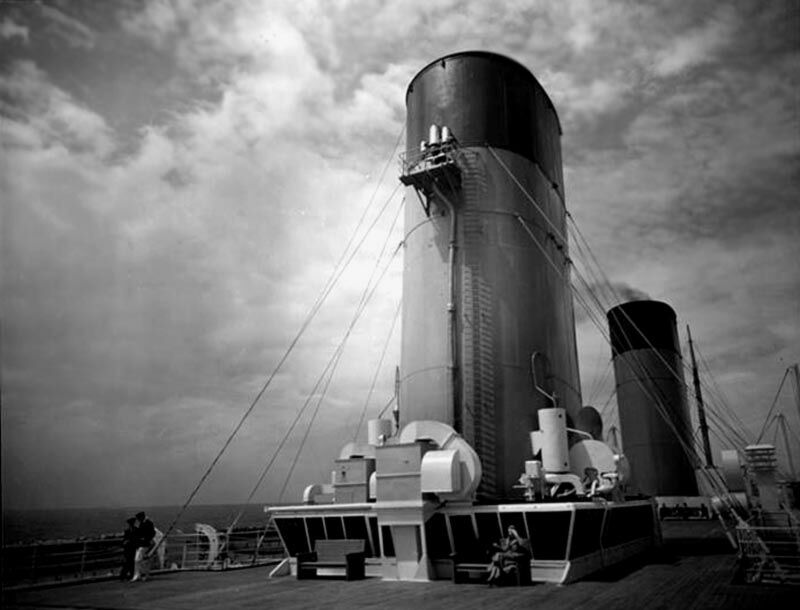 Here we see the Sun Deck with her middle and aft Funnels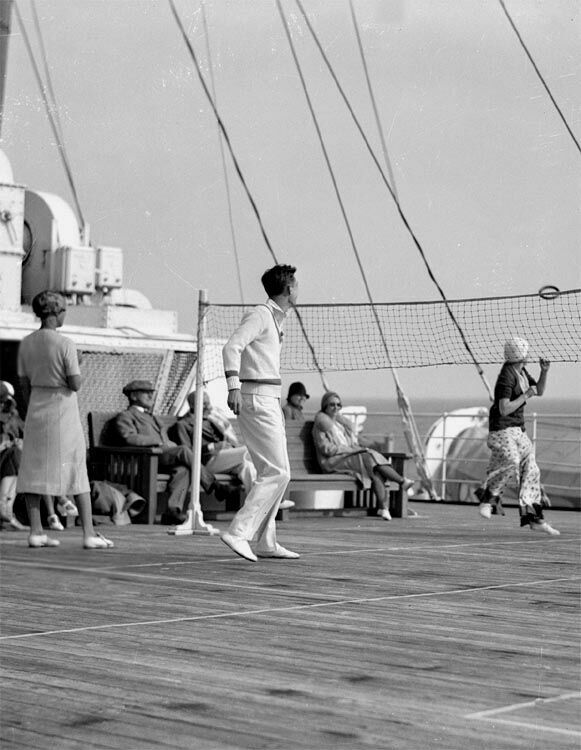 Here we see the Sports Deck located aft on sun Deck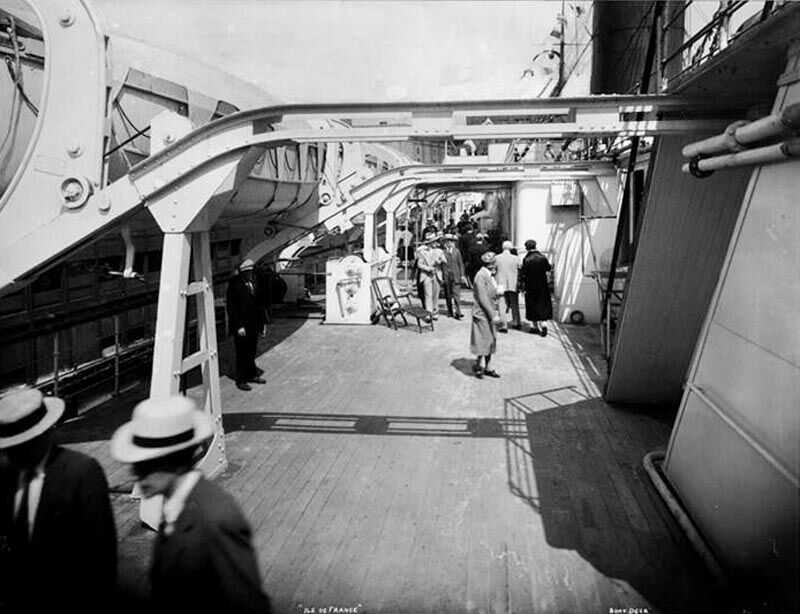 Just below Boat Deck is the Sun Deck which is an outdoor meeting place for guests, to relax or have their daily walk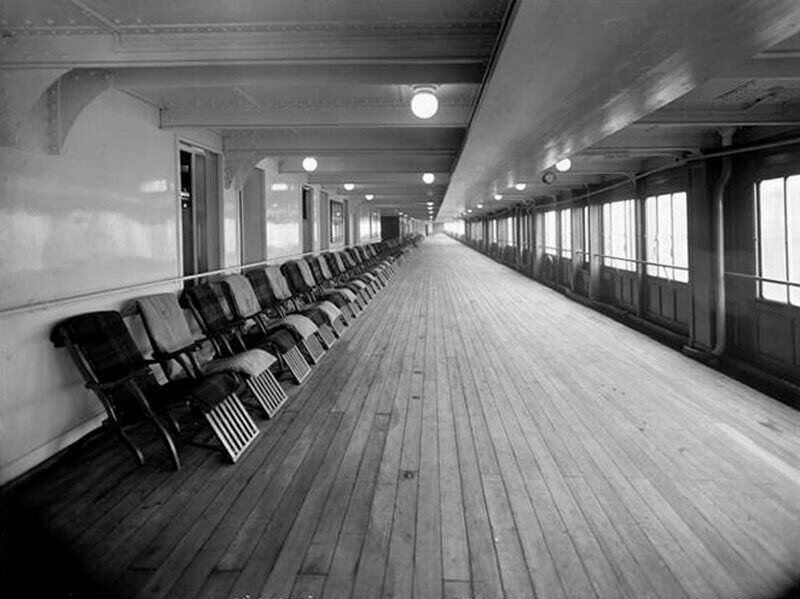 Above & below: The spacious Promenade Deck above is seen on the port side having ample deck lounges,
whilst below we see the starboard side and morning coffee, tea or bouillon served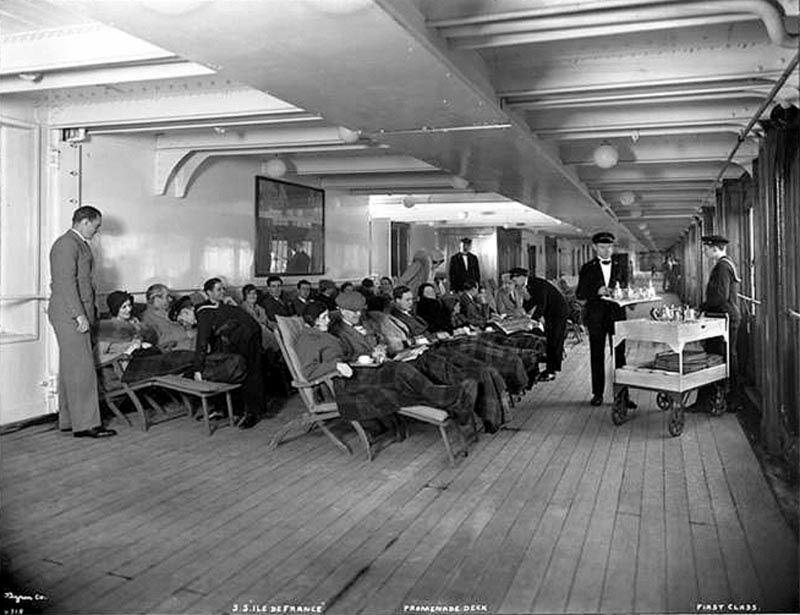 ********************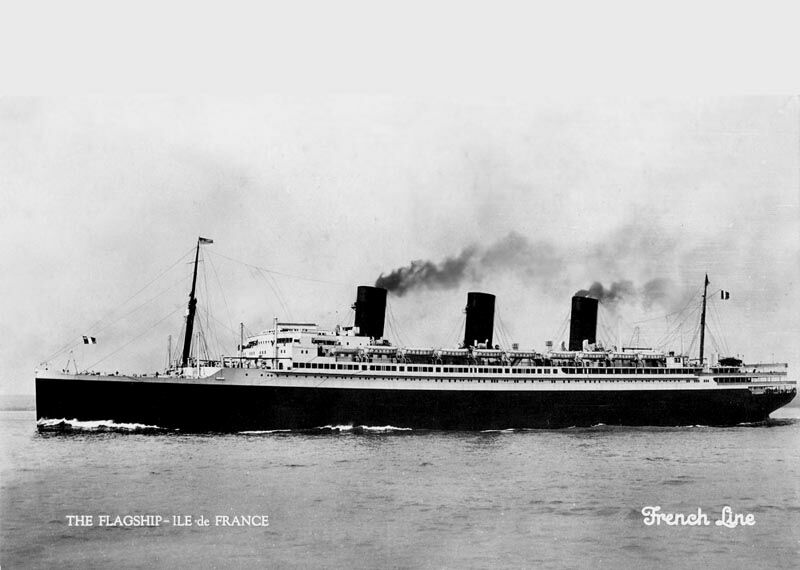 A postcard of S.S. Île de France departing Le Havre bound for New York in the 1930's
Accommodations:
The "Île de France" had a wide range of Suites Deluxe, other Suites, Luxury Staterooms and Cabins, and First Class obviously had the ultimate rooms! All Suites had a lounge, an office come writing room, bedroom and a private bathroom.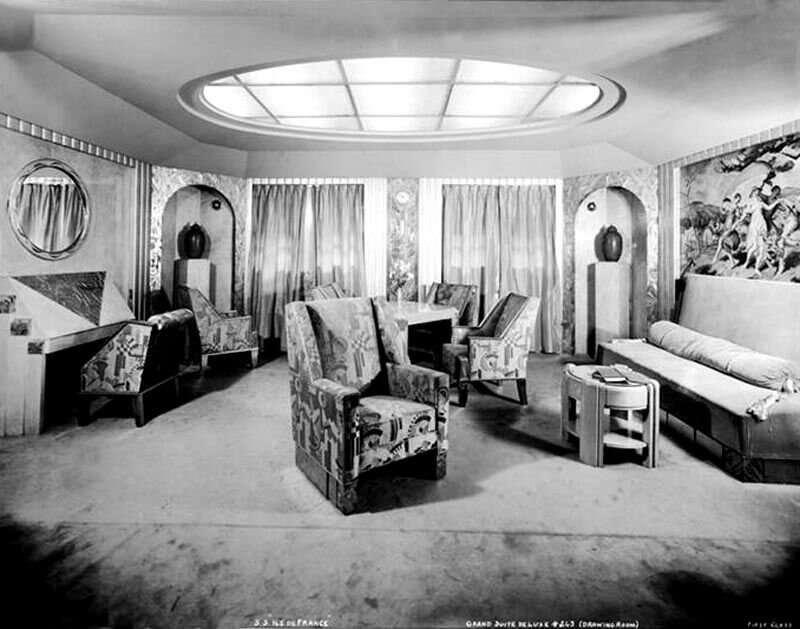 The Grand Deluxe Suite's fine Lounge
The Lounge and the Dining Room (below) were the lightest part of the suite, as the office come writing room was in the fine dark Palissandre timbers.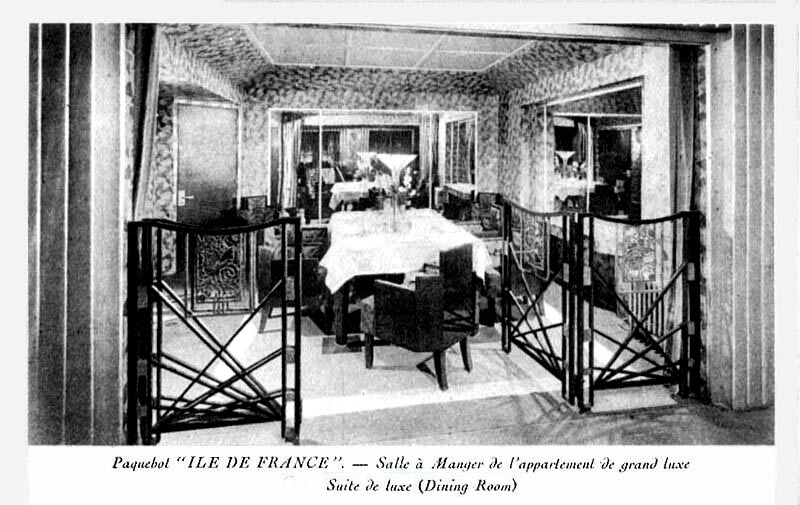 This Grand or Suite Deluxe also had a fine private Dining Room
Timbers used in most Suites had Palissandre, lemonwood, and white maple. Furniture and chairs were also in palissandre and the chairs being upholstered in various coloured velvet.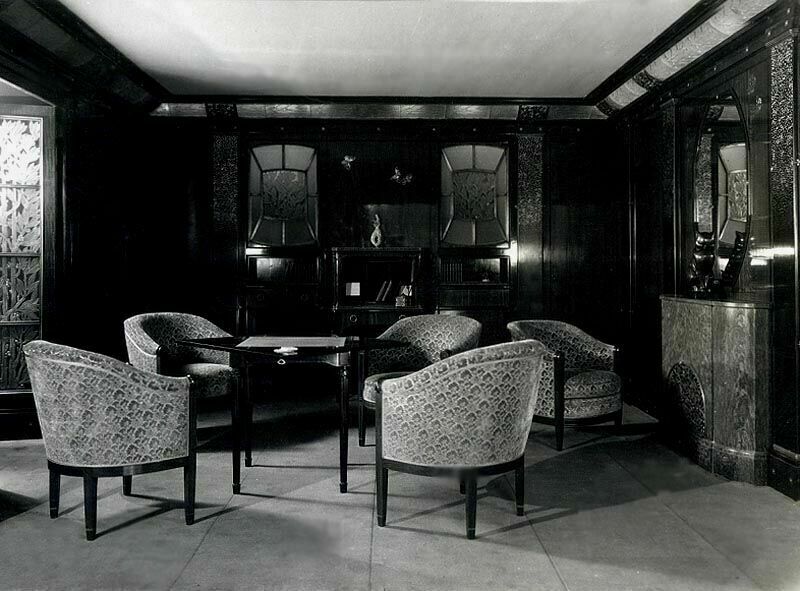 Walls in this Suite Deluxe were purple with columns of a Japanese design in lacquer sprinkled with aventurine. There was a green marble fireplace, and the furniture was in a dark purple wood, upholstered in grey velour. The ceiling frieze concealed the indirect lighting in white leaded glass. This is a part of the suite that had an in-suite writing room with a built-in desk.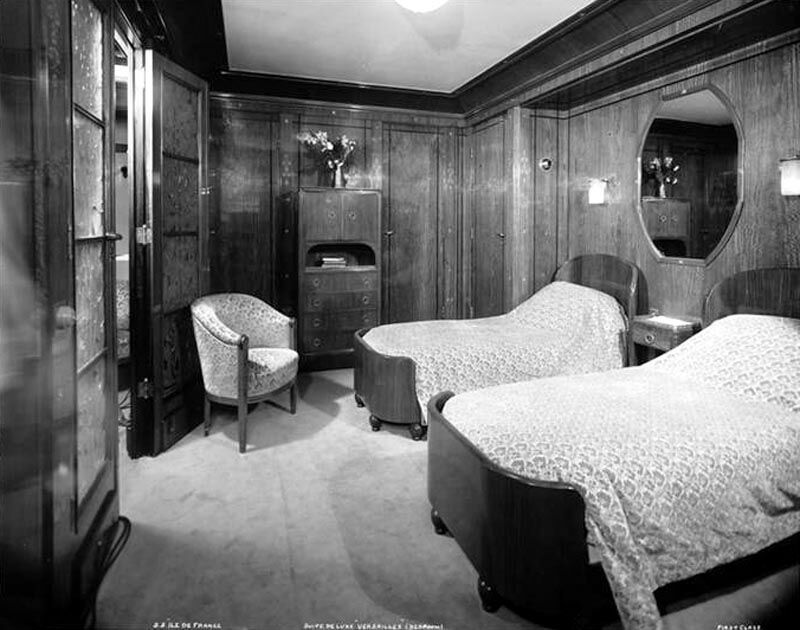 The Deluxe suites bedroom has twin beds in the finest of timbers cladding the walls had double glazed doors to the lounge. Of course like all suites there was a spacious private Bathroom.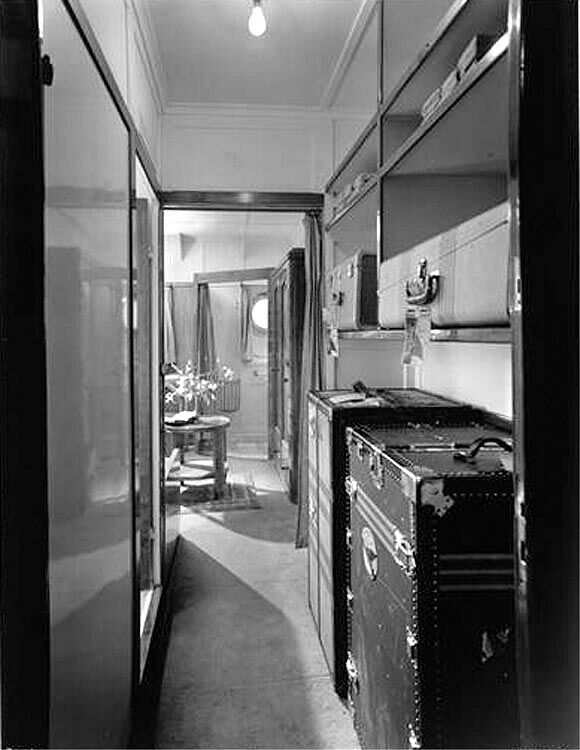 Suite's hallway has space for the guest's luggage, and in those days it included these large trunks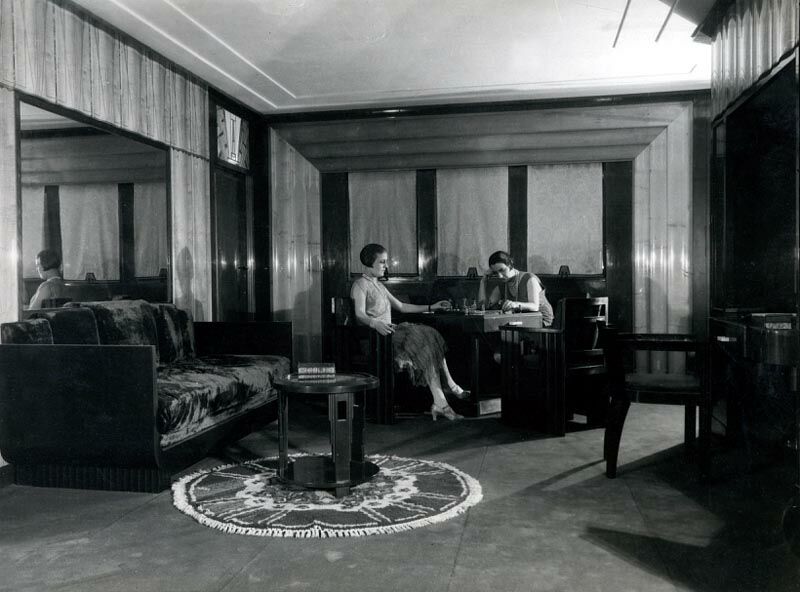 This magnificent suite was fitted out in Palissandre, lemonwood, and white maple walls. The palissandre furniture was upholstered in dark brown velvet. In the center of the room was a small circular decorative rug.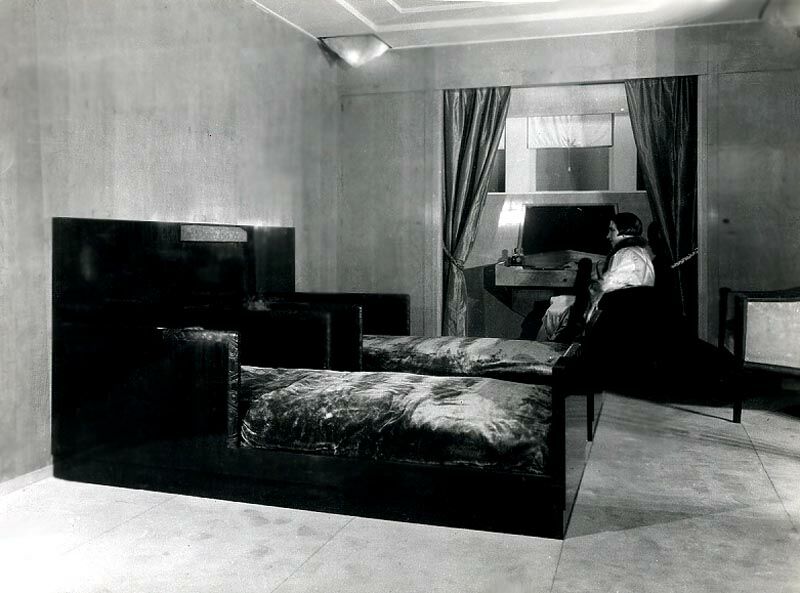 This suite above has a bedroom with twin beds in palissandre with a bedspread in "beaver velvet." Woodwork is in grey and white sycamore. Curtains were made of red taffeta. And the inverted pyramid ceiling lights are in sculptured alabaster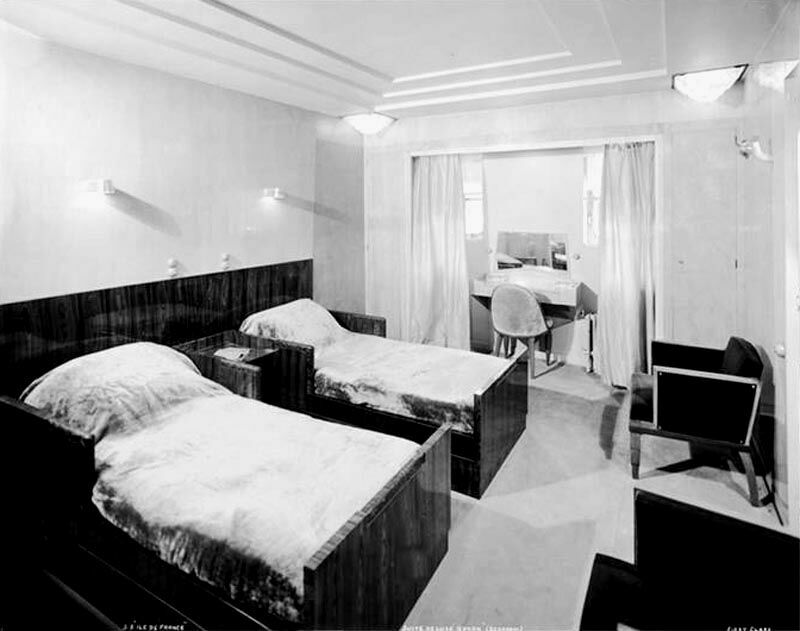 And this a very similar but a much lighter Suite Bedroom, but still featuring the same fine timbers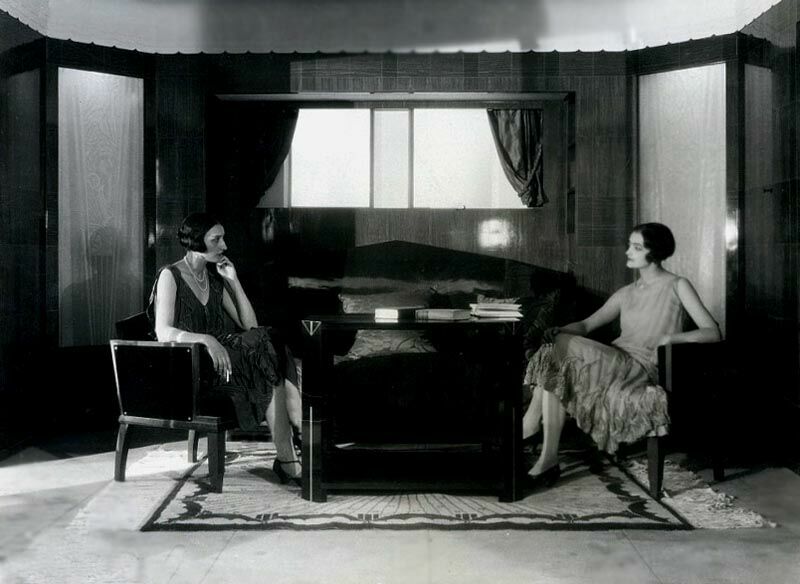 Woodwork in this suite was in lemonwood with threads of ivory. Furniture was in palissandre and silver. Sofa cushions were dark purple and gold. There was a grey rug and the armchairs were upholstered in rich red velour.
Other Suites and Staterooms: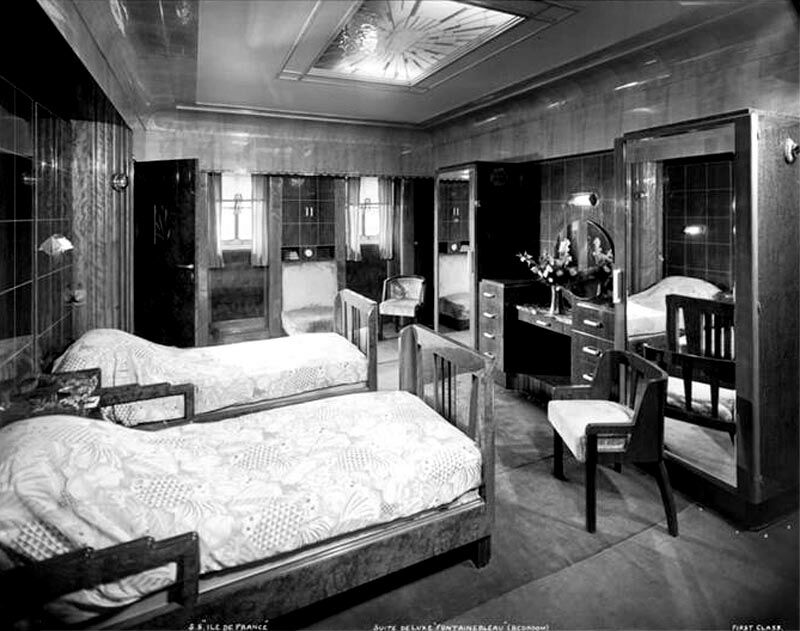 This spacious bedroom had fine furnishings, a dressing table, two
mirrored wardrobes, a fine lounge and of course a private bathroom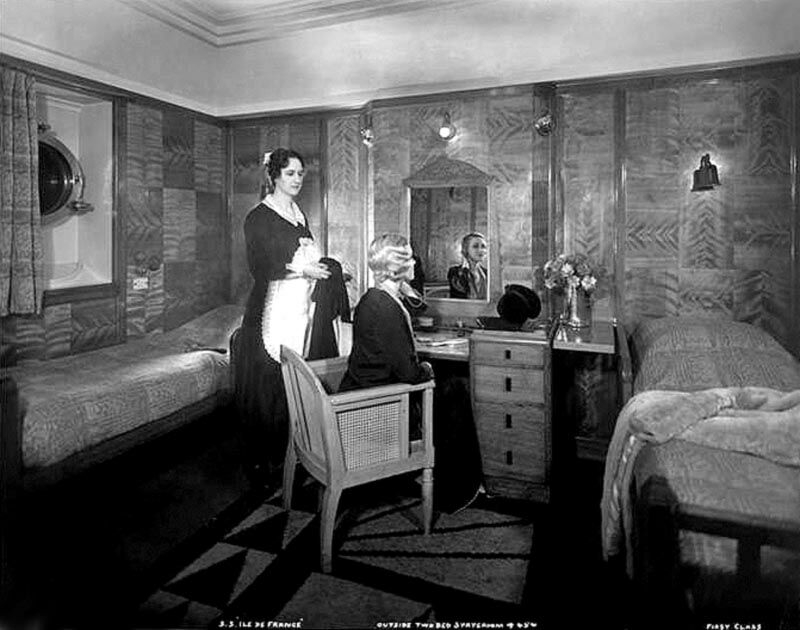 Here we see a First Class Stateroom with Private facilities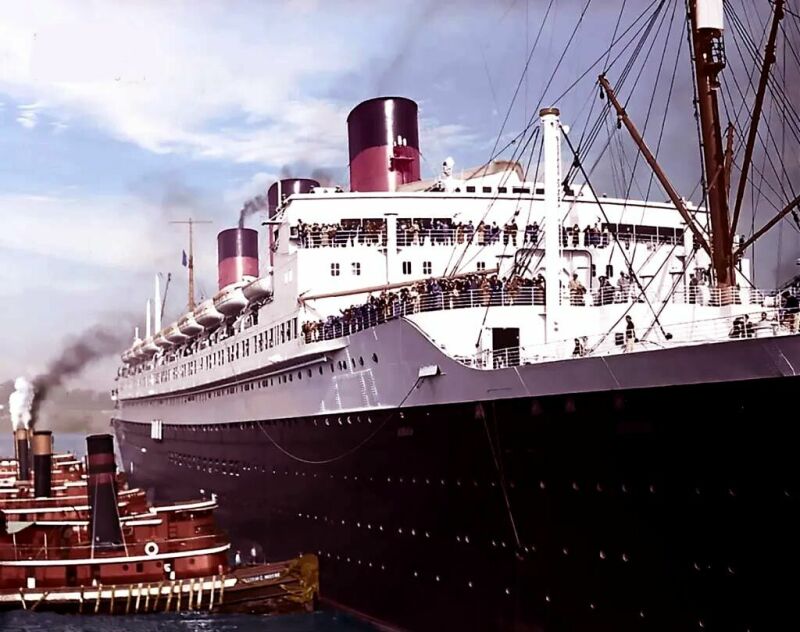 The "Île de France" is seen arriving in France
********************
Second Class:
This Class was certainly not like on other ships around the world, for its standards were well up with First Class of most other trans-Atlantic liners. Her public venues were to say at the least, most remarkable, as well having some sumptuous staterooms and excellent cabins.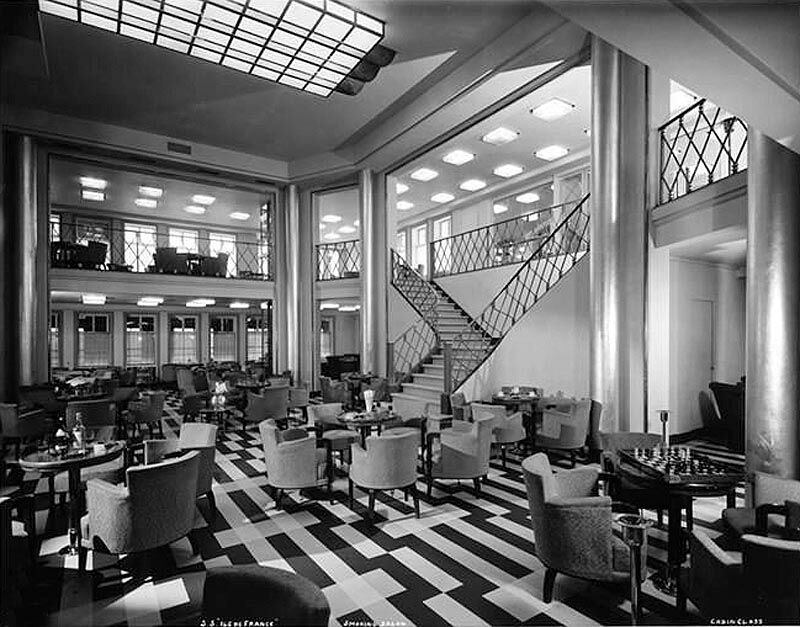 The magnificent two level Main Salon
The Smoking Room had a style all of its own, as it featured square but shapely decorative columns, and there were several styles of light fittings. Those along the side were very unusual, and those in the center were more like small round chandeliers. Furnishings were generally made of the beautiful dark Palissandre timbers, and there was a long bar in the venue.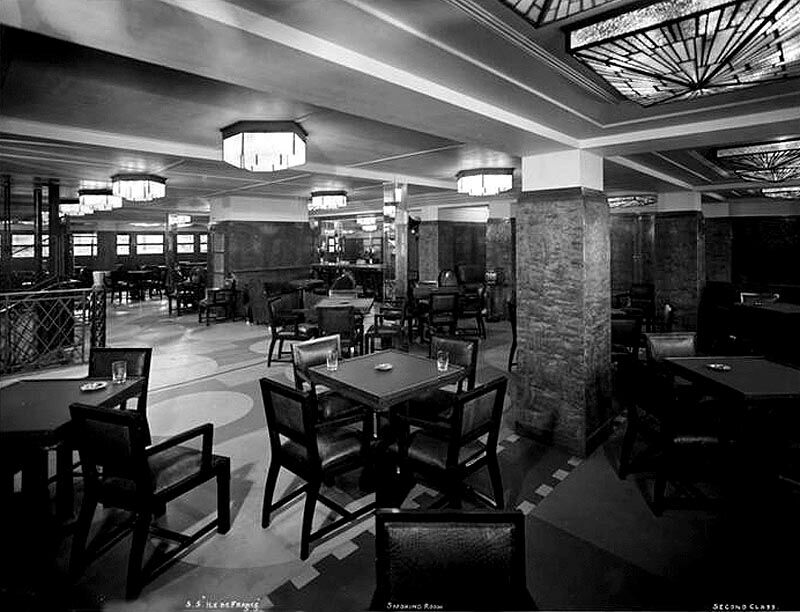 The delightful Smoking Room
The Second Class Dining Room may not be as grand as that in First Class on the "Île de France" but it was a fine high quality venue with rectangular pillars and tables were available for two, four or six guests. Furnishings like in First Class the comfortable chairs were in palissandre wood with beautiful thickly cushioned patterned tweed style wool. The venue's wool carpets had a bold pattern and it added to the room's atmosphere. With the larger portholes the venue was bright and light.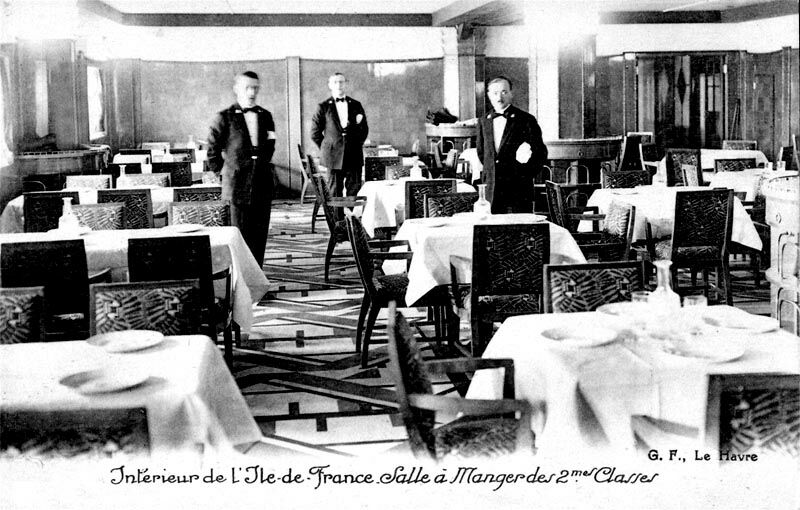 The Dining Room had vast columns and tables were mostly for two or four guests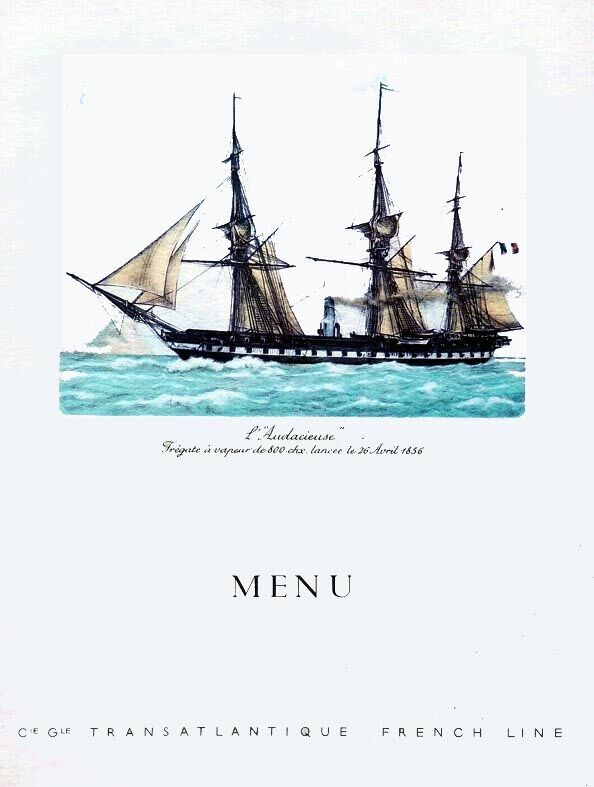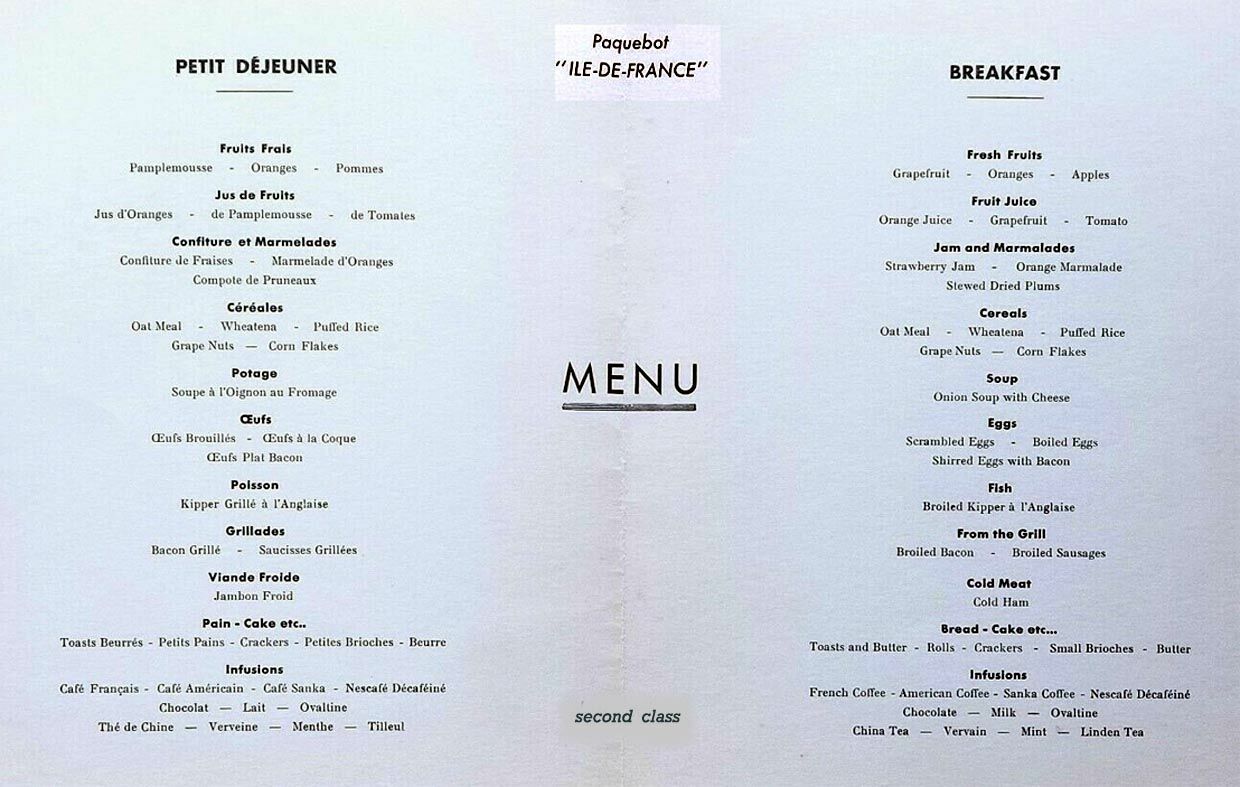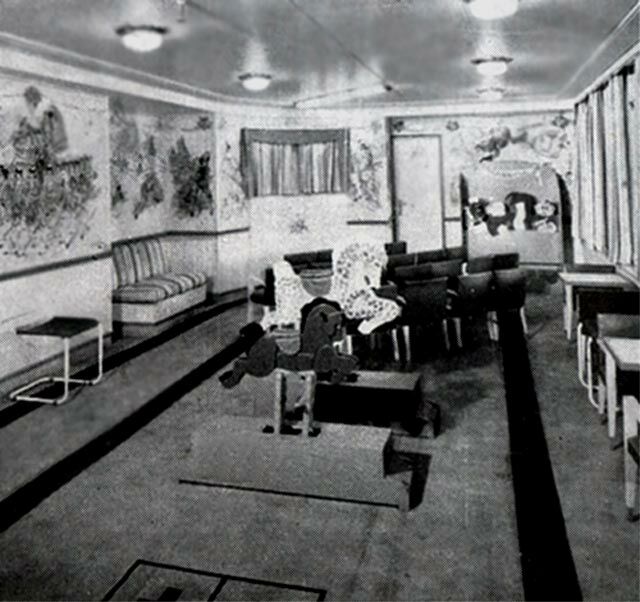 The Children's Playroom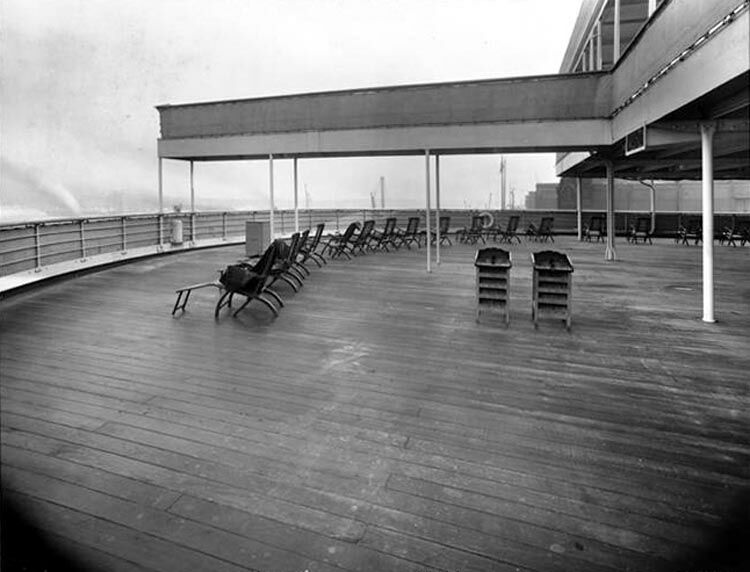 Outdoor Deck space far aft of the ship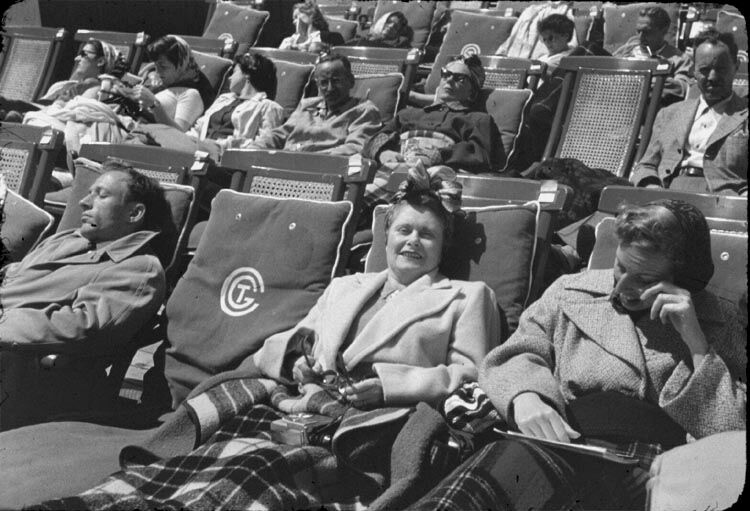 Passengers enjoying a sunny day out on deck
Accommodations:
There were some fine staterooms all having a private bathroom, as well as cabins, both those with a window or porthole (outside) or those that were located on the inside. But all cabins had what was known as daylight lighting, thus they were nice and bright! Remarkably all accommodations on "Île de France" had high quality innerspring mattresses, and not the usual thinner style shipboard mattress as is found on bunks on most other ships.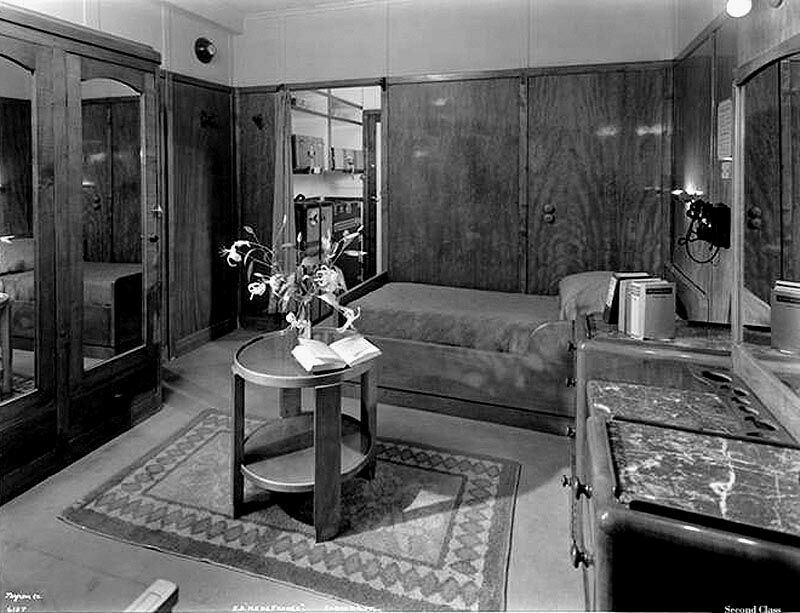 A fine twin bedded Stateroom with a private bathroom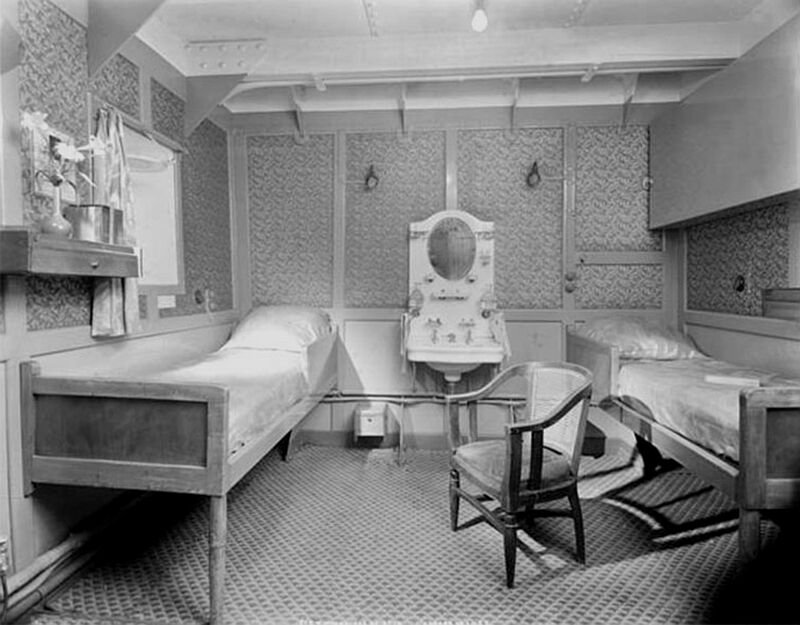 A delightful stateroom with two beds and an upper Pullman for a third passenger, it also had a private bathroom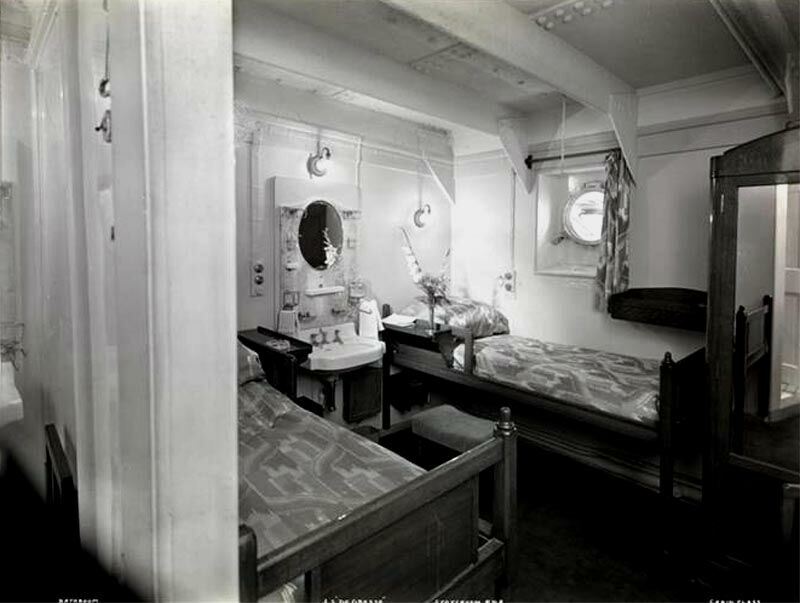 There is another twin bedded stateroom also with a private bathroom
********************
Third Class:
The "Île de France" offered comfortable accommodations in Third Class, including spacious decks, Social Halls, an attractive commodious Smoking and Game Rooms to guarantee a comfortable and pleasant voyage.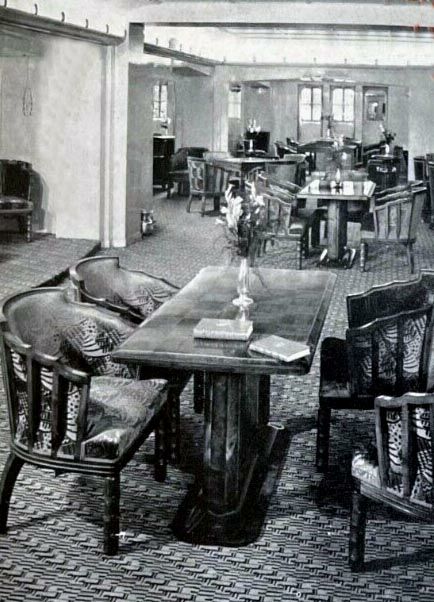 A view of the Main Lounge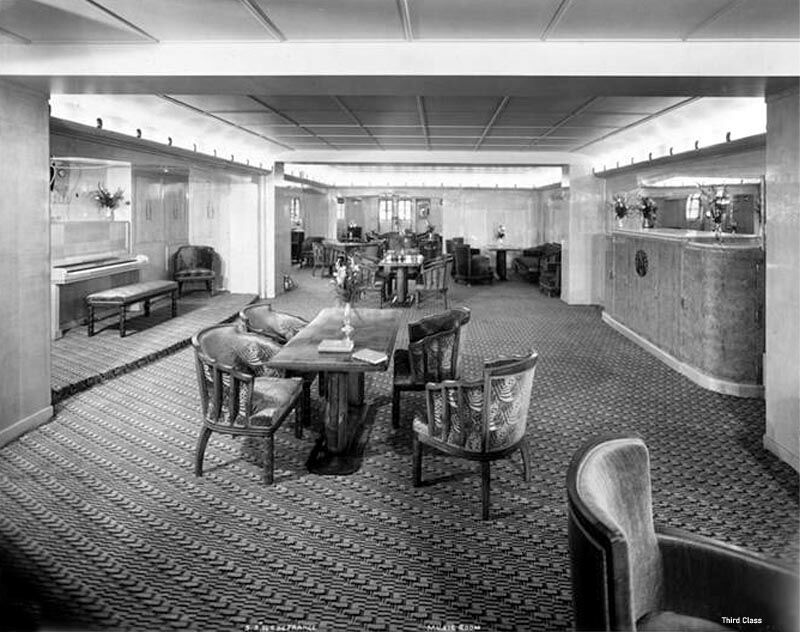 The delightful Music Room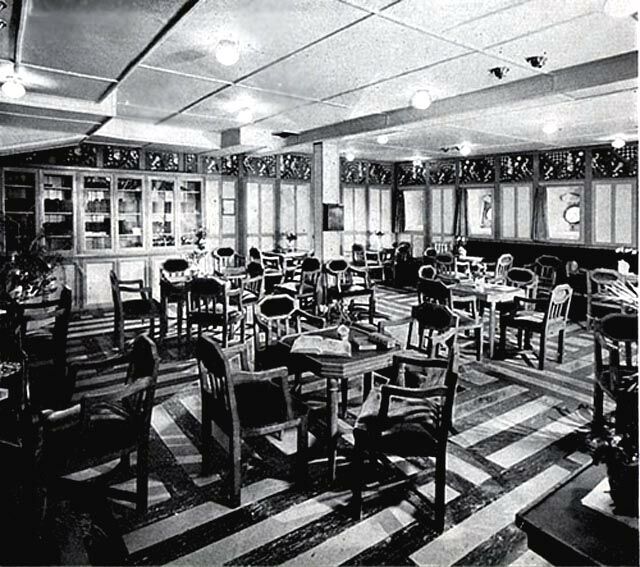 Third class had an excellent Library and Reading Room which we see here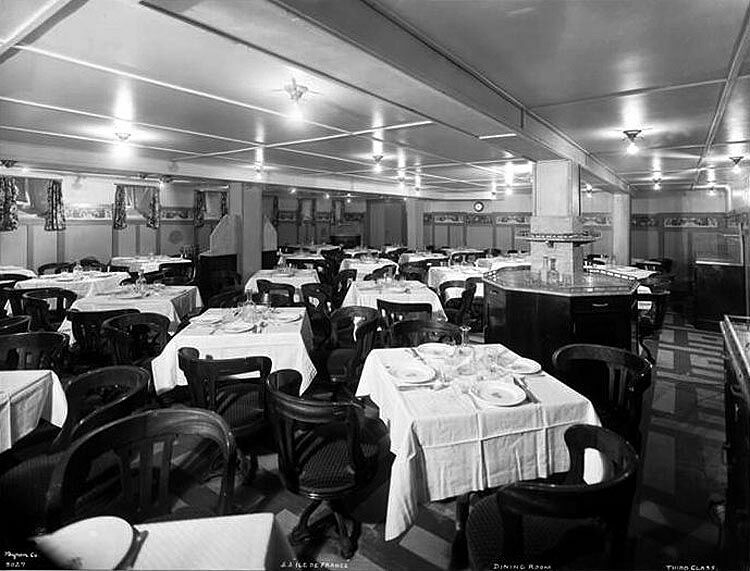 The Dining Room
Although the public venues were of a very high quality for what was called Third Class, but the high quality of meals continued in all classes. Indeed there was not such a huge selection available as in First Class, but what was on the Menu was of an excellent quality!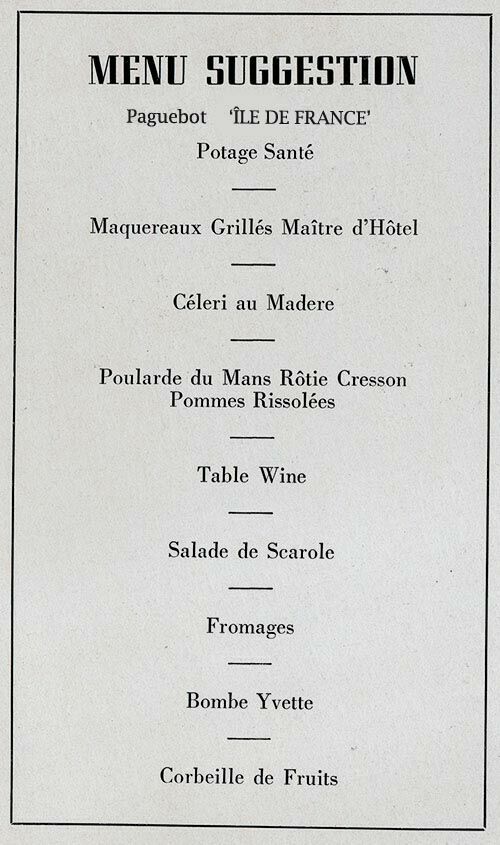 A Diner Menu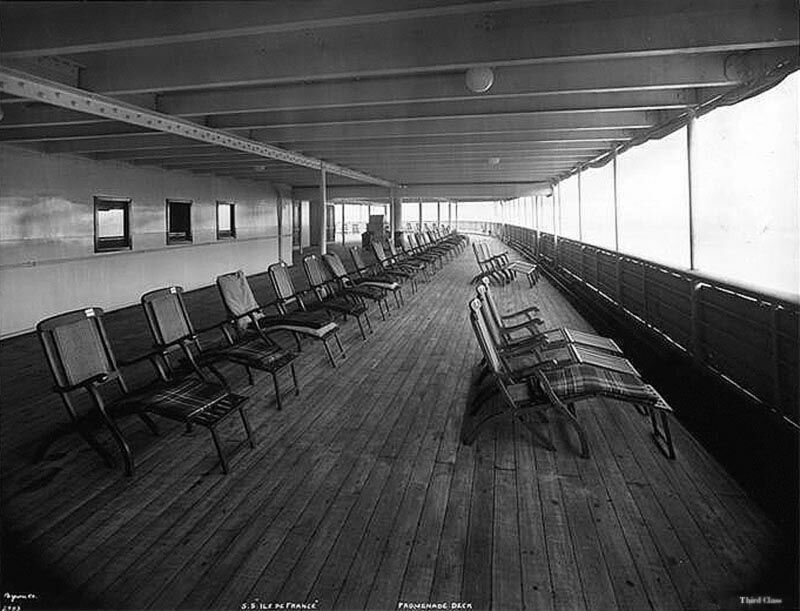 Here we see the spacious Promenade Deck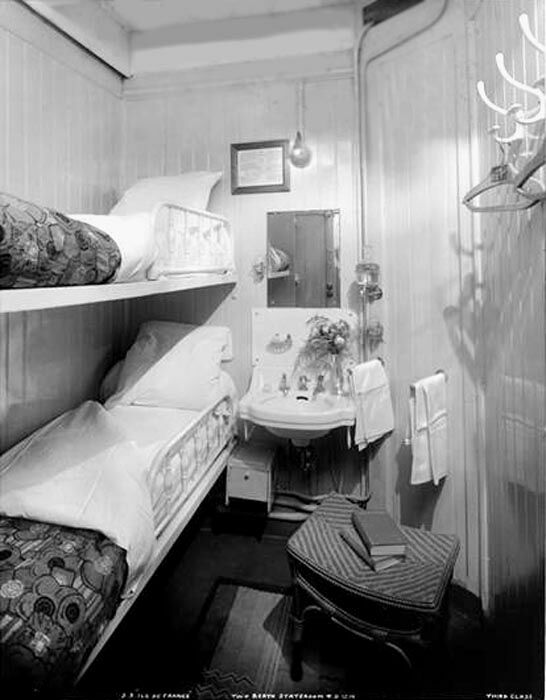 This outside two berth cabin was not large, but it did have excellent mattresses on those bunks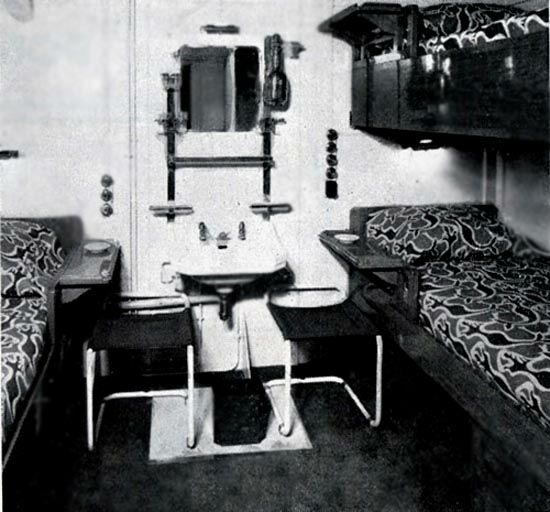 Here we see an inside twin bedded cabin with a fold-away upper berth for a third guest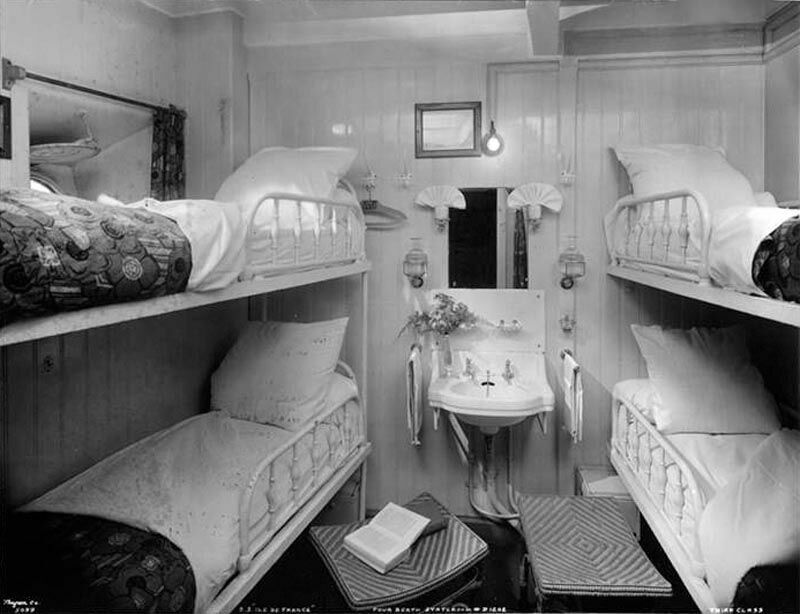 And there were of course four berth cabins
********************
A 1932 Refit:
Just after five years in service, the "Île de France" was sent back to her builder's yard "Ateliers et Chantiers de Saint-Nazaire Penhoët" at Saint Nazaire, for several reasons;
1. It was required to reduce vibrations she did suffer, and on a ship of such a very high standard even small vibrations can be annoying. Therefore every piece of panelling throughout the ship was removed, then padded, and replaced.
2. It had been decides that during the refit some alterations would be made to her accommodations, which was altered to become 670 First Class, 408 Second Class and 508 in the Third Class became known as newly named 'Tourist Class' (as now most guests were full fare paying passengers and not many migrants). Upon completion in she was registered as being 43,450 GRT, and she returned to her regular duties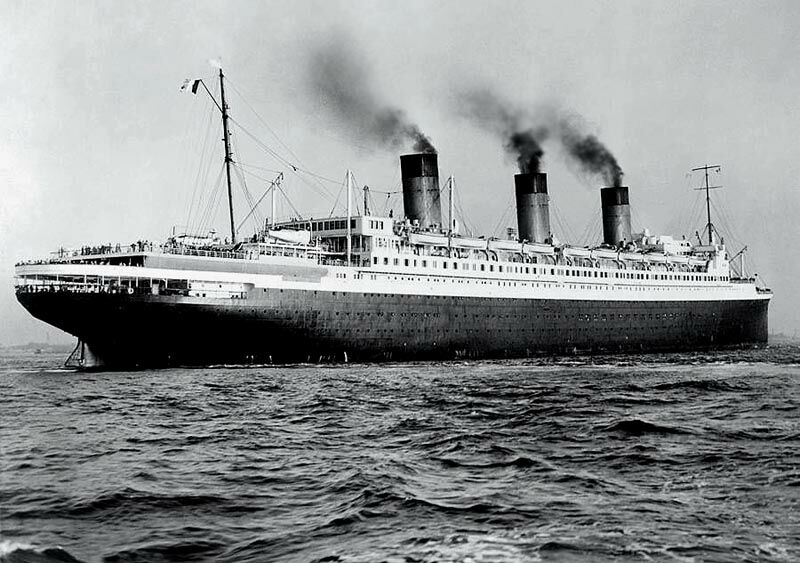 A view of the S.S. Île de France departing bound for New York after her refit
The above image also gives a good view of the 1st Class 'Café Terrace'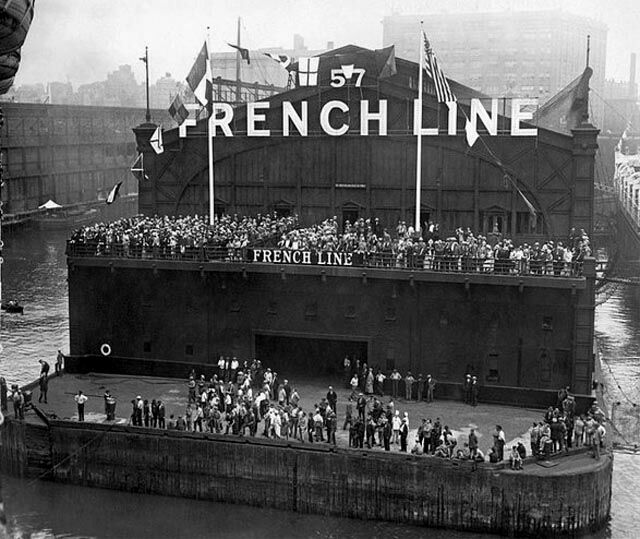 A photo taken from the deck of the just arrived "Île de France" of New York's "French Line" 'Pier 57'
In 1935 the "Île de France" and the "Paris" were joined by a huge brand new French Line liner, being their new super liner, the 79,280 GRT, S.S. Normandie (83,423 GRT in 1936). With these three ships the CGT could boast of having the largest, fastest, and most luxurious ships operating on the north Atlantic.
Here we see the "Île de France" at berth with passengers embarking
whist the 79,280 GRT, S.S. Normandie is seen departing for France
The three ships sailed on, and proved to be a huge success, but sadly this was not to endure, and two events ended the French Line's prosperity. The first occurred on April 18, 1939, when the magnificent S.S. Paris was destroyed by fire whilst docked at Le Havre. The second was on September 1, 1939 when Nazi Germany invaded Poland, which saw World War Two commence, and it ended civilian (as opposed to military) transatlantic traffic.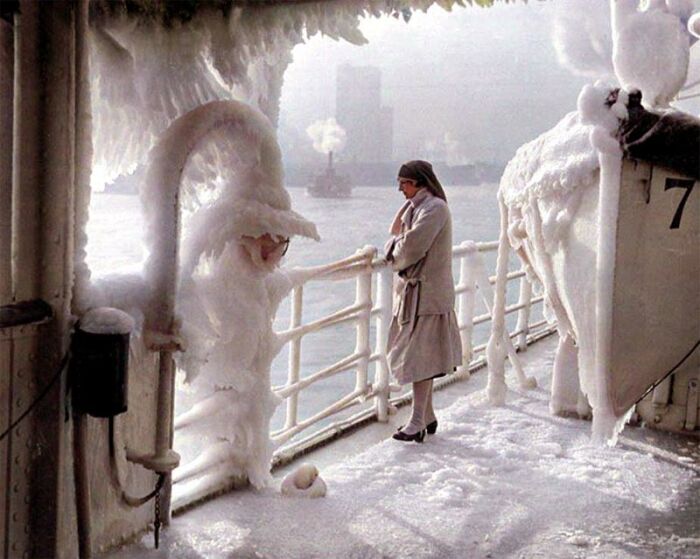 A guest is daring enough to head out on deck as the "Île de France"
arrives at New York on a freezing cold winter's day
Page two continues with her time serving during WW2, and her complete refit changing the ship in what looks like a new liner, with two funnels and her story that follows which is very interesting!
*********************
Specifications and Details:
Ship as built:             Île de France.
Type of ship:             Ocean liner.
Builder:                    "Ateliers et Chantiers de Saint-Nazaire Penhoët", Saint-Nazaire, France.
Names:                    Île de France - 1927-1958.
.                              Furansu Maru – 1959-1960.
.                              Claridon - 1959.
Owners:                   "Compagnie Générale Transatlantique" (French Line) - 1927-1959
.                              "Yamamoto & Co" - 1959-1960.
Managed by:             "French Line" 1927-1940.
.                              "British Admiralty" - 1st part of WW2.
.                              "Cunard-White Star" – 2nd part of WW2.
.                              "French Line" 1946-1958.
Port of Registry:        Le Havre, France.
Laid Down:               1925.
Launched:                 March 14, 1926.
Sea Trials:                May 29, 1927.
Delivered:                 June 1927.
Maiden Voyage:         June 22, 1927 - Le Havre - Plymouth and New York.
Tonnage:                  43,153 GRT – 41,000 DPL - 1927.
.                              43,450 GRT - 1933.
.                              44,356 GRT - 1949.
Length:                    791 ft - 241.1 m.
Beam:                      91 ft - 27.7 m.
Draught:                  N/A.
Installed power:        60,000 HP.
Propulsion:               4 x Geared oil burning Steam Turbines.
Propellers:                Quadruple screws.
Speed:                     23.5 knots service speed – 25.3 knots maximum.
Passenger Decks:       8.
Accommodations:     
1927:                       Total 1,786 passengers.
.                              537 First Class.
.                              603 Second Class.
.                              646 Third Class.
1932:                       Total 1,586 passengers.
.                              670 First Class.
.                              408 Second Class.
.                              508 Tourist Class.
1949:                       Total 1,345 passengers.
.                              541 First Class.
.                              577 Cabin Class.
.                              227 Tourist Class.
Cargo:                      N/A.
Crew:                       800.
Sold:                        "Yamamoto & Co" breakers, Osaka - February 26, 1959.
Note:                       Used as a prop in the movie "The Last Voyage".
Fate:                        Scrapped at Osaka, Japan in 1959/60.
*********************
R
emembering the Great …
  

          

 

S.S.
Île de France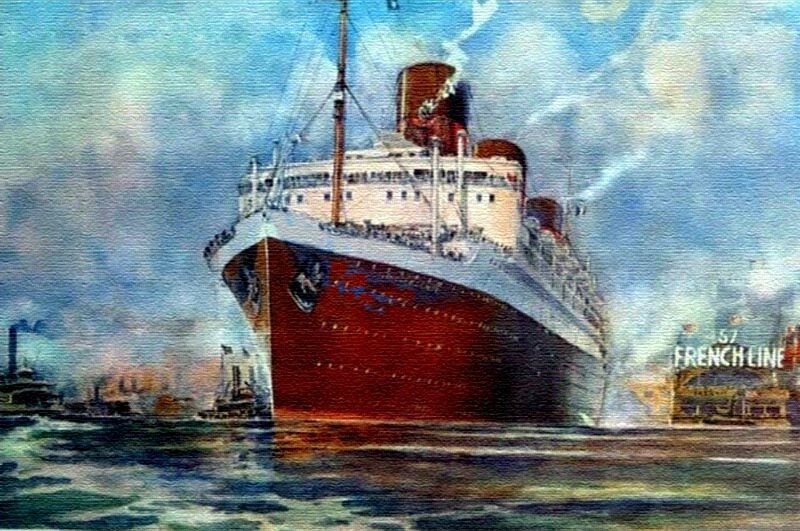 A fine painting of the remarkable S.S. Île de France as she departs New York
*********************
Go to Page Two
"Île de France" from her WW2 service, her refit (1946/49) & passenger service until 1959
View a 16.40 minute video of the great S.S. Île de France
Also visit the 3 page S.S. Normandie Feature - 1935 to 1947
And the S.S. Paris - 1921 to 1947
"Blue Water Liners sailing to the distant shores.
I watched them come, I watched them go and I watched them die."

Featuring over 1,435 Classic Passenger Liners, Passenger-Cargo Liners & Classic Cruise Ships!

Or ENTER HERE

For interest: Sadly an email service to ssMaritime is no longer available, due to the author's old age and chronic illness as well as being disabled, etc. In the past ssMaritime received well over 120 emails per day, but

Goossens can no longer handle same. He sincerely regrets this!

*********************

ssMaritime.com & ssMaritime.net

Where the ships of the past make history & the 1914 built M.S. Doulos Story.

The Author has been in Passenger Shipping & the Cruise Industry for well over 60 years

In addition he was the founder of "Save the Classic Liners Campaign" in 1990.

Please Note: ssmaritime and associated sites are 100% non-commercial and the author seeks no funding or favours of any shape or form, never have and never will!

Photographs on ssmaritime and associate pages are by; the author or from the author's private collection. In addition there are some images that have been provided by Shipping Companies and private photographers or collectors. Credit is given to all contributors. However, there are some photographs provided to me without details regarding the photographer/owner concerned.

This notice covers all pages; although, and I have done my best to ensure that all photographs are duly credited and that this notice is displaced on each page, that is, when a page is updated!

ssMaritime is owned & © Copyright by Reuben Goossens - All Rights Reserved