The complete history if the 1922 P&O RMS Mongolia and her next four incarnations as the liners; SS Rimutaka 1938, SS Europa 1950, the luxury cruise ship SS Nassau 1951 & SS Acapulco 1960 to 1964
Please Note: Firefox & some other Search Engines may not be suitable
Use Google Chrome for this Web Page to load perfectly!

Click the logo above to reach the ssMaritime FrontPage for Ships of the Month & News Updates
With Reuben Goossens
Maritime Historian, Cruise'n'Ship Reviewer, Author & Lecturer
Please Note: All ssMaritime and other related maritime sites are 100% non-commercial and privately owned, thus ssmaritime is NOT associated with any shipping company or any other organisation! Although the author has worked and been involved in the passenger shipping industry for well over 60 years, but due to his old age and poor health, he was forced to retire. Yet, he has completed well over 1,550 Classic Liners, Passenger-Cargo Liners as well as humble converted C3 converted Migrant Liners, which has transported countless thousands of folk to the new world, as well on vacations'. Amazingly, ssmaritime.com has received well over 573.4 million visitors to date I trust the features online will continue to provide Classic Liner and Ship enthusiasts both the information they are seeking, but more so provide a great deal of pleasure and relive many happy memories!
Page Two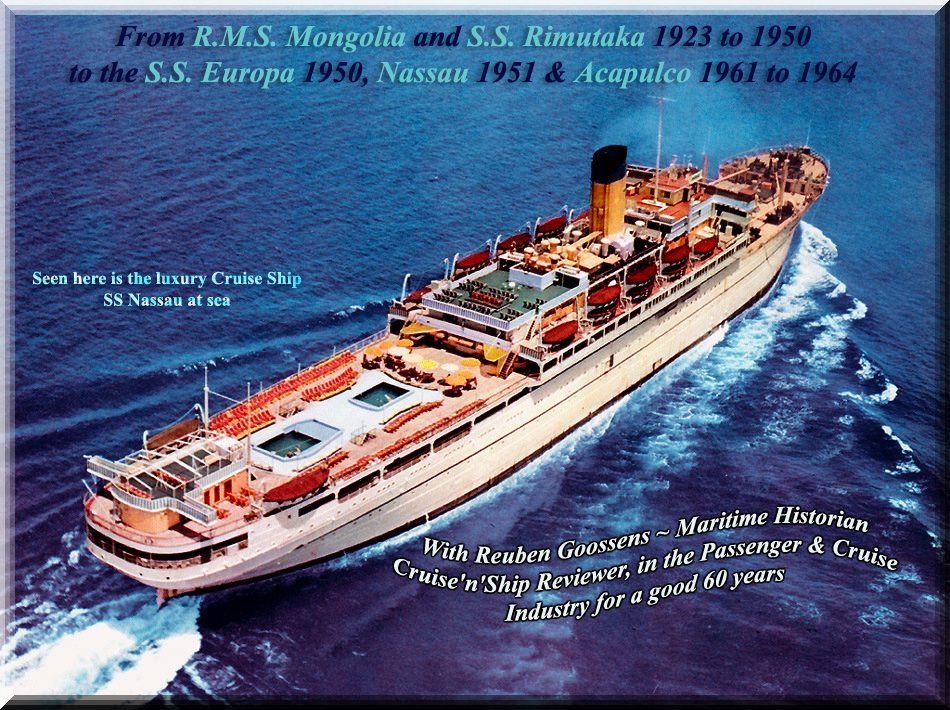 Introduction:
If you have arrived at this page via a search engine, then you will have missed out on the ships origins, for she was originally built as the P&O's R.M.S. Mongolia (3) in 1922 and completed in 1923 and she operated on the UK Australia Service.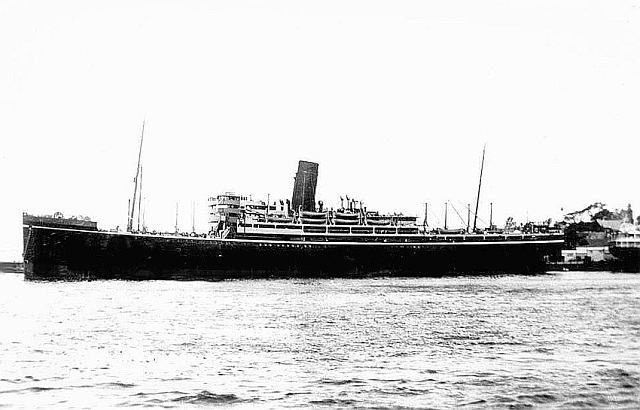 R.M.S Mongolia 1923 to 1938
In 1938 she was placed on a long term charter to the "New Zealand Shipping Co", who renamed her "Rimutaka" and placed her on the UK New Zealand service until 1950.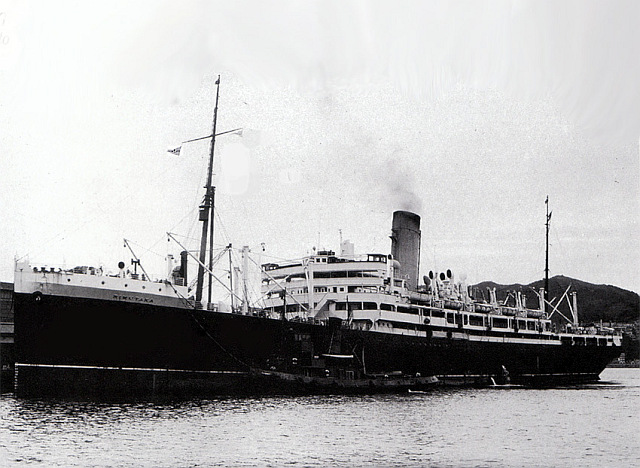 S.S. Rimutaka 1938 to 1950
S.S. Rimutaka's final voyage for the "New Zealand Shipping Company" departed Wellington for London very early in January, 1950, and upon arrival in London the ship was returned to P&O, who already had a buyer, as she was sold on January 10, 1950 whist the ship was on her voyage home.
For full details and photographs use the link at the bottom of this page to Page One.
***********************************
SS Europa:
On 3 March 1950 the Rimutaka was transferred from P&O to the "Home Lines" affiliated "Compania de Navegacion Incres SA" or the much loved "Incres Shipping Company" of Panama for just £95,000. Incres renamed her 'Europa', and converted her to take just 614 Tourist Class passengers, she was stripped from all her refrigerated cargo space, and in her new role she commenced transporting stateless immigrants from Europe to the United States and Canada.
She first sailed from Genoa, however later crossings commenced at Antwerp and then later from Le Havre. A stop en route was usually made at Plymouth to collect British immigrants. She sailed to Halifax, Nova Scotia and New York. Being an Italian owned liner she had had an Italian crew who proved to be very popular.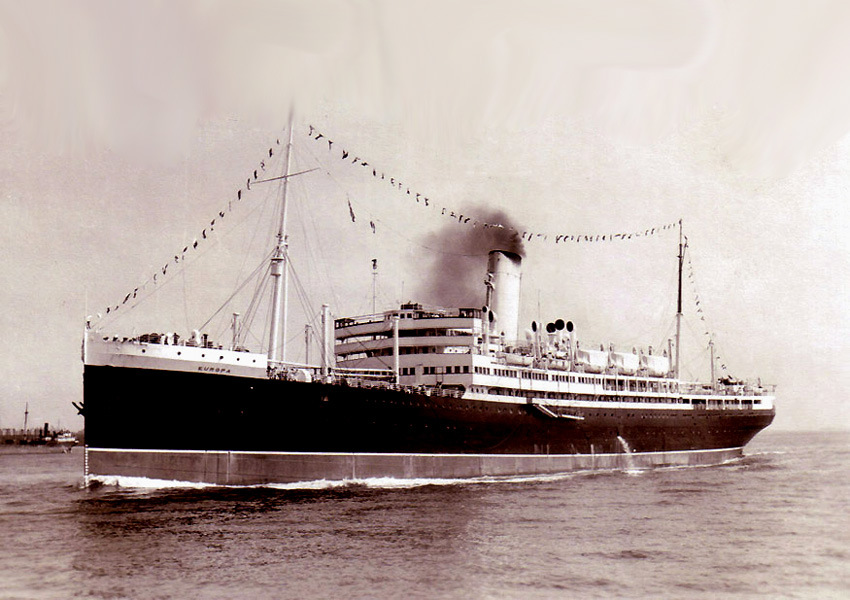 The S.S. Europa is seen after her modernisation with half of her Upper Promenade Deck having been glazed in
Here is an interesting S.S. Europa story as told by a Junior Purser:
The new owner, Incres Steamship Company of Panama, named her Europa and she had an all Italian crew, she was placed under the auspices of an international agency to transport stateless individuals made homeless due to World War 2 and the sailed as immigrants from Le Havre to Halifax and New York. A port of call was made at Plymouth, where the ship would anchor for a few hours in order to embark Britons who would be immigrating to Canada or the United States.
By the time I joined the Europa, she was already a veteran in this of service having commenced the previous year transporting the same stateless immigrants to Canada and the United States from Antwerp in Belgium. The switch from the aforementioned city to Le Havre was solely due to logistical reasons.
The round voyage took almost a month and the Europa remained in this service until the end of September 1951, when she went to a shipyard in Genoa to undergo radical renovation works. At the end of the conversion she became a luxury Incres Line cruise ship the S.S. Nassau, commencing late December 1951 operating a weekly service from New York to Nassau, the first ship ever scheduled to sail year-round on a full cruising schedule.
But let me return to April of 1951:
"Of course, I was very excited about my new job. I remember, just a few hours out of Le Havre the first view of the white cliffs of the English Channel, the curiosity of the tender in Plymouth, bringing passengers from shore to the ship, my first crossing of the Atlantic Ocean (and the relevant seasickness), my first encounter with the American Continent, my surprise upon arriving at Halifax to find that at the beginning of May it was still snowing. But more than anything else I remember the daunting task of preparing the passenger manifest as required by the Immigration authorities, in Halifax and New York.
The preparation of the passengers' manifest had become a nightmare to us junior pursers, and it practically was our only job on board. But it was a full time job, often requiring us to work overtime.
The passengers carried by the Europa, apart from the British, were all stateless persons from Eastern European countries, many from Poland. Their names as well as all related data were very difficult, sometimes forbidding for us Italians, made as they were of the most incredible grouping sequence of keys, zed and other alien consonants, with very few vowels here and there in between. It was therefore very difficult to collect all the information required by the Immigration authorities.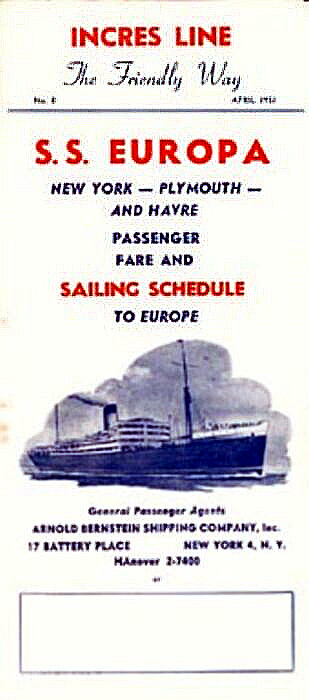 Here we see a S.S. Europa schedule from April 1951
And, sometimes it was even funny: I remember one instance later in the season, when we needed some additional information from one passenger. We called him over the public address system, but no one showed up. We kept calling him several times during the day, with no success. Finally, we asked the cabin steward to look for him. The steward did not have to look far. As he left the Purser's office he spotted the passenger sitting in an armchair in front of the office and we all remembered having seen him sitting comfortably there all day long.
If gathering the information was hard, even harder, burdensome and time consuming was typing the data on the immigration forms. Most of the aggravation was certainly due to the ink we had to type with and to the copying machine we had to use.
Typewriters, at the time, were only manual, stencil was unknown, and Xerox machines were light years away, computers sounded like a dirty word.
The result was that we had to type the manifest using a horrible purple tape, which made our fingers look like overripe California plums and which, even more frustrating, made corrections impossible to make once the text was typed.
When all the papers were finally completed (25 names per sheet, for 650 passengers, equals 26 sheets) a special gelatin roll was taken out of the ship's refrigerated storeroom and deployed (spread out) on a table in the Purser's office. The gelatin was moistened and each sheet, one at a time, was religiously pressed, face down for a few minutes against the gelatin. A reverse image of the prints remained on the surface and, by carefully and quickly pressing black sheets firmly against that image we could obtain, if everything worked out well, six legible copies. But if something went wrong we had no choice but to retype the entire page and go through the same copying operation once more.
To add to the aggravation and anxiety we already felt, the Senior Purser was continuously warning us about the strict scrutiny of these lists by the Immigration authorities and, in particular, the absolute accuracy of the manifest required by the Chief of Immigration Officers in Halifax, who was nicknamed "il Cines " because of his oriental origin.
And I remember the big day, when I had my first experience of the Canadian Immigration procedure.
The immigrants were assembled in large, bare rooms with huge heating units by the windows and with roofs of corrugated metal. Several inspectors were seated at a long, wooden table and immigrants were asked to sit in front of one of them for questioning and verification of their papers. Once the examination was satisfactorily over, they were admitted and could proceed to their destination.
The odyssey and the fate of these people always impressed me with mixed feelings of compassion and admiration. When we required them to give us their final destination address, in order to complete the passenger's manifest, they invariably showed us the return address on an envelope of a letter received from whom ever sponsored their immigration application. They did not know anything more.
I looked at them in amazement. There are people, I would think, who have gone through terrible experiences, who suffered hunger and humiliations, who lost not only their loved ones, their homes and country, but their identity as well. And now here they are, sailing towards an unknown country, whose language they did not speak, without knowledge of where they would eventually settle, in a city, village, or in the mountains.
And yet, they laughed and joked. More than anything else they looked forward to starting a new life. I was stunned by the human ability to rise from the ashes and to start all over again.
Almost fifty years have passed since those voyages. By now the children and grandchildren of the immigrants we carried on the S.S. Europa are fully integrated into their new world. Many may occupy posts of prestige and responsibility. Fantastic, this is the miracle of immigration.
Has the new generation ever heard of the S.S. Europa and of the journey taken by their elders? Does anyone who travelled on the S.S. Europa still remember the ship, which served as a bridge from their lost country to their new one? I hope so. I also hope that somewhere the memory of the Europa is still kept alive.
The S.S. Europa called at Halifax for the last time towards the end of September 1951. It was sad to say goodbye to a place, which by then had become familiar and friendly." Name not provided.
S.S. Europa continued her migrant duties until the end of September, 1951, but Incres decided to sell her in-house to "Incres Nassau Line" (or just the "Incres Line")."
***********************************
SS Nassau:
Once she had been transferred to the Incres Line she was renamed the "Nassau" and she was comprehensively refitted in Genoa's ship-yards into a luxury cruise ship, both internally as well as modernised externally. All her accommodations were completely refitted to become genuine luxury Suites and cabins, her Suites had private sitting rooms and, as well as most cabins on Promenade and Main Decks had private bathrooms, in addition the ship was now fully air-conditioned.
Hone of the special features was that her three aft cargo holds on Upper Promenade Deck were removed which would provide a great deal of additional deck space where two Swimming Pools were installed with a forward Lido terrace, as well as a new aft deckhouse, with a Sun/Sports-Deck above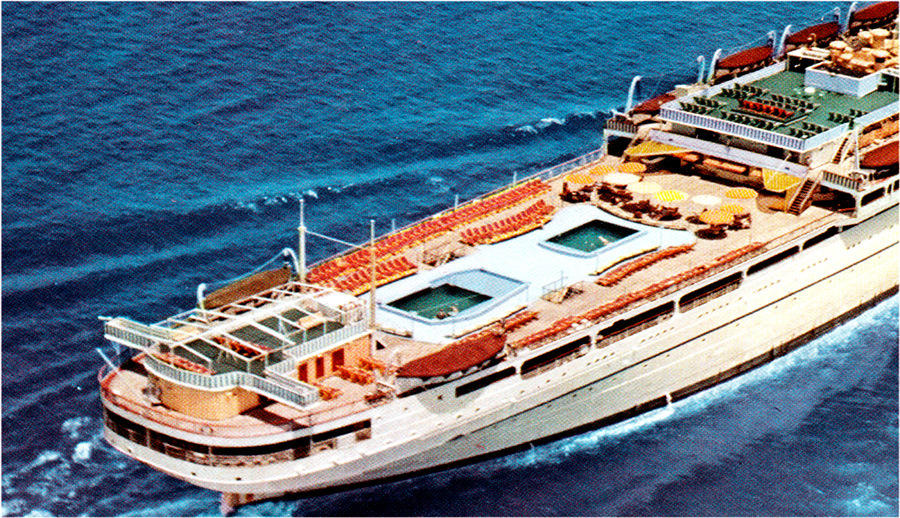 Above we see the brand new aft decks of the Cruise Ship S.S. Nassau, which became one of her most loved features!
This refit was done especially to make her suitable for her new role operating year round from New York City to Nassau in the Bahamas. When completed, the new 15,043 GRT cruise ship was registered in Panama.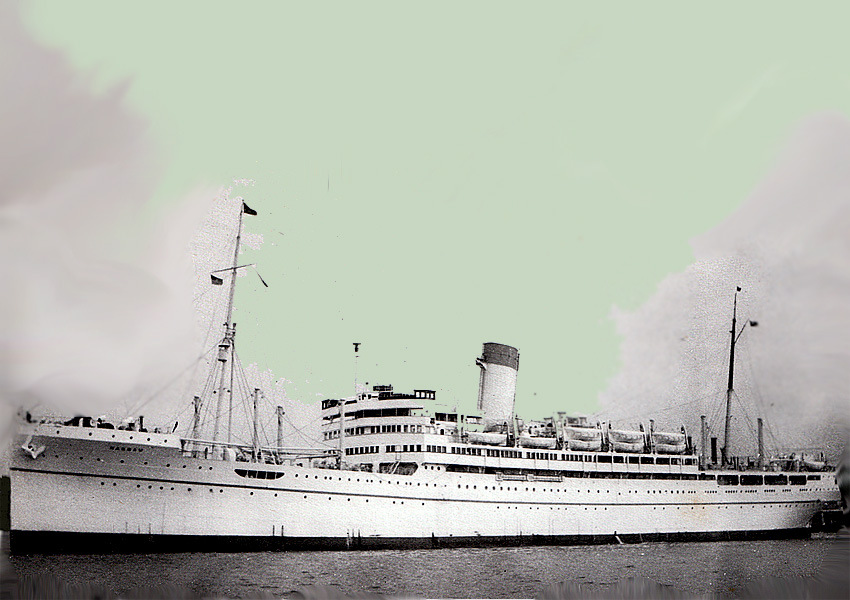 One of her early photographs of the all First Class Cruise Ship, the S.S. Nassau
This new cruise service was wonderful news for New Yorker's as this was the very first time that a cruise ship was employed fulltime on year-round basis.
S.S. Nassau offered her guests six passenger decks, and wide range of a vast variety of fine public venues, which were all located on Upper Promenade Deck, except for the Grand Dining Saloon which was located below the Promenade Deck, on A Deck with entrance doors at the forward Entrance Lobby.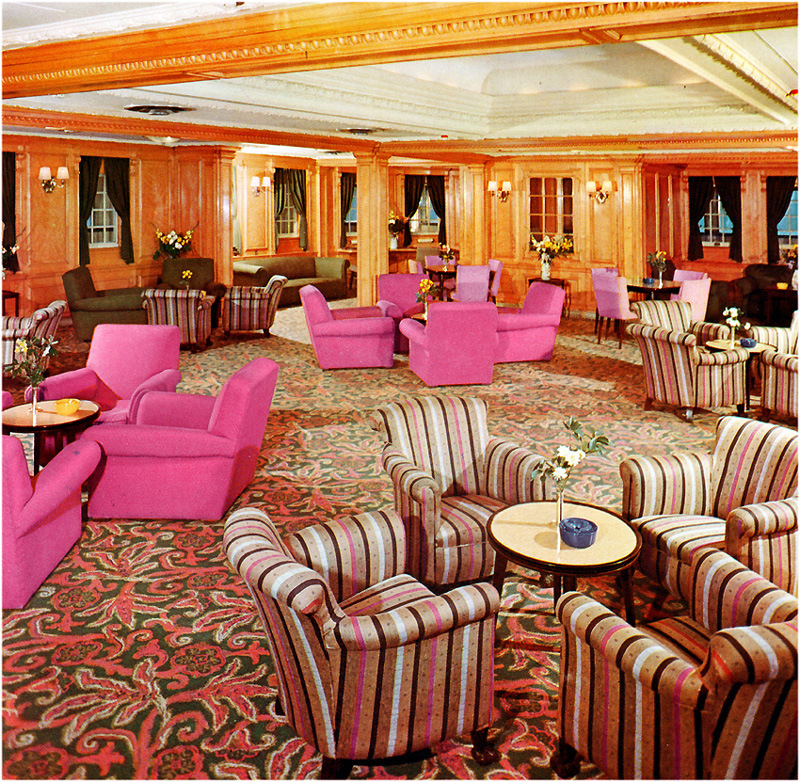 The elegant Main Lounge far forward on Upper Promenade Deck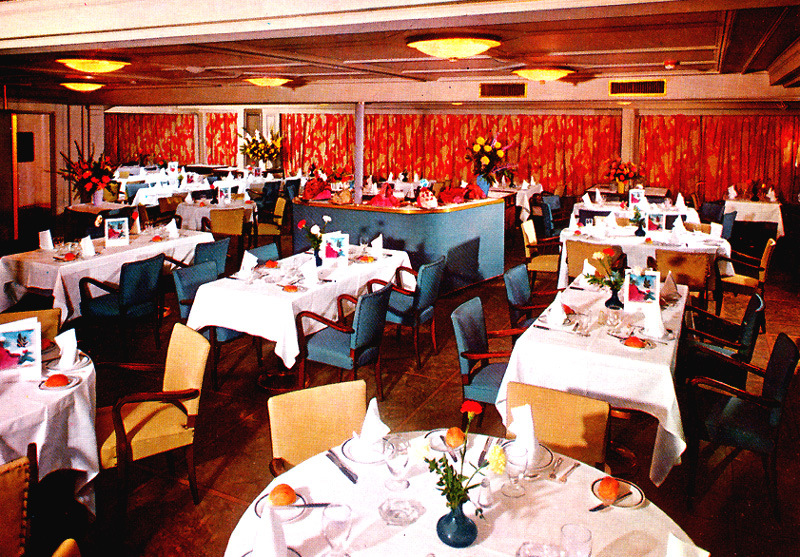 The spacious and elegant Dining Saloon
There was further deck space below on Promenade Deck, as well as many cabins on this, Main and A Decks. There were four Deluxe Suites with separate lounges and a bathroom located forward on Promenade Deck, as well as two Deluxe Cabins on this as two on Main Deck. The majority of cabins on Promenade and Main Decks had private facilities, whilst those on A deck did not. When she was completed and ready to depart on her very first cruise she had accommodations for 617 First Class Passengers.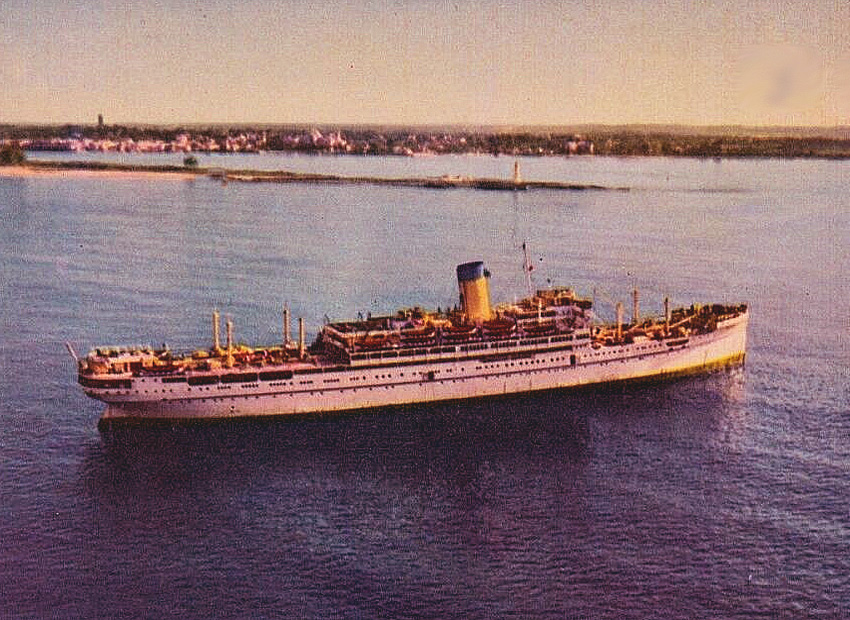 A colour photo of the S.S. Nassau as seen form the air
For interest, in 1954 her registry was transferred to Liberia.
The "Nassau" became a much loved and a very popular ship, as she was not just luxurious but she offered the finest of service, cuisine, facilities and entertainment because with Incres Line only the very best would do!
She sailed on for a decade and she was finally sold in 1961, being mostly due to the arrival of their new luxury completely rebuilt cruise ship the M.S. "Victoria", the ex Union Castle Line "Dunnottar Castle".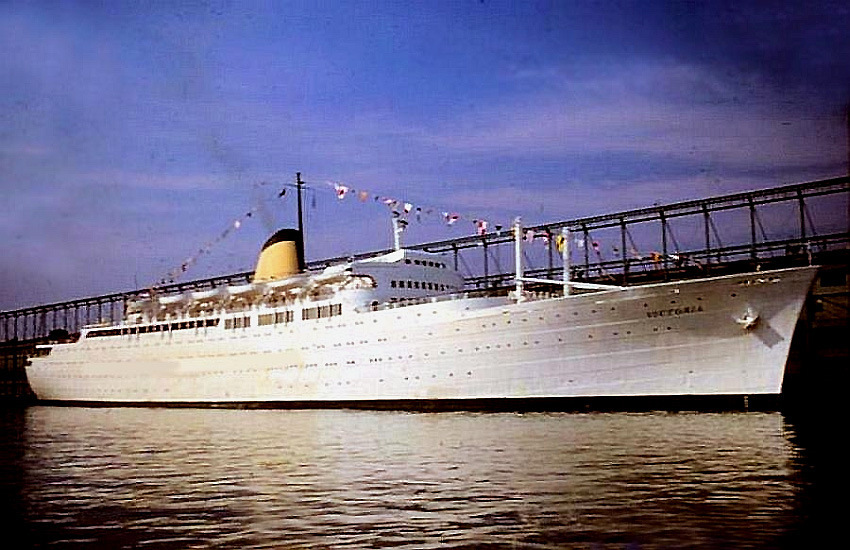 The new M.S. Victoria, this ship also had a long and a prestigious life
The new ship having been in a ships yard for her rebuild and refit for almost two years arrived in New York late in January 1961, and thus the S.S. Nassau was sold soon after her cruise season completed in February 1961.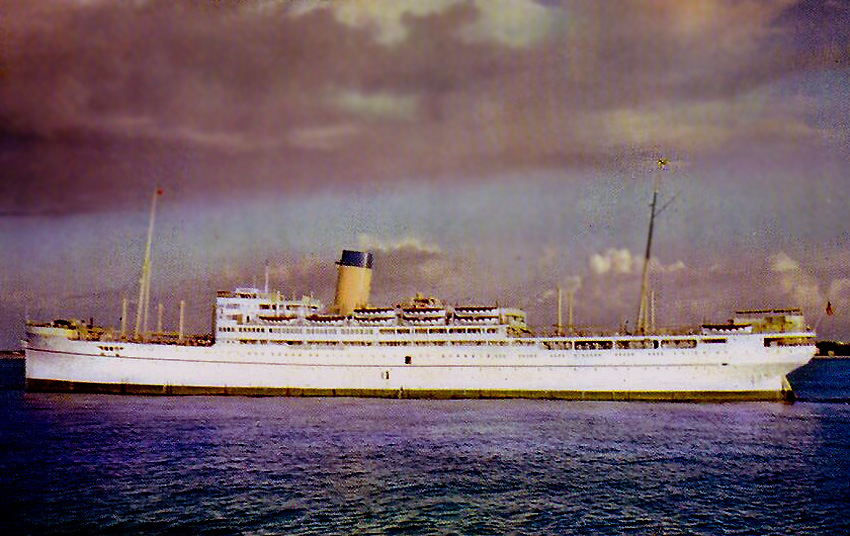 The elegant classic S.S. Nassau with that traditional counter stern is seen here in her final year with Incres Line's
Please Note: Page Three contains Menu's, Brochure's and other items of Incres Line's SS Nassau     Memorabilia.
***********************************
SS Acapulco:
The ship was purchased in 1961 by Natumex Line (Compania Navegacion Turística Mexicana SA), a Mexican government-owned company, to provide a fortnightly service between Acapulco and Los Angeles. The new ship was given good advance Media attention regarding her new service from San Francisco to Mexico, as we can see below.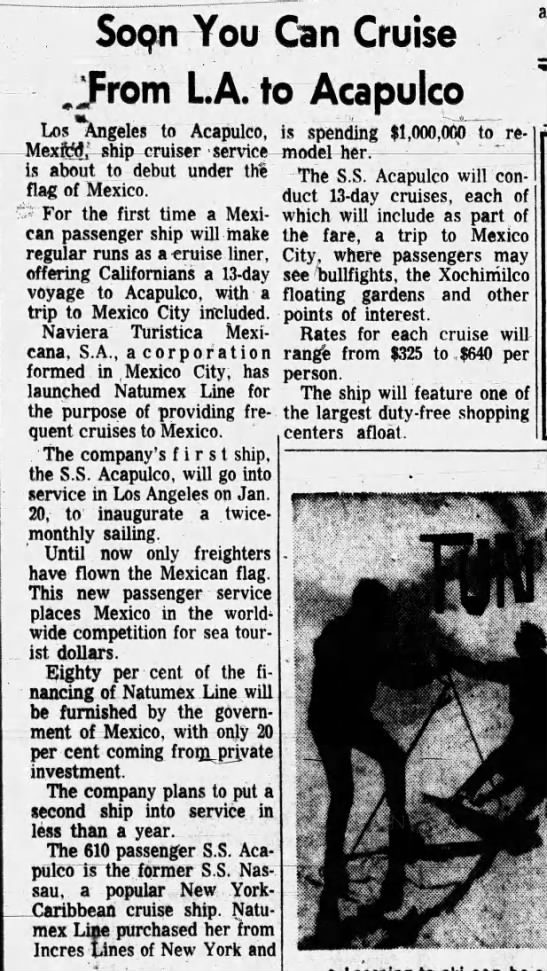 Printed in the Oakland Tribune on December 3, 1961
She underwent a rebuild by the Fairfield Shipbuilding & Engineering Co., Ltd. of Glasgow, Scotland including the fitting of a new bow and funnel and updated interiors, including a new large showroom forward. She now accommodated 610 passengers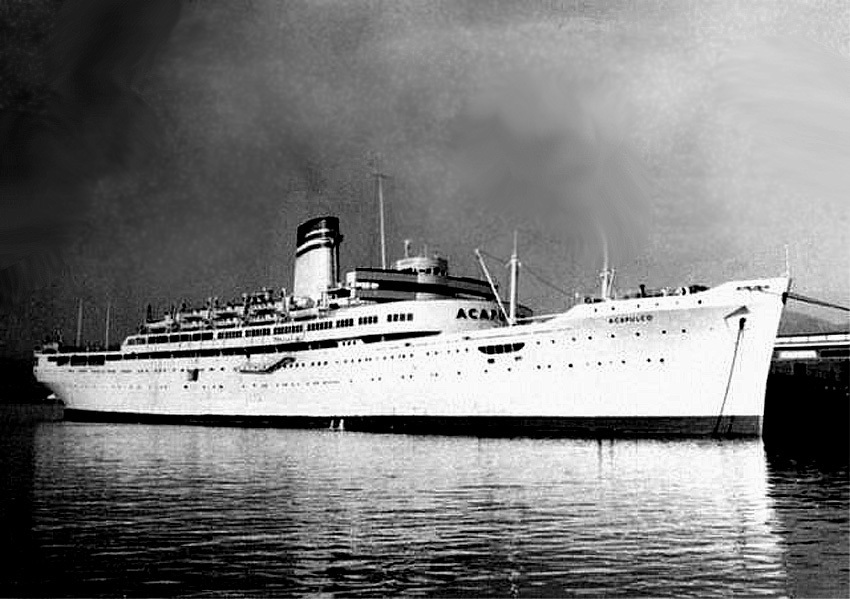 S.S. Acapulco certainly looked far more modern, but will she be a success?
The SS Acapulco then sailed for the United States, but upon arrival she failed inspections by the United States Coast Guard. Having fixed all the requirements on board she was passed and she soon commenced her first cruise to Mexico.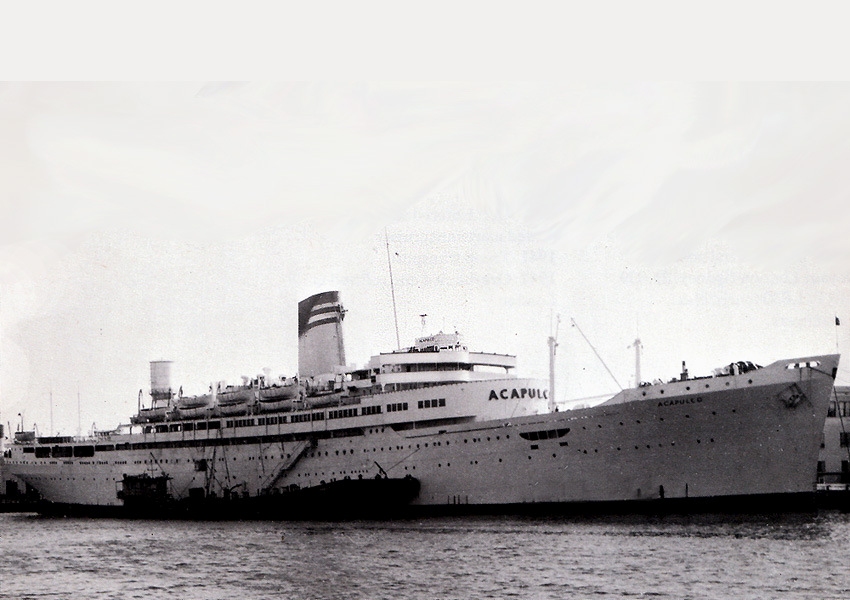 On her third trip from California she suffered a mechanical breakdown at sea.
In 1962 she was used as a Hotel Ship at the "Century 21 Exposition," or the "Seattle World Exhibition".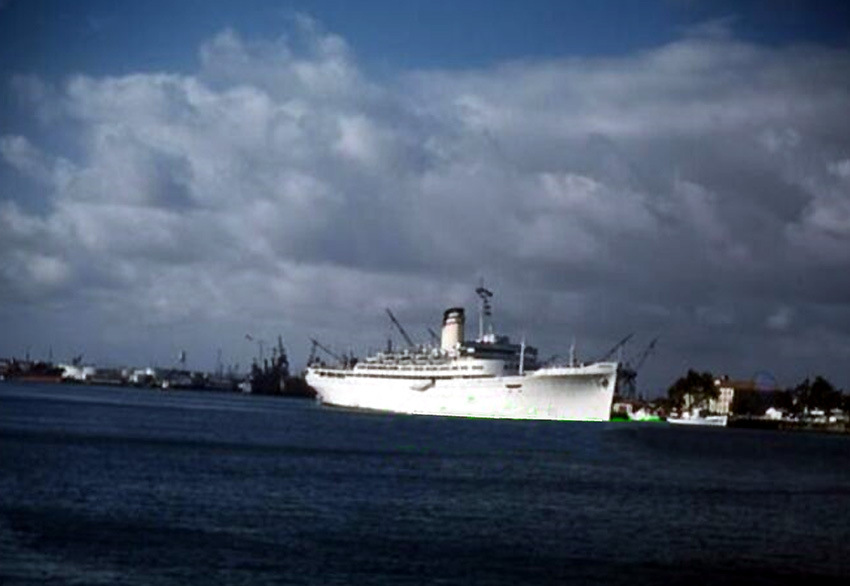 Here we see the Hotel Ship "Acapulco" in Seattle
Thereafter in 1963 the "Acapulco" was laid up at Manzanillo, Colima, and she remained there for almost two years as she was deregistered. Although having been on the market but no one was interested in her, thus she was sold to an Asian ship breaker and late in 1964 she was taken under tow to Osaka," Japan where she arrived on December 15, 1964. The "Acapulco" would be broken up at Sakai, and demolition commenced on January 6, 1965.
The end of a great ship classic Liner and Cruise Ship, meaning the "Grand Old Dame" was almost a good 43 years old!
Remembering a Fine Cruise Ship
S.S. Nassau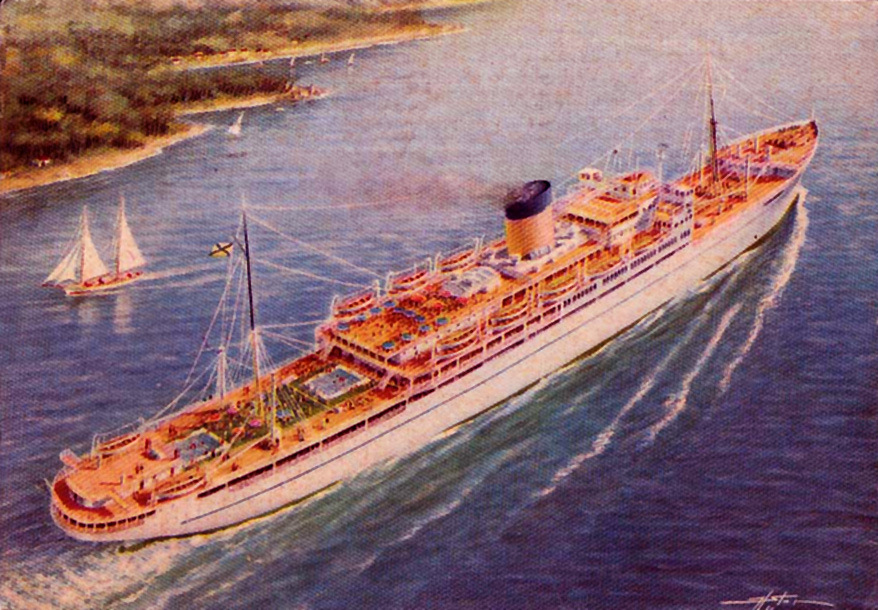 INDEX: From S.S. Mongolia 1922 to S.S. Acapulco 1964.
Page One:           RMS Mongolia & S.S. Rimutaka.
Page Two:           S.S. Europa, S.S. Nassau & S.S. Acapulco.
Page Three:         S.S. Nassau Brochure & Memorabilia Page.
SS Moldavia:       Is the slightly earlier sister of the "Mongolia".
***********************************
"Blue Water Liners sailing to the distant shores.
I watched them come, I watched them go and I watched them die."

Featuring over 1,550 Classic Passenger Liners, Passenger-Cargo Liners & Classic Cruise Ships!
Or ENTER HERE
For interest: Sadly an email service to ssMaritime is no longer available, due to the author's old age and chronic illness as well as being disabled, etc. In the past ssMaritime received well over 120 emails per day, but Mr. Goossens can no longer handle same. He sincerely regrets this!
*********************
ssMaritime.com & ssMaritime.net
Where the ships of the past make history & the 1914 built M.S. Doulos Story.
The Author has been in Passenger Shipping & the Cruise Industry for well over 60 years
In addition he was the founder of "Save the Classic Liners Campaign" in 1990.
Please Note: ssmaritime and associated sites are 100% non-commercial and the author seeks no funding or favours of any shape or form, never have and never will!
Photographs on ssmaritime and associate pages are by; the author or from the author's private collection. In addition there are some images that have been provided by Shipping Companies and private photographers or collectors. Credit is given to all contributors. However, there are some photographs provided to me without details regarding the photographer/owner concerned.
This notice covers all pages; although, and I have done my best to ensure that all photographs are duly credited and that this notice is displaced on each page, that is, when a page is updated!
ssMaritime is owned & © Copyright by Reuben Goossens - All Rights Reserved