The complete history if the 1922 P&O RMS Mongolia and her next four incarnations as the liners; SS Rimutaka 1938, SS Europa 1950, the luxury cruise ship SS Nassau 1951 & SS Acapulco 1960 to 1964
Please Note: Firefox & some other Search Engines may not be suitable
Use Google Chrome for this Web Page to load perfectly!

Click the logo above to reach the ssMaritime FrontPage for Ships of the Month & News Updates
With Reuben Goossens
Maritime Historian, Cruise'n'Ship Reviewer, Author & Lecturer
Please Note: All ssMaritime and other related maritime sites are 100% non-commercial and privately owned, thus ssmaritime is NOT associated with any shipping company or any other organisation! Although the author has worked and been involved in the passenger shipping industry for well over 60 years, but due to his old age and poor health, he was forced to retire. Yet, he has completed well over 1,550 Classic Liners, Passenger-Cargo Liners as well as humble converted C3 converted Migrant Liners, which has transported countless thousands of folk to the new world, as well on vacations'. Amazingly, ssmaritime.com has received well over 573.4 million visitors to date I trust the features online will continue to provide Classic Liner and Ship enthusiasts both the information they are seeking, but more so provide a great deal of pleasure and relive many happy memories!
Page Thee
Brochures & Memorabilia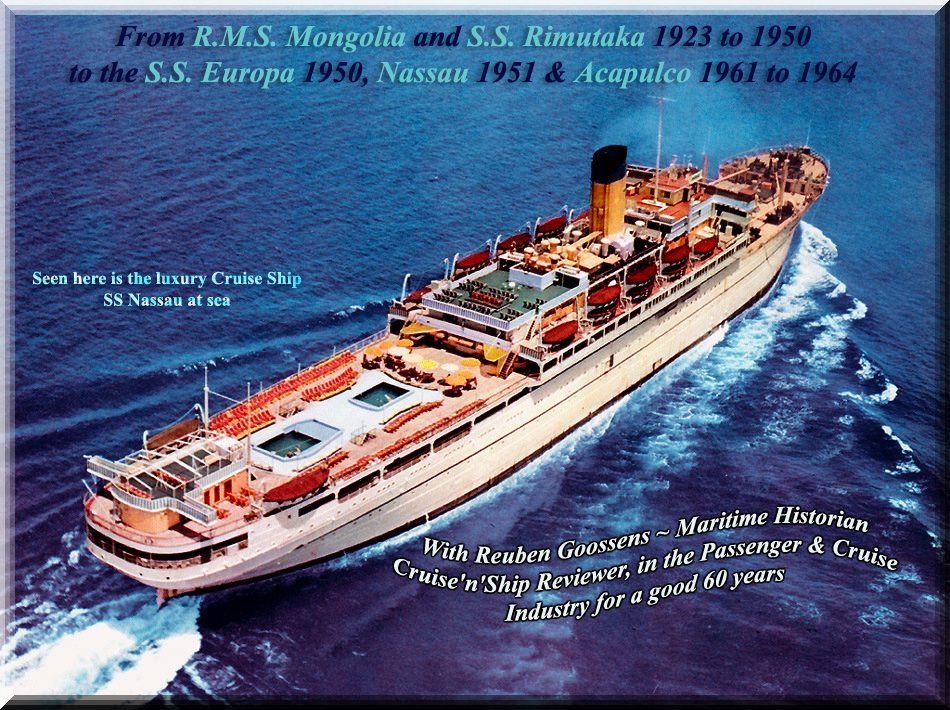 Introduction:
If you have arrived at this page via a search engine, then you will have missed out on the ships origins, for she was originally built as the P&O's R.M.S. Mongolia (3) in 1922 and completed in 1923 and she operated on the UK Australia Service. In 1938 she was placed on a long term charter to the "New Zealand Shipping Co", who renamed her "Rimutaka" and placed her on the UK New Zealand service until 1950.
S.S. Rimutaka's final voyage for the "New Zealand Shipping Company" departed Wellington for London very early in January, 1950, and upon arrival in London the ship was returned to P&O, who already had a buyer, as she was sold on January 10, 1950 whist the ship was on her voyage home.
For full details and photographs use the links at the bottom of this page to Page One and Two. These pages cover the ships shown above as well as when she had been sold to Incres Shipping Co, who renamed her "Europa" and they operated her for just one year and sold her in-house to Incres Line, who gave her a massive refit making her suitable to become a luxury cruise ship. However, all details of the aforementioned are on the previous two pages.
This page will have little to no commentary, as the images of the Incres Line brochures, Menu's and other fine item's generally says it all. I will provide just some small details below some of the images when required.
Enjoy the memories from those times when there still were genuine Classic Cruise Ships, just like the amazingly beautiful Classic S.S. Nassau!
***********************************
S.S. Nassau Brochures, Menu's and other interesting Items!
The rather beautiful Incres Line brochure seen below was printed in Genoa Italy in July 1959, and as you can see Incres promoted the S.S. Nassau as "The Cruise Ship". I have not included the centre fold, because I was unable to join the two pages successfully, as it contained one huge photograph, as well as one other page that had just two images of beach scenes in the Bahamas. But the rest is all S.S. Nassau, except for the Bahamas map!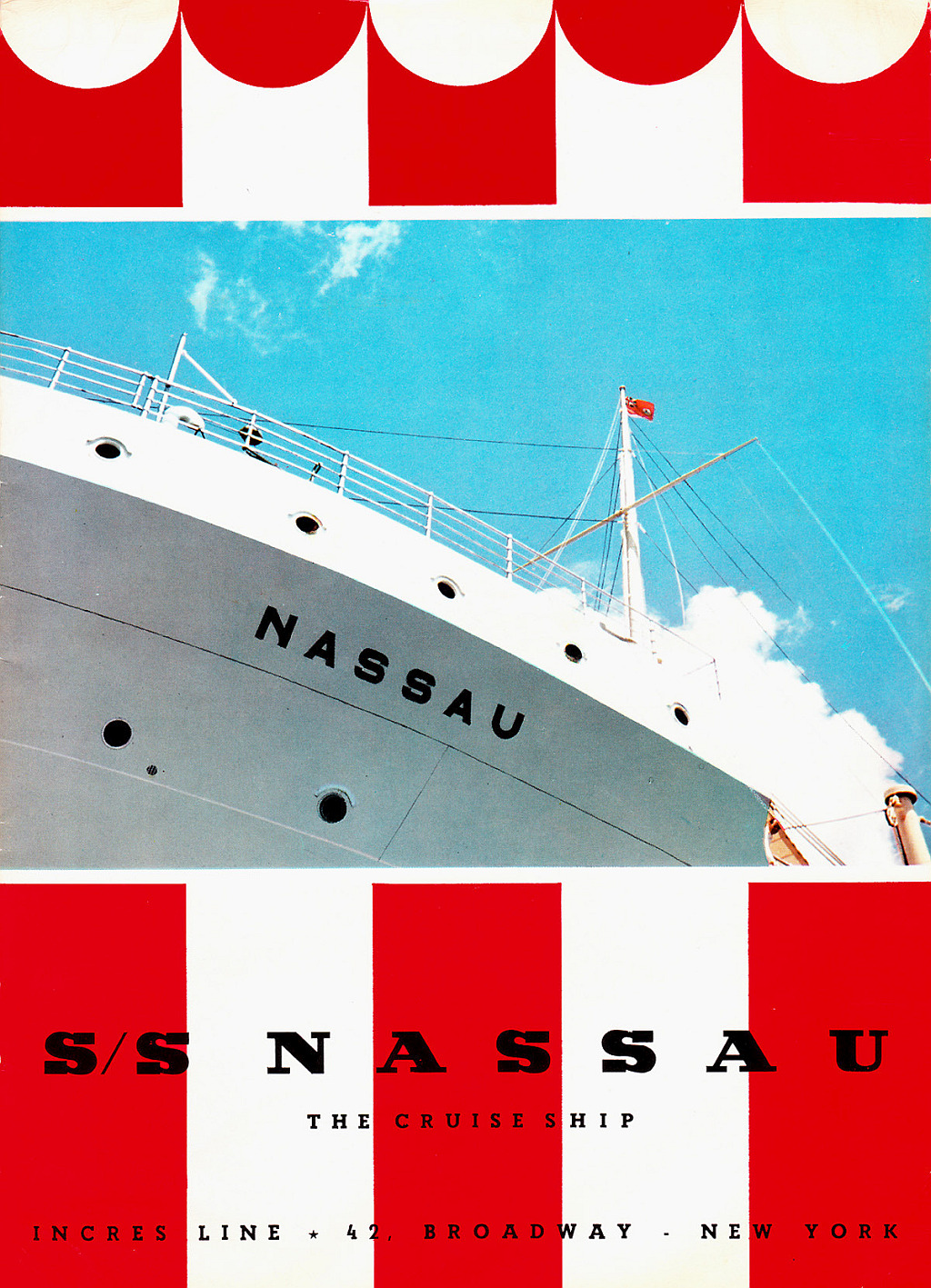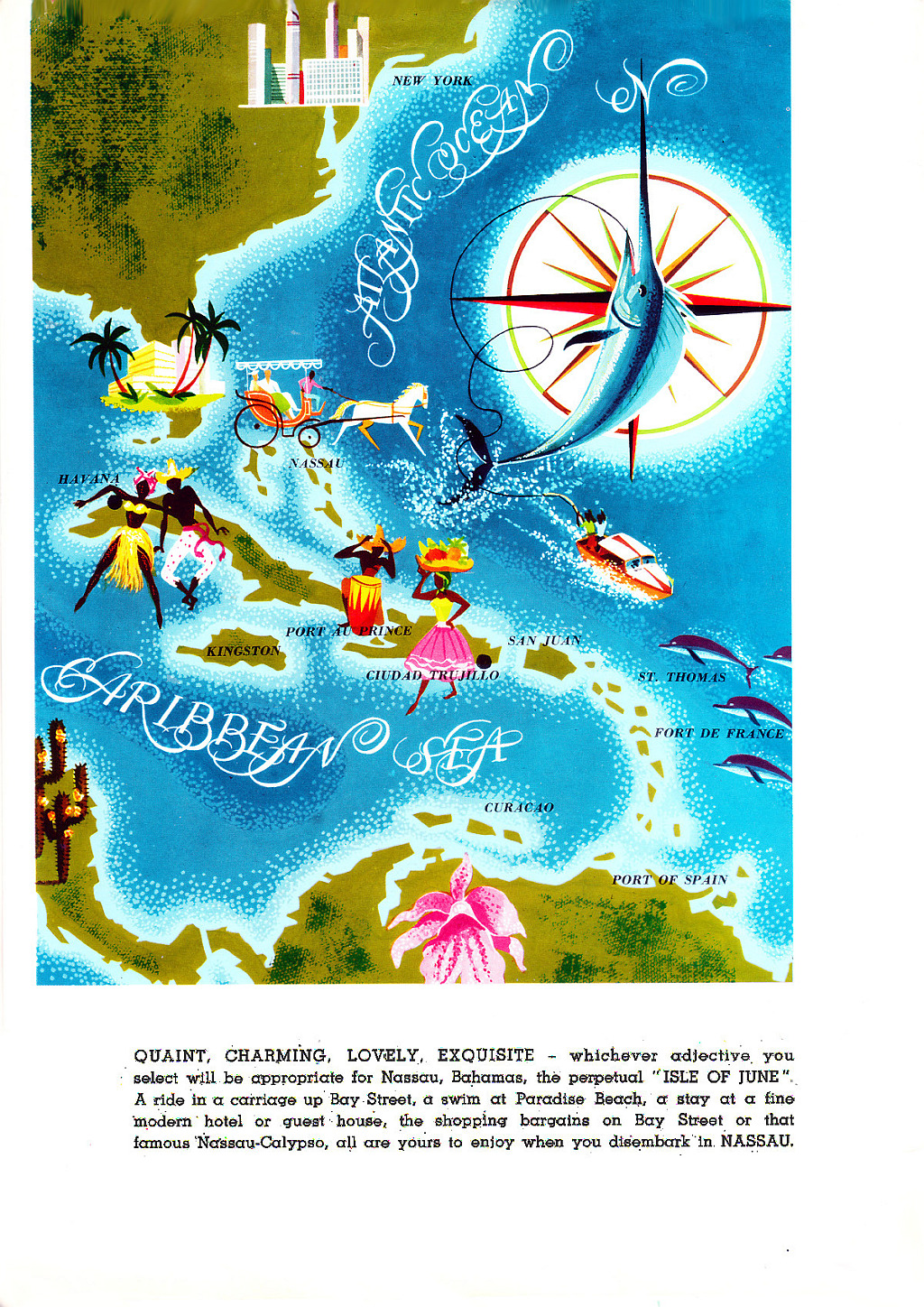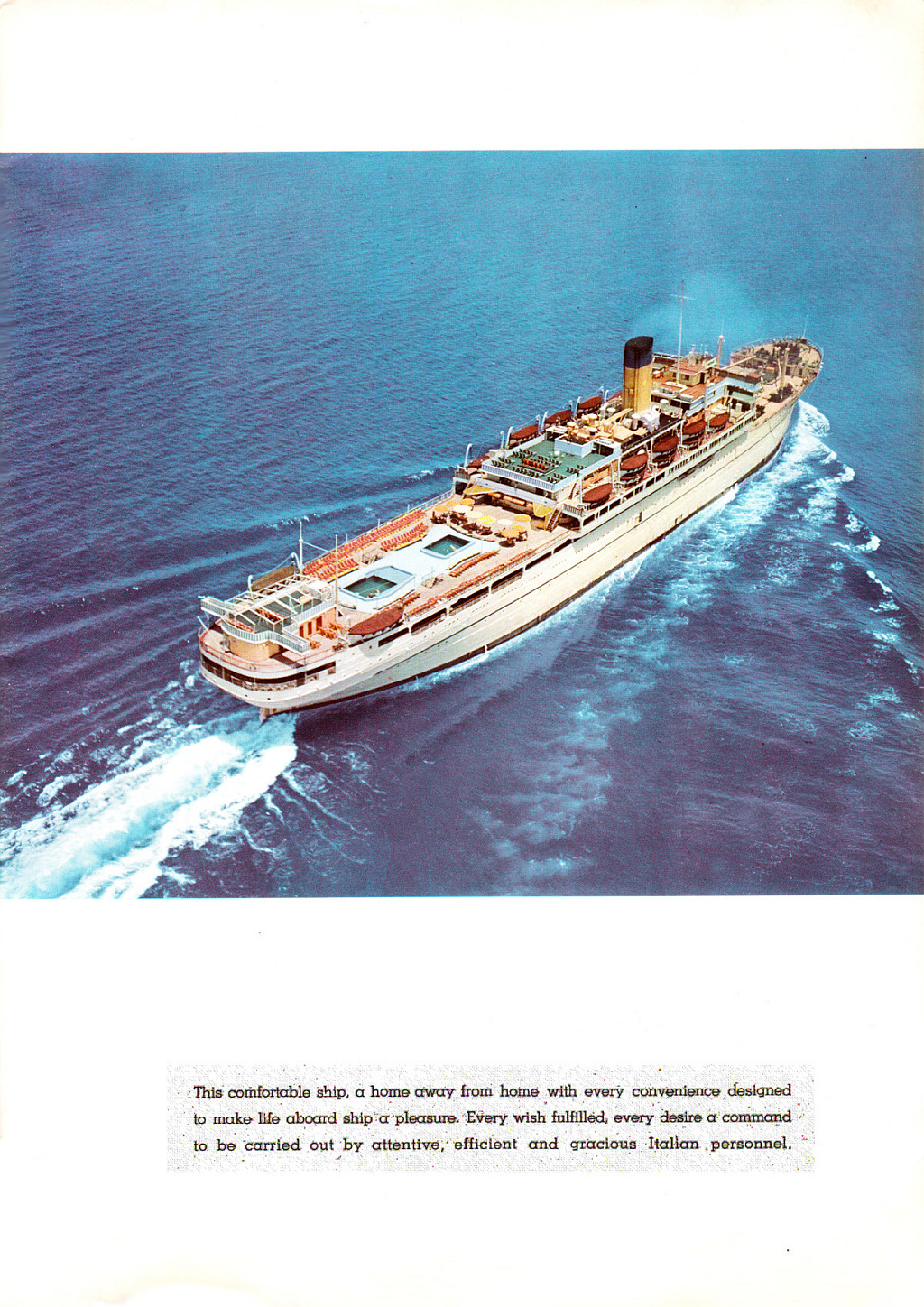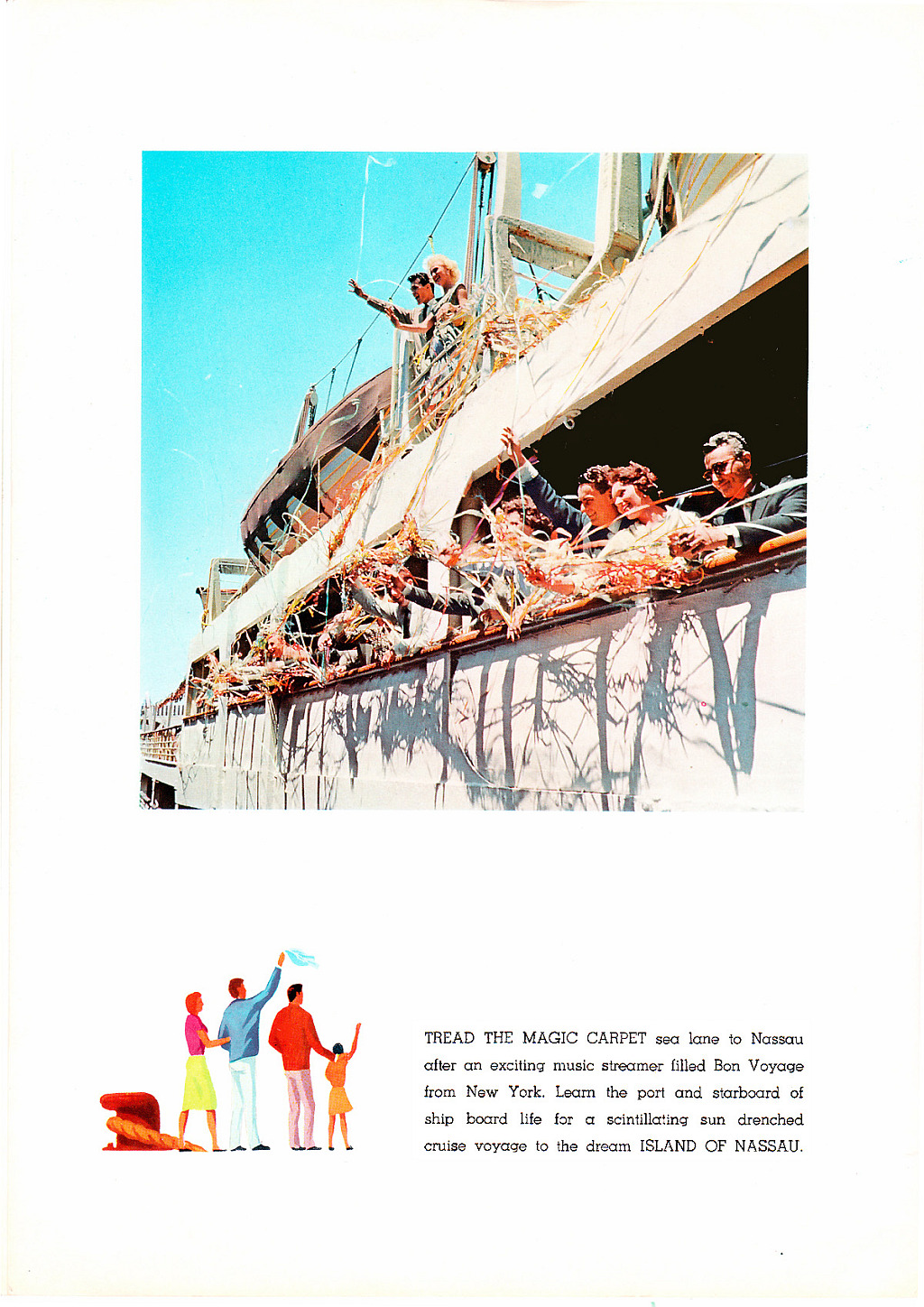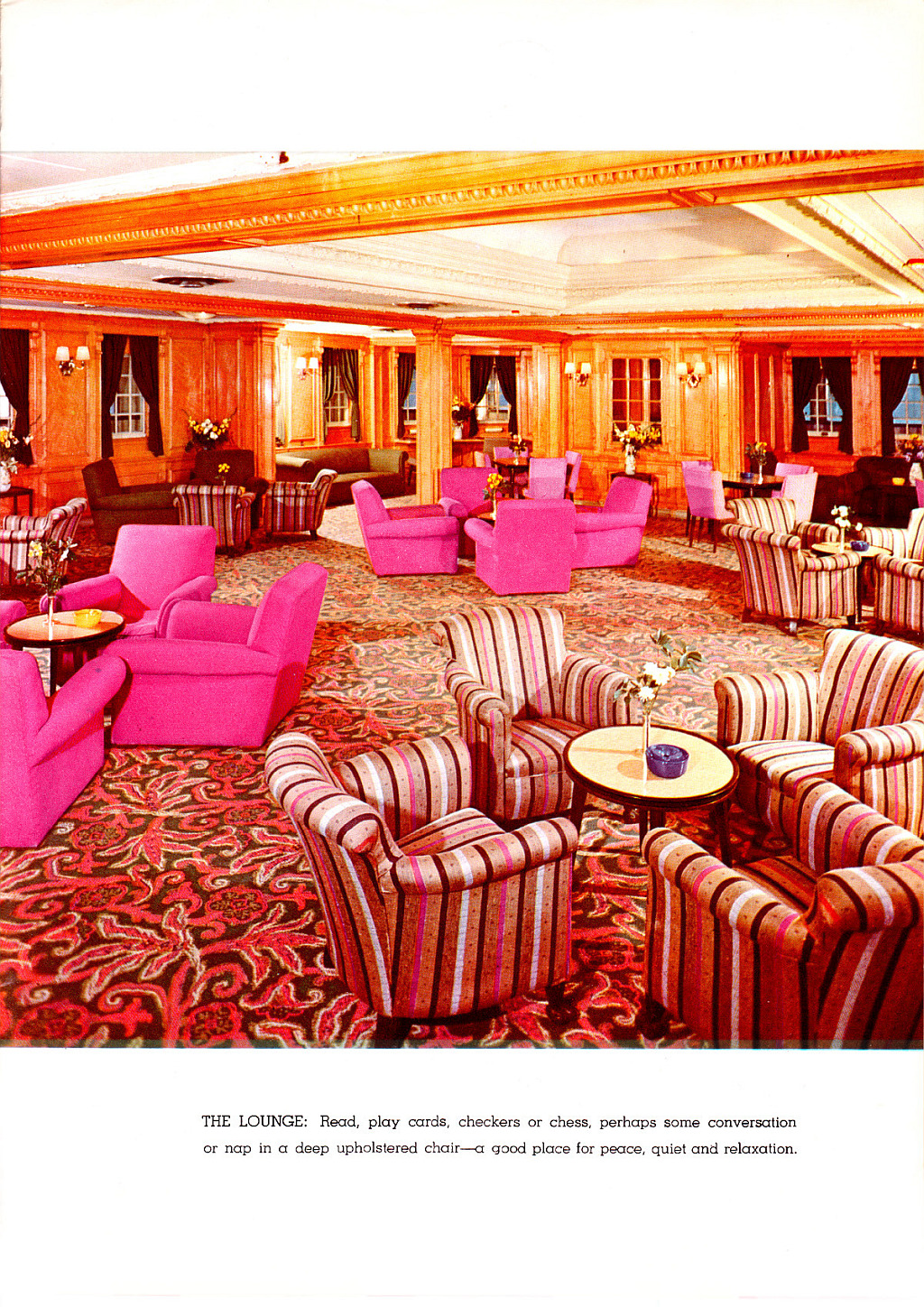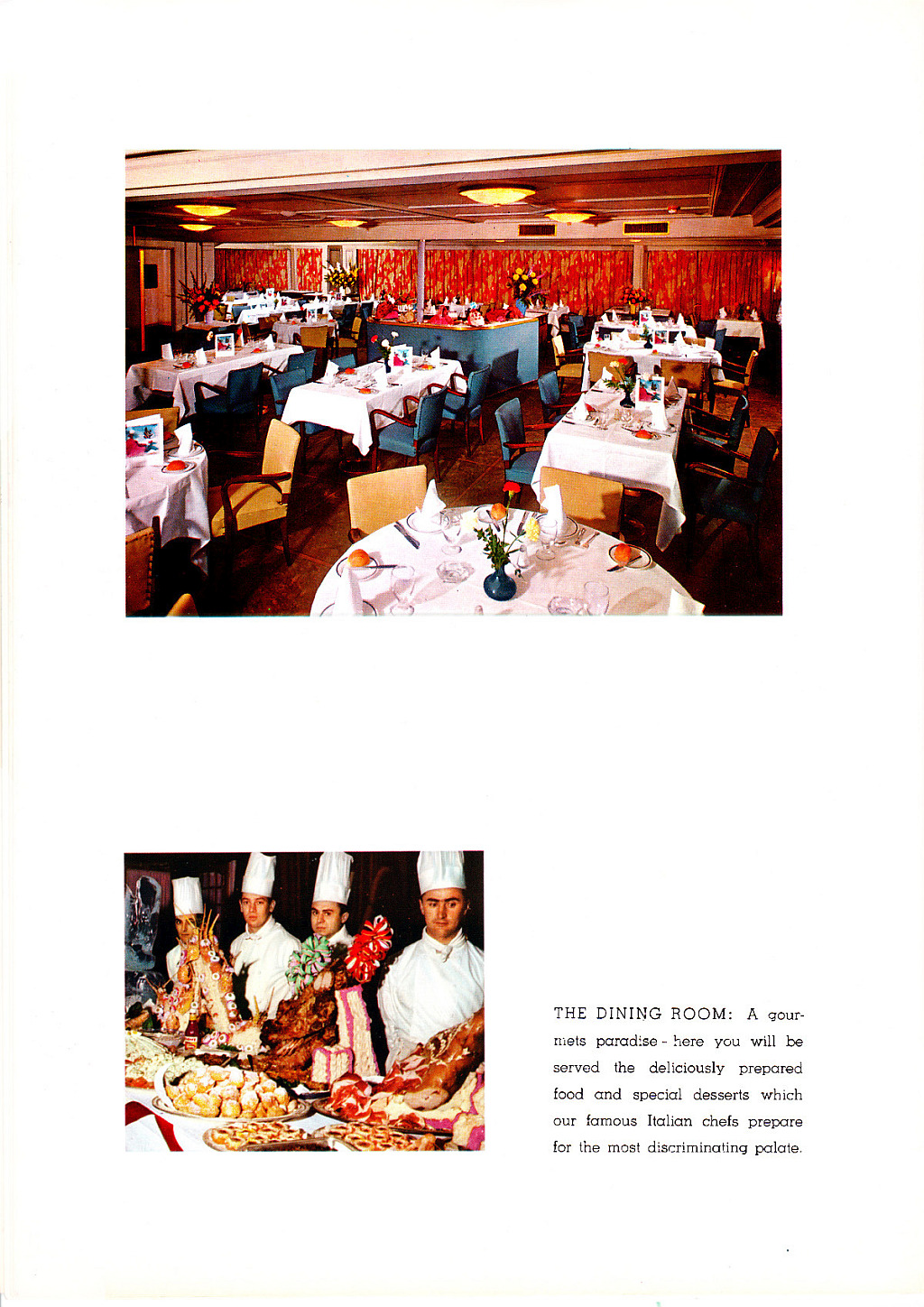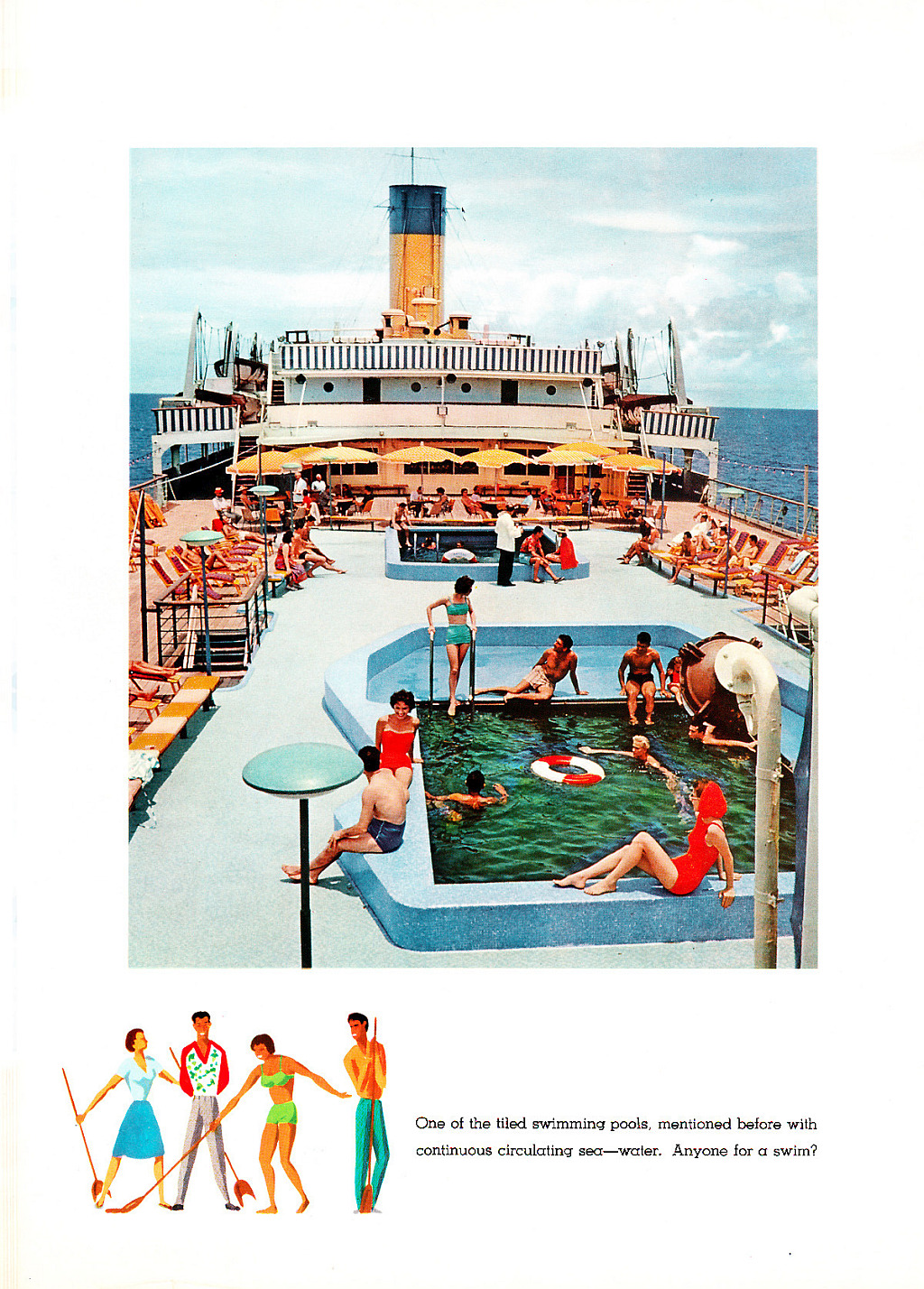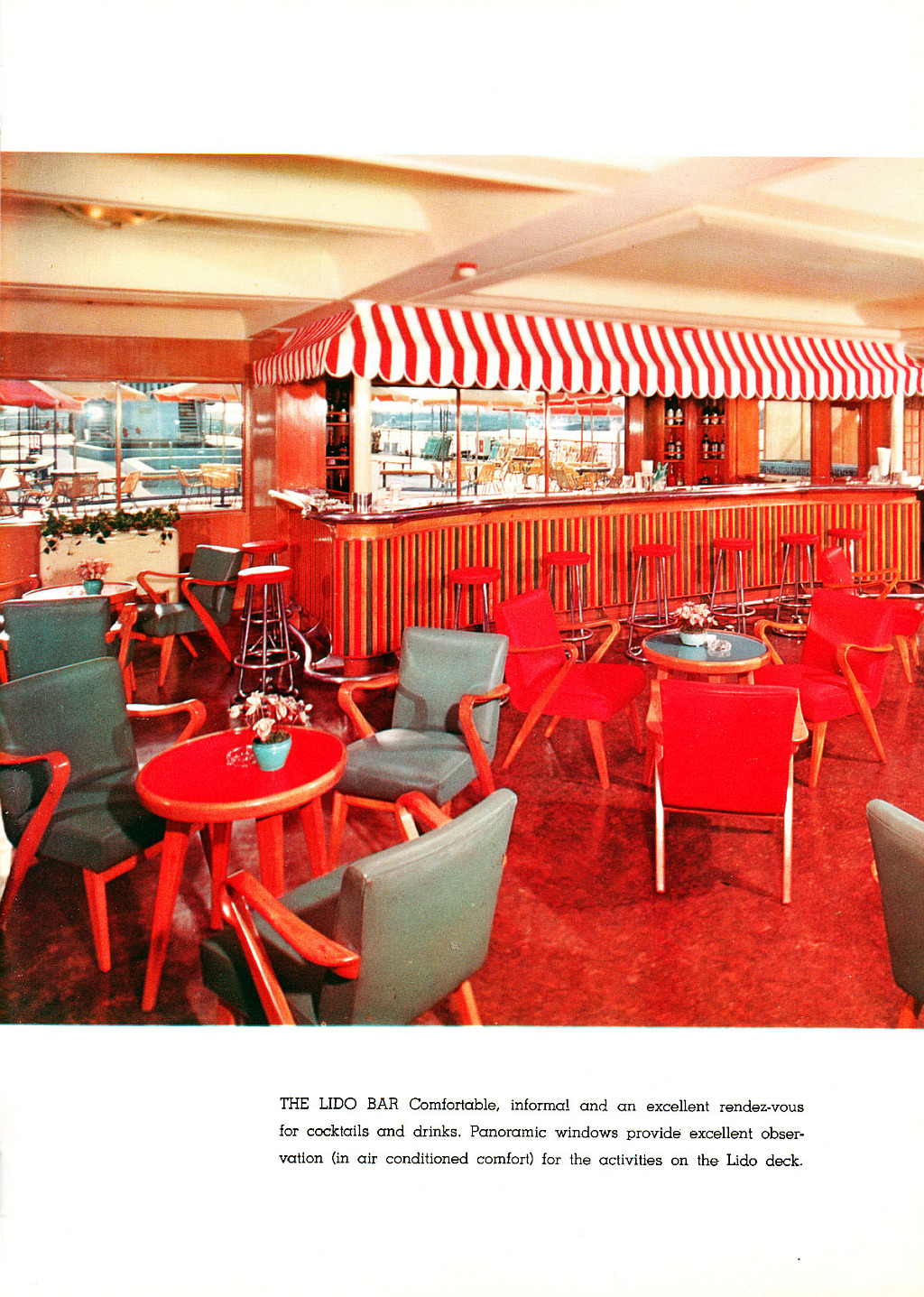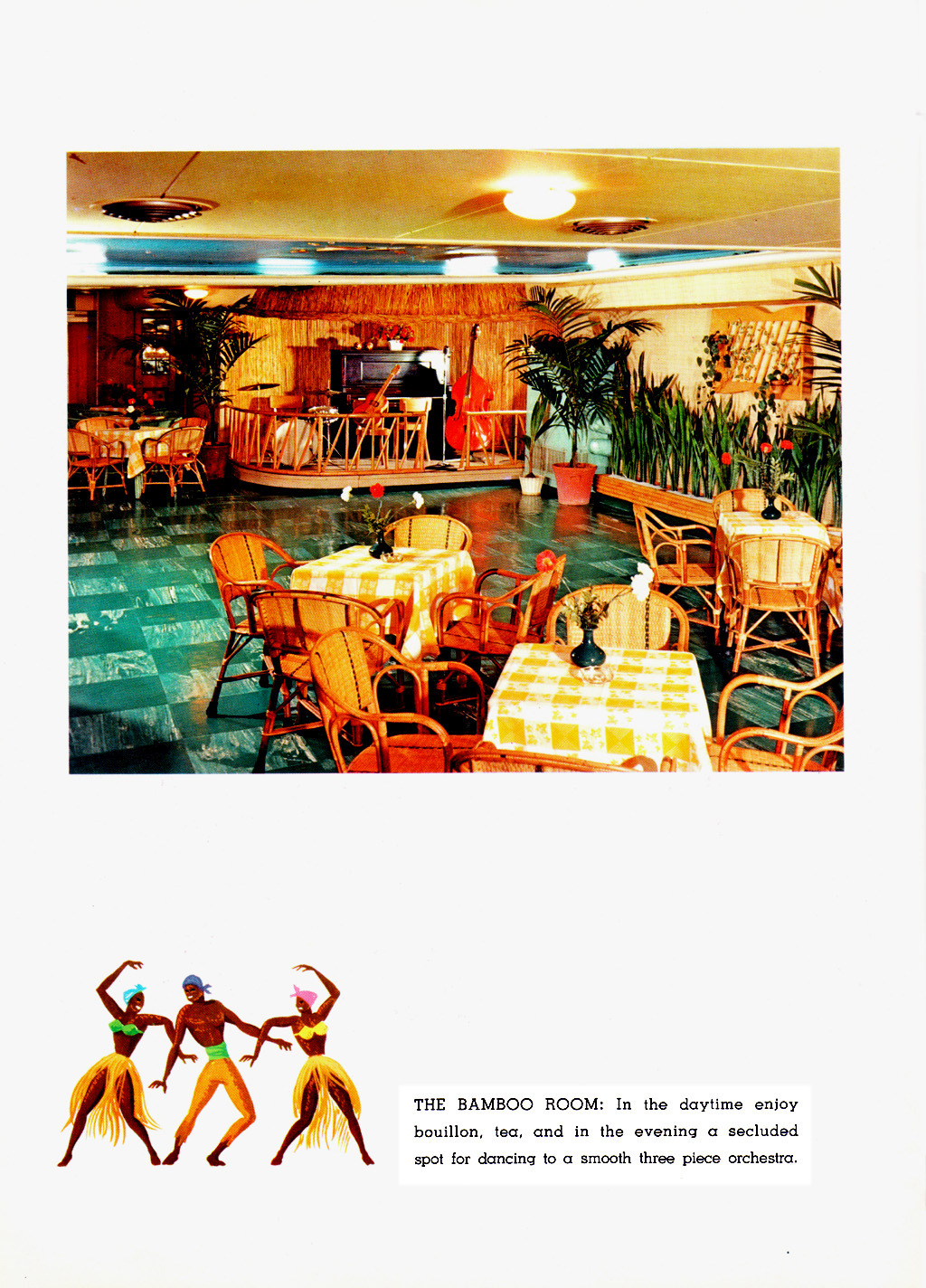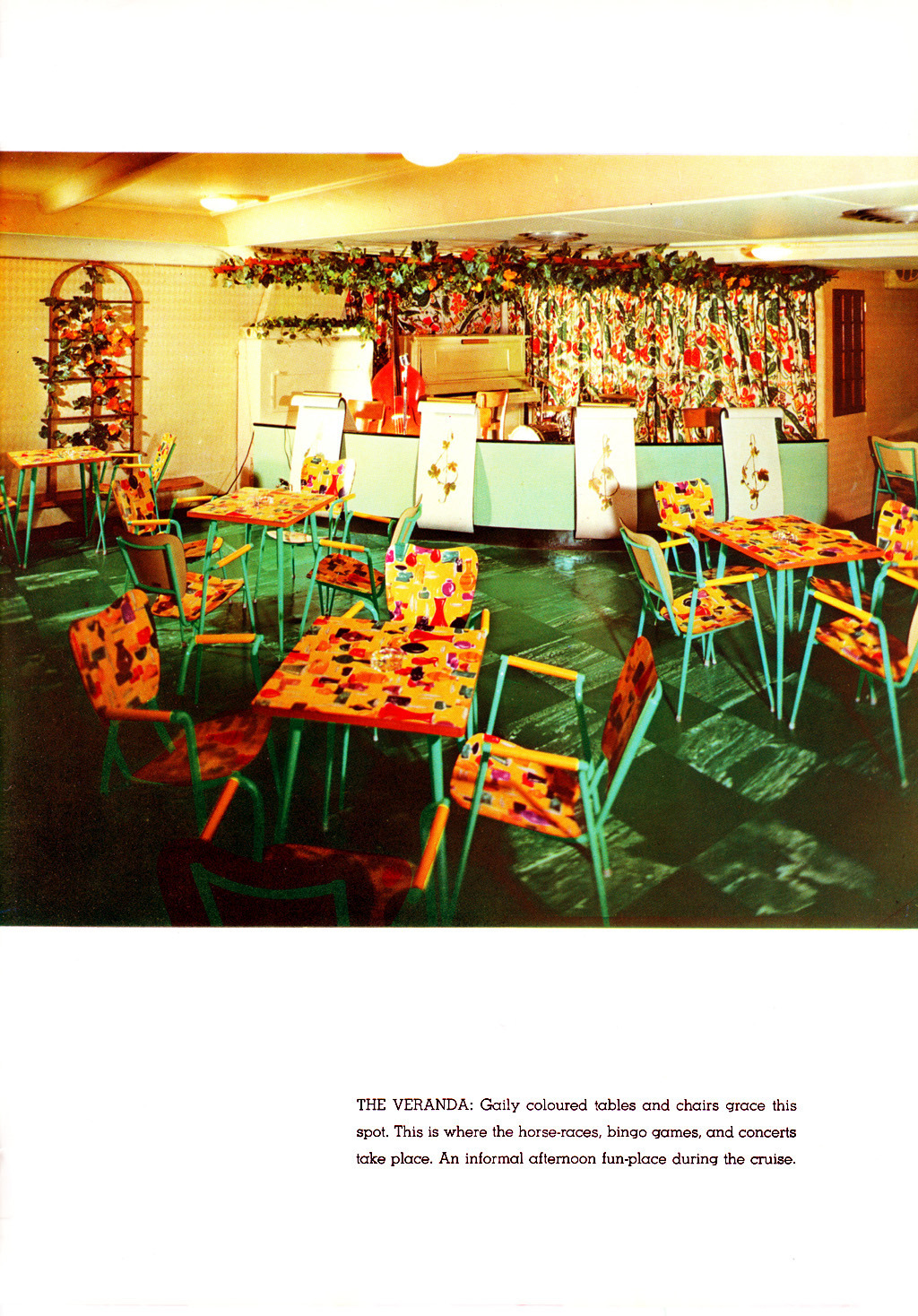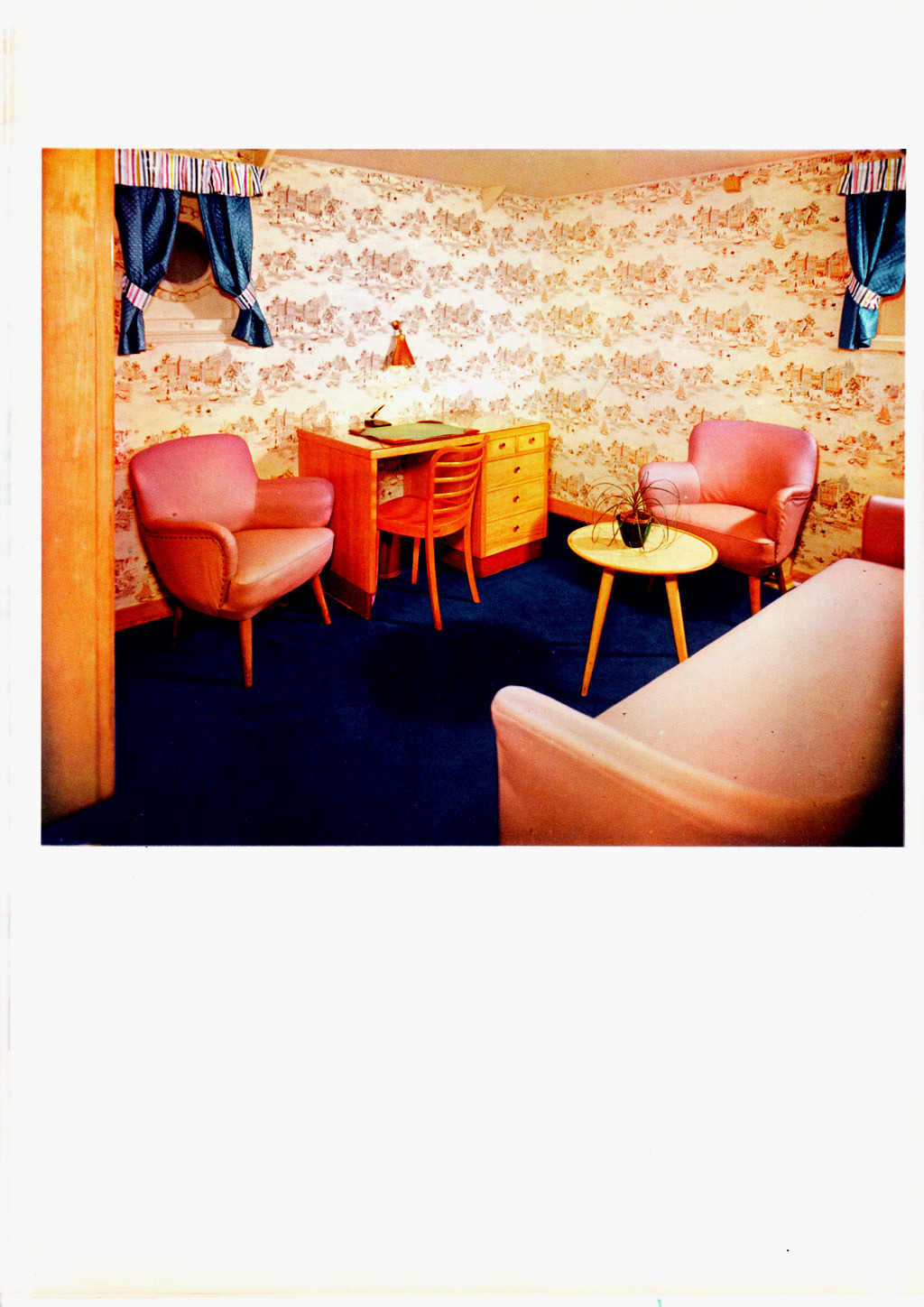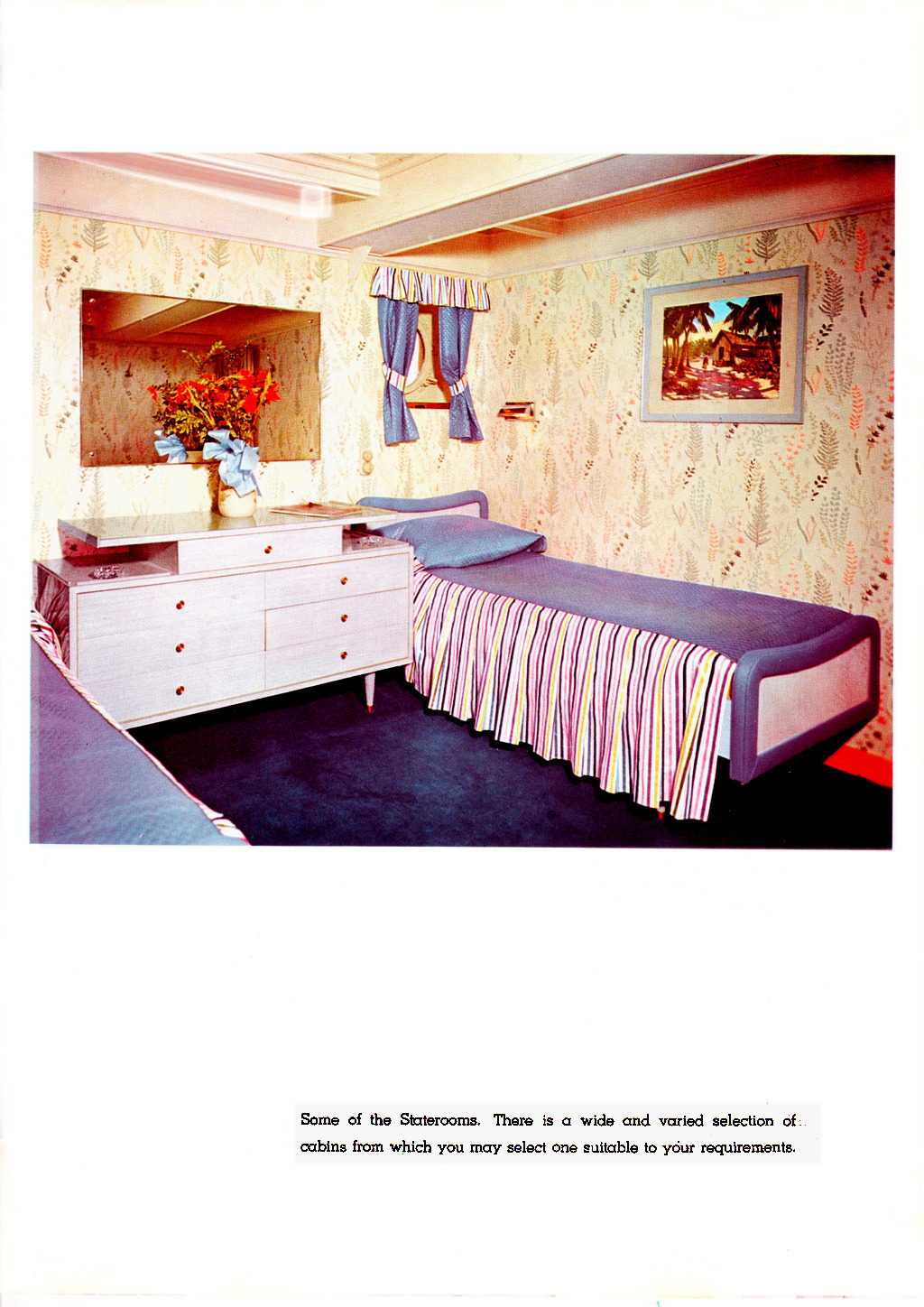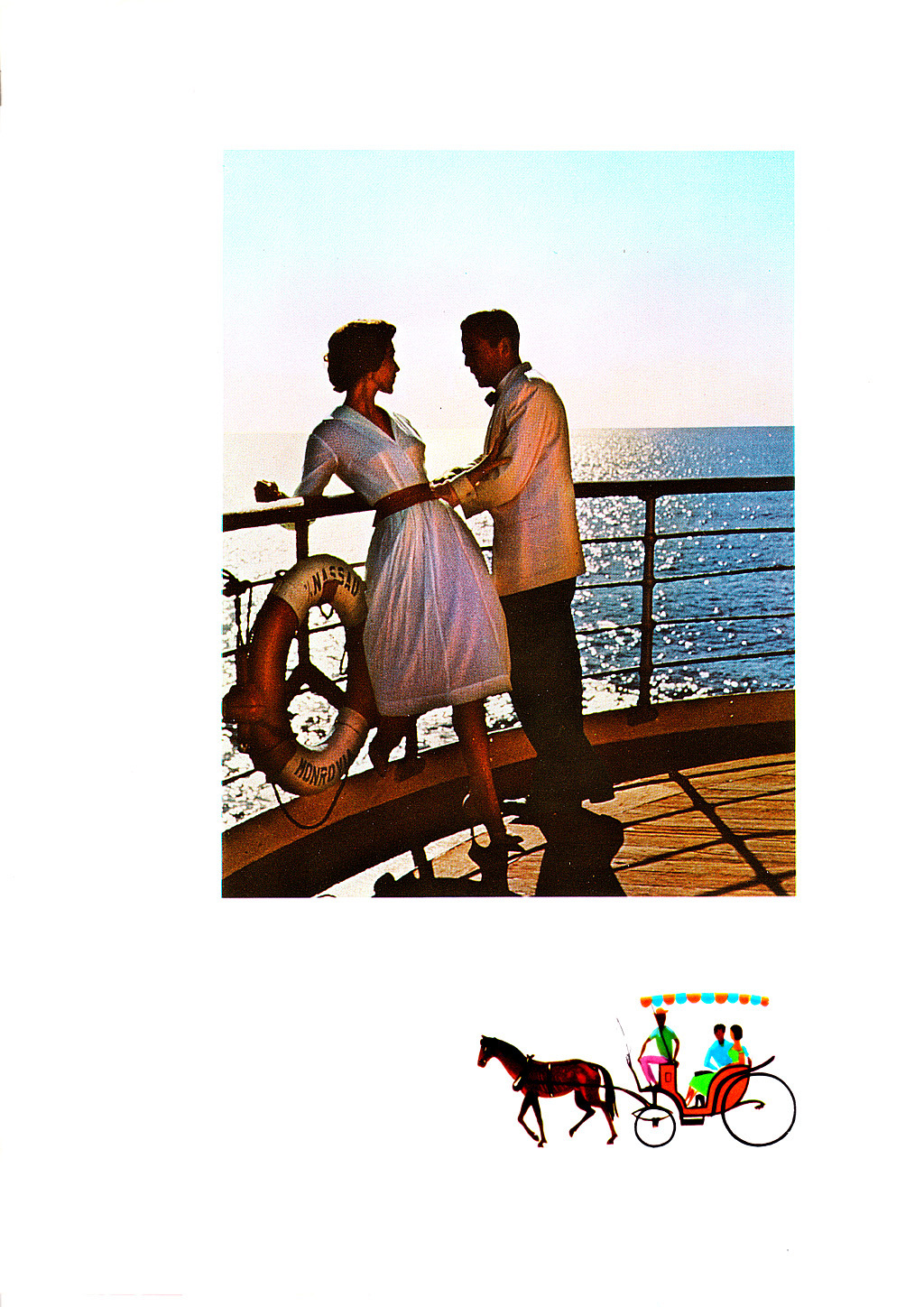 ***********************************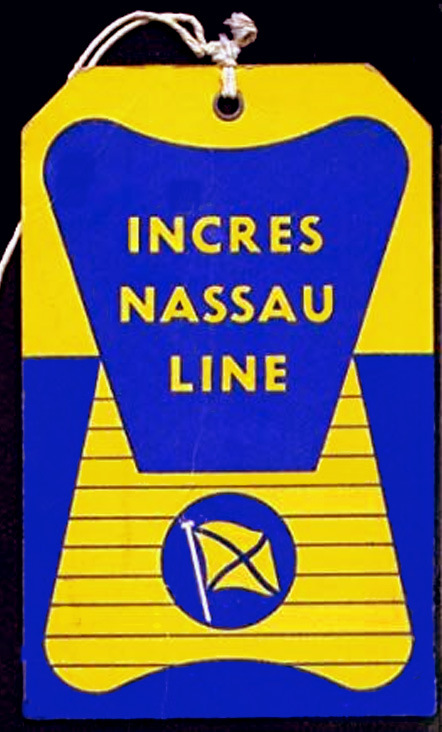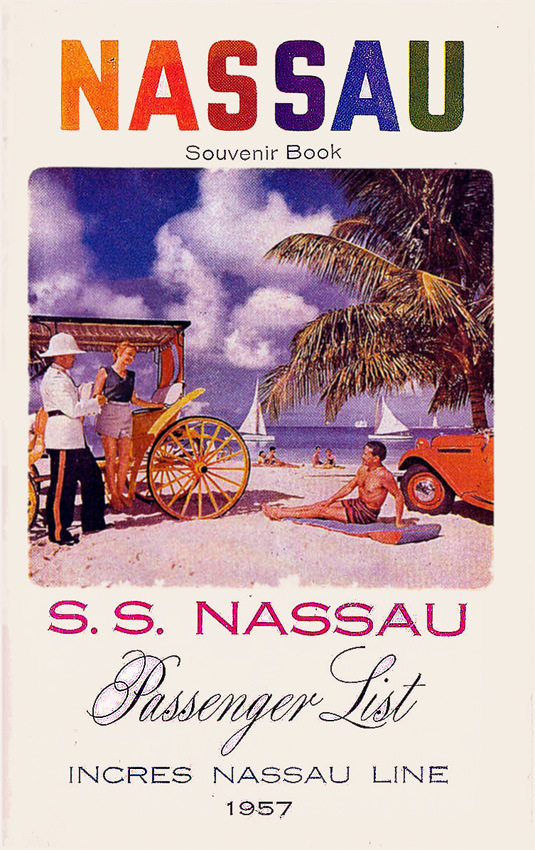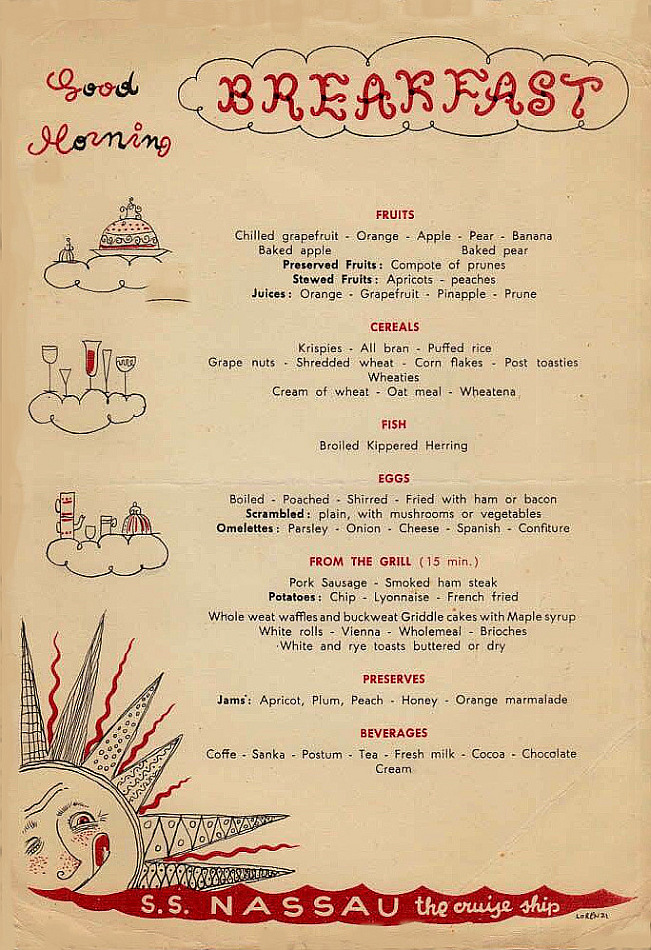 Every day has to start with a good breakfast!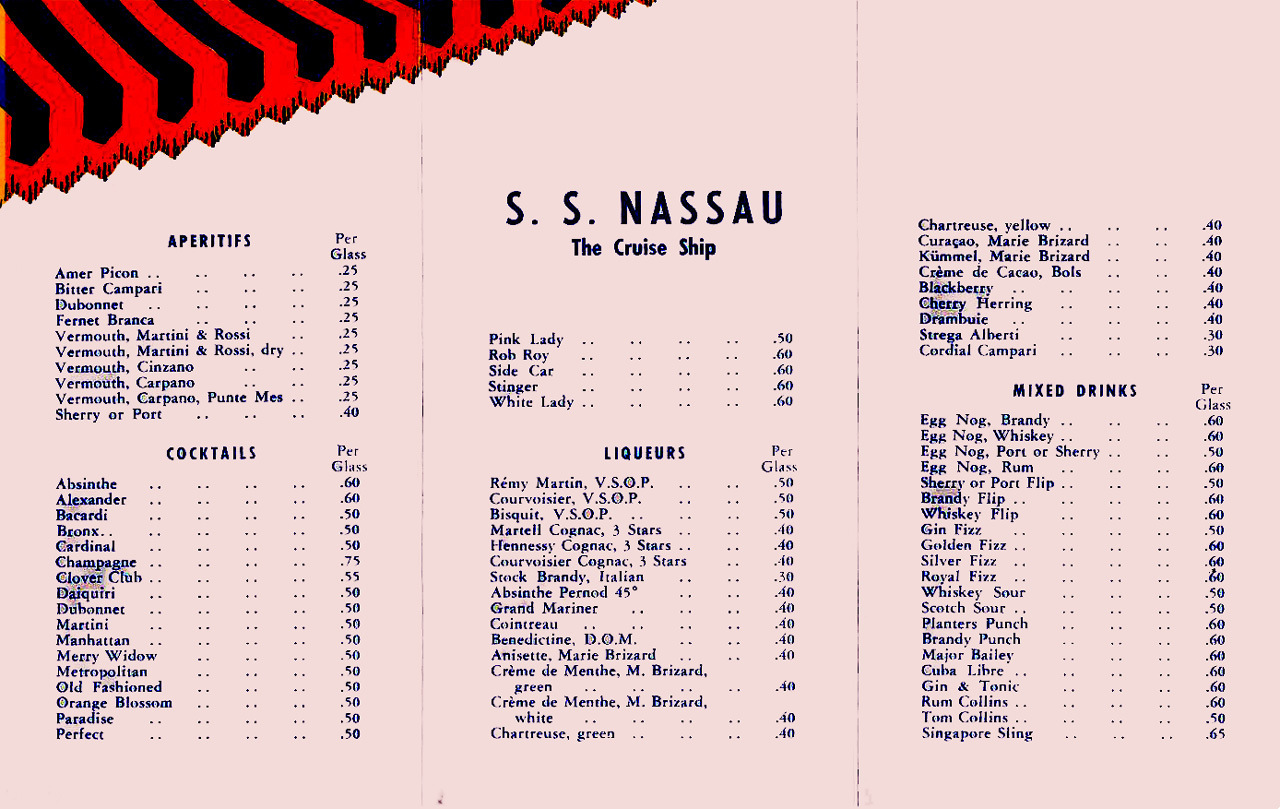 Now that is Duty Free, those days have long gone for Duty Free drinks on cruises no longer exist!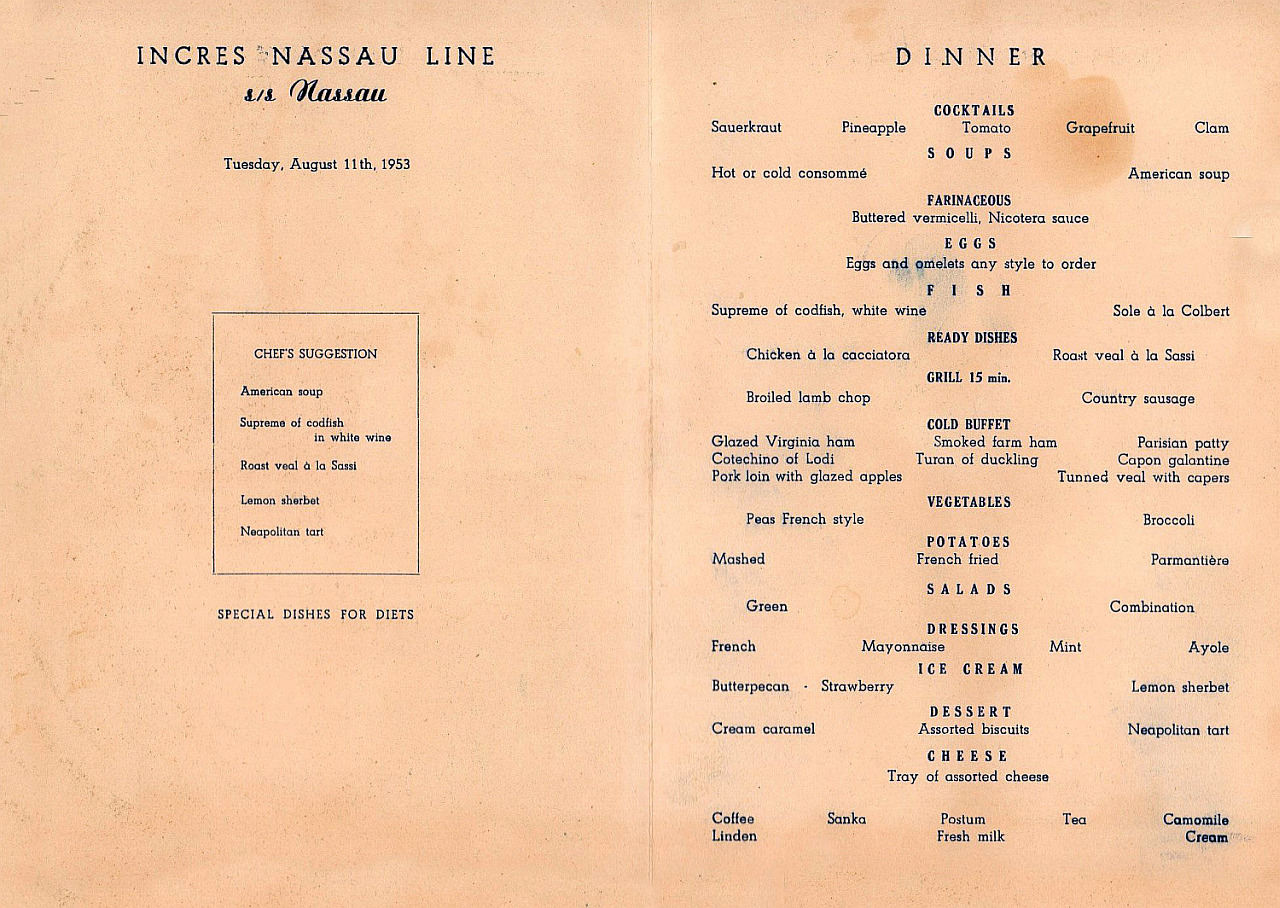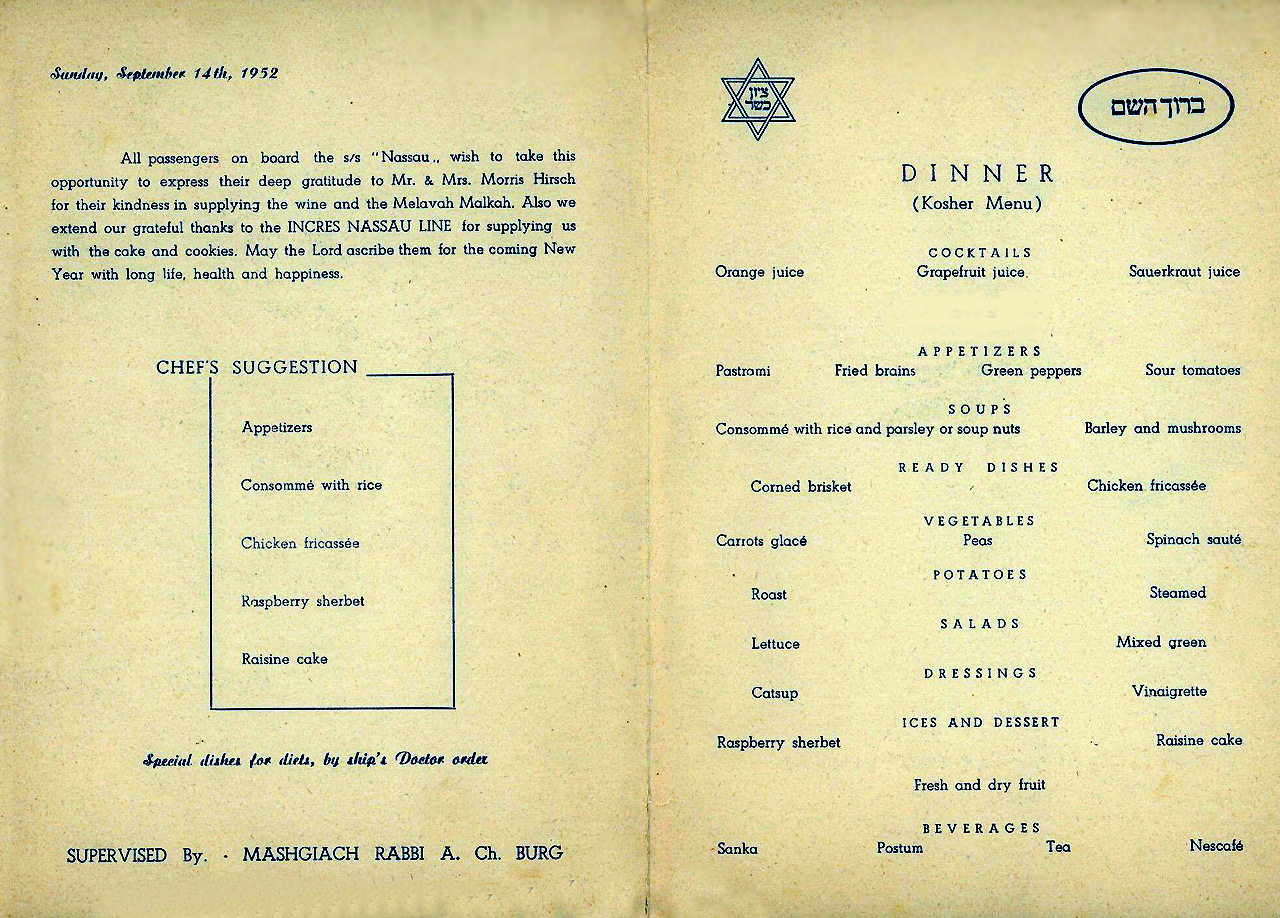 There was even a special Menu for Jewish Guests celebrating the upcoming Jewish New Year (Rosh Hashanah)
that would commence on Saturday evening September 20, 1952 (Nissan 1, 5713 Jewish year)
and continue all day on Sunday, the first day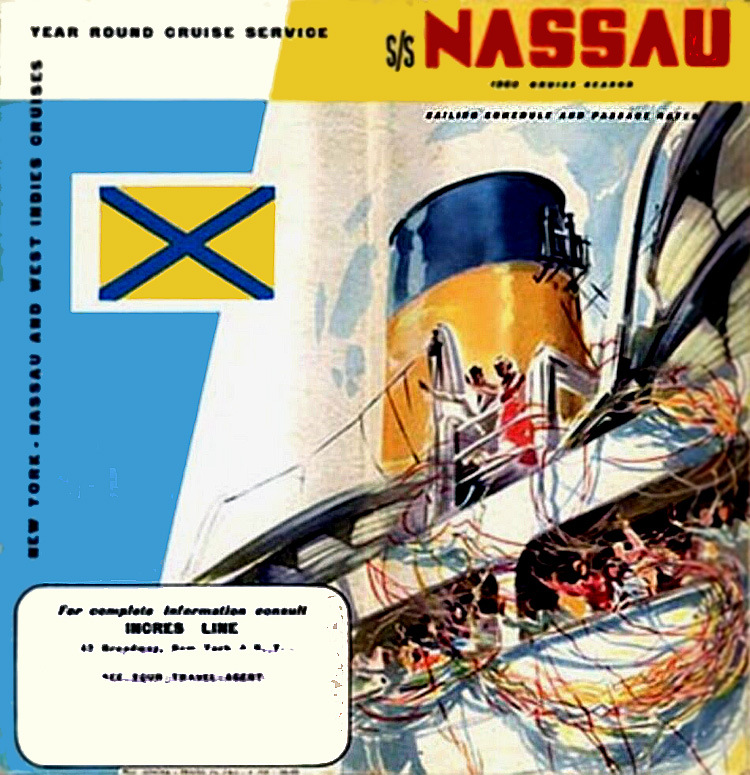 An Incres Line S.S. Nassau brochure including from the mid 1950s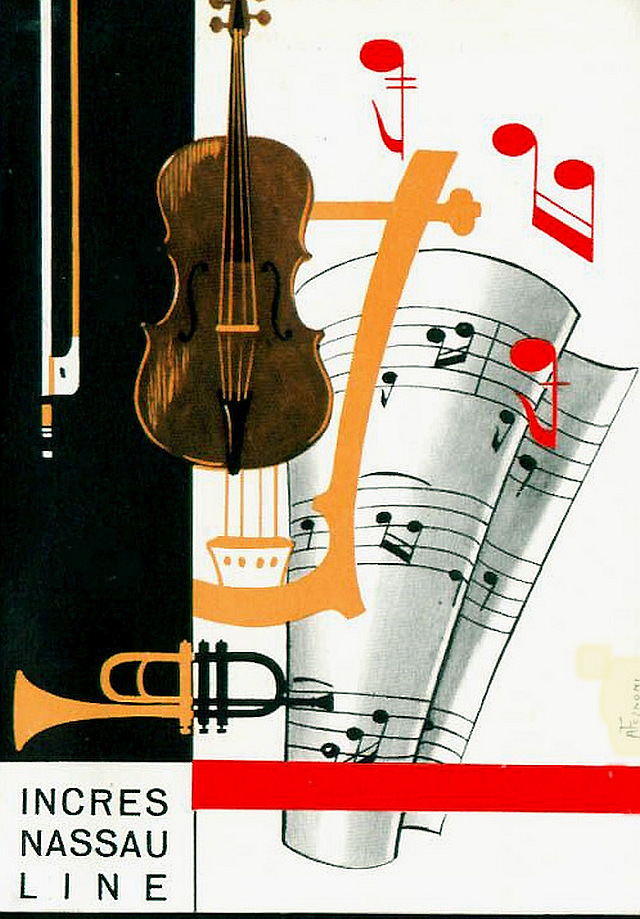 The cover of the evening entertainment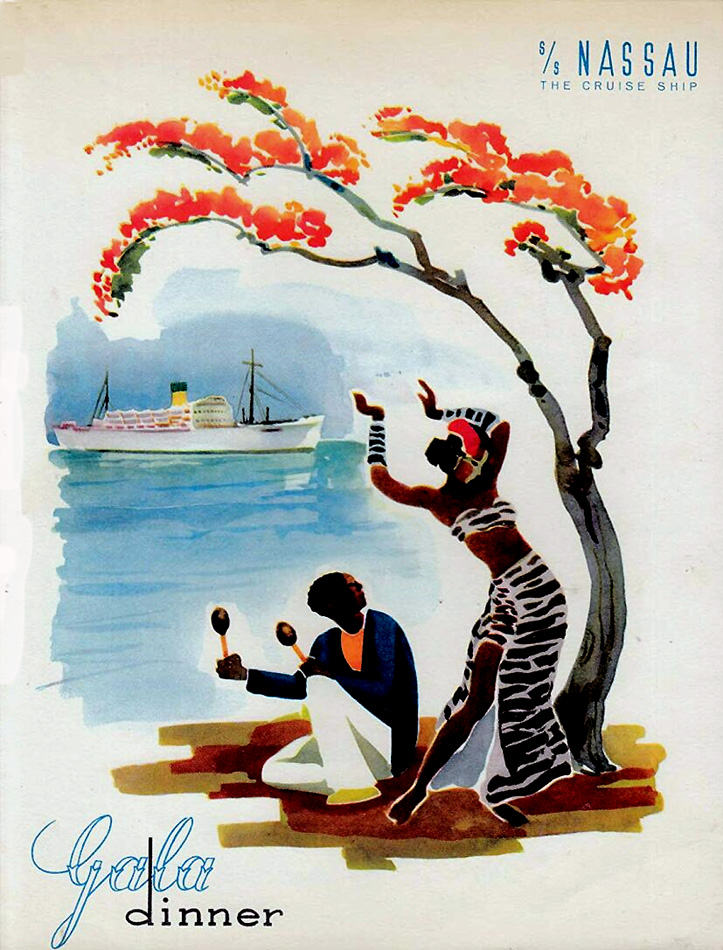 And like all wonderful luxury cruises they have to end, here is the Gala Diner Menu Cover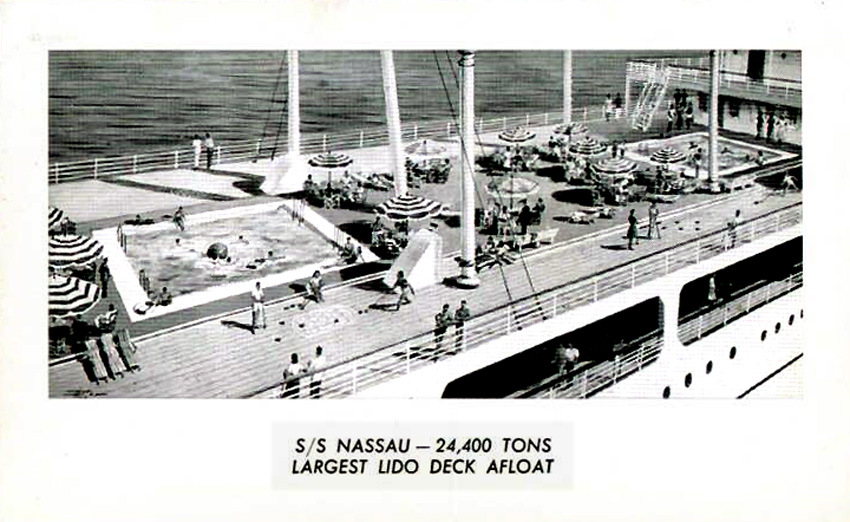 I trust that all Classic Cruise Ship lovers and admirers, and those who may have sailed on the wonderful S.S. Nassau will have enjoyed this and the previous pages covering her history and brochures as well as other items. I am sure many will have relived some of their cruise memories of days gone by!
Remembering a Fine Cruise Ship
S.S. Nassau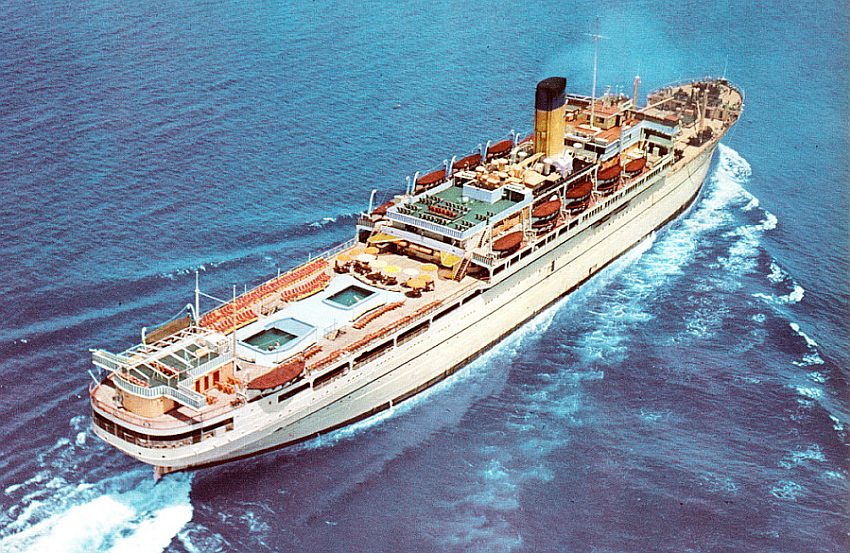 INDEX: From S.S. Mongolia 1922 to S.S. Acapulco 1964.
Page One:           RMS Mongolia & S.S. Rimutaka.
Page Two:           S.S. Europa, S.S. Nassau & S.S. Acapulco.
Page Three:         S.S. Nassau Brochure & Memorabilia Page.
SS Moldavia:       Is the slightly earlier sister of the "Mongolia".
***********************************
"Blue Water Liners sailing to the distant shores.
I watched them come, I watched them go and I watched them die."

Featuring over 1,550 Classic Passenger Liners, Passenger-Cargo Liners & Classic Cruise Ships!
Or ENTER HERE
For interest: Sadly an email service to ssMaritime is no longer available, due to the author's old age and chronic illness as well as being disabled, etc. In the past ssMaritime received well over 120 emails per day, but Mr. Goossens can no longer handle same. He sincerely regrets this!
*********************
ssMaritime.com & ssMaritime.net
Where the ships of the past make history & the 1914 built M.S. Doulos Story.
The Author has been in Passenger Shipping & the Cruise Industry for well over 60 years
In addition he was the founder of "Save the Classic Liners Campaign" in 1990.
Please Note: ssmaritime and associated sites are 100% non-commercial and the author seeks no funding or favours of any shape or form, never have and never will!
Photographs on ssmaritime and associate pages are by; the author or from the author's private collection. In addition there are some images that have been provided by Shipping Companies and private photographers or collectors. Credit is given to all contributors. However, there are some photographs provided to me without details regarding the photographer/owner concerned.
This notice covers all pages; although, and I have done my best to ensure that all photographs are duly credited and that this notice is displaced on each page, that is, when a page is updated!
ssMaritime is owned & © Copyright by Reuben Goossens - All Rights Reserved