Please Note: Firefox and some other search engines are not suitable – Use "Internet Explorer" for this page to load perfectly!
Click the logo above to reach the ssMaritime FrontPage for News Updates & "Ship of the Month"
With Reuben Goossens
Maritime Historian, Cruise'n'Ship Reviewer, Author & Lecturer
50-Years in the Passenger Shipping Industry
Companhia Colonial De Navegacao, Lisbon
 "Cia Portuguesa de Transportes Maritimos"
TS Infante Dom Henrique
Later
: TS Vasco Da Gama, SS SeaWind Crown, Barcelona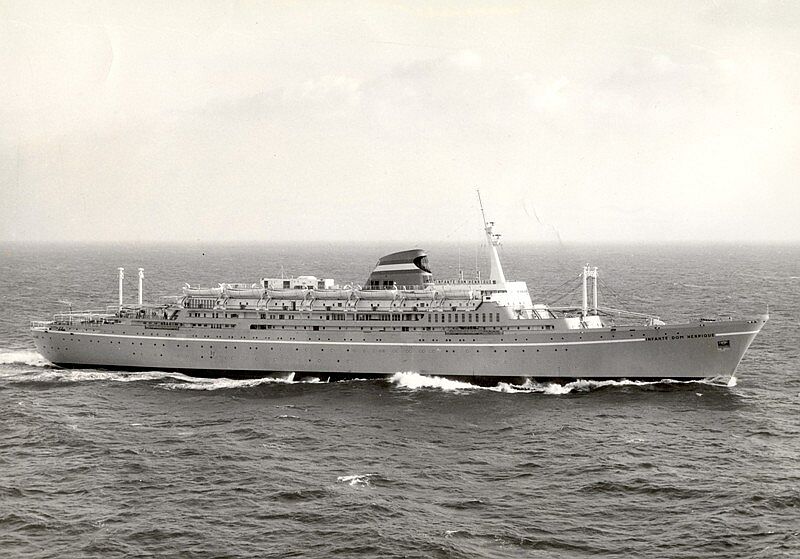 She was certainly an ultra modern and sleek looking liner for her time
Photographs are either from the author's private collection or those that have been provided to the author by ssMaritime supporters, although the owners are not known. Please read the photo notes at the bottom of this page. A special thanks to Stan Evans and Jose Ponos for images provided.
Introduction:
There was no doubt that in the early 1960's there was a resurgence of new passenger liners built for the various services around the world. Be it, Union Castle Lines, superb SS Windsor Castle in 1960, Orient Lines, SS Oriana in 1960, P&O's SS Canberra in 1961, French Line SS France in 1962, followed by so many other notable liners, such as Zim Lines SS Shalom, and the great Cunard liner SS Queen Elizabeth 2, just to name a few, however there were countless great ships built during this time including some super Italian liners including the Lloyd Triestino Lines TN Galileo and Marconi in 1963. However, in Portugal there were plans underway for a rather spectacular ship and one that would be considered as being revolutionary! This would be the TS Infante Dom Henrique and she was the very last of the great Portuguese liners to be built.
Her Beginnings:
The TS Infante Dom Henrique was Portugal's largest liner and certainly the biggest of her type to be built. She was ordered by Cia Colonial, Lisbon in December 1957 and built in Belgium by the same company that had already built both the TS Vera Cruz and TS Santa Maria in 1952 and 1953 in yard Number 814. She was launched on April 29, 1960 by Mrs. Maria Theresa Soares da Fonseca, the company's President's wife.
She was completed and delivered to her owners in September 1961 some seven and a half months after the terrible hijack of the Santa Maria in the Caribbean. In October of that year there would be just one more Portuguese passenger liner launched, the smaller 10,000-ton SS Funchal for Empresa Insulana de Navegacao of Lisbon and happily this ship continues to sail to this day (2011) and will do so for many years as yet! However, just several months prior the Infante Dom Henrique was launched, The "Companhia Nacional de Navegacao" the 19,393-ton TS Principe Perfeito had been launched at the Swan & Hunter & Wigham Richardson shipyards in Newcastle UK.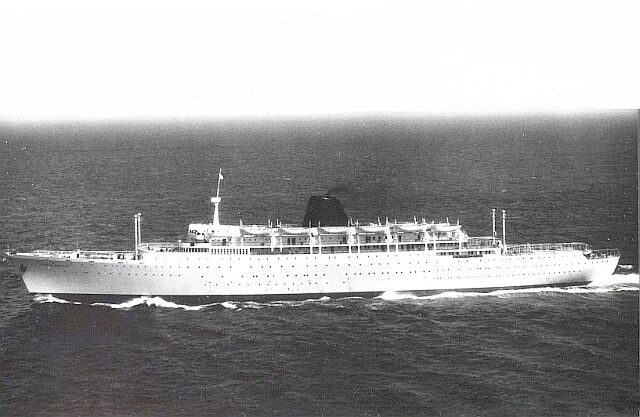 TS Principe Perfeito is seen at full speed ahead at sea
After various guises she was broken up in India 2001
With the Infante Dom Henrique having been completed, in February 1961, she undertook her sea trials in the North Sea. However the ship suffered from extensive vibrations caused mostly due to propellers design. She returned to her builders and new propellers of new design were fitted which obviously fixed the problem and she was made ready to be delivered.
She was delivered to her owners on September 21, 1961, and finally departed on her maiden voyage on October 4, sailing from Lisbon via Funchal, and Luanda, Lobito, Cape Town, Lourenco Marques to Beira.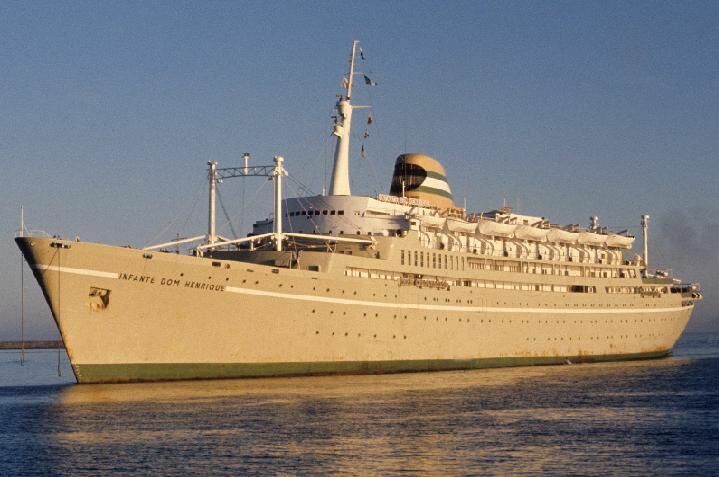 Her hull colours was taken up to the top of Promenade (A) Deck
Being a new and a different approach, giving her an unusual look
In September 1963, no less than Portuguese President Thomaz sailed on her for an official voyage, an honour bestowed only on two other ships the SS Funchal and the Companies other ship the Swan & Hunter & Wigham Richardson, Newcastle built, TS Principe Perfeito which was delivered just three months before her.
The Ships Facilities:
Unlike her earlier sisters the company had decided on some radical changes when they designed this ship, both externally, as she "looked as modern as tomorrow" as the saying went at the time, to even "futuristic." And her sleek looks and her unusual colour arrangements certainly gave her a new and unusual look! However, it would be her interiors that would see some dramatic changes from the "old times" and she would become a ship with the "new look." Gone were the dark panelled lounges and the garden verandas. Her First Class although spacious for just 156 privileged passengers, the majority of the ship was made available to the 862 Tourist Class passengers.
In addition, instead of carrying three or four classed she only offered two classes, First and Tourist. Although they there was a Tourist Class A, and Tourist Class B. This that Tourist A offered a cabin amidships, whereas Tourist B was a cabin aft of the ship. Her First Class was referred to as the "Penthouse" covering, Games, Boat, A (Prom) and B Decks 4 Decks). But First Class staterooms were located on just two decks, whereas Tourist Class cabins were spread over three decks, but two lower ones covering almost the full length of the ship.
The décor was very much of the late modernistic fifties, with a great deal of steel and glass, with pastel colours combined with stark dark tones. Flooring had gone mostly to vinyl and timber wall cladding was only used in moderation. Yet, she had a unique look and the Infante Dom Henrique became a popular ship with both her First and Tourist Class passengers.
Like her earlier sisters she offered three fine decks for walking outdoors along the side of the ship, with one being a full walk around deck. Let us look at her deck by deck"
Boat Deck: Forward, one on the starboard, the other on portside, were two magnificent deluxe suites. In addition there were another 36 superior twin and single staterooms all with private facilities. Located just forward of the main stairwell was the chapel, whilst far aft out on deck was the First Class Swimming Pool complete with a bar and the Sun Deck. Whilst the deck above was First Class Sports Deck that ran the full length of the superstructure.
A (Promenade) Deck: This is obviously the Promenade as it had full length windows forward. This deck was devoted to the main public rooms. Forward was the First Class Main Lounge, then the superb and elegant Lobby featuring the statue of the famed statesman Infante Dom Henrique. This was followed on the starboard side by the Library and the Reading Room whilst on portside there was the Writing Room. The next lounge amidships was the spacious Smoking Room and Bar. Then on the starboard side was the Children's Playroom and this ended the First Class section of A Deck inside as well as outside out on deck. Portside there was the Tourist Class Children's Playroom, followed by the Tourist Smoking Room and Bar with their swimming pool and terrace bar outdoors.
B Deck: The forward section offered 58 First Class staterooms, all were twin bedded or single bedded, and all First Class staterooms had private facilities and were outside, thus had an oceanview! Here we find the top level of the ships main First Class spectacular two level vestibule/lobby this level offered the shops. B deck offered the highest grade Tourist Class cabins with private facilities. Aft of the accommodations was Main Lounge Ball Room, which continued to the Bar on the starboard side and the Gallery portside. Outside there was ample open deck space for both classes. The Tourist Class Lobby also had its shops there.
C Deck: Forward was the Grand Lobby, the Pursers Office and the ships entrance. Here the passengers would also enter the First Class Dining Room. There were no more cabins on this or any other level. Aft of the Galley, was the Tourist Class Dining Room, which was more than twice the size of First Class. This was followed by their large Main Lobby and Pursers Office. The ships hospital and the doctor's surgery was located aft. D Deck and E Deck was occupied with Tourist Class (outside and inside) cabins, none of which had private facilities.
Photo Album
First Class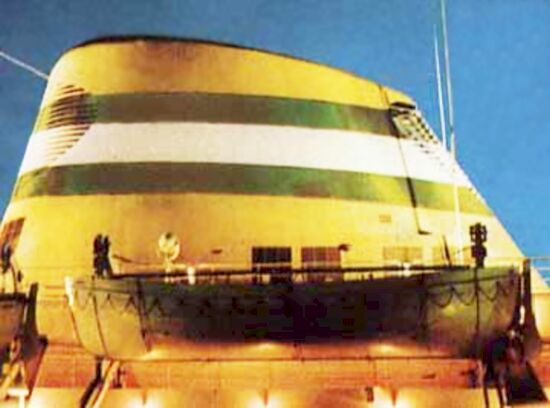 The ships stylish funnel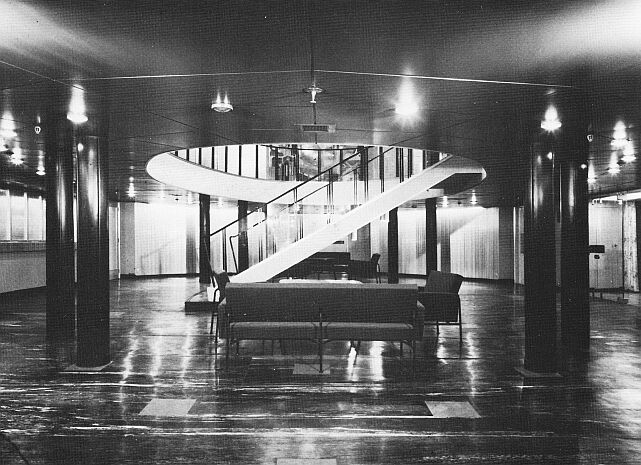 The Grand Lobby forward on C Deck, looking to starboard with the Pursers Office on the left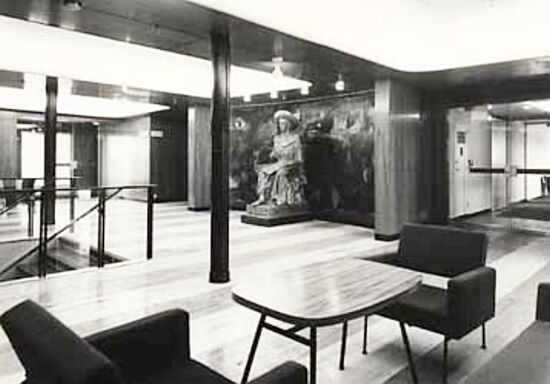 This is the Main Lobby and stairwell just aft of the Main Lounge
It featured the statue of Infante Dom Henrique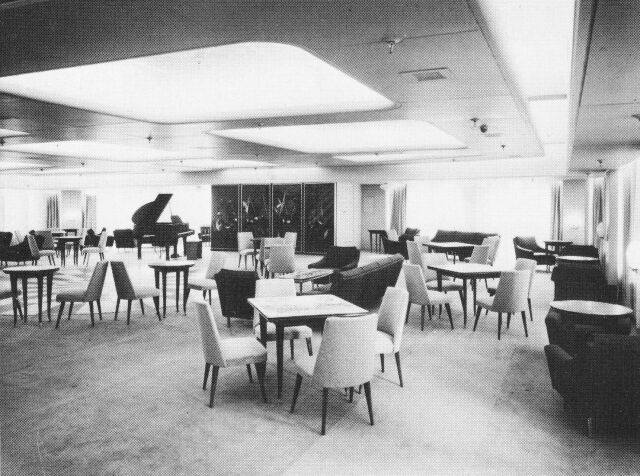 The Main Lounge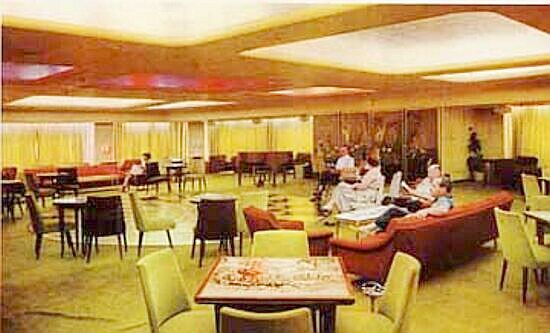 A colour image of the Main Lounge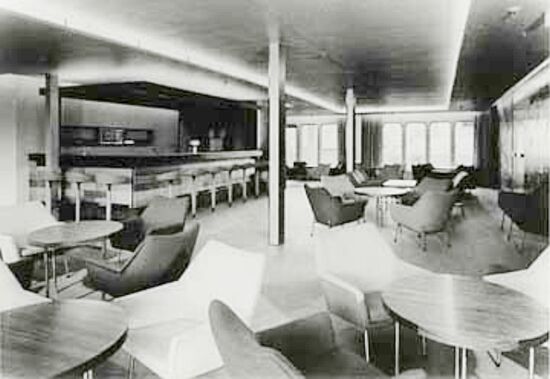 The Smoking Room Bar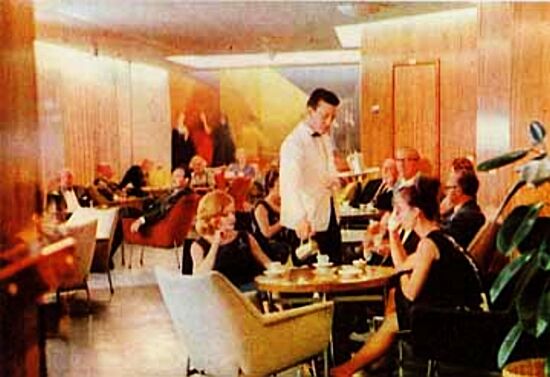 A colour image of the Smoking-Room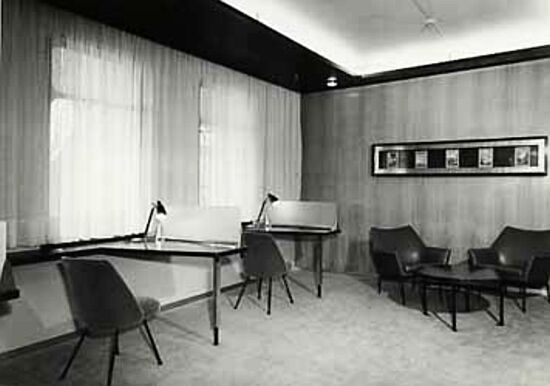 The Writing and Reading Room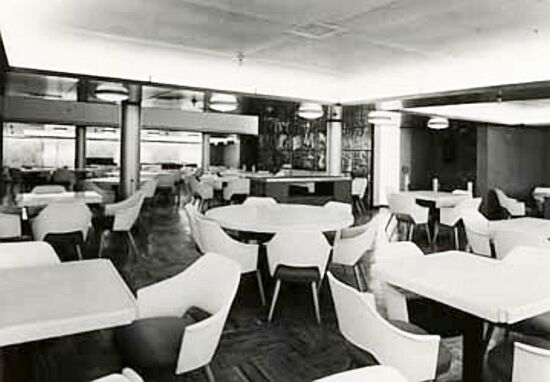 Dining Room is seen here prior to her entering service, thus the tables are not set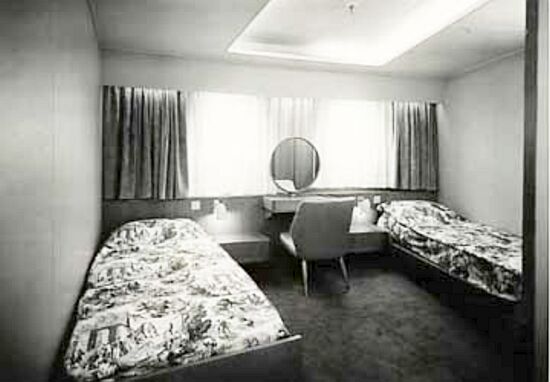 A typical; twin bedded cabin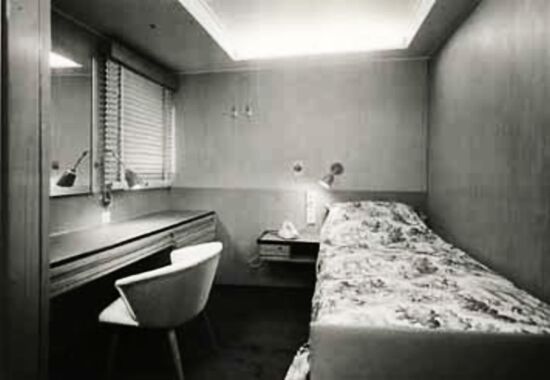 A single bed cabin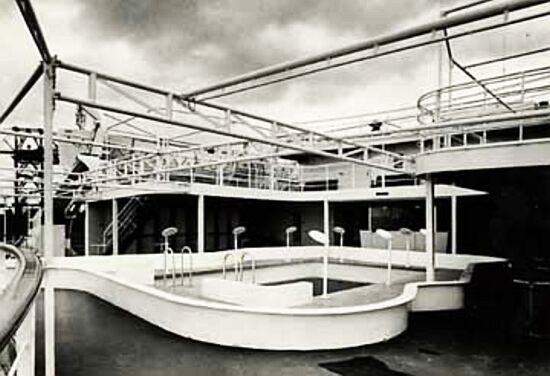 The Pool aft on Boat Deck
Tourist Class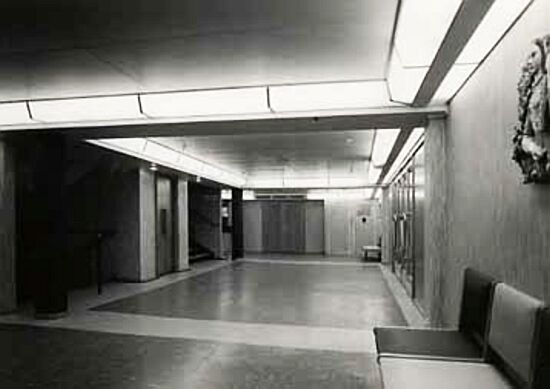 The Main Lobby on C Deck, looking to port, on the right is the entrance to the Tourist dining Room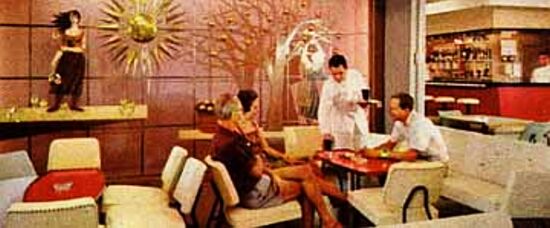 The Smoking Room and Bar aft on Promenade (A) Deck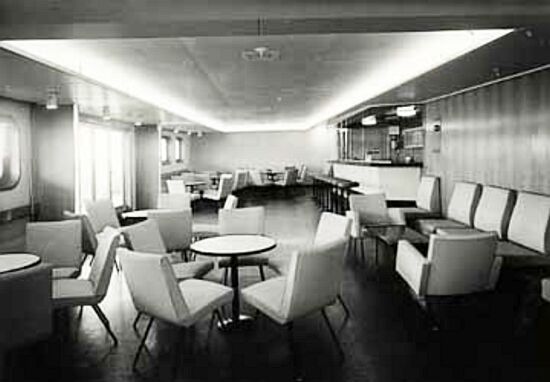 "The Bar" located starboard, just aft of the Smoking Room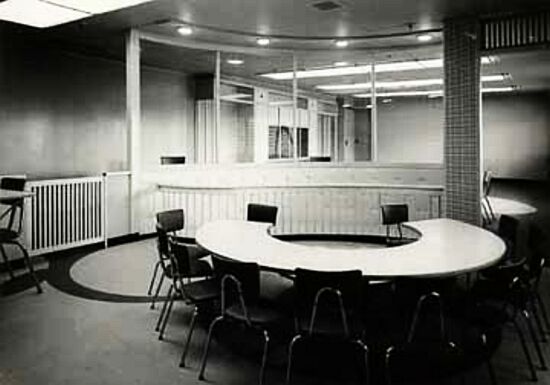 Children's Play Room amidships portside on Promenade (A) Deck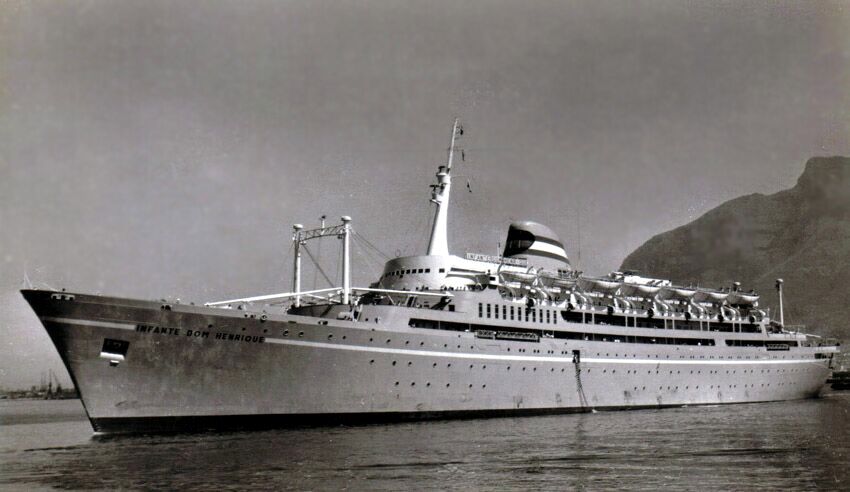 The elegant looking TS Infante Dom Henrique
Photograph by Mr. R Varns
Times are 'a' Changing?
In 1974 the company name was changed to "Cia Portuguesa de Transportes Maritimos", which came abut due to an amalgamation with two relative companies. However, she continued on her regular services until January 3, 1976, when she was laid up in Lisbon as she was no longer cost affective to operate on this service and the company did not see any other use for her at this time.
Specifications as Built:
Builder:                       J. Cockerill Ship-building Ltd, Hoboken, Belgium.
Yard:                           814.
Built for:                      Companhia Colonial De Navegacao.
Launched:                    April 29, 1960.
Maiden Voyage:            September 21, 1961.
Tonnage:                     23,306 GRT (gross registered tons).
Length:                        195.5 m / 642 ft.
Width:                         24.4 m / 80.4 ft.
Draught:                      27 ft.
Propulsion:                   Westinghouse type D.R. geared steam turbines – 22,000 BHP.
Screws:                       Twin.
Service speed:              20 knots.
Passengers:                  First Class: 156
                                  Tourist Class A: 384 – Tourist Class B: 478.
                                  Crew:  318.
Port of registry:            Lisbon.
Livery:                         Grey/green hull, white upper superstructure, yellow funnel with green and white bands.
                                  Green boot topping.
Holds:                         4, capacity of 10,504 cubic meters of general and refrigerated cargo.
1977 to 1986:
Having been laid up, she was eventually sold to a group named - "Gabinete da Area de Sines" (GAS) who intended to use her as a worker's accommodation ship at the port of Sines south of Lisbon. This had been a fishing village that was being rebuilt into a large industrial estate and the ship would serve as permanent housing. After a $10 million refit that included the construction of a basin around her, she was due to be opened in November 1977 as a floating hotel. However, the program folded and she was left to the elements. Every now and then visitors would visit her over the years but she was sadly being poorly looked after!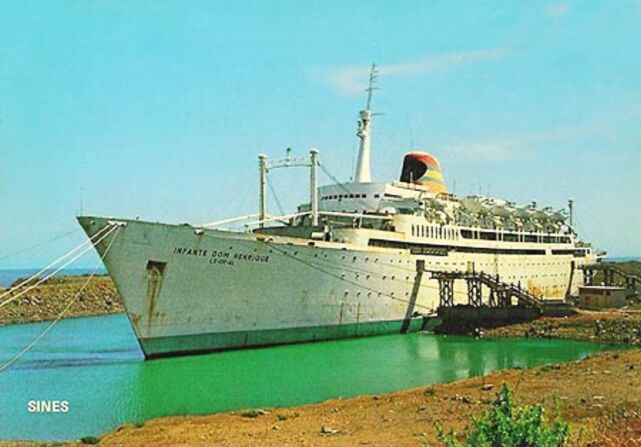 This is a postcard that was issued of the Infante Dom Henrique seen berthed in her basin at Sines
The time came that ship was partially covered with rust and the paintwork on her hull and superstructure was slowly beginning to peel away, it looked as though the ship that was once considered as the superb and ultra modern TS Infante Dom Henrique was going to be doomed and that her future was most likely the breakers.
Vasco Da Gama – 1986 – 1997:
However, fortunately in 1986, the badly neglected Infante Dom Henrique came to the notice of the famed Lisbon-based Greek shipping magnate; Mr. George Potamianos of one of the most respected Portuguese Shipping organisations to this day, Arcalia Shipping of Lisbon, and he decided to purchase the ship for he could see for her and that she was suitable to become a full time cruise ship. His plans were to fully refit this badly neglected liner for his Panamanian registered company "Trans World Cruises."
As her propellers had been removed at Sines, she was towed from her basin back to Lisbon where she arrived in February of 1988. Then she was towed to Greece in March and a US$50 million renovation commenced for her to become the cruise ship which was renamed the; TS Vasco Da Gama. The work was undertaken at Nafsi, which is close to Piraeus. In addition all her cabins were rebuilt with all cabins being fitted with private bathrooms. Some of the Tourist Class public rooms that were no longer required were converted into additional cabins and other facilities, including new boutiques and the obligatory casino for a cruise ship! Her attractive funnel livery remained much the same to its earlier incarnations, with the exception of a slight colour change.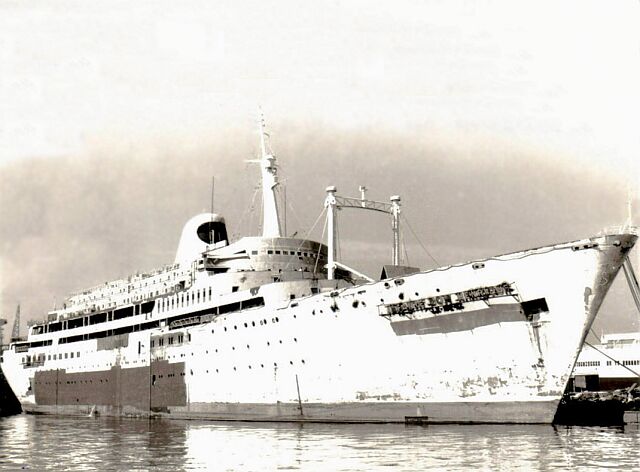 Infante being transformed in Greece as the Vasco de Gama
Other work that was undertaken was that her engines were completely overhauled. Externally she seemed to look even better than before, which was mostly due to the removal of her forward and aft king posts and derricks. In it place was a small electric crane with a short mast behind it, A tall modern radar atop the Bridge and a superbly styled aft mast at the rear of Sports Deck.
When the work was completed the renamed Vasco Da Gama commenced in her new role as a full time cruise ship. Having been chartered by the giant West German travel organisation, "Neckermann Reisen," she commenced cruising from Bremerhaven Germany. When she was in Lisbon on December 5, 1988, she suffered a fire in the engine room that caused sufficient damage that required her having to be towed to the Bremerhaven shipyards where she arrived on December 17.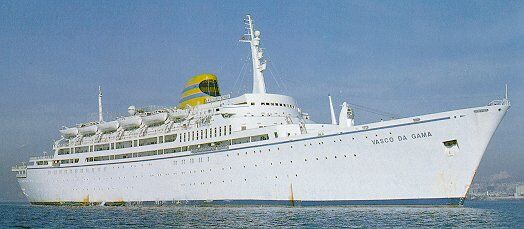 A delightful small image of the beautifully rebuilt TS Vasco de Gama

A fine aerial photo of the Vasco Da Gama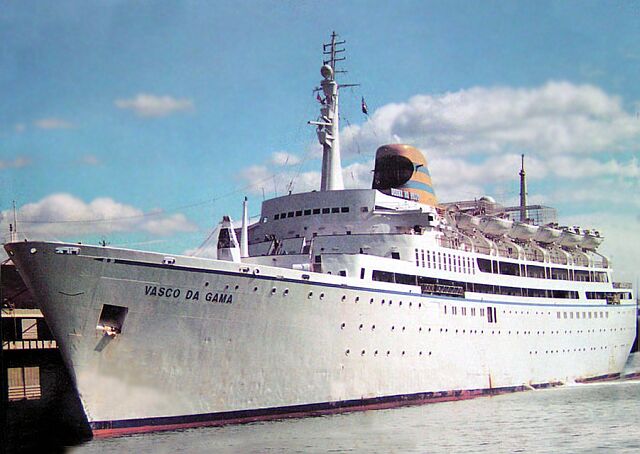 Here we see a great classic ship that would had a new life ahead of her!
With the work completed she headed for Genoa and on January 7,1989 she departed for her around the world voyage that had her crossing the Atlantic to New York, through the Panama Canal, the South pacific, Auckland, Wellington, Picton and Milford Sound's in New Zealand before crossing the Tasman Sea to Australia where she visited Sydney arriving on March 7.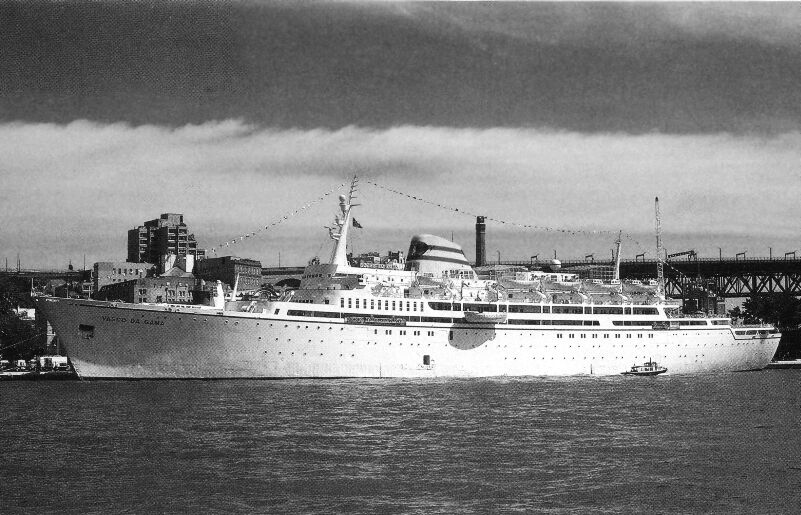 Vasco de Gama is seen berthed at the Passenger Terminal at Circular Quay in Sydney on Wednesday March 8, 1989
Two days later she departed for Hobart in Tasmania, then to Melbourne and around the south of Australia, calling at Albany on March 17 and Fremantle (Perth) the 18th.She continued via the Sues back to Genoa.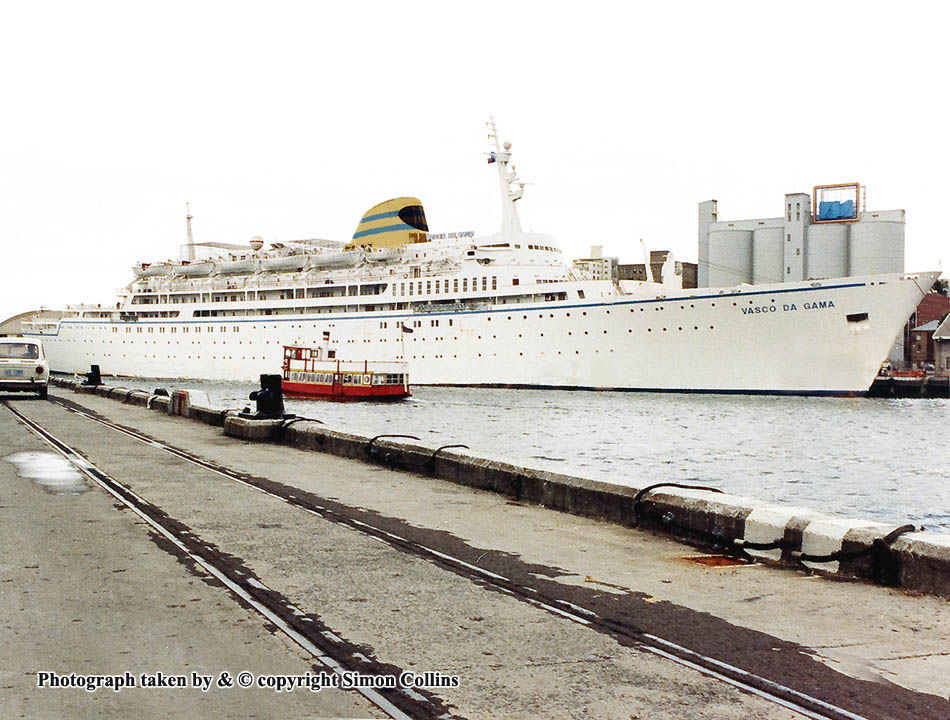 TS Vasco Da Gama is seen berthed in Hobart on March 12, 1989 - Photo by & © Simon Collins
Click the image above for a large version of Simon's photograph when the new
image opens it will reduce just click it and it will return to the original large size!
SS Vasco de Gama - Photo Album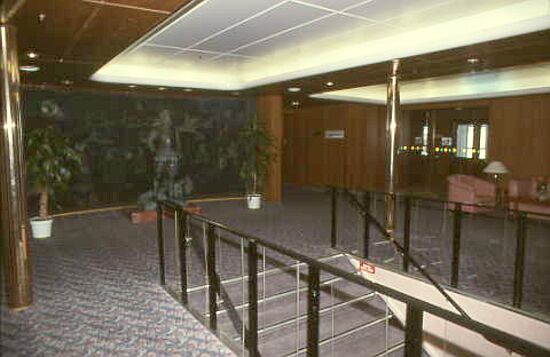 The forward Lobby and stairwell with the surviving statute of Infante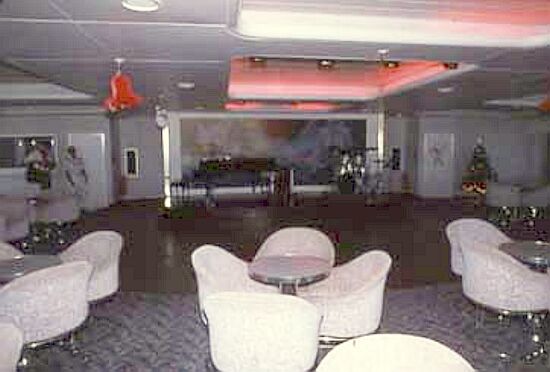 One of her lounges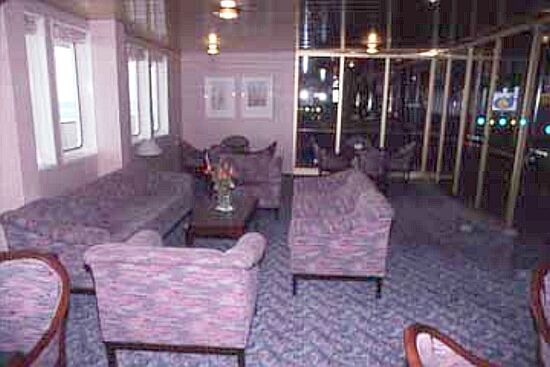 A corner of a lounge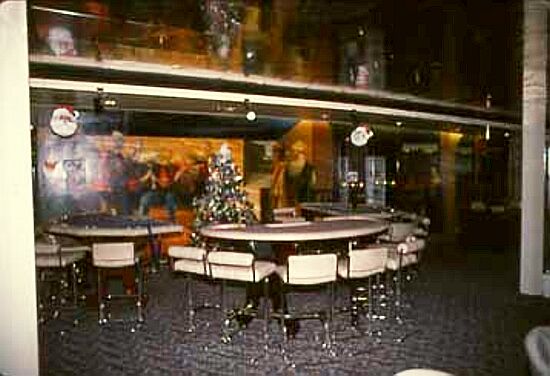 The Casino
Starboard Promenade Deck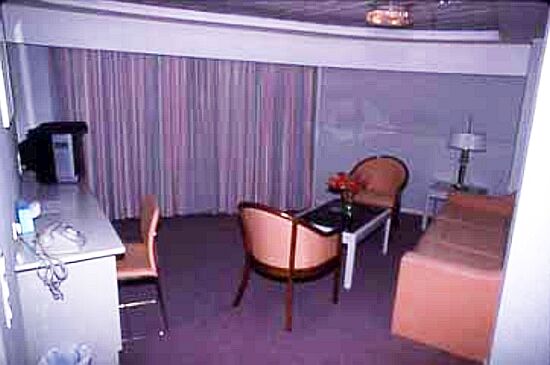 Lounge section of one of the suites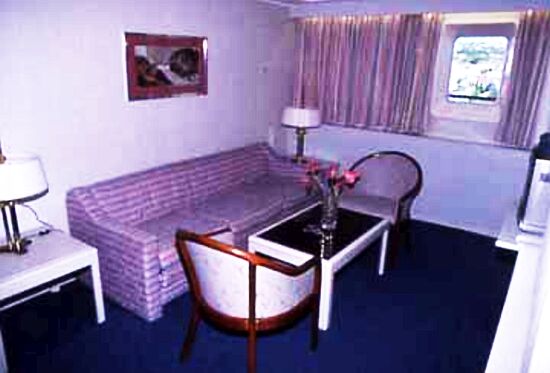 Part of a deluxe cabin
After her visit to New Zealand and Australia she continued operating mostly Mediterranean cruises. However she suffered further boiler troubles the following June, which put her out of service for fifteen days while repairs were made once again at Bremerhaven.
SeaWind
Crown – 1991 – 2003:
In 1991, Vasco Da Gama commenced on a series of Brazilian cruises, but she was given the additional name of SeaWind Crown (but officially she retained her original name on her bow) as she was under charter to the American "SeaWind Cruise Lines" and they mostly operated week long cruises to Aruba.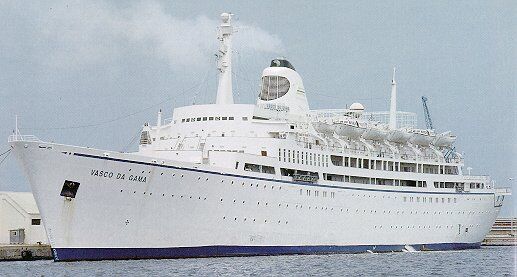 Although the name says Vasco Da Gama on the bow, she had now been renamed SeaWind Crown
SeaWind Cruise Lines and their new vessel seemed to be a success in this new market operating her seven night voyages with ports of call at Curacao, Caracas, Grenada, Barbados, St. Lucia, as well as a day at sea. Passengers came from various South American countries, The United States as well as Europe, and there was no doubt that the ship's ambiance and this week long circuit became a popular alternative to the mega-ships that was taking over the Caribbean at the time. In 1995, SeaWind Cruise Line decided to purchase the ship outright, and they finally officially dropping the Vasco Da Gama name from her bow. The company decided to add a second itinerary alternating the original as well as the offering the following ports: Antigua, Barbados, Guadeloupe, and Dominica with two days at sea. Both could be combined for a two week cruise of Caribbean cruising on the ex classic liner, the SeaWind Crown.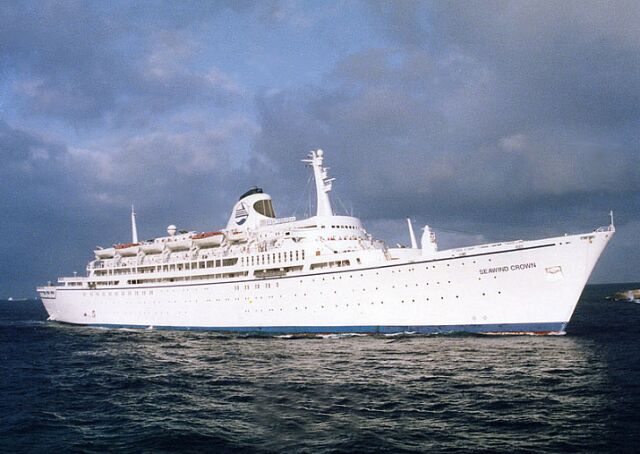 An excellent photo of the SeaWind Crown and she looks great in her all white livery!
Then in 1997, SeaWind and Dolphin Cruise Lines decided to merge which formed a new company "Cruise Holdings, Ltd." By doing this they were initially able to keep their identities separate. But it would not be long before Cruise Holdings acquired all off Premier Cruise Line's operations, which then merged all three companies under the new banner of "Premier Cruises, Inc." SeaWind Crown was sent for a major refit towards the end of that year to make her ready with the new SOLAS (Safety Of Life At Sea) regulations and she received further drastic changes such as the replacement of her forward dining room and conference room with shops as well as cabins. Additional cabins were built were crew areas were on forward section of Atlantic Deck and there was an expansion of the Tavern into a Lido Restaurant the end of the original Nightclub. Upon completion her accommodation changed from 624 to 728. Externally she received a blue hull with a gold band surrounding it up high as well as a dark blue funnel with the Premier logo.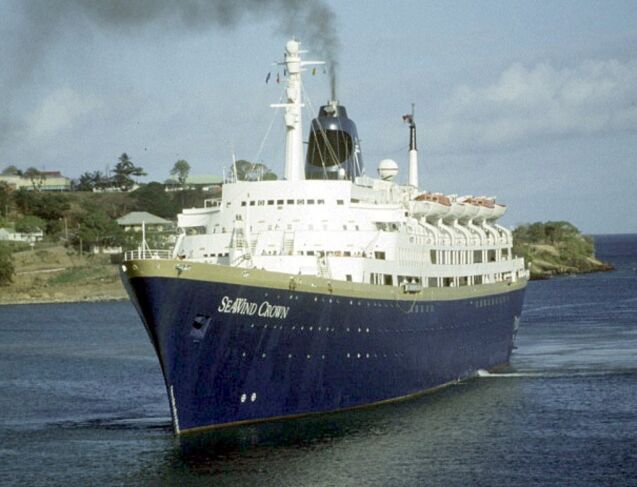 The SeaWind Crown is seen here under the doomed Premier Cruises livery, which never really suited her!
Sadly her days were running out for Premier made many errors, such as taking her off the Aruba service, which had been extremely successful.
Late in 1999 SeaWind Crown was transferred from her successful Aruba base to Puerto Vallarta, offering weekly cruises along the Mexican Riviera. The results were a disaster and she was withdrawn after just a few of cruises as advance bookings were simply woeful! Then came a last minute respite for this fine ship, which was being mishandles by a company which was being so badly operated! The Spanish Pullmantur Cruises decided to charter the SeaWind Crown, and soon she headed for Barcelona where she commenced a program of weekly Mediterranean cruises.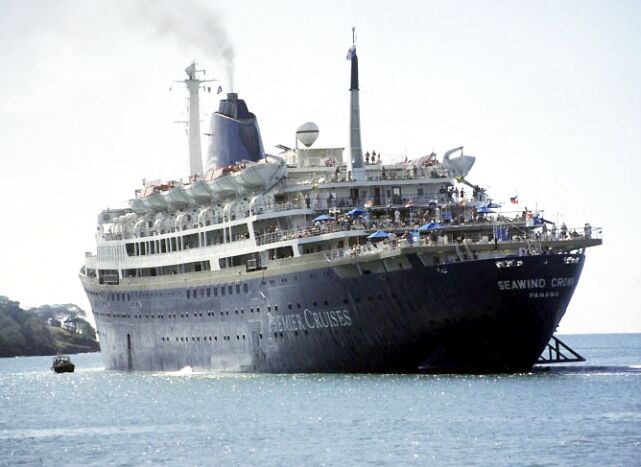 SeaWind Crown's days were by now rapidly running our
Both the SeaWind Crown and her cruises were going well and Pullmantur was happy to keep her in operation, when suddenly the worst possible event for this once great liner could happen. The ships owners Premier Cruises Inc, in September of 2000 with all of its assets, including all their ships and the SeaWind Crown, under charter to Pullmantur were seized for payment of debt. Thus when the SeaWind Crown arrived at Barcelona on September 17, 2000, she was stranded there together with her 260 crew members left on board and there were no wages to pay them.
There were all sorts of efforts to save this ship, but being unable for the crew to obtain their back pay from the ship's liquidators, being Price Waterhouse Coopers, the technical operation company, International Shipping Partners, or Pullmantur Cruises, the crew decided to stay on board the ship for almost six months, and it was due to the generosity of various charitable organizations and individuals who not only donated food but sufficient funding for them to eventually go home. Sadly this magnificent ship was tied in "legal red tape," although she was for sale, there were no buyers, thus the superbly beautiful SeaWind Crown was moved from the World Trade Centre Terminal in Barcelona harbour to a lonely berth near the outer breakwater and was laid up.
The Final Year – 2004:
It had become obvious as other ex Premier ships were bound for the breakers, with none having much hope for salvation (except for the great Dutch liner SS Rotterdam that has been saved and completely restored and is open today as an hotel in Holland) in March 2002, the SeaWind Crown was officially shut down and became what is know as in "dead ship." Everything had been secured, such as her funnel having been covered, and her interiors and other section in "secure mode."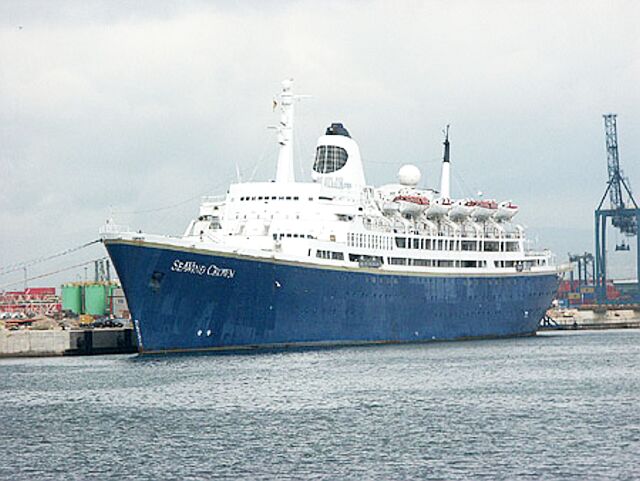 This photo was taken in 2002 whilst laid up in Barcelona just before she became a "dead ship" as her funnel was not yet covered
The Barcelona Port Authority now took control of the ship, and with the berth space needed for an oil tanker facility, they decided to place the renamed Barcelona up for auction.
It would be on December 28, 2003, that the Batumi registered Barcelona departed Barcelona having been laid up for three long years and she headed for India. On January 12, 2004, she passed through Suez Canal obviously bound for Alang, India to be broken up. And this would be the case, for by the end of 2004, the once great, sleek, ultra modern liner, the TS Infante dom Henrique had become part of history!
Memories of what was a Great Liner!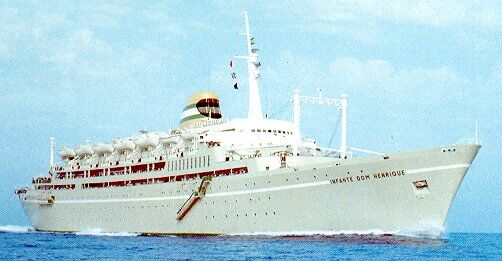 I prefer to remember her as the superb TS Infante Dom

Henrique

But she also proved to be a Beautiful Cruise Ship!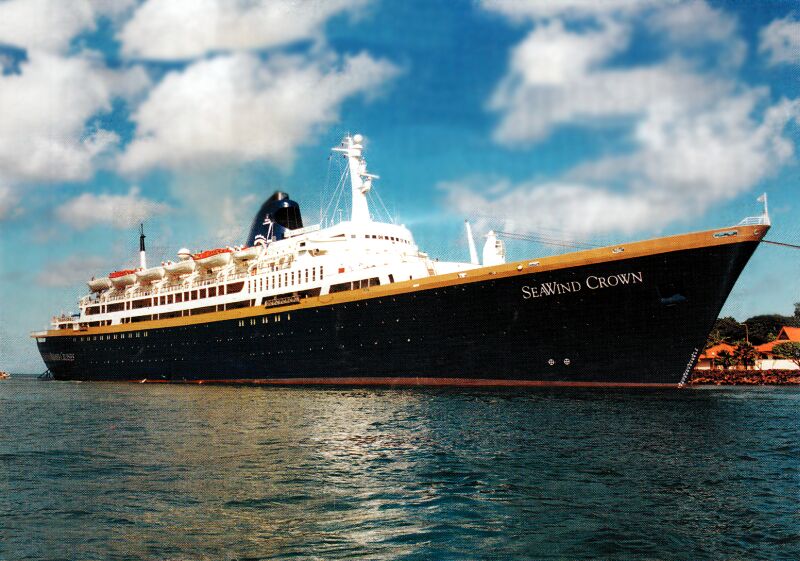 No matter under which name she may have sailed - like so many other fine ships
This beautiful ship may now have gone … But she will never be forgotten!
Enter the TS Infante Dom Henrique Deck Plan
Also read: TS Santa Maria - TS Vera Cruz & SS Funchal
***********************************
Return to the ssMaritime MAIN INDEX
ssMaritime.com & ssMaritime.net
Where the ships of the past make history & the 1914 built MV Doulos Story
Also visit the …
"Save The Classic Liners Campaign"
Please Note: ssmaritime and associated sites are 100% non-commercial and the author seeks no funding or favours of any shape or form, never have and never will!
Photographs on ssmaritime and associate pages are by the author or from the author's private collection. In addition there are some images that have been provided by Shipping Companies and private photographers or collectors. Credit is given to all contributors. However, there are some photographs provided to me without details regarding the photographer/owner concerned. I hereby invite if owners of these images would be so kind to make them-selves known to me (my email address may be found on www.ssmaritime.com only), in order that due credit may be given.
This notice covers all pages, although, and I have done my best to ensure that all photographs are duly credited and that this notice is displaced on each page, that is, when a page is updated!
ssMaritime is owned & © Copyright by Reuben Goossens - All Rights Reserved