Please Note: Firefox and some other search engines are not suitable – Use "Internet Explorer" for this page to load perfectly!
Click the logo above to reach the Cruise-Australia FrontPage for News Updates & "Ship of the Month"
With Reuben Goossens
Maritime Historian, Cruise'n'Ship Reviewer, Author & Lecturer
Please Note: All ssmaritime and my other related ssmaritime sites are 100% non-commercial and privately owned sites. Be assured that I am NOT associated with any cruise or shipping companies or travel/cruise agencies or any other organisations! The author has been in the passenger shipping industry since May 1960 and is now semi-retired, but continues to write article on classic liners and cruise ships in order to better inform cruise and ship enthusiasts for their pleasure!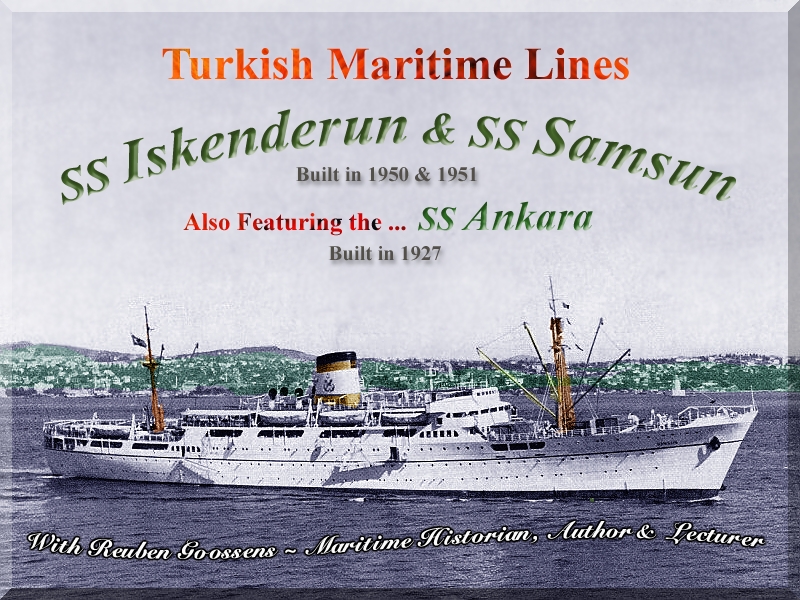 In the late 1940's the Turkish Maritime Lines decided to order two new ships, however in contrast to their more recent additions to the their fleet, considering their last three ships had all been obtained from the United States, this time these two ships would to be new ships and were built by Italian Ship builder; S.A. Ansaldo in Genoa. In addition, these fine ships were also especially designed to the companies own design and layout, a trend that their future ships would follow, although being constantly updated and enlarged upon.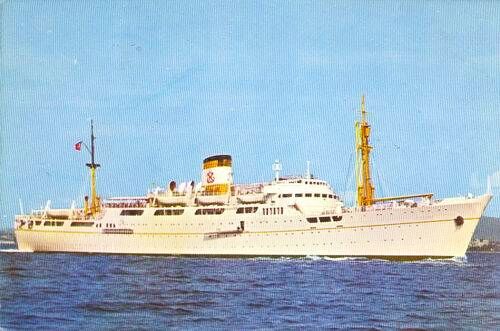 A generic colour postcard of the SS Samsun and Iskenderun
From the author's private collection
The first to be built was SS Iskenderun at 6,570-tons. She was the first of the pair of sisters and was completed late in 1950. She was followed in 1951 by SS Samsun which was registered at a slightly lesser tonnage of 6,543-tons.
Classes: Both ships had accommodations for 25 passengers in deluxe suites and 71 in First Class cabins, being a total of 96 passengers in First Class, in addition there were 320 (330 on SS Samsun) in Tourist Class, although when built, they were three class ships, but this was soon altered to two classes.
Public Facilities: All First Class public rooms were located on A (Weather, or Promenade Deck), with the Dining Room between the Main Lounge located far forward and the Smoke Rook with a fine Bar aft. The Tourist public rooms, including the Dining Room and Smoke Room were located aft on B deck. The ships only Swimming Pool was located up on Boat deck. Although allocated to First Class, Tourist Class passengers were allocated special times to use it.
Accommodations: There were ten twin bedded deluxe suites some being able to accommodate either one or two additional passengers. Each has a private sitting room as well as a spacious bathroom. These were located on A and B Decks. All other First Class cabins were either singles or two berth cabins, but none had private facilities. These were on B and C decks. Tourist Class (originally as built second they had third classes) had three grades of accommodations, 44 in A grade, being 4 berth cabins. 72 in B grade, being mostly 6 berth cabins and 204 (214) in C grade, which were larger dormitories located in the aft section of the ship and lower decks. In additions the ships were able to carry up to 20 cars in the garage as well as 10 cars on deck.
Length: 433ft / 132m, Width: 57ft / 17.3m, Draught: 18.9ft / 10.3m. Two S.A. Ansaldo built Steam Turbines (boilers and auxiliary engines were overhauled in the Netherlands in (1964) 4,400 BHP, Twin screw, 16.5 knots, max 18 knots.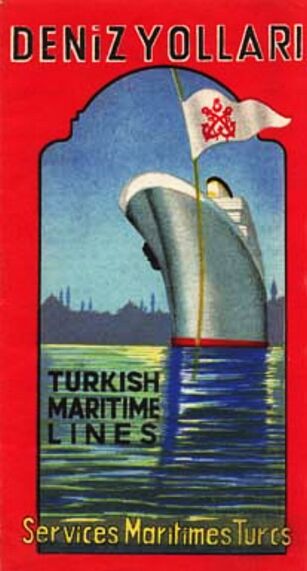 From the author's private collection
Voyages: According to their schedules these varied greatly depending on the years as they passed, however in 1951 from April to October they were as follows; Beirut, Alexandria, Malta, Naples, Marseilles On their return voyages they also called also at Genoa. Then from September 1951 to May 1952 the following service: Istanbul, Izmir, Piraeus, Beirut, Alexandria, Naples, Marseilles. On the return voyages again called at Genoa, but omitted Izmir. From May to September 1962 they operated as follows: Istanbul, Piraeus, Naples, Marseilles, Genoa, Naples, Alexandria, Beirut. Return voyages: again a visit was made to Genoa.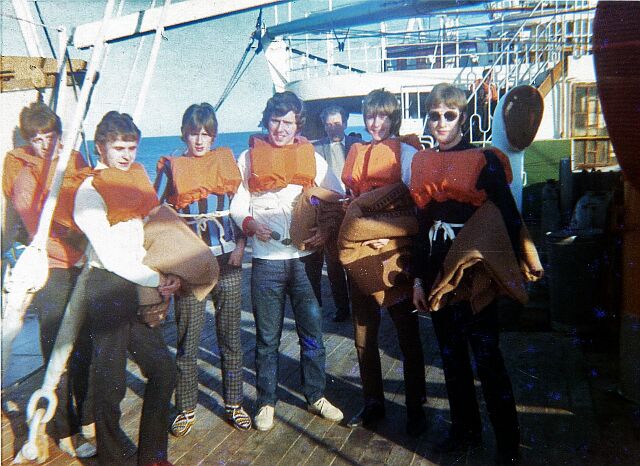 Kevin and some friends sailed on the Samsun from Genoa to Haifa and return in 1966
They are seen here during boat drill and he sent me this photo – thank you!
Provided by Kevin
At 13 and 14 years of age, apparently both ships were in need of work on their machinery, and thus they were sent to the Netherlands during 1964 for an overhaul. Their boilers and auxiliary engines were extensively upgraded, as well as other works being undertaken at the same time in order for them to continue to operate long into the future. Upon completion, both ships returned to Istanbul and resumed their respective services, although I have not been able to locate any schedules from 1962 to 1965, the that I have been able to locate is the one from 1966 as seen below, although they did operated during that time of course, with the exception of their time away in the Netherlands.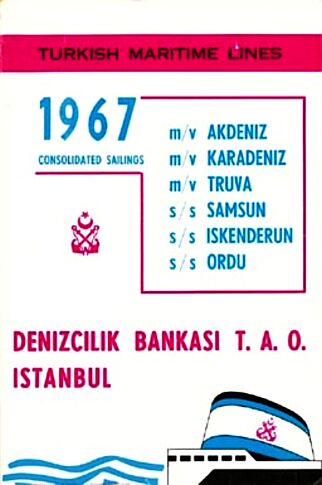 The 1967 fares and sailing schedule
From the author's private collection
From June to September 1967: Istanbul, Piraeus, Naples, Marseille, Barcelona, Marseille, Genoa, Naples, Haifa. However on he return voyages the ships would depart Haifa, and sail as follows, to Naples, Marseilles, Barcelona, Marseille, Genoa, Naples, Piraeus, Istanbul. Thus having also visited Genoa, but visited Naples twice!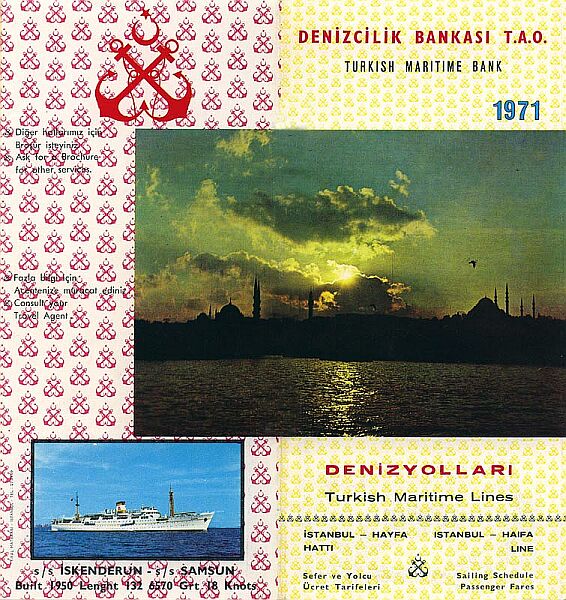 From the author's private collection
The last service I will mention are the 1971 schedules; Covering both ships; SS Iskenderun in January and December only, and SS Samsun January to March; Izmir, Limassol, Haifa and return. Then SS Samsun from April to November 1971 operated as follows; Istanbul, Izmir, Marmaris, Rhodes, Limassol, Haifa, and return.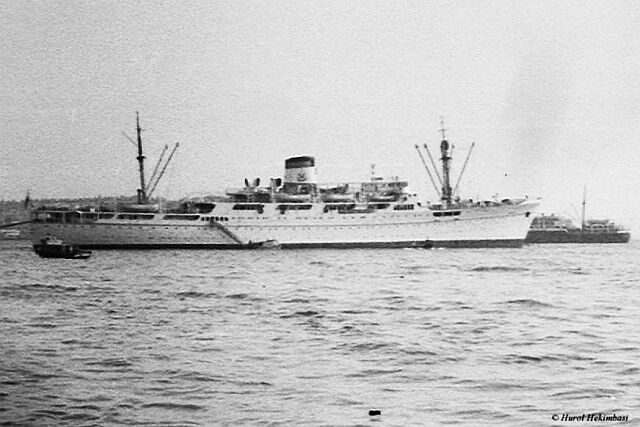 SS Samsun is seen here at anchor in Istanbul
From the author's private collection
Voyages were reported in 1973 and 1974 mostly of the Sea of Marmara and the Black Sea, but I have been unable to obtain details of their final days.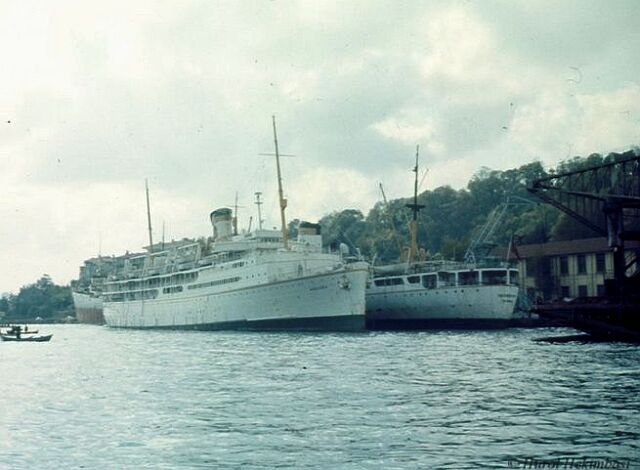 The SS Ankara and SS Iskenderun (inside) are seen laid up in 1975 at the Istinye dry-dock at Istanbul
Photograph by & © Hurol-Hekimbasi
Although the ships continued cruising on various services, but slowly these services diminished as air travel competed with more attractive air fares and thus eventfully both ships were withdrawn and sols in 1982 to the breakers. Below we see the SS Iskenderun being broken up alongside the 1927 built 6,178-ton (55-year-old) running mate SS Ankara.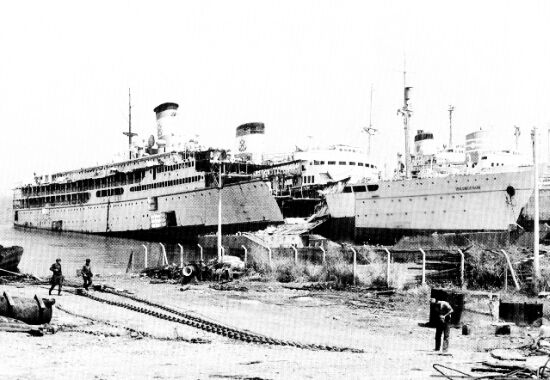 Here we see the SS Ankara and the SS Iskenderun on the beach at the breakers yard in July 1982
From the author's private collection
Please Note. This feature is unfinished and more details regarding these ships will come in the near future.
Reuben Goossens.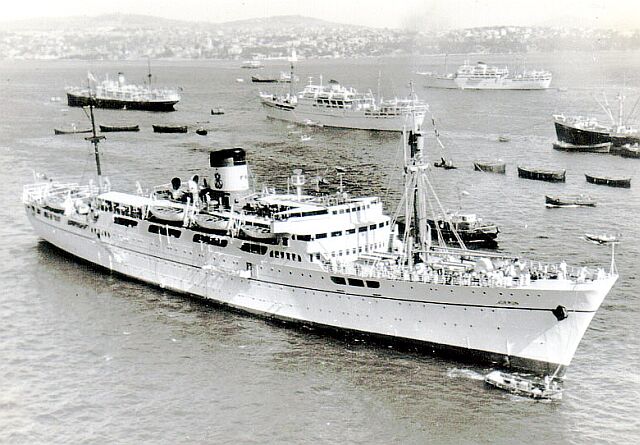 The SS Samsun is seen at Istanbul with the MS Izmir in the middle heading the opposite way
From the author's private collection
Specifications - 1. SS Iskenderun & 2. Samsun:
Built by: S.A. Ansaldo in Genoa, Italy.
Completed: 1. 1950 & 2. 1951.
Tonnage: 1. 6,570 GRT (Gross Registered Tons) & 2,870 Dead Weight.
. 2. 6,543 GRT & 2,830 Dead Weight.
Length: 433ft - 132m
Width: 57ft - 17.37m.
Draught: 18.9ft - 5.76m.
Engines: Steam - D.R. Geared Turbines.
Screws: Twin.
Speed: 16.6 Service, 18 max.
Passengers: 96 First, 116 Second and 252 Third Class.
After refit: 25 Deluxe, 71 First Class, 320 to 330 Tourist Class.
. Partial Air-conditioning.
INDEX
whilst she has been at anchor as an accommodation vessel
***********************************
Return to the ssMaritime Main INDEX
ssMaritime.com & ssMaritime.net
Where the ships of the past make history & the 1914 built MV Doulos Story
Also visit my
"Save The Classic Liners Campaign"
Please Note: ssmaritime and associated sites are 100% non-commercial and the author seeks no funding or favours of any shape or form, never have and never will!
Photographs on ssmaritime and associate pages are by the author or from the author's private collection. In addition there are some images that have been provided by Shipping Companies and private photographers or collectors. Credit is given to all contributors. However, there are some photographs provided to me without details regarding the photographer/owner concerned. I hereby invite if owners of these images would be so kind to make them-selves known to me (my email address may be found on www.ssmaritime.com only), in order that due credit may be given.
This notice covers all pages, although, and I have done my best to ensure that all photographs are duly credited and that this notice is displaced on each page, that is, when a page is updated!
ssMaritime is owned & © Copyright by Reuben Goossens - All Rights Reserved