Please Note: Firefox and some other search engines are not suitable – Use "Internet Explorer" for this page to load perfectly!

Click the logo above to reach the ssMaritime FrontPage for News Updates & "Ship of the Month"
With Reuben Goossens
Maritime Historian, Cruise'n'Ship Reviewer & Author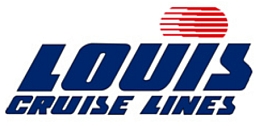 MV Sapphire
Page Two
The MV Sapphire 1995 to 2012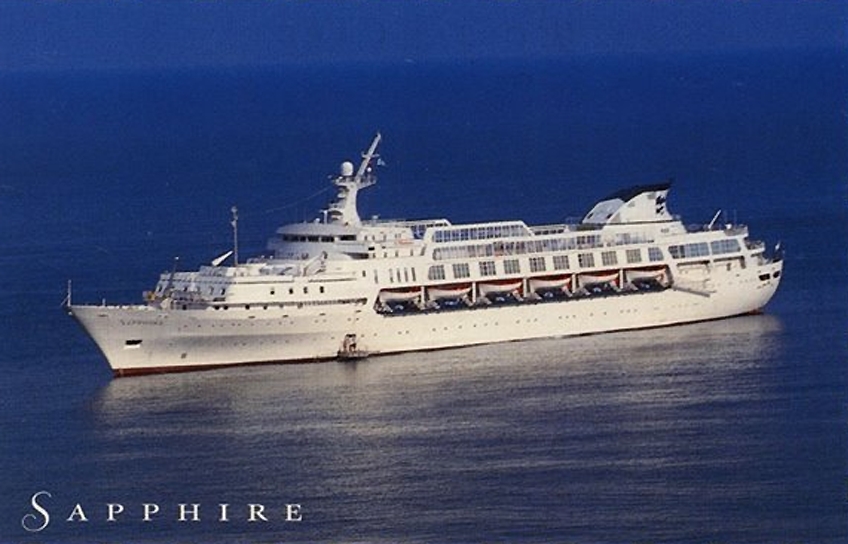 Here we see a very early Louise Cruise lines postcard revealing the new stretched forward superstructure
From the Author's private collection
If you have reached this page via a browser, you can visit Page One featuring the ships origins, the MV Italia and Ocean Princess
Sea Prince:
With the Ocean Princess having been declared a "Constructive Total Loss," she had been sold by the insurers to Ellice Marine of Athens. in 1993 with the underwater damage having been patched up she departed Belem undertow heading for Keratsini near Piraeus where she would be repaired. Once she had been repaired, the ship was renamed Sea Prince under the ownership of Equinox Enterprises S.A., which was part of the Greek group Tranos A.M. Bartsokas J.N.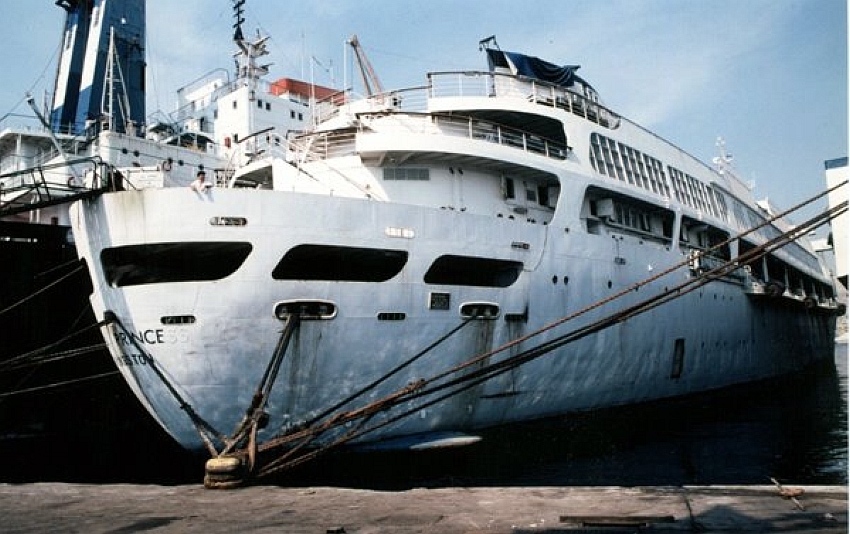 Here we see the MV Sea Prince still being made ready to sail at Keratsini ship yards near Piraeus 1994
Sent in by John Breeman – but photographer is unknown – Please see photo notes at bottom of page!
It was announced on May 2, 1995 that the Sea Prince would enter service for the newly created Sunshine Cruise Line operating seven-day Aegean cruises. However, on May 26, that same year she caught fire causing an unknown amount of damage. After an inspection her owners decided to place her on the market.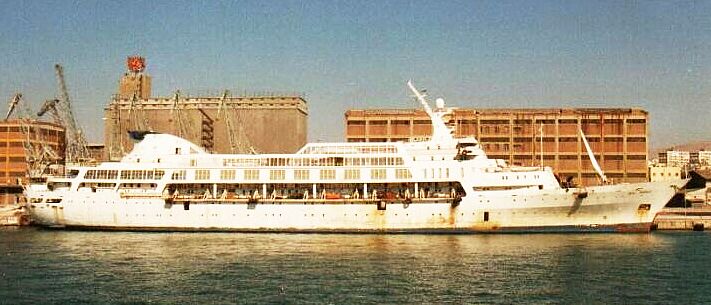 A forlorn looking Sea Prince where the last of the fire damage can still be seen as she is berthed in Greece
Author's private collection
In September 2005, she was sold to Louis Cruise Lines of Cyprus, who renamed her at first, MV Princesa Oceanica.
The MV Italia returns to her glory days as the MV Sapphire: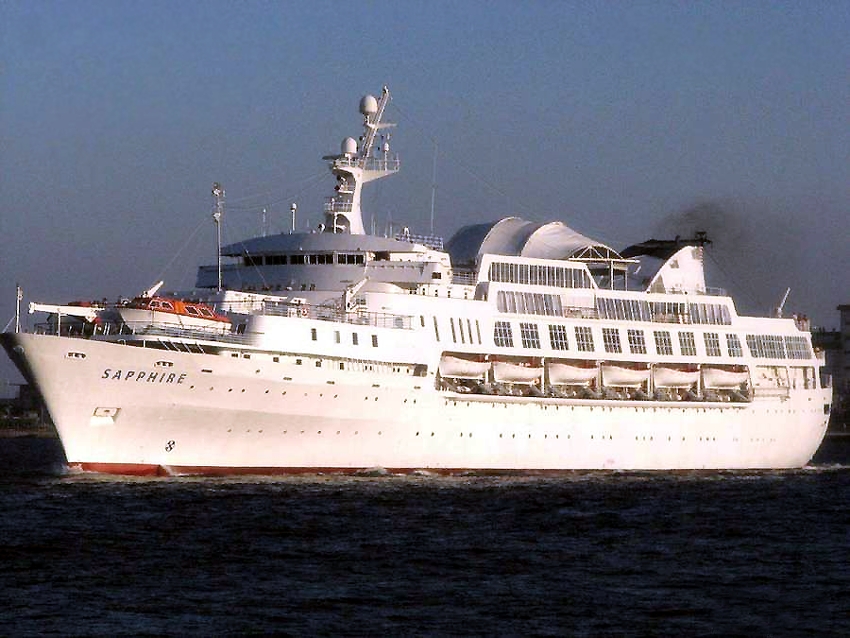 Here we see the beautiful MV Sapphire departing a port
Photographer unknown – Please see photo notes at bottom of page!
Thus the Sea Prince was a complete failure and she was sold in September 1995 to the ever growing, Louis Cruise Lines, who at first renamed her Princesa Oceanica. But in 1996, Louis gave her an extensive rebuilding programme and refit having received a lucrative agreement with the British Holiday Company Thompson Cruises and renamed her MV Sapphire. Although she did suffer an engine breakdown and had to be taken out of service for a short time, she has given countless thousands of British vacationers a simply wonderful cruise experience over the years.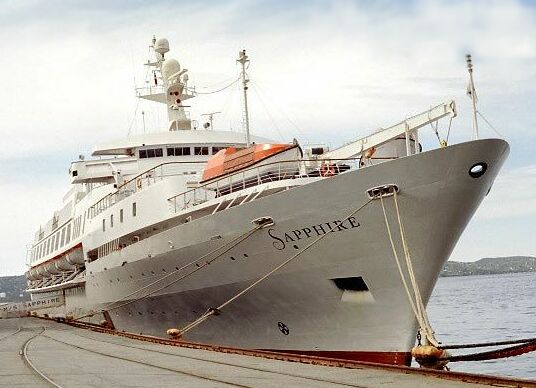 MV Sapphire seen under the Louis Cruises banner
Note the forward extensions topped by the two new tenders
Photograph by & © 2006 Philipo Cantiere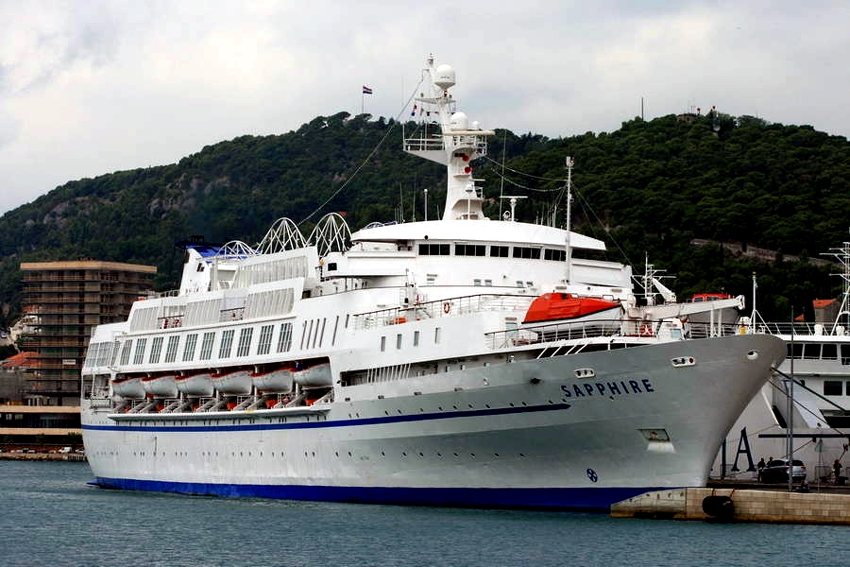 The Louis Cruise Line MV Sapphire is seen at Split in Croatia in 2008
Photographer unknown – Please see photo notes at bottom of page!
She also sailed for a period with Paquet Cruises and she continued as a popular cruise ship also sailing for Louis Cruises. Considering she was launched forty-two years ago (2007) this fine ship could well be considered to be a classic, yet look at her and she is modern as tomorrow, an enigma!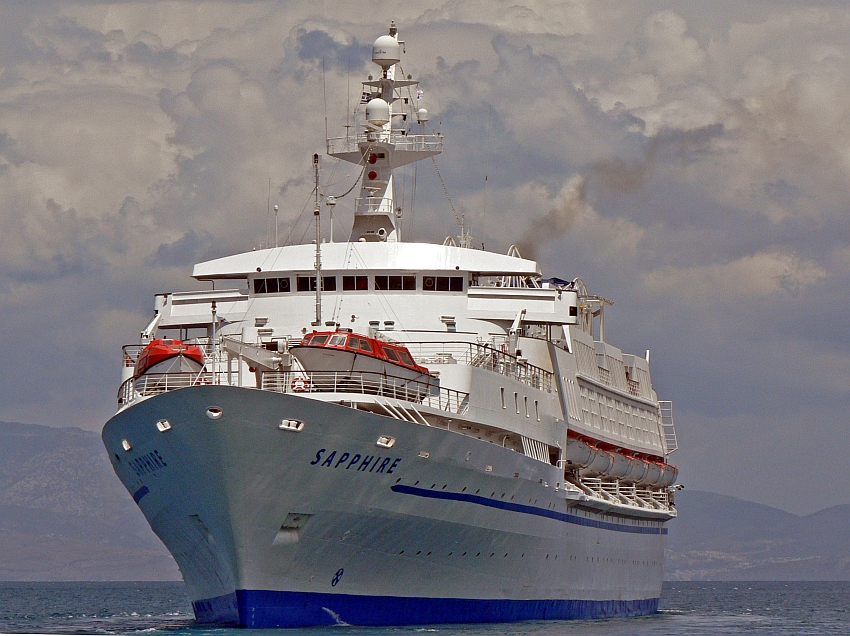 The Louis Cruise Lines MV Sapphire is seen arriving at the Greek Island of Kos in 2009
Photograph by & © Hans-Jürgen Amberg
MV Sapphire Photo Album and Deck Plan
Public Venues

A combination of images of the Sapphires many fine facilities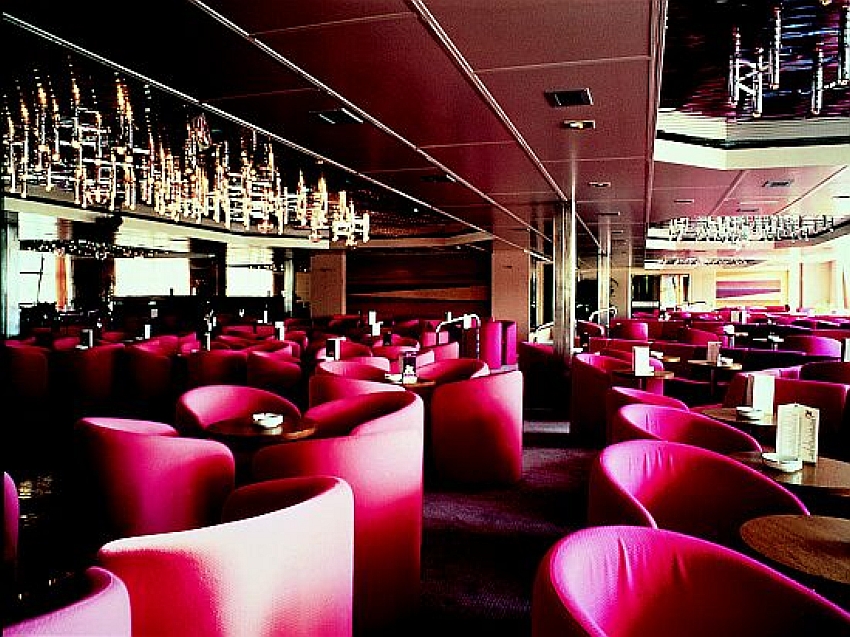 The spacious Marco Polo Lounge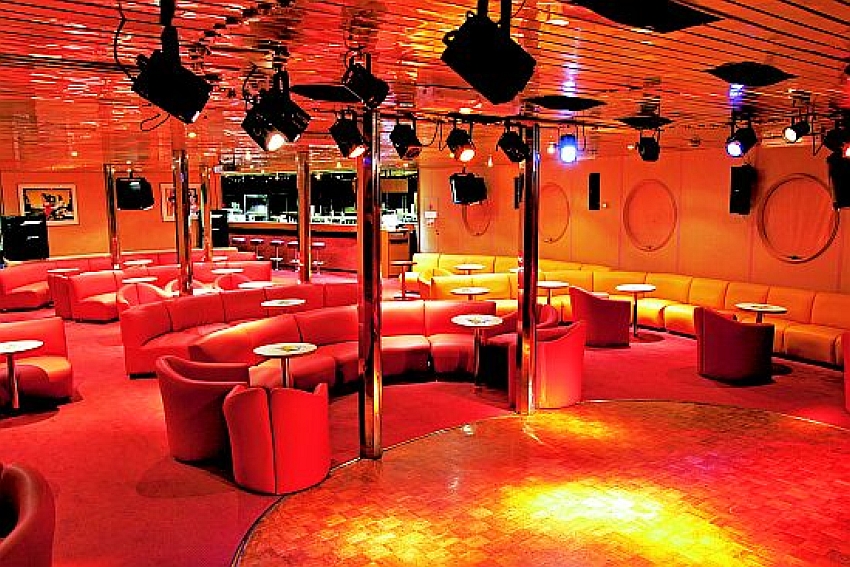 Haffles Bar and Night Club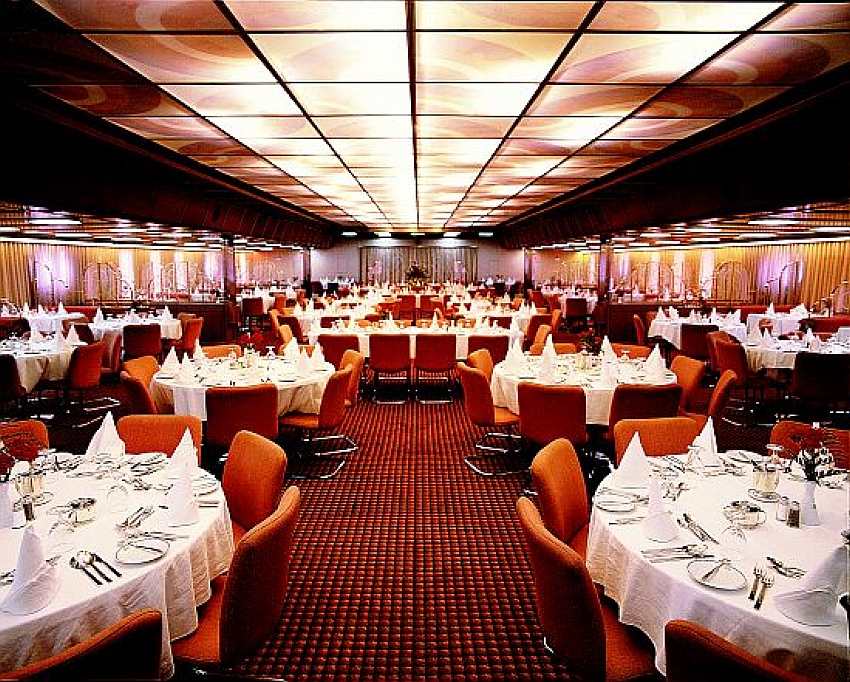 The Four Seasons Restaurant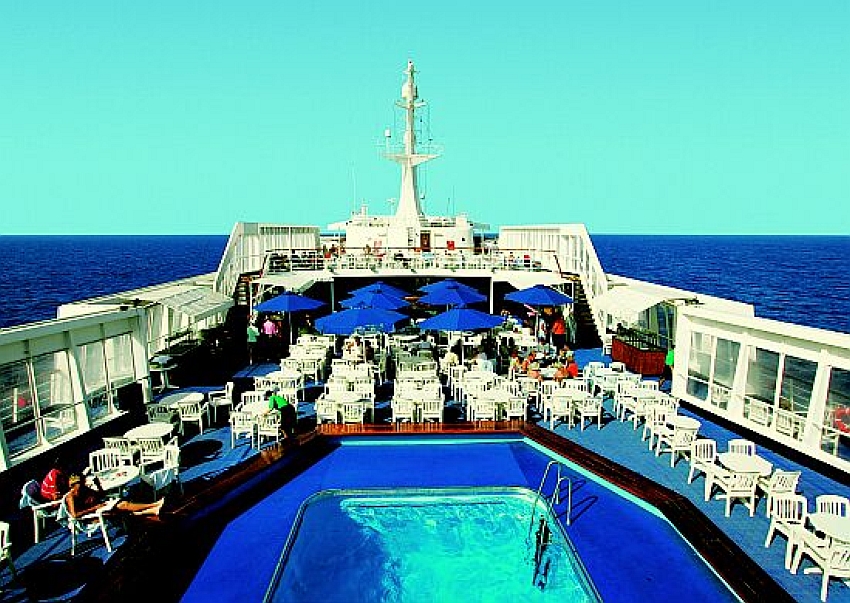 The Lido Swimming Pool
Accommodations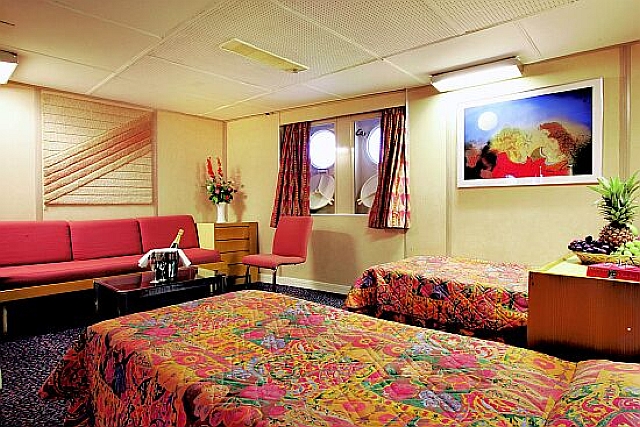 A spacious outside twin bedded stateroom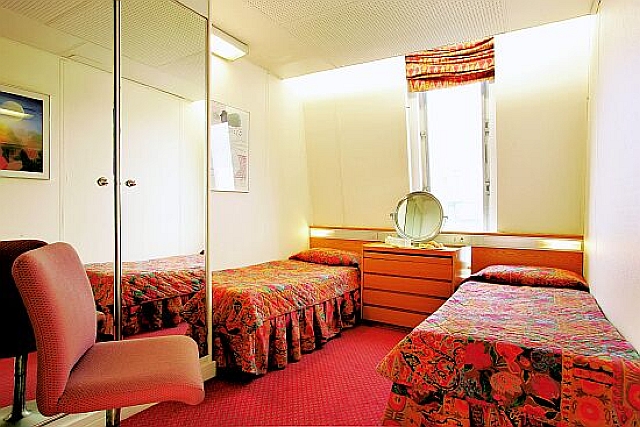 An outside twin bedded cabin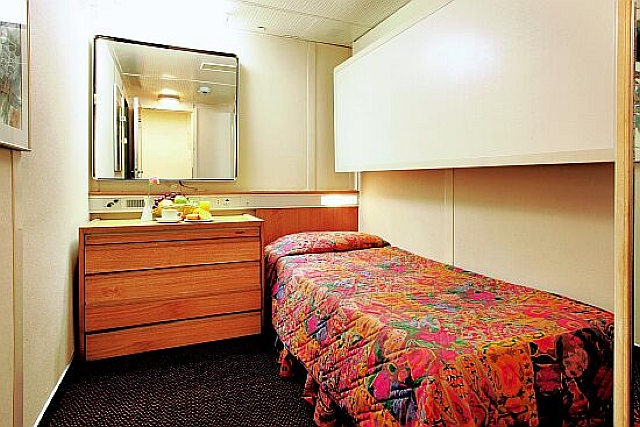 Here we see an inside single or can be sold as a two berth cabin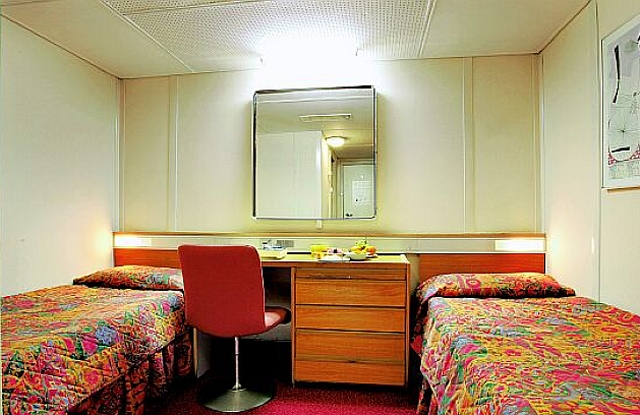 A spacious inside twin bedded cabin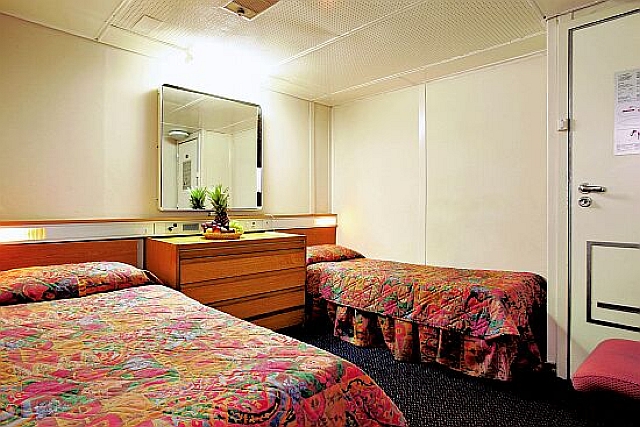 And here is another twin inside cabin
Deck Plan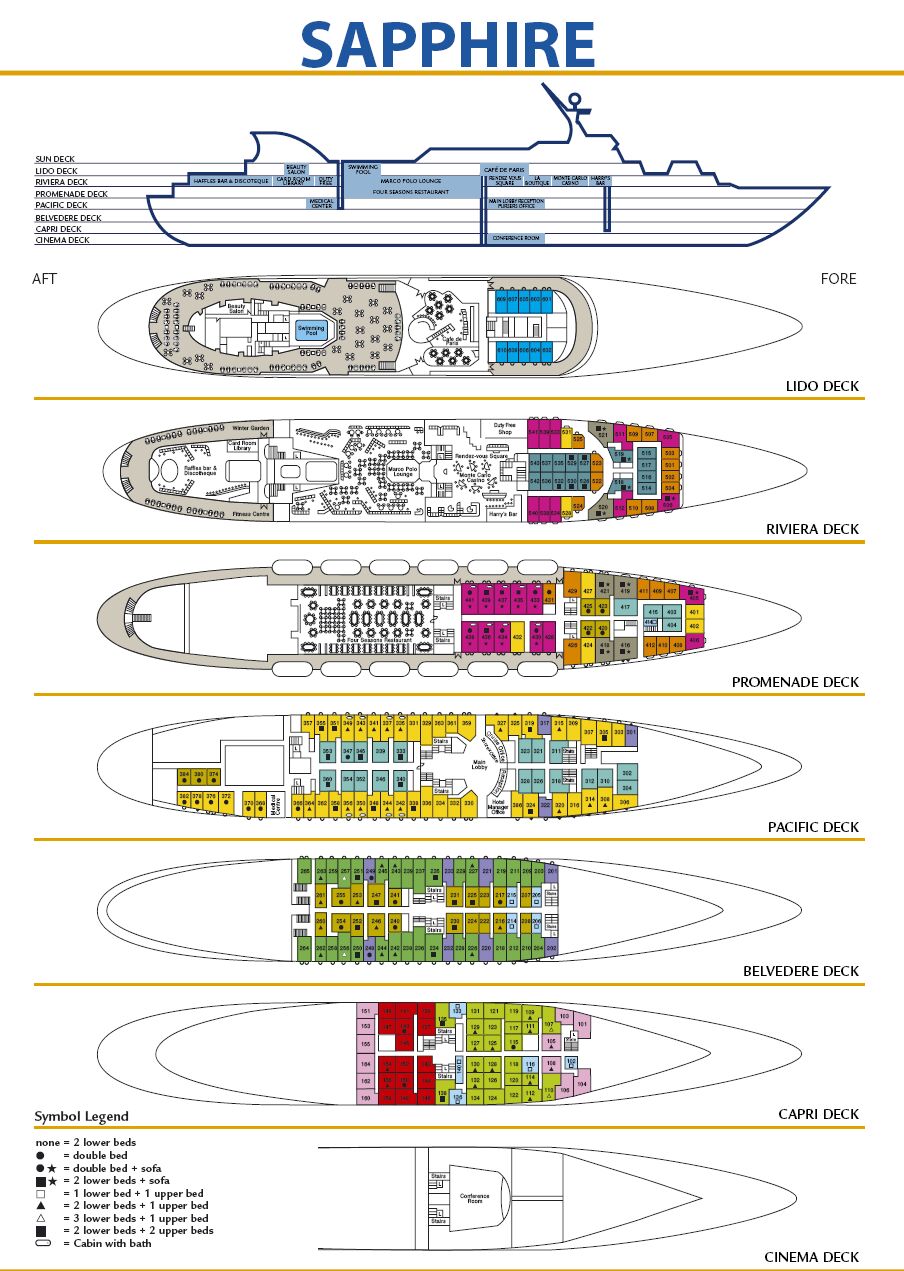 MV Sapphire Sold and Beached at Alang India!
Earlier in 2012 the MV Sapphire was sold by Louis Cruise Line, and she was renamed "Aspire" and reregistered in St Kitts & Nevis being a port of convenience. Also her registration now showed her being a "Cargo Ship" and no longer a "passenger ship," meaning that Louis Cruise Line had in reality sold her to Indian breakers, without placing her on the open market! It was very sad for ship lovers for although she had a many ups and the odd problem during her lifetime, but she remained in perfect condition to the very end!
Remembering the Wonderful MV Italia as built
Launched on April 28, 1965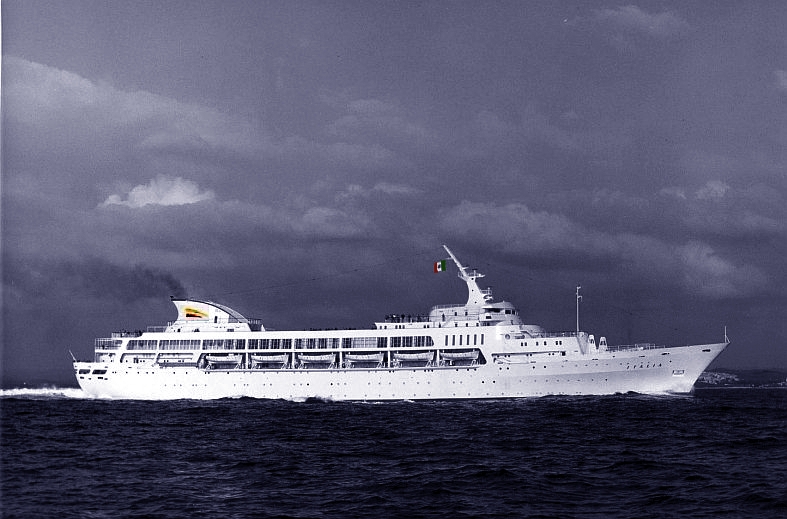 She was elegant, beautiful and extremely advanced for her time!
Return to Page One featuring the MV Italia and Ocean Princess
****************************************
Use the Back button on your browser or Close the Page to return to the previous page
Or go to our
INDEX
Who is the Author of ssMaritime?
Commenced in the Passenger Shipping Industry in May 1960
ssMaritime.com & ssMaritime.net
Where the ships of the past make history & the 1914 built MV Doulos Story
Also visit my …
"
Save The Classic Liners Campaign
"
Photographs

on ssmaritime and associate pages are by the author or from the author's private collection. In addition there are some images that have been provided by Shipping Companies and private photographers or collectors. Credit is given to all contributors. However, there are some photographs provided to me without details regarding the photographer/owner concerned. I hereby invite if owners of these images would be so kind to make them-selves known to me (my email address may be found on www.ssmaritime.com only), in order that due credit may be given.
This notice covers all pages

, although, and I have done my best to ensure that all photographs are duly credited and that this notice is displaced on each page, that is, when a page is updated!
ssMaritime is owned and © Copyright by Reuben Goossens - All Rights Reserved