Please Note: Firefox and some other search engines are not suitable – Use "Internet Explorer" for this page to load perfectly!

Click the logo above to reach the ssMaritime FrontPage for News Updates & "Ship of the Month"
With Reuben Goossens
Maritime Historian, Cruise'n'Ship Reviewer & Author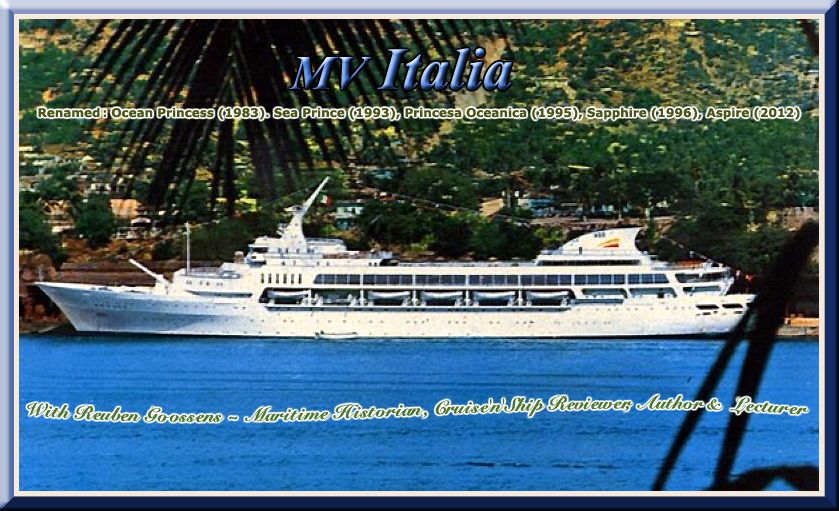 Image from the author's private brochure collection
Page One
From MV Italia 1967 to MV Ocean Princess & Sea Prince in 1993
A troubled start:
Sunsarda SpA, a new subsidiary of the Italian Giacomelli (banking) Group decided on a speculative venture by building a small yet revolutionary looking cruise ship that would be built by Cant. Nav. Felszegi ship building at Muggia (near Trieste) in yard no: 76. The ship building company was also controlled by the Giacomelli Group. Her keel was laid on June 23, 1963 and she was named "Italia" and was launched on April 28 1965.
Having been launched and towed to her fitting out berth, it took another two long years before she was completed. The ever-increasing costs had an effect, being the reason that Cant. Nav. Felszegi was forced into bankruptcy.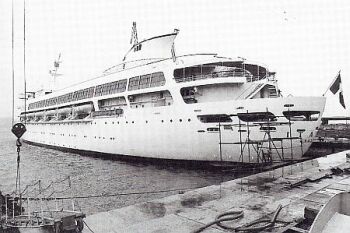 MV Italia is seen here at her fitting out berth, but close to completion
Author's collection
Over four years after building commenced the superb looking MV Italia was finally completed in August 1967.
Upon Italia's completion her new owners was the companies creditor, being the bank "Banca Nazionale del Lavoro" who set up a new company "Crociere d'Oltremare" who would handle the running of the ship and arrange long term charter agreements, obviously hoping that she would have a long and a successful life whilst under charter, and that there would be an opportunity for a profitable sale in the future.
In September 1967, the Italia successfully ran her sea trials in the Adriatic and managed to reach a remarkable top speed of 21.6 knots.
Specifications:
Built by:                Cant. Nav. Felszegi shipyards, Trieste
Tonnage:              12,219 GRT (Gross Registered Tons - 2,370 DWT)
Length:                 150m (492ft)
Width:                  20.7m (68ft)
Engines:               2 x 9-cyl Diesels Sulzer Bros-Cantieri Riuniti dell' Adriatico 11,050 kW
Screws:                Twin 14,800 BHP
Speed:                  Service speed 19 Knots – Max 21.6 knots
Passengers:           425 in
Crew:                   252
After her sea trials Italia was officially handed over to Crociere d'Oltremare on September 11, 1967.
Ship Design:
There is no doubt that her designers took the some architectural ideas from other ships being built at the time, especially, as was admitted at a later time, the very much larger British liner SS Canberra. Like SS Canberra her lifeboats were tucked inboard on a lower deck leaving more space on the upper decks.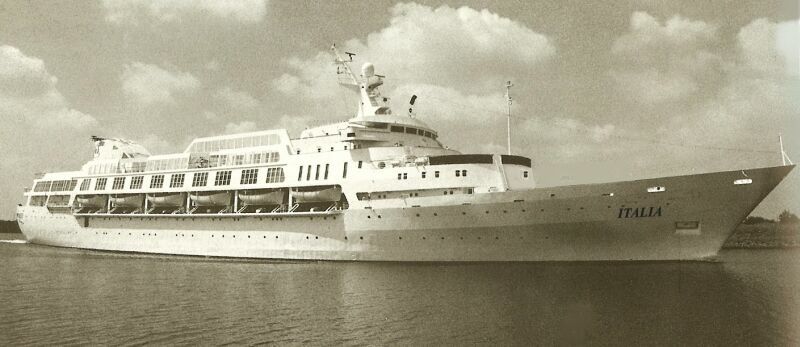 Considering this remarkable ship was conceived in the late fifties she was well ahead of her time
Author's private collection
Externally, design wise she is unique and certainly distinctive looking. It is that individuality that has kept her looking delightfully modern to this day, especially considering she was designed in the late fifties. Her most odd feature is that odd-looking funnel. It is sharply curved aft to a point, then it curves back looking a little like a sharp edged C. However, if looking aft from the pool the funnel is totally flat on the forward mid section and only comes together to a point top/aft. One of the photographs on this page reveals this oddity.
Her interiors were designed by Gustavo Pulitzer Finali and Romano Boico, who also designed some of the most magnificent interiors of great ships, such as the Augustus, Homeric, Guglielmo, Marconi, Raffaello, and the Oceanic. These are some of the finest liners known, and all this experience is found here on this relatively small 12,000-ton cruise ship. Keeping in mind this was 1967; all her luxurious cabins had private facilities, closed circuit television, individually controlled air-conditioning, telephone, and piped in music. Although she had 213 deluxe cabins, using her upper berth for families, she would normally accommodate around 226 passengers. Bur could accommodate up to 425 passengers with all her upper berths filled, which I doubt ever occurred whilst she was the Italia! She had a crew of 252.
Sailing at last:
Crociere d'Oltremare arranged a "bare boat charter" agreement with Costa Line for three cruises in the Mediterranean. On November 12, 1967 Italia departed Trieste for Los Angeles, where Costa had sub-chartered Italia to Princess Cruises. On December 15, 1967 she commenced a new series of Mexican cruises for Princess. For the first year, the Crociere d'Oltremare logo remained on the funnel, being a yellow and a red triangle on a white funnel, however, this was replaced by the now traditional Princess logo of the woman with the wind blowing through her hair, known as the "Sea Witch". As well as the Mexican cruises series, the Italia also inaugurated the Alaskan cruise program for Princess cruises in 1969. MV Italia also made one return Pacific voyage to Australia, however due to lack of support it would be the first and last. Now, many years later, we might say, how times have changed, for Trans-Pacific cruises, as well as world cruises are regular occurrences!

MV Italia seen at the Sydney International Passenger Terminal in 1969
Author's Private collection
Although as the ship being advertised as "Princess Italia" she was never actually renamed and only carried her original name "Italia" on her bow. "Princess Italia" became known as being one of the most pleasant and comfortable ships to sail on, and it was well known that her public rooms were superbly appointed and particularly spacious for a ship of her size. One of her most popular features was her spacious topside lido deck and pool located amidships between bridge and the funnel.
MV Italia Photo Album
All images in this Album are from an Italia brochure from the Author's private collection
Public Facilities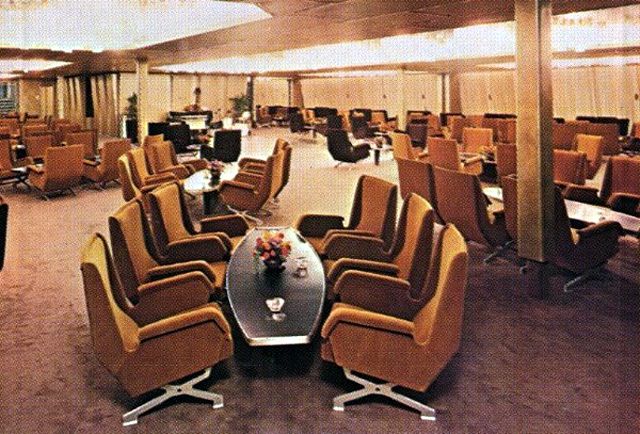 The Grand Lounge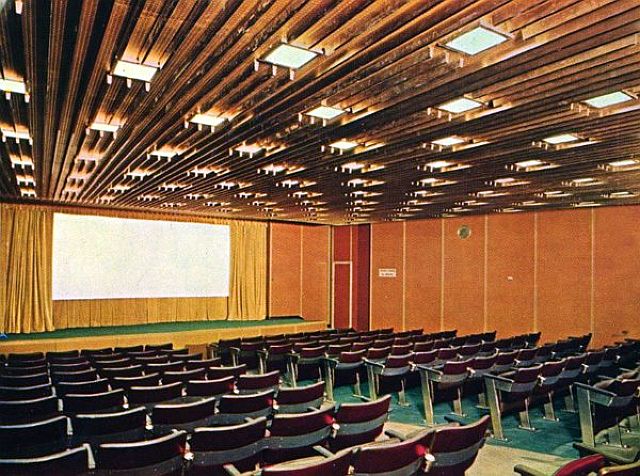 The Italia for a smaller ship had a stylish Cinema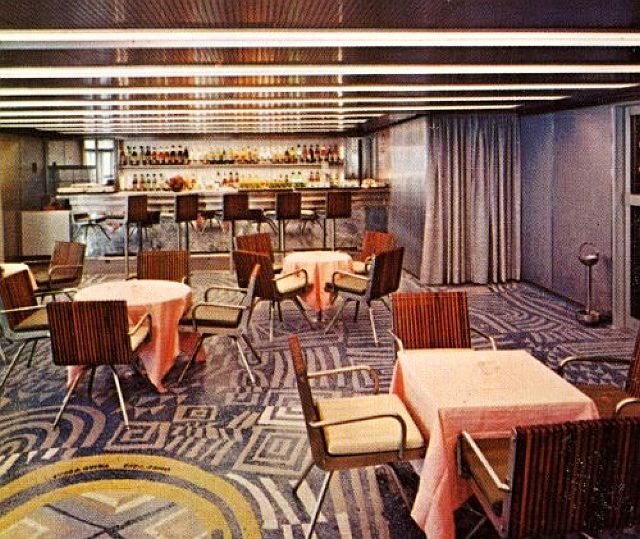 The delightful Verandah on Lido Deck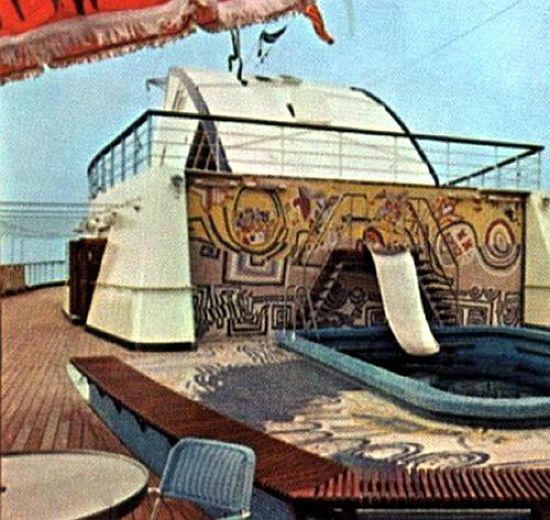 Lido Pool and deck is located between the funnel and the Bridge housing
Accommodations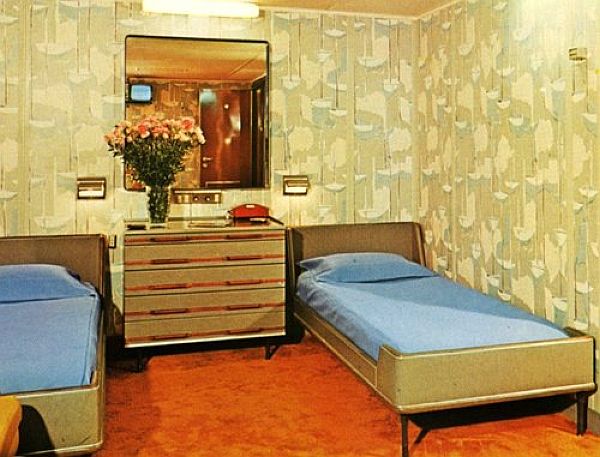 Starting from the lowest level and I will work up!
This is an inside twin bedded cabin, yet quite spacious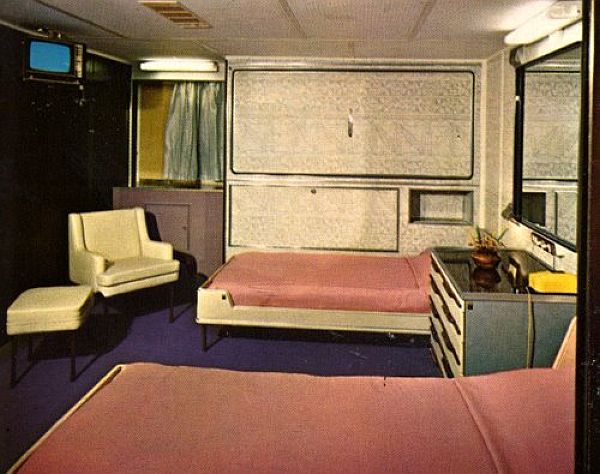 This is an outside twin bedded room with an additional upper berth should a family member wish to join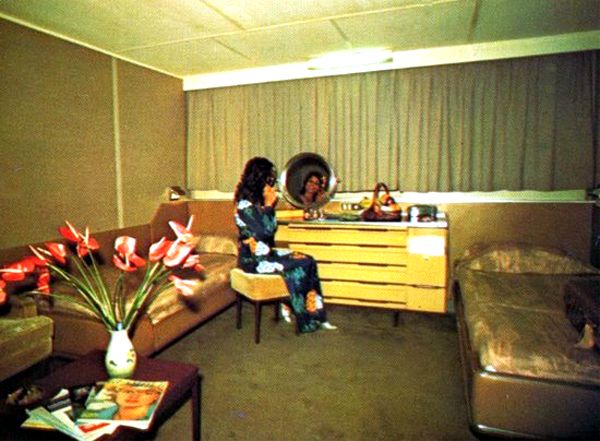 A spacious deluxe suite with a lounge and twin beds
The Princess Cruises sub-charter agreement concluded in October 1973 and as Costa Lines' Carla C would soon be out of service to be re-engined, thus a ship was required to replace her, thus Italia was given a refit, that included some modernisations of her interiors, new cabins forward of the Observation Lounge as well as that typical Costa Line big Blue C on her funnel. Italia commenced cruise duties of the Caribbean in February 1974.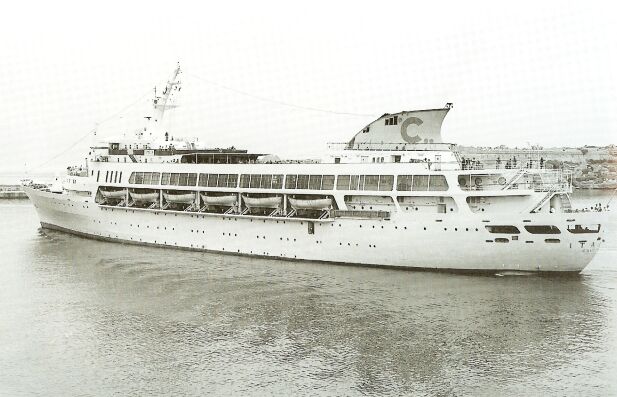 Costa's MV Italia with the Costa "C" of her funnel
Unknown source
On various occasions the German Travel Company Neckerman und Reisen, as well as Princess Cruises, chartered the Italia and undertook long distance cruising, including round the world cruises with calls to Australia. In 1977 Costa Line decided to purchase the MV Italia outright.
During the early eighties she operated a variety of cruises including South American itineraries. By mid 1982, Costa Line was considering lengthening her by inserting a mid section, but this proved to be too expensive, thus the decision was made to place her on the market and work with larger ships.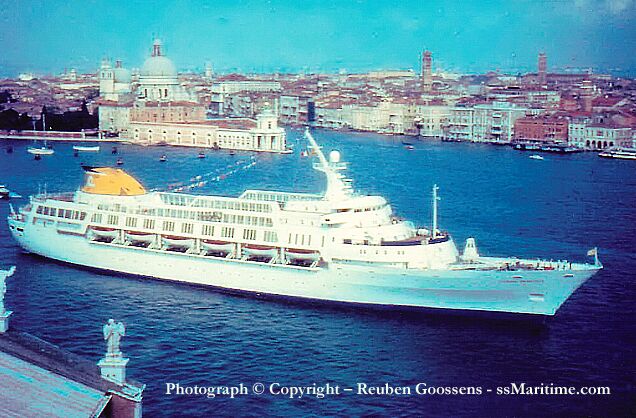 The ultra modern MV Ocean Princess looks splendid even in the historic setting of Venice
This photo was taken prior her 1983 refit, thus no forward tenders
MV Ocean Princess:
In 1983 Italia was sold to Ocean Cruise Line Athens who renamed her Ocean Princess and she was reregistered in Panama. She received an extensive refit at Perama Greece. In May 1984 Ocean Princess commenced cruising in the Mediterranean. Whilst operating South American and Caribbean cruises she was operated under the auspices of Oceanic Endeavour SA, Panama.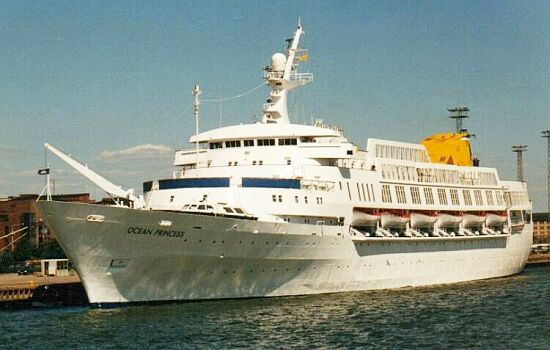 Ocean Princess with her new tenders
Author's private collection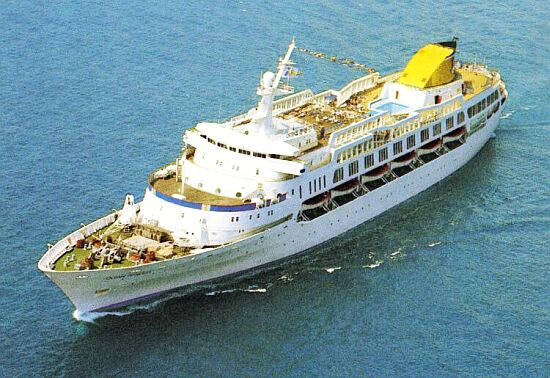 MV Ocean Princess - Note the shape of her funnel
Author's private collection
In 1990 Ocean Cruise Lines was sold to Croiseires Paquet, Nassau, registered under the ownership of Argimar SA, a company controlled by the French Accor and Chargeurs, who are the parents of Paguet Cruises. Ocean Princess came under this new management; however her cruise schedules remained unaltered.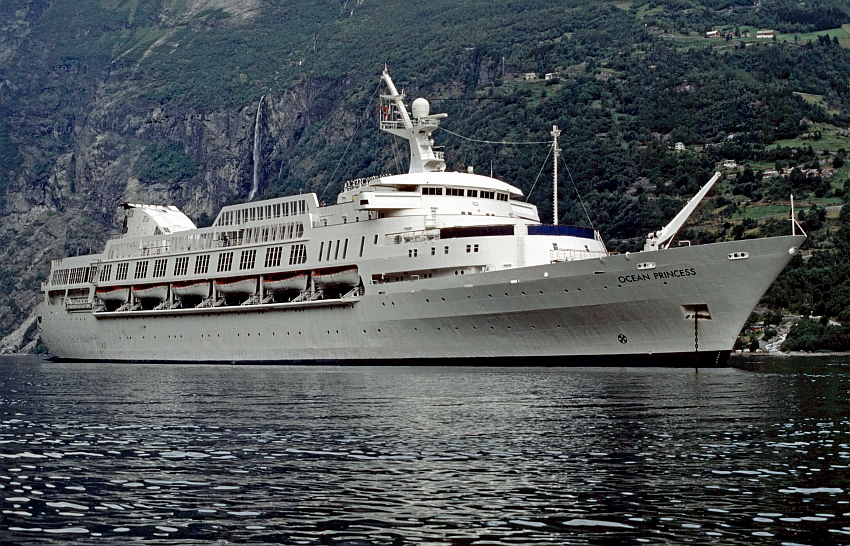 The Croiseires Paquet MV Ocean Princess now with a white funnel is seen at Geiranger in 1992
Photograph by & © Hans-Jürgen Amberg
MV Ocean Princess sinks:
Although she had done well for many years, but all good things were about to come to an end, for on March 1, 1993, during one of her popular cruises sailing up the Amazon, the Ocean Princess struck a submerged object at Belem, which breached her hull, and she gradually sunk up to the very top of her hull where her main lobby was located, but her deck was still dry and passengers could transverse it. She was raised up some three weeks later however a survey declared that the ship was a "Total Constructive Loss." With her hull patched up she was sold by her insurers to Ellis Marine of Piraeus, who renamed her Sea Prince. Then in 1993 with the underwater damage having been patched up she departed Belem undertow heading for Keratsini near Piraeus where she would be repaired.
Go to Page Two for the next stage of this amazing Ship!
****************************************
Use the Back button on your browser or Close the Page to return to the previous page
or go to our
INDEX
Who is the Author of ssMaritime?
Commenced in the Passenger Shipping Industry in May 1960
ssMaritime.com

& ssMaritime.net
Where the ships of the past make history & the 1914 built MV Doulos Story
Also visit my …
"
Save The Classic Liners Campaign
"
Photographs

on ssmaritime and associate pages are by the author or from the author's private collection. In addition there are some images that have been provided by Shipping Companies and private photographers or collectors. Credit is given to all contributors. However, there are some photographs provided to me without details regarding the photographer/owner concerned. I hereby invite if owners of these images would be so kind to make them-selves known to me (my email address may be found on www.ssmaritime.com only), in order that due credit may be given.
This notice covers all pages

, although, and I have done my best to ensure that all photographs are duly credited and that this notice is displaced on each page, that is, when a page is updated!
ssMaritime is owned and © Copyright by Reuben Goossens - All Rights Reserved