The Five "Poet Class Liners" - Page Two; MS Taras Shevchenko, Shota Rustaveli & Mikhail Lermontov
Please Note: Firefox and some other search engines are not suitable – Use "Internet Explorer" for this page to load perfectly!
Click the logo above to reach the ssMaritime FrontPage for News Updates & "Ship of the Month"
With Reuben Goossens
Maritime Historian, Cruise'n'Ship Reviewer, Author & Maritime Lecturer
Please Note: All ssMaritime and other related maritime/cruise sites are 100% non-commercial and privately owned. Be assured that I am NOT associated with any shipping or cruise companies or any travel/cruise agencies or any other organisations! Although the author has been in the passenger shipping industry since 1960, although is now retired but having completed around 680 Classic Liners and Cargo-Passengers Ships features I trust these will continue to provide classic ship enthusiasts the information the are seeking, but above all a great deal of pleasure! Reuben Goossens.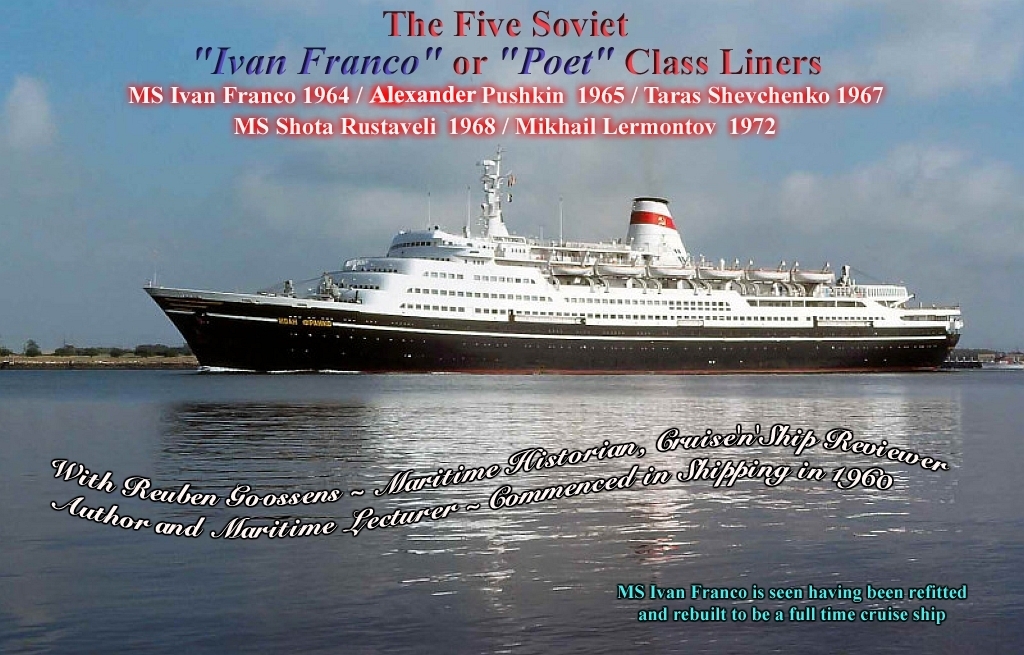 MS Ivan Franco is seen after her rebuilding with her superstructure decks moved further forward
Original photographer unknown - *Please see photo notes at bottom of page
Please Note: Photographs and images on this page are from the author's collection, unless stated otherwise
Page Two
MS Taras Shevchenko, Shota Rustaveli & Mikhail Lermontov
PLEASE NOTE: An Introduction to the Five "Poet Class Liners"
& details of MS Ivan Franco & Alexandr Pushkin (Marco Polo) are located on Page One!
You will find that Page One has described in detail the interiors of these wonderful Russian Liners and Cruise Ships together with a good number of interior and exterior and deck photographs. In addition there is also a deck plan after their major refit and rebuild when their forward superstructures where brought forward and they became full time cruise ships.
Thus if you have arrived at this page via a search engine, please go to Page One first via the link above and when finished reading, you will find there is a link at the bottom of the page to return.
Ship 3 …
MS Taras Shevchenko
: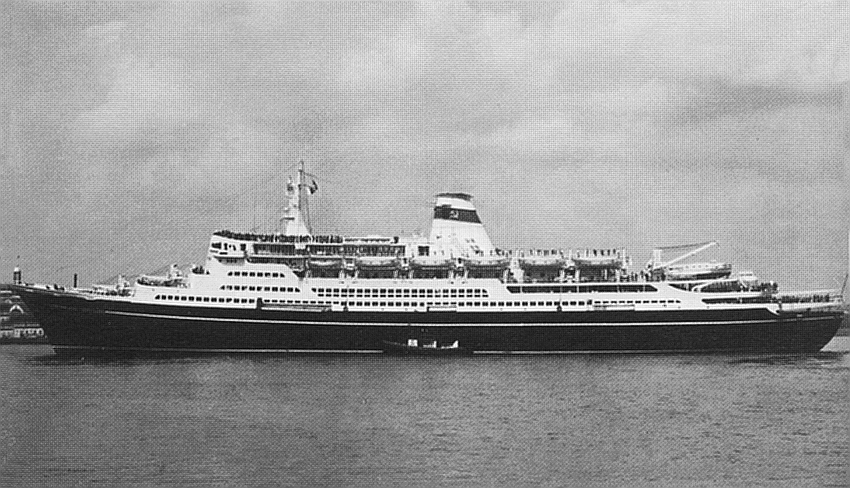 MS Taras Shevchenko seen as built
The third "Poet" Class ship was built in yard 127 and launched on January 16, 1965 and was named Taras Shevchenko, after a famed Ukrainian "Taras Hryhorovich Shevchenko," a great Ukrainian poet, artist and thinker. After the fitting out had been completed and she was ready she was registered at 19,549 GRT  and was delivered on April 26,, 1967 to her owners the USSR "Black Sea Shipping Company" of Odessa and she commenced cruising. Cruises were varied as she, like her sisters, in Russia, the Ukraine, East Germany and England as they would cruise Scandinavia, the Baltic Sea, the Mediterranean and the Canary Islands. In addition, at times, some of the ships would at time operate special duties for Russia's armed forces, and they were built for this dual role, passenger ships, come troop ships. See Page One for full details.
Voyages and Cruises to Australia:
Being under charter to CTC cruises, it was in December 1973 when the Taras Shevchenko arrived in Sydney for the very first time, and she commenced a series of Pacific Island cruises and returned to the United Kingdom in March 1974 this would be the first of many visits to Australia and New Zealand to come!
In 1975 she underwent her refit and rebuild and when completed her tonnage was registered at 20,027 GRT. Now she, like her sisters that had also been updated had new and enlarged lounges, such as the magnificent Bolshoi Theatre located forward on Saloon Deck, being one of the biggest changes, as well as many other vast improvements on board. She recommenced cruising and proved to be a very popular ship indeed! This fine ship would return again to New Zealand and Australia after she had been completed and her passengers were very pleased with the outcome!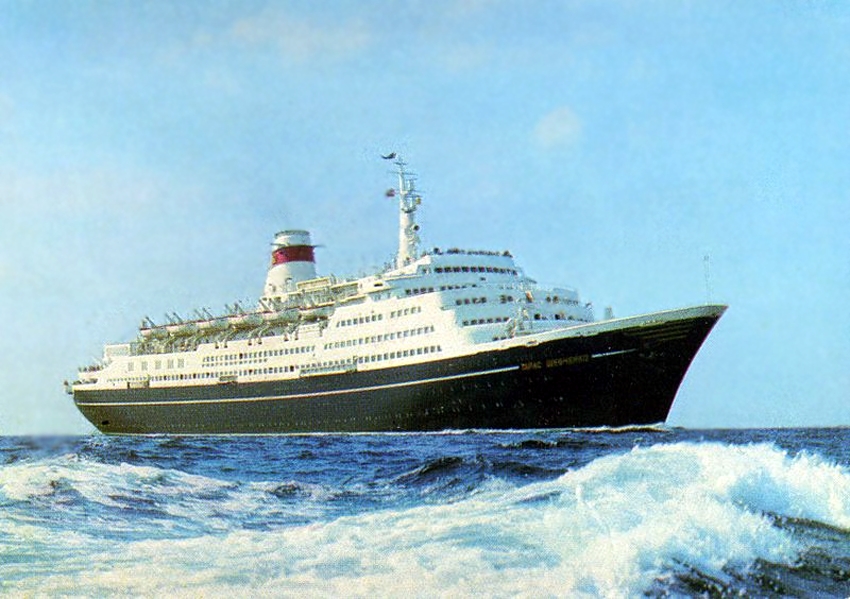 Here we see the MS Taras Shevchenko after her rebuild
The Taras Shevchenko as per usual sailed from Britain via the Panama Canal to New Zealand and Australia and operated a shorter Pacific cruise season arriving back in the UK early March. She then made a return voyage to Australia departing in March and after arrival in Sydney, she did just one cruise and then returned to England. However, CTC would have her back again in Sydney in December 1978, operating a series of cruises of the Pacific, but she returned early in February as she sailed on a special voyage via South America to England.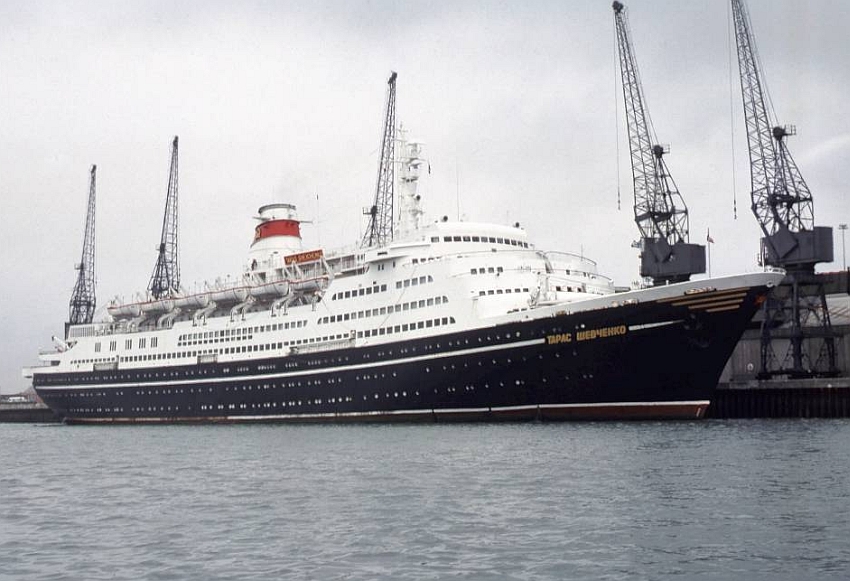 MS Taras-Shevchenko seen at Southampton on August, 29 1980
Photograph by & © Tim Webb
The Australian's had come to love these fine Russian ships, and the Taras Shevchenko was sent on a round the world voyage departing Southampton on March 30, 1979, sailing via the Suez for Australia. But upon arrival in Sydney she broke her voyage and operated a two-week cruise of the South Pacific. Upon her return to Sydney she departed Sydney on May 19 sailing via the Panama Canal back to the UK. For interest, during the 14-day Pacific cruise, the ship's UK passengers had a number of options; go on one of the pre-organised tours, visit relatives and friends, make your own arrangements, or join the cruise, thus it proved to be very popular!
In the early 1980s the Taras Shevchenko received yet another refit and this time she was also painted all white, just like the Shota Rustaveli. But, then came a blow to all Soviet cruise ships, as from May 1980 the Australian Government had banned Soviet shipping from its shores, unlike New Zealand where they remained welcome. However, with a change of Government in 1983 the ban was lifted early in 1984 and soon the Soviet ships returned.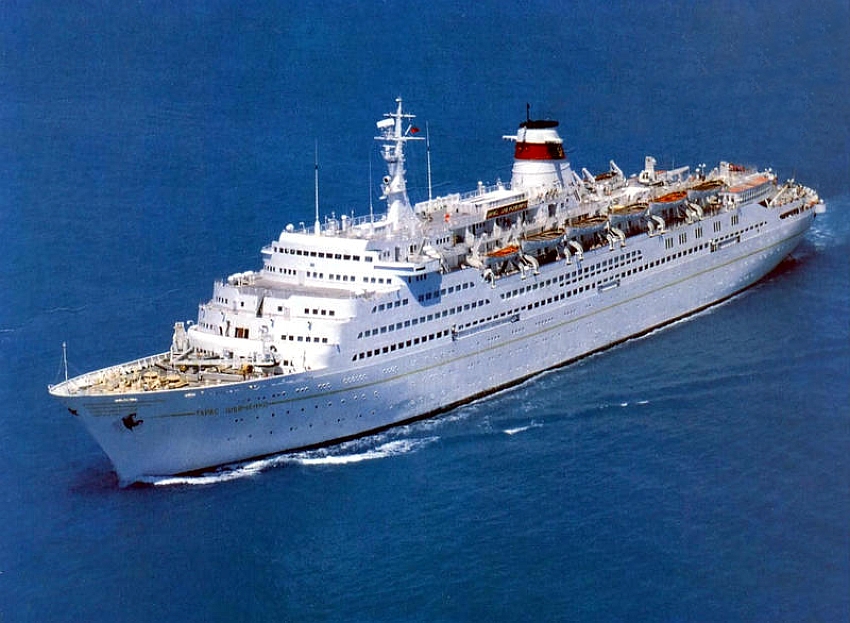 A superb postcard of the now all white Taras Shevchenko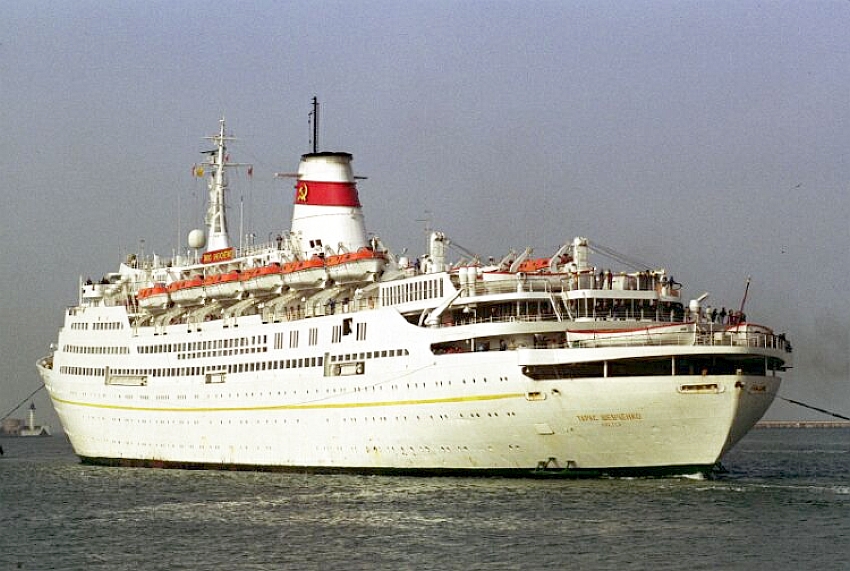 A delightful stern view, however this image was taken whilst she was on Soviet Army duties, note the twp additional lifeboats at the stern
Before the Taras would arrive in Australian waters, several other of the "Poet" Class would visit, but the all white Taras Shevchenko finally returned to Australia on February 9, 1986, whilst she was on a world cruise and sadly that was her final visit to Australia and New Zealand, as well as it being her last major world voyage! Upon arrival back in the UK, she continued her regular duties, cruising Scandinavia and the Baltic Sea and as the Mediterranean, etc.
Her Final Days:
In 1997 she was sold to Ocean Agencies of, Odessa Ukraine. In June 1998 she was about to commence a three-week cruise from Piraeus with 532 passengers booked, however upon her arrival at Piraeus she was arrested due to severe financial problems with her owners.
She was permitted to be moved to Ilichevskin (Ukraine) ship repair yard where she was laid up upon arrival on July 25, 1998 and she remained in lay up for a long five years. However, in due course she was refurbished once more at a considerable expense and she was given Ukrainian National Colours.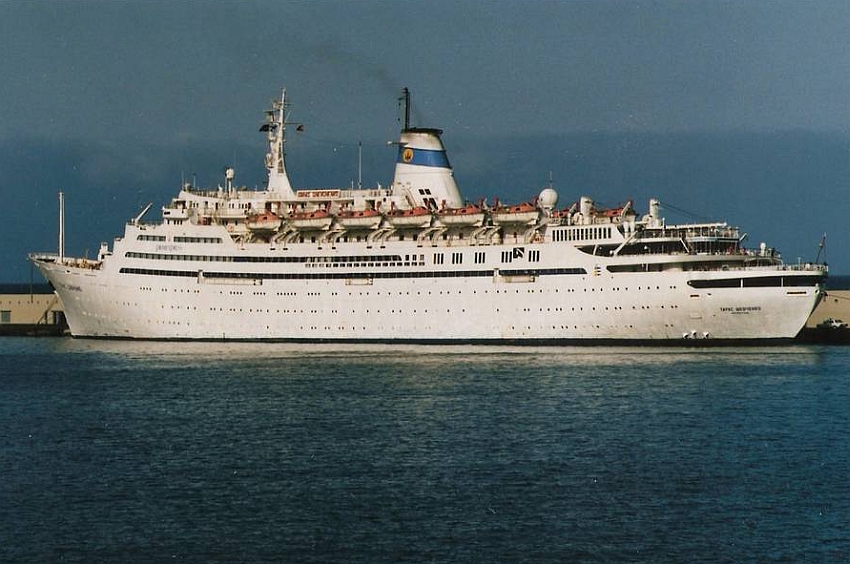 Here we the Taras Shevchenko at Tenerife in 2004 painted in her Ukrainian National Colours
But sadly within a year breaking up of this great ship would commence!
Original photographer unknown - *Please see photo notes at bottom of page
In 2003 Antarktika JSC having obtained her placed her back into service as a cruise ship essentially for the Ukrainian people. But this venture was certainly far from being successful, thus within a year of commencing the operations she was laid up again.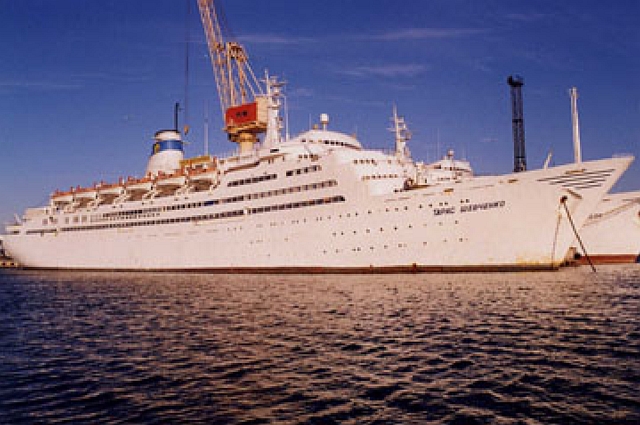 Here we see the Taras Shevchenko laid up in 2004
Original photographer unknown - *Please see photo notes at bottom of page
In November 2004 the once magnificent Taras Shevchenko was sold to Indian breakers. In January 2005 she was renamed Taras and she rapidly departed Ilichevsk Ukraine for Alang India where she was soon broken up.
There is no doubt that this ship had become much loved ship by many around the globe for she had proved to be a fine cruise ship, just like her next sister the MS Shot Rustaveli!
***********************************
4 …

MS Shota Rustaveli: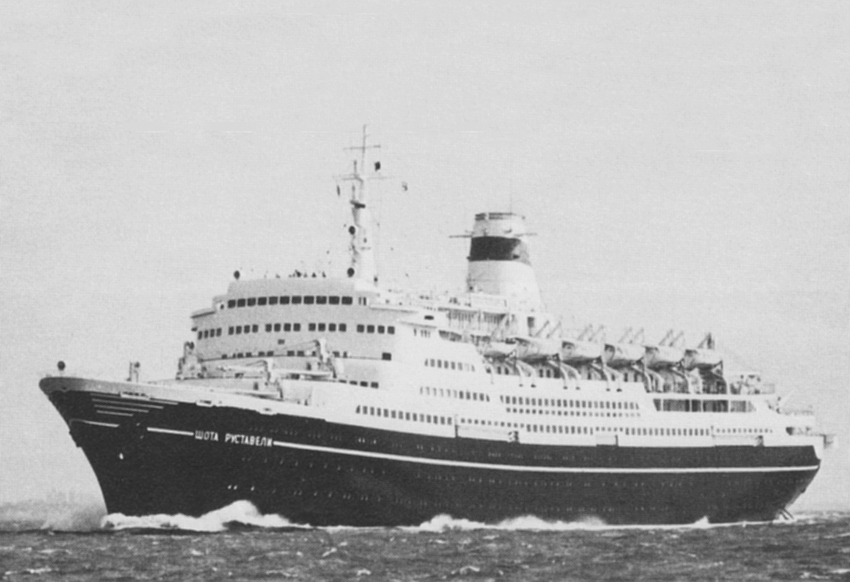 Here we see a very early view of the Shota Rustaveli in her early days as built
The fourth of the "Poet" Class ships ship was built in yard 128 and launched on December 29, 1966 and she was named Shota Rustaveli after a Georgian poet of the 12th century, who was one of the greatest contributors to Georgian literature. After she was completed she was registered at 19,567 GRT and was delivered in June 30, 1968 to the USSR "Black Sea Shipping Company" of Odessa and she commenced cruising all the usual regions. The Shota Rustaveli became a huge hit with the British as well as the Australian and New Zealand cruise passenger very rapidly and they remained faithful to her and her sisters throughout their days, but for some reason, the Shota Rustaveli had that something special. Was it her name, or for Australia was it that she was the very first to visit their shores?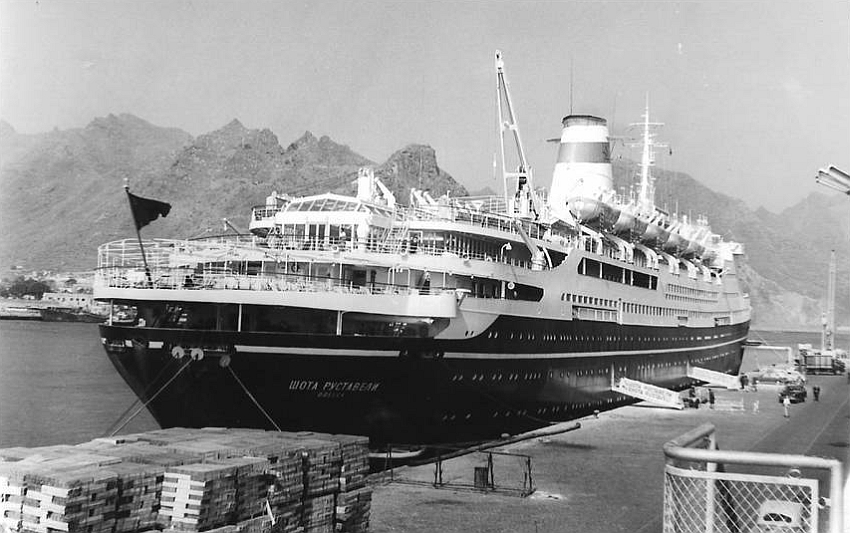 This is a fine stern view of her in Tenerife around 1972
During the mid 1960s the British based, but all Russian owned "Charter Travel Club" (CTC) was formed to provide inexpensive cruises to club members on ships that were chartered, and obviously they would be Russian ships, that where owned obviously by CTC's actual financial backers! By 1977 CTC had opened an office in Australia and thus were ready to introduce a budget liner service. At first they were allocated the Ivan Franco, however very soon it was decided to send the Shota Rustaveli instead making her the very first of the "poet" Class liners to sail via the Panama Canal, thus further afield for the very first time.
She departed Southampton on October 14, 1968 and first visited Auckland New Zealand and then arriving in Sydney on November 15. She remained overnight and sailed on the 16th.for her return voyage to Southampton.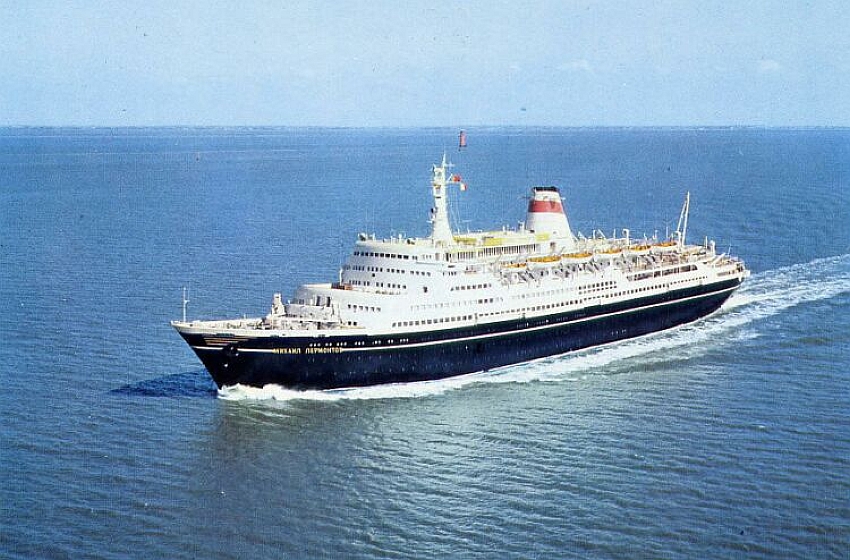 Shota Rustaveli at sea
This first voyage turned out to be such a success, the Charter Travel Club now also had an associate, CTC Lines and no membership was required! Considering the name Shota Rustaveli had been established Down under CTC Lines decided to use her again for the next voyage, thus she departed Southampton on November 24, 1969, arriving in Sydney on December 26, and departing the same day on the first of two South Pacific Island cruises after which she returned to Southampton. However, in March 1970 she made another return line voyage to Australia and back and upon her return she operated cruises out of Southampton.
The Shota Rustaveli would return to New Zealand and Australia towards the end of 1970, 71 and 72 and having arrived, she would operate a number of South Pacific cruises before returning to England. During her line voyage to Australia 1970/71, she would first visit Auckland where passengers would disembark, whilst new passengers would join for either a single Trans Tasman voyage to Sydney, if space allowed, or join for the full cruise as she would return to Sydney via Auckland to disembark and reload again. There was no doubt that the Shota Rustaveli had become a very popular cruise ship with Australian's for she was affordable and yet the experience on board was most friendly, food good and the entertainment varied! The only other options, where by far more expensive, thus CTC was making inroads in both the liner service as well as the cruise market!
Later in 1973 she was given an extensive refit that saw many excellent changes on board and her forward decks were extended, thus new lounges came about and cabins where vastly improved, as well as stabilisers where added. She was registered at 20,146 GRT.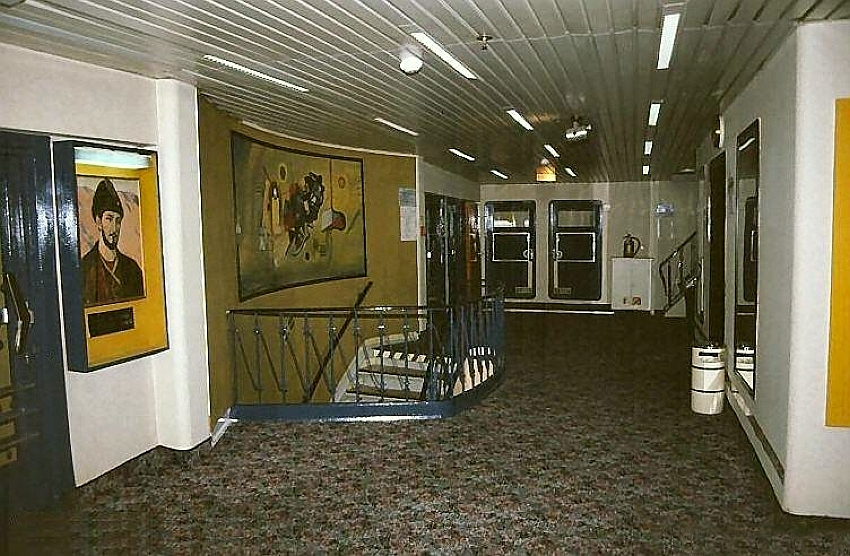 The Promenade Deck Hallway
Original photographer unknown - *Please see photo notes at bottom of page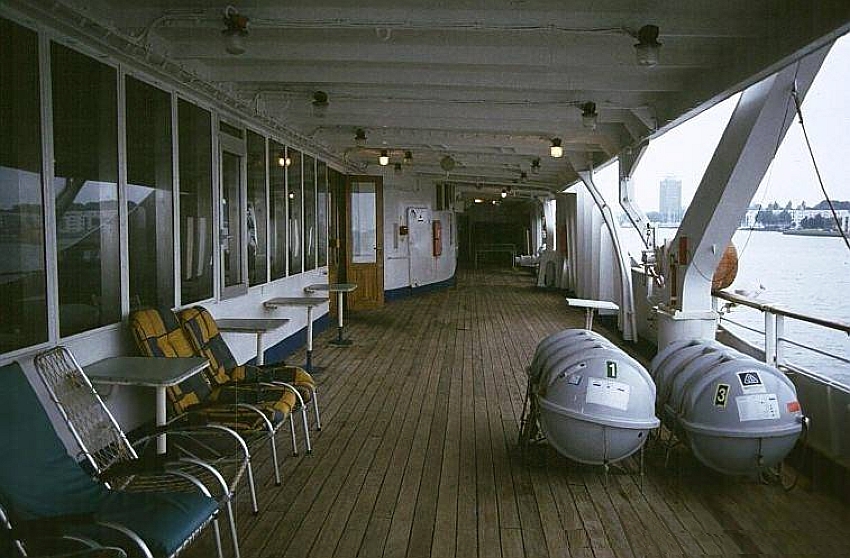 Promenade Deck starboard aft of the ship, but looking forward
Original photographer unknown - *Please see photo notes at bottom of page
Whilst the Shota Rustaveli was out of service due to her rather extensive refit and partial rebuild, it was the Taras Shevchenko that sailed to Down under late in 1973, operated cruises and returned to England early in 1974, thus there had been a taste of another of these "fine "Poet" Class ships Down under at last.
With the Shota Rustaveli completed, she would continue to cruise out of Southampton to the European popular regions such as the Mediterranean and the Canary Islands being particularly popular and one of the most regular of the cruises. But, during the summer there was usually the annual Scandinavia and the Baltic cruise scheduled.
But Shota Rustaveli would soon return to New Zealand and Australia for the summer of 1974 and 1975, when she would operate her usual line voyage sailing via the Panama Canal to Auckland and Sydney, then operate a series of cruises and return to Southampton via the Panama. However for the next year things would be very different, but exciting!
With CTC having proved to be such a huge success it was decided that for the 1975-76 season, CTC would send two ships Down under, the Taras Shevchenko and the Shota Rustaveli. As I had already stated, up to this time she would sail via the Panama to Auckland and Sydney, but this was about to change. The Taras Shevchenko departed in November 1975 and did indeed sail via the Panama Canal; however, this was not the case with her sister.
The fully booked MS Shota Rustaveli was loaded with excited passengers, who where about to head off on a wonderful voyage of discovery, one that had not been done before to Australia, and she departed Southampton on a cold late afternoon November 5, 1975 heading for the Atlantic and South America! Some of the ports called on were exciting places jus to name two was Rio de Janeiro and Buenos Aires, but from this port she sailed around "Cape Horn" directly to Auckland being a fifteen-day voyage.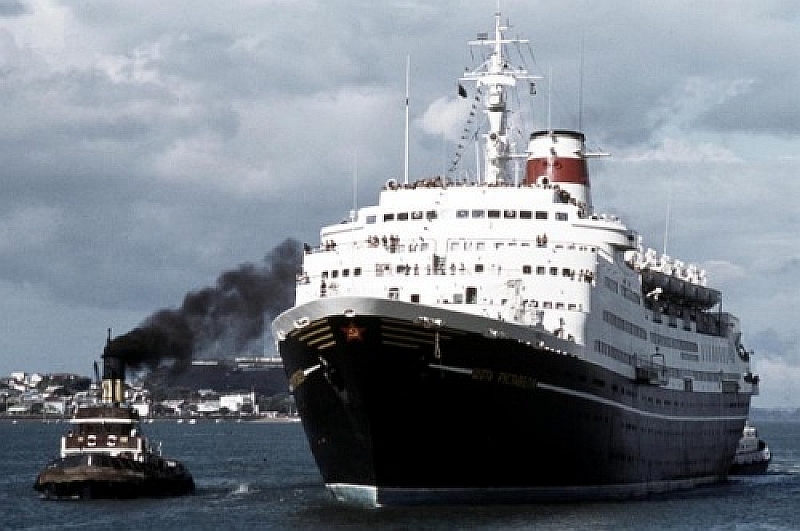 Shota Rustaveli arrives in Auckland after her 15 days at sea from South America in December 1975
Photograph by & © Mike Cornwell
On arrival in Sydney both ships operated their usual cruises before returning via the Panama Canal. Of course she departed in November 1976 she departed Southampton for a line voyage to New Zealand and Australia, then operated to cruises and returned to Southampton via the Panama.
But no sooner had she returned to Southampton, Shota Rustaveli departed again in March 1977 on an around the world voyage, sailing to Australia via the Suez Canal and returning to the UK via Auckland and the Panama Canal, which was quite a big change for CTC!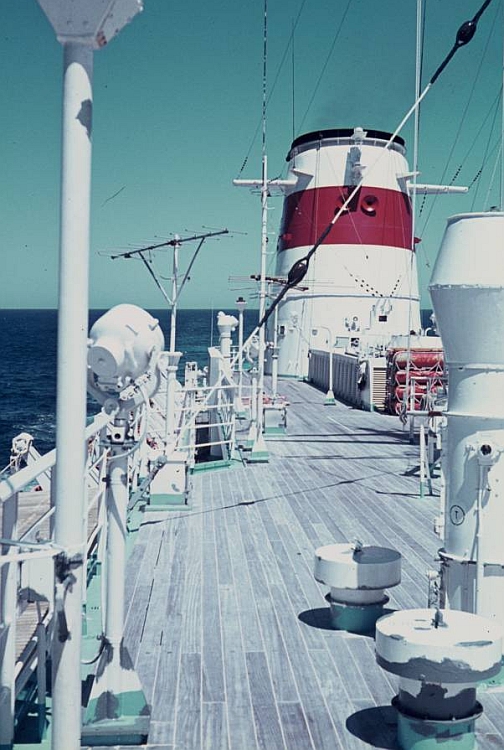 A Great view aft topside
1978 would be the very last time that Australian's and our good KIWI friend would ever see the wonderful Shota Rustaveli again, for it was to be her final visit to our shores! She departed Southampton for her very last around the world voyage sailing again via the Suez Canal. Having arrived, she departed Sydney on May 20 and headed for Auckland and she departed on May 25, 1978 returning to Southampton via the Panama Canal. It was sad, for no one expected that she would not ever be back for it had not been announced! Although all five of the "Poet" Class Liners would visit both New Zealand and Australia! Having returned to England she faithfully continued her cruise service and she remained very popular, but soon she would receive another overhaul!
And so it was, for in the early 1980s she taken out of service for a refit and have her aft decks extended, in addition she was painted all white and she certainly looked like a new ship! When completed the Shota Rustaveli continued her cruise duties right through the years and she served both the British and European public well, taking them to the warmer climates be it the exotic Islands in the Canaries and the Mediterranean, as well as the ever popular summer voyage of Scandinavia and the Baltic ports!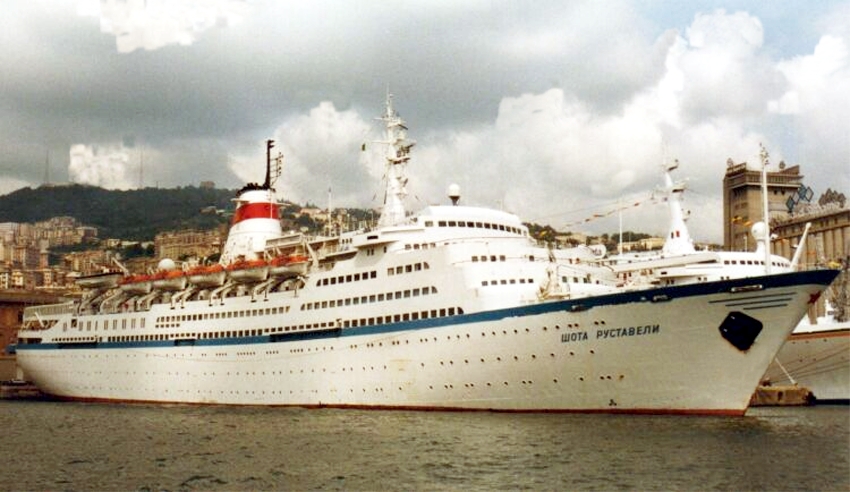 She certainly looks like a superb gleaming white cruise ship!
But as the years slowly continued and newer ships arrived on the scene, offering far superior facilities and now offering excellent value for money, demand for the Russian ships began to fall rapidly in the 90s!
Thus having had many good years the excellent Shota Rustaveli was eventually sold late in 1997 to Ocean Agencies Ltd, Odessa Ukraine and she was laid up at an Iliychevsk shipyard early 1998. Thankfully she remained well maintained by a crew of over thirty who where based on board. They ensured the maintenance of all her venues, accommodations, as well as her machinery was well looked after and in good running order.
Then in 2000, she was sold to "Kaalbye shipping International" of Kingstown, St Vincent, and she was given an extensive refit and renamed Assedo (her name was Odessa in reverse). Even though she seemed to be enjoying reasonable success with her varied public and cruises visiting ports in the  Black, Mediterranean and Caribbean seas, and visiting ports in Western Europe, were well booked at first, but sadly the Assedo had more funnel livery changes than she had years of sailing as a cruise ship under the new name!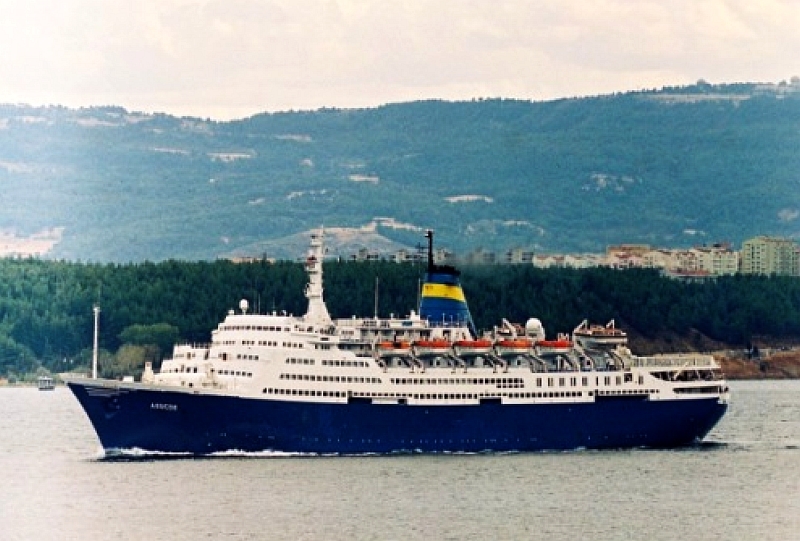 Here we see the MS Assedo, now with a dark blue hull and funnel that also had a broad yellow band on it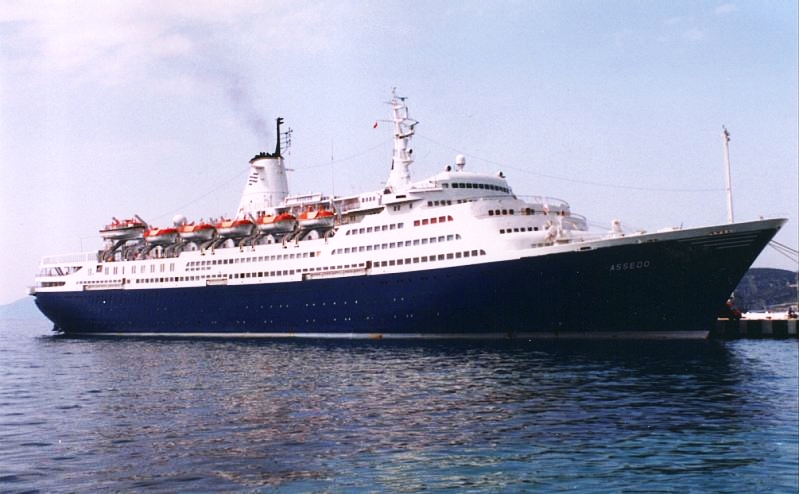 Next we see MS Assedo with a white funnel with a new logo, but she looked more like her original self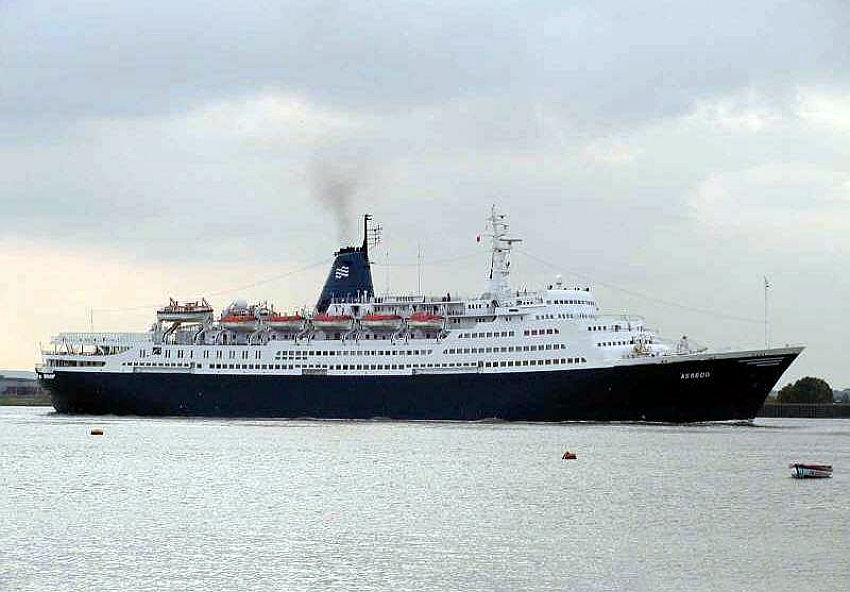 Finally we see her with a dark blue funnel topped with a narrow yellow band, just below the funnel cap
The MS Assedo was sold to Indian breakers around August 2003, and she soon headed for Alang, as she arrived there on November 28, 2003 and was soon beached and broken up.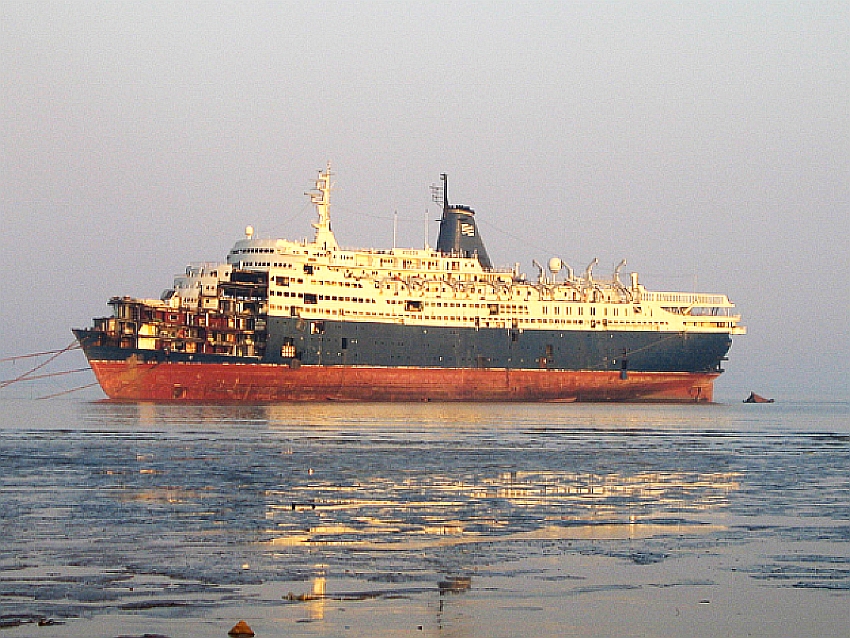 Here we see the tragedy that is the MS Assedo, ex Shota Rustaveli on the beach at Alang India being cut up for scrap

Photograph was taken by my good friend © Copyright Peter Knego

Visit www.midshipcentury.com for actual maritime memorabilia direct from these ships as well as DVD's

Many New Zealander's and Australian's were greatly saddened when they heard that the ship they had sailed on had been broken up. It was much the same for those who had simply enjoyed looking at her at the wharf as she had come into port, for she was always a wonderful sight. In fact all genuine ship lovers knew of these fine ships and knew their worth, as for some reason it was the Shota Rustaveli that was the ship that first ventured far out into the world, thanks to CTC Lines! Thus, she will be greatly missed, as will the other three sisters, for today (January 2013) there is just one ship left for the time being, the MS Marco Polo, ex Aleksandr Pushkin may she sail on for a while yet, but I believe her time is also up soon!

***********************************
5 …

MS Mikhail Lermontov: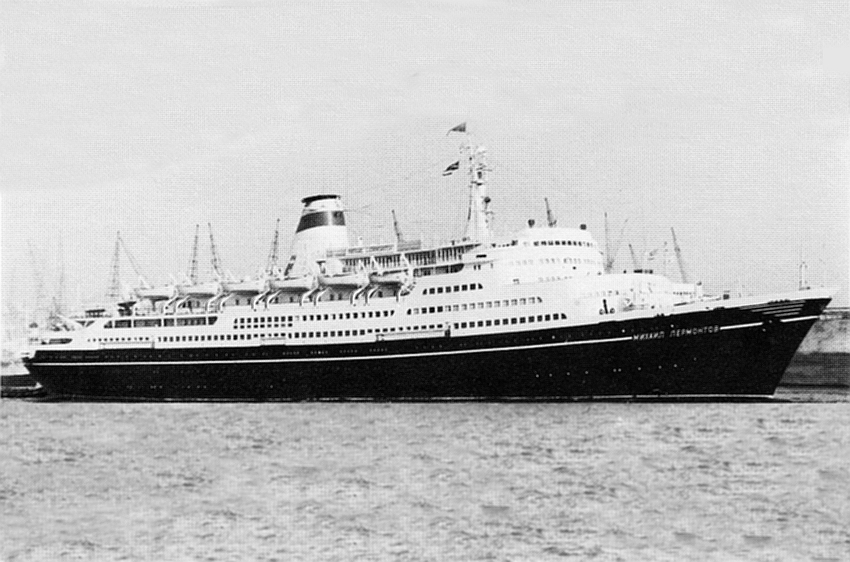 An excellent photograph of the Mikhail Lermontov as built
The fifth and the last of the excellent "Poet" Class ships was built in yard 129, being the Mikhail Lermontov on December 31, 1970 and was named "Mikhail Yuryevich Lermontov" a brilliant and much loved Russian Romantic writer, poet and painter. After she was completed she was registered at 19,872 GRT and was delivered in March 18, 1972 to the USSR "Baltic Steamship Company" of Leningrad. However, it was not until April 21 that she commenced her maiden cruise, being from Bremerhaven to the Canary Islands. But she also operated on the Bremerhaven to Montreal service during the summer months. But for the vast majority of the year she would be cruising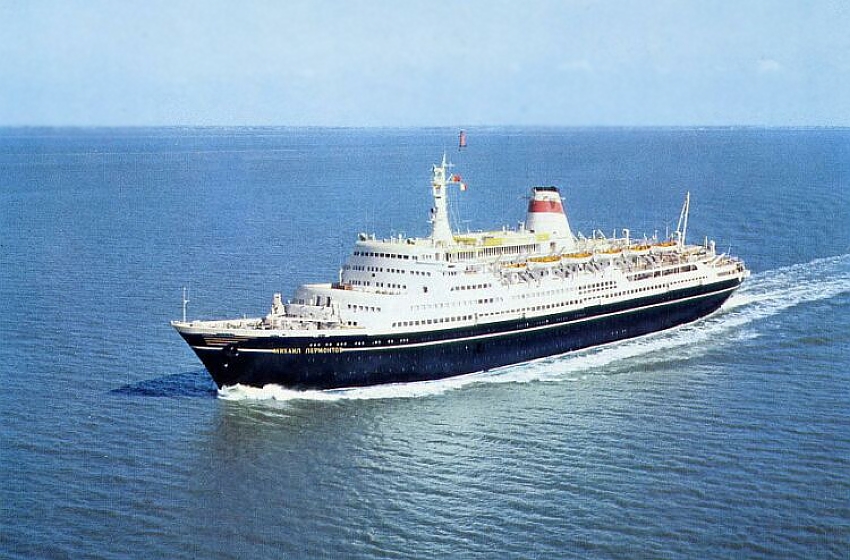 A delightful colour postcard of the Mikhail Lermontov seen as built with her black hull
Although the Mikhail Lermontov was completed in 1972, it was most unusual that so many of her cabins did not have Private Facilities. CTC Cruises chartered the "Poet" Class ships on a regular basis and the Mikhail Lermontov obviously was one of them. She proved a success like her sisters in the British market and soon she would become known in New Zealand and Australia as well.
She made her very first voyage to Australia when she departed Southampton in January 1977 and sailed via the Pacific as all ships did and sailed via Auckland and she arrived in Sydney on February 6, 1977. However, the very next day she departed on an extended Pacific Circle Voyage, visiting many Islands and ports in America, for she did not return to Sydney until April 4. On the same day she sailed for Southampton, this time she went via Melbourne and Fremantle and via the Suez Canal, arriving on May 10. Thus an excellent around the world voyage was had for the Mikhail Lermontov. There were quite a good number of passengers who joined the ship in England, who made their own arrangements in Australia, such as visiting family, or travelling, etc, and rejoining her for the return voyage to Southampton.
During the seventies she did receive ongoing upgrades, but to make her more suitable as a viable cruise ship it became obvious that more had to be done. Thus in order make her more suitable to become a successful full time cruise ship to the world, the Soviets decided to spend a good US$15 million in 1982 and completely update her with a massive refit/rebuild that saw changes to her decks, as well as a comprehensive interiors refit. One of the most important tasks was to ensure that every single cabin would be fitted with Private Facilities, and also to have all the public rooms, some of which had been extended, and other areas, to be completely redecorated and refurbished. To complete the transformation to paint the ship in cruising all white. Thus, at completion the MS Mikhail Lermontov looked much like a brand new and a beautiful cruise ship!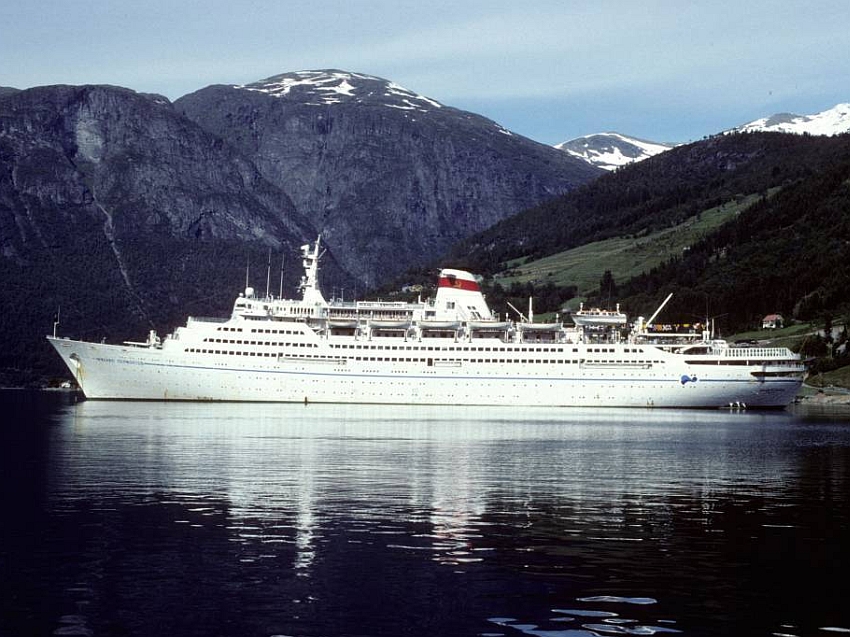 Here we see this fine ship in her new guise after her rebuilding and refit
She retuned to her cruise duties and the public loved the all-new ship as she was a delight, the cabins were so much lighter and brighter, and the bathrooms were certainly most welcome! The lounges and other venues were a pure delight, whilst somewhere just fun and happy places. On Saloon Deck starting from forward was the grand two story "Bolshoi Lounge," followed by the forward "Lounge Lobby." Next on starboard side was the "Astoria Bar," whilst portside was the popular "Nevsky Bar," this was followed by the amidships Lobby that had a door going out on portside to the "Wintergarden," as well as a short hallway to the "Cinema" just aft portside. On the starboard was the main hallway with the shops and the "Sadko Bar" that led to the aft Lobby where you could enter the "Library" port forward, "Hairdresser" port aft and the "Barber" Starboard aft, doors led out to the part glass enclosed and covered promenade deck. Aft was the location of the swimming pool and its own bar located forward of it the delightful "Neptun Bar."
Mikhail Lermontov - Mini Photo Album
Most of these images where sourced from a CTC Cruise brochure, but sadly some are not of a great quality.

A side view of the all-new looking Mikhail Lermontov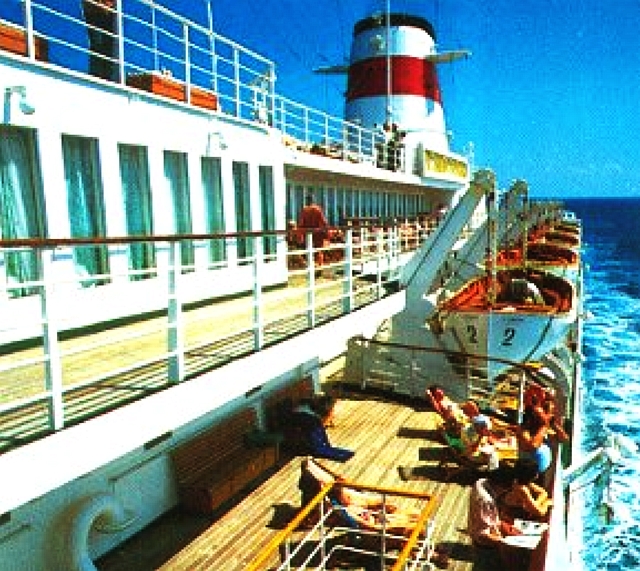 I will start topside with a fine view looking aft portside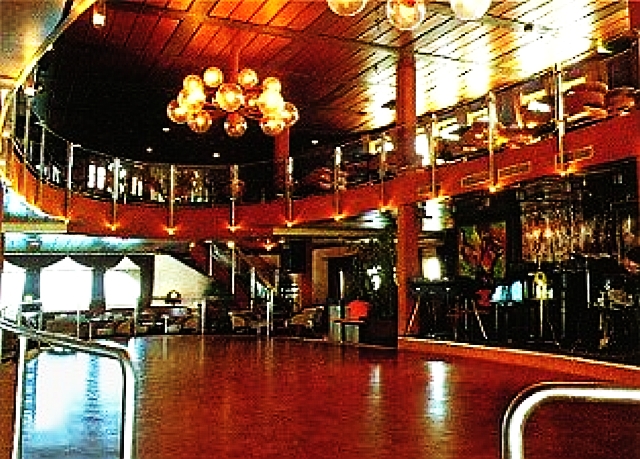 Bolshoi Lounge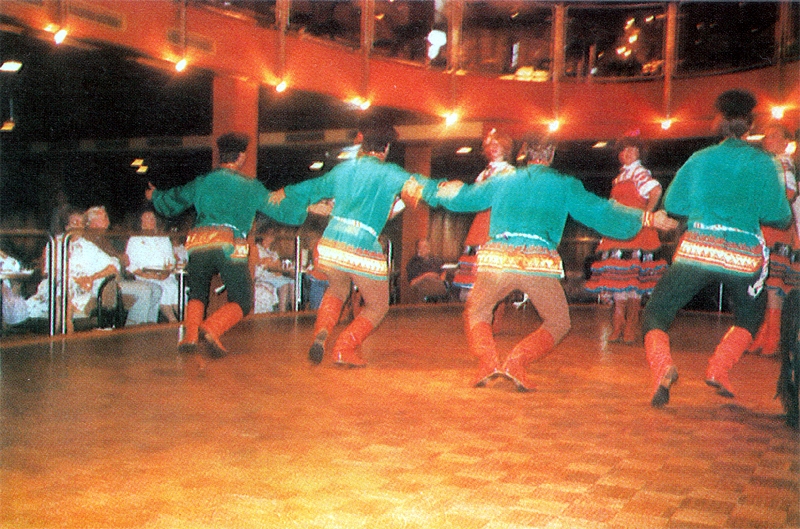 The Russian Show in the Bolshoi Lounge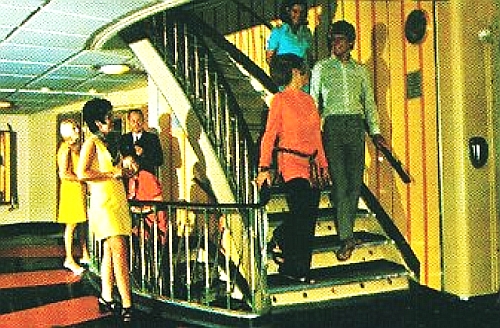 The delightful stairwell in the Lobby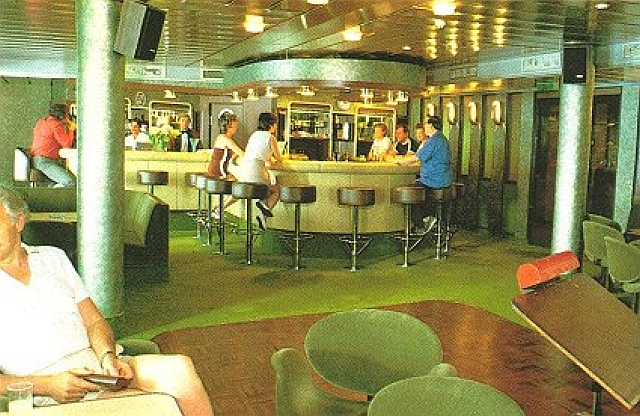 A friendly and popular place to meet in the Nevsky Bar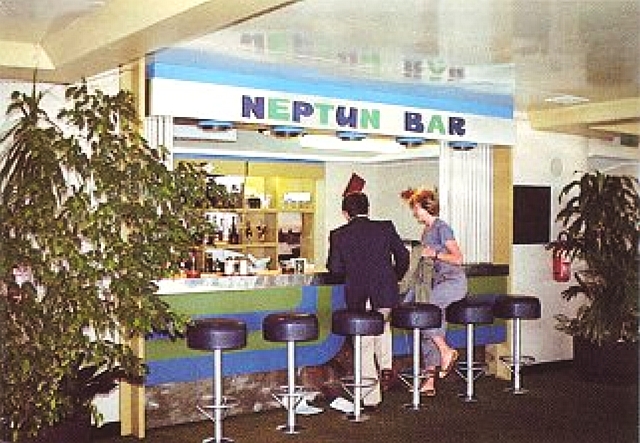 The Neptun Bar by the Pool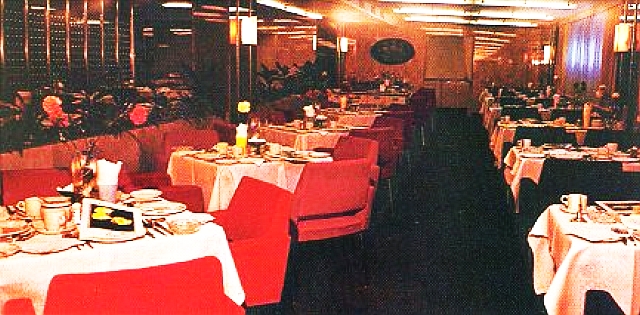 The Dinning Room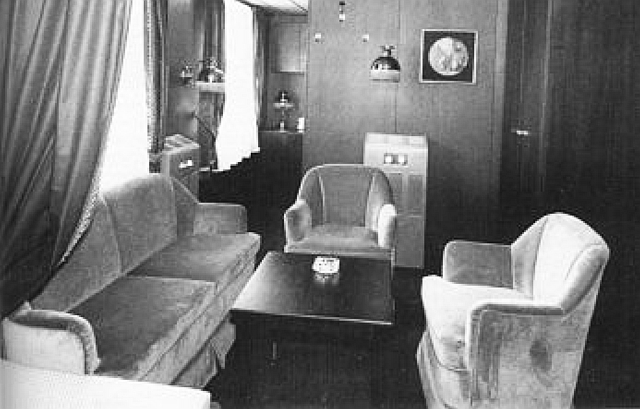 Here we see the lounge from one of the suites on board
Considering the Australian Government had banned Russian shipping to the country, New Zealand had not followed Australia in doing so, thus the Mikhail had made an around the world voyage visiting New Zealand ports just prior her major refit and just after. As soon as Australia lifted its ban, the Mikhail Lermontov departed Southampton early November and arrived in Sydney on December 19, 1984 and she operated a series of Pacific cruises through to March 1985 when she sailed back to Southampton.
MS Mikhail Lermontov's Final Voyage:
In mid December 1985 both the Alexandr Pushkin and Mikhail Lermontov arrived in Sydney on separate days and departed on their Pacific cruise services, however on February 6, 1986 both ships just happened to be berthed together at the Pyrmont wharves in Sydney, although they departed at different times.
The MS Mikhail Lermontov departed at 8 p.m. in February 7, 1986 and she slowly headed towards Sydney Heads and then she sailed through them as passengers were having a joyful meal in the dinning room, yet none would be on this delightful ship returning through these same heads into Sydney. The Mikhail Lermontov was bound for a voyage that had been billed as a "Two Week Cruise of a Lifetime" to New Zealand. The ship was under the command of Captain Vladislav Vorobyev and she was carrying many happy Australian's who were off on their New Zealand adventure, but was this adventure very much bigger than what they had expected when they booked it?
Below is the official CTC Cruises brochure cover and itinerary of that fateful cruise as shown in the brochure.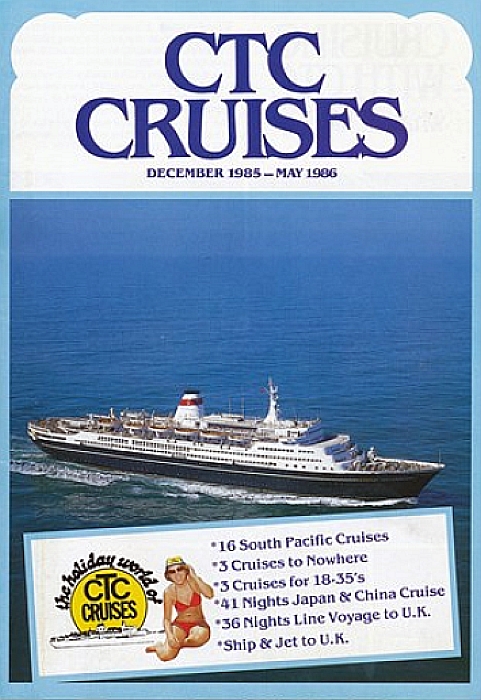 This is the actual brochure cover containing the cruise concerned!
The MS Alexandr Pushkin is shown on the cover
MS Mikhail Lermontov – 14-night New Zealand Cruise Number 561 – February 7, 1986.
Port                                          Arrive                               Depart
Sydney                                                     08 PM - Feb 07                    08 PM - Feb 07
Bay of Islands                                        11 AM - Feb 11              10 PM - Feb 11
Auckland                                                              09 AM - Feb 12              07 PM - Feb 12
Tauranga                                   07 AM - Feb 13              04 PM - Feb 13
Wellington                                               08 AM - Feb 15              08 PM - Feb 15
Picton                                        08 AM - Feb 16              03 PM - Feb 16
Queen Charlotte Sound,
(Cruising only)                           Feb 16
Doubtful, Thompson
& Milford Sounds (Cruising)                                                 Feb 18
Sydney                                                     08 AM - Feb 21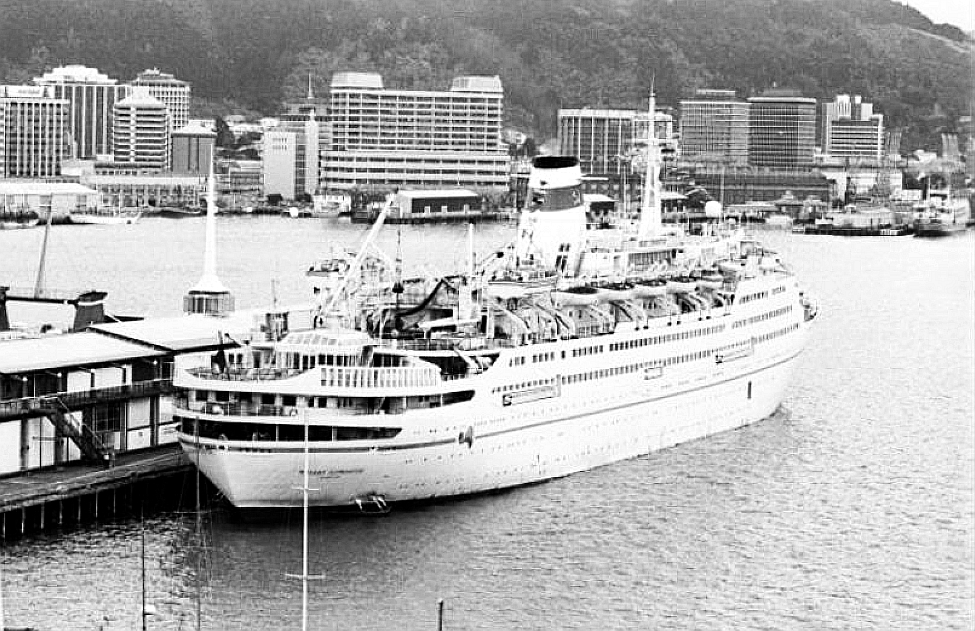 The Mikhail Lermontov is seen at the Overseas Passenger Terminal at Wellington on February 15, 1986
Photograph by local Newspaper Evening Post photographer John Nicholson
As she sailed there were a total of 743 people were on board. Of the 372 passengers, 327 were Australians including 5 children, 36 British, 6 Americans, 2 Germans, and one New Zealander. Of the 348-crew members, 330 were Russian and 18 British staff. Another 9 were Australians and 13 were British CTC staff members in transit.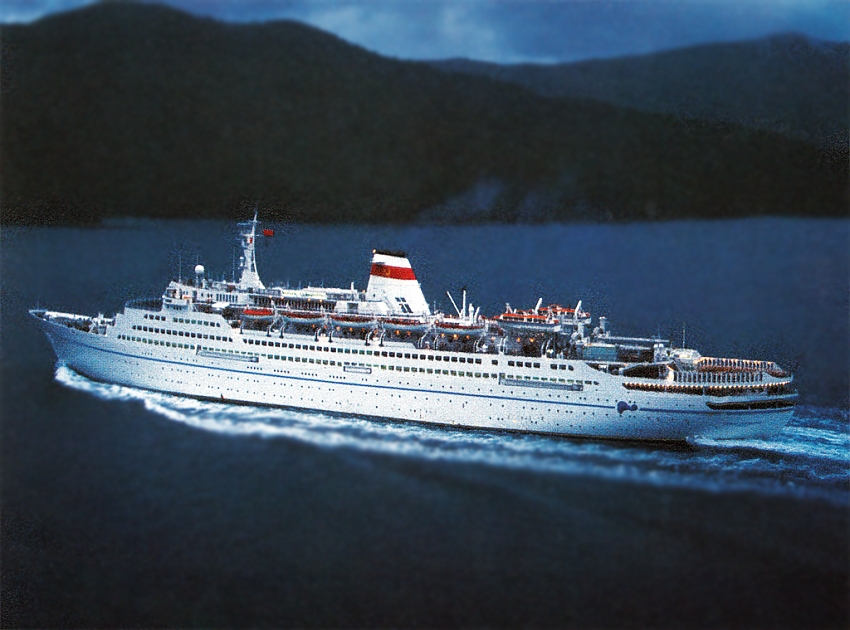 Here we see the Mikhail Lermontov just after 6.00 a.m. on the waters of the Marlborough Sounds heading for Picton
But tragically this would also be her very last day afloat for some 16 hours later she would be on the bottom of the sea
Photograph by CTC Cruises
Mikhail Lermontov crossed the treacherous Cook Strait during the night bound for Picton, which located deep inside the Marlborough Sounds on the Northern coast of the South Island. She berthed at the Waitohi wharf at 8.00 a.m. in the morning, and her passengers had another wonderful day ashore in beautiful New Zealand! The Mikhail Lermontov departed at 3.00 p.m. on February 16, 1986, and she was now bound for the spectacular Milford Sounds further south on the west coast of the South Island, BUT?
A very tired Picton pilot, Captain Don Jamison who was also the Picton harbourmaster boarded and he remained aboard the ship instead of leaving her at Long Island for this way he would be able to pilot the ship into Milford Sound. As Captain Jamison piloted the ship out of Picton and the Sounds meant that his presence and his vast knowledge of the region, this should have assured the safety of the Mikhail Lermontov, but right from departure there were a number of mishaps., including the ships stern touching the bottom at departure, bad start Mr. Pilot!-
As passengers were having fun and relaxing after all their various shore tours, etc, they were having drinks and enjoying some the light entertainment. Having seen all the scenery many were no longer interested looking out, whilst others went to their cabins for a rest. But for a couple of ship enthusiasts, they noticed at one time that the ship had gone between the Lighthouse and the end of Cape Jackson instead of clearing the rocky reef that extended past Walker Rock and it was clearly shown on the chart. The Mikhail Lermontov was drawing around 8.2m (27ft) and Captain Jamison claimed his understanding of the depth in the channel to be 10.6 to 12.29m (35 to 40ft). It can be seen from the above chart that there was ample room for the Mikhail Lermontov to have passed through the channel had she missed the major rock pinnacles. However it would have been a very foolhardy course to take for anyone aware of the presence of the rocks.
Captain Jamison had that great desire to give the passengers a good close up view and narrate some historic facts, including the very place where Captain Cook landed and so much more, when Captain Vorobyev had finally left the bridge to shower and get ready for dinner as he had to join the Captains table that night, he had instructed Jamison after another too close encounter, not to sails too close to shore, and he had promised not to do so, a promise he would not keep! Having sailed into Somehow he believed that the passage at Cape Jackson was nearly twice as wide as it actually was, and that there were no dangerous rocks or reefs in the passage. Operating without a chart Jamison proceeded towards Cape Jackson. Hugging the shoreline to give the Australian passengers a good view of the area, Jamison continued towards the cape. Then about one mile from the cape, Captain Jamison made the decision to take the Mikhail Lermontov through the passage. A Russian officer tried desperately to discourage Jamison, but the harbour master assured him it that he knew the area well and that it would be fine! But as history proved, it was not.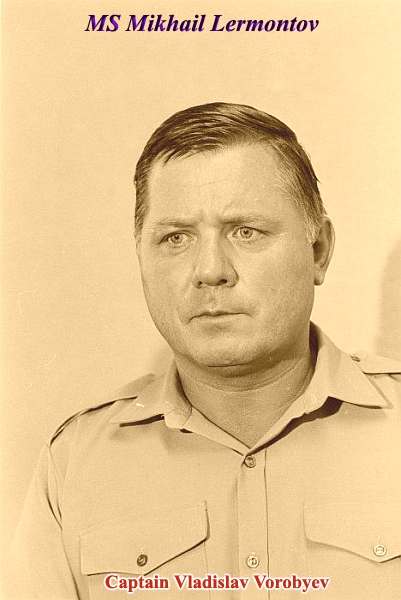 _____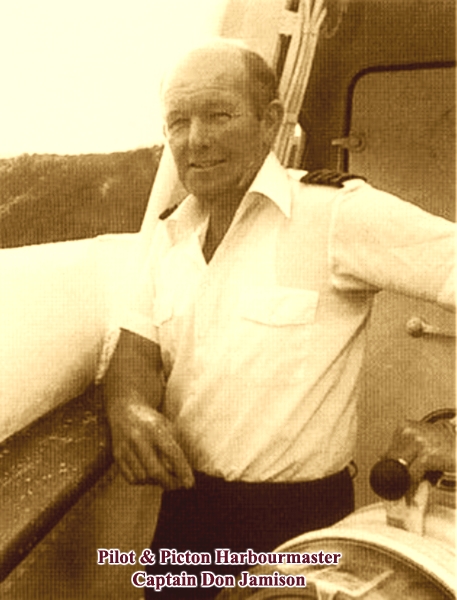 Both Captains continued to work later on board various ships, although most in the shipping industry
still wonder why this disgraced pilot, Don Jamison was permitted to retain his captain's ticket?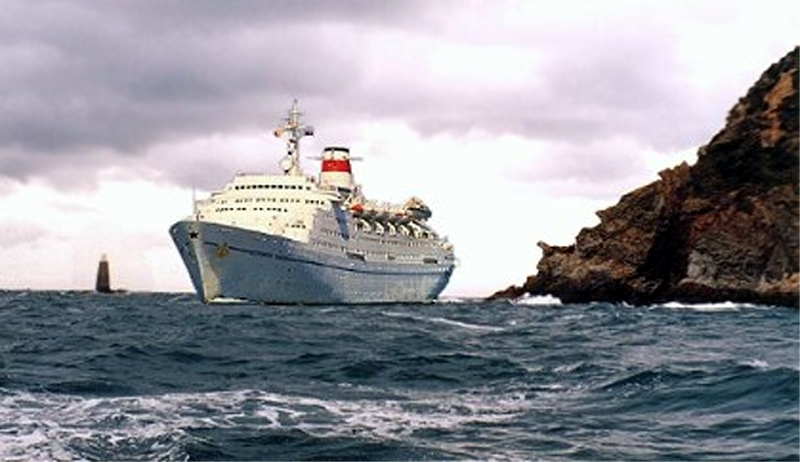 This is a mock-up image of Jamison taking the Mikhail Lermontov between Cape Jackson and the Cape Jackson Light House, which was madness in itself
An Ocean going Captain would never have done anything that stupid and placed his ship and all his passengers and crew in danger!
At 5.37 p.m. there was a thud whilst she had been sailing at 15 knots, for she had struck rocks on her port side just below the waterline, near the top of her double bottom tanks. Suddenly the ship commenced to list to starboard as the water flooded through a 40 foot long gash in the hull, penetrating three water-tight bulkheads.
Captain Vorobyvev dashed to the bridge and ordered the ship to be beached but it was not possible, the attempt to drop anchor also failed due to the electrical system having suddenly been effected by water down below, thus everything soon failed including the ships engines, and thus the ship drifted into deeper water. Later, maritime officials stated that Captain Vorobyvev's decision to put passenger safety before saving the ship saved the lives of all on board! For when the tragedy had ended every one was saved, although there were some eleven injuries, but a 33-year-old Russian engineer, Pavel Zagladimov tragically died as it seems that he went down with the ship. Most of those who were hurt were the elderly who jumped into the sea or even a lifeboat.
The first to arrive at the scene were two fishing boats, then the L.P.G. tanker Tarihiko, even though it had received it had received that no further assistance was required, Captain Reedman decided to check it for himself. Even though the sea had gotten somewhat rough, she managed to take aboard a good 356 passengers as well as 164 crew, after which she headed for the Wellington's Overseas Passenger Terminal.
The Wellington to Picton car and rail ferry the 9,000 ton MV Arahura that was under the command of Captain Brew, had been diverted to the scene and she arrived at 9.30 p.m. The sinking ship's passengers were transferred from rafts and lifeboats boats to the ferry, they were first taken to Picton, then back the same day to Wellington.
HMNZS Taupo commanded by Lieutenant Batcheler arrived and she would check out the area and it was arranged for the shoreline to be searched. It was still very dark and it was raining heavily therefore it was difficult penetrating the darkness with the ship's searchlights. No matter what, they struggled throughout the night, searching the area to locate any lost people in the water, or on rafts or in lifeboats that may have been swept away in the wind and with the tide.
The crippled cruise ship took on a 12° list and drifted into Port Gore where Captain Vorobyev tried to beach his ship. But by 10.15 p.m. she was listing 40° to starboard and at 10.27 p.m. the once magnificent MS Mikhail Lermontov foundered, sinking by the bow and went to the bottom of the sea.
Let us look at the map of that tragic final voyage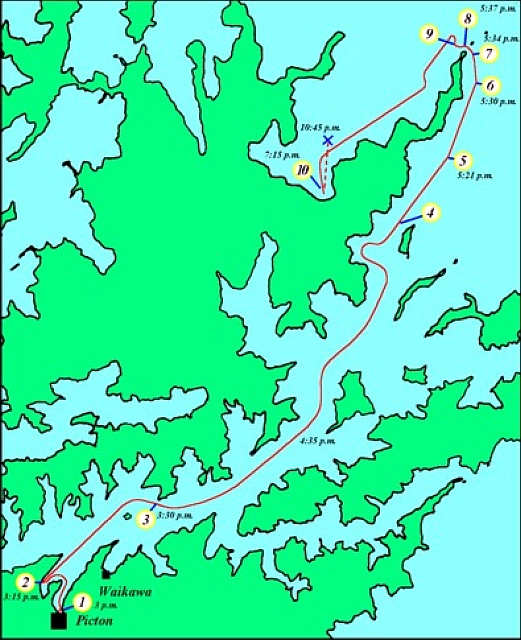 Picton pilot Captain Don Jamison is on the bridge and takes charge of the ship upon departure
And he remained in charge, until the ship hit the rock and the Captain bursts back onto the bridge
These are the events of a very weird voyage through the Marlborough Sounds
1. The ship was almost grounded at the stern when leaving Picton.
2. Vessel was again almost grounded at the bow in Shakespeare Bay.
3. The ship passes fat too close to Golden Point when Jamison takes an unusual course west of Allports Island.
4. Jamison again takes a strange course west of Motuara Island.
5. First turn towards Cape Jackson just before Kempe Point.
6. Second turn towards Cape Jackson adjacent Waihi Point. Heading straight for lighthouse.
7. Final turn committing the vessel to sail through the Jackson's Passage, which he should have gone around.
8. Point of impact and Jamison orders a further turn to port immediately afterwards.
9. Captain Vorobyev arrives on the bridge, takes over and he turns the ship to starboard and away from rocks.
10. With a 12-degree list the ship limps to this point and is beached. Yet with water flowing in, all power is lost.
Anchors cannot be dropped, thus the ship drifts out into deeper water and sinks at the position marked by X.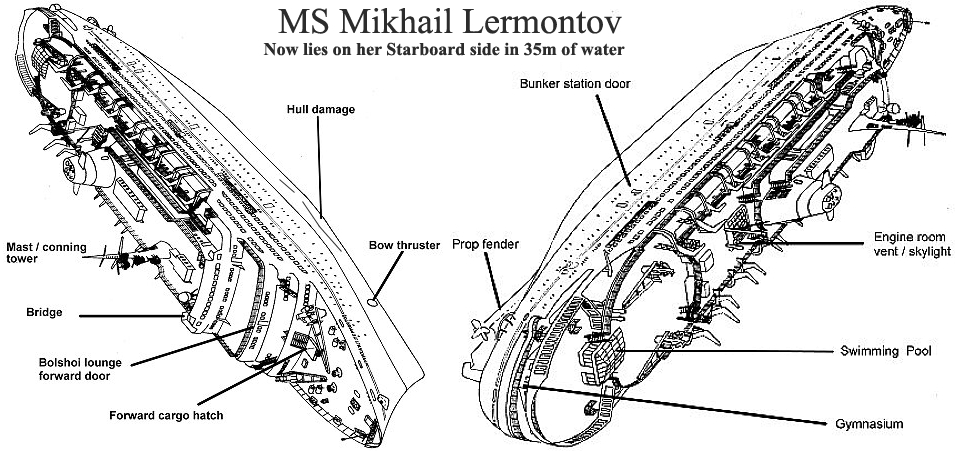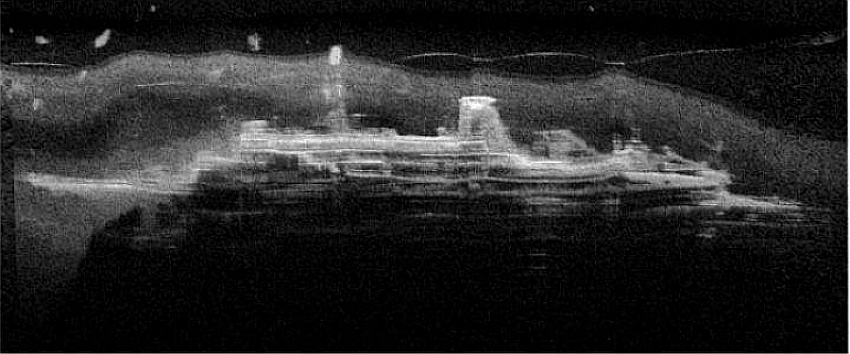 NIWA sonar image of the Mikhail Lermontov resting on the seafloor
Epilogue of the Sinking:
It amazes me that there have been so many stories regarding the sinking of this superb ship. Some are that the "Russian Captain entertained the Pilot at lunch and even on the bridge with Vodka and by the time the ship left at 3.00 p.m. they were pretty blotto, mate. And that was the main reason she sank." What utter rubbish, I know for a fact that Captain Vladislav Vorobyev had a very strict rule for himself and for every member who was listed to work on the bridge prior to and during work, that only non-alcoholic rinks where permitted to be consumed, and that included all pilots. If a pilot was found to have alcohol on his breath he would be put off his ship, it was as simple as that! He was a very strict man, but a good and a honest Captain and the crew liked him, even though he was a relief Captain, for the ships regular Captain, Captain Oram Organov was already in Auckland waiting to take over his beloved ship after his vacation. But sadly he would never see his beloved white lady again!
It is so sad that there have been so many stupid stories, but there has been one simple fact and that was a confession, knowing full well that the person who was responsible, could not be prosecuted for what occurred, and he could even continue in his job. For the mad New Zealand law was on his side in those days, but thankfully that idiotic law has been changed and today he would be thrown into jail! Amazingly Captain Vladislav Vorobyev when he returned to Russia, instead of being received as a brave man as he was by the maritime authorities in new Zealand, he was tried and given a suspended jail sentence.
In due course there were even attempts made to prove that Captain Jamison had handed control of the ship back to Captain Vladislav prior to the collision, and everything was done in New Zealand to smear the Russian Captain as well as his spotless ship, for the passengers testified that it was in perfect condition. New papers claimed that the lifeboats motors would not work, but all reports we have, they certainly did for they had only just been fully inspected. They attempted to say that "the ship was old and in an overall shocking condition." Excuse me, she was rebuilt and renovated less than four years earlier and she was like a brand new ship and she was one of the finest maintained ships around, as fresh as could possibly be! All this had to do with a media campaign, for how can you possibly blame a Kiwi, for it must be the Russians, but, hang on, who confessed of making a mistake and being desperately tired from being overworked by the system, and may I ask whose system that was?
This is an interesting and a factual report from the Wellington "Evening Post" on February 19, 1986. "Skin divers have discovered a flag still flying on the mast of the sunken cruise liner Mikhail Lermontov, signalling it was under control of the New Zealand pilot. There has been controversy over whether the pilot, Captain Don Jamison, or the Soviet skipper, Captain Vladislav Vorobyev, was navigating when the liner hit the rock."
"The Soviet authorities have handed over the log books from the Lermontov today to the New Zealand Government inquiry into the sinking … Six Australian passengers were still in hospital in Wellington last night. A Soviet crewman, Pavel Aleksoevich Zagyadimonov drowned in the sinking."
Next came an important report from Mr. Richard Prebble, New Zealand's Minister of Transport twenty years after the fateful event.
February 16, 2006: Richard Prebble, New Zealand's Minister of Transport said that when the Mikhail Lermontov sank in the Marlborough Sounds in 1986, he still gets phone calls from "conspiracy theorists." When the Russian luxury liner went down that night, it left rumours and innuendo swirling in its wake, talk of sealed evidence under lock and key. But Mr Prebble says it is "completely untrue" that the New Zealand Government suppressed evidence. "This has to be one of the most clear-cut cases ever," he says. And to be completely honest, I, the author must agree, for the answer lies with Captain Don Jamison himself and his own declaration when he gave evidence for he never disputed that he made the decision to take that route and it was wrong and that was why the ship sank. But why he decided to guide the ship through a passage that he actually knew was too shallow, I don't think he' will ever be able to answer. Captain Jamison told the inquiry that he … "had been working 80 hours a week for four months before the accident and I was mentally and physically exhausted." There was never any doubt that it was the Picton pilot that was at fault for the tragedy, as the Captain left him in charge, in the very region he was supposed to be completely knowledgeable with!
Amazingly it was an "oversight" in New Zealand's law at that time, which meant that New Zealand registered pilots working aboard foreign registered ship could not be prosecuted in any shape or form, which was very wrong, for min this case, Jamison was guilty of running this fine ship on the rocks because of sheer stupidity, and blaming tiredness is never an excuse!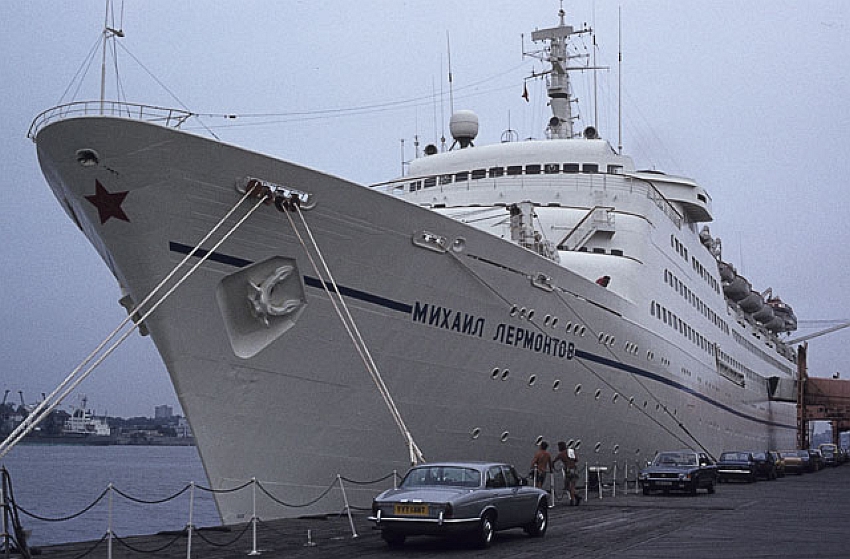 The Mikhail Lermontov is seen here in better days at Tilbury of the finest and beautiful cruise ships afloat!
She had a sad end, but she was and remains a greatly loved ship to this day!
Although I have a great deal more to the story of the fateful day, but sadly, due to my health and poor eyesight I am unable to add it at this stage. This feature has taken a great deal of time to be completed, and as I do not have an editor at this time, I am sorry for any errors that may well be found!
Reuben Goossens - Retired.
***********************************
All Five ships - Ivan Franco "Poet" Class – Specifications:
1. Ivan Franco / 2. Alexandr Pushkin / 3. Taras Shevchenko / 4. Shota Rustaveli / 5. Mikhail Lermontov.
Built by:                                    Mathias-Thesen-Werft, Wismar East Germany.
Yard:                                         1. 125 / 2. 126 / 3. 127 / 4. 128 / 5. 129.
For Company:                             Ships 1, 3 & 4. "Black Sea Shipping Company" - 2 & 5. "Baltic Steamship Company."
Overall length:                           176.1m.
Beam:                                       23.6m.
Draft:                                        8.m
Gross Tonnage:                          1. 19,861 / 2. 19,860 / 3. 19,594 / 4. 19,567 / 5. 19,872 GRT.
Engines:                                    7 Cyl Sulzer-Werkspoor diesels. 21000 BHP.
Screws:                                     Two.
Service Speed:                           20.3 knots, max 21,7 knots.
Passengers:                                750.
Crew:                                        220 / 5. 300
Return to
Page One
Visit the all New Marco Polo 2016 Review by John Happs & Reuben Goossens
"Blue Water Liners sailing to the distant shores.
I watched them come, I watched them go and I watched them die."
****************************
Visit our ssMaritime Main INDEX
Where you will discover over 700 Classic Passenger & Passenger-Cargo Liners!
ssMaritime.com & ssMaritime.net
Where the ships of the past make history & the 1914 built MV Doulos Story
Please Note: ssmaritime and associated sites are 100% non-commercial and the author does not seek funding or favours and never have and never will.
Photographs on ssmaritime and associate pages are either by the author or from the author's private collection. In addition there are some images and photographs that have been provided by Shipping Companies or private photographers or collectors. Credit is given to all contributors, however, there are some photographs provided to me without details regarding the photographer or owner concerned. Therefore, I hereby invite if owners of these images would be so kind to make them-selves known to me, my email address can be found at the bottom of the page on www.ssmaritime.com, in order that due credit may be given.
ssMaritime is owned & © Copyright by Reuben Goossens - All Rights Reserved