The Five "Poet Class Liners" - Page One; MS Ivan Franco & the MS Alexandr Pushkin, that later became the famed MS Marco Polo
Please Note: Firefox and some other search engines are not suitable – Use "Internet Explorer" for this page to load perfectly!
Click the logo above to reach the ssMaritime FrontPage for News Updates & "Ship of the Month"
With Reuben Goossens
Maritime Historian, Cruise'n'Ship Reviewer, Author & Maritime Lecturer
Please Note: All ssMaritime and other related maritime/cruise sites are 100% non-commercial and privately owned. Be assured that I am NOT associated with any shipping or cruise companies or any travel/cruise agencies or any other organisations! Although the author has been in the passenger shipping industry since 1960, although is now retired but having completed around 680 Classic Liners and Cargo-Passengers Ships features I trust these will continue to provide classic ship enthusiasts the information the are seeking, but above all a great deal of pleasure! Reuben Goossens.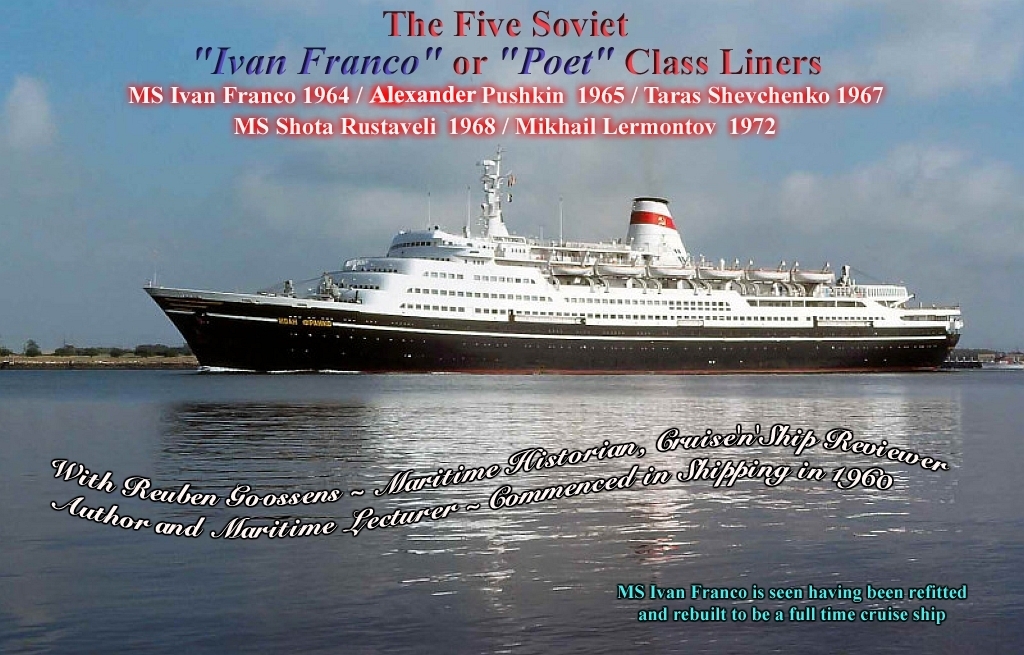 MS Ivan Franco is seen after her rebuilding with her superstructure decks moved further forward
Original photographer unknown - *Please see photo notes at bottom of page
Please Note: Photographs and images on this page are from the author's collection, unless stated otherwise
Page One
MS Ivan Franco & the MS Alexandr Pushkin that later became the MS Marco Polo
Introduction to the five "Poet" Class Liners:
These five beautifully designed 20,000-ton liners, come cruise ships where without a doubt the Soviet Unions finest ever designed and beautiful ships. They operated on Trans Atlantic voyages from Russia and England, as well as cruises from various countries especially Britain with cruises to Scandinavia, the Baltic Sea, the Mediterranean and the Canary Islands.
A little later they would sail as far as Australia and New Zealand, but one thing was for sure these excellent ships quickly became very popular for they had that something special, although it was not luxury, for they where essentially budget class ships and they offered value for money. The New Zealand and Australian line voyages and cruises became very popular and they would operate a series of Pacific cruises out of Sydney and Auckland during the Southern Hemisphere summer cruise season, but I will cover more on this as I cover each ship individually.

An illustration of the "Ivan Franco" or "Poet" Class Liners
No matter where these ships went they were greatly admired for they looked as modern as tomorrow and they certainly were streamlined with their superbly shaped bow that perfectly balanced superstructure, with their stepped aft decks and the stylish radar mast and funnel crowning these ships. But the combination of their livery did a great deal to the look having a black hull with the white ribbon surrounding it and only the ships name interrupted it on the bow, then the perfectly white well shaped superstructure and funnel that had a red band with the traditional Russian yellow hammer and sickle logo, then at water level the red boot topping was deep red, topped with a thin white line surrounding the ship, making it the perfect visual package! These ships were indeed the perfect package and they certainly looked elegant, however, it is important to understand that these ships were built to be a budget one class style of transport, yet their facilities were more extensive and the public rooms quite excellent if not overly glamorous!
Let me describe these ships in a little more detail.
Public Rooms except for the Restaurant are all located on Saloon or Lounge Deck, being the continues glass enclosed deck, which is devoted to public rooms, such as the spacious Main Lounge far forward, two Cafés, a Cinema and a Library. Aft there was the enclosed and heated Swimming pool. However, one of the most popular features on Board was the large "Veranda" with a cosy Bar located on the topmost deck. The 376 seat Restaurant was located on Main Deck. One of the most unique features was the remarkable fully glass enclosed Swimming Pool that had a sliding glass roof whenn the ships where in warmer climates, but as you can imagine, for the Europeans, this pool was very popular indeed as the water was always heated!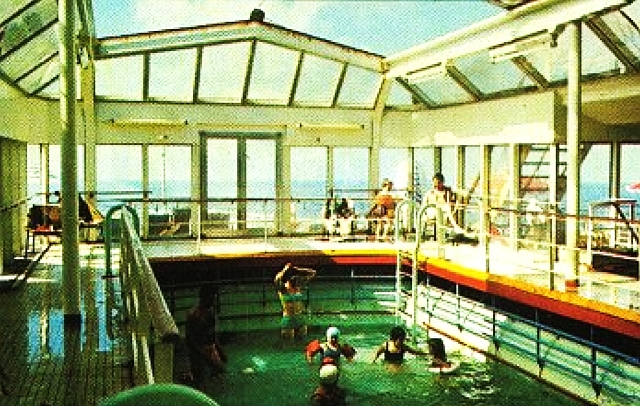 Each ship had one of these superb pools with the innovative glass enclosures

Accommodations

on all ships was available in one, two and four berth cabins, although a four berth cabin could also be sold as a three berth cabin if required. There were seventy six luxury cabins located on Boat Deck and also on Promenade Deck, which was located below Saloon/Lounge Deck. Each of these suites and superior cabins were well equipped, all having Private Facilities, whilst all other accommodations "standard" cabins throughout the ship had shared facilities. Each did have a basin with hot and cold water and were well fitted out, but many were on the small side, but with ample storage, etc..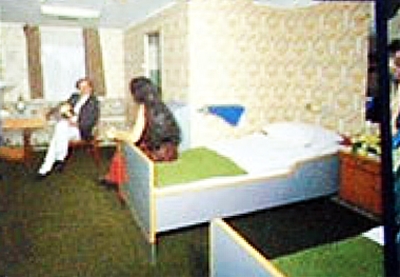 One of the Superior twin bedded cabins with private facilities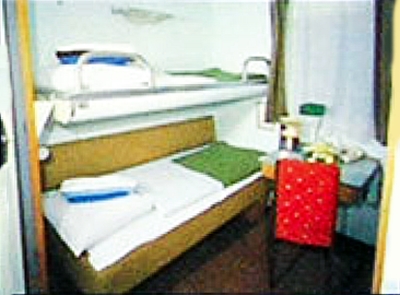 A standard outside two berth Cabin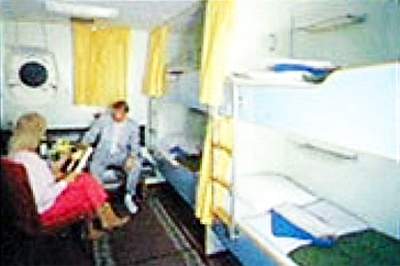 Standard four berth cabin
With the superior accommodations as well as the more affordable cabins gave many more vacationers the opportunity to go on an ocean cruise, whilst the ships did have a delightful range of venues and that wonderful indoor pool! Thus, these ships had everything required for a good vacation for their time.
Whilst on liner voyages, they had two holds with some 1,500 cu. ft of cargo space, as well as a large garage located forward under the bridge, with a special side loading door with heavy duty loading gear! Thus whilst on Trans Atlantic voyage, you could bring your car with you!
Amazingly as built, these ships were not stabilised, yet they soon became known as the most stable ships to be built, for they would ride any kind of sea without any horrific rolling and pitching. Thus there was something quite unique in their hull design that we have never been told about! And if we look at their hulls, they were sheer art to look at, for their shapely bow and sheer to that magnificent stern, it was indeed splendid, but whatever made them so stable was well hidden well under the water, for above water it could not be seen, just five of the shapely ships built, and to be honest they would still look beautiful to this day, just look at the MS Marco Polo in 2012, the ex Alexandr Pushkin!
************************************************
The Five "Poet" Liners and their Details:
All five of these handsome ocean liners were all built at the Shipyards of "Mathias Thesen Werft" at Wismar East Germany.
1 …

MS Ivan Franco
: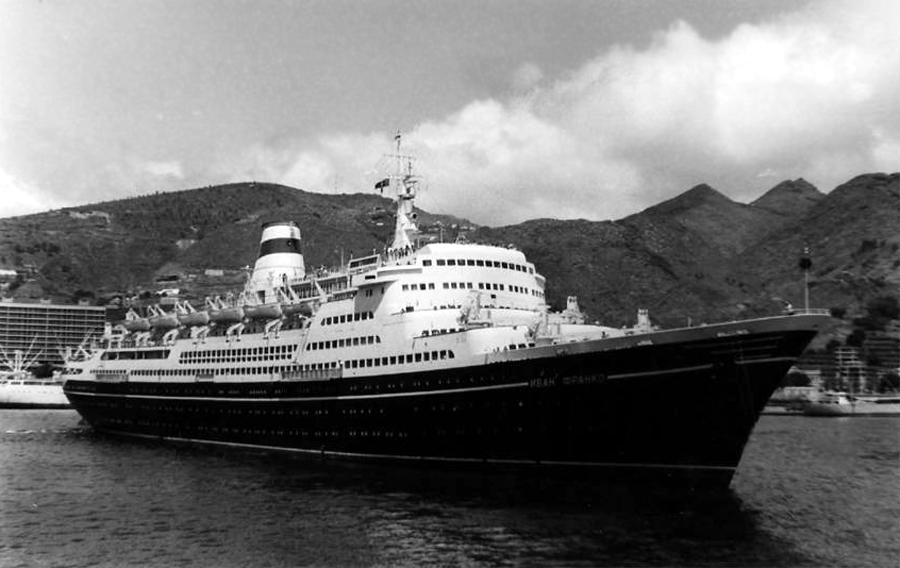 The first of the series Ivan Franco is seen as built at Tenerife during a cruise early in her career
The first "Poet" Class ship was built in yard 125 and launched on June 15, 1963 and was named Ivan Franco, after a famed Ukrainian writer and poet. After completion she was registered at 19,861 GRT (Gross Registered Tons) and went on her deep sea (speed) trails on October 7, 1964.
Having completed her trails and adjustments she was delivered to her owners on November 14, being the first "Poet" class liner to be owned by the USSR "Black Sea Shipping Company" of Odessa and she soon commenced on her maiden cruise. Her days were to be spent between liner duties between Leningrad to Montreal Canada as well as cruise services, which were quite popular!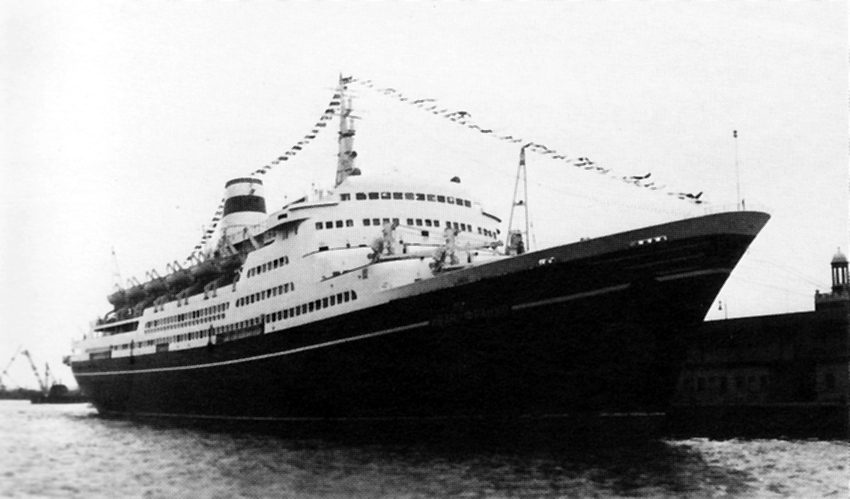 MS Ivan Franco seen fully dressed with festive flags and ready for another cruise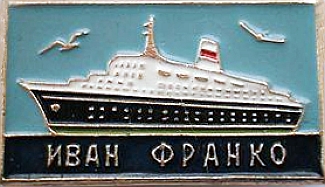 This is one of the badges that could be purchased from the shop on board
This one is says Ivan Franco in Russian
In 1968 CTC the all Russian owned, but London based "Charter Travel Club" chartered the Ivan Franco; however, the Shota Rustaveli was substituted instead. However, her voyage was a great sucsess and this resulted into CTC becoming CTC Lines and operating more frequent voyages to New Zealand and Australia, as well as operating cruises.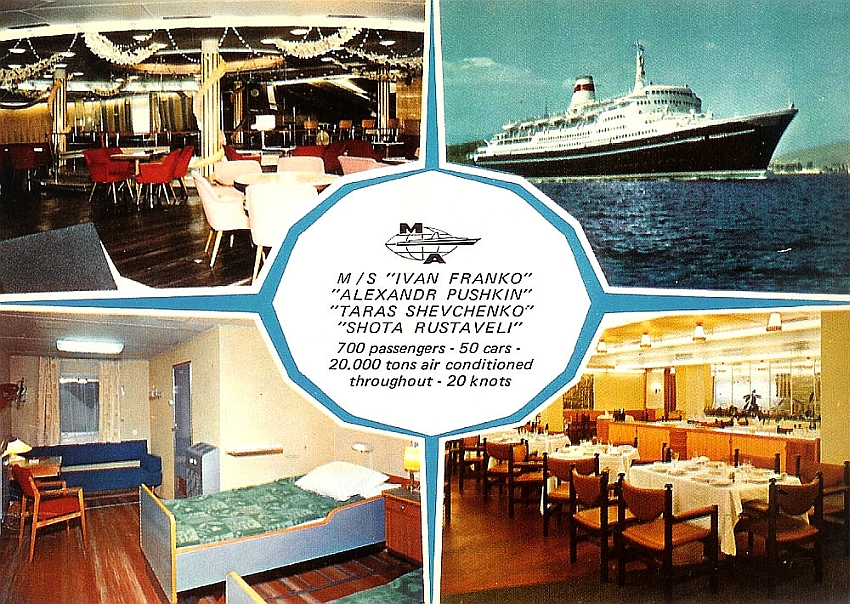 This is a postcard handed out to passengers showing off the Ivan Franco Class Liners in their early days
In 1974 The Ivan Franco received a refit and a partial rebuild that saw her forward superstructure extended her tonnage was registered as being 20,064 GRT, and as from 1965 she was pleased on full time cruise operations. Below we see the Poet class ships Deck Plan after their rebuilding as the vast majority was identical with only minor differences in décor, etc.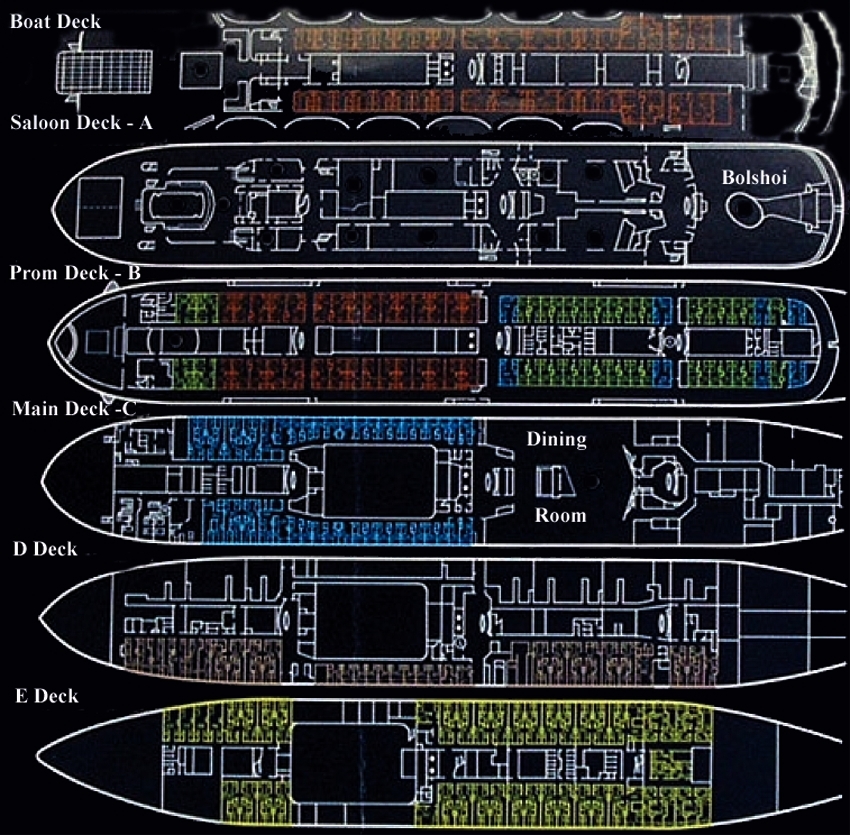 The above plan was in a poor state I attempted to restore it to a reasonable image.
As the original brochure was in another language I added new deck names.
Ivan Franco eventually did come down under to Australia, arriving in Sydney on December 7, 1979. Having arrived she then proceeded to make two South Pacific Island cruises, and upon her return to Sydney she departed on January 26, 1980 for a mammoth 66-day expedition voyage sailing via New Zealand to and around South America, then returning via the Panama Canal and the Pacific to Sydney. Thereafter she made two further Pacific cruises before returning to England again. Sadly, the Ivan Franco would never return to Australia again. However, she continued on her cruise duties and remained a popular ship with the British passengers as before.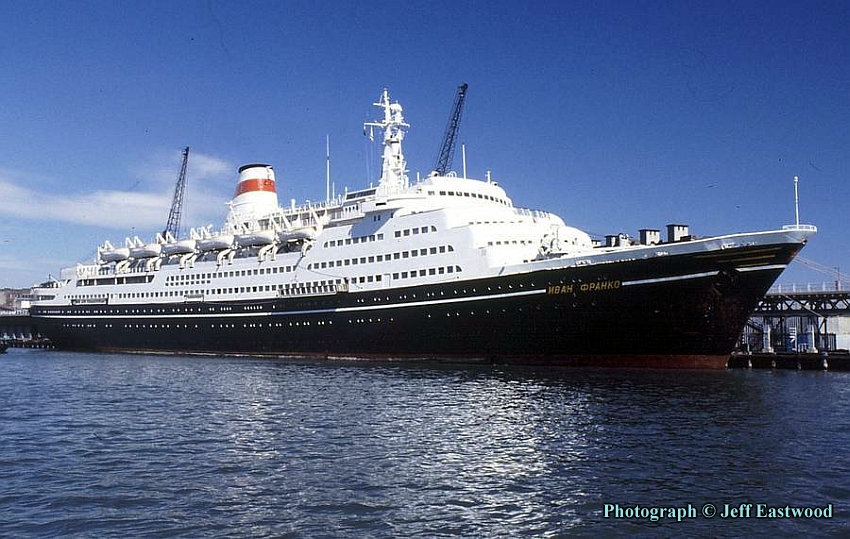 The delightful MS Ivan Franco is seen at Pyrmont on January 26, 1980
Photograph was taken by and is © Copyright - Jeff Eastwood Australia.
An interesting note regarding the Ivan Franco and her sisters
:
The Ivan Franco and her four sisters were build to do a little more than just carry passengers, for should the need be, one or more would be able to serve for military purposes. They constructed them with far greater hull strength and they had stability far superior than the usual passenger liner of those days. In addition, they had an unusually huge provision and storage area enabling a cruising range of well over 10,000 nautical miles. Other equipment was the very well built and powerful deck lifting gear, which were apparently to be able to transport military vehicles.
Each ship had a capacity between 750 passengers in a One Class configuration, however there was space for an additional 500 deck passengers. Eight years after the Ivan Franko was build all five ships where send to dry dock for extensive modifications. Their cargo facilities were eliminated and the forward superstructure extended, allowing for additional public spaces and cabins. Also some modern features where installed such as stabilisers and the cabins were re-configured. Also one interesting feature was included and that was first Disco on a Soviet cruise ship.
Reconstruction and refitting with all modern facilities was done for one purpose only and that was spreading Soviet propaganda to the Western world of the ideal life in USSR. Since most of the ships where used as ocean liners from USSR to Canada, USA and Western Europe, as well as pleasure cruises from Europe and Britain, but now they would only be used for cruising, and with their many refinements, they were the perfect cruise ships!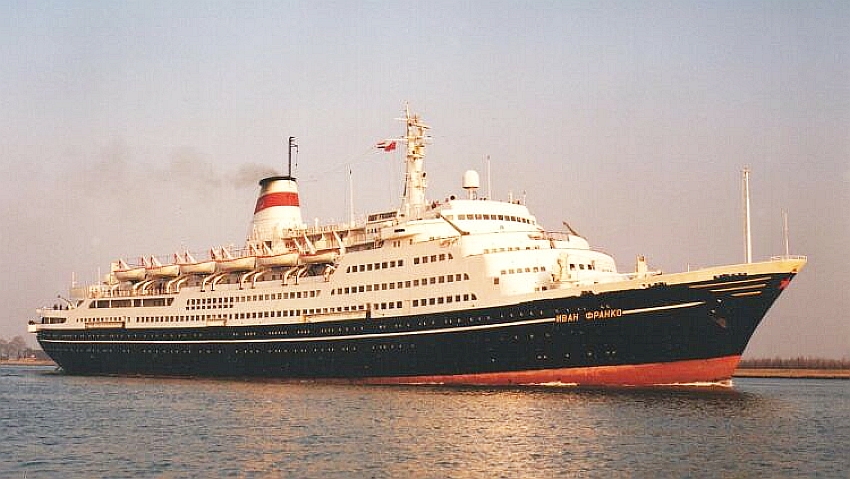 The Ivan Franco is seen here during her latter cruising days, but looking a delight!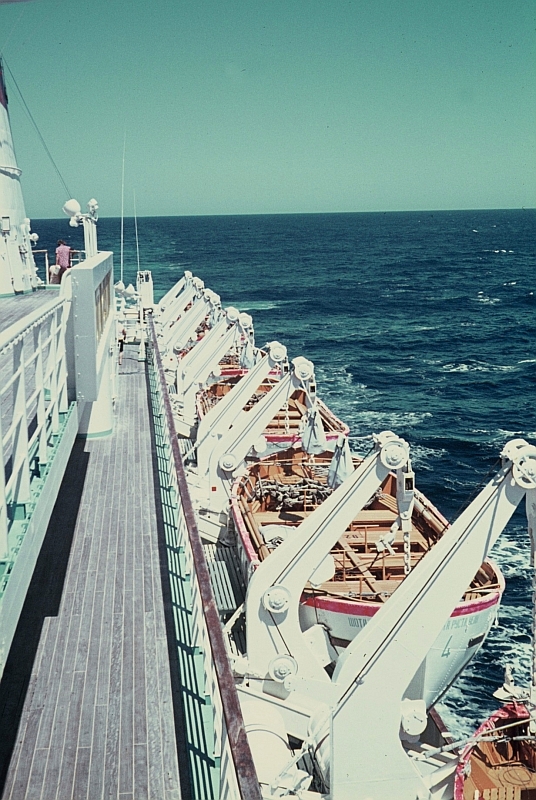 Looking aft from Sky Deck
Original photographer unknown - *Please see photo notes at bottom of page
Ivan Franco's final days
:
Having sailed for thirty two years it somehow seemed like that her days were up, and she was laid up in early 1997 yet she was very quickly soon sold to "Polluks Shipping" of Kingstown St Vincent who renamed her 'Frank.'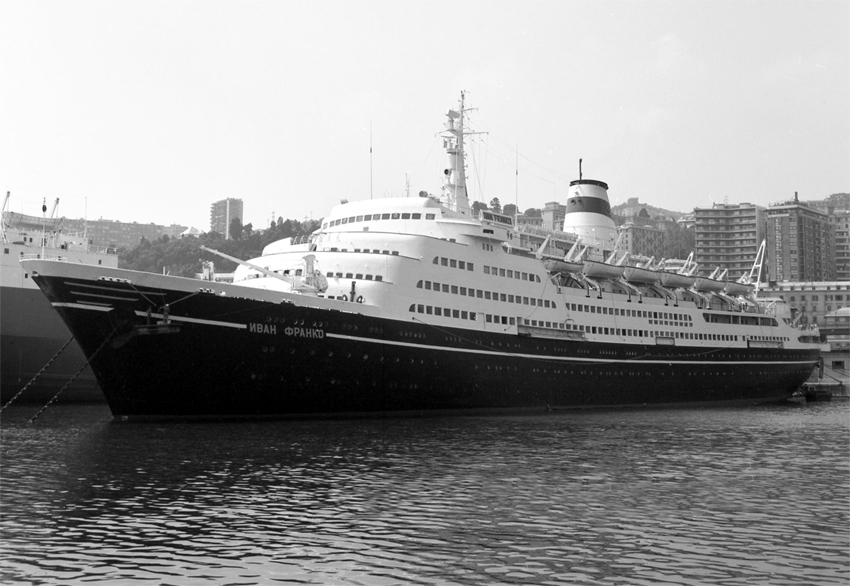 Here we see Ivan Franco during her short lay up prior her sale, but she looks like she is about to head off on a cruise!
But it is obvious that there are no flags on the ship and there is no sign of any exhaust from her funnel!
It was obvious to all that this company obtains old ships on behalf of Indian breakers and soon enough we heard that she was indeed on her way to India. The still beautiful looking MS Frank arrived at Alang on July 21, 1997, and she was soon beached and broken up.
Specifications for all Five "Poet" Class Ships
:
1. Ivan Franco / 2. Alexandr Pushkin / 3. Taras Shevchenko / 4. Shota Rustaveli / 5. Mikhail Lermontov.
Built by:                                    V.E.B. Mathias-Thesen-Werft, Wismar East Germany.
Yard & year:                               1. 125 - 1964 / 2. 126 - 1965 / 3. 127 - 1967 / 4. 128 - 1968 / 5. 129 - 1972.
For Company:                             Ships 1, 3 & 4. "Black Sea Shipping Company" - 2 & 5. "Baltic Steamship Company."
Overall length:                           578ft - 176.1m.
Beam:                                       77ft - 23.7.16m.
Draft:                                        26.6ft - 8.10m.
Gross Tonnage:                          1. 19,861 / 2. 19,860 / 3. 19,594 / 4. 19,567 / 5. 19,872 GRT.
1974/75:                                   1. 20,064 / 2. 20,502 / 3. 20,027 / 4. 20,146 / 5. 19,872 GRT.
Engines:                                    7 Cyl Sulzer-Werkspoor diesels. 21000 BHP.
Screws:                                     Two.
Service Speed:                           20 knots, max 21.5 knots.
Passengers:                                750 One Class.
Crew:                                        220 / 5. 300
************************************************
2 …
MS Alexandr Pushkin
later the much loved
MS Marco Polo
: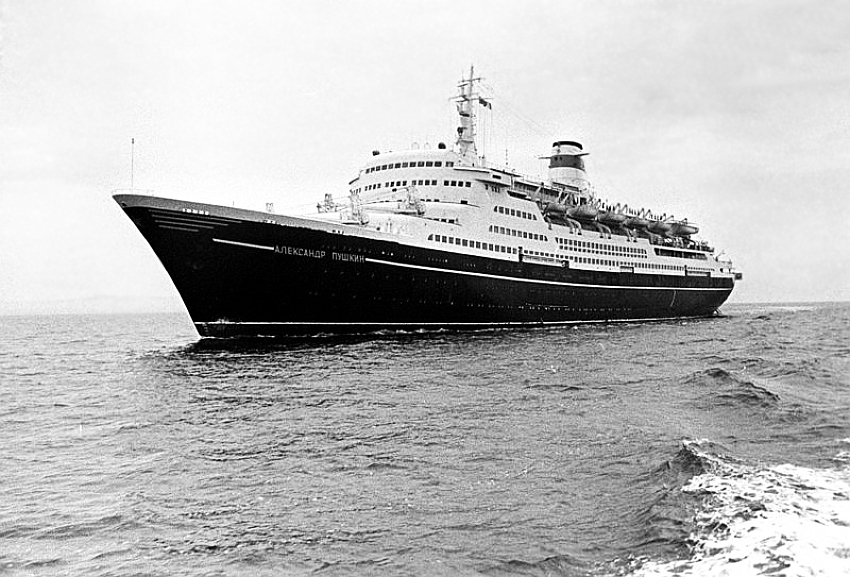 A fine view of the Alexandr Pushkin as built
The second "Poet" Class ship was launched on April 26, 1964 and she was named Alexandr Pushkin, after Russia's greatest ever poet "Alexandr Sergeyevich Pushkin." Upon completion she was registered at 19,860 GRT and she was delivered as the first "Poet" class liner for the USSR "Baltic Steamship Company" of Leningrad on August 14, 1965 and that same month she commenced cruising. It would not be until June 1965 she departed on her first Trans Atlantic voyage from Leningrad to Montreal.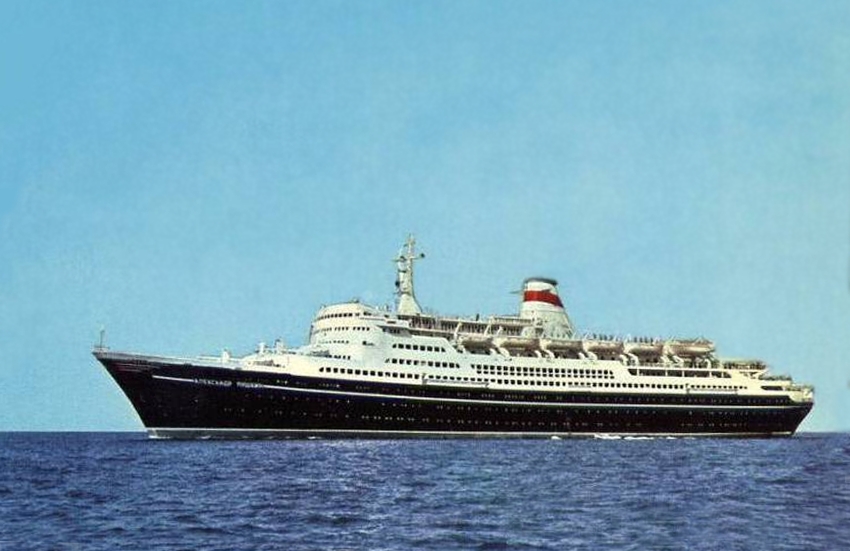 An early full colour postcard of the Alexandr Pushkin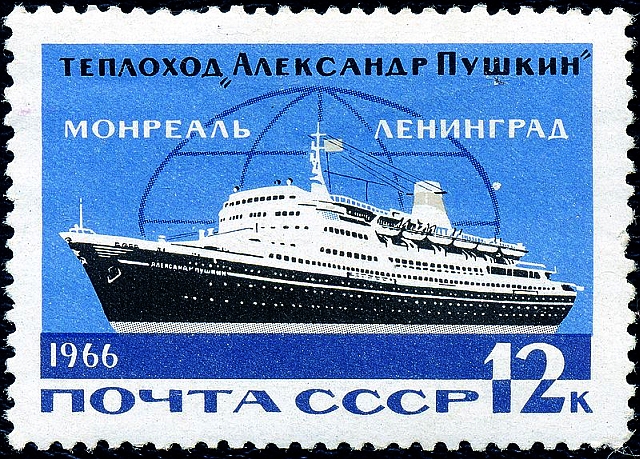 This is a special Alexandr Pushkin Russian stamp issued in 1966
She continued her combination of operating cruises as well as liner voyages to Canada and occasionally the United States, until 1975 when she received her refit. When completed her tonnage was registered at 20,502 GRT, and from here on she became a full time cruise ship.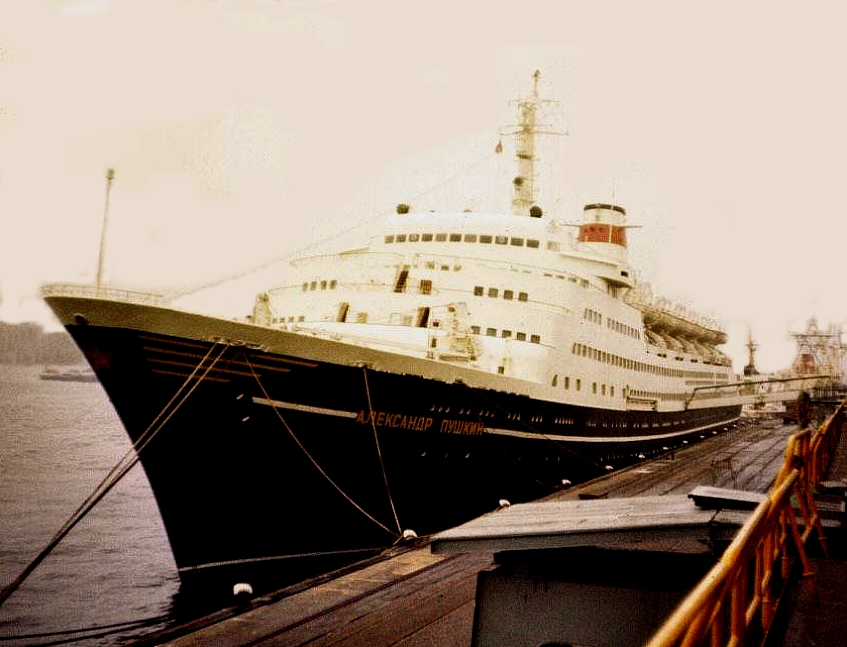 The new look Alexandr Pushkin, the full time cruise ship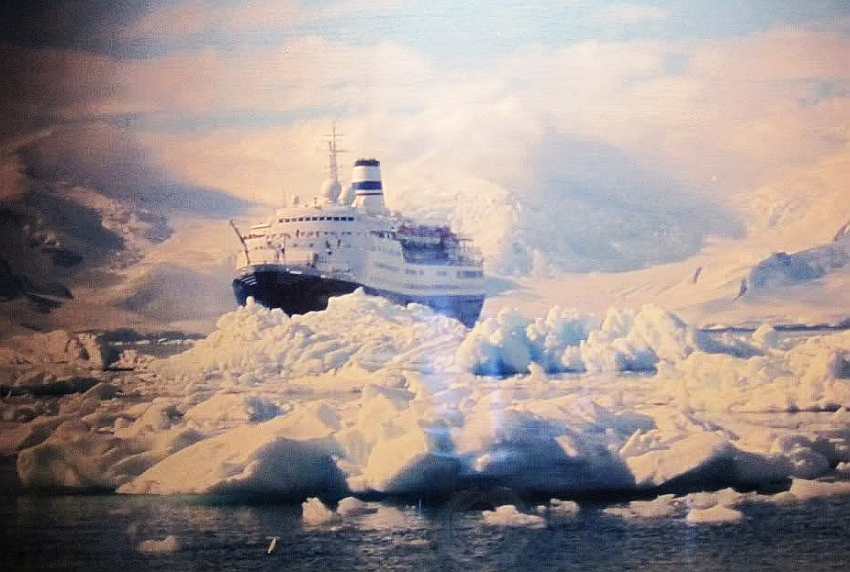 Here we see her in a rather cold spot in the north of Europe, such as the North Pole region
Although her four sisters had ventured as far as Australia and New Zealand now finally the Alexandr Pushkin having spent her career sailing out of European port was chartered by CTC and was the last of the "Poet" class ships to head Down Under, arriving in Sydney on December 21, 1984. She commenced a five month series of cruises that proved popular as usual, and she headed back to Europe in late May 1985. Upon her return home, she was transferred from the Baltic Steamship Company to the Far East Shipping Company, and she was reregistered at Vladivostok.
There is little known of her duties until late 1989, but Fear East Shipping did at sometime relocate her to Singapore and on February 6, 1990 the Alexandr Pushkin was laid up in Singapore and placed on the market.
MS Marco Polo 1991 -

Orient

Line

:
In around February 1991, Alexandr Pushkin was sold to Orient Line (Shipping & General) a company that was the brainchild of well-known entrepreneur Gerry Herrod. Following her purchase Marco Polo sailed to Neorion Shipyard, Greece where she arrived in June 1991 and they commenced by having her engines being reconfigured by Sulzer Diesels. Following this she was moved to Perama Shipyard, Greece, where she a comprehensive rebuilding program was commenced of the entire ship. Externally this would be the extension of her aft and fore decks as well as the heightening of the funnel, which was done for two reasons, to improve her smoke dispersion from the aft decks, but also to maintain the proportion of the ship.
It had been decided to almost redesign the internals of the ship, which was done under the guidance the guidance of naval architect Knud Hansen and interior designers Michael and Agni Katzourakis. In addition to the many visual changes, the ship was fitted with new Denny Brown stabilisers, additional diesel engines and the ship was brought up to the latest SOLAS standards. In total the refit took two and a half years to complete this massive project and it was a massive $30 to $40 million affair!
This fine new cruise ship featured brand new lounges and other excellent venues, as well as new decks and an open-air swimming pool. But more importantly, Marco Polo now had bright modern feel and she had tastefully furnished cabins all with all having private facilities. The décor on board was praised by ship reviewers as being quite unique and tastefully designed with that delightful touch of Art Deco here and there, and although the ship was quite spacious, yet at the same time she had that intimate feel about her.
In November 1993 having been completely transformed from a Russian ship, the MS Alexandr Pushkin into a superb new cruise ship named the MS Marco Polo, and she was indeed a wonder to behold! Marco Polo was now registered at 22,080 GRT.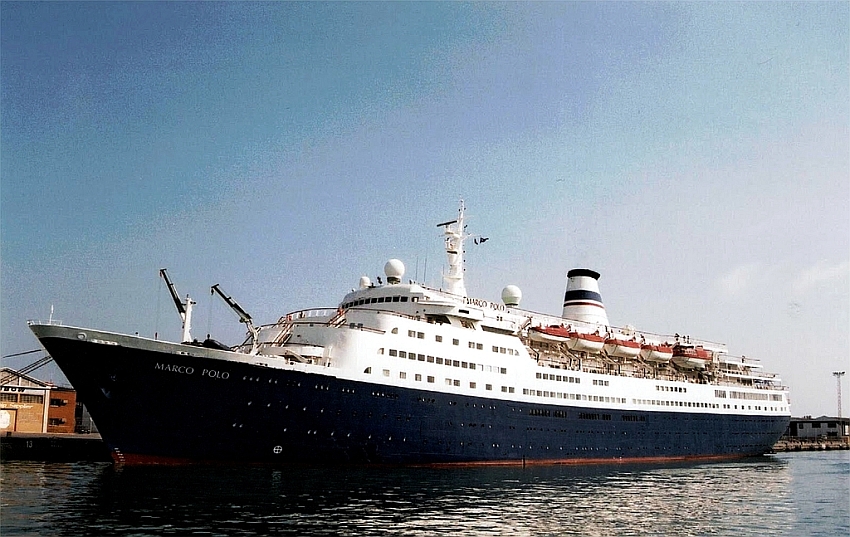 The superb Orient Line MS Marco Polo is seen berthed in her all new livery
Mini Marco Polo Photo Album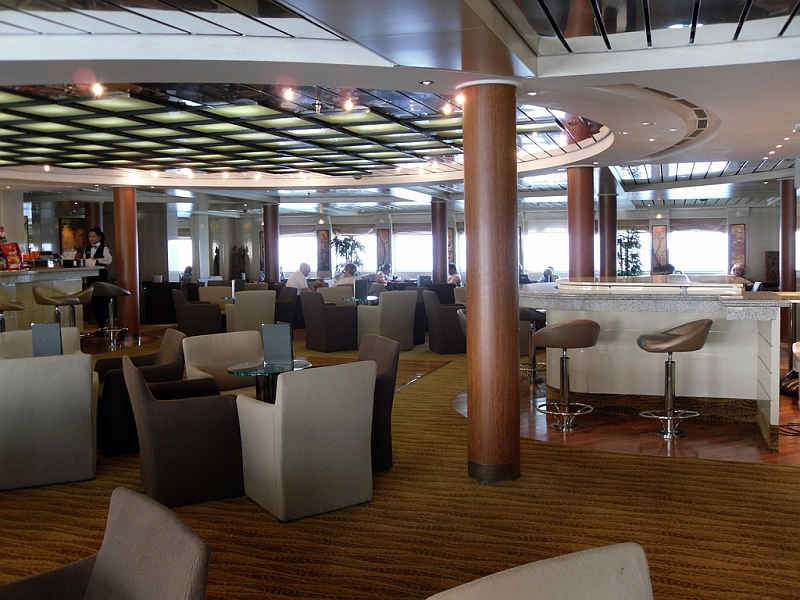 Marco Polo Lounge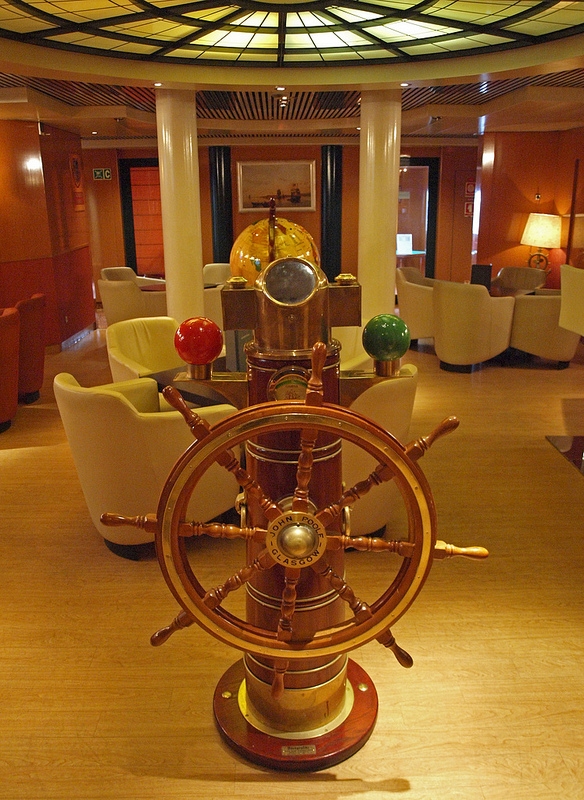 Columbus-Lounge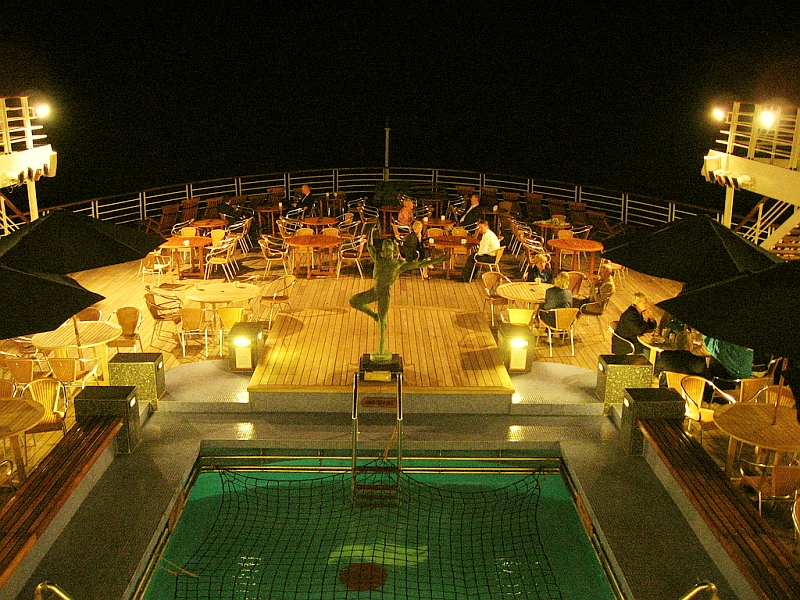 Passengers relax at night aft on the pool deck with Nureyev watching over them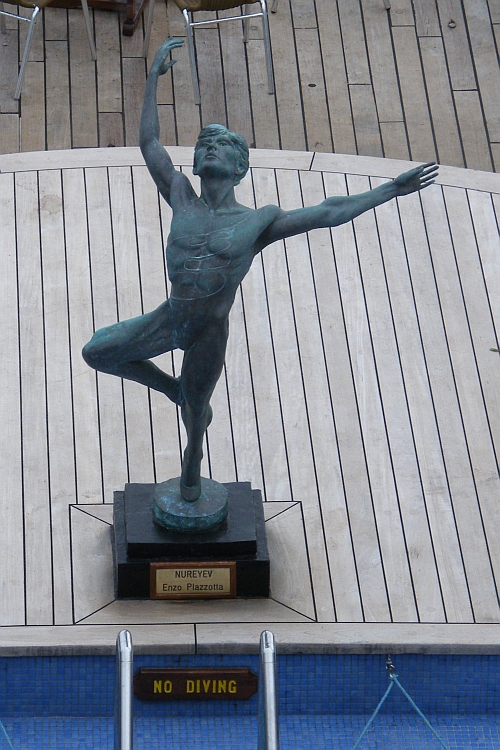 Just aft of the pool stands the statue of Rudolph Nureyev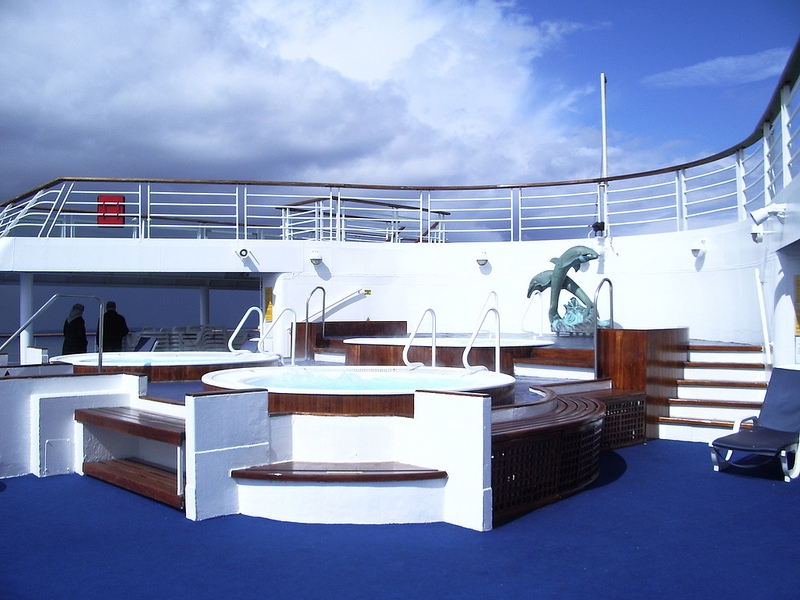 Up on Upper Deck aft there are three heated Jacuzzis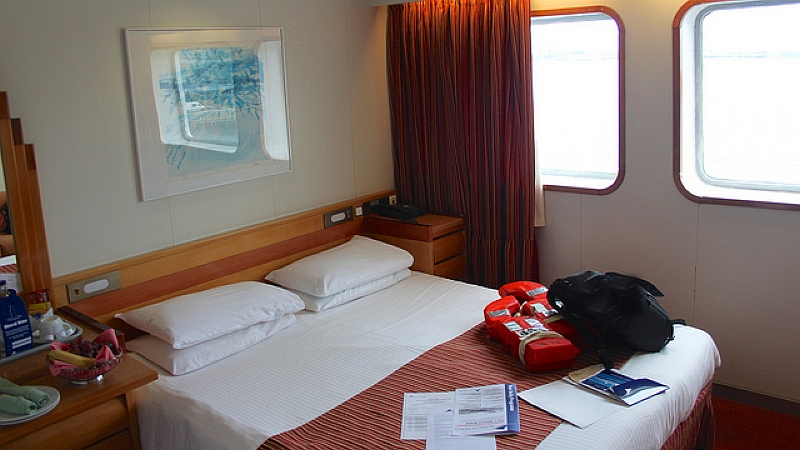 This is a cabin that can be made up as a twin bedded room, or as a double, as this one is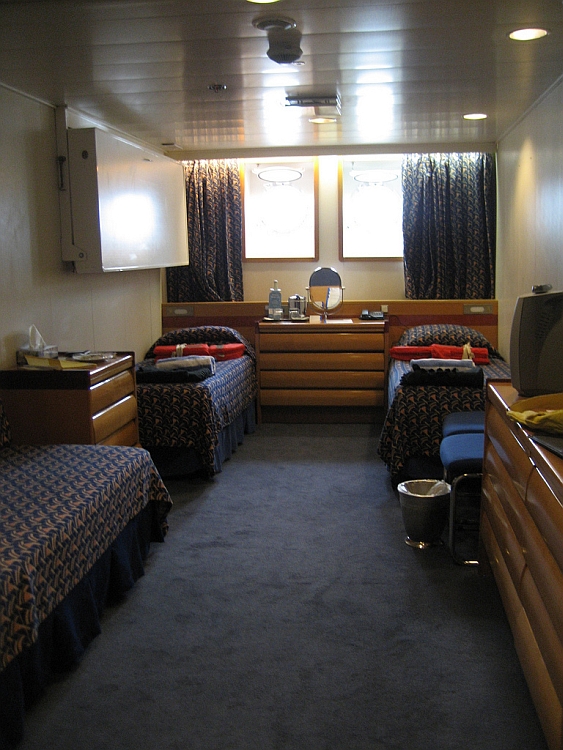 This room can be sold as a twin, triple, or a four berth; In this case it was a twin bedded room
The new MS Marco Polo accommodated 848 passengers, based on lower berths, or 915 utilising all sofas and upper berths, which would be never as she would be mostly be sold on a twin or occasionally on a three bedded basis, with a sofa or an upper berth in use. However, considering her passenger capacity she a good crew of 356, thus she has a good passenger to crew ratio!
Being ready for cruise duties the Marco Polo commenced on a range of itinerary's covering much of the world, there would be many of the more unusual destinations such as South-East Asia, Africa as well as one of her frequently visited destination, Antarctica. She attracted passengers from Britain, but also many from Australia, New Zealand having visited Down Under on a good number of time, as well as most other parts of the globe would get to see this superbly maintained veteran!
MS Marco Polo Deck Plan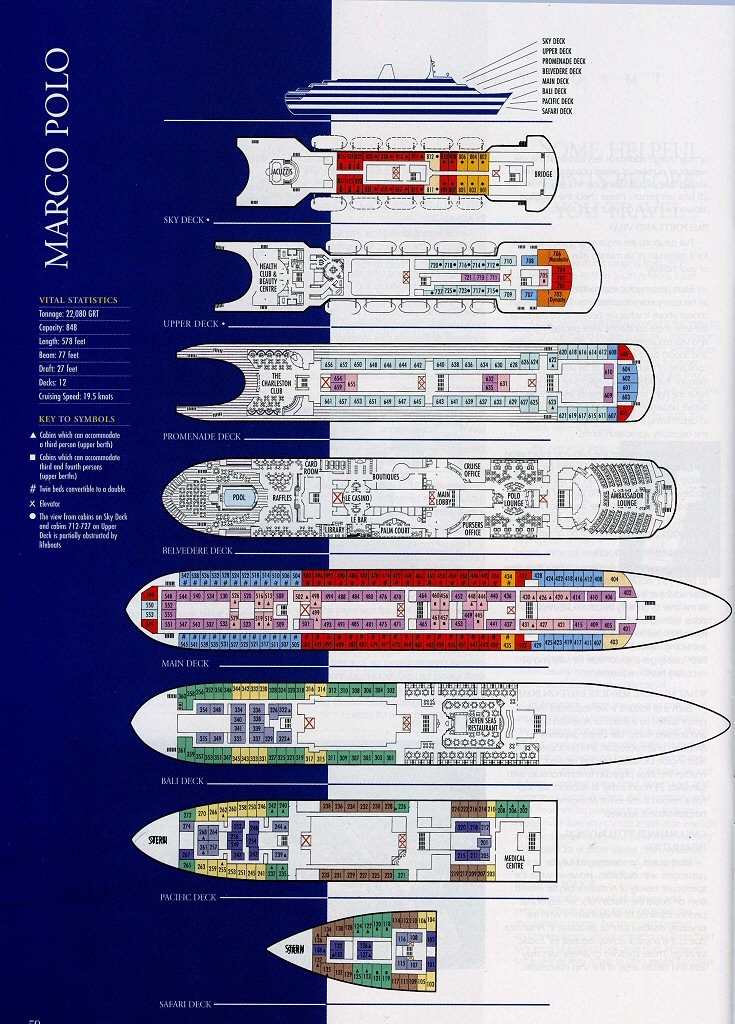 She has four lifts, one forward, two at the amidships lobby and one aft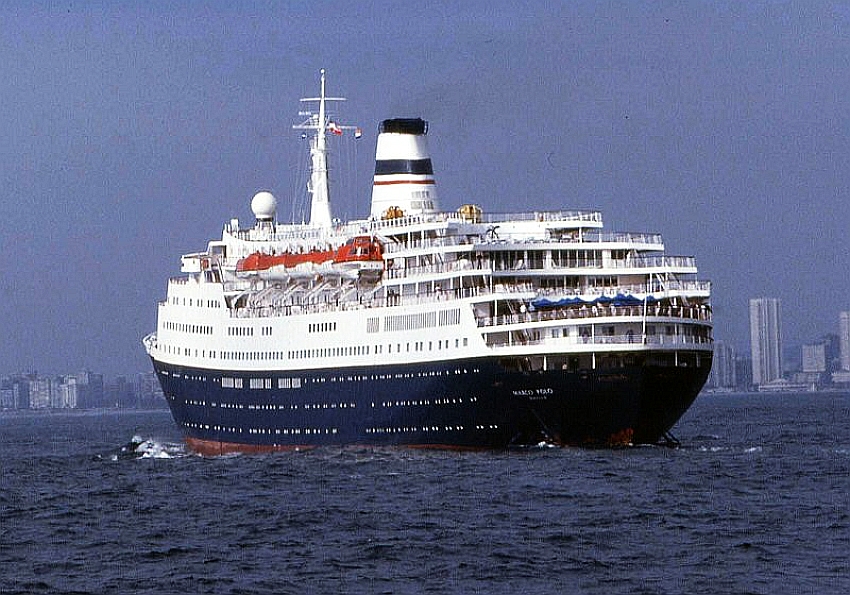 A great view of the Marco Polo's stern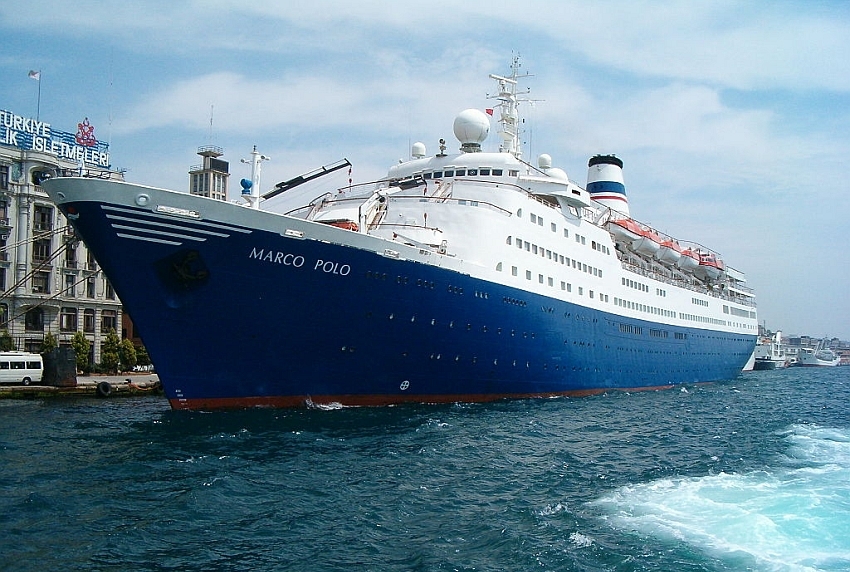 The Marco Polo is seen here at Istanbul
Photo sent in by Michael B (UK) – Photo by "StarLiner"
Orient Line under NCL/Star Cruises:
However, in November 1998 Orient Line was sold to Norwegian Cruise Line (NCL) but, then in 1999 NCL itself was acquired by the cruise company that was owned by the Malaysian Genting Casino giant Star Cruises, which was one of the worst things to happen to what was one of the great cruise companies! But Marco Polo continued services under the name of Orient Line and her livery remained unchanged. She remained a popular ship, but Star Cruises would soon try to destroy Orient Line, and remember it had been a great and a successful cruise company!
With Star Cruises having total control over NCL and with them having close to no cruise or shipping experience, Star decided that the Norwegian Crown was to join the Marco Polo in May 2000 under the name Crown Odyssey. You would think that they would realise, that Orient Line had a clientele that sailed with Orient Line because of their superb and famous classic ex liner, and the ambience that she offered, something a NCL ship never could, certainly not the totally unsuited Crown Odyssey! Then in March 2001 Star Cruises announced that their SuperStar Aries would also be joining Orient Lines fleet mid-2002 and that she would be renamed the Ocean Voyager. However, this did not happen as she was required elsewhere, then thankfully in 2003 Orient Lines returned to operating once more with just the Marco Polo with the Crown Odyssey being returned to the NCL fleet where she belonged, the mass market and not in this classy boutique Line!
With NCL, being owned and controlled by this Asian Casino based Star Cruises, they where far from being a good owner of Orient Line and they did everything in their power to place their stamp on the company and this beautiful ship, and it was damaging Orient Lines reputation and in turn their passenger loadings was falling fast, which was sad indeed, for she was a gem of a cruise ship!
It is a well known fact in the industry that NCL/Star Cruises was far from being a good cruise company and they are well known for being one of the most complained about companies in the word, by both passengers, also by their poorly treated crew, although they will not show it to their passengers, but their conditions are some of the worst of a major passenger company in the world! This also had a major effect on Orient line and the Marco Polo was suddenly not as profitable as she once had been.
Global Maritime & Transocean Tours:
Thankfully for the Marco Polo she was sold on June 4, 2007 to a Greek based Company, Global Maritime, but the ship would be available to her new owners on March 23, 2008, as she had already been scheduled.    
However, as this was the sale of the ship alone and not the company name, would this mean the end of Orient Line? On June 27, 2008 Star Cruises sold the Orient Line brand to Origin Cruise Group, owned by Wayne Heller. The new owners stated they would be acquiring a new ship for Orient Lines and soon they did so, having acquired the SS Maxim Gorkiy, being purchased from Sovcomflot on August 20, 2008. However, nothing ever came from their best laid plans and the ship was sold to be broken up in January 2009 and she was scrapped at Alang India. Nothing Further has happened with the name to date.
Marco Polo's new owners Global Maritime soon found a new operator for her, thus she was chartered out to the German "Transocean Tours." Thus in 2008 the delightful Marco Polo commenced cruising for the German and British cruise market, for which she was perfectly suited! She continued to sail the globe with great success.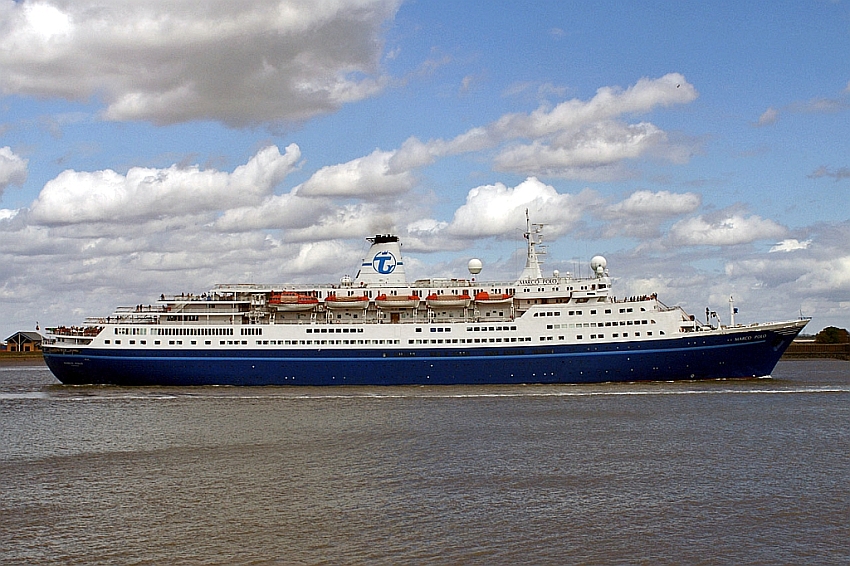 Here we see the Marco Polo with her Transocean logo on the funnel at Tilbury
Photograph by & © Ian Boyle  
Cruise & Maritime Voyages (CMV):
Although Transocean had intended to retain the Marco Polo until 2012, but for some reason, it turned out that from 2010 she was chartered to the British based "Cruise & Maritime Voyages" (CMV). Her itineraries include voyages from the England to South America during the northern hemisphere winter months as well as Britain to Northern Europe and the Mediterranean during the summer months and a grand around the word voyage.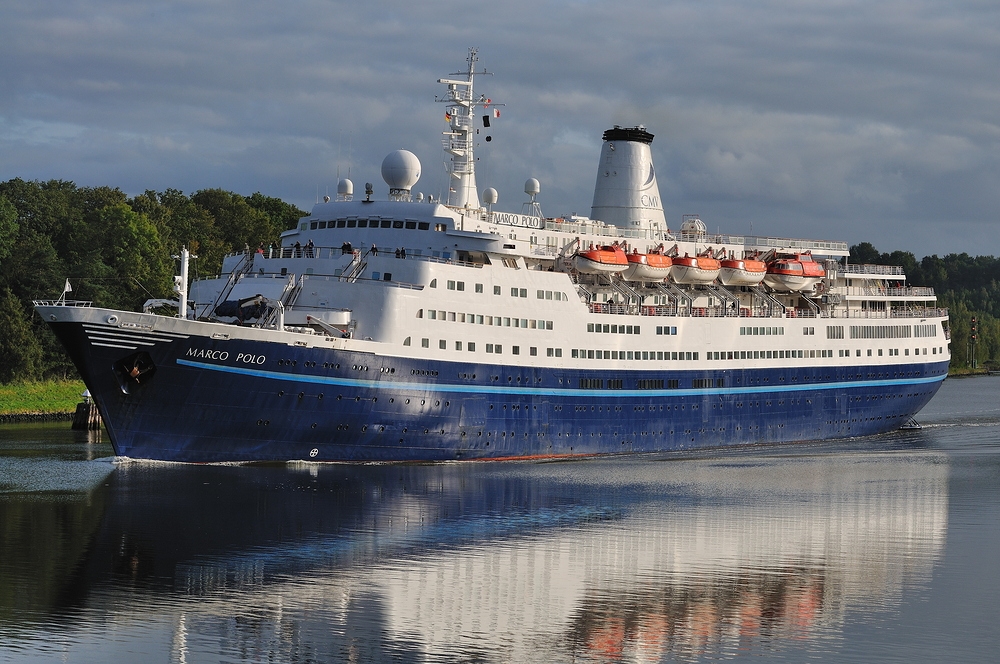 Here we see a brilliant view of the "Classic & Maritime Voyages" Marco Polo
Original photographer is unknown - *Please see the photo notes at the bottom of the page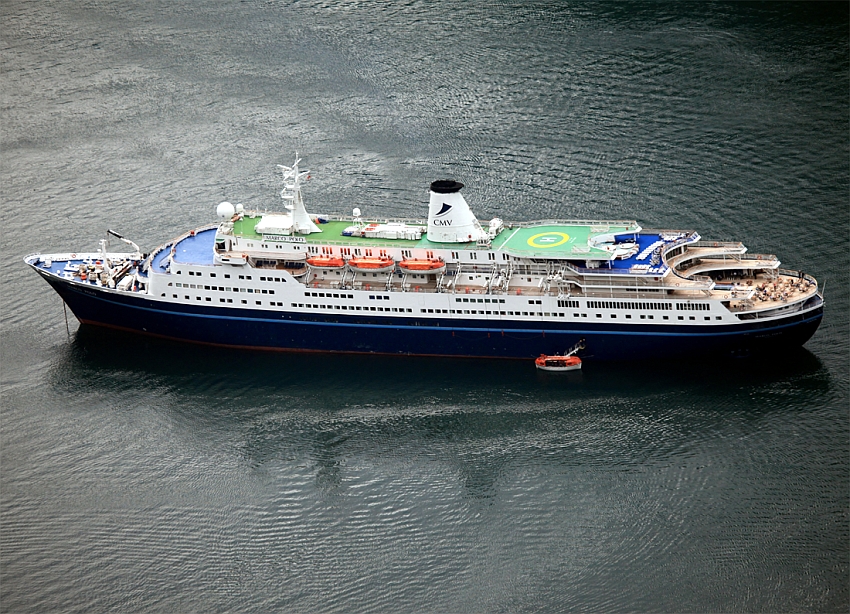 A wonderful aerial view of this fine ship, and also revealing her heliport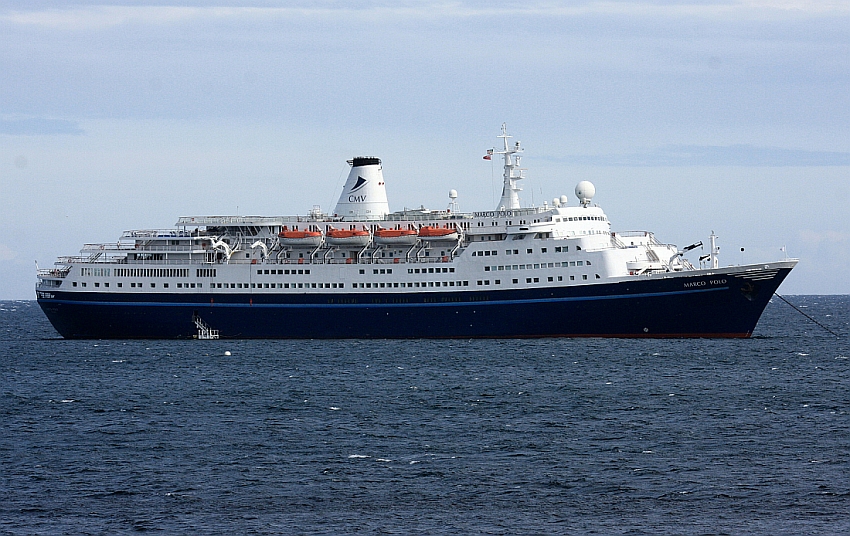 Marco Polo is seen here at anchor
Original photographer is unknown - *Please see the photo notes at the bottom of the page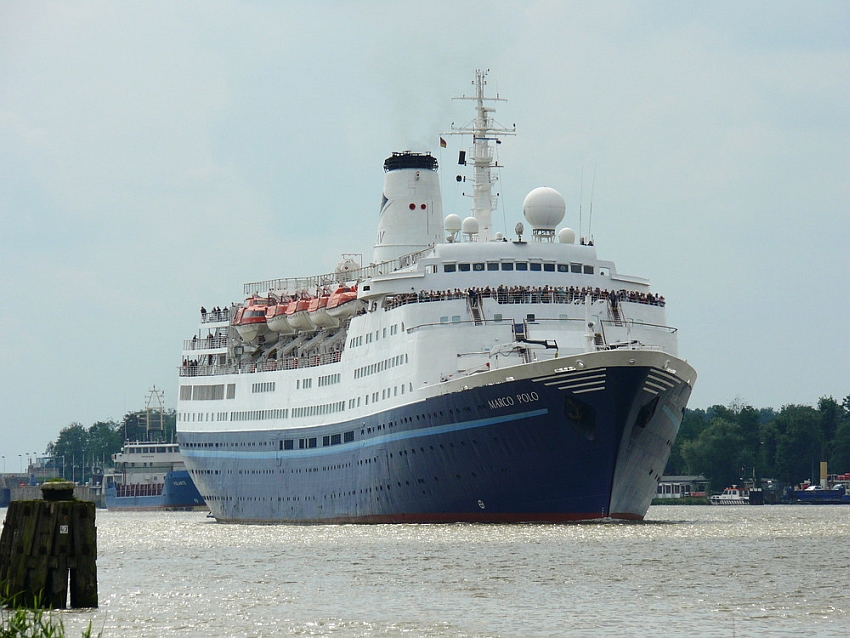 One of her most recent photo's sent to me, MS Maro Polo seen in 2012
Donald Sanderson - Liverpool UK
It had been said that she may be sold after her final grand world voyage and it could well be to the breakers, that would indeed be a great shame for this wonderful survivor of the "Poet" Class Liners, for she was launched in 1964, that is 49 years ago! A great and a much loved ship indeed!
Thankfully, it is now 2016 and this fine ship id 51 years young and she celebrated her 50th.last year! You will find that a brand new review with countless brand new photographs by John Happs and his wife has been placed online and the link is located below! At the moment, the Marco Polo is scheduled to sail during 2017; However, I have been advised that she is on the market! Thus I suggest if you are seeking a wonderful Classic Cruise experience that only the Marco Polo can provide these days, you better hurry and contact CMV as fast as possible!
Reuben Goossens.
Go to
Page Two
For the other three "Poet" Class Liners
Visit the all New Marco Polo 2016 Review by John Happs & Reuben Goossens
"Blue Water Liners sailing to the distant shores.
I watched them come, I watched them go and I watched them die."
****************************
Visit our ssMaritime Main INDEX
Where you will discover over 700 Classic Passenger & Passenger-Cargo Liners!
ssMaritime.com & ssMaritime.net
Where the ships of the past make history & the 1914 built MV Doulos Story
Please Note: ssmaritime and associated sites are 100% non-commercial and the author does not seek funding or favours and never have and never will.
Photographs on ssmaritime and associate pages are either by the author or from the author's private collection. In addition there are some images and photographs that have been provided by Shipping Companies or private photographers or collectors. Credit is given to all contributors, however, there are some photographs provided to me without details regarding the photographer or owner concerned. Therefore, I hereby invite if owners of these images would be so kind to make them-selves known to me, my email address can be found at the bottom of the page on www.ssmaritime.com, in order that due credit may be given.
ssMaritime is owned & © Copyright by Reuben Goossens - All Rights Reserved