S.S. Jan Pieterszoon Coen 1915 to 1940
Please Note: Firefox and some other Search Engines may not be suitable
Use Google Chrome for this Web Page to load perfectly!

Please Note: All ssMaritime and other related maritime sites are 100% non-commercial and privately owned, thus ssmaritime is NOT associated with any shipping company or any other organisation! Although the author has worked and been involved in the passenger shipping industry for well over 60 years, but due to his old age and poor health, he was forced to retire. Yet, he has completed well over 1,435 Classic Liners, Passenger-Cargo Liners as well as humble converted C3 converted Migrant Liners, which has transported countless thousands of folk to the new world, as well on vacations'. I trust the features online will continue to provide Classic Liner and Ship enthusiasts both the information they are seeking, but more so provide a great deal of pleasure and relive many happy memories!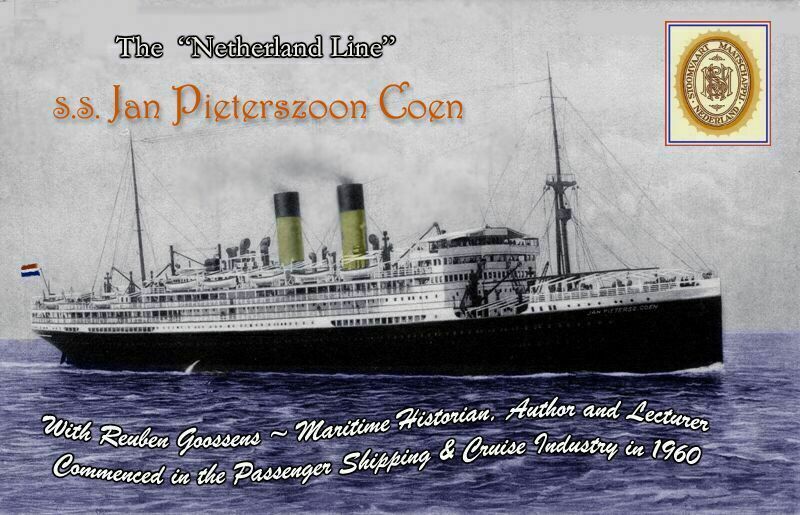 Please Note: Postcards, photographs & other images are either from the author's private collection or from my supporters.
Thus a very special thank you to five very special ssmaritime supporters for sending me their wonderful
Photographs & images for I could not have completed this feature to this point.
I am sorry but some of the images shown may not be of the highest quality, but they are the best that are available.
Brief Introduction to a great company:
The "Stoomvaart Maatschappij Nederland" ("Netherlands Steamship Company") or S.M.N., also known as the "Netherland Line", was a Dutch Shipping company that operated from 1870 until 1970, when it merged with several other companies to form what would become "Royal NedLloyd".
The "Stoomvaart Maatschappij Nederland's" motto was "Semper Mare Navigandum" ("Always sail the seas"), and as you will have noted it very conveniently has the very same initials as the companies name.
S.M.N. was founded on May 13, 1870 in Amsterdam for the trade between North Western Europe and the former Dutch East Indies (modern Indonesia) via the newly opened Suez Canal. Construction of the Suez Canal had started on 25 April 1859. Together with the development of steam engines with lower coal consumption (the compound engine), the realization of a suitable canal would make sailing ships obsolete on the passage to the East Indies. Of course many had a wait and see attitude towards the canal, but when it was nearing completion in 1869, it became clear that something had to be done.
By 26 August 1869 a commission had been formed on the instigation and under the protection of Prince Hendrik, nicknamed "The Seafarer". It consisted of G.J. Boelen, J.G. Bunge and J. Boissevain and was to negotiate the foundation of a regular steam shipping line from the Netherlands via Suez to the Dutch East Indies. On 31 August the commission was working 'under the leadership of Prince Henry' at Soestdijk Palace his summer residence. On 1 September the commission was summoned and received by the king. He was informed of the plans and views of the commission and declared that the foundation of the shipping line was one of his most serious wishes.
The questions and challenges that had to be addressed out by the commission were many. The kind of ships that were required, the number of ships required, a calculation of when the company would be profitable, and finally how much capital was required. The required amount of capital was staggering and required some kind of government assistance, subsidy or guarantee to raise it. This was also why Prince Henry was involved. The Amsterdam Chamber of Commerce was also involved in the discussion, and addressed the finance minister to support and cooperate in the plan for a direct shipping line between the Netherlands and Java. In mid September the commission again met at Soestdijk.
In February 1870 a contract was signed between the Department for the Colonies and the commission. It was a detailed agreement. The commission would get the time to found a public company before 15 May 1870. It had to commission four steamships of a certain specification for a line to the Dutch East Indies. The first of these had to leave for the Indies within one year of founding the company. On each return trip the government would guarantee a substantial amount of cargo for a minimum price. In return the state got a preferred position on the less costly route towards the Dutch East Indies. There were penalties for trips that took longer than 50 days. The guaranteed price and preferred position would last till 1 January 1875, at which date a new contract would start.
The complexity of the guarantee was connected with the trade system on Java. The Netherlands Trading Society still had a quasi monopoly on the production of coffee, tea, sugar and indigo, and Dutch shipping lines could subscribe to transporting these for the lowest price. If this system was maintained, steamships would not get any cargo. Steamships had higher costs, but for the owner of the cargo a higher tariff was redeemed by lower capital cost, lower insurance cost and better quality. Therefore, the Netherlands Trading Society had to agree beforehand on paying for this advantage, instead of using (or being forced to use by law) her monopoly to drive down prices on steamships to the level of those for sailing ships.
The guarantee was devised such that on each return trip to the Netherlands Trading Society would guarantee a cargo of 600 lasts (c. 1,200 tons), but in total not more than 4,800 lasts in the first year. The guaranteed price would be 22.50 guilders higher than the average price agreed by the NTS for sailing ships in the previous 12 months. The minimum for this average would be 75 guilders per last, so the guaranteed price was 97.50 guilders. In case that the company would use smaller ships, this minimum would be 20 guilders above the average. For tin the tariff would be only one fourth of the above.
Prospectus and foundation of the public company:
On March 14, 1870 the prospectus of the company was published. The board of directors would consist of the executive members: G.J. Boelen, J. Boissevain and C.J. Viehoff; and the non-executive members J.G. Bunge, A.C. Wertheim, C.A. Crommelin, A.A. Bienfait all from Amsterdam, and M.M. de Monchy (Rotterdam), P.C. Loopuyt (Rotterdam) and J.E. Cornelissen (Utrecht). There was also a supervisory board of commissioners, not directors, consisting of C.J.A. den Tex mayor of Amsterdam, E. Fuld, E. Mohr, A.R.J. Cramerus and C.F. Quien all from Amsterdam, under the honorary presidency of Prince Henry. The capital of the company would be ƒ6,000,000 guilders, of which ƒ3,500,000 would be placed, divided in shares of ƒ1,000 guilders each and sub-shares of ƒ500 guilders each. The money would be used to buy ships and invest in warehouses, workshops and jetties. The prospectus announced that the company would buy somewhat larger ships than required. The prospectus held a rather detailed calculation of the profitability of the investment, promising a 16% dividend.
The public could subscribe to shares on March 24, 25 & 26, 1870. The subscription failed when it got stuck on ƒ2,487,000 guilders, one million short. A new subscription was opened for April 2 & 4. This second attempt succeeded in placing the remaining shares.
On May 13, 1870 the contract for the foundation of the public company was signed. It led to a very long publication of the names and number of shares of all shareholders in the company and that was the beginning of the great "Stoomvaart Maatschappij Nederland". They owned and operated 170 Passenger Liners, Cargo-Passenger ships and Cargo Ships during their 100 years of S.M.N. years, and their great success continued during the "Royal NedLloyd@ years.
*********************
"Stoomvaart Maatschappij
Nederland
"
The … "Netherland Line"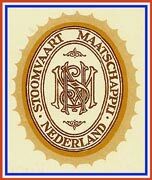 A Brief Introduction to the "Jan Pieterszoon Coen":
The S.S. Jan Pieterszoon Coen was a Dutch Passenger Liner that was named after the former Governor-General of the Dutch East Indies (today's Indonesia). This fine ship operated for 24 years, but she was chosen for an unusual role at the beginning of World War Two, which brought about her sad end and this feature will cover all her 24 years in detail.
Reuben Goossens.
*********************
Construction:
S.S. Jan Pieterszoon Coen was ordered on December 12, 1912, to be constructed by the "Nederlandsche Scheepsbouw Maatschappij" (Netherlands Shipbuilding Company) shipyard at Amsterdam at a cost of ƒ3.720.423 Gulden. Her first hull-plate was officially laid down on October 14, 1913 and construction began.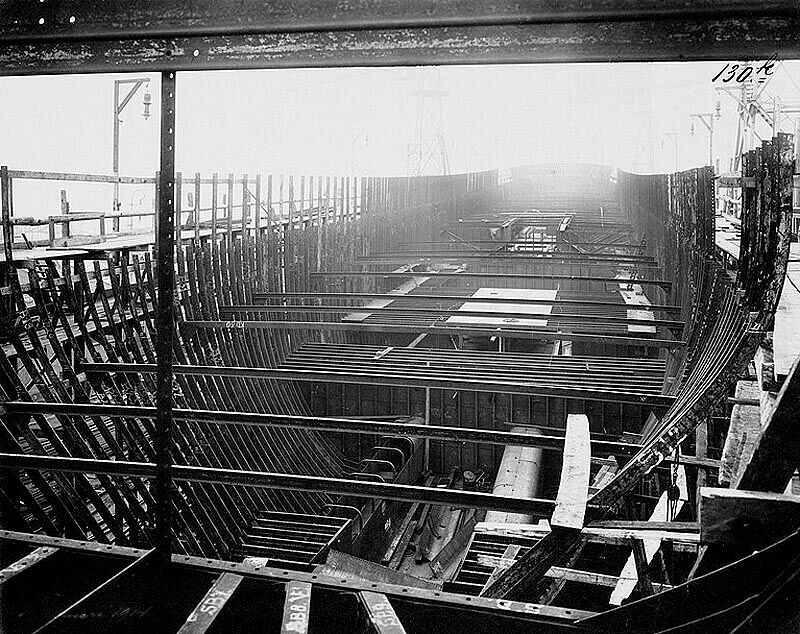 With her keel having been laid, her hull ribs are seen being built up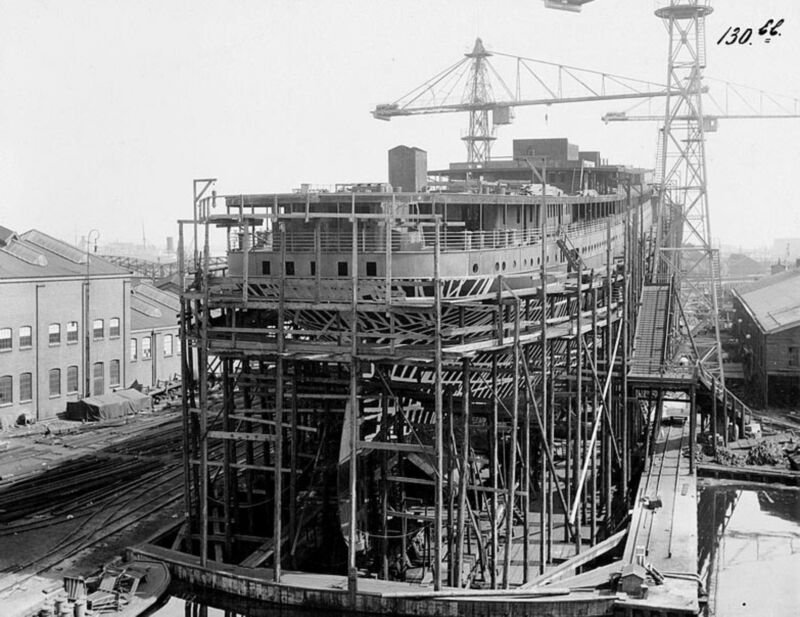 She is beginning to look like a ship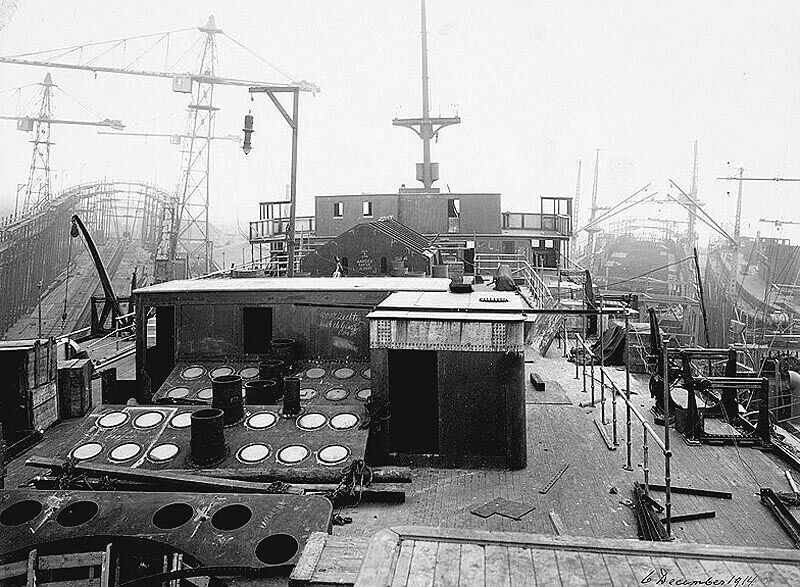 Decks have been installed and she is taking good shape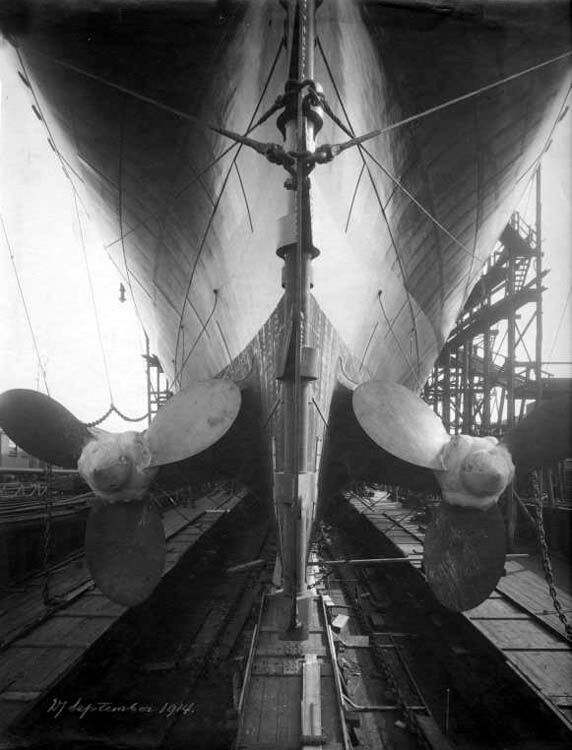 Above & below: Her rudder and props are on September, 27 1914, in three days she will be launched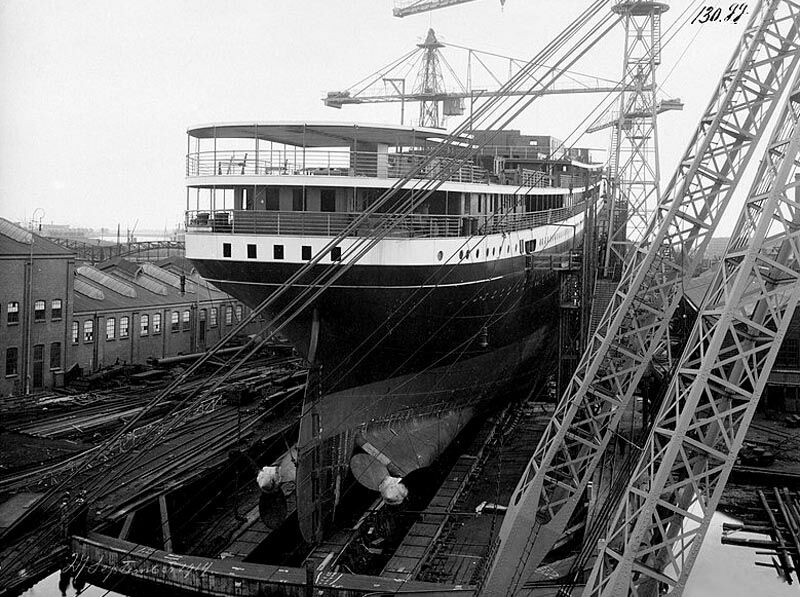 Launch Day:
The big day has finally arrived on September 30, 1914, as she was ready to be launched; she was christened by Miss Cornelia Anna Clasina den Tex, the wife of one of the S.M.N., directors and then she was launched, and she gracefully slid down the slipway into the water.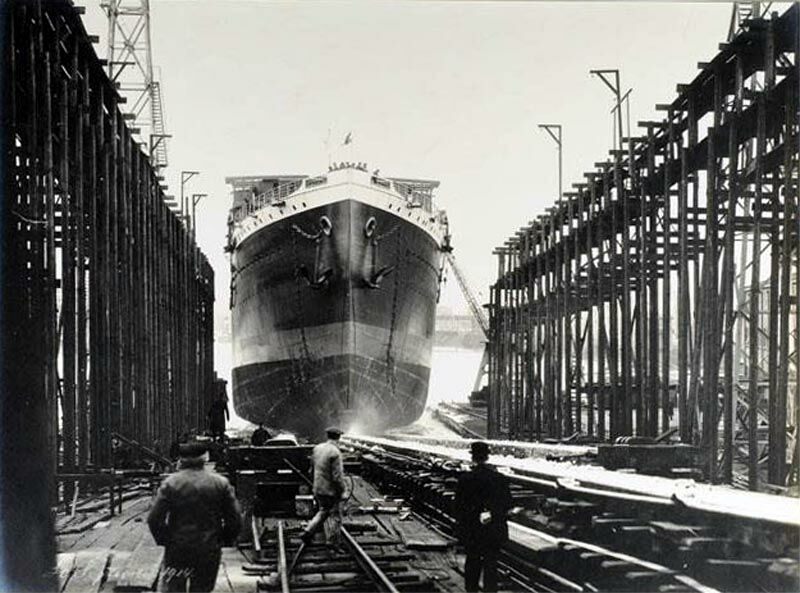 There she goes down the slipway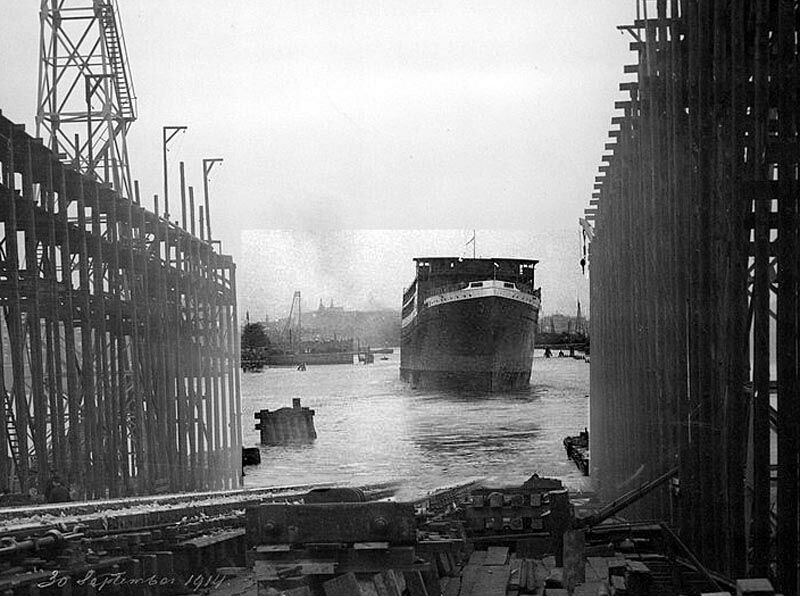 She entered into the River with a bit of a splash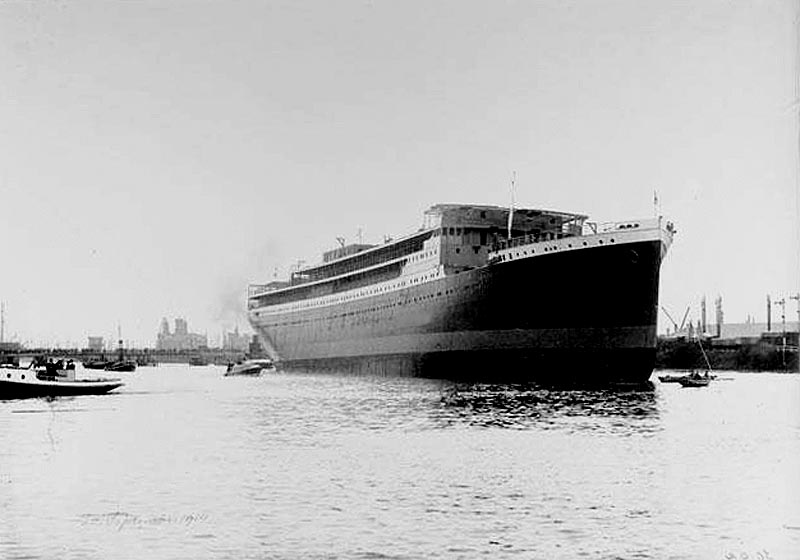 And once in the River, tugs took her undertow
Having entered the water the "Jan Pieterszoon Coen" was taken under tow and she headed for the builders fit-out berth where she was completed which took around eight and a half months.
Below are several photographs taken during her fit-out taken on April 5, 1915 and she is getting very close to being completed. Her funnels are fitted, and it will be under two and a half months before she will undertake her Sea Trials.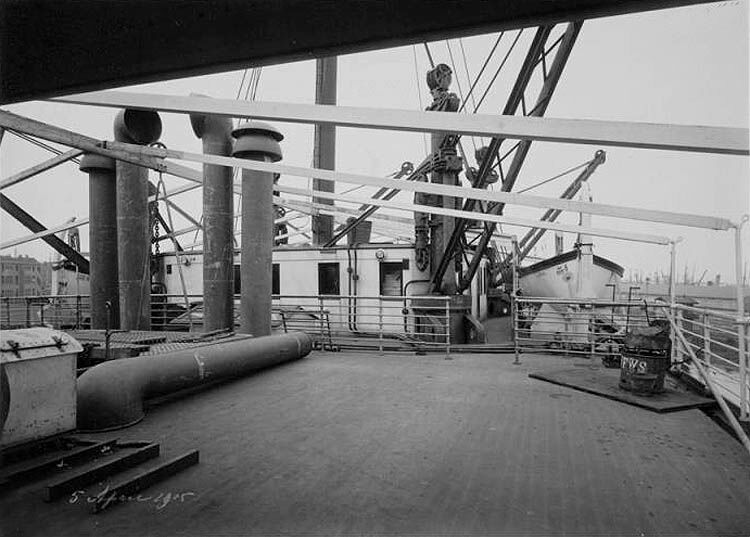 Above & below: here are two photographs of her during the Fit-out and as we can see she is close to completion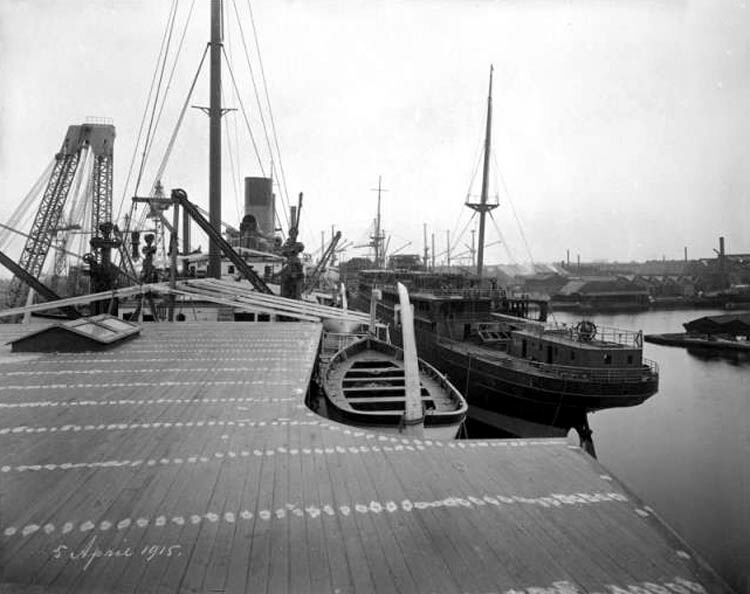 She was in fact completed and as she needed to have certain special touches to be taken care off, it had been decided by S.M.N. to have her taken to their Amsterdam berth, thus as she was not crewed up as yet, on May 20, 1915, she was taken under tow, but strangely she was towed by her stern, and thus the slight list that is seen in the photograph below.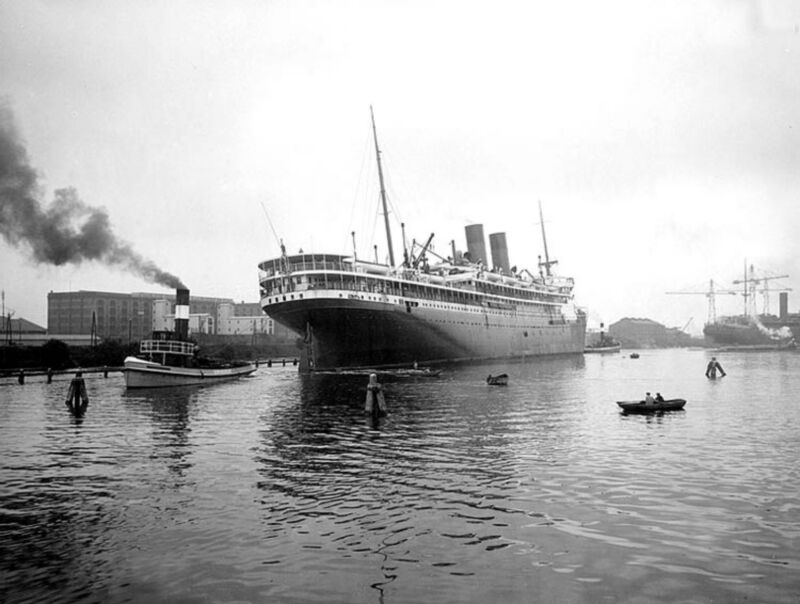 When she was in Amsterdam she was partially crewed, for soon she would be not only undertaking her Sea Trials, but the Company had invited a considerable Guest list, some being Government Members and other very important people, and a grand luncheon would be served in the First Class Dining Room, thus everything would have to be perfection!
<![if !vml]><![endif]>
Her Sea Trials:
On June 12, 1915, S.M.N's new flagship departed and the truth was, at that very time she was the largest ship ever built in the Netherlands, and she headed from Amsterdam sailing through the "North Sea Canal" to IJmuiden for her Sea Trials, but she first moored at one of the locks before heading into the North Sea.
S.M.N. Director J.B.A. Jonckheer
The reason for this stop was to allow invited guests to come on board as they would not only experience this fine new liner but also the Sea Trials. At the very last minute they were joined by the SMN Director J.B.A. Jonckheer.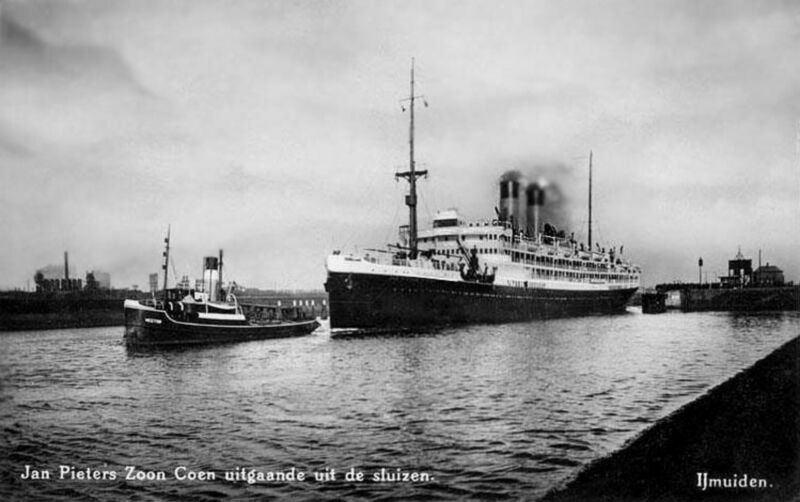 She is seen here having gone through the Locks
Captain H.G.J. Uijlkens went through a few points with the pilot as well as some of his officers who were present on the Bridge.
Guests on board included four Government Ministers, the Mayor of Amsterdam, as well as two Aldermen. A large number of senior officials, important business men and supervisory boards and management of the Shipyard and of course the Shipping Company were also on board. The Ministers and the Mayor were accompanied by their ladies. Once everyone had embarked, the "Jan Pieterszoon Coen" left the lock and she headed for the North Sea, which turned out to be very smooth on this beautiful summer's day.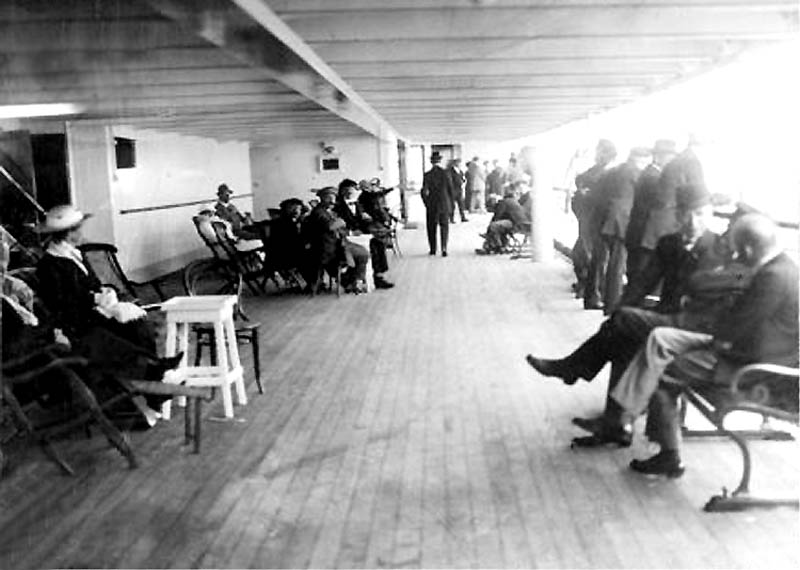 Here are just some of the guests enjoying themselves, relaxing on Promenade Deck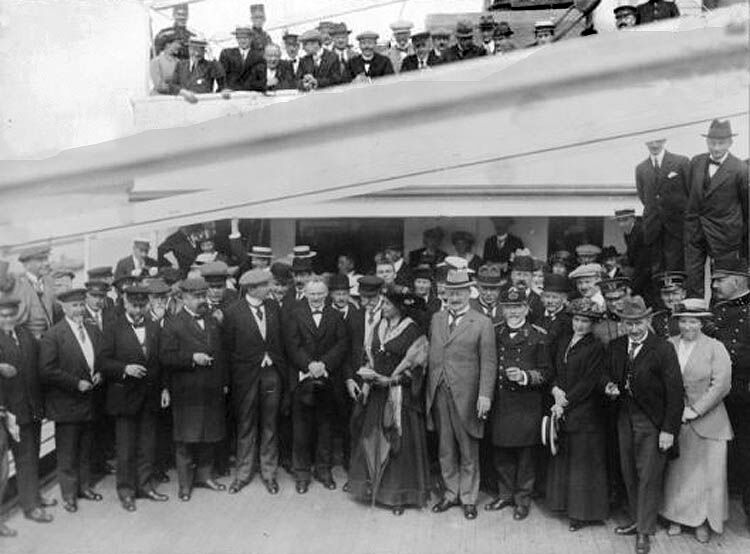 Whilst some of the important guests decided on a more official photo for the Newspaper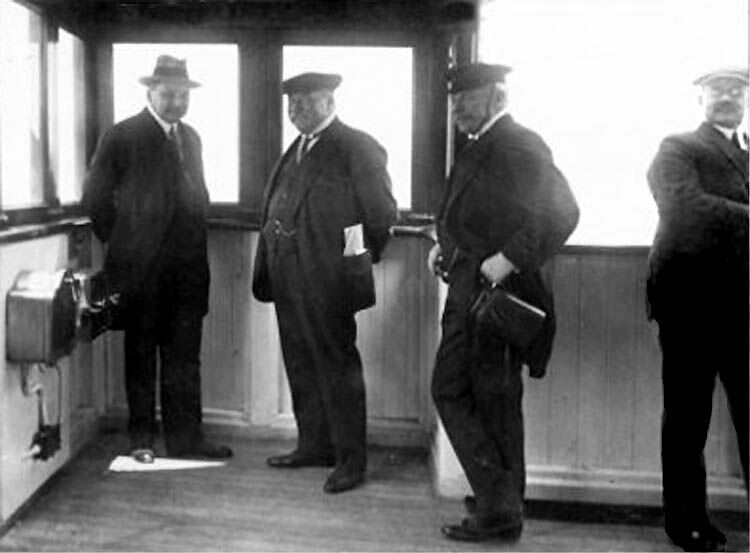 Some of the Guests on the Bridge
She headed southwards, but during lunch a Submarine was sighted with just the conning tower slightly out of the water, and many of the visitor's on board were afraid that it might have been one of those dreaded German U-Boats (for WWI had already started on July 28, 1914), but the Captain and the Company knew 1, Holland was a "Neutral Country" and 2, it was in fact one of their very "own" submarine's who were escorting the "Jan Pieterszoon Coen" back to IJmuiden. During her actual speed trial she achieved a respectable 15 knots and everything on board worked perfectly, and as did the galley having cooked a fine meal for all her guests, and the service was a huge success for everything was perfection, which was so typically "Netherland Line".
During the Afternoon, the Builder's Yard flag was lowered and the "Stoomvaart Maatschappij Nederland" flag was officially raised, and with that the ship was handed over to the S.M.N., Director Mr. Jonckheer. When the ship reached the lock again where everyone boarded, the majority of the guests left the ship. She then returned to the yard in Amsterdam for her hull to be given a fresh coat of paint, and on June 17, she was delivered to her S.M.N. in Amsterdam on June 17.
Ship Details:
The S.S. Jan Pieterszoon Coen had two funnels and two masts, and was registered having a tonnage of 11,140 GRT (Gross Registered Tons), and 7,106 NET (Net Tonnage) and had a length of 153.44 m - 503.5 ft, a beam of 18.4 m - 60.4 ft and a draught of 8.05 m – 26.5 ft. She had seven decks, three continuous the full length of the ship, with a shelter deck. Navigation and safety equipment included wireless and submarine signals (bells) and fourteen lifeboats, two of them being with engines, sufficient for all persons on board. She had eight watertight bulkheads dividing the ship into nine watertight compartments with ten watertight doors capable of being closed remotely from the Bridge. In her holds she had space for; 350,000 Cubic Feet of grain and 300,000 Cubic Feet for Bales.
As built she had accommodation for 200 First Class in 107 cabins and 4 Deluxe Suites, 129 Second class in 49 cabins, and 46 third class in 16 cabins and 42 fourth class Passengers. First Class passengers had access to a Deck Saloon, a Verandah Cafe, Smoking Room, Nursery, Gymnasium, Photographic dark room and a 138-seat Dining Saloon. She had a crew of 161.
Maiden Voyage and Services:
She was delivered to S.M.N.'s wharf in Amsterdam on June 17, 1915, and she fully crewed, and made the ship passenger ready wit all her accommodations being made up in perfect shape! In addition she was fully stocked up with fine foods, and her holds were loaded with cargo, and the day finally came for her to depart on her maiden voyage, which was on Saturday September 11, 1915. With all her passengers on board and all visitors having enjoyed their time on board this beautiful ship, but now they have left the ship and all gangplanks have been removed, passengers were lining the decks of the ships in anticipation of her departure, whilst the ships band was playing on Promenade deck adding to the emotions of all.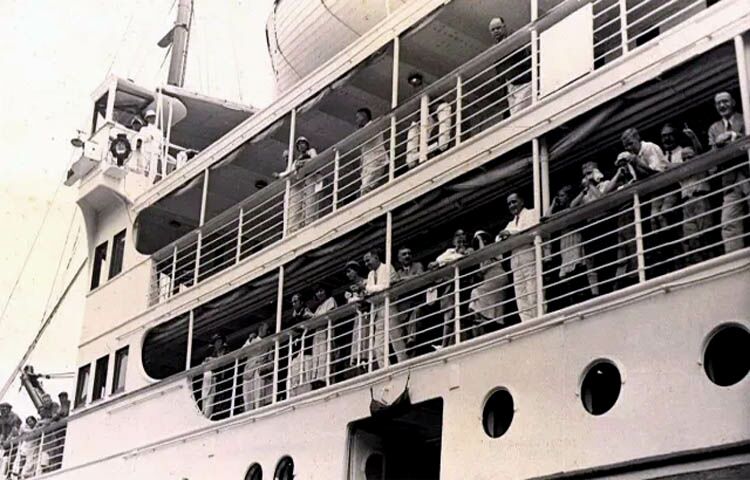 Her first big voyage lay ahead for her and her passengers
Then came the time at precisely at 3 pm, as the ship moved away from the dock and both cheers and tears broke loose for everyone knew well that they may not see their loved ones again either for a very long time, or even ever again. Thus, although many were happy to sail, it was also a time of sadness! But with the joyful music playing, it somehow kept it a joyful event as the ship moved away from her berth and family and friend were finally out of sight, and the ship headed down the River IJ and was soon on the "North Sea Canal" bound for the North Sea. Passengers soon were wandering around the ship or heading to their cabins unpacking their suitcases, or having a drink in one of the lounges, but it would not be long before they would be enjoying a delightful Diner in the Dining Room! Amazingly, they would only be at sea for just one night, as tomorrow they would be in England. On this voyage she sailed through the Mediterranean Sea to Italy, then through the Suez Canal to reach her destination being Batavia (today's Jakarta) in the Dutch East Indies.
Her Complete Itinerary:
Her 133 day service route was extensive and it was as follows: Amsterdam, Southampton, Nice, Genoa, Port Said, Sabang, Belawan Deli (Sumatra), Singapore, Batavia/Tandjong Priok (Jakarta), Singapore, Balawan Deli, Sabang, Colombo, Port Said, Genoa, Nice, Southampton, Amsterdam.
S.S. Jan Pieterszoon Coen departed Amsterdam for Batavia again on January 1, 1916, but this time she would sail around Cape of Good Hope and Cape Town to reach Batavia. She would arrive on February 17, 1916 before returning to the Netherlands, where she arrived on May 6, 1916.
On May 6, the ship was back in its home port of Amsterdam. The last part of the journey through the North Sea was made under the guidance of the tugboat Roode Zee. After 2 voyages to the Dutch East Indies she was laid up in Amsterdam due to World War One.
She returned to service in March 1919, and she departed Amsterdam for her third ever voyage to the Dutch East Indies on March 8, 1919.
On May 13, 1920, the Mahler Festival was celebrated by a special event held on board the "Jan Pieterszoon Coen" whilst she was in Amsterdam. This was organised by Willem Mengelberg, director of the Amsterdam Concertgebouw Orchestra and Arnorld Shönberg, with performances or speeches by Egon Wellesz, Alma Mahler, Gertrude Foerstel, Sarah Charles Cahier, Arnold Schoenberg, Richard Specht and Paul Stefan.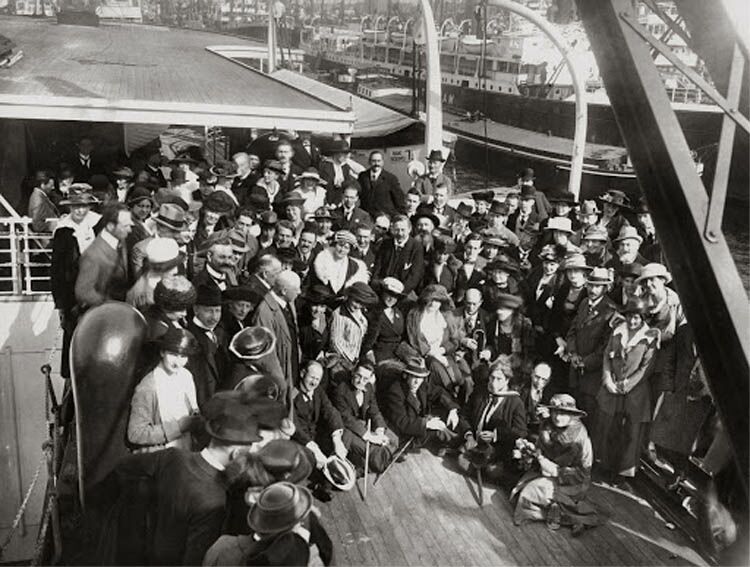 Here are some of the most famous names in classical music on a ship ever assembled!
What those on board did not at first realise was that this was the very day that the "Netherland Line" - "Stoomvaart Maatschappij Nederland's" official 50th Anniversary as they were officially created on May 13, 1870. They had created a special gold medallions for this event, which can be seen below.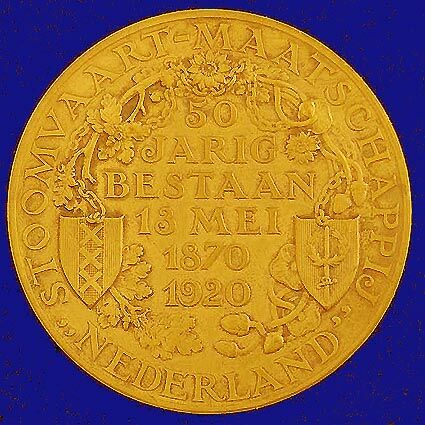 Above & below: the solid Gold Medallion, celebrating 50 years of the S.M.N.
The Medelion below shows the company's current flagship The S.S. Jan Pieterszoon Coen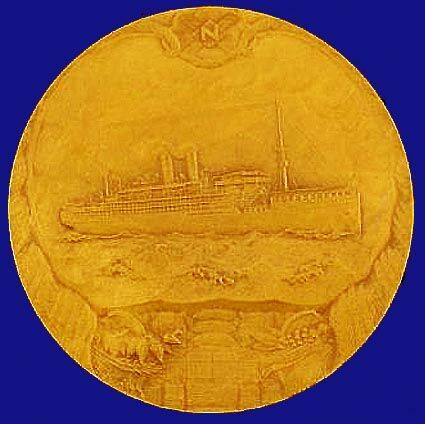 Two days after the Mahler event May 15, the "Jan Pieterszoon Coen" departed Amsterdam on her next voyage to the Dutch East India, having arrived at Batavia and remained for her usual time there, she departed Batavia July 17, and she returned to Amsterdam on Aug 21. Her next voyage was until September 18. She continued her voyages on a regular basis until mid 1939, but more about this later.
*********************
Her Interiors:
Although she had four classes, her main numbers were with 200 in First Class and 129 in Second Class, whilst the other two Classes had just 46 and 42 respectively. Although in 1926 First was slightly reduced to 195 and Second increased to 166 passengers. Public venues were of a high standard in both classes, and sadly not much is available of the other two classes.
Bridge Deck:
Up on Bridge Deck is the Bridge and we have already seen a scene on the Bridge during her Sea Trial, but a photograph was taken in 1926 of the Captain and the ships officers on the portside wing, and I will show it here.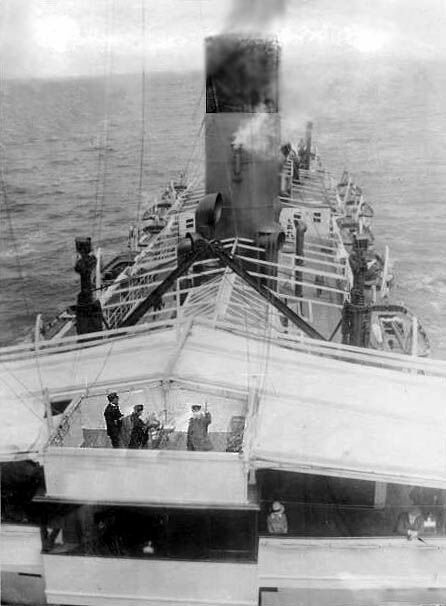 This is a view from the forward mast and based in the crows nest looking aft over the Bridge and the ships funnels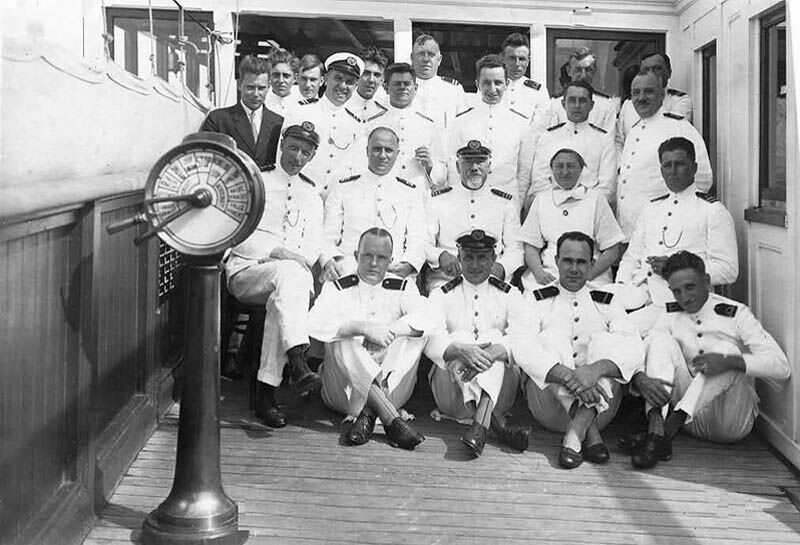 The Captain and his officers are seen in 1926
First Class:
Up on Boat Deck there is a spacious Deck, as well as a Sports deck aft as well as more deck space above.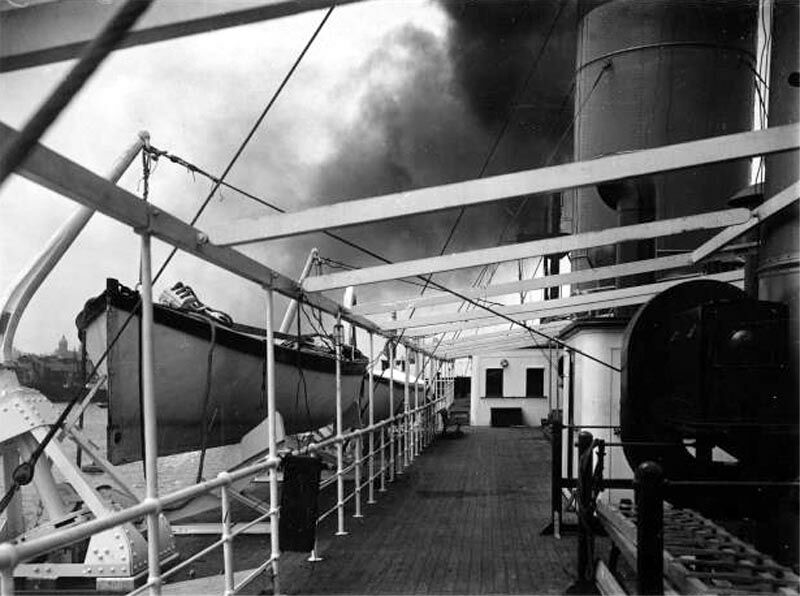 Boat Deck starboard side looking aft
Promenade Deck: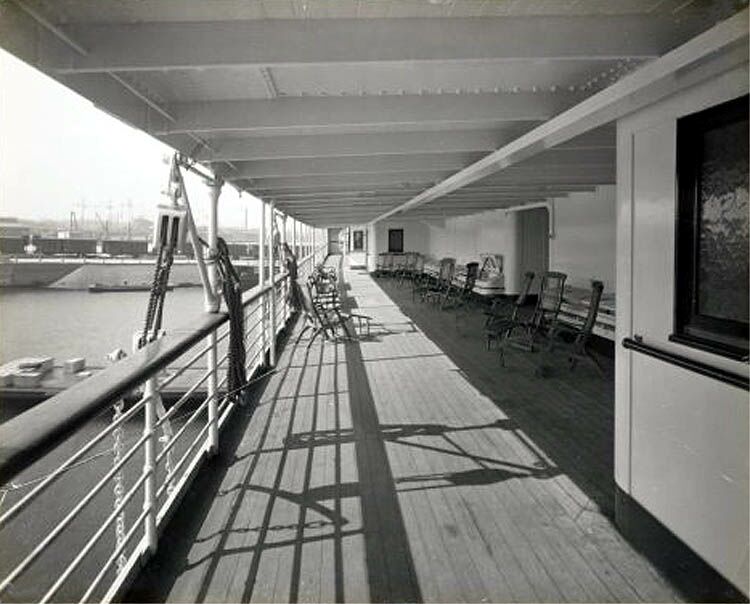 She had a fine Promenade Deck which was glass enclosed far forward
Far forward on this deck is the magnificent Social Hall with its huge decorative tumble dome. This venue featured some of the finest timbers with much of the venue having been carved by some of the finest craftsmen and the detail throughout this venue was simply stunning, the beauty even goes down its stairwell, just look at all the detail.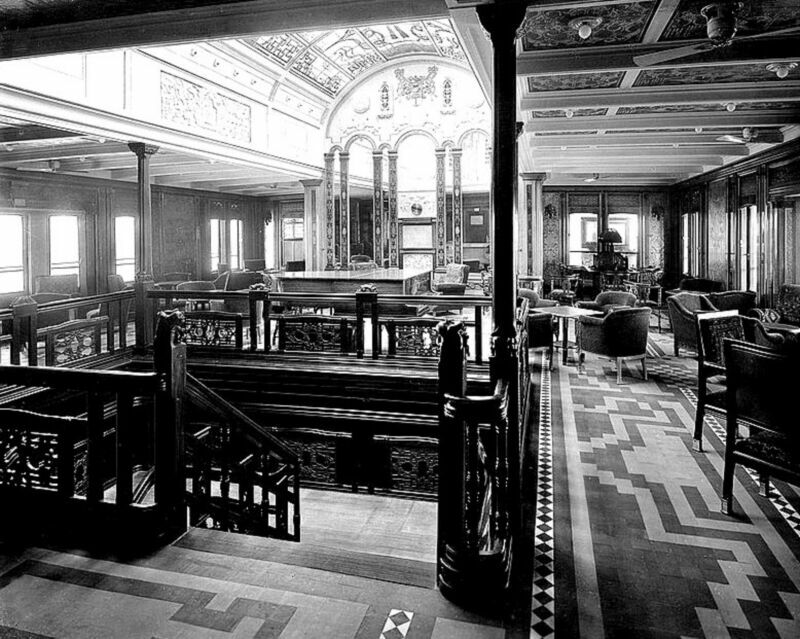 The spectacular Social Hall looking forward toward the Prom Deck glazed in section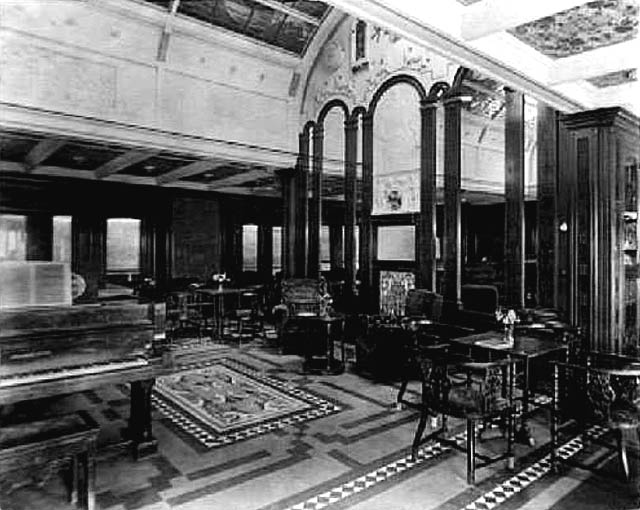 Another view of the Social Hall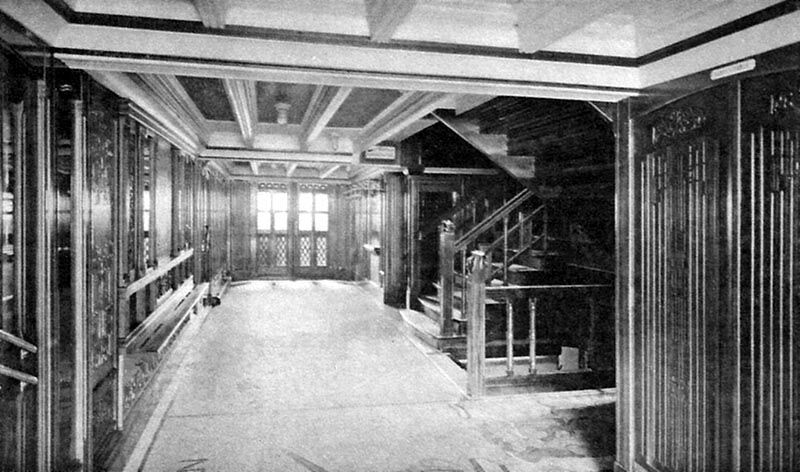 As you leave the Social Hall is this Lobby with an all timber Stairwell
There were other venue's as well as a games room, Library and a Writing Room located between the Social Hall and the large venue being the Smoke Room which is located further aft, but I have one photograph of these venues and that is of what was named the Deck Salon, but was in fact a beautiful Writing Room, as seen below.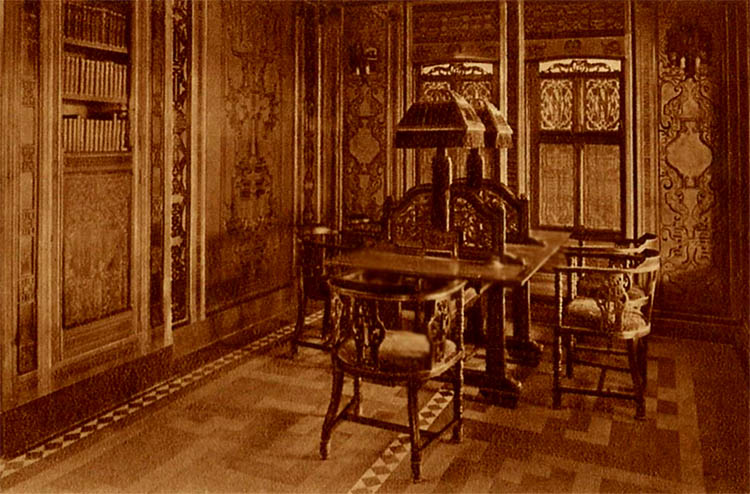 The Deck Salon – Writing Room
Aft of these three venues and the obvious facility locations was the aft First Class Lobby with a timber stairwell and doors out to the Promenade Deck.
Then came the delightful Smoke Room that was also beautifully timber panelled mostly in walnut, and had beautifully carved sections, including carved panels of white marble.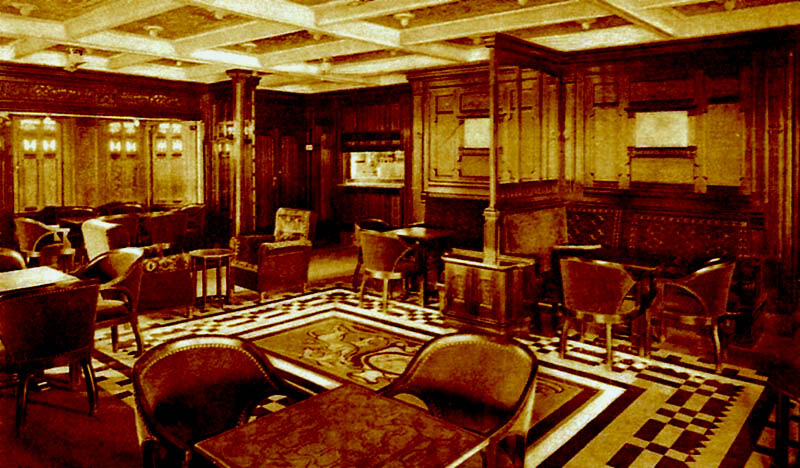 Above & below: Are three excellent photographs of this excellent venue, which also has a Bar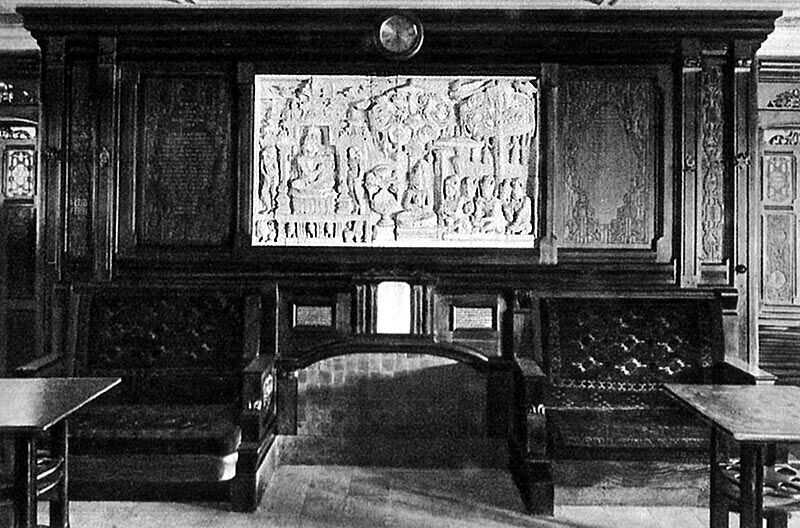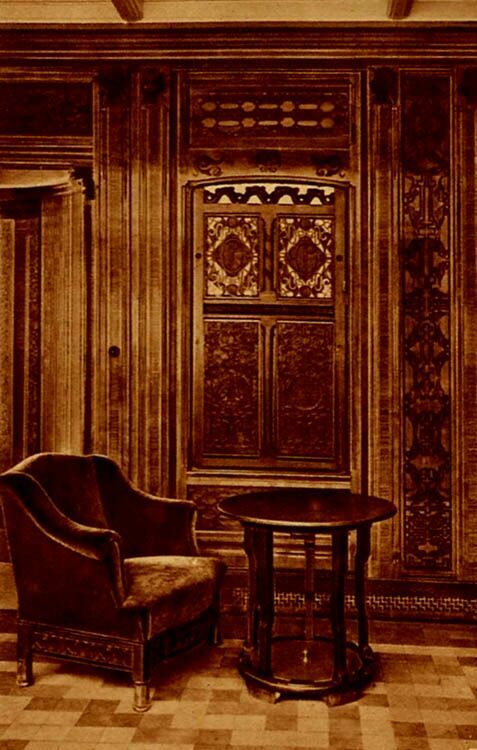 The forward section of the Promenade Deck are reserved for the First Class Passengers, although aft of the Promenade Deck there was a delightful Verandah Café, and sadly I do not have any photographs of this venue either.
However, later in her days there were some timber and glazed dividers added to her Promenaded Deck, which did two things, assisted passengers on windy days, as well providing a little privacy.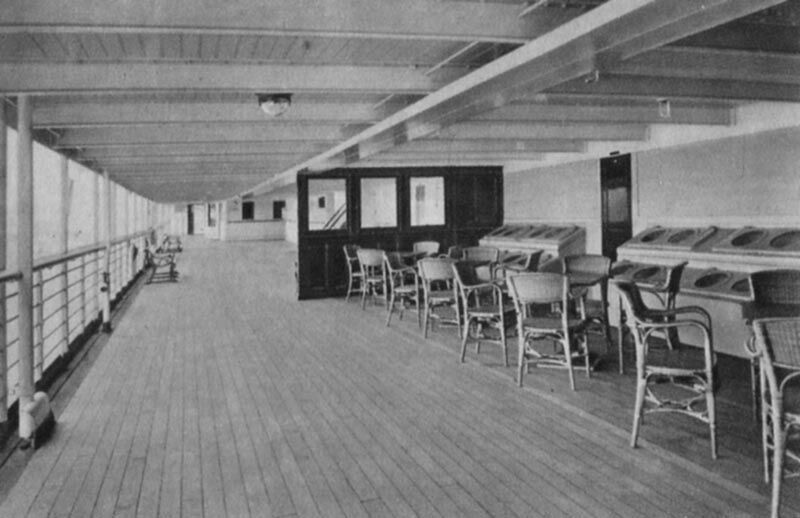 Here we see

the Promenade Deck portside looking forward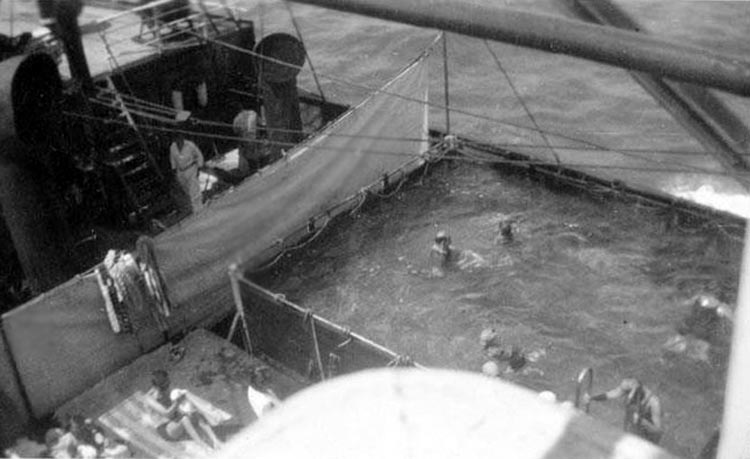 A canvas pool would be erected during warm and sunny weather
Shelter Deck:
The forward Main Stairwell led down to Shelter Deck, and the doors that can be seen on the left is the entrance to the glamorous Dining Room that is located far forward on this deck, the doors at the end go out onto deck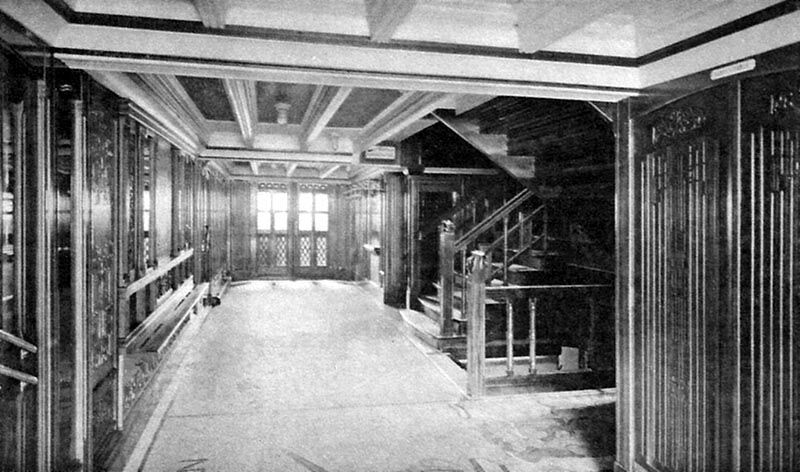 The glamorous Dining Room has windows around three sides, being due to it being located far forward on Shelter Deck. In addition it was also two levels high and it was surrounded on three sides by a beautiful wrought iron gallery. On the center aft wall above the Buffet was the huge absolutely spectacular feature, if it was only in colour to obtain a real idea of its grandeur!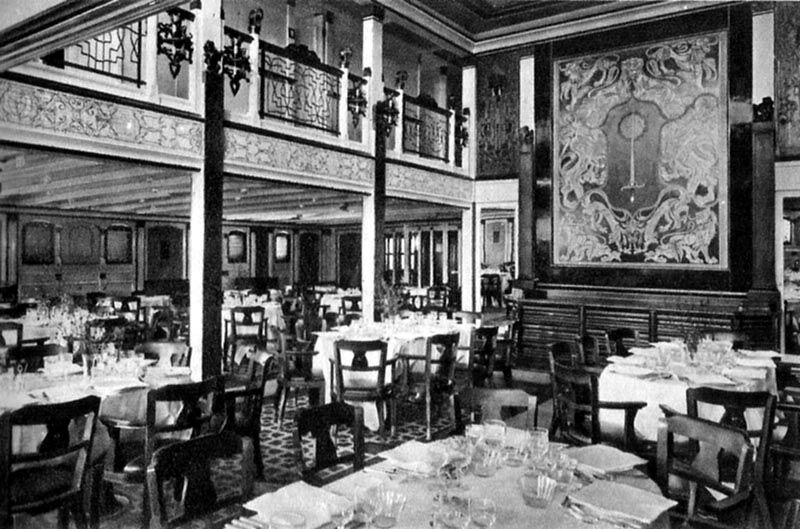 Above & below: The Magnificent Dining Room, above looking aft, below looking forward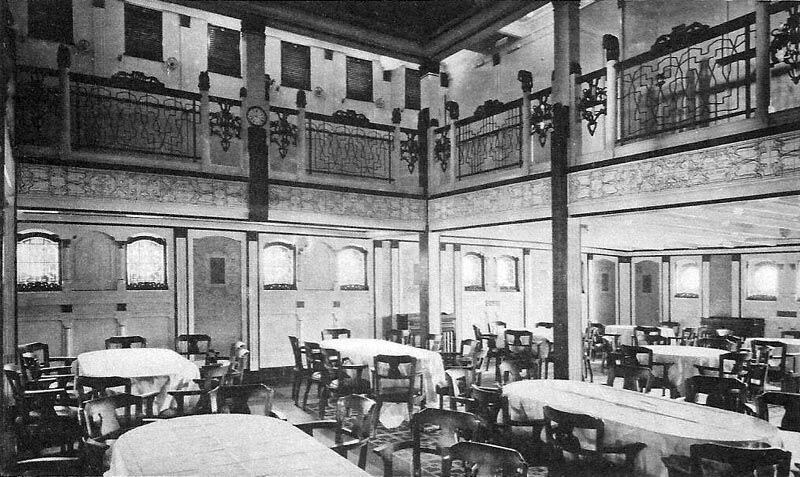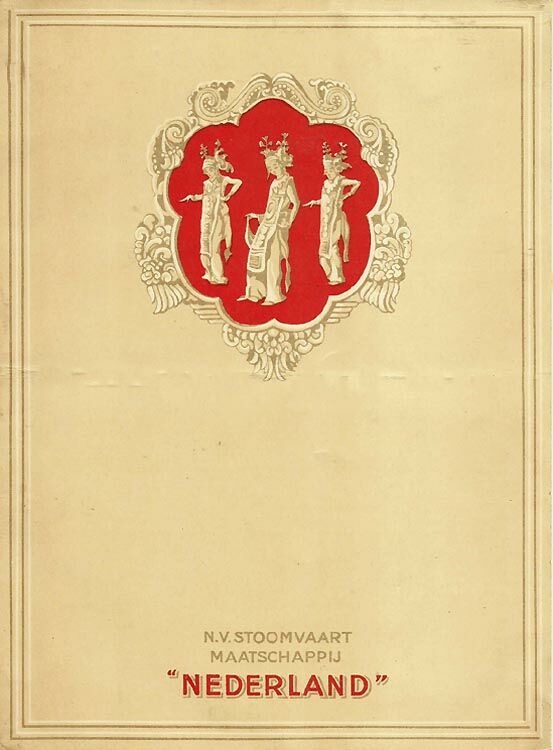 Above & below: Here is just one of the First Class Farewell Menus dated April 2, 1930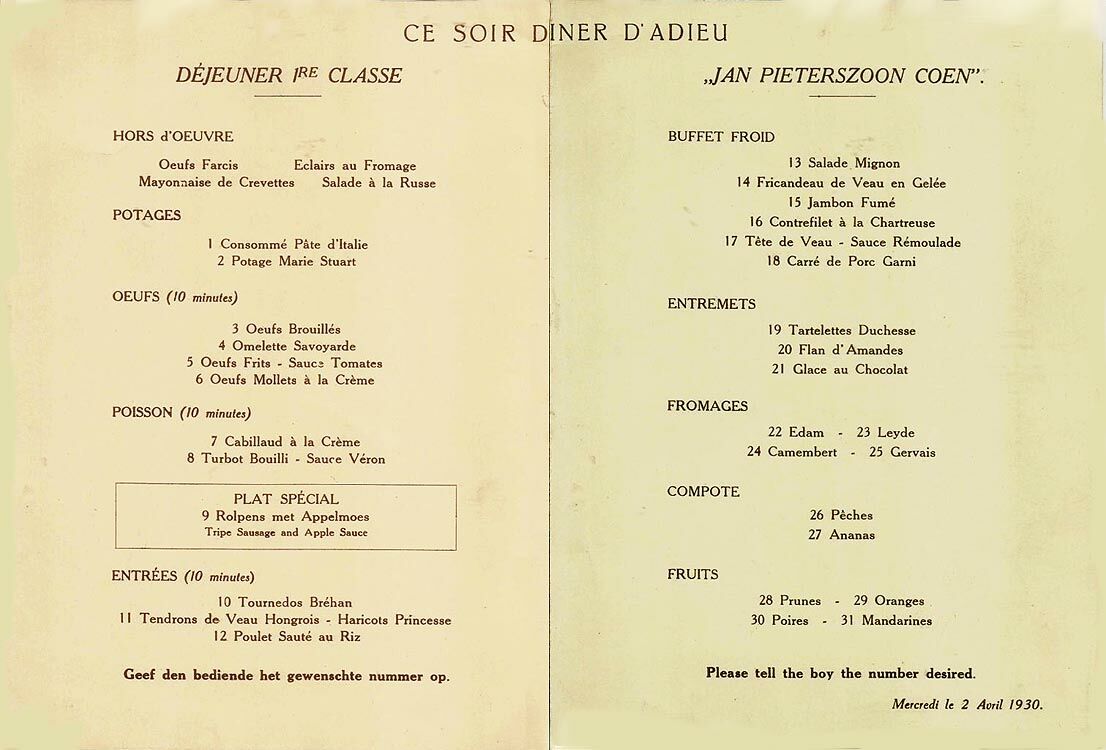 Suites & Cabins:
As we already know if we have read the above, the S.S. Jan Pieterszoon Coen had 4 Deluxe Suites and 107 cabins.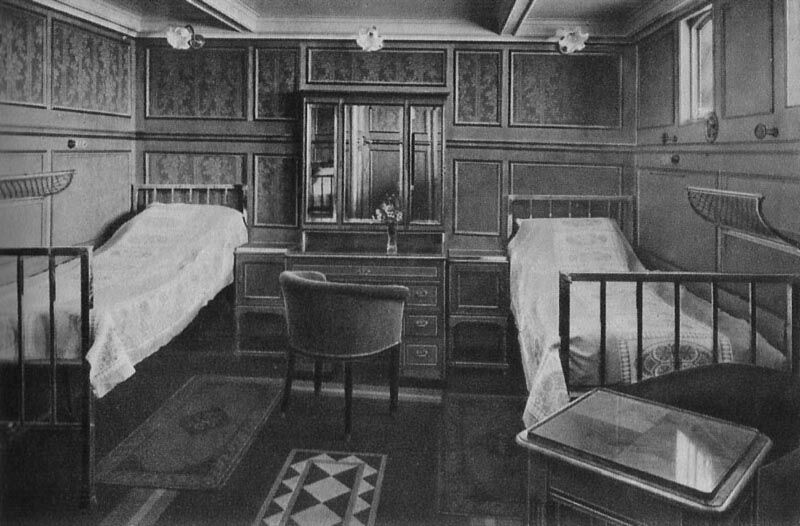 Three suites have a two bedded bedroom and a lounge, as well as a full bathroom with a bath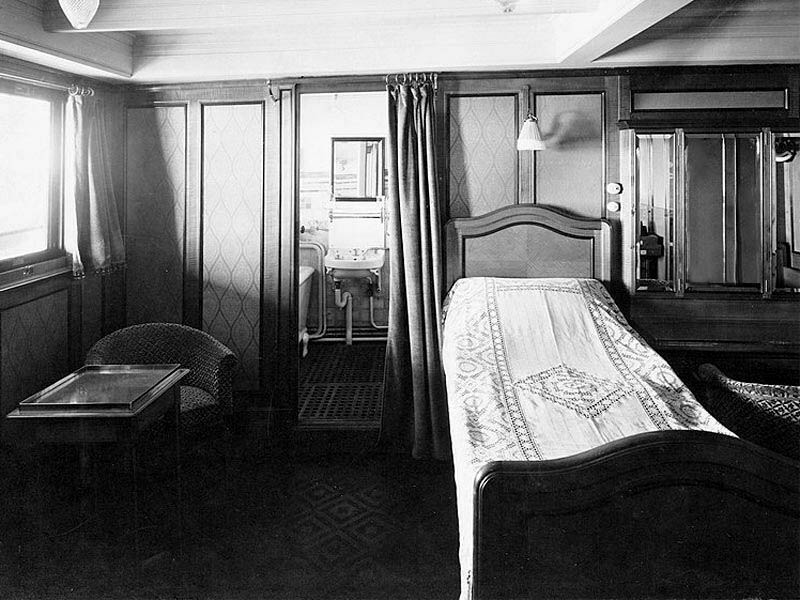 And this forth Suite has a single bedded room and of course it also has a lounge as well as a full bathroom with a bath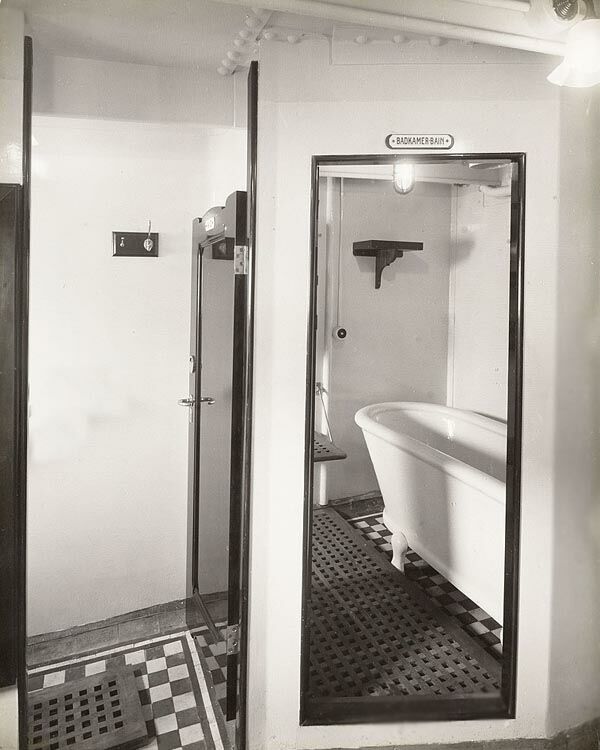 A Bathroom with a separate bath area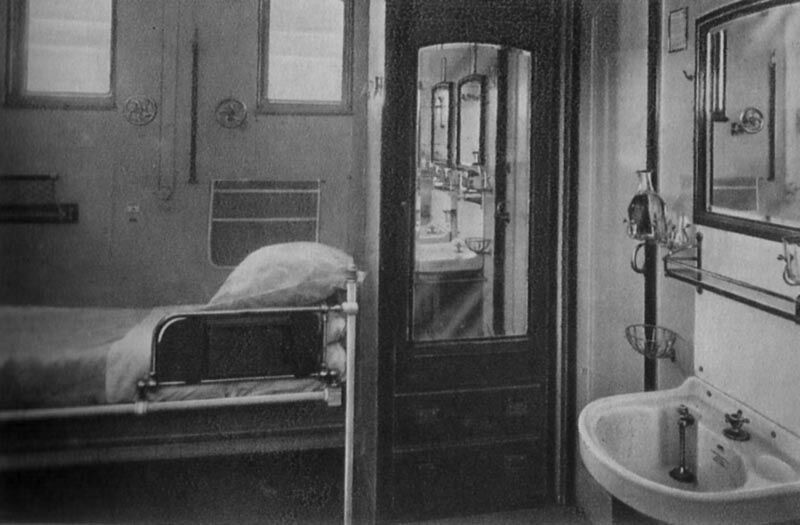 Here we see a single bed cabin with a bathroom and several windows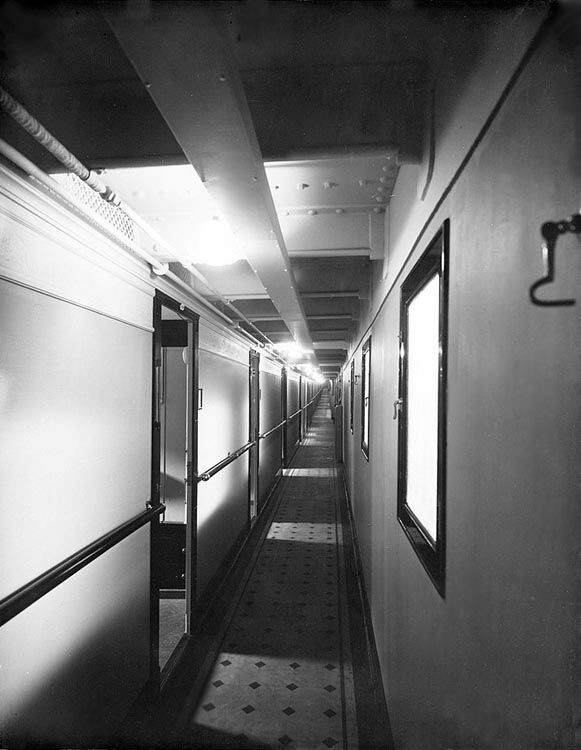 A long passage to cabins on B Deck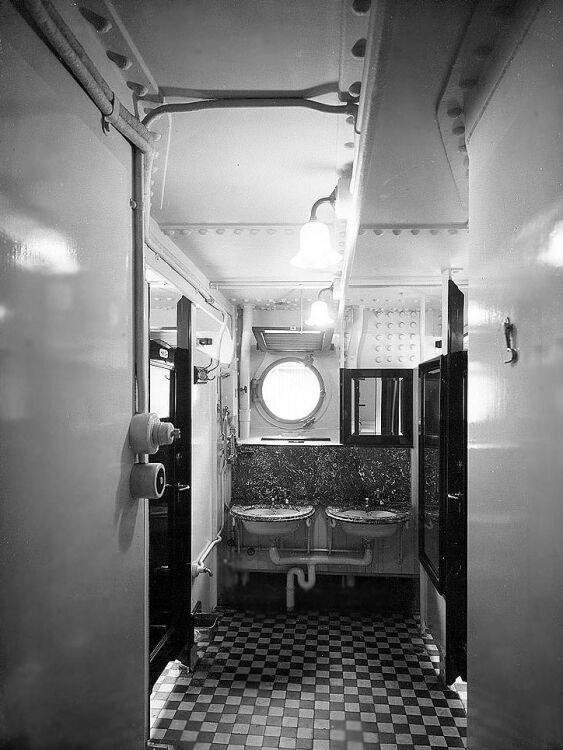 Share facilities with two doors on either sides to bathrooms
*********************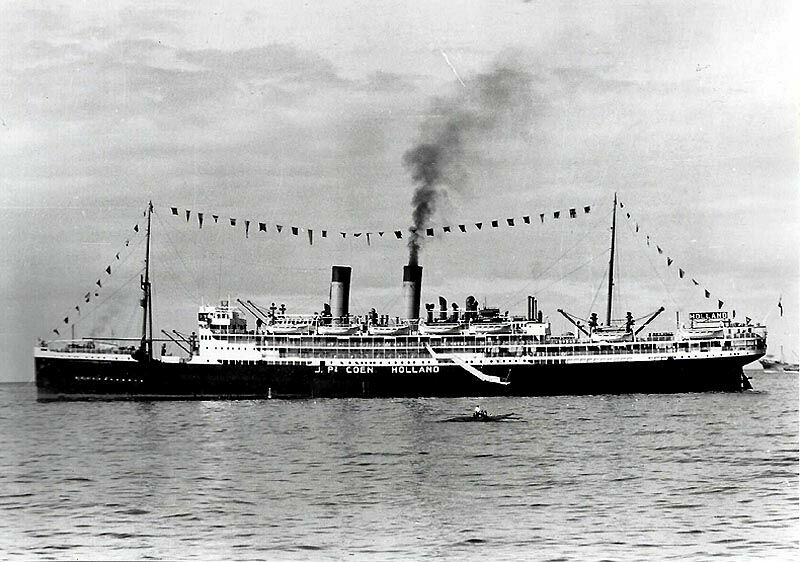 S.S. Jan Pieterszoon Coen is seen at anchor
Second Class:
Second class was not a very large part of the ship as it only had 129 Passengers who were accommodated in 49 cabins. Their Lounges and Dining Room was certainly very pleasant indeed.
Not ever having seen a deck plan of the ship, I am unable to provide accurate locations, but I would assume that looking at the ships layout, I can figure out some things having sailed on other S.M.N. older liners, as they tend to have similar layouts.
Promenade Deck:
The Deck Salon is located in a separated housing aft of the First Class section of Promenade Deck and you will note it has a glass dome. In the centre is an oval balustrade that looks down into their Dining Room directly below on Shelter Deck. There are many fine features in this room, fine timbers as well as some excellent glass work in the windows as well as in the glass work in the balustrade. There is a mixture of fine timber and leather furnishings as well as wicker furnishings, to keep it a little more casual.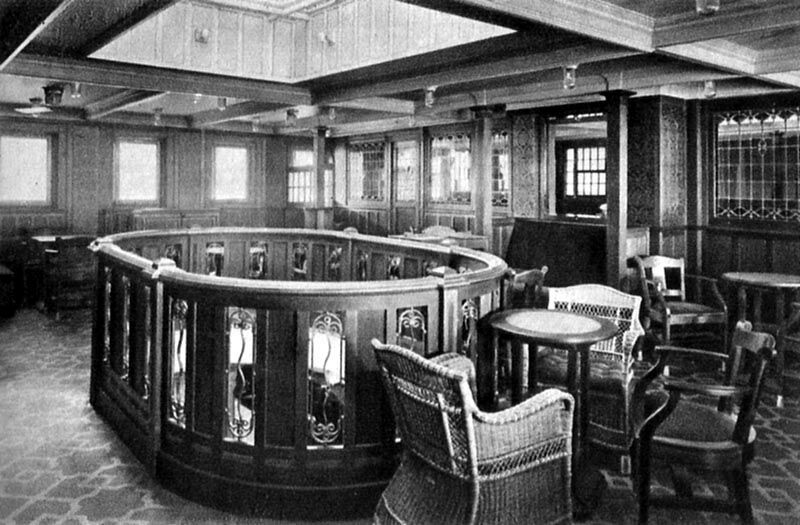 This view is to aft and the Bar can be seen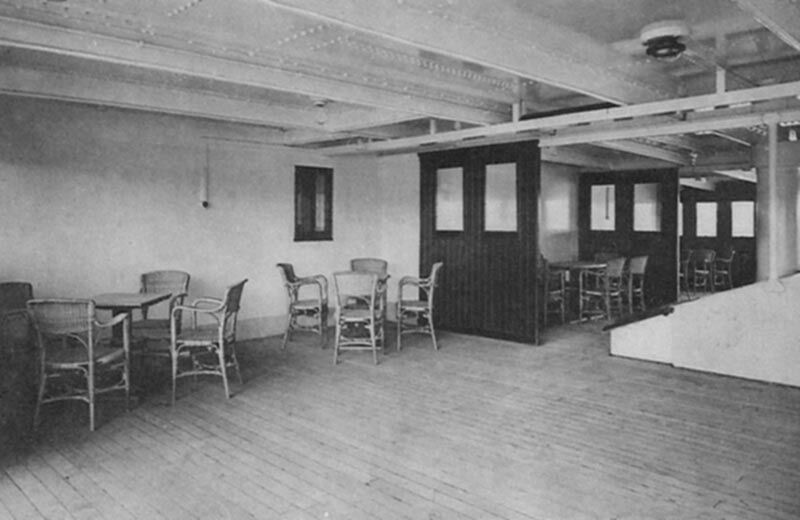 This is the Second Class Promenade located aft Of the Deck Lounge
Behind the Wall are the Bar and storage facilities etc, and then the Lounge
There is also a Drawing Room, and it is either up on Boat or Promenade decks, but where I am not sure, for it has windows and shelter deck has large portholes thus it must have been up higher. As it simply cannot be on Promenade Deck, I will assume it may have been aft of Boat Deck, being the only location where there were windows available.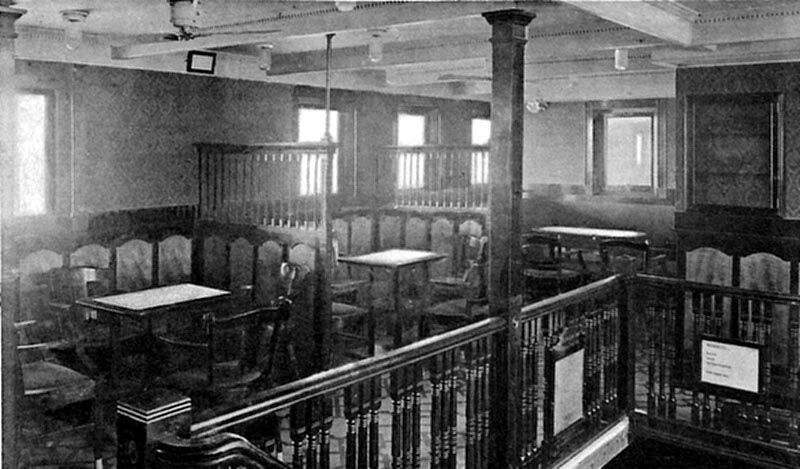 The Drawing Room
Shelter Deck:
I will now return to the Dining Room, which we know was directly below the Deck Salon thus it was on Shelter Deck.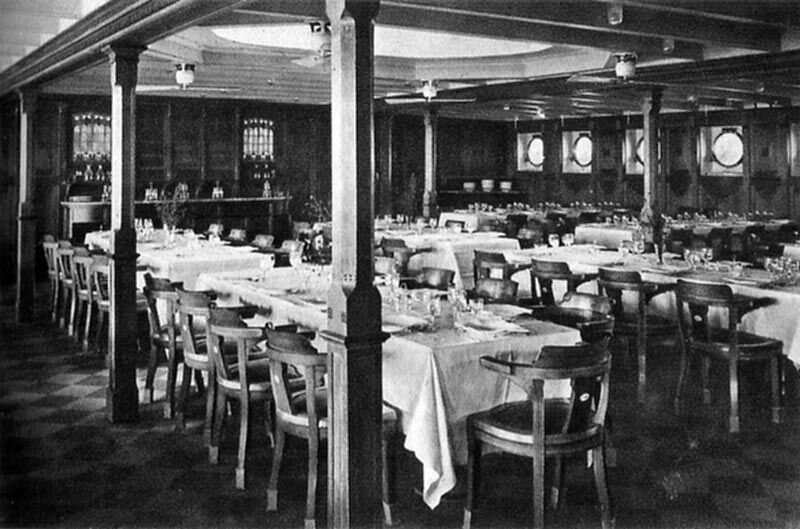 Above & below: It was certainly an elegant venue, with all of the fine timberwork and it was spacious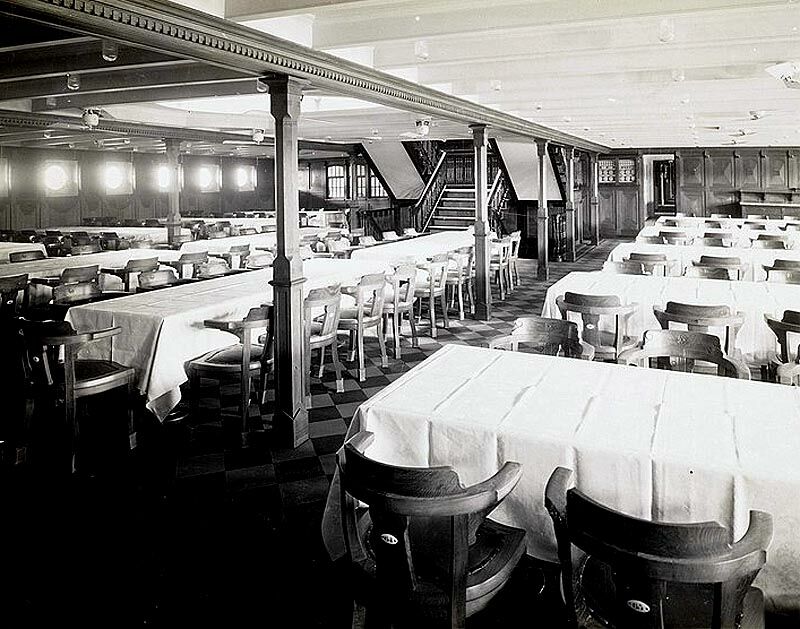 And meals were very good as well as you will see below from the 2 menus shown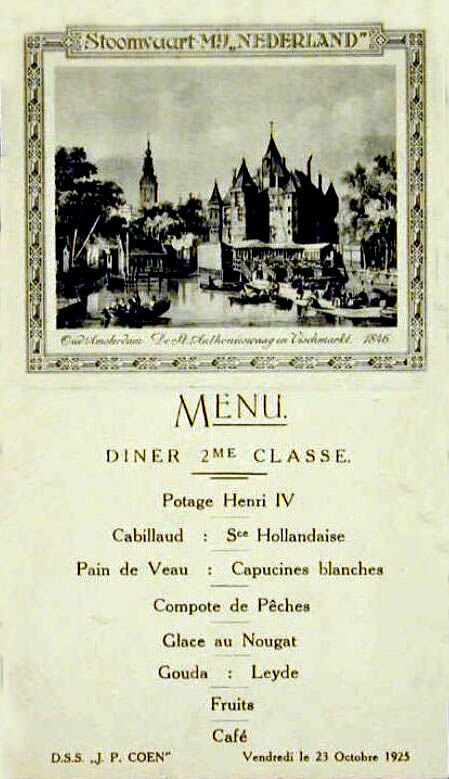 October 28, 1925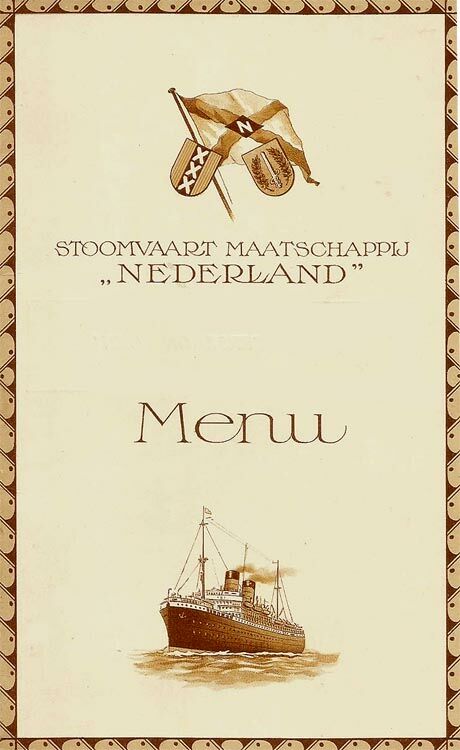 Above & below: March 28, 1930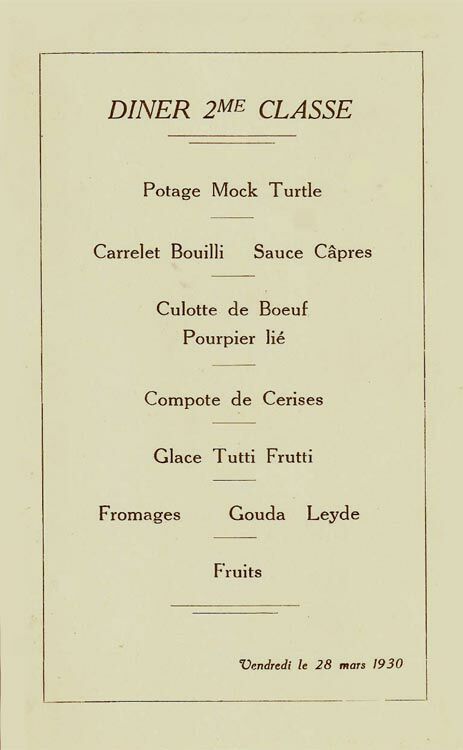 Cabins were comfortable but simpler, but had all the comforts, as they had the best of mattresses ensuring a good night sleep.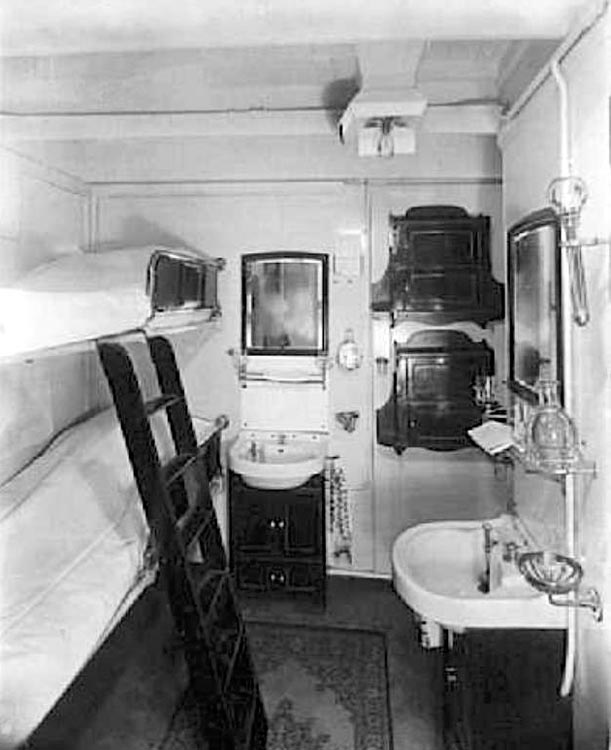 A two berth Cabin
Other Facilities:
Like all ships, she had many facilities, the Pursers Office, a doctor surgery as well as a hospital, a shop, and of course a children's Playroom and their dining facilities, not to forget a hairdressing Salon and a barber, etc.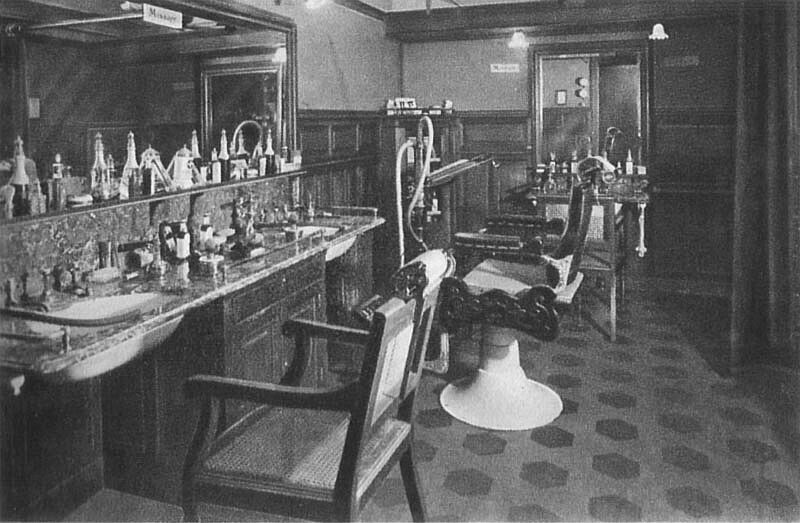 The Barber Shop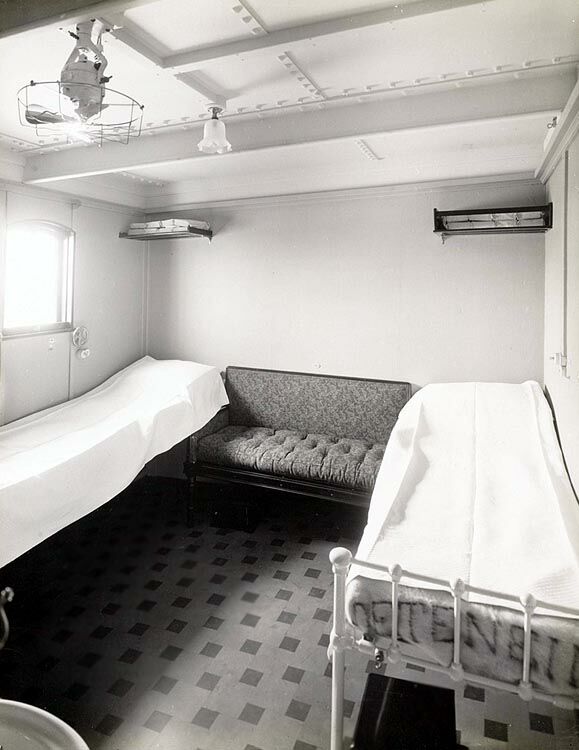 One of the Hospital Rooms on board
*********************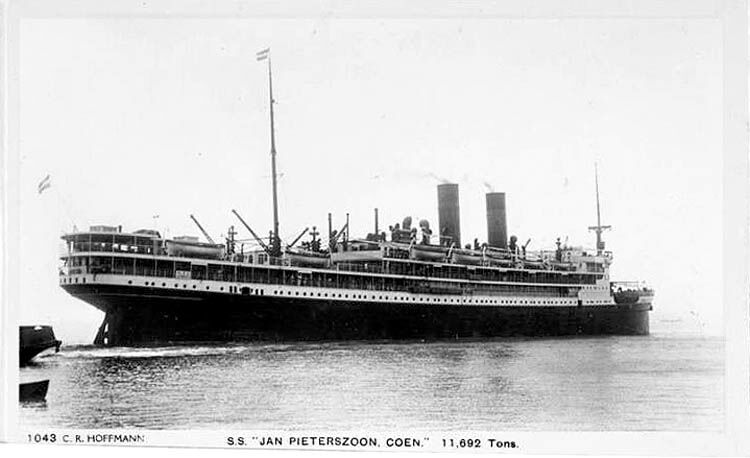 A "Netherland Line" postcard with a fine stern view as departs and heads out to sea
Third & Fourth Classes:
Sadly I have very little on offer for Third and Fourth Class, but as these two classes had a rather small number of passengers of just 46 and 42 respectively, although they did have two Dining Rooms next to each other, they may well have shared their public venues. Between them there were less than 30 cabins.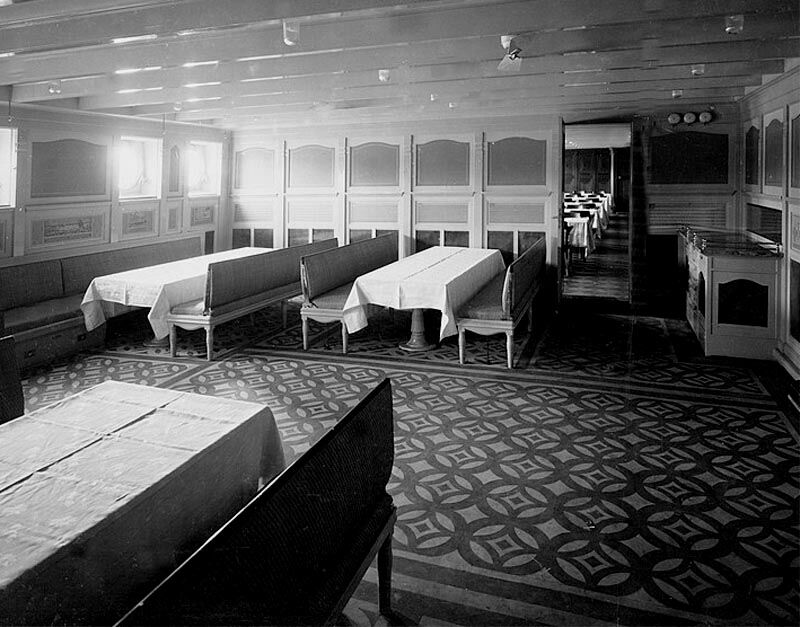 Here we see two Dining Rooms one through the door, the Third and Fourth Class rooms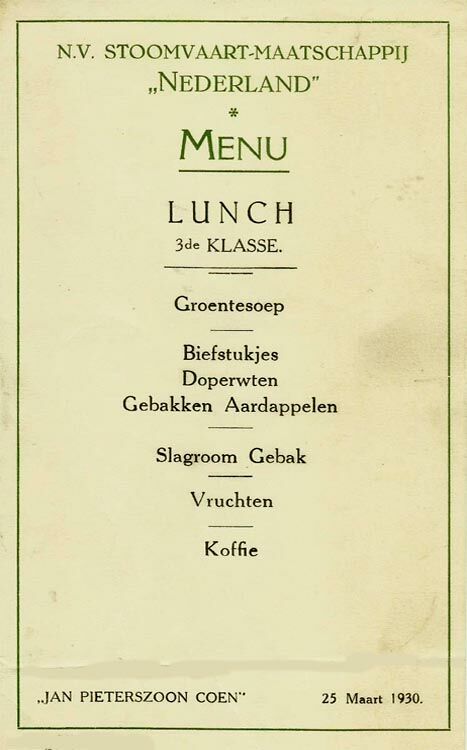 -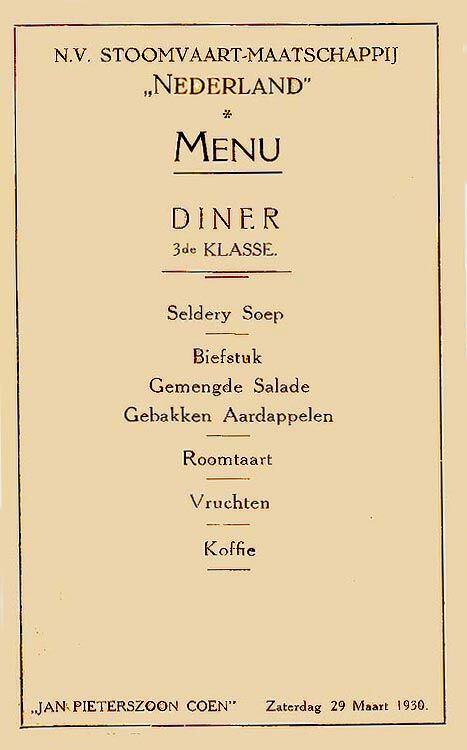 Left: A Lunch Menu dated March 25, 1930 – Right: A Diner Menu dated March 29, 1930
Third Class offered one to four berth cabins, whilst the Fourth Class offered two to six berth cabins and all were very similar to the one shown below.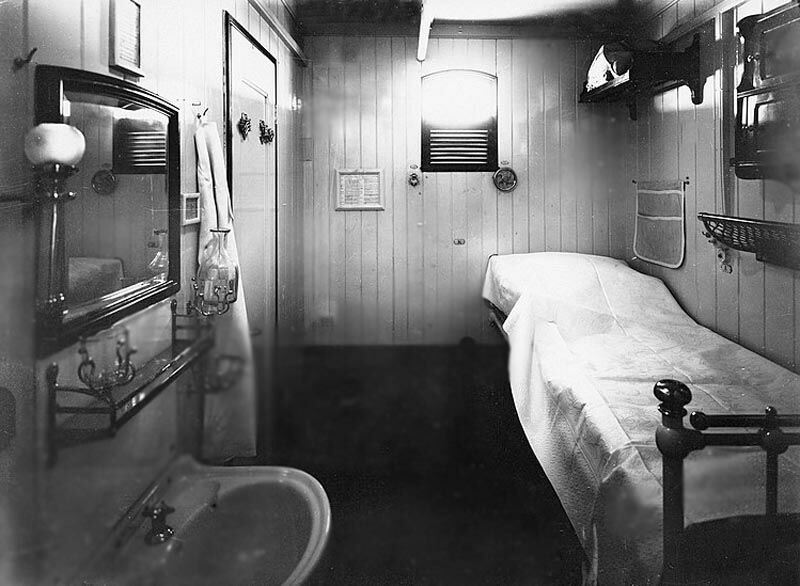 This is a Third Class single bed cabin
*********************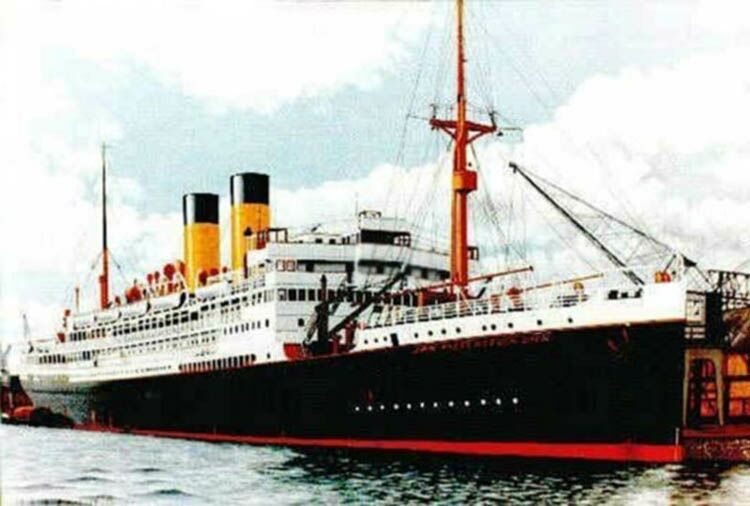 She is seen berthed in Amsterdam
Items of Memorabilia and additional photographs:
Below are a few memento's that passenger family member have provided.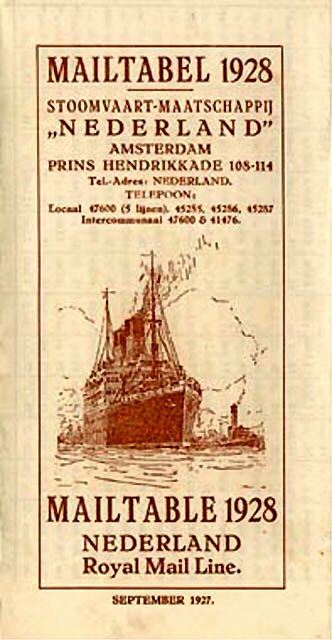 A Dutch Timetable from 1928
Provided by Henk van den Beek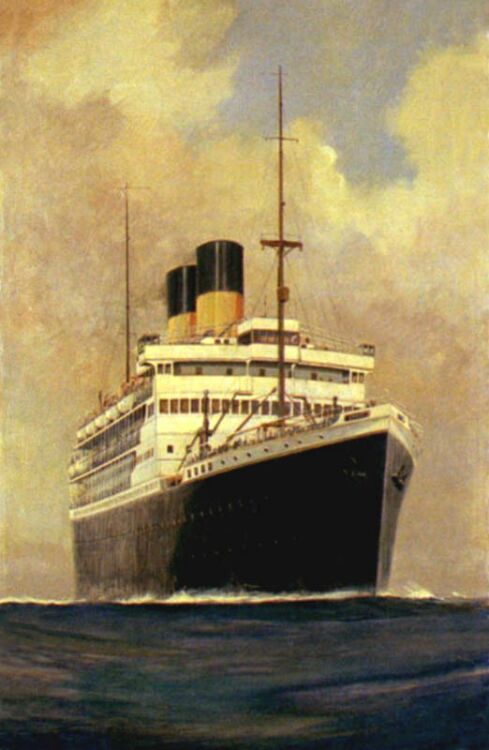 A very beautiful postcard obtained by Jeroen Groeneveld (NL)
Thank you for sending a copy of your postcard and the label, much appreciated Jeroen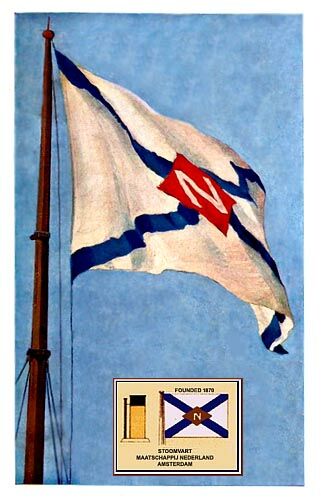 The "Netherland Line" House Flag with the funnel in the small logo inserted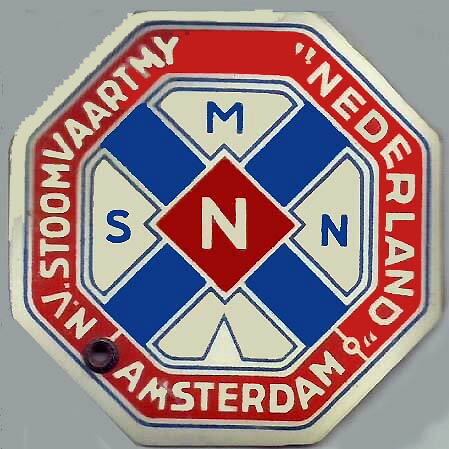 A suitcase label also provided by Jeroen Groeneveld (NL)
Some additional Images: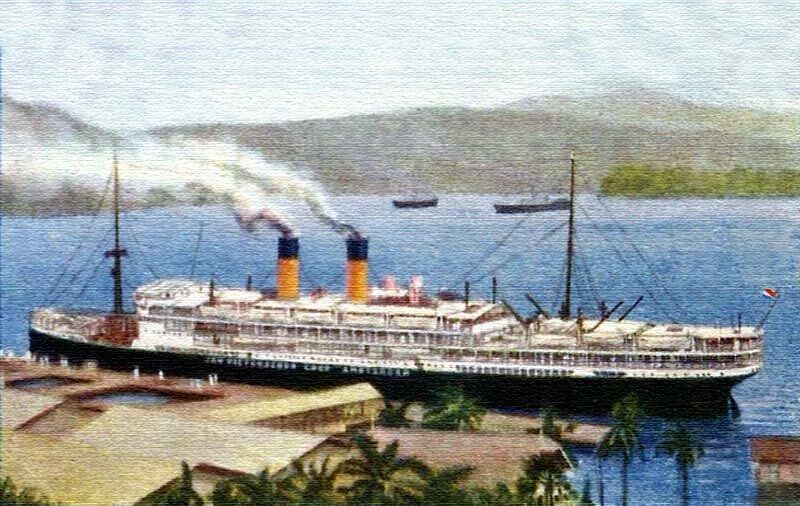 A wonderful painting of her at Sabang, which was taken from a photo I have & can be seen further below

A side view of this fine ship, by my dear friend the now late great Laurence Dunn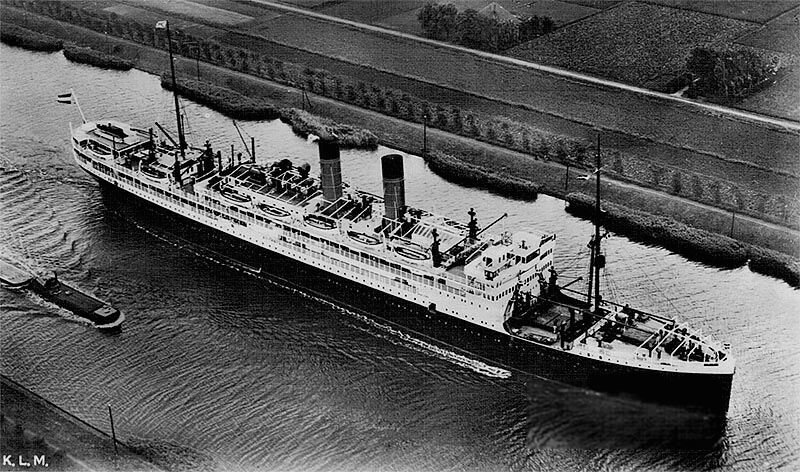 A fine aerial photograph of her sailing down the North Sea Canal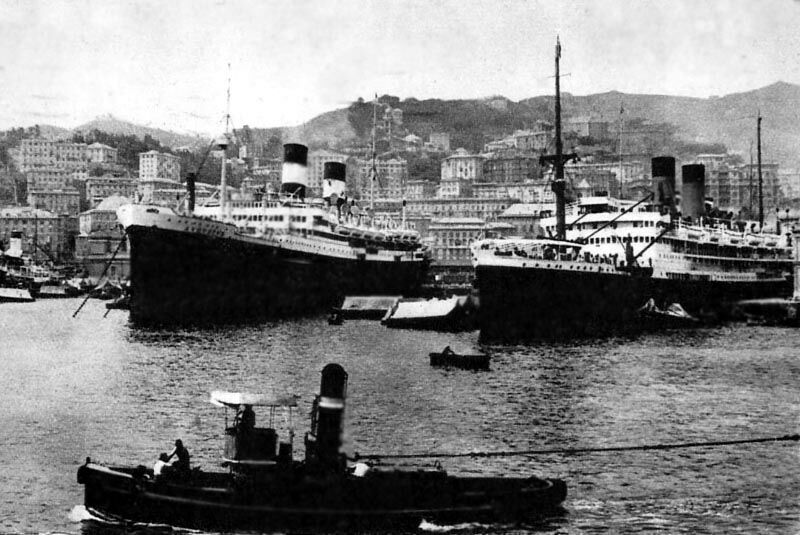 She is seen berthed at Genoa during the brief time she operated two
rapid voyages to Batavia Between March 9 and July 10, 1922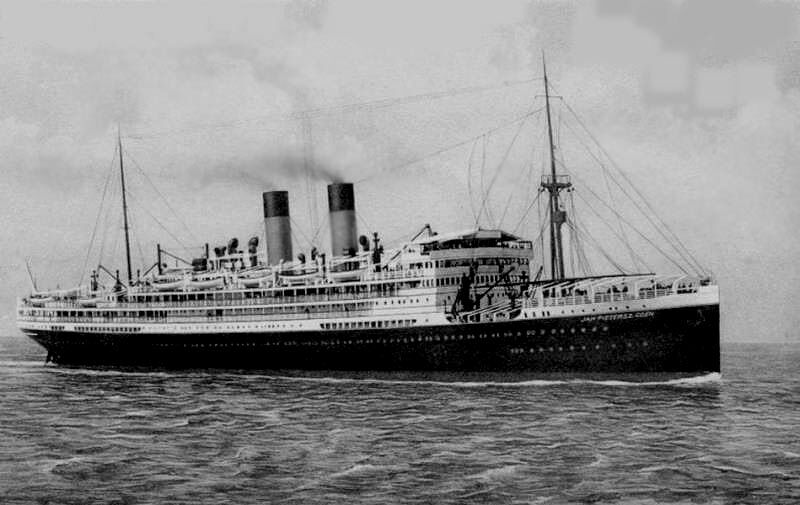 S.S. Jan Pieterszoon Coen is seen at sea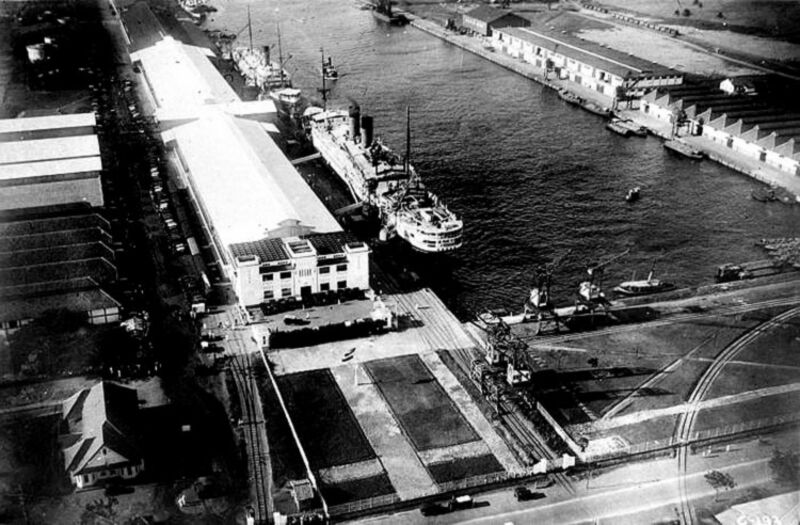 Here we see her berthed at Batavia
Later Service and Fate:
After her two year War time lay-up she returned to her scheduled services. S.S. Jan Pieterszoon Coen's first departure was on March 8, 1919 and headed to Batavia, having completed her Asian circle, as she always would, she departed Batavia heading back to Amsterdam on June 23, 1919. Her next departure was on July 12.
However in 1922, she operated several voyages out of Genoa, Italy as she departed from there on March 9, 1922 and headed faster voyages to Batavia, where she departed again on April 7, and arrived back in Genoa on May 1. She departed again on May 6, bound for Batavia, and she departed from there on June 14, and heading back to Genoa where she arrived on July 9, 1922. There after she continued and returned to Amsterdam arriving on July 16.
Thus she had a very busy schedule, and in between she would have her regular maintenance, etc.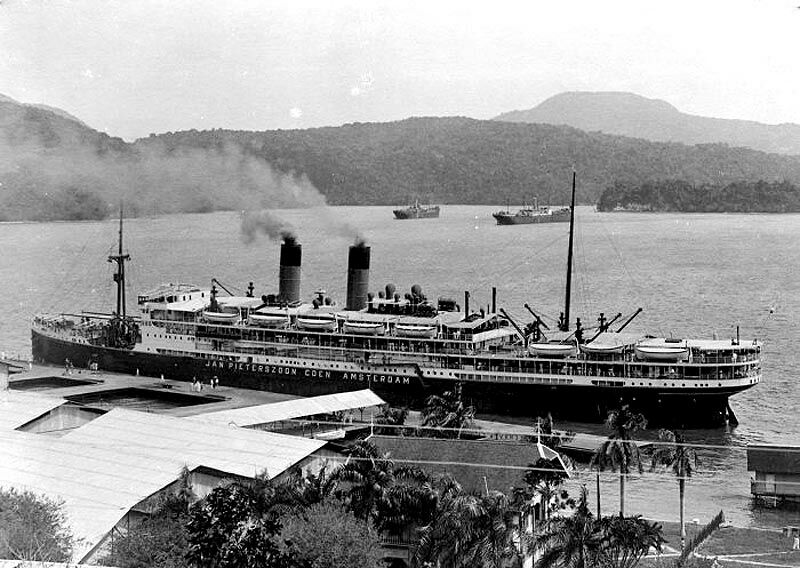 "Jan Pieterszoon Coen" is seen at Sabang in 1935 - Remember the painting seen further above is from this photo!
S.S. Jan Pieterszoon Coen departed Batavia for the final time on June 28, 1939 and arrived in Amsterdam on July 29, 1939, and after all her passengers has disembarked, she was laid up.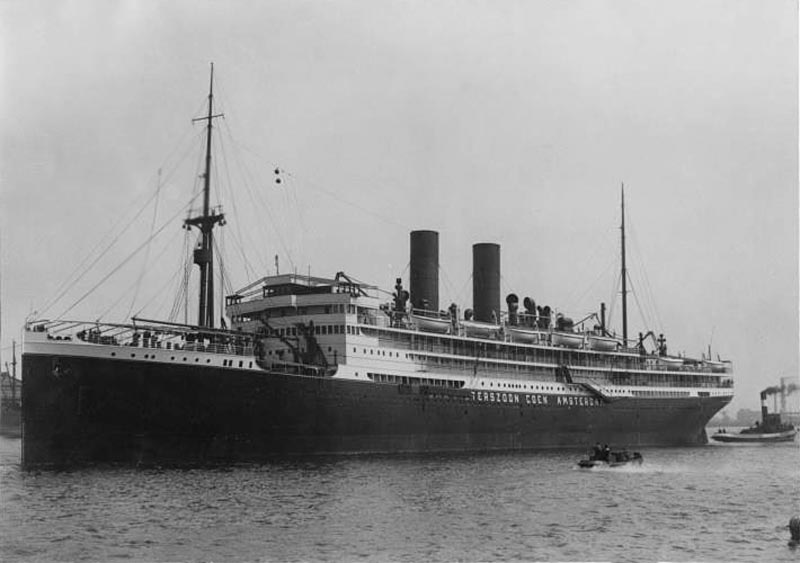 The "Jan Pieterszoon Coen" seen arriving in Amsterdam on July 29, 1936
She has just returned from her very last scheduled voyage ever to the Dutch East Indies!
To date she had made an amazing total of 52 of these very long voyages to and from the Dutch East Indies (Indonesia) with up to 34/35 ports every single return voyage (except for the Genoa sailings) and averaged around 133 days each.
But now the company had decided that she had worked hard, and with newer ships on the service it would be best to have her sold to be scrapped. But that was not to be and that was all due to the outbreak of World War Two.
However, then came a request for her to sail once more and she would make two short voyages to Lisbon, Portugal, in order to retrieve passengers from the new 20,017 GRT (as built) running mate, M.S. Oranje who for obvious reasons would not be able to return home to the Netherlands due to the war situation. Thus she headed to Surabaya, and she would in fact have an illustrious career and become one of the most loved Hospital ships ever!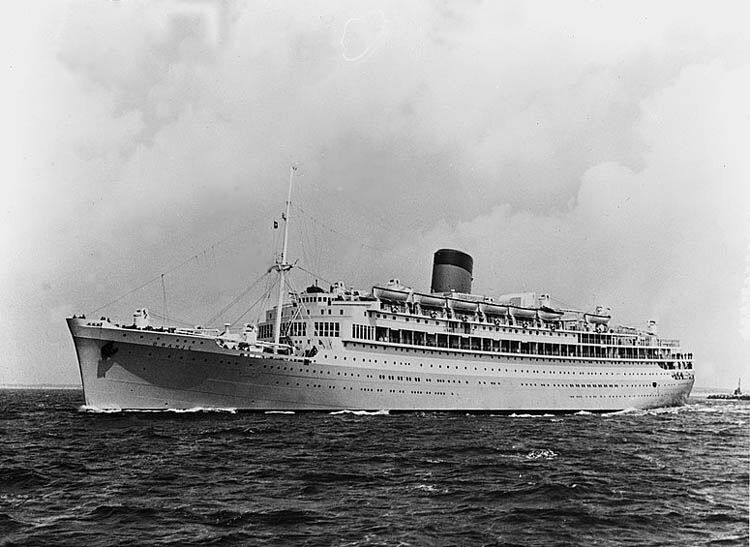 M.S. Oranje completed on July 15, 1939
M.S. Oranje departed Lisbon and headed for Surabaya and in February 1941, her captain was ordered to head for Sydney, Australia and to hand over his ship to the "Royal Australian Navy". The Fact was that the Dutch Government had agreed with the Australian Government for the "Oranje" to be converted into an Australia Hospital Ship. And although she would be under Australian command, she retained all her Dutch crew and remained under the Dutch flag throughout the entire war. Read her remarkable story on ssmaritime.com, the link is at the bottom of this page.
S.S. Jan Pieterszoon Coen's

Concluding

days:
The S.S. Jan Pieterszoon Coen was scuttled as she was used as a 'block ship' during the German invasion of the Netherlands in May 1940 in the mouth of the port of IJmuiden.

Some might ask the question, "Why was it so important to stop ships entering at IJmuiden?" that was because the "North Sea Canal" (in Dutch it is "Noordzeekanaal") is a vital 27 kilometre link between Amsterdam and the North Sea at IJmuiden. This important Canal was constructed between 1865 and 1876 to enable ships to come and go to the great Port of Amsterdam. Even the world's largest Port of Rotterdam, also has a Canal, and it is named the; "Nieuwe Waterweg" (

New Waterroad) which is 20.5 kilometres long.

When the German Army invaded the Netherlands in May 1940, the Royal Netherlands Navy made a plan which involved scuttling "Jan Pieterszoon Coen" (JPC) at the very entrance of the port

of IJmuiden in order to prevent German warships entering Amsterdam Harbour.

Thus a plan was set in motion on the same night of May 14, 1940, being the very day the German's severely bombed and completely destroyed the entire centre of the City of Rotterdam, and Captain R. van Rees Vellinga took the wheel of the JPC and sailed her from Amsterdam through the North Sea Canal to IJmuiden. Once she arrived there she was supposed to be escorted into the IJmuiden's harbour's entrance by two "Wijmuller" tugs, but believe it or not, somehow these tugs were accidentally destroyed earlier that day by a British demolition party.

As a solution to the problem, the Royal Netherlands Navy ordered the tugboat "Atjeh" and an old minesweeper to tow the JPC into place. They towed her into location, but it was done with a considerable deal of difficulty being due to the tide. The ship was positioned her bow 10 meters from the South Pier and her aft side 50 meters from the North Pier. When she was in position than 3 explosives which had been previously placed on board were detonated and as planed she sank between the piers, with her upper decks remaining just above the water due to the shallow depths.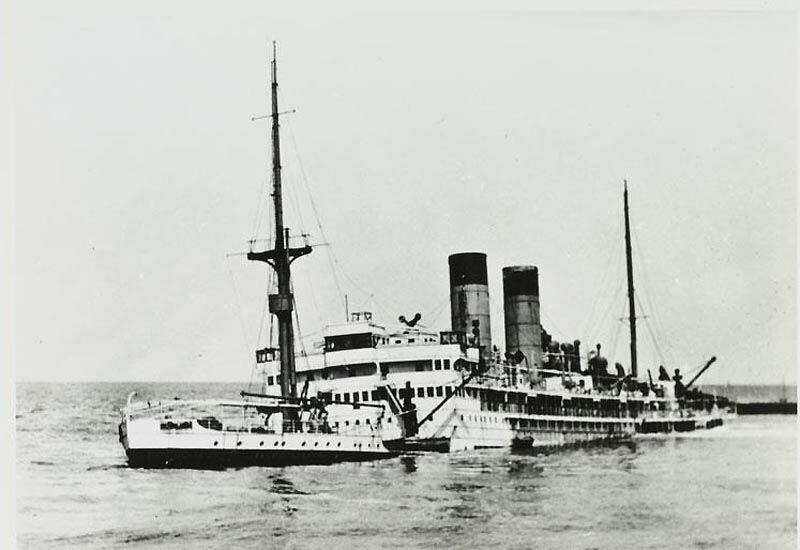 The "Jan Pieterszoon Coen" has become a blockacade ship at the
entrance to the "North Sea Canal" at its entrance at "IJmuiden"
The plan was successful and the ship prohibited any German ships to enter the harbour However, sadly after the massive bombing of the harbour city of Rotterdam, almost demolishing the entire city center, the Netherlands was forced to surrender to the Axis powers and was occupied by Nazi-Germany.
The German Army emptied the ship of movable property during 1940's; they could do this because the ship was partially above water. The authority's was thinking of salvaging "Jan Pieterszoon Coen", since the ship was mostly intact and in shallow waters. But due to a series of storms, the ship sank deeper into the sand. In 1941, a 50-meter portion of the stern was removed in order for big ships to sail into the harbour again.
During the remainder of the war, the "Jan Pieterszoon Coen" sank deeper into the sea and her upper decks were severely damaged and deteriorated by the strong waves that constantly pounded the ship. The funnels and some decks had also collapsed during this period.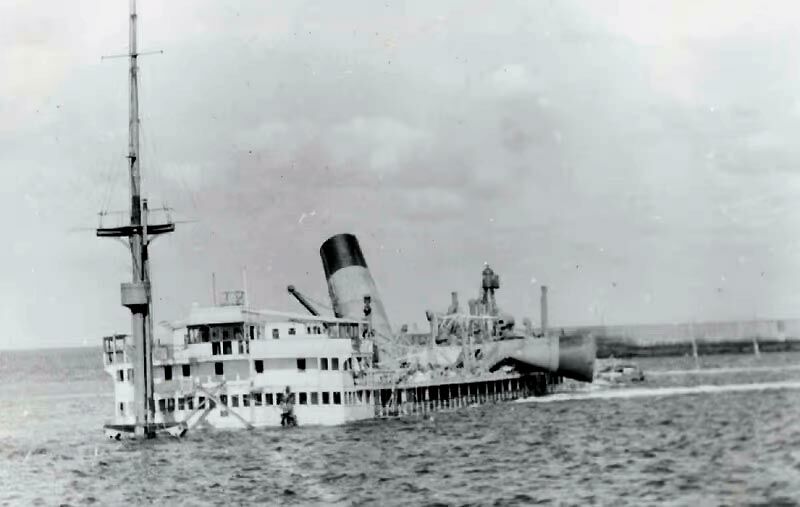 She is seen here with her funnels in a bad state as are her decks for that matter
After the war in May and June 1945, the Royal Netherlands Navy with help from the Royal Navy, destroyed what was left of the ship with depth charges. However, there was considerable debris left in the entrance, thus the Dutch Government was forced to clean up the bottom of the sea in 1968 in order for larger ships to sail safely through the "North Sea Canal" to Amsterdam without facing any problems.
*********************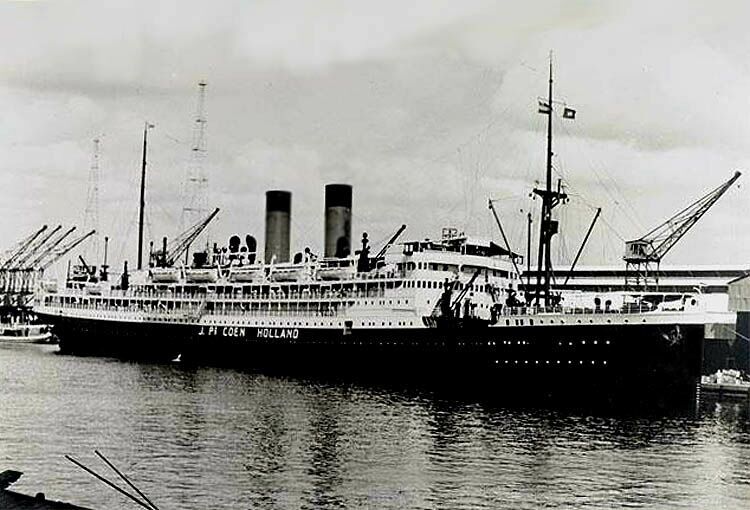 S.S. Jan Pieterszoon Coen is seen at Tandjong Priok on June 23, 1938
*********************
Specifications & Details:
Name:                         Jan Pieterszoon Coen 1915 to 1940.
Owner:                        "Stoomvaart Maatschappij Nederland" (SMN), or the "Netherland Line".
Registered at:               Amsterdam, The Netherlands.
ID:                              3141.
Call Sign:                     PDKB - 1915 to 1934.
.                                 PEZP - 1934 to 1939.
Classification Register:   Lloyd's Register of Shipping (LR).
Category:                     Passenger/cargo vessel.
Hull:                            Steel.
Route:                         Amsterdam to Batavia.
Ordered:                      December 12, 1912.
Builder:                        "Nederlandsche Scheepsbouw Mij, NV" ("Dutch Shipbuilding Co", Amsterdam).
Cost:                           ƒ3.720.423 Gulden.
Yard N°:                      130:
Laid Down:                   October 14, 1914.
Named & Launched:      September 30, 1914.
Trails:                          June 12, 1915.
Complete & Delivered:   June 17, 1915.
Maiden Voyage:            September 11, 1915.
Type:                          Passenger Liner.
Tonnage:                     11,140 GRT, 7,106 NET (Net Tonnage).
Length:                        153.44 m - 503.5 ft.
Beam:                         18.4 m - 60.4 ft.
Draught:                      8.05 m – 26.5 ft.
Engines:                      2 x 3 cylinder triple expansion steam engines, 7,400 IHP (IPK).
Engine Manufacturer:     "Netherlands Factory of Tools and Railway Equipment NV", Amsterdam (translated from Dutch).
Boilers:                        8 single boilers, 24 corrugated furnaces.
Power:                         1,364 n.h.p.
Propellers:                    2 screws.
Speed:                         14.5 knots, 15 knots maximum.    
Accommodations:         First Class 200, Second Class 129, Third Class 46, Steerage: 42.
From 1926:                  First Class 195, Second Class 166, Third Class 46, Steerage: 42.
Crew:                          161.
Cargo:                         Grain - 350,000 Cubic Feet.
.                                 Bales - 300,000 Cubic Feet.
Fate:                           On May 14, 1940 she was sunk by the Dutch Royal Navy at the entrance of the port of IJmuiden in order to prevent German warships entering the Harbour and sail to Amsterdam.
*********************
Netherland Line Index:
SS Johan de Wytt ... 1920 to 1948.
MS Johan van Oldenbarnevelt ... 1930 to 1963.
M.S. Oranje ... 1939 to 1964 / M.S. Angelina Lauro 1965 to 1979.
*********************
   

                    

R
emembering the
D
elightful
…
  

      

S.S.
Jan Pieterszoon Coen
of 1906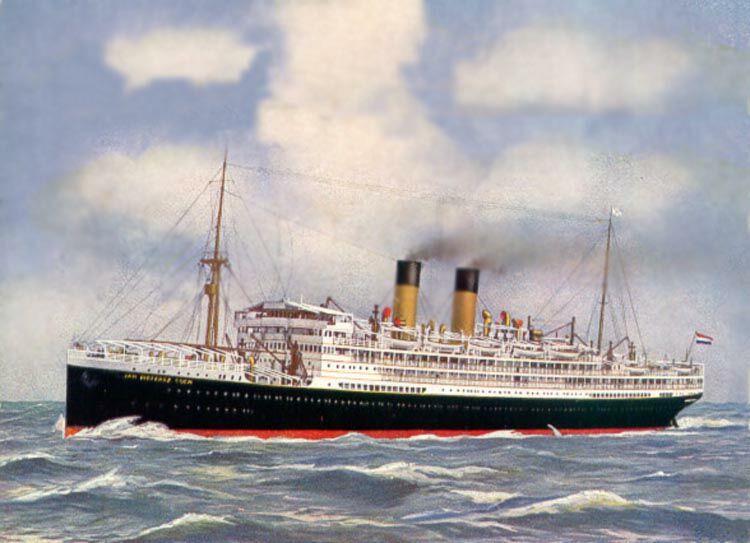 A delightful painting of the S.S. Jan Pieterszoon Coen in her latter years
This excellent panting was done by Richard Ward
*********************
"Blue Water Liners sailing to the distant shores.
I watched them come, I watched them go and I watched them die."

Featuring over 1,435 Classic Passenger Liners, Passenger-Cargo Liners & Classic Cruise Ships!
Or ENTER HERE
For interest: Sadly an email service to ssMaritime is no longer available, due to the author's old age and chronic illness as well as being disabled, etc. In the past ssMaritime received well over 120 emails per day, but Goossens can no longer handle the same. He sincerely regrets this!
*********************
ssMaritime.com & ssMaritime.net
Where the ships of the past make history & the 1914 built M.S. Doulos Story.
The Author has been in Passenger Shipping & the Cruise Industry for well over 60 years
In addition he was the founder of "Save the Classic Liners Campaign" in 1990.
Please Note: ssmaritime and associated sites are 100% non-commercial and the author seek no funding or favours of any shape or form, never have and never will!
Photographs on ssmaritime and associate pages are by; the author or from the author's private collection. In addition there are some images that have been provided by Shipping Companies and private photographers or collectors. Credit is given to all contributors. However, there are some photographs provided to me without details regarding the photographer/owner concerned.
This notice covers all pages; although, and I have done my best to ensure that all photographs are duly credited and that this notice is displaced on each page, that is, when a page is updated!
ssMaritime is owned & © Copyright by Reuben Goossens - All Rights Reserved