Epirotiki Lines - MTS Jason, ex MTS Eros, later MS Ocean Odyssey
Please Note: Firefox and Google Chrome search engines are not suitable - Use "Internet Explorer" for this page to load perfectly!

Click the logo above to reach the ssMaritime FrontPage for News Updates & "Ships of the Month"

With Reuben Goossens

Maritime Historian, Cruise'n'Ship Reviewer & Author

Please Note

: All ssMaritime and other related maritime/cruise sites are 100% non-commercial and privately owned. Be assured that I am NOT associated with any shipping or cruise companies or any travel/cruise agencies or any other organisations! Although the author has been in the passenger shipping industry since 1960, although is now retired but having completed over 700 Classic Liners and Cargo-Passengers Ships features I trust these will continue to provide classic ship enthusiasts the information the are seeking, but above all a great deal of pleasure!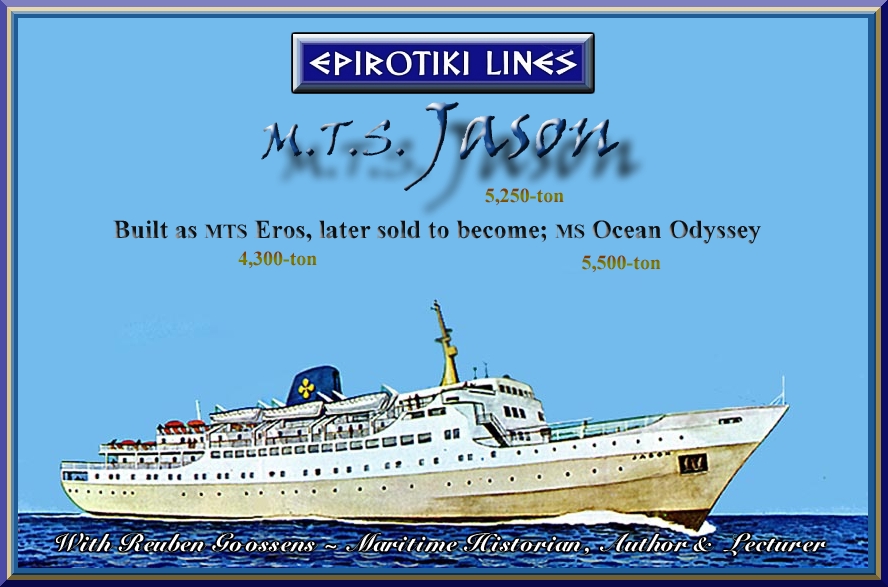 Page Four
A Brief Introduction:
This page contains the next ship to join the Epirotiki fleet the wonderful MTS Jason or "Iason" in Greek and as was shown on her bow, a ship that commenced her days as the MTS Eros an inter-island passenger/car ferry. As you will read this page, you will discover her three lives, although she retained the name "Jason/Iason for a good 40 years and two other names, "Eros" and "Ocean Odyssey" for a total of four and a half years!
Please Note: Photographs and Images are from the Author's private collection, from his collection of Epirotiki and Sun Line and other brochures, unless mentioned otherwise.
MTS Aphrodite, Eros, Adonis:
The well known Italian shipbuilder Cantieri Runiti dell' Adriatico located at Monfalcone constructed three passenger car ferries by order as Italian War reparations to the Greek Government on behalf of the "Hellenic Tourism Organisation." These ferries would be operated by different companies and placed on various inter island services.
The three sisters were of an excellent as well as a pleasant looking design, in addition were they were most remarkable ships for their mid 1960s as they provided a new propulsion technology being the first thrusters systems that proved to be an excellent cost saving device long in the future for lessening the use of tugs in most ports.
All three keels were laid down in 1964. The first ship completed in 1965 was the MTS Aphrodite, followed soon after by the MTS Eros and they were handed over to Kavounides Shipping Co., of K-Lines. The third of the trio, MTS Adonis was also managed by K-Lines, but operated by Nomikos Lines. The MTS Eros commenced its career with Typaldos Lines sailing from Piraeus and the Greek Islands.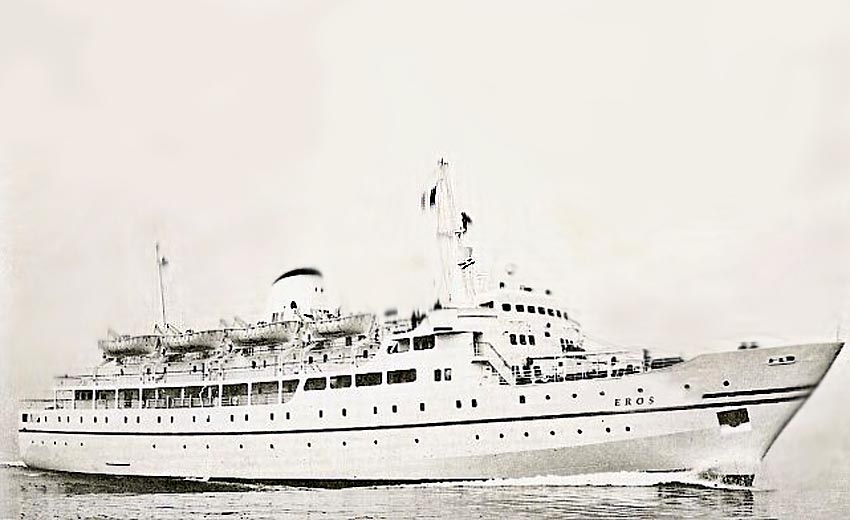 The Typaldos Lines MTS Eros is seen here as built
Each ship was designed to carry 414 passengers in accommodated in deluxe or tourist class cabins as well as aircraft style seats in two spacious rooms. Her public rooms included a spacious lounge on boat deck, a main dinning room, and a lounge and bar on promenade deck, whilst up on navigation deck, just aft of the funnel there is a swimming pool and a spacious lido deck. The garage extended throughout garage deck with a stern door as well as side doors.
MTS Eros operated three times per week from Piraeus to either Rhodes and Dodecanese or Crete and continued on this traditional tourist Greek Islands service. However, after just twelve months in operation all three ships were withdrawn and would be sold.
The MTS Eros was sold in 1966 to Epirotiki Lines whilst her sister the MTS Aphrodite was sold to Sun Lines and the MTS Adonis was obtained by K Lines and each ship was transformed into a fine luxury cruise ship!
Specifications - MTS Eros & her sister ships:
Tonnage:       4,300 GRT.
Length:          96.9m - 318ft.
Width:           15.9m - 52.2ft.
Drought:        4.7m - 15.5ft.
Engines:        Sulzer type Diesels, 5,500 BHP.
Screws:         Single & bow thrusters.
Speed:           Service speed 18 knots, maximum 19 knots.
Passengers:    414 - accommodated as follows:
                    109 in deluxe cabins.
                    66 tourist class cabins.
                    64 in aircraft style seats located in two lounges.
                    Fully air conditioned / Denny Brown Stabilizers.
************************************
MTS Jason:
Epirotiki had the ferry Eros completely refitted to become the luxury cruise ship named the Jason, whilst her sister the Aphrodite was sold to Sun Lines, who renamed her the Stella Oceanis and she received the most extensive rebuild and renovation of the three sisters, with her Bridge and pool deck (Sun Deck) or Jupiter of the Jason, was extended further aft, then Lido (Boat) Deck, or Apollo Deck on Jason, was extended as far as the stern, and her Oceanis (Promenade) Deck, Dionysos Deck on the Jason, was almost completely enclosed, except for a very small deck space far aft. The public room's layout on board was identical as on the Jason, as was the cabin lay out with some variations! However, the MTS Adonis became the K Lines Cruise Ship, renamed MS Atlantis.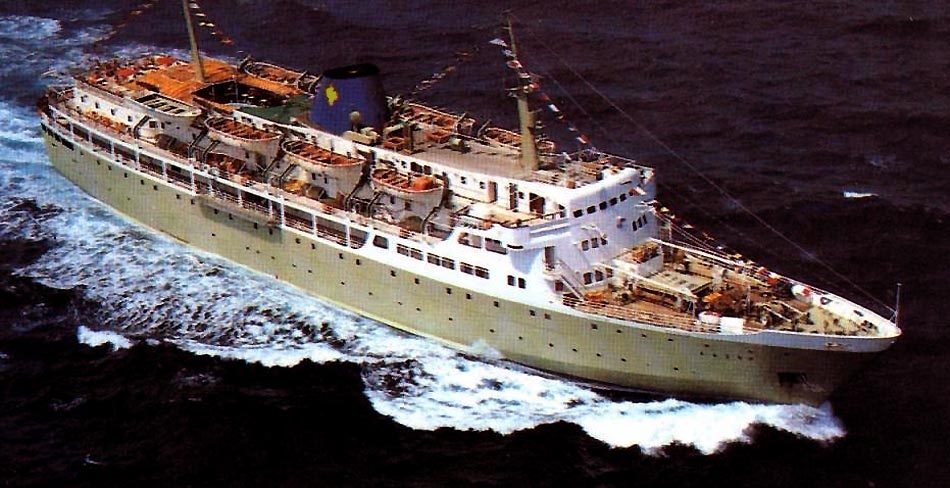 The delightful MTS Jason seen from the air soon after her refit having been completed
This image is from one of her brochures, as are many of the images on this page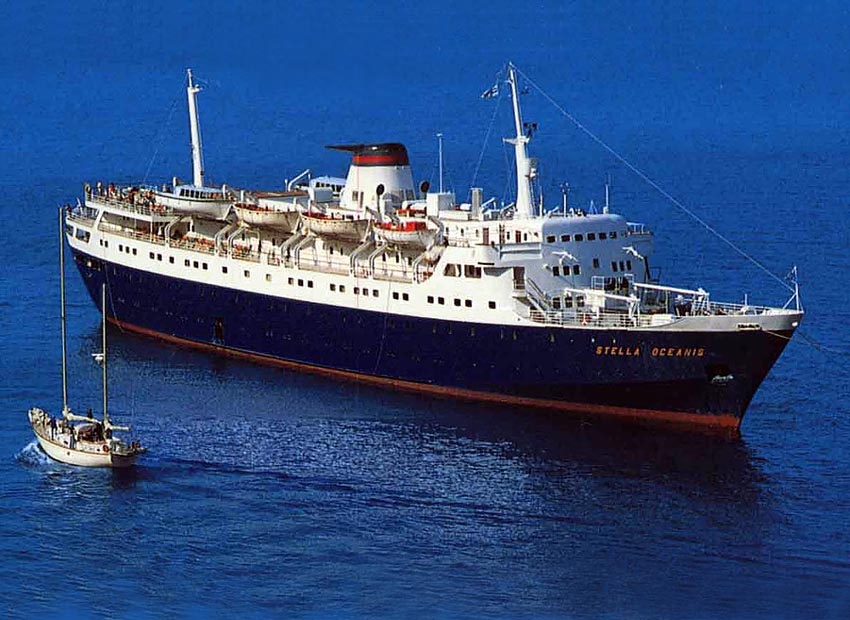 MTS Aphrodite became the Sun Lines luxurious Stella Oceanis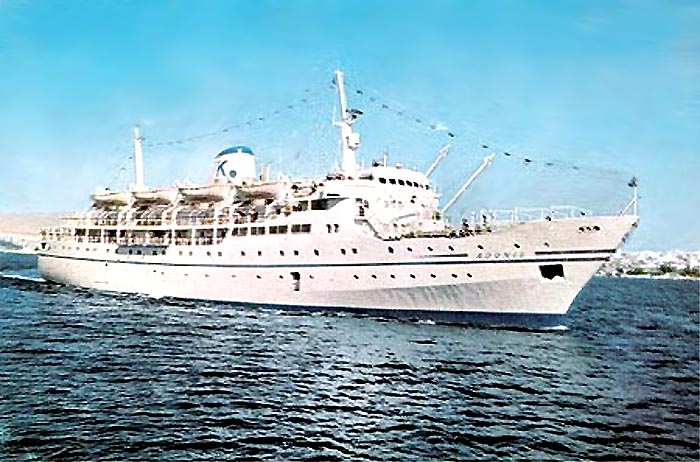 The MTS Adonis, became the K Lines new fully refitted Cruise Ship, MS the Atlantis
Jason's Conversion:
During the conversion of the Jason the garage doors were removed and she was also lengthened by 16 feet. All of her accommodations were greatly improved with new cabins added on a completely rebuilt garage deck and on another lower deck. Upon completion she looked simply beautiful, with the blue and black capped funnel featuring the yellow Epirotiki yellow logo, also the companies traditional buff hull and her two masts. But her appearance in general had changed a little although several decks had been extended further aft and the forward section was glazed in as the dinning Room became a full width room. However, the other exterior alterations were mostly cosmetic changes, which improved the look of the ship greatly!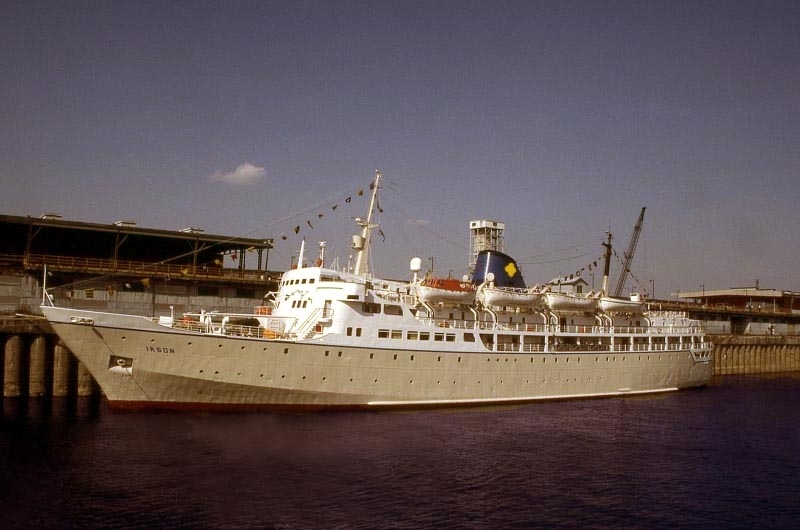 The always spotless MTS Jason seen berthed
Photographer unknown - Please see Photo notes at bottom of page
The Jason departed on her maiden on her maiden cruise on March 22, 1967 under the superb management of the wonderful Epirotiki Cruise Line, a company that has done more than just provide just a cruise vacation, but offering a cruise vacation combined with a land based adventure. Each voyage had the best of historians and lecturers onboard. In addition these cruises were intimate and were of the very highest standard, although the Jason was never considered to be stuffy and over pretentious.
MTS Jason

Operated

the following Cruise schedule from early April to the end of October:
The MTS Jason operated the cruise as indicated on the map below from early April to the end of April each year. Then, during the winder months she would make Trans-Atlantic crossings, which were followed by a series of cruises in the Caribbean.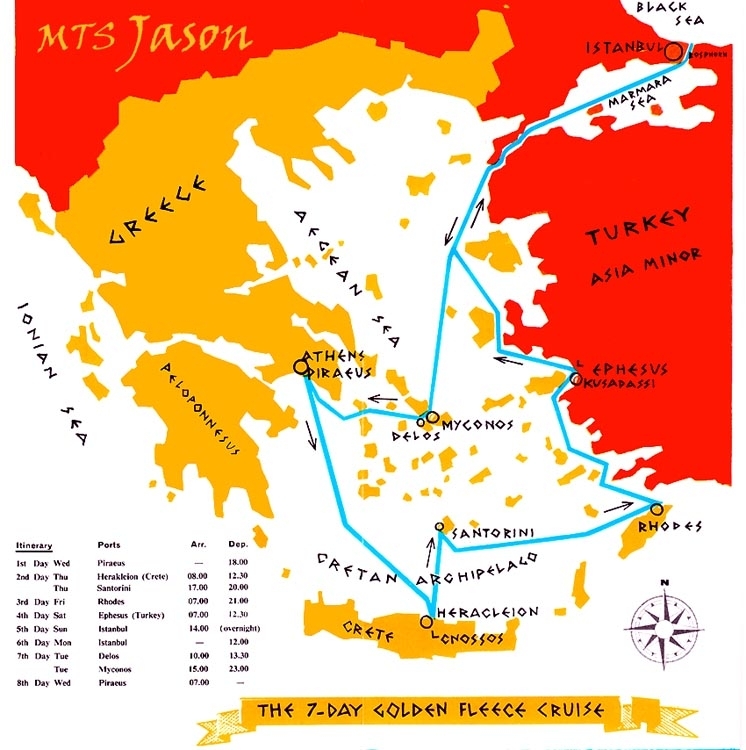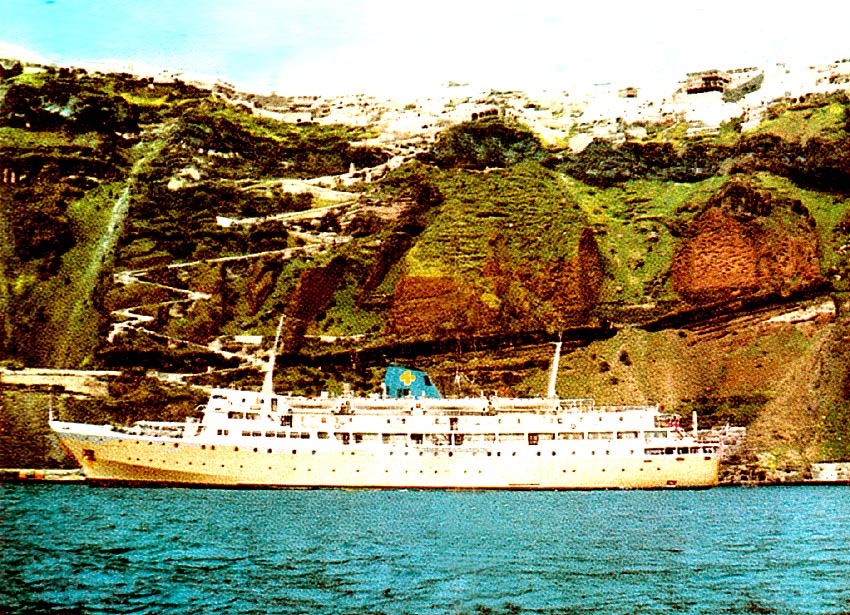 MTS Jason is seen here at Santorini
In addition to all the above, combined with a wonderful itinerary, the Jason was a ship that became rapidly known as cruise ship that had that famed classic Epirotiki style friendly shipboard environment that was a feature seldom found on other lines, they had the very best Greek Stewards as well as their superb Greek Cuisine combined with excellent service! The Captains welcome onboard party's were sensational, as the Captain and His senior officers did not dress in their traditional uniforms, but rather in special tailored white jackets and black trousers!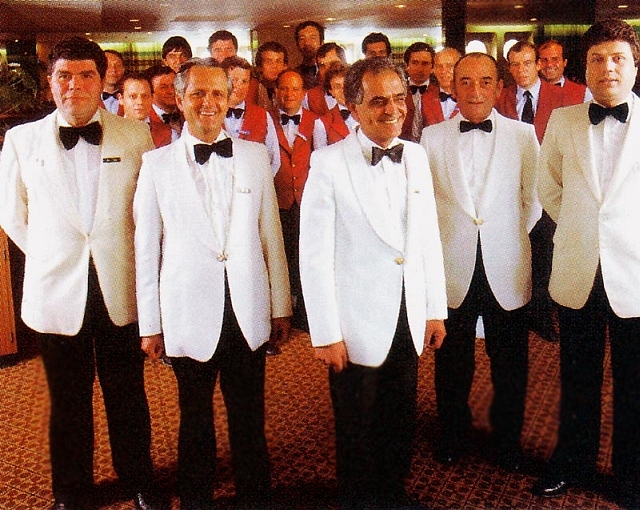 The Captain and his officers and stewards ensure a special Welcome aboard party
 and they will ensure that your cruise on the MTS Jason will be the perfect vacation!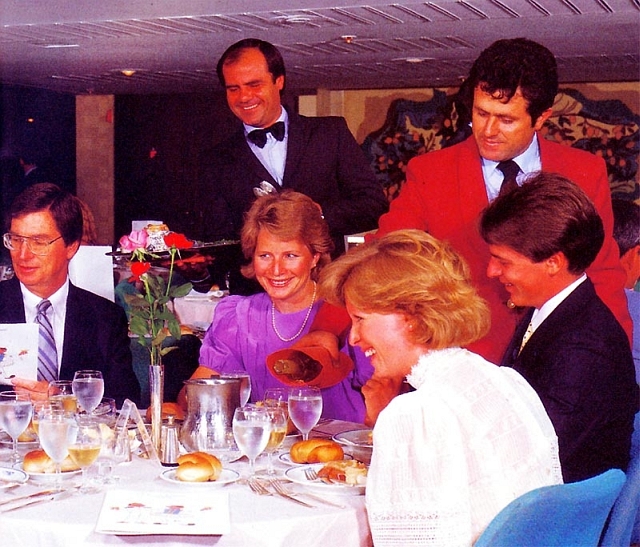 ---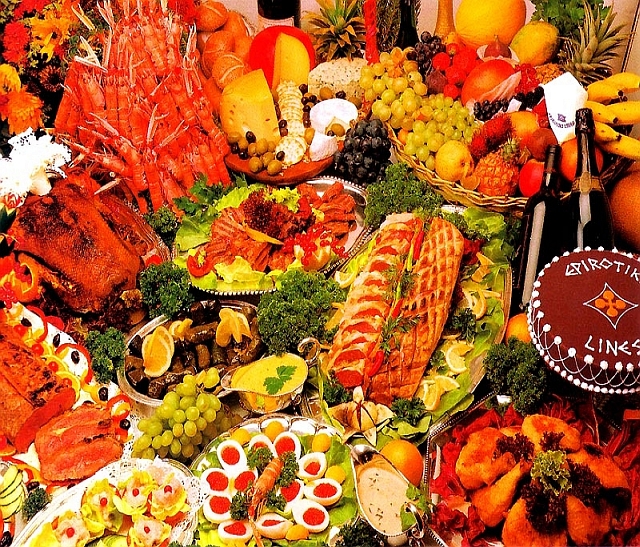 Your experience in the Eros Dining Room will be simply divine. And why not enjoy a wonderful Breakfast in bed!
The ship's public rooms were simply beautifully decorated with themes from Greek mythology scattered throughout. The majority of cabins were outside, with just fourteen being inside ones. However, every cabin had private facilities and all could be converted into delightful daytime sitting rooms.
The Public Rooms and other facilities:
I will commence from the highest Deck being Jupiter (Boat) Deck topside and then head downwards to Poseidon Deck. In addition, I will start from the front of the ship and head aft on each deck. Please Note in 1973, she already had a refit and three cabins were fitted on the starboard side on Dionysos (Promenade Deck) and another deck had been added down below, being Nereus Deck with eleven cabins located forward. And in the 1992 refit the three cabins on Promenade Deck were removed and a Casino installed, as well as a further nine cabins being added on Nereus Deck, making a total of twenty cabins on this deck.
Jupiter (Bridge) Deck:
Forward was the centre of the ship, if not it's heart, for it was from here the ship was managed and all messages were sent down to the engine room per telegraph of phone. The bridge had all the very latest navigation and safety equipment for the time and the ships Captain ensured that he ran a vert tight, yet a happy and a friendly ship!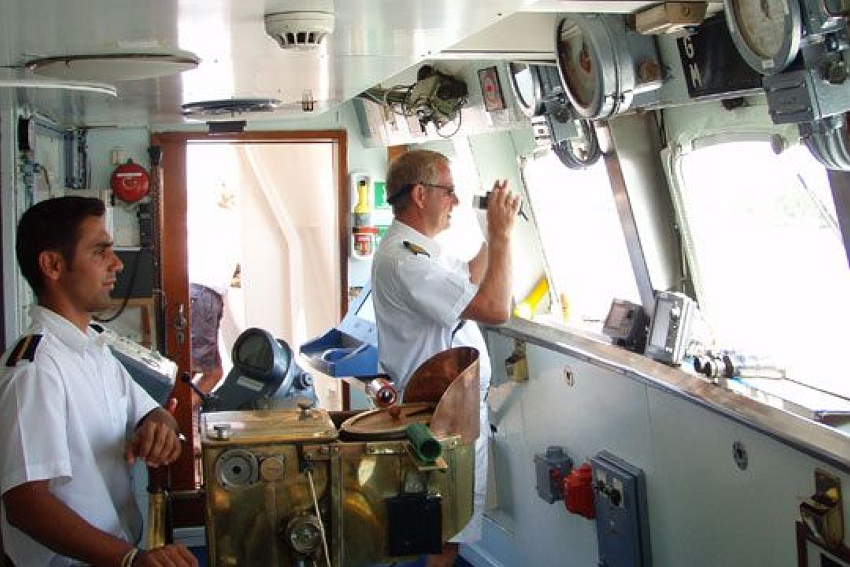 A view of the Bridge and the Captain and a helmsman on duty
On both sides on this deck, commencing just aft of the bridge were the two long decks that were called "Observation Decks." However, directly aft of the funnel was one of the most popular places on the ship during the day, being the delightful and very popular Argonaut Bar together with the ships curvy Argo Swimming Pool. In addition there was a huge deck space, known as the "Apollo Solarium," a sun lover's delight obviously!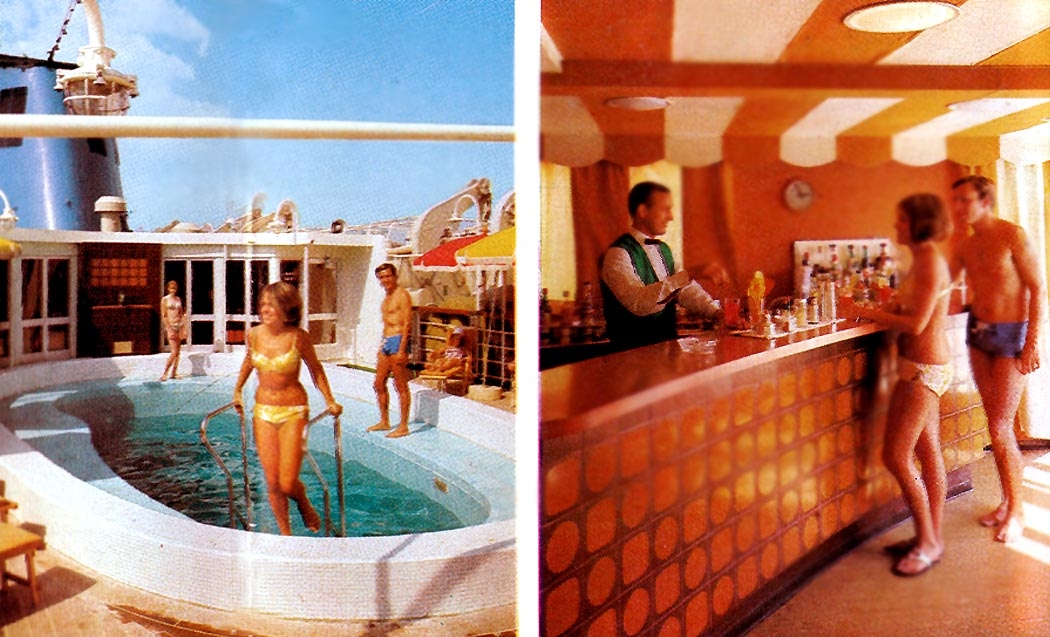 The Argo Pool and inside the colourful and happy Argonaut Bar
Apollo (Boat) Deck:
Far Forward was the spacious and beautifully decorated Orpheus Lounge and bar, this venue had windows on three sides and offered fine views out to the Ocean. This was a quiet space during the day, but at night it came to life as the dancing venue as well as the Night Club! This venue has a curved staircase located far forward that goes down into the Dining Salon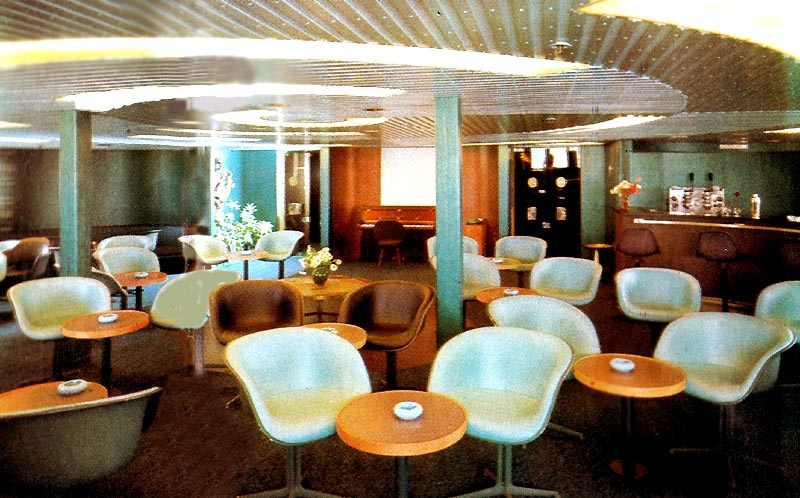 The glamorous Orpheus Lounge
Being technically Boat Deck it had two long reasonably spacious decks running along each side of the ship from far forward and goes all the around the aft section, thus a long "U turn." Thus this deck is ideal for those who enjoyed their still walk in the morning, or just relaxing during the day when at sea.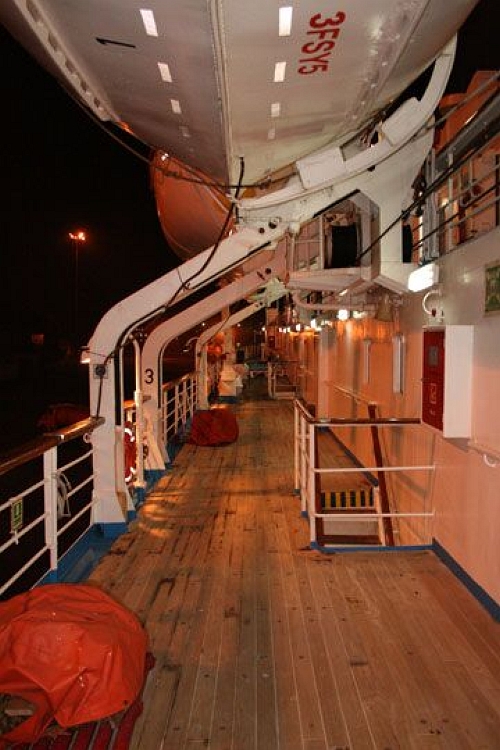 This is Jupiter Deck at night on the Portside and looking towards the aft of the ship
Dionysos (Promenade) Deck:
This is the ships main deck containing her Public Venues, for as we head far forward we will commence with the large Eros Dining Salon, which was the venue that during the refit was completely extended to the side of the ship with new windows fitted, thus this fine venue had views on three sides, to the sides and forward. Of course as already mentioned far forward there were that curved stairwell coming down from the Orpheus Lounge above, and the main entrance doors from a spacious lobby.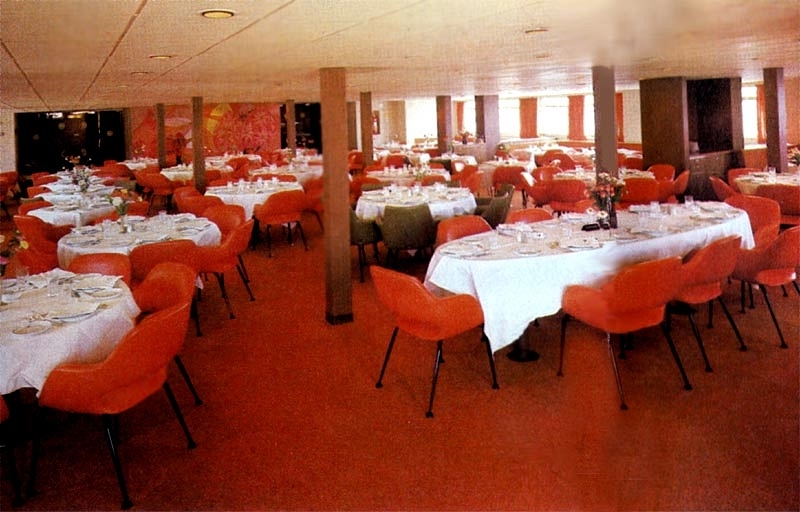 The Eros Dining Salon looking aft to the main doors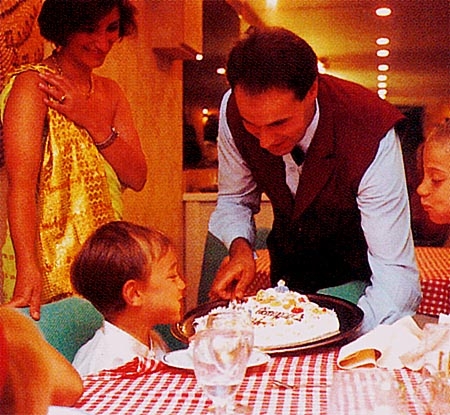 Children were well looked after at any time, but especially on their Birthday!
Head aft, on port and starboard sides, there were the Garden Verandah Lounge, a Reading & Writing Room, as well as a Library. This was followed by the aft Lobby, with the Pursers Office and the Tours Deck.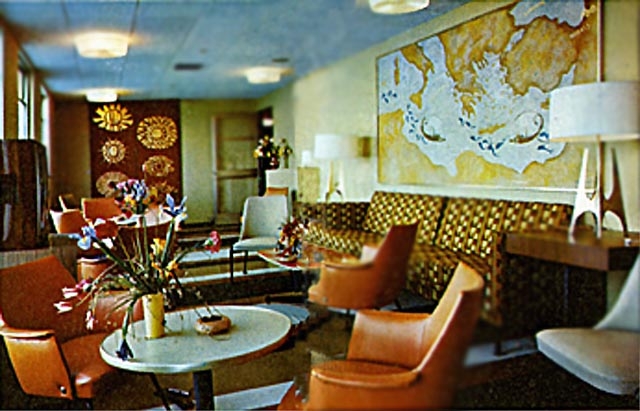 The Garden Verandah Lounge - Portside
And then on the port side the delightful Jason Bar, a room of gold, with a spectacular mural and an elegant interwoven divider. Furnishings are in tones of yellow, with some black leather, but generally this was the "Golden Room, as it does enter, the next venue, the largest lounge on board, the Golden Fleece Lounge.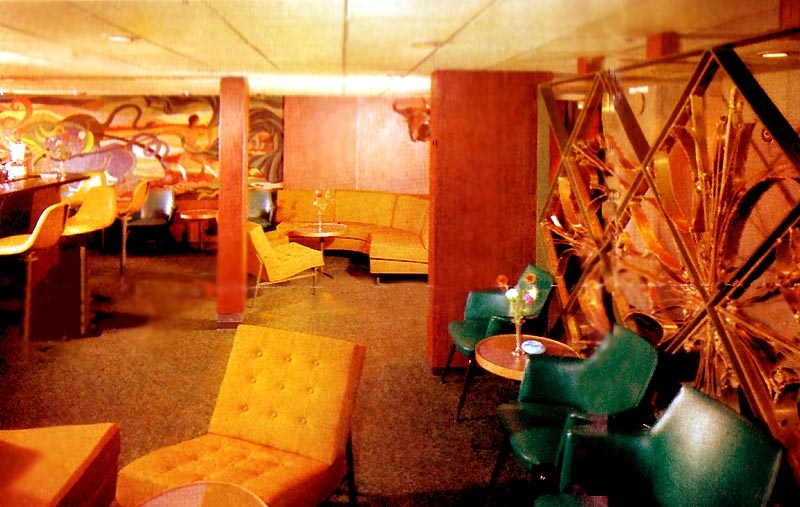 The wonderful and much loved Jason Bar
The evening entertainment is mostly held in the Golden Fleece Lounge, where earlier in the evening it starts with dancing and this is followed later with variety shows and of course, one night on every cruise the Greek Spectacular being performed by the ships crew, this is the band's opportunity to play Greek music and for some fabulous Greek dances with everyone in the venue call-out a the traditional "Oopa's."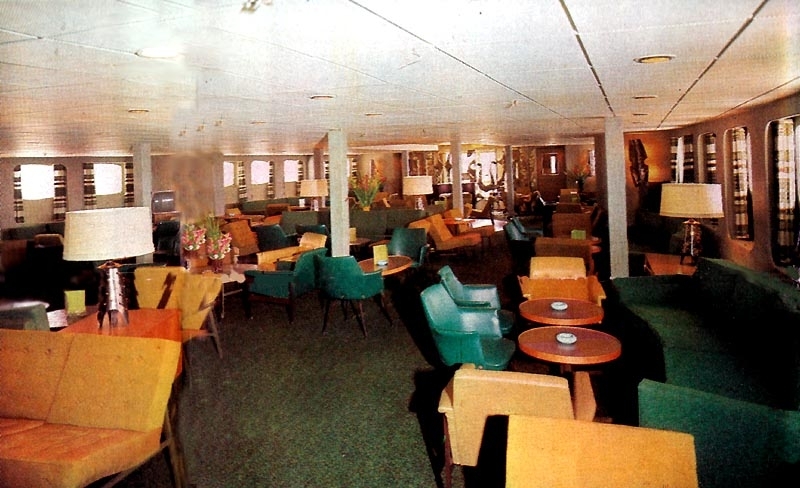 The largest Lounge on board, the Golden Fleece Lounge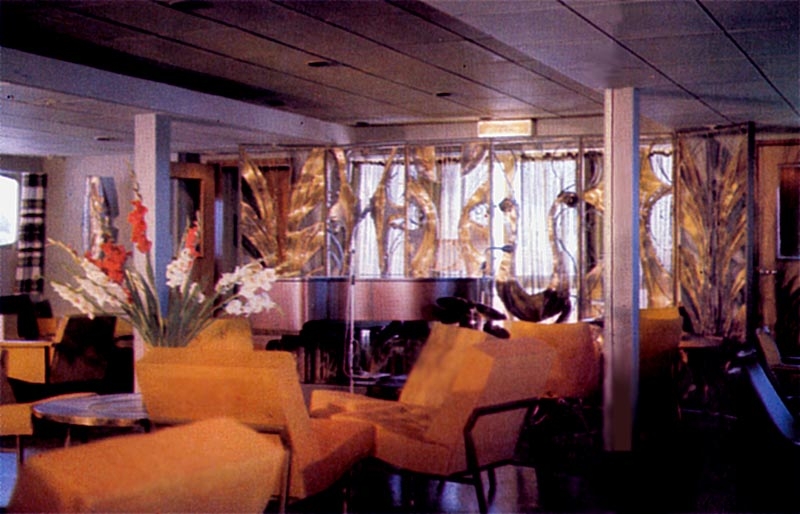 The Golden Fleece Band stand was located far aft, with the Galaxy Terrace just outside
"Venus & Poseidon" Decks and as of around 1973 - "Nereus" Deck:
These three decks contain the majority of the cabins, apart from those on Apollo Deck, which has two Suites that has two rooms, a bed room and a lounge, as well as two bathrooms. In addition, there are four deluxe cabins and all of these are located aft. The rest of the cabins are outside with a good window, apart from two cabins that are located inside the ship, but the are bright and airy, for each cabin of the Jason features not only full air-conditioning, with a temperature control in each cabin but also a private Bathroom.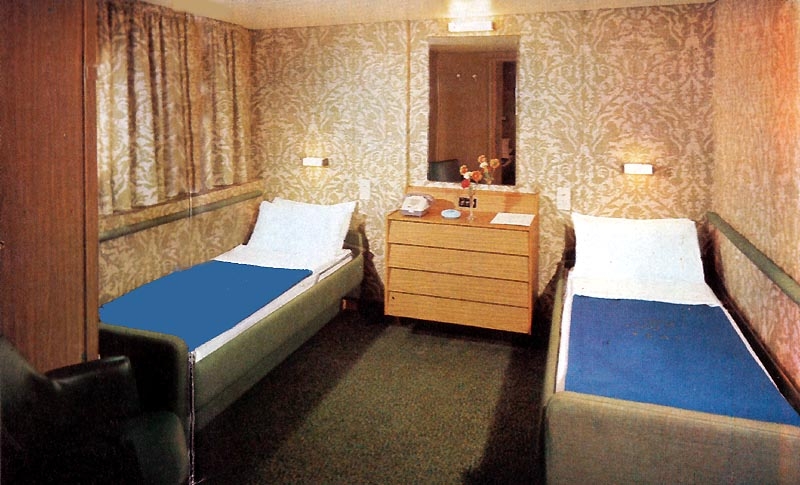 This is a deluxe outside twin bedded cabin on Apollo Deck aft, made up for the night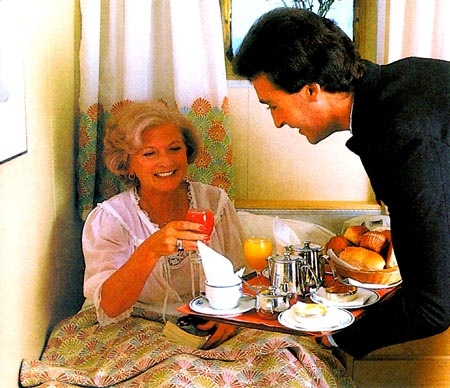 In the morning, it's good at times to have Breakfast in Bed! It was served in such style in those wonderful days now long gone!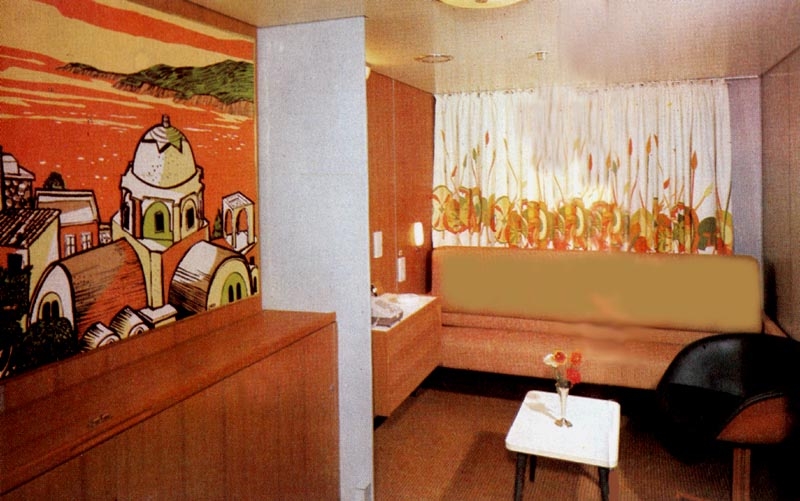 An outside Single or Twin bedded cabin seen made up as a dayroom
As of the 1973 refit, at the forward Lobby on Venus Deck had a change to the Portside were a Men's Hairdresser and on the Starboard side the Ladies Beauty Salon was installed. And one deck down on Poseidon Deck there was a new Boutique. Whereas in 1992 with the changes on Dionysos (Promenade) Deck. The Garden Verandah Lounge was replaced by the Library and the Boutique, thus the hairdresser and Beauty Salon in Venus deck were replace by several cabins, and a new Beauty salon, where the Boutique had been before on Poseidon Deck.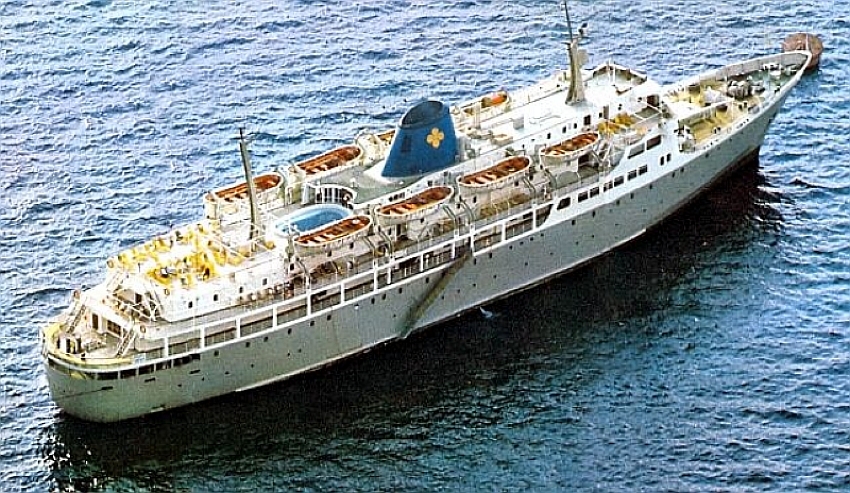 Another aerial photograph released by Epirotiki of their ship MTS Jason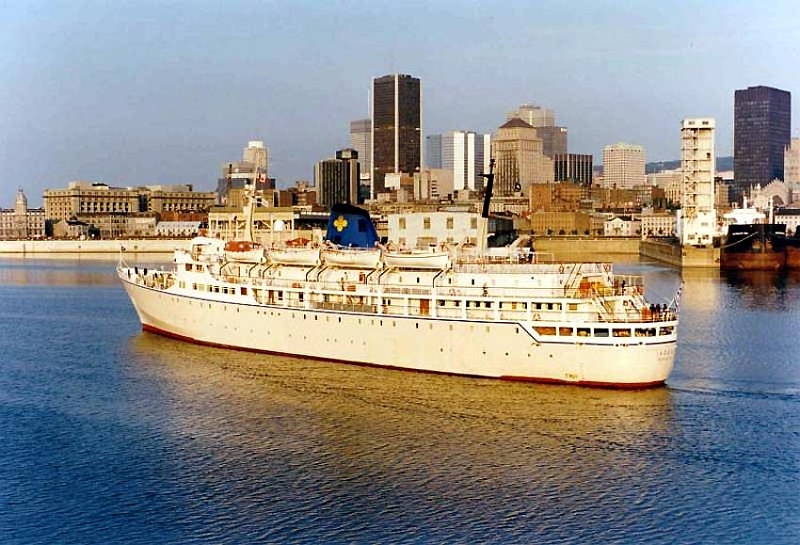 A wonderful Photo of the Jason arriving at Montréal on August 30, 1987
Photograph by & © Marc Piche
Please Note: Page Four B will have three Deck Plans, dated 1967, 1973 and 1992. Thus you will be able to follow what you have been told above! However, there will be a 1992 section below.
1992 Extensive Refit:
In 1992 she received a refit utilising the unique skills of the American designer Arminio Lozzi, who left his artistic touch throughout this fine ship. Jason continued sailing the Mediterranean for Epirotiki Lines as well later for the reformed Royal Olympic Cruises. She was very much an intimate yacht-like cruise ship.
There are more public rooms and deck space than you would think a small ship would have and the Jason lacks for absolutely nothing. There is no doubt that this ship is very much a complete cruise ship but somewhat smaller that so many others, and in many ways it is this, what makes her so much superior!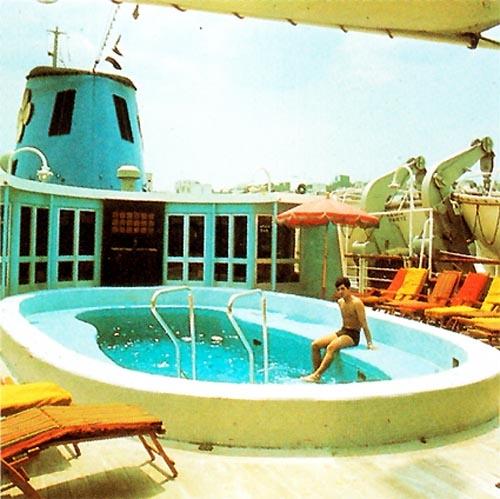 The popular Argo Pool
The décor throughout the ship is by famed designers Maurice Bailey and Arminio Lozzi, and it distinguishes this fine ship from her Sun Line sister the Stella Oceanis. As for public venues, on Apollo Deck far forward is the elegantly appointed Orpheus Lounge with its curved Bar along the portside and a large Bandstand aft. This fine venue features large windows that surround the venue, offering superb ocean and thus making it the perfect observation Lounge by day. It is also a wonderfully quiet room by day and the perfect place for those who love to read a good book on sea days. However, at night this venue changes completely into a Night Club, very much like an oceangoing version of a "Taverna."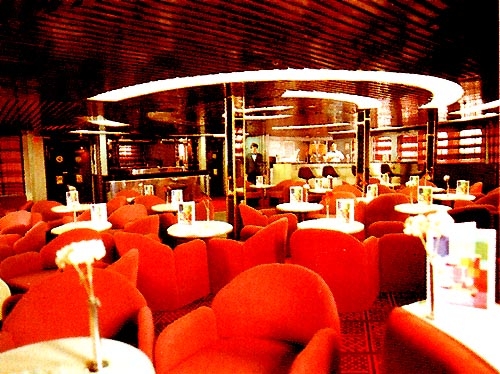 The newly furbished Orpheus Lounge
One deck down on Dionysos Deck far forward is the Eros Dining Salon and this venue has views not just to the sides of the ship, but also to forward. It is spacious enough to seat 200 persons in spacious comfort and luxurious surroundings in two sittings for dinner only. Breakfasts and lunches are usually open sittings and then there ate the buffets out on deck for lunch.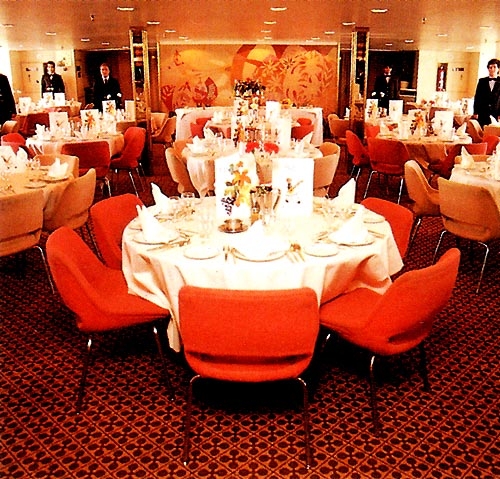 The Eros Dining Salon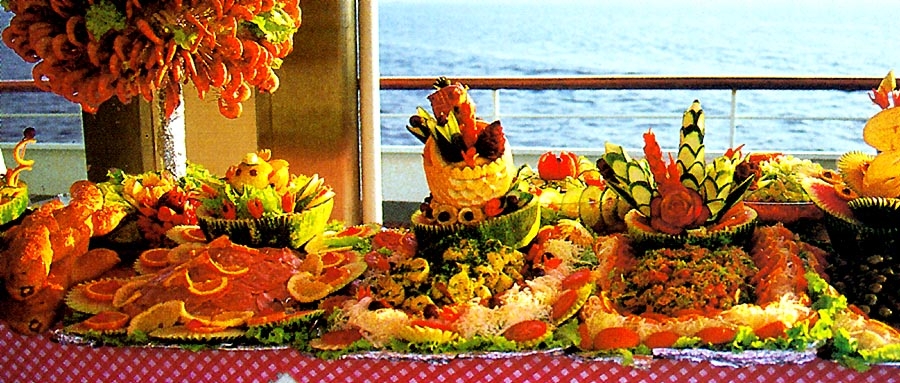 At Lunch there would be these tempting buffets on offer, either inside or outdoors, pending the weather
Heading aft, on the portside there is the Library located amidships, with an adjoining Boutique, whilst directly opposite on the starboard side is the Casino.
The popular Golden Fleece Lounge was also updated and refreshed with brand new carpeting, new furnishings and slight colour schemes. Although, it remained very much the Golden Fleece Room, but a more elegant looking venue!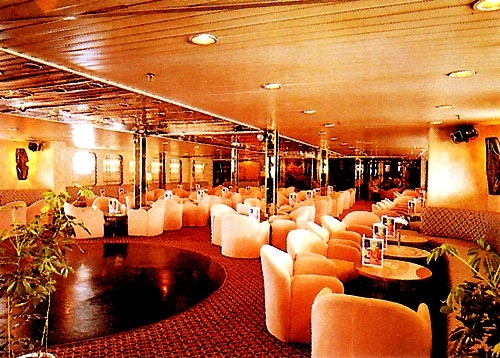 The magnificent spacious Golden Fleece Lounge
During the ships extensive refit her cabins were not forgotten, for they also saw a range of changes. Bathrooms were updated and new soft furnishings were fitted in cabins where required. In addition new beds were added making them more like standard cabins, always made up as beds, yet all cabins had ample chairs for seating. Other internal changes have been noted earlier and can be seen on the relevant Deck Plans on Page Four B.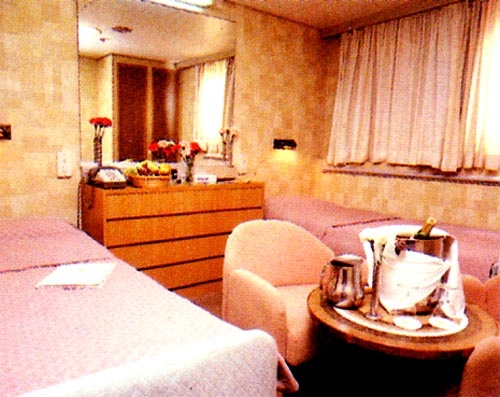 A Deluxe Twin bedded cabin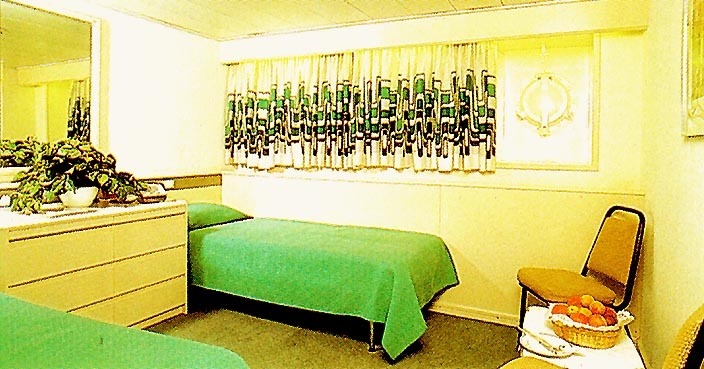 Another twin bedded cabin
New Schedules:
The MTS Jason operated the following Cruise: Piraeus, Istanbul / Turkey (Overnight), Kusadasi for ancient Ephesus, Rhodes, Heraklion / Crete, Santorini, Patmos, Mykonos, Piraeus. Again during the winder months she would make Trans-Atlantic crossings, which were followed by a series of cruises in the Caribbean.
Further Changes to the Ship:
Before the Jason headed for the Caribbean in 1994, she went to the shipyard in Greece where her four aft lifeboats were removed. However, just a year later the portside aft lifeboat was also removed and it was replaced by a new larger covered motor lifeboat, being the same as the two forward ones, which were added earlier. Thus these three covered motorboats, as well as one uncovered boat, now had room for all passengers. The Jason now only accommodated a maximum of 286 passengers in single and twin bedded cabins.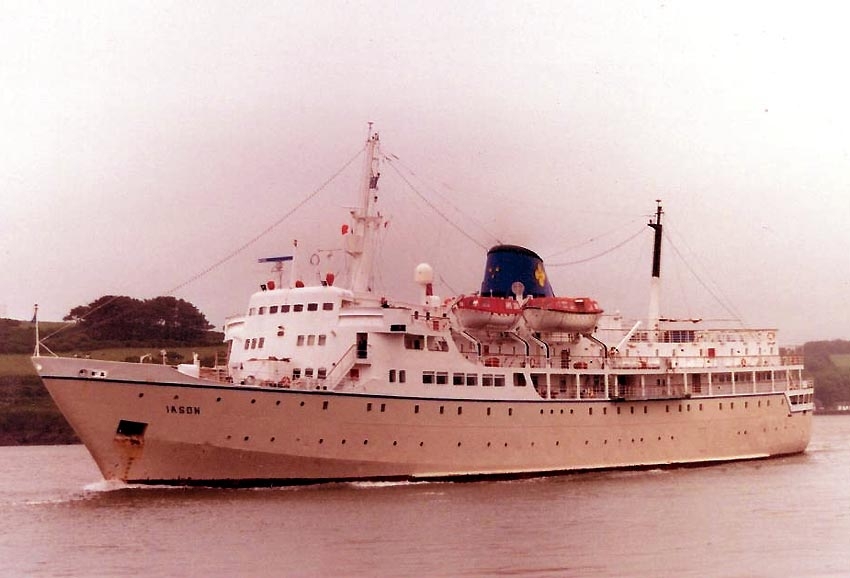 Above & below: Here we see MTS Jason on port and starboard sides with her three motorised covered lifeboats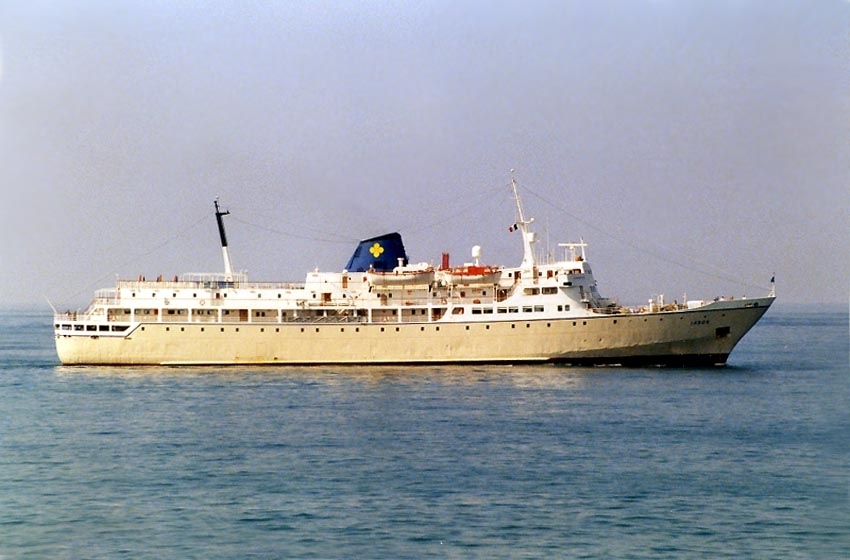 George Petros Potamianos:
Before the 1990s my dear friend, Mr. George Petros Potamianos direct relative to the Epirotiki Company founder had already decided to leave Epirotiki, for he could clearly see that certain things were slowly heading in the wrong direction within the company he so dearly loved, for he did not like some of his relatives ideas and the way the firm was heading, which he felt would lead it into oblivion, and in due course he was proven to be right!
Thus he established his own company and he created a large fleet of cruise ships! However, whilst he was still with Epirotiki George Potamianos' work is well known for his executive decisions and his work during 1972, when he obtained and rebuilt a number of fine ships such as the wonderful Israeli Zim Lines MS Moledet that became the delightful MTS Jupiter.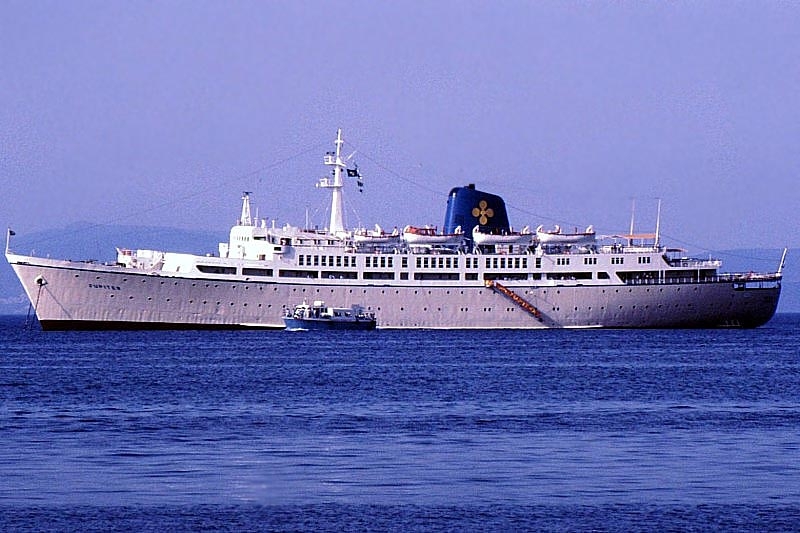 The delightful 6,306 GRT cruise ship MTS Jupiter
In addition, he also purchased the wonderful Holland America Line SS Ryndam, which received a radical ultra modern extreme makeover and upon completion she became the TSS Atlas.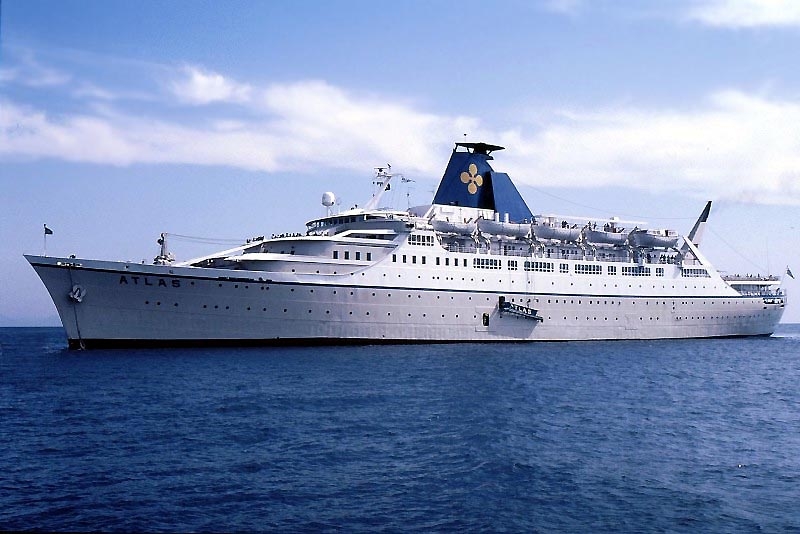 The ultra modern looking and streamlined TSS Atlas seen arriving in a port
*"Ch
ch
Changes":
But sadly just as George Potamianos had predicted before he departed, tragic changes would happen to Epirotiki Lines for in 1995, the company's directors decided to merge their operations with Sun Line and together create a new company named "Royal Olympic Cruises" (ROC).
*Based on the David Bowie song!
At first, they maintained their original brand names as well as their livery. However, Sun and Epirotiki decided in 1997 to list Royal Olympic Cruises on the stock marked and list it on "public holding."
With Royal Olympic being listed on the NASDAQ in 1998, it raised US$91 Million; the founding families retained a controlling interest in the business. Following the capital raised Royal Olympic suddenly announced that they would build two brand new cruise ships, that would sail at very high speeds, in fact they would be capable of 33 knots. The truth is that passengers heading off on a cruise vacation do not want a ship speeding across the sea, especially on these two ships, that proved to be the most unstable ships ever built! Yet ROC designed them to cruise to 'three continents' where high-speeds are required. These ships would carry around 800 passengers and were to be named; MV Olympic Voyager and MV Olympic Explorer.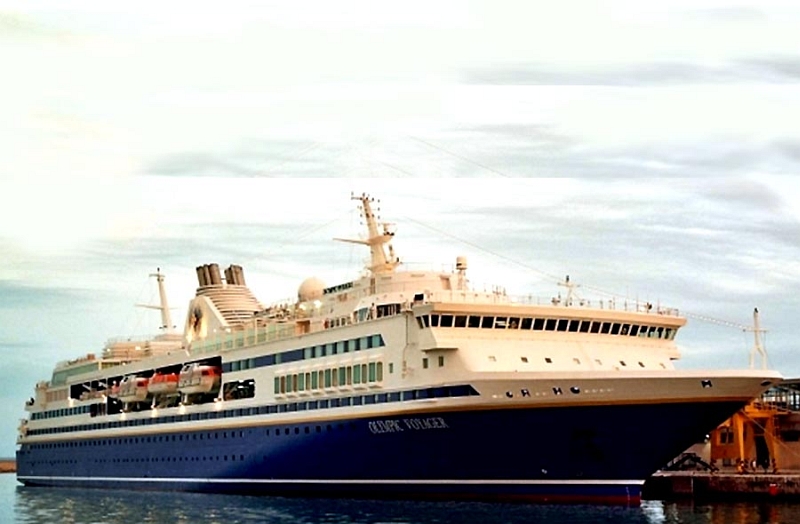 MV Ocean Voyager, one great big disaster!
However soon Royal Olympic was in trouble, for there was political instability in the region which was causing problems and cruise reservations had simply dropped to the lowest levels ever. The share price of the company dropped from US$15 to a mere $2. Smelling an opportunity for a profit, at the end of 2001, the Cyprus based Cruise and Tourist Company Louis Cruise Lines purchased a stake in the Royal Olympic Cruises having bought shares in ROC at a bargain price. The name Louis Cruises significantly assisted in turning around ROC's fortunes.
Then in 2000 ROC took delivery of their very first newly built cruise ship ever, the MV Olympic Voyager. With the company now had a luxury cruise ship, but not realising that this ship and her sister completed in 2002 would be part of the company's downfall.
The International Olympic Committee forced Royal Olympic Cruises to change its name to Royal Olympia Cruises in 2003, and the prefix of all the Olympic ships had to be changed to Olympia.
Following the massive and hideous terrorism attack on New York's Two Towers on September 11, 2001 it stood to reason that Royal Olympic Cruises was hit significantly by the overall global tourism downturn, just like every cruise line. Then during the war on Iraq, the business suffered even further as customers saw the region as a dangerous destination. Royal Olympia attempted to change its fortunes with a change of itineraries but new altered brochures simply confused intending passengers and tragically by the end of 2003 the company's two flagships were seized by the creditors.
ROC struggled on for just a few months, before finally collapsing in March 2004. Attempts to restart also failed in a heap and the line disappeared, with Louis moving into the region with Louis Hellenic Cruises.
During the time of the ROC's problems, they had laid up most of their smaller ship and even though there had been buyers, for some reason, they refused to sell them, being a huge mistake, if not simple stupidity! For it would have raised considerable amount of good cash. The author as president of Save the Classic Liners Campaign worked with buyers who wished to buy several ships, but it was extremely difficult to work with ROC!
Thus, most of the fleet was sold by the liquidators to the breakers and they were after the collapse of ROC. Although the Olympia Voyager is currently operating as Costa Voyager and Olympia Explorer is operating as Explorer, a floating university. The very popular MTS Triton was taken over by Louis Hellenic Cruises who renamed her Coral, until she also was finally broken up.
The point is that it was extremely poor planning with the building of two new ships, an overextension of funds as well as outside factors that lead to the collapse of what was once a great shipping line.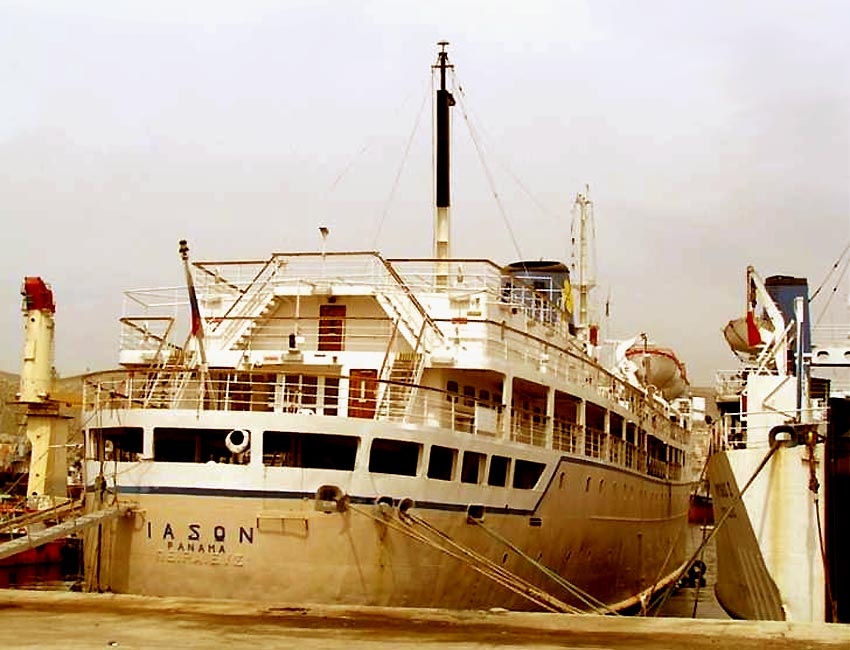 Here we see the Jason laid up in Piraeus awaiting her livery change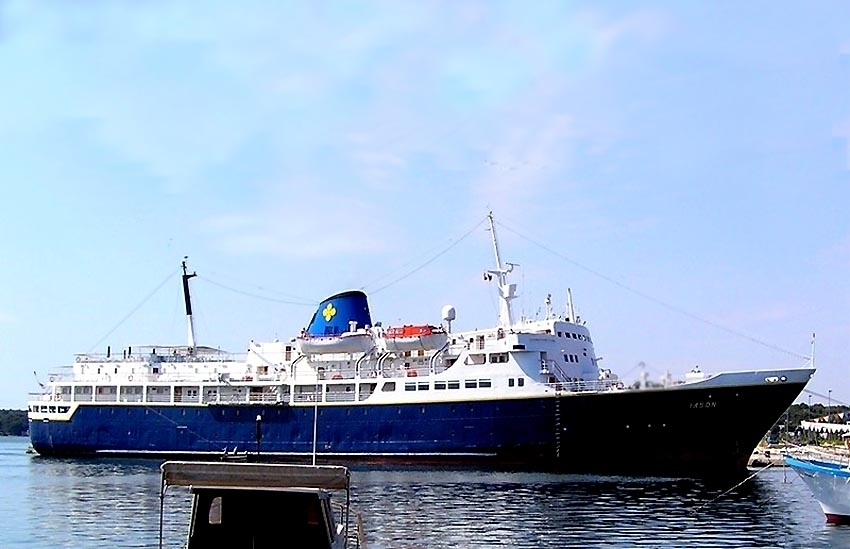 The Jason is seen here in here in the ROC livery, but she retained her Epirotiki funnel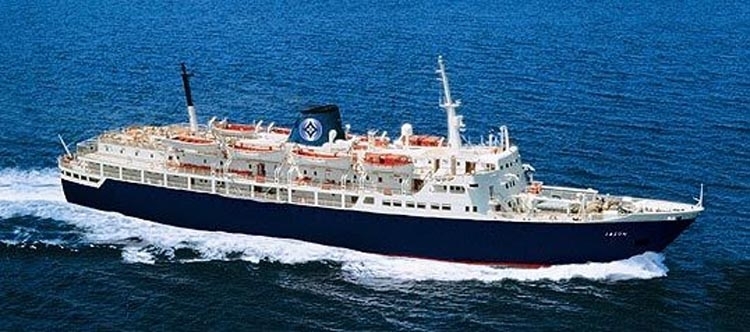 The Jason is now seen with the full Royal Olympia Cruises livery, but with her passenger
numbers having been increased being the reason her four aft lifeboats were restored
With Royal Olympia Cruises having collapsed in a financial heap late in 2004, the MTS Jason was sold in 2005 and she was ready towards head to far more exotic destinations.
Specifications - Jason:
IMO :            6415489.
Tonnage:       5,250 GRT, 8,000 tons Displacement.
Length:          105.5m - 346ft.
Width:           15.9m - 52.2ft.
Drought:        4.1m - 15.5ft.
Engines:        Sulzer type Diesels - 5,500 BHP.
Screws:         Single & bow thrusters.
Speed:           Service speed 17 knots, maximum 19 knots.
Decks:           6.
Total cabins:  147.
Passengers:    294 (340 all berths).
.                   286 in 1994.
Crew:            139.
Other:           Air-conditioned throughout / Denny Brown Stabilizers.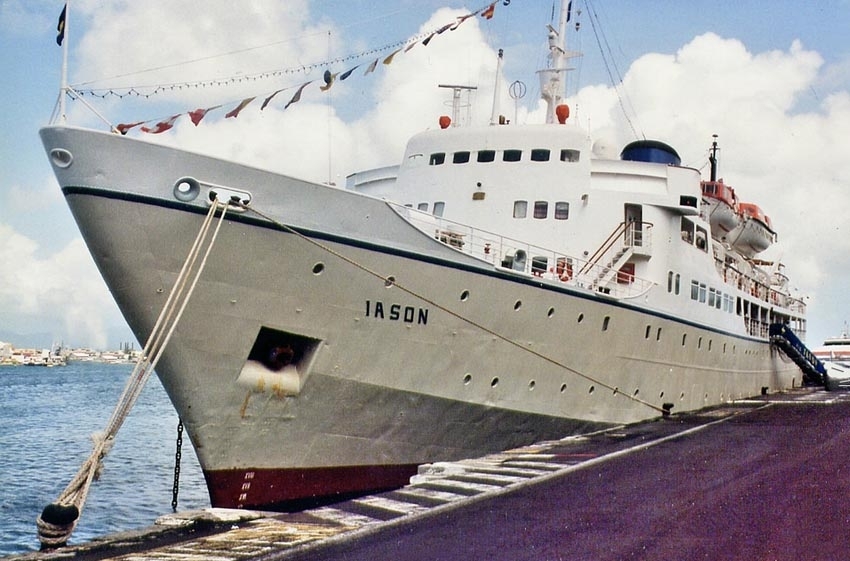 Her days had come to an end as the MTS Jason, a fine bow photograph of her taken around 1998/99
************************************

MS Ocean Odyssey:
Late in 2005 the MTS Jason was purchased by the Derwent Ocean Ltd. S.A. of Panama and she was renamed MS Ocean Odyssey. She was fully refurbished and her interiors were given a brand new bright and a new look interior with a slightly more modern look with that additional touch of colour, yet she always retained a delightfully intimate ship. Her cabins were also enhanced and the overall effect was, that the Ocean Odyssey became and looked like a new ship, rather than a 1960's classic vessel. What surprised many of her passengers was that for a ship of her size, that she had so much teak deck space, as well as a swimming pool let alone an outdoor Jacuzzi. Her future passengers likened her to a "Giant Private Super Luxury Yacht."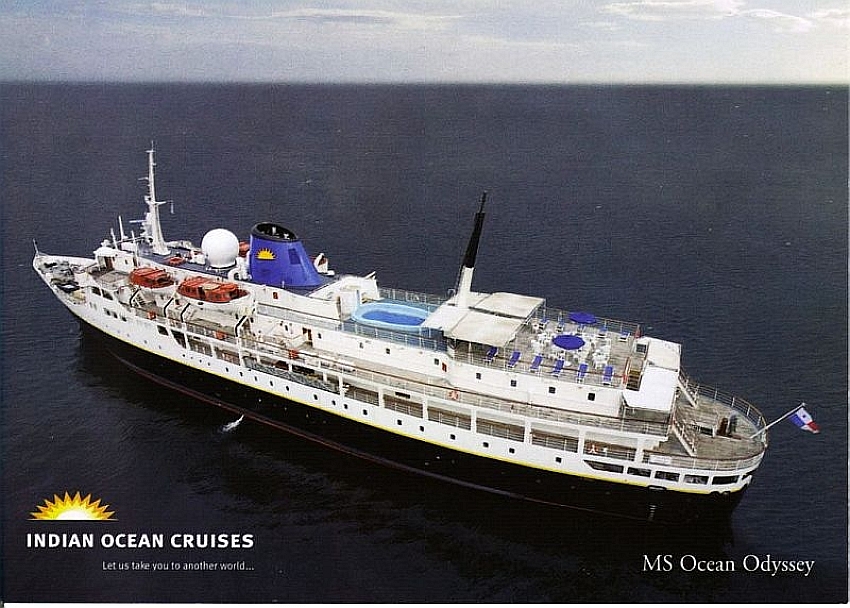 An IOC company postcard of their new ship the MS Ocean Odyssey
She was placed into service under the Management of Indian Ocean Cruises and the ship was simply stunning in every respect, from the outside as the image above shows, and her new interiors!
Her schedule was mostly as follows: Goa, all ports India (unless as noted otherwise), Mangalore, Sui-EU (Lakshadweep Islands), Cochin, Colombo (Sri Lanka), Trivandrum, Cheriyan (Lakshadweep Islands) back to Goa.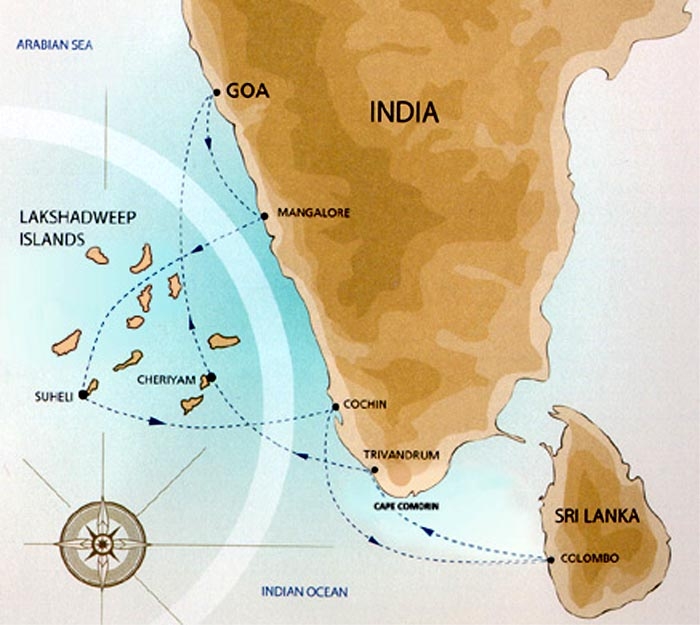 There was no doubt that her public rooms were stunning, from the elegant 200 seat Seven Seas Restaurant forward on Dionysos (Promenade) Deck, or the Trade Winds Lounge and the intimate Trade Winds Bar located portside aft of the lounge. Amidships on the starboard side was the Casino, with the Library, and the Shop located on the portside. The Reception Desk and Tours Desk was located in the aft Lobby. Whilst forward on Apollo (Boat) Deck above was the colourful Ocean Sports Bar, which became Night Club having walls clad with large TV screens.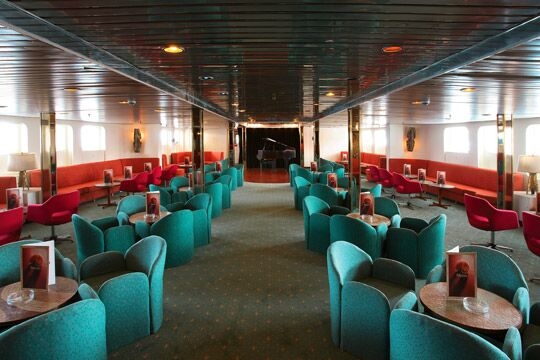 The Trade Winds Lounge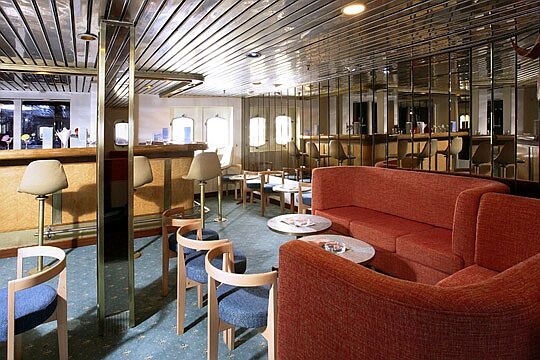 The Trade Winds Bar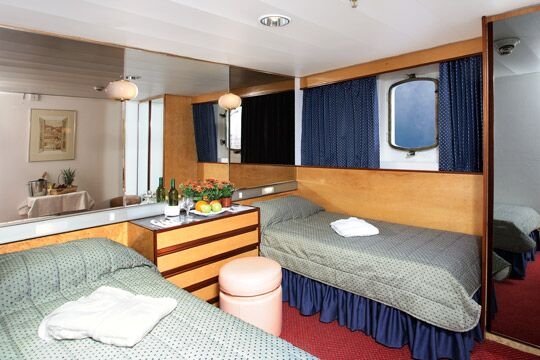 This a newly refurbished standard outside twin bed cabin
The MS Ocean Odyssey quickly became greatly loved and hailed for her superb service and fine food, as one passenger wrote in a review at the time; "It has to be said that the waiters and the entire corps of stewards aboard were, to a man, an utter tribute to their ship; they simply could not do enough for their guests, predicting most of our whims and jumping to comply with those they had not foreseen. The meals were superb and as for the buffets, they were not just a feast for the eyes, but all I can say, it was - food lovers heaven!"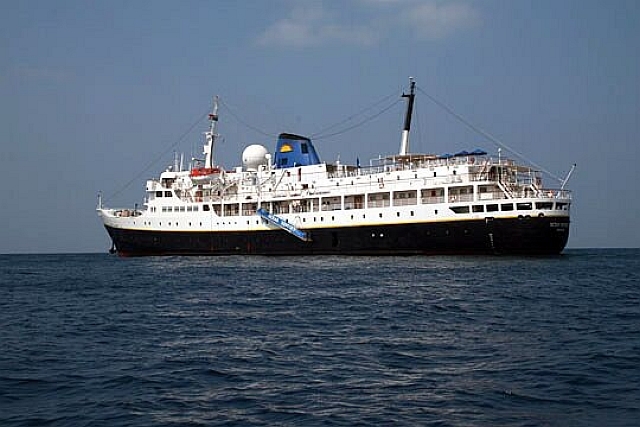 Whilst she operated, the Ocean Odyssey amazed all for "her facilities are simply superb"

In many ports the ships tenders were used, but at times the ports provided the transfers boats as on this occasion
Indian Ocean Cruises operated 7 night and 14 night cruises out of Goa and Cochin cruising the exotic Indian Ocean Islands and Sri Lanka and those voyages were reasonably popular with the English as well as American, Australian and New Zealand holidaymakers.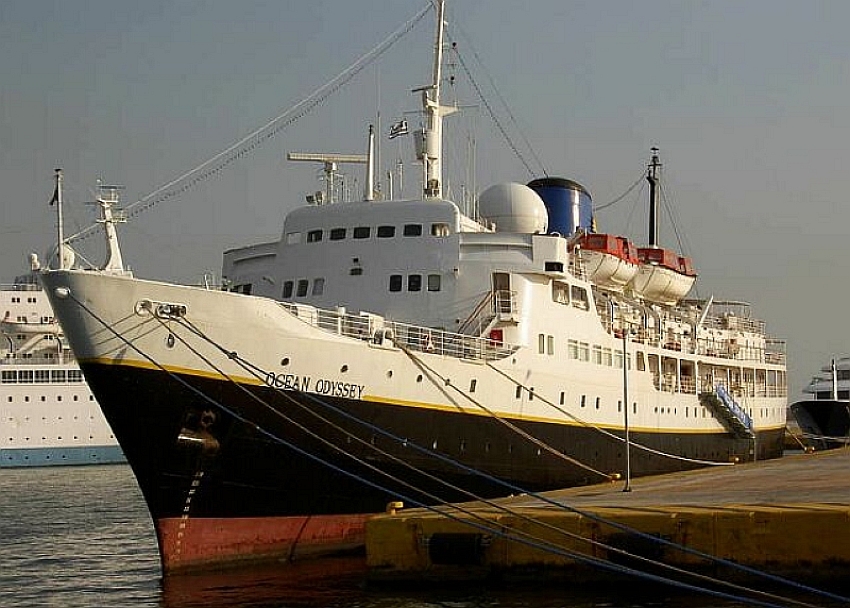 MS Ocean Odyssey seen whilst she was in Piraeus Greece
Having just completed her second season of voyages that concluded late April 2008, and thereafter she headed for  Port Louis in Mauritius where it was said, that it was there she enter dry dock to make her SOLAS 2010 compliant and receive another minor interior refit.
Her final Days:
However, having arrived at Port Louis, the MS Ocean Odyssey found herself laid up at the island nation. It was claimed that there were possible plans to commence cruises around the waters of the pristine island and the region, beginning in December 2008, but nothing materialized. Then Indian Ocean Cruises made a statement that the plan had always been to use the ship as a floating hotel in Port Louis during the off season, being the only reason the ship was in Port Louis.
However, in April 2009 Indian Ocean Cruises ceased operations and the Ocean Odyssey was placed on the market. But, tragically in due course the only buyer for this fine ship that could be found was an Indian ship breaker who purchased her later in 2009. It was not long before she headed for Alang India where she was broken up in 2010.
The MTS Eros, MTS Jason & MS Ocean Odyssey did give an amazing 45 years of excellent service as well as great joy to thousands of her passengers. The truth is, that in 2009 the ship was still in a superb condition and had she been better managed she could have sailed on for at least another ten to fifteen years!
Specifications - Ocean Odyssey:
IMO:              6415489.
Last refit:       2006 / 2009.
Tonnage:        5,500 GRT.
Speed:           15 Knots.
Passengers:    250 (max).
Cabins:          125.
Crew:            120 (International).
                     Fully air-conditioned / Denny Brown Stabilizers.
But we shall always have wonderful Memories of a fine small ship!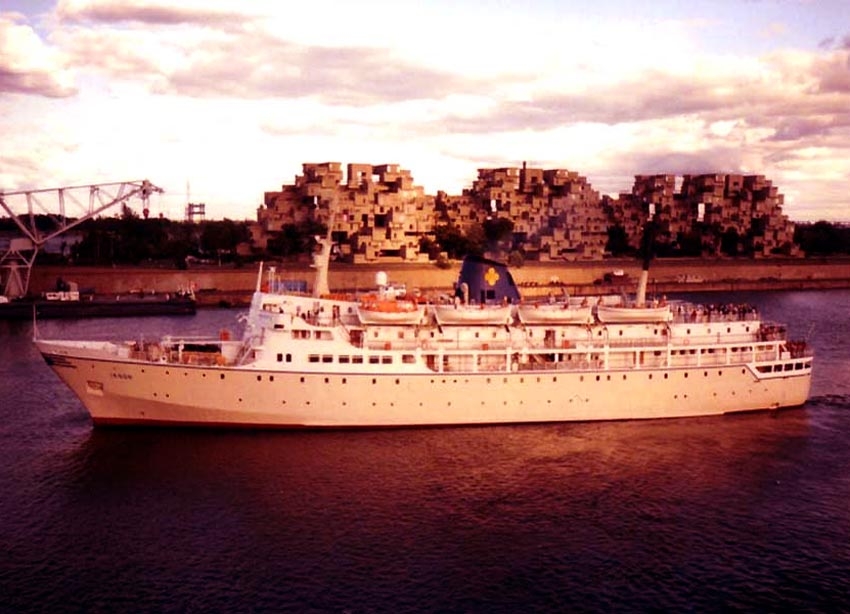 MTS Jason seen departing Montreal in the 1980s
Photographer is unknown – Please see the photo notes at the bottom of page
Epirotiki Index:                     
Page One …                              MV Semiramis the first ship!
Page One B …                           MV Semiramis Deck Plan.
Page Two …                              The Early Ships - SS Hermes, Atreus, Pegasus & Hermes II.
Page Three …                           MS Argonaut.
Page Three B …                        MS Argonaut Deck Plan.
Page Four …                             MTS Jason.
Page Four B …                          MTS Jason, later MS Ocean Odyssey - Deck Plans.
Page Five …                              MTS Orpheus II.
Page Six …                               MTS Apollon II.
Page Six B …                            MTS Orpheus II & Apollon II - Deck Plans.           "
"Blue Water Liners sailing to the distant shores.
I watched them come, I watched them go and I watched them die."
****************************
Return to the ssMaritime Main INDEX
Where you will discover over 700 Classic Passenger & Passenger-Cargo Liners!
ssMaritime.com & ssMaritime.net
Where the ships of the past make history & the 1914 built MV Doulos Story
Please Note: ssmaritime and associated sites are 100% non-commercial and the author seeks no funding or favours of any shape or form, never have and never will!
Photographs on ssmaritime and associate pages are by the author or from the author's private collection. In addition there are some images that have been provided by Shipping Companies and private photographers or collectors. Credit is given to all contributors. However, there are some photographs provided to me without details regarding the photographer/owner concerned. I hereby invite if owners of these images would be so kind to make them-selves known to me (my email address may be found on www.ssmaritime.com only), in order that due credit may be given.
This notice covers all pages, although, and I have done my best to ensure that all photographs are duly credited and that this notice is displaced on each page, that is, when a page is updated!
ssMaritime is owned & © Copyright by Reuben Goossens - All Rights Reserved