S.S. Johan de Witt of 1920 to 1948
Please Note: Firefox and some other Search Engines may not be suitable
Use Google Chrome for this Web Page to load perfectly!

Please Note: All ssMaritime and other related maritime sites are 100% non-commercial and privately owned, thus ssmaritime is NOT associated with any shipping company or any other organisation! Although the author has worked and been involved in the passenger shipping industry for well over 60 years, but due to his old age and poor health, he was forced to retire. Yet, he has completed well over 1,435 Classic Liners, Passenger-Cargo Liners as well as humble converted C3 converted Migrant Liners, which has transported countless thousands folk to the new world, as well on vacations'. I trust the features online will continue to provide Classic Liner and Ship enthusiasts both the information they are seeking, but more so provide a great deal of pleasure and relive many happy memories!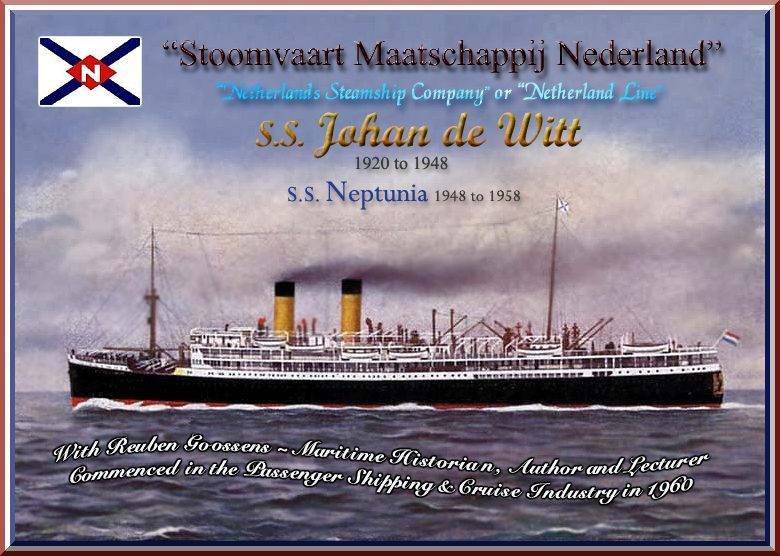 Please Note: Postcards, photographs & other images are either from the author's private collection.
A special thanks to the ssmaritime supporters for sending their most welcome photos & images
Sjohn van der Velden (NL), Joop van Staveren (NL), Peter Reekman (NL) & Joseph Best (AU)
And a special 'thank you' to the "Australian War Memorial"
*********************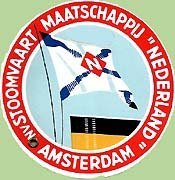 Introduction to the Company:
The company that is officially in Dutch, "Stoomvaart Maatschappij Nederland" (SNM), was originally founded in Amsterdam in 1870 for the purpose to operate a direct passenger-cargo service between the Netherland's and the Dutch East Indies, sailing via the Suez Canal.
Thus they commenced with vessels that could carry passengers, mail, and freight most of it from Holland. With the Company being a sucsess, S.M.N. decided to operate genuine passenger lines with holds that could carry sufficient freight. Their ships were of a very high standard, especially the First Class, which where superbly fitted out, with magnificent mahogany timber carvings in the Public Rooms and Stair Cases.
During the Great War, with the Netherland's being a neutral country they took the opportunity to establish a subsidiary Company being the "Java - New York Line", which originally operated via the Cape of Good Hope, but after 1917 they sailed via the Panama Canal. In due course new services were added to include Gulf of Mexico ports.
Sadly World War II caused huge disruptions, but worse still heavy losses to the S.M.N. fleet, but in 1948 they set up new services between the Netherland's to South Africa and South America, as well as the Persian Gulf and India.
Of course trade was severely affected due to the independence of Indonesia in 1949, but after 1960 Dutch ships were no longer allowed to trade in Indonesia. Thus SNM commenced and had an excellent trade to Australia and New Zealand.
In 1957 their two remaining passenger liners, the M.S. Johan van Oldenbarnevelt and M.S. Oranje were transferred to the Around-the-world passenger and cruise service.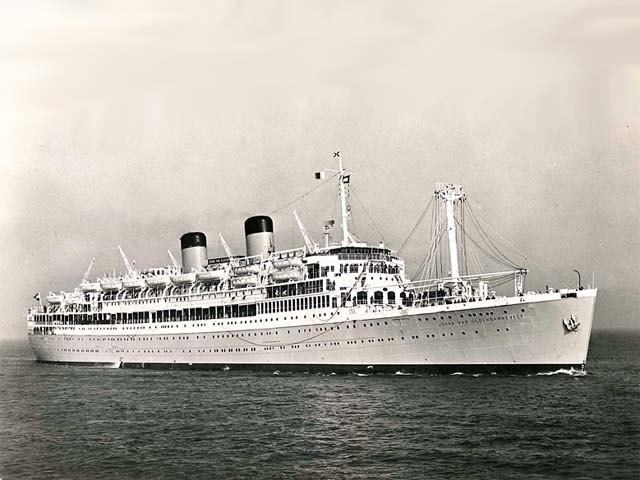 The "Johan van Oldenbarnevelt" was lovingly known as the "JVO" (1930-1963)
She was sold to the Greek Line in 1963 to become the ill fated "Lakonia" (1963)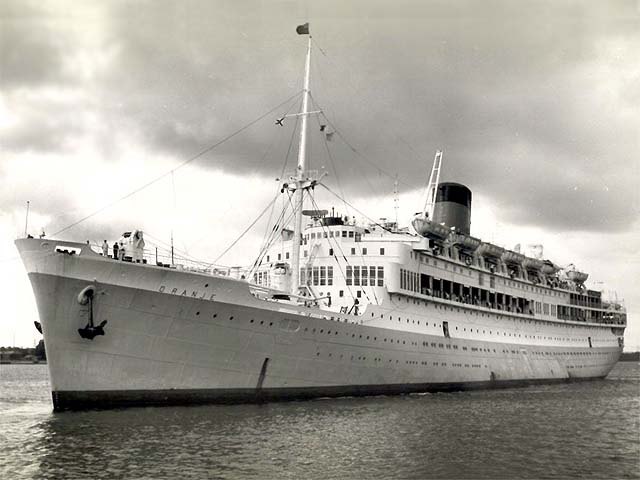 M.S. Oranje (1939-1964), sold to Flotta Lauro Lines & rebuilt as the Angelina Lauro (1965-1979)
A little later the company merged with three other companies in 1970 and the "Nederlandsche Scheepvaart Unie" (NSU) was born.
NSU in due course became part of "Nedlloyd", and then S.M.N. became part of "Koninklijke (Royal) Nedlloyd", then in 1996 "Koninklijke Nedlloyd" joined with "P&O" to become "P&O NEDLLOYD", then in 2005 NEDLOYD became part of the " Møller-Maersk Group" (Maersk).
*********************
S.S. Johan de Witt
"Stoomvaart Maatschappij Nederland" (S.M.N.), also known as the "Netherlands Steamship Company" and the "Netherland Line".
S.M.N. appointed the Naval architect of "M.A. Cornelissen" of Amsterdam to create their new ship. The Company had already decided to name their new ship after "Johan de Witt" who was born on September 24, 1625, and he became the famous Dutch Statesman who served as the "Grand Pensionary" of the Netherlands from 1653 to 1672. He had led the Dutch Republic at the conclusion of the "Dutch War of Independence" with the Spanish who had invaded and ruled the nation for 80 horrific years (1568–1648).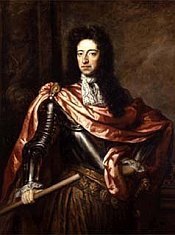 A painting of Johan de Witt
From Construction to her Delivery:

On July 29, 1916, the "Netherlands Steamship Company" placed an order for a new ship to be constructed, 1916 to the "Nederlandse Scheepsbouw Maatschappij" or the "Dutch Shipbuilding Company" (N.D.S.M.) in Amsterdam at an agreed cost of ƒ8,980,122 Dutch Guilders. N.D.S.M. was located at a picturesque location on the River IJ.

The famous

C.A. Lion Cachet designed most of the "Johan de Witt's" dazzling interiors for the ship. He had the finest Dutch factory's create some pieces, as well as importing some magnificent items from the Dutch East Indies to ensure the ship would have the style she required. Of course countless Dutch industries contributed to her magnificent furnishings.

Her First Class featured the most luxurious interiors having been completely designed by "Lion Cachet", and his design for both First and Second Class was simply exceptional! Obviously Third Class was more modest, but certainly very comfortable. Steerage passengers were berthed in larger cabins forward on a lower deck, but there was several cabins just for families with small children. She accommodated 188 First Class, 120 Second Class, 36 Third Class with 42 passengers in Steerage.

As a ship, she featured two tall masts and two slender tall funnels, although her aft funnel was a dummy, and it was there to provide the ship a better balance. Other details include her having six holds, ten watertight bulkheads, and her foremast had four loading booms of 6 tons and 25 tons, as well as king posts and 'Walin' quadrant-davits. Also, the "Johan de Witt" was the very first S.M.N. ship to be fitted a 'cruiser stern'.

Due to it being the time of World War One, her construction was extreamly slow as there were frequent delays, as well as there were ongoing shortages of materials, and this is why it took almost 3 years after her keel was laid down on July 29, 1916 that the "Johan de Witt" was finally launched in May 1919.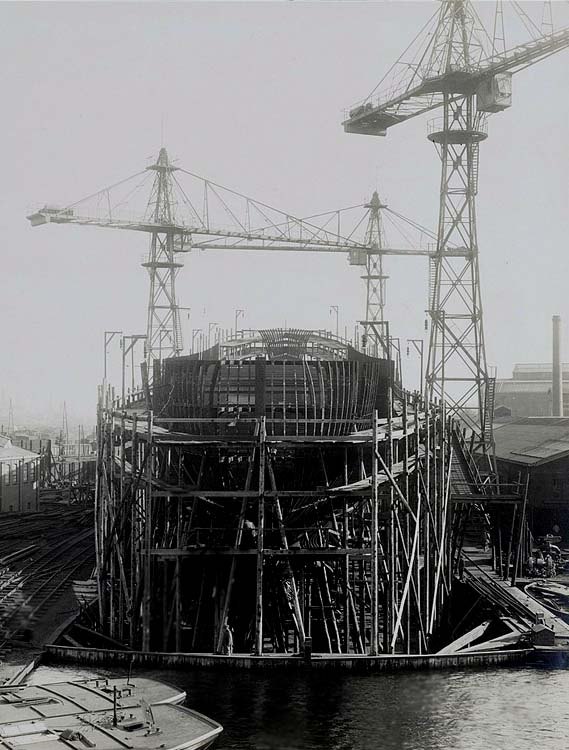 She is seen here with her hull partially built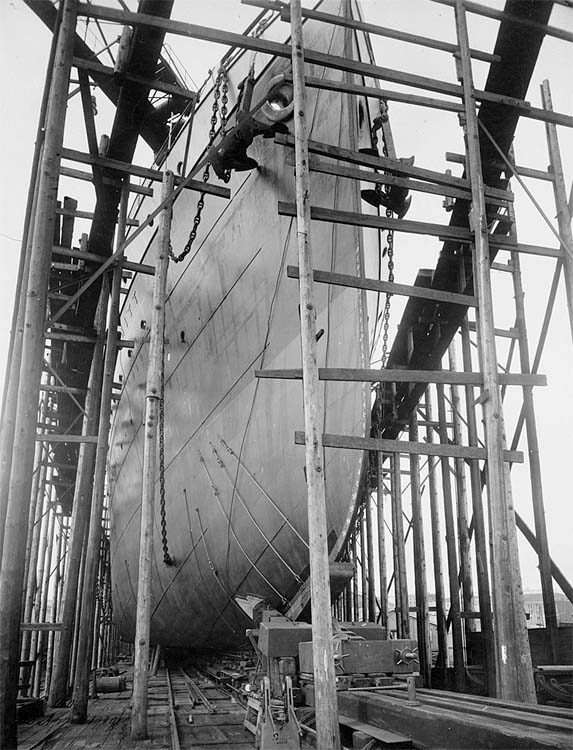 A fine bow shot prior to her completion
Although very late, she was officially launched without a great deal of fuss on May 2, 1919 and once she entered the River IJ, she was towed to the builders' fit-out berth where she would be completed.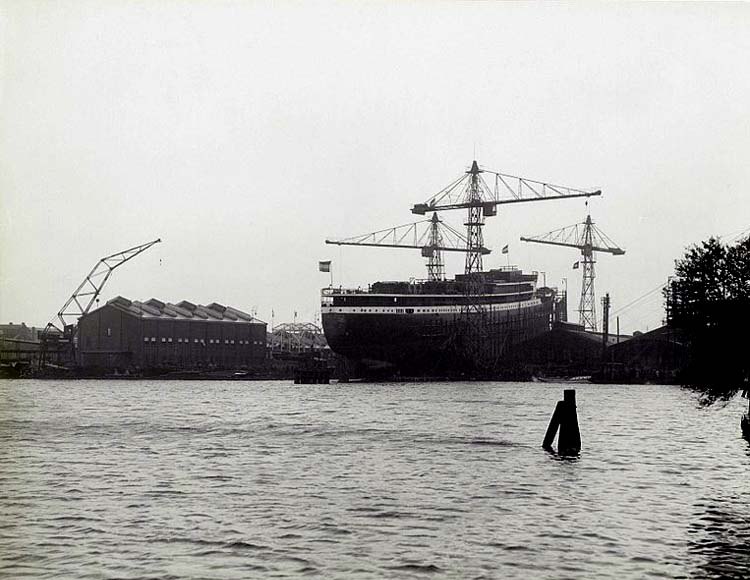 The "Johan de Witt" is seen sliding down into the River IJ having been launched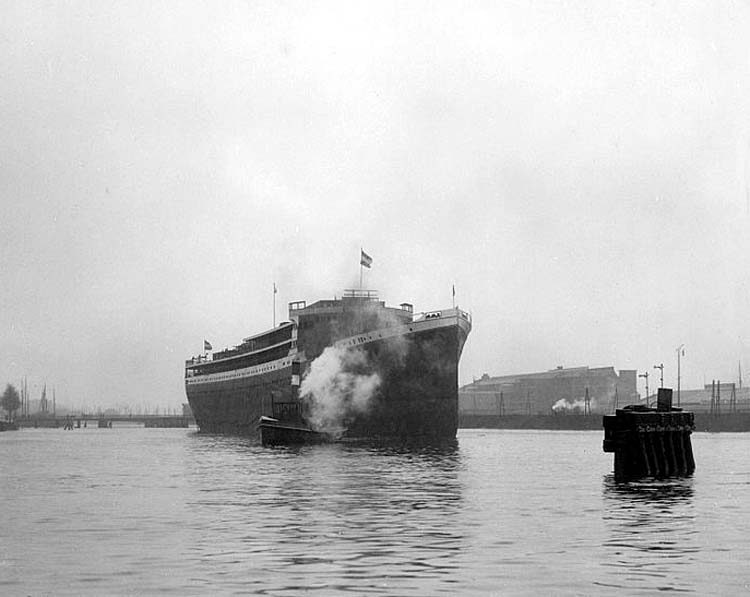 Having been launched two tugs (one out of sight) took her in tow and took her to the N.D.S.M. fit-out berth
At the yard's fit-out berth work on her continued, with her superstructure and all her fittings and accommodations installed. When the S.S.
 Johan de Witt was finally completed she undertook her deep-sea and speed trials on July 27, 1920, and thankfully the ship handled perfectly and she reached a speed of 15.5 knots. She was delivered to her owners on that same day.
*********************
Her Interiors and Exteriors:
I have a good number of photographs of the First Class venues, but sadly not too many of the Second and the Third Class venues, but what I have does provide an idea of what was available.
First Class:
I have an excellent Deck Plan Online CLICK HERE
When the plan opens it will be small, but just one click on the plan it will open to its full size
If walking passengers would use the magnificent Main Stairwell, and this grandiose stairwell is nothing short from stunning, and that is from the Entrance Hall down on Restaurant Deck (D) and it goes up to Promenade Deck(C) and then to B Deck being a accommodation deck (where the photo was taken). This stairwell is completely made from the finest reclaimed walnut timers with carvings of various famous Dutch individuals on separate panels as well as other spectacular features as can be seen on the photograph below.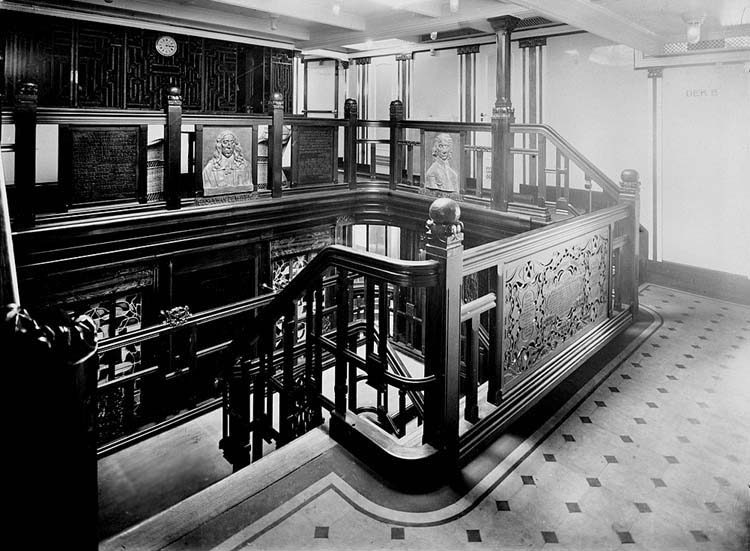 The Main Stairwell seen on B Deck, note the decorative feature
wall behind the stairs, this image is looking forward of the ship
Far forward on Promenade Deck (C) we find the delightful Music Saloon, a venue that had the plushest and the finest carpets that were available. The venue offered deep and comfortable lounge chairs with small round walnut coffee tables, as well as other seating. The walls in this room feature luxuriant timbers with various carvings and great art, and the windows had delicately carved screens. The ceiling here featured beautiful and delicate hand screened silk from the Dutch East Indies (Indonesia), giving this venue a feel of intimacy as well as glamour.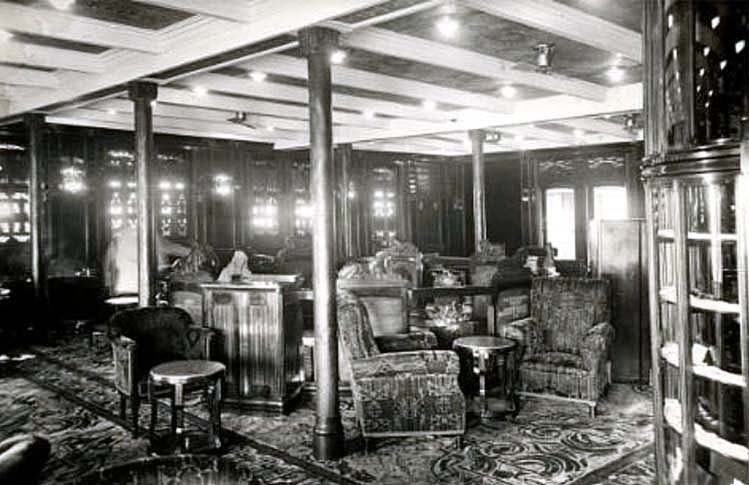 The Music Saloon
Directly aft of the Main stair well we come to a sublime venue, being the Smoking Room being separated into several sections, and even has different carpets in these, thus differentiating them. One section has the service Bar, and even the ceiling and the lighting is somewhat different. The room features walnut pillars carved at the top and again screened silk prints on the ceilings.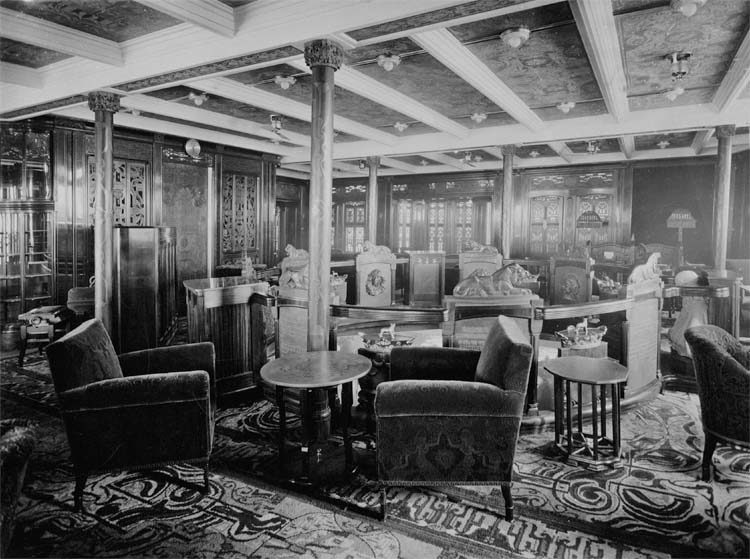 This section of the Smoking Room reveals its beauty and comfort and is the only section with these carpets
The balustrade looks down into Dining Room and the panels with the lions above contained marble
on this side but had carved walnut on the inside with heads of famous individuals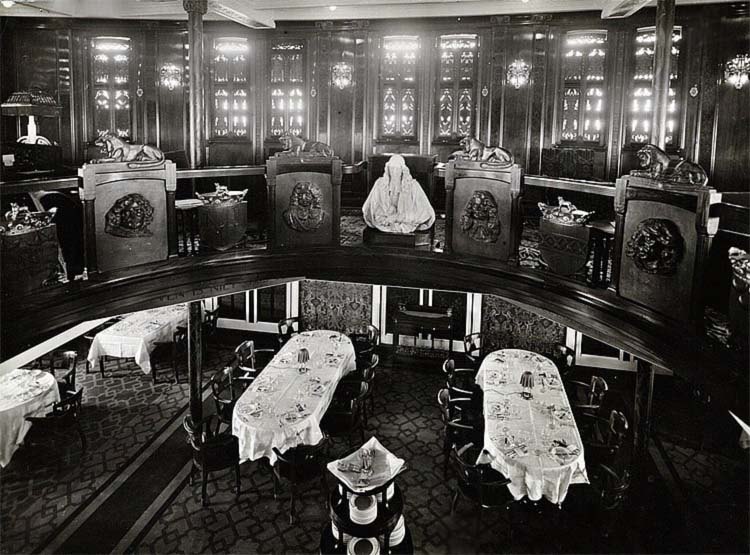 The marble carving in the middle is obviously the Grand Pensionary "Johan de Witt"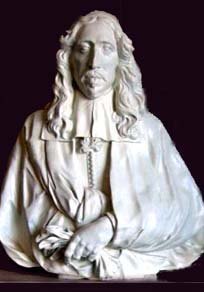 A close up of the marble sculpture of Johan de Witt overlooking the diners below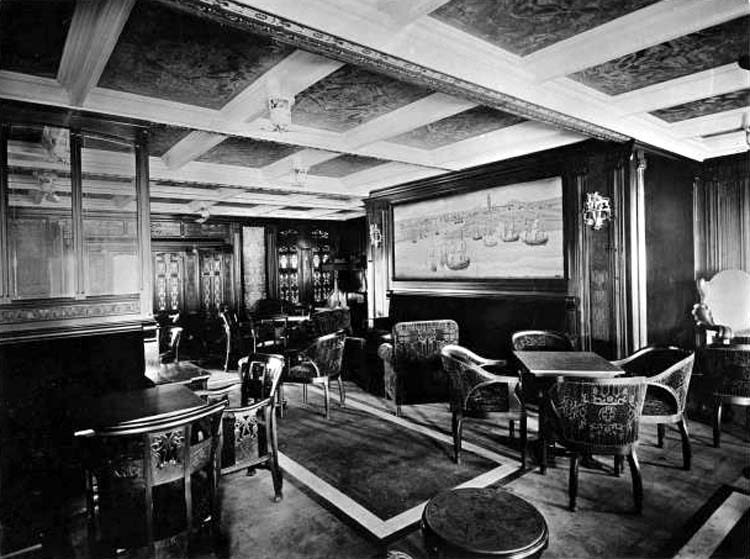 Above and below: Two views of the other section of the Smoking Room that had some unique timber chairs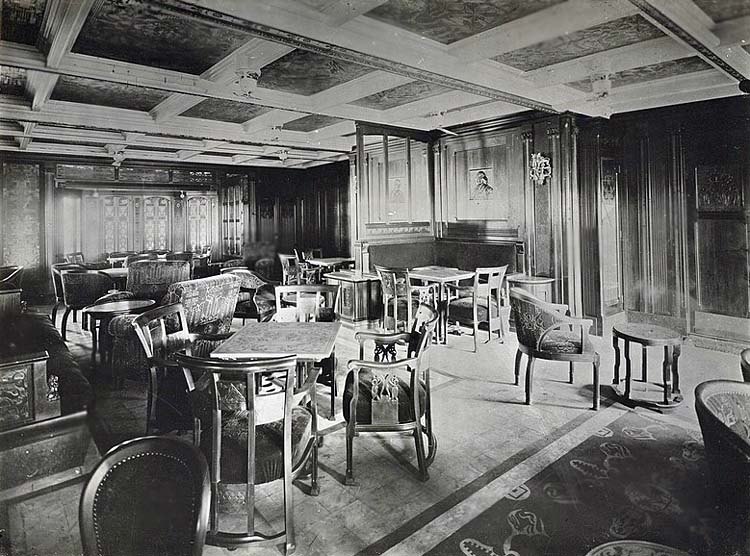 We now arrive in the Writing Room, which like all the venues on the ship is the ultimate of glamour as can  be seen below. It has a balustrade that looks down to the Main Entrance hall below.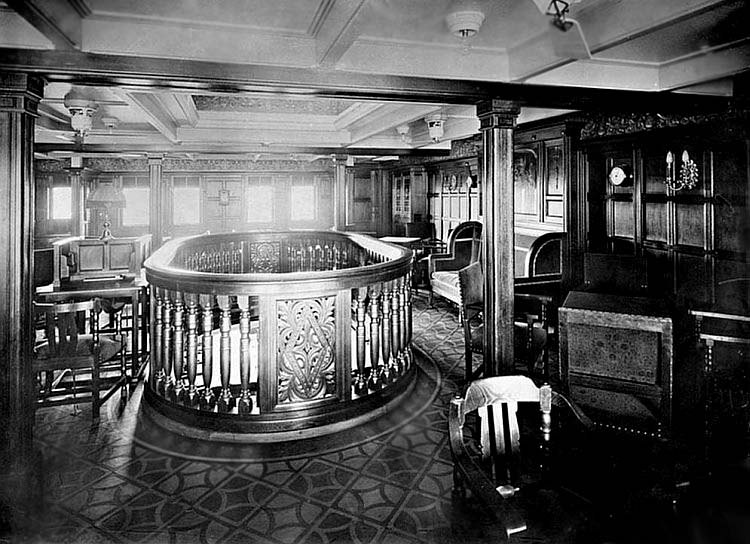 The Writing Room
Outside was the spacious Promenade Deck, which was the perfect place to relax outdoors and enjoy full service for stewards who would attend day and in the evening, as well as bring coffee, tea and bouillon in the morning and coffee or tea for afternoon tea, etc. In addition, music would also be performed during he day.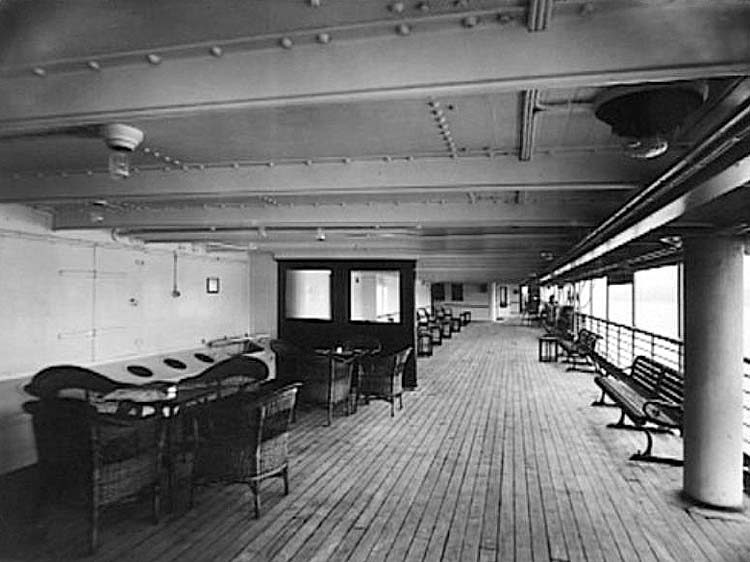 Above & below: The Promenade Deck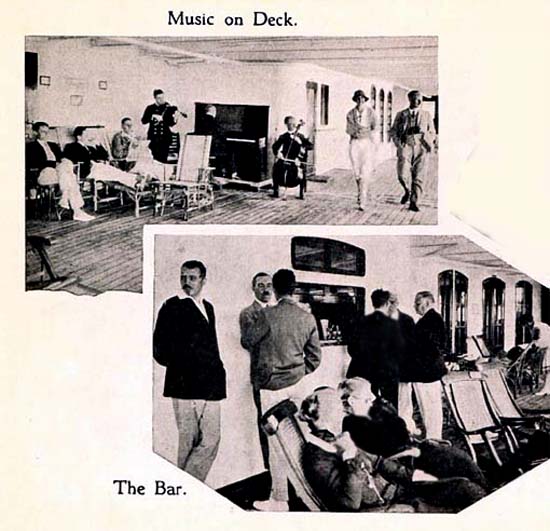 The Dining Room was spacious and offered tables from four to tables for twelve guests. The venue had exceptionally large portholes and room was richly decorated, and like the public rooms the ceilings also had screened silk prints inlaid between the columns.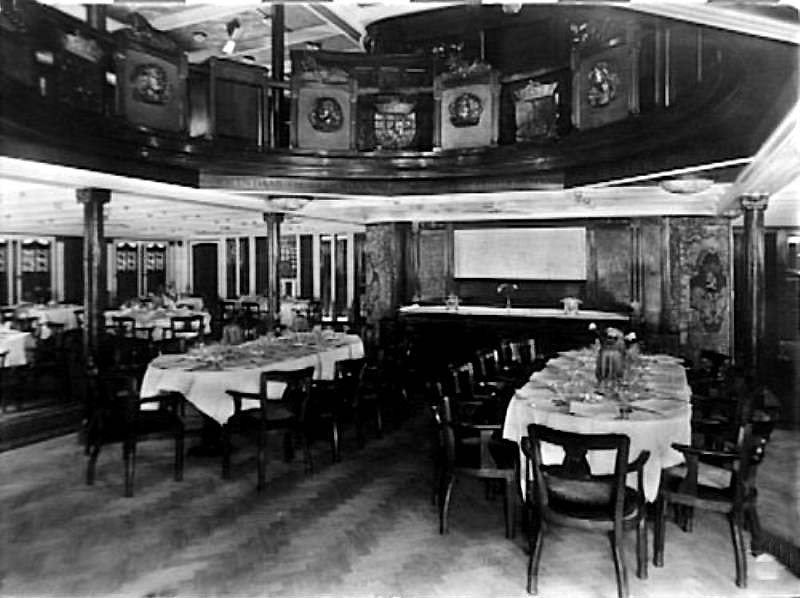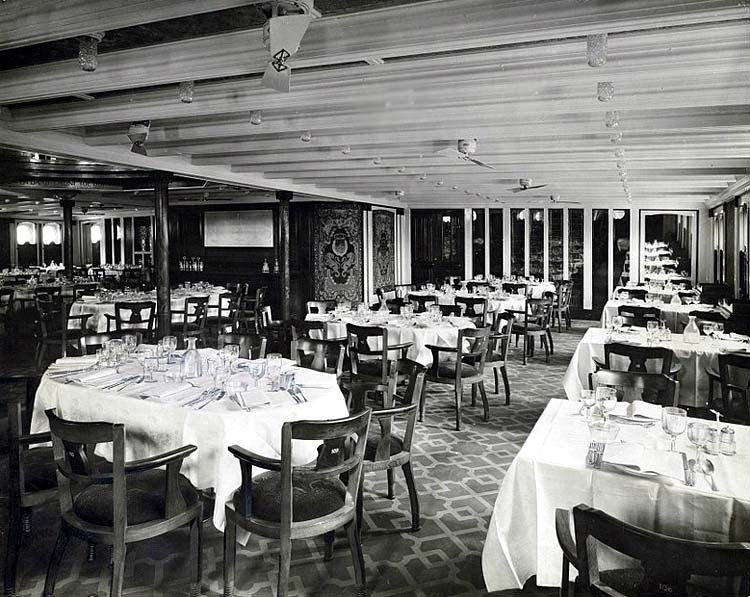 The Dining Room along the port side looking forward
The "Johan de Witt" had a wide range of accommodations, from deluxe Suites and Staterooms either with a private bathroom or some with a shared bathroom between two Staterooms, whilst others would use the traditionally spotless Dutch Public Facilities.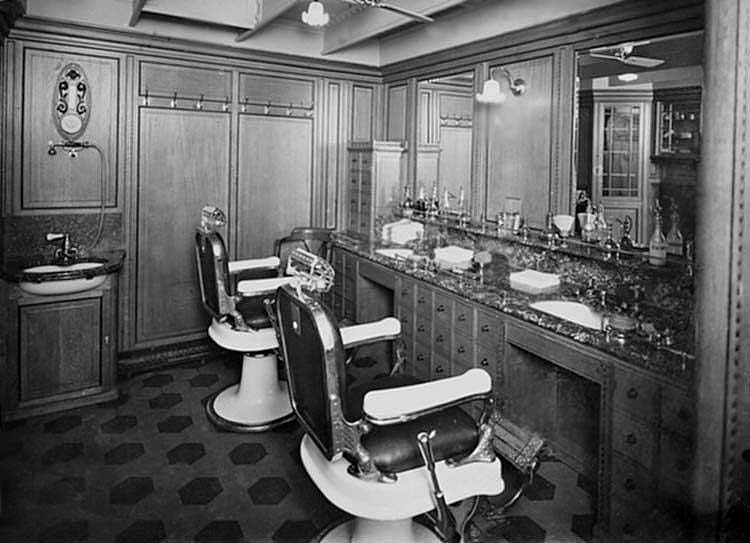 Of course every Liner has a Ladies Hair Dresser and a Men's Barber as seen here
All First Class Deluxe Staterooms and cabins were outside rooms having a window or a porthole. Those cabins that seemed to be on the inside would have a section that reached the exterior and thus every cabin had light and could allow air in. This was a typical feature on Dutch liners.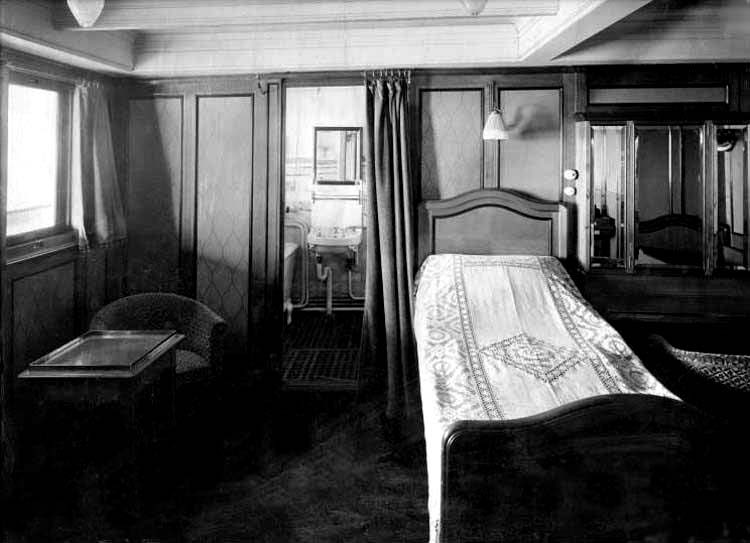 Bedroom of one of the deluxe Cabin with private facilities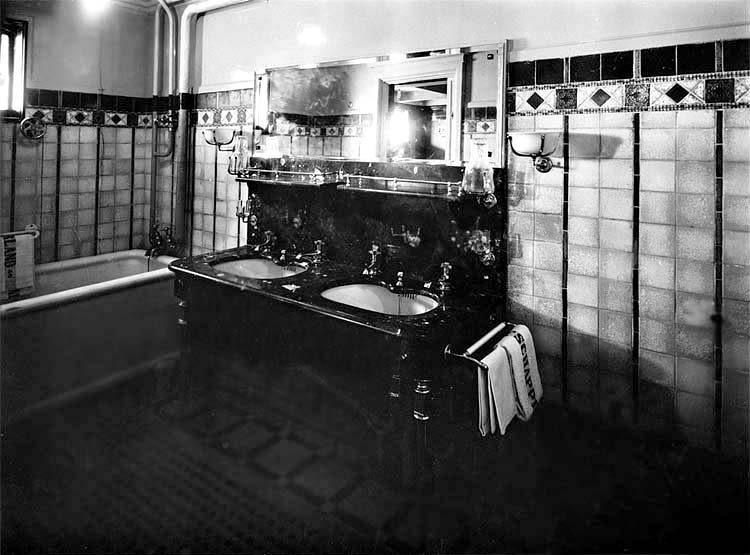 There is a spacious Bathroom for each of the Deluxe Cabin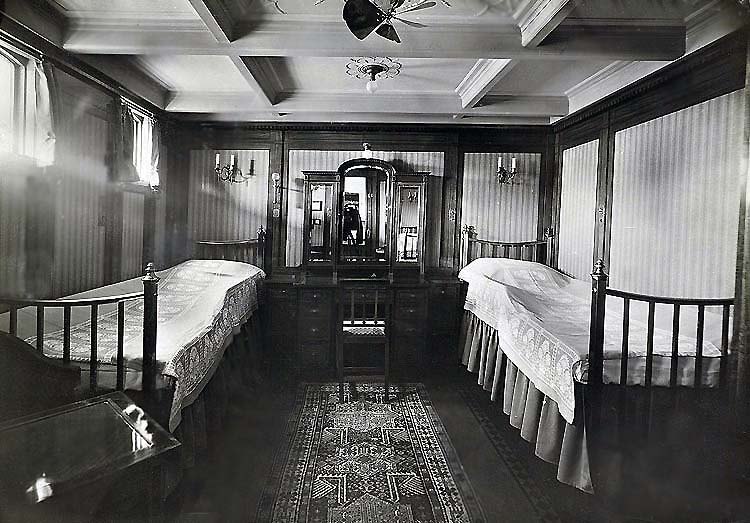 Bedroom of one of the deluxe Staterooms with private facilities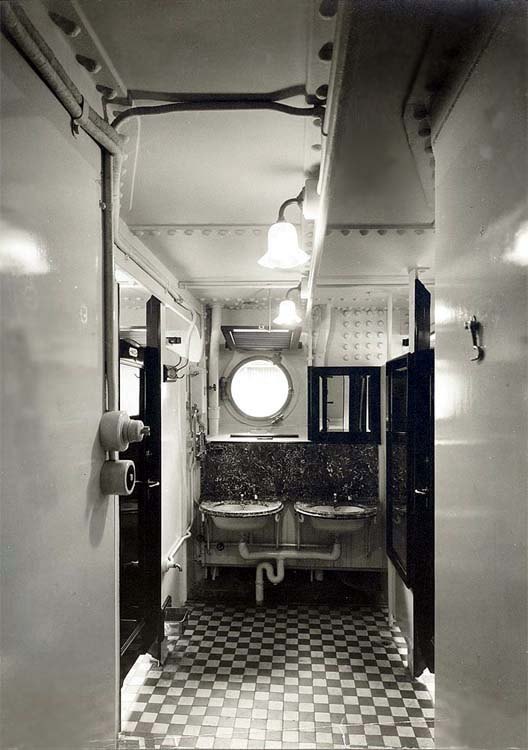 A private bathroom to a two bedded cabin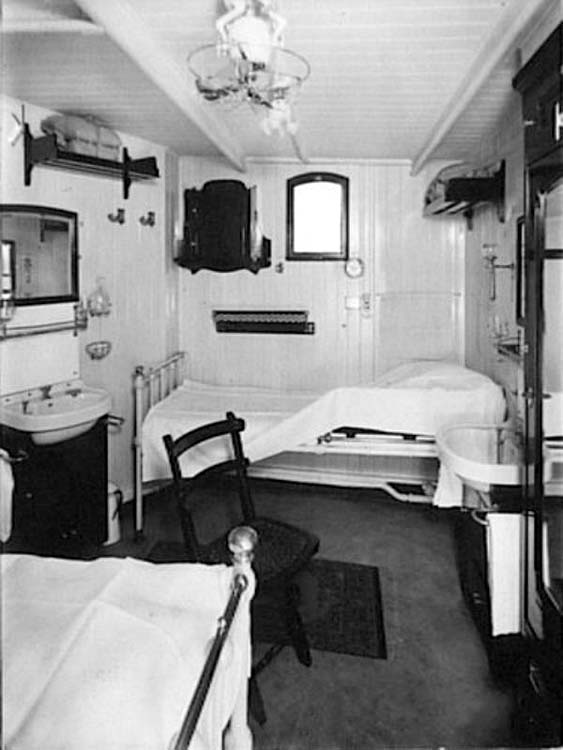 This is a standard two berth cabin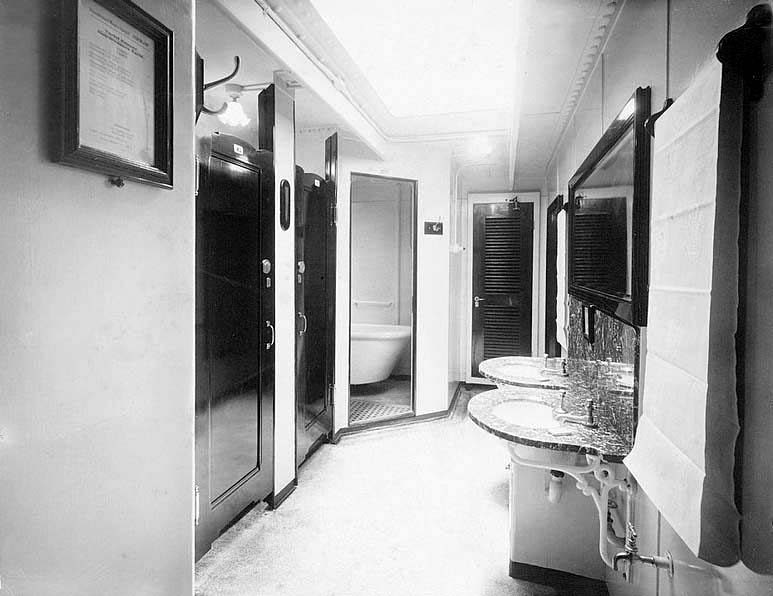 Here we see the spotless public bathrooms and WC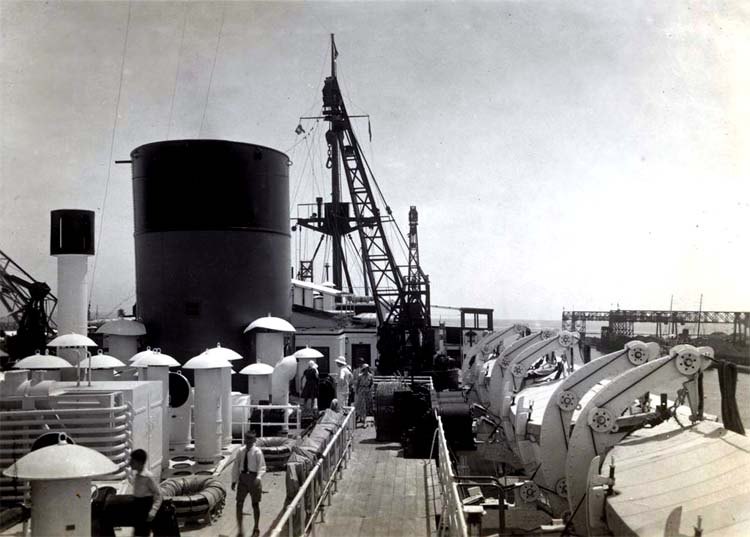 Besides Boat deck there were ample other decks to use topside, for sports or just viewing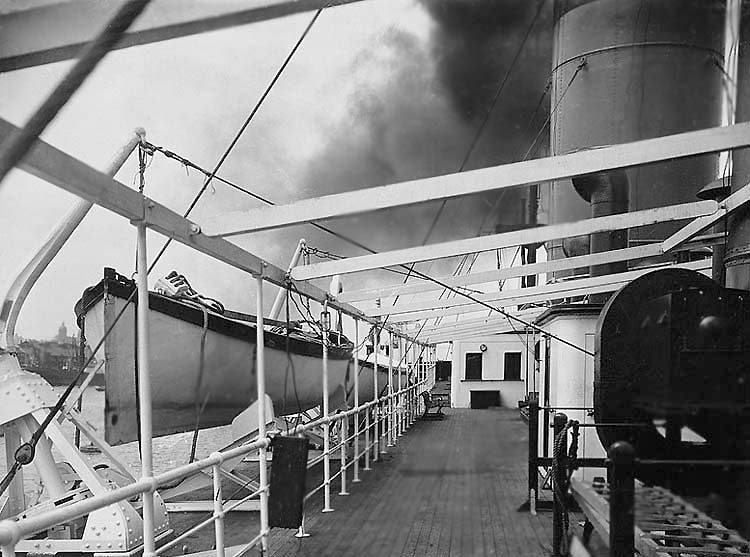 Boat Deck was a popular location for sports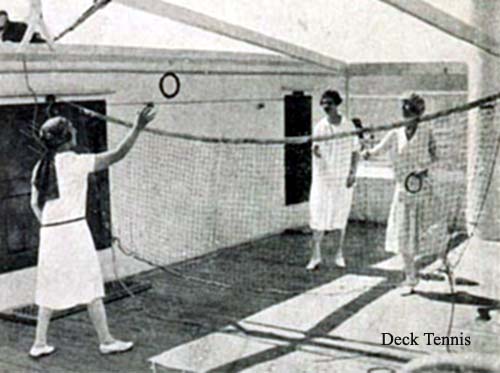 Above & below: Deck Tennis or Shuffle Board was played aft of Boat Deck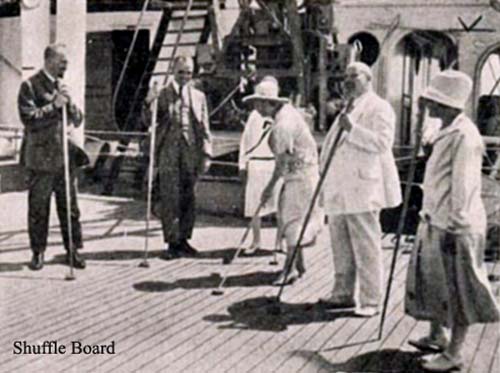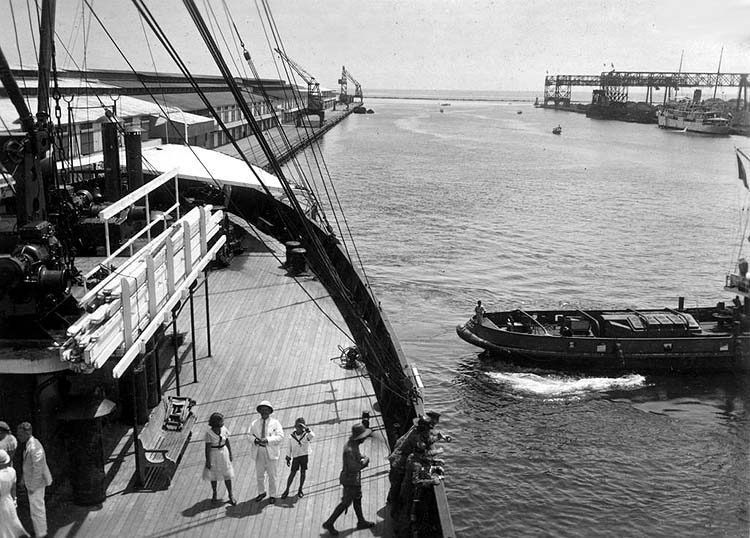 Only when in port, First Class passengers could come up on the Foc'sle
*********************
Second Class:
Sadly I do not have a large selection of photographs of this Class. But I hope what I do have will provide a good indication of what it offered!
Just past halfway the Promenade Deck (C) the first Second Class venue is the Music Room although, like in First Class it is all fitted out in that beautiful dark timberwork finished with fine columns, and it was a delightfully spacious venue. In addition, the room was a light and bright during the day, thanks to the large uncovered windows, and it was certainly well furnished.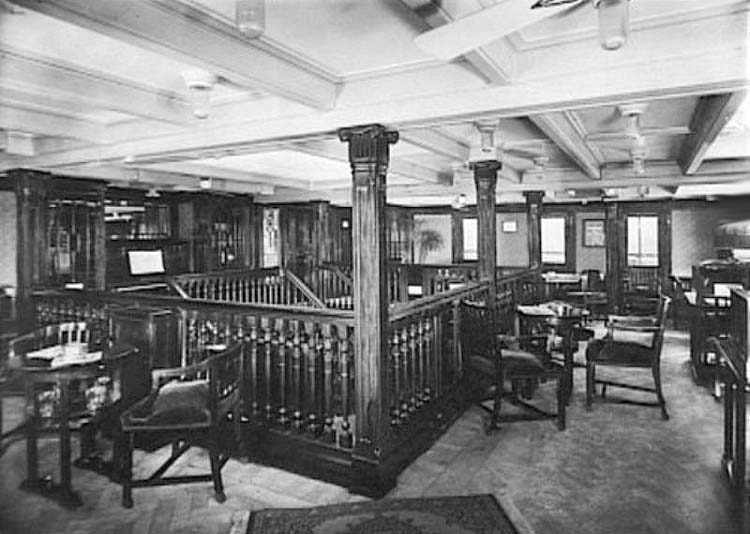 The Music Room
Directly aft was the Smoking Room and it was somewhat reminiscent to the First Class venue of the same name, as it also had a balustrade looking down into their Dining Room below. It was a beautifully timbered room and superbly furnished, it was a most popular venue.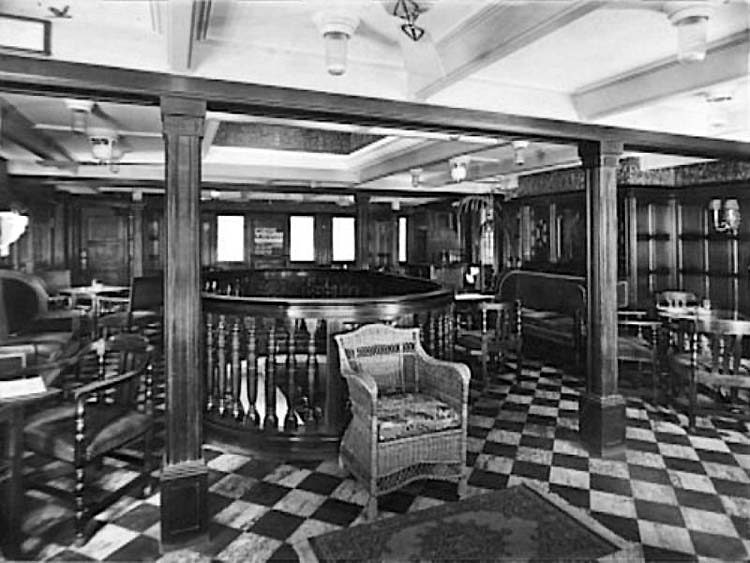 Here we see the Smoking Room with its service Bar
The spacious Dining Room featured two rows of long tables in the centre, and various sides smaller tabled to the sides. The venue had parquet floors and a variety of artistic features, making it an impressive room.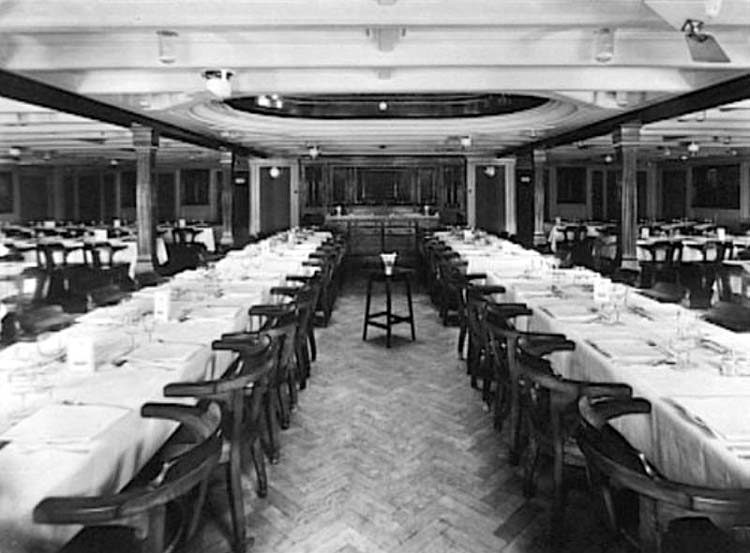 The Dining Room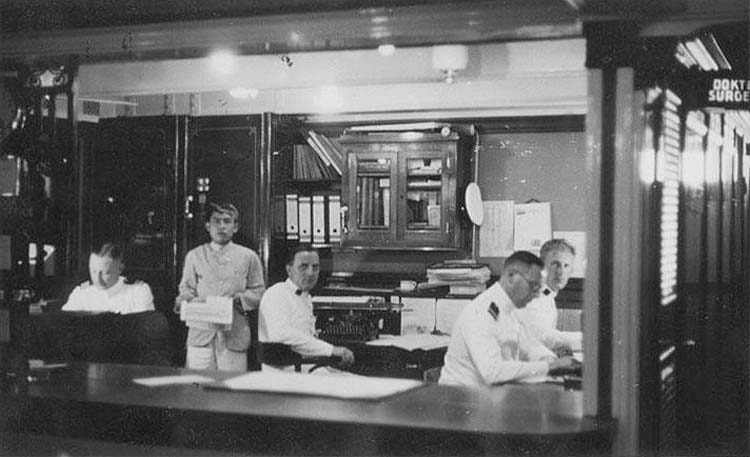 The Pursers Office
Johan-de-Witt-pax-prom
Passengers out on Promenade Deck aft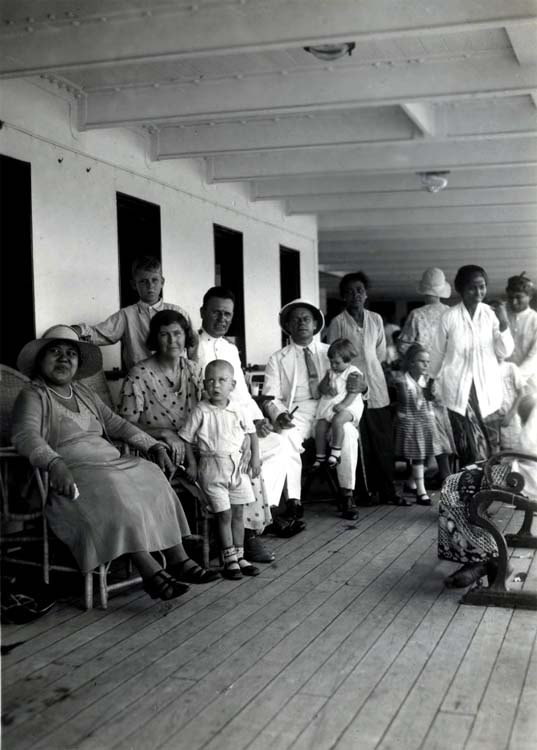 Johan-de-Witt-S-Childrens-Deck-Party
Children's Deck party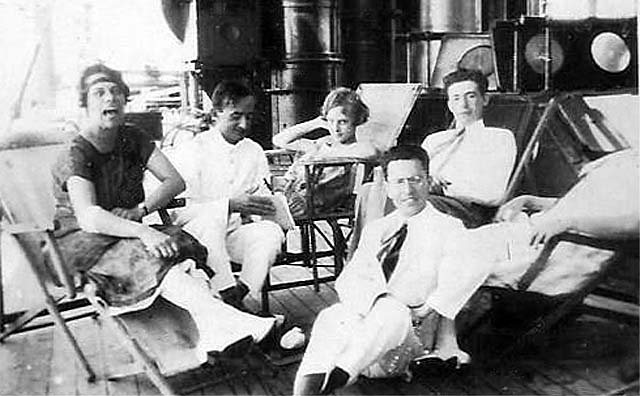 Passengers having fun out on deck
Once again, just like in First Class, Second Class cabins also were all outside cabins having a porthole for light and fresh air.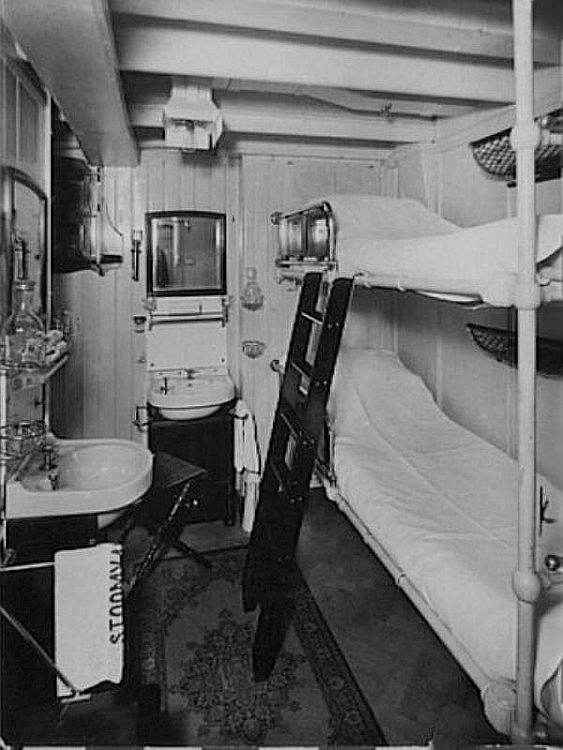 Two berth cabin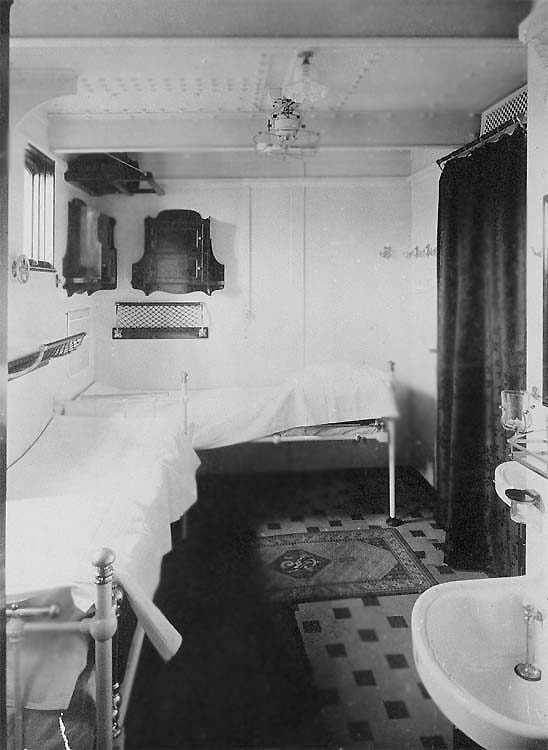 Two bedded cabin
*********************
Third Class:
There is no doubt that Third Class was not very luxurious, for it was not, however it offered value for money ocean travel and passengers were well cared for and very well fed and accommodated. Sadly I have not been able to obtain many photographs, but below is what I have been sent by Peter Reekman from the Netherlands.
In addition to Third Class there was also what was known as 'Steerage Class', that had just 42 passengers and they were generally immigrants, and would be berthed in male and female eight berth cabins, whilst some families would be berthed in a four berth cabin. They would use the same Smoking Room and Dining Room as the Third Class passengers which also only had 36 passengers (46 from 1933).
The only difference would be is that Steerage passengers would dine at a different time in the Dining Room.
Far aft on Promenade Deck (C) was a pleasant fully timbered Smoking Room being very traditional in every way and it was the place for entertainment and there was a service Bar of course, whilst outside there was a spacious fully covered Promenade Deck.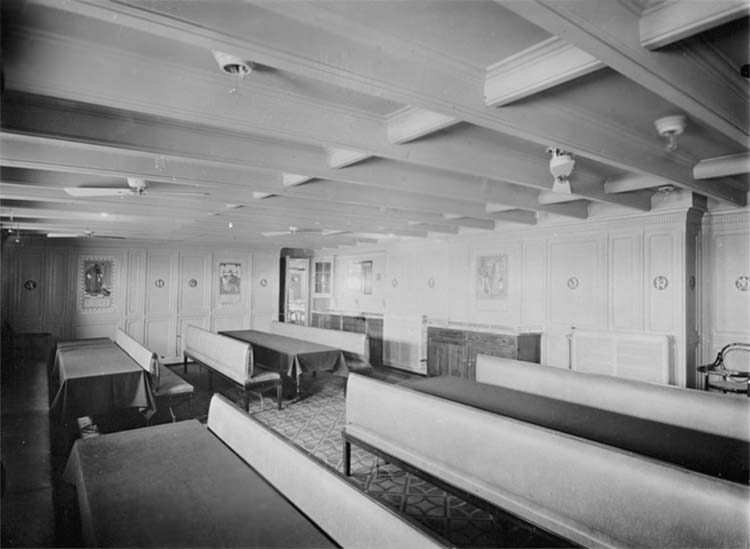 The Dining Room above was indeed relatively simple but certainly not unpleasant especially when it was set for meals; it had both long benches and tables, passengers would also use this venue when free for leisure, reading and playing cards, etc.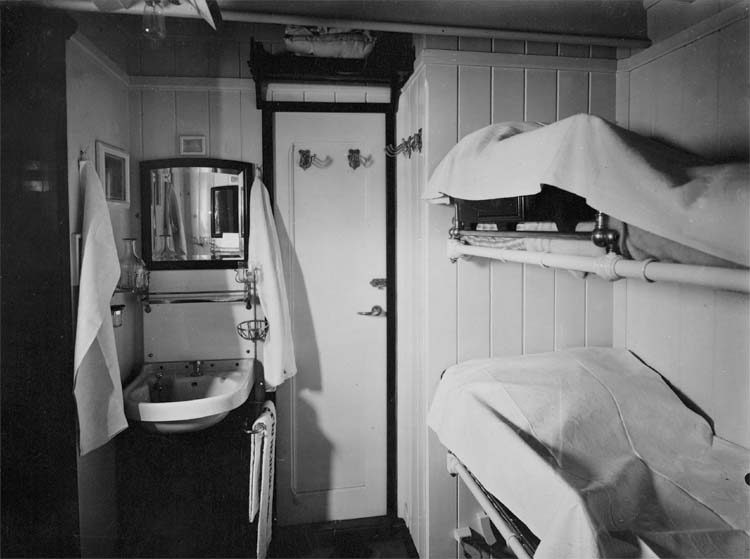 A typical outside 2 berth cabin
There were only two Third Class cabins that were inside rooms, thus without a window but they did have additional ventilation.
Steerage:
The Steerage Accommodations are located forward on F Deck where there are large cabins of various sizes, as well as their bathrooms and just aft of same a very large covered planked deck space. They also have access to part of the open deck up on D Deck, as well as the facilities of Third Class aft of the ship.
*********************
Her Maiden Voyage:
The "Netherland Line" commenced to make her ready for service, as the ship was fully crewed, and she was stocked her up with all the needs to make her a perfect Passenger Liner. Just prior to her departure, her stores were filled with food and everything required for a long and a happy voyage.
On August 21, 1920 the S.S. Johan de Witt looked a picture as it was the day of her maiden voyage. With her passengers having boarded and at departure time they were lined up on Promenade and other decks, it was late afternoon that she departed Amsterdam for her voyage to the Dutch East Indies sailing via Southampton and the Suez Canal to Tandjong Priok (port of Jakarta) after which she sailed along the Javanese north coast to Surabaya.
In 1924 she was given a minor overhaul with slight alterations being made to her accommodations, after which she then accommodated; 194 First Class, 123 Second Class, 36 Third Class & 42 Steerage passengers.
It soon became clear that her passenger loved this smart liner for she had everything that required to make such a long voyage very pleasant and a happy one!
In 1928 her schedule was as follows: Amsterdam, Southampton, Algiers, Port Said, Suez, Colombo, Sabang, Belawan Deli, Singapore, Batavia and the same homeward.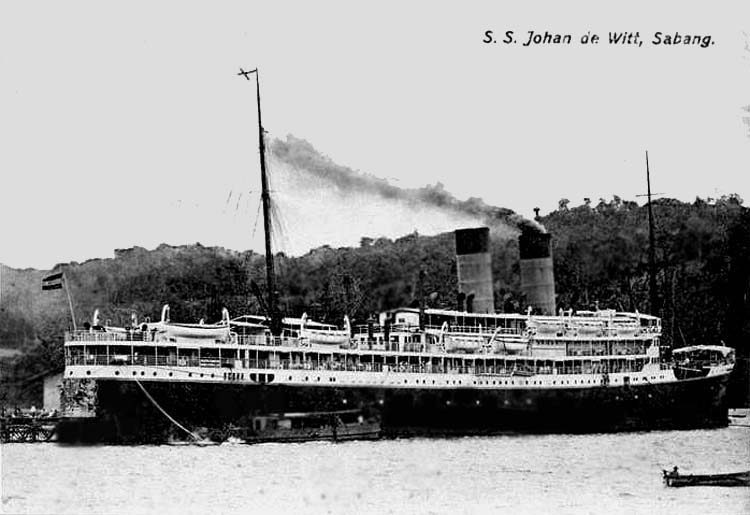 S.S. Johan de Witt is seen at Sabang just north of the tip of Sumatra
The "Johan de Witt" remained on the Amsterdam to the Dutch East Indies service until 1932, when she, together with the S.S. Jan Pieterszoon Coen were laid up on July 22, 1932 due to the new and prevailing crisis in Europe.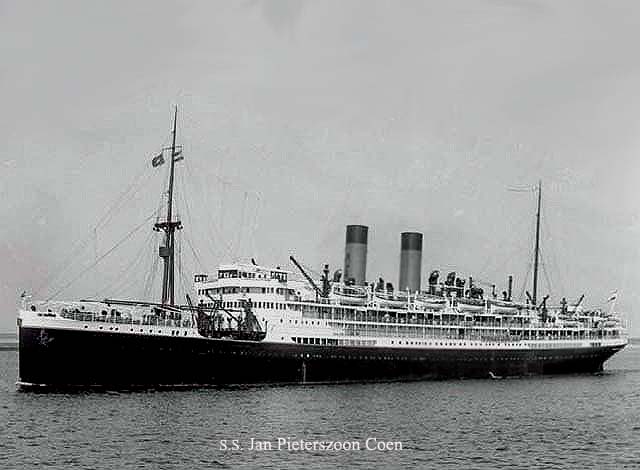 S.S. Jan Pieterszoon Coen - 1915
However due to one of the companies main ships, the M.S. P.C. Hooft having completely burned out in 1932, which happened during her refit in Amsterdam in 1932, it was decided that the "Johan de Witt" would be the best ship to replace the "PC Hooft". Thus she would be given an extensive refit, but vital besides the changes to be made, it was vital that her speed would have to be increased.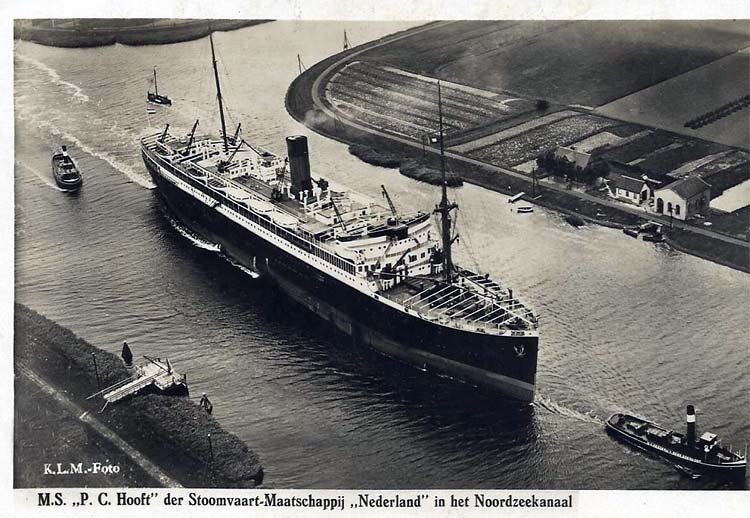 M.S. P.C. Hooft of 1925 is seen here in the North Sea Canal during better times
The "Johan de Witt" was transferred to the "Amsterdamsche Droogdok Mij" (Amsterdam dry-dock Company) in 1932. She was given an extensive renovation that saw another small change to her passenger numbers, which were then 105 First Class, 151 Second Class, 46 Third Class, 42 Steerage. In addition the forward part of her bow was removed and she was fitted a new 'Maier-form' bow, which saw her become somewhat longer and her new length upon completion was; 153.12 m - 506.2 ft.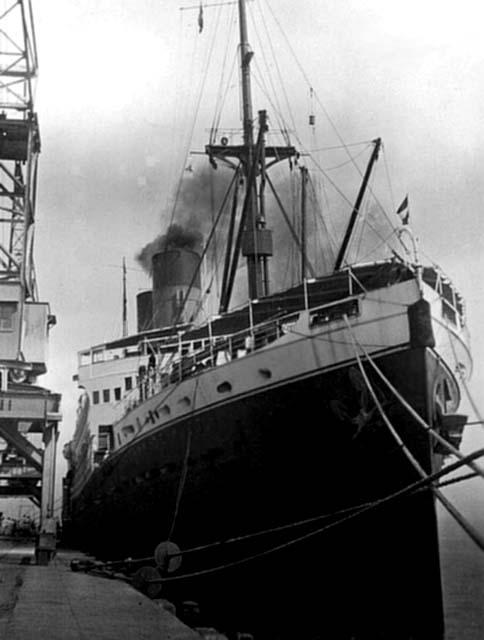 The three photographs above & below show her with the bow as built, then her bow removed, and finally we see the new 'Maier-form' bow.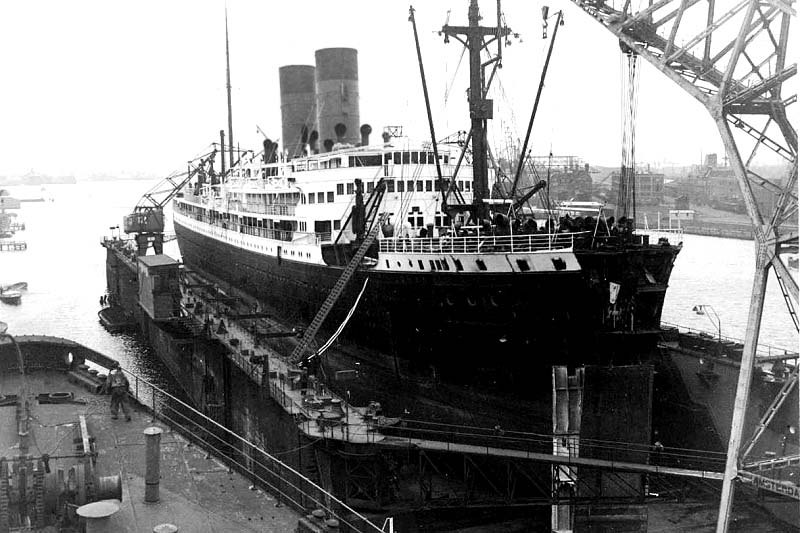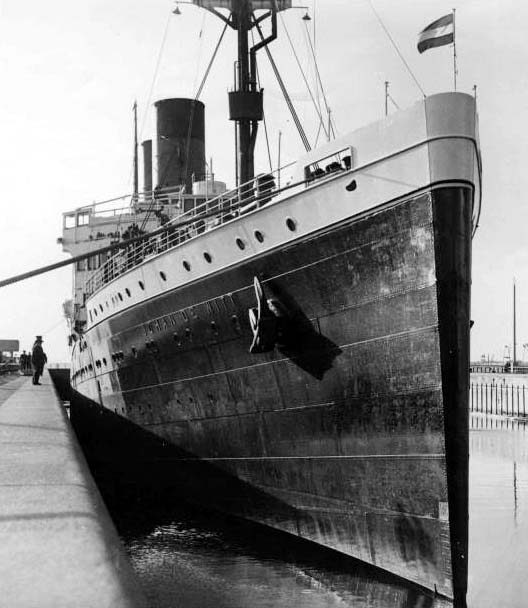 Considerable changes where made to her boilers but she was converted to being oil fired, rather then coal fired. Coal fired ships require a much larger crew and they are therefore far more expensive to operate a ship. In addition her engines where fully overhauled and all the work done saw her speed increase to an excellent 17 knots. When completed she undertook her new sea trials over two days, being on October 3 and 4, 1933.
However on the first day of her trials on the October 3, it turned out to be an auspicious occasion out on the water, for the very first ever Dutch 'motor' Seagoing Tug, the brand new "Zwarte Zee" (Black Sea) was also on her sea trials that day. However, the "Zwarte Zee" had H.R.H. Princess Juliana onboard, 15 years later she would become the Queen of the Netherlands.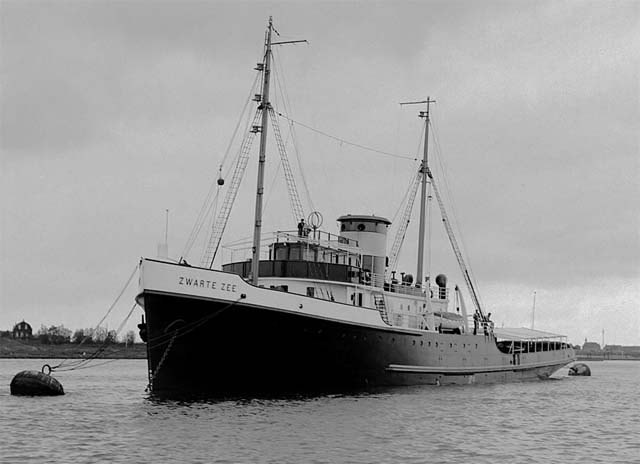 Above: The "Zwarte Zee" of 1933 was the third "L. Smit & Co International Towing Company" Tug to carry this name. What made this Tug special was the fact that she was the very first Ocean going Tug to be powered by diesel engines.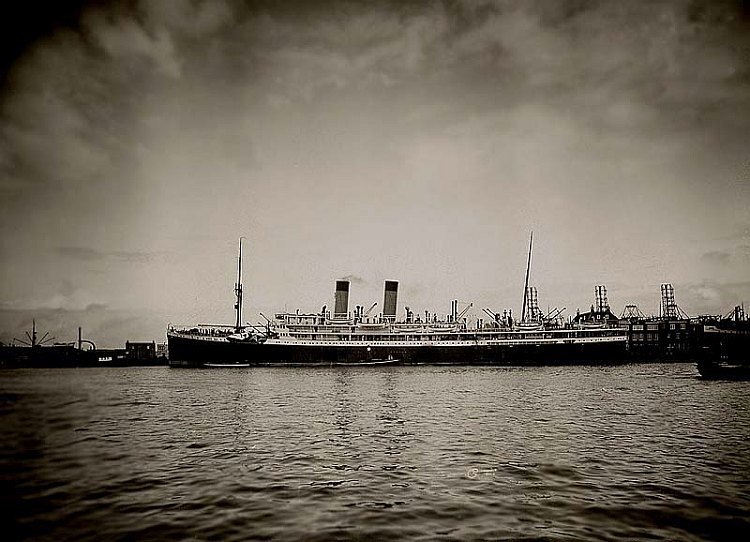 Johan de Witt is seen berthed at the Javakade having been completed from her refit in October 1933
With her successful sea trial the "Johan de Witt" was returned to the S.M.N. who returned her to her regular service. She operated on the Dutch East Indies service together with three of the companies newer ships, such as the M.S. Christiaan Huygens of 1927, the M.S. Johan van Oldenbarnevelt of 1930 and the M.S. Marnix van Sint Aldegonde also of 1930.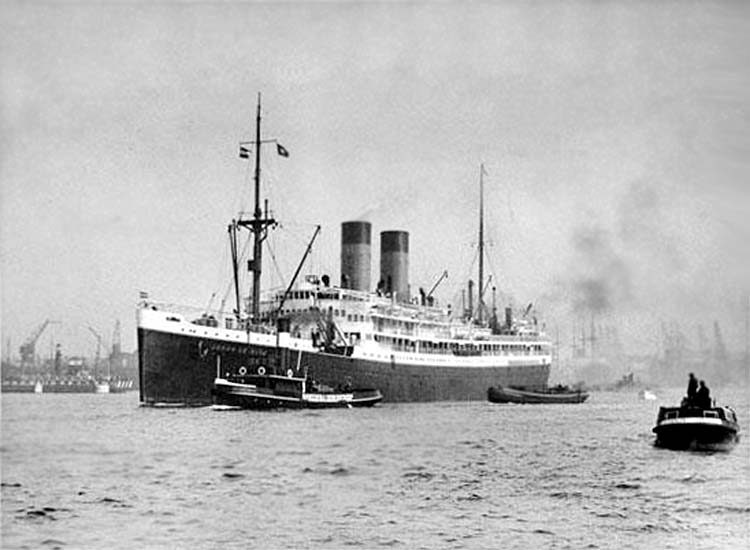 S.S. Johan de Witt is seen departing Amsterdam for the first time after her refit and the fitting of her new bow.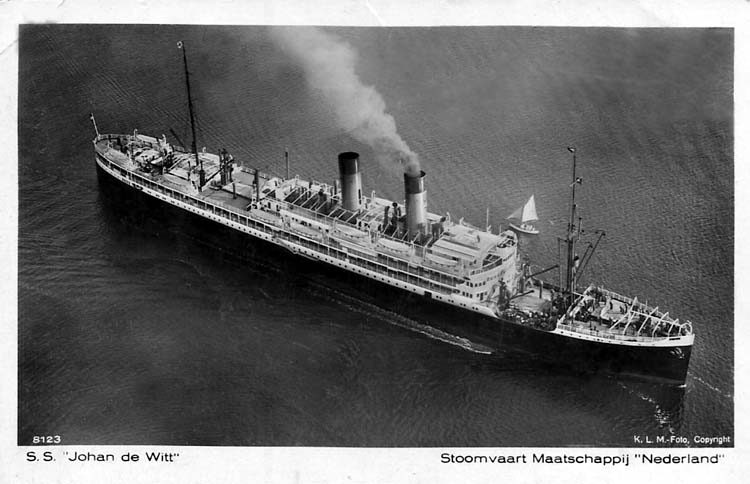 On October 25, 1933 the S.S. Johan de Witt" departed Amsterdam for the first time after her major refit and she continued her voyages as long as it was possible.
However in due course, as the Netherlands was a neutral country they ensured that her hull was clearly marked with large white letters "JOHAN DE WITT - HOLLAND" on her starboard side and "AMSTERDAM" on her portside so that any German ship could see their neutrality, but it turned out that scumbag Hitler did not care less and attacked the Netherlands and invaded them anyway in 1940!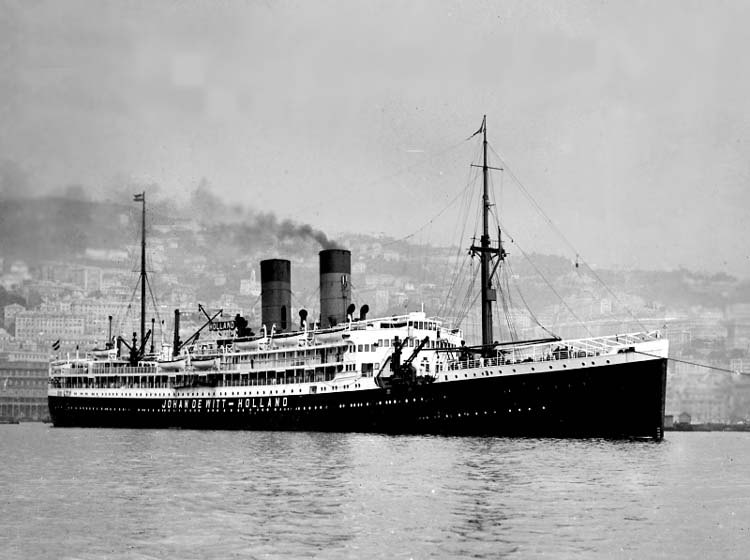 Here we see her clearly marked as a ship from a neutral country
Holland was invaded by the Nazis on May 10, 1940, and on May 13, three days after the invasion the "Johan de Witt" managed to secretly escape the Netherlands at the very last minute and she headed to Tandjong Priok sailing via the Cape of Good Hope.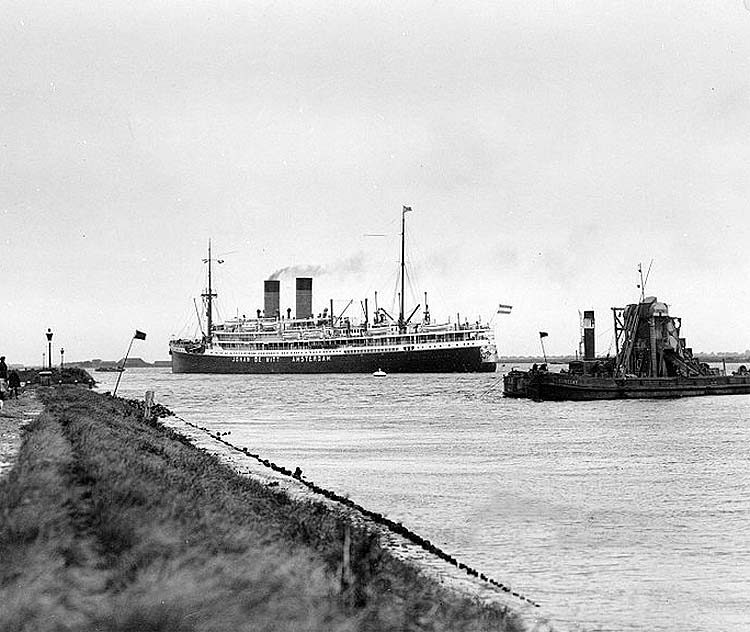 S.S. Johan de Witt get's out of the Netherlands and heads for Tandjong Priok
*********************
The Great War:
Whilst at Tandjong Priok the "Johan de Witt" was chartered to the B.M.W.T. being the "British Ministry of War Transport" very early in August 1940, and she would be used as a troopship and she was going to be refitted in Sydney Australia.
On her way to Australia, she first headed to Manila where she arrived on August 6, 1941 and she departed for Australia on the same day, having taken onboard 286 evacuees. They were mostly wives and children of civilians who resided in Manila, although eighteen of them were dependants of military personnel.
Whilst in Sydney between; August 24 and September 28 the "Johan de Witt" was converted into a troopship ship with room for up to 3,000 troops. Although she continued to be operated by a Dutch crew, but she was placed under the management of the "Orient Line".
On September 30, 1940 H.M.T. Johan de Witt had boarded 965 Australian troops in Sydney and she departed that day bound for Egypt.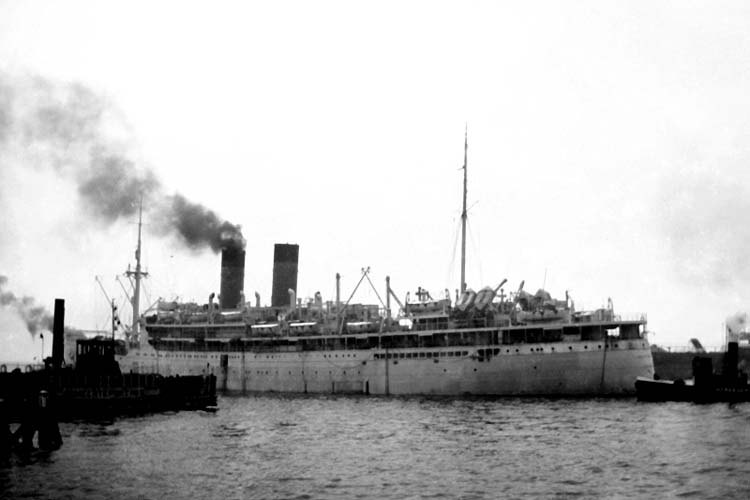 H.M.T. Johan de Witt is seen departing Sydney bound for Egypt under Convoy US 5A
Convoy US 5A departed Sydney on September 30, 1940 bound for Egypt. The convoy was made up of the H.M.T. Johan de Witt that had taken onboard 965 soldiers, and the H.M.T. Nieuw Zeeland" with 907 soldiers. They proceeded to Fremantle from where they left on October 7, escorted by the light cruiser H.M.A.S. Perth until the heavy cruiser H.M.A.S. Canberra took over and took the convoy to Colombo where they arrived on October 17.
On October 21 the convoy departed Colombo and headed for Aden, being escorted by the light cruiser H.M.S. Caledon, arriving off Aden on October 28 where a number of merchant vessels joined the convoy together with escort vessels; H.M.S. Shropshire. H.M.S. Carlisle, H.M.S. Kandahar and the H.M.S. Flamingo. The convoy arrived at Suez on 2 November 2, escorted only by the H.M.S. Kandahar as the other escorts had parted company on October 30, 1940.
On January 16, 1941 Convoy US008/1 departed Colombo for Suez with Dutch ships Johan de Witt, Indrapoera, Nieuw Holland and Slamat. Norwegian ship Christiaan Huygens. British ships City of Lincoln, Devonshire, Dilwara, Dominion Monarch, Lancashire, Nevasa, Lancashire, Nevasa, Rajula, Rohna and Thurland Castle, and Egyptian ship Khedive Ismail.
Convoy WS 33 consisted of the following ships; Boissevain, Indrapoera, Johan de Witt, Antenor, Duchess of Richmond, and the Ormonde.
They departed Gibraltar on August 23, 1943 and with convoy LGW 2 the, Indrapoera, Johan de Witt & Antenor headed for Lagos arriving
September 18, 1943, and as Convoy LGW 2 they departed again on September 21 and arrived Takoradi (Ghana) on September 22. On sailed Sailing with convoy TGE 2, on September 24, 1943 Johan de Witt & Antenor departed Takoradi and arrived at Lagos on September 25.
During the War H.M.T. Johan de Witt covered an amazing 220,000 miles from Australia and other regions. Thankfully the ship would emerge from the war completely unscathed.
*********************
Post War:
On November 3, 1945 "Johan de Witt" made her very first visit to the Netherlands in Rotterdam, since having left Amsterdam in 1940.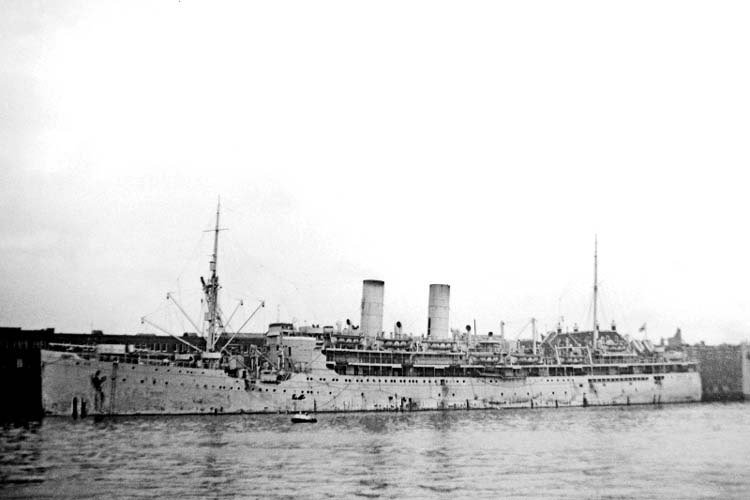 "Johan de Witt" is seen looking worn from the war is berthed in Rotterdam" in November 1940
But it was on February 11, 1946, that she was officially transferred back to S.M.N. They decided to repaint her hull grey rather that the black hull of the past.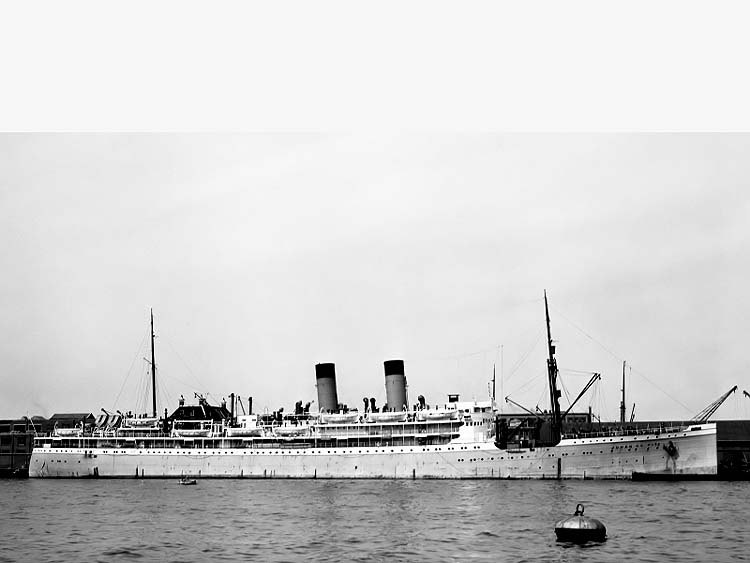 Here we see her having just received a refit and her new grey hull in February 1946
She received three charters contracts, the first being from France who used her for a troop transport between Marseille and Saigon during the war in French "Indo-China", being today's Vietnam. Thereafter she was placed once again on the Netherlands Government to transport of troops and returnees from Indonesia back to the Netherlands. Finally she was chartered by the "Koninklijke Nederlandse Stoomboot-Maatschappij" (K.N.S.M.) or the "Royal Netherlands Steamship Company" for a single return voyage to the West Indies.
Then the "Johan de Witt" departed from Holland with a special stop at Marseilles to collect passengers in February 1947 for a very special voyage, and this would be the very first time she would visit Australia in peace time. She first headed for Batavia, after which her first port of call in Australia was in North (Tropical) Queensland to the Port of Cairns, and from there she headed for Sydney where she arrived on March 16, and her 701 Jewish migrants passengers disembarked there.
Australia's bigoted media created hell, as they and a good number of Australian's in those days were sadly rather Anti-Semitic, not to forget that the Liberal Party believed in the "White Australia Policy"! They media blamed the Government at the time, and told lies regarding their visa's arrangements and the numbers, etc, but none of it was true. Media has not changed much has it?
Below is part of an article from "The Cairns Post" on Monday March 17, 1947 re the arrival of the "Johan de Witt" in Sydney. And this was the best of all the media in Australia.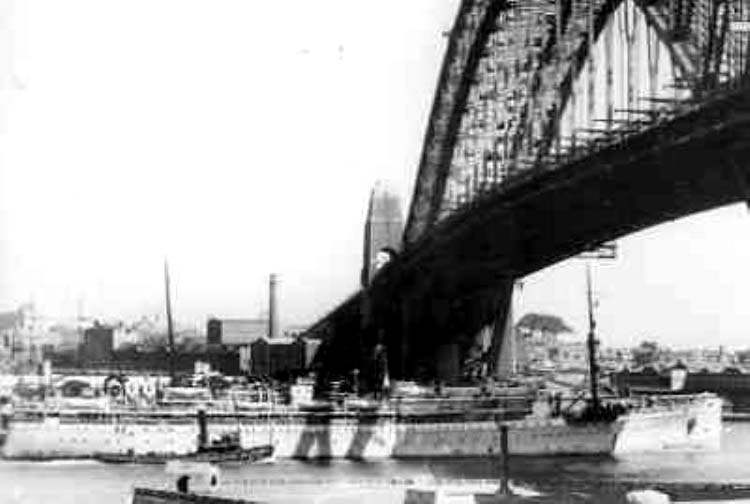 A poor, but a very rare photo of the "Johan de Witt" arriving in Sydney on March 16, 1947
Thank you Joseph Best for providing this rare photograph
JEWISH REFUGEES ARRIVE AT SYDNEY WITH RICHES
SYDNEY, Mar. 16.
"Seven hundred Jewish refugees who arrived on the Dutch steamer Johan de Witt today brought hundreds of thousands of pounds worth of personal belongings, including jewels, furs and expensive cameras. Customs officers believe it will take four days to clear their baggage. Most of the refugees came from European concentration camps.
A Dutch ex-serviceman, who arrived from Holland with his Australian wife, said that arrangement had been made for more than 1,000 more Jews to be sent here on two Dutch ships.
He said that shipping lines in Holland were giving preference to Jews because they paid the charter money for the ships, either in American dollars or in sterling.
The chairman of the Migrants Reception Committee greeted the refugees on the wharf. He said that the refugees were being accommodated in the homes of friends and relatives in Australia who originally guaranteed that they would not be a charge on the country".
After leaving Sydney, the "Johan de Witt" called on Melbourne, Fremantle and Batavia, before heading home to Amsterdam.
With the "Johan de Witt" now being a good 28 years old she certainly had suffered a great deal during the war, mostly due to the lack of maintenance as she continuing to sail during her busy war duties. Thus a huge amount of money needed to be invested to be able to bring her back into service as a full time passenger liner. But of course the, Dutch East Indies would no longer be a popular destination and it would not have been economically justifiable to invest in the ship. Thus it was decided to sell the S.S. Johan de Witt, which was done on December 15, 1948 for ƒ2.595.600 Dutch Guilders to the "Compania Maritima del Este SA", registered in Panama. Although this was a Company owned by the Greek "Goulindras Brothers Ltd" who where then based in London and they were also the owners of the "Greek Line" and after a refit they renamed her "Neptunia.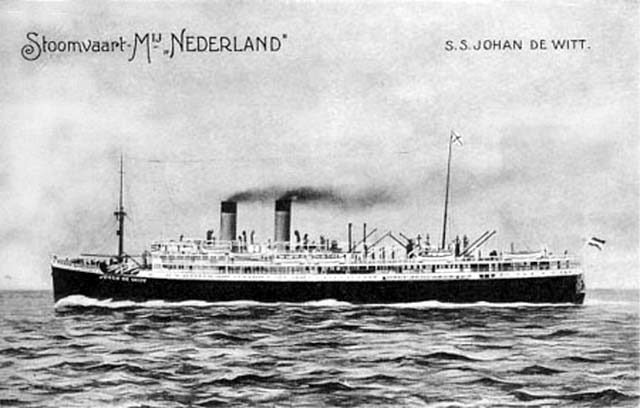 A delightful postcard of the "Johan de Witt" by S.M.N.
*********************
Specifications & Details of the S.S. Johan de Witt and the T.S.S. Neptunia:
Names:                                Johan de Witt 1920 - 1948.
.                                          Neptunia 1948 - 1958.
Classification Register:            Lloyd's Register of Shipping.
Category:                             Passenger-Cargo Liner.
Owner 1:                              "NV Stoomvaart Maatschappij Nederland", Amsterdam.
.                                          "Netherlands Steamship Company".
Owner 2:                              "Compañía Maritima del Este SA", Panama - 1948 - 1954.
Owner 3:                              "Neptunia Shipping Co. SA" the "Greek Line" Panama - 1954 -1958.
Manager 1:                           "NV Stoomvaart Maatschappij Nederland", Amsterdam -1920 - 1948.
Manager 2:                           "Goulindras Brothers Ltd", London - 1948 - 1954.
Manager 3:                           "Goulandris Brothers Ltd", Piraeus - 1954 -1958.
Homeport 1:                         Amsterdam.
Homeport 2 & 3:                   Panama.
Flag:                                    Netherlands 1920 - 1948.
.                                          Panama Republic 1948 - 1958.
Call signs:                             PFRH, PFDM in 1934.
Built by:                               "NV Nederlandsche Scheepsbouw-Maatschappij", Amsterdam.
.                                          "Dutch Shipbuilding Company", Amsterdam.
Laid Down:                           July 29, 1916.
In Yard No:                           150.
Type:                                   Passenger/cargo vessel.
Type Deck:                           Shelter deck closed.
Masts:                                  Two masts.
Hull:                                    Steel.
Keel laid down:                      July 29, 1916.
Launched:                             May 2, 1919.
Sea trial:                              July 27, 1920.
Delivered:                             July 27, 1920.
Maiden voyage:                     August 21, 1920.
Tonnage:                              10,519 GRT - 1920.
.                                          10,354 GRT - 1928.
.                                          10,474 GRT - 1933.
Length:                                146.92 m - 482.283 ft as built.
.                                          153.12 m - 506.2 ft in 1933.
Beam:                                  17.98 m - 59.2 ft.
Draught                                9.14 ft - 11.60 m.
Engines:                               Two x 3-cyl, Triple expansion engine, 1,171 N.H.P.
Propellers:                            Twin screws.
Speed:                                 15.5 knots - 17 knots in 1933.
Passengers:                          188 First Class, 120 Second Class, 36 Third Class, & 42 Steerage.
1924:                                   194 First Class, 123 Second Class, 36 Third Class, & 42 Steerage.
1933:                                   105 First Class, 151 Second Class, 46 Third Class, 42 Steerage.
1937:                                   103 First Class, 151 Second Class, 46 Third Class, 42 Steerage.
1945:                                   1,140 passengers in One Class.
Crew:                                   225 in 1920 to 1940.
Other Details:
Laid up:                                December 1930.
Back in Service:                     November 1932.
1932/33:                              Refitted at the "Amsterdam Dry-dock Company".
1940:                                   Refitted as a troopship in Sydney Australia.
1945:                                   Returned to her owners.
Fate:                                    Sold to Ship breaker "NV Levie Simons", on March 7, 1958 she arrived at the Dutch yard to be broken up.
*********************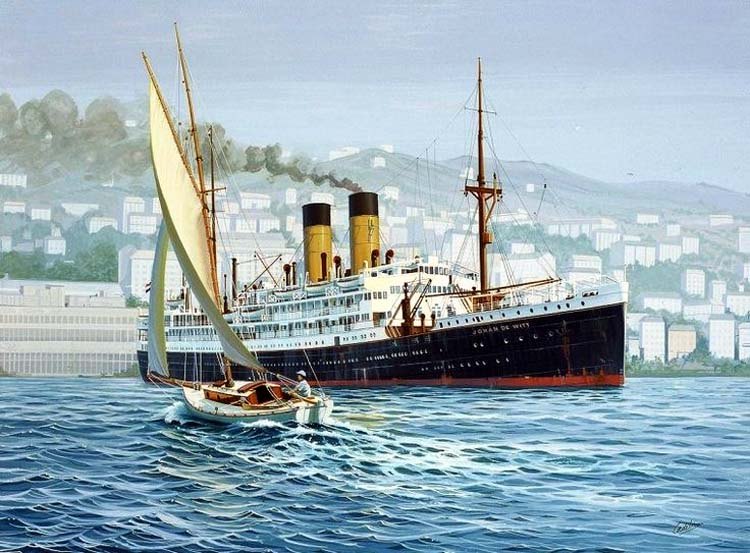 The S.S. Johan de Witt painting with her new bow seen in 1933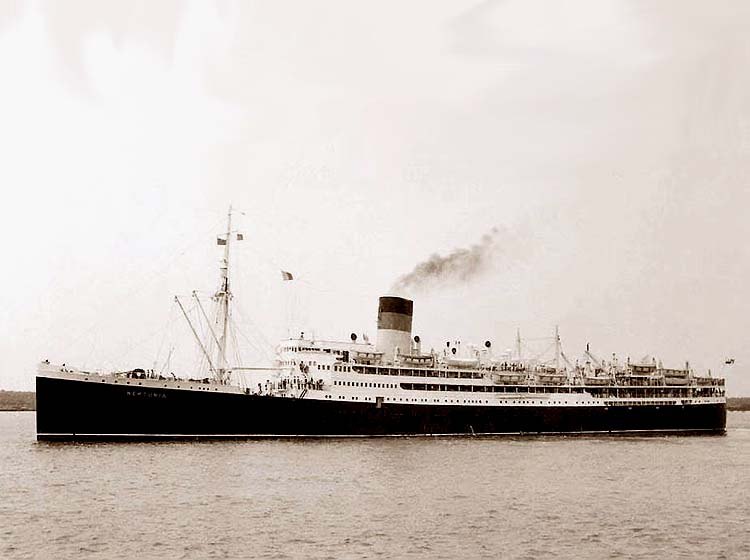 T.S.S Neptunia is seen from 1948 to 1954 after which she was all white
and only between 1954 to 1958 did she feature the Greek Line's "Yellow Trident" on her funnel
Enter Page Two - the T.S.S. Neptunia page
**************
"Blue Water Liners sailing to the distant shores.
I watched them come, I watched them go and I watched them die."

Featuring over 1,435 Classic Passenger Liners, Passenger-Cargo Liners & Classic Cruise Ships!
Or ENTER HERE
For interest: Sadly an email service to ssMaritime is no longer available, due to the author's old age and chronic illness as well as being disabled, etc. In the past ssMaritime received well over 120 emails per day, but Goossens can no longer handle same. He sincerely regrets this!
*********************
ssMaritime.com & ssMaritime.net
Where the ships of the past make history & the 1914 built M.S. Doulos Story.
The Author has been in Passenger Shipping & the Cruise Industry for well over 60 years
In addition he was the founder of "Save the Classic Liners Campaign" in 1990.
Please Note: ssmaritime and associated sites are 100% non-commercial and the author seeks no funding or favours of any shape or form, never have and never will!
Photographs on ssmaritime and associate pages are by; the author or from the author's private collection. In addition there are some images that have been provided by Shipping Companies and private photographers or collectors. Credit is given to all contributors. However, there are some photographs provided to me without details regarding the photographer/owner concerned.
This notice covers all pages; although, and I have done my best to ensure that all photographs are duly credited and that this notice is displaced on each page, that is, when a page is updated!
ssMaritime is owned & © Copyright by Reuben Goossens - All Rights Reserved