35 KNSM Passenger-Freighters of the Koninklijke Nederlandsche Stoomboot Maatschappij - The Royal Netherlands Steamship Co
Please Note:

Firefox

and some

iPad's

or

iPhone's

, etc are not suitable
Use

Google Chrome

for this web page to load perfectly!

Click the logo above to reach the ssMaritime FrontPage for News Updates & "Ship of the Month"
With Reuben Goossens
Maritime Historian, Cruise'n'Ship Reviewer, Author & Maritime Lecturer
Please Note: All ssMaritime and my other related ssMaritime sites are 100% non-commercial and privately owned sites. Be assured that I am NOT associated with any cruise or shipping companies or travel/cruise agencies or any other organisations! The author has been in the passenger shipping industry since May 1960 and is now semi-retired, but continues and I hope that the well over 600 Classic Liners and Cargo-Passengers ships I have written on will continue to provide classic ship enthusiasts and continue a great deal of information and pleasure!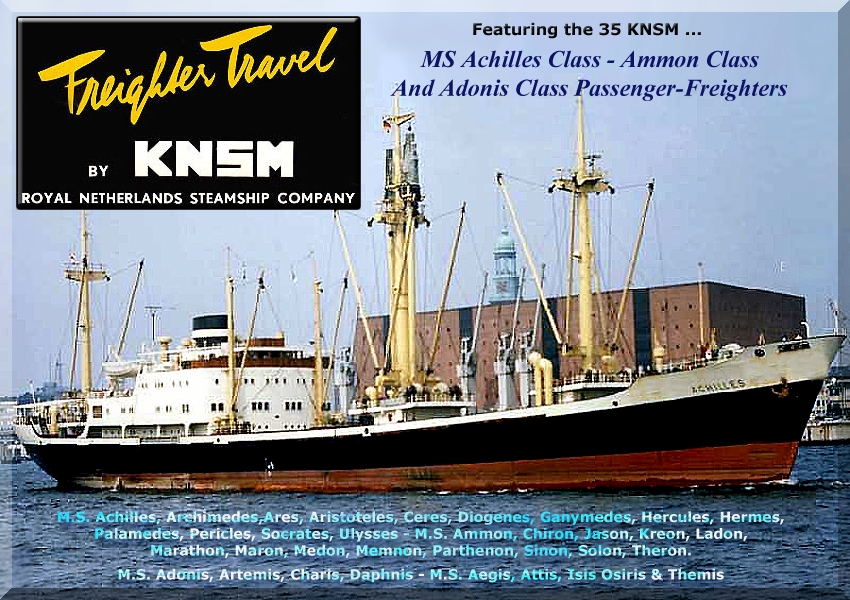 The Joys of Travelling on a Luxury Freighter
During the Great Days of Ocean Travel
Please Note: Photographs, Postcards and Deck Plans, etc., on this and the associated KNSM pages are from the author's private collection
Introduction:
Considering that I commenced in the Passenger Shipping Industry in what could be called the Heyday of passenger liners, but also the many who loved the delights of sailing with just a few on a fine Freighter that had just a small number of passengers, such as the ships covered on this feature for KNSM, or the "Royal Netherlands Steamship Company" offered a service and food that was as passengers so often said "Simply divine and hat is why we travel on their delightful and comfortable cargo liners." I recall that I used to sell many passages on freighters and never a complaint. Many people used to think that sailing on a freighter would be hopping on a cheap ride from A to B, but that was not the case, for all Dutch and German ships of this type were luxury based, offering the very best of everything!
The Ships and their Facilities:
KNSM had an amazing fleet of thirty-five Passenger-Cargo liners that carried just 12 passengers; however these twelve travellers were guaranteed a voyage that offered the very best of everything, great service, fine food and superbly designed and comfortable accommodations!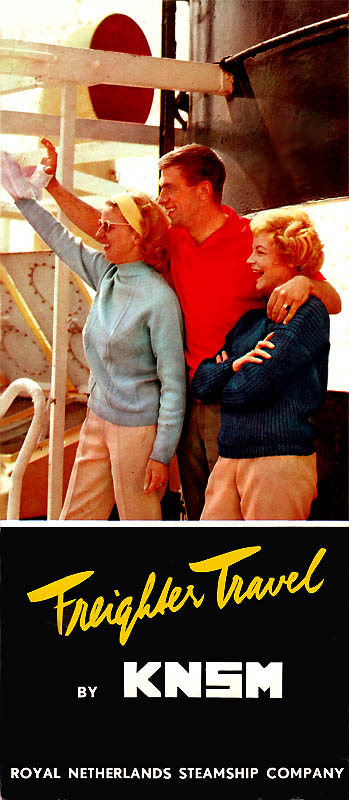 A full colour KNSM Brochure
KNSM, or the "Royal Netherlands Steamship Company" stated the following in their brochure; "Get away from it all to the luxury of a carefree voyage across a sunlit ocean, be enchanted by tropical nights and days while you relay and enjoy the quiet and informal atmosphere, courteous service and gracious living offered by the immaculate passenger cargo ships of the KNSM."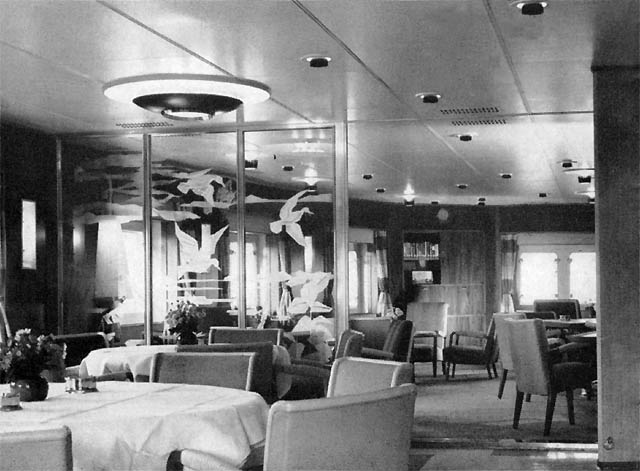 Here we see part of the Dining Room and the Lounge on the Starboard side aboard an Adonis Class ship
However, the Adonis Class has 2 styles of public rooms and this lounge is from the "Aegis Class" ships.
These amazing small ships built and delivered between 1954 and 1963 operated frequent voyages between Trans-Atlantic Voyages from Rotterdam and other European ports to the Caribbean, Surinam, Demerara bound for Central America and the North and West Coast of South America. Alternatively ships would have headed via the Caribbean to the East coast of the United States and the Gulf of Mexico. In addition to this, regular services were maintained from New York sailing via the Gulf and Caribbean ports and to the various European ports. Many would take these voyages on a return, much like cruise vacation basis, or a purchase a one way, or even a return ticket, but return at a later date on one of the other ships.
Public Facilities:
These popular Passenger-Cargo Liners offered excellent accommodations for just 12 privileged passengers with each ship featuring a beautifully designed and luxurious Lounge forward on the starboard side of the ship, and elegantly laid out Dining Room next to it on the portside. Dining on these ships was something that was always a delight to behold, for Cuisine was a company speciality, regardless passenger numbers, it had to be the finest, as was the service!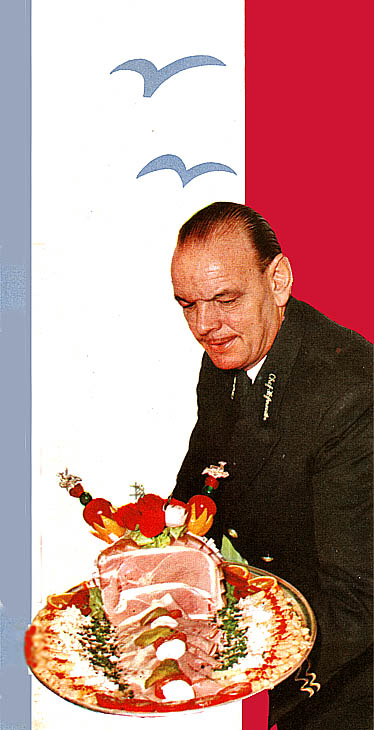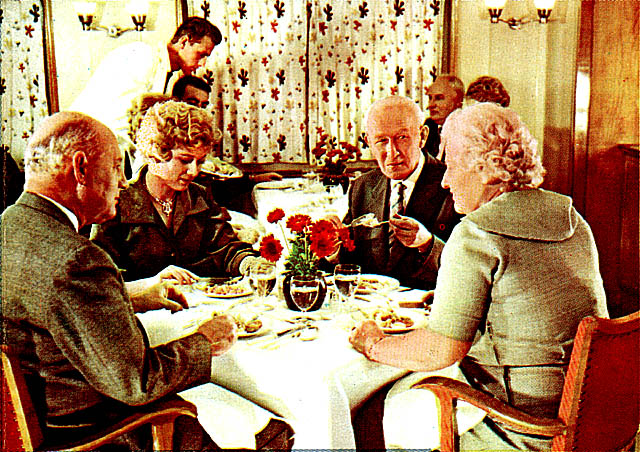 Achilles Class Dining Room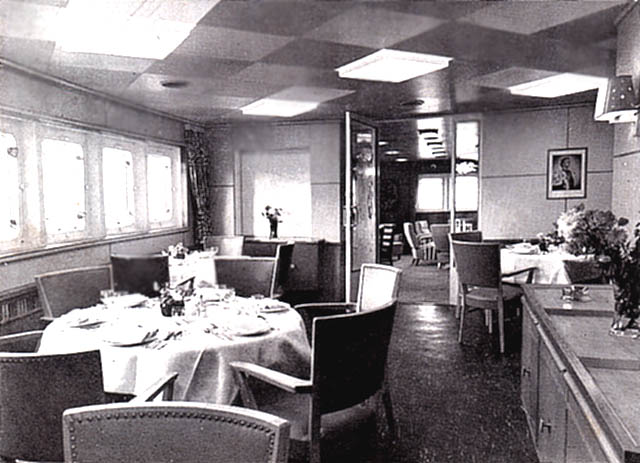 The Dining Room and Lounge from an Adonis Class ship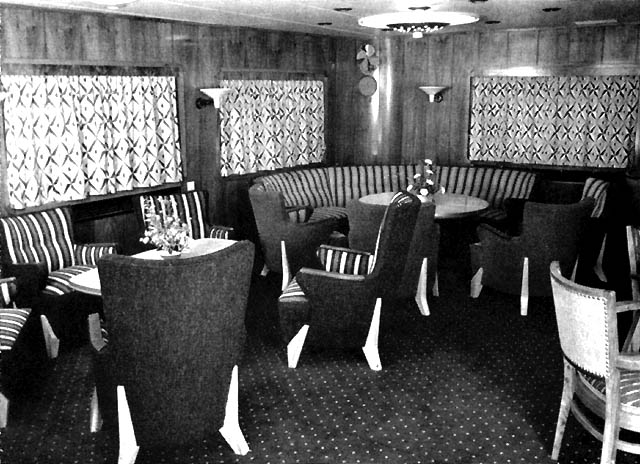 This is a Lounge from an Ammon Class ship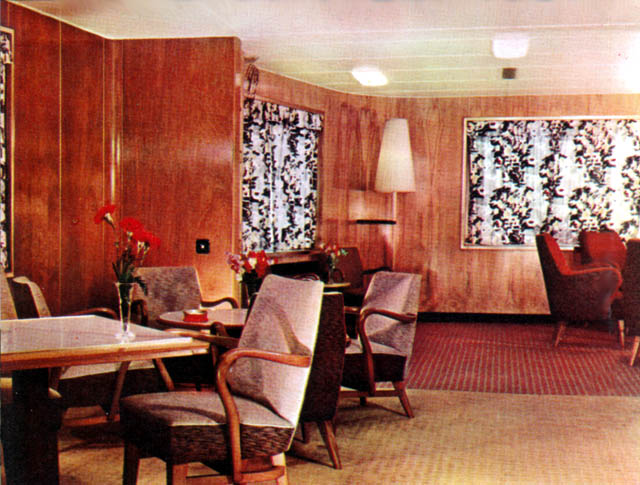 Here we see the Lounge from an Aegis (3b) Class ship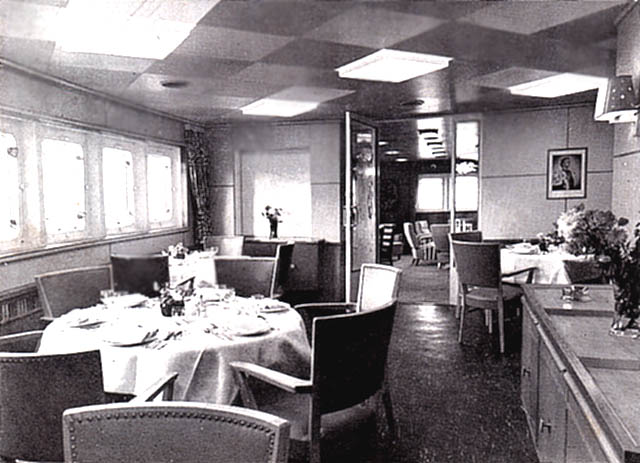 The Dining Room and Lounge from an Adonis Class ship
These ships offered five spacious Twin bedded and two single bed cabins, all having with two windows, with a washbasin per person in the cabin and toilet and shower in their private bathroom. Cabins were certainly very spacious compared to the vast majority of larger passenger liner!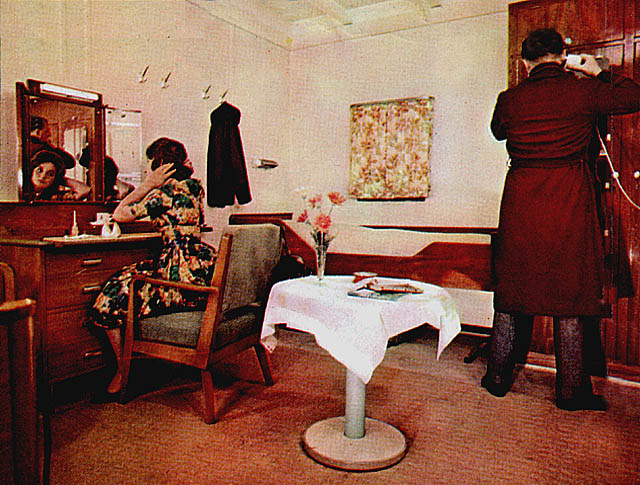 A typical KNSM promotional cabin scene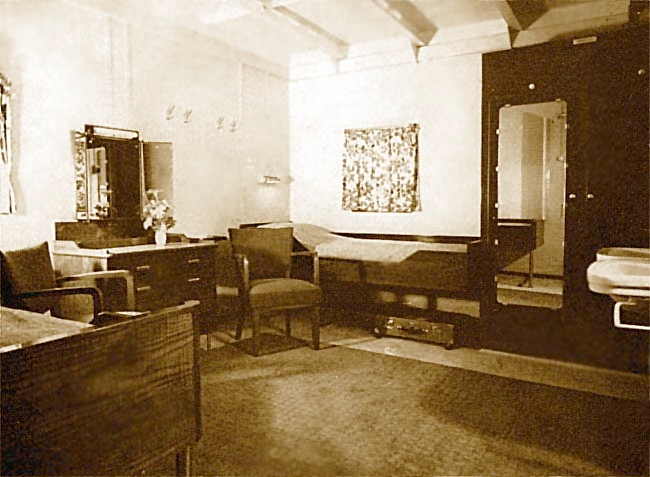 A black & white photo from an old 1950s brochure of a cabin
These 35 KNSM freighters came in 3, plus a 3b subclass of passenger-cargo liners each offering the same fine quality of service and accommodations!
Please Note: Deck Plans are at the bottom of this feature.
1. Achilles Class
This Class of the KNSM freighter was the largest of this particular fleet and the "Achilles Class" consisted of a total of 13 sister ships. Only this class had its main superstructure set slightly amidships, although it was locate slightly towards the aft of the ship, allowing for one hold to be located aft, and three holds forward.
General Dimensions: They were 7,100 GRT (Gross Registered Tons), the length being; 129m - 424ft and 17.5m - 57ft wide. They all had diesel engines, and this Class sailed at 16.25 knots.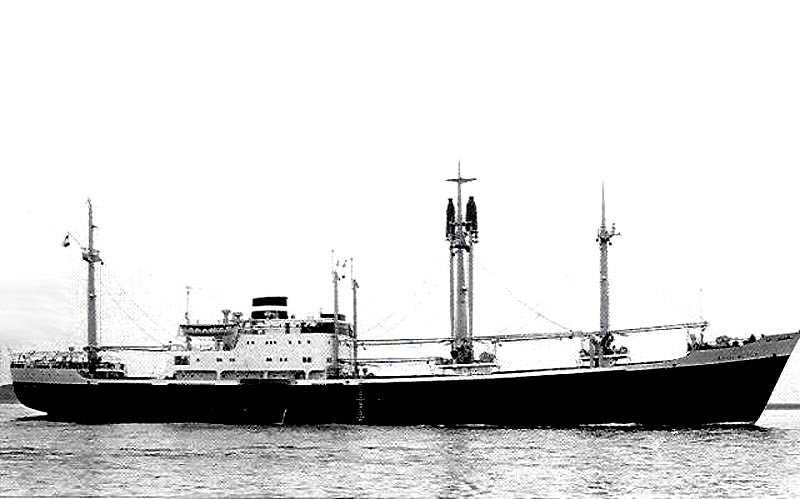 The MS Achilles Class is notable as its main superstructure is further forward
The following is a list of all the names of the "Achilles Class Ships and I will show them in Alphabetical order, and add their year of delivery. For interest all 35 ships were fitted with "Stork Diesel" engines, which were built by the "Machine-Builders Brothers Stork N.V., Hengelo-Enschede, the Netherlands.
M.S. Achilles 1959, Archimedes 1960, Ares 1959, Aristoteles 1962, Ceres 1959, Diogenes 1960, Ganymedes 1962, Hercules 1963, Hermes 1962, Palamedes 1961, Pericles 1960, Socrates 1960, Ulysses 1962.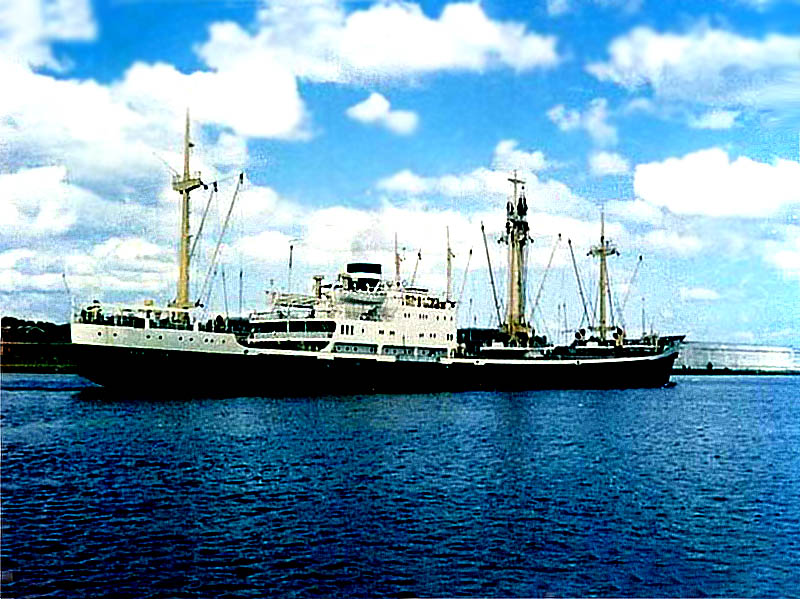 A stern view of the MS Pericles, one of the "Achilles Class" ships
****************************
2. Ammon Class
This Class is somewhat smaller than her sisters above, however this class" consisted of 13 fine sister ships. Unlike the Achilles class, these ships had their superstructure located aft of the ship, with all their holds being located forward of the superstructure.
General Dimensions: They were 4,500 GRT, the length being; 111m - 364ft and 15m - 49ft wide. They all had diesel engines, and this Class sailed at 16 knots.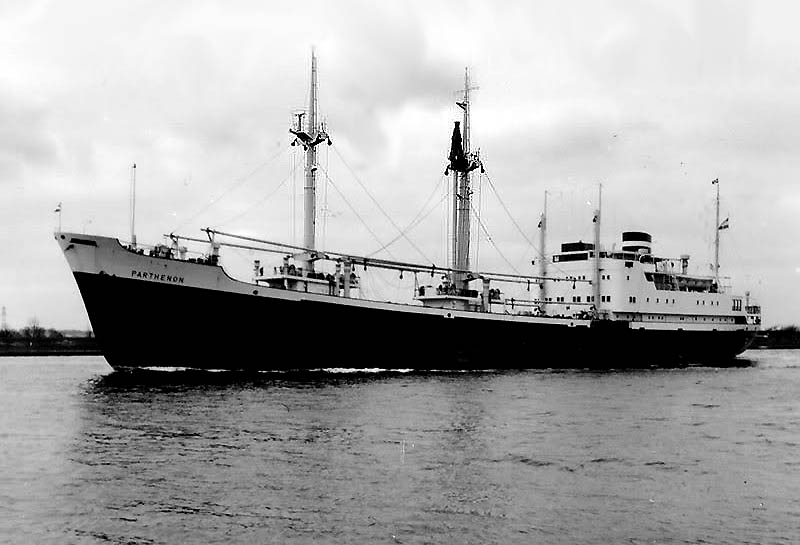 Above & below: Fine views of the MS Parthenon and the MS Theron are two of the "Ammon Class" Ships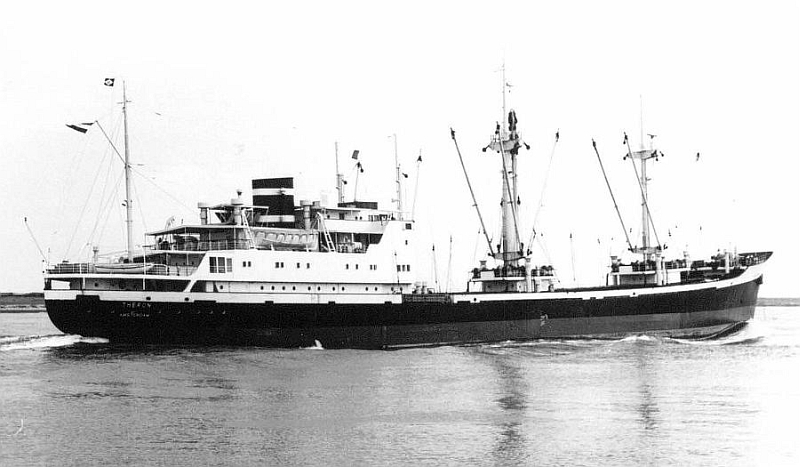 M.S. Ammon 1959, Chiron 1960, Jason 1955, Kreon 1960, Ladon 1960, Marathon 1960, Maron 1958, Medon 1958, Memnon 1958, Parthenon 1960, Sinon 1961, Solon 1956, Theron 1961.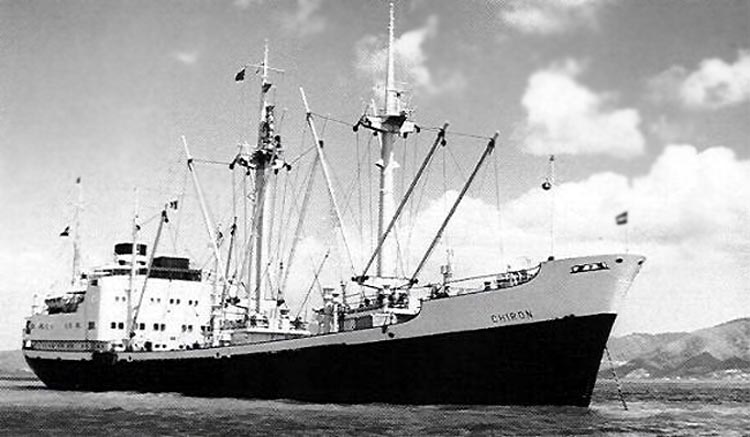 MS Chiron another of the "Ammon Class" of ships
****************************
Please Note: The "Adonis Class" has a total of 9 ships, but they will be split into two separate classes, even though they are identical ships, but their Lounge and Dining Room arrangements are different, it is only this that sets these ships apart. Thus, I will describe this class as the "Aegis Class" yet the specifications remain identical to the Adonis!
3. Adonis Class
This Adonis Class only has a total of 4 sister ships in her particular class and like the previous Nr. 2. "Ammon Class," these ships like the next subclass 3b, have their superstructure located far aft, which does offer the passengers with spacious aft deck, as well as a fine deck above!
General Dimensions: They were 3,900 GRT, the length being; 98m - 322ft and 14m - 42ft wide. They all had diesel engines, and this Class sailed at 14 knots.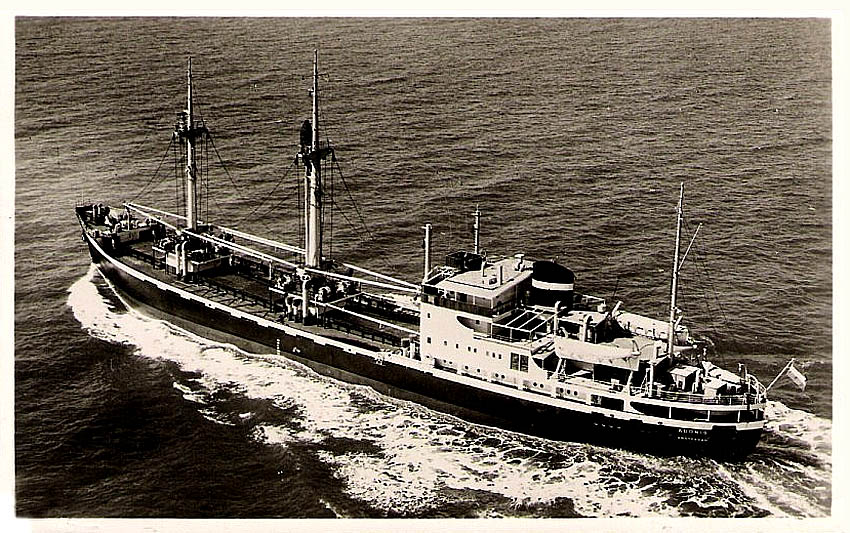 Above & below: A postcard of the MS Adonis from the air and the MS Artemis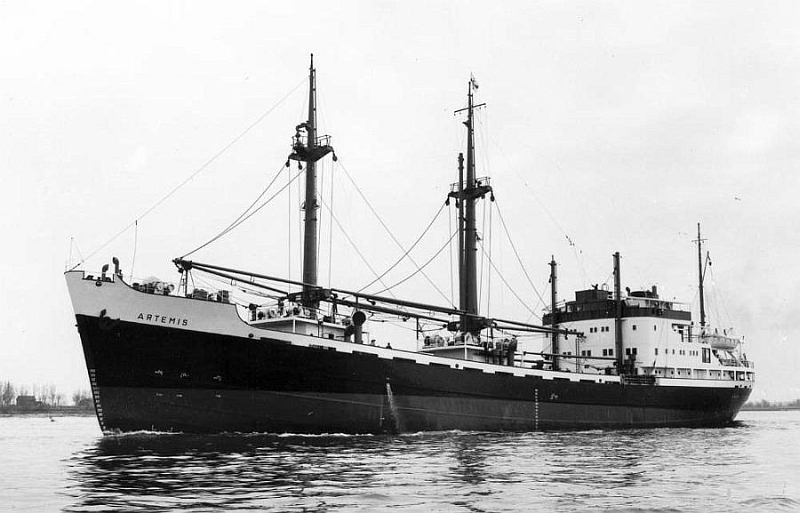 M.S. Adonis 1954, Artemis 1954, Charis 1954, Daphnis 1954.
****************************
3b. Aegis Class
This subclass has a total of 5 sister ships in her class. Just like her above sisters, these ships also are 3,900 GRT, the length being; 98m - 322ft and 14m - 42ft wide. They all had diesel engines, and this Class sailed at 14 knots.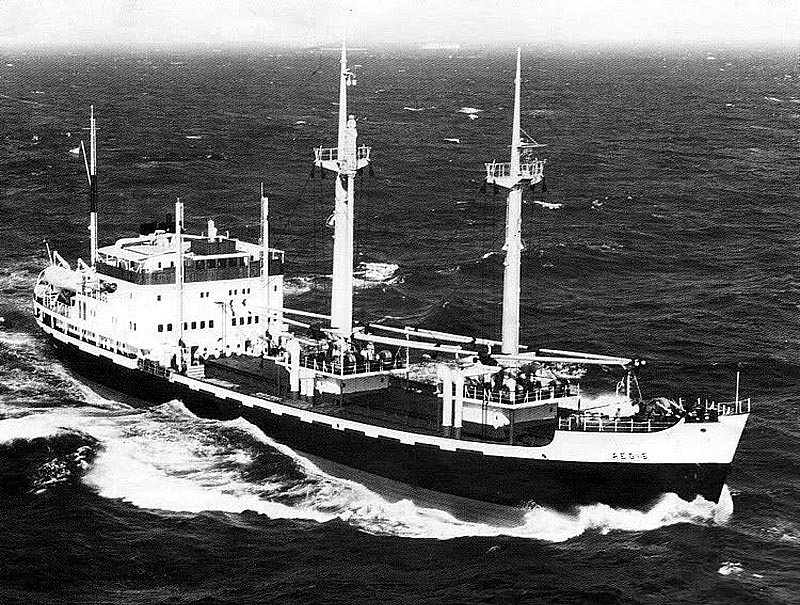 A fine view looking over the MS Aegis and her forward holds and the windows to
her elegant Dining Room located portside and a beautiful Lounge on the starboard side
As already seen further above!
M.S. Aegis 1955, Attis 1955, Isis 1959, Osiris 1955, Themis 1957.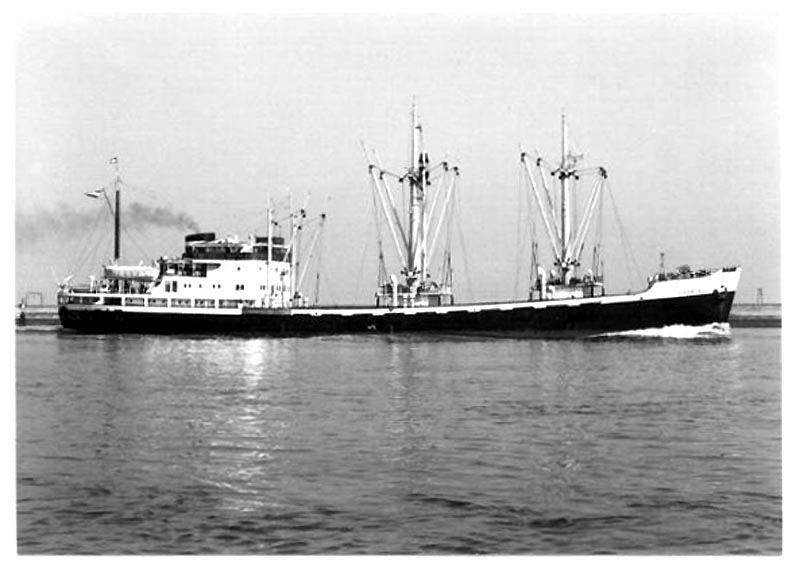 A delightful postcard of the MS Themis one of the 3b Subclass of ships
****************************
Below is a listing of all the ships schedules, although they are not listed by a ships name, but by Class of ship, as ships would interchange itineraries at times, but those shown below were the regular schedules!
MS Ammon Class:
1) Amsterdam, Curaçao, Aruba, Kingston, Savannah, Baltimore, New York.
2) Amsterdam, Curaçao, Aruba, Kingston, Houston, New Orleans.
3) New York, Aruba, Curaçao, La Guaira, Kingston, Trinidad.
4) New York, Maracaibo, Puerto Cabello, Port-au-Prince, Georgetown, Paramaribo.
5) New Orleans, Curaçao, La Guaira, Trinidad.
6) New Orleans, Aruba, Maracaibo, Guanta, Barbados, Georgetown, Paramaribo.
7) Miami, Aruba, Curaçao, La Guaira, Barbados, Trinidad.
8) Amsterdam/Rotterdam, Valetta, Piraeus, Beirut, Latakia, Famagusta, Alexandria, Antwerp, Amsterdam/Rotterdam.
MS Achilles Class:
1) Amsterdam, Georgetown, Paramaribo, Paranam (optional), Amsterdam.
2) Amsterdam, St. Maarten, San Juan, Santo Domingo, Puerto Cortes, La Ceiba, Belize, Puerto Barrios, Santo Tomas de Castilla, Amsterdam.
3) Amsterdam, Bilbao, Curaçao, Cristobal, Buenaventura, Guayaquil, Callao, Matarani, Arica, Antofagasta, Valparaiso, San Antonio, Talcahuano, Antofagasta, Arica, Callao, Guayaquil, Buenaventura, Cristobal, Cartagena, Barranquilla, Le Havre, Antwerp, Amsterdam.
MS Adonis Class:
Amsterdam, St. Croix, St. Thomas, Santo Domingo, Port-au-Prince, Nassau, Freeport (optional), US ports (optional).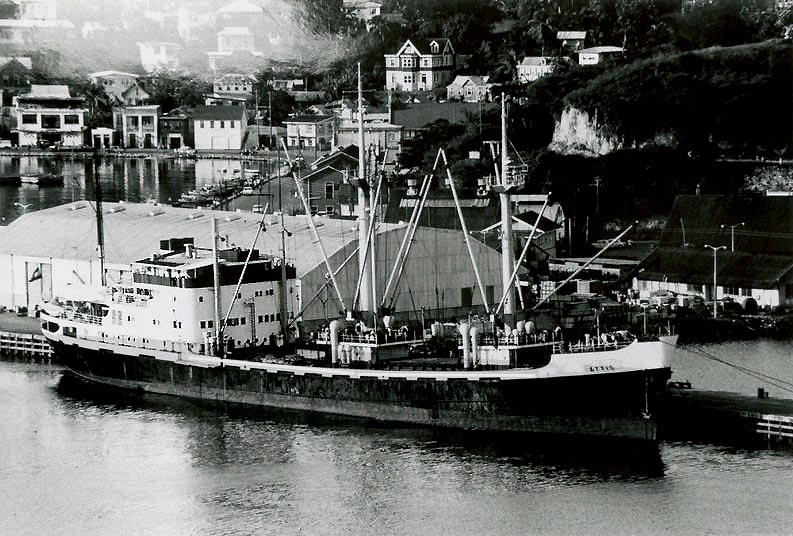 One of the Aegis Class ships, the AMS Attis is seen berthed at one of the Caribbean ports
****************************
Deck Plans & other Photographs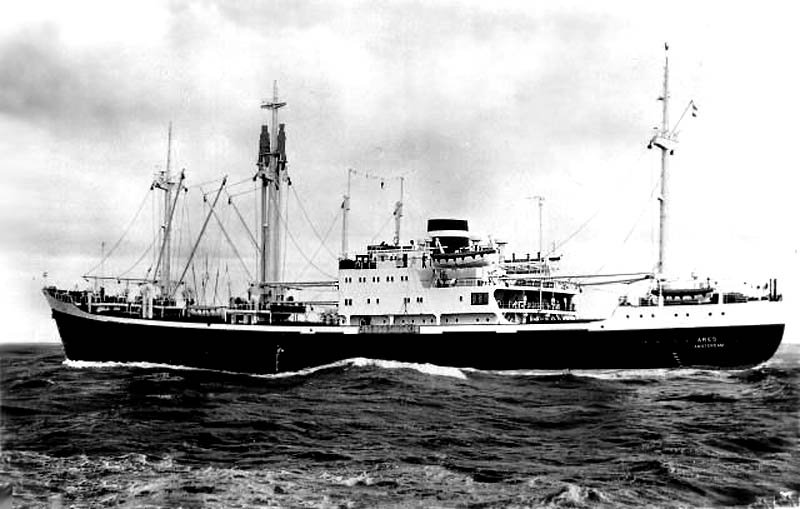 The MS Ares, one of the Achilles Class of ships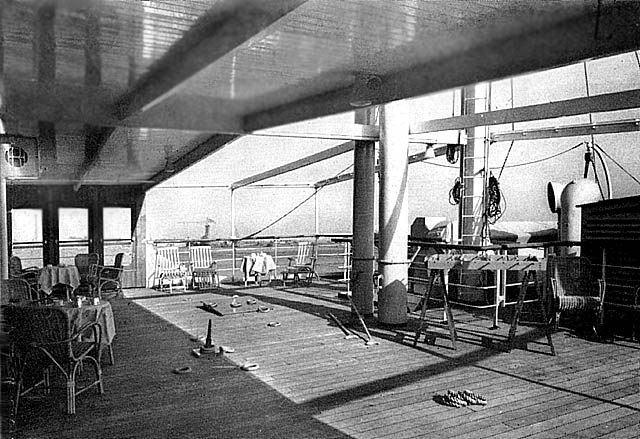 Aft on D (Promenade) Deck was the Veranda with stairs up to C or Sports Deck
This is a scene from one of the Ammon Class of ships as seen on the second plan below
M.S. Achilles & M.S. Ammon Class Deck Plans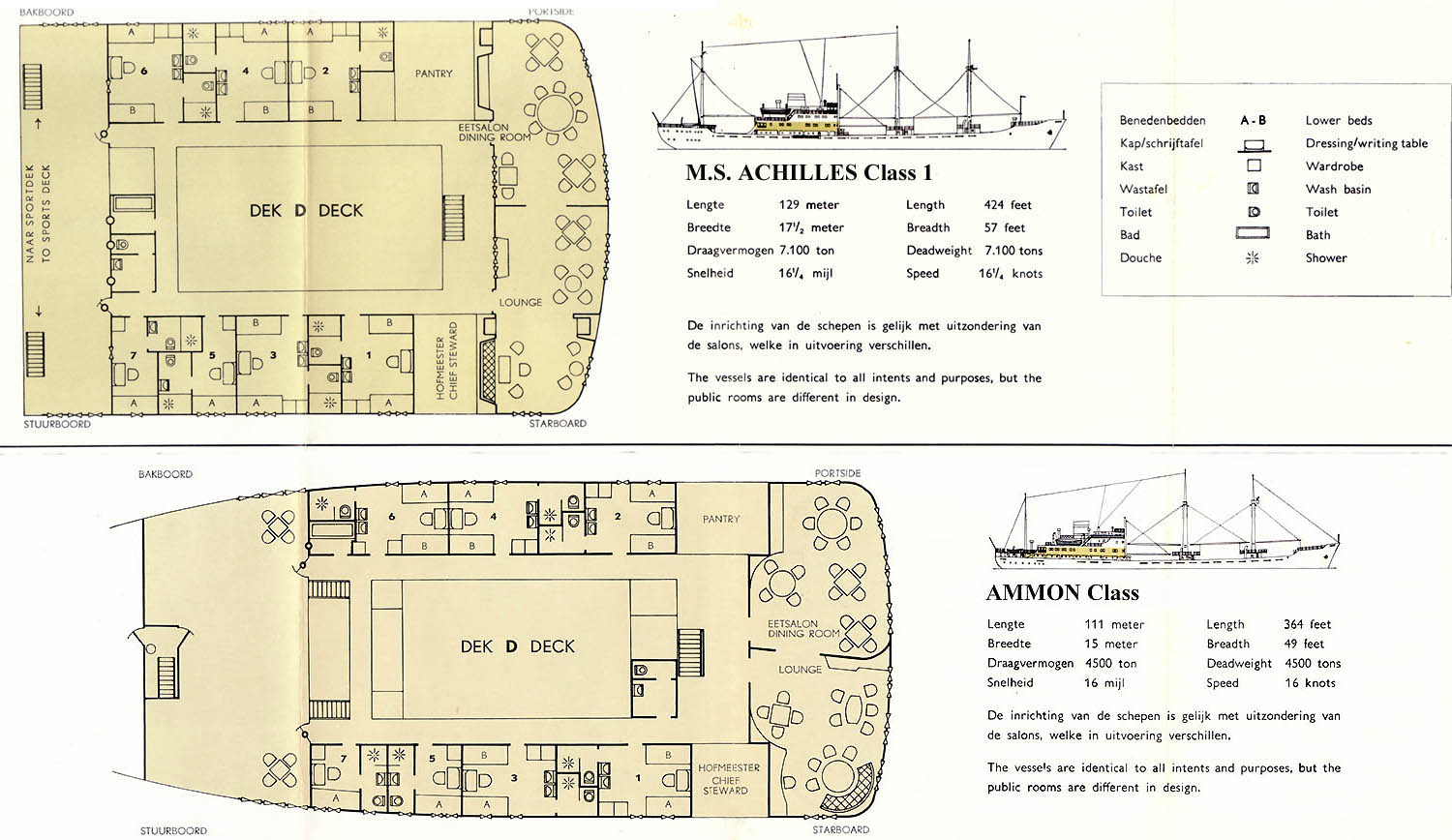 M.S. Adonis & M.S. Aegis Class Deck Plans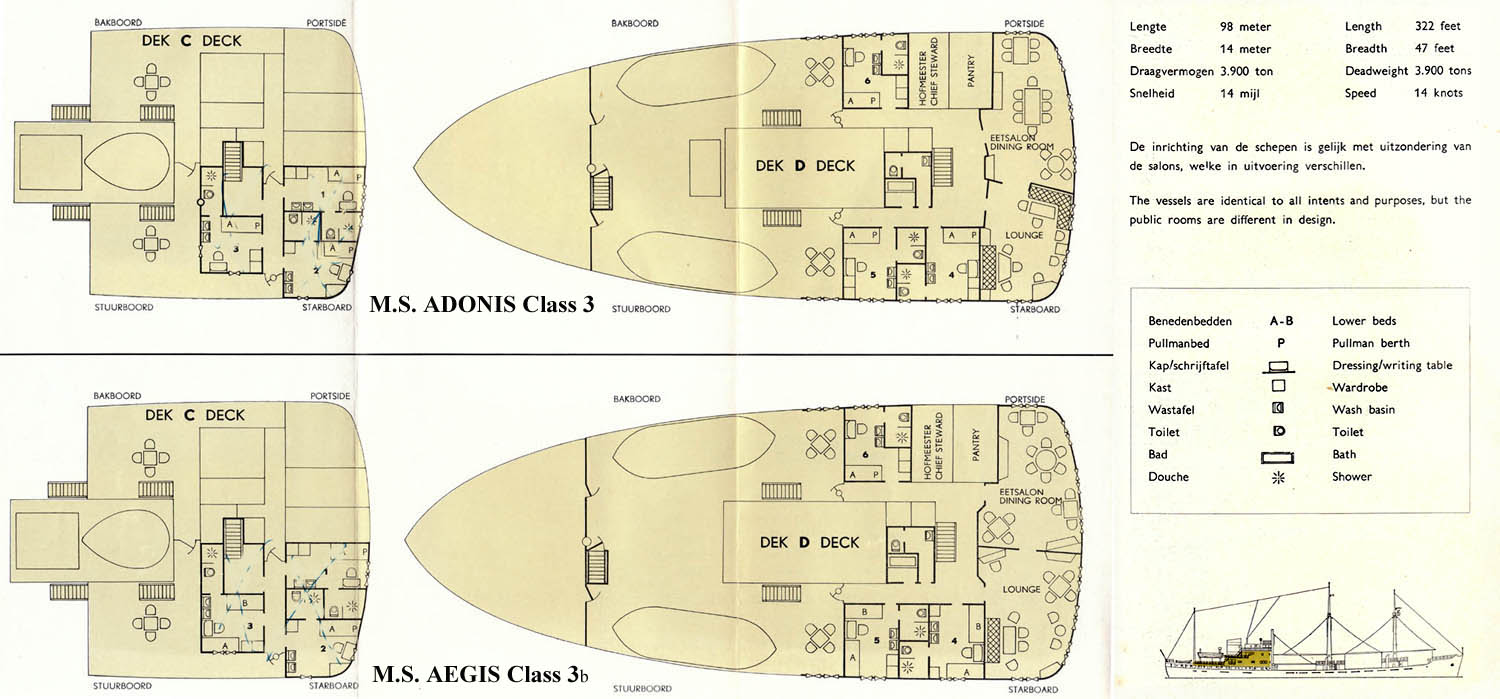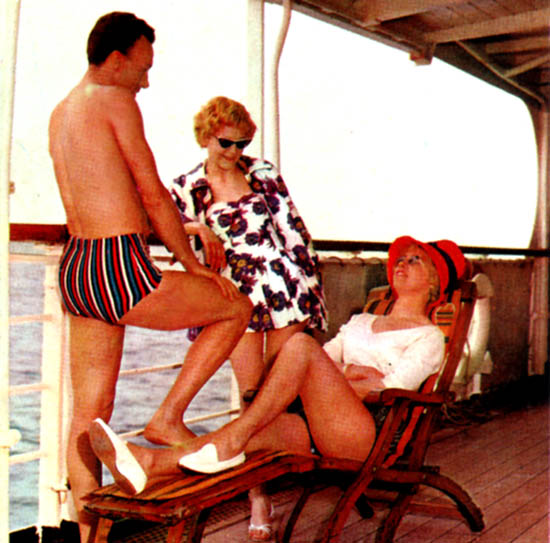 Passengers relaxing out on deck

on one of the Adonis Class ships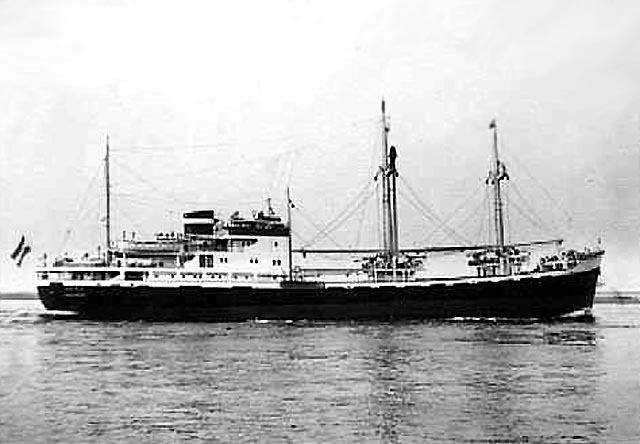 The MS Osiris one of the 3

b subclass of Aegis ships as seen in the bottom of the plan directly above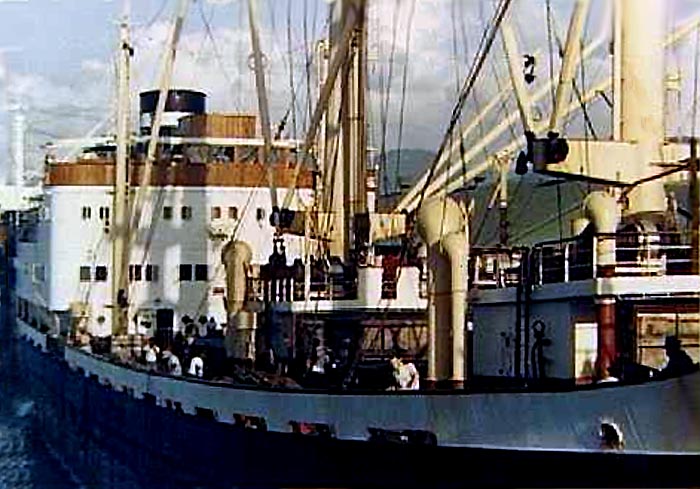 This is the MS Maron one of the Ammon Class of ships and she is seen arriving in port
This photograph was sent in by a supporter without information – Please see photo notes at bottom of page!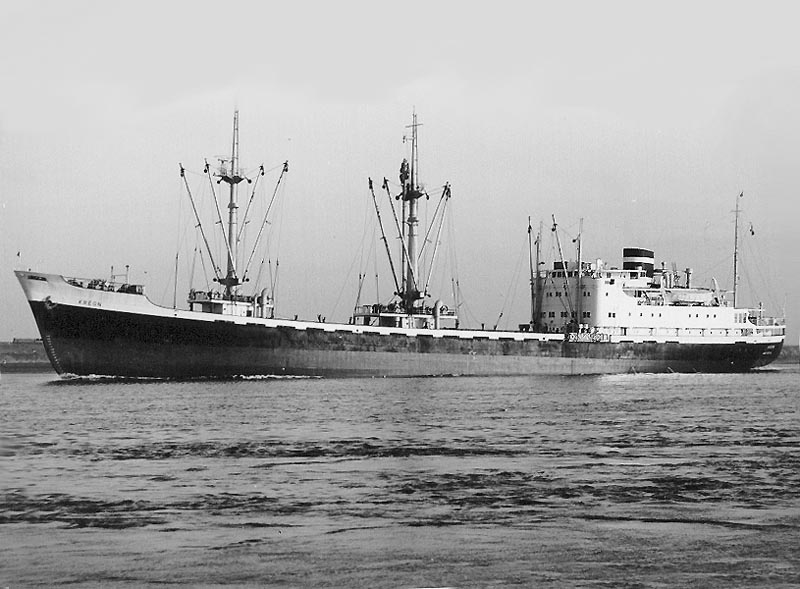 And finally the MS Kreon one of the Ammon Class of ships
The ssMaritime KNSM Index
Also visit the KNSM S.S. Cottica 1927 to 1958
The KNSM 1930 Flagship M.S. Colombia
Also view the YouTube Colourised Video of the M.S. Colombia
Crossing the North Sea on the luxury liner M.S. Colombia from Amsterdam to Dover
As well as 35 excellent KNSM-Passenger-Freighters
And the magnificent KNSM ships M.S. Oranje Nassau & Prins Der Nederlanden of 1957
"Blue Water Liners sailing to the distant shores.
I watched them come, I watched them go and I watched them die."
****************************
Visit our ssMaritime Main INDEX
Where you will discover over 1,358 Classic Passenger & Passenger-Cargo Liners!
For interest: Sadly an email service to ssMaritime is no longer available, due to the author's old age and chronic illness as well as being disabled, etc. In the past ssMaritime received well over 120 emails per day, but
ssMaritime.com & ssMaritime.net
Where the ships of the past make history & the 1914 built MV Doulos Story
The Author has been in Passenger Shipping & the Cruise Industry for well over 60 years
In addition he was the founder of "Save the Classic Liners Campaign" in 1990.
Please Note: ssmaritime and associated sites are 100% non-commercial and the author does not seek funding or favours and never have and never will.
Photographs on ssmaritime and associate pages are either by the author or from the author's private collection. In addition there are some images and photographs that have been provided by Shipping Companies or private photographers or collectors.
ssMaritime is owned & © Copyright by Reuben Goossens - All Rights Reserved