"K.N.S.M." - M.S. Oranje Nassau & M.S. Prince of the Netherlands from 1957 to 1973
Please Note: Firefox, iPhones, iPads & some other Search Engines may not be suitable
It is best to use Google Chrome for this Page to load perfectly!
Click the logo above to reach the ssMaritime FrontPage for News Updates
With Reuben Goossens
Maritime Historian, Cruise'n'Ship Reviewer, Author & Lecturer
Please Note: All ssmaritime and my other related ssmaritime sites are 100% non-commercial and privately owned sites. Be assured that I am NOT associated with any cruise or shipping companies or travel/cruise agencies or any other organisations! The author has been in the passenger shipping industry since May 1960 and is now semi-retired, but continues to write article on classic liners and cruise ships in order to better to inform cruise and ship enthusiasts for their pleasure!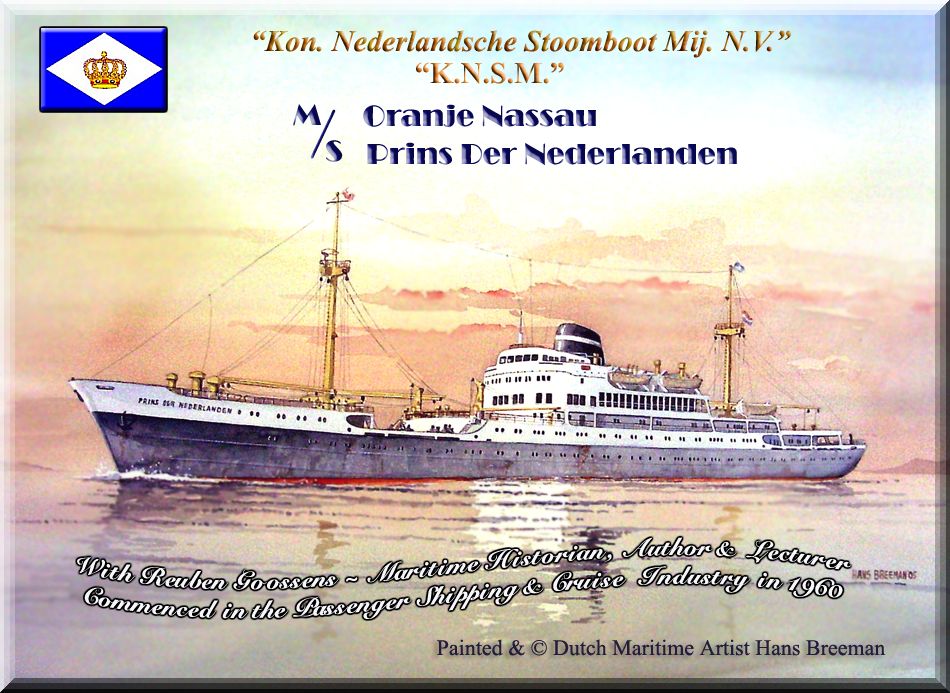 The M.S. Prins Der Nederlanden is seen after 1960
Introduction:
The "Kon Nederlandsche Stoomboot Mij. N.V." from hereon referred to as' "K.N.S.M." was company with a large fleet of some 60 ocean going ships in the 1940 & 50s, including two delightful 90 passenger-Cargo Liners the 5.100 GRT (GRT = Gross Registered Tons) M.S. Oranjestad, and the M.S. Willemstad, both having joined the fleet in 1950, but were originally built in 1937 with other names, and were radically rebuilt into fine Passenger-Cargo Liners in 1949/50.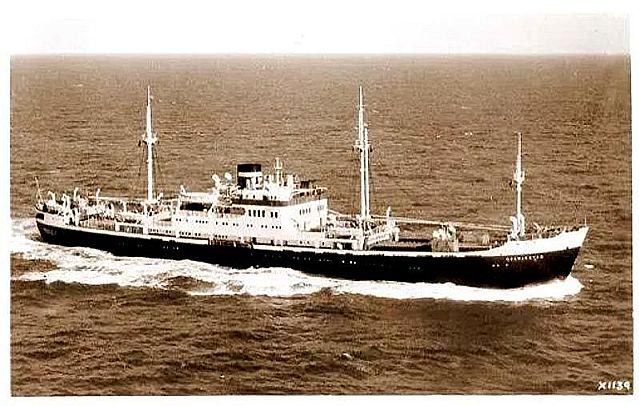 Above: We see the M.S. Oranjestad after her delivery in 1950 built with a black hull
Below: The M.S. Willemstad seen with her new grey hull after their 1960 refit
Both ships were sold in 1967 to Saudi Lines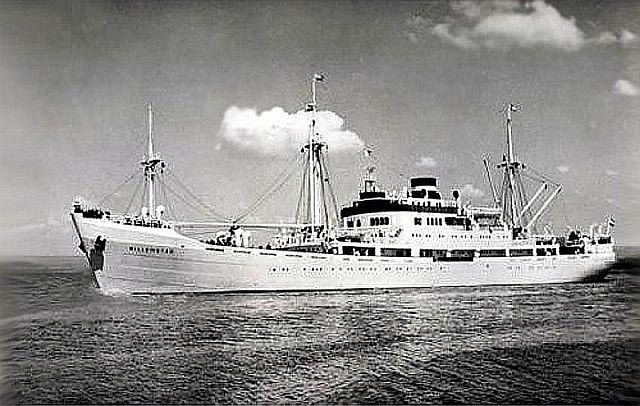 Two New Ships to be built:
With the success of the Oranjestad and Willemstad, KNSM decided to have two larger and to say the least, more glamorous "One Class Passenger-Cargo Liners" designed, and in December 1954 the new plans were presented for two 7.200 GRT liners to the directors.

The new ships early profile
The plans were approved and two shipbuilders were contracted to construct the new ships at the same time for K.N.S.M. Netherlands-Caribbean service and have them ready to operate in 1957.
Each ship would accommodate 116 passengers in a One Class configuration, although there was a separate "Group Accommodation" section for 68 persons which was used for special purposes, each ship would have a crew of 100.
It was decided that they would bear the name of two earlier K.N.S.M.'s passenger Liners, the "Oranje Nassau" and the "Prins Der Nederlanden". The Names had Royal connections, for "Oranje Nassau" referred to0 the then Queen Juliana of the Netherlands, whose official title was in full; Her Royal Highness Queen Juliana of the Netherlands, Princess of Orange-Nassau, Duchess of Mecklenburg, Princess of Lippe-Biesterfeld, etc, etc. The now late Queen Juliana and her ancestors that date back to the early 1500's, as well as her daughter Beatrix who abdicated in 2013 with her Son Willem-Alexander being the King are all from the ancient house of "Oranje Nassau," whilst the other name is directly related to Her Majesty the Queen's husband, "Prince Bernhard" who was titled; "Prins Der Nederlanden."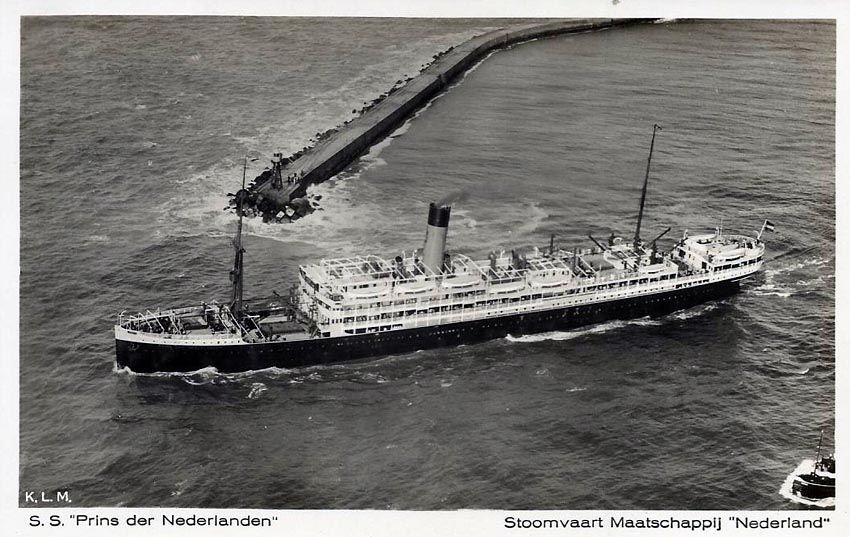 Here is a postcard of the 1914 built SS Prins Der Nederlanden (I). She ended her career with KNSM in 1935
KNSM New Flagship M.S. Oranje Nassau:
The first of the two ships was built as hull number 936 by "N.V. Scheepswerven Gebroeders Pot, Bolnes-Nederland" in Rotterdam. With her hull and superstructure partially completed it was on Saturday January 26, 1957 that she was officially named "Oranje Nassau" (2) and launched. Once in the water she was towed to the builder's fit-out berth, where she was completed, and she then undertook her deep sea trials in the North Sea achieving a top speed of close to 16 knots, but she would operate at a service speed of 15.5 knots. She was officially delivered to KNSM in Amsterdam on Tuesday August 6, 1957 where she was made ready to commence her Trans-Atlantic duties from Amsterdam, via Southampton to the Caribbean and return.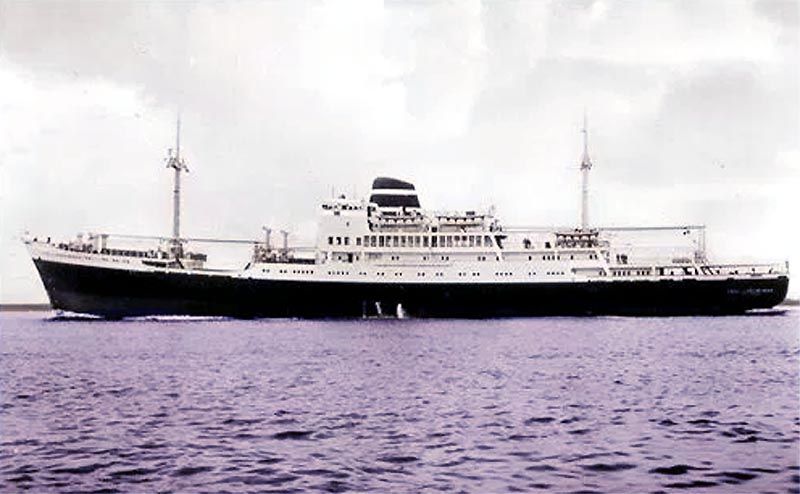 M.S. Oranje Nassau is seen heading for Amsterdam being delivered on August 6, 1957
Postcard issued by KNSM in 1957
M.S. Prins Der

Nederlanden

:
The second of this fine pair ships was built as hull number 618 by "P. Smit Jr. Scheepswerf & Machinefabriek NV," also a shipbuilder in Rotterdam. Then on Thursday March 14, 1957 she was named "Prince Der Nederlanden" (2) and was launched on that day. She was then towed to the P. Smit fit-out berths where she would be completed, and late August she undertook her deep sea trails in the North Sea, where she achieved a good 16.2 knots, but like her sister, she would operate at a service speed of 15.5 knots. On September 3, 1957 she was delivered to KNSM in Amsterdam where she was made ready to commence her regular voyages to the Caribbean, and together with their older sisters the M.S. Oranjestad and the Willemstad the two new ships would operate a regular passenger and freight service.
Their Interiors:
The 7.214 GRT M.S. Oranje Nassau & 7.220 GRT M.S. Prins Der Nederlanden respectively, were beautifully fitted out liners and they offered their passengers every possible comfort, as the interior decorators were some of the finest designers in the world and they had done an amazing job. They offered some of the luxury facilities and the most beautifully appointed Lounges and Bars that would be equal to any of the great Trans-Atlantic Liners, the only difference being, the venues being delightfully intimate!
Both ships offered spacious Promenade Decks, being partially glass enclosed making for a fine Winter Garden style Verandas. Public Venues included a full width Lounge and Dining Saloon. Then there was also the delightful Smoking Room and Bar as well as a Library and Writing Room. The ships had both a Beauty Parlour and a Barber Shop as well as a ships shop for those treasured items passengers would love to obtain from their voyages, or items of need during their long voyage. Children had their own very special facility and a Nursery, as well as their own Play Deck, including a Dining Room. Besides the Promenade Deck there was ample open Sports Decks and space to enjoy the sun in a comfortable deckchair.
Accommodations:
Cabins on board offered single and twin bedded cabins, whilst some cabins on A (Brugdek) Deck would have a fold away Pullman berth for an additional passenger should it be required. Also, most cabins on A Deck had a bathroom with a WC and a shower. Whilst on B (Bovendek) Deck all singles or twin bedded cabins had upper Pullman berths, thus they could be used as two, three or four berth cabins. The ships had the traditional forced ventilations system, although the Dining Room on B Deck located forward of the Main Lobby was fully air-conditioned. However, thankfully within three years both ships would be air-conditioned throughout!
In addition, both ships also had a separate section for what was called "Group Accommodations" which had space for 68 persons on each ship and the Deck Plan reveals that their cabins were located on the starboard side on C (tussendek)) Deck located directly forward of two smaller Dining Rooms. One of these dining rooms on the port side being for the crew, whilst the other dining room was located on the starboard side was for the group passengers and they would dine in two sittings. These passengers had their deck space directly above located forward of the ships main superstructure and there was a Lounge and a Bar directly aft of the foc's'le. There is not a great deal of information available how this section would be occupied, they could be used for educational bookings, special charters, or even military use when required, etc, and when not in use, possibly to transport locals between the Caribbean ports. Cabins were mostly six berth cabins, but there were 2 two berth cabins as well as 2 four berth cabins, possibly the two berth cabins could be used by group leaders.
Please see the Deck Plan down this page, which can also be enlarged online.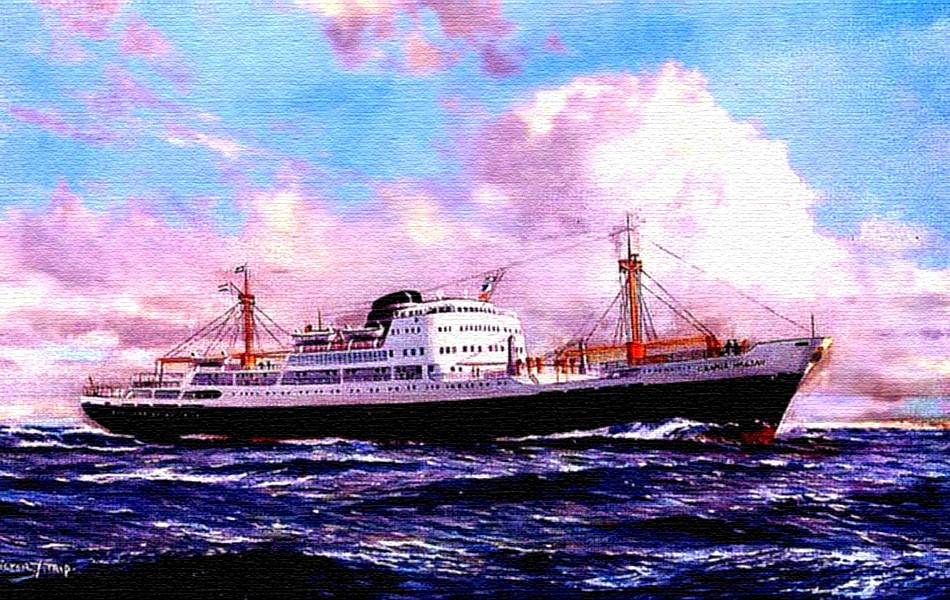 The M.S. Oranje Nassau (II) is seen as built and both ships retained their black hulls until 1960
Painted by & © Victor Trip
Cargo Facilities:
Each ship had five holds, having a capacity of 195.000 cubic ft, and a refrigerated capacity of 14.680 cubic ft to transport butter and meats, etc to the Caribbean, and tropical fruits back to the UK and Europe.
Schedules 1957 to 1960:
Depart Amsterdam and sail via Southampton, Barbados, Trinidad, La Guairá, Curacao, Aruba, Puerto Limon, Kingston, Santiago de Cuba, Cartagena, Plymouth, Amsterdam.
Return to Amsterdam for Refit:
Both ships rapidly gained great popularity, and the company decided to give both ships slight refits such as 1. Fully air-condition both ships throughout giving all passengers far greater comfort. 2. It was also decided to change their livery giving them a more traditional tropical looking lighter grey hull, with a red boot topping, however, their superstructure and funnels remained as before. Only a slight change was made to passenger numbers as both ship would now on accommodate 114 One Class passengers and the group section remained unchanged.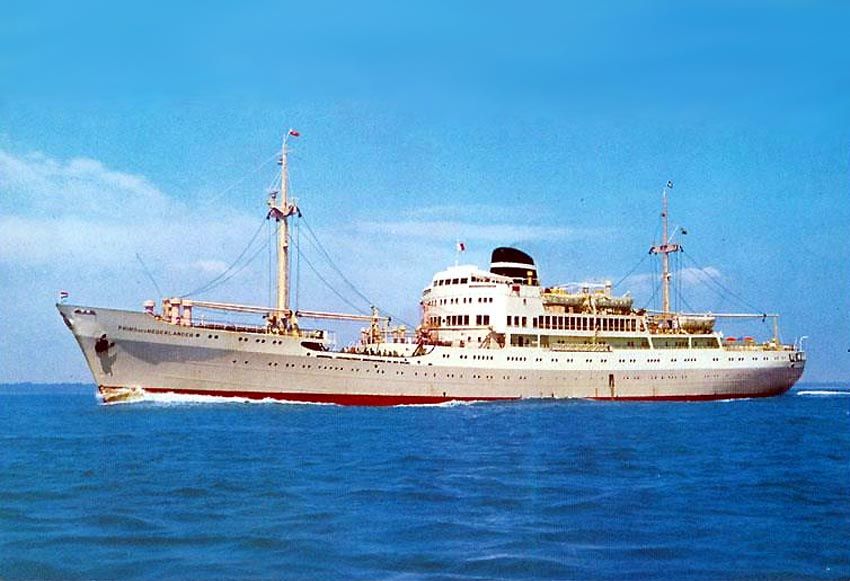 M.S. Prins Der Nederlanden is seen here with her new grey hull looking very smart
Schedule 1960 to 1962:
Amsterdam, Southampton, Madeira, Barbados, Paramaribo, Georgetown. (Optional calls could be made to; Ponte à Pitre/Fort de France). Return voyage, Georgetown, Paramaribo, Trinidad, Barbados, Madeira, Southampton, Amsterdam.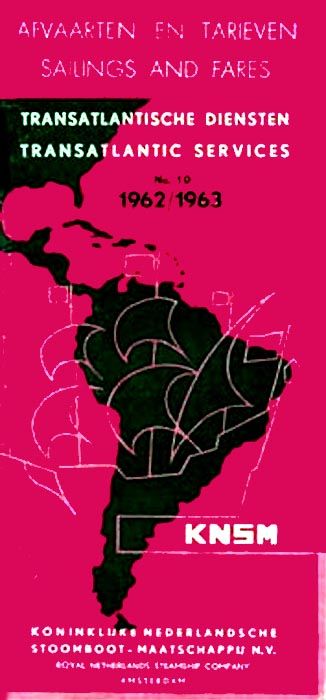 Provided with thanks by - www.timetableimages.com
Schedule 1962 to 1963:
Amsterdam, Southampton, Barbados, Trinidad, La Guairá, Curacao, Aruba, Kingston, Return voyage, Kingston, Puerto Limon, Cartagena, Aruba, Curacao, La Guairá, Trinidad, Barbados, Plymouth, Amsterdam.
As the years passed, these fine ships gained a great deal of popularity and passengers loved the leisurely atmosphere and the superb facilities the Oranje Nassau and the Prins Der Nederlanden offered! A past passenger emailed me quite some time back, and Jenny had the following to say about her and her husband's experience on the M.S. Oranje Nassau;
"We heard about these ships from our friends who had already done two full round voyages, one on the Oranje Nassau and other on the Prins der Nederlanden, thus as we had already been thinking of an extended cruise, we decided to do a round voyage as on one of these KNSM ships and we booked a voyage on the Oranje Nassau in 1968. Let me say right from the  start, it was the best thing we could have done, for the service was, as we were told, simply pure perfection, our cabin steward was so helpful and did such a wonderful job, and nothing was any trouble, whilst in the Restaurant, the stewards were just amazing, they were so efficient and friendly. We had heard so much about the wonderful variety of menus, and that the chefs offered such beautifully prepared and presented meals. The Dining room was surprisingly spacious as it occupied the full width of the ship, which was unusual we discovered for ships of this size, and it made her feel so much larger than she really was, just like the main lounge up on promenade deck which was just so wonderful and magnificently appointed, as was the smoking room and its bar, thus she felt like a much bigger ship! We sailed on her in 1968 and we had hoped to do another cruise on her or her sister again in another five years, but sadly when we came to book it, we were told that both ships had been laid up. Jenny D - UK."
Brochure Released in March 1963:
Some time back I came into possession of a full colour brochure covering these two fine K.N.S.M. ships, and I am delighted to present this fine production below. It is a six fold brochure, thus I have scanned it and have laid it out as two sides, 1; being the front cover side, and 2; the interior side.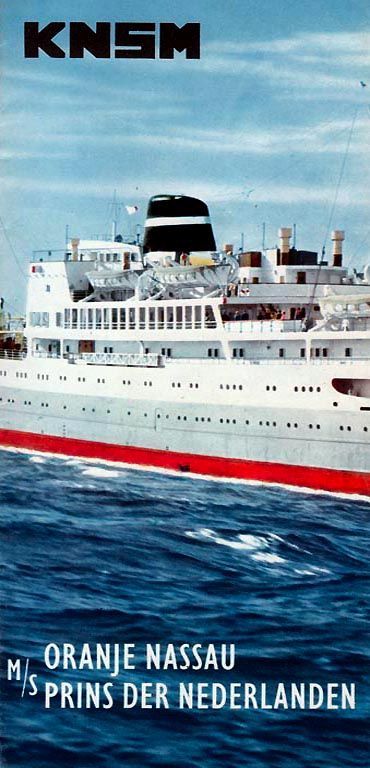 Here we see just the front cover of the six fold brochure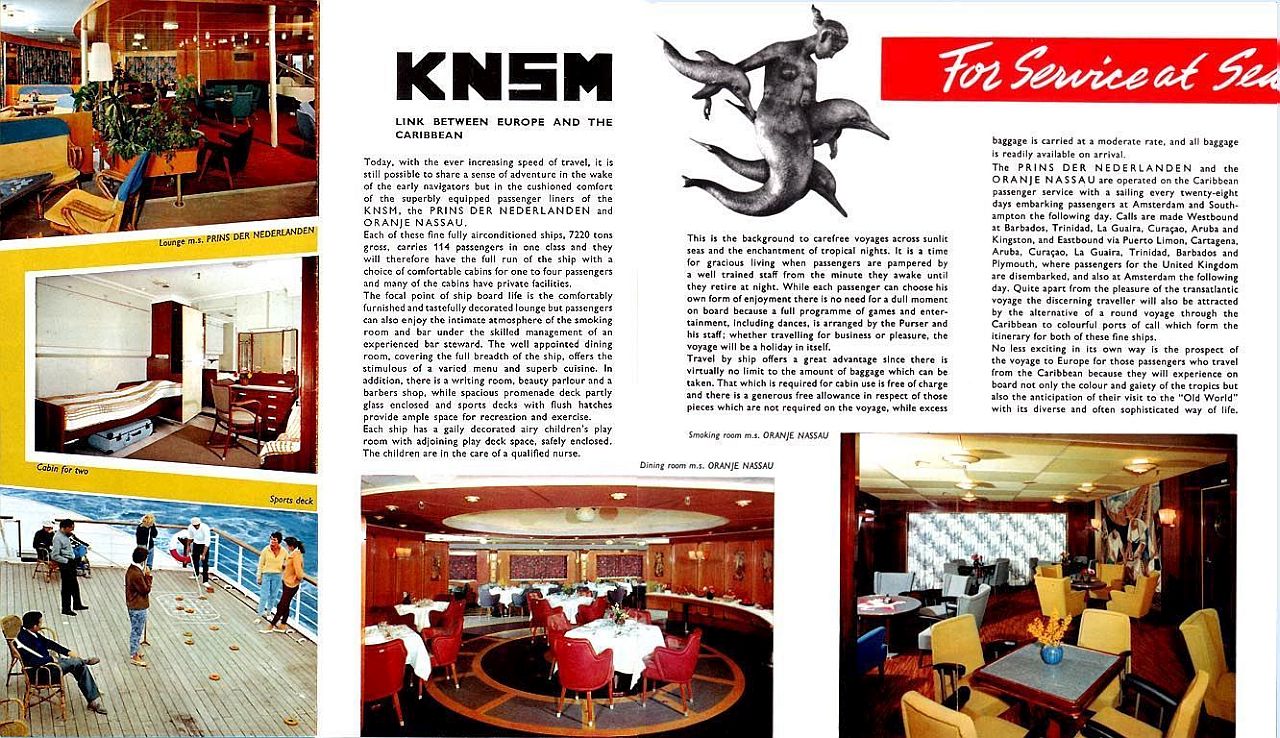 Above & below: This is the front and back cover (all on one side) of the brochure; the lower view should be attached to above right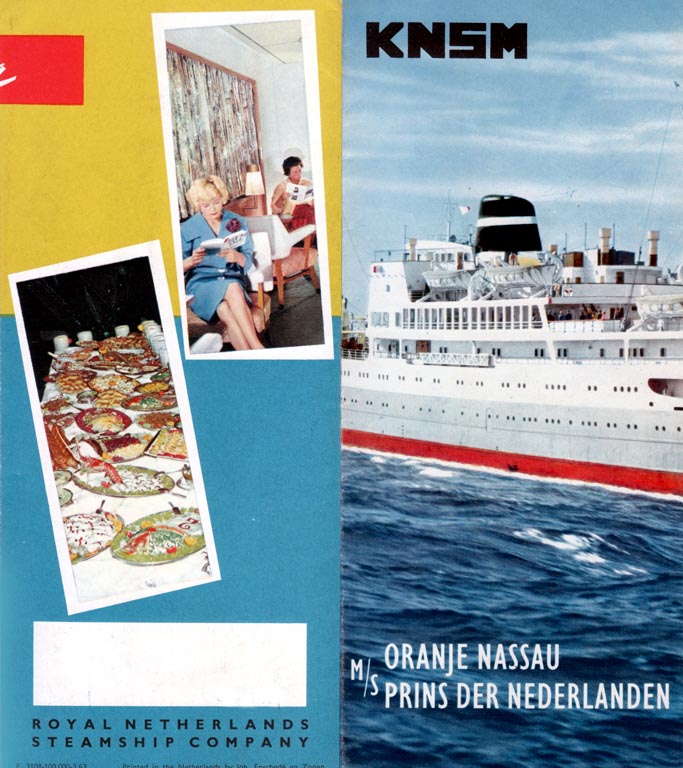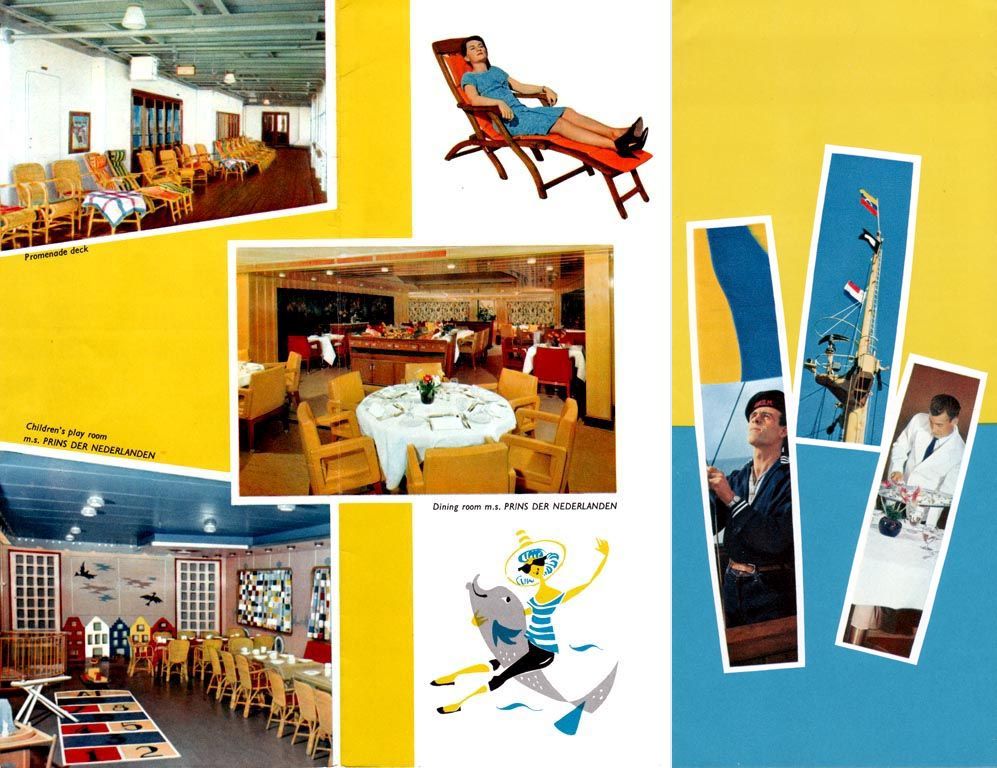 Above & below: This is the interior view of the brochure; the lower view should be attached to above right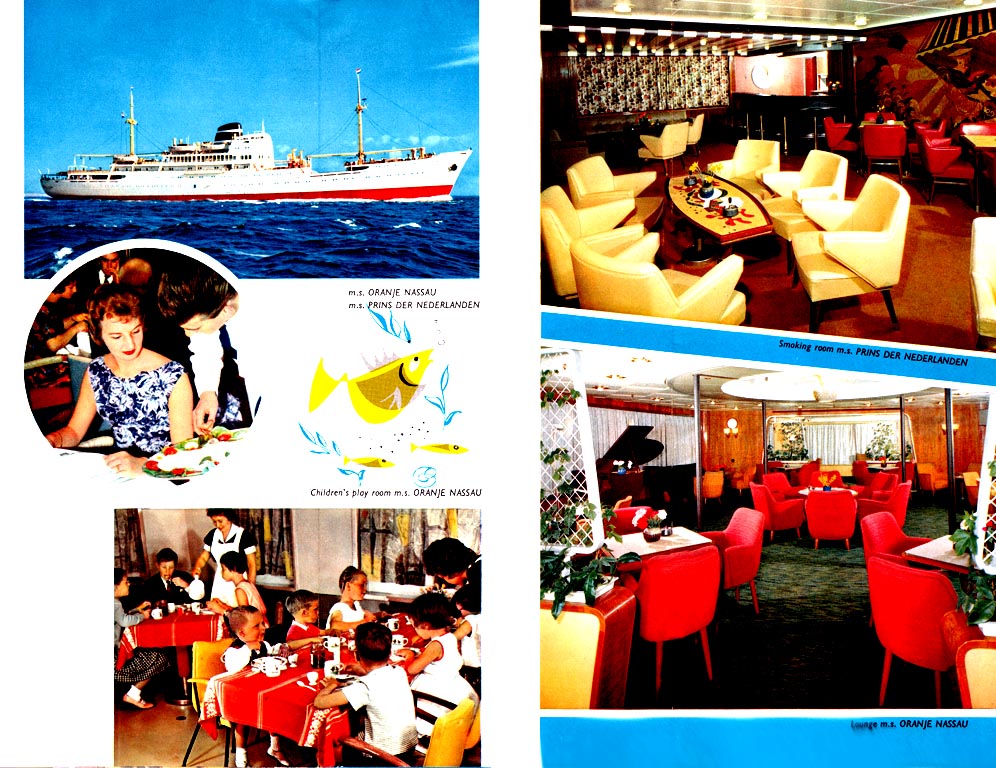 I am sure, you will have gained a wonderful insight to these two fine Passenger-Cargo liners

that gave countless Dutch, European and British passengers so much joy as they sailed the warm waters of the Caribbean in such delightful surroundings and with the best of service and cuisine, etc!
Schedule 1969 to 1970: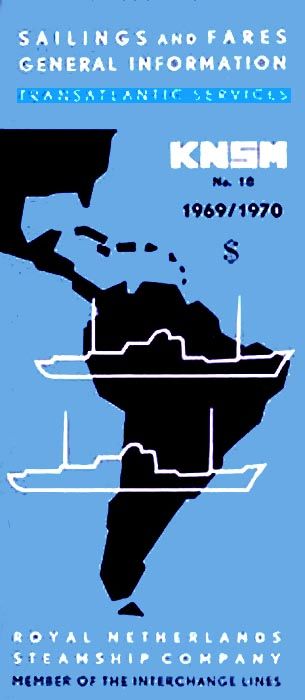 Provided with thanks by - www.timetableimages.com
Amsterdam, Southampton, Madeira, Trinidad, Georgetown, Curacao, Aruba, Paramaribo, Kingston, Grenada, Barbados, Ponta Delgada, Southampton, Amsterdam.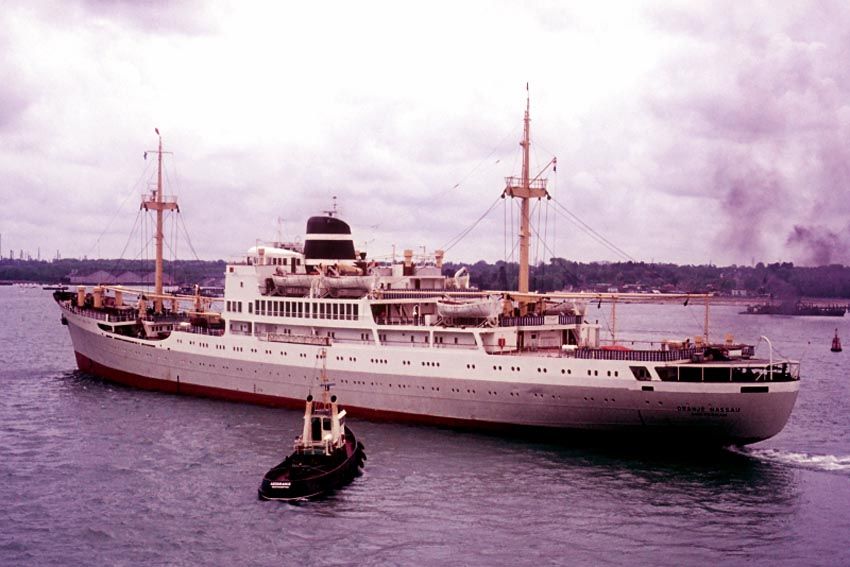 A fine stern view of the M.S. Oranje Nassau
Schedules: June to September 1972: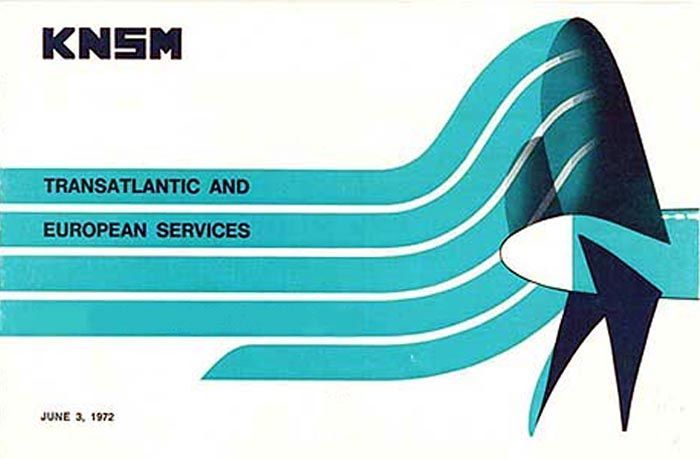 Here we see the ships very last ever schedule, although it also contained
schedules for K.N.S.M.'s other ships on their European & Caribbean  services
Provided with thanks by - www.timetableimages.com
M.S. Oranje Nassau:
Amsterdam, Paramaribo, Georgetown, Curaçao, Aruba, Kingston. (Caribbean ports of call not necessarily in this order).
Returning via the Azores to Amsterdam.
M.S. Prins Der Nederlanden:
Amsterdam, St. Maarten, Curaçao, Aruba, Port of Spain, Paramaribo. (Caribbean ports of call not necessarily in this order).
Returning via the Azores to Amsterdam.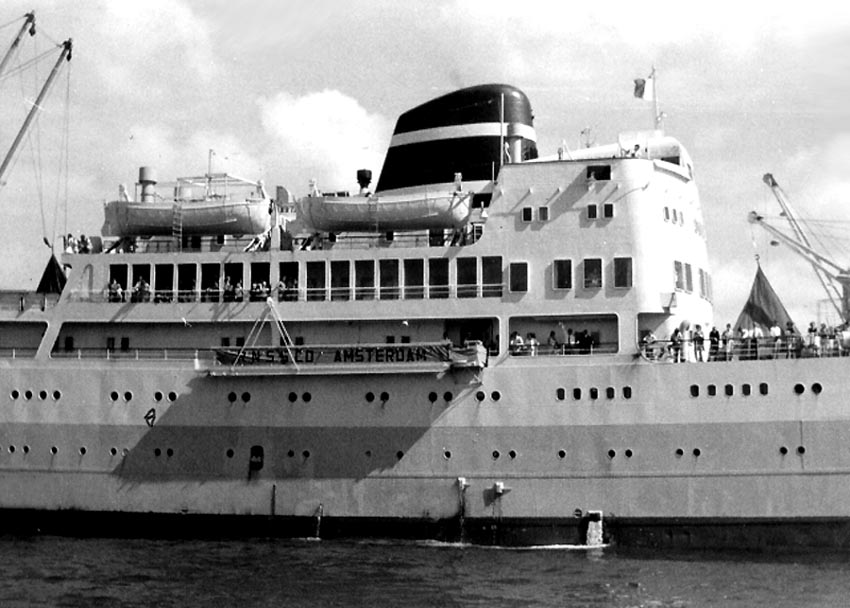 Here is a close up of the Prins Der Nederlanden, whilst she is at anchor
at one of the Caribbean Islands - note the passengers out up on deck
The Ships Final Days with KNSM:
Due to recent dramatic changes in passenger loadings, as well as containerisation slowly taking over cargoes, it was decided to take these two fine ships out of service, thus by October 1972 both the M.S. Oranje Nassau and M.S. Prins Der Nederlanden were laid up in Amsterdam and the company placed both ships on the market.
1 - M.S. Oranje Nassau:
Late in 1972 the Oranje Nassau was sold to "Empressa Navegacion Mabisa," of Havana, Cuba but not delivered until 1973, and then she was officially renamed the "XX Anniversario," (or 20th.Anniversary). and in Amsterdam her hull was painted white. Having arrived in Havana, she was used as a training ship and later she became a troopship, taking soldiers to Angola. Little else is known regarding her services, at a later date her hull was painted black, however throughout her days she was well maintained!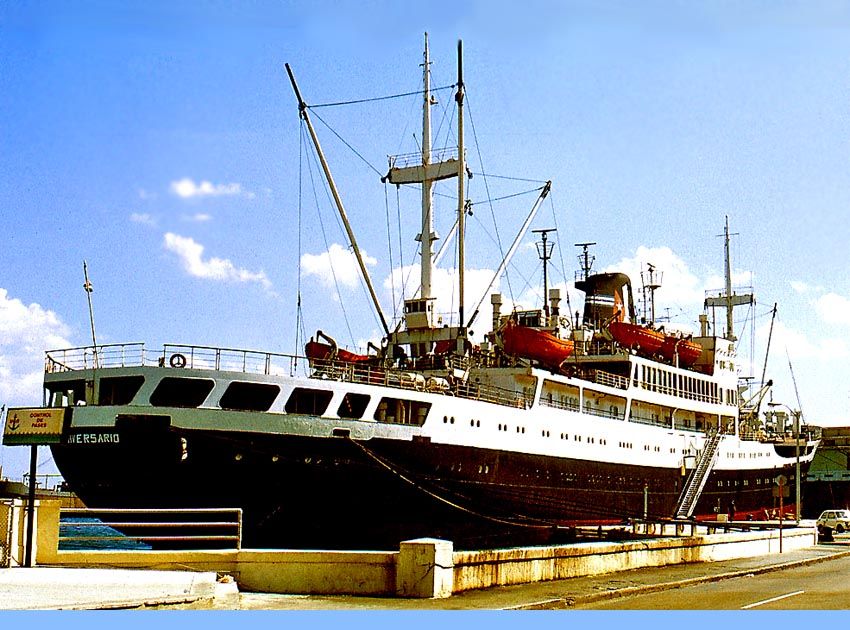 Here we see a fine stern view of the M.S. "XX Anniversario" and note how well she is maintained
Sent in by a supporter, thus the photographer is unknown - Please see the author's photo notes at the bottom of the page.
Then, in 1989 she was sold to "Incorn Ltd." of St. Vincent who renamed her "Ani" and she was delivered to Piraeus Greece where she was officially declared inactive, from Greece she continued to the "International Steel Corp" at Alang India, where she arrived on September 30, 1990 where she was broken up, having served a good 32 years.
2 .M.S.

Prins

Der

Nederlanden

:
Just like her sister, the Prins Der Nederlanden was also obtained by "Empressa Navegacion Mabisa," of Havana Cuba late in 1972, and when they took delivery in 1973 she was renamed MS Vietnam Heroico and both ships were registered in Havana, Cuba. Whilst she was still in Amsterdam she had her hull painted white, and a very small addition made to the funnel logo, which can be seen in the second photo below.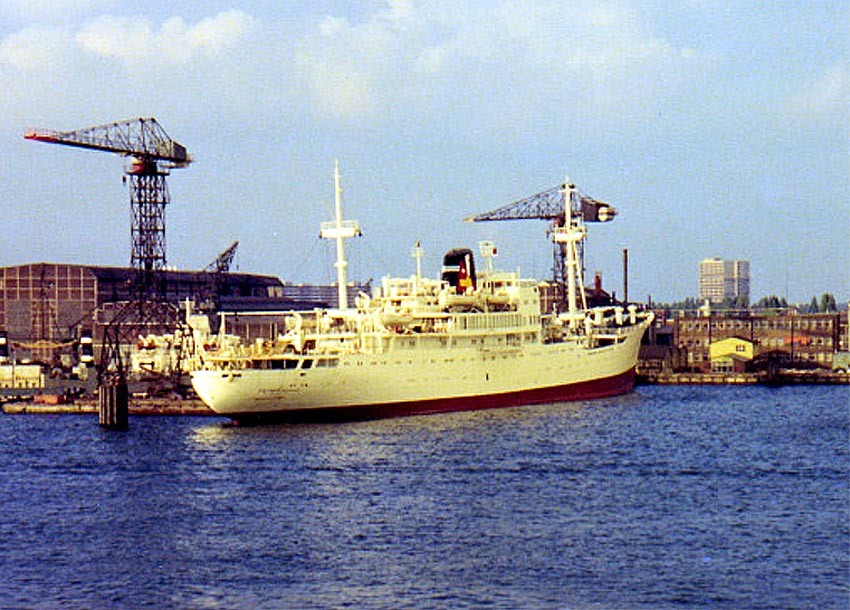 The MS Vietnam Heroico is seen in Amsterdam being mage ready to sail for Cuba
Photograph by & © Clive Harvey
MS Vietnam Heroico made a number of training voyages filled with students, and thereafter she carried troops just like her sister. However on October 1, 1984 whilst she was berthed in Havana she capsized and was declared a total loss. Although I have not been able to establish what actually occurred, bur could it have been a hurricane?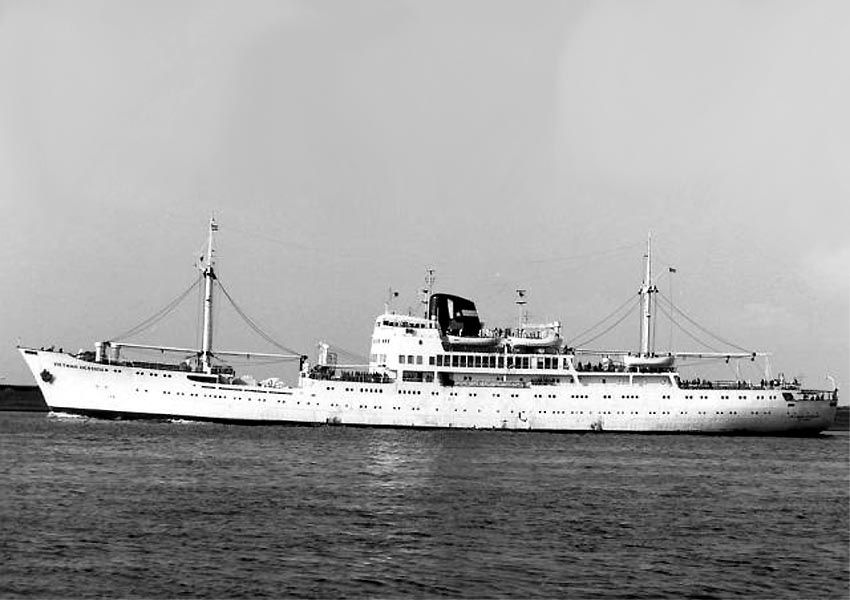 The MS Vietnam Heroico was also a well maintained ship whilst she was sailing with the cuban's
The once fine ship, having had such a great past, was also obtained by "Incorn Ltd," of St. Vincent who renamed her "Maisi," and she like her sister would do (but a little later), head for Alang India where she would be broken up by the "International Steel Corporation."
Deck Plan of Both Ships:
Please Note: The deck plan shown below, is a smaller version, thus you can either click on it, or use the link below it to view the larger version of the plab. It will reveal clearly the One Class section of the Ship as described above, as well as the Group Accommodations, wich are berthed just on the forward starboard C (tussendek) Deck and their public venue and deck space, up in the foc'sle area on a deck above.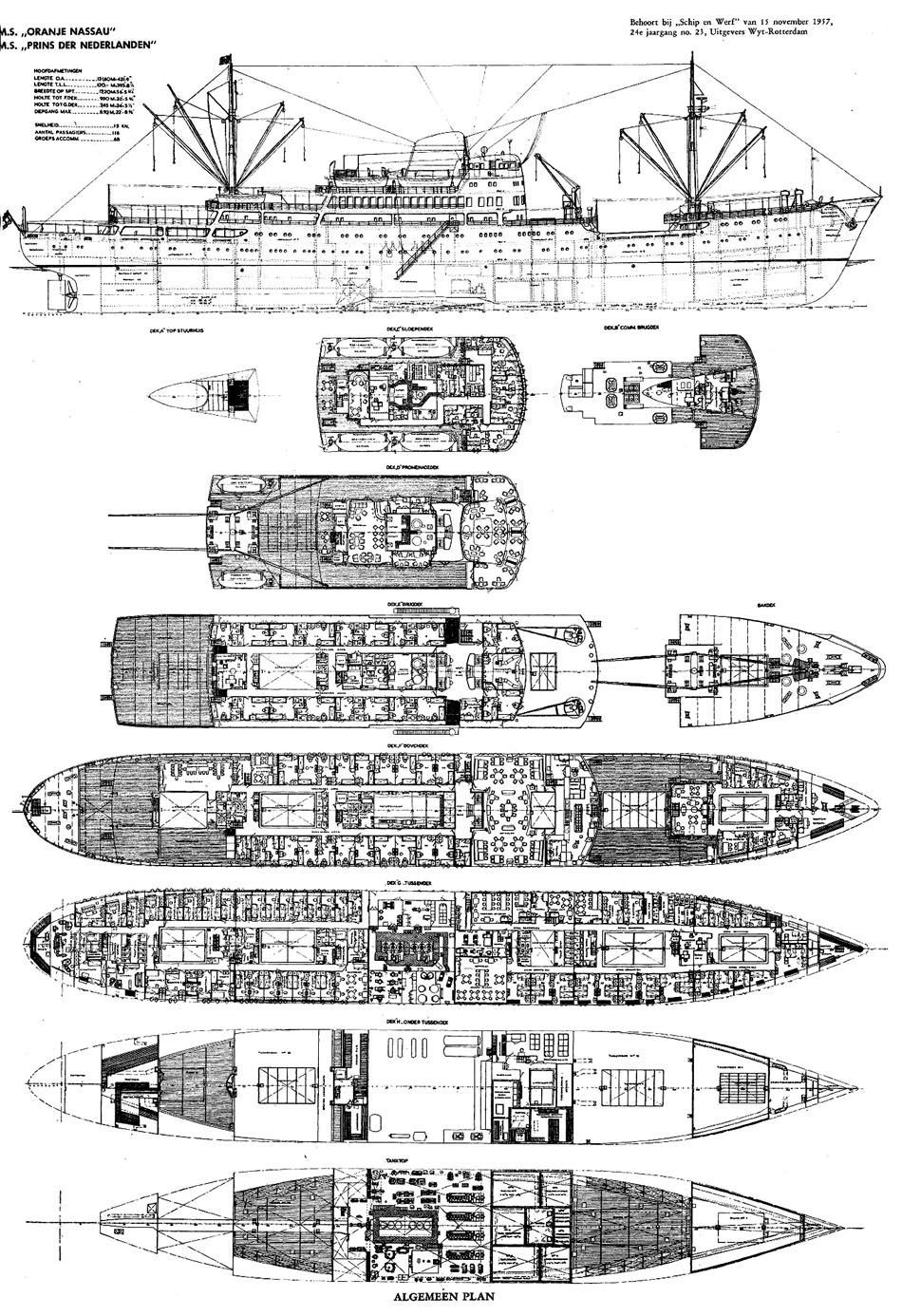 www.ssmaritime.com/KNSM-Oranje-Prins-Deck-Plan.jpg
1. MS Oranje Nassau (2) - 2 Prince Der Nederlanden (2):
Call sign:             1 PGOJ - 2 PGVR.
IMO Nr.               1 5264106 - 2 5285148.
Builder:               1 N.V. Scheepswerven Gebroeders Pot, Bolnes-Nederland" Rotterdam.
.                         2 P. Smit Jr. Scheepswerf & Machinefabriek NV, Rotterdam.
Hull Nr:               1 936 - 2 618.
Launched:           1 January 26, 1957 - 2 March 14, 1957.
Delivered:           1 August 6, 1957 - 2 September 3, 1957.
Tonnage:             1 7.214 GRT, 5.530 DWT.
.                         2 7.220 GRT, 5.531 DWT.
Engines:              1 Stork 6 cyl Diesels 4,500 BHP.
.                         2 B&W 6 cyl Diesels 4,500 BHP.
Propellers:           Single Screw.
Service speed:     15.5 Knots.
Length:               131.60m - 431'9".
Breadth:              17.2m - 5'.5".
Draught:             6.92m - 22'.8".
Passengers:         116 One Class Passengers - 1957 to 1960.
.                         Also 68 Group accommodations 1957 to 1972.
.                         114 One Class Passengers from 1960 to 1972
Crew:                  100.
************************
Remembering Two Fine "K.N.S.M." Ships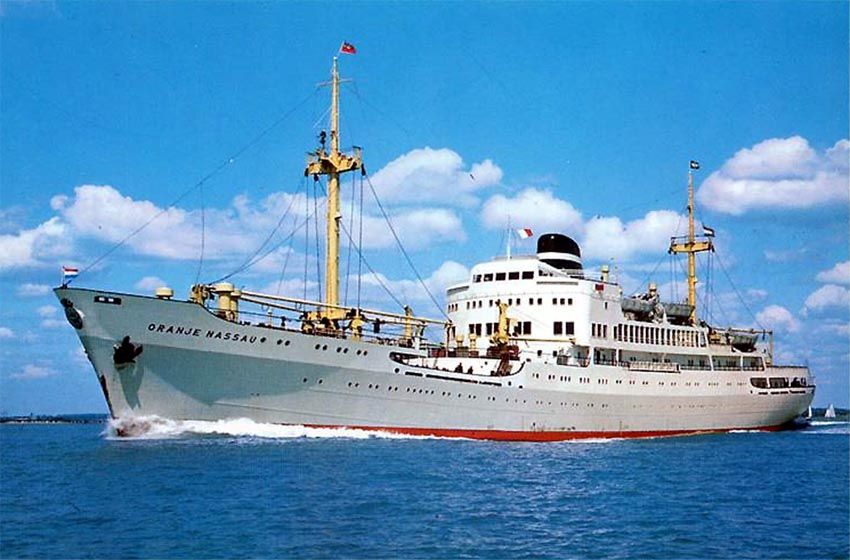 They were two beautifully designed Combination-Liners and greatly loved by all those who sailed on them
and genuine ship lovers who can understand the great beauty of these two beautifully designed combination liners!
"Blue Water Liners sailing to the distant shores.
I watched them come, I watched them go, and I watched them die."
************************
ENTER OUR ssMaritime MAIN INDEX
Where you will discover over 1,350 Classic Passenger & Passenger-Cargo Liners!
The author has been in the Passenger Shipping & the Cruise Industry for over 60 years
ssMaritime.net
Discover Classic Grand Passenger Liners & Humble converted C3 Migrant Liners & The 1914 built MV Doulos
Photographs on ssmaritime and associate pages are by the author or from the author's private collection. In addition there are some images that have been provided by Shipping Companies and private photographers or collectors. Credit is given to all contributors. However, there are some photographs provided to me without details regarding the photographer/owner concerned. I hereby invite if owners of these images would be so kind to make them-selves known to me at rg@ssmaritime.com in order that due credit may be given. Believe me, I am well, aware when photographs are taken without permission, Pinterest.co.uk seems to help themselves to anyone's images, for almost over 800 of my personal collection on their site, without my permission, yet I have contacted, but no reply! As well as others who just help themselves, but I will never do this, as I believe to do the right thing at all times. But when I receive a photo, and there is no knowledge of a photographer, I ask for permission, or will even happily remove it if requested politely!
This notice covers all pages, although, and I have done my best to ensure that all photographs are duly credited and that this notice is displaced on each page, that is, when a page is updated!
ssMaritime is owned & © Copyright by Reuben Goossens - All Rights Reserved