KPM, MS Boissevain, Tegelberg & Ruys - 19/37/38 to 1942
Please Note: Firefox, iPhones, iPads & some other Search Engines may not be suitable
Use Internet Explorer & Old Google for this Web Page to load perfectly!
Click the logo above to reach the ssMaritime FrontPage for News Updates & Features
With Reuben Goossens
Maritime Historian, Cruise'n'Ship Reviewer, Author & Lecturer
Please Note: All ssmaritime and my other related ssmaritime sites are 100% non-commercial and privately owned sites. Be assured that I am NOT associated with any cruise or shipping companies or travel/cruise agencies or any other organisations! The author has been in the passenger shipping industry since May 1960 and is now semi-retired, but continues to write article on classic liners and cruise ships in order to better to inform cruise and ship enthusiasts for their pleasure!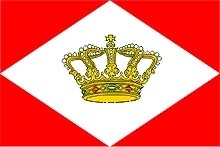 The Three KPM Liners
Part One
The Three Ships from 1937 to 1942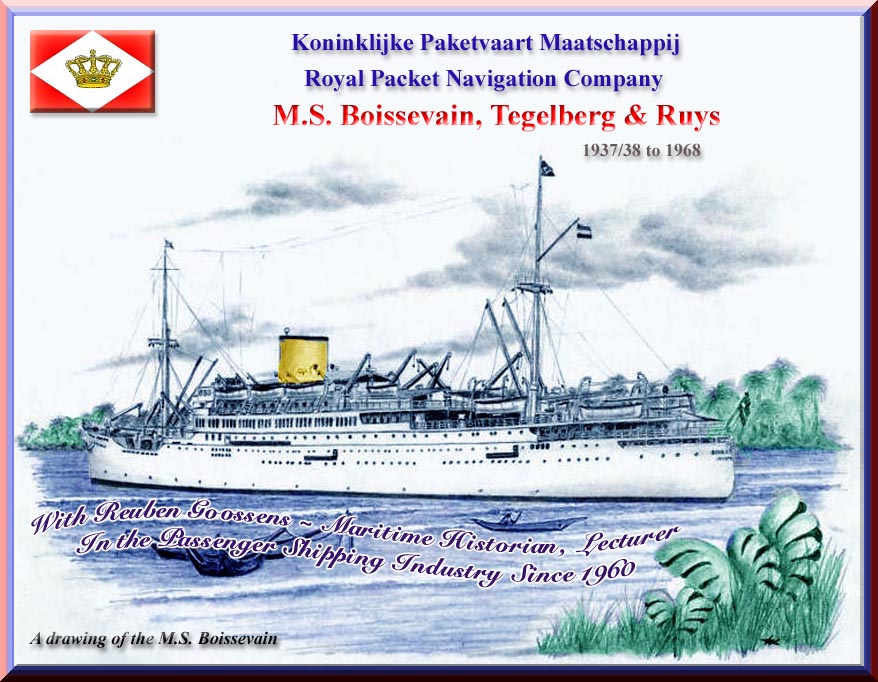 Sadly the artist is unknown - See the photo/images notes at the bottom of the page
Please Note: Postcards, photographs & other images are from the Author's private collection
Interior & deck photographs 'maritiemdigitaal.nl,' unless otherwise stated.
Introduction:
This feature contains the most comprehensive information and details regarding these three amazing and the largest of the Koninklijke Paketvaart-Maatschappij (KPM) passenger-cargo (combination) liners ever built. These three fine ships were also sadly their very last major passenger carrying liners, and with them eventually came an end of a great Passenger operation between Asia, Africa, and South America. Each ship was named after one of the KPM founders/Directors; Mr. Boissevain, Mr. Tegelberg and Mr. Ruys.
These three Dutch liners were all launched in 1937, yet strangely each ship was built by a different builder, as well as one outside of the Netherlands, yet each ship was identical, with minor interior décor differences. Once completed each ship reached their homeport in Asia, but amazingly they rarely visited the Netherlands, instead they operated on the most exotic, and far-ranging ocean liner service in the world.
Koninklijke Paketvaart-Maatschappij - "KPM" or the "Royal Packet Navigation Company's" three combination liners were built not long before World War Two, those being the MS Boissevain, Tegelberg and Ruys. They all operated extended voyages from Hong Kong, Manila, Saigon, Bangkok, Singapore, Batavia, Rodriguez, Mauritius, Réunion, Tamatave, Lourenço Marques, Durban, East London, Port Elizabeth, Mossel Bay, and Cape Town. Also Zanzibar, Mombasa, Mahé, Belawan Deli, Shanghai Hong Kong. Although their services did vary, and later their schedules would also include South America, after their WW2 trooping duties.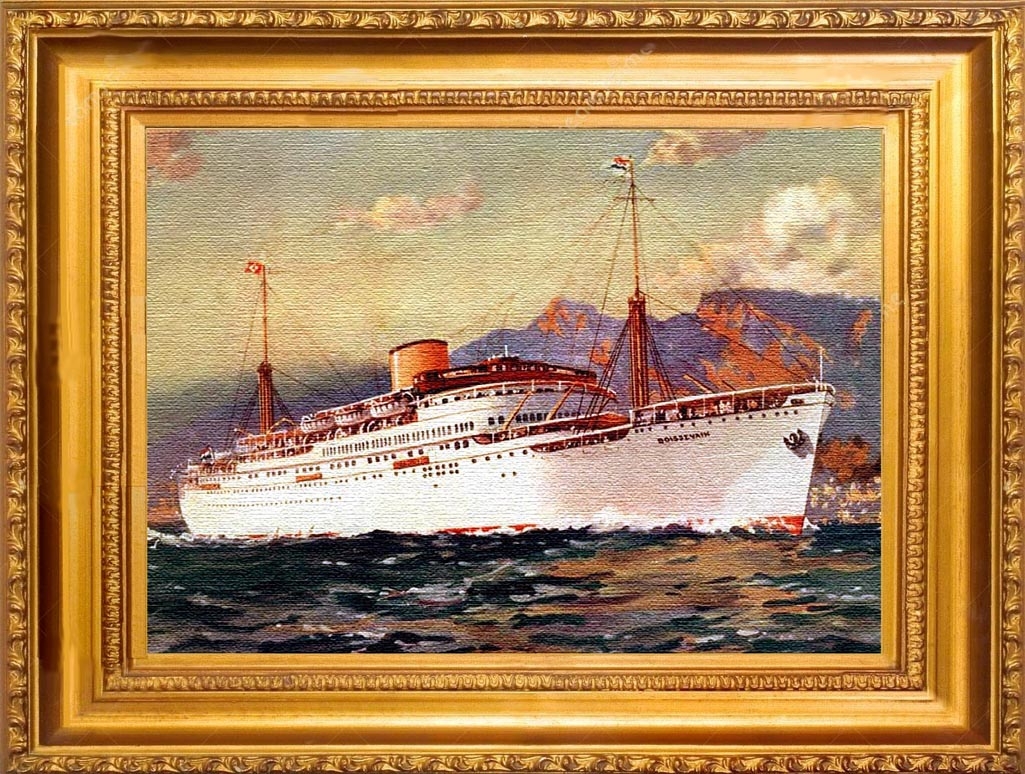 Here we see a KPM preview painting of the MS Boissevain prior to her launching
The three ships were originally built with luxurious and extremely spacious accommodations for just 82 passengers in First Class, 72 passengers in Second Class, and 500 Third Class passengers.
First Class passengers enjoyed artistically designed public rooms, two deluxe suites even had glass enclosed private verandas, there were spacious promenade and sports decks and a Lido Cafe opening onto a tiled outdoor Pool. These hardworking ocean liners accommodated all manner of travellers from the very wealthy to International and Asian tourists as well as migrants immigrating to a new land. In their thirty years of operation, these ships certainly made a name for themselves as they became greatly loved for being some of the best run combination liners in the world, with exemplary service and the ultimate in finer cuisine. As well as the excellent interiors of these amazing liners!
The Four Smaller Sisters:
In addition there were also two remarkable liners in operation at that time, being the 1928 built 10.906 GRT (Gross Registered Tons) SS Nieuw Holland and her identical sister the SS Nieuw Zeeland, which operated from Asia to Australia and New Zealand.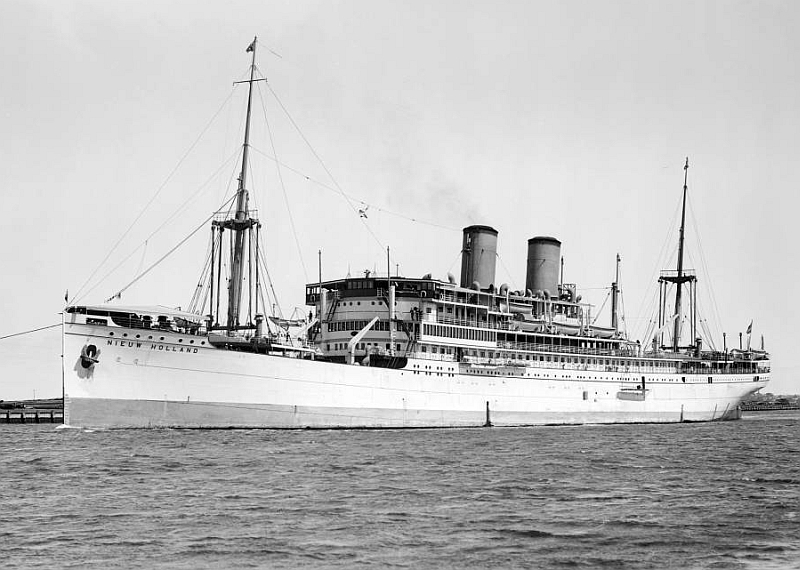 The Grand Old Dame, SS Nieuw Holland is seen arriving in Melbourne, Australia
The company also operated the smaller 1950 built - 9,859 GRT - MS Tjiluwah and Tjiwangi that operated a more cruise-style, but a regular line service between Australia and the Far East, which was greatly favoured by Australians to undertake an exotic long leisurely cruise. Despite their modest size they offered two swimming pools, one pool for each class. As far as cargoes is concerned they carried Australian wool to Japan and returned with clothing, textiles as well as countless small manufactured goods.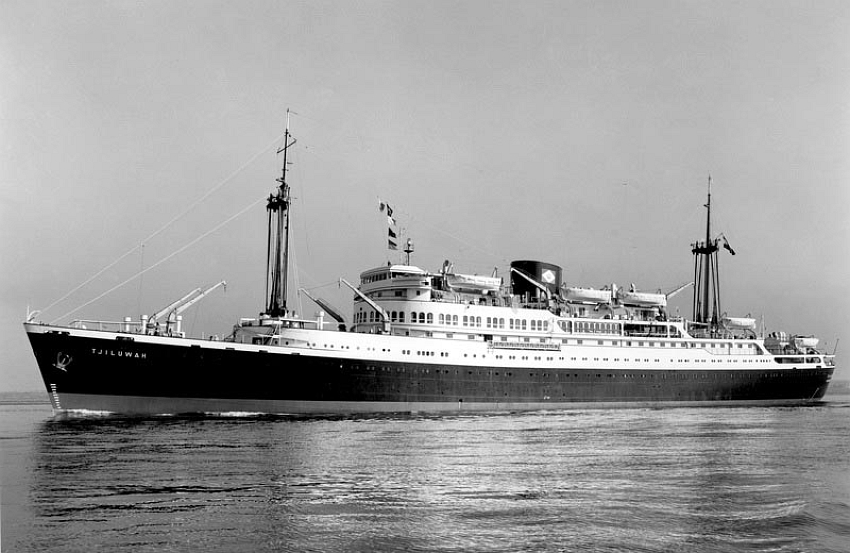 The elegant yacht-like liner MS Tjiluwah is seen during her deep-sea trials in 1951
The now all white ships the MS Tjiluwah was sold to a Singaporean Company in 1971, renamed Kota Singapora, and was finally broken up in 1980, whilst the Tjiluwah was sold in 1972 to Pacific International Lines, and was renamed Kota Bali and she was broken up in 1984.
Read my multi pages on the SS Nieuw Holland and Nieuw Zeeland, as well as the MS Tjiwangi & Tjiluwah. These pages contain full details of these four fine ships, and you can reach them via the link located at the bottom of this page.
 

(1) M.S. Boissevain:
The first of the trio was the MS Boissevain and she was built in Hamburg Germany by Blohm & Voss who also constructed her three Sulzer Diesel Engines to drive her triple screws. This ship was named after Mr. Jan Boissevain (1836 - 1904), who was one of the founders of KPM, the others being Mr. W Ruys and Mr. P E Tegelberg, thus this trio, being the companies largest ever combination liners ever!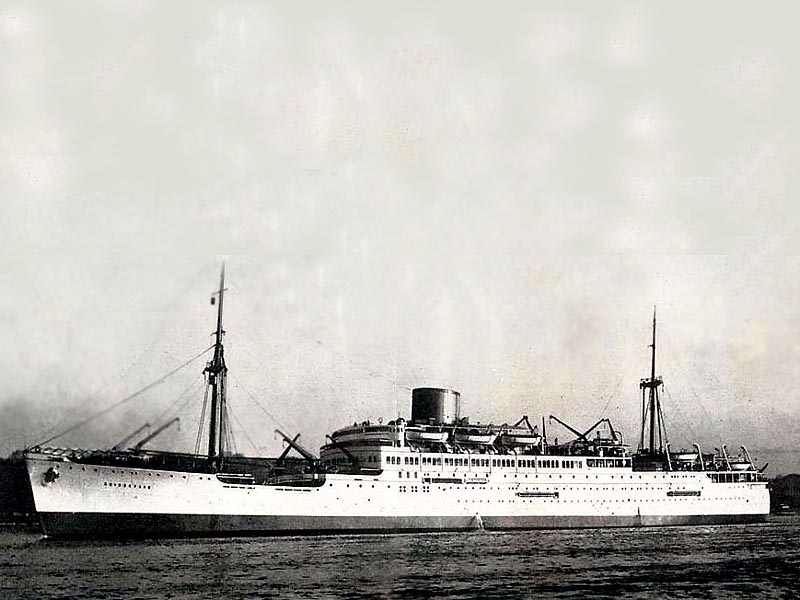 MS Boissevain the first of the three KPM combination liners
On June 3, 1937 with the ship having had her hull and a partial superstructure completed, was officially named and launched by Miss. E.D. Boissevain the great grand daughter of Mr. J. Boissevain who passed away in 1904. Once the ship was afloat she was towed to her Blohm & Voss Fit-Out berth, where she would be completed to become a fine combination liner.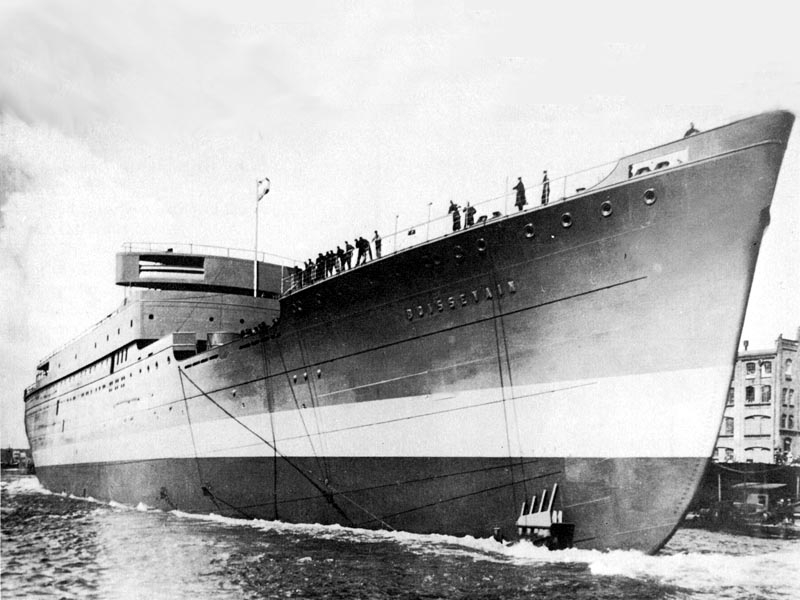 The MS Boissevain having come down the Blohm & Voss slipway has just entered the water for the very first time
At the yard she was fitted out, had her funnel placed atop and masts added and when she was completed in October she headed out to sea for her speed trials, which proved to be very successful having reached an excellent 18.1 knots when pushed to her top speed.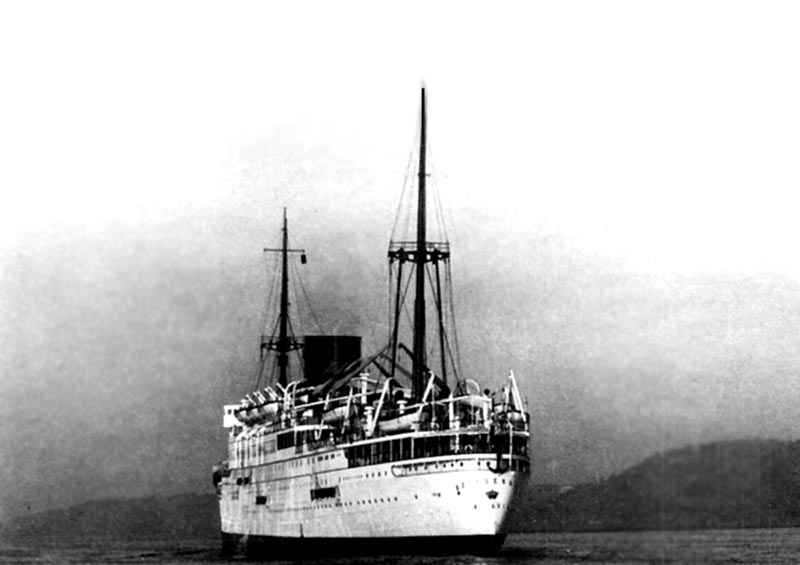 The Boissevain is seen here during her Deep Sea Speed Trials in October 1937
The Boissevain was delivered to her owners in Yokohama, Japan on December 1, 1937. KPM ensured that ship was fully crewed and stocked up and that she was in perfect condition to commence her first voyage in early January 1938, her schedule was as follows: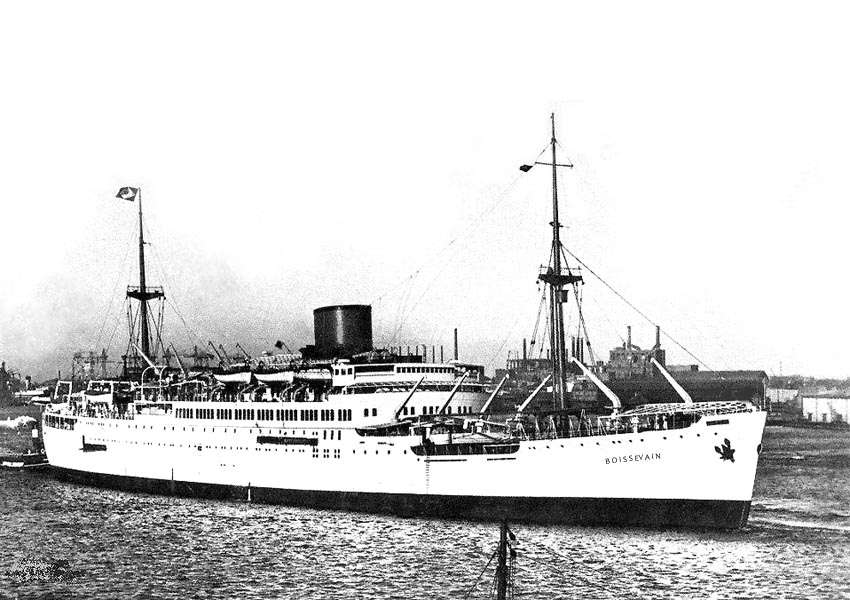 The just completed MS Boissevain seen departing on her inaugural voyage to Yokohama in January 1938
Prior to the MS Boissevain even being completed, KPM released an advanced 1938 sailing schedule with an artist impression of The Boissevain on the cover.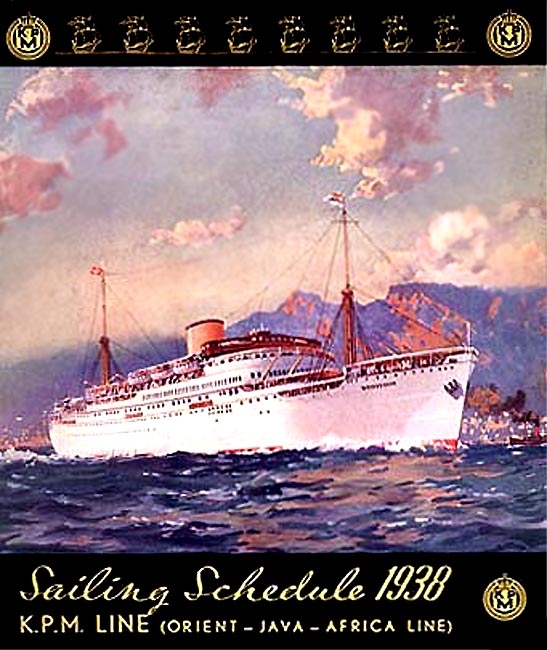 This schedule contained sailings for all three ships; the MS Boissevain, Tegelberg, and the Ruys
Provided by www.timetableimages.com/maritime/images/list.htm (C) Björn Larson
January to September 1938 Schedule: Hong Kong, Manila, Saigon, Bangkok, Singapore, Batavia, Rodriguez, Mauritius, Réunion, Tamatave, Lourenço Marques, Durban, East London, Port Elizabeth, Mossel Bay, Cape Town. Other ports visited were Zanzibar, Mombasa, Mahé, Belawan Deli, and Shanghai.
(2) M.S. Tegelberg:
She was the second of the three ships to be built and she and her Sulzer Diesel Engines were constructed by the Netherland's Shipbuilding Company in Amsterdam. She was named Tegelberg and launched on July 10, 1937 and towed to her Fit-Out berth for completion.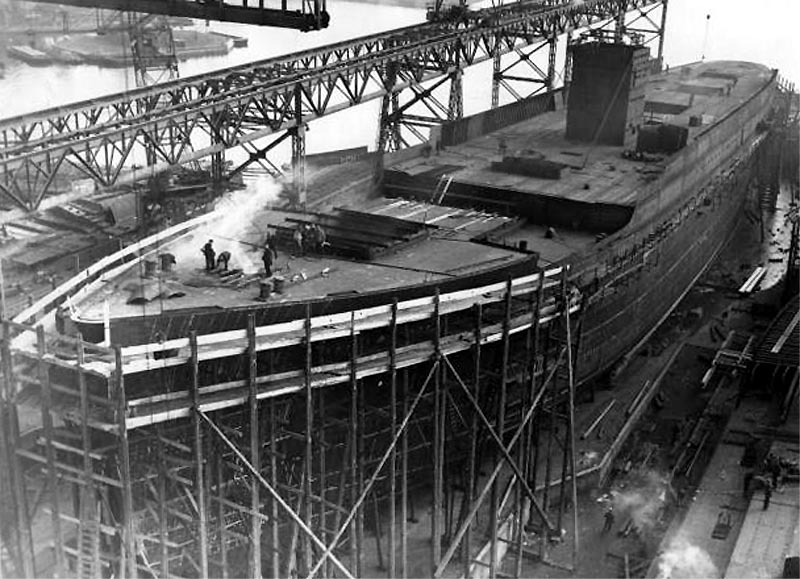 The Tegelberg is seen still under construction at the Netherland's Shipbuilding Co in Amsterdam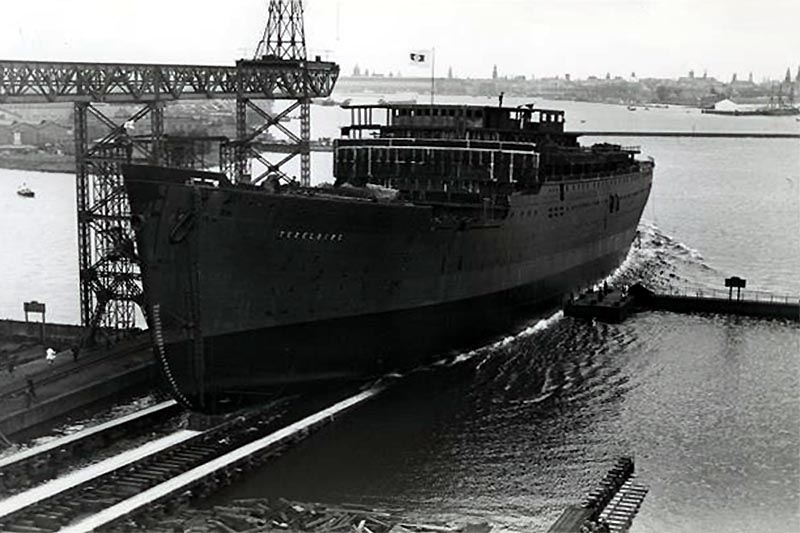 The Tegelberg slides down the slipway into the water on July 10, 1937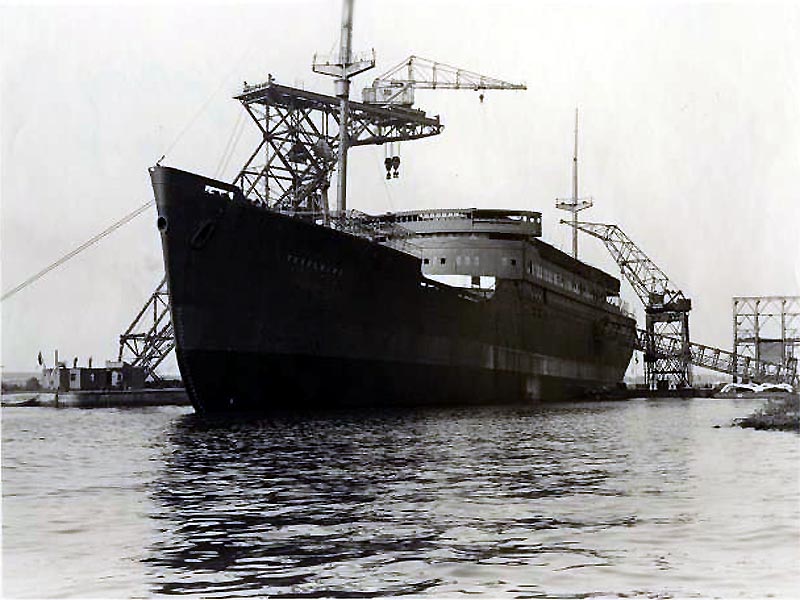 Here we see the Tegelberg at the Netherland's Shipbuilding Co fit-out yards being completed
The MS Tegelberg was completed on March 8, 1938 having had a successful sea trial and was soon delivered to KPM. Later that month she departed on her maiden voyage on the same schedule as the Boissevain as shown above.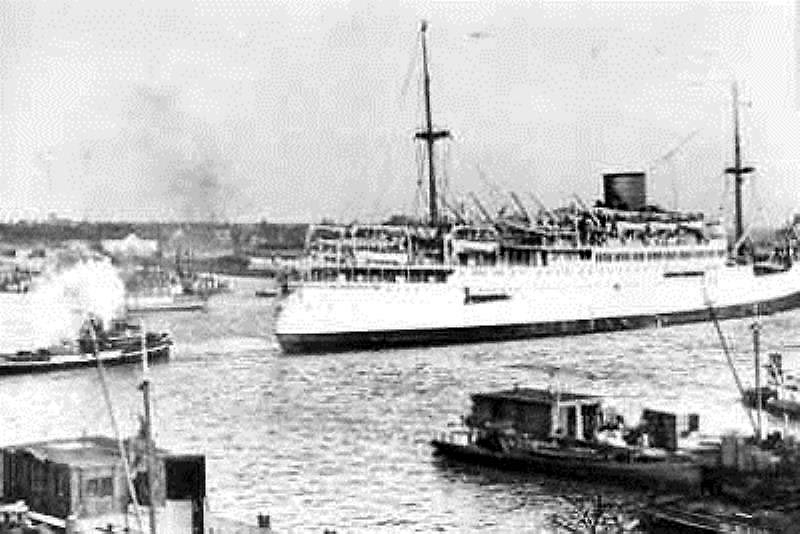 Here we see a very rare photo of the Tegelberg departing Amsterdam for Yokohama in March 1938
(3) M.S. Ruys:
Now the last of the trio to be built was constructed by De Schelde Shipyards in Vlissingen, the Netherlands, who also built her Sulzer Diesel engines. She was named Ruys and she was launched on September 21, 1937, and duly towed to her Fit-Out berth to be completed.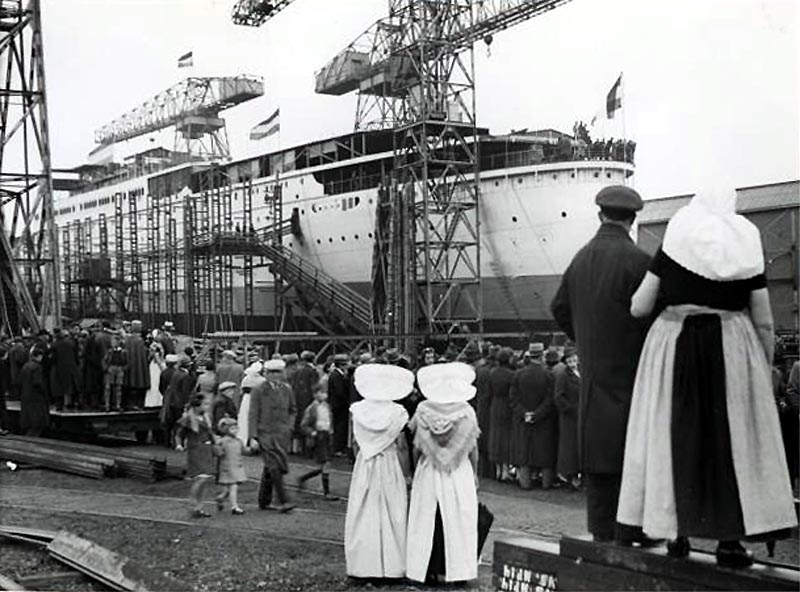 A genuine Dutch audience waiting for the MS Ruys to be launched on September 21, 1937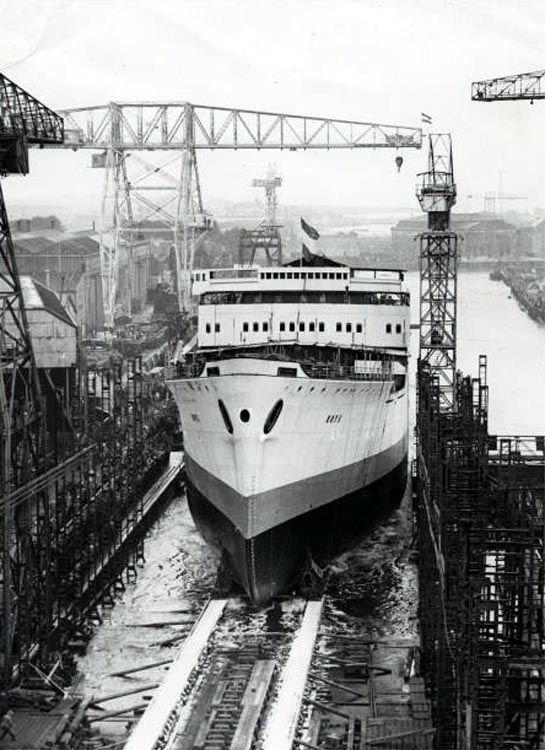 Above & below: Here we see the MS Ruys sliding down the De Schelde slipway during her launching on September 21, 1937
As well as two photographs below of her in the water for the first time, waiting for tugs to be towed to her fit-our berth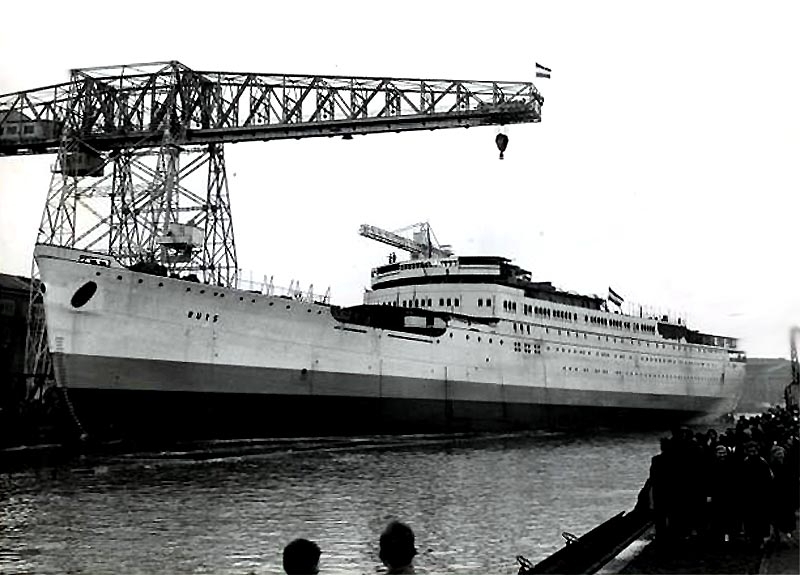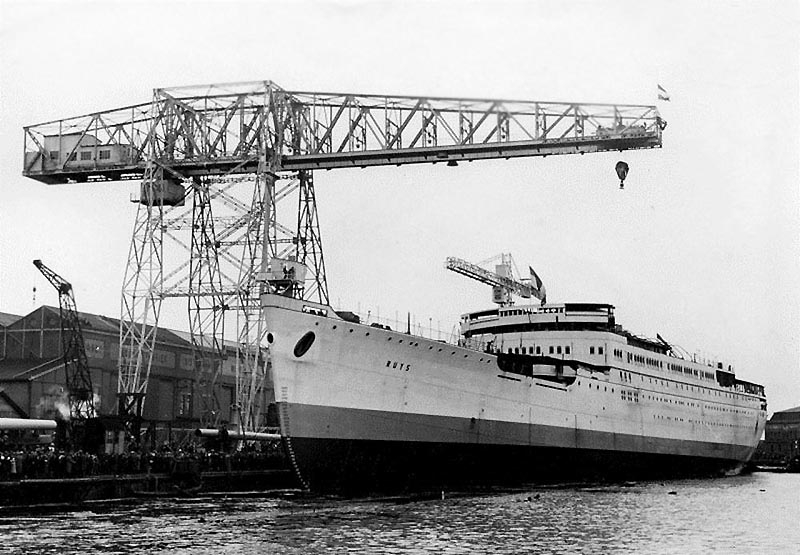 Construction on the MS Ruys was completed in March 1938 and she was taken out on the North Sea to operate her Deep Sea Speed Trials on March 21, 1938 after which she was delivered on April 7 to her owners and she headed to Japan, were she commenced her regular schedule around Asia, the Indian Ocean and Africa and return.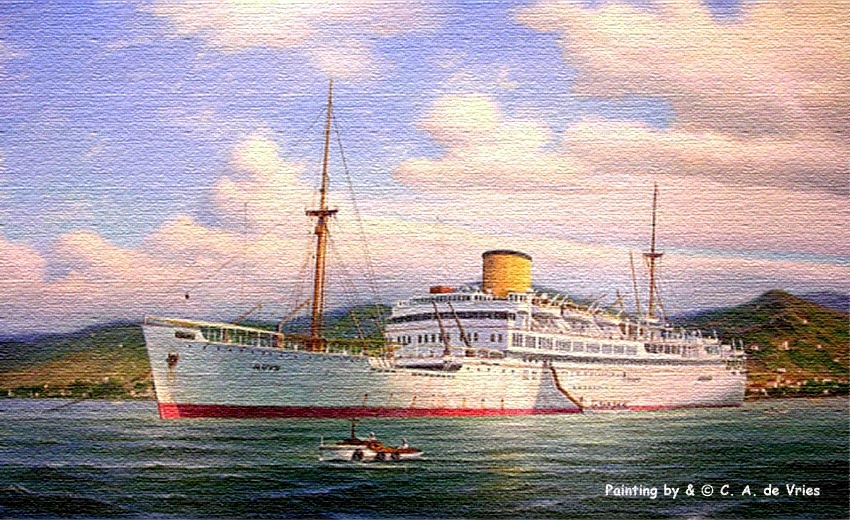 An excellent painting of the all-new KPM MS Ruys seen as new
Painting by Dutch Maritime Artist & © Mr. C. A. de Vries
Pre War Schedules:
When the MS Tegelberg and Ruys were completed they joined the MS Boissevain on her schedule being valid until to September 1938, ports being as follows: Hong Kong, Manila, Saigon, Bangkok, Singapore, Batavia, Rodriguez, Mauritius, Réunion, Tamatave, Lourenço Marques, Durban, East London, Port Elizabeth, Mossel Bay, and Cape Town. Also Zanzibar, Mombasa, Mahé, Belawan Deli, and Shanghai.
A new schedule was released, which very much remained the same until WW2 commenced when schedules would change, until all three ships in due course entered trooping duties. Their new schedule from September 1938 was as follows: Shanghai, Hong Kong, Manila, Saigon, Bangkok, Singapore, Batavia, Rodriguez, Mauritius, Reunion, Tamatave, Lourenço Marques, Durban, and Cape Town. Return voyage: Cape Town, Mossel Bay, Port Elizabeth, East London, Durban, Mauritius, Reunion, Tamatave, Zanzibar, Mombasa, Mahé, Belawan, Singapore, Hong Kong to Shanghai.
Interiors & Facilities:
With all three ships now operating on the same service, they soon became very popular, due to their stunning interiors, the ultimate in service and the cuisine was rated as some of the best at sea! Below, I will go through the ships Decks. For the moment I will deal just with First Class, but will cover Second (Intermediate) Class later, after the ships were transferred to Royal Interocean Lines and refitted in 1962.
Bridge Deck:
This deck had a small amount of deck space, but its main passenger feature here was the well-equipped Gym for those early days!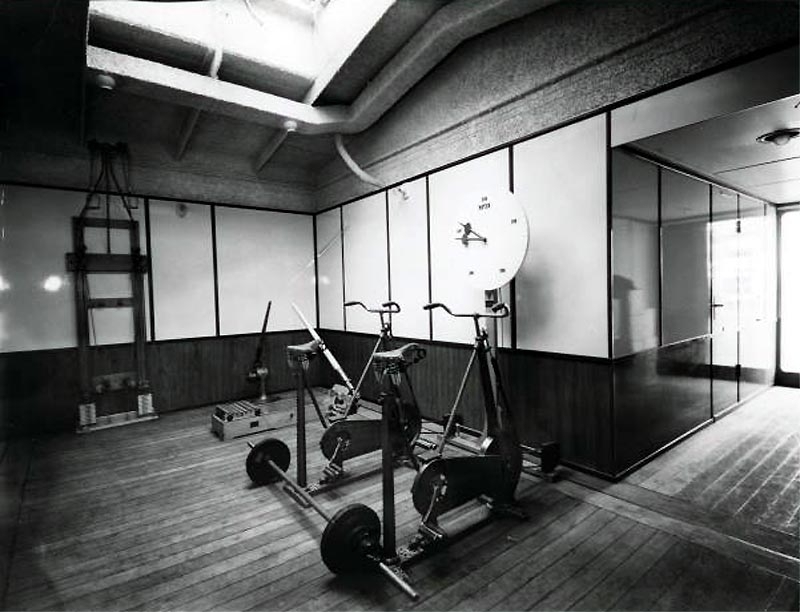 The Gym
Boat Deck:
Boat Deck offered a full-uncluttered walk-around deck, and being the First Class Sports deck. Aft of the superstructure there was a nursery and an exterior playpen and the "Wireless Station" with a small waiting room located starboard side, or the right hand side looking forward. This deck also offered a spacious deck, perfect for a variety of sport activities!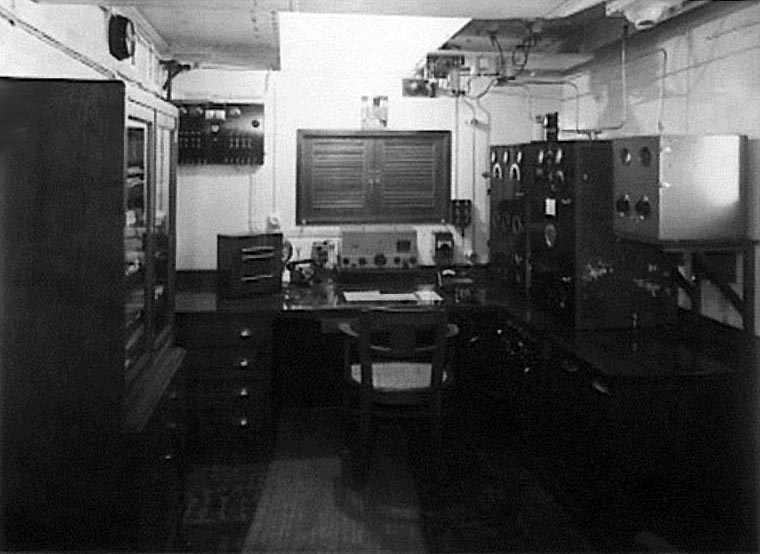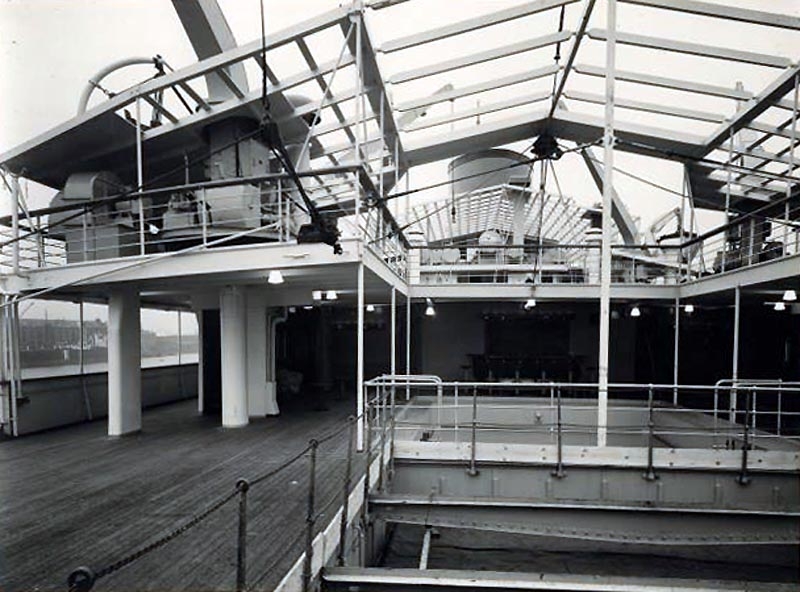 Boat Deck above is seen from Promenade Deck aft looking forward
Promenade Deck:
Commencing from forward, Public Venues commences with the spacious Social Hall that has windows forward and on the two sides looking out to the glazed in Promenade. Centred in the ceiling is a spectacular circular light fitting, with additional lighting located above the curtain pelmets above the windows. The venue offered comfortable heavily upholstered lounge chairs with a patterned brocade, as well as a number of sofas. Aft of the venue was a fine stairwell going down to A Deck.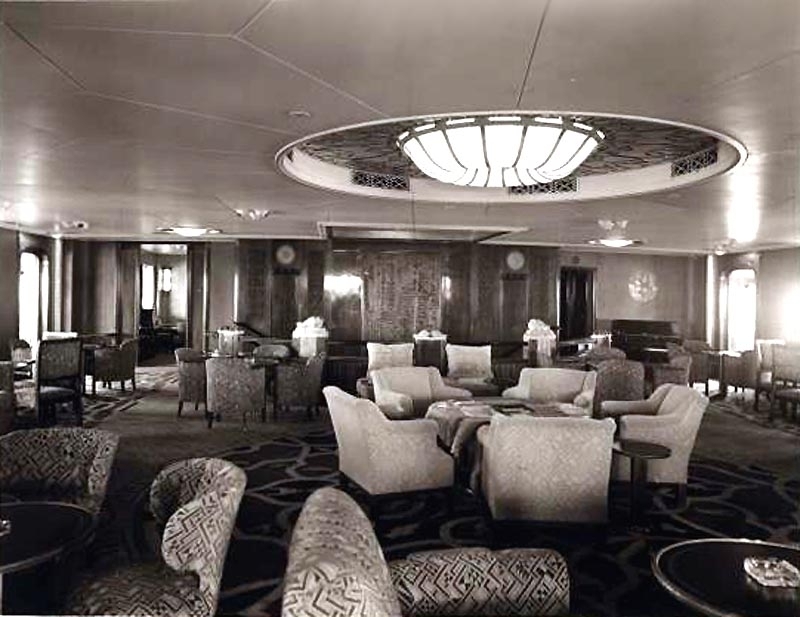 The Social Hall looking aft, with the Library and Reading Room seen on the left (starboard side)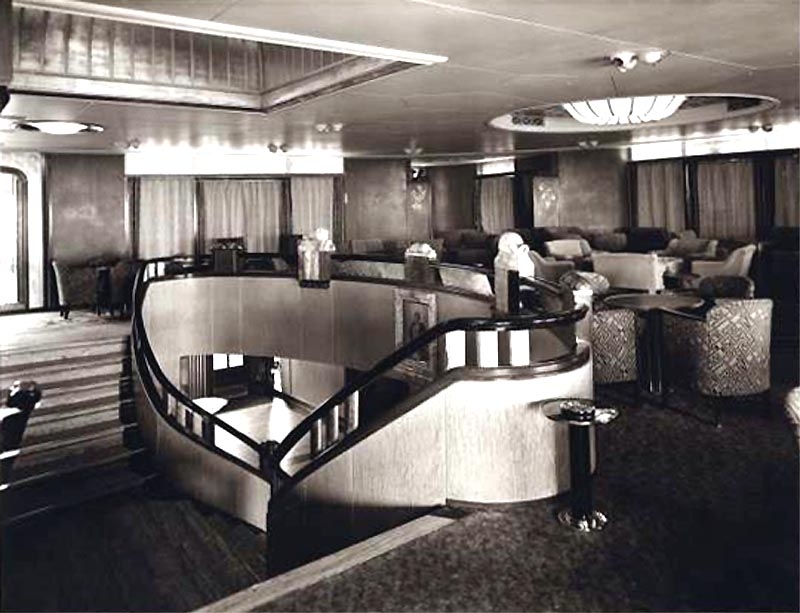 The Social Hall looking forward to port and the aft stairwell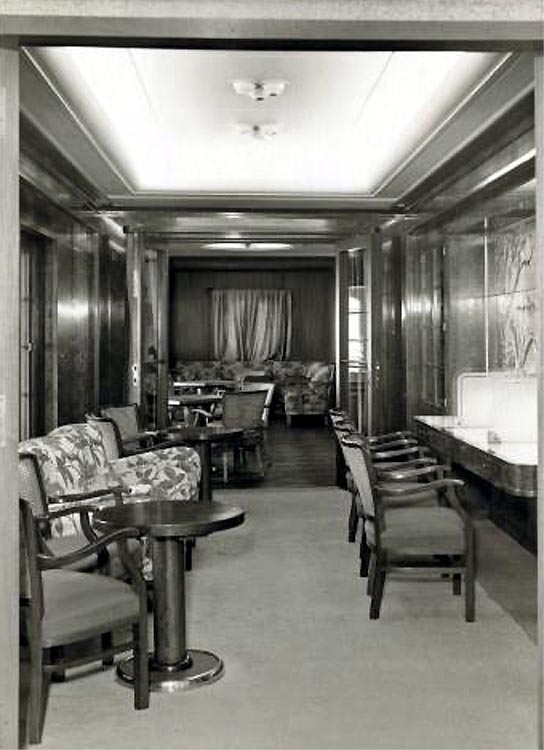 Above & below: The Library, Reading and Writing Room is seen located on the starboard side of the ship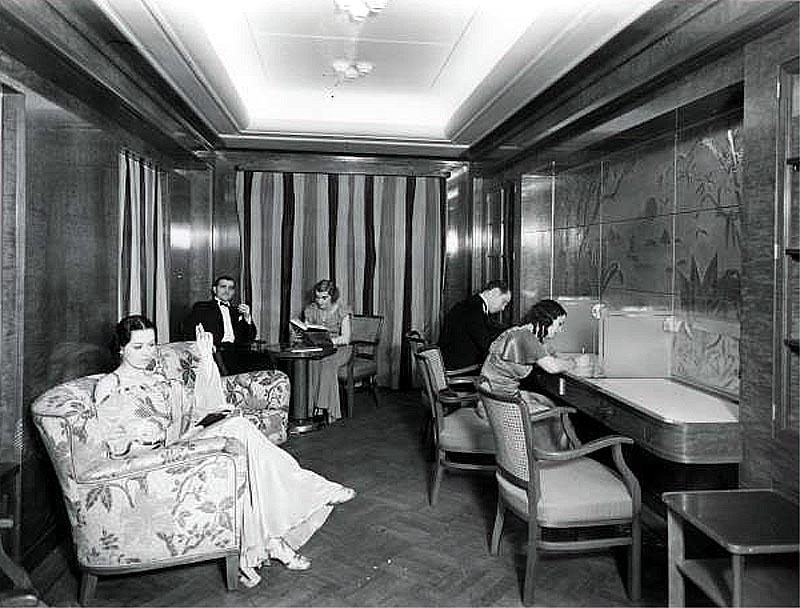 On the opposite (portside) of the Library, are the male and female facilities, and directly aft of both is the popular Smoking Room, with it bar and large murals.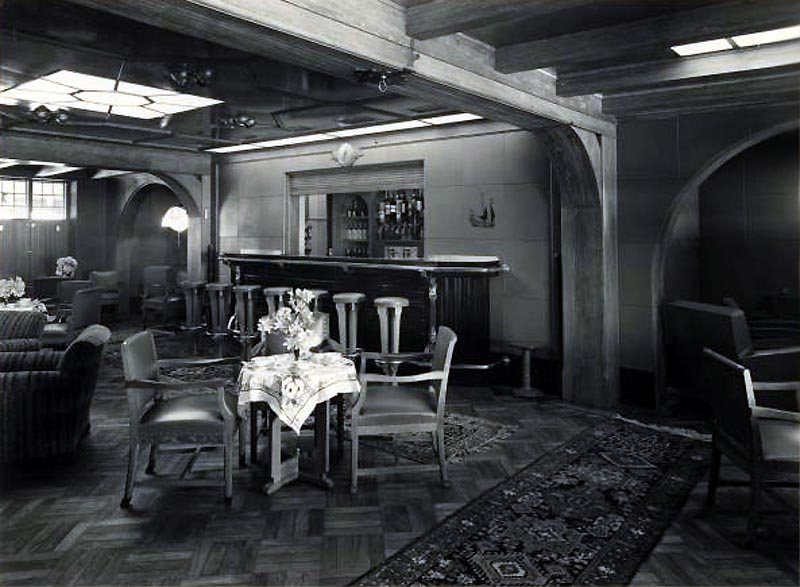 The Smoking Room and bar looking aft to starboard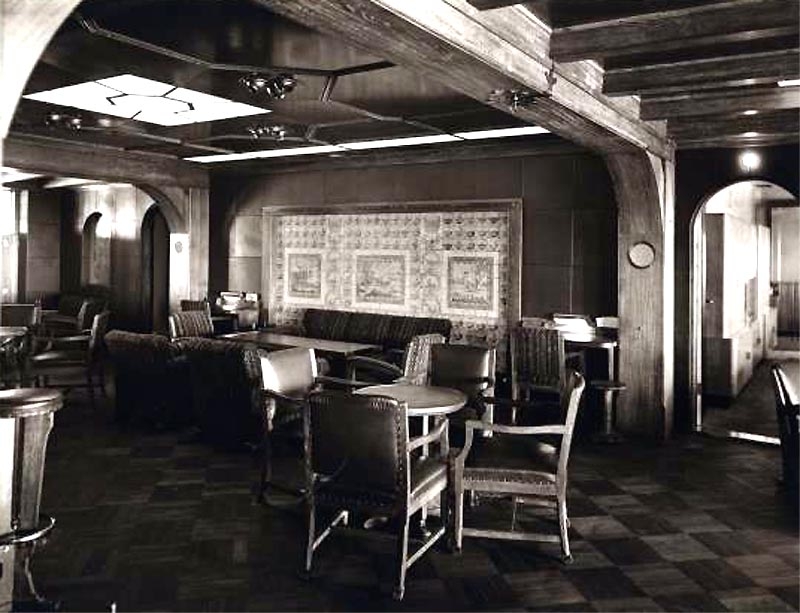 Another photograph of the Smoking Room looking forward to port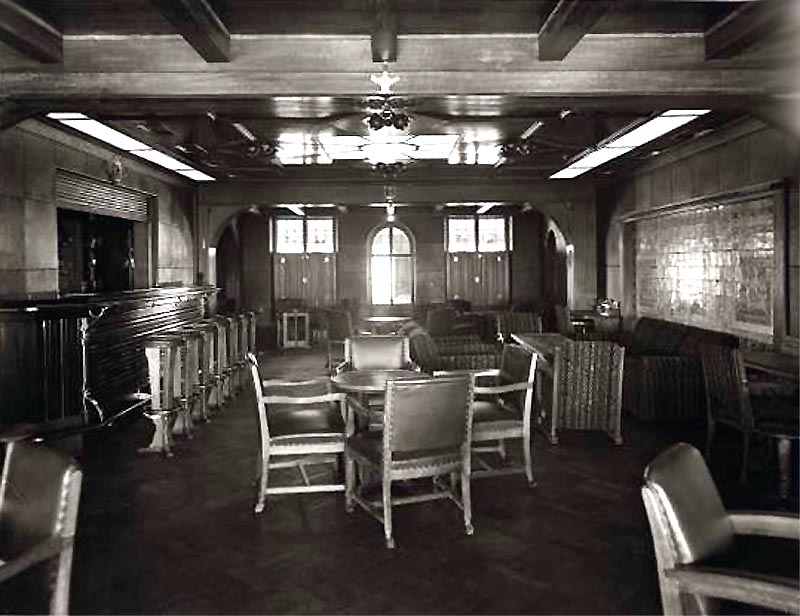 A view across the Smoking Room to port
Directly aft of the Smoking Room was a spacious Glass enclosed Recreation Deck, which was used for a variety of uses, including games, such as Horse Racing, Bowls, and other games, but also at night it was used as a Dance Venue.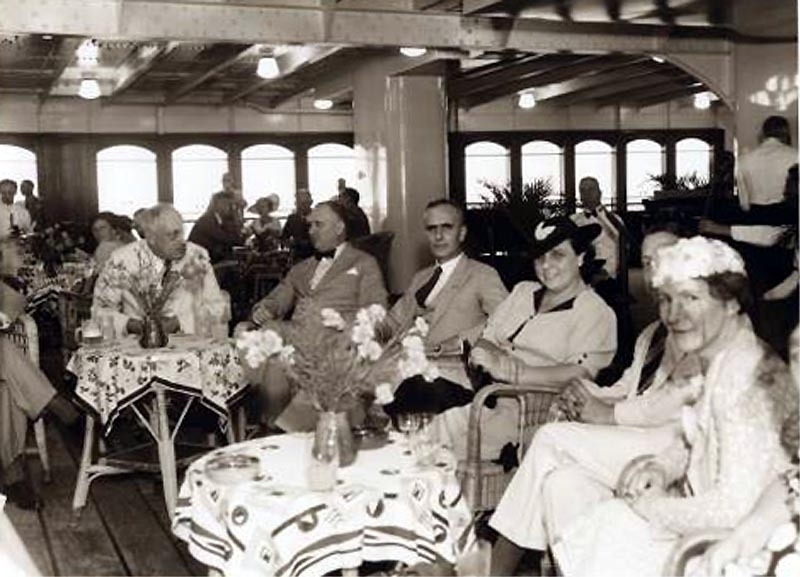 Here we see the Recreation Deck being used for a special festive occasions, whilst all dress up with the best daytime wear!
Directly aft of this was a U shape enclosure with glass sides, which was open towards the stern, containing the Pool Bar with ample tables and chairs, with the Swimming pool just aft as well as a spacious Sun Deck.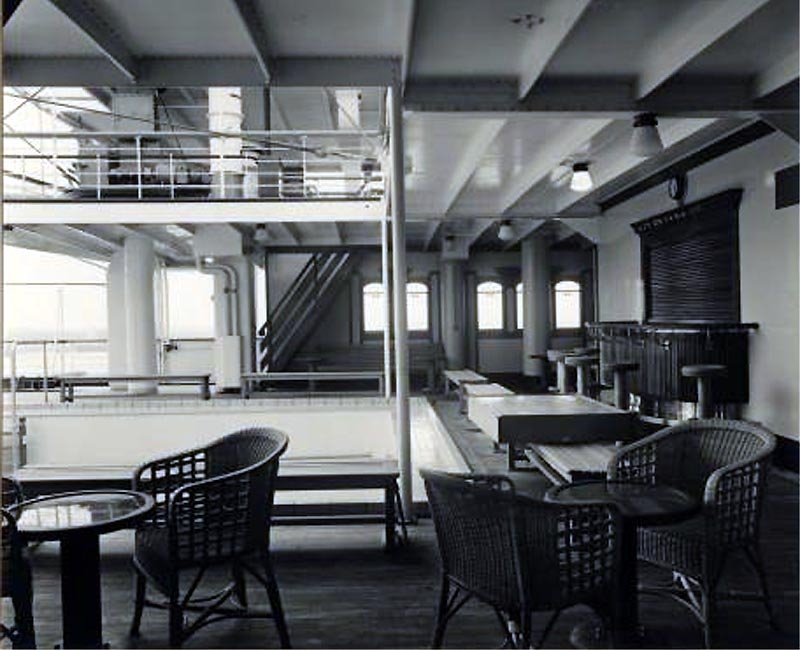 The Pool bar with cane chairs and round glass topped tables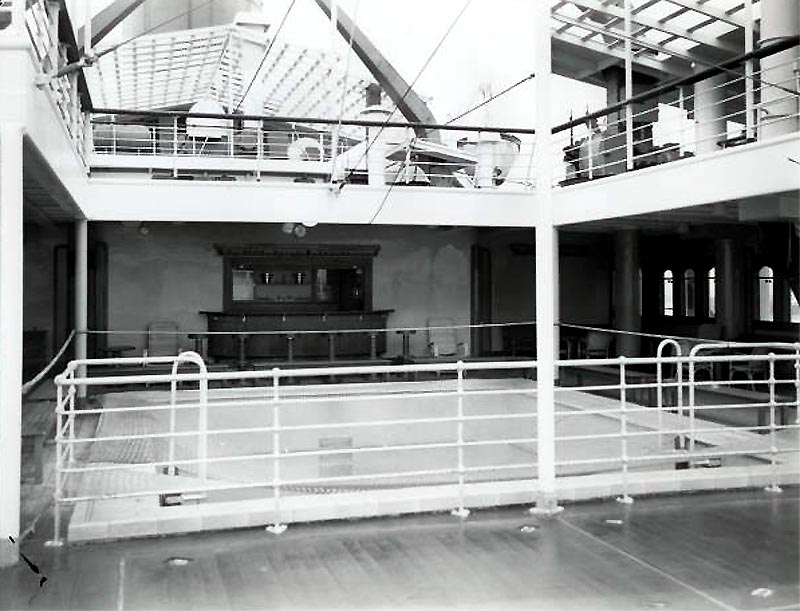 The Pool and its Bar, note that there was a hold covering just behind the pool that would be opened whilst in some ports
Of course Promenade deck was also a full walk around deck and more than half of this deck was fully glazed with spacious windows. The forward section near the Social Hall was used as a Verandah Café and was very popular during the day.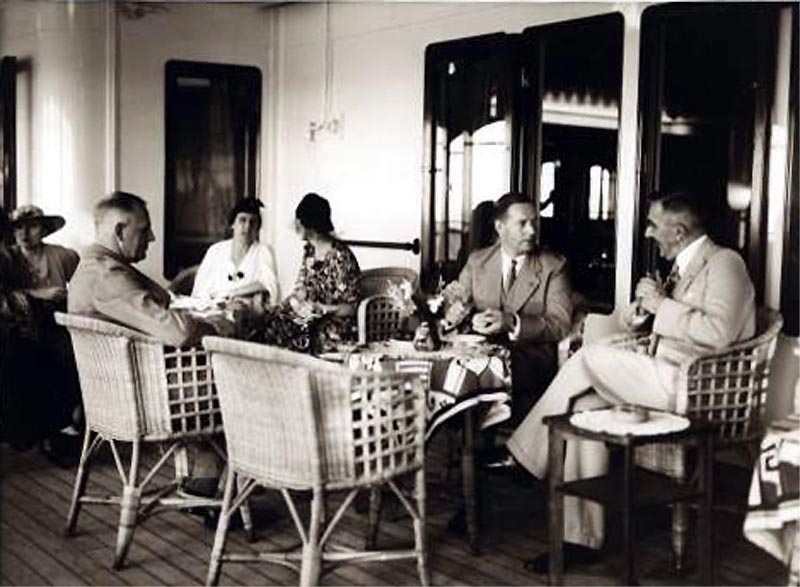 Passengers seen on the port side Promenade Deck Veranda Café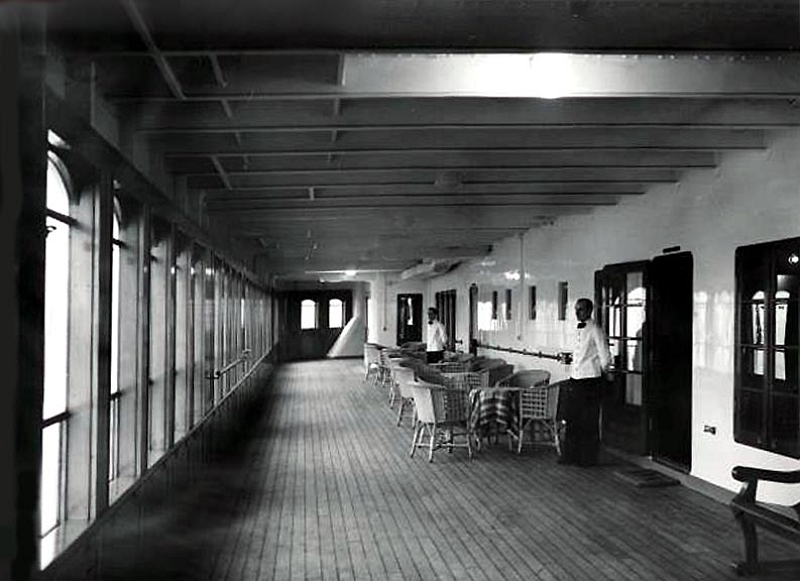 Above & below: Here we see the port side forward Promenade with the Veranda Café and some of the stewards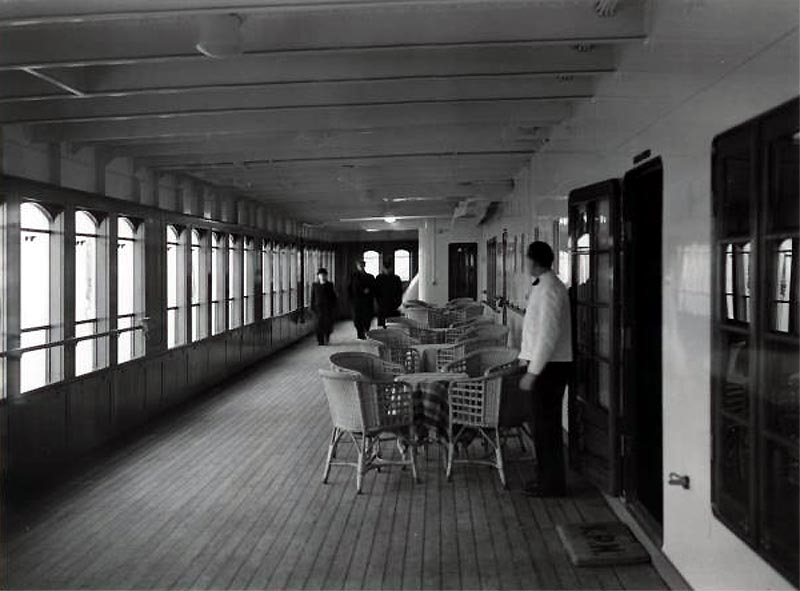 A Deck:
Forward of this deck were two Deluxe Suites, which were originally called 'Cabin Deluxe.' Each offered a separate bedroom and a spacious lounge, a large bathroom with a full bath with a shower over the bath and every possibly facility. Then there was also a spacious indoor verandah with two large windows for a fine ocean view.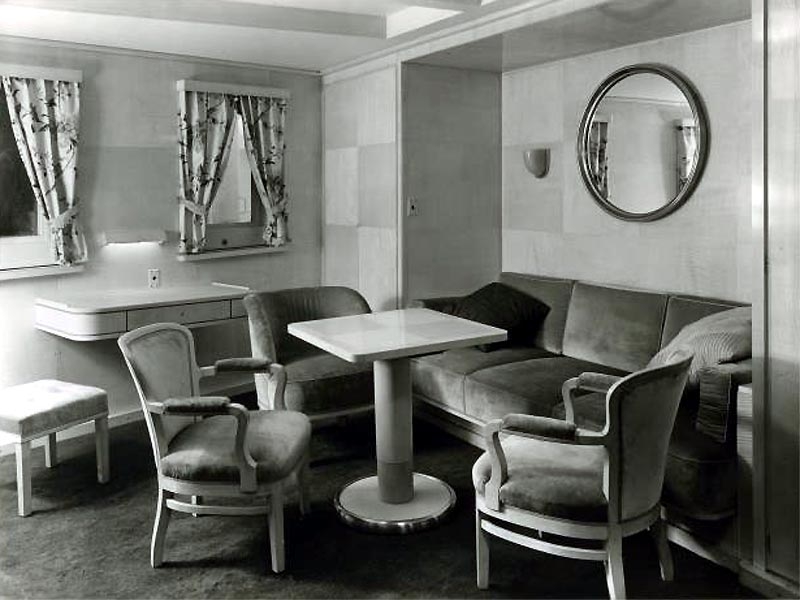 The Portside Suite's Lounge looking inboard to forward of the ship through the windows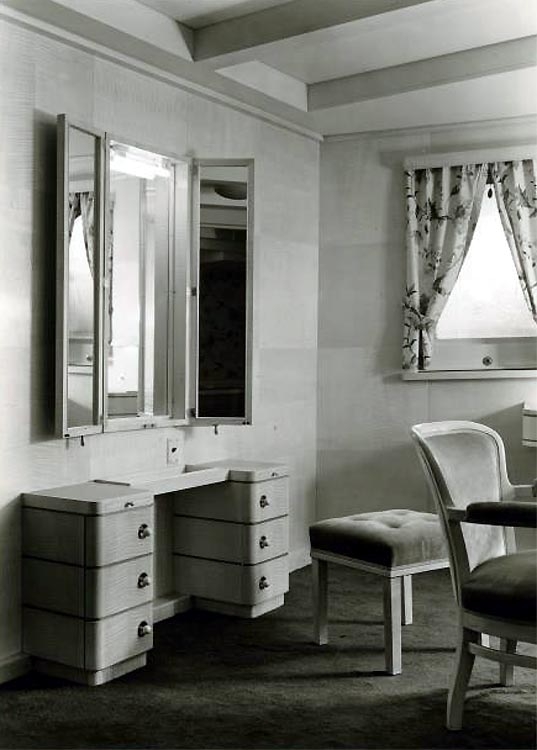 The same suite, but here we see a dressing table on the port side, with the forward windows showing.
The door to the bathroom is directly to the left, but is out of sight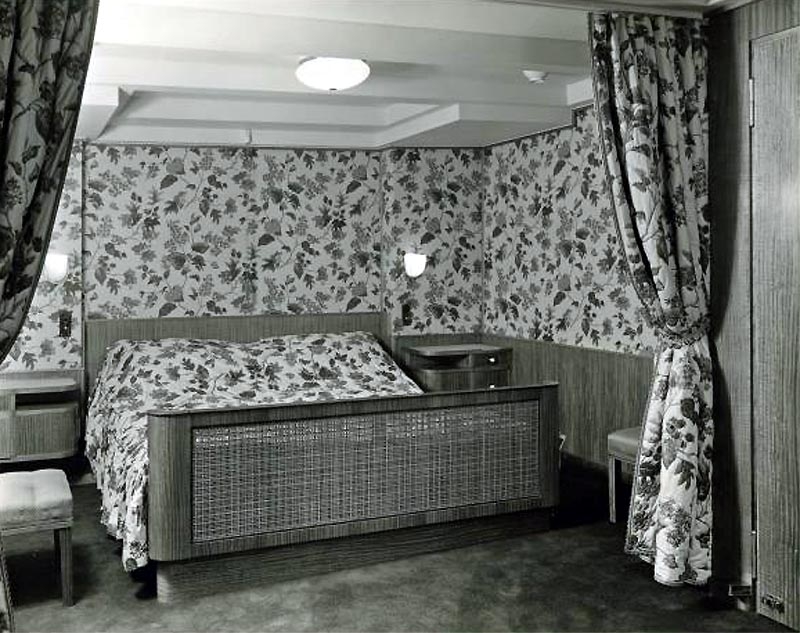 The floral inspired Suite bedroom
Amidships, just aft of the Deluxe Cabins was the Main Entrance Hall and a spacious Lobby with two small lounge areas, one on each side. Here was the magnificent Stairwell coming down from the Social Hall on Promenade deck, and just forward was a large oval well overlooking the Dinning Room below on B Deck with the Grand Stairwell into the Dinning Room located forward of the well.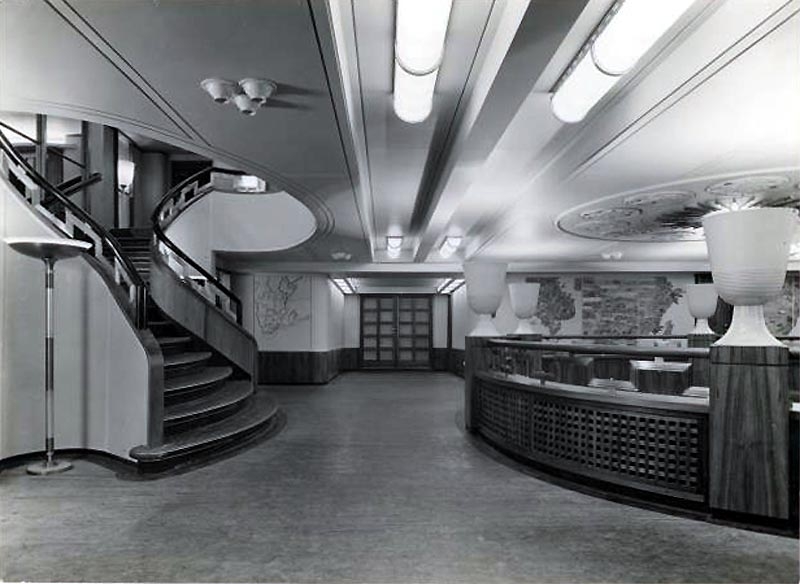 The Main Entrance hall, with the stairwell up to Promenade Deck and the well over the Dinning Room on the MS Boissevain
Just further aft almost amidships there was another lobby, without stairs, where there was the Ladies Hairdressing saloon (on the starboard side); there was also a Men's Barbershop (on the Portside). Aft of this Lobby was the Pursers Office where there were two tables and four chairs in case passengers had to wait if it was busy.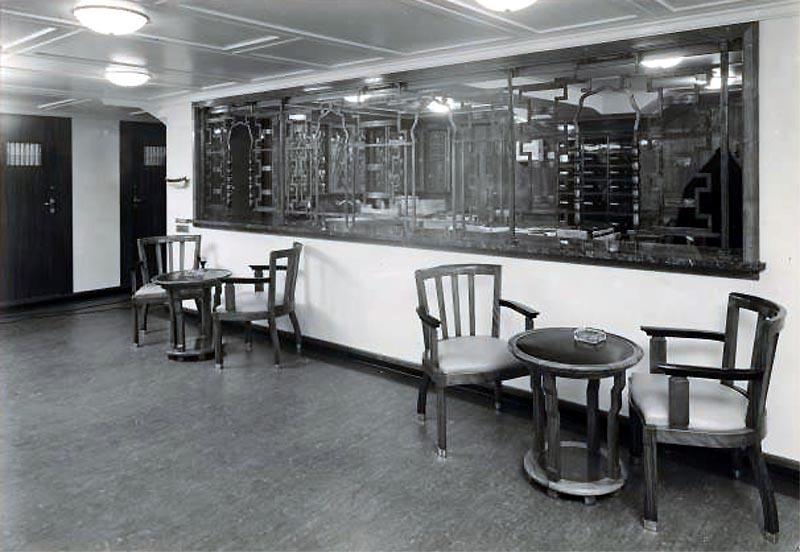 Pursers Office
The rest of the First Class section on this deck contained twin bedded cabins all having Private facilities.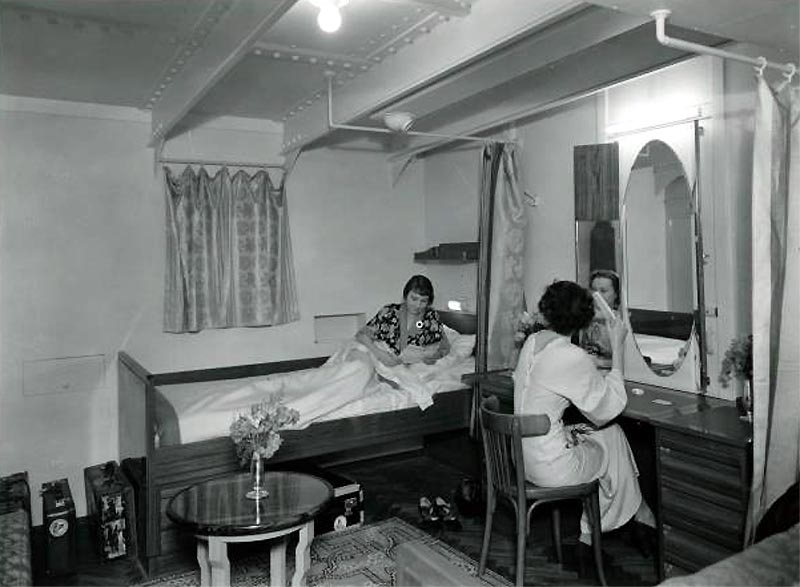 Twin bedded Cabin A grade with facilities aboard the MS Boissevain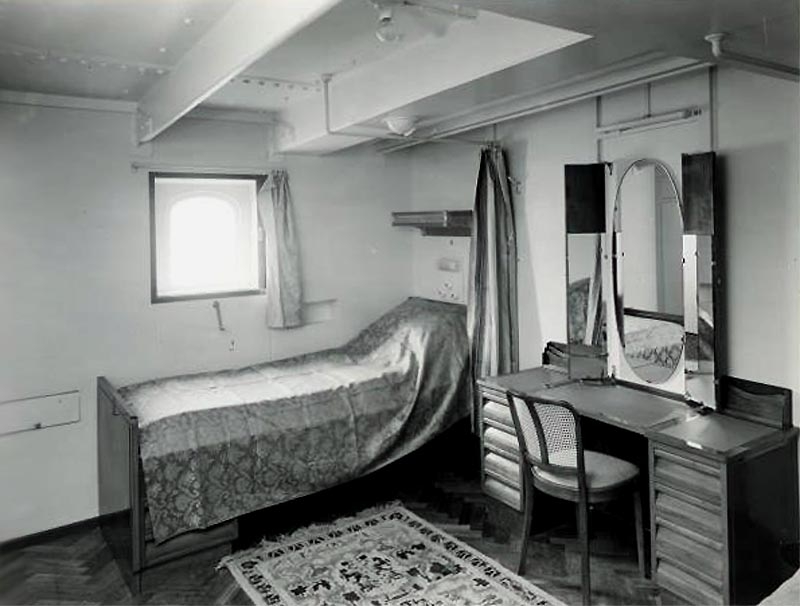 Twin Bedded Cabins B grade also with facilities
B Deck:
Far forward on B Deck were 10 twin bedded cabins, but these were with spotless shared facilities close-at-hand.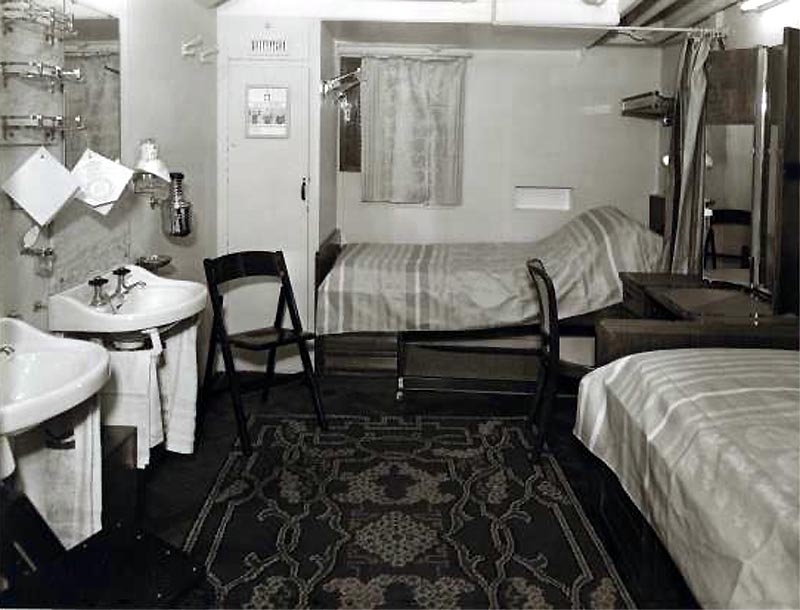 Here is one of the Twin Cabins without private facilities forward of the Dinning Room
Directly aft was these cabins was the spacious Dinning Room, which was accessed by a stairs going down on two sides and then a sweeping curved stairwell at the bottom of the Dinning Room offering quite a dramatic entrance for dinners in the evening who would be dressed in their finest!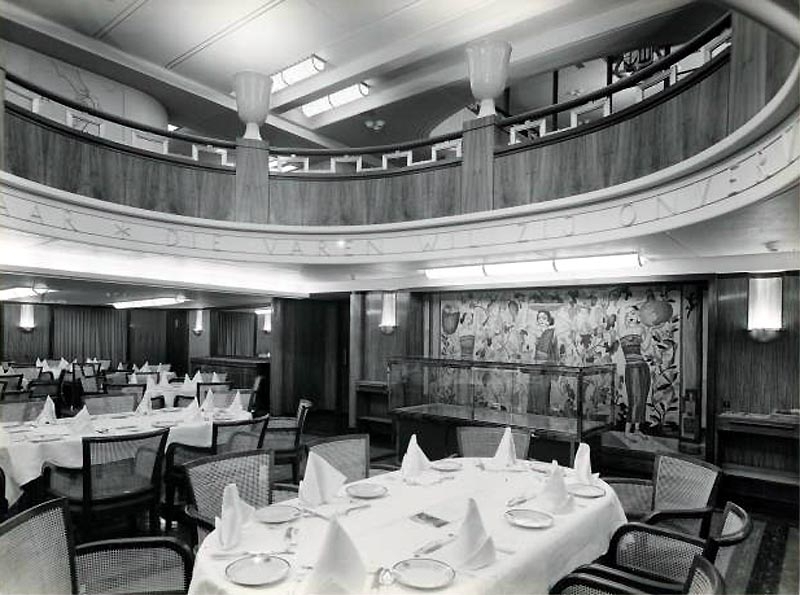 The Dinning Room onboard the MS Boissevain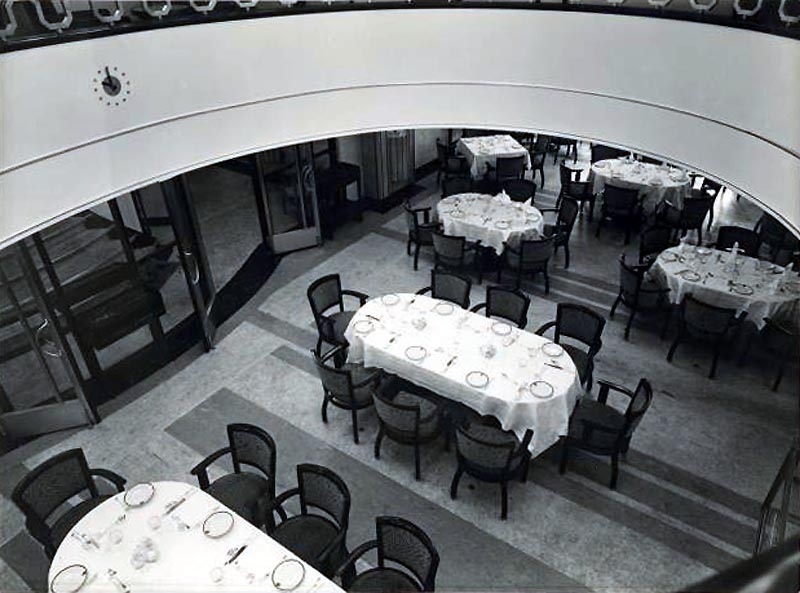 The Dinning Room on the MS Tegelberg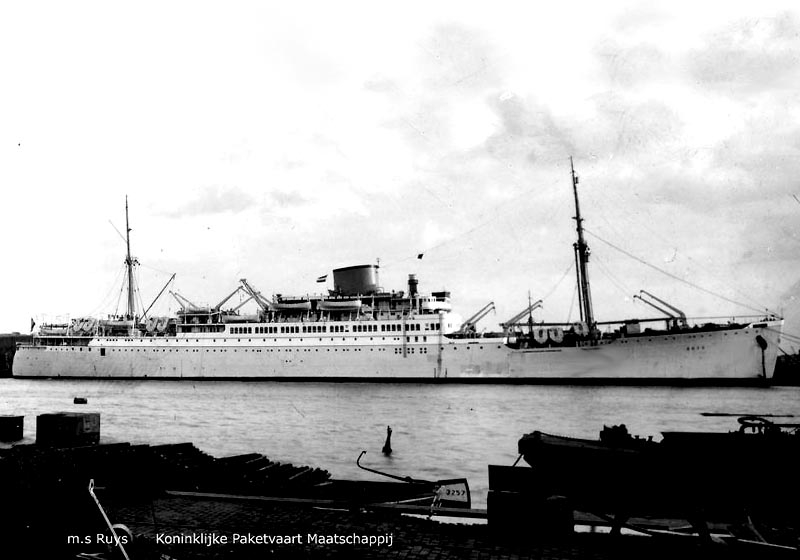 A MS Ruys postcard released by KPM
Holds, Cargo & Engines:
In her five cargo holds, each ship had space for the both bales, grain and other goods. Quantities are as follows;
MS Boissevain – (1), Ms Tegelberg = (2) & Ms Ruys = (3).
(1) Bales of goods 468000. cu.ft, (Cubic Feet) as well as 488000. cu.ft, of Grain, as well as some general cargoes and passenger belongings, etc. (2) Bales 471000. cu.ft, and Grain 491000. cu.ft, etc. (3) Bales 461000. cu.ft, and Grain 485000. cu.ft, etc.
Engines:
Before I continue with the construction, launching and completion of the MS Tegelberg and the Ruys, let me briefly cover these ships superb and most reliable and efficient diesel engines.
All three ships were powered by the following; Engine Type: 2-stroke single-acting diesel engines. Propulsion: Three 8-Cylinder Sulzer type, 25 9/16 x 47¼, each operating at 3,600 BHP, totalling at 10,800 HP. The engines operated three screws, which saw all three ships operate at a service speed of 16 knots. However they had a maximum speed of 18 knots, but had a reserve, which meant they could reach up to 20 knots, which was achieved when utilising all systems at top speed when required during WW2 in order to escape from a U-Boat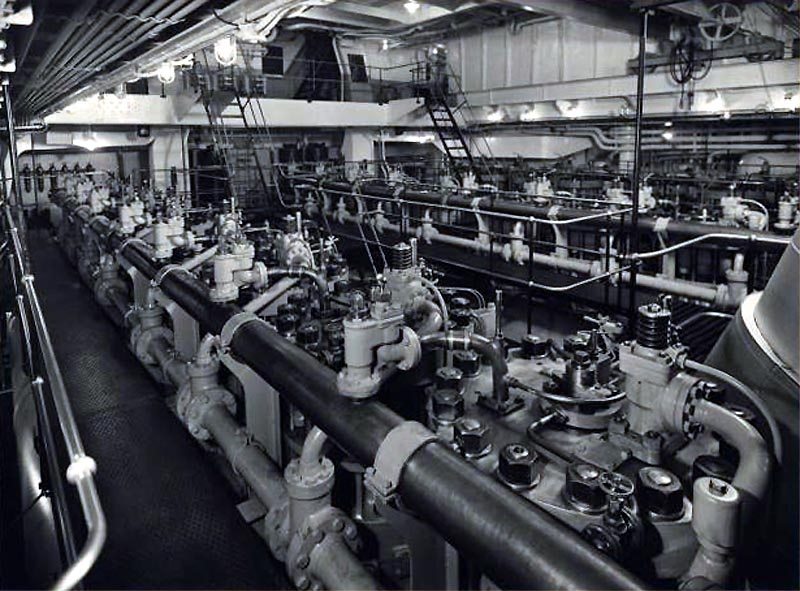 Above & below: Enjoy the four photographs I have that cover one of the Engine Rooms of The MS Boissevain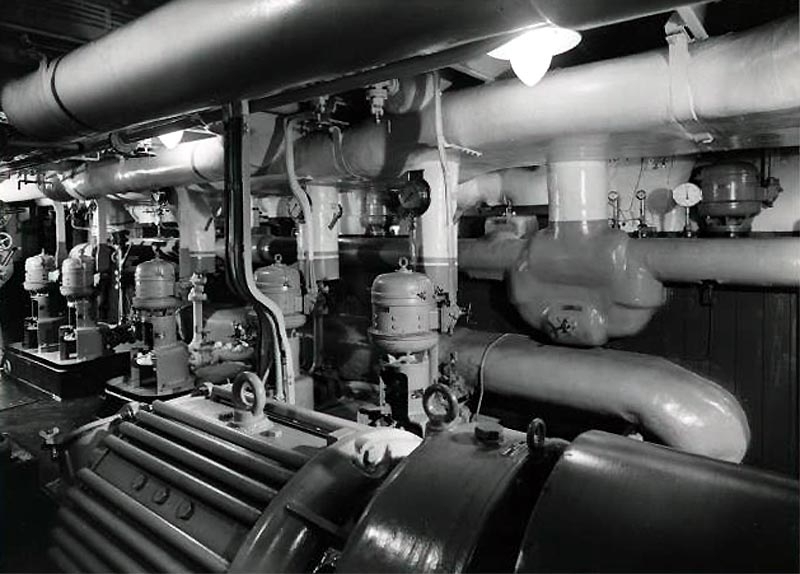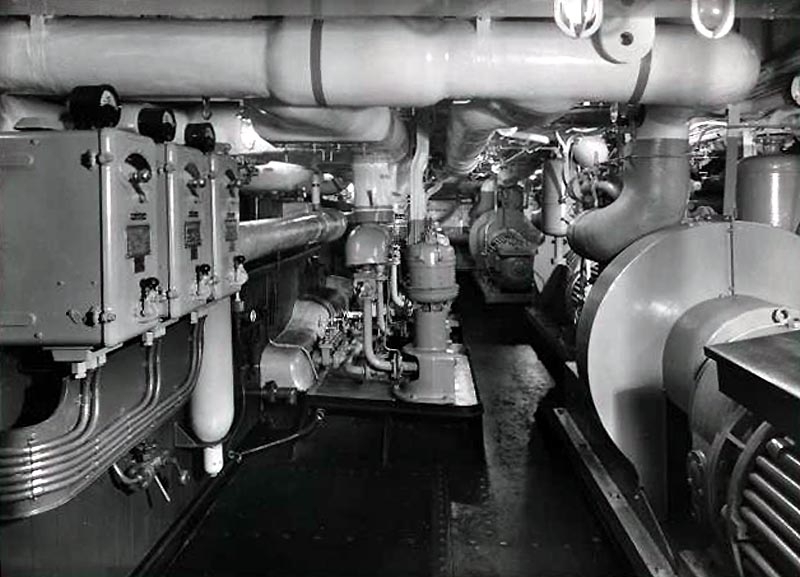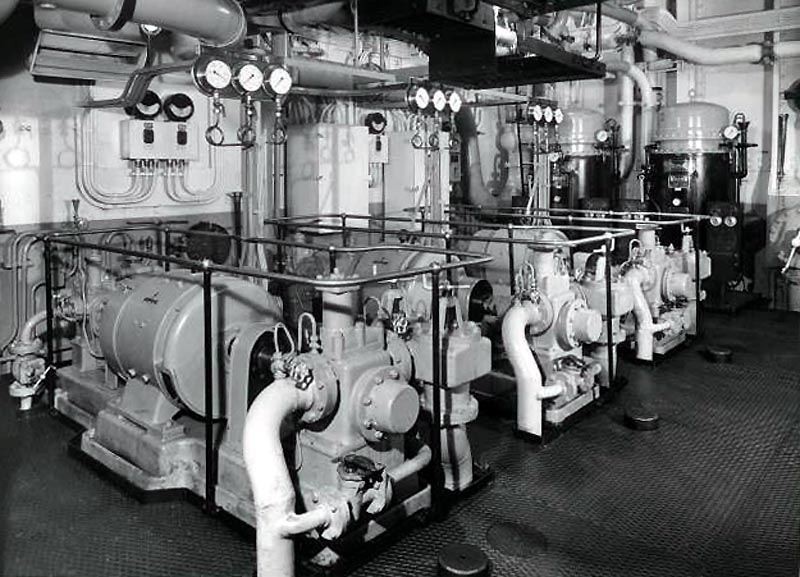 Neutral Netherlands Invaded May 10, 1940:
Despite the Netherlands being having long been a neutral country, she was invaded on the morning of May 10, without even a formal declaration of war having been made by the Nazis. Even though the Dutch army fought back bravely as they could, but due to the country's neutrality, the Dutch military was greatly unprepared, and they had insufficient and outdated weapons, and far too little equipment at hand. Therefore they were caught completely unprepared, yet they fought on until the Netherlands was forced to surrender.
Four days after the invasion on May 14, the German Luftwaffe flew across Holland and dropped hundreds of bombs on the great harbour city of Rotterdam, and they destroyed the entire city center and surrounding area with just several buildings left standing intact.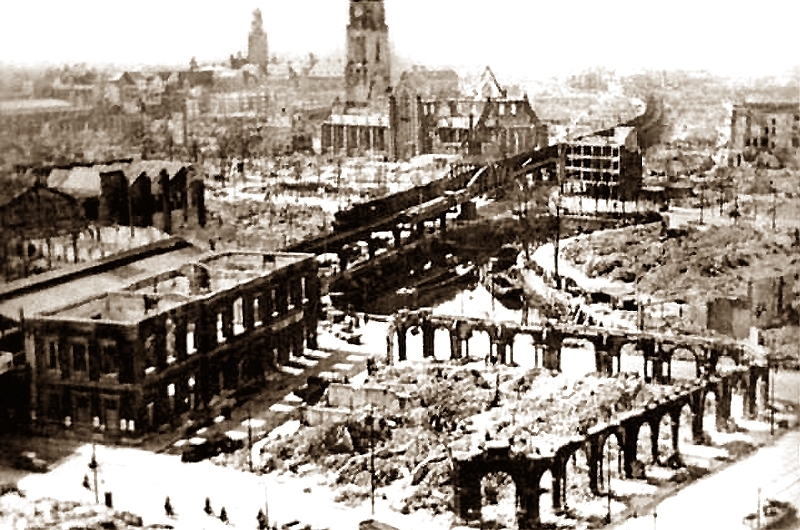 The city of Rotterdam seen after the bombing
Due to this catastrophe the Netherlands was forced to surrender on May 15, 1940, just one day after the bombing of the great Harbour city of Rotterdam.
Final voyages prior to becoming Troop Ships:
MS Boissevain: Although for the time being this did not affect the Boissevain's or the other two ships the Tegelberg or Ruys sailing operations for the time being.
Finally, the MS Boissevain arrived from a voyage in Singapore on July 16, 1940 and due to the circumstances, with the Netherlands having been invaded, she would remain here for the next three weeks awaiting the Boissevain trio next phase;
MS Boissevain, like her sisters had been chartered by the Netherland's Government Ministry of War, which was in exile in London, and having been operating on and off between Batavia (Indonesia) and Australia.
MS Tegelberg: She had a similar experience as per the above, however sadly I do not have the particulars available as I do for the other two ships. But she had similar experiences.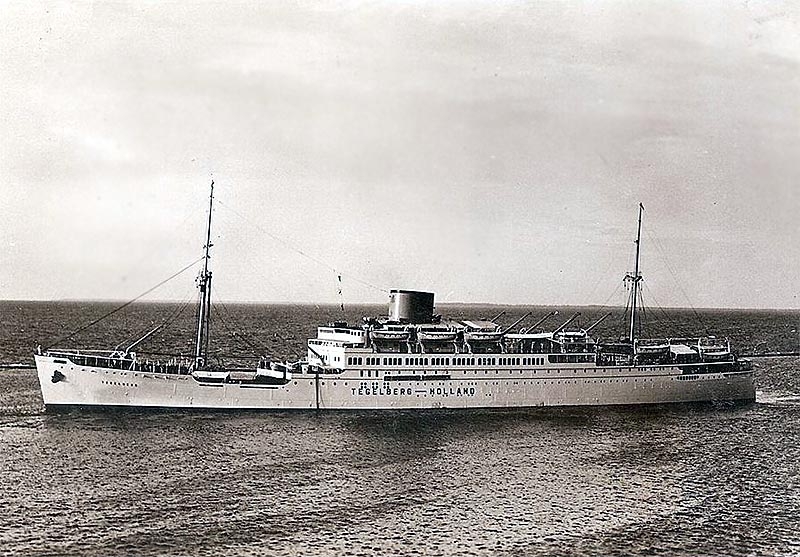 All three ships were marked in 1938 showing that the Netherlands was a Neutral Country, this is the MS Tegelberg

MS Ruys: On leaving Cape Town on July 23, 1940 the MS Ruys sailed directly to Batavia, arriving on August 5, and departing on August 22, and she then headed for Australian ports: sailing via Thursday Island arriving on Aug 31s, then onto Brisbane where she arrived on September 3, and departed on September 5, the next port was Sydney arriving and departing September 7, the Melbourne September 9, departing on September 11, then she headed for Adelaide where she arrived on September 12. From Adelaide the Ruys reversed her course re-visiting the east-coast Australian ports reaching Surabaya on October 5, and finally after having visited other East Indies (Indonesian ports) she arrived in Singapore on October 11. She then departed Singapore on October 21, 1940, reaching Adelaide again having visited all the East Coast ports of Australia, on November 18, 1940.

The details of the ships war years will be covered on Part Two.

(1)

MS Boissevain, (2) MS Tegelberg & (3) MS Ruys Specifications:

Built for:..........................................

Koninklijke Paketvaart-Maatschappij.

Built By:………………………………………………..(1) Blohm & Voss, Hamburg.

.………………………………………………….…………(2) Netherland's Shipbuilding Co, Amsterdam.

……………………………………………………………..(3) De Schelde Shipyards, Vlissingen.

Yard:……………………………………………………..(1) 510.

………………………………………………………………(2) 243.

………………………………………………………………(3) 204.

Launched:……………………………………………..(1) June 3, 1937.

……………………………………………………………..(2) July 10, 1937.

……………………………………………………………..(3) September 25, 1937.

Call signs:…………………………………………….(1) PKQA 1938/47 - PDEP 1947-68

……………………………………………………………..(2) PKOI 1938/47 - PHWZ 1947-68.

……………………………………………………………..(3) PKOJ 1938/47 - unknown 1947-68.

Homeport/Flag: …………………………………….Amsterdam, the Netherlands 1938 to 1947 - All 3 Ships.

………………………………………………………………Batavia, Netherlands East Indies 1947 to 1968 - All 3 Ships.

Tonnage:…………………………….…………………(1) 14,134 GRT.

………………………………………………………………(2) 14,150 GRT.

………………………………………………………………(3) 14,155 GRT.

Length:………………………………………………….170.5m - 559ft.

Breadth:…………………………………………………22.0m - 72.2ft.

Draught:……………………………………………….9.19m - 30.2ft.

Propulsion:……………………………………………three De Schelde Sulzer diesel engines, 3,600 BHP each,

………………………………………………………………totalling 10,800 HP. Built by the ship builders.

Propellers:…………………………………………….Tripe screws.

Speed: …………………………………………………..16 knots service speed, 20 knots maximum.

Passengers:……………………………………………As built; 82 First, 72 Second & 500 Third Class.

Refitted in:…………………………………………….(1 & 3) in 1961, (2) in 1962 ….

Passengers:……………………………………………131 First, 84 Second & 179 Third Class.      

Crew:…………………………………………………….(1) 226, (2) 231 & (3) 221.

KPM & RIL INDEX:

Part One … MS Boissevain, MS Tegelberg & MS Ruys; 1937/38 to 1942.

Part Two … Their trooping years and their commercial years - 1942 to 1968.

Part Three … Deck Plan, Brochures & Schedules, and Memorabilia.

MS Tjiwangi & Tjiluwah … Royal Interocean Lines' Elegant Yachts.

MS Straat Banka … A luxurious KPM/RIL 50 passenger-cargo liner, and her 2 sisters.

************************

"Blue Water Liners sailing to the distant shores.
I watched them come, I watched them go, and I watched them die."

************************

ENTER OUR ssMaritime MAIN INDEX

Where you will discover over 750 Classic Passenger & Passenger-Cargo Liners!

ssMaritime.com & ssMaritime.net

Where the ships of the past make history & the 1914 built MV Doulos Story

Photographs on ssmaritime and associate pages are by the author or from the author's private collection. In addition there are some images that have been provided by Shipping Companies and private photographers or collectors. Credit is given to all contributors. However, there are some photographs provided to me without details regarding the photographer/owner concerned. I hereby invite if owners of these images would be so kind to make them-selves known to me (my email address may only be found on www.ssmaritime.com), in order that due credit may be given.

This notice covers all pages, although, and I have done my best to ensure that all photographs are duly credited and that this notice is displaced on each page, that is, when a page is updated!

ssMaritime is owned & © Copyright by Reuben Goossens - All Rights Reserved