KPM, RIL MS Boissevain, Tegelberg & Ruys - 1942 to 1968 - Deck Plan, Brochures, and Memorabilia.
Please Note: Firefox, iPhones, iPads & some other Search Engines may not be suitable
Use Internet Explorer & Old Google for this Web Page to load perfectly!
Click the logo above to reach the ssMaritime FrontPage for News Updates & Features
With Reuben Goossens
Maritime Historian, Cruise'n'Ship Reviewer, Author & Lecturer
Please Note: All ssmaritime and my other related ssmaritime sites are 100% non-commercial and privately owned sites. Be assured that I am NOT associated with any cruise or shipping companies or travel/cruise agencies or any other organisations! The author has been in the passenger shipping industry since May 1960 and is now semi-retired, but continues to write article on classic liners and cruise ships in order to better to inform cruise and ship enthusiasts for their pleasure!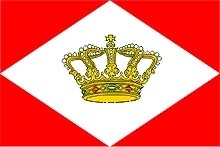 The Three KPM Liners
Part Three
The Three Ships … Passenger Scheduled, Deck Plan, Brochures and Memorabilia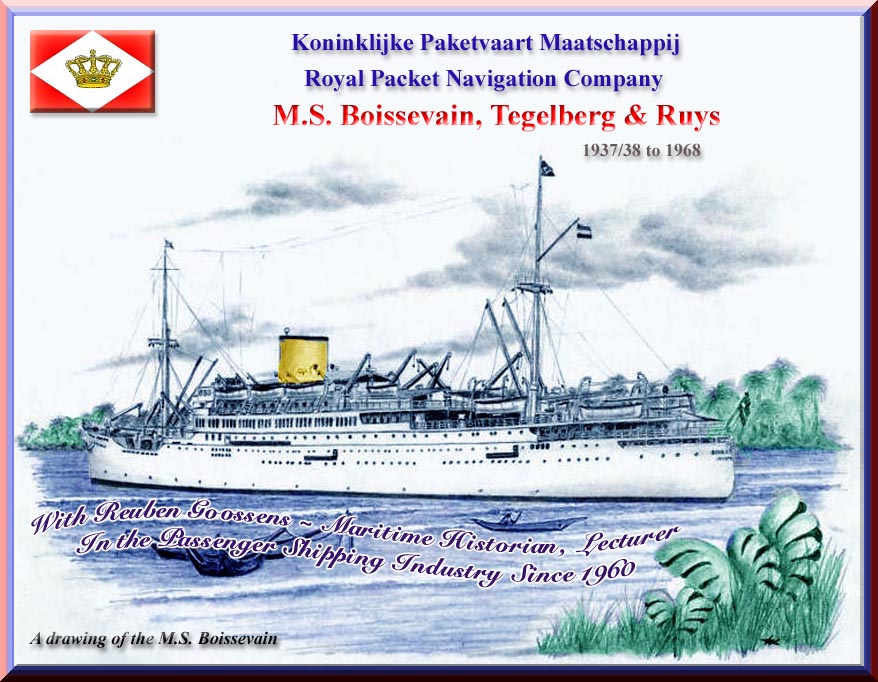 The artist is unknown - See the photo/images notes at the bottom of the page
Please Note: Deck Plan, postcards, photographs & other images are from the Author's private collection, unless otherwise stated
Part One contains the history and has a multitude of photographs of the MS Boissevain, Tegelberg, and the Ruys. This trio of sister ships are covered from their construction in 1937/38 to their early wartime voyages until they were commissioned to become troop transport ships in 1942, which covers Part two. This second part covers the trio's partial wartime activities, and their restoration in 1947 to their owners and the ships refit. But then in 1961/62 all three ships receive a massive refit and their exteriors receive the full Royal Interocean Lines livery, and they looked magnificent!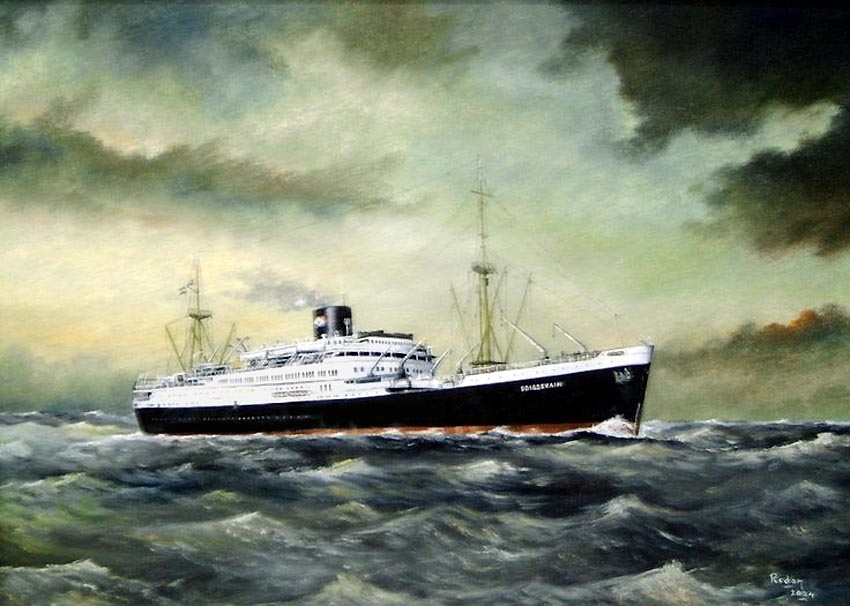 A fine painting of the MS Boissevain in her new 1961 Royal Interocean Lines (RIL) livery
The Painting is by & © Rodar
This Page, being Part Three of the series, contains a number of Brochures and Passenger Sailing Schedules from different era's, both Koninklijke Paketvaart-Maatschappij - "KPM" or the "Royal Packet Navigation Company's" pre WW2, after the war, and those when the ships were refitted in 1961/62, and featured RIL livery. This page also has a "Royal Interocean Lines" - "RIL" Deck Plan released in 1962, as well as KPM and RIL items of memorabilia.
I trust that you will enjoy this page!
Reuben Goossens.
Pre World War 2 Sailing Schedule 1938 to 1942: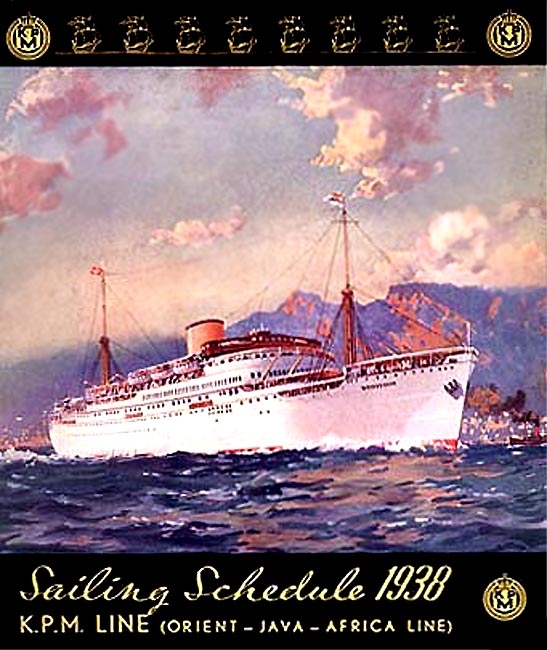 This schedule contained sailings for all three ships; the MS Boissevain, Tegelberg, and the Ruys
Provided by www.timetableimages.com/maritime/images/list.htm (C) Björn Larson
Post War Schedules 1947 to 1961: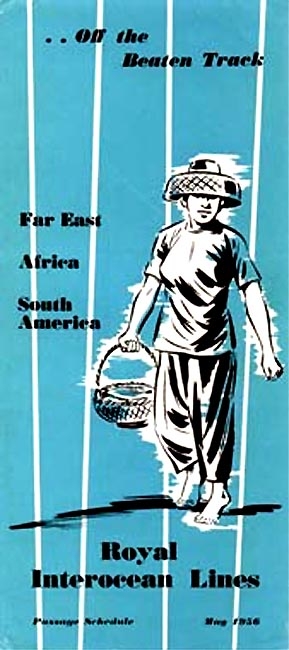 Here we see a typical; 1956 – 1957 KPM Passenger Schedule
At this time the ships still had their white hulls and a buff (yellow) funnel as per above & below
Provided by www.timetableimages.com/maritime/images/list.htm (C) Björn Larson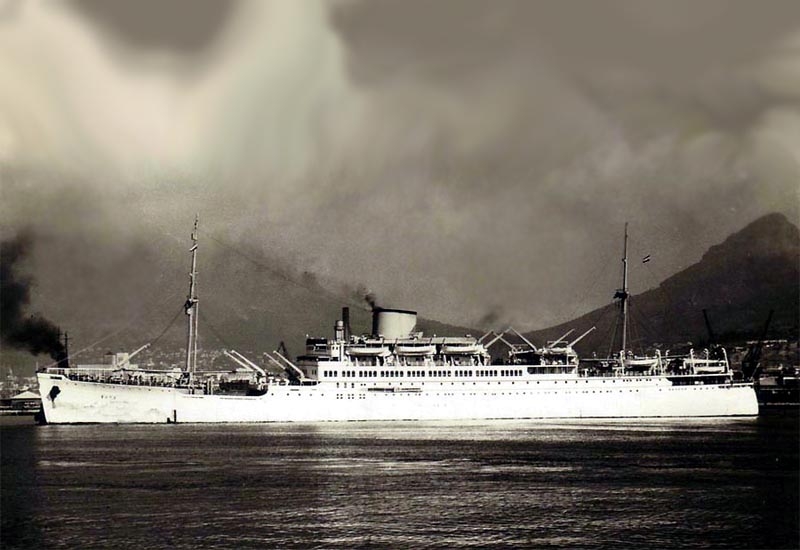 The MS Ruys seen after her 1947 refit with a buff (yellow funnel) and at one of her new destinations, never before visited!
KPM/RIL Memorabilia:
As you will see this section there are some items that hail from these fine ships earlier days with KPM Lines.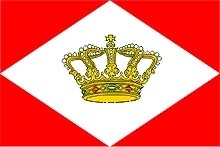 The KPM flag with the golden Crown "K" stands for "Koninklijke" or "Royal" thus a Crown in their flag and logos!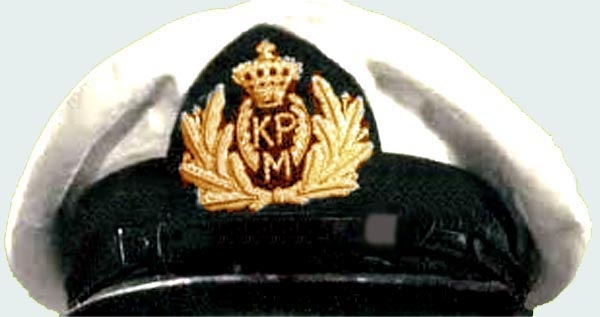 A crewmembers hat with the KPM embroidered gold logo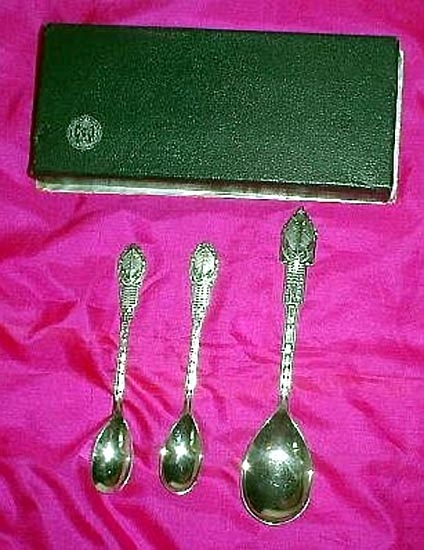 A box with three silver spoons, two smaller ones and one larger spoon
Above & below: Here we see a KPM plate with a close up of its logo above
This is plate, I have been told, was taken by a passenger from the MS Ruys in 1952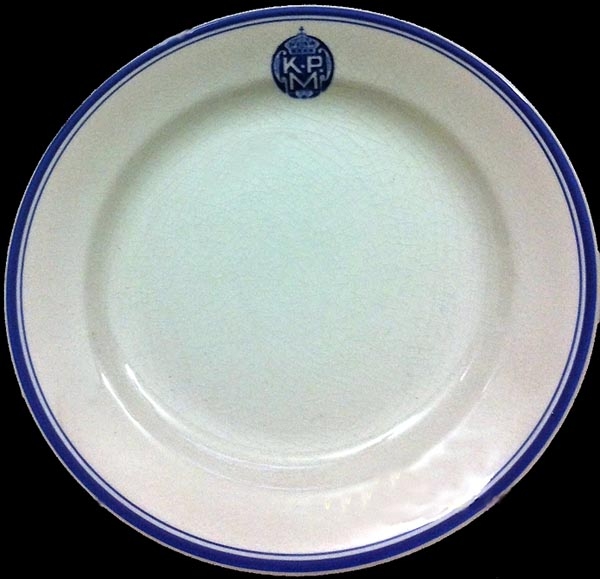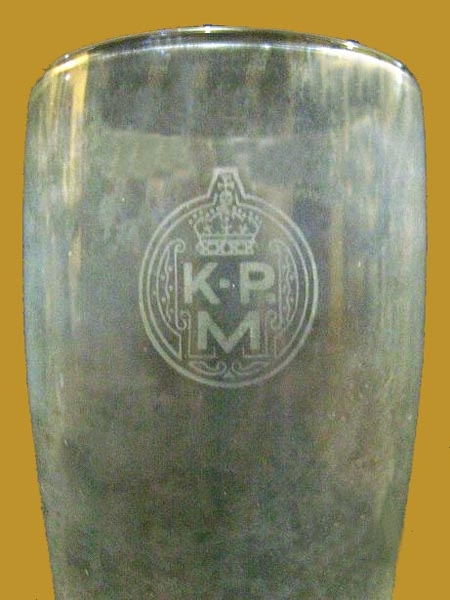 An older 1938 KPM glass
************************
RIL Posters,
Brochure with Deck Plan

& items of Memorabilia: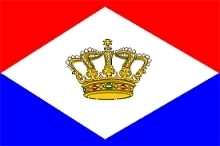 Royal Interocean Lines (RIL) flag
Below, I will commence with a 1961 pre-release poster of the new look trio of passenger-cargo liners now featuring a black hull with red boot topping, as well as a black funnel and a red, white, and blue Dutch flag with the white section being in a diamond shape that contained a gold Crown on the funnel, as the company was given the official title … "Royal Interocean Lines."
The poster is followed by a brochure from the author's private collection (like the majority of items shown), which contains colourful illustrations and a 1962 Deck Plan of all three ships, as their layout was identical. Shown are both First and Second Class, but for some reason, Third Class is not shown and it was located far forward in the bow section.
In addition, there are also several posters as well as some fine photographs of the ships. There is also a Menu, and various Items of RIL Memorabilia.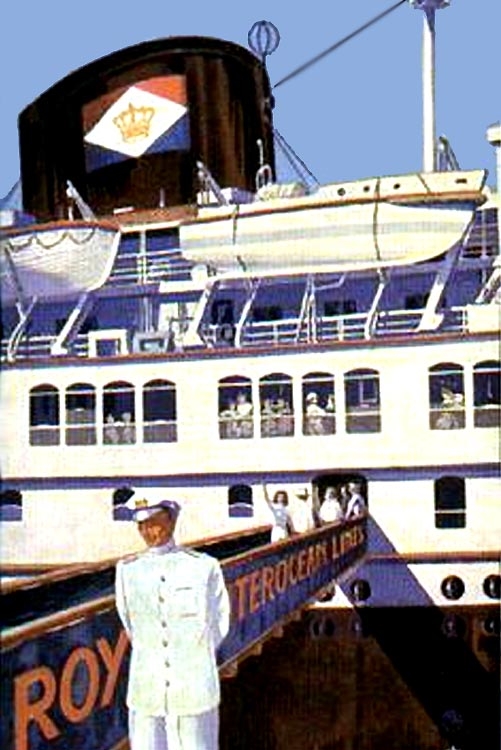 A popular RIL poster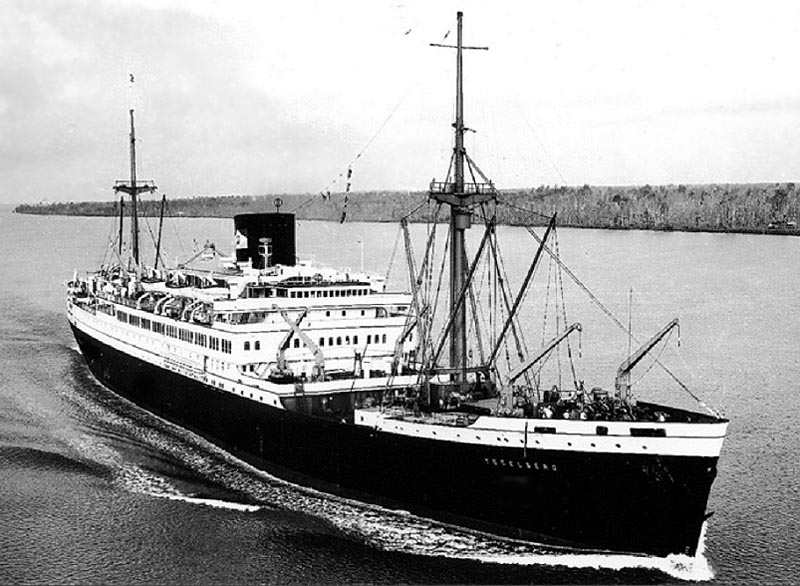 In 1961/62 the three ships received a massive internal refit, but also their exteriors were dramatically changed
to the traditional Royal Interocean Lines (RIL) liver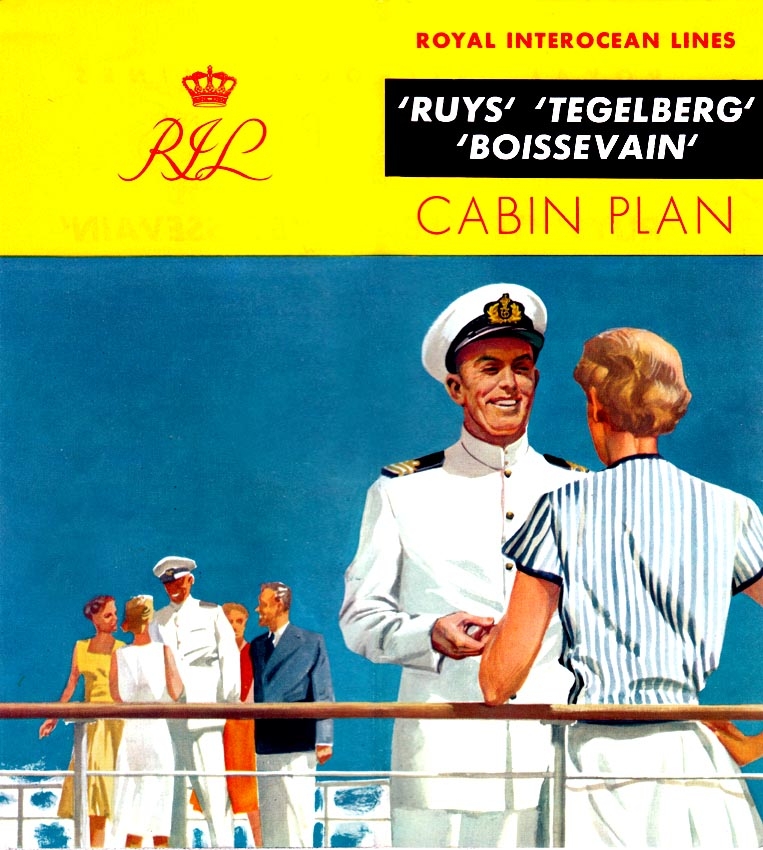 The front and back cover of the Cabin Plan
Please Note: A large copy of this plan is online, just click on the deck plan - Or the link below the plan for the full sized version.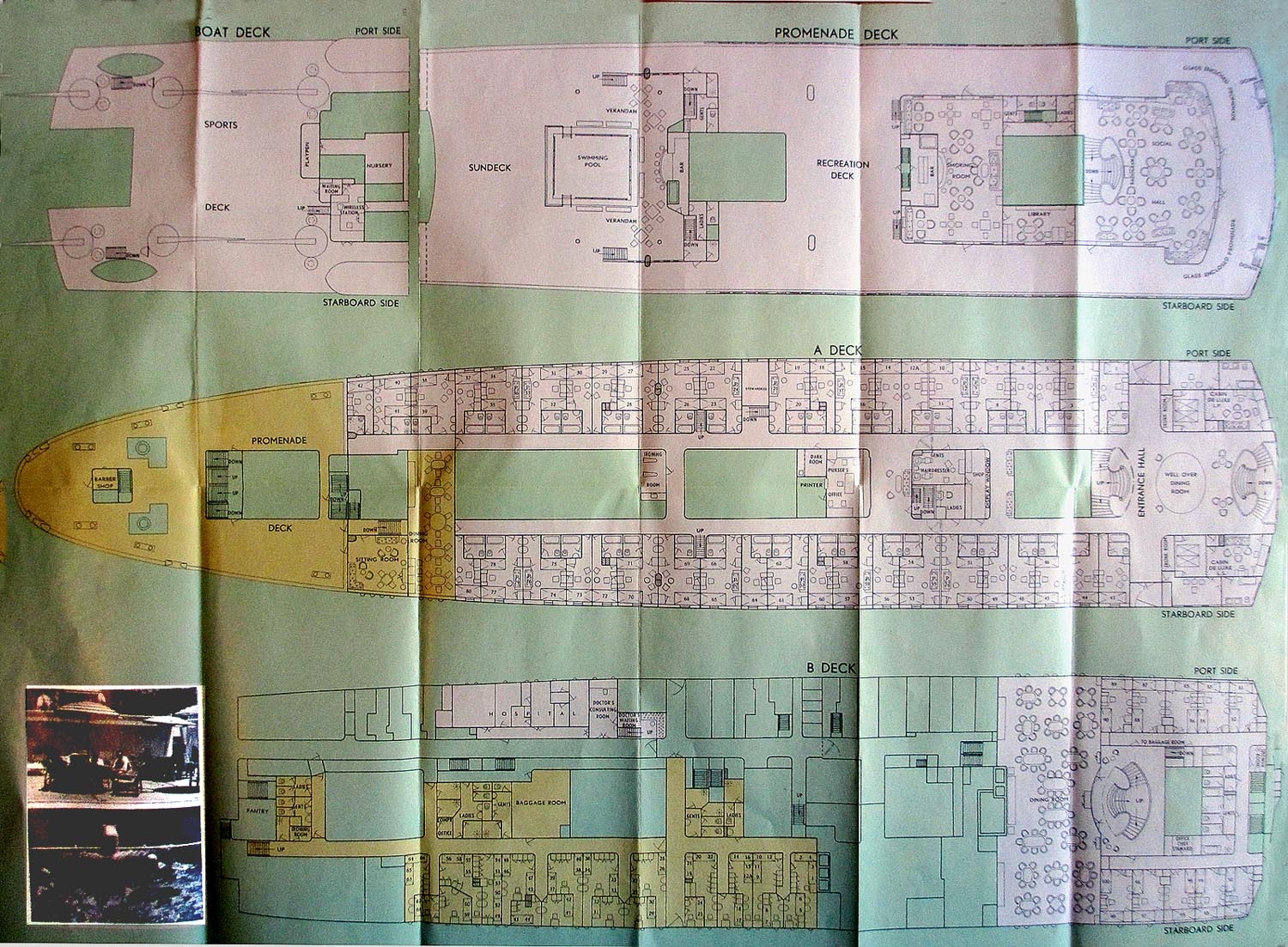 Click HERE to open the large Plan, when it opens, it usually reduces in size, just click it and it will expand
The Yellow section on the Plan reveals the Second Class public venues and accommodations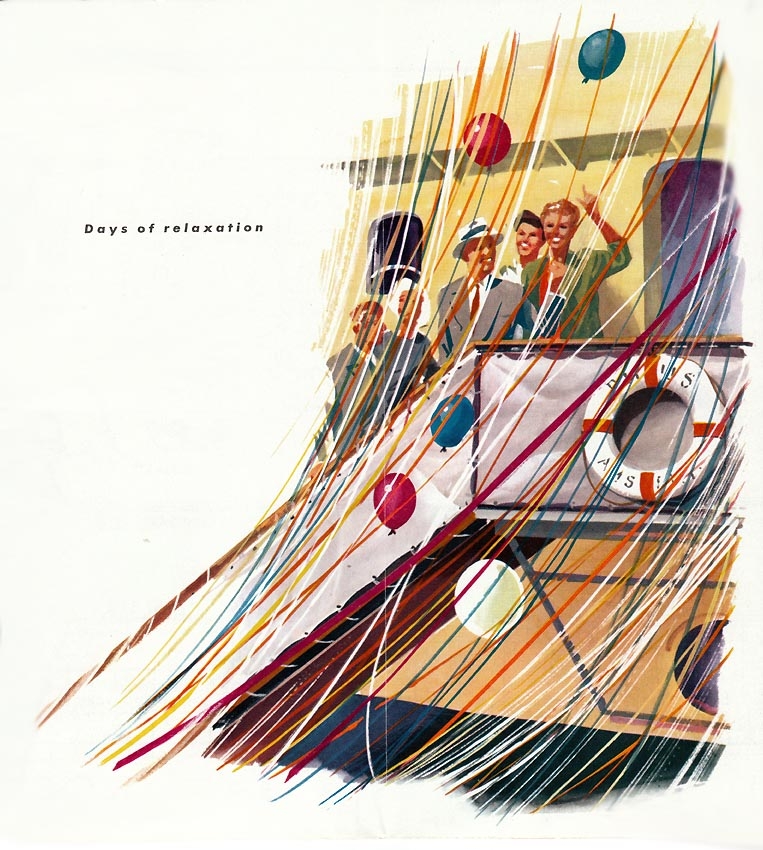 Cabin Plan inside Page 1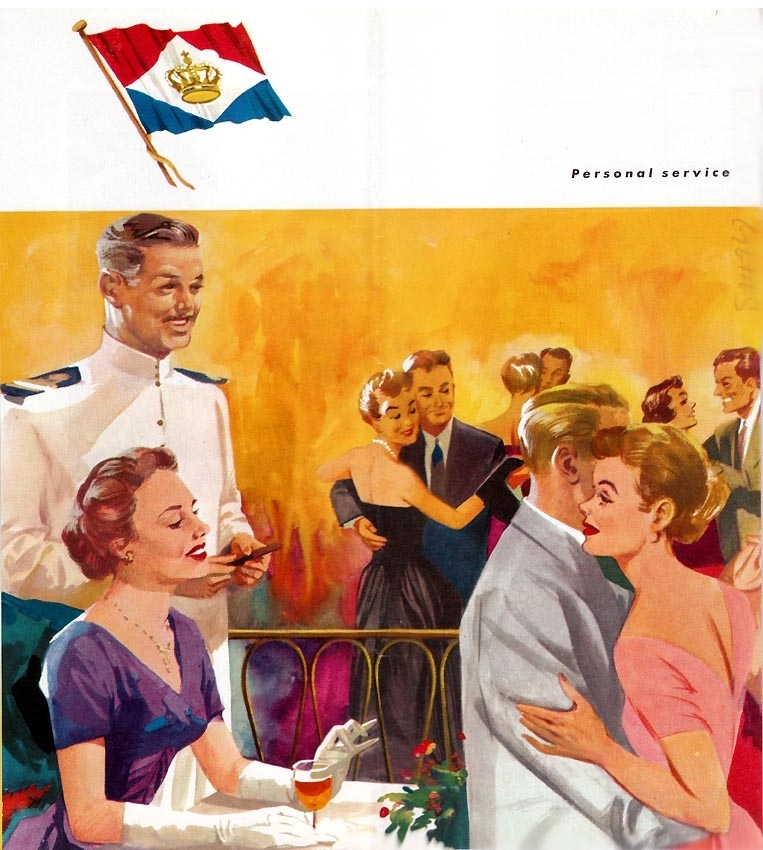 Cabin Plan inside Page 2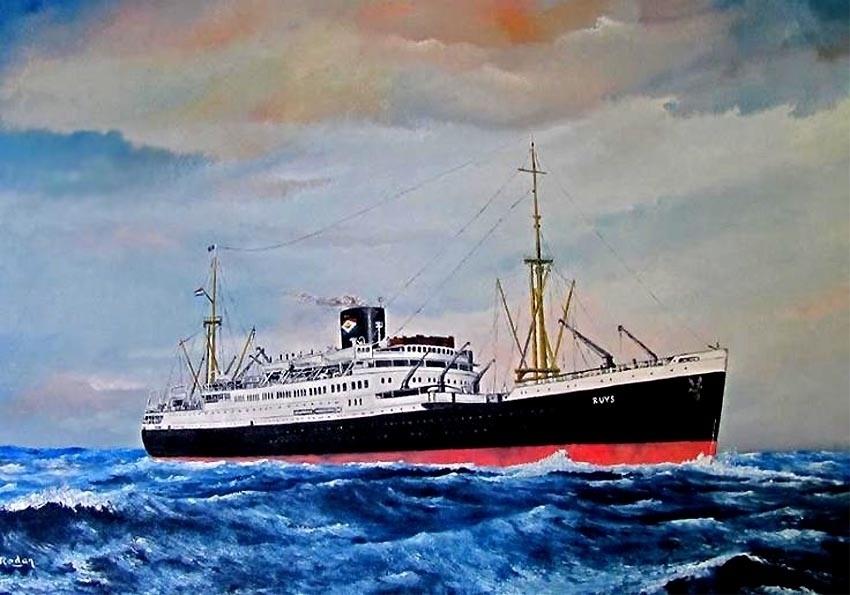 A fine painting of the MS Ruys in her new livery
The Painting is by & © Rodar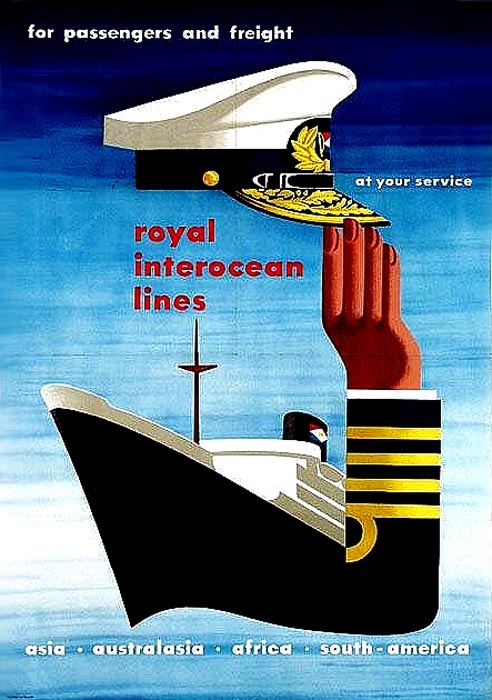 Here is another stylish RIL Poster
Created by © Frans Mettes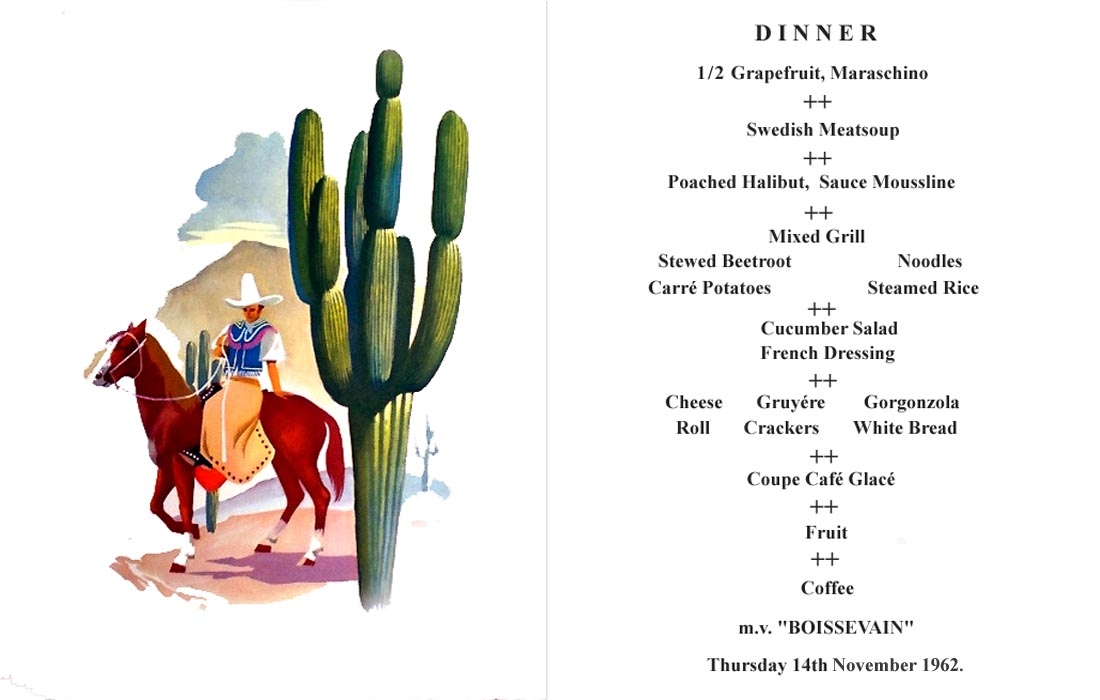 A Royal Interocean Lines MS Boissevain Menu from 1962
On teft is the cover, and the dinner menu on the right from the inside of the menu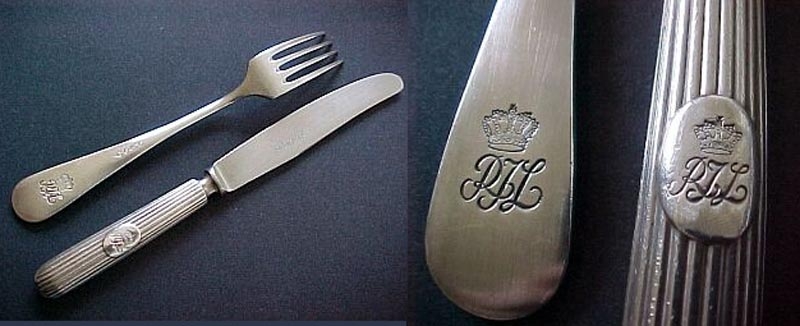 Here we see a stainless steel RIL fork and knife set with the RIL logos on the front and the back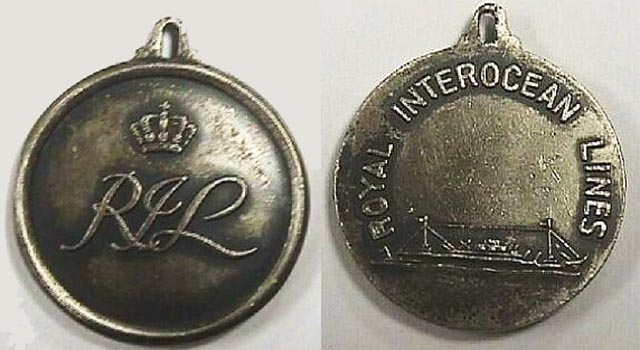 This RIL drop came off a key chain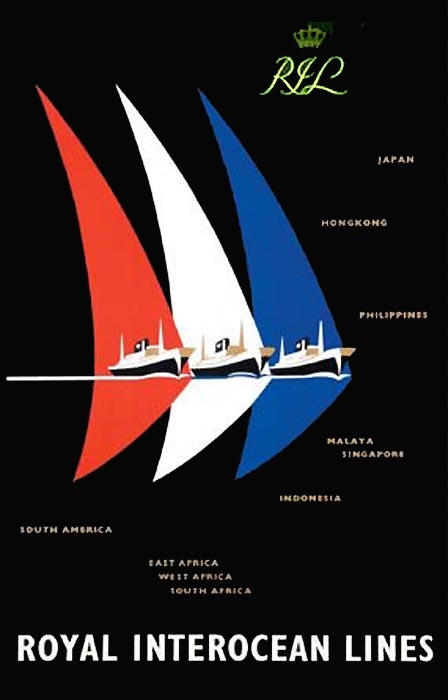 Another mid 1960s RIL poster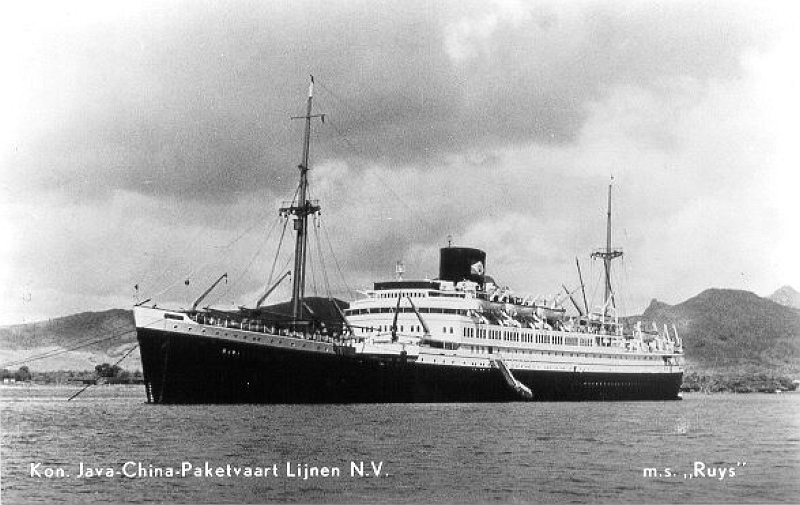 The final MS Ruys postcard produced by Royal Interocean lines
KPM & RIL INDEX:
Part One … MS Boissevain, MS Tegelberg, & MS Ruys; 1937/38 to 1942.
Part Two … Their trooping years and their commercial years - 1942 to 1968.
Part Three … Deck Plan, Brochures & Schedules, and Memorabilia.
MS Tjiwangi & Tjiluwah … Royal Interocean Lines' Elegant Yachts.
MS Straat Banka … A luxurious KPM/RIL 50 passenger-cargo liner, and her 2 sisters.
SS Nieuw Holland & Nieuw Zeeland ... Two Grand Old Dames of the Sea.
************************
"Blue Water Liners sailing to the distant shores.
I watched them come, I watched them go, and I watched them die."
************************
ENTER OUR ssMaritime MAIN INDEX
Where you will discover over 750 Classic Passenger & Passenger-Cargo Liners!
ssMaritime.com & ssMaritime.net
Where the ships of the past make history & the 1914 built MV Doulos Story
Photographs on ssmaritime and associate pages are by the author or from the author's private collection. In addition there are some images that have been provided by Shipping Companies and private photographers or collectors. Credit is given to all contributors. However, there are some photographs provided to me without details regarding the photographer/owner concerned. I hereby invite if owners of these images would be so kind to make them-selves known to me (my email address may only be found on www.ssmaritime.com), in order that due credit may be given.
This notice covers all pages, although, and I have done my best to ensure that all photographs are duly credited and that this notice is displaced on each page, that is, when a page is updated!
ssMaritime is owned & © Copyright by Reuben Goossens - All Rights Reserved