KPM's SS Nieuw Holland & Nieuw Zeeland
Please Note: Firefox and some other search engines are not suitable – Use "Internet Explorer" for this page to load perfectly!

Click the logo above to reach the ssMaritime FrontPage for News Updates & "Ship of the Month"
With Reuben Goossens
Maritime Historian, Cruise'n'Ship Reviewer, Author & Maritime Lecturer
Please Note: All ssMaritime and other related maritime/cruise sites are 100% non-commercial and privately owned. Be assured that I am NOT associated with any shipping or cruise companies or any travel/cruise agencies or any other organisations! Although the author has been in the passenger shipping industry since 1960, although is now retired but having completed around 680 Classic Liners and Cargo-Passengers Ships features I trust these will continue to provide classic ship enthusiasts the information the are seeking, but above all a great deal of pleasure! Reuben Goossens.
The KPM Sisters
SS Nieuw Holland – SS Nieuw Zeeland
SS Nieuw Holland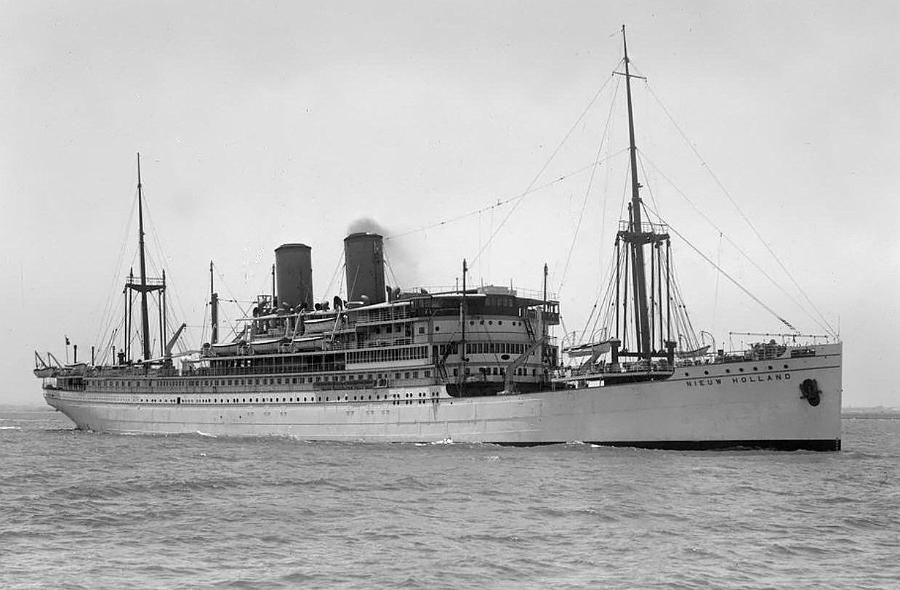 A superb early photograph of the newly built SS Nieuw Holland
Please Note: All photographs and Images are from the author's private collection, unless otherwise noted!
SS Nieuw Holland was built for KPM (Koninklijke Paketvaart Mij) by the Nederlandsche Scheepsbouw Co (Netherlands Shipbuilding Co) in Amsterdam. She was launched on December 1, 1927. After her completion on April 20 1928, she headed for Asia and commenced regular services from Malaya, via Singapore, Dutch East Indies (today's Indonesia), to Brisbane, Sydney and Melbourne. Nieuw Holland and her newer sister, SS Nieuw Zealand, maintained a regular service between Australia and Asia until the outbreak of the war. These two KPM sisters were regarded as two of the most graceful pre-war liners to operate between Australia and Asia, with their magnificently decorated lounges clad with fine timbers featuring elaborate carvings. Their external appearance gave them a casual tropical feel being pained all white and buff to yellow funnels.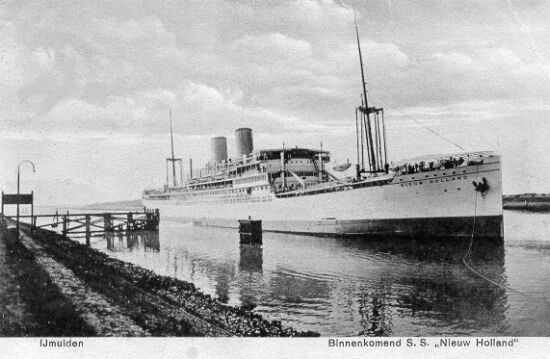 A Dutch Postcard of the Nieuw Holland at Ijmuiden (Amsterdam)
In 1940, Nieuw Holland headed for Melbourne where she was modified to become a troop transport ship for up to 1,000 troops. Upon completion she joined the Royal Navy, bur she continued to be operated by her Dutch crew. She and SS Nieuw Zeeland joined regular convoys between Europe and the Middle East, although Nieuw Holland did operate in the Mediterranean and Indian Ocean for a short time. Late in 1941, she received yet another modification but his time in the UK increasing her capacity up to 2,000 troops. Both SS Nieuw Holland and her sister SS Nieuw Zealand were part of the November 1942 invasion of North Africa.
From a Japanese Concentration Camp to a Voyage on SS Nieuw Holland home
I received a most interesting email from a Dutch Gentleman who sailed on SS Nieuw Holland in 1946 having been a prisoner of the Japanese with his while family. This is his story of their voyage on this ship home.
"I sailed with my parents and brother in 1946 from Bangkok Thailand to Amsterdam, having "enjoyed" the hospitality of the Jap's during the occupation of the Dutch East Indies, having been incarcerated in various concentration camps.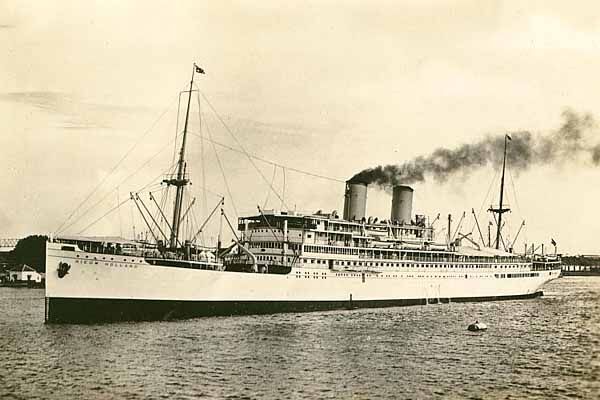 KPM's SS Nieuw Holland
We were taken from the shores at the Bay of Siam on a LST, crewed by British, and climbed the swinging cable stairs on board the SS Nieuw Holland. This occurred in the early in March 1946, and comprised my father 40 years of age, my mother 37, my brother 14, and myself Lieuwe 11 years old. From there we sailed to Singapore, then to Colombo India, Aden Arabia and through the Suez Canal to Port Said Egypt. Then we sailed through the Mediterranean Sea, Past Gibraltar and eventually in April arrived in Amsterdam where the Red Cross transported us to my Father's parent's home in Sneek that is in the Province of Friesland Holland.
From what I can remember there were approximately 1,500 passengers on board, and my dad became very ill and nearly died of hepatitis, during the voyage. Others even died and a total of fifteen were buried at sea having suffered from all kinds of tropical diseases inherited during the war.
I recall that the ship had a swimming pool on the foredeck that was used on a daily basis. The crew tried as best as they could to entertain the children as well as the grownups to make the voyage as pleasant as possible. In the various ports, native artists were allowed on the ship to do show, enjoyed by all, but it was mainly for the children." Lieuwe de Haas.
Nieuw Holland Return's to Civil Duties
She continued her war duties until being returned to her owners in March 1948 to be restored as a passenger liner. One year earlier, KPN transferred Nieuw Holland to the newly formed Royal Interocean Lines (RIL), and she was sent to Hong Kong to be refitted. With her new livery of a black hull and funnels, having an emblem in the Dutch colours of red, white and blue with a gold crown set in the white that was shaped like a triangle. She now had a capacity of 155 first class passengers. Her tonnage was now registered as 11.215 GRT.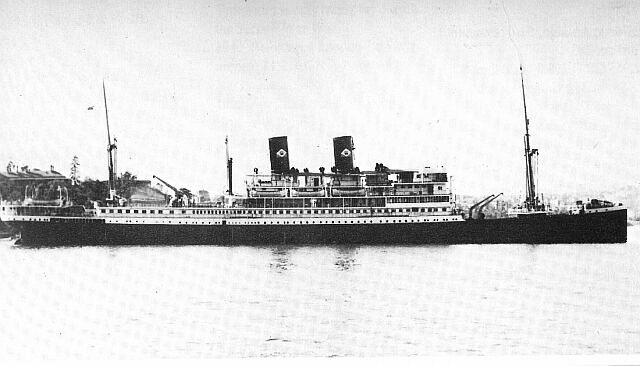 Nieuw Holland seen after her refit and being transferred to RIL in 1958
She commenced duties from Singapore sailing via Indonesia to Brisbane, Sydney and Melbourne; however ports of call also included Ceylon, India and Pakistani on occasion's. Late in 1958, after the Indonesia confiscated all Dutch possessions, RIL decided to terminate services and she commenced her final voyage to Australia in January 1959, visiting Brisbane where she arrived on January 18. She headed for Sydney (Jan 21) then Melbourne (Jan 23) where she remained for five days before departing on January 28 for Adelaide, Fremantle (Perth), then heading north for Malaya, after which she sailed to India and returned to Singapore. Within days this delightful passenger cargo liner departed Singapore heading for a Hong Kong breakers yard, where she arrived on March 6 1959, and was duly broken up.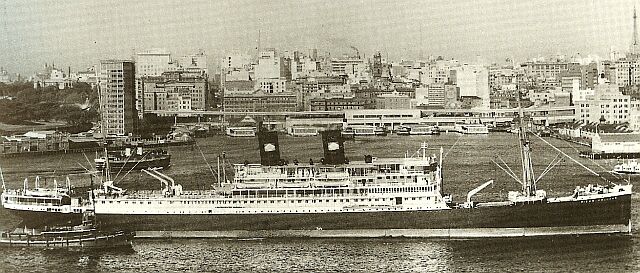 Nieuw Holland's final visit to Sydney

Specifications

Built:                                     1928 by Nederlandsche Scheepsbouw Co, Amsterdam - Yard 187.

Engines:                                 2 Stork steam turbines - 7.500 SHP.

Propeller:                               One.

Speed:                                   15.5 knots.

Length                                   160.60m - 527ft.

Width:                                   19.00m - 62.30ft.

Tonnage:                                10.903 GRT - 1958 11.215 GRT.

Passengers:                            123 First class - 50 Third class passengers.

                                             1958 - 155 all first class passengers.

Crew:                                    200.

Troops:                                  1940 - 1,000. 1941 - 2,000.

               

**************************************

SS Nieuw Zeeland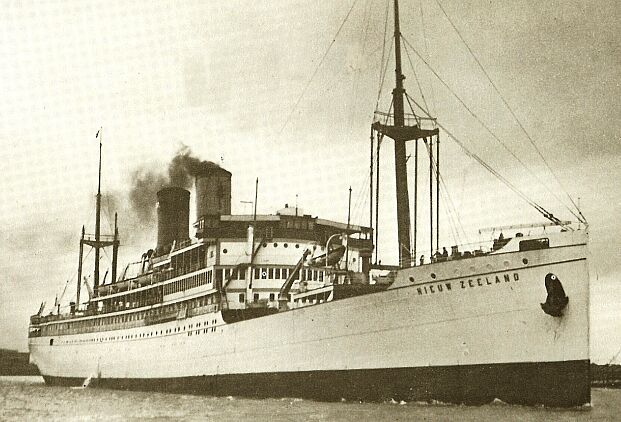 SS Nieuw Zeeland

SS Nieuw Zeeland was launched on January 6 1928 and was completed on April 12 1928. She departed Rotterdam and headed for Asia where she commenced regular services from Malaya, via Singapore, Dutch East Indies (today's Indonesia), to Brisbane, Sydney and Melbourne. Like her sister the SS Nieuw Holland, she maintained a regular service between Australia and Asia until the outbreak of the war. Her external appearance had that tropical look which was unusual for that time being pained all white and with her twin buff to yellow funnels. In 1935 due to engine problems, she was fitted with a new set of more efficient turbines at Mij Fijenoord in Rotterdam.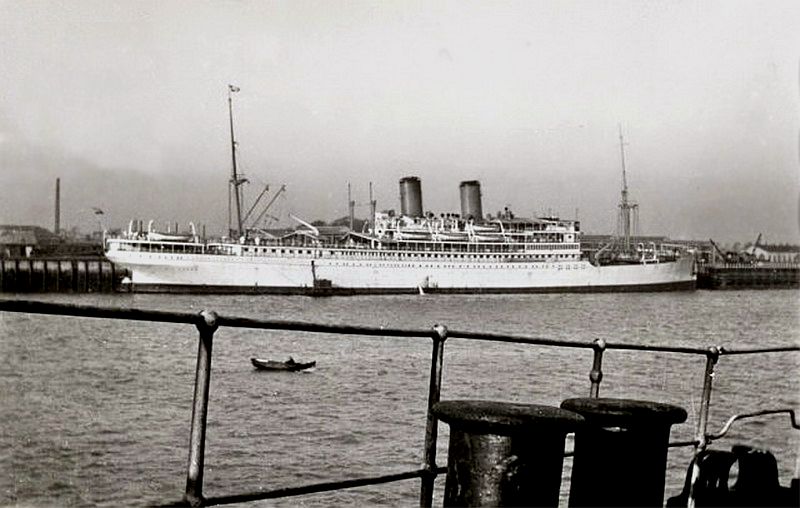 The SS Nieuw Zealand is seen at Vlissingen in The Netherlands in March 1935
From the author's collection – purchased at a market in 1972
In 1940, with the war having commenced the SS Nieuw Zeeland was stripped of her passenger fittings and refitted into a troop ship in Singapore to accommodate up to 1000 troops and just a small number of passengers. She, like her sister the Nieuw Holland was handed over to the British Royal Navy, but the Dutch crew continued to serve onboard with an additional 43 members. She joined convoys sailing to the Middle East and Europe. Then in 1942 SS Nieuw Zealand was involved in "Operation Torch" being the invasion of North Africa, however, after she had disembarked her troops successfully and was heading homeward and sailing in the Mediterranean, she was suddenly tragically torpedoed by a German U-Boat, number U407, on November 11, 1942, in position 3557' N-03° E.. With the damage being severe she sunk reasonably fast, but most on board were able to get off the ship, although there were 15 lives lost due to the torpedo explosions and subsequent fires.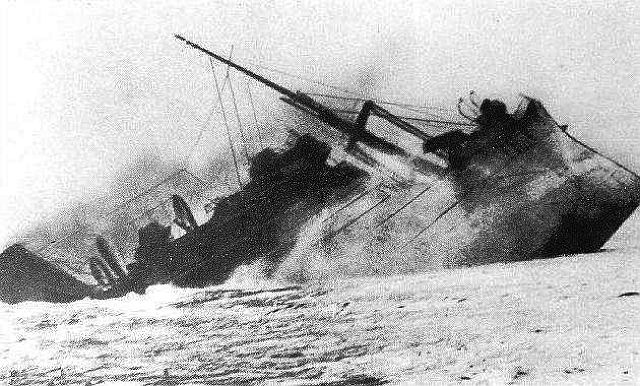 This is a rather grainy image taken of the trooper Nieuw Zeeland going down by her stern and to port having been torpedoed by U Boat-407!
Photograph taken by the ships signalman Mr. Colin Raymond Donaldson and provided by daughter Helen Glanville
Specifications:
Built:                                       1927 by Rotterdamsche DD Mij. Rotterdam – Yard 142c.
Engines:                                  2 x Geared Steam Turbines by Mij Fijennoord – 8,000 SHP.
Propeller:                                 One.
Speed:                                     15.5 knots.
Length:                                   160.60m – 527ft.
Width:                                     19.00m – 62.30ft.
Tonnage:                                 10.906 GRT.
Passengers:                              123 First class – 50 Third class passengers.
Crew:                                      200.
As a Troop ship in 1940:
Troops:                                    1,000.
Passengers:                              14.
Crew:                                      243.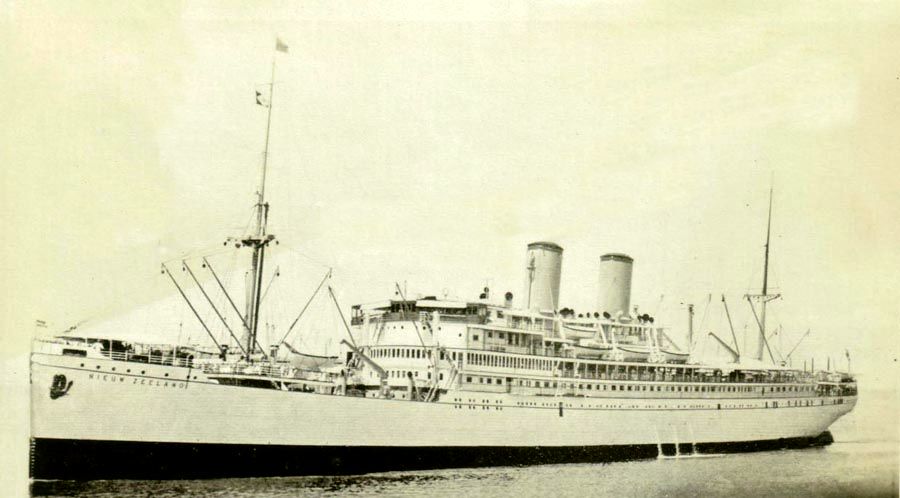 An historic KPM postcard of the SS Nieuw Zealand
********************************
Additional images and an item of Memorabilia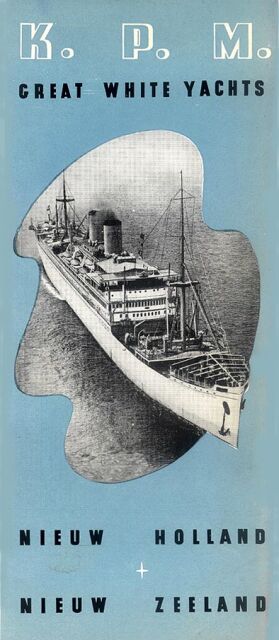 Above & below: Two KPM brochures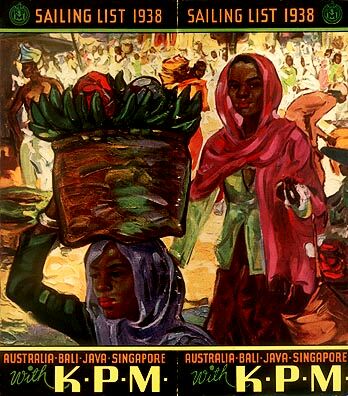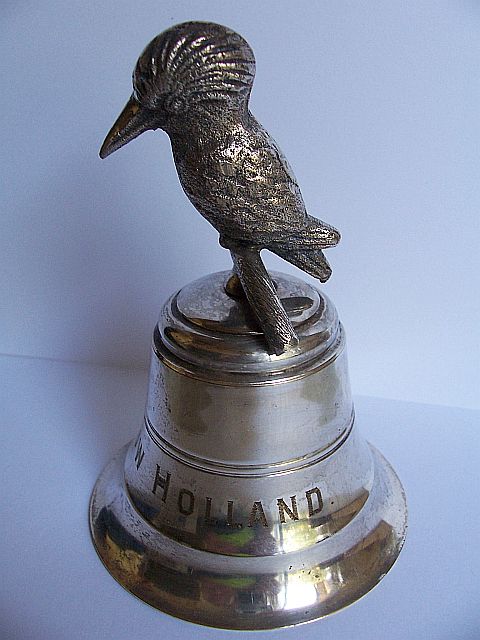 This superb 5-inch high SS Nieuw Holland diner bell is topped by a Kookaburra handle
Photo provided by Mick Lothian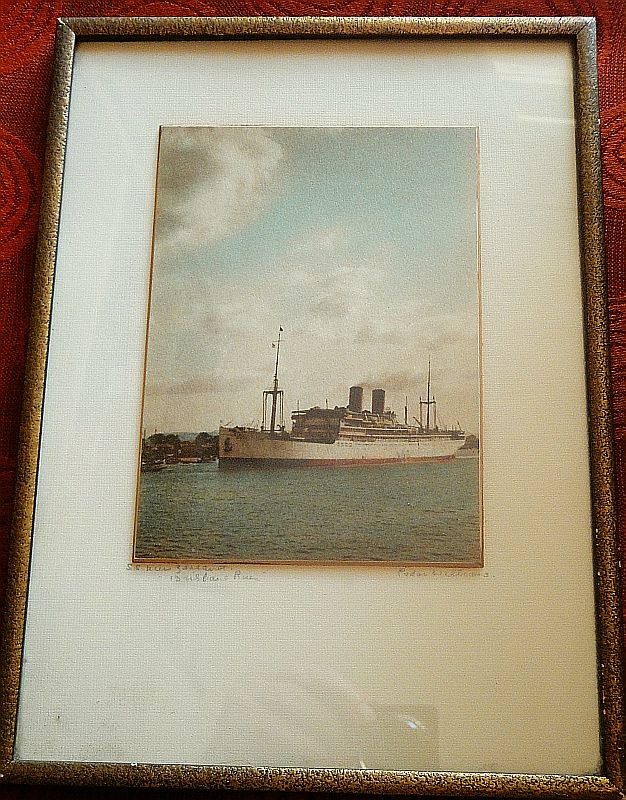 I purchased this rare framed photograph of the SS Nieuw Holland seen in the Brisbane River whilst
I was in Tasmania in an antique shop in the old convict town of Richmond, a wonderful find indeed!
As it was signed, I know that it was taken by a Mr. R. Williams (1930's) - From the author's personal collection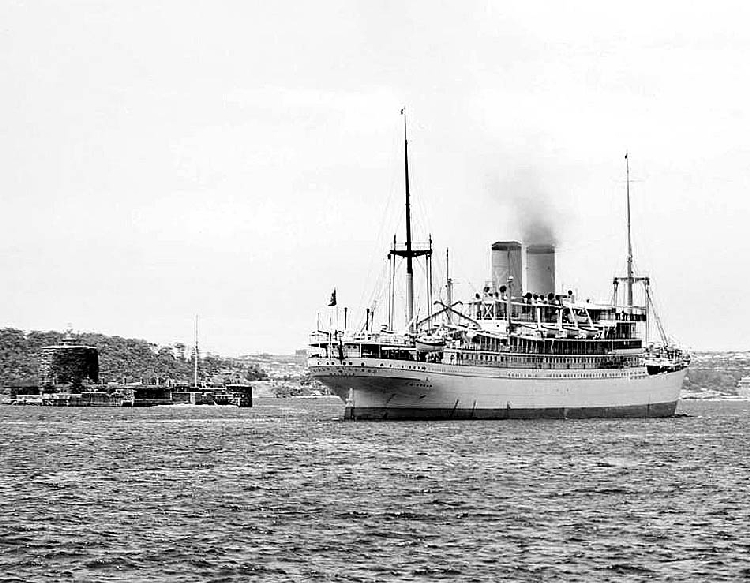 SS Nieuw Holland is seen in Sydney Harbour alongside Fort Denison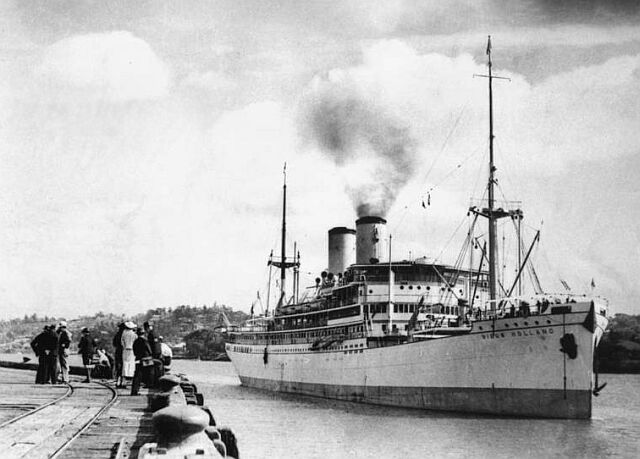 Nieuw Holland seen arriving in Brisbane
If you or your family sailed on SS Nieuw Holland from Batavia to Australia on 22 September 1939 I now have s a copy of passenger list for this sailing online
Enter the PASSENGER LIST HERE.
"Blue Water Liners sailing to the distant shores.
I watched them come, I watched them go and I watched them die."
****************************
Visit our ssMaritime Main INDEX
Where you will discover around 680 Classic Passenger & Passenger-Cargo Liners!
ssMaritime.com & ssMaritime.net
Where the ships of the past make history & the 1914 built MV Doulos Story
Please Note: ssmaritime and associated sites are 100% non-commercial and the author does not seek funding or favours and never have and never will.
Photographs on ssmaritime and associate pages are either by the author or from the author's private collection. In addition there are some images and photographs that have been provided by Shipping Companies or private photographers or collectors. Credit is given to all contributors, however, there are some photographs provided to me without details regarding the photographer or owner concerned. Therefore, I hereby invite if owners of these images would be so kind to make them-selves known to me (my email address can be found at the bottom of the page on www.ssmaritime.com), in order that due credit may be given.
ssMaritime is owned & © Copyright by Reuben Goossens - All Rights Reserved