Please Note: Firefox and some other search engines are not suitable – Use "Internet Explorer" for this page to load perfectly!

Click the logo above to reach the ssMaritime FrontPage for News Updates & "Ship of the Month"
With Reuben Goossens
Maritime Historian, Cruise'n'Ship Reviewer, Author & Maritime Lecturer
Peninsular and Oriental Steam Navigational Company - P&O
RMS Kaisar-i-Hind (2)
"Kaisar-i-Hind" is a Hindi name meaning "Empress of India"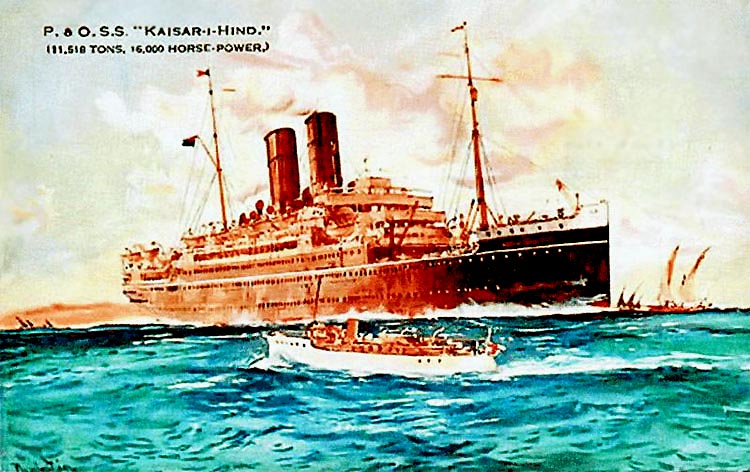 A delightful colour postcard of the RMS Kaisar-i-Hind
From the Author's private collection
Bertram (Bert) Butcher sails on the RMS Kaisar-i-Hind
PLEASE NOTE: All Photograph & Images in this story were provided by Nephew, Mr. Jim Finch - U.K.
In December 2013, I receive a most welcome email from Mr. Jim Finch from the U.K., and he advised me that he had located a beautiful 1937 "Centenary Dinner" Menu from his uncle's voyage on the RMS Kaisar-i-Hind.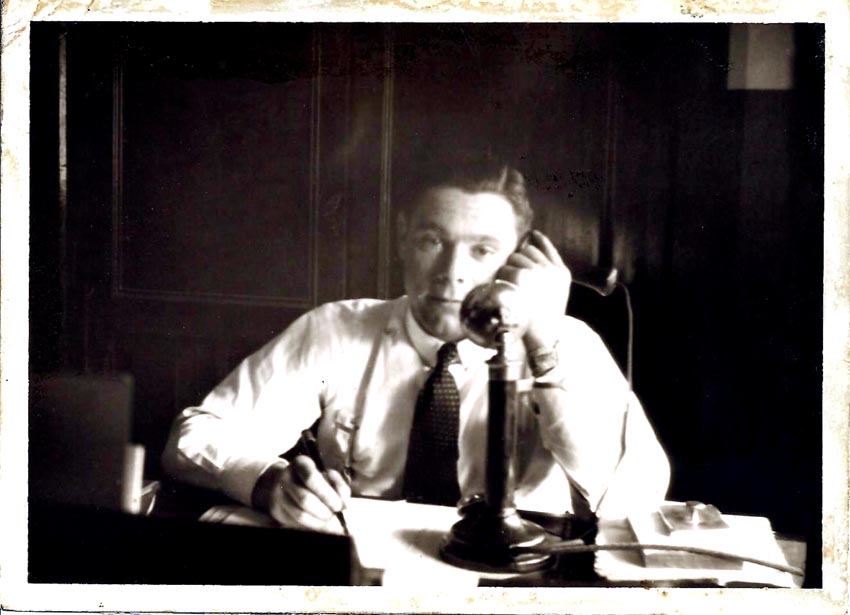 Bert Butcher seen at his desk in Bombay
Mr Finch several emails later provided some of his Uncle's interesting story:
Uncle Bertram (Bert) Butcher worked in Bombay India for the 'Oxford University Press' between from 1929 to 1937 and although, I am not sure which ship he actually sailed to India on, I would assume it would have been also the RMS Kaisar-i-Hind for he seemed to have a great affection for her!
Whilst in India he used to send Christmas cards home and below we see a delightful card that was drawn by a local Indian artist in 1934 and he sent it home! My Aunt really treasured it and thus she retained it safely in a box and it survives to this day!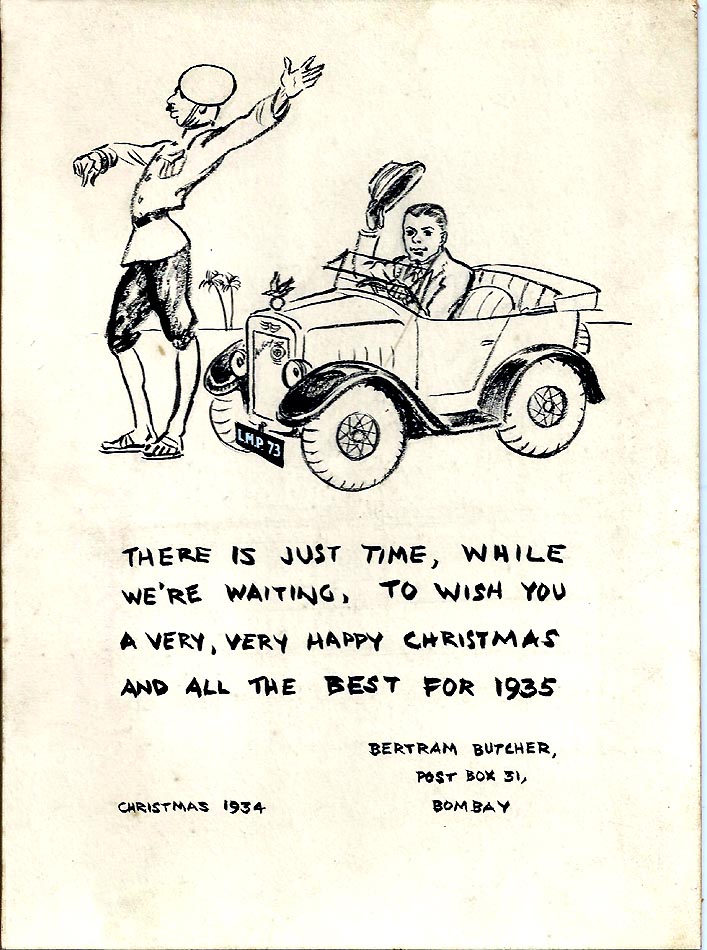 On this card we see Bert driving his beloved Austin 7 that he owned in Bombay
Finally, having completed his time in Bombay, with the 'Oxford University Press' there He was ready to return home, thus he booked his return voyage to England. Bertram Butcher departed on the wonderful RMS Kaisar-i-Hind late in August 1937.
As it was the Peninsular & Oriental Steamship Company Centenary Year and September 1937 was the very month of their beginnings, there was a special Dinner held on board the Kaisar-i-Hind and to this day we still have that wonderful "Centenary Dinner Menu" that is dated September 2, 1937.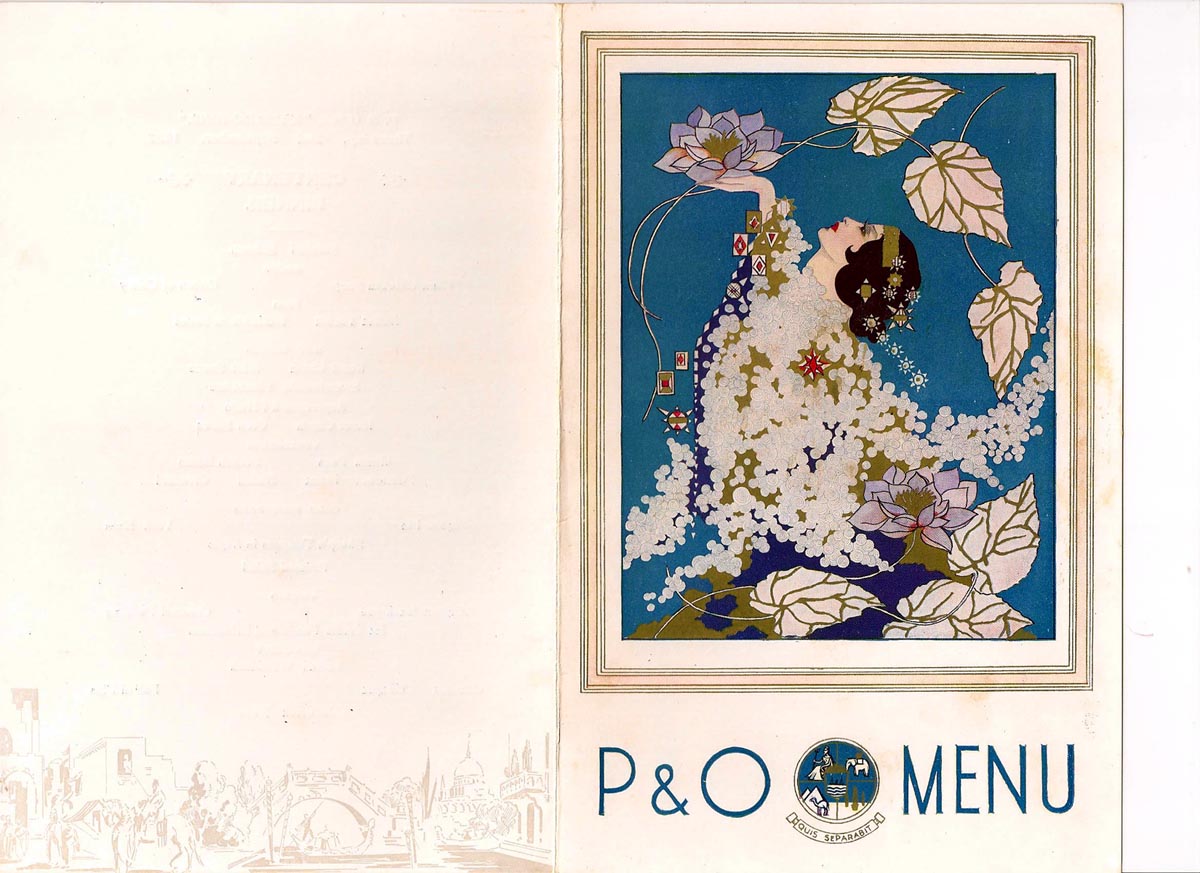 The cover of the "Centenary Dinner" Menu that had a real Art Deco touch to it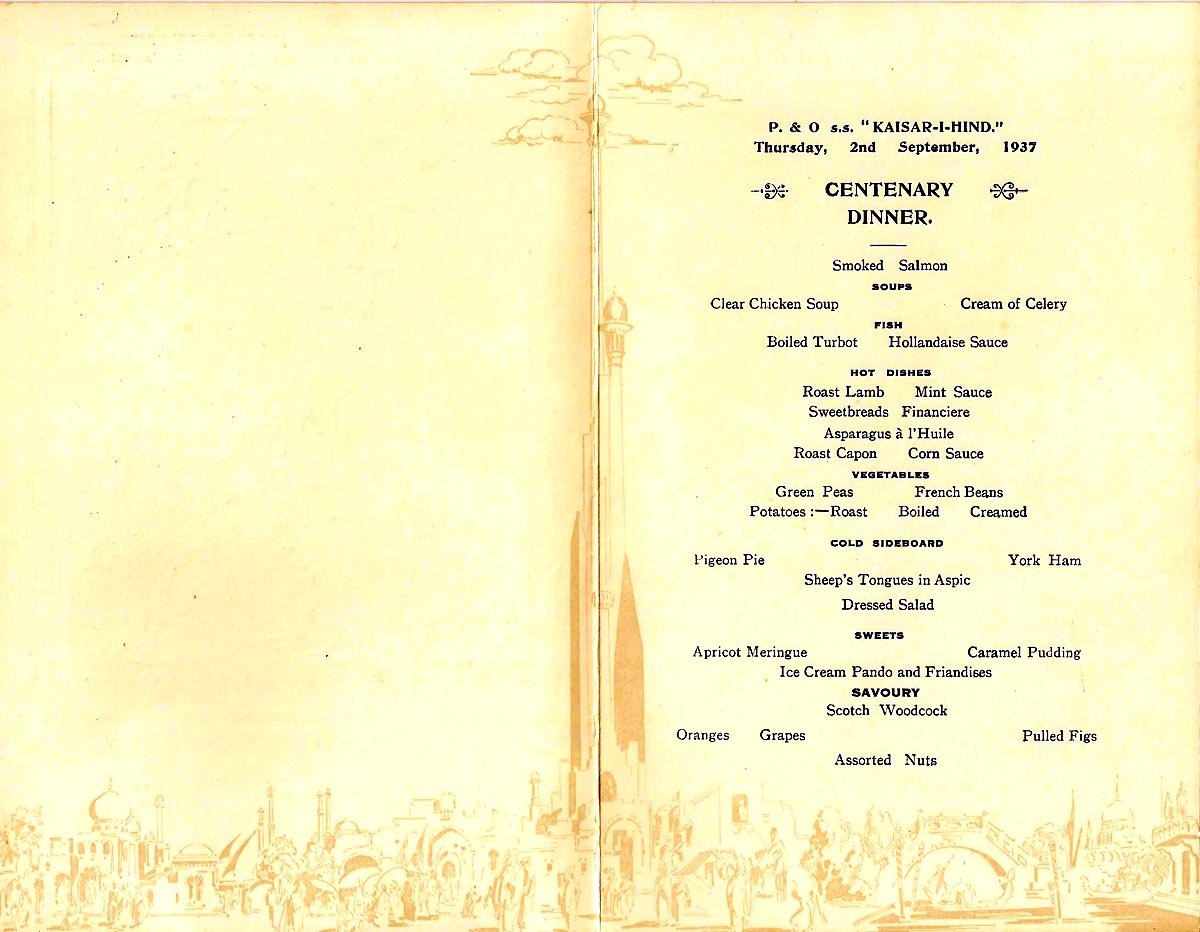 The actual menu was sampled from a similar, but a more simple menu from the days of P&O's very early vessels
It was said that it may even have been from the SS William Fawcett
The event came with some delightful gifts, such as a superb 10-page booklet covering the 100 years of Peninsular Lines and its ships, with the SS Hindostan on the cover departing Southampton on September 24, 1842.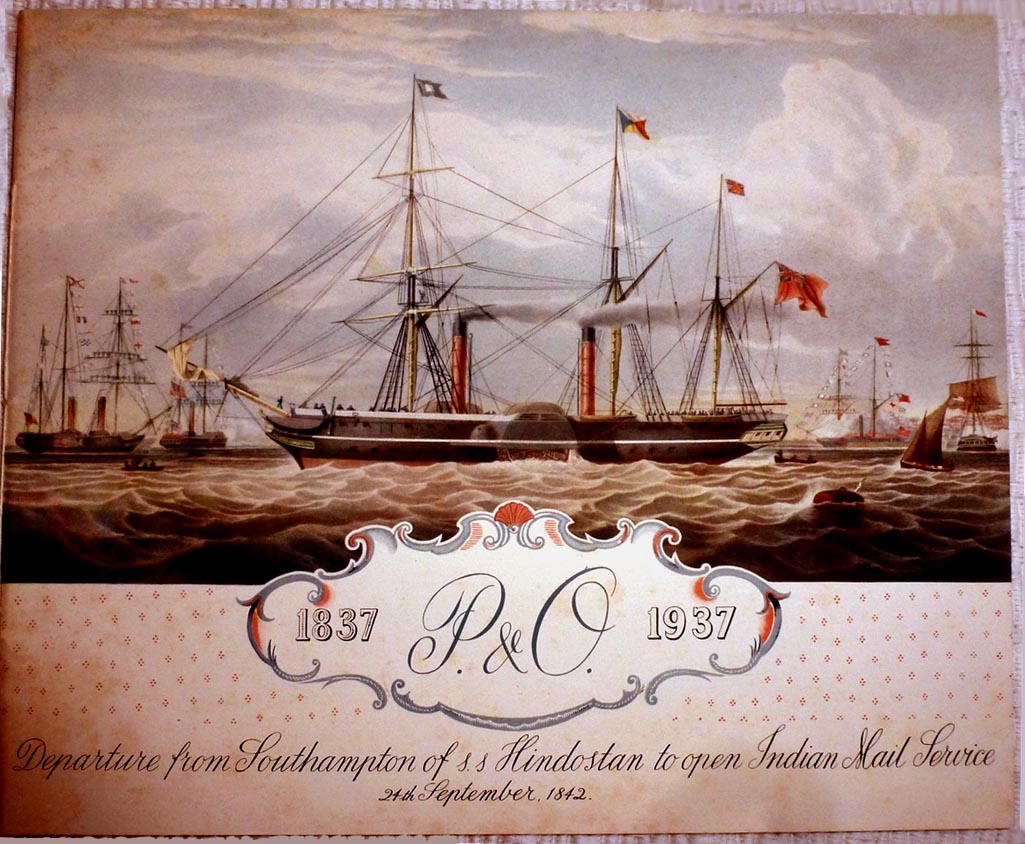 In addition there was yet another wonderful item given to all First Class passengers, however I am not sure if this excellent print was also handed out to the Second Class passengers, for they would have received the booklet! This was a delightful 12 x 8 print of a watercolour of the 206-ton SS William Fawcett of 1837 by Norman Wilkinson.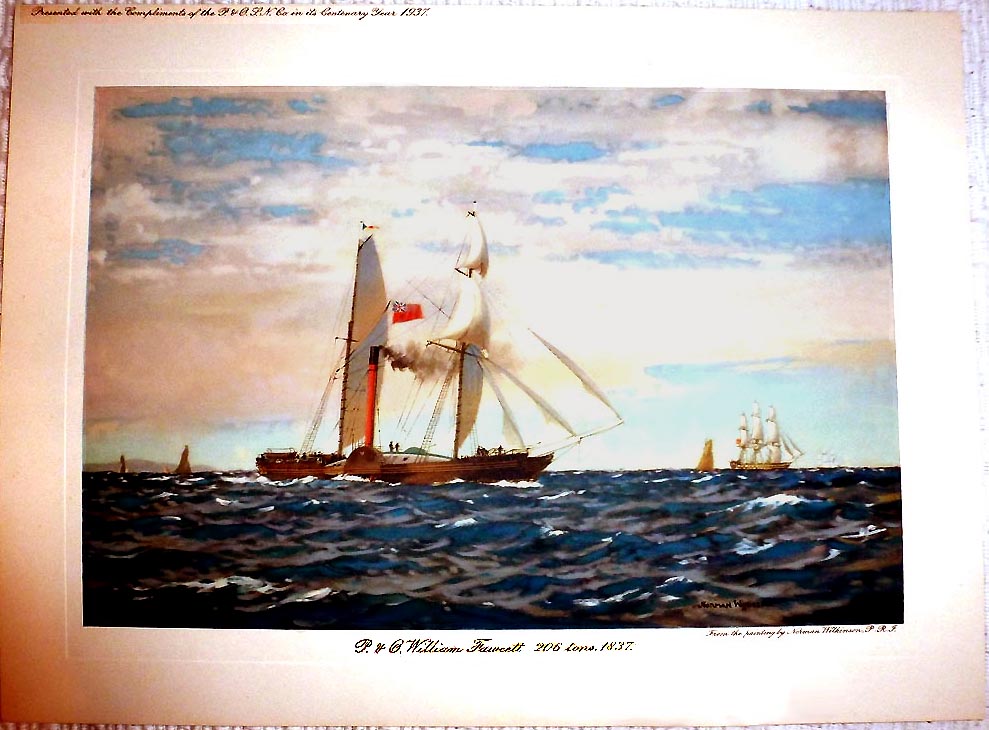 There is also another menu from my Uncle's voyage home on the Kaisar-i-Hind, yet it seems to look more modern. It was another "Centenary Dinner" that was held, but featuring very much the SS William-Fawcett and thus the menu inside is almost the same as the actual dinner on September 2, but it has fewer choices, which is understandable considering the times!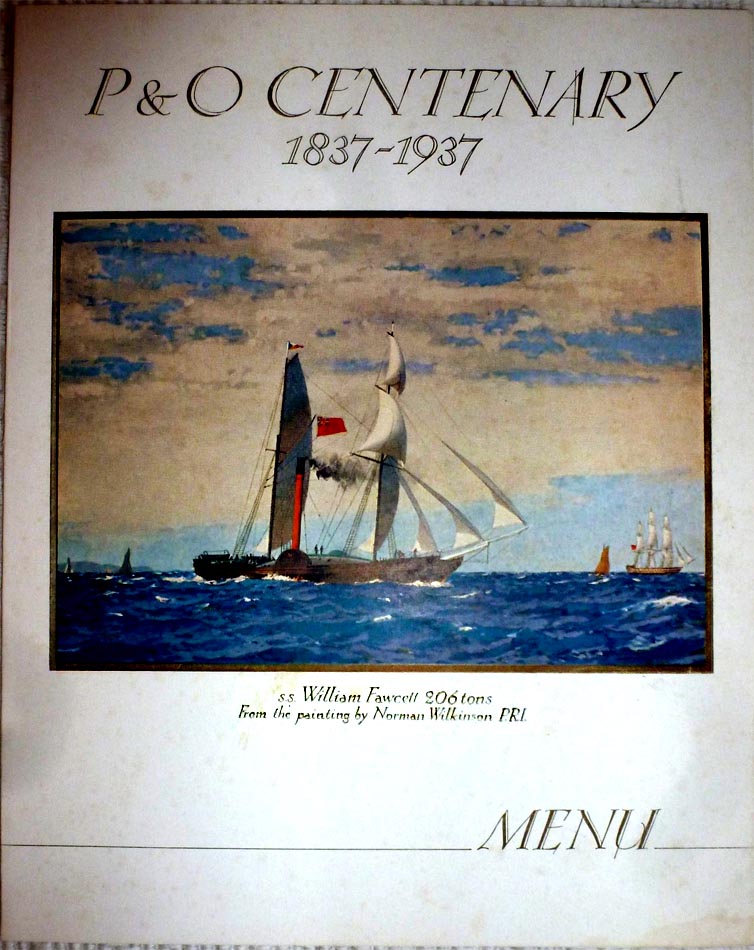 The special "Centenary Dinner" menu cover featuring the 206-ton SS William Fawcett of 1837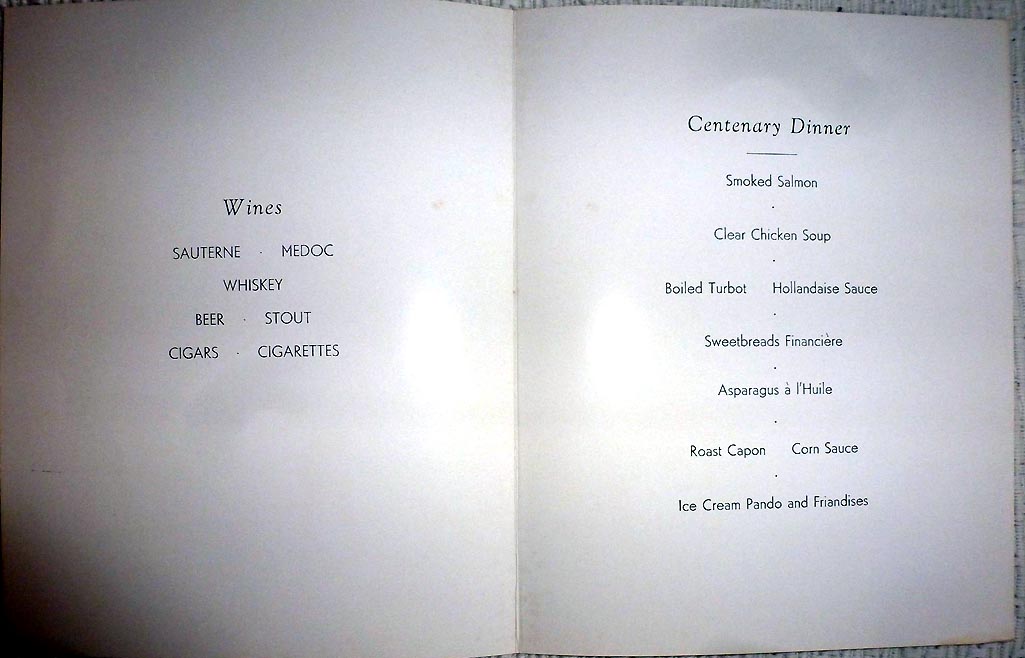 The interior of the menu
For interest, my Uncle Bert was born in Southend-on Sea in 1907 and this was his home for all of his life, except whilst he was in India. He went to High School for boys (Grammar School) and held the record for the one-mile race from 1925 to 1945 at 5 mins 8.2 sec's. He continued running and playing cricket, including whilst in India, but the doctors told him the strain on his heart of athletics in the heat there was the eventual downfall of his heart. He married here in the U.K. in September 1939 and in due course he passed away 1984 (aged a good 77) in Southend-on-Sea.
Jim Finch.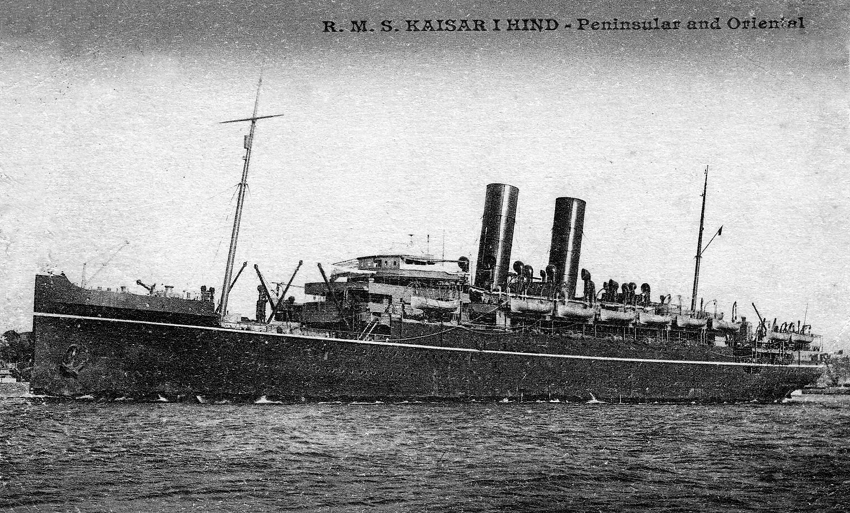 In the bottom of one of my boxes I discovered a very old postcard of the RMS Kaisar-i-Hind
This photo was in such a poor state that it took a great deal of time on Photoshop to get it looking as good as this!
From the Author's private collection
***********************************
RMS Kaisar-i-Hind
INDEX:
Page One:        RMS Kaisar-i-Hind history page.
Page Two:        Interesting Servicemen, Passenger & Crew stories.
Page Three:     The William Thomas Foreman story, a crewmember from 1926 to 1937.
Page Four:       Bertrum Butcher sails in 1937 the Centenary Year!
Use the Back button on your browser or Close the Page to return to the previous page
or go to our INDEX
***********************************
Who is the Author of ssMaritime?
Commenced in the passenger Shipping Industry in May 1960
ssMaritime.com & ssMaritime.net
Where the ships of the past make history & the 1914 built MV Doulos Story
Also visit my …
"Save The Classic Liners Campaign"
Photographs on ssmaritime and associate sites are by the author or from the author's private collection. In addition there are some images that have been provided by Shipping Companies and private photographers or collectors. Credit is given to all contributors. However, there are some photographs provided to me without details regarding the photographer/owner concerned. I hereby invite if owners of these images would be so kind to make them-selves known to me in order that due credit may be given. rg@ssmaritime.com.
This notice covers all pages, although, and I have done my best to ensure that all photographs are duly credited and that this notice is displaced on each page, that is, when a page is updated!
ssMaritime is owned and © Copyright by Reuben Goossens - All Rights Reserved