Please Note: Firefox and some other search engines are not suitable – Use "Internet Explorer" for this page to load perfectly!

Click the logo above to reach the ssMaritime FrontPage for News Updates & "Ship of the Month"
With Reuben Goossens
Maritime Historian, Cruise'n'Ship Reviewer, Author & Maritime Lecturer
Peninsular and Oriental Steam Navigational Company - P&O
RMS Kaisar-i-Hind (2)
"Kaisar-i-Hind" is a Hindi name meaning "Empress of India"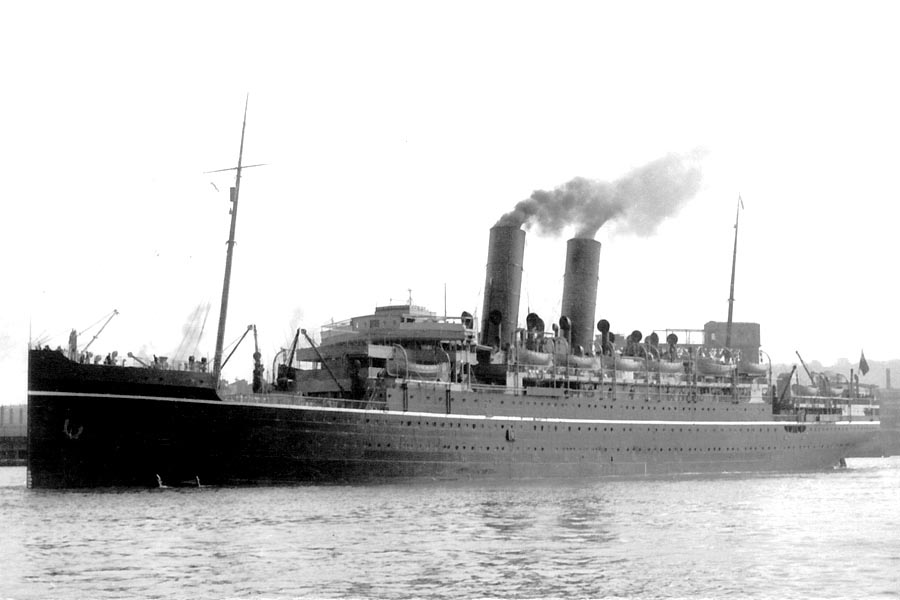 An excellent photograph of the RMS Kaisar-i-Hind around 1926
Photograph by by-A. Duncan, from the Rich Turnwald collection
Page Two
--
Soldiers, Passenger & Crew Stories
--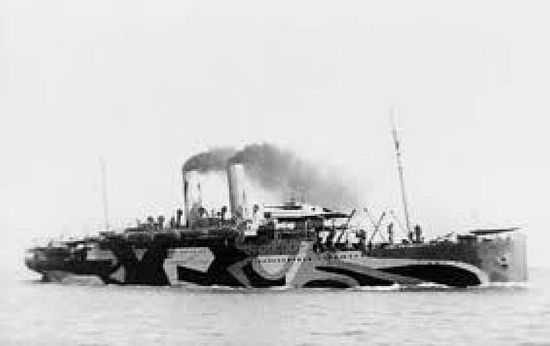 Here is a rare photo of the HMS Kaiser-I-Hind seen in her special camouflage livery
Source of the photograph is unknown having been sent in by a supporter
*Please see the Photo notes at the bottom of the page
1 - Colonel Thomas Edward Lawrence:
One of her most notable passengers was Col. T. E. Lawrence, who was more famously known as: "Lawrence of Arabia" or "El Aurens" by the Arabs, who after his lengthy "Revolt in the Dessert" left Egypt to go home to England on October 15, 1918 as he boarded the HMS Kaisar-i-Hind in Port Said and sailing to Taranto (a major naval base in Southern Italy. From there he travelled by train via Naples, Rome, Genoa, through France to the Port of Le Havre a journey that took a good three days and then took a ship across the channel. He arrived home in England in October 24, having been absent since around October 1914. He returned to the family home in Oxford for a short time.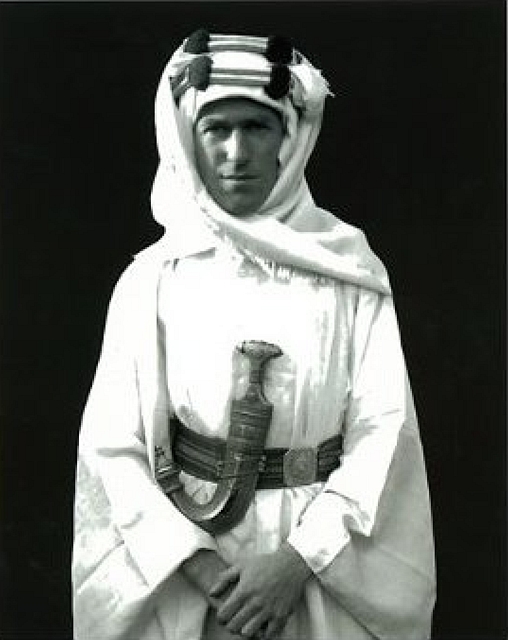 Thomas Edward Lawrence of Arabia in his famed Arab gear
Source of the photograph is unknown - *Please see Photo notes at the bottom of the page
Later returned to his delightful small home in Dorset named "Clouds Hill" from where he eventually hopped onto his much loved "Brough Superior SS100 motor cyclBrough Superior SS100" motorcycle to send a telegram and tragically Thomas Edward Lawrence was severely injured on the way on May 13, 1935, which apparently had occurred in the most suspicious circumstances. However, although in a coma, Lawrence did not die from these injuries until the 19th.of the month, for he had that massive inner strength to hold on as long as possible, something he had proved in the Arab revolt!
His burial was held at the St Nicholas Church at Moreton and the service and was attended, as it would be a little later at St Pauls Cathedral special Memorial Service for Lawrence by Nobility, the famous and the great of the country including Sir Winston and Lady Churchill as Thomas Edward Lawrence was buried in the Churches cemetery.
Yet this great man sailed on the Kaiser-I-Hind having won his victory and as he became one of the most famous men in Britain, but somehow Lawrence's fame rode with the Kaisar-i-Hind in many ways thereafter as many who where to sail to India desired to sail on the very ship that "El Aurens" / T.E. Lawrence had sailed on! PS: The author is obviously a specialist on T.E. Lawrence.
2 - Sergeant
George F. White
:
Towards the end of December 2013 I delighted to receive an email from a Mr. Jeffrey White, being the son of the late soldier in question, who had obviously served in India, like so many other British soldiers. The email received read as follows:
"My father, Staff Sergeant George F. White who was with the Hampshire Regiment and he returned from India on the RMS Kaiser-I-Hind, landing at Plymouth on December 22, 1919. Whilst he was on board he took this photo. I think the one attached might be of interest."
The photograph in question is the one further down in this story entitled. "Sergeant's Deck." It was interesting to discover that Act. Staff Sergeant George Frederick White was a journalist with the "Southern Daily Echo." However, in September 1914 he volunteered and joined the 5th Battalion of the Hampshire Regiment, along with members of the Hampshire County Cricket team. After a short time guarding important installations in the Southampton and Portsmouth area, the 5th Hants, as part of the Hampshire Brigade of the Wessex Division, sailed for India on October 9, 1914 to replace regular army units in India. They boarded the old 1902 built HMS Cawdor Castle that at just 6,235-tons was most some said one of the smallest and slowest ship in the convoy.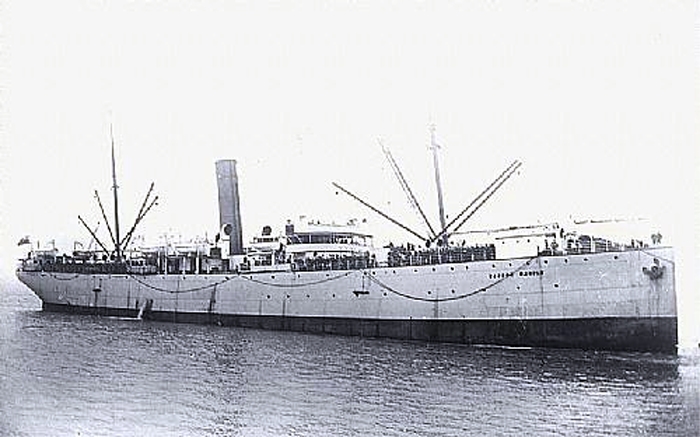 Built for the Union Castle Line, the HMS Cawdor Castle – For interest,
on July 30, 1926 she ran ashore in South West Africa and was declared a total loss
Photograph from the Author's private collection
As the Cawdor Castle arrived in India, George White's regiment landed at Karachi on November 11, 1914, but amazingly the Hants 5th remained in India for the duration of the war.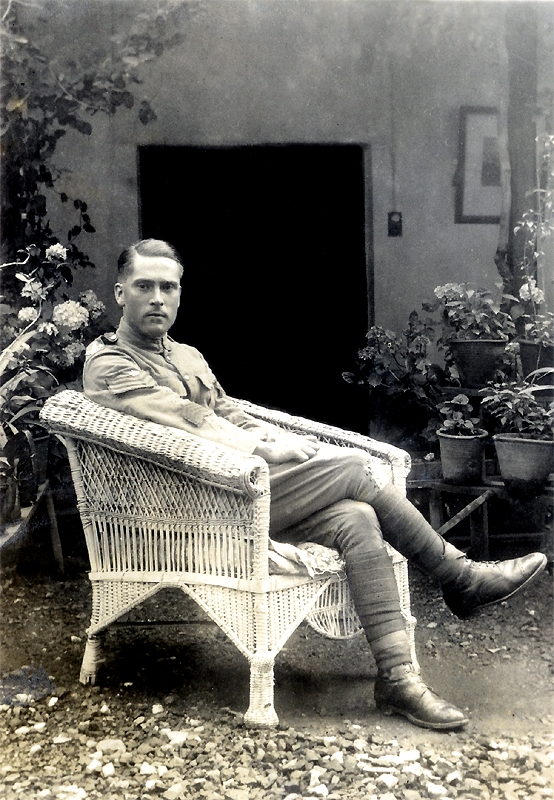 Here se see Staff Sergeant George Frederick White
Photograph restored by the author, but provided by the son Mr. Jeffrey White
Three years later, in 1917, George F. White was assigned to the Sir George Makins Committee. Sir George Makins had been appointed as the chair of a commission set up in that same year by the Government of India. The commission was to report on the various British Station Hospitals throughout India and this would be active for a full seven months travelling well over 11,000 miles in a special train all the time inspecting hospitals reporting on each one all over India. It was a most interesting, but at the same time, an exhausting experience!
But finally the time came that it they were about to be homeward bound for it had certainly been a long five-year deployment in India, However, this time Staff Sergeant George F. White sailed home in a great deal more comfort on the voyage back than it was in 1914, for this time the ship was the excellent RMS Kaiser-I-Hind.
They departed Bombay sometimes late in October 1919. But upon arrival in Suez everyone was forced to disembark, this was due because of some infection query and everyone had to be immersed up to their neck in some horrid oil drum that contained the most unpleasant smelling liquid!
However, soon enough the ship was permitted to depart again and George White had a pleasant voyage with everyone enjoying shipboard life, including spending time out on deck, which for the Sergeants would be on their own especially reserved deck located just aft of the second funnel. We need to remember that in those days ranks simply did not mix! Thus with a ship laden a large number of happy men, all heading for home having been on service in India, they were all looking forward to arriving back home in the United Kingdom and rejoining their loved ones!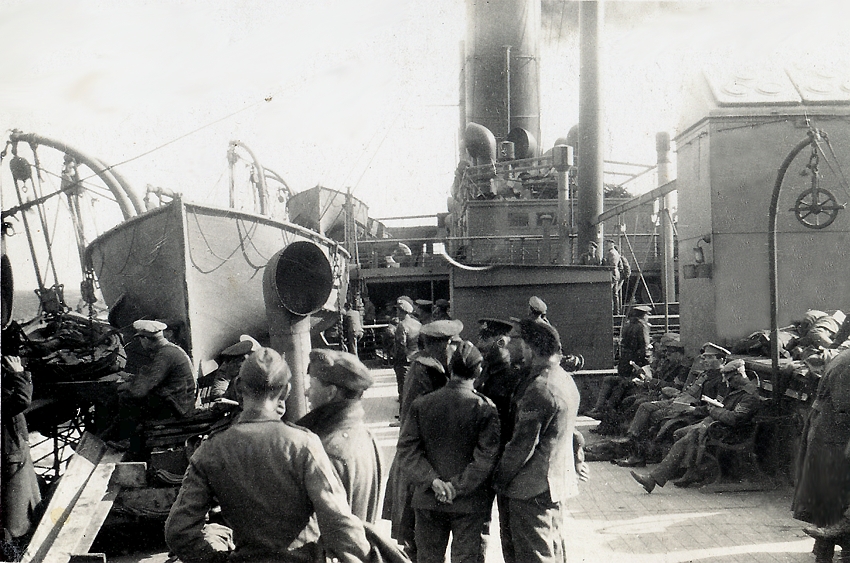 Here is a scene up on "Sergeant's Deck" aft of the Kaiser-I-Hind
Photograph restored by the author, but the original photograph taken by Stf Sgt George F. White
Provided by his son Mr. Jeffrey White
The Kaiser-I-Hind arrived in England and she dropped anchor offshore at Plymouth on December 22, therefore everyone had to go ashore for some reason on tenders. The tender used was the "Great Western Railways" 478-ton SS Sir Walter Raleigh, which was a twin-screw ocean going tender.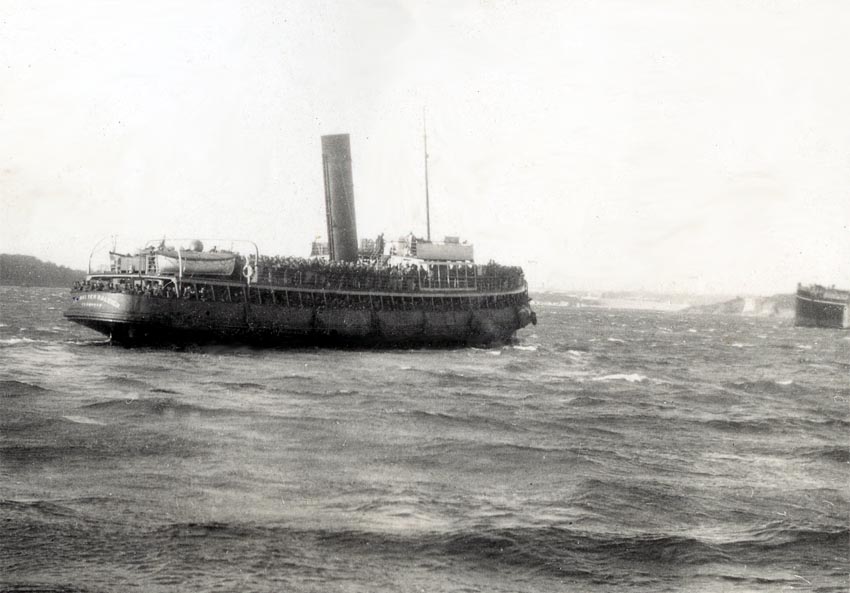 Sergeant George F. White titled this photograph: "Landing at Plymouth, 22nd December 1919"
Provided by his son Mr. Jeffrey White
SS Sir Water Raleigh:
For interest, I have decided to include a little information of this fine tender. She was built by Cammell Laird in 1908 and she was a well-known tender considering she had an unusually tall slender slightly sloping funnel. She was to be used by GWR at both Plymouth and at Fishguard.
From 1914 through to 1919 the SS Sir Walter Raleigh was hired by the Admiralty both as a tug but also as a tender to transport servicemen and others from ships anchored offshore at Plymouth to land!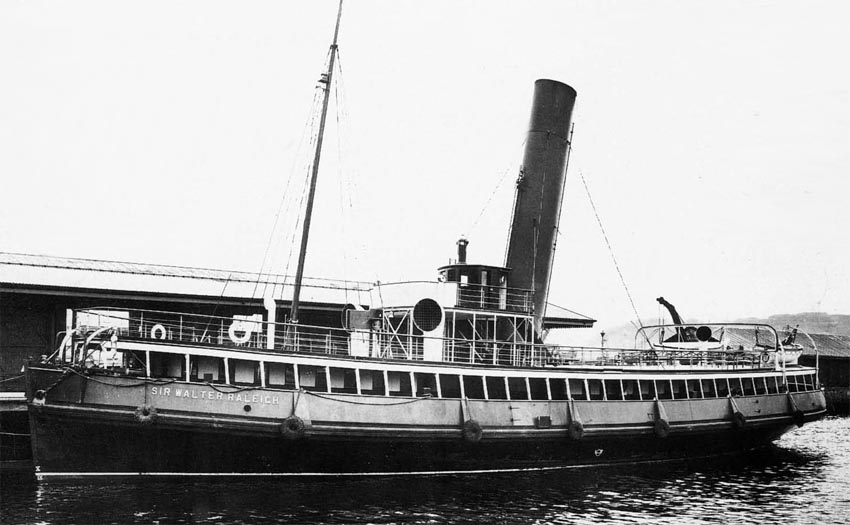 The brand new SS Sir Walter Raleigh seen berthed in 1908 at the Millbay wharves
Photo from the Author's private collection
In August 1939 the Sir Walter Raleigh was again taken up by the Admiralty but this time she operated only from Plymouth. However, she was damaged during an air raid on December 15, 1940 when 8 of her crew were badly injured.
In 1942 alterations were made to her superstructure for her to be used as a mining tender. However, she returned to GWR towards the end of 1945 but sadly the following year was sold and she was used by a number of salvage operators, until she was sold to be broken up in 1968 after 60 years of excellent service! PS: For those who were on another tender in Plymouth, please contact the author.
As George F. White settled back in into his regular life he became best known in the Southampton region as the Sports Editor of the "Echo," a position he held for many years. He wrote under the name of "Commentator" and retired in 1954.
I wish to thank Mr. Jeffrey White the son of the late George F. White, reporter, serviceman and commentator! Jeffrey thank you for providing your Father's most interesting story and his excellent photographs!
*******************************************
3 - Passenger Hazel Rowe, nee Ditcham
:
Here is a story from a passenger who sailed on the RMS Kaisar-i-Hind in 1931. Hazel Rowe, nee Ditcham, together with her Mother Irene (also known as Rene) embarked the Kaisar-i-Hind towards the end of January 1931 to sail to Egypt to join her Father Vivian Ashley who worked there with Air Ministry. She is quite sure of the time as she celebrated her 5th birthday on board early on in the voyage as she was born on February 1, 1926. Hazel wrote;
"My Mother was rather sea-sick most of the time and she barely moved from her cabin, and I was taken under the wing of another kindly passenger, a "very old" man (about 35 years old – Ha!), who was named if I remember right Mr. Cropley or something very similar. He was presumably also a civil servant, as my parents knew him and had met him several times subsequently on voyages to & fro. I remember that I had been given as an advance birthday present a rather splendid doll with a porcelain head, and as many were in those days, it was a black doll. Unfortunately I managed to drop it and the head smashed, whereupon the kind Mr. Cropley took me to the ship's shop and bought me another one, which was also black, but it was a soft one this time. "Mrs. Sambo" as she was called was my most treasured possession for many years, and later in life my daughters were allowed to play with her, but then only on very special occasions. As far as I know, Mrs. Sambo is still up in our attic and has been for some years, but as we are planning to move house in the near future she will have to come down, unless moth, dust or mice have corrupted her past salvation. Thus she may be one of the only remaining relics for me of that splendid old ship that took me to Egypt. If you wish, and if she is in any sort of shape my husband will photograph her and email a copy to you. Egypt was still a Protectorate and my Father worked in Cairo and we lived in a southern suburb called Maadi being the British sector at that time. There was another ex-pat's wife there who had been a teacher and she took just a few small children, like me as a kindergarten class. When my Father was given his first leave we returned to the UK and when they returned to Egypt I was left with there and remained with my Grandmother."
I wish to thank Hazel Rowe for her interesting story of her voyage on this amazing ship when so young, and considering that she is now a spritely 85 years young, she is a wonder on the computer!
4 - Ships Fourth Officer Alfred Lee Harper:
In October 2010, I was delighted to receive an email from a Mr. Harry B. Harper, and he advised me that his …
"Father, Mr. Alfred Lee Harper, was the 4th officer from March 1936 to March 1937 and I still have his P&O 'Second (Fourth) Officers' P&O Sight Book' for that year."
Harry also sent a photograph his father had taken which he had "entitled on the back "my Boats." Below, I am happy to present 4th.Officer's Harper's Sight Book and his photo - these are all with thanks to Harry B. Harper.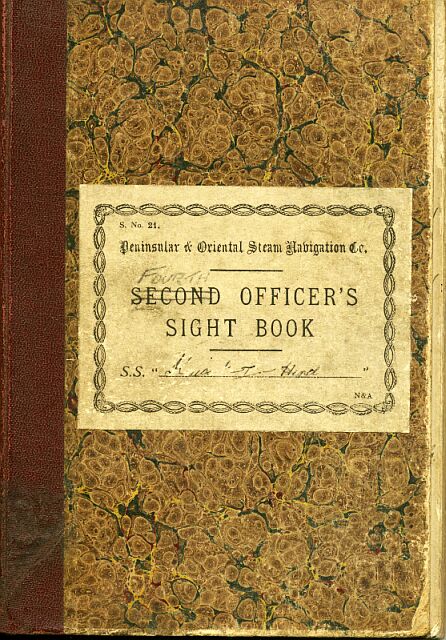 Forth Officers Alfred Lee Harper's Sight Book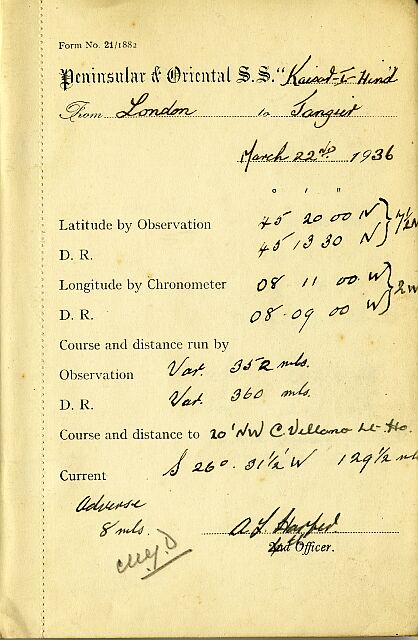 March 22, 1936 – report by Fourth Officer Harper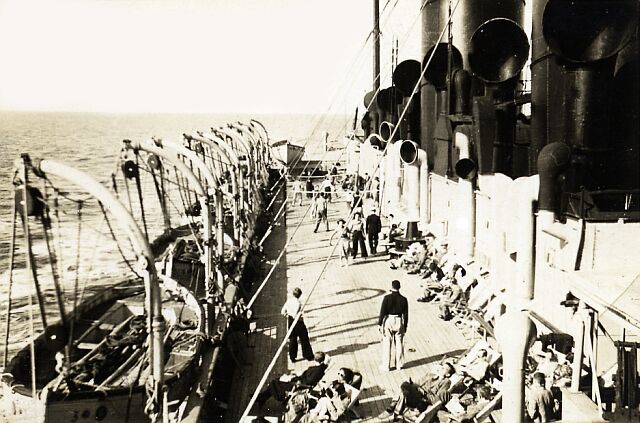 This is a photograph taken by 4th officer Alfred Lee Harper, looking down to Boat Deck from the Bridge
***********************************
RMS Kaisar-i-Hind INDEX:
Page One:        RMS Kaisar-i-Hind history page.
Page Two:        Interesting Servicemen, Passenger & Crew stories.
Page Three:     The William Thomas Foreman story, a crewmember from 1926 to 1937.
:       Bertrum Butcher sails in 1937 the Centenary Year!
Use the Back button on your browser or Close the Page to return to the previous page
or go to our INDEX
***********************************
Who is the Author of ssMaritime?
Commenced in the passenger Shipping Industry in May 1960
ssMaritime.com & ssMaritime.net
Where the ships of the past make history & the 1914 built MV Doulos Story
Also visit my …
"Save The Classic Liners Campaign"
Photographs on ssmaritime and associate sites are by the author or from the author's private collection. In addition there are some images that have been provided by Shipping Companies and private photographers or collectors. Credit is given to all contributors. However, there are some photographs provided to me without details regarding the photographer/owner concerned. I hereby invite if owners of these images would be so kind to make them-selves known to me in order that due credit may be given.
This notice covers all pages, although, and I have done my best to ensure that all photographs are duly credited and that this notice is displaced on each page, that is, when a page is updated!
ssMaritime is owned and © Copyright by Reuben Goossens - All Rights Reserved