Please Note: Firefox and some other search engines are not suitable – Use "Internet Explorer" for this page to load perfectly!

Click the logo above to reach the ssMaritime FrontPage for News Updates & "Ship of the Month"
With Reuben Goossens
Maritime Historian, Cruise'n'Ship Reviewer, Author & Maritime Lecturer
Peninsular and Oriental Steam Navigational Company - P&O
RMS Kaisar-i-Hind (2)
"Kaisar-i-Hind" is a Hindi name meaning "Empress of India"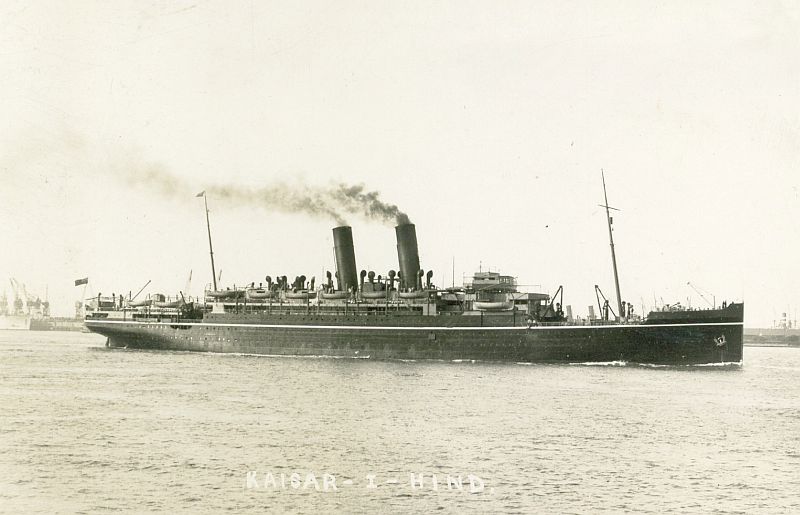 Postcard of the RMS Kaisar I Hind provided by Trevor Foreman
William Thomas Foreman
Kaisar I Hind's - Quartermaster & Yeoman from 1926 to 1937
The William Thomas Foreman story is based on what was sent to me by his son Mr. Trevor Foreman and I am most grateful to him for the details and the photographs as well as his Fathers service record proving that he continuously worked on the RMS Kaisar I Hind for over a decade until the ship was finally taken out of service and sold to be broken up. Trevor commences his short story as follows: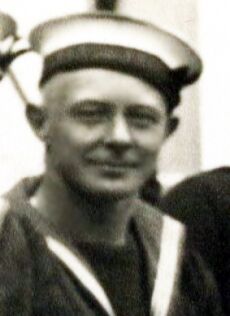 William Thomas Foreman seen on board the Kaisar-i-Hind
This is a close up from the crew group photo down the page
"My father joined the Prince Line aged just 16 years of age and he later joined P&O Lines in 1924. He served on ships such as the Caledonia, China, Devanha and the Kashmir before he joined the Kaisar-i-Hind in Bombay on October 29, 1926.
My Father served as Quartermaster and Yeoman on the "Royals Mail" ships and remained on the Kaisar-i-Hind until April 22, 1938 when P&O  decided to dispose of the old girl and have her scrapped, which was such a shame, for being just over 20 years of age, she was not that old!
I have also attached his service record, several photographs of my Father, and also a photo of the crew (as seen by the passengers!) assembled on deck and one of the ships sports team. I trust that the aforementioned is of interest to you and your readers." Trevor Foreman.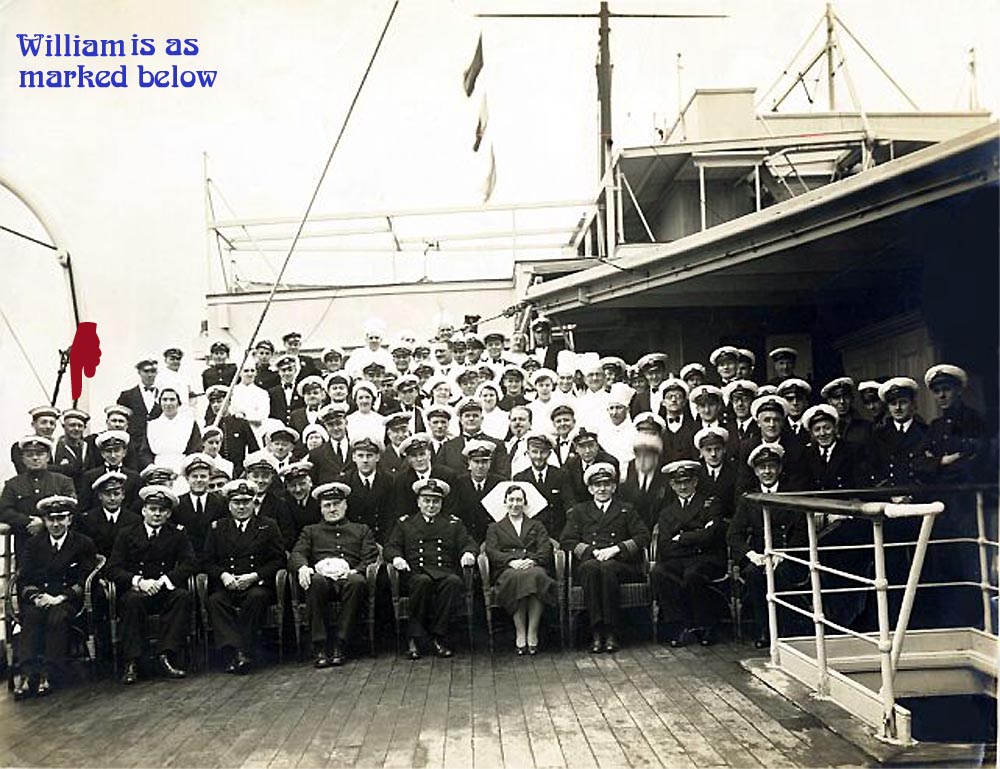 Here we see an Officers and Crew Group photograph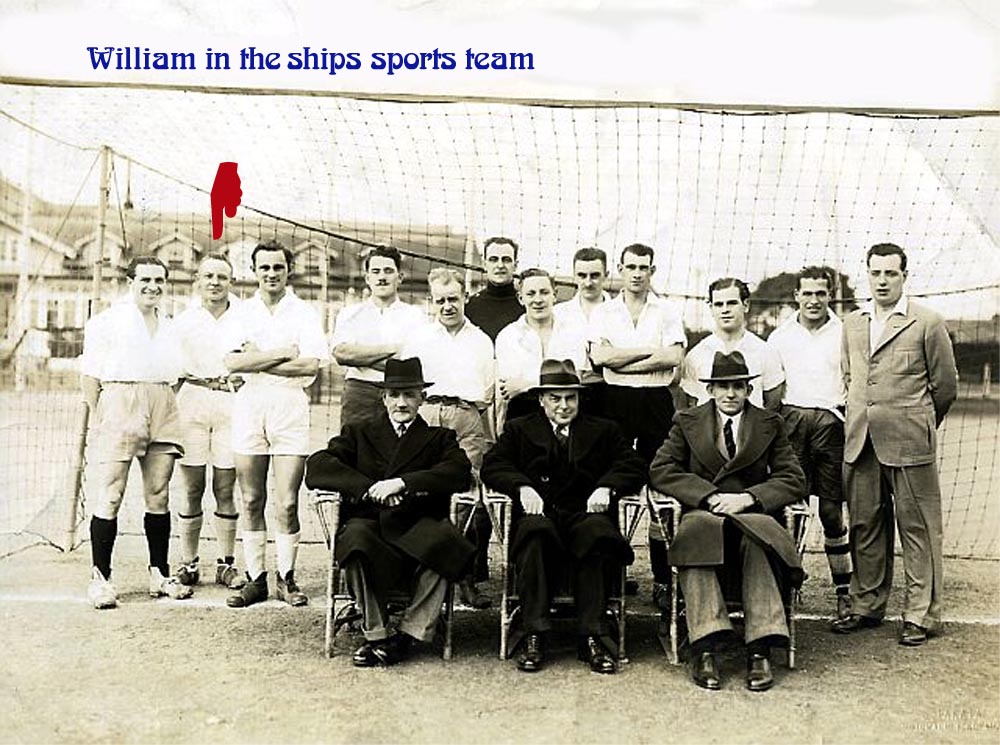 This is the ships sports group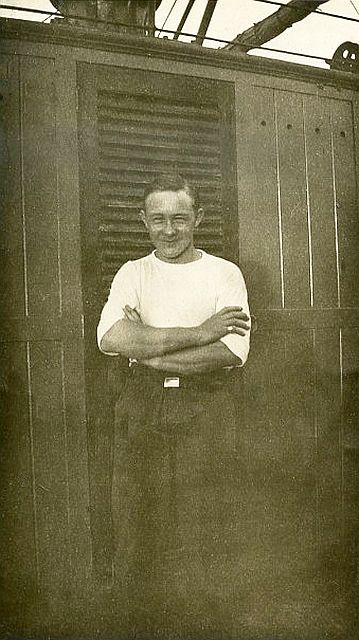 ----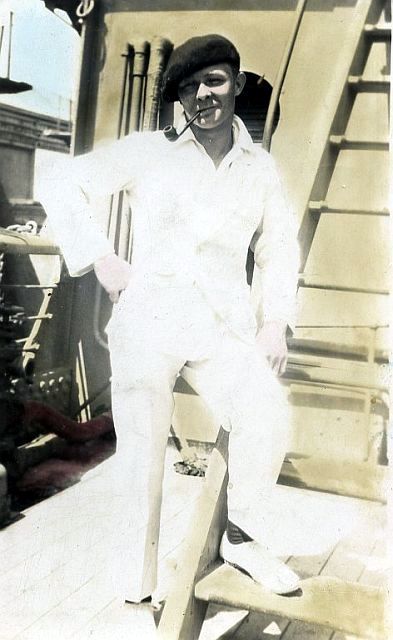 Two photos of William – 1. Seen somewhere aft of ship – 2, William RMS Kaisar-i-Hind's sportsman!
William's record of service with P&O from September 17, 1924 to December 22, 1937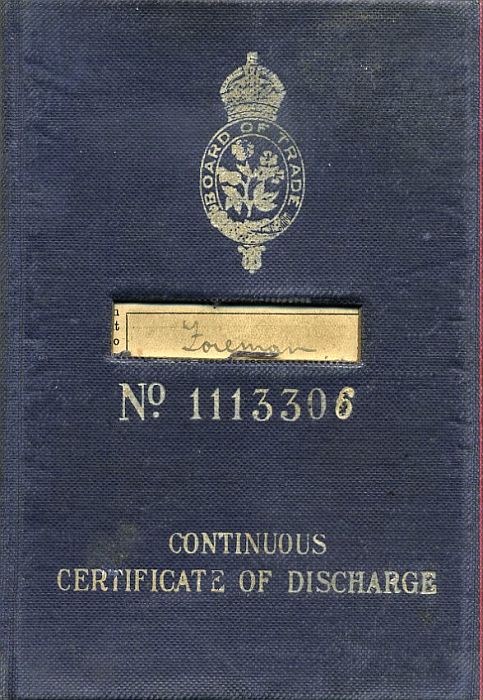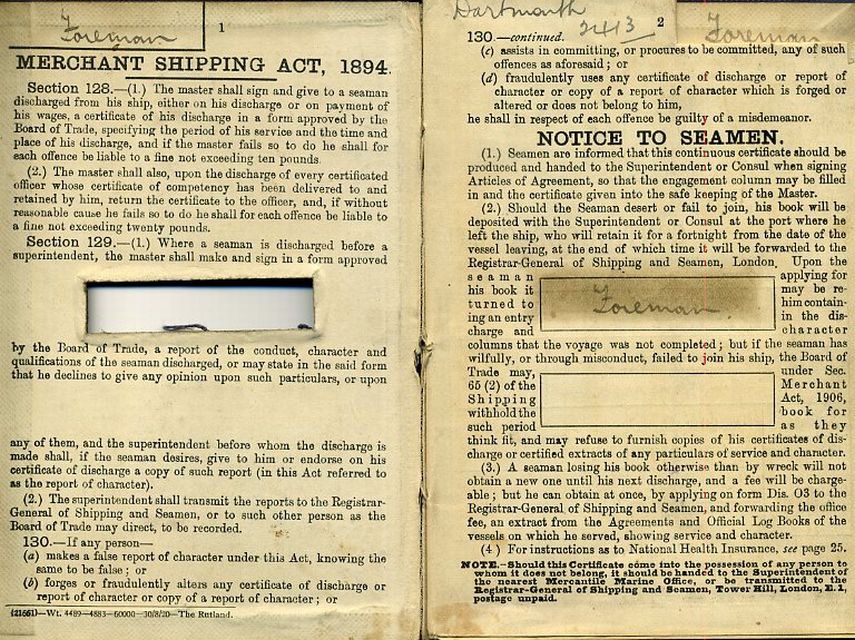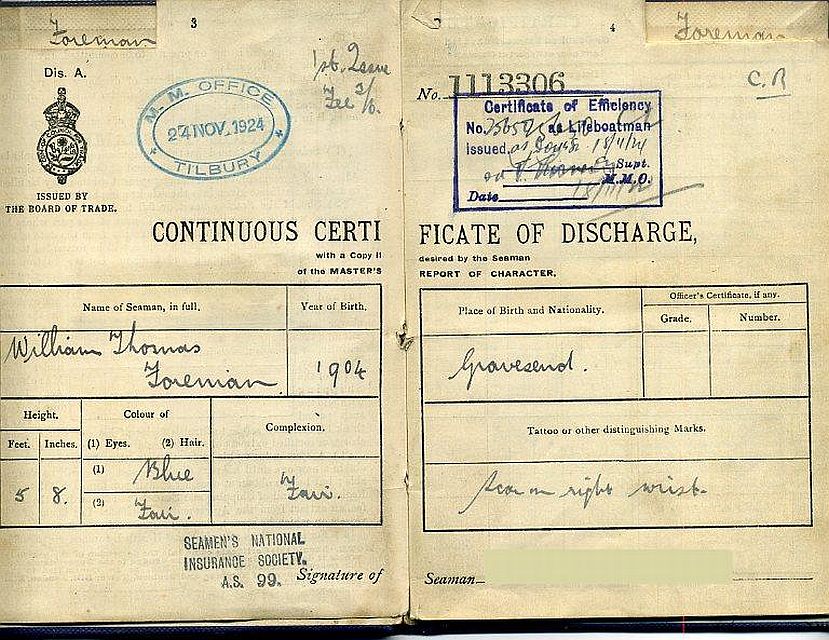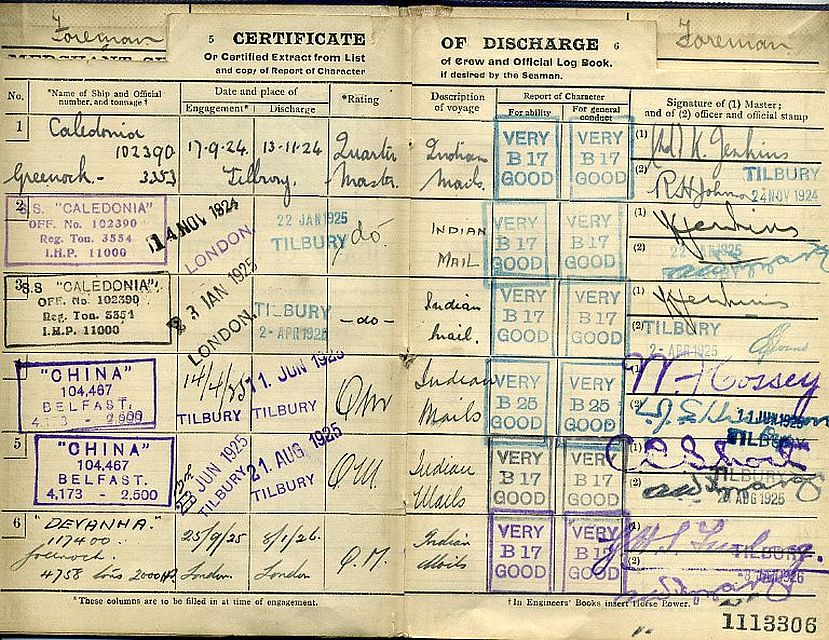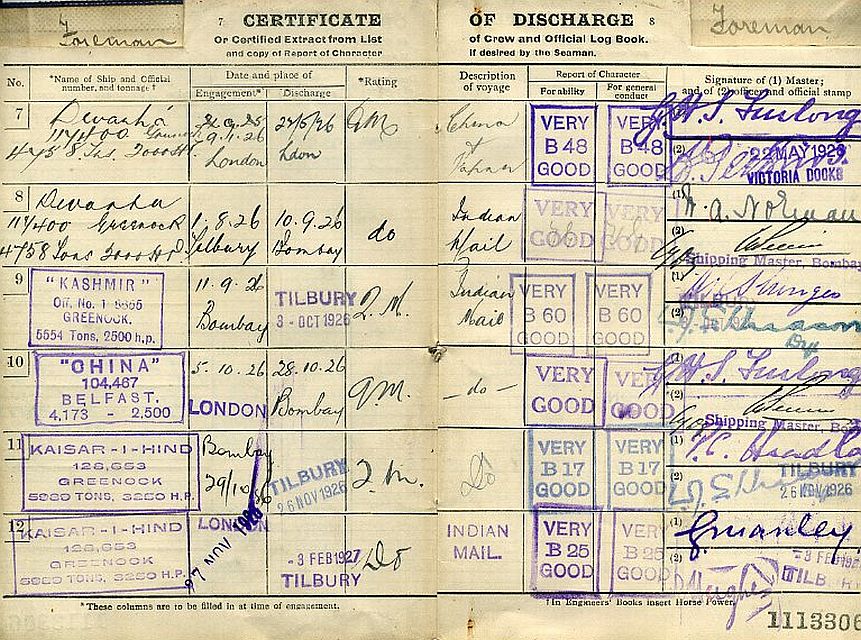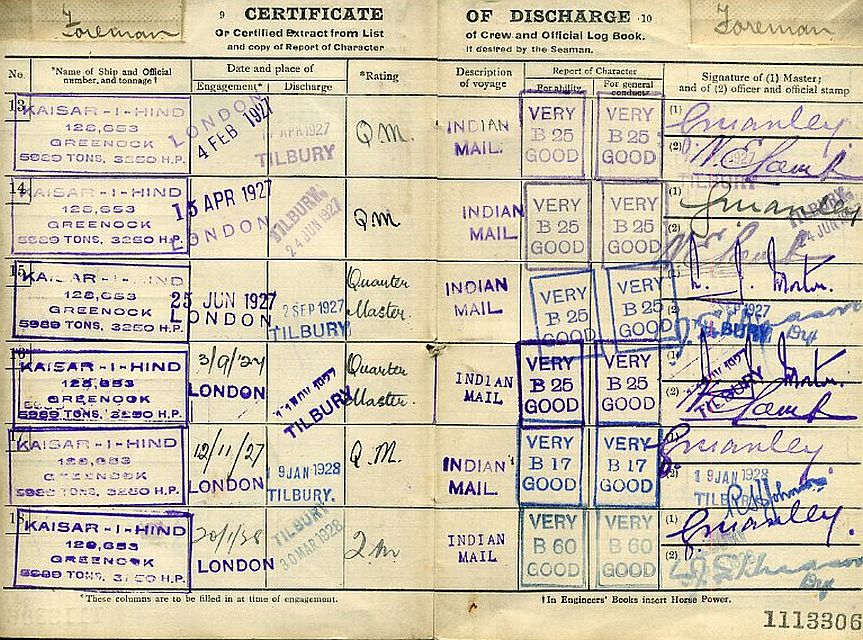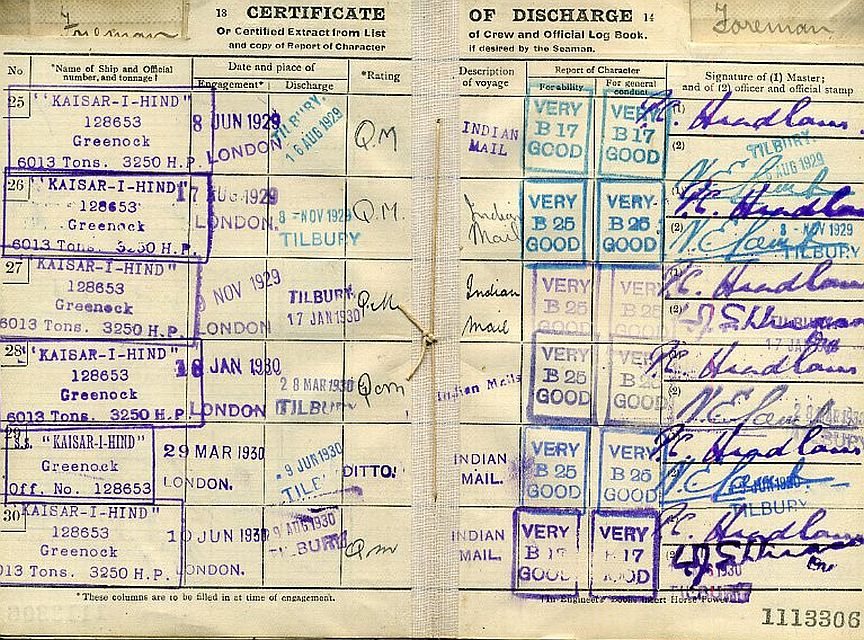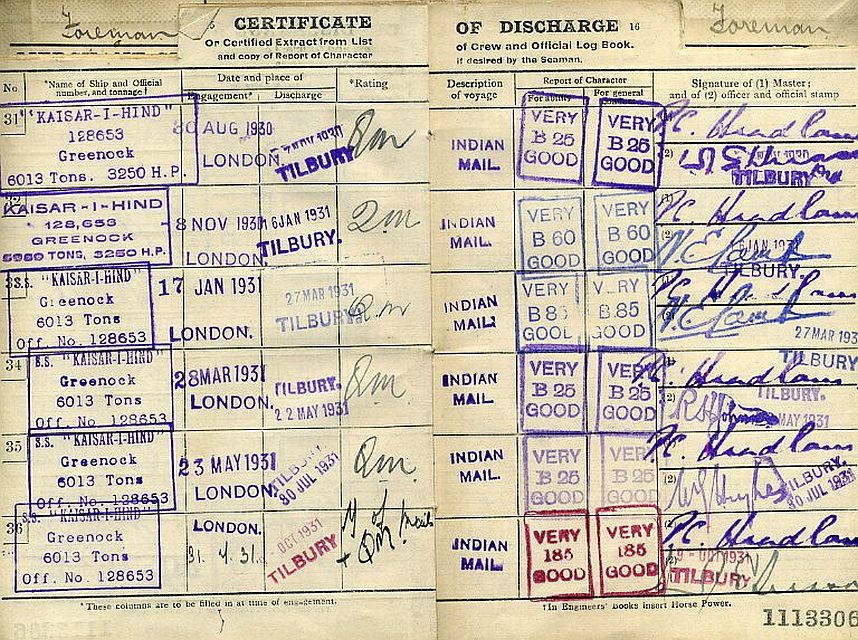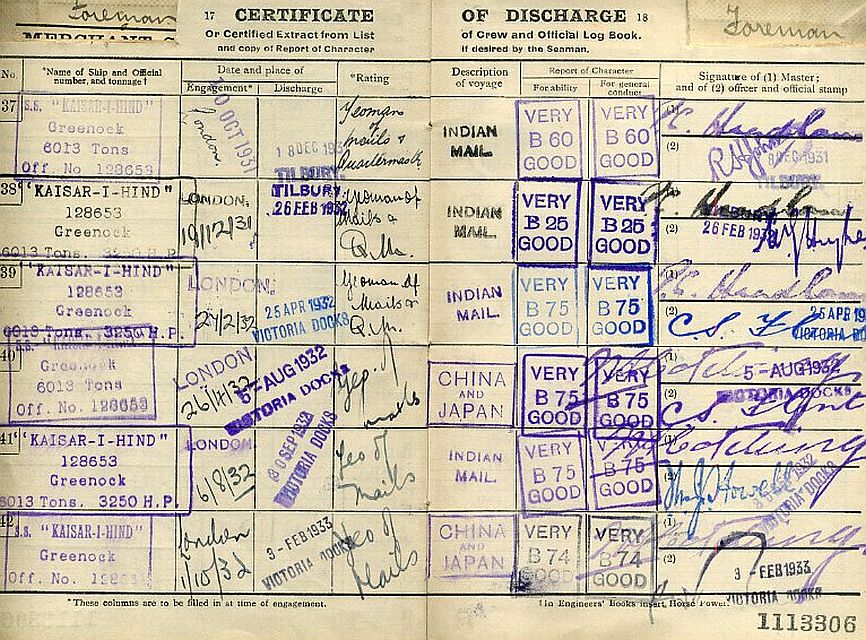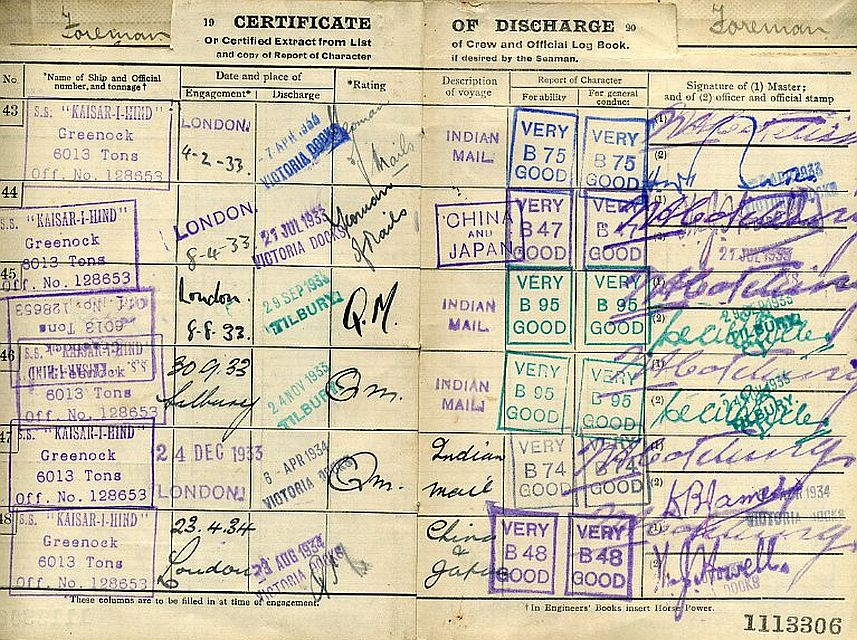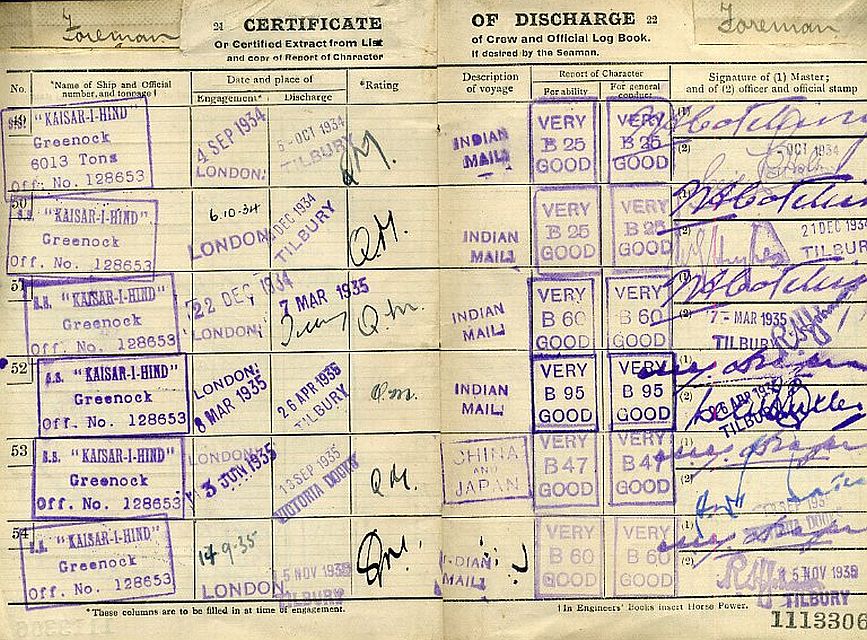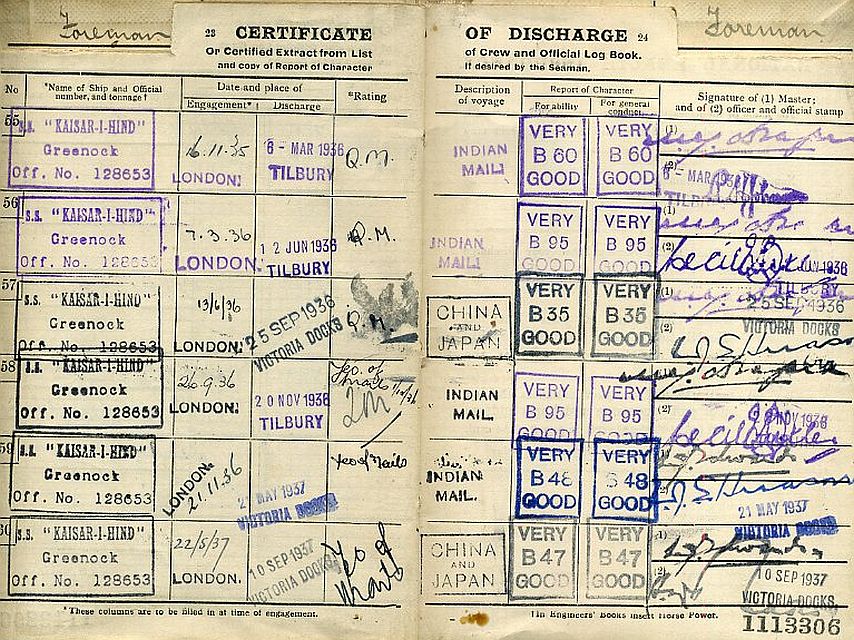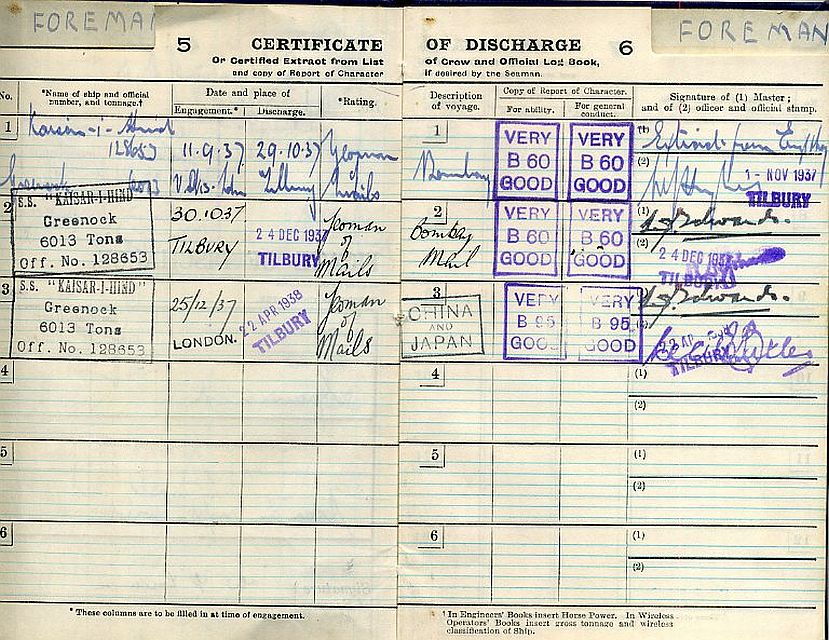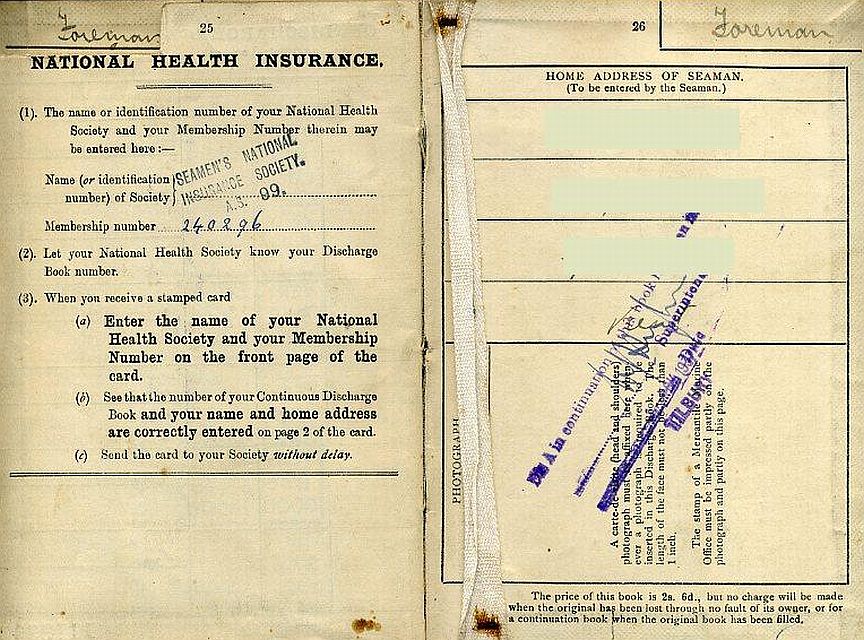 The above is an amazing record of William's seagoing life and I am most grateful to his son Trevor Foreman for sending his Father's "Discharge Book" and the other material fir it certainly enhances the RMS Kaiser I Hind story greatly!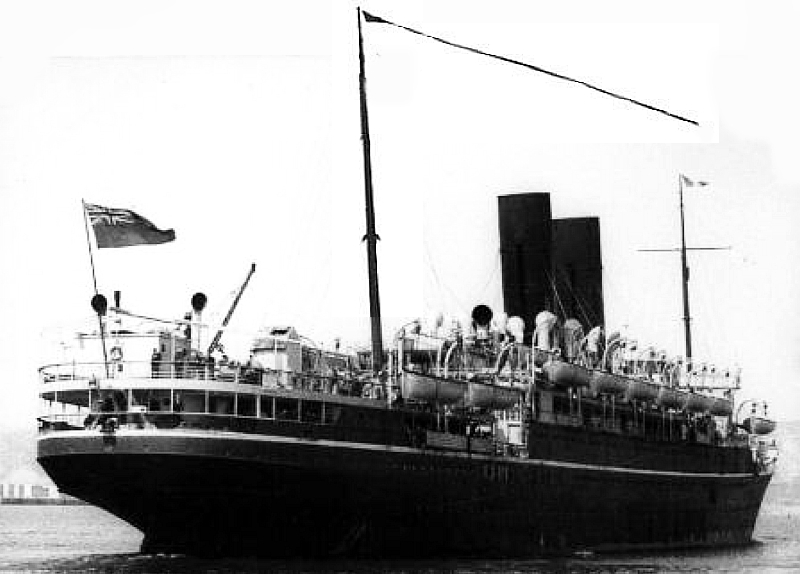 RMS Kaisar-i-Hind departs London for the very last time and
she is flying a 72 foot long pennant denoting her years of service and of course
William Thomas Foreman was still on board during this voyage!
Photograph from the Author's private collection
***********************************
RMS Kaisar-i-Hind INDEX:
Page One:        RMS Kaisar-i-Hind history page.
Page Two:        Interesting Servicemen, Passenger & Crew stories.
Page Three:     The William Thomas Foreman story, a crewmember from 1926 to 1937.
Page Four:       Bertrum Butcher sails in 1937 the Centenary Year!
Use the Back button on your browser or Close the Page to return to the previous page
or go to our INDEX
***********************************
Who is the Author of ssMaritime?
Commenced in the passenger Shipping Industry in May 1960
ssMaritime.com & ssMaritime.net
Where the ships of the past make history & the 1914 built MV Doulos Story
Also visit my …
"Save The Classic Liners Campaign"
Photographs on ssmaritime and associate sites are by the author or from the author's private collection. In addition there are some images that have been provided by Shipping Companies and private photographers or collectors. Credit is given to all contributors. However, there are some photographs provided to me without details regarding the photographer/owner concerned. I hereby invite if owners of these images would be so kind to make them-selves known to me in order that due credit may be given.
This notice covers all pages, although, and I have done my best to ensure that all photographs are duly credited and that this notice is displaced on each page, that is, when a page is updated!
ssMaritime is owned and © Copyright by Reuben Goossens - All Rights Reserved