MV Kanimbla, later the TSMV Oriental QueenTSMV Oriental Queen
Please Note: Firefox and some other search engines are not suitable – Use "Internet Explorer" for this page to load perfectly!

Click the logo above to reach the ssMaritime FrontPage for News Updates & "Ship of the Month"
With Reuben Goossens
Maritime Historian, Cruise'n'Ship Reviewer, Author & Maritime Lecturer
Please Note: All ssMaritime and other related maritime/cruise sites are 100% non-commercial and privately owned. Be assured that I am NOT associated with any shipping or cruise companies or any travel/cruise agencies or any other organisations! Although the author has been in the passenger shipping industry since 1960, although is now retired but having completed around 680 Classic Liners and Cargo-Passengers Ships features I trust these will continue to provide classic ship enthusiasts the information the are seeking, but above all a great deal of pleasure! Reuben Goossens.
Australia's Largest and most Luxurious Coastal Liner
MV
Kanimbla
HMS/HMAS Kanimbla & later to become the Toyo Yusen's TSMV Oriental Queen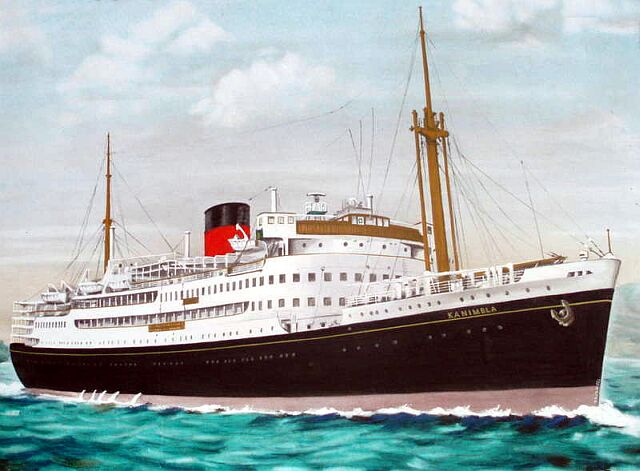 TSMV Kanimbla was Australia's most beautiful and luxurious liner
The image above is a copy taken from an original painting that hung in the Chief Officer's dayroom.
What happened to the original is not known. If anyone has any info we would love to hear.
The well established Australian coastal shipping company McIlwraith McEachern Ltd was a company that originated in Scotland out of a company that commenced on February 1, 1875 by Mr Andrew McIlwraith and Mr. Donald McEachern and at first the company was named the "Scottish Line." Soon they had eleven sailing ships that carried migrants and cargo to the north of Australia, especially Queensland. The company proved to be very successful and soon they added a steamship the SS Hero to their fleet. Both [partners frequently visited Australia and opened several offices in Queensland, then one in Sydney and later in Melbourne. With the trade having shifted from the Britain migrant trade, they decided on the prosperous Australian coastal trade and in the 1980's they began to operate their steamships with their red and black topped funnels along the Australian coast, covering Western Australia to north Queensland. Their early ships included Tagliaferro. Norkoowa, Eddystone. All carried cargo, livestock and a few passengers. Eventually the passenger trade increased and larger ships were obtained such as the 7,000-ton passenger liner SS Karoola in 1909. The next liner to be delivered was in 1913 was the 9,424-ton SS Katoomba, a larger version of her earlier sister and was also was built by the Harland & Wolff. These two ships were the pride of the McIlwraith McEachern fleet!
<![if !vml]>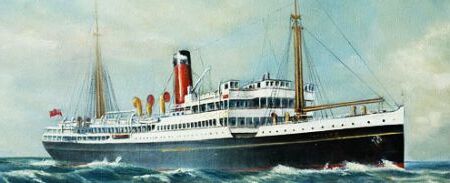 <![endif]><![if !vml]>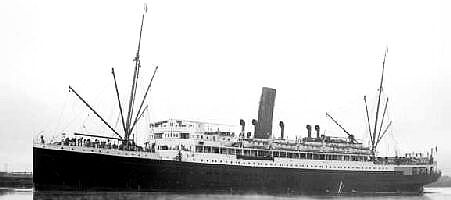 <![endif]>
---
Above left: SS Karoola, she was sold and scrapped in Japan in 1937
Above right: SS Katoomba was sold in 1946 to Greece to become the Columbia, sold and scrapped in Japan in 1959
As SS Karoola was due to be retired in May 1936, McIlwraith McEachern ordered a new and larger passenger liner again to be built by the ever reliable Harland and Wolff Limited at Belfast in Northern Ireland. She would be the last large passenger ship especially built for this Australian ship owner. She was laid down in July 1933. Named Kanimbla she was launched by Mrs. Jennings on 15 December 1935. She was completed on 26 April 1936 and ran her trials several days later. The luxuriously appointed MS Kanimbla delivery voyage to Australia was quite unique, as she became the only Australian owned passenger liner to transport migrants from Britain to Australia in style and comfort. MS Kanimbla arrived in Sydney on June 10 and later that day she commenced her maiden coastal voyage to Melbourne, departing there on the 12th.and sailed for Adelaide and Fremantle. Her regular service operated between Fremantle in Western Australia, Adelaide in South Australia, Melbourne in Victoria, Sydney in New South Wales and Brisbane, Mackay and Cairns in North Queensland. She partnered on the coastal service with the company's SS Katoomba until 1946, when she was sold, as well as the Adelaide Steamship Company MS Manoora, sailing west in summer and north in winter.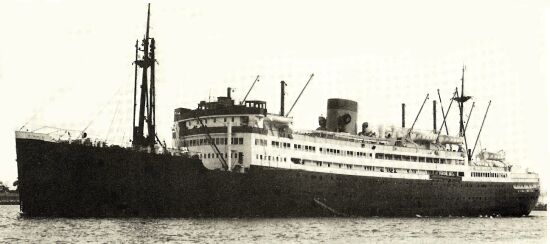 The 10,856 GRT MS Manoora was completed on February 6, 1935
However the MS Kanimbla was unique for so many reasons, but the following beat them all: she just happened to be the only passenger liner in history to have a fully operational radio broadcasting station built into the ship at the time of construction. The equipment was manufactured by AWA in Australia and had been shipped to Ireland for installation whilst the ship was still under construction.
Kanimbla had an extremely smart and a modern looking profile for her day, her forward mast was raked a little further aft than her aft main mast and she had a smart raked bow (yet a she had traditional cruiser stern) giving her a streamlined look. She featured a rounded forward glazed superstructure, which was a new innovation for an Australian coastal ship.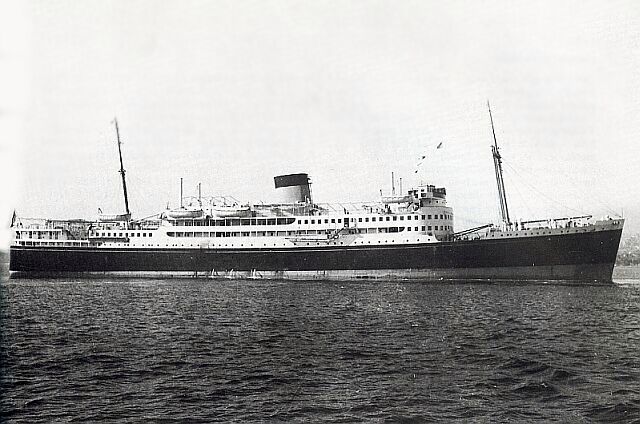 MS Kanimbla was and remains Australia's pride and joy
Nothing was spared in fitting out the Kanimbla featuring the most luxurious accommodation of any of the previous coastal ships. She accommodated 203 passengers in First Class and 250 in Second Class. Kanimbla proved to be a huge success with the Australian public as well as with international visitors. Both classes had a fine range of lounges, dining rooms, glazed promenades and shady deck spaces, as well as ample sport decks. Cabin types varied from twin suites, to twin bedded rooms, two berth, and singles in First class, although some cabins also had upper berths available for families, these could be sold as three or four berth cabins. Second class was mostly twin, two, three and four berth as well as some small dormitories, which were suitable for an overnight voyage between "short hop" ports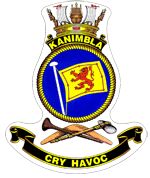 The Kanimbla's official shield
Specifications …
Builders:                   Harland and Wolff Limited at Belfast in Ireland
Yard:                        955
Launched;                 15 December 1935
Tonnage:                  10,985 GRT (Gross Registered Tonnage)
Length:                     147.6m / 484ft ft
Beam:                      20.2m / 66.3ft
Draught:                   6.8m / 22.2.
Engines:                   Burmeister & Wain Geared Diesels
Screws:                    Twin - 10,000 BHP
Speed:                     17 knots (Max 19)
Passenger Decks:       Six
Passengers:               202 First Class
                               250 Second Class
Crew:                       190
War Time Duties:
She continued her varied schedules along the Australian coast until the outbreak of World War II when the Australian Royal Navy who had her refitted at Garden Island Dockyard, Sydney, requisitioned her on September 5, 1939. Armaments were fitted as follows. 7 x 6-inch guns. 2 x 3-inch anti-aircraft guns and 2 x Lewis light machine guns.
She was officially commissioned into the Royal Navy as Armed Merchant Cruiser and reregistered as the HMS KANIMBLA on October 6, 1939.
Armed Merchant Cruisers were employed to operate long ocean patrols looking out for enemy raiders and blockade-runners, thus supplementing cruisers and allowing them to be released for the more arduous fleet duties.
HMS Kanimbla departed Sydney on 13 December 1939 for Hong Kong under the command of Commander Frank E. Getting RAN, with a complement drawn almost entirely from the Royal Australian Navy, including Australian reservists, having a total complement of 343.
She was Based in Hong Kong and mostly stationed in the South China Sea. She kept a constant patrol of the area and ensured that a good number of large German Liners were stranded in Japanese ports, including the 18,000 ton Norddeutcher Lloyd Liner SS Scharnhorst.
They made several unsuccessful attempts to break out.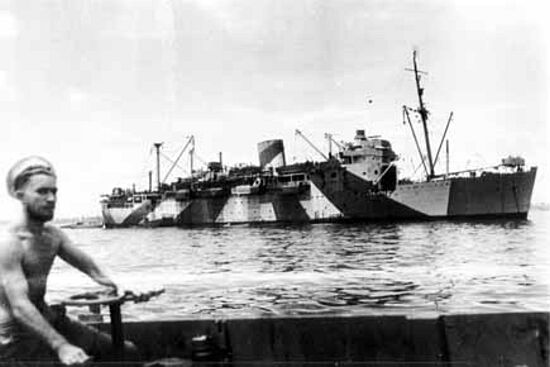 HMS Kanimbla is seen in the South China Sea fully camouflaged
In June 1940 the HMS Kanimbla was dispatched to Singapore where she took patrol and escort duties around Malaya (Malaysia) and the East Indies (Indonesia), eventually extending out into the Indian Ocean.
On the night of August 24, 1941 HMS Kanimbla, with 300 Indian troops on board led a flotilla in a surprise attack on the Iranian port of Bandar Shahpur capturing eight German and Italian merchant vessels all containing valuable cargoes, as well as two Iranian gunboats and a floating dock. Kanimbla went alongside the burning Italian tanker Bronte and fought the fires while engaging a train with her main armament and with her 3-inch guns. She remained in the region until October 11, supervising the port and carrying out salvage work on the captured vessels, including salvage work on the German freighter Hohenfels.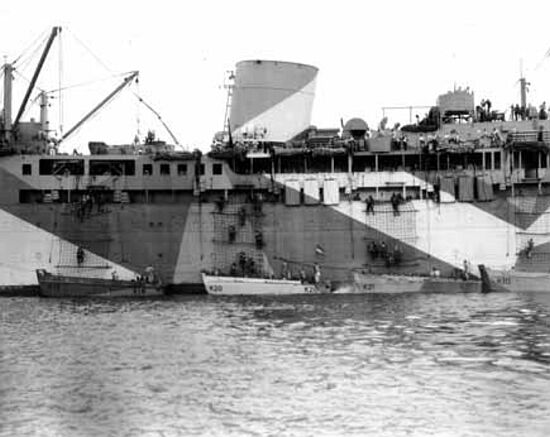 Wartime activity in the China Sea
After further work in Indian waters during the latter part of October and November, Kanimbla proceeded to Singapore and escorted the first convoy out of that city after the Japanese attack on Malaya. She arrived in Melbourne on Christmas Day. She carried out further convoy work off the Australian coast and in both the Indian and the Pacific Oceans. On April 2 Kanimbla arrived in Sydney to be converted to a Landing Ship Infantry (LSI) for operations in the Pacific and again in Asia.
The conversion involved the removal of her 6-inch guns and the augmentation of her anti-aircraft armament by the addition of a 4-inch gun and 2-pounder and 20mm close range weapons. Radar was also added. She was fitted to carry 16 to 24 landing craft, which were raised and lowered by davits fitted to either side of her superstructure. Scrambling nets were fitted to enable troops to quickly enter the landing craft after they had been lowered. Steel sheets replaced the ship's interior wood panelling and all available space was converted for the carriage of 1,280 troops although more were carried on various occasions.
On June 1, 1943 she was decommissioned as the Landing Ship Infantry, and reregistered as the HMAS Kanimbla, and on July 30 under the command of Commander N.H. Shaw RAN. HMAS Kanimbla recommenced new duties in the Pacific and in Asia and she continued to do her duties with great courage and completed each campaign with great success!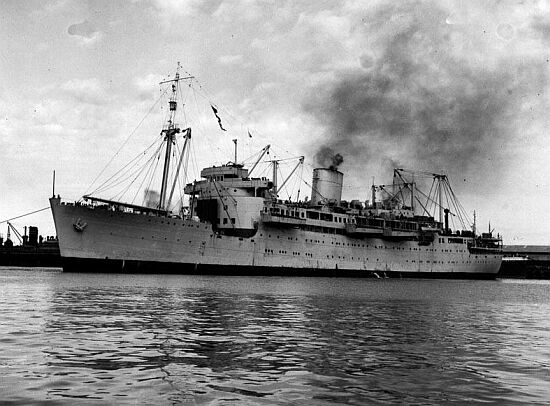 HMAS Kanimbla is seen here in Fremantle in 1945
At the end of the war HMAS Kanimbla was employed in repatriating Australian servicemen from the Pacific Islands and also in returning Dutch dependents to the East Indies (Indonesia). Between October 1946 and June 1948 she sailed between Australia and Japan transporting British Commonwealth Occupation Forces. During these voyages she was also required to make calls to various Pacific Islands to relocate persons and cargoes. In 1948 Kanimbla was selected by the Royal Australian Navy to head for the United Kingdom to take personnel and stores in order for them to commission the new HMAS Sydney, as well as returning with British personnel who had enlisted in the Royal Australian Navy and 432 displaced persons.
Upon her return from the UK, she made one more voyage to Japan after which she was officially decommissioned in Sydney on March 25, 1949.
PS: Late in 2010 I received an email from a reader who advised me that her "grandfather was in charge of the HMAS Kanimbla when the Japanese mini subs attacked Sydney Harbour." His name was Captain Fredrick Ross James, who later also commanded her having been sold to become the MV Oriental Queen!
Post War service:
The Australian Government paid for a comprehensive refit of the war weary MS Kanimbla and having been all spruced up and once again looking absolutely splendid and ready for service she was officially returned to McIlwraith McEachern Ltd on December 13, 1950.
There had been a good number of improvements made, but also there had been a change of passenger capacities, which were now; 231 First Class and 125 Second Class for Coastal Liner services and 371 One Class for Cruises. Also, MS Kanimbla was now registered as being 11,004 GRT.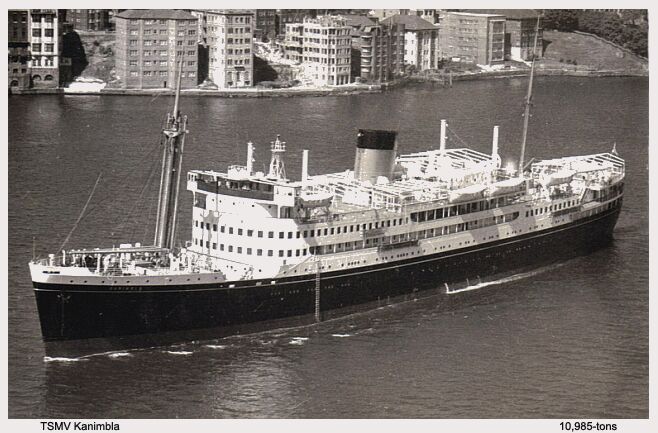 A popular postcard of McIlwraith McEachern flagship MV Kanimbla in Sydney Harbour
During one of her coastal voyages I December 1960, Kanimbla ran aground on a sandbank in Moreton Bay just out of Brisbane. She was soon refloated and taken to Brisbane where she was repaired.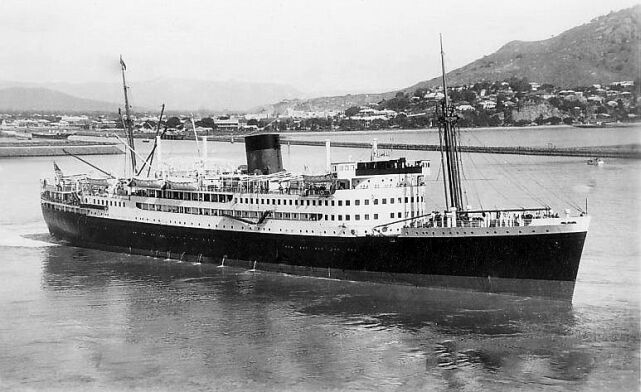 MV Kanimbla looking superb!
Items of Memorabilia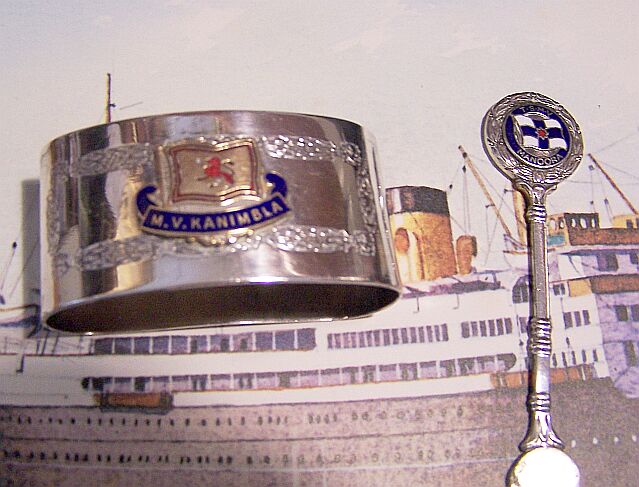 MV Kanimbla Silver Serviette Ring and a TSMV Manoora Silver Cheese Knife seen on an artist Impression of the Manoora
The serviette ring and the cheese knife was kindly donated to the author by Holly Whillas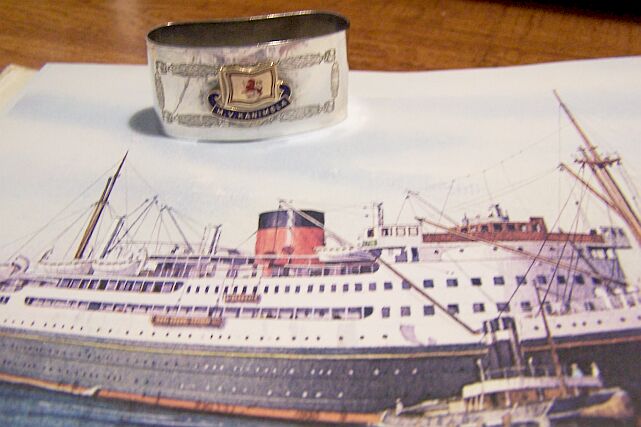 The serviette ring is seen here in an artist impression of the MV Kanimbla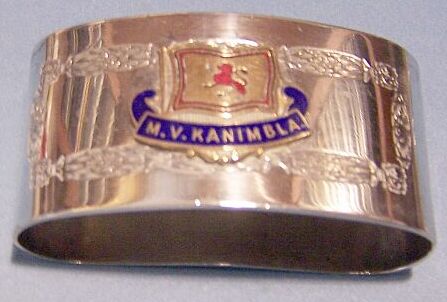 A close up of the serviette ring
Sadly just like passenger shipping worldwide, Kanimbla's passenger loadings was suffering badly as airline trade was beginning to become the main competition and airfares were becoming cheaper and cheaper. Thus, the once booming coastal service began to suffer to the point that tragically had to stop most of heir services, but McIlwraith McEachern decided to at least retain their flagship MV Kanimbla on a part time basis operating on the coastal service, whilst also operating cruises to Asia until 1961.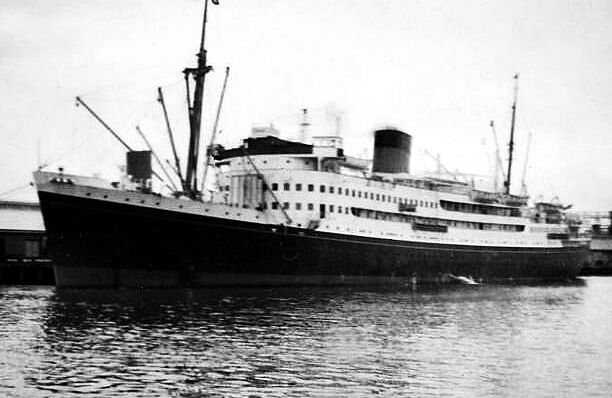 Kanimbla seen during her final days as Australia's greatest and most loved Liner
However, in 1960 she was placed on the market and a Japanese Company purchased the best Australia liner ever to be built, our brloved MS Kanimbla always to be remembered as "Australia's finest coastal liner."
TSMV Oriental Queen:
In 1961 the ship was taken over by the Pacific Transport Company and renamed TSMV Oriental Queen and registered in Panama. She received a number of modifications and her hull was painted white, her funnel was painted in bands of red, white and black, whilst her interiors were given a more casual and tropical look.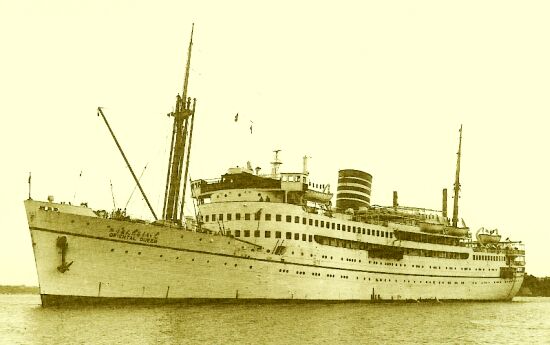 Oriental Queen seen here whilst in operation as a Pilgrim ship
The Indonesian Government who employed her for the next three years transporting pilgrims from Indonesia to Jeddah chartered her. Upon completion of the agreement in 1963 she was chartered to an Australian company, Dover Pacific Cruises, and she operated several Pacific Cruises during the summer of 1963/64, during which time her funnel was to be painted green with a yellow "D" for Dover, however, as Purser Peter Reynolds advised me, this never eventuated and the red, white and black striped funnel remained.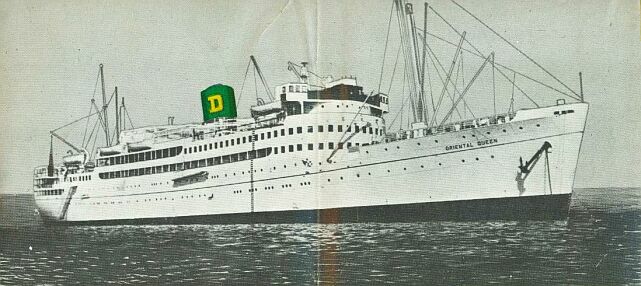 TSMV Oriental Queen during her Australian season of Cruises for Dover Pacific Cruises
She then returned to Japan and Toyo Yusen K.K. a Japanese shipping company chartered her. She was now registered thus flying the Japanese flag. Interestingly, Purser Peter Reynolds was provided with a Japanese seaman's card making him the only New Zealander to hold one.
TSMV Oriental Queen began to operate a programme of cruises between Australia, New Zealand and Japan and during one stay in Yokohama she was used as a floating hotel for Australian and New Zealand visitors to the 1964 Tokyo Olympic Games. Her accommodation now included 4 suites, as well as single, twin, triple and four berth cabins.
TSMV Oriental Queen soon became a popular sight in both New Zealand and Australia and became a popular means of crossing the Tasman Sea to and from Australia. As a cruise ship she offered economical fares. Thus being a hit with both the younger and older generations.
With her cruises so popular it was decided to fit her with an outdoor pool and a Lido Deck, which enhanced her even further as a cruise ship. She also operated a number of Pacific cruises during 1965 and 1966. Oriental Queen was a regular visitor to both Auckland and Sydney. In January 1967, Toyo Yusen decided to purchase the ship outright, however that same month they also withdrew the once proud Australian ship from her homeland forever.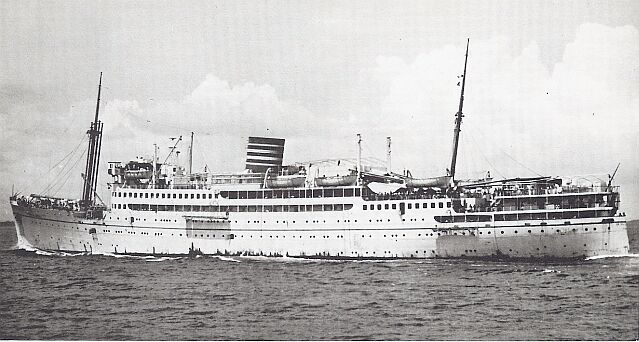 Upon arrival from Auckland on January 13, 1967, she sailed the following day for a one way Fly/Cruise package to Hong Kong and Japan. From there she operated from Yokohama to Guam and was chartered in 1968 to operate 5 cruises to Honolulu and Los Angeles.
Upon completion of the Hawaii/USA charter, TSMV Oriental Queen resumed the Yokohama Guam service until arriving back in Yokohama on October 6 1973, which would prove to be her final voyage. She was laid up and duly sold to Taiwanese breakers, arriving in Kaohsiung on December 7, 1973 to be broken up. A proud Aussie served the seas for a good 37 years, and it is said; although she was aging, she had a good heart!
MS Kanimbla / Oriental Queen - Index
Page One …   The overall history of the Kanimbla and Oriental Queen
Page Two …  Oriental Queen images and menu sent by a past Purser
Page Three   Stan Evans cruises on the Oriental Queen - December 1965
Page Four …  Lorraine's voyage to the Commonwealth Games in 1964 on the Oriental Queen
Credits: Some of the wartime information was kindly provided by Alain D. Waverton whilst two photographs are from an unknown source. The "HMAS Kanimbla photograph at Perth" is from the author's collection and is no longer within copyright restrictions. The photograph of the MS Oriental Queen seen whilst under charter to Dover Pacific Cruises Australia is from a brochure provided by the then purser Peter Reynolds. All other photographs are from the author's private collection. A special thank you to Keith Fry (Perth Australia) for editing this article!
"Blue Water Liners sailing to the distant shores.
I watched them come, I watched them go and I watched them die."
****************************
Visit our ssMaritime Main INDEX
Where you will discover around 680 Classic Passenger & Passenger-Cargo Liners!
ssMaritime.com & ssMaritime.net
Where the ships of the past make history & the 1914 built MV Doulos Story
Please Note: ssmaritime and associated sites are 100% non-commercial and the author does not seek funding or favours and never have and never will.
Photographs on ssmaritime and associate pages are either by the author or from the author's private collection. In addition there are some images and photographs that have been provided by Shipping Companies or private photographers or collectors. Credit is given to all contributors, however, there are some photographs provided to me without details regarding the photographer or owner concerned. Therefore, I hereby invite if owners of these images would be so kind to make them-selves known to me (my email address can be found at the bottom of the page on www.ssmaritime.com), in order that due credit may be given.
ssMaritime is owned & © Copyright by Reuben Goossens - All Rights Reserved