Click the logo above to reach the ssMaritime FrontPage for News Updates & "Ship of the Month"
With Reuben Goossens
Maritime Historian, Cruise'n'Ship Reviewer & Author
SS

France
The Ship that Saved my Life!
The Karl Henrik Henriksen story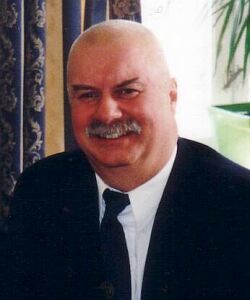 This page contains the remarkable story of survival of a seventeen year old lad, Karl Henrik Henriksen who was a deckhand on the Norwegian freighter MV Margarita. His experience with SS France became permanently etched in Karl's life, for it was this great liner and its crew that saved his life in April 1964.
A Family with the sea in their blood!
Karl came from a longstanding seagoing family. Both his Father and Grandfather had served on the MS Eidsvold although at different times before WW2. Later his Grandfather was the captain of the ill-fated MS Vinni, which was captured by a Japanese vessel on December 7, 1940, offshore of the Island of Nauru in the South Pacific.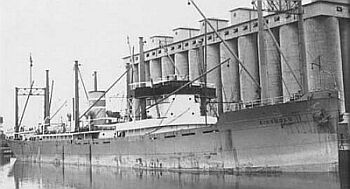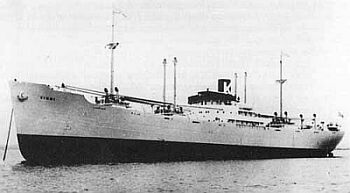 Left: MS Eidsvold – Right: MS Vinni
Briefly: MV Vinni was captured by a German raider the "Komet" but she was disguised having a Japanese name and Japanese flag. The crew were taken prisoner and transferred to the Komet. They were released two weeks later and were later evacuated to Australia. For the full story visit: www.warsailors.com/raidervictims/vinni.html.
Thus, you might say that young Karl Henrik Henriksen had salt in his blood and as a young lad took after his father and went to sea. Having joined the crew of the freighter MV Margarita, she became the ship that started what we might call the "unwanted adventure," one he could well have done without!
The unwanted adventure that changed a life!
The following story was originally written in Norwegian by Karl Henrik Henriksen
Translated/edited by Reuben Goossens
MV Margarita had sailed from Lower Buchanan Liberia and was heading for The Netherlands when the ships carpenter and I, a deckhand, became ill as we were passing Casablanca Morocco. When we arrived in Rotterdam a doctor was called on board on two occasions and we were diagnosed having a bout of the flu. We remained in port for three days.
Upon departure we headed for the Atlantic, yet both the carpenter and I remained in the ships sick bay. Soon I began to have feverish fantasies and became dehydrated. In the meantime several other crew members also became ill.
April 19, 1964. Tragically, at 0200 hours the carpenter I. L. Dahl passed away and the captain decided to move me up to the pilot cabin for my comfort and being able to keep a close eye out for me. The Captain immediately sent out a distress signal seeking urgent medical assistance. Early in the morning we passed SS France, which was heading at full steam for Southampton.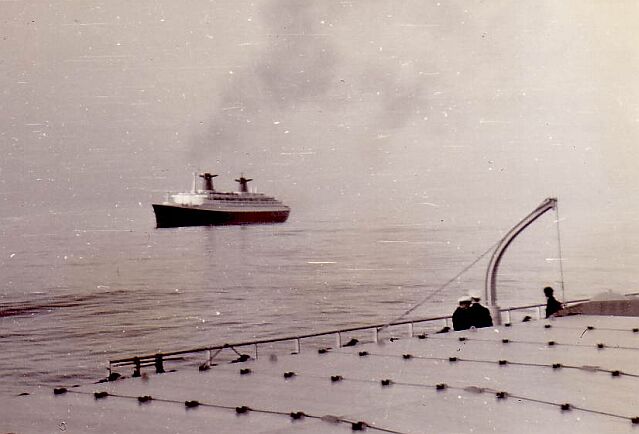 SS France and the Margarita pass each other in the morning of April 19, 1964
When the Canadian coastguard received our signal they ordered the SS France, being the ship nearest to us, to make haste and offer assistance. At 1300 hours both ships makes a U turn heading for each at full speed.
I recall that whilst awaiting the France, deckhand Karlsen pulled me between the bunk and the toilet as I had become so ill I was not able to hold anything back. It had become obvious that the condition became more critical by the minute. As he lifted me I sort of recall that I could see the France through the window. It was now 1810 hours (the time according to the diary kept by mess boy Oeystein Bjoerloew). The position is around 1000 NM north-east of New York.
I passed out and when I awoke again I was lying out on deck strapped in on the emergency stretcher with Oeystein Bjoerloew standing over me wishing me good luck and a God bless you. He was my neighbour from back home and he told me later that he really wondered if he will ever see me again. Again being weak I went in and out of consciousness. The next thing I can remember is when they were lifting me over the side of the ship and lowering me down the side of the ship heading for a lifeboat sent over by the France. Suddenly the stretcher must have bumped and the stretcher ended up almost with hanging with my head pointing downwards. The bosun A. A. Tveit, a WW2 sailor, called out to the deckhand above "Give it some slack, God damn it."
Those are the last words I can recall from the MV Margarita. Later the Chief Engineer told me that I had cried out so loud when that happened, thus the crew watching thought that at least that there is still some hope of life if he can cry out like that.
In the lifeboat I can only just recall that a slight spay of seawater fell on my face, and one of the crew of the lifeboat took off his sweater and wrapped it around my face. I do recall that the sweater had a logo on the left side and that it was the French Line logo. As I lay on the starboard side of the lifeboat, obvious it had been a lifeboat from the ships portside. (*1 – See a photograph down the page taken in April 1994 of the actual lifeboat seen on SS Norway. Later these lifeboats were replaced by NCL).
Then it became all dark again, except it seemed like there flashes around me, which must have been flashlights from passengers taking photographs. Whilst at sea on the France I cannot really remember anything. However, whilst onboard, I had a strange "out of the body" experience. Everything suddenly became a shimmering white, it was almost like satin and it was so peaceful, yet at the same time it felt like I was being sucked down a big drain and me feverously crawling to get out of it.
After this my mind seemed to clear and I see lots of people standing around me around my bunk, some in uniforms and others in civvies. I also recall that there was a Swedish passenger who spoke to me at some point. I'm wondering if it was then when I received the SS France Medal and around $400 that had been contributed by the passengers. $400 was in fact more than my earnings during my ten months on MV Margarita.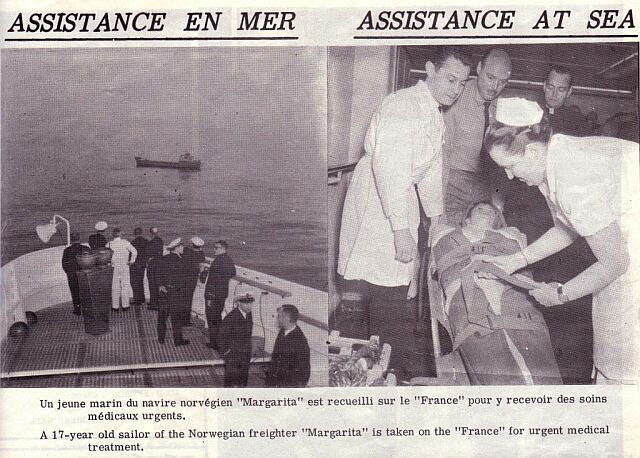 MV Margarita as seen from SS France
After this I woke up in the ambulance driving away from the France. As we were driving off to the Chest Hospital in Southampton I remember seeing the France slowly vanishing in the distance. Before I knew it we arrived at the Hospital in Southampton and I was taken into the quarantine ward.
The rescue at sea made the news and it was broadcast on BBC TV and on radio, as well as various news papers both in the UK and France. It was from the radio that I first learned that I had typhus. Whilst still in hospital I received many telegrams and I remember a magnificent bunch of flowers. Attached was a card that read; "With very best wishes for your recovery." It was signed, Mr. and Carl J Wolters of cabin M30." It was yet another beautiful touch from the many kind passengers that were on SS France during that voyage.
Karl Henrik Henriksen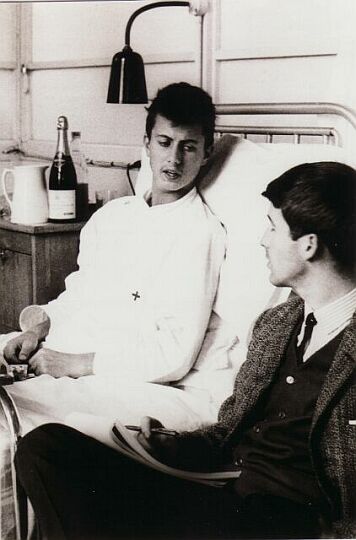 Karl is seen above in the Southampton "Chest Hospital" on April 25, 1964. On the right is Jan Hagland a journalist "Agderposten" his hometown newspaper. He came to Southampton to do an interview. In later years Jan became the "Head of information" in the "Norwegian Petroleum Directorate." The bottle of Champagne on the bedside table was a gift from the French Line and SS France.
On the day that Karl was released from hospital it just happened that the SS France was also in port, but this time bound for New York. Norwegian consular officials made arrangements for Karl to join the Boat Train to Waterloo station London where a French Line official from the London office placed Karl in a taxi to the Duchy Hotel. The next day Karl was taken to London Heathrow and flew home with SAS Airlines. When arriving home he found that he made the news once more.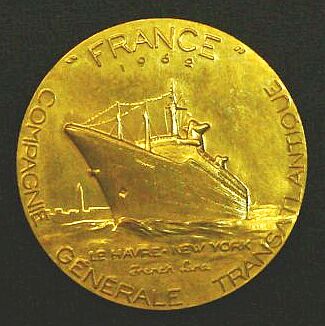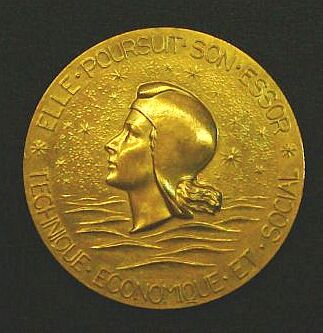 Above: This is the golden medal that was given to Karl before he left SS France in Southampton as a memento. Although he has little to no recollection of it being given to him he treasures the medal greatly and to this day he calls it his "Crown Jewel." Its diameter is 53mm and it is 6mm thick. The weight is 70 grams.
SS France has left a permanent impact on Karl's life and in later years he followed her career whilst she was SS France and then the Kloster's (NCL) cruise ship SS Norway. Although he had little to no recollection of his voyage on SS France, over the years he collected as much memorabilia he could find. Better still thirty years later Karl took a cruise on the Norway.
Karl's life after he returned home to Norway:
Back in Norway first Karl returned to sea after which he completed his compulsory military service. He then resumed his education to become an electronics technician and when he returned to sea once again, it was as an electrician. Later between 1974 to 1978 Karl worked with a team that travelled to various locations where they upgraded engine rooms with classifications up to the E0-class (Engine Zero). He returned to sea once again, but this time he was able to sail with his partner Astrid on the same ship who was the ships radio officer. His two last ships were; a bow loading tanker in the North Sea and finally the MV Kosmos, an accommodation ship supporting a rig. Later Karl was employed by "Statoil" a Norwegian Oil company and he is now stationed on platform Gullfaks C in the North Sea working in the Fire and Gas department. Karl has been with Statoil for 19 years.
1994 cruise on SS Norway:
In 1994 Karl decided to take a cruise on the ship that saved his life, but now she was NCL's SS Norway. The ship departed Miami on 2 April 2, 1994, precisely 30 years after his life saving experience on SS France. Travelling with him was Astrid and their six year old daughter Pia Christine. They were accommodated in "Suite Aphrodite" being one of the original cabins. Shortly after arriving in their cabin Karl received a phone call from Captain Kjell Haugen who welcomed him and his family aboard and invited him up to the bridge the next morning at 0930 hours.
On the Bridge he met the Captain, the Staff Captain Hans Meeg and the Chief engineer and he was escorted to the Captains staff room. They were certainly curious about Karl's experience back in 1964. Whilst being somewhat embarrassed by all the attention, Karl gave them the details of the event.
The next day Karl received a bottle of Champagne in the cabin and an invitation to a private cocktail party to be held by the Captain. At 1945 hours Karl and his family were escorted by concierge to the venue that had up to 30 selected guests. It was a special event which was greatly appreciated.
Karl took many photographs during the cruise, but to this day he feels that the most important one is of the lifeboat 2 that transported him from the Margarita to the France. Sadly it was not long later when the Norway received a refit that saw her original lifeboats removed and replaced with the enclosed type. Karl wishes he would have been able to locate lifeboat number 2 as obviously he would have loved to have been able to buy it, for this boat was part and parcel of his life saving experience on that fateful day, April 19, 1964.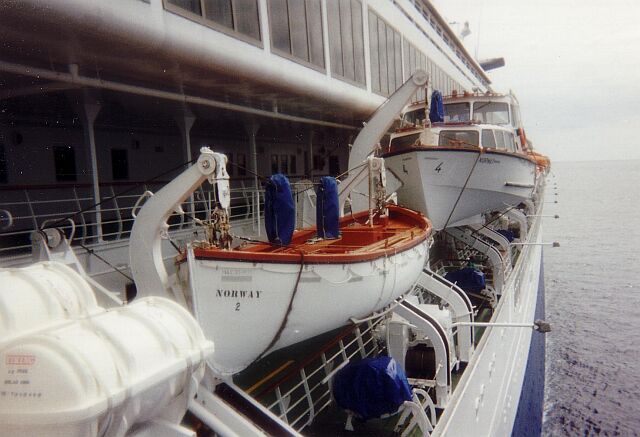 For Karl lifeboat number 2 will always remain the most important little boat ever to have sailed the sea
The following are Karl's own words regarding the cruise experience:
"Everybody took great care of me whilst I was onboard and was given guided tours around the ship including one to the engine room. In addition I was even invited to join a life boat drill that is a crew only drill, which was quite an event. Later, whilst on the bridge I had the privilege of taking the helm and steer the great SS Norway by hand. The Captain also arranged a meeting with the ships doctors and nurses in the hospital. Obviously this was very special since it was the original hospital I was taken care of. I even tested the bed, the one he occupied back in 1964.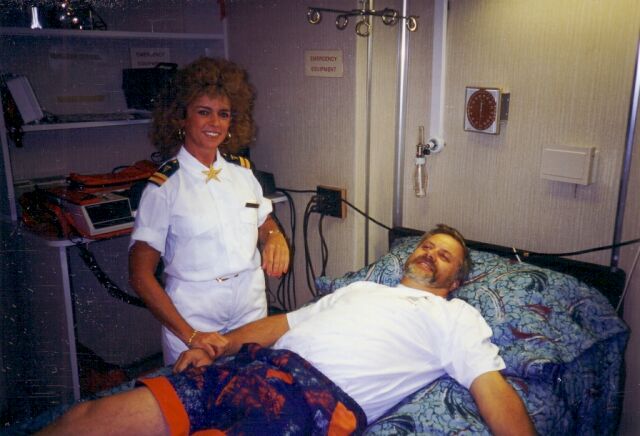 Sorry I do not remember this bed at all, but Nurse don't worry I am really feeling fine
The cruise was a special event in my life considering the last time I was on this ship was in a state of extreme illness, But my family had a wonderful cruise and I recall that on the last day we visited NCL's private Island where my daughter Pia Christine first learned to swim. The cruise will remain in my memory for life. My thanks gratitude extend to the Captain, Officers and all the crew, for they gave me and my family a marvellous week!
On Saturday April 9, 1994 we departed the Miami dockside on a bus and I recall looked back sadly at SS Norway, which all too soon slipped out of sight. No matter what, this great ship will always be the SS France to me for that was the ship that saved my life back in 1964! Sadly I never saw her again, and will I ever see you again my great Queen of the Sea?"
During the cruise, Karl's story was printed in the ships newspaper "Hot Line." You can read it on Page Two.
In Conclusion:
Karl is still at sea, but in a very different way than during his younger days for now he is based on the Oil Platform Gullfaks C in the North Sea where he works in the Fire and Gas department.
For the past twenty six years Karl has been a member of the "Arendal's Seamen's Association" and he meets with them whenever he is ashore. Karl is seen below (facing the camera) at one of the monthly meetings during the winter season called "Torskeaften."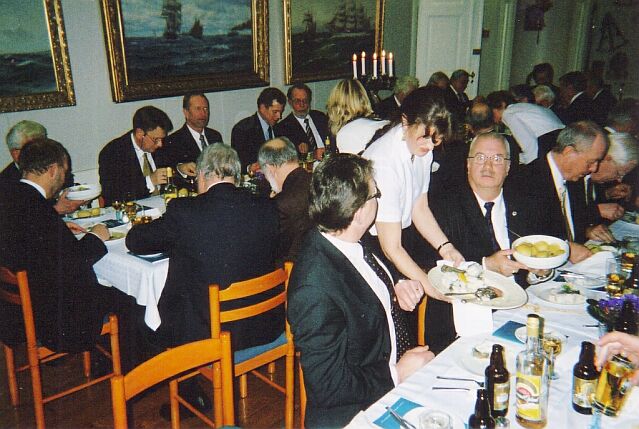 Karl seen facing the camera at the "Arendal's Seamen's Association" meeting on February 23, 2006
SS Norway - May 2007:
SS Norway, ex France (renamed Blue Lady) awaited her destiny at Alang India where she awaited her fate since August 2005, but she was eventually broken up, even after a lengthy court case in the Supreme Court of India did not save her for we did have buyer for her tio turn her into a luxury floating "Hotel SS France."
I hereby wish to thank Karl for sharing his remarkable story, for it certainly has given us yet another reason to understand why this great liner is of such historic importance. Karl's story, I am sure, is but one of the many adventures experienced on this Grand Dame of the Sea.
ENTER
Page Two contains images of various news releases in the UK, France and Norway, as well as a letter from the Norwegian Consulate in London and Karl's story in his own words, but in his Norwegian native tongue, as it was written up in the local media there.
***********************************
Index
Page One … SS France
Page Two … SS Norway
Page Three … SS Norway – Blue Lady
Page Four … Norway Deck Plan
Photo … QE2 passes the Norway
Photo … Photographer Don Tremain presents his experience and four photographs
Photo … Tomas-Rosales shares his photographs of the Norway in Miami
Photo … Michael and Lee Ann Pavlick honeymoon cruise in 2002
Photo … Norway in Bremerhaven – Page Two
Photo … Norway Departs Bremerhaven 23 May 2005
Photo … A series of photographs of SS Blue Lady in Alang
Story … Pauli Dangerousli describes his 1997 cruise on the SS Norway
Story … "The Ship that Saved my Life" – The Karl Henrik Henriksen Story (2 pages)
Article … "Surreal times on the SS France" by Patrick Jackson
Brochure … This inaugural SS Norway brochure (1980) was provided by Michael Bobo
***********************************
Use the Back button on your browser or Close the Page to return to the previous page
or go to our INDEX
Who is the Author of ssMaritime?
Commenced in the passenger Shipping Industry in May 1960
ssMaritime.com & ssMaritime.net
Where the ships of the past make history & the 1914 built MV Doulos Story
Also visit my …
"Save The Classic Liners Campaign" & "Classic Ocean Voyages" pages
Photographs on ssmaritime and associate pages are by the author or from the author's private collection. In addition there are some images that have been provided by Shipping Companies and private photographers or collectors. Credit is given to all contributors. However, there are some photographs provided to me without details regarding the photographer/owner concerned. I hereby invite if owners of these images would be so kind to make them-selves known to me (my email address may be found on www.ssmaritime.com only), in order that due credit may be given. I know what it is like, I have seen a multitude of my own photographs on other sites, yet these individuals either refuse to provide credit or remove them when asked, knowing full well that there is no legal comeback when it comes to the net. However, let us show these charlatans up and do the right thing at all times and give credit where credit is due!
This notice covers all pages, although, and I have done my best to ensure that all photographs are duly credited and that this notice is displaced on each page, that is, when a page is updated!
ssMaritime is owned and © Copyright by Reuben Goossens - All Rights Reserved