ssMaritime.com - ssMaritime.net
& Cruise-Australia.net
With Reuben Goossens
Maritime Historian
Presents the Remarkable Classic Vessel
MS Kristina Regina
Page One – The Ship & her History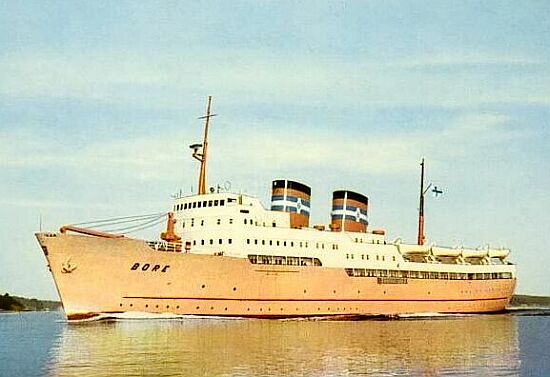 The small yet stately SS Bore is seen here as built
A special introduction for the benefit of Cruise-Australia.net readers
For classic cruise enthusiasts I have included MS Kristina Regina's earlier history as she is a remarkable ship indeed and a ship that is worthy to take your next cruise on! She is one of a kind and sadly fine classic ships like these will slowly disappear. Although, these ships may have a few years behind them, they are as technologically up to date as any modern cruise ship as they undergo constant upgrading in navigation and safety equipment, but more so, and you can take my word for it having been in the business for 50 years, Kristina Regina is a solid and a well built ship considering she was originally built to sail in waters that is ice packed for a great part of the year. However, these days she sails into warmer climates and she offers passengers a cruise experience that provide a unique glimpse of the great seagoing days of yesteryear with her many magnificent features, and her constant refits have ensured that she retains all her Scandinavian maritime beauty and magic!
SS Bore
Shipping magnate Hans von Retting of the Bore Shipping Company (Hoyrylaiva Oy Bore-Angfartygs Ab Bore) decided to build a new stately looking flagship for his company to operate a localised service. In addition he decided that this ship would feature two funnels and that she would be a steamship continuing the great traditions of yesteryear. She was built by "Oskarshamn Shipyards" Sweden and was named SS Bore.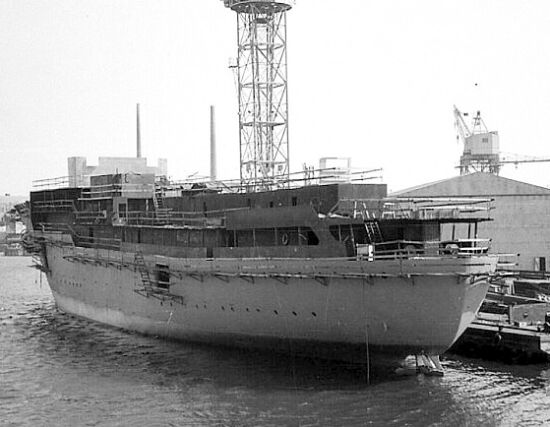 SS Bore seen during completion of construction and fitting out
When launched in 1960 she officially became the very last passenger steamship ever to be built in Scandinavia. In due course Bore Shipping Co merged with other companies which eventually developed into what we know today as the great Silja Line during which time she received a new forward and aft superstructure extensions. In due course she entered the Silja Abo-Mariehamn to Stockholm service.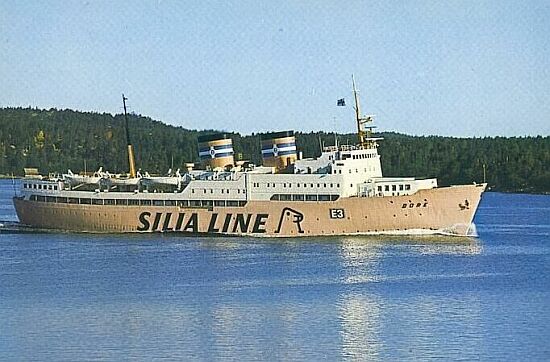 SS Bore is seen here with her new superstructure extensions sailing under the Silja Line flag

SS Borea

At the end of August, 1976 Silja Line reduced its services and as a result of the home port of Bore in the heart of Stockholm having been closed SS Bore was sold to the Finish Jakob Lines who renamed her SS Borea and she operated a regular service between Pietarsaari and Skelleftea for the next few years. However, this was followed by a long period of charters ventures, some of which were not too sucsessful. At one time she was used in Algeria as a floating hotel.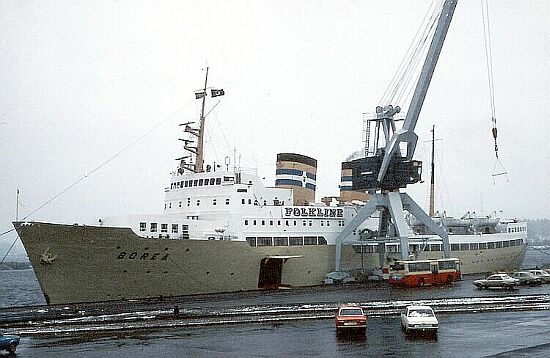 SS Borea seen here under charter by Folk Line – Note her forward side car ramp & door
In spring 1984 Borea returned to Turku, when Aura Line chartered the vessel and made an attempt to restore the regular steamer service between Turku and Stockholm. In the autumn the vessel was returned to the owner of that time, Henry Nielsen Ltd. SS Borea was now expected to end up overseas. In spring 1986 she was rumoured to have been sold to a Canadian luxury cruise company. The ship, however, remained laid up in the River Aura in Turku.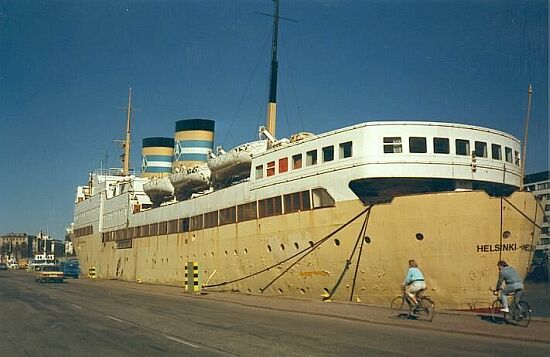 SS Borea is seen here laid up with her name removed towards the end of her current career
Ship lovers in Europe and around the world all knew it, this was a remarkable small ship and she was in desperate need of a miracle, and thankfully a miracle was on the way …
Kristina Cruises
MS Kristina Regina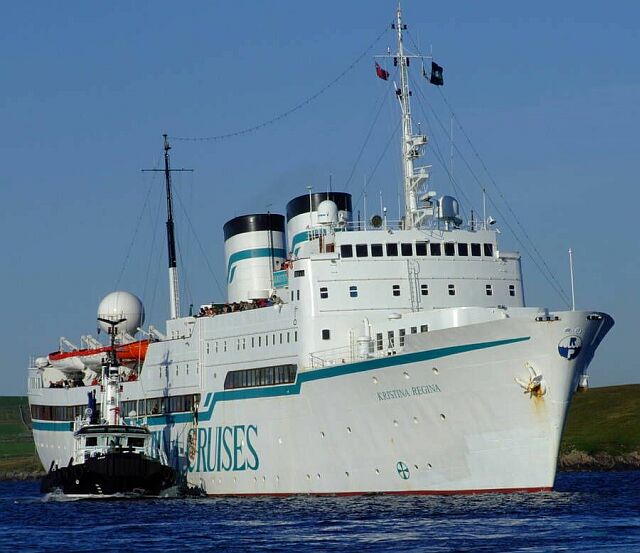 Looking pristine the MS Regina Kristina seen in 2007

Photograph Ian Leask

In March 1987, a company registered in Kotka Finland, "Rannikkolinjat Ltd"

(now known as Kristina Cruises) purchased this fine little-big ship. During the press conference the company's director announced that the new name of their ship would be "MS Kristina Regina." The most amazing part of this announcement was not so much the actual name of the ship but the fact that she would be receiving brand new diesel engines, thus becoming a motor ship "MS." The first task was the instalment of her new diesel engines which were installed at the Wartsila shipyard at Kotka.

Then during the winter of 1988-89 it was time for a complete refit of the ex Borea. The new MS Kristina Regina was taken to the Holming shipyard in Rauma, where all her old cabins without bathrooms were removed and 120 brand new cabins were installed, whilst the remaining 30 were completely renovated. During the renovations her car deck was converted into a 250-seat conference and function hall, in addition a tax-free shop was built on third deck and a spacious sauna was added on first deck.

MS Kristina Regina now rejuvenated as a full fledged cruise ship commenced her cruise duties on April 7, 1989.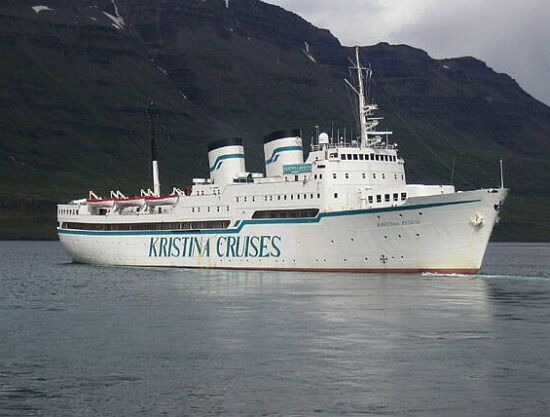 The elegant two funnelled MS Kristina Regina awaits you!

Photograph taken by and © Stefan-Sveinn-Olafsson

She received further renovations in January 1992 as well as in January - February 1999, when six new Mini Suites were built, each providing a separate bed and sitting-room. In 2001 MS Kristina Regina it was decided to provide the ship with a complete refit and "refurbish her in a style befitting the traditional décor of this unique, twin-funnel ship." This Kristina Cruises did with perfection! In addition a new health centre and a laundry were built as well as a shore excursion desk next to the shop. Internet facilities are now available as well as a new computer program, especially designed for cruise ships. MS Kristina Regina now has 119 cabins and accommodates up to 245 beds

(using all beds).

Specifications:

Builder:                                      Oskarshamn Shipyards Sweden - 1960

Yard:                                         353

Built for:                                     Bore Shipping Company

Kristina Regina:

GRT                                                      4,295 GRT

Length                                       99.83m

Width                                        15.25m

Draught                                      5.3m

Propulsion                                   2 x Wartsila Diesels - 6480 KW

Screws                                      Two

Service speed                             14.5 knots (Max 17.5)

Bow Thrusters:                            265kw

Passengers:                                238 twin bedded – all berths 245

Passenger decks:                         6

Electric Current in Cabins:             220 V AC/110 VA

Officers/crew:                             55 – Finnish

Flag/Country of Registry:               Finland

Refurbished:                                        1987/89/93/99/2001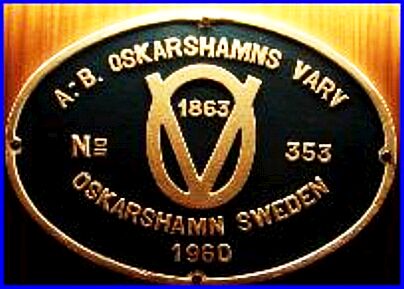 Her most popular cruises are of the Baltic Sea, Scandinavia, Mediterranean, and the Red Sea. Passengers from the UK, Europe and from around the world join these cruises and they are an experience to be enjoyed by all who love a cruise adventure on a ship filled with old time maritime charm, and yet as technically modern as tomorrow! MS Kristina Regina offers the perfect "Classic Ocean Voyage" and we should consider booing a cruise on her before this fine ship and others like her are gone!
Please Note – February 2010: It is with sadness that I have to advise that it now seems most likely that Kristina Regina may well be withdrawn from service around October 2010 due to the new SOLAS 2010 regulations.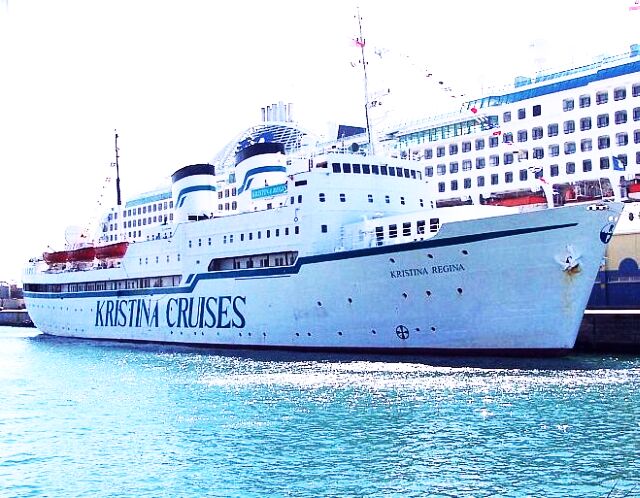 Above and below: MS Kristina Regina seen in Gibraltar on August 29, 2009

Photograph was taken by the author during an 106 night around the world cruise on the Dawn Princess

Photo's © Reuben Goossens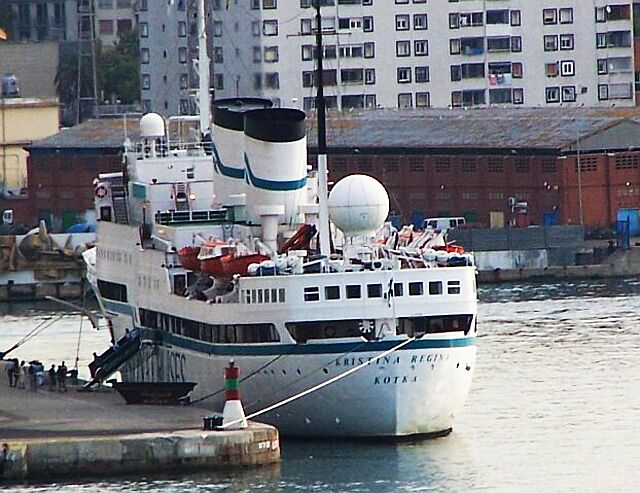 I trust you have enjoyed reading about this passenger ship and if you have sailed on her I would like to hear from you. In addition should you have any photographs of her interiors and out on deck, I would greatly appreciate some. Please email Me!
***************************************************
Use the Back button on your browser or Close the Page to return to the previous page
or go to our INDEX
Who is the Author of ssMaritime?
Commenced in the passenger shipping industry in May 1960
Email the Author
Please name the ship
PLEASE NOTE: I receive hundreds of requests for Passenger/Crew Lists and Sailing Schedules. I hereby wish to advise that I am unable to assist due to time restrains and as most shipping companies have long gone these lists/schedules are no longer available. I regret to advise that any request for these will no longer be answered regardless of the circumstances presented!
ssMaritime.com & ssMaritime.net
Where the ships of the past make history & Built in 1914 - MV Doulos
Also visit our Cruise site …
Photographs on cruise-australia.net are: 1. By the author. 2. From the author's private collection. 3. As provided by Shipping Companies and private photographers or collectors. Credit is given to all contributors. However, there are photographs provided to me without details provided regarding the photographer concerned. I hereby invite if owners of these images would be so kind to make them-selves known to me, that due credit may be given. I know what it is like, I have seen a multitude of my own photographs on other sites, yet they either refuse to give me credit and even refuse to remove them, knowing full well that there is no legal comeback when it comes to the net. However, let us show the charlatans up and do the right thing at all times and give credit where credit is due! Note: I do not credit those who send me photos as they are not the owners of the photographs concerned, unless the image is part of their private collection.
This notice covers all pages, although, I have done my best to ensure that all photographs are duly credited and that this notice is displaced on each page, that is, when a page is updated!
ssMaritime is owned and © Copyright 2010 - by Reuben Goossens - All Rights Reserved

melbourne dry cleaners Counter