Please Note: Firefox and some other search engines are not suitable – Use "Internet Explorer" for this page to load perfectly!
Click the logo above to reach the Cruise-Australia FrontPage for News Updates & "Ship of the Month"
With Reuben Goossens
Maritime Historian, Cruise'n'Ship Reviewer, Author & Lecturer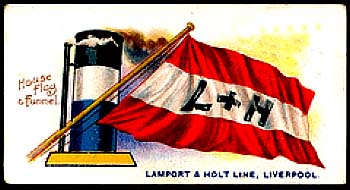 Lamport and Holt Line
Incorporating:
"Liverpool, Brazil and River Plate Steam Navigation Company" - "Societe de Nav" & "Royale Belge Sud-Americaine."
?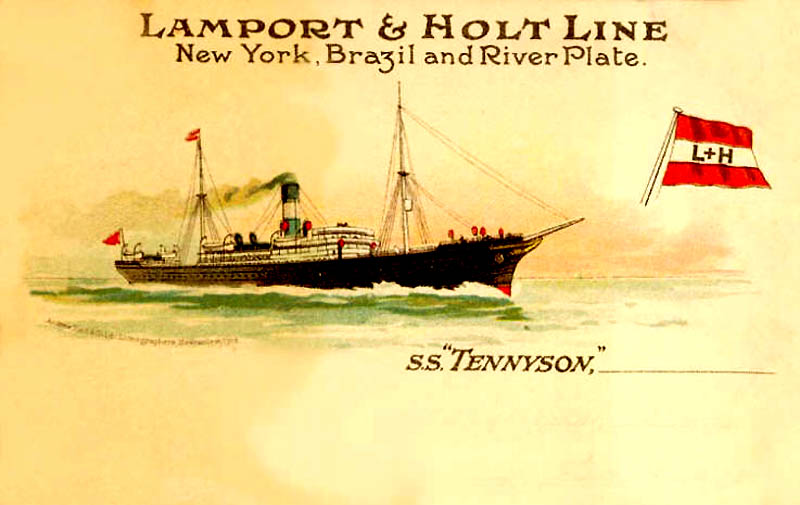 The delightful SS Tennyson built in 1900 with her superb clipper bow
--Page One – The Early days – 1845 to 1922 --
Introduction:
It somehow amazes me, but the Lamport & Holt Line always seems to be a company that is rarely spoken about and it somehow seems if it is a shipping company of little value. However, that is far from being true, for when we look into history, we will soon discover that that this almost 170-year-old Company, which commenced when two distinguished men formed a partnership in 1845. These men were; Mr. William James Lamport and Mr. George Holt, therefore the Company name "Lamport and Holt Line."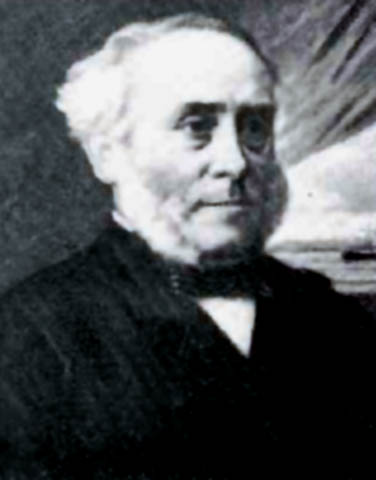 -----------------
Left: Mr. William James Lamport (1815-1874) – Right: Mr. George Holt (1824-1896)
Lamport & Holt commenced obtained their very first ship, being a barque, the "Christabel" of 335-tons, built at Workington by a relative of W. J. Lamport. She was launched on September 17, 1845 and she operated in the cotton trade sailing from Alexandria, as well as seasonally on the marble trade from Italy to the UK and wherever cotton or marble was required. Later L+H voyages would be schedule as their was a need and new ports included far away places such as India, Australia, New Zealand and of course America, especially New Orleans.
In 1857 the company acquired their very first steamship and at that time the "Liverpool, Brazil and River Plate Steam Navigation Company was formed in 1865 to operate services to the East coast of South America and in 1877 a Belgian flagged subsidiary company, Societe de Nav. Royale Belge Sud-Americaine was started to operate the Belgian Mail contract to South America. The Argentine Steam Lighter Co., based in Buenos Aires was formed in 1884 to run a fleet of feeder ships in the River Plate.
However, by the early 1900s "Lamport and Holt" and the newly formed "Liverpool, Brazil and River Plate Steam Navigation Company" concentrated greatly on the South America service out of New York. They became known as being one of the pioneers in the cartage of frozen meat, but also operating in the coffee trade to New York. They were a reliable cargo operation, but the lucrative passenger trade was still ahead of them!
Two Magnificent Clippers
SS Tennyson & Byron - 1902 to 1922:
In 1902 they began their first genuine passenger and cargo services from New York to Brazil and the River Plate ports. In order to operate this service, L+H had obtained a fine pair of 3,909 GRT (Gross Registered Tons) clipper-bowed ships that were built for Furness, Withy.
The "Tennyson" was built by Alexander Stevens & Sons Ltd, Glasgow for Furness, Withy & Co. Ltd in 1900 as the "Evangeline" and the "Byron" followed in 1901 as the "Loyalist." These ships were due to operate on the Liverpool to Halifax, St. John and New Brunswick service, however, Withy & Co found that these ships were simply too large for their intended service, as well as occupying too much passenger space. Thus they were sold to Lamport & Holt who would use them for their New York to Brazil and River Plate services.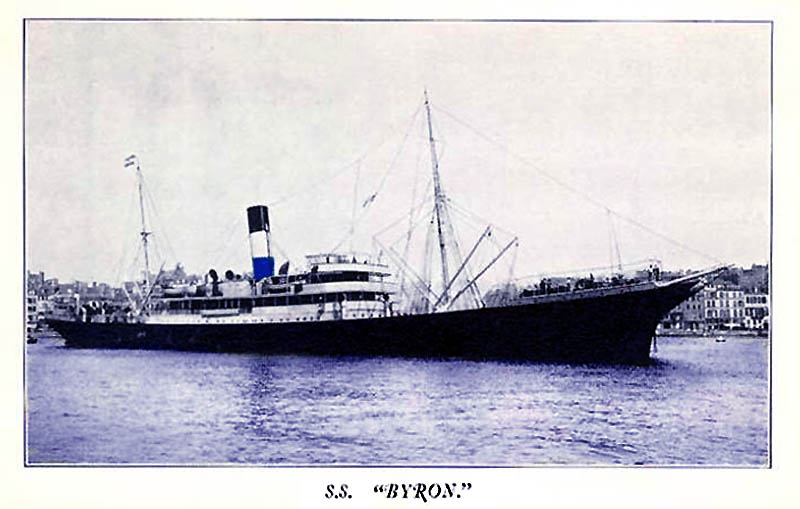 This is what appears to be a colourised postcard of the SS Byron
This operation proved to be extremely successful, so much so that it was soon decided to lay down new plans for three larger ships of around 7,500 GRT, these ships would soon become known as the three famed "V-Class" Passenger-Cargo Liners.
However, the SS Tennyson and SS Byron continued to sail on, as well as both ships having been taken over in 1914 (USS Tennyson), and 1915 (USS Byron) by the Admiralty to be operated as a "Convoy Commodore Ship" during World War I.
After the war they returned to their regular duties, but both were sold in 1922 to "Soc. Anon Braun & Blanchard" of Chile and the Tennyson was renamed, "Valparaiso" and she was broken up ten years later in Italy in 1932. The Byron was also sold to the same company at the same time and she was renamed "Santiago" and was also broken up in Italy in 1932, thus having a long 32 or 31 years of excellent service behind them!
Specifications - 1. SS Byron & 2 Tennyson.
Built by:???????????????????? Alexander Stevens & Sons Ltd., Linthouse Glasgow.
Completed:???????????????? 1. October 1900 for Furness, Withy & Co. Ltd. as SS Evangeline.
.??????????????????????????????? 2. January 1901 for Furness, Withy & Co. Ltd. as SS Loyalist.
Obtained:?????????????????? 1902 by Lamport & Holt and renamed 1. Byron & 2. Tennyson.
Tonnage:??????????????????? 3,909 GRT - 2,526 Net.
Length:????????????????????? 113.23m - 371.5ft.
Width:?????????????????????? 13.8m - 45.2ft.
Draught:??????????????????? 5.73m - 18.8ft.
Propulsion:???????????????? Triple Expansion Steam reciprocating - 605 NHP.
.??????????????????????????????? 4 x single boilers at 180psi, by the builder.
Passengers:??????????????? Yes, but numbers unknown.
L+H Line Trio of "V-Ships"
The Three "V" Ships - 1906 & 1907 to 1917: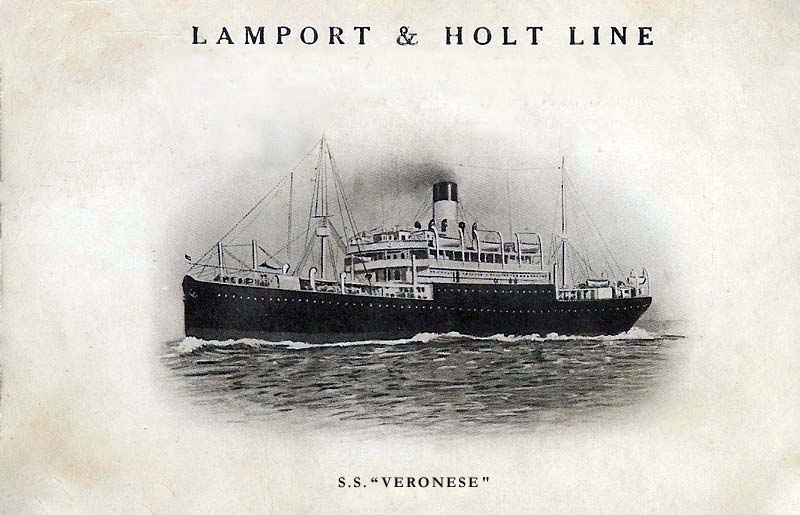 Introduction:
This particular story begins when Lamport and Holt Line placed an order for three identical ships to be built, but strangely enough by two different ship builders.
The first of these ships was the 7,542 GRT (gross registered ton) Velasquez, which was built by Sir Raylton Dixon, at Middleborough on the River Tees in 1906. The next ship was the 7,877 GRT Veronese and she was followed by the somewhat smaller 7,120 GRT Verdi with the latter two being built by Workman, Clark and Co. Ltd, at Belfast, in 1906 and 1907 respectively.
All three ships had the same dimensions, 141.7m - 464.10ft long, 18m – 59ft wide and a drought of 9.1m – 29.10ft. Each had 1 x 3 Cylinder Triple Expansion Engines with a single screw at 458 N.H.P., sailing at an average speed of 12 knots.
All three ships entered their respective schedules, being sailing between either the UK to Buenos Aires, via Spain and Portugal. Or on the New York to Buenos Aires service. During their days they were considered as "being extremely beautiful and elegant ships" for they were certainly some of the finest liners in operation on their particular services! All three ships soon proved to be a huge success with the Ocean going public, but sadly this trio had short lives from just two years to a maximum of only ten years. In spite of this, they set a new trend and established a new kind of service and the new ships that followed would take the company much further and eventually become a popular cruise company!
SS Velasquez:
Sadly this ship proved ton have a very short life, for it would be on October 16, 1908 whilst the SS Velasquez was on a voyage northbound from Buenos Aires homeward to New York sailing via Brazil, she suddenly ran aground on some rocks between Ponta Das Selas and Ponta Das Maxilhoes, near Santos during thick fog and heavy seas.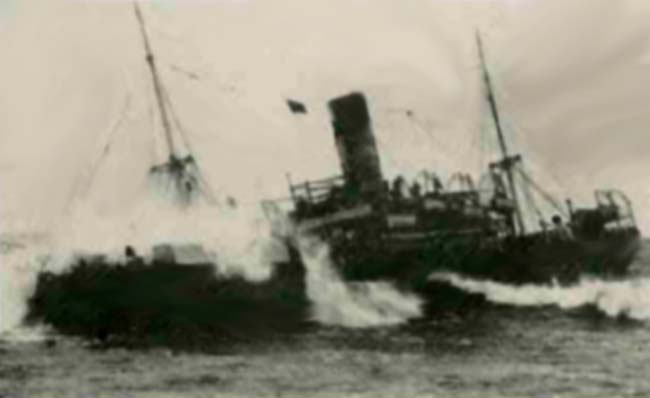 The SS Velasquez is seen wrecked on the rocks
All her passengers took to the lifeboats where they remained until dawn, later all were taken ashore to the beach at Praia dos Vellosos. The SS Milton that had just arrived on the same day at Santos from Antwerp, was she sent to the SS Velasquez site and soon as she was located the day after her running aground on October 17, sadly the SS Velasquez had already heeled over to starboard with her stern completely awash.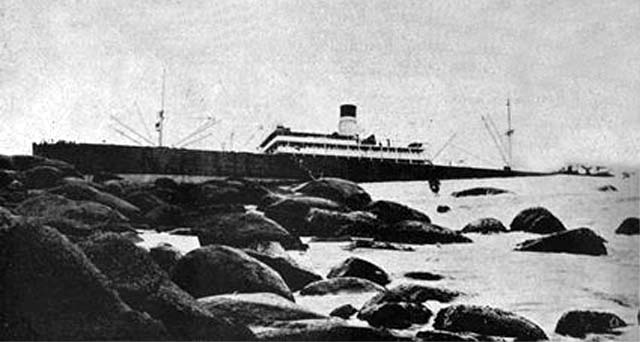 Her stern is slipping lower and lower
As the SS Milton did not receive any response from the stricken ship having repeated many blasts on her siren, she commenced a search and it would be some time later that all passengers and crew were found to be on the beach. All were transferred to the Milton, together with the mails that had been rescued and she returned to the Velasquez where an attempt was made to salvage the passengers' baggage. However the high seas just would not allow this, thus the SS Milton returned to Santos arriving at midnight on October 19. It was soon decided to declare the SS Velasquez as a total loss and all attempts of salvage had been abandoned. Thankfully, there were no casualties amongst any of the passengers or crew!
A replacement was already in the works, as a ship was already in the stocks and would be ready within a year and she would be named the Vasari, being 10,117 GRT, built by "Workman, Clark and Co. Ltd", and soon the service would be back to normal. For more on the SS Vasari See Page One – Link at the bottom of the page.
SS Veronese: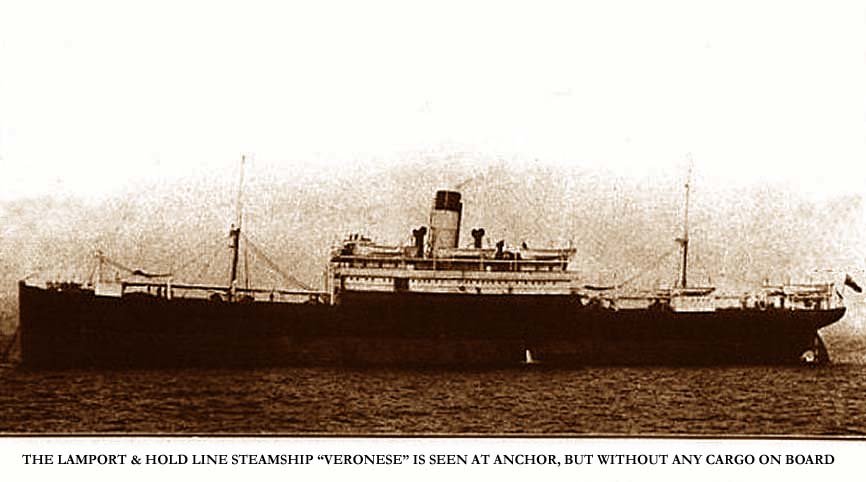 She, like her sisters, she was a well fitted out ship, with excellent accommodations, fine public venues and spacious decks and below are just a few images that will portray this ship and her sisters!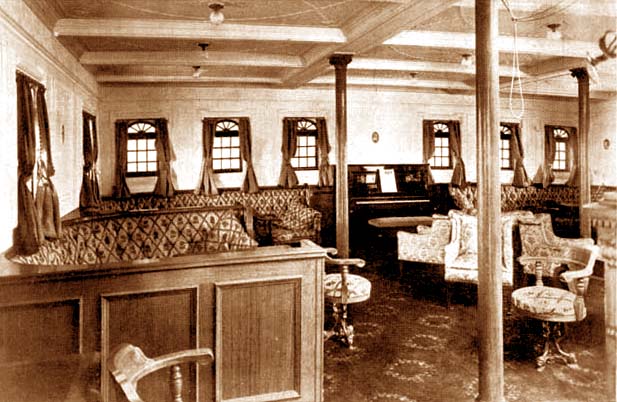 The Main Lounge was almost the same on all three ships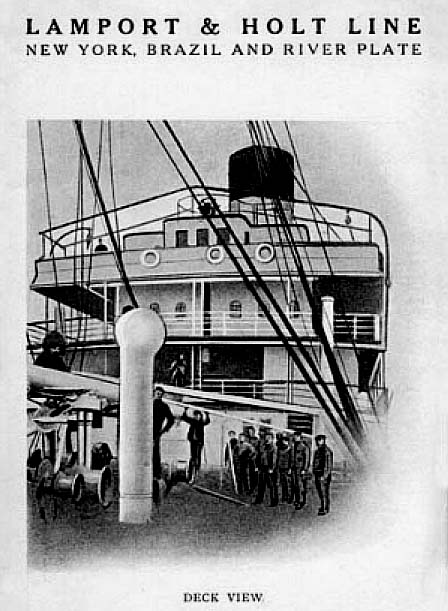 Her fore deck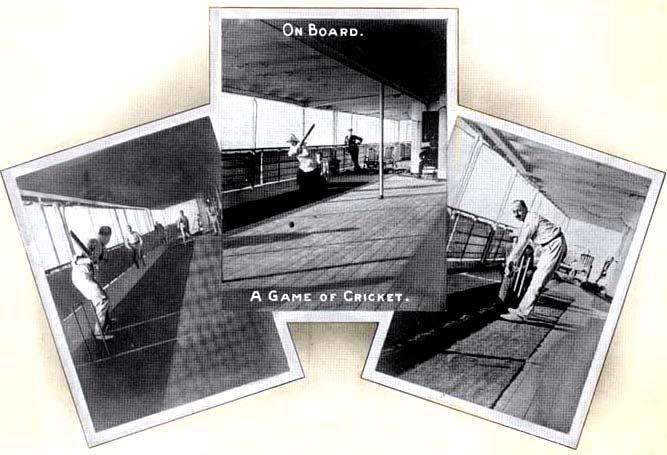 A game of cricket anyone on Promenade Deck?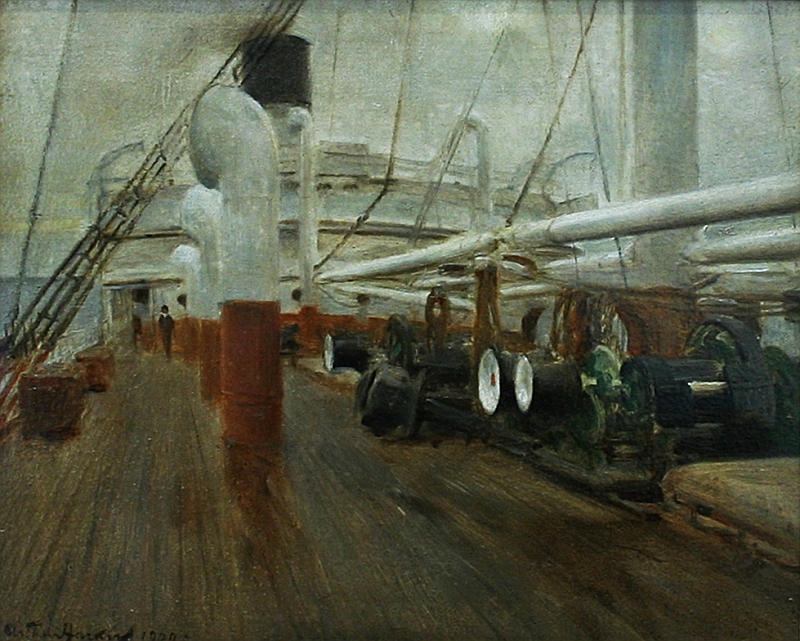 A very famous painting of the SS Veronese fore deck is was for sale at "Christies" in New York just recently
This painting is by Arthur Hacker
However, just over four years after the tragedy of her earlier sister, a similar tragedy would happen again on January 16, 1913. This time it would be the second ship of the trio, the SS Veronese, for she was on a voyage from Liverpool to Buenos Aires under the command of Captain C. Turner. It was hoped to be a great voyage considering that she was a fully booked ship with a full compliment of passengers of 144 and her regular 77 crew. Having made a call at Vigo in Spain, she was now bound for Leixoes at Portugal.
However before reaching Leixoes she encountered really bad weather conditions, including rough seas and "very thick fog" that is also known as "Pea soup fog"! Then suddenly out of this invisible grey-mass all around the ship out of nowhere came this extremely loud crunching noise and the ship came to a grinding and a blinding halt for she had struck rocks too not far from "Le?a da Palmeira," Portugal on January 16.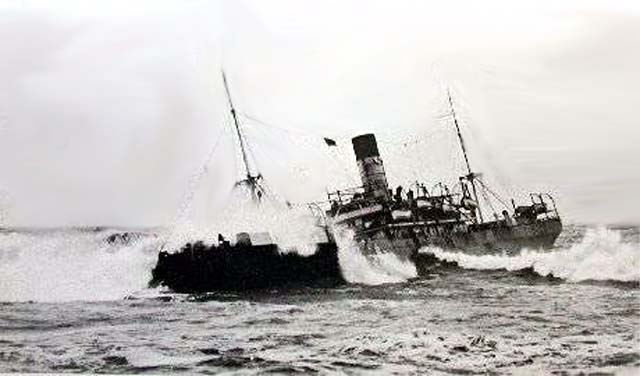 Here we see the tragic sight of the SS Veronese wrecked on the rocks
Sadly 27 persons were lost and due to the weather this prevented the near-by local lifeboat from assisting the ship and its passengers in the rescue attempt quickly. It was decided that the only means to operate the rescue of passengers and crew was by the means of what is called a "breeches buoy" and then only after the weather had improved a little.
The rescue lasted for well over 48 hours and due to situation and the slow rate, for they had to use the cables going back and forth, as well as two rescue boats who had to recover people who had jumped into the ocean, when there was no need for them to do this. Finally, the Captain would be the last person to leave his ship! Besides the 27 people that so tragically died due to the accident, there were another 11 casualties, having a range of injuries, but again another Lamport & Holt ship was total loss!
SS Verdi: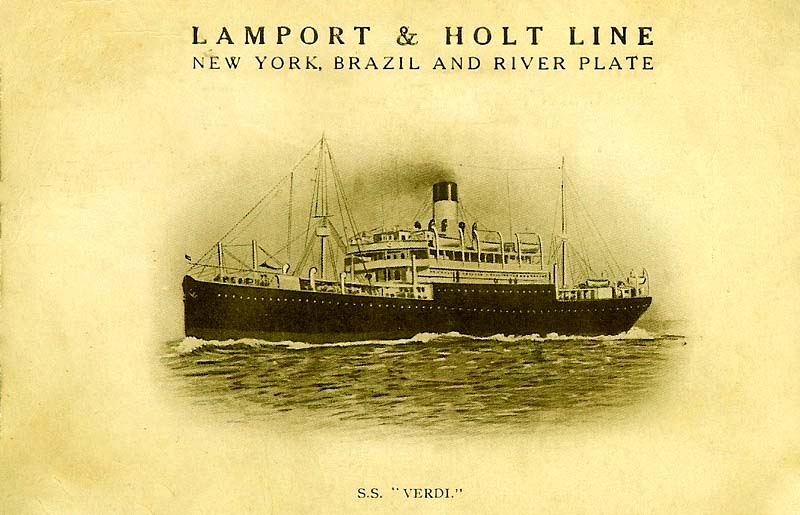 The SS Verdi was the last of the Lamport & Holt Line trio of ships and she was built by built by Workman, Clark and Co. Ltd, at Belfast in 1907. No sooner had she commenced her maiden voyage, she became the darling of the travelling public, could it possibly have anything to do with the great popularity of the Italian composer, Giuseppe Verdi? Whatever it was, the Verdi sailed on as one of the most successful ship of them all.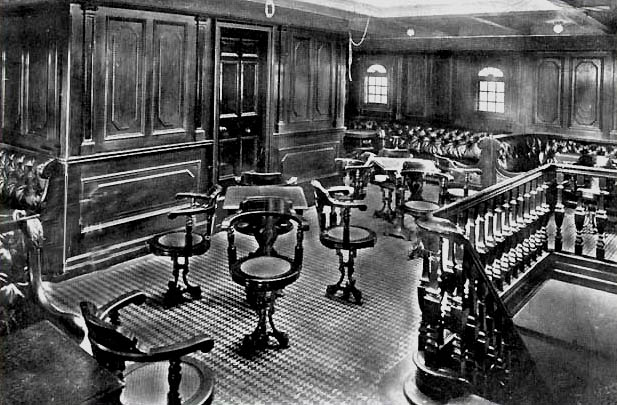 SS Verdi's heavily timbered Smoking Room which would be the same as on the other three ships!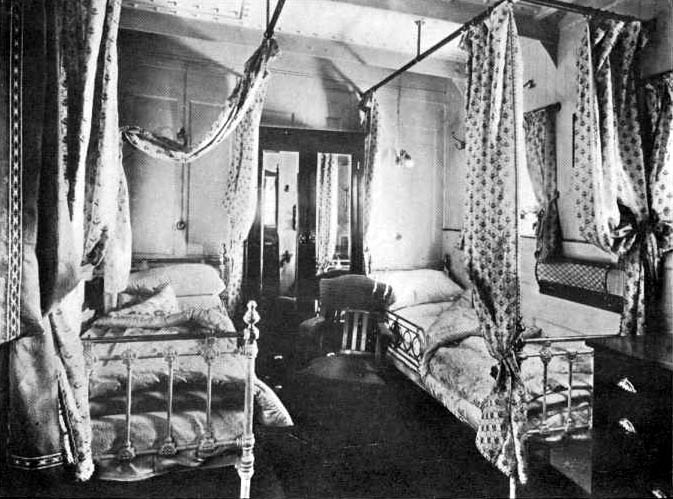 This is a First Class Cabin De Luxe and although it may look rather simple, but remember it was the beginning of the 1900s!
Passenger List:
This is a Passenger List from a SS Verdi voyage ex New York, April 20, 1911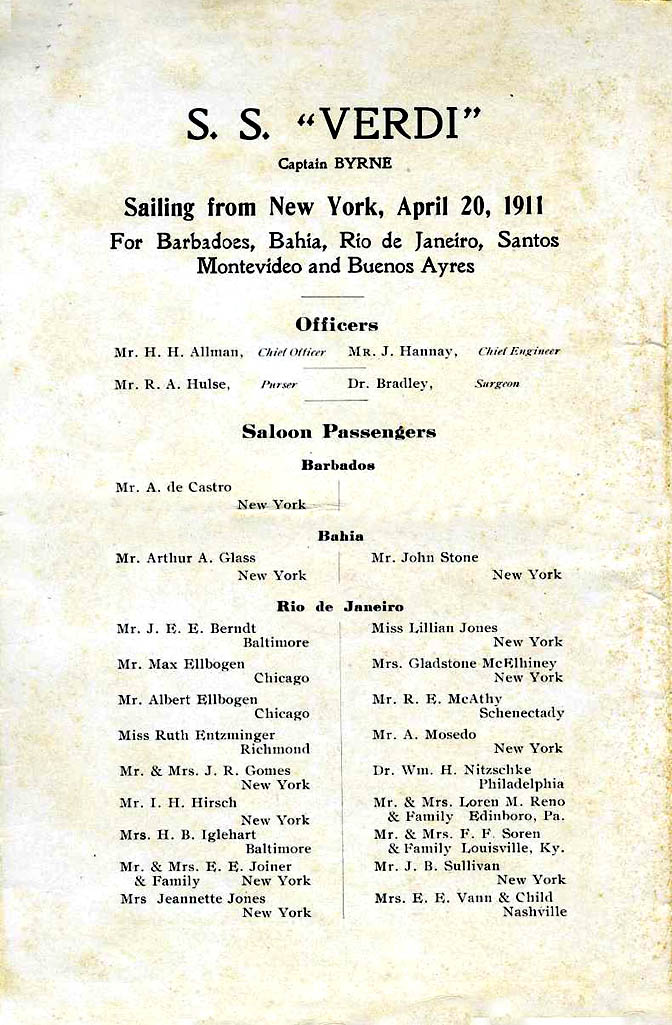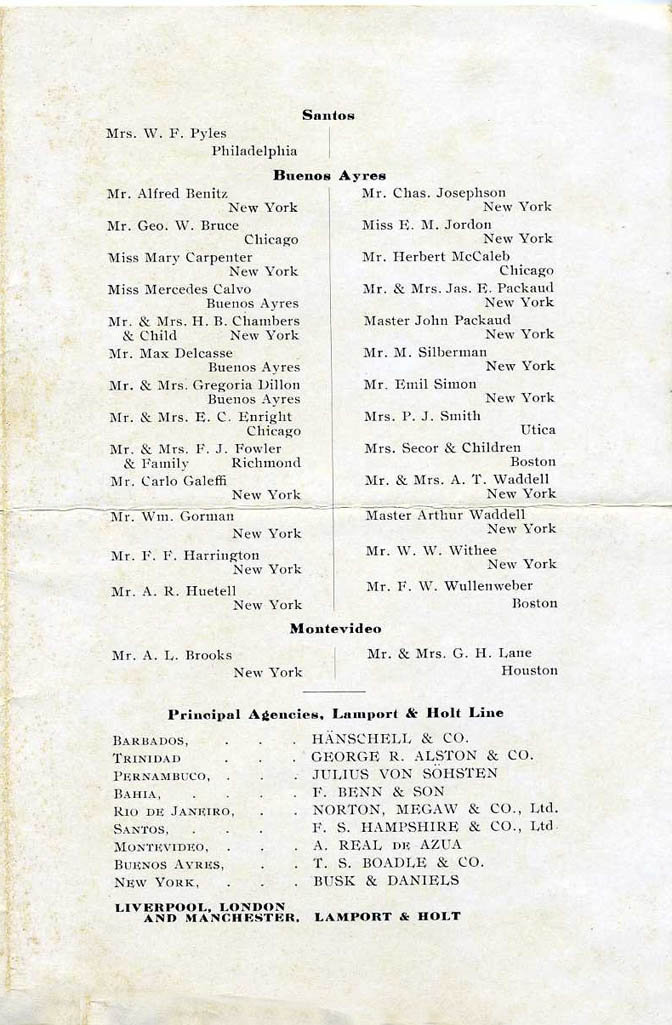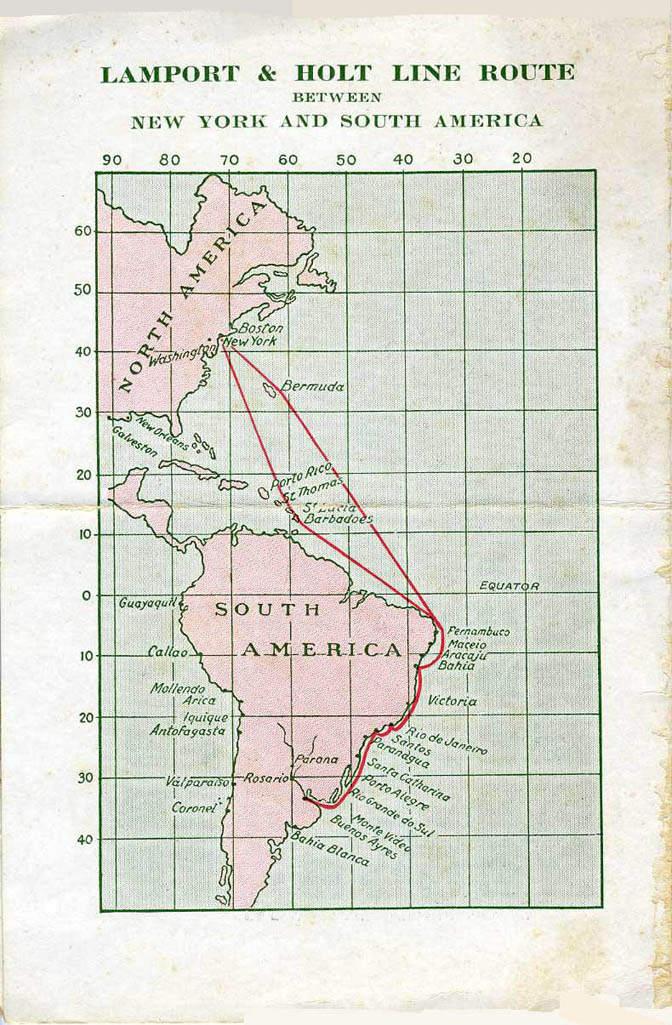 But sadly this lovely ship ended up becoming a casualty of World War 1.
On August 22, 1917 whilst she was on a voyage from New York to Liverpool, England she was suddenly attacked and was torpedoed by the German U-Boat, the U-53, which took place around 115 miles or 185.07 Klm, northwest of Ireland. Sadly, six members of the crew were killed due to the attack for sadly, they were precisely where the torpedo actually hit the ship. Thankfully all others were able to get to and into lifeboats and thus they survived.
As the SS Verdi went down under the waves on August 22, 1917, having sailed for just ten years, this brought about the end of this popular but a very sad Lamport and Holt Line Trio of 1906-1907 built, 7,000-ton "V ships!" But it was certainly not the end of Lamport and Holt using the "V" name again!
Specifications - 1. SS Velasquez, 2. SS Veronese & 3. SS Verdi:
Built by:???????????????????? 1. Sir Raylton Dixon, at Middleborough on the River Tees in 1906.
.??????????????????????????????? 2 & 3. Workman Clarke & Co. Ltd., Belfast.
Completed:???????????????? 1. late 1906.
.??????????????????????????????? 2 & 3. mid 1907.
Tonnage:??????????????????? 1. 7,542 GRT - 4,180 Net.
.??????????????????????????????? 2. 7,877 GRT - 4,180 Net.
.??????????????????????????????? 3. 7,120 - 4,180 Net.
Length:????????????????????? 141.7m - 464.10ft.
Width:?????????????????????? 18m - 59ft.
Draught:??????????????????? 9.1m - 29.10ft.
Propulsion:???????????????? Triple Expansion Steam reciprocating - 400 NHP, by the builder.
Propellers:????????????????? Single.
Speed:?????????????????????? Regular speed 12 knots.
Passengers:??????????????? Yes, but numbers unknown.
--Page Two – Will come online in due course! --
***********************************
Use the Back button on your browser or Close the Page to return to the previous page
or go to our INDEX
Who is the Author of ssMaritime?
Commenced in the passenger Shipping Industry in May 1960
ssMaritime.com & ssMaritime.net
Where the ships of the past make history & the 1914 built MV Doulos Story
Also visit my …
"Save The Classic Liners Campaign"
Photographs on ssmaritime and associate pages are by the author or from the author's private collection. In addition there are some images that have been provided by Shipping Companies and private photographers or collectors. Credit is given to all contributors. However, there are some photographs provided to me without details regarding the photographer/owner concerned. I hereby invite if owners of these images would be so kind to make them-selves known to me (my email address may be found on www.ssmaritime.com only), in order that due credit may be given.
This notice covers all pages, although, and I have done my best to ensure that all photographs are duly credited and that this notice is displaced on each page, that is, when a page is updated!
ssMaritime is owned & ? Copyright by Reuben Goossens - All Rights Reserved