H.M.S. Bulolo WW2 service record1938 to 1946
Note: iPhones, iPads, Firefox & some other Search Engines may not be suitable
Use Google Chrome for this Web Page to load perfectly!
Click the logo above to reach the ssMaritime FrontPage for News Updates & "Ship of the Month"
With Reuben Goossens
Maritime Historian, Author, Lecturer & Cruise'n'Ship Reviewer
Please Note: All ssmaritime as well as my other related maritime & cruise sites are 100% non-commercial and privately owned sites. Be assured that I am NOT associated with any shipping or cruise companies or agencies or any other organisations! The author has been in the passenger shipping industry since May 1960, but although retired and unwell, I occasionally attempt to write an article now and then, in order to bring enjoyment and pleasure to ship enthusiasts past passengers and crew.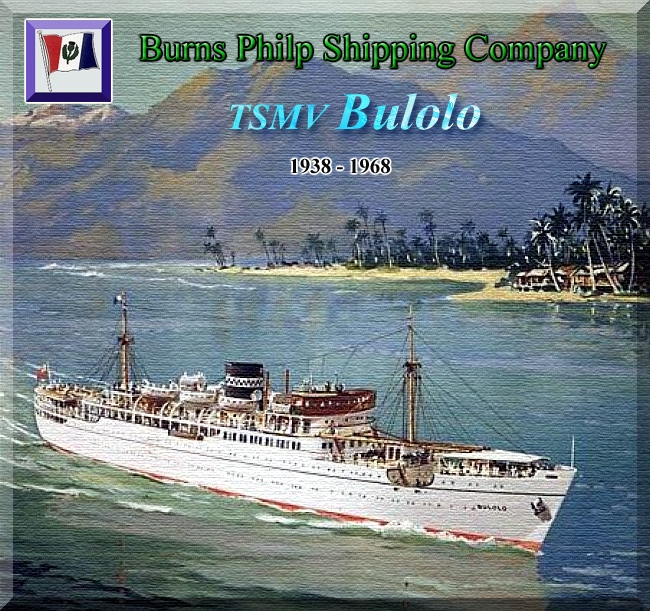 A fine artist impression from a Burns, Philp Travel Poster
Page Two
H.M.S. Bulolo - WW2 Service
Photographs from the author's private collection, or as marked including the …
Imperial War Museum (IWM), National Archives (NA) & D-Day Museum (DDM)
NEW: The R.A.N. Engineer Jock Haug Story.
After the brand new T.S.M.V. Bulolo (as seen above) had operated just eight return voyages prior the commencement of World War 2 she was taken over on September 22, 1939 by the British Ministry of War Transport on behalf of the Royal Navy.
Armed Merchant Cruiser:
Then on October 21 she was she was given a comprehensive conversion at Simon's Town Naval Dockyard (near Cape Town) in order for her to become an "Armed Merchant Cruiser" (A.M.C.). Her makeover was completed and she was officially commissioned on January 4, 1940 as the H.M.S. Bulolo F82, and she was ready to sail on that day.
She was equipped with seven 6 inch as well as two 3 inch anti aircraft guns. There were also depth charges on board and a good variety of various smaller armaments and weapons. It had been worked out that if the Bulolo would cruise at 12 knots she had an excellent range of around 9,300 miles, however, when speed was of importance, she could sail at 15 knots, then her range would be around 7,700 miles.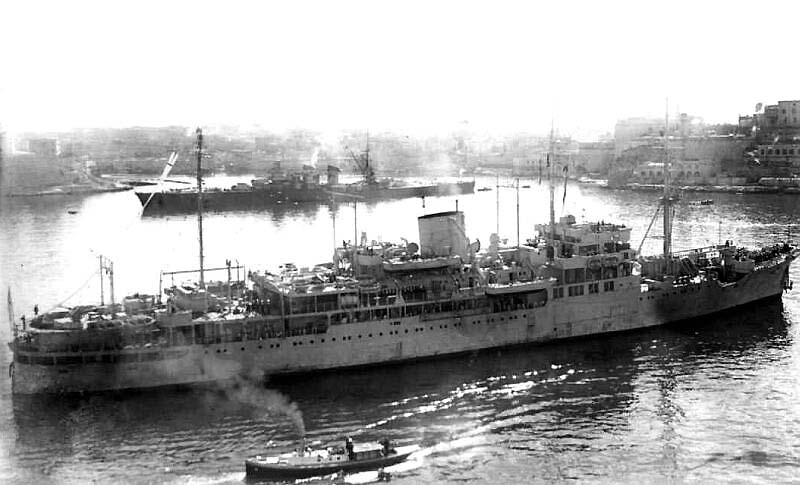 Armed Merchant Cruiser H.M.S. Bulolo (F82) is seen here in 1941
Photograph © NA
The Bulolo departed on January 24, 1940 as part of the "Freetown Convoy" on an escort duty between South Africa, Britain and the United States, thus her early wartime duties was based in and around the Atlantic Ocean. She spent much of the sailing between the America and the UK, as well to and from South Africa transporting troops and supplies. Apart from her escort duties, the Bulolo, due to her armament and excellent speed, she was also used to search for German Raiders and the recapture of "Vichy" French ships.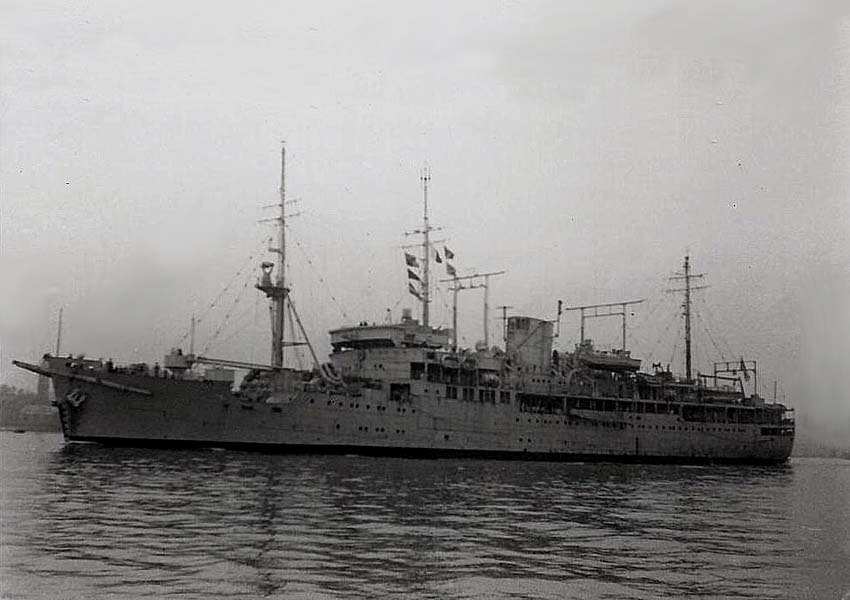 Armed Merchant Cruiser H.M.S. Bulolo
Photograph © NA
Landing Ship and Headquarters:
As Admiral (the Earl) Mountbatten had been appointed to head up the Combined Operations Command in October 1941, he came up with the idea of using Landing Ships which would be able to operate as Headquarters during amphibious warfare.
On March 25, 1942 the Bulolo was sold to the Admiralty who had her converted into the very first ever "Landing Ship and Headquarters" (L.S.H.). Thus the Bulolo was stripped of all non essential equipment and she was fitted with a most extensive and sophisticated communications systems ever to be placed into a ship. Thus, she had full control systems for the three forces, 'Army', 'Navy' and the 'Air Force'. For the time, she had the finest brand new available high tech communications equipment and control room facilities.
For instance, there were complete sets of wireless instruments in order that contact could be maintained with landing forces, the Bulolo became the perfect ship with equipment in order to enable the "Operational Planners" to stay in touch with London, seeking and receiving information as required in any situation. As one crew member stated who had been in the Radio Room; "We were operating just as if we were in Great George Street. In fact we could send off at least thirty wireless messages at the very same time as well as a host of other communications."

Overall communications layout and
Images © NA
In June whilst the H.M.S. Bulolo was on her sea trials off the coast of Scotland, the Admiral of the Fleet the 1st Earl Mountbatten, came on board to view the completed ship especially her highly specialised capabilities first hand. Earl Mountbatten was so impressed with this superbly equipped and highly efficient small ship he handed his official flagship of the fleet flag.
After her sea trials she would be fully manned who would be fully trained with all her new equipment and other facilities in order to be ready to commence her new role.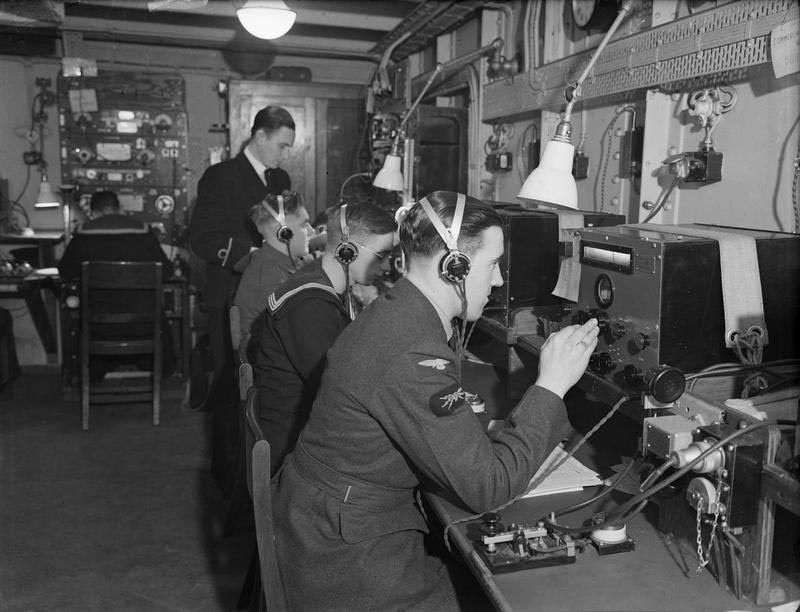 The busy Radio Room on the Landing Ship H.M.S. Bulolo
Photograph © IWM (A 13842)
Operation Torch:
The Bulolo's first operation as the Mountbatten HQ flagship, was given to Admiral Sir Harold Martin Burrough as she would be used as the Head Quarter Ship for invasion of North Africa, which was codenamed "Operation Torch".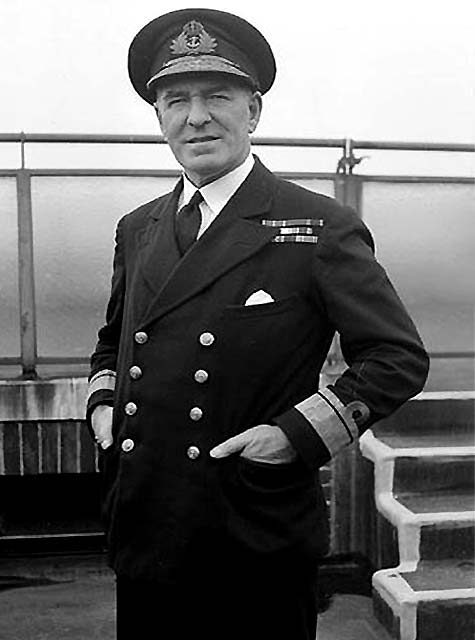 Admiral Sir Harold Martin Burrough
This convoy comprised some 300 ships which departed from ports all around the UK at the end of October 1942, and headed for Oran, and Algiers. On board were high ranking officers from all the three services, both British as well as Americans, including Generals Ryder and Mark Clark.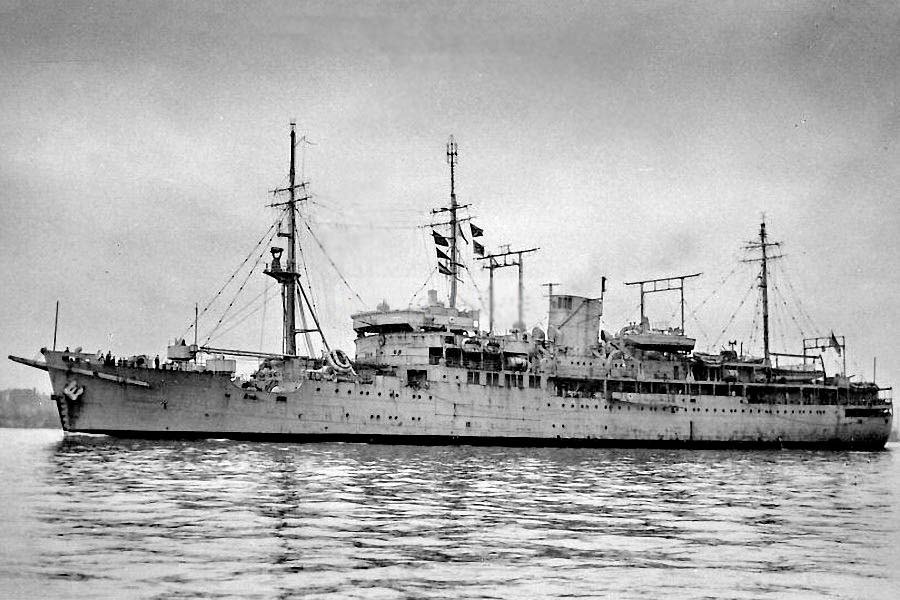 Mountbatten first HQ flagship H.M.S. Bulolo seen in November 1942
Source unknown - Please see photo notes at bottom of page in order that credit may be given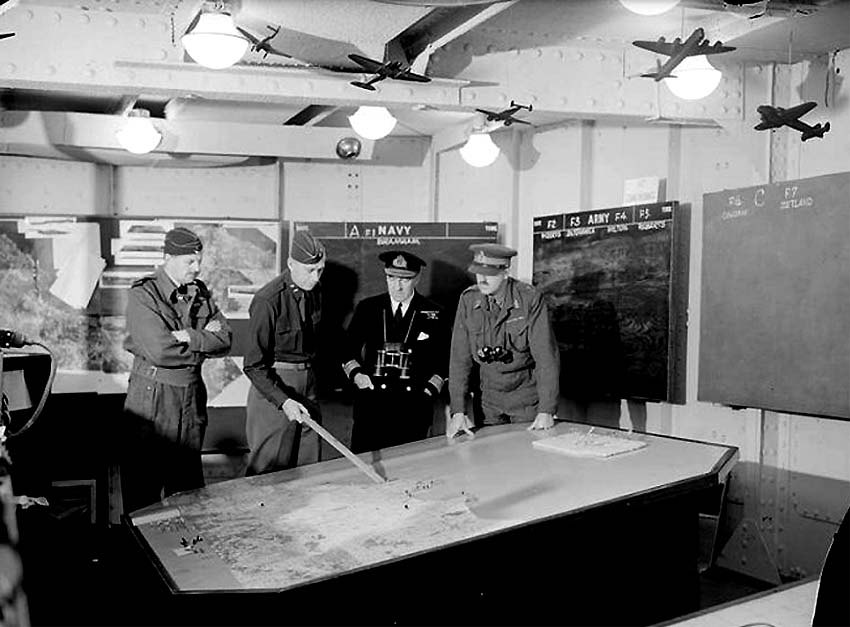 Photograph © IWM
Photograph above: We see from left to right Air Commodore Lawson, Major General C. Ryder, Rear Admiral Sir Harold Burrough and Major General V. E. Evelegh in conference in the Operations Room of H.M.S. Bulolo.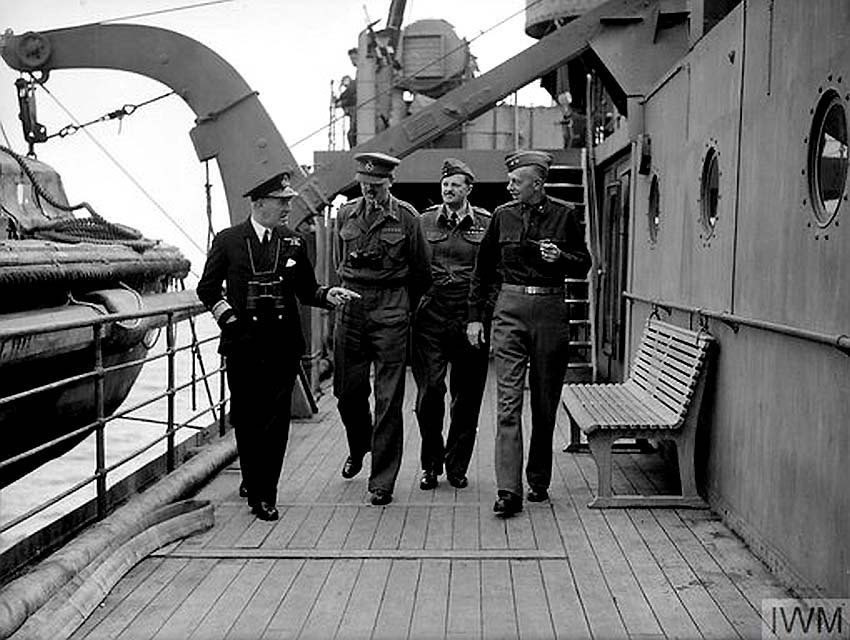 Photograph © IWM
Photograph above: From left to right we see Rear Admiral Sir Harold Burrough, Major General Evelegh, Air Commodore Lawson and Major General Ryder on board H.M.S. Bulolo, en-route to Algiers.
The voyage was a perfect and a smooth one, however having passed by the German's through the Straits of Gibraltar suddenly the convoy came under attack from enemy aircraft. Then with the successful landings of the invasion forces, and with the Bulolo arriving in Algiers harbour in November 9, 1942, looking like a perfect lady, but all was not quite as it seemed. The truth was, as Commander Anthony Kimmins said during a BBC broadcast that evening, that Bulolo's voyage did have a real problem towards the end …
" … while approaching the harbour that morning, Bulolo had been heavily dive-bombed by Hun aircraft. A near miss had rendered the telegraph indicators, linking the bridge to the engine room, out of action. As there had been no occasion to use the telegraph between then and coming into harbour, there was no reason to suspect they had been damaged. Now, as the captain rang down 'Stop - Half astern - Full astern' the engineers below were blissfully unaware that they had been given any orders. Luckily a sandbank and some rafts broke the impact, but Bulolo hit the concrete jetty a tremendous crack before finally coming to rest."
The Bulolo remained in Algiers for four weeks in order to be repaired, when repairs were completed she returned to the UK arriving just in time for the Christmas holidays.
Casablanca
Conference:
But their Christmas break for the crew would be a short one, for early in January 1943 she was to have a special appointment in North Africa, for it was there where the "Casablanca Conference" was scheduled to take place. It would be there where Winston Churchill and Franklin Roosevelt would be on board the Bulolo to discuss plans for the next stages of the war.
It was quite clear that Churchill suspected President Roosevelt as well as his advisers who were not too keen to accept Churchill's plans to continue with the "Mediterranean campaign". They viewed it as an unnecessary diversion that would delay the main invasion of Europe. There is a quotation found from these events that goes as follows;
"To help build his case, Churchill had ordered Bulolo to attend at Casablanca, with its war room full of planning studies bound in rich red leather dispatch folders. As the 'Bulolo symbolised the British empire's formidable bureaucratic firepower', the British chiefs would lobby their American counterparts, and all issues would be discussed fully and the relentless British logic would win through. And these impressive red leather folders would reveal 'wondrously precise studies and statistics' in support of Churchill's strategic arguments!"
British out-planning of the Americans was due in no small part to a Royal Navy vessel, H.M.S. Bulolo, a floating library and communications centre, with a large staff (much larger than the Americans had thought to bring with them). The British monopoly on communication allowed Churchill to stay closely in touch with events, including with the products of ULTRA intelligence throughout the conference Churchill sent a number of telegrams to the War Cabinet demanding that he be sent more secret intelligence. The use of secret intelligence, while the information was shared between the British and the Americans, undoubtedly gave the edge to the British, who knew from Enigma decrypts far more about the Russian front than Stalin was telling them, including the progress of the battle for Stalingrad. Furthermore, Churchill's 'hands on' style gave him the edge in his personal relationship with Roosevelt, who obvious did not have the information available, and able to process it in the same way as Churchill.
It certainly did prove that these red folders and Bulolo's highly intellectual contribution to history in Casablanca and in all her operations would make her fame in wartime history secure!
Other Operations:
After the very successful "Operation Casablanca" she became the flagship of Rear Admiral Thomas Troubridge in charge of "Force A" transporting the British XIII Corps onto the Sicilian landings in the Gulf of Noto in July 1943.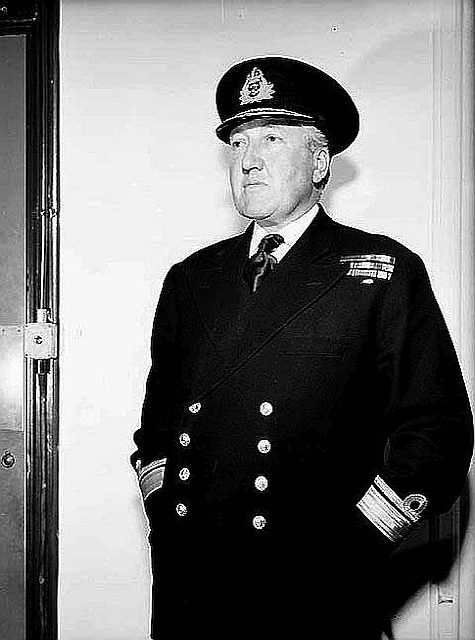 Rear Admiral Thomas Troubridge
Then in January 1944 again under the Command Rear Admiral Thomas Troubridge she headed off on what was known as "Task Force Peter" embarking the British 1st Division unto Anzio. She then returned to Britain in April 1944 to prepare for the biggest operation of her career!
Operation Overlord:
Commodore Douglas-Pennant, Naval Commander of Force 'G', hoisted his (Mountbatten's) battle flag on the stern of H.M.S. Bulolo on April 28, 1944, after which exercises were carried out in preparation for D-Day.
Thus, after three years of planning, the Allies were about to embark on "Operation Overlord", being what is known as the decisive and final major assault of WW2 in Europe. The associated Naval operation to transport and land all servicemen and equipment was code-named Neptune.
Operations "Overlord" and "Neptune" for together they constituted a programme, which was planed to removal Hitler's Nazi regime in Europe for good! This massive event would become known as "D-Day".
However, for it to be successful and to ensure sufficient resources to resist any German counter-offensive, "Neptune" required to deploy almost 7,000 ships, in order to land some 150,000 men as well as all their equipment on various beaches in northern Normandy. Thus exercises were planed.
Exercise Fabius:
Hayling Island would play a significant role in the preparations for D-Day, as it would be involved in the development of techniques, skills and the use of equipment to ensure the success of the assault on the enemy who was dug-in at Normandy.
These exercises were known as "Exercise Fabius: which were held from 2 to 4 May 1944, as well as the subsequent D-Day operations which would be controlled and directed from Admiral Mountbatten's Headquarter ship, the H.M.S. Bulolo. This modern and superbly suited ship had already had an earlier successful career, such as the successful assaults at Algiers, Sicily and Anzio.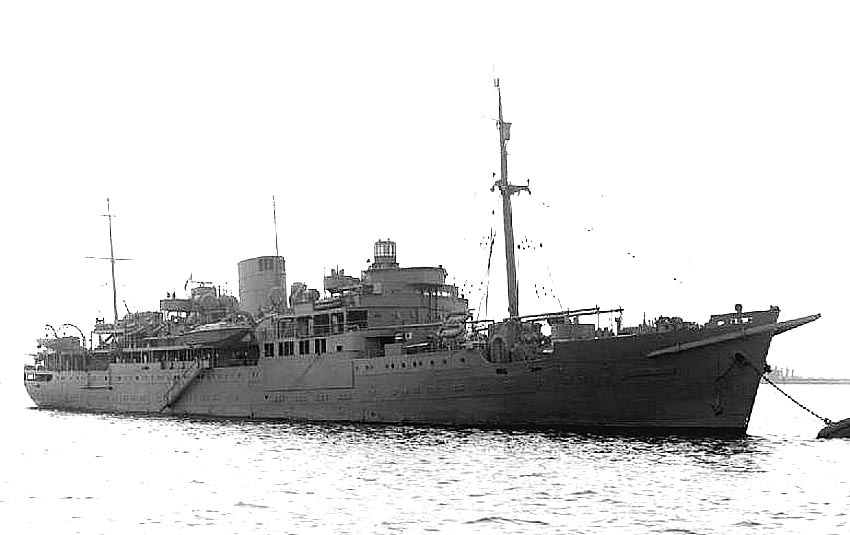 H.M.S. Bulolo is seen here at anchor in the Medway, a river south of the River Thames on May 24
Photograph © IWM
Two weeks after Fabius and before D-Day, on May 24, 1944, King George VI visited the H.M.S. Bulolo and reviewed the assault craft of Force 'G' from her bridge.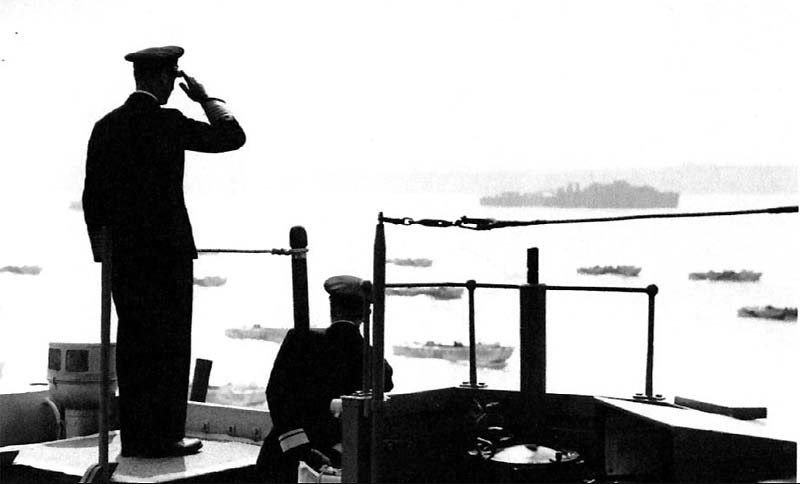 King George VI is seen saluting the 'Sail Past' of assault landing craft
The King also inspected the ships facilities, which was obviously very impressive, he then walked the deck and he inspected the crew and WRNS who were deployed aboard the "Landing Ship & Headquarters" H.M.S. Bulolo.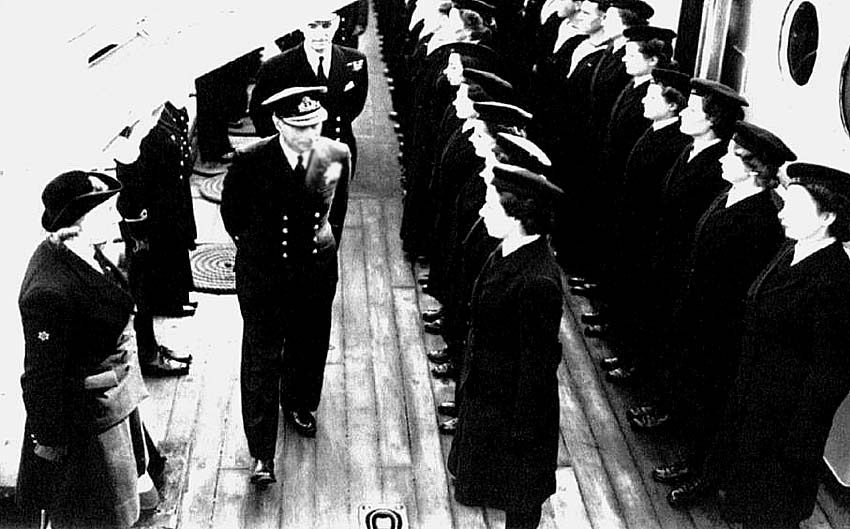 King George VI visits the WRNS
Photograph © IWM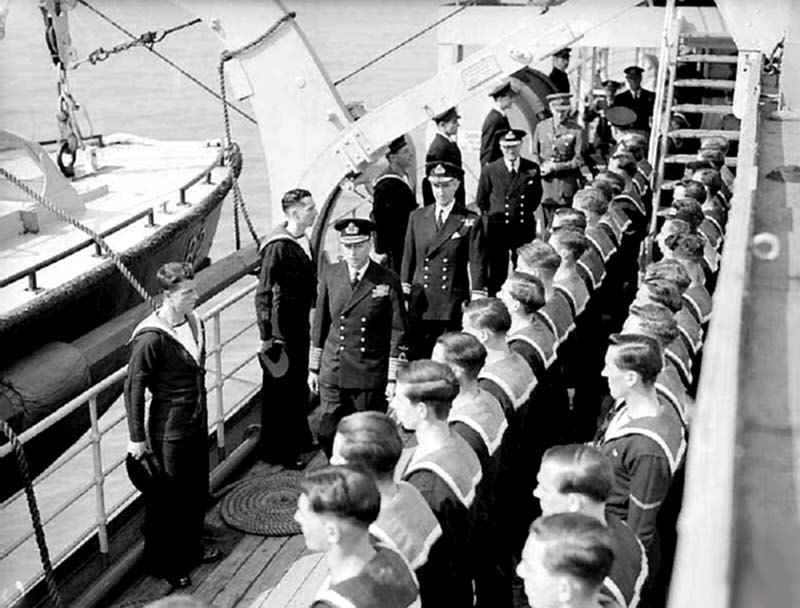 King George inspects Bulolo's crew
Photograph © IWM
On June 5, 1944, with Admiral Mountbatten's battle flag flying from the stern of the official "HQ and Command ship", the H.M.S. Bulolo was ready to depart for D-Day.
D-Day - Normandy Bound:
H.M.S. Bulolo, with Admiral Douglas-Pennant in command, departed Southampton at 1710 and the Solent at 1837 on June 5, arriving at Gold Beach at 0556 on D-Day June 6, as part of "Assault convoy G9A" with all the other ships following her, and suddenly the Germans opened up with their big guns and as one crew member stated "I simply cannot describe the stuff that was flying around us and the noise was unbelievable." She played her role well as the main central Headquarter Ship in the operation.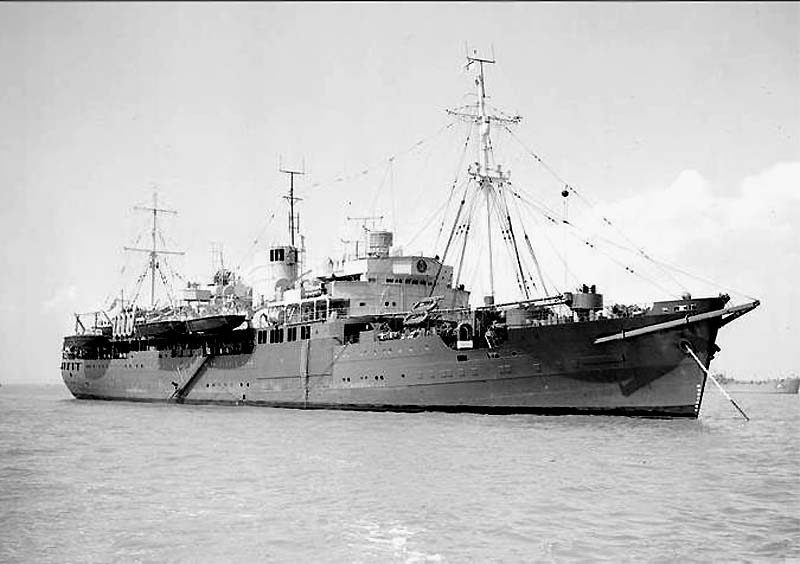 H.M.S. Bulolo is seen at her station off the beeches of Normandy and the invasion
Photograph © IWM
She sustained some bomb damage just forward of her superstructure, near her Operations Room at 0605 on June 7, thankfully there was only minor damage, although there were a number of injuries and sadly one tragic death. Then on June 15 there was some superficial damage to her upper structure when she was rammed by the "Empire Pitt," and at 1010 on June 27, she was hit by an LCT, which is a "Landing Craft" transporting "Tanks".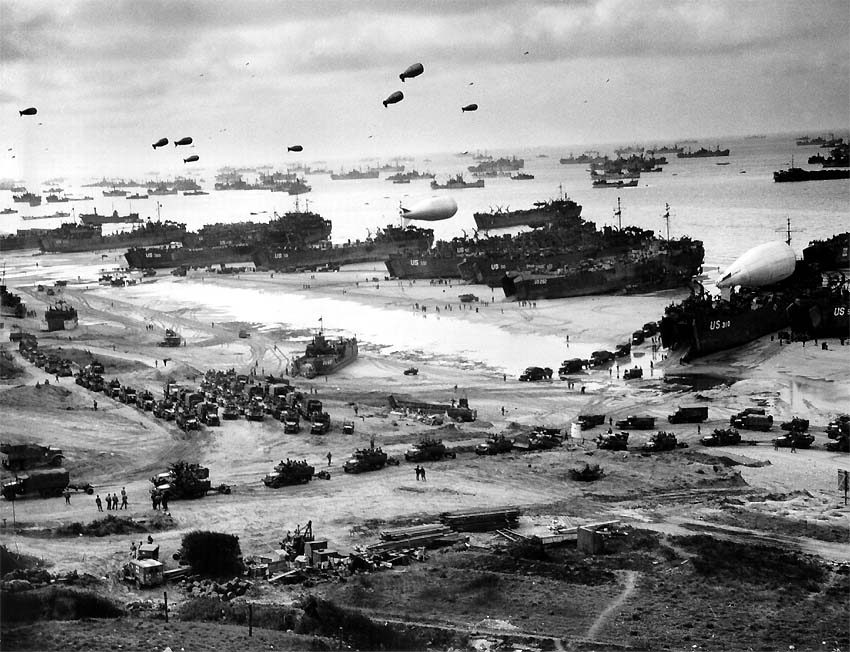 Photograph © US NA
Above and below: Countless British and American "Tank Landing Crafts" (LCT's) and other landing crafts on D-Day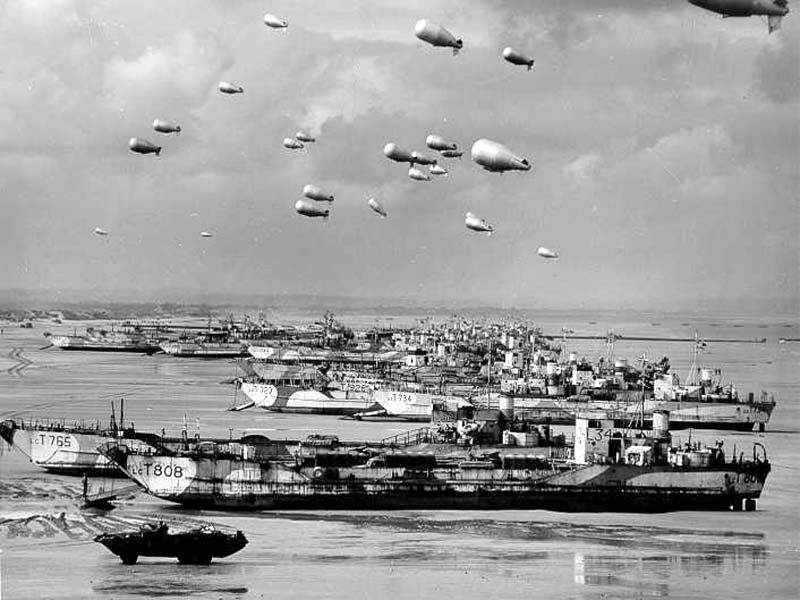 Photograph © US NA
The Bulolo returned to Southampton at 12.12 on June 28, 1944, where she received the required repairs.
H.M.S.

Bulolo
Final Duties:
In September 1945, the H.M.S. Bulolo was now the flagship of Rear Admiral. B. C. S. Martin and her duties was in operation with "Force W" off Malaya and also Singapore.
The Bulolo also assisted in evacuating Rabaul in New Guinea before the Japanese captured the port during WW2, after which she was used as the ship for the official Japanese surrender of Singapore in September 1945. All her accomplishments are without a doubt a most notable record for a small Australian passenger liner!
The following was sent by a supporter, who sent me the short item below, which was penned by his late Father
"I was on board the HMS Bulolo when she was the headquarters' ship (LHS) that was involved in the landings near Penang, Malaya, or Malaysia today in September 1945.
The Bulolo also assisted in evacuating Rabaul in New Guinea before the Japanese captured the port during WW2.
Next the Bulolo was in Singapore when the Japanese surrendered. We clearly recall how ceremoniously the Japanese officers would deposit their swords in the grounds of the Government building, but the official surrender documents was signed on board the Bulolo!
She then headed for the Dutch East Indies, today's Indonesia where we evacuated some five hundred Dutch women and children and took them back to Singapore."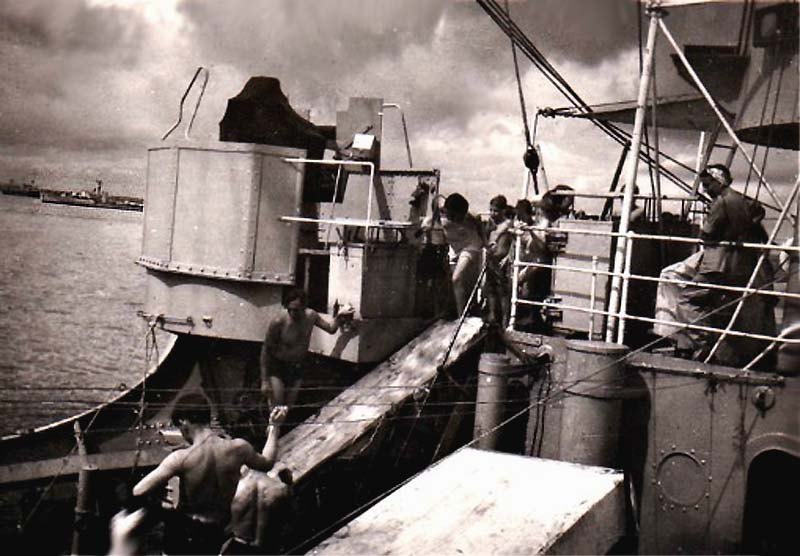 Dutch children entertained by the crew
H.M.S. Bulolo Official Service Record:
Atlantic: November 1939 to April 1940, Convoy and Patrol Duties.
Algiers: November 1942, under the Command of Admiral Burroughs.
Casablanca: January 1943, Communication Ship for the Churchill Roosevelt Conference.
Sicily: July 1943, under the Command of Admiral Troubridge.
Anzio: January 1944, under the Command of Admiral Troubridge.
Medway: May 24, 1944, HRH King George VI stood on H.M.S. Bulolo's Bridge watching and saluting the invasion fleet.
Normandy: June 1944, D-Day Command ship, under the Command of Admiral Douglas-Pennant.
Malaya: September 1945, under the Command of Admiral Martin.
New Guinea: September 1945, evacuation of Rabaul.
Singapore: September 1945, H.M.S. Bulolo used for the Japanese surrender of Singapore.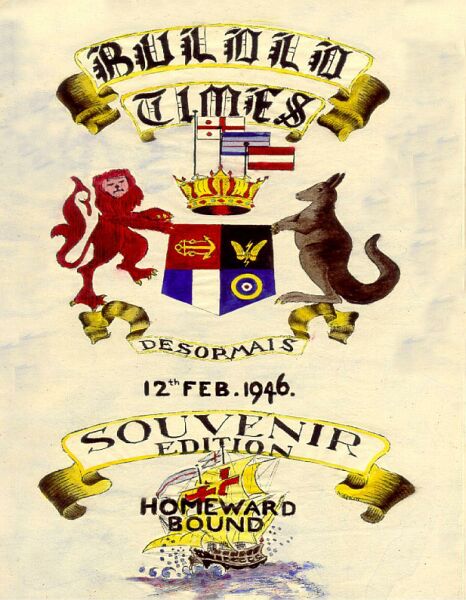 "Bulolo Times" - Homeward Bound edition
Provided by Stan Evans
The Jock Haug Story:
Royal Australian Navy mechanical engineer Jock Haug served aboard the H.M.S. Bulolo from 1941 through to 1945, and he saw a great deal of the ships aforementioned duties. However his story, as was related to me by his son Clive, comes with an interesting twist as it became an Australian Newspaper story on June 5, 2004, as Haug had returned to Normandy for the Sunday June 6, 2004, 60th Anniversary of the invasion of Normandy! It featured a large photograph of Haug with a flag, and below it his story. The story clearly described in the newspaper article below is very interesting indeed!
Please Note: all images below were provided by Clive Haug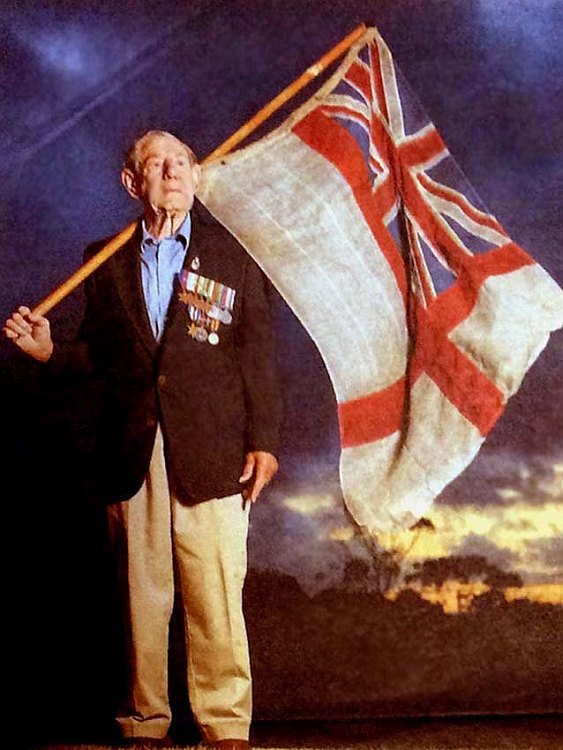 Jock Haug 2004 Photograph by Craig Borrow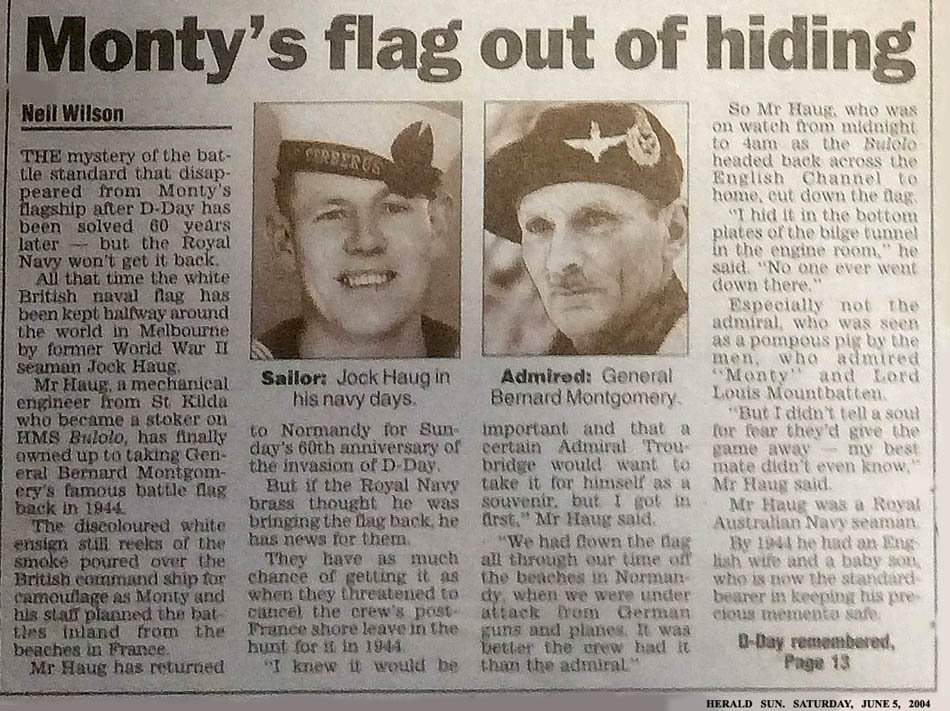 Herald Sun Story by Neil Wilson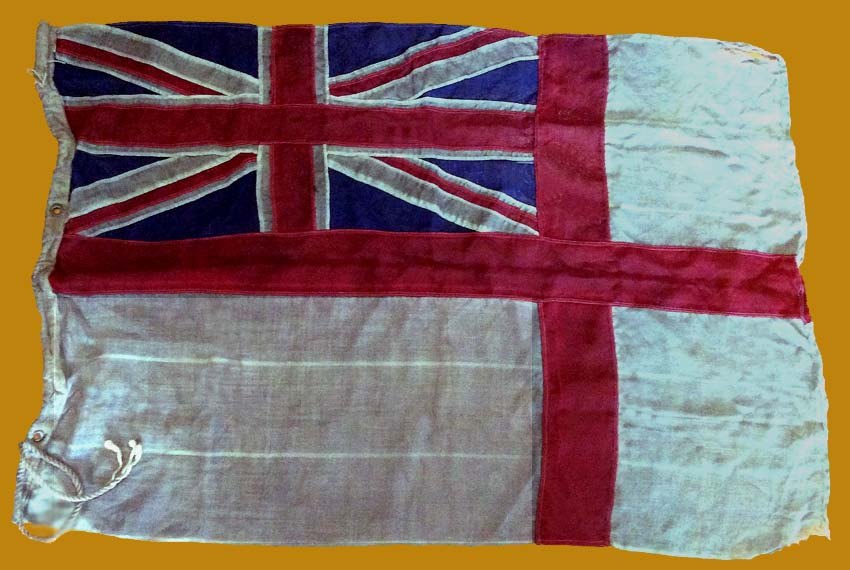 And here is the very famous flag in question

The photograph of Jock Haug in the Newspaper story, you will note the name "Cerberus" on Jock's cap. This is the name of "H.M.A.S. Cerberus" being the Royal Australian Naval base that serves as the primary training establishment for R.A.N. personnel. The base is located adjacent to "Crib Point" on the "Mornington Peninsula", just south of the City of Melbourne being the capital of Victoria, Australia.

It also needs to be noted, that according to history the flag was in fact Admiral (the Earl) Mountbatten's Battle Flag, and not General Montgomery (Monte's) as was thought.

Haug would be most interested to communicate with others who have an interest with the H.M.S. Bulolo! You can email him at gchaug@bigpond.com.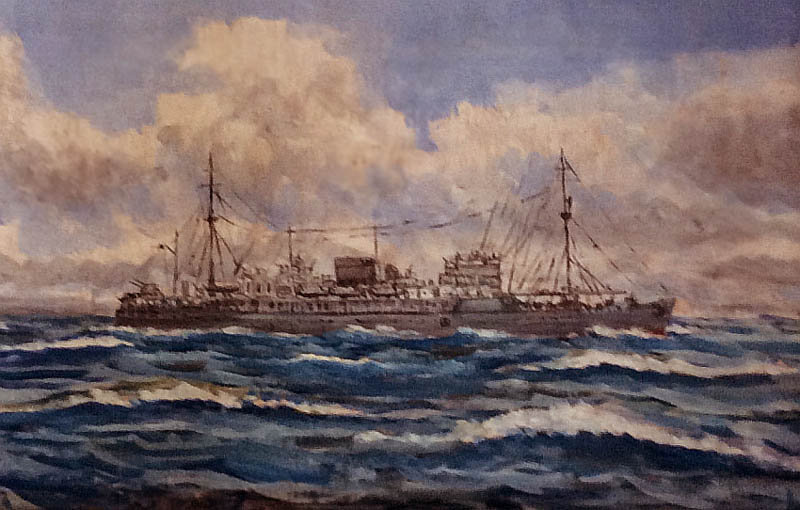 This is a painting acquired by Jock Haug of the H.M.S. Bulolo, although he knows it is not very accurate!
T.S.M.V.

Bulolo

Returned

to civil duties:
Her Naval service officially terminated on December 5, 1946, and having been handed back to Burns, Philp she was given a comprehensive refit and the once again delightfully gleaming white T.S.M.V. Bulolo resumed her original service on August 18, 1948. Details of her peacetime duties can be found on Page One.

Return to

Page One; The TSMV Bulolo Feature

Also read about the 1911 Burns Philp Ship - S.S. Montoro

***********************************

"Blue Water Liners sailing to the distant shores.
I watched them come, I watched them go and I watched them die."

Return to the ssMaritime MAIN INDEX

ssMaritime.com & ssMaritime.net

Where you will discover over 1,300 Classic Liners & the 1914 built MV Doulos Story

The Author has been in Passenger Shipping & the Cruise Industry for some 60 years!

Also visit the …

"Save The Classic Liners Campaign"

Founded in the early 1990's - The author is the founder and president

Please Note: ssmaritime and associated sites are 100% non-commercial and the author seeks no funding or favours of any shape or form, never have and never will!

Photographs on ssmaritime and associate pages are by; the author or from the author's private collection. In addition there are some images that have been provided by Shipping Companies and private photographers or collectors. Credit is given to all contributors. However, there are some photographs provided to me without details regarding the photographer/owner concerned. I hereby invite if owners of these images would be so kind to make them-selves known to me (my email address may be found on www.ssmaritime.com only), in order that due credit may be given.

This notice covers all pages; although, and I have done my best to ensure that all photographs are duly credited and that this notice is displaced on each page, that is, when a page is updated!

ssMaritime is owned & © Copyright by Reuben Goossens - All Rights Reserved