Burns Philp TSMV Bulolo 1938 to 1968 also the SS Malaita I & II
Note: iPhones, iPads, Firefox & some other Search Engines may not be suitable
Use Google Chrome for this Web Page to load perfectly!
Click the logo above to reach the ssMaritime FrontPage for News Updates & "Ship of the Month"
With Reuben Goossens
Maritime Historian, Author, Lecturer & Cruise'n'Ship Reviewer
Please Note: All ssmaritime as well as my other related maritime & cruise sites are 100% non-commercial and privately owned sites. Be assured that I am NOT associated with any shipping or cruise companies or agencies or any other organisations! The author has been in the passenger shipping industry since May 1960, but although retired and unwell, I occasionally attempt to write an article now and then, in order to bring enjoyment and pleasure to ship enthusiasts past passengers and crew.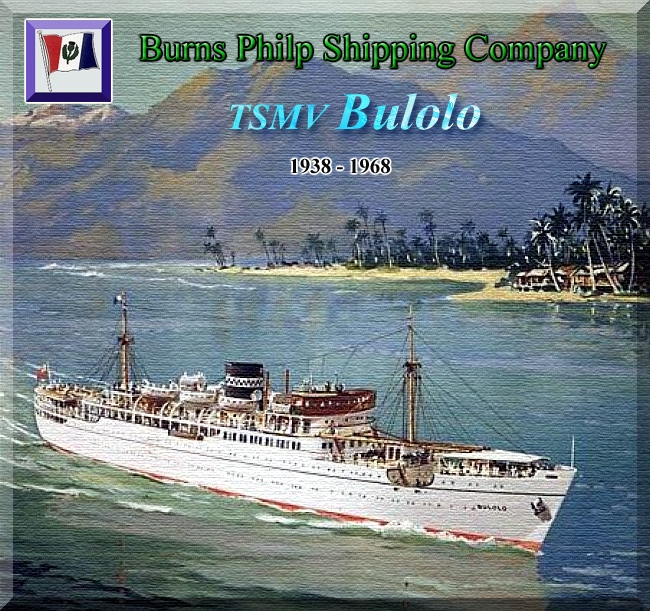 A fine artist impression from a Burns, Philp Travel Poster
Featuring the - T.S.M.V. Bulolo …
Also Featuring the S.S. Malaita I & M.S. Malaita II
Photographs on this feature are either part of the author's private collection or as marked,
Part One - Company Background:
Brothers James and John Burns arrived in Brisbane in December 1862. They decided to head into the country and after several of years working as Jackeroos (mostly outdoor & horseback workers taking care of cattle or sheep) at Springsure in Central Queensland. Eventually they left and headed for the Goldfield town of Gympie and became storekeepers there in 1865.
In the mid-1870's James Burns and Robert Philp had become friends and they had gone into a business partnership in Townsville that included a shipping service to Brisbane and Sydney for the inter-colony and overseas trade. After 1876, James Burns worked from an office in Sydney, where Burns, Philp & Company limited was incorporated in 1883. Their business quickly expanded with new branches around the country and in the Pacific and there was an expansion with a new range of merchant activities as well as establishment of Pacific Island plantations and trading connections. Burns, Philp & Company was set to become a pioneer as well as an ambassador for Australia in much of the South West Pacific area, and in due time, a much-respected multi-national group of companies.
Between the 1880s and early 1970s, Burns, Philp & Co. Ltd., operated some thirty-eight ships as well as inter-island sailing and powered vessels. Although World War I physical impact on Burns, Philp's areas of interest was limited, sea-going raiders presented a constant hazard to its ships. Most significant was the experience of its steamers S.S. Matunga which was en route from Sydney to Rabaul, when on August 6, 1917 it was captured by the German raiding ship "Wolf," and it sank the Matunga a few days later; the raider took the crew and passengers into captivity to Europe until the end of the war.
Between the wars the ships of Burns, Philp became a household name in Australia and South East Asia, as well as an indispensable link with the Pacific Islands, particularly appreciated by expatriate residents. Burns, Philp ships were easily distinguished by their black funnels with a black-and-white check band and their Scotch Thistle house flag. Their sustained service to remote locations as well as main cities and towns led to the Company sometimes being described as "The Hudson Bay Company of the South Pacific."
Part two - The two

Malaita

ships:
Prior to building the T.S.M.V. Bulolo, Burns, Philp already operated the M.S. Malaita II on the mail service between Australia, Papua, New Guinea, Solomon Islands, etc. M.S. Malaita II had been named after the 1893 built Malaita I a ship Burns, Philp had purchased in 1905. What follows is her brief history:
S.S.

Malaita I - built as the S.S. Antilla: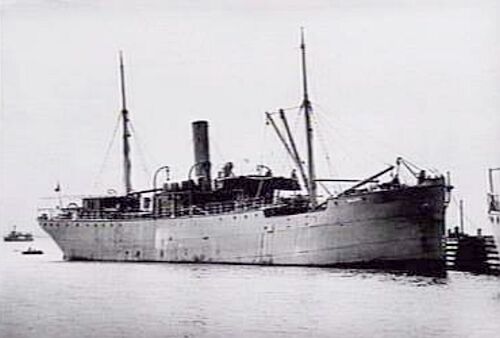 S.S. Malaita I
From the Victoria State Library
S.S. Antilla was a small steamship of just 929 GRT (Gross Registered Tons), 200 ft long and a beam of 30.2 ft and she had a draught of 12.3 ft. She was an all steel ship built in 1893 by the Grangemouth Dockyard Company on the River Fourth in Scotland. She had been ordered and built for the Bahamas Steamship Co Ltd, Nassau. She had triple expansion engine with a single screw giving her a respectable 10 knots for her day. However in 1904 she was damaged by fire and she was placed on the market.
In 1905 she was purchased by Burn Philp and was fully reconditioned and renamed Malaita I. And she soon commenced to trade the Pacific islands service out of Australia. She operated this service until 1914 when she was sold.
She was obtained by another famed shipping line, Huddart Parker and converted her into a coal hulk, but she was later sold to Moreland Smelting Co Ltd., 1918 or 1919, towed to Melbourne where engines of the famed paddle steamer Excelsior were installed. She was reregistered in Melbourne by H. B. Black & Co Ltd. However on November 17, 1926, whilst in Port Phillip Bay whilst she was at anchor there was a storm and she was blown ashore and smashed against the South Melbourne baths. She was refloated, and moved to be partially dismantled and then towed to be scuttled in the ships graveyard, just off Port Philip heads, November 20, 1927.
M.S.

Malaita II: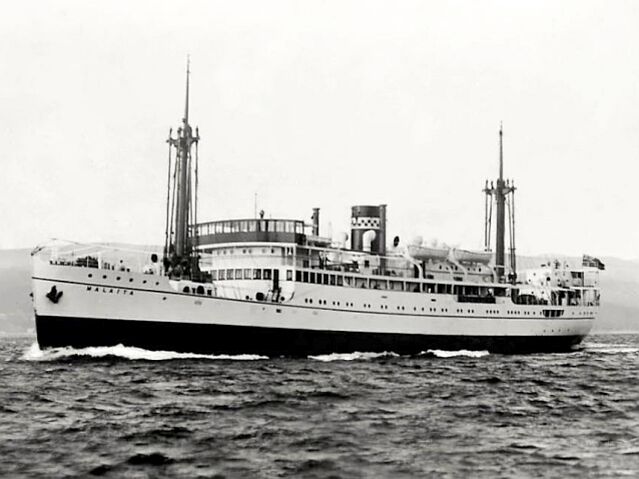 Postcard of the stately looking M.S. Malaita II

The new ship to be built and named after the first Malaita would be a motor ship and she was built by Barclay, Curle & Co., in Glasgow Scotland in 1933. She was 3,310 GRT, a length of 328 ft with a beam of 47.1 ft. She had B&W type diesel engines and a single screw giving her a speed of 12 knots (max 14.5). Malaita

II accommodated 48 passengers in comfortable all First Class accommodations. Her regular ports of call were" Sydney, Brisbane, Port Moresby, Samarai, Rabaul, Lorengau, Lombrun, Madang, Lae, Sydney. She operated this schedule every six weeks.

Like most ships, the Malaita was taken into the service as a Transport ship and was transporting troops and war materials to Papua New Guinea she had an interesting time of it, for on August 29, 1942 a torpedo struck her amidships close to No.3 hatch and it exploded on the bulkhead between No.2 and No.3 hatches. The ship listed dangerously to starboard and it was thought at first that she would keel over and sink, but she survived. The HMAS Arunta was close by and came to her assistance. By August 31 H.M.S. Malaita had moved to a safe anchorage and the crew has started to make repairs where required and patch up as much as possible of all the damage. In addition the engineers had worked hard to restore the ships power and she was fully operational again. Thus, on 15 September 15 the H.M.S. Malaita II departed under her own power, but sailing at a reduced speed and she proceeded to Cairns Australia where she arrived on September 20, meaning she had steamed the 790 miles from Port Moresby at an average speed of 7 knots. In Cairns her hull was reinforces and she then sailed south to Sydney where she arrived on November 13.

However, having inspected the damage it was decided that it was too severe for repairs to be made at that time and nothing was done until October 1945. They were then undertaken and completed in April 1947 when she was ready again for commercial service and returned to Burns, Philp. She resumed trade to New Guinea with Burns, Philp.

She was sold 1965 to San Fernando Steamship Co (John Manners subsidiary concern) and was renamed M.S. Pilar Regidor. Three years later in 1968 she was sold to Jaguar Shipping Corp, renamed Linda JR and continued operations. She was finally scrapped at Kaohsiung Taiwan in August 1971
Part Three – T.S.M.V. Bulolo: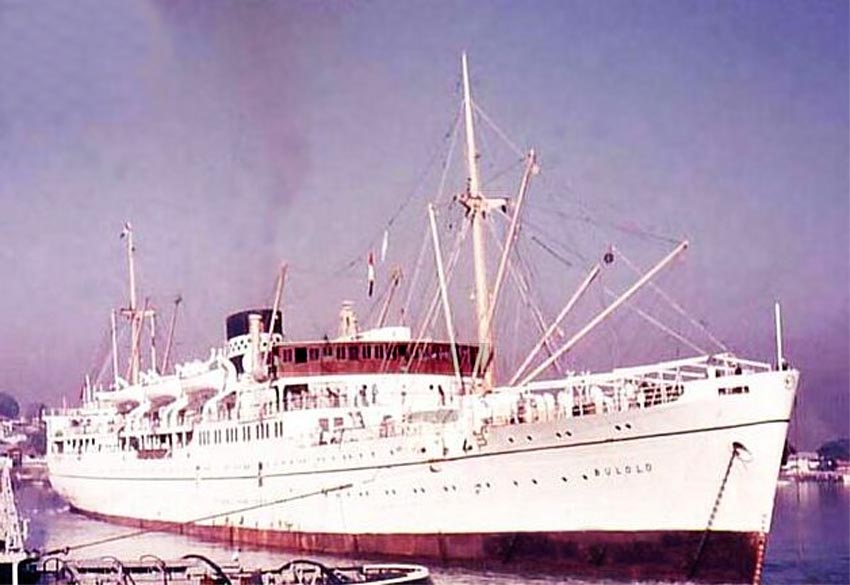 T.S.M.V. Bulolo seen arriving at Newstead, Brisbane being assisted by the tug Fearless
Photograph ? Wallace Cray
With the M.S. Malaita II continuing in operation, Burns, Philp realised that a new and a larger ship was required to enable them to operate a more efficient mail, cargo and passenger service. Thus with their designers having laid plans for a more modern liner, Burns, Philp ordered for their larger which was very much an updated version of the M.S. Malaita II. The result would be a 6,397 GRT, 240 Passenger-Cargo Liner, which like the Malaita II, would also to be built by Barclay Curle & Co, in Glasgow Scotland.
On May 31, 1938 the ship was officially named *"Bulolo" and she was launched and was towed to her fitting out berth.
*The Name & the Natives of Bulolo:
The origin of the name Bulolo is based on Papua New Guinea's "Bulolo River" and the old 1920's Gold Mining Town Bulolo along the river, which became the world's largest Gold Mine. Native land owners of the region were an ancient tribe of cannibals, known as the Biangai who were discovered after the news of old along the Bulolo River between Bulolo and Wau in 1910. In the early 1920's Charles "Yorkie" Booth staked his claim along the river near Bulolo, with him was his wife Doris Booth, who was also an author, who wrote the book "Mountains, Gold and Cannibals" which was finally published in 1929.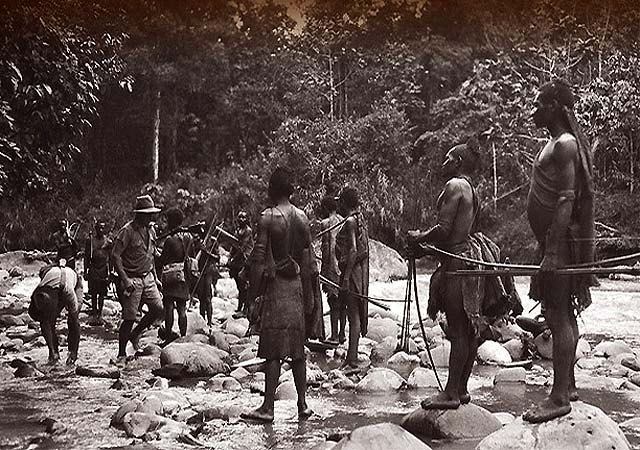 A scene at a Bulolo gold claim in the 1920's
Source is unknown - Please see photo notes at the bottom of this page, as I always wish to provide full credit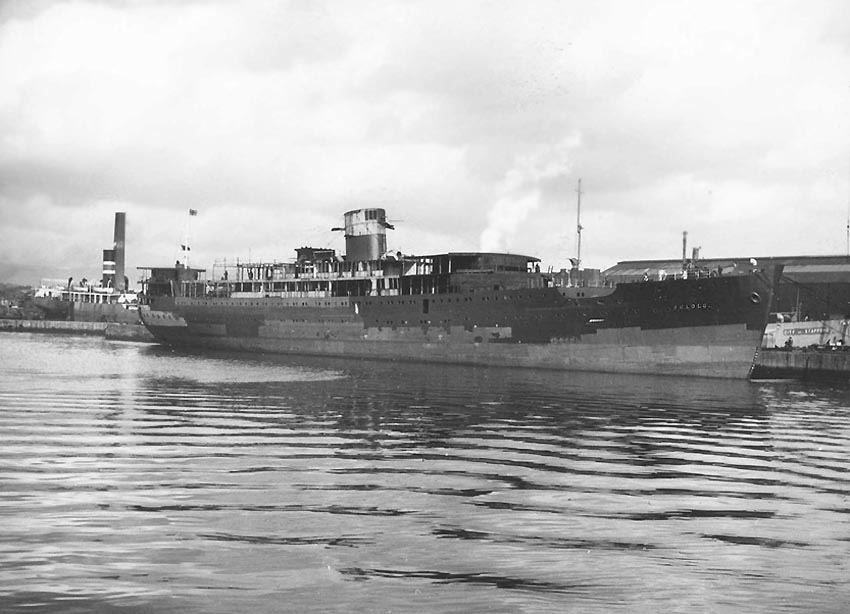 Here we see the Bulolo at the Barclay Curle fit-out berth
Photograph originally distributed by Barclay & Curle & Co
When completed she made her delivery voyage to Australia and soon the Twin Screw Motor Vessel - T.S.M.V. Bulolo departed on her maiden voyage on November 19, 1938 sailing between Australia and Papua New Guinea ports being the traditional official Burns Philp service.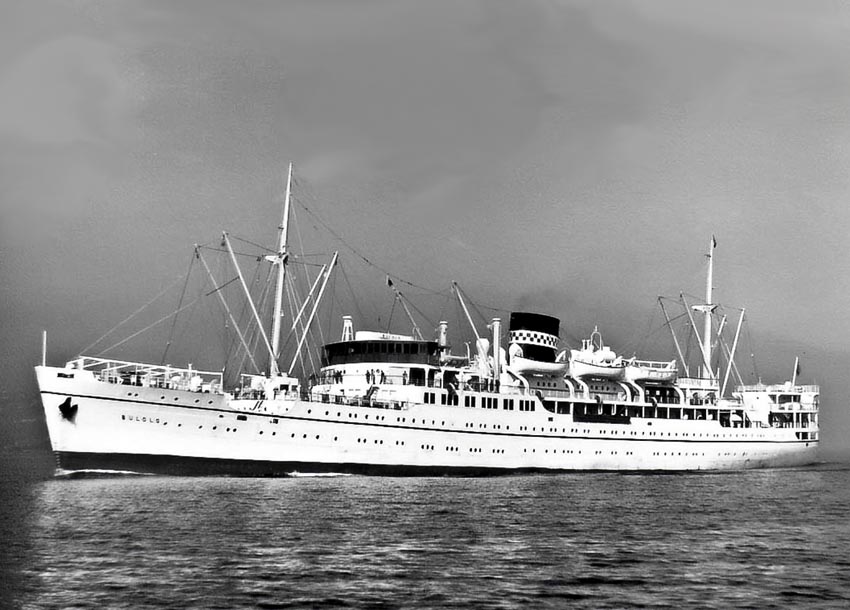 The wonderful T.S.M.V. Bulolo is seen here at sea whilst on one of her round voyages to the PNG
Her ports of call would be; Sydney, Brisbane, Port Moresby, Samarai, Lae, Madang, Rabaul. Samarai, Port Moresby, Brisbane, Sydney. Sailings operated every six weeks.
The Bulolo would manage just eight return voyages before World War II commenced, and then from 1939 her next six years she would become a very different ship indeed and also become one of the most famous wartime ships in the Australian/British war time fleet!
H.M.S. Bulolo:
The T.S.M.V. Bulolo was taken over by the British Ministry of War Transport on behalf of the Royal Navy on September 22, 1939, and on October 21 she was placed in a London shipyard where she was given a comprehensive conversion to become an "Armed Merchant Cruiser" (A.M.C.). Her makeover was completed and officially commissioned on January 4, 1940 as the H.M.A.M.C. Bulolo F82. However, in 1942 she was converted once again, but this time to become one of the most important ships of the war, a "Landing Ship and Headquarters" (L.S.H.), and it is during this time she reached the height of fame with General Montgomery choosing her as the official "Head Quarter's" ship for the D-Day Normandy invasion. And even King George VI stood on the H.M.S. Bulolo's Bridge watching and saluting the invasion fleet that would soon be bound for Normandy.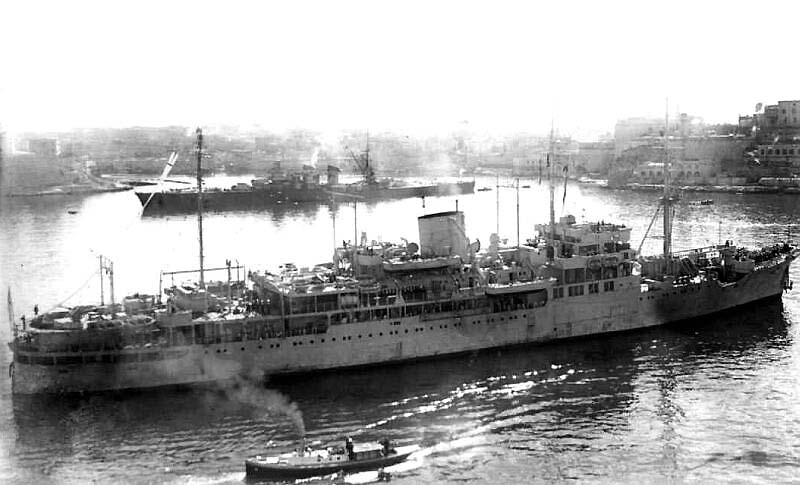 H.M.S. Bulolo (F82)
Photograph ? the National Archives (NA)
Please Note: There is a special feature on Page Two detailing the Bulolo WW2 services, which were more than remarkable, including an amazing personal story. You can enter this feature via a Link at the bottom of this Page.
Return to Commercial Duties:
Her Naval service terminated on December 5, 1946, and she was handed back to Burns, Philp and she was given a comprehensive refit. The T.S.M.V. Bulolo

resumed her original service on August 18, 1948.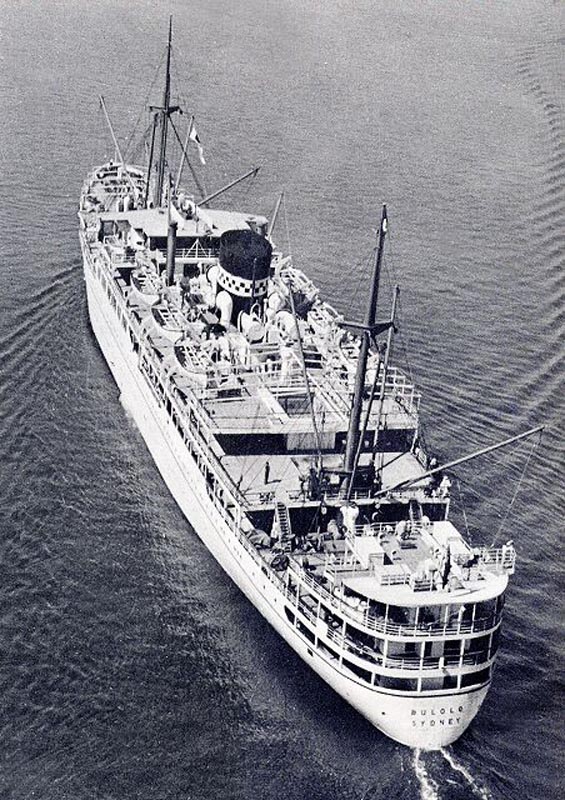 T.S.M.V. Bulolo seen as she passed under the Sydney Harbour Bridge
Photo by & ? Mr David Finch – Provided by Stan Evans
Her refit saw her become a superior passenger ship with some fine new facilities added, and her passenger accommodations having being lowered, to just 180 First Class passengers.
Three Dinner Menus:
These menus were kindly provided by Margaret Flynn
On all occasions T.S.M.V. Bulolo was under the command of Captain W. Wilding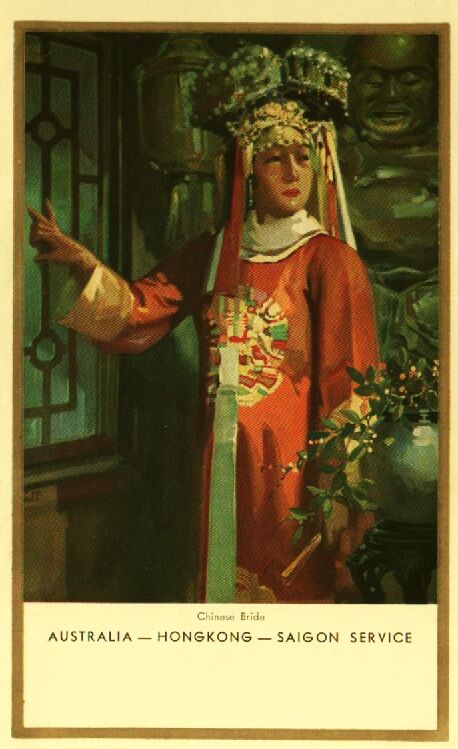 Above and below

: Christmas Day Dinner 1949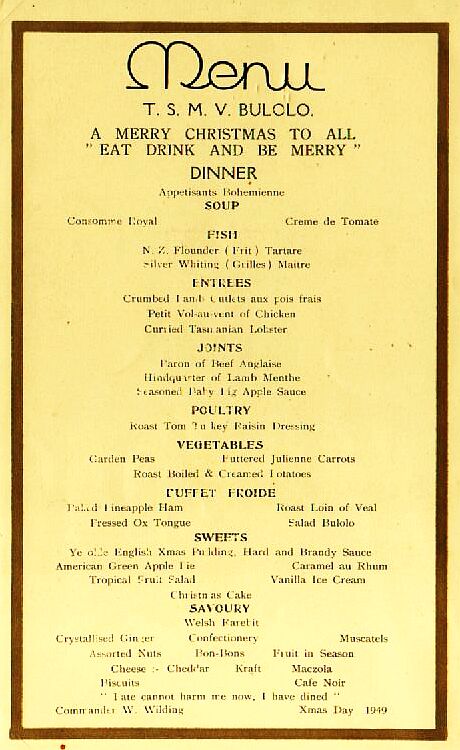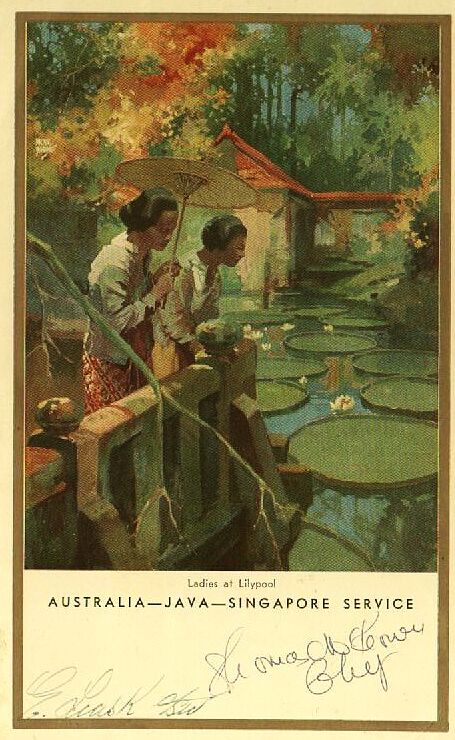 Above and below: Christmas Day Dinner 1953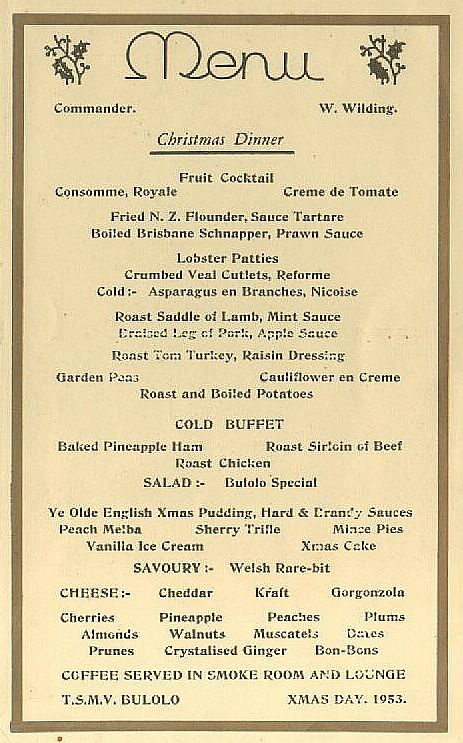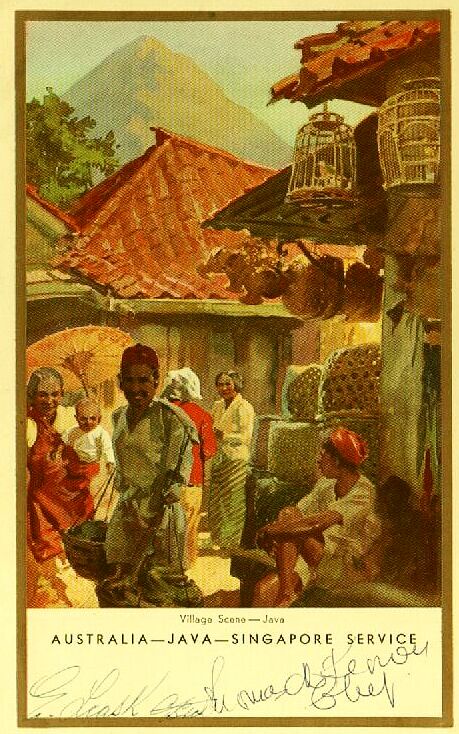 Above and below: New Years Dinner Day Dinner 1954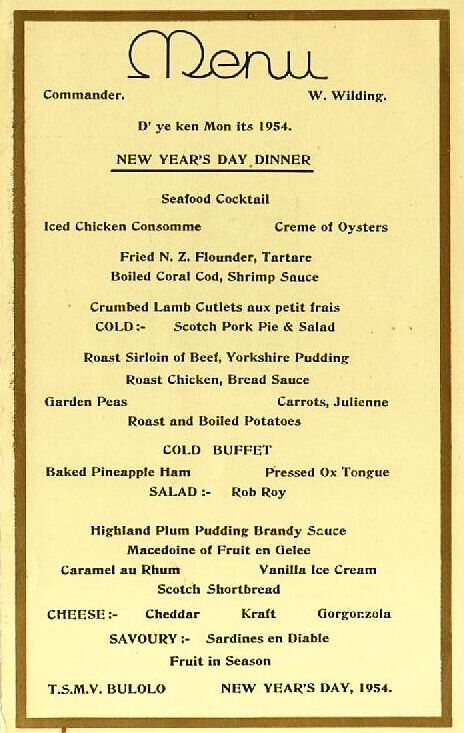 An Item of Memorabilia from the Author's Collection: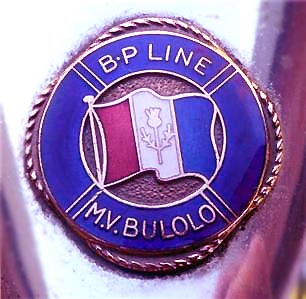 Above & below: A Silver-plated souvenir cup obtained whilst on a voyage on the T.S.M.V. or just the M.V. Bulolo. The Badge has B.P for "Burns, Philp" as well as the ships name with the traditional company banner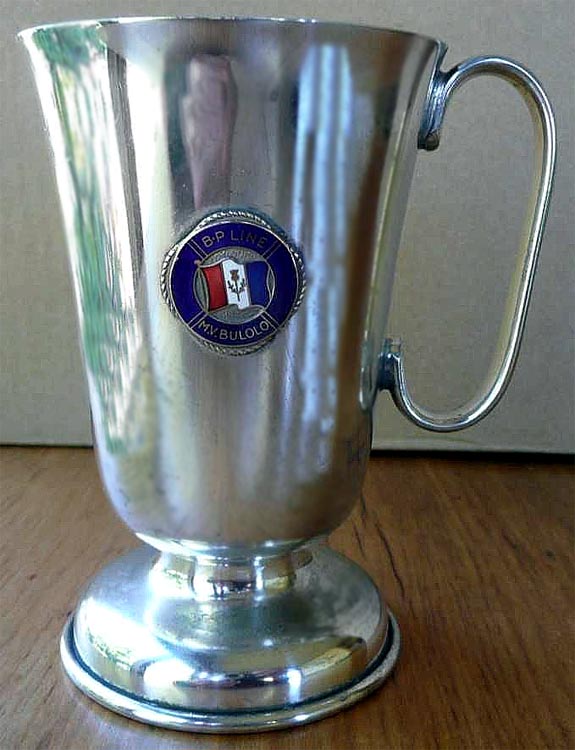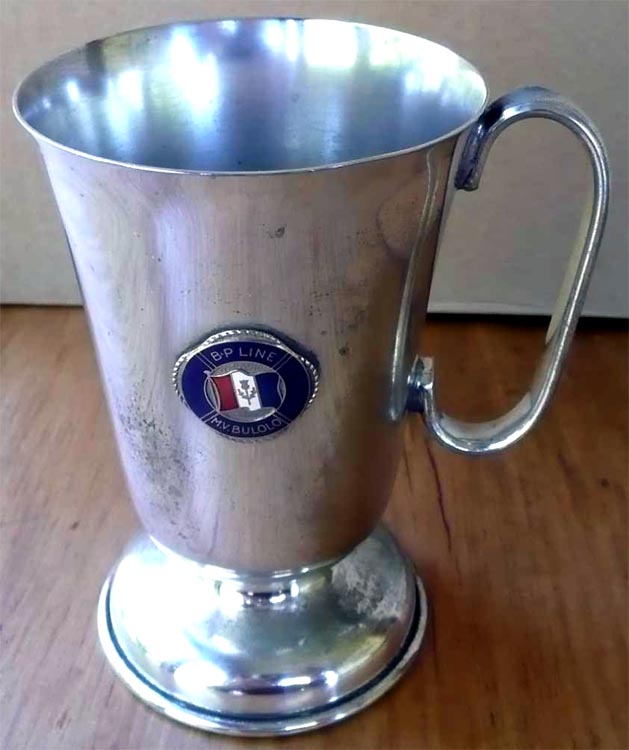 The delightful M.V. Bulolo continued to undertake another 161 return voyages, and as she also made eight return voyages prior to WW2, thus she made a grand total of 169 return voyages for Burns, Philp. She was taken over in 1939 by the British Ministry of War Transport to be converted as an "Armed Merchant Cruiser" F82 (A.M.C.) and in 1942 she was converted into Admiral Mountbatten renowned "Landing Ship Headquarters" (L.S.H.), being the official Head Quarter ship at the Normandy landings! In addition the Japanese signed the surrender of Singapore aboard her.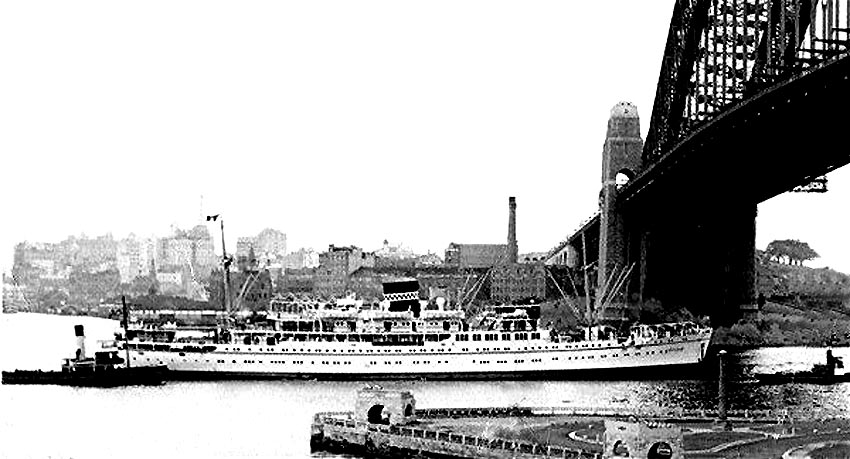 *Bulolo seen in Sydney
Note the Burns, Philp Scottish Thistle House flag flying from the aft main mast
However, she did have one dramatic incident whilst she was in Sydney harbour on August 29, 1951. Somehow copra stored in her number three hold caught fire and although the fire fighters commenced their drill immediately, it managed to get out of control. Thus harbour authorities decided to beach her at Kerosene Bay and ensure that the fire was fully extinguished in order that the ship would cause no danger in the harbour. Thankfully, the damage turned out to be reasonably minimal, but it still took several months of repair work before she could return to service.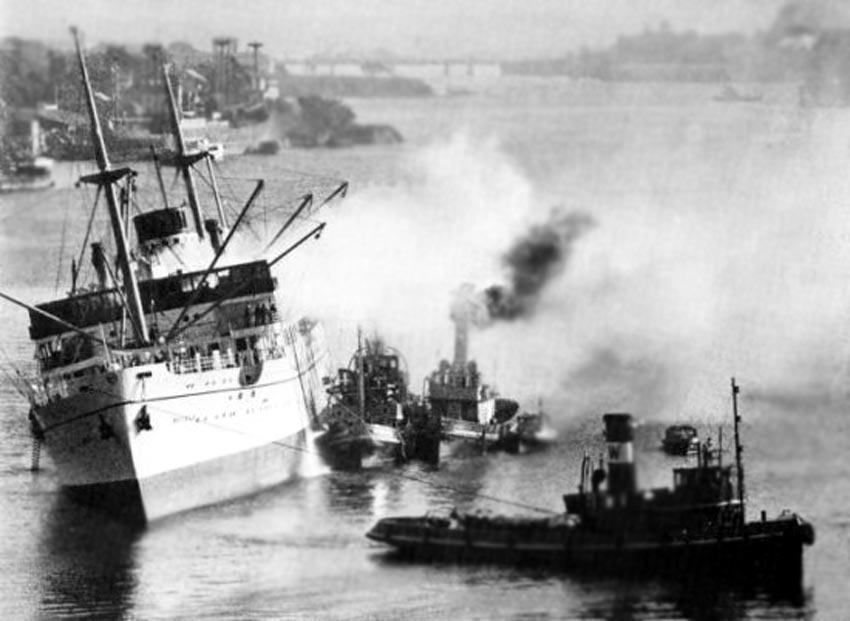 Tugs seen towing the Bulolo to Kerosene Bay during the fire in hold number 3
Photographer unknown - Please see Photo Notes at bottom of the Page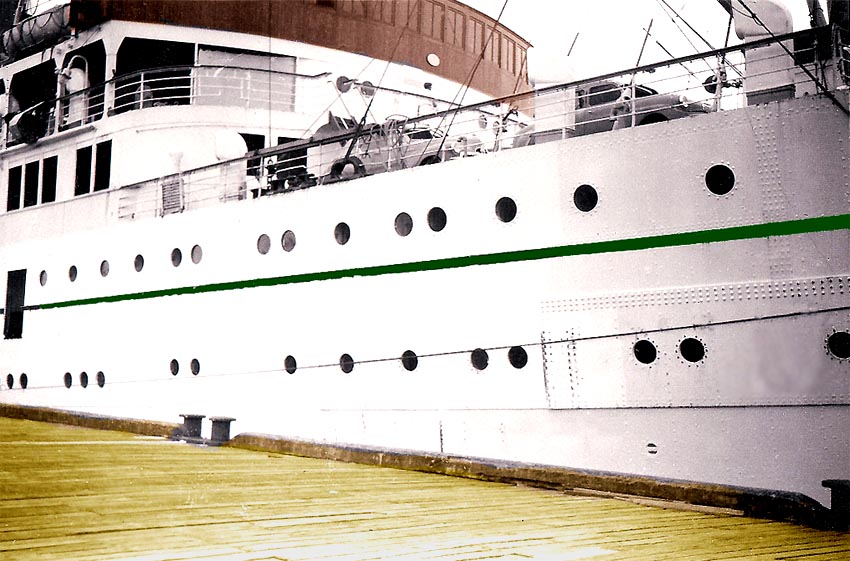 Above & below: Here are two superb photographs of the Bulolo's bow and stern views, whilst she was in Lae PNG in 1957
Photographs are by & ? Peter Young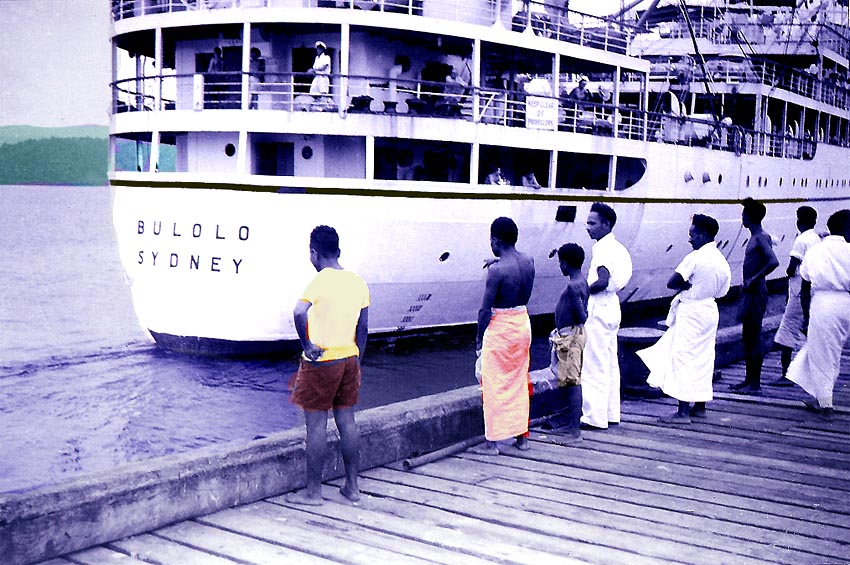 Specifications:
Built: Barclay Curle & Co, in Glasgow Scotland.
Yard: 668.
Launched: May 31, 1938.
Tonnage: 6,397 GRT (Gross Registered Tons).
Length: 127m - 412 ft.
Width: 18m - 58 ft.
Draft: 7.1m – 23 ft.
Engine: Three MAN B & W (Burmeister & Wain) Diesel-electric type diesels.
Screw: Twin.
Speed: 15 knots (max 17 knots).
Registered: Sydney, Australia.
Passengers: Originally 223 First Class passengers.
After WWII: 180 First Class passengers.
Career Details:
Maiden voyage from Sydney: November 19, 1938.
Entered Naval Service: September 22, 1939.
Officially commissioned: January 4, 1940 as the H.M.S. Bulolo – F82.
In April 1942 became the LHS Bulolo.
Decommissioned: December 5, 1946.
Returned to civil duties: August 18, 1948.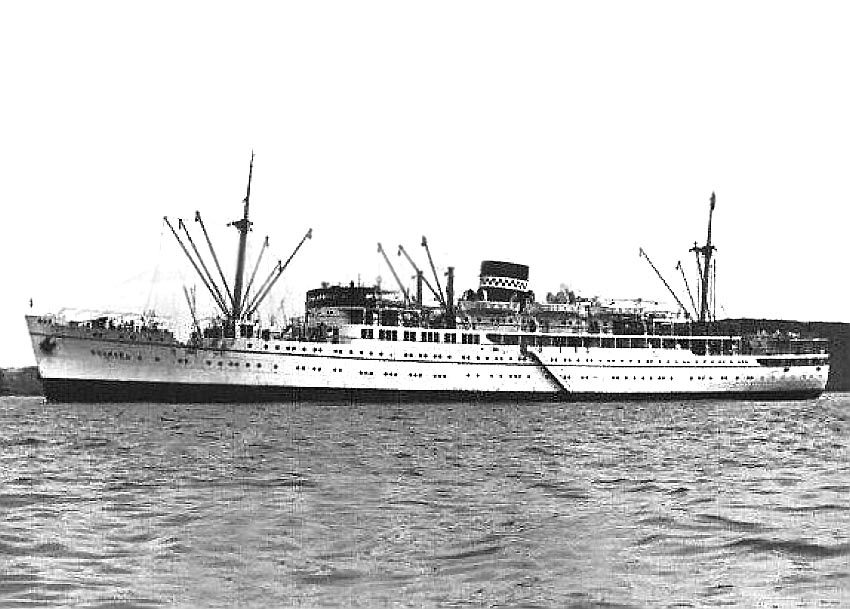 *Wonderful memories of what was a fine, much loved and classic ship indeed
She was one of the last passenger ships sailing with an all varnished timber bridge!
Her Final Days:
In 1967 Burns, Philp decided that the Bulolo would be taken out of service and prior to her final voyage Papua New Guinea being very grateful to this fine ship, which had served the country so well, decided to issue a special commemorative stamp in honour of their beloved M.V. Bulolo.
Late in December, it was Captain Brett Hilder, who was in charge of the T.S.M.V. Bulolo as he took her on her final voyage sailing via her regular ports of course. Thus she departed from Sydney and headed to Brisbane and then she sailed north of Australia whilst passengers were able to enjoy Christmas at sea as she headed for Papua New Guinea and to Port Moresby where passengers would disembark as well as new ones would join the ship for the ten-day round cruise from Port Moresby and back! For this return sector she had 120 passengers.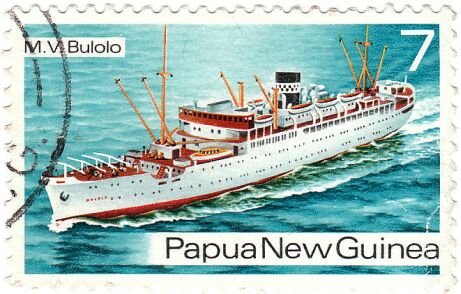 Papua New Guinea

's commemorative M.V. Bulolo stamp

From Port Moresby the Bulolo then headed for Samarai, Lae (on New Years Day), Madang and Rabaul and returning via Samarai to Port Moresby again. This ten day round voyage from Port Moresby was a popular option as it visited such fascinating places and Australians and others would fly to Moresby and join the ship there and save the voyage to and from Australia! The Bulolo then returned to Sydney via Brisbane arriving early February 1968!

Having returned from her final voyage in February 1968, she was laid up in Sydney and was soon sold to the "China Steel Corporation" of Taiwan. The Malaita II had already been sold three years earlier, but she continued to operate with a new company and was not broken up until 1971. Yet, the delightful T.S.M.V. Bulolo served Burns, Philp proudly for a good thirty years and of course the main reason for the sale of their ships was the change in conditions, for cargo handling was rapidly changing to containerisation, and the passenger trade was dropping off rapidly due to the ever-decreasing airfares!

Still looking her beautiful self, the T.S.M.V. Bulolo departed Sydney, and headed for Taiwan and she arrived at her destination, the port city of Kaohsiung in Taiwan on May 24, 1968 where she would soon to be broken up.

However, this small passenger liner had achieved so much in her thirty years for she sailed around the globe and hosted more Admirals, Generals than any ship that were far greater in size than her, In addition, she had HRH King George VI standing on her Bridge and from the Bridge wing he took the salute from all the passing invasion ships! In so many ways, the Bulolo was remarkable, a hero and she did so much more than almost any of the other passenger ships in civil service or during war duties! It was said by crews and those who sailed on the Bulolo be it "when she was in commercial or naval service, the Bulolo did Australia proud." - "We fondly miss this wonderful small white ship, with that green ribbon around her hull and that distinctive black and white checked band on that black funnel and the Burns, Philp Scotch Thistle house flag flying from the mast!"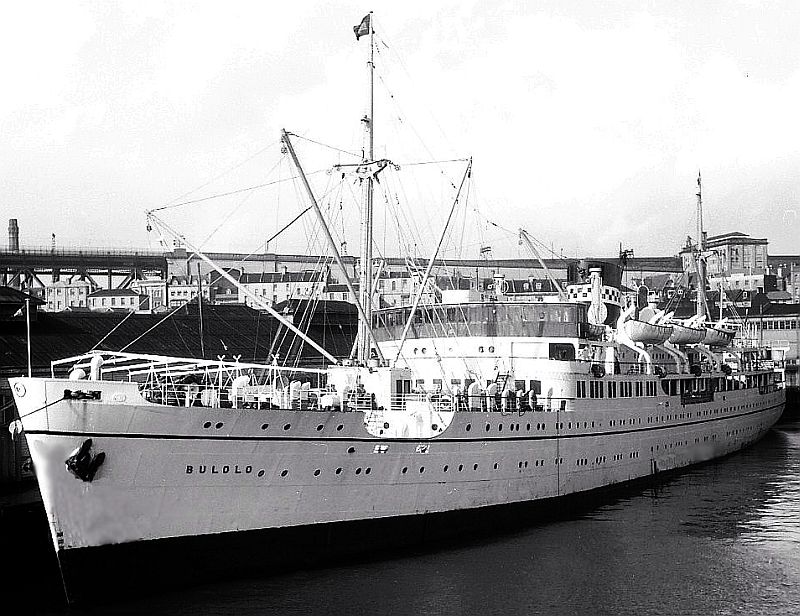 The delightful Bulolo seen berthed in Sydney
I trust that you have enjoyed reading about the interesting Passenger-Cargo Liner, the T.S.M.V. Bulolo that also served King and Country during World War II for she accomplished so much to say the least!
Head to Page Two to discover why the Bulolo will long be remembered in Australia's Wartime history as well as being amongst one of the finest Passengers ships of the world!
A Wonderful Memory of a Fine Small Liner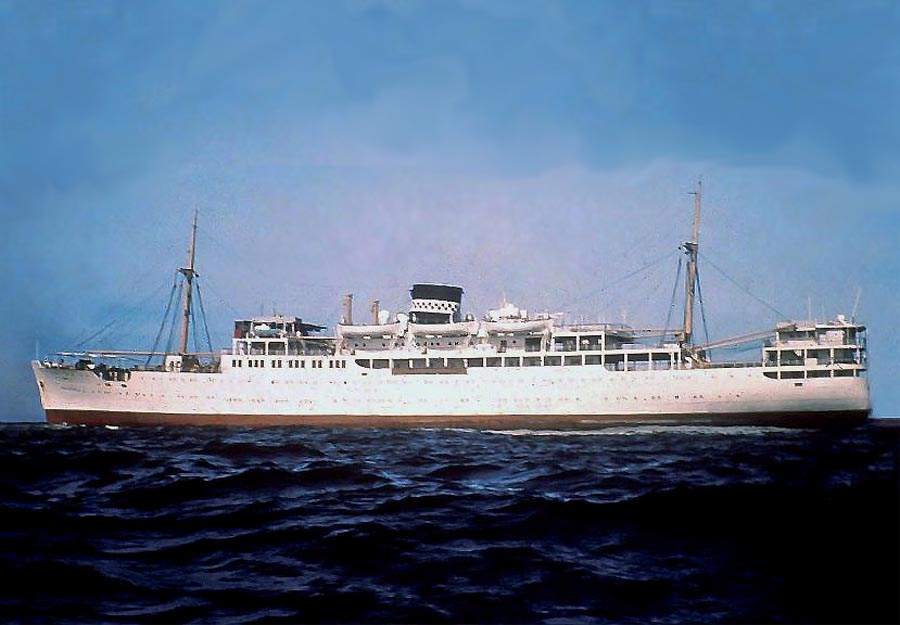 A fine photograph of the T.S.M.V. Bulolo seen on her portside sailing at full speed at sea
Photographer unknown - Please see Photo Notes at bottom of the Page
Enter Page Two; The Bulolo WW2 Feature
Also visit the 1911 Burns Philp ship -
S.S. Montoro
*Photographs on ssmaritime and associate pages are by the author or from the author's private collection unless otherwise stated. Credit is given to all contributors. However, there are some photographs provided to me without details provided regarding the photographer or owner concerned. I hereby invite if any owner of these images to be so kind to make them-selves known to me via my email address that may be found at the bottom of www.ssmaritime.com only, in order that due credit may be given.
***********************************
"Blue Water Liners sailing to the distant shores.
I watched them come, I watched them go and I watched them die."
Return to the ssMaritime MAIN INDEX
ssMaritime.com & ssMaritime.net
Where you will discover over 1,300 Classic Liners & the 1914 built M.V. Doulos Story
The Author has been in Passenger Shipping & the Cruise Industry for some 60 years!
Also visit the …
"Save The Classic Liners Campaign"
Founded in the early 1990's - The author is the founder and president
Please Note: ssmaritime and associated sites are 100% non-commercial and the author seeks no funding or favours of any shape or form, never have and never will!
Photographs on ssmaritime and associate pages are by; the author or from the author's private collection. In addition there are some images that have been provided by Shipping Companies and private photographers or collectors. Credit is given to all contributors. However, there are some photographs provided to me without details regarding the photographer/owner concerned. I hereby invite if owners of these images would be so kind to make them-selves known to me (my email address may be found on www.ssmaritime.com only), in order that due credit may be given.
This notice covers all pages; although, and I have done my best to ensure that all photographs are duly credited and that this notice is displaced on each page, that is, when a page is updated!
ssMaritime is owned & ? Copyright by Reuben Goossens - All Rights Reserved