Royal Rotterdam Lloyd - M.S. Dempo 1931 to 1944
Please Note: Firefox and some iPad's or iPhone's, etc are not suitable
Use Google Chrome for this web page to load perfectly!

Click the logo above to reach the ssMaritime FrontPage for Ships of the Month & News Updates
With Reuben Goossens
Maritime Historian, Cruise'n'Ship Reviewer, Author & Lecturer
Please Note: All ssmaritime as well as my other related maritime & cruise sites are 100% non-commercial and privately owned sites. Be assured that I am NOT associated with any shipping or cruise companies or agencies or any other organisations! The author has been in the passenger shipping industry since May 1960, but although retired and unwell, I occasionally attempt to write an article now and then, in order to bring enjoyment and pleasure to ship enthusiasts past passengers and crew.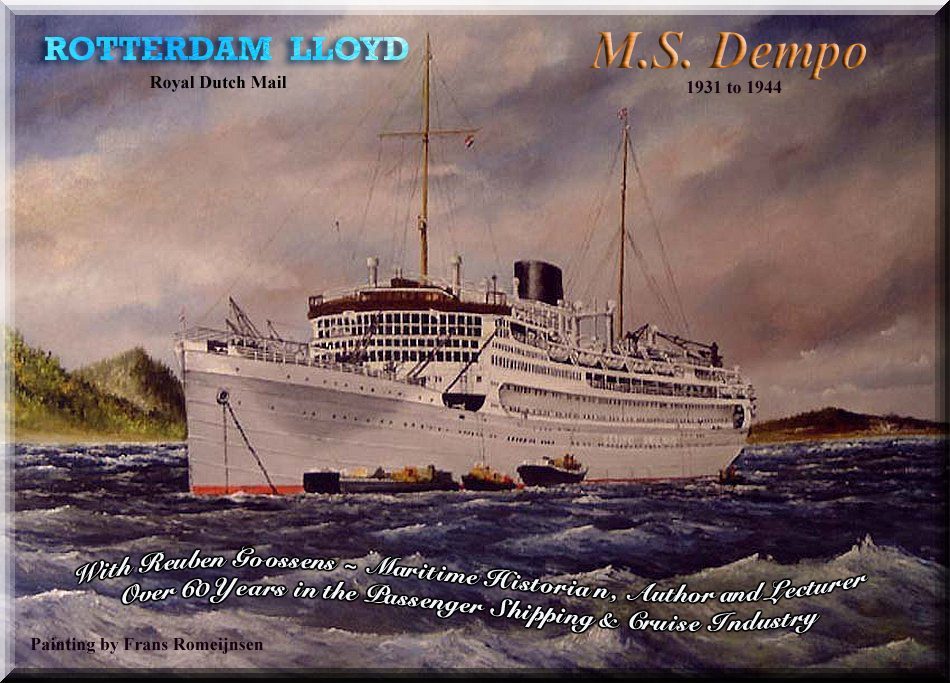 Photographs are from the author's private collection that goes back to 1960 as well as from …
… and with thanks to "Maritiem Digitaal" in the Netherlands, who has been most helpful
Introduction & Construction:
M.S. Dempo was the second of a pair of ships to be built for the Royal Rotterdam Lloyd (RRL), the first to be completed was the 16,981 GRT (Gross Registered Ton) M.S. Baloeran, which was completed on March 22, 1930, and she departed on her maiden voyage on April 15 from Rotterdam and headed via the Suez Canal to Batavia in the Dutch East Indies (today known as Indonesia). Her new sister would externally be almost identical.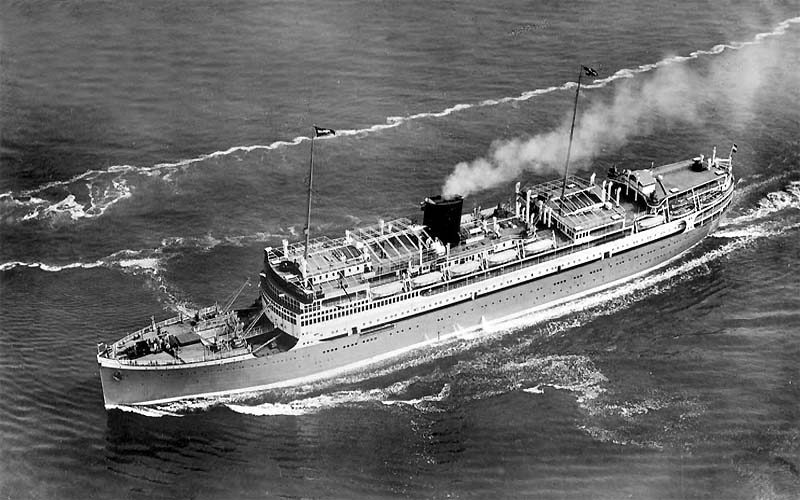 A fine aerial view of the M.S. Baloeran seen during her maiden voyage in April 1930

The 16,979 GRT Dempo was laid down on July 15, 1929, at the "De Schelde" Shipyards at Flushing (Vlissingen), the Netherlands.

On July 26, 1930 her official naming and launching of the "Dempo" was performed, by

Quarles van Uffort, being the Baroness Mulert of the Leemcule, the wife of HRH Queen Wilhelmina's commissioner of the southern Province of "Zeeland". There was a huge crowd present for this event and all watched as this grand new liner slowly slid down the slipway into the water for the very first time.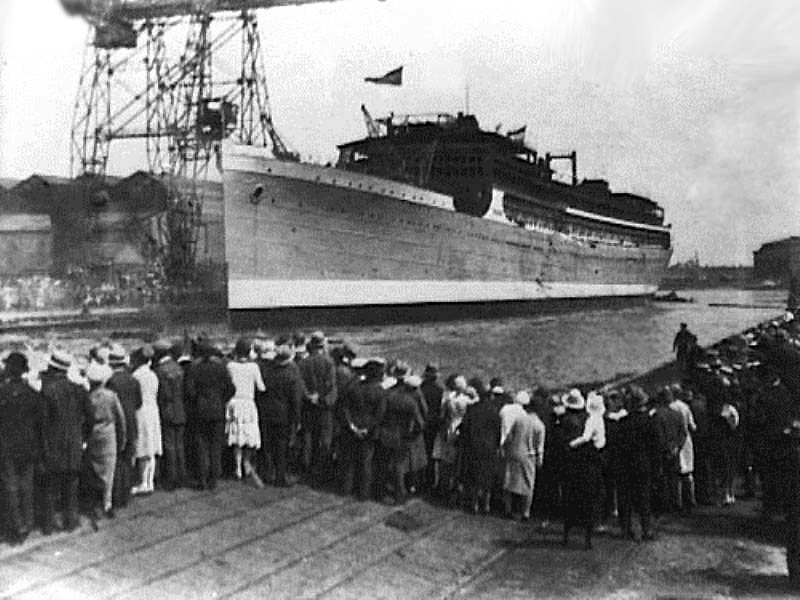 The naming and launching of the Dempo is about to take place on July 26, 1930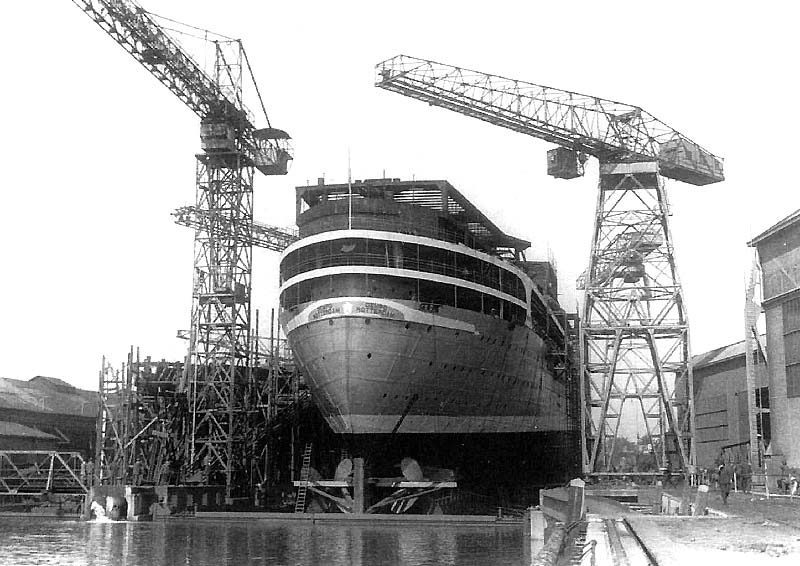 The Dempo is made ready to be launched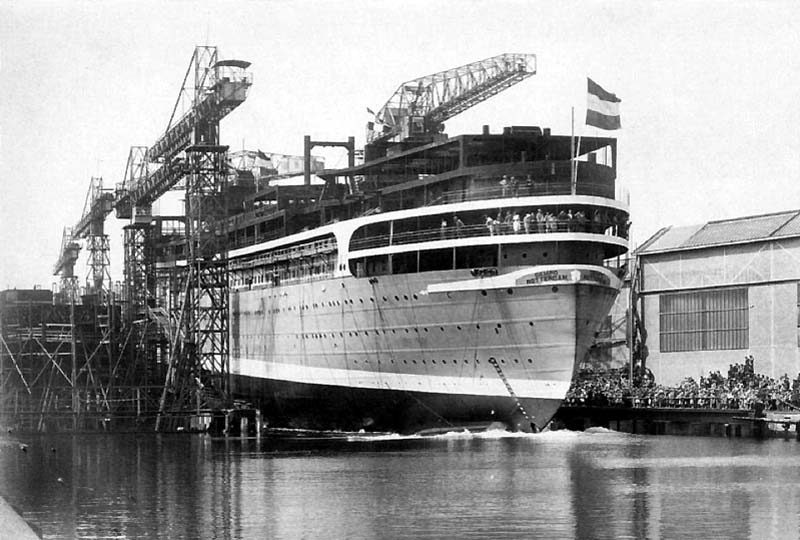 A fine photograph of the M.S. Dempo entering the water for the very first time
She was then taken in tow to the De Schelde's fit-out berth where she would be completed and her magnificent interiors carpeted and fully furnished, making her one of the finest and luxurious liners of her time!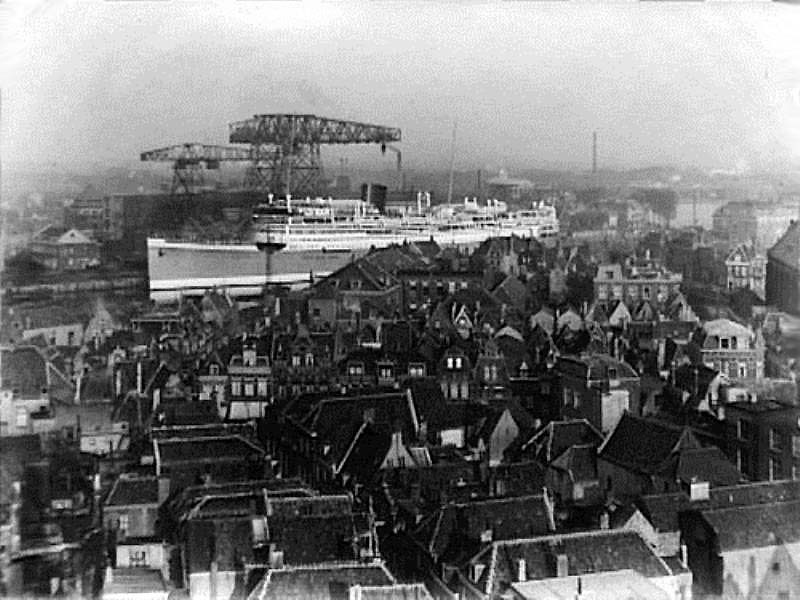 The M.S. Dempo is seen at her Vlissingen fit-out berth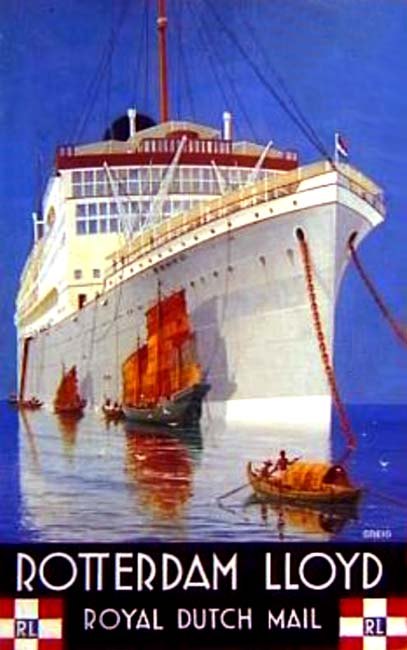 An early release brochure on the M.S. Dempo
Completion & Maiden Voyage:
This fine new ship was completed and delivered to RRL, and she was berthed at the "Lloydkade" (Lloyd wharf) at Rotterdam on February 21, 1931, and she was made ready for her maiden voyage to Batavia in March.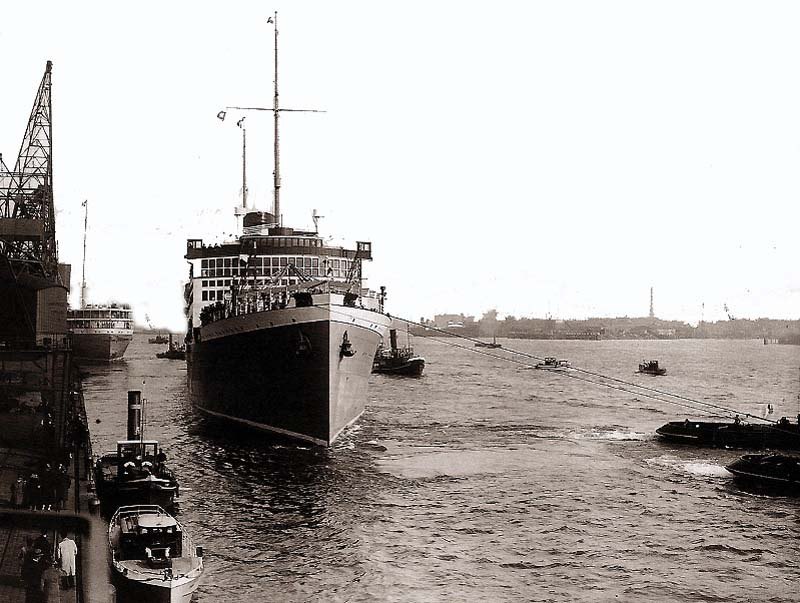 M.S. Dempo is seen departing on her maiden voyage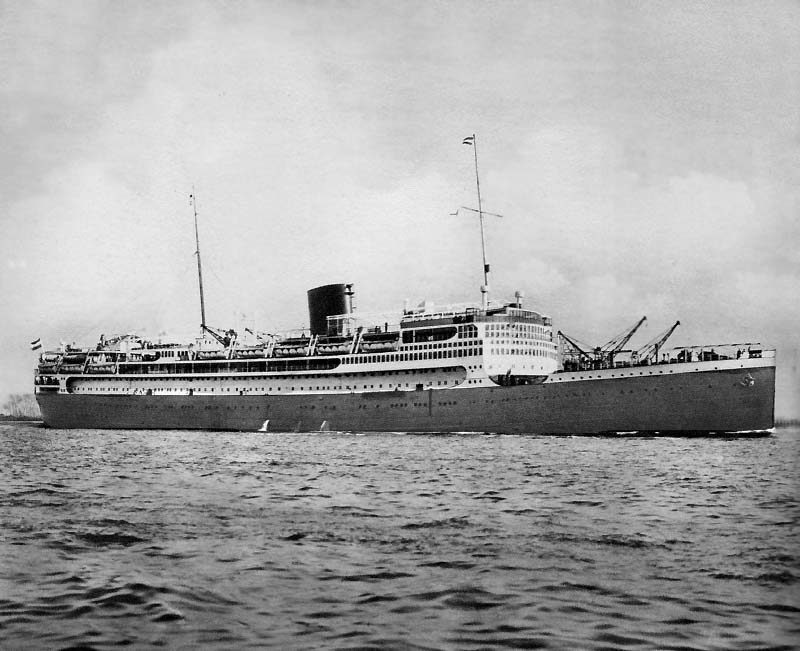 The M.S. Dempo is seen at sea during her maiden voyage around March 31, 1931
M.S. Dempo would provide a regular service as follows: Rotterdam, Southampton, Lisbon, Tangier, Gibraltar, Marseilles, Port Said, Suez, Colombo, Sabang, Belawan, Singapore to Batavia (today's Jakarta). Although over the next nine years ports would slightly change, but would be the same from Port Said onwards. Return voyages were the same.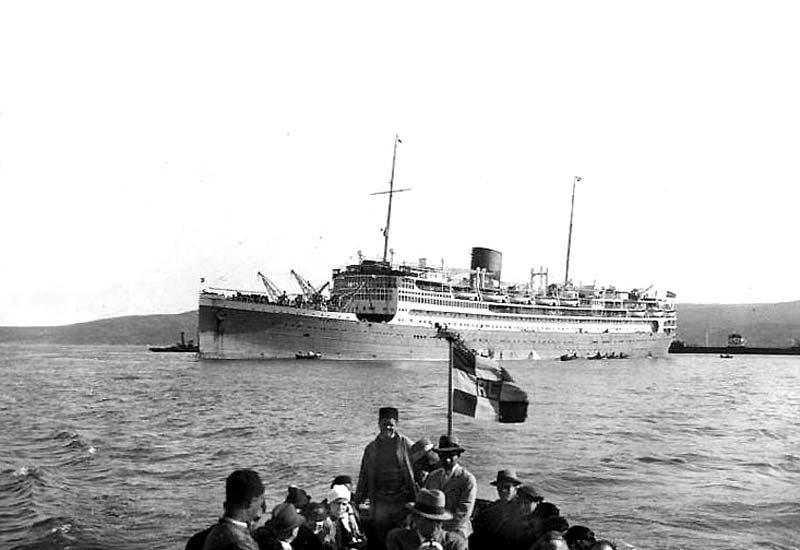 Dempo's passengers heading for Port Said in a ships lifeboat and are due to visit Cairo and visit the Pyramid's
Accommodations:
The Dempo offered three main classes, and they were as follows; 236 First Class, 253 Second Class, between First and Second Class depending on demand there were 27 cabins that could be used for either class. Both First and Second Class were extremely luxurious and popular!
Third Class was a more intimate area having just 70 passengers, yet they also enjoyed a fine Social Lounge and a Smoke Room with a Bar and a smaller Dining Room with tables for six and eight, seating all passengers at the one sitting. However, for passengers sailing between ports along the "Dutch East Indies" coast, there was also a special space for 68 Fourth Class passengers, which was mostly based on deck spaces. Locals tended to use this area for they would only spend a very short time on board, or an overnight voyage. Of course the "Dutch East Indies" (Indonesia) is always warm to hot being a tropical area. But ample facilities, sheltered space and bedding were provided.
There was no doubt that Royal Rotterdam Lloyd made sure that their ships were the finest and most luxurious liners at sea, for the décor was sublimely elegant with fine dark timbers, most of it having been hand carved by locals in the East Indies. All three classes offered fine venues, a Social hall, a Smoking Room and a Verandah, whilst First and Second would have additional venues, such as galleries and library, and a reading room, as well as fine multi level Dining Rooms, that offered two sittings. And of course the ship was fitted with a fine fully tiled swimming pool.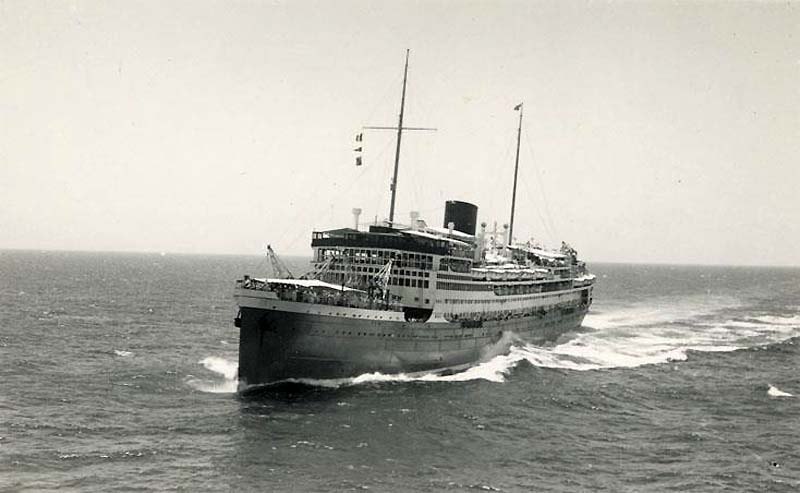 A fine view of the M.S. Dempo seen at sea sailing at full speed
The Dempo's crew was made up of a Dutch Captain, with Dutch senior Officers, and administration staff, doctors, nurses and Kindergarten attendants, whilst the serving and cabin crew was all Indonesian, only the laundry crew were Chinese. Like on all RRL ships, their crews were famed for their wonderful smiles and being super efficient and providing friendly service.
Below is a photograph of a large part of M.S. Dempo's crew who up on the First Class covered Sports Deck, with the Captain who is seen in the second row in the centre, with his Staff Captain and First Officer by his side. The Dempo had a crew of 335 who took care of her 627 passengers.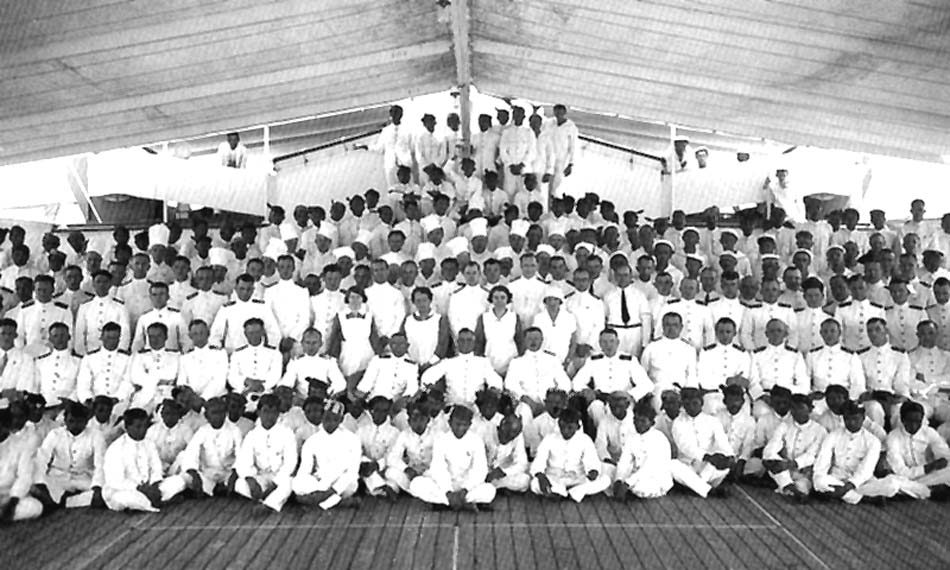 Photo Gallery: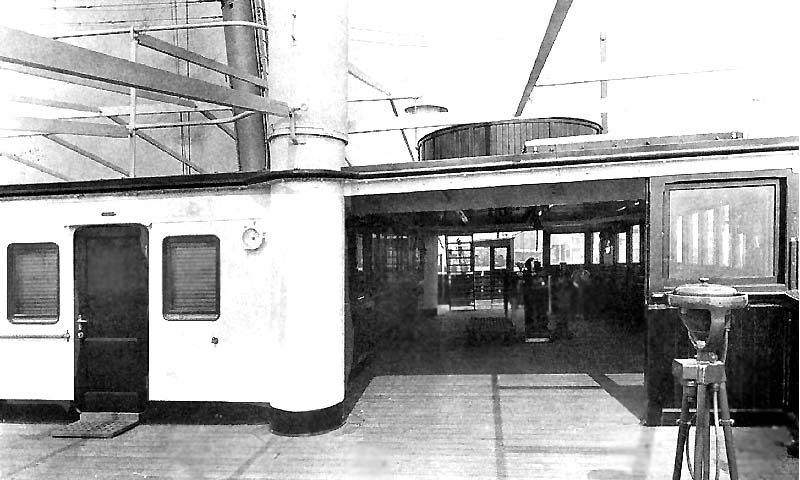 The Dempo's spacious bridge is seen from the bridge wing
First Class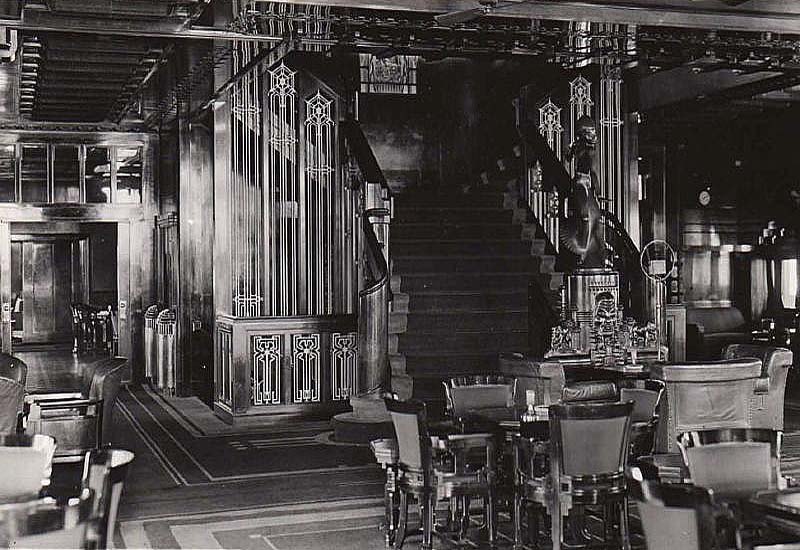 Above & below: Two views of separate areas of the magnificent grand Social Room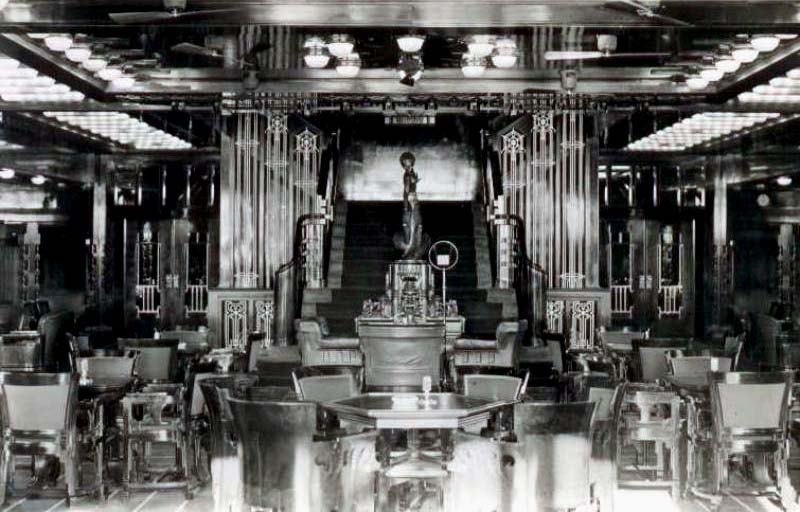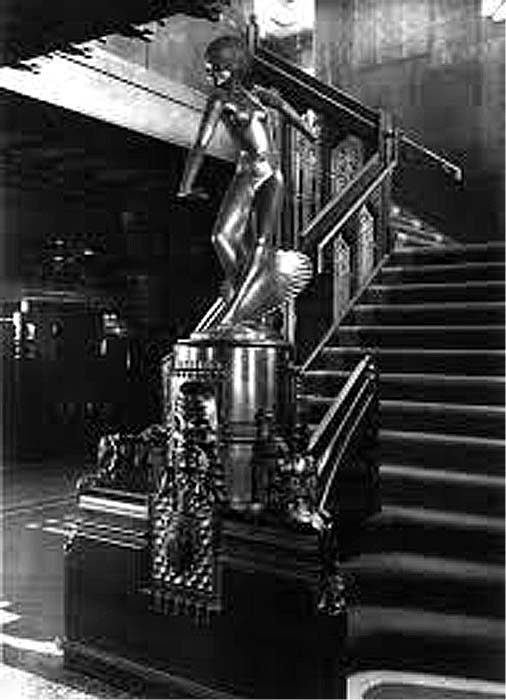 A close up of the spectacular carving at the First Class Main Stairwell at the Social Room
For interest, the ship was also fitted with a number of lifts (elevators)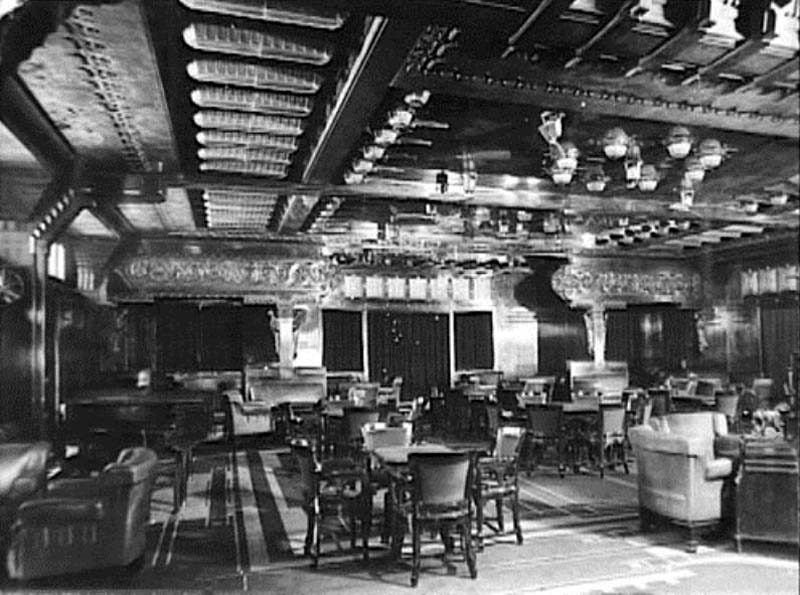 As we can see each venue, like the Main Lounge was beautifully finished with carved timbers by the finest artists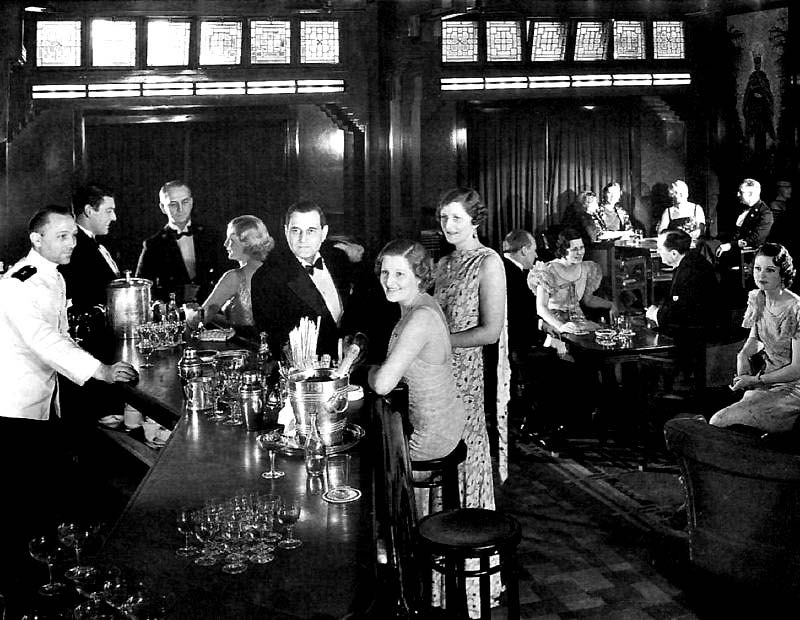 The Smoke Room and Bar, and this was the time when passengers tended to dress up!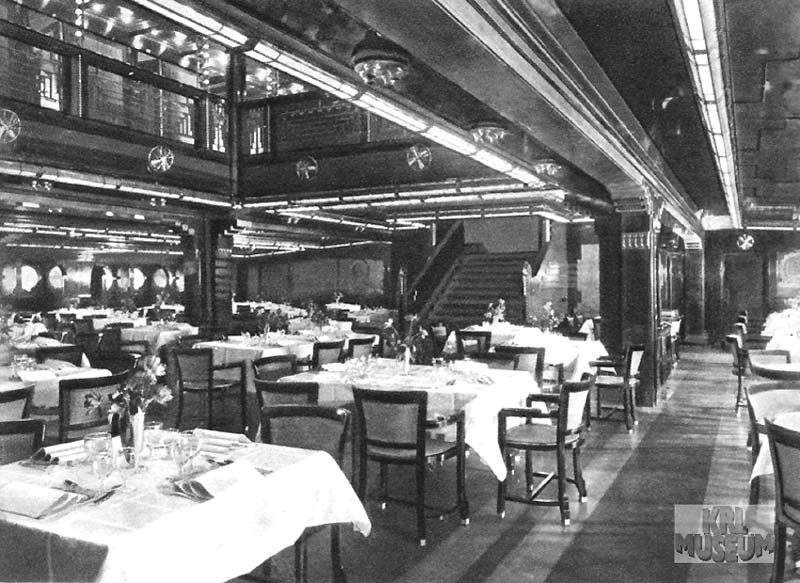 The magnificent and elegant multi level Dining Room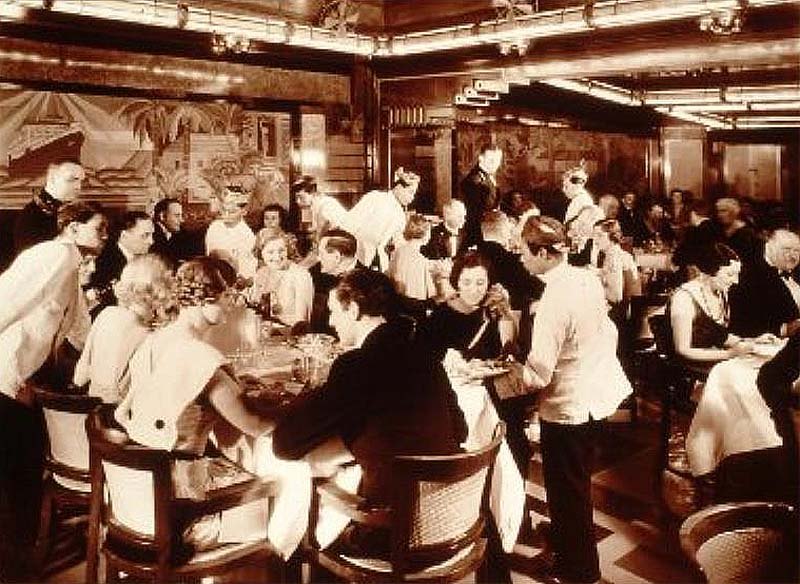 Passengers enjoying a fine meal on board the Dempo in a magnificent setting and with the best of Indonesian service!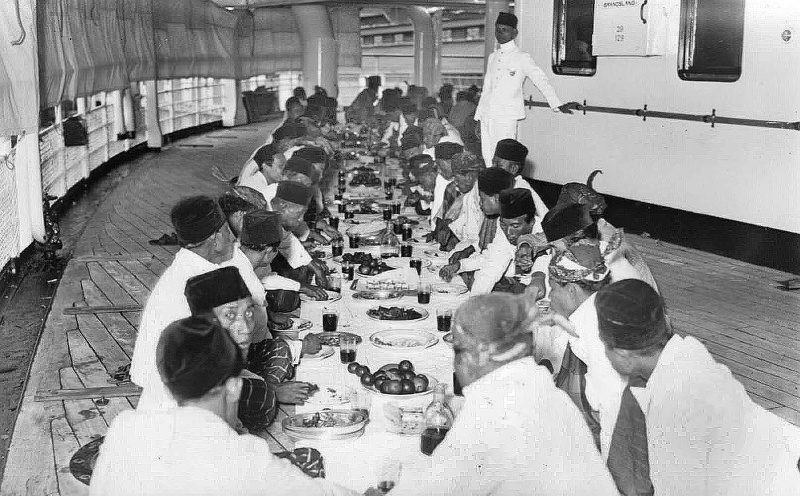 The ships wonderful Indonesian stewards are seen having lunch aft on the poop deck
RRL certainly looked after their excellent Indonesian crews extremely well, as I personally witnessed
for I sailed on the wonderful 1928 completed M.S. Sibajak from Rotterdam to Wellington in 1957
and these wonderful men could not do enough for you, and to make your voyage a happy one!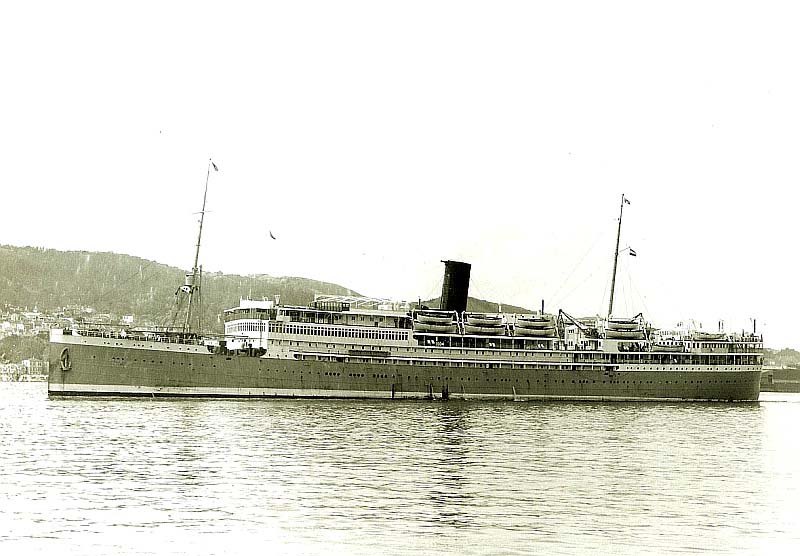 Here we see the beloved M.S. Sibajak (1928 to 1959) in Wellington New Zealand's Harbour
Photograph by & © Reuben Goossens
The M.S. Sibajak Link is at the bottom of this page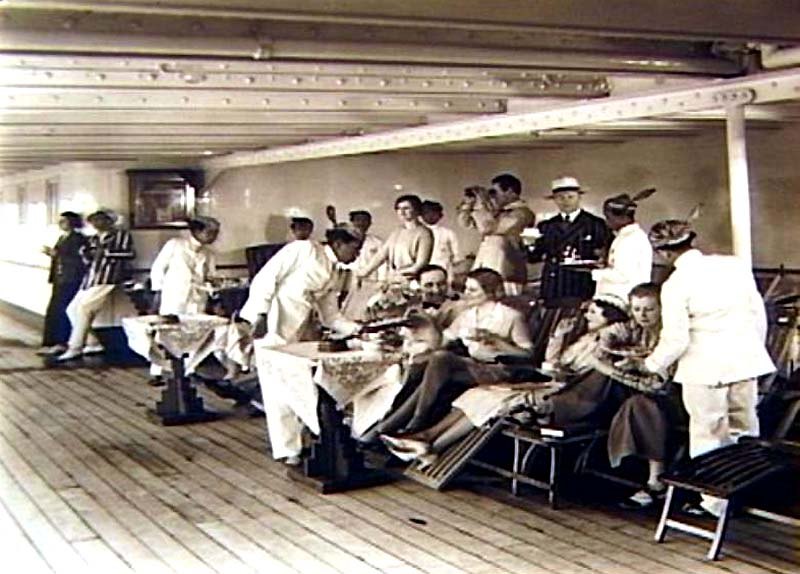 Passengers enjoying their time out on Promenade Deck and being served snacks and drinks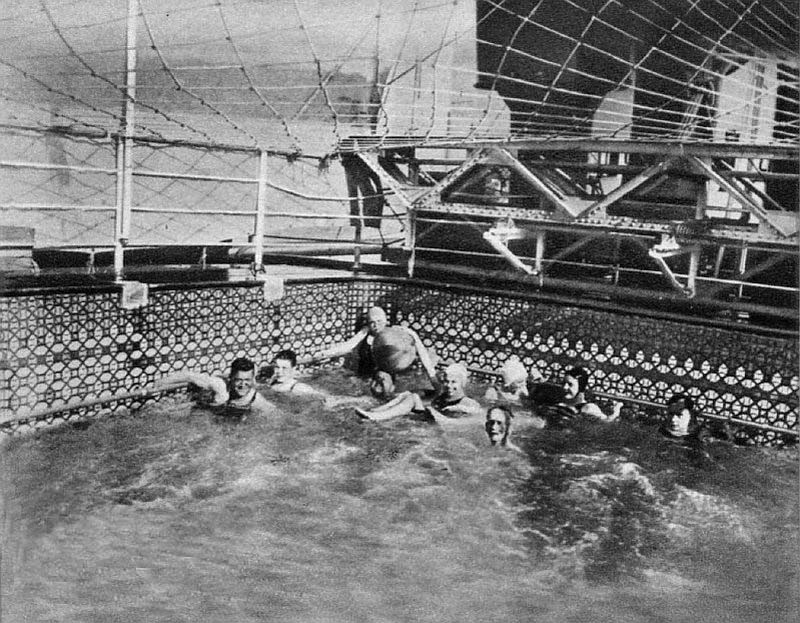 The Swimming Pool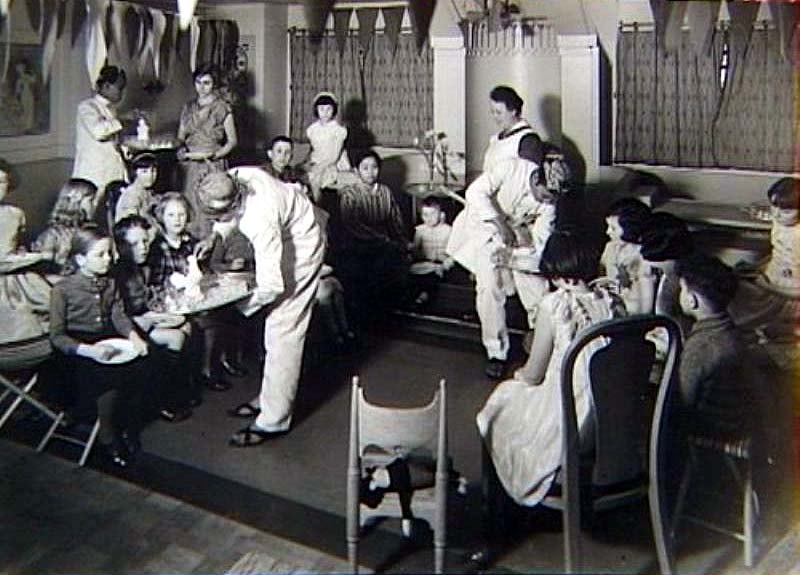 The Children's Play Room with both female kinder-garden nurses and male stewards at hand to guide the children in their games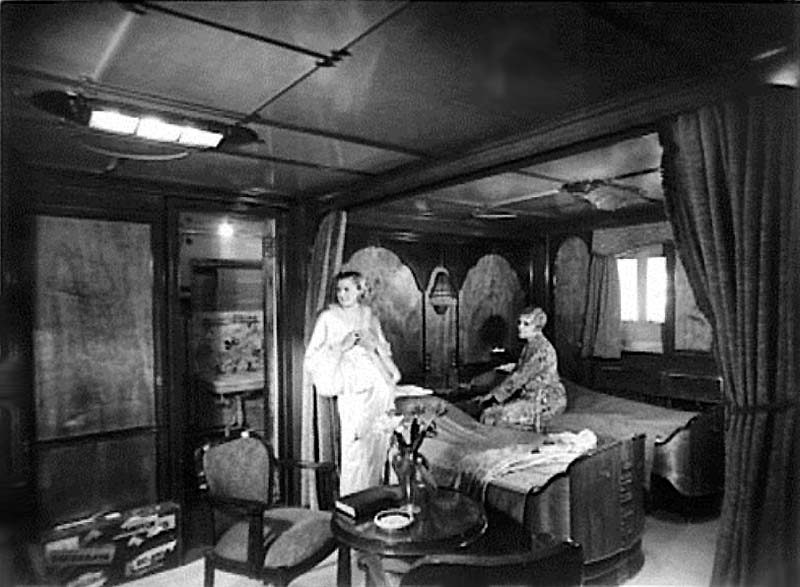 This is a deluxe cabin, with an entrance hall, a lounge, bedroom and a spacious bathroom with a bath and a shower, etc.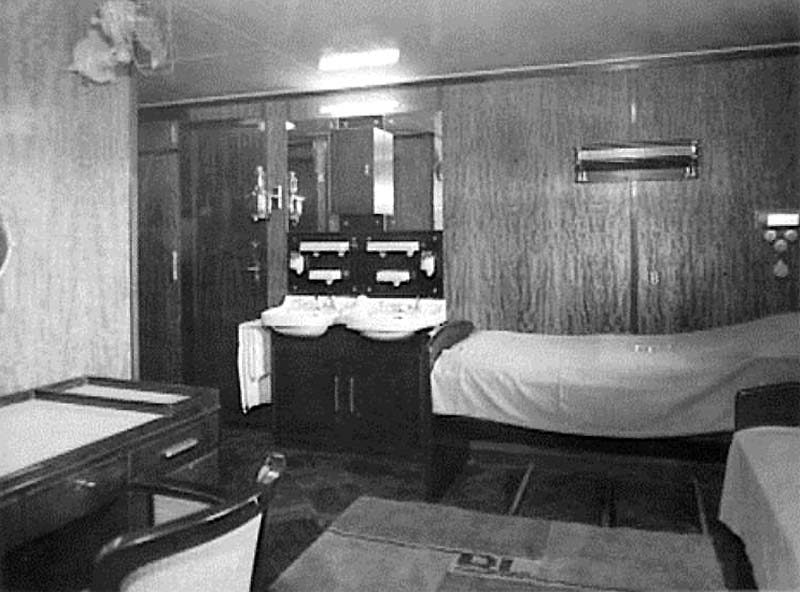 This is a cabin that had a private bathroom, and these rooms came in various layouts!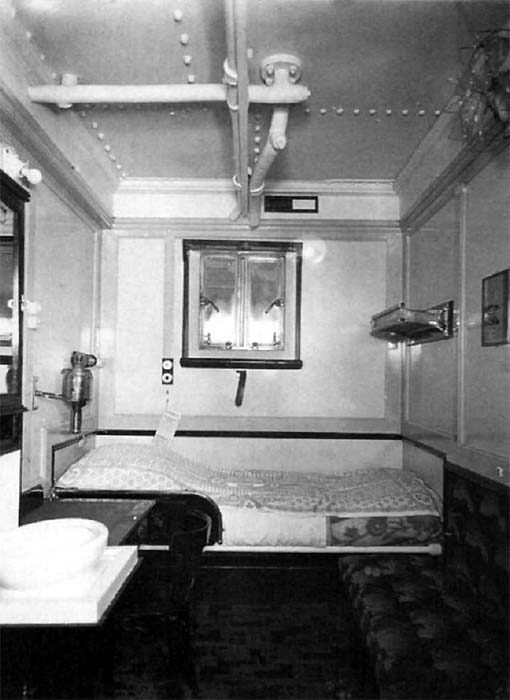 A typical single bed cabin with share facilities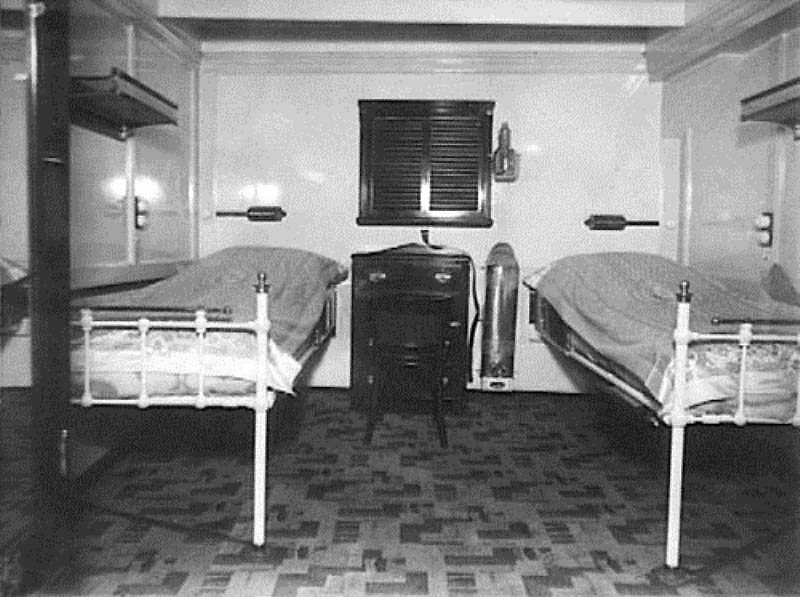 This is a twin bedded cabin with shared facilities as was most of the ship, which was normal in those days
These cabins looked somewhat simpler, but were very comfortable in every respect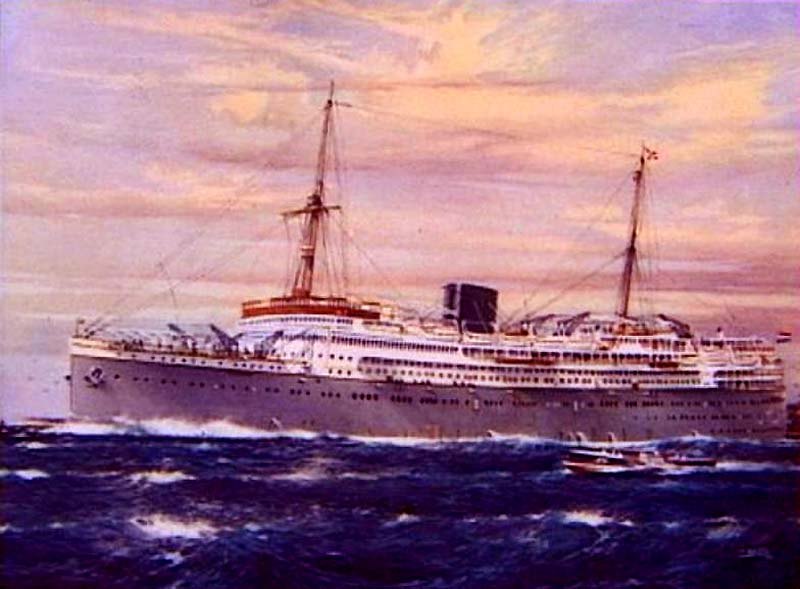 An RRL full colour postcard of the M.S. Dempo as sold on board
Second Class
As we now look at the Second Class facilities, I am sure that you will be amazed how unbelievably luxurious her public rooms were, if fact they were by far more spectacular than First Class on most Trans-Atlantic liners. Sadly I do not have any images of her Third Class, but be assured Rotterdam Lloyd, never did anything by half and these venues would also have been wonderful!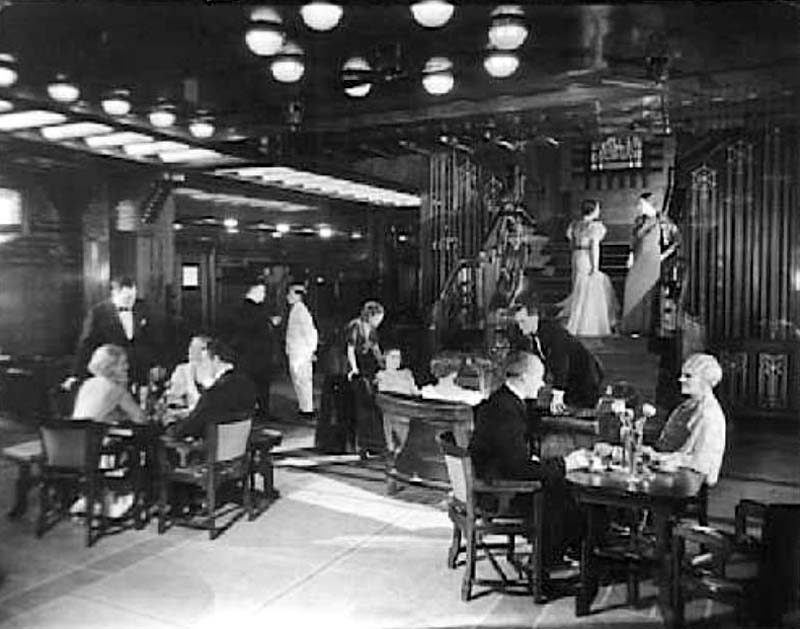 Above & below: Two fine views of the second Class Social Hall proving that even this
class was super luxurious and was much better than most first classes on other liners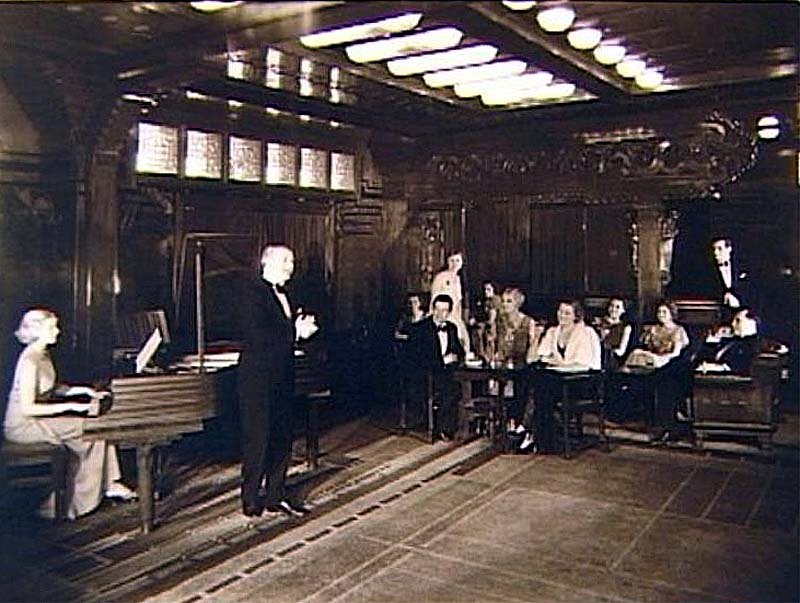 The Social Hall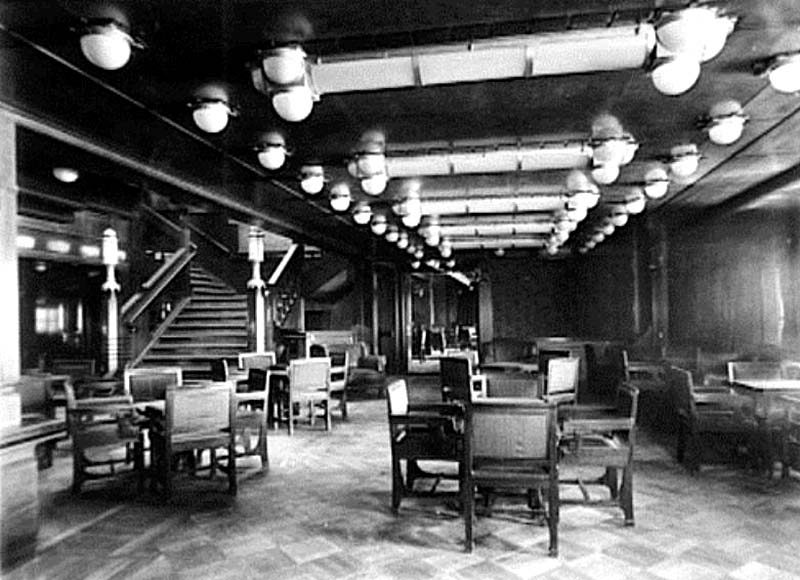 The Smoke Room
Above & below: Again two fine views of a magnificent venue, the Smoke Room and its Bar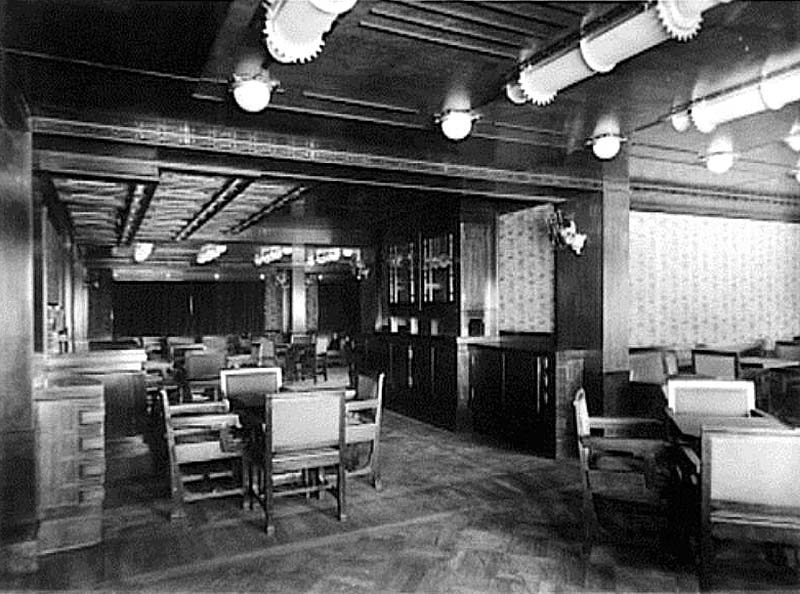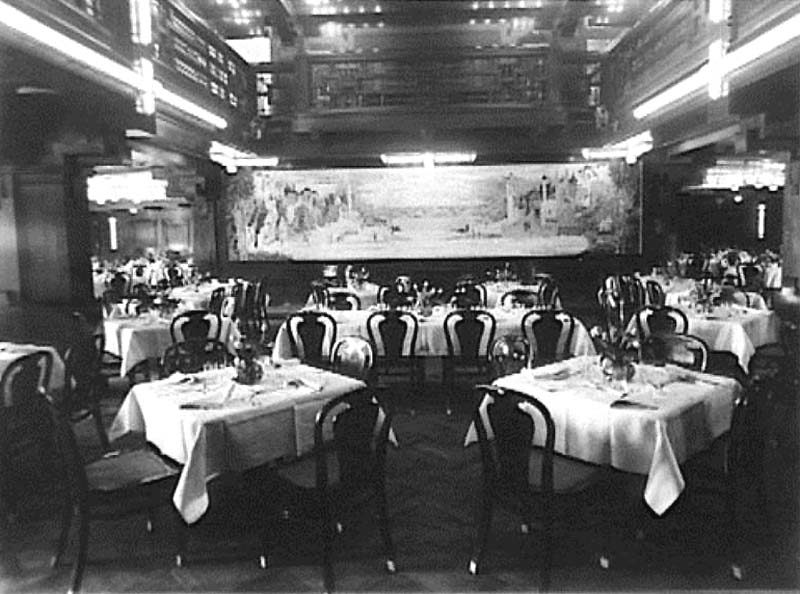 Like First Class, the Second Class Dining Room was a most luxurious venue and it was two decks high
Like the other dining room it also featured huge wall murals by famous Dutch artists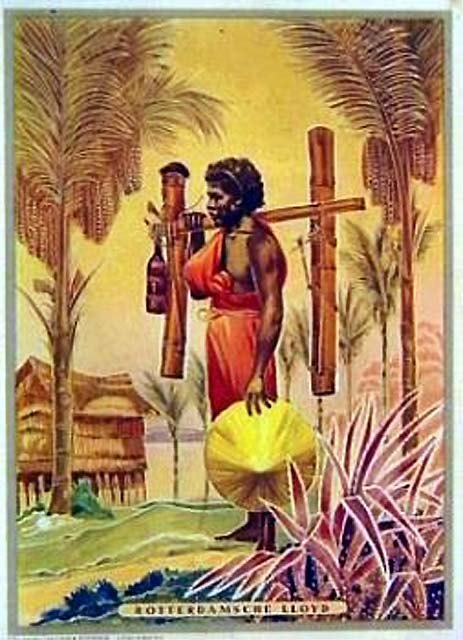 A Second Class Menu Card cover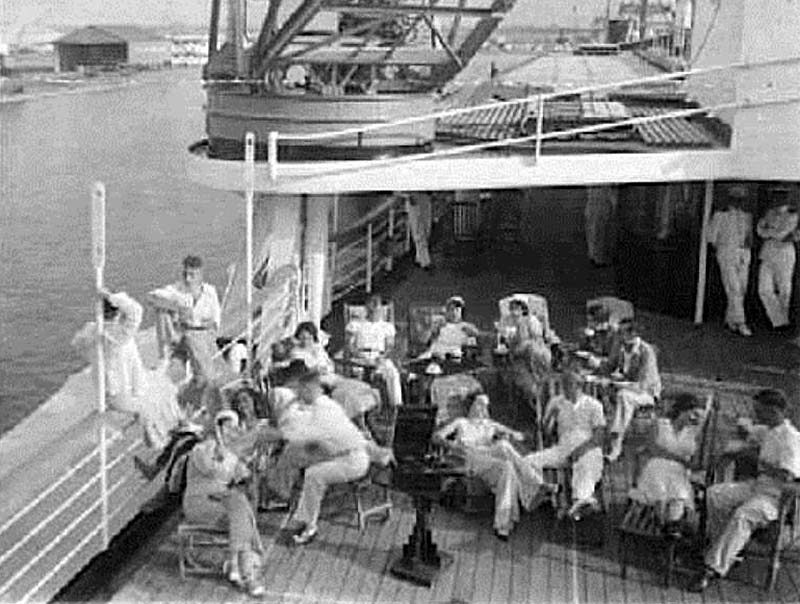 Passengers are seen out on deck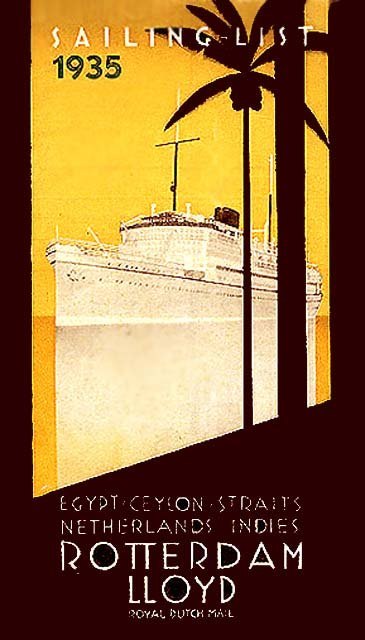 A 1935 sailing schedule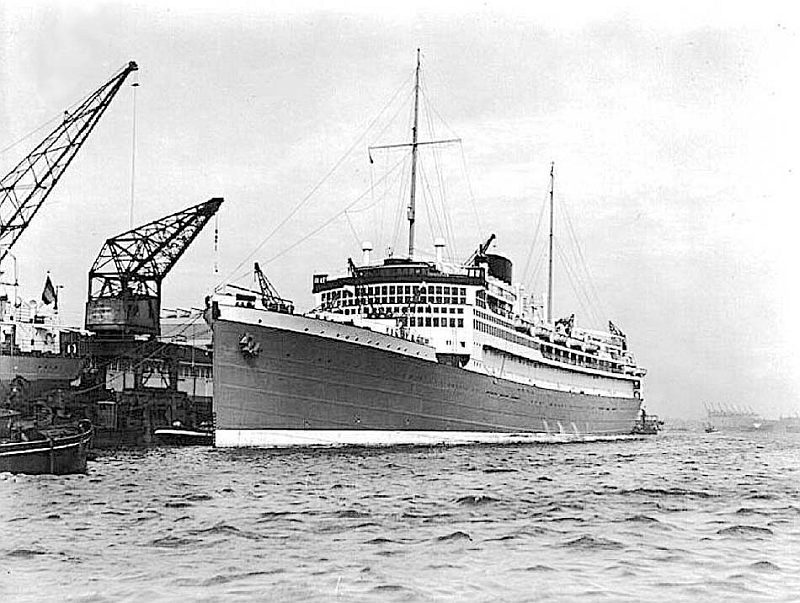 Here we see the Dempo berthed at the Shipyard's refit berth at Vlissingen in 1937
In 1937 the Dempo was given a refit at the De Schelde Yards, which saw her tonnage change slightly higher to 17,024 GRT. There were some minor interior changes, with improvements to both Third and Fourth Class facilities.
M.S. Demo and her sister M.S. Baloeran remained extremely popular, as both ships tended to be fully booked on most voyages because service, food and their superb onboard facilities were greatly appreciated by the travelling public, and this continued until 1940's.
But due to war problems in Europe, with the Netherland's officially being a neutral country, it was decided in 1939 that the Dempo would given signage that she was an official Dutch Neutral passenger liner status, thus "DEMPO - HOLLAND" was painted on her hull amidships on both sides, as well as the Red White and Blue Flag forward and aft.
In September 1939 she was laid up at Surabaya, as it became too dangerous for her to continue to sail around Europe. However on July 2, 1940 she returned to passenger services, but now it was on the Java-New York line, sailing via the Pacific. She continued services until the December 1940!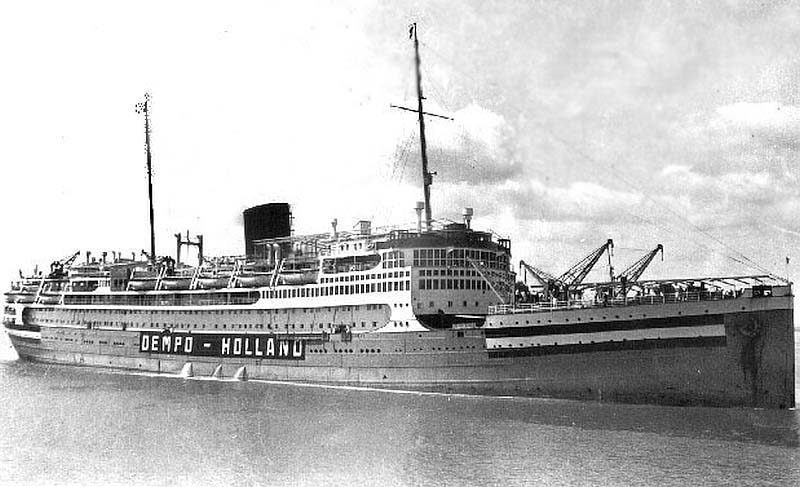 Dempo with her pre war livery
But then came the time that M.S. Dempo would make her final passenger liner service as she headed for the United Kingdom arriving late in December 1940, and was then temporarily laid up.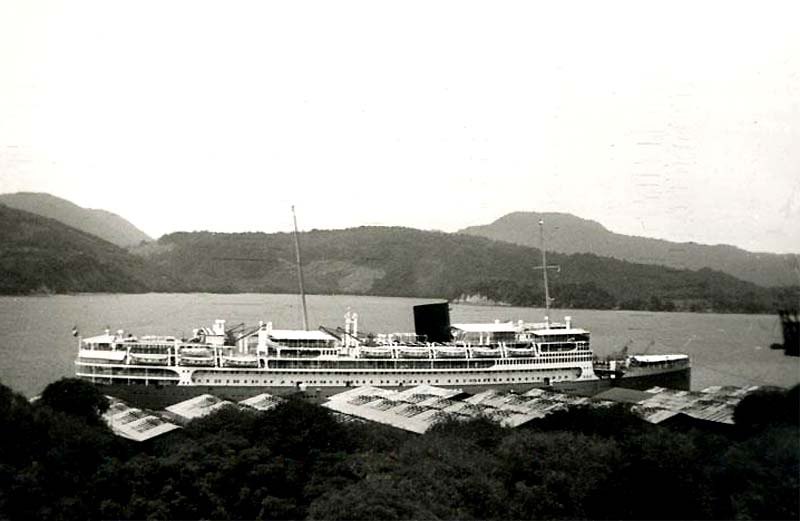 The M.S. Dempo is seen laid up in Indonesia in 1939
World War Two:
The MS Dempo was officially chartered by the "British Ministry of War Transport" (BMWT) in January 1941 and from March 7 she was given a refit in Liverpool to become a troopship and she was painted in her wartime grey livery.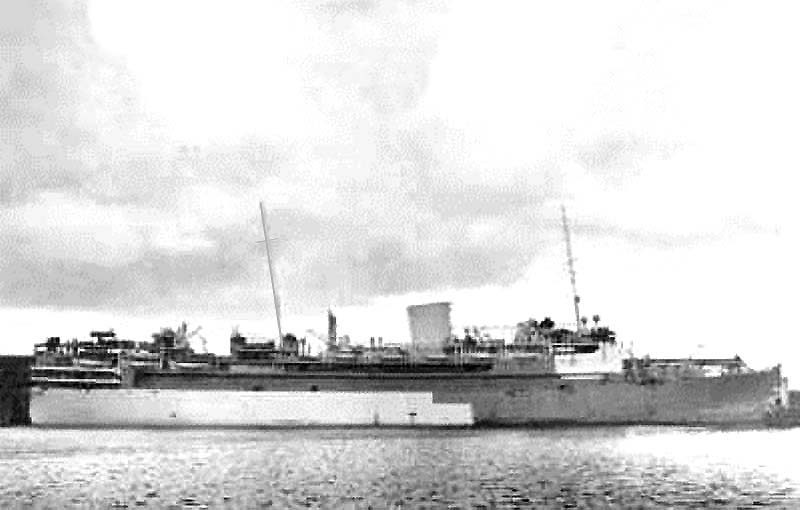 The Dempo is seen at Liverpool in March 1941, being repainted in her wartime grey
Note that the windows on Promenade Deck forward have been closed in, later they would be opened again
She was completed on March 21, 1941, and she was now officially prefixed HMS Dempo, but retained her Dutch crew, as well as a British small administration crew and several officers. Her role would be mostly to operate on convoy voyages on to Africa, Egypt as well as India, etc.
Although I do not have a complete list of her operations and all convoy voyages during the WW2, but I am able to provide the following list.
HMS Dempo Convoy WS-7:
On March 24, 1941 the Dempo joined Convoy WS-7 which was forming in the Clyde River; one of the other ships was also a fine Dutch liner the Netherland Line MS Johan van Oldenbarnevelt. This Convoy was bound for the African continent commencing at Freetown (Sierra Leone) concluding at Suez (Egypt).
On this Convoy, Dempo headed south into the Atlantic and reached Freetown (Sierra Leone) on April 4, 1941 and departed on April 7. The Convoy then headed to Cape Town (South Africa) arriving on April 16. The Dempo was one of the ships in the Convoy that stopped to refuel. She then departed on that same day and independently headed for Durban arriving there on April 20. The Convoy having arrived several days later, departed Durban on April 23, with most of the original ships, including the Dempo, and they headed for the port of Suez, arriving there on May 6, 1941. Once all the troops had disembarked and other passengers and officials as well as some returning troops had boarded, the Dempo returned to the UK.
Convoy WS-18:
Then on April 15, 1942 the Dempo joined Convoy WS-18, and she departed the Clyde, the captain noted that two of other ships in the Convoy included the two New Zealand Passenger liners, the luxurious Trans Pacific Liner MS Aorangi and the UK via the Panama Canal to New Zealand Liner the MS Rangitata (2).
On April 29, the Convoy had reached Freetown, departing again on May 3. The next port was again Cape Town, which was reached on May 15, although the departure from Cape Town required a certain amount of re-organisation, and May 19 was rapidly decided on, after joining the Durban section the Convoy sailed as one until June 2, when three of the ships split from the convoy and sailed for Suez, whilst the larger main contingent including the Dempo headed for Bombay arriving there on June 7, 1942.
Convoy WS-26:
The next Convoy WS-26 together with KMF-8 departed the Clyde on January 23, 1943 and besides the Dempo there was also her slightly older sister the MS Sibajak of 1927. This time the convoys split up on the afternoon of January 29, with twenty ships heading for Freetown, arriving there on February 6, and departure from Freetown was on February 9. The Dempo was in the other convoy section bound for Durban arriving there on February 25, where the Dempo refuelled. The convoy departed Durban on March 1, but once again the Convoy split, this time on March 11, with the Dempo joining the Bombay portion of the convoy, arriving there on March 17, 1943.
Convoy KMF-20:
The Dempo and Rangitata were part of Convoy KMF-20 which sailed together with Convoy WS32, which departed from Oversay on July 20, 1943. HMS Dempo was part of the Mediterranean bound KMF-20 and they split from the WS32 during the evening of July 25. The Dempo then headed for the UK as part of Convoy MKF-20 departing Algiers on July 31, and arriving back in the Clyde on August 8, 1943.
Convoy MKF-22:
This time the Dempo joined Convoy MKF-22, which also contained the Netherland Line Liner MS Christiaan Huygens, and this Convoy departed Port Said on August 19, 1943 and headed for Gibraltar and then the Clyde, reaching there on September 9, 1943.
Convoy MKF-22:
On December 16, 1943 the Dempo joined Convoy MKF-22 which departed Port Said being homeward for the UK, the Convoy headed for Liverpool where it arrived on January 4, 1944.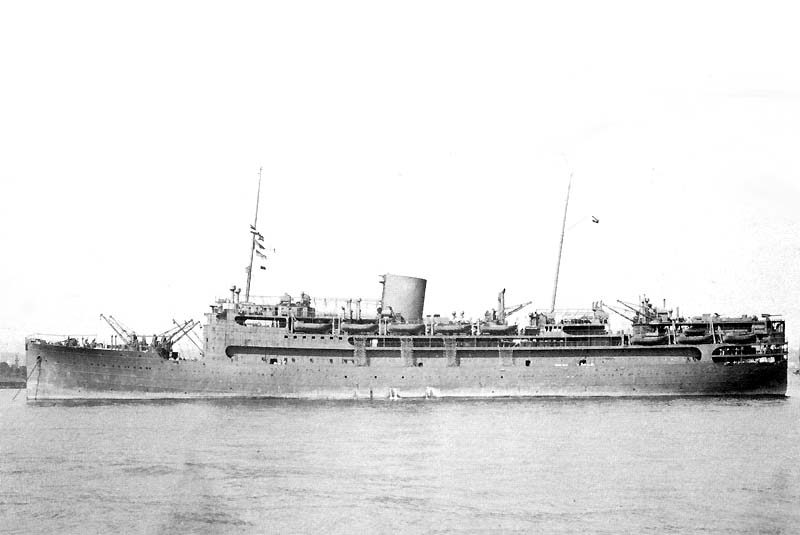 HMS Dempo the Troopship seen towards her latter days
Convoy SNF-17 -
Dempo's Final Voyage Ever
:
Dempo sailed as part of Convoy SNF-17 from Naples to Oran.
On March 15th 1944 the Dempo departed in convoy SNF-17 in her role as a Troopship for the "British Ministry of War Transport" (BMWT), and she departed Naples bound for North Africa. The Dempo was under the command of Captain W. Jansen, but sadly this would be this fine ships final voyage ever!
However, the German Submarine "U-371" under the command of Kapitän Waldemar Mehl was also operating around the Algerian coast, and on March 17, 1944 the U-371 attacked Convoy SNF-17 and at 09.38 hours the U-371 fired a Gnat acoustic torpedo at convoy SNF-17 around 30 miles north-northeast of Bougie (today known as Béjaïa in Algeria) and observed a hit on a ship the S.S. Maiden Creek, which settled by the stern after she was hit.
Then at 09.42 hours a spread of three further torpedoes were fired and two hits were heard. After another Gnat at 09.48 hours, a further detonation on another ship was heard. The second torpedo hit HMS Dempo on the starboard side. With the Dempo being badly damaged Captain W. Jansen attempted to beach his ship, however against his orders the crew immediately began to abandon ship, while the Captain attempted to beach her, but the ship settled and sank around 10.55 hours before he could reach the shore, and she was lost. The Dempo sunk just before 11.00 hours at position 37.08N, 05.27E. Thankfully all on board were rescued by the convoy's escort ships, and there were no loss of life on the Dempo!
This fine Dutch liner, and Troop Transport Ship, HMS Dempo during World War Two gallantly transported a total of 41,895 men.
S.S. Maiden Creek:
The other ship hit was the 6,165 GRT American cargo ship the SS Maiden Creek owned by "Waterman Steamship Co" of Mobile (Alabama), she was also very badly damaged during the "U-371" torpedo attack. When the torpedo struck there was an explosion which killed six merchant seamen as well two of the 29-man Armed Guards on board.
She was badly damaged and she was taking on water, and the ship was abandoned, but then it was decided to re-board her and prepare her to be towed to be beached. The next day, March 18, the Maiden Creek was towed into Bougie where she was beached to prepare her to be salvaged. But that became impossible as she was swept off the beach by a severe storm and broke in two in the heavy weather and she was duly written off as a total loss.

The C-2 Class American built S.S. Maiden Creek was built in 1944 and was destroyed in that same year.
M.S.

Dempo - Specifications & Details
Identification Data:
M.S. Dempo:                    1931 to 1944.
The Dempo was the sister ship of the MS Baloeran 1930.
Manager:                         N.V. Rotterdamsche Lloyd, Rotterdam, Netherlands.
Owner:                            Willem Ruys & Sons, Rotterdam, Netherlands.
Registration & Flag:          Rotterdam the Netherlands.
Call sign:                         NMBD
Additional info:
Call sign:                         PDOO (1934).
Propulsion:                      Motor Vessel
Type:                              Passenger Liner
Material Hull:                   Steel
Construction Data:
Shipbuilder:                     NV De Schelde Shipyard & Engine Factory, Flushing (Vlissingen), the Netherlands.
Yard:                              189.
Laid Down:                      July 15, 1929.
Launched:                       July 26, 1930.
Delivered:                       February 21, 1931.
Registered at:                  Rotterdam, the Netherlands.
Technical Data:
Engine                            Manufacturer: NV De Schelde Machinery Factory, Flushing (Vlissingen), the Netherlands.
Propulsion:                      Two single acting 10 cylinder De Schelde Sulzer 10ST76 2 cycle engines producing 7,000 HP each at 100 RPM.
Auxiliary Engines:             4 x 6SS38 totalling 3,120 HP at 170 RPM.
Number of screws:            2.
Speed:                            18 Knots service speed, 18.8 maximum.
Tonnages:                       16,979 GRT, 10,064 NET, 23,000 DWT.
.                                     17,024 GRT after refit in 1937.
Cargo:                            Grain; 392,000 Cubic Ft- Bales; 334,000 Cubic Ft.
Ballast:                           Troopship - pig iron and sand.
Length:                           573 ft - 174.65 m.
Breadth:                          70.2 ft - 21.45 m.
Draught:                         44 ft - 13.41 m.
Propulsion:                      Two single acting 10 cylinder Sulzer 10ST76 2 cycle engines producing 7,000 HP each at 100 RPM.
Auxiliary Engines:             4 x 6SS38 totalling 3,120 HP at 170 RPM.
Machinery built by:           De Schelde, Flushing, the Netherlands.
Accommodations:
Passengers:                     236 First Class, 253 Second Class. There were 27 convertible to either First or Second Class, depending on demand. There were also an intimate 70 in Third Class, & 68 in Fourth (Deck) Class.
Crew:                              335 (Dutch, Indonesian & Chinese).

***********************************
Remembering the magnificent Royal Rotterdam Lloyd Liner
 M.S. Dempo
1931 to 1944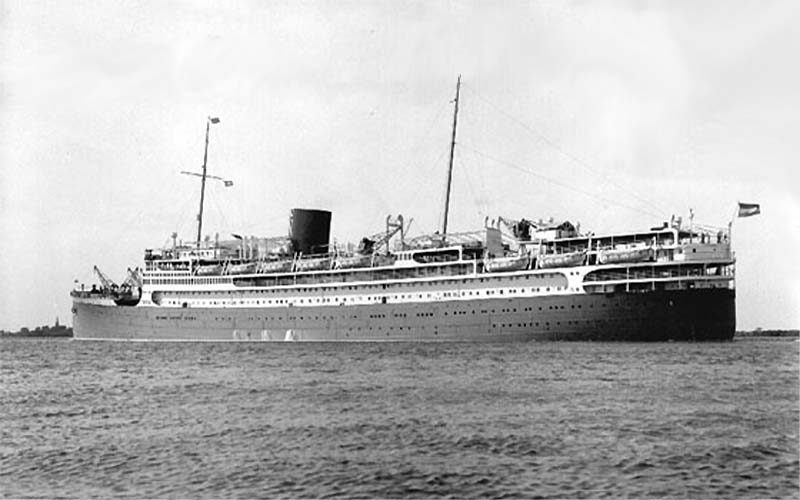 A fine view of M.S. Dempo's stern
Also visit my 11 Page M.S. Sibajak Feature
***********************************
 "Blue Water Liners sailing to the distant shores.
I watched them come, I watched them go and I watched them die."
Return to the ssMaritime MAIN INDEX
ssMaritime.com & ssMaritime.net
Where you will discover over 1,355 Classic Liners & the 1914 built MV Doulos Story
The Author has been in Passenger Shipping & the Cruise Industry for a good 60 years!
Please Note: ssmaritime and associated sites are 100% non-commercial and the author seeks no funding or favours of any shape or form, never have and never will!
Photographs on ssmaritime and associate pages are: by the author or from the author's private collection. In addition there are some images that have been provided by Shipping Companies and private photographers or collectors. Credit is given to all contributors. However, there are some photographs provided to me without details regarding the photographer/owner concerned. I hereby invite if owners of these images would be so kind to make them-selves known to me (my email address may be found on www.ssmaritime.com only), in order that due credit may be given.
This notice covers all pages: although, and I have done my best to ensure that all photographs are duly credited and that this notice is displaced on each page, that is, when a page is updated!
ssMaritime is owned & © Copyright by Reuben Goossens - All Rights Reserved