M.S. Irish Coast 1952 to 1968
Please Note: Firefox and some iPad's or iPhone's, etc are not suitable
Use Google Chrome for this web page to load perfectly!

Click the logo above to reach the ssMaritime FrontPage for Ships of the Month & News Updates
With Reuben Goossens
Maritime Historian, Cruise'n'Ship Reviewer, Author & Lecturer
Please Note: All ssmaritime as well as my other related maritime & cruise sites are 100% non-commercial and privately owned sites. Be assured that I am NOT associated with any shipping or cruise companies or agencies or any other organisations! The author has been in the passenger shipping industry since May 1960, but although retired and unwell, I occasionally attempt to write an article now and then, in order to bring enjoyment and pleasure to ship enthusiasts past passengers and crew.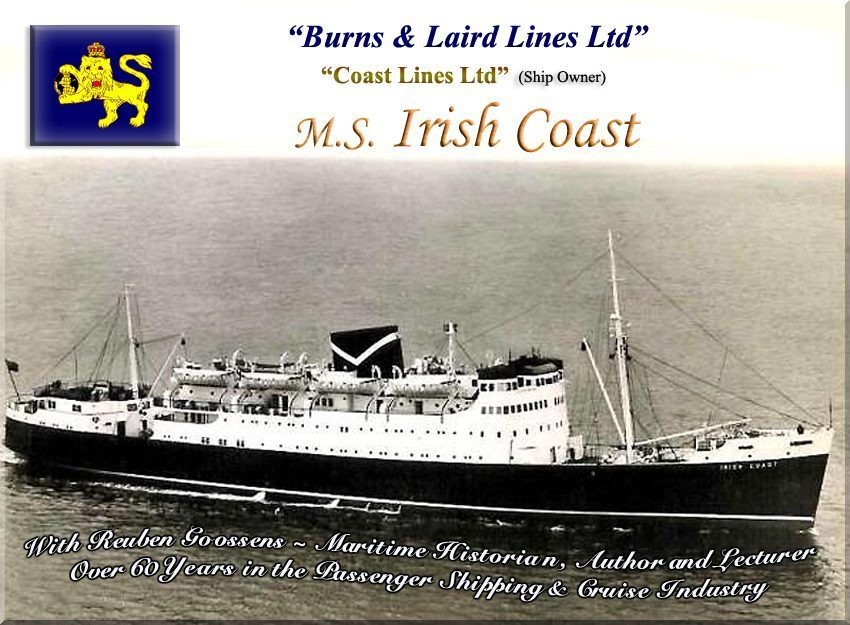 Photographs are from the ssMaritime historic collection - unless stated otherwise.
Please Note: Email service to ssMaritime is sadly no longer available, due to the author's old age and chronic illness as well as being disabled, etc. In the past ssMaritime has received a huge number of emails each day, but
INTRODUCTION:
"Burns & Laird Lines Ltd", was a subsidiary of "Coast Lines Ltd" Dublin Scotland, and it was formed in 1922 from the amalgamation of "Laird Line" and "G & J Burns", two long established Glasgow companies which had pioneered steam services between Scotland and Ireland. The new company offered regular passenger and cargo services between Scotland and Ireland.
The M.S. Irish Coast was owned by "Burns & Laird Lines'" parent company "Coast Lines Ltd", and she was built to fill a special roll, for when other ships would be taken out of service for their overhauls, and then the M.S. Irish Coast would take their place and operate their service. Thus over the years, she would sail on the Glasgow to Dublin service, as well as being chartered out operating on a variety of other services.
However, during the summer, she was intended to operate the Glasgow-Dublin route, but she was later replaced on this service by the M.V. Scottish.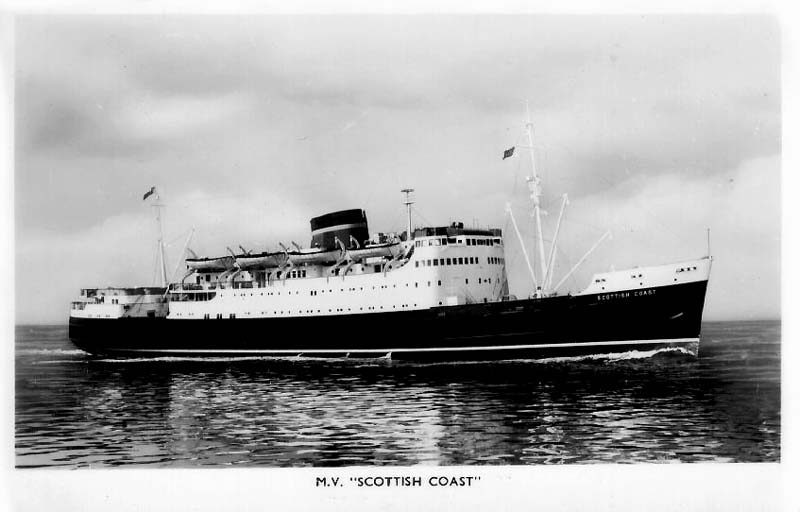 The M.V. Scottish Coast
But somehow, the Irish Coast never carried "Burns & Laird" livery, yet she was associated with their routes more than any of the ships they managed.
HER CONSTRUCTION:
Harland & Wolff Belfast, built the 3,813 GRT, passenger, Refrigerated cargo-ferry the M.S. Irish Coast, which was completed for Coast Lines Ltd in 1953. She was 97.7m long and had a beam of 15.7m and with her twin screws she had an excellent cruising speed of 17 knots. The Irish Coast's keel was laid down in 1951, and she was officially launched on May 8, 1952. She was completed in October and undertook her sea Trials successfully and received her certifications.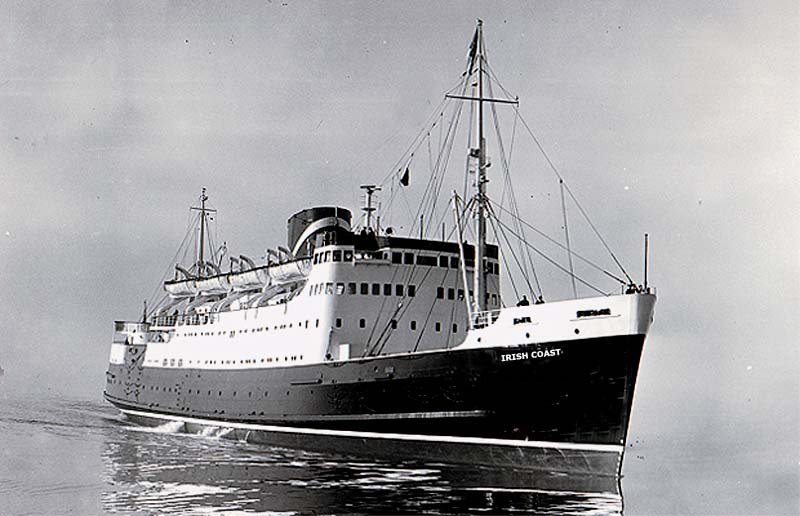 Seen during her sea trial on a foggy morning
Being a motor ship of over 3,800 tons, special attention had been paid to fire precautions, including the installation of the "Grinnell sprinkler extinguishing system" throughout the passenger accommodation. The ship carried eight lifeboats all built of steel. There were five boats of 28 or 26 ft, with one of the 28 ft boats was a motorboat.
The Irish Sea is not known to be always very kind to travellers, and it was for this reason that one other important innovation was introduced into the hull of the M.S. Irish Coast, and that was the installation of the Denny Brown electric hydraulic stabilisers. In the event of bad weather these stabilisers certainly helped to minimise the ship to roll. The stabiliser is so fitted that the officers on bridge are able to anticipate the effect of heavy seas and thus check the normal roll of the vessel, which is perfect for those passengers who may have not found their sea legs.
This ship was built to fill a special roll, for when other ships were taken out of service overhauls, and the M.S. Irish Coast would take their place and operating their services. Thus over the years, she would sail on the Glasgow to Dublin service, as well as being chartered out operating on a variety of other services.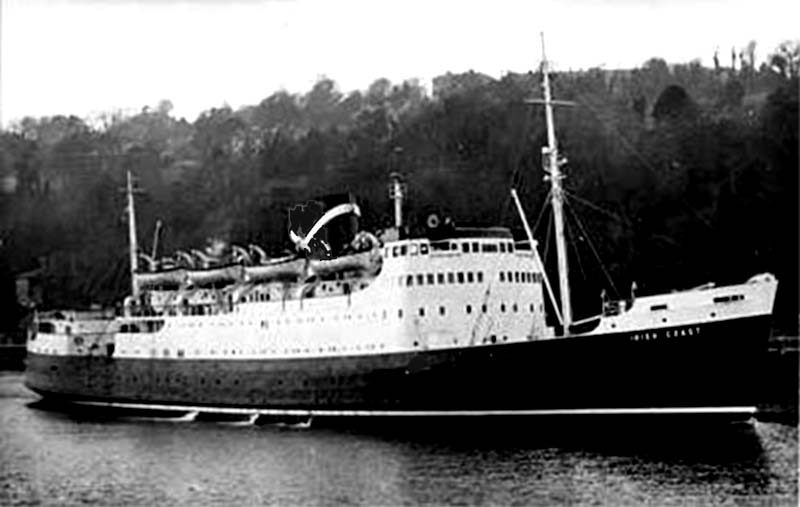 The Coast Lines Ltd, M.S. Irish Coast had a more rounded forward superstructure to the M.S. Munster
At the time of her launching Captain A. R. S. Nutting, Chairman of Coast Lines Ltd., described her as being a "Magnificent Ship." And there is no doubt, that those who sailed on her in due course certainly would endorse that opinion.
INTERIORS AND ACCOMMODATIONS:
The Irish Coast offered accommodation for 750 passengers in two classes, First and Tourist Class. However, special provision was made that during peak travel periods such as Christmas, Easter and the Summer holiday season many of the single Staterooms could be quickly converted into two berth cabins and her passenger capacity was then 1,250 persons.
LOUNGE: Panelled in delicately tinted aspen wood and furnished with deeply upholstered chairs and settees in shades of soft blue and rose, the Lounge had a fireplace of "peach blossom" marble, full length window curtains and specially designed rugs of deep pile. The lounge is furnished in shades of soft rose and pastel blue, with the full length curtains being in a charming print material.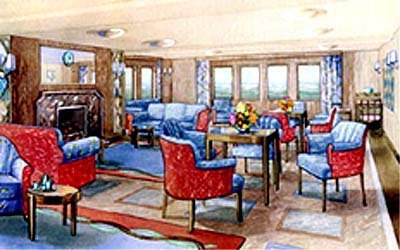 The Lounge
The walls are panelled in delicately tinted willow wood, which, owing to the way, in which it catches the light, has a "quilted" look. There is a fireplace, containing a realistic log fire, with a surround and hearth of "peach blossom" marble. The furniture consists of easy chairs and settees, all upholstered, card tables and writing tables. Specially woven rugs cover the deck and ample mirrors are scattered around the venue.
COCKTAIL BAR: It was an innovation of there being a separate Cocktail Bar, semi-circular in shape and recessed into the funnel. The panelling is of limed oak on which was hung a set of early 19th century sporting prints. Comfortable settles upholstered in green hide lined the walls.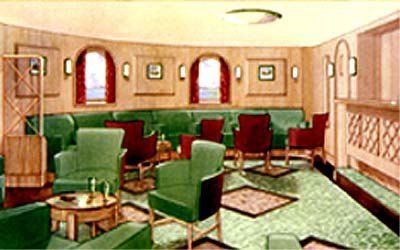 The delightful Cocktail Bar
SMOKE ROOM: Essentially masculine in character, the main smoke room is panelled in chestnut and is provided with comfortable easy chairs some upholstered in coral coloured hide and others in blue. And if before retiring a cosy chat and comforting "nightcap" is called for the roomy lounge on "A" deck or the smoke room on the promenade deck will agreeably round off the day. Nor indeed should the opportunity be missed of visiting the cocktail bar on the sun deck cunningly recessed deep into the funnel.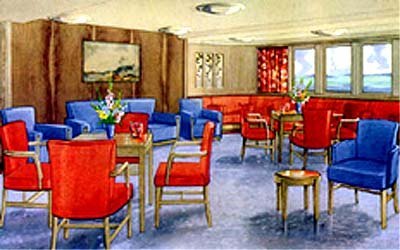 The Smoke Room like most venues was superbly timbered
DINING SALOON: Particular attention has been given to make the Dining Saloon warm and welcoming. The panelling is of golden satin wood and this is the basis of a colour scheme of gold, crimson and white. The Entrance Hall in the Irish Coast is on "B" deck and here the inquiring traveller will find the ship's office and a ready answer to his questions from a well trained staff. Off the Entrance Hall is the First Class Dining Room with its delightful decorative scheme small tables, snow white napery and gleaming cutlery and above all, that irreproachable standard of cuisine and service for which the Irish Sea ships were so renowned for.
ACCOMMODATIONS: Two special staterooms where provided each having a private bathroom and fitted with twin beds and convertible bed-settees of the most modern design. The dressing tables have triple mirrors with special lighting. Sleeping cabins for first class passengers are on the "Promenade", "A" and "B" Decks and comprised of single and two berth Cabins as well as one four berth Cabin. All the rooms are attractively furnished with beds or berths, wash basins with hot and cold water and ventilated on the twin trunk Punkah-Louvre system. Most rooms had sidelights whilst those on the Bridge front on "A" Deck where fitted with large windows. A businessman after a busy day found their overnight voyage, restful and in the most pleasant of surroundings. Just as a family would have had, commencing their annual holiday with an adventure of a sea crossing. There were two special Staterooms furnished with dressing tables, wardrobes and having an adjoining private bathroom.
Those who sailed in Tourist Class also travelled in comfort as everything was of a very high standard, as there were a fine range of Public Venues available. In addition there were both two and four Berth Cabins available, as well as two larger very airy sleeping Cabins. All cabins were fitted with wash basins and hot and cold water and all where ventilated with the efficient "Punkah-Louvre" system. The Public Rooms include a well appointed Dining Doom that also had a Snack Bar, a Smoke Room and a spacious "General Room" or "Main Lounge". Here again special attention has been paid to decoration, furnishing and ventilation. For all passengers there were ample spaces for luggage as well as garage space for the carriage of cars. In the general structure and machinery installation of the M.S. Irish Coast featured the very latest developments in ship design and marine engineering practice of the day!
SERVICES:
On October 16, 1952 the 1,250 passenger ferry was delivered to Coast Lines Ltd, in Glasgow, Scotland and she had been previously been charted to be operated by subsidiary company "Burns & Laird Lines Ltd" and she commenced on the Belfast - Liverpool service just a few days after the ship had been fully stored and made ready within just over a week after having been delivered. In addition whilst with this company, she also operated on the following services; Cork - Fish Guard; Dublin - Liverpool as well as the overnight Glasgow - Dublin services, which kept her constantly busy for a good 14 years!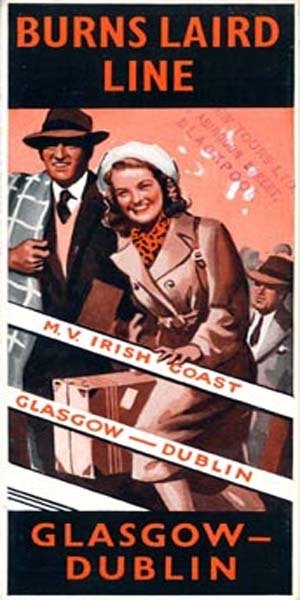 M.S. Irish Coast Glasgow - Dublin brochure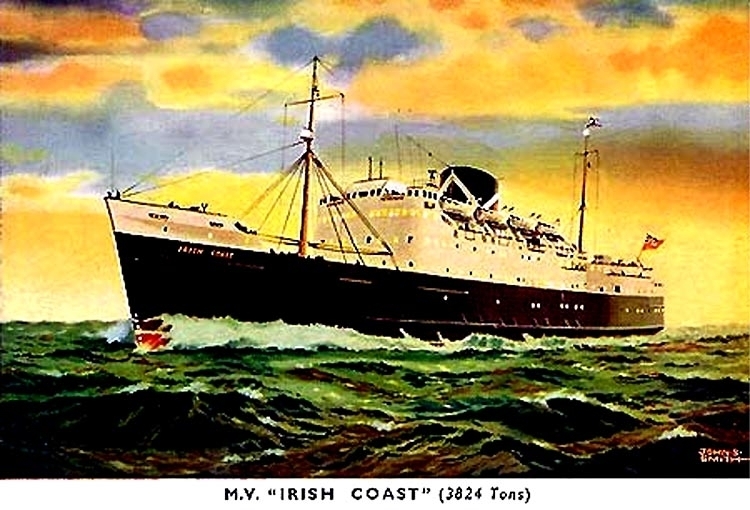 A postcard of the M.S. Irish Coast as sold on the ships canteen or shop
It was painted for Coast Lines Ltd by John Smith
However, whilst she was very busy on a variety of services in the summer of 1960 came a brand new service for her, being the very popular daylight Ardrossan to Belfast, being a holiday beachside service, which proved to be a huge success!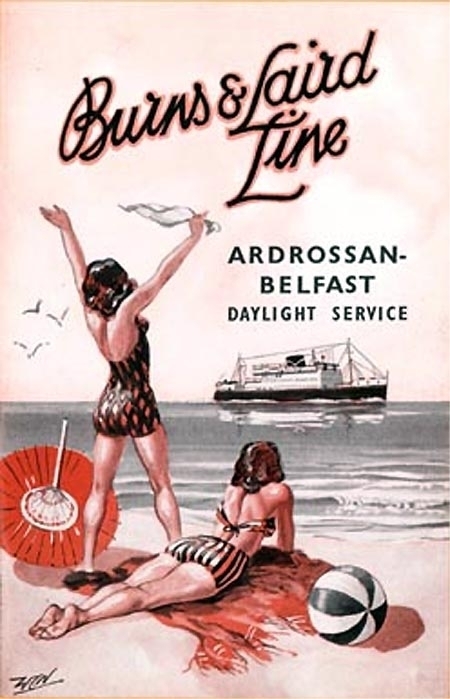 This brochure also contained M.V. Irish Coast sailings from June 25 to August 27, 1960
Issued in February that year
Brochure cover obtained with thanks from www.timetableimages.com/maritime/index.htm
Then on October 2, 1966 she was chartered to the "Belfast Steamship Co", of Dublin for the M.S. Irish Coast to operate on the Belfast – Liverpool service. This service operated for less than two years, for there was a decline for these older ships, with new roll on, roll off ferries taking over.
The "Irish Coast" had generally been operating the thrice-weekly overnight Glasgow to Dublin service since 1964, with a brief charter to the "Belfast Steamship Co", after which she returned to her previous service with "Burns & Laird". Amazingly, this very same service also ended her career as the "Irish Coast" with her final sailing from Dublin to Glasgow on the evening of Saturday February 10, 1968.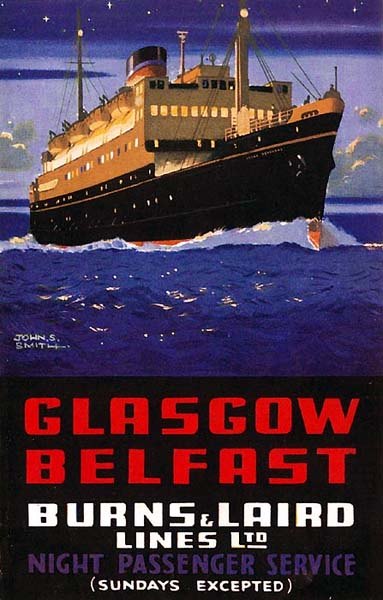 Below, the very last "Burns & Laird" brochure published for the M.S. Irish Coast
Then on February 11, she commenced a two month Glasgow-Belfast service until she was withdrawn from this service in 1968 in April, for then came her very last voyage as the Irish Coast on April 10 from Belfast to Birkenhead.
Specifications & Details M.S. Irish Coast 1952 to 1968:
Built by:                          "Harland & Wolff Ltd", Belfast in 1952.
Yard:                              1461.
Owner:                            "Coast Lines Ltd", Glasgow, Scotland.
Managed by:                    "Burns & Laird Lines Ltd".
Launched:                       May 8, 1952.
Delivered:                       October 16, 1952 to Glasgow.
IMO:                               5163120.
Length:                           103.54 m - 339.69 ft.
Width:                            15.73 m - 51.60 ft.
Draught:                         4.81 m - 15.78 ft.
Tonnage:                         3,813 GRT (Gross Registered Tons).
Machinery:                       Two Cylender, Harland & Wolff Diesels, 4849 kW.
Speed:                            16 Knots service speed, 17.1 Knots maximum.
Accommodations:             750 Passengers in First & Tourist Class most of the year.
.                                     1,250 during Holiday seasons.
Crew:                              180.
SHIPS HISTORY:
October 1952. Chartered to Burns & Laird Lines Ltd, who placed her on the Belfast - Liverpool service, as well as a service between Cork - Fishguard, Dublin - Liverpool and Glasgow - Dublin - Liverpool.
On October 2, 1966 she was chartered to the Belfast Steamship Co, of Dublin, who placed her on the Belfast and Liverpool service. M.S. Irish Coast very last voyage for "Burns & Laird" departed from Glasgow on Wednesday April 10, 1968 and she headed for Birkenhead, where she was laid up and placed on the market.
Then on August 16, 1968 she was sold to the a very old and famous Greek Shipping Company "Epirotiki Steamship Navigation Co", or "Epirotiki Lines" owned by my friend Mr. "George Potamianos" who renamed her "Orpheus". On August 22, The "Orpheus" departed Birkenhead and she sailed for Piraeus, Greece, where she entered a shipyard where she was given an extensive rebuild and refitted, to become a delightful luxury cruise ship.
Having been completed in May 1969, this saw her appearance change greatly looking very much a cruise ship, however she was renamed as the "Semirais II", but then she carried several names in very close succession during 1969; "Semirais II" "Achilleus" and finally her most popular name, "Apollon II", being the name she carried for most of her time under the Greek flag until 1981.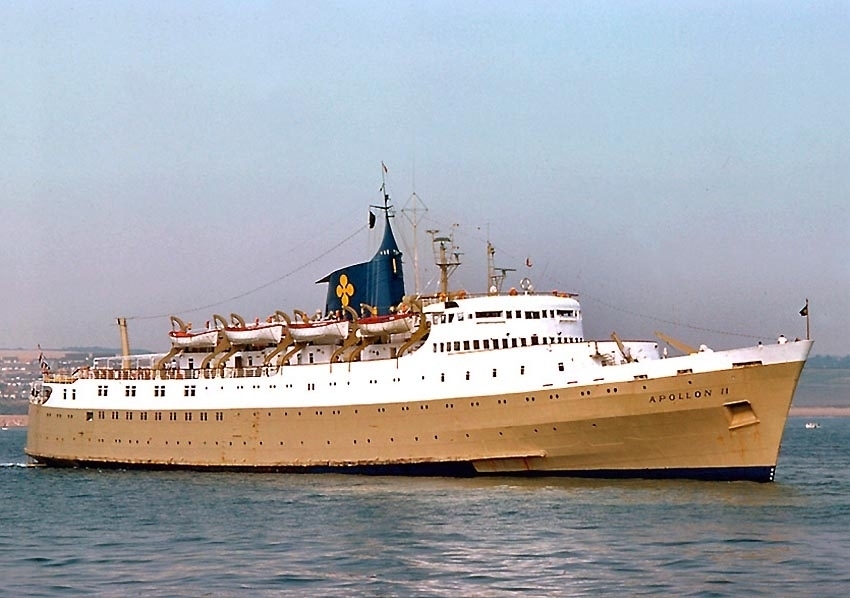 The magnificent and popular luxury Cruise Ship, M.T.S. Apollon II
On May 5, 1969 this magnificent ship commenced her cruise duties sailing from Piraeus to Crete, Rhodes, Kos, Patmos, Delos and Mykonos.
In 1969 she was registered for "Epirotiki Lines SA", Piraeus, Greece. Later that year she was reregistered to "Epirotiki Steamship Navigation. Co", Piraeus, Greece and it was then she officially became the "Apollon II" the name that became so much loved by cruise lovers from around the world, as far as New Zealand, Australia, Unites States and Britain of course.
Considering in 1981 the ex M.S. Irish Coast / M.T.S. Apollon II was almost 30 years old, she was sold to "Corporacion Naviera Intercontinental de Panama SA", of Panama, and they renamed her "Regency". Although there where no major changes to her appearance the only change was that her hull was painted all white. She sailed across the Atlantic and headed for the America's and operated most likely cruises from Miami to the Bahamas' or the Caribbean Islands.
I know for a fact that in 1982 control of the "Regency" was taken over by "Triton Holding Corp", based in Bermuda whilst she was laid up in Miami Florida. This takeover may well have meant that the ship was taken over due to non payments. During her time laid up at Miami she looked very neglected and she was in a poor state, certainly nothing like the wonderful and always spotlessly maintained M.T.S. Apollon II.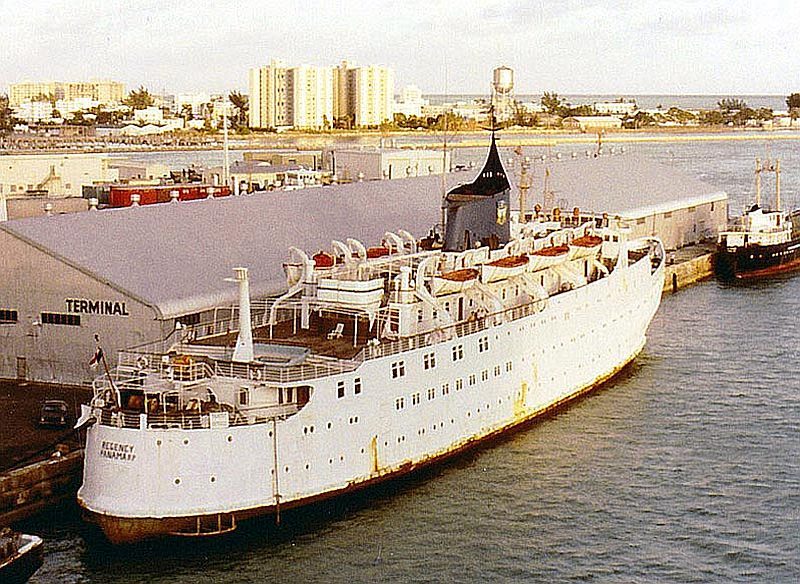 The M/V Regency is seen laid up at Miami on March 5, 1982
Photograph was taken by & © Mr. Rich Turnwald of Miami Florida, USA
Her Concluding Days:
The M/V Regency at some stage (date unknown) departed the Miami and headed for and reached the Philippines. Once she arrived, she was laid up at Batangas, being a Port City located on the south-western part of Luzon in the Philippines.
Then suddenly on October 11, 1989, whilst the "Regency" was still laid up at Batangas, and the ship looked like a filthy neglected rusted heap of a ship, but a massive typhoon, officially named "Dan" struck the region and it caused great damage around the very wide area. The "Regency" just happened to be in the very heart of typhoon "Dan" and thus she suffered extreme damage and apparently the power of the forceful winds snapped her lines and she blown midstream and was partially grounded. As a result, she was declared a total loss by the insurance company and therefore, she was subsequently sold for scrap.
However, for some unknown reason it was not for a good number of years later that this wrecked ship was finally freed and she was towed to Manila where she was to be broken up. But, believe it or not, the wonderful ex "Irish Coast", the luxurious cruise ship "Apollon II" and the tragic "Regency" was only broken up after 1996, aged 44 years.
There was no doubt that at the time the 1950's the M.S. Irish Coast was indeed a welcome and worthy addition to the splendid ships that maintained night crossings to between Scotland and Ireland. And then she became a household name having been was sold to the famous "Epirotiki Lines and was rebuilt into such a luxurious Cruise Ship named the "Apollon II".
Visit the Epirotiki Pages Online
Enter the Multipage M.T.S. Apollon II Feature
The feature above was written many years ago, and if I am able, I will and try to update it soon.
***********************************
 "Blue Water Liners sailing to the distant shores.
I watched them come, I watched them go and I watched them die."
Please Note: Email service to ssMaritime is sadly no longer available, due to the author's old age and chronic illness as well as being disabled, etc. In the past ssMaritime has received a huge number of emails each day, but
Return to the ssMaritime MAIN INDEX
ssMaritime.com & ssMaritime.net
Where you will discover over 1,355 Classic Liners & the 1914 built MV Doulos Story
The Author has been in Passenger Shipping & the Cruise Industry for a good 60 years!
Please Note: ssmaritime and associated sites are 100% non-commercial and the author never seeks any funding or favours of any shape or form, never have and never will!
Photographs on ssmaritime and associate pages are: by the author or from the author's private collection. In addition there are some images that have been provided by Shipping Companies and private photographers or collectors. Credit is given to all contributors. However, there are some photographs provided to me without details regarding the photographer/owner concerned. I hereby invite if owners of these images would be so kind to make them-selves known to me (my email address may be found on www.ssmaritime.com only), in order that due credit may be given.
This notice covers all pages: although, and I have done my best to ensure that all photographs are duly credited and that this notice is displaced on each page, that is, when a page is updated!
ssMaritime is owned & © Copyright by Reuben Goossens - All Rights Reserved