Please Note: Firefox and some other search engines are not suitable – Use "Internet Explorer" for this page to load perfectly!
Click the logo above to reach the ssMaritime FrontPage for News Updates & "Ship of the Month"
With Reuben Goossens
Maritime Historian, Cruise'n'Ship Reviewer, Author & Maritime Lecturer
Please Note: All ssmaritime and my other related ssmaritime sites are 100% non-commercial and privately owned sites. Be assured that I am NOT associated with any cruise or shipping companies or travel/cruise agencies or any other organisations! The author has been in the passenger shipping industry since May 1960 and is now semi-retired, but continues to write article on classic liners and cruise ships in order to better inform cruise and ship enthusiasts for their pleasure!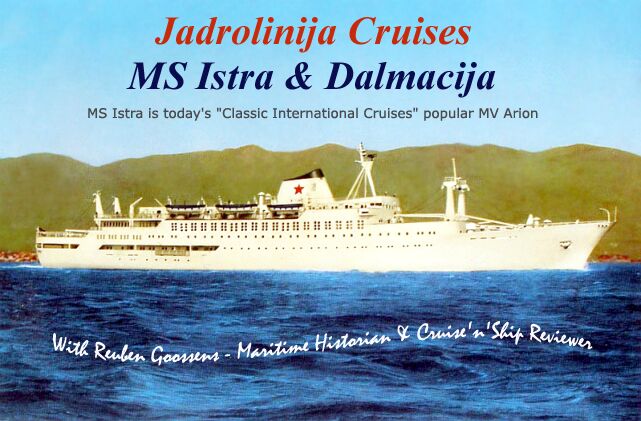 The two delightful ships, MS Istra and Dalmacija became known as the "Great White Yachts" yet in reality they were small and extremely popular intimate ships. They were built in 1965 at the Brodogradiliste Uljanik ship yards in Rijeka Yugoslavia for the Yugoslavian Shipping Company … Jadrolinija Cruises.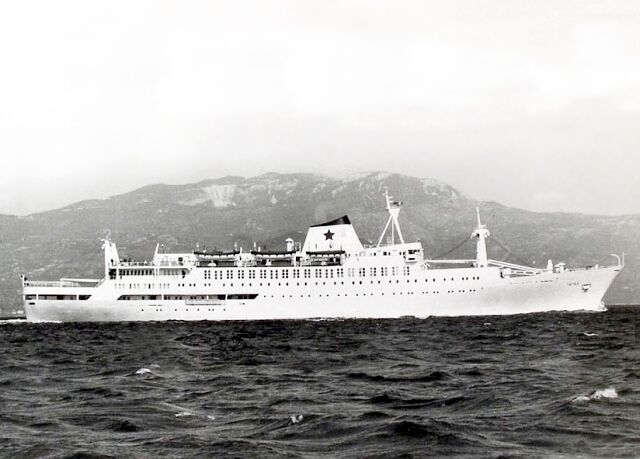 MS Istra is seen here in 1966 as built
An original Jadrolinija postcard
Both ships offered popular cruises offering a warm and friendly Yugoslavian style of service. They operated 14 day voyages from the Adriatic to the Near East. Regular ports of call were: Venice, Trieste, Rijeka, Slit, Dubrovnik, Piraeus, Alexandra, Port Said, Beirut, Limasol, Heraklion, Piraeus, Dubrovnik and Venice. Although, ports of call obviously changed dramatically during the Middle Eastern Six day War.
1. The MS Istra story
In Germany the MS Istra and her sister became very popular and were frequently chartered by various tour operators such as Seetours, Gastager, Touropa and Intermaris. The Istra continued cruising successfully until it was decided by her owners that after 28 years of service that she would be sold.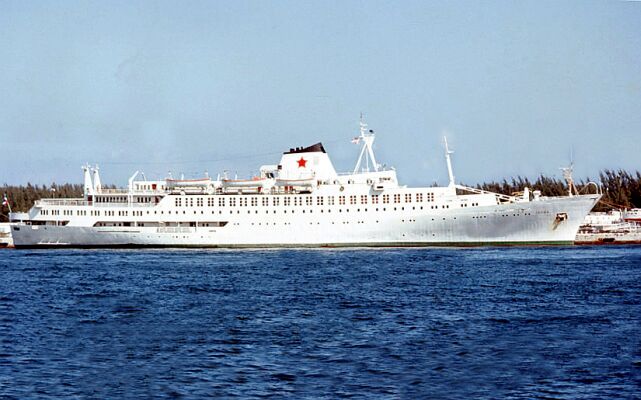 The MS Istra seen after her first rebuild

From the author's private collection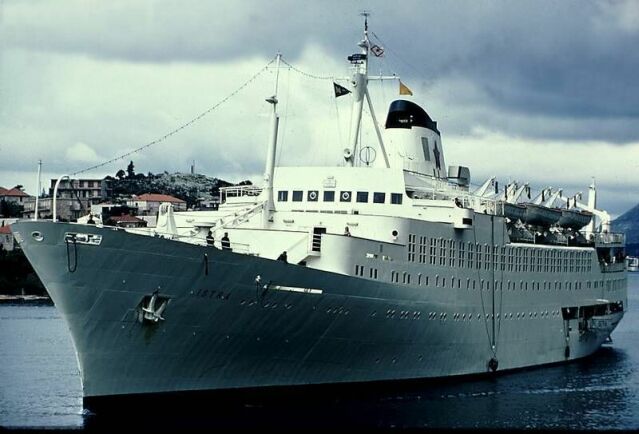 A fine bow shot of the Istra
Photographer unknown - *please see photo notes at bottom of page
Original interior photographs of the MS Istra
Images from the author's private collection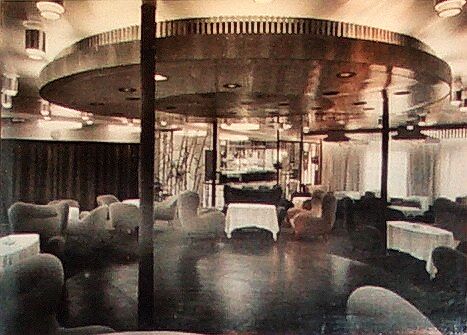 The Main Social Hall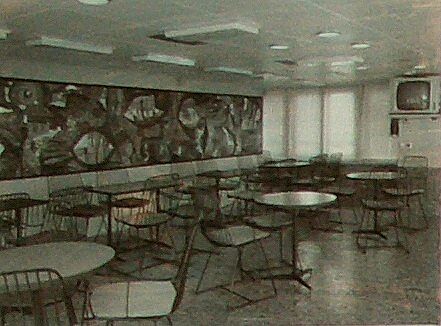 The Tavern (Bar)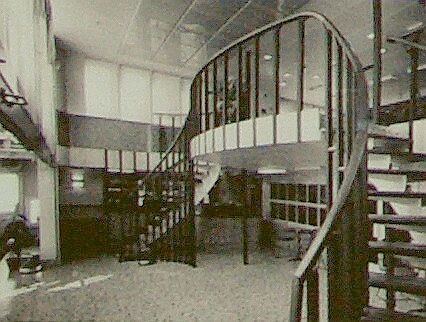 The lobby to the Lido bar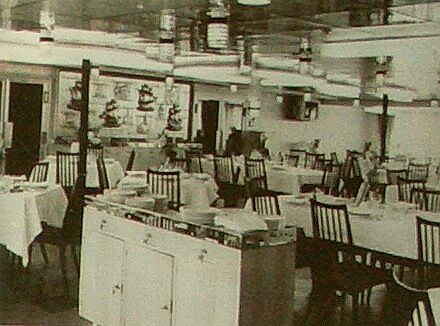 The Restaurant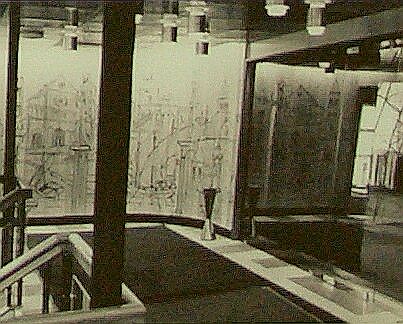 Stairwell and lobby
MS Astra & Astra I:
In May 1993 the Istra was obtained by the Russian "Goring Shipping Company" who renamed her, Astra and she was reregistered in the Ukraine. However, she would be managed through the well-known Travel/Shipping Company – "Caravella Shipping Company Ltd" of Moscow. Although very few changes would be made to her, externally she received a blue ribbon around her hull and a blue funnel with the Caravella Shipping Company logo featured on it in red and white.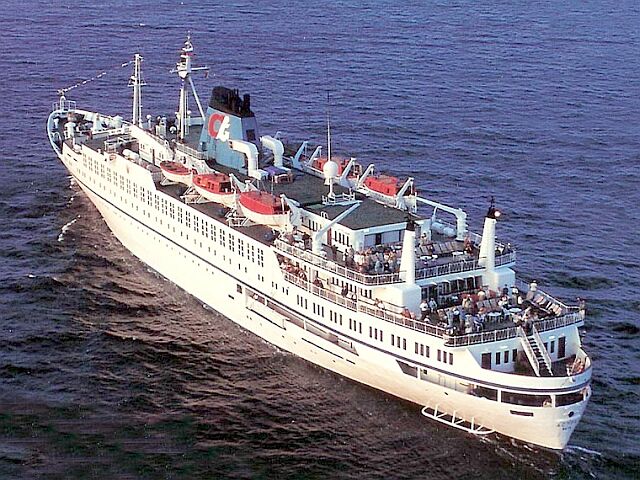 She was sold to Goring Shipping and renamed MS Astra & is shown here with the Caravalla livery
Postcard from the author's private collection
But again she entered the European market and she was chartered by operators like Eurocruises and Mono Company. However, soon enough the German giant cruise organisation "Neckermann Seereisen" decided to add this gem of a ship to their fleet of chartered ships and she was extremely popular due to her intimate size.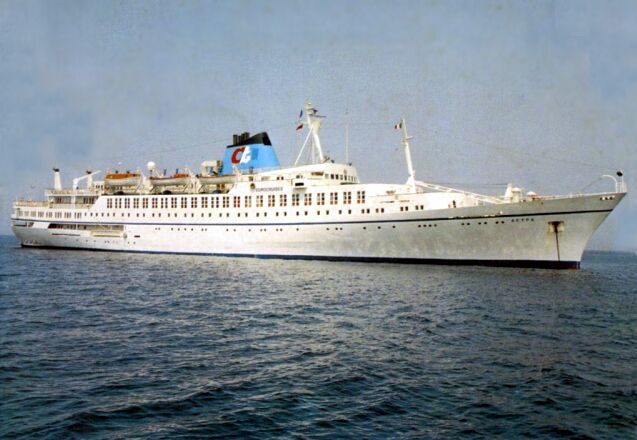 Another postcard of MS Astra
Postcard from the author's private collection
Then in 1996, the little Astra, ex Istra, was replaced in the Neckermann fleet by the larger MV Astra II, which was previously the MV Golden Odyssey.
Goring Shipping decided to reregister the MS Astra in Panama and her name was changed slightly by placing an "I" after her name, thus she had become the Astra I. Sadly this name change seemed not to bring her any luck whatsoever! Apparently Goring Shipping was having severe financial difficulties thanks to their exclusive Russian cruise market, and during a cruise Astra I was arrested whilst she was berthed in Haifa, Israel in 1997, due to massive outstanding debts owing by Goring Shipping to a ship yard and suppliers, etc. As the company folded the Astra I was ordered to be placed for sale at auction.
MV Arion:
In 1999, Astra I was obtained at auction and taken to Lisbon. The next year, in 2000 she underwent a total reconstruction and refit costing some US$15 million dollars.
Externally there were some major changes as her Boat and Bridge decks were moved far forward, and the forward windows on Promenade Deck were altered to make way for a full width Main Lounge, Bar, Casino, etc. However, a good length of the glass enclosed Promenade remains on both sides of the ship, which is now called the "Wintergarden."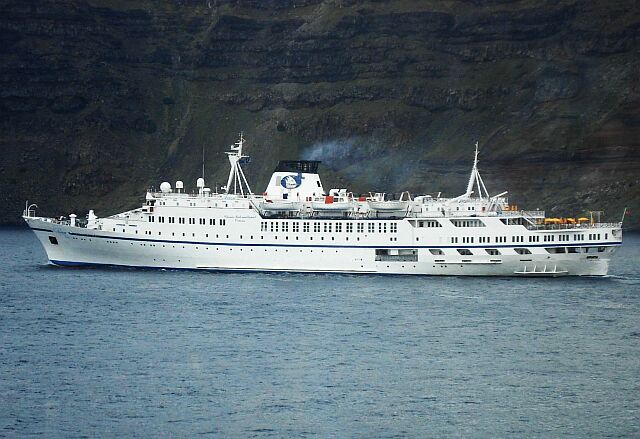 Having been just rebuilt for the second time and vastly modernised, she is seen as the elegant MV Arion
From the author's private collection
Her superb new interiors were designed and decorated by the famed Arminio Lozzi and George Potamianos who were able to create a delightfully subtle atmosphere of light blending and soft colours throughout the ships new public venues and passenger cabins. She was renamed MV Arion and came under the Arcalia management in 2000, the ship has been sailing since then around the globe operated by excellent cruise line "Classic International Cruises," who operate a superb fleet of well maintained and run classic ships to this date!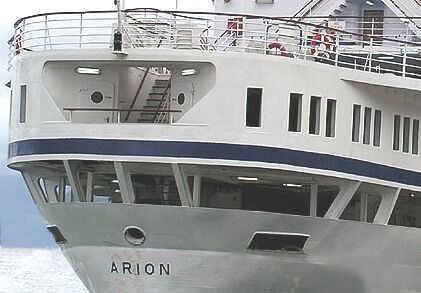 This is a close up view of her stern with both her restaurant and decks above having been vastly extended
\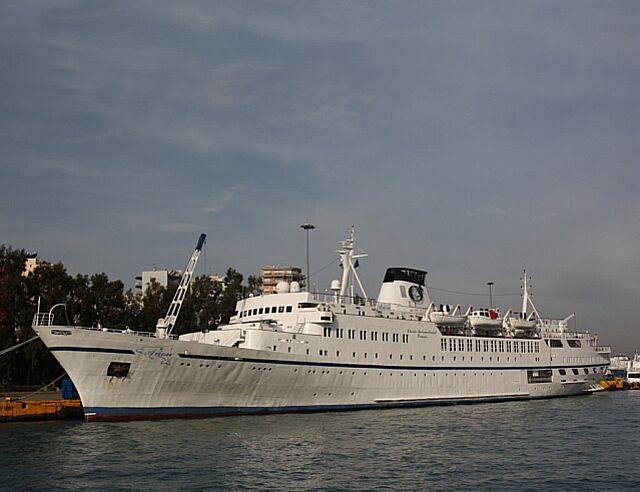 MV Arion seen here more recently with her new enclosed tenders
From the author's private collection
The MS Dalmacija Story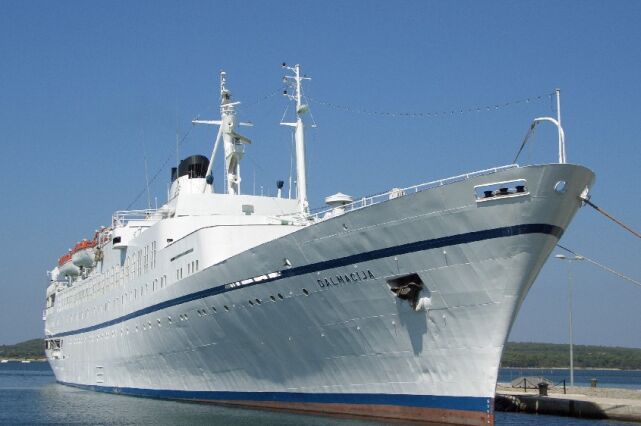 The clean lines of the MS Dalmacija seen in port
Photographer unknown - *please see photo notes at bottom of page
With the Dalmacija having been built mostly to operate for cruise market with her sister the Istra, she continued to cruise successfully throughout the years, even after the Istra had long been sold. For Australian's she did visit our shores during the summer if 1981 and 1982 as a photograph below and a brochure directly below it will prove. She was chartered by a Western Australian venture by the name of "Australian Ocean Line" (AOL).
MS Dalmacija Photo Album and Deck Plan
This mini photo album below has been sourced directly from the "Australian Ocean Line" brochure mentioned above, which is part of the author's private collection. During her charter agreement in 1981/82, with the Australian Company AOL she operated two line voyages, a 25 Night southbound and a 26 Night northbound voyage to and from Venice Italy and Fremantle Western Australia sailing via the Suez Canal.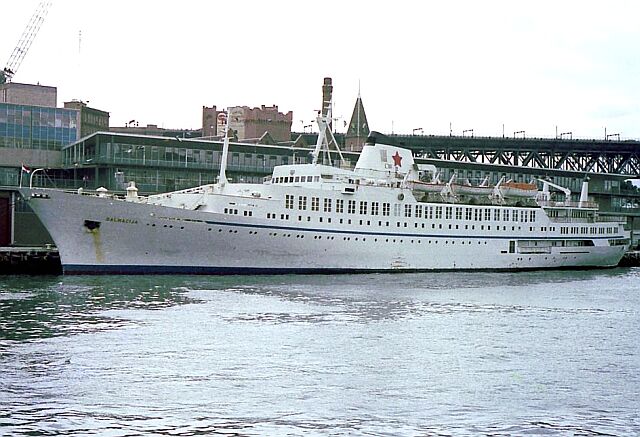 The Dalmacija visited Sydney Australia in March 1982 sailing for "Australian Overseas Line" - AOL
Photograph by & © Jeff-Eastwood - Provided by a supporter
Whilst based in Fremantle she operated five 25 night cruises: two Far East Asian cruises, one South East Asian cruise and two complete circumnavigations of Australia. Thus delightful yacht like ship became a popular sight throughout this country for some four months!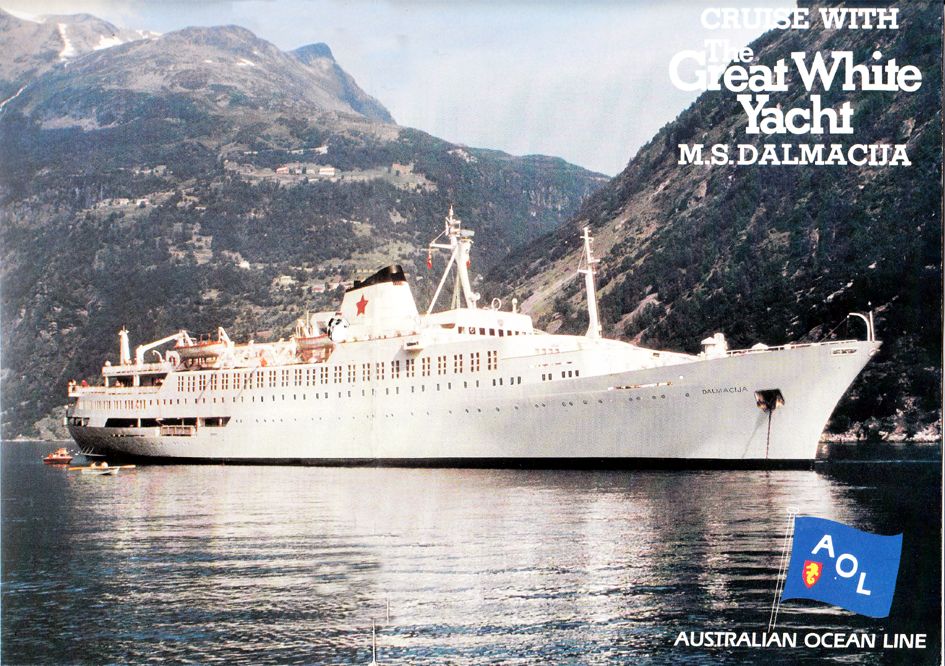 Front and part of the back cover of the brochure. As it had been punctured and placed in a file, it has been photo shopped and has been repaired as has all images below!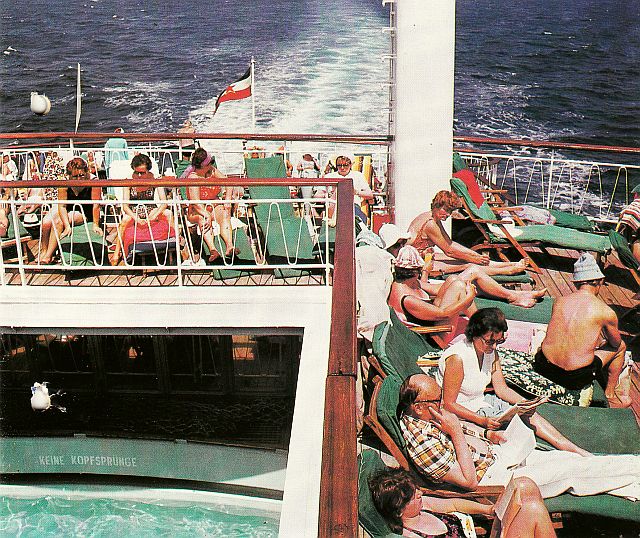 Promenade Deck aft and the pool – You will note that on Arion the deck has been taken over the stern and her railing have been fully renewed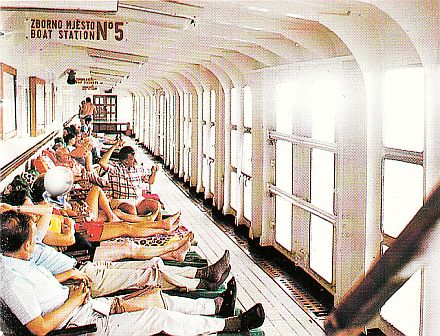 The Wintergarden is very much unaltered today ass it is seen here, except for new deckchairs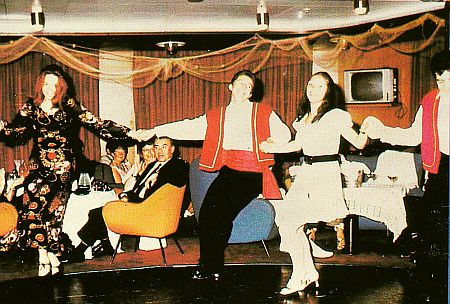 The Main Lounge seen during a traditional Yugoslavian dancing show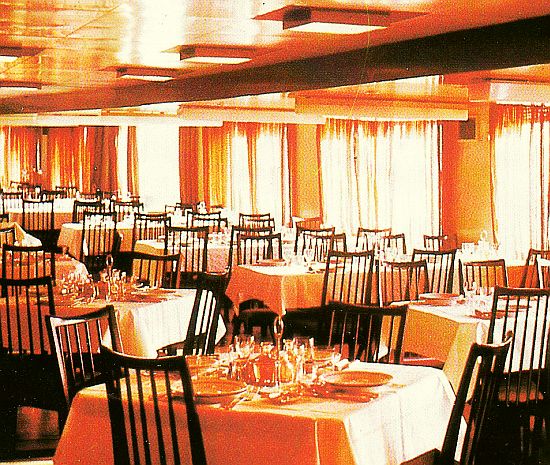 The Restaurant aft on Upper deck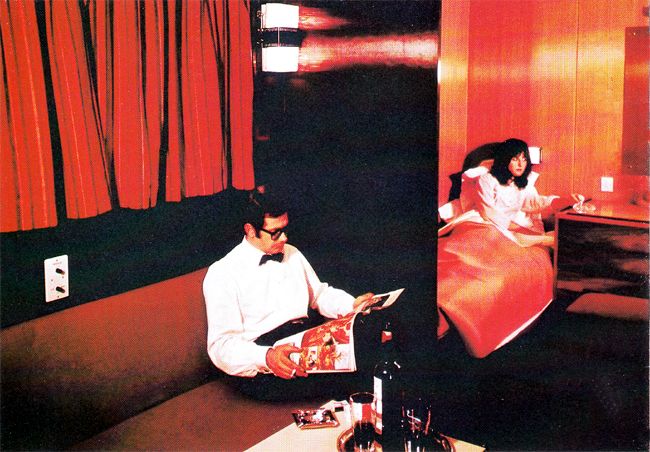 One of the four deluxe twin bedded suites on Sun Deck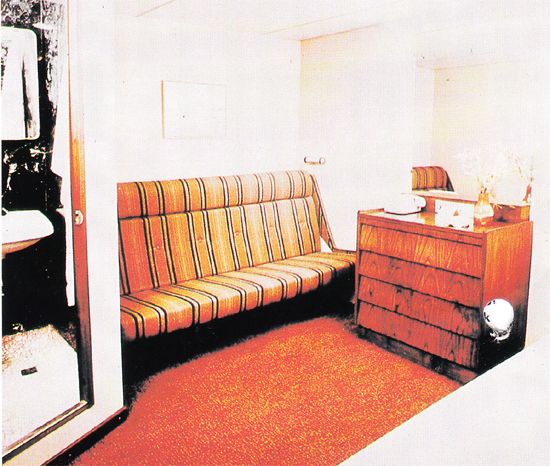 Twin bedded cabin that has one bed that converts into a sofa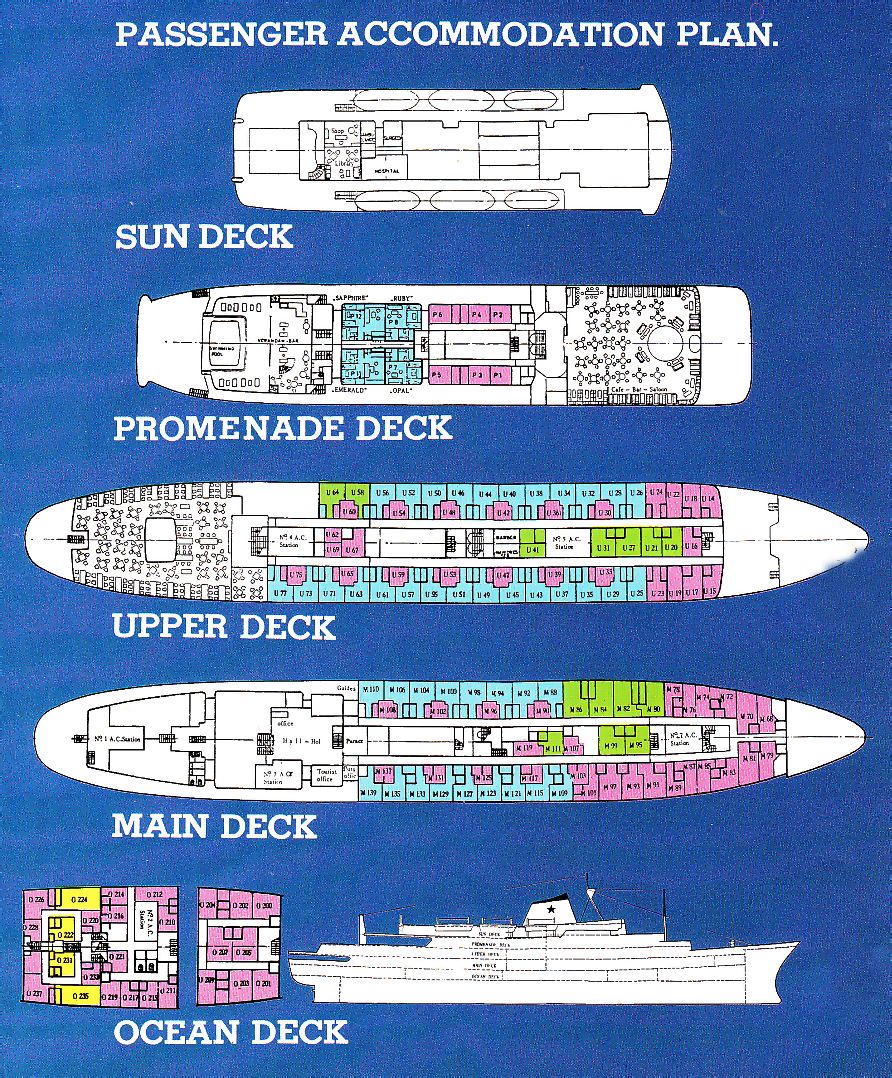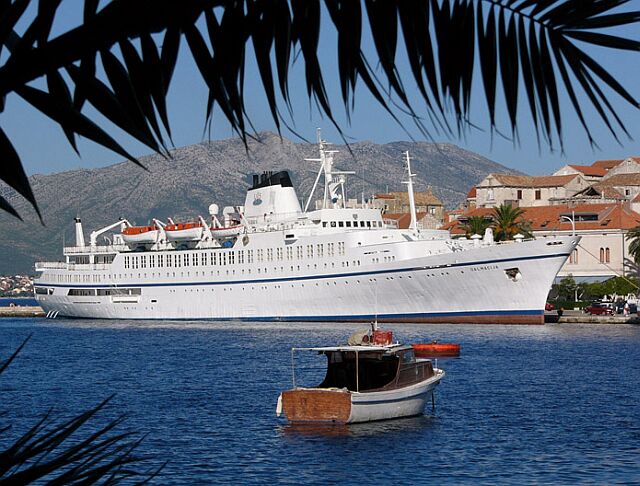 A delightful photograph of what was indeed a beautifully designed ship, such as the Dalmacija which is now sadly no more
Photographer unknown - *please see photo notes at bottom of page
Finally the delightful MS Dalmacija was sold in 1997 to "Adriatic Cruises" she remained in Croatian (previously Yugoslavian) hands until the very end of her sailing days! She continued cruising and gaqve a great deal of pleasure to so many. But then suddenly twelve years after having obtained the delightful "Great White Yacht", Adriatic Cruises due to financial problems folded in 2009, and the ship was sold at auction in September of that year to "Baltanas Shipping Limited" for just US$770,000.
Still looking radiant the MS Dalmacija departed her home port of Rijeka on November 6, she was crewed by five Croatian senior officers whilst the rest of her crew were Pakistanis. She sailed for Indian breakers yard, where she was broken in 2010.
Specifications & Details:
MS Istra & Dalmacija:
Built:  Brodogradiliste Uljanik, Rijeka
Owner:                 Jadrolinija Cruises
Names:                 1 - Dalmacija for Jadrolinija Cruises & 1997 Adriatica Cruises
                           2 - Istra for Jadrolinija Cruises – 1993 Astra & Astra I Goring Shipping Co. Sold in 1999 MV Arion
First Voyage:         1 – April 11, 1965
                           2 – May 30, 1965
Tonnage:              5,500 GRT (900 tons cargo)
Length:                383ft
Width:                  50ft
Draught:               16.9ft
Engines:               2 Sulzer geared diesels
Screws:                Two
Speed:                 19 knots
Passengers:           165 First Class
                           52 Tourist Class
                           Also (Day) Deck passengers
Air-Conditioned:    Throughout
Stabilizers"           AEG Danny Brown
********************************
Also visit their three earlier smaller three sisters, the: MS Jadran and her Sisters
Return to the ssMaritime Main INDEX
ssMaritime.com & ssMaritime.net
Where the ships of the past make history & the 1914 built MV Doulos Story
Also visit my
"Save The Classic Liners Campaign"
Please Note: ssmaritime and associated sites are 100% non-commercial and the author seeks no funding or favours of any shape or form, never have and never will!
Photographs on ssmaritime and associate pages are by the author or from the author's private collection. In addition there are some images that have been provided by Shipping Companies and private photographers or collectors. Credit is given to all contributors. However, there are some photographs provided to me without details regarding the photographer/owner concerned. I hereby invite if owners of these images would be so kind to make them-selves known to me (my email address may be found on www.ssmaritime.com only), in order that due credit may be given.
This notice covers all pages, although, and I have done my best to ensure that all photographs are duly credited and that this notice is displaced on each page, that is, when a page is updated!
ssMaritime is owned & © Copyright by Reuben Goossens - All Rights Reserved