The "J" Trio - MS Jugoslavija, Jadran and Jedinstvo – Deck Plans
Please Note: Firefox & Google Chrome, Etc are not suitable – Use Internet Explorer or old Google for this page to load perfectly!

Click the logo above to reach the ssMaritime FrontPage for News Updates & "Ship of the Month"
With Reuben Goossens
Maritime Historian, Cruise'n'Ship Reviewer, Author & Maritime Lecturer
Please Note: All ssMaritime and other related maritime/cruise sites are 100% non-commercial and privately owned. Be assured that I am NOT associated with any shipping or cruise companies or any travel/cruise agencies or any other organisations! Although the author has been in the passenger shipping industry since 1960, although is now retired but having completed around 680 Classic Liners and Cargo-Passengers Ships features I trust these will continue to provide classic ship enthusiasts the information the are seeking, but above all a great deal of pleasure! Reuben Goossens.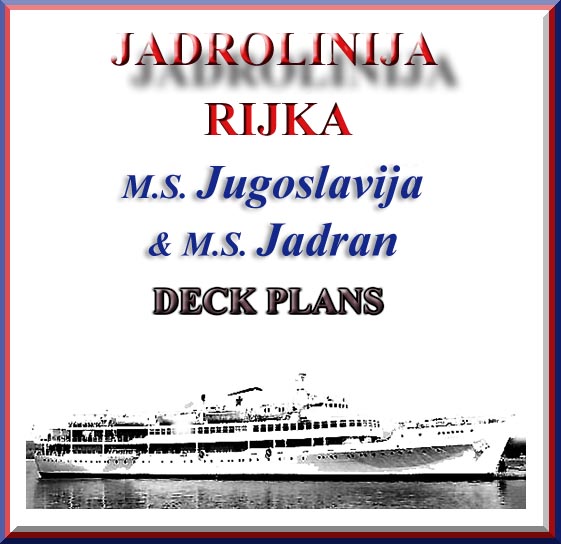 PLEASE NOTE: Images and plans on this page are from the author's private collection, unless otherwise stated.

I trust that you have enjoyed reading about this fascinating trio of small Yugoslavian "J" Class Ships, which were all built by Brodigradiliste "Split" at Split in Jugoslavija. However, what has been missing so far is their Complete Deck Plans, and I am delighted to present two of these now, the first will be the  second ship built the MS Jadran and she will be followed by the third ship, the fulltime cruise ship the slightly more luxurious One Class MS Jedinstvo.

It is important to note; that the plans shown on this page are reduced versions and in order full size version of the Deck Plan, just click on the Plan of your choice and a new page will open. Then click on the image that comes up and that image will enlarge to its full size!

MS Jadran

Although I will be showing the 1957 built MS Jadran

Deck Plan below, but I wish to point out that she and her sister the MS Jugoslavija were identical in every respect, except for one thing. The Jadran was given a swimming pool on Promenade Deck aft, where as the Jugoslavija never received one. But apart from that the plan was identical! Only the MS Jedinstvo differed and will I have her plan online soon!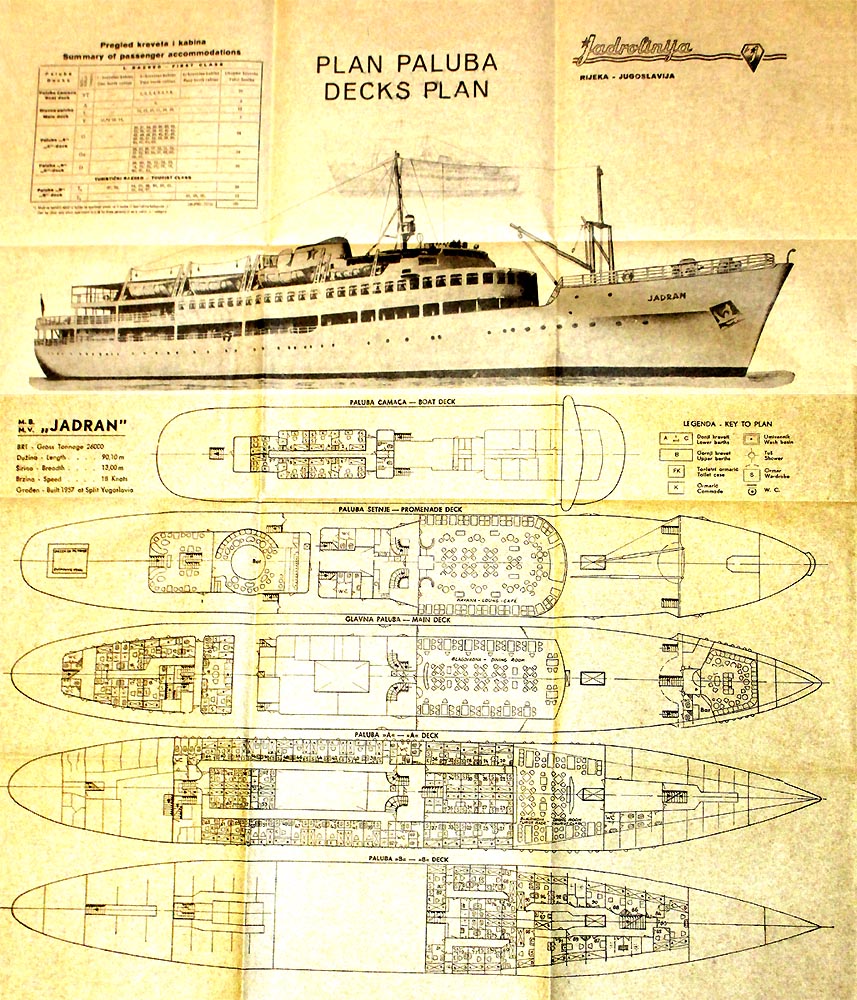 Click the Deck Plan above or the link - for the full size version!
********************************
MS Jedinstvo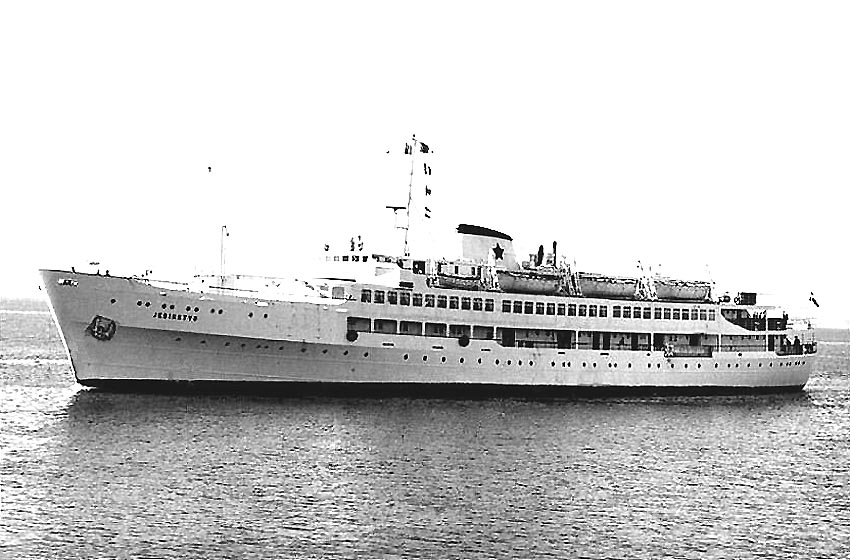 MS Jedinstvo seen sailing at a very slow speed as she arrives in a port
The MS Jedinstvo Deck Plan will come online very soon!
********************************
Maritime Memorabilia
PLEASE NOTE: Many items I feature on ssmaritime.com, be they brochures, some images, deck plans and certain pieces of memorabilia do not just fall out of the sky, or turn up in a bottle that was tossed in the ocean somewhere far across the seas. No of course not, for that would be nice and a rather romantic idea.
But reality is that I have a superb contact in the United States who owns and operates one the best Maritime Memorabilia operations in the world, and better still his prices are very reasonable indeed! I have been dealing with Don Leavitt for many years now, and over the many years we have become friends and whenever I am in need for something unusual Don somehow manages to locate it, and of course I buy it, and I do this for your viewing pleasure!
Thus if you are looking for something, be it a special brochure, a postcard or a deck plan of a special ship, even porcelain, glass or silverware you will discover that Nautiques.net has more than 3,000 items of Ocean Liner and Steamship antiques and collectibles spanning the last century available at any one time! You can browse through their site, where there are all the shipping lines listed from around the world!
If you are looking for a rare or a special item that may be dear to you, then contact Don Leavitt direct per email, at: dml@nautiques.net.
I should point out that this is NOT a paid advertisement and I am not associated with Don, nor do I receive any favours, for I purchase all my items, but yes I do receive a free calendar at the end of the year for being one of his biggest customers!
Reuben Goossens.
Also Visit: MS Dalmacija & Istra Feature
"Blue Water Liners sailing to the distant shores.
I watched them come, I watched them go and I watched them die."
****************************
Visit our ssMaritime Main INDEX
Where you will discover over 700 Classic Passenger & Passenger-Cargo Liners!
ssMaritime.com & ssMaritime.net
Where the ships of the past make history & the 1914 built MV Doulos Story
Please Note: ssmaritime and associated sites are 100% non-commercial and the author seek's no funding or favours of any shape or form, never have and never will!
Photographs on ssmaritime and associate pages are by the author or from the author's private collection. In addition there are some images that have been provided by Shipping Companies and private photographers or collectors. Credit is given to all contributors. However, there are some photographs provided to me without details regarding the photographer/owner concerned. I hereby invite if owners of these images would be so kind to make them-selves known to me (my email address may be found on www.ssmaritime.com only), in order that due credit may be given.
ssMaritime is owned & © Copyright by Reuben Goossens - All Rights Reserved