Please Note: Firefox and some other search engines are not suitable – Use "Internet Explorer" for this page to load perfectly!

Click the logo above to reach the ssMaritime FrontPage for News Updates & "Ship of the Month"
With Reuben Goossens
Maritime Historian, Cruise'n'Ship Reviewer, Author & Maritime Lecturer
Please Note: All ssmaritime and my other related ssmaritime sites are 100% non-commercial and privately owned sites. Be assured that I am NOT associated with any cruise or shipping companies or travel/cruise agencies or any other organisations! The author has been in the passenger shipping industry since May 1960 and is now semi-retired, but continues to write article on classic liners and cruise ships in order to better inform cruise and ship enthusiasts for their pleasure!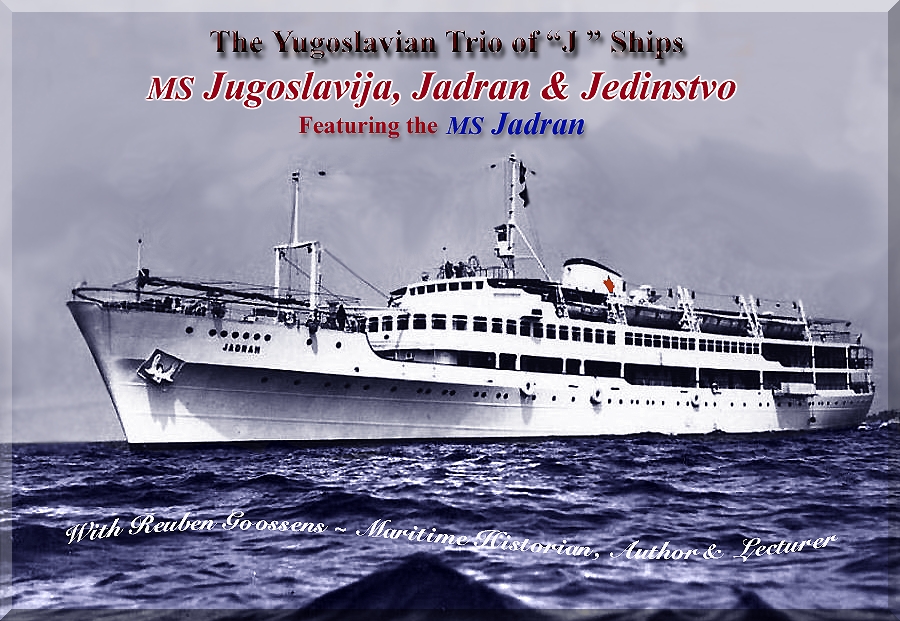 PLEASE NOTE: Photographs and/or postcards on this page are either by the author or from the author's private collection, unless otherwise stated.
Jadrolinija

Background:

                                            
"Jadrolinija Line" is one of Croatia's or old Yugoslavia's oldest Shipping Companies, as technically Jadrolinija was established on January 20, 1947 in Rijeka as the company "Jadranska Linijska plovidba" being a successor to "Jadranska plovidba d.d.", part of "Dubrovacka Plovidba" and the remainder of "Zetska plovidba."
However, before the war, Jadranska Plovidba also arose through the merger of several small coastal shipping companies after the fall of the Austro-Hungarian Empire and those previous shipping companies arose from other mergers and go all the way back to 1872. Thus the company in the 1950s had a long and a well-established history behind it, although it was somewhat from a fractured background and not just a singular company!
Its associated line "Jugolinija" operated older tonnage on the Trans-Atlantic service using partially rebuilt passenger-cargo services with ships such as and 1945 American built Victory ship that was refitted and its superstructure somewhat enlarged, as well as her far aft "poop deckhouse" being enlarged turning the ship into a humble 7,909-ton passenger-freighter weirdly named SS "Hrvatska" with accommodations for 60 passengers. Their other ship was a far more stylish looking 6,634-ton passenger-cargo liner, the MS "SRBIJA," which was built in the Netherlands by A. Vuyk & Zonen Shipyards on the river Ijsel. She accommodated 44 passengers in a one-class configuration. There were three other ships, named the "Crna Gora," "Makedonia" and "Slovenija" all of a similar size, but accommodated just 12 passengers each. Services operated from Rijka to New York via a range of ports.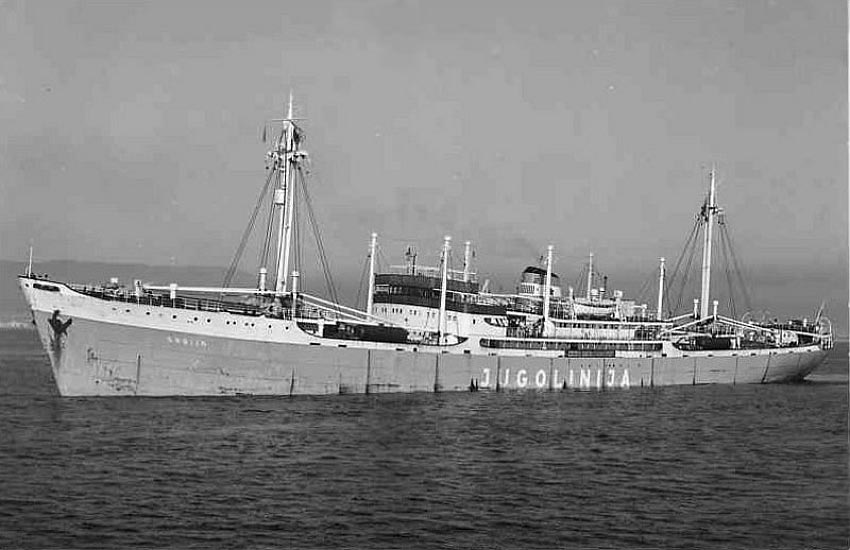 The strangely named MS Srbija
However, Jadrolinija Line was famed for local Yugoslavian coastal services as some longer runs to Italy, and the company had an extensive fleet of vessels, ranging from very small vessels to somewhat larger yachts to 400 to 600-ton and then there were the small ships such as the delightful and beautifully furnished and appointed 1,696-ton SS Partizanka, but she was one of the several larger vessels.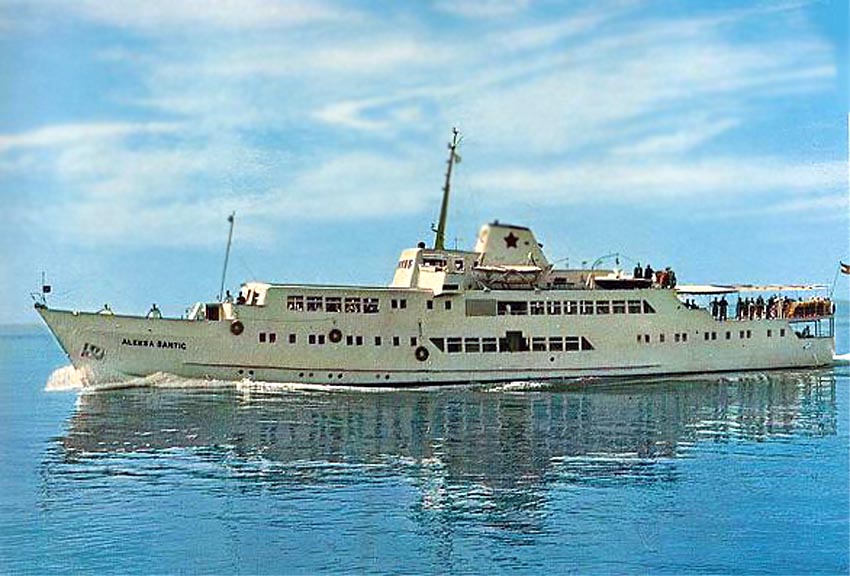 Aleksa Santic was built in 1953 for Jadrolinija, but in 1964 she was rebuilt to operate as a
500-ton cruise ship, accommodating 48 passengers.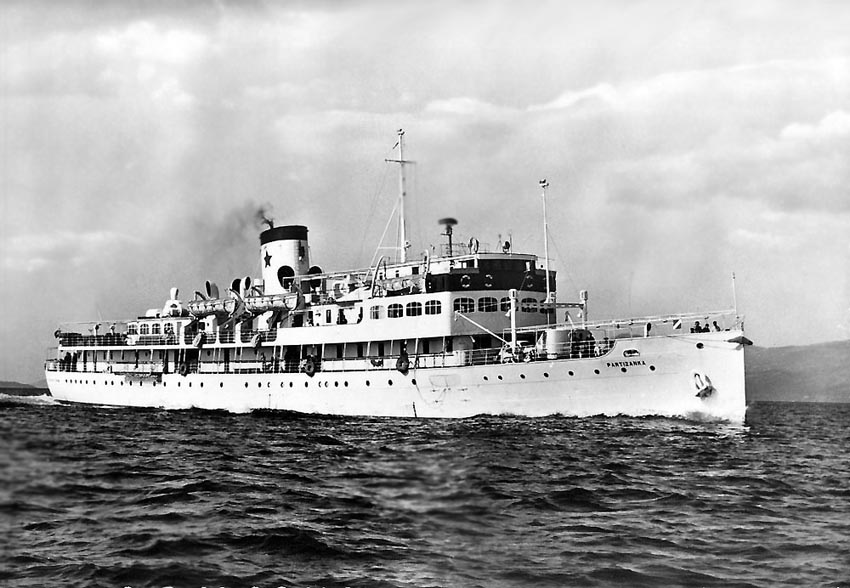 The delightful 1,697-ton SS Partizanka accommodated 120 passengers, but also many deck passengers on day voyages
In the period from 1952 to 1960, a number of new and exciting ships were ordered and their older ships were overhauled and refitted. By 1958 Jadrolinija Line had a grand total of 65 ships and in 1965 their two finest liners were yet to be built! But the reason 1958 was mentioned above was because it was the completion date of the last of the "J" Trio of Ships!
The "J" Trio - MS

Jugoslavija

,

Jadran

and

Jedinstvo

:
Early in 1950 the company had already laid plans for a brand new trio of 2,500-ton ships to operate on their Yugoslavia to Italy and/or Greece services.
The trio of the "J" Class of Ships were all built by Brodigradiliste "Split" at Split Jugoslavija between 1956 and 1958 and they were very first large passenger ships especially built for Jadrolinija with both luxurious public venues and excellent accommodations.
Although the three sisters were much the same in design, but when it came to their interiors the third ship built, the MS Jedinstvo would offer far more luxurious facilities as she was completed to operate as a fulltime luxury One Class Cruise Ship.
Public Facilities & Accommodations:
The MS Jugoslavija and Jadran were blessed with excellent public venues in both classes, all being superbly timbered and featuring the best carpets on the floors and fine curtains on the windows in First Class. Furnishings were the very best available and were classic in style, and thus these two ships were considered as being both quite luxurious!
Let me describe these two ships - Deck by Deck:
Boat Deck.
With the ships Bridge far forward, followed by officer's accommodations, then located aft there are eight outside two berth (lower & upper berths) cabins with share facilities. There is a spacious deck space located along the side and aft of these cabins. The cabins can only be reached via an outdoor aft stairwell down to Promenade Deck.
Promenade Deck.
The First Class public rooms extended the full length of the Promenade Deck and we commence far forward were we find the Lounge complete with a Café, this delightful venue is not just spacious but stretched across the full width of the ship, thus making it the largest venue on board. The Lounge was followed by a Hall with the two beautiful curved stairs down to A Deck and this was followed by a spacious circular Bar and Smoking Room that was followed by another smaller Lounge far aft, this venue had the stairs down to Main Deck. From the Main Hallway just aft of the full width Main Lounge commenced a wide and spacious Promenade Deck that featured a swimming pool far aft!
Main Deck.
First Class: The beautiful forward twin curved stairwell brings you to the spacious and well-appointed Dining Room that is followed aft by the galley and associated cold and storage rooms. Further aft, reached via the aft stairwell we locate further outside cabins. Forward of the cabin section are two de-luxe twin bedded cabins with private facilities on both sides of the ship, but they are separated by a shared lounge. Just aft there are two single bed cabins and one two-berth cabin with share facilities, then there were four two berth cabins all having private facilities. Main Deck had a delightful promenade deck that was a spacious full walk around deck!
Tourist Class: All facilities for this class were located far forward of the ship and considering there was only a very small number of Tourist Class passengers, their open air deck space was located just forward of the First Class Dining Room and their Lounge and Bar was located in the Fo'c'sle (bow section) however, it was certainly a very pleasant room and certainly beautifully fitted in fine timbers. For light there were six portholes on both sides of the ship that can be clearly seen just above the ships name where there is a row of six portholes that are fitted close together and that is where the Tourist Class Lounge is located. See the MS Jugoslavija photo below.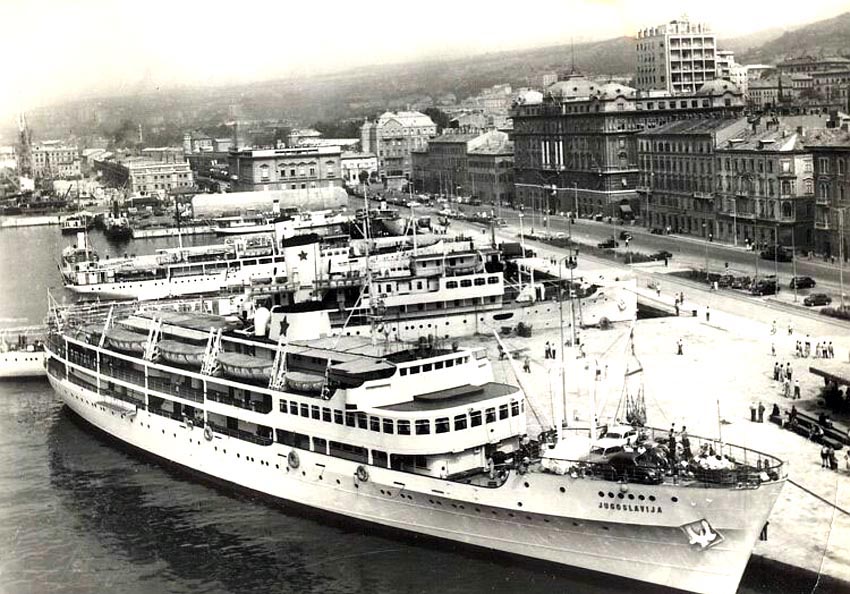 Note the six portholes above the name Jugoslavija, the location of the Tourist Class Lounge
Berthed just behind the MS Jugoslavija you can see the SS Partizanka and other of the company's vessels
A Deck:
First Class: The mid section of the ships are occupied by First Class Cabins and there are 32 outside two berth cabins as well as sixteen two berth inside cabins all having with share facilities.
Tourist Class: Their Main stairwell was located far forward, followed by public facilities on the starboard side and then just aft was the pleasant Tourist Class Dining Room that was of course smaller that the First Class room, but there were not as many passengers to serve!
B Deck:
First Class: The fine curved staircases only reached down to A Deck, then just forward on the hall was a stairwell down to B Deck and the First Class cabins. It should be noted that on this lower deck there were no portholes, thus all cabins were inside cabins. There were a total of 15 two-berth cabins all having share facilities.
Tourist Class: Far forward there were two four-berth cabins followed by twelve two-berth cabins.
Please Note: Deck plans are available - see the link at the bottom of this page!
Summing Up:
As we have seen above, all accommodations onboard of the MS Jugoslavija and Jadran were either singles or two-berth cabins and were located on Boat, Main, A and B Decks. Both had two classes, First Class having 156 passengers and Tourist Class just 32 plus passengers, thus a total of 188 passengers. However, the MS Jedinstvo was completed as a One Class full-time Cruise Ship with 221 passengers and I will detail her further a little later!
Onboard the MS Jugoslavija and Jadran only a very small number of cabins in First Class had private facilities with the balance of accommodations throughout the ship having a washbasin with hot and cold water. However, at this point it is worthy to note that all cabins on these ships were known to be very comfortable and they had a desk with a large mirror, a set of drawers, a chair as well as a wardrobe and of course a washbasin with hot and cold water. In addition, First Class public rooms and cabins were fully air-Conditioned! Whilst Tourist Class had forced air in the Lounge, Dining Room and cabins. However, the more luxurious MS Jedinstvo was given many more cabins with private facilities in addition, she was fully Air-Conditioned.
From the three ships built, only the two last ships built, the MS Jadran and her superior sister the MS Jedinstvo were given a swimming pool, located far aft on Promenade Deck.
Routes Served:
MS Jugoslavija operated on the Venice, Rijeka, Split, Dubrovnik to Kotor service and return, as well as being chartered out to operate cruises.
MS Jadran operated on the Venice, Rijeka, Split, Dubrovnik, Kotor, Korfu to Piraeus service and return, as well as being chartered out to operate cruises.
MS Jedinstvo was a full time cruise ship.
Building the MS

Jugoslavija

,

Jadran

&

Jedinstvo
1. MS

Jugoslavija

:
The first of the "J" ships was the MS Jugoslavija that was built for "Jadrolinija" in 1956 by Brodogradiliste Uljanik "Split" Shipyards at Split. Upon completion she was placed on one of the company's busy services, which was as follows: MS Jugoslavija operated on the Venice, Rijeka, Split, Dubrovnik to Kotor and sailed return. In addition she would be operating cruises during the off-season, whilst later she would become a fulltime cruise ship.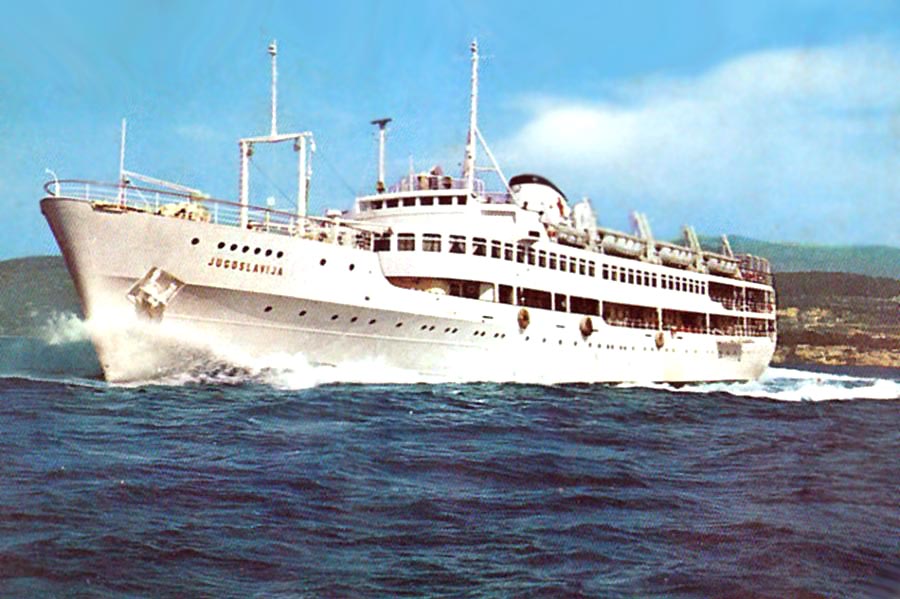 A delightful colour postcard released by her owners of the MS Jugoslavija
With her all white livery and just the red star on her funnel
The MS Jugoslavija sailed with the company for 15 years, but she was sold then in 1971 to a French based company Euroexpomer S.A., who renamed her MS Messager, however I have no information on this company.
MS Hermes:
Another five years later in 1976, she was sold to Epirotiki Lines who completely refitted her and she was fully Air-Conditioned and her accommodations were upgrades with more cabins having private facilities and the public venues became more like pieces of art! She was renamed MS Hermes and became a full time cruise ship operating One-Day Greek Island cruises to Islands such as Mykonos, etc.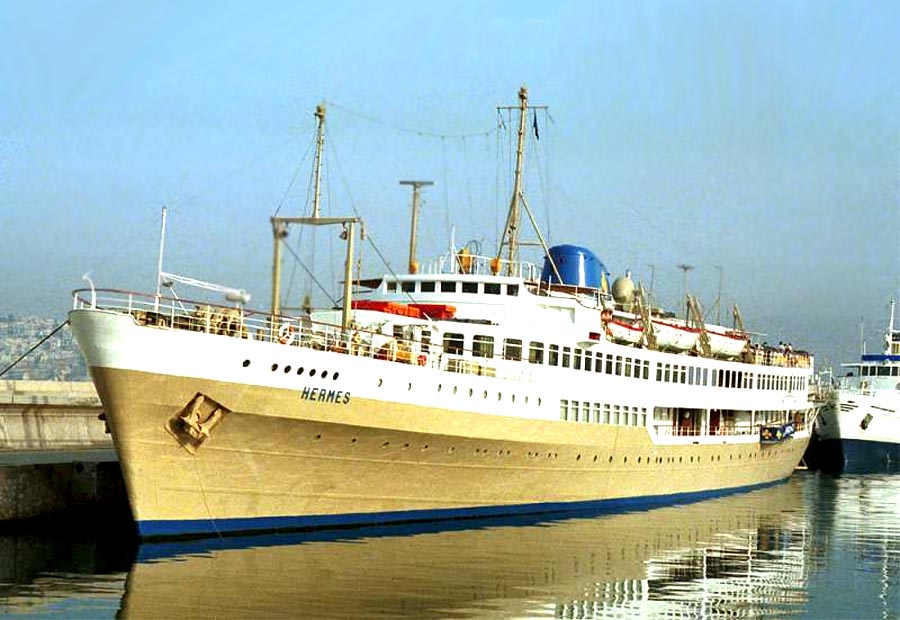 The MS Hermes with the original Epirotiki hull colour and funnel
Although later they would paint the hull dark blue
With Epirotiki having a good number of ships and with new but larger ships being added to the fleet, they decided to sell the Hermes, now having a dark blue hull, in 1979 to Hellenic Mediterranean Cruises, Piraeus, but Epirotiki continued to operate the Hermes during the summer months and she was mostly laid up during the off season at Piraeus.
Then in 2005 Short Island Cruises MTME Co, Piraeus obtained her, but she did very few cruises and spent most of her time laid up in Piraeus and this now delightfully beautiful small cruise ship remained there until she was eventually sold.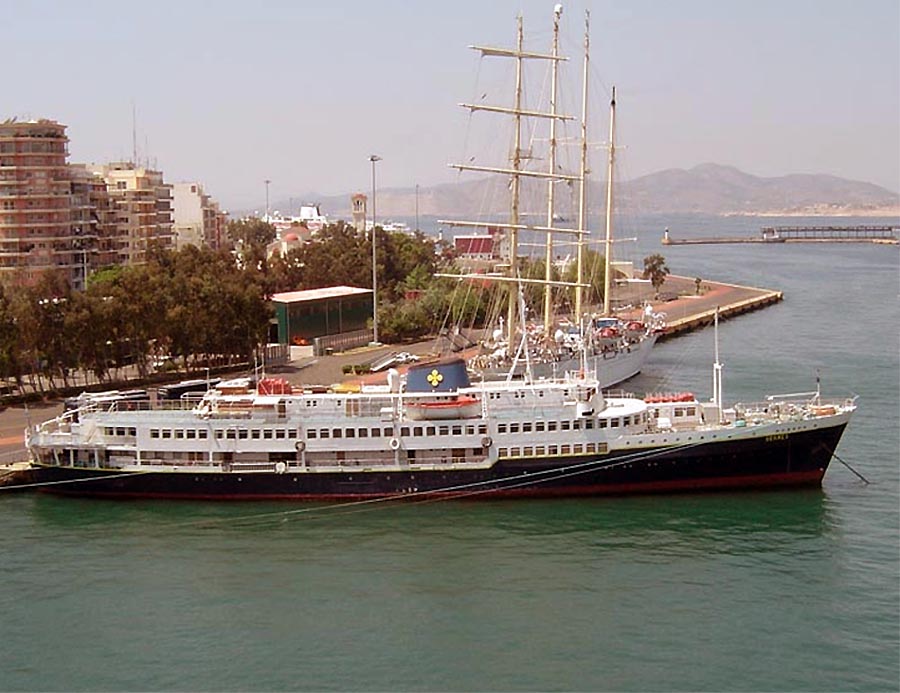 We had just arrived in Piraeus on the MV Oriana in 2005 whilst on our World cruise and form the deck with my tele-lens
with my tele-lens I discovered the delightful MS Hermes berthed there and she looked just perfect!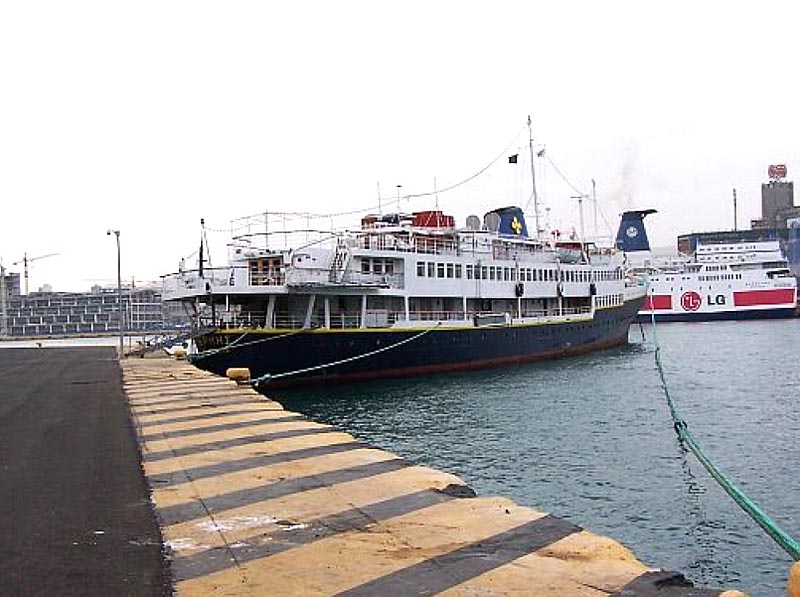 Thus later, I went for a walk and took this photo as well of her stern landing, but they would not let me on board
The beautiful MS Hermes remained laid up in Greece for a some time, and late in 2010 the news came that she was to be sold then we heard it was to Izmir Geri Donusum, which we knew to be a breakers yard. She departed and headed for Aliaga in Turkey, arriving there on February 20, 2011 where this beautiful ships was broken up.
2. MS

Jadran

:
The second of the "J" Trio of Ships, the 191 passenger MS Jadran was built for Jadrolinija one year later in 1957 by the same builder and she joined her sister the MS Jugoslavija, however the Jadran sailed on a somewhat longer service;
She operated on the Venice, Rijeka, Split, Dubrovnik, Kotor, and Korfu to Piraeus service and return as well as operate cruises during the off-season. However, you will note that she and her sister were not based in Jugoslavija, but rather in Venice Italy, for it would be a far more suitable port to have them home ported as well as to operate luxury cruises from! The Jadran was certainly a popular ship for Jadrolinija Line and eventually she was placed on full time cruising. However, with their two larger and luxurious 5,000-GRT MS Dalmacija and Istra having come on the scene in the mid sixties, slowly the Three "J" ships were being sold off, the MS-Jugoslavija was sold in 1971, and now in 1975 the delightful MS Jadran was placed on the market!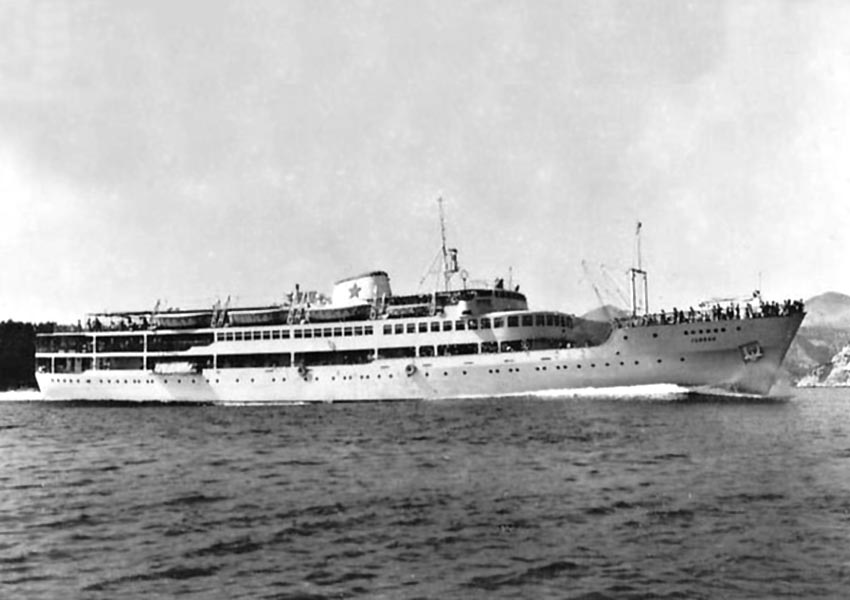 Here we see the MS Jadran at full speed at sea with some deck passengers on her Fo'c'sle
Two First Class Public Venues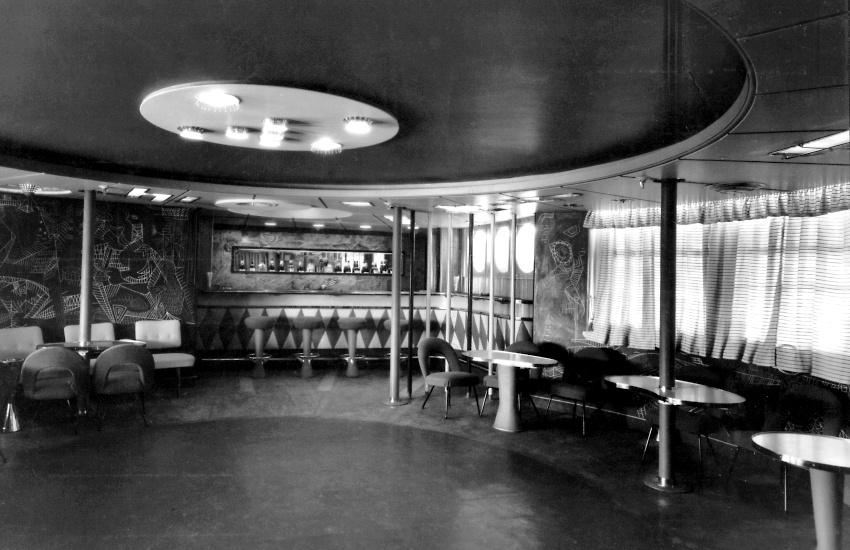 A postcard of the Lounge Bar with a dance floor - located aft on Promenade Deck – looking forward
Postcard kindly provided by Mr. Anton Heuff - the Netherlands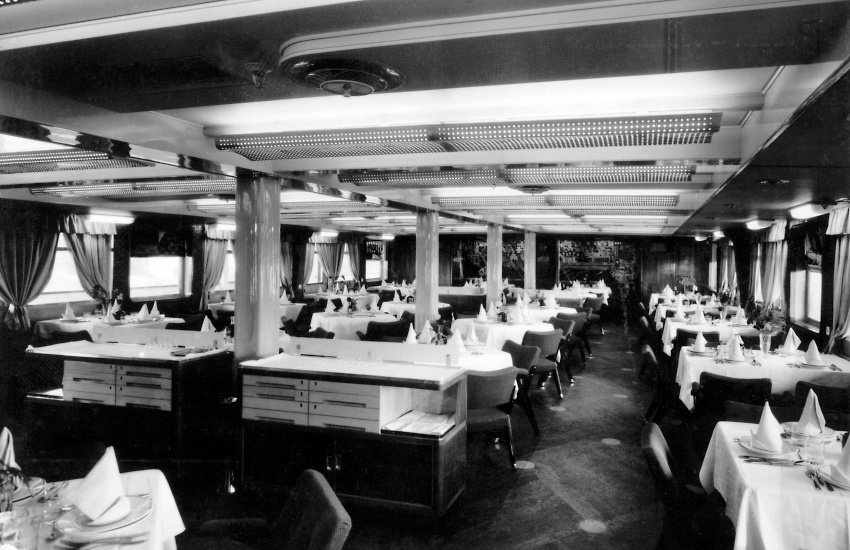 And here is another postcard of the spacious well appointed Dining Room forward on Main Deck
Postcard kindly provided by Mr. Anton Heuff - the Netherlands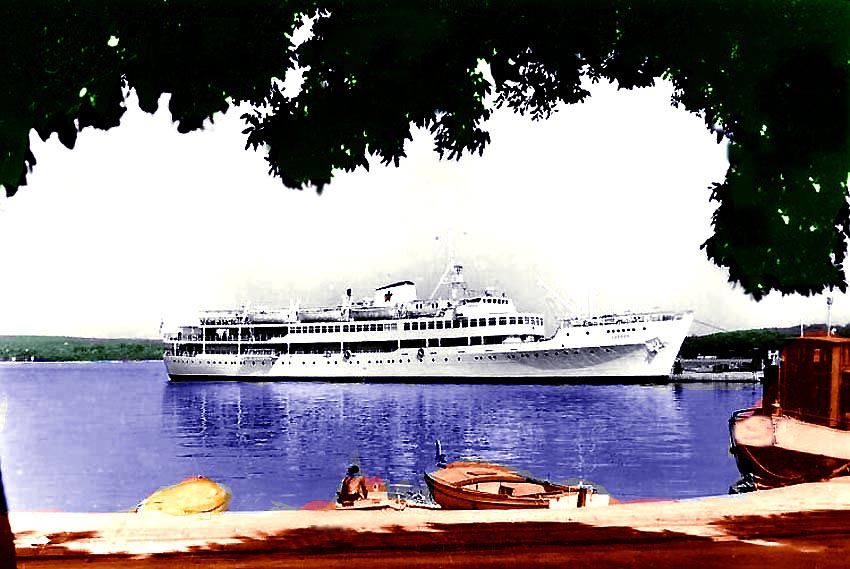 This is rare colour version of this delightful company postcard of the MS Jadran seen in port
MS

Jadran

in Toronto Canada:
Let me set the scene: Entrepreneur and well known chef, 'Captain' John Letnik originally purchased the 1902 built MS Normac (originally MS James R. Elliot) in 1969, having commenced a new company "Captain Normac's Riverboat Inc." After an extensive refit she was opened on Toronto waterfront as the "Captain John's Harbour Boat Restaurant" in 1970 and traded very successfully!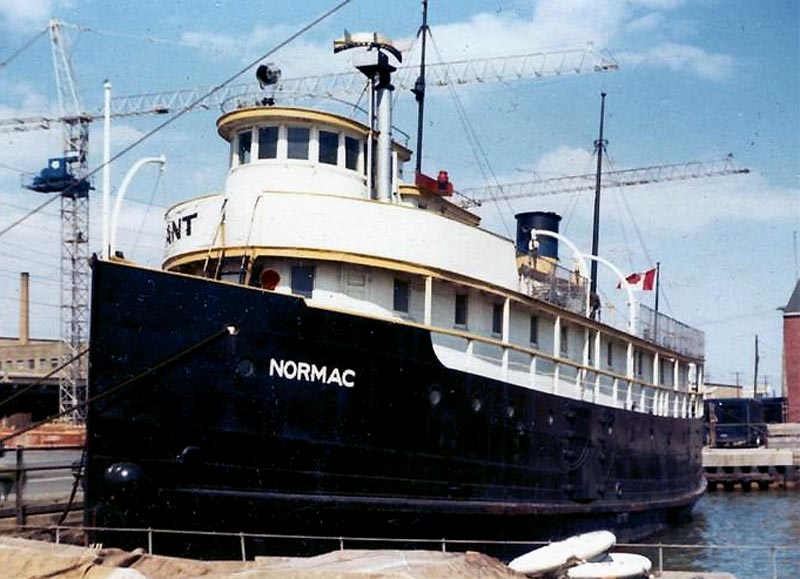 Here we see the classic MS Normac now serving as "Captain John's Harbour Boat Restaurant."
With the huge success of His stationary restaurant, banquet and wedding vessel the MS Normac, 'Captain' John Letnik had heard about the Jadran and she was the perfect size for his purpose and therefore he went to inspect the ship and he was more than impressed with her beauty for she was simply beautiful, and her interiors were splendid! Thus he purchased the sleek ex cruise ship!
However, the Jadran still had to sail across the Atlantic and head for Toronto. Her delivery voyage certainly proved to be nothing short from tumultuous as she was caught in a massive storm and was hut by huge waves, but she came through it with little damage, but then when she was in the St. Lawrence Seaway, she was given a citation for speeding, which would have been the fault of the Pilot of course!
Jadran
- Captain John's Harbour Boat Restaurant:
Once at Toronto, she received a massive refit into a luxurious static restaurant and convention centre at the Queens West Dock in Toronto, Canada and she retained the name Jadran on her bow. However, the Dining facility was knows as: "Captain John's Harbour Boat Restaurant."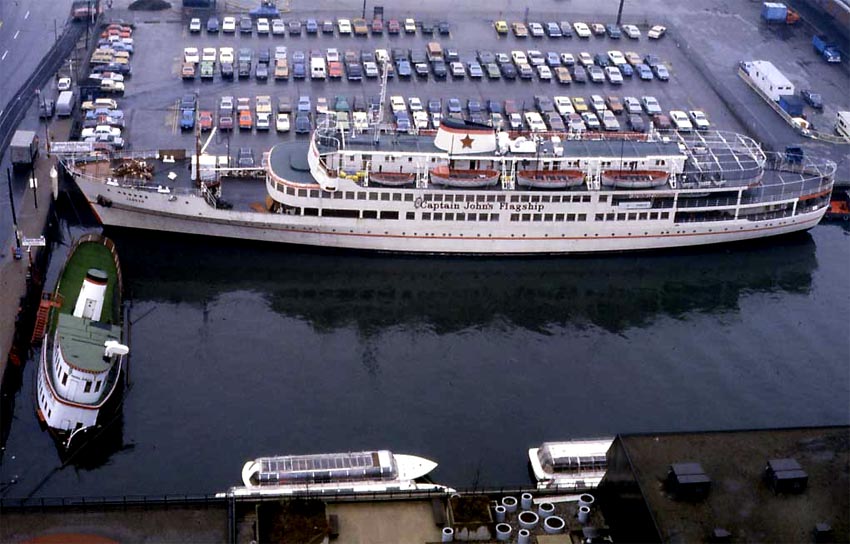 Here we see the Jadran in full operation as "Captain John's Harbour Boat Restaurant"
However, below on the left is the badly damaged MS Normac that has been just raised. Story below.
Sadly, in 1981 the Normac was struck by the Metro Toronto Parks-operated ferry "Trillium" and she sunk. Thankfully, no one was hurt, but the restaurant was destroyed. This event commenced a long legal battle between Mr. Letnik and the city. Letnik was eventually awarded damages, but apparently it was not enough to compensate for the destruction of the Nomac. However, Letnik had her raised and repaired and then completely refurbished and she served as a floating restaurant in another location.
Thus the glamorous Jadran now became the sole home of "Captain John's Harbour Boat Restaurant." In Toronto and business was booming onboard this beautiful ship!
Come aboard:
Here is an opportunity to take a quick look around her Promenade Deck and her beautiful venues, whilst she is a delightful Dinning venue in Toronto. As you will see, her original timberwork was maintained and the truth is that the ship is very much as was. In fact with work she could even sail again, although it would cost considerable amount of money to achieve this!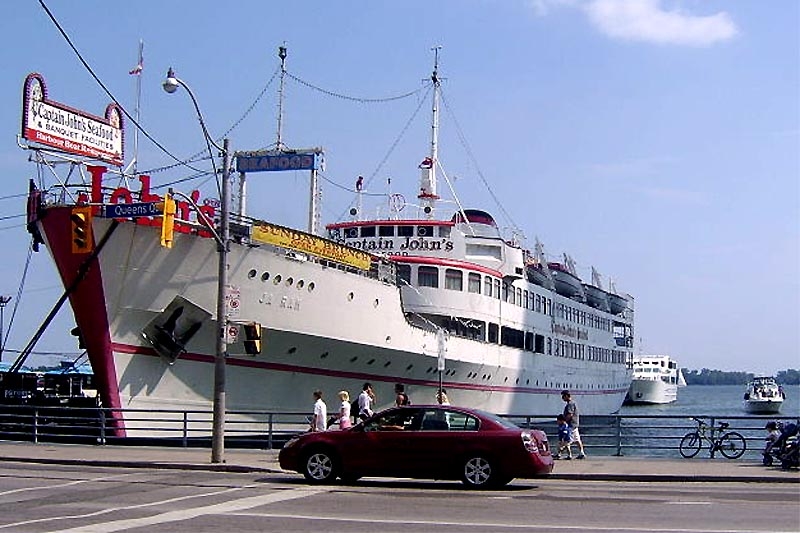 The bow of the Jadran in Toronto
All Interior Images provided by "Captain John's Harbour Boat Restaurant"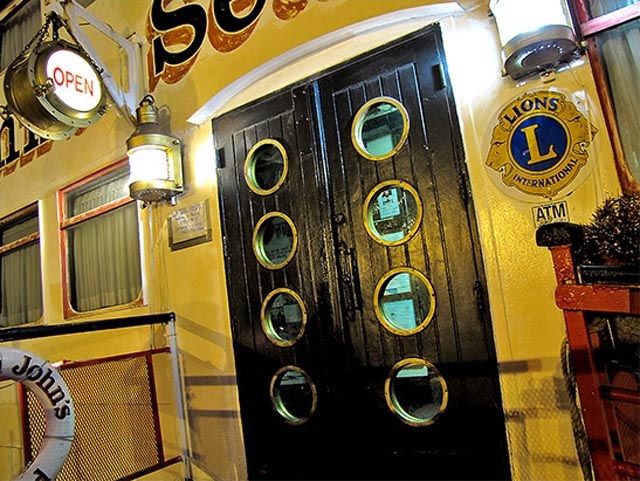 The Man entrance on A Deck, where you take the beautiful curved stairs up to the Main Hall on Promenade Deck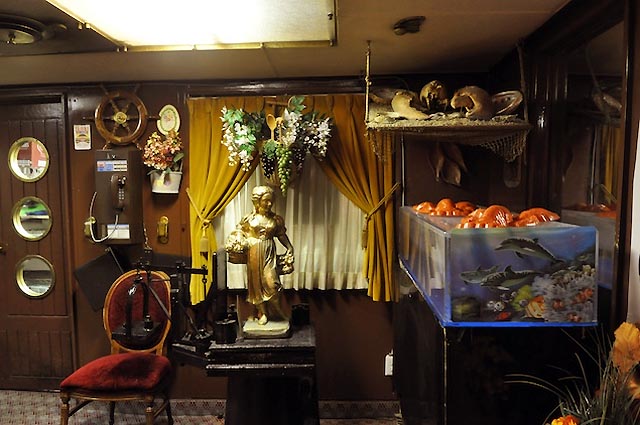 Here we see the Hall on A Deck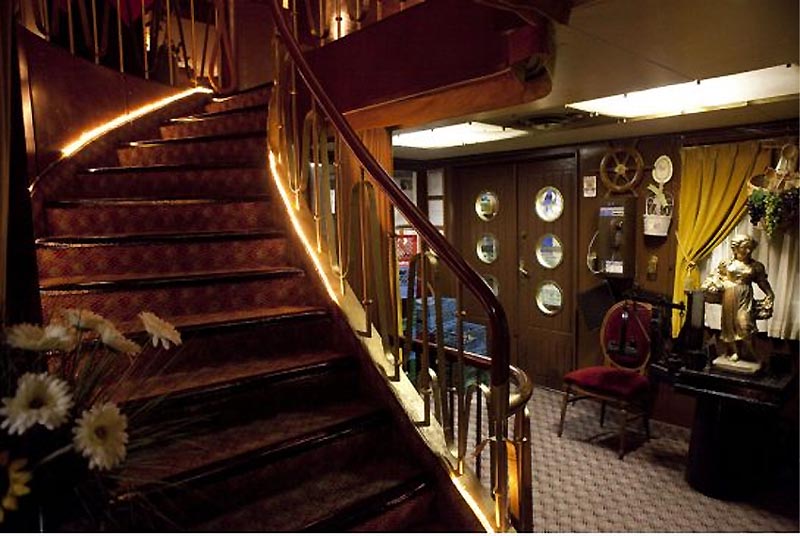 Anne here we see the stairwell that takes you up to Promenade Deck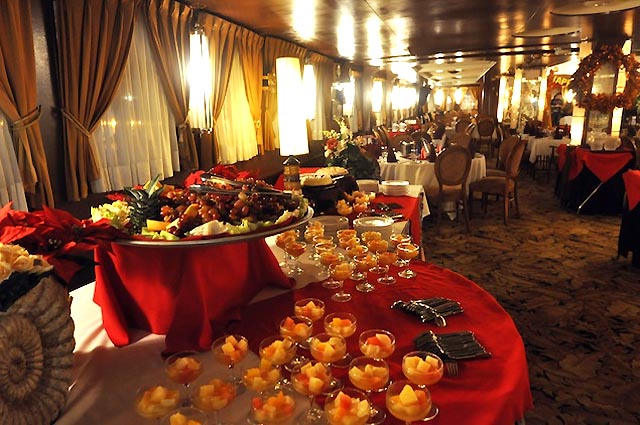 When open, dinners could opt for one of the Grandiose Buffets, or an A La Carte Menu as there were three restaurants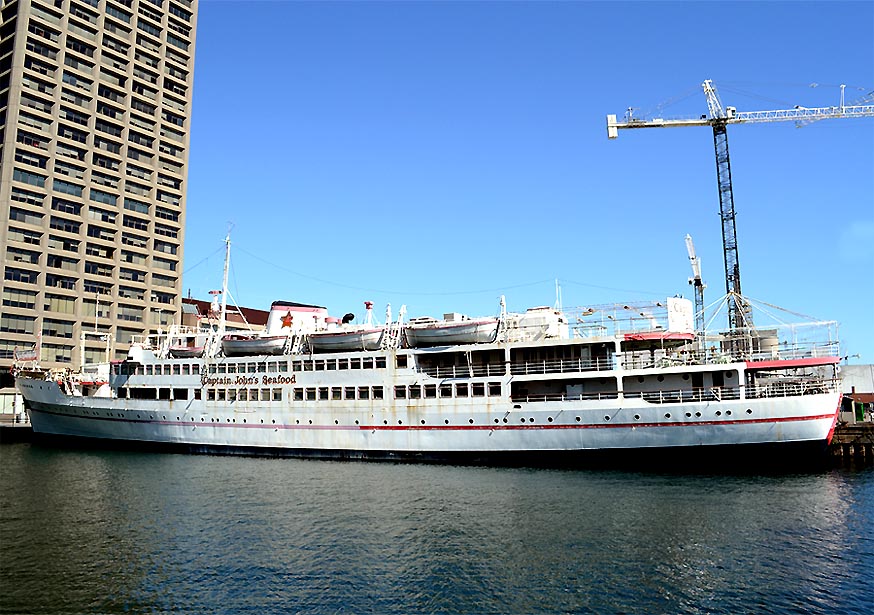 Here we see the Jadran as the Captain John's Restaurant!
Right from the beginning, besides the excellent cuisine combined with the luxurious and glamorous surroundings the floating restaurant certainly became a much-desired culinary destination attracting countless famed and prominent diners!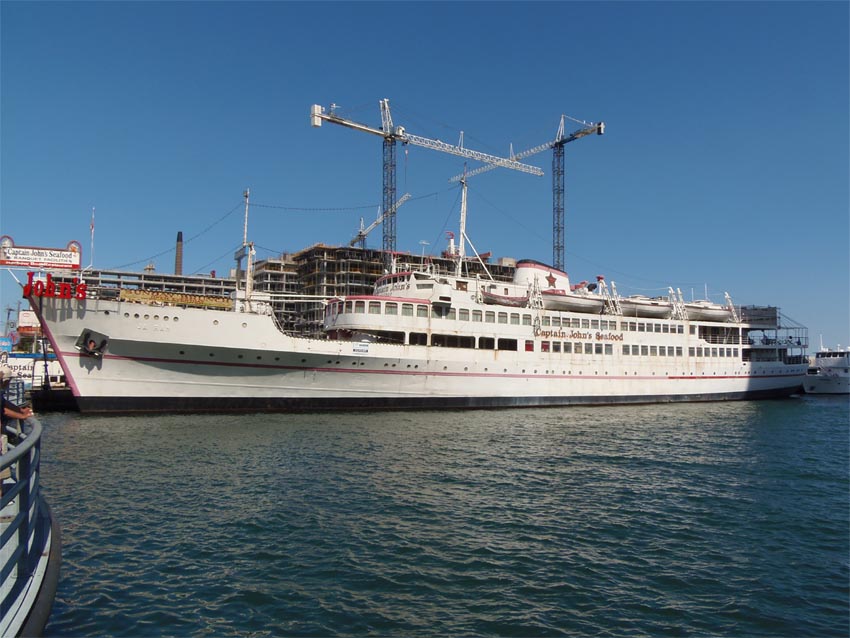 But slowly times would be changing for the Jadran!
Sadly Captain John's seems to have lost favour within the city's gastronomical scene as it had become far more sophisticated as time passed. Reviews from the local papers tended to rate their culinary fare as being just average and that was despite that the restaurant claimed having "the best seafood in town!" But, reviews by its patrons were also decidedly mixed. Therefore, there were very few locals that now came and dined at "Captains John's," but the restaurant's clientele now was primarily tourists who mostly came via bus tours that stopped at Captain John's and announced that it was a classic ship, etc!
But far greater troubles were on the horizon for in 2002 Captain John's filed for bankruptcy as they owned over US$5 million to various creditors including US$3 million to unsecured creditors. Captain Normac's Riverboat Inc. The troubles continued for in August 2008, the Toronto public health officials ordered the restaurant to be closed after citing it for eleven different infractions, including "Operator fail to maintain premises free of sewage back-up" and "Operator fail to ensure food is not contaminated/adulterated" Therefore the owner was fined US$2,160.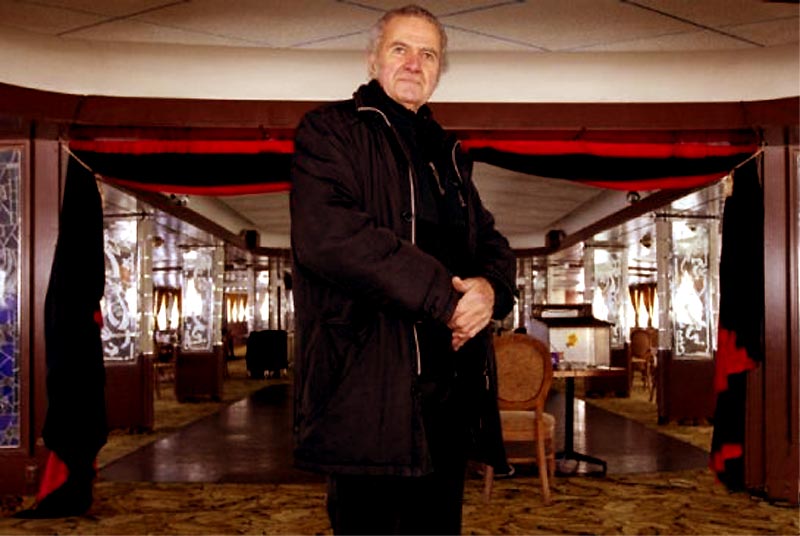 Here we see Captain John in the superb Banquet Hall in 2012, although he knows it now has to be sold!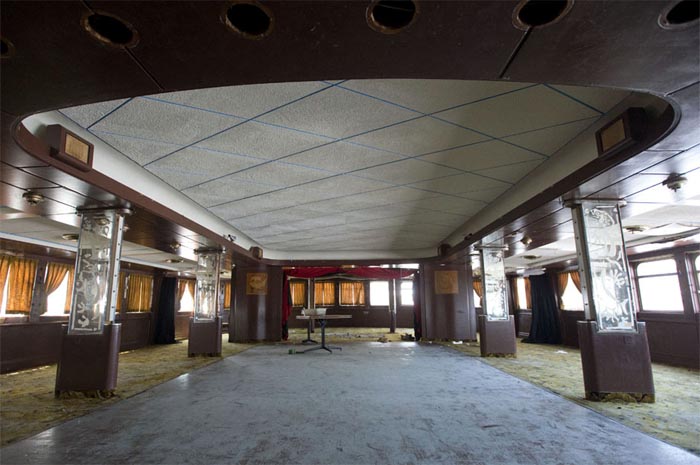 This is the same venue as above, but seen in 2014 and all furniture has all gone!
Also the other venues are left in a bit of a mess and will need a good clean
In due course, after ongoing problems although at times she was back in business, the Toronto Port Authority gave the owner a deadline for the removal of the ship, as the wharf was required for redevelopment, and the ship had to be gone by August 22, 2014 being the deadline for MS Jadran removed. Although the ship had been on the market for a considerable time, but nothing had come up.
Mr. John Sbrolla, director of North American Seafood Exchange, has purchased the ship for $33,501 on behalf of his brother James Sbrolla, who he says will manage the ship. Although Mr. Sbrolla does now at the moment know what he will do with the Jadran, but he is open to ideas, however he must move her from its slip by August 22, which will be a big and a costly task and he will also have to located a suitable place to berth her.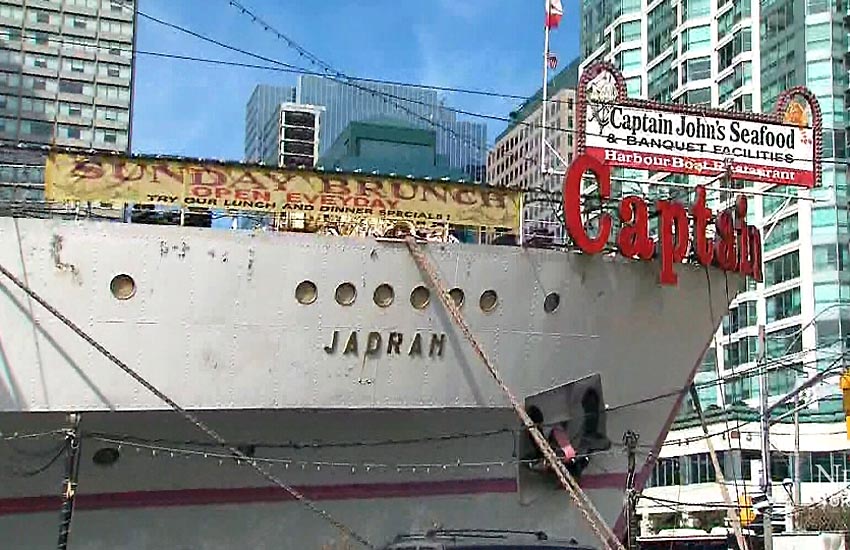 A photo of the classic MS Jadran with her name still proudly on her bow!
Mr. Sbrolla said that if there are interested parties of investing, he would be more than happy to hear from them, but otherwise as he is owns recycling and clean technology companies, he could possibly opt for taking certain parts of the ship, like lifeboats, her propellers and use these around the city and have the ship itself recycled, something we in the industry tend to call realistically being "scrapped!" But the future will tell the story and it will be interesting, for today, in August 2014, this delightful small ship remains afloat and personally, I would very much like to see her remain her to stay just like that!
October 14, 2014: The last I have heard is that she will be broken up, which is very sad considering that she has flown the flag for so long. She was the last of her kind, and had she been saved and restored, what wonderful things could have been achieved! But tragically that was not to be, for sadly there is just no vision in this ne generation, they can only think a fast-earned dollar rather that a long term challenge!
3. MS

Jedinstvo
:
The third of their "J" Ships was built in 1958 at Split for Jadrolinija Line with name Jedinstvo and she was a different ship to her earlier sisters as she would be completed as a full-time cruise ship along the Yugoslav coast, and it was for this reason she was an all One-Class ship with 221 passengers. Her facilities were much upgraded to her two earlier sisters as many more of the cabins has private facilities, but not all, and she was fully Air-Conditioned with a swimming aft on Boat Deck.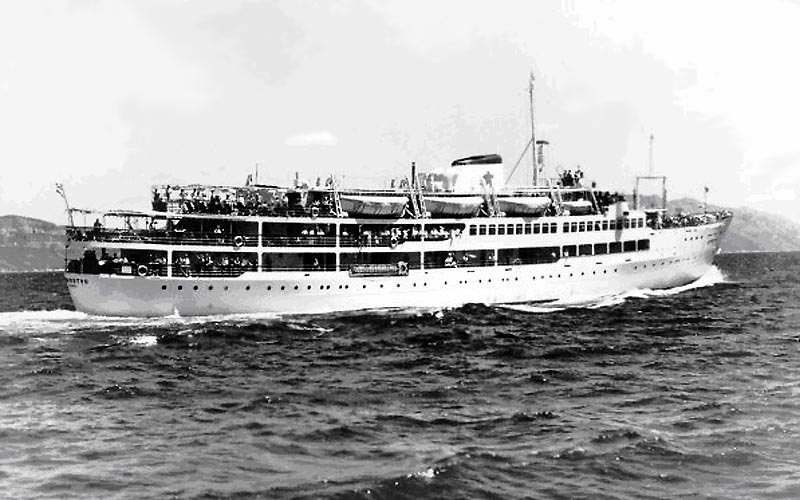 A wonderful stern view of the One Class Cruise Ship MS Jedinstvo
Being mostly based in Venice the MS Jedinstvo would operate in two of the most popular cruise destinations, cruising around the Adriatic and the Mediterranean and she would do this for the owners, but as she proved to be quite popular with the Germans she became one of the very first of that counties ships to be marketed in Germany. In fact German Cruise and Tour Operators like Yugotours and other German Charterers would take her on for extended periods and operated her very successfully!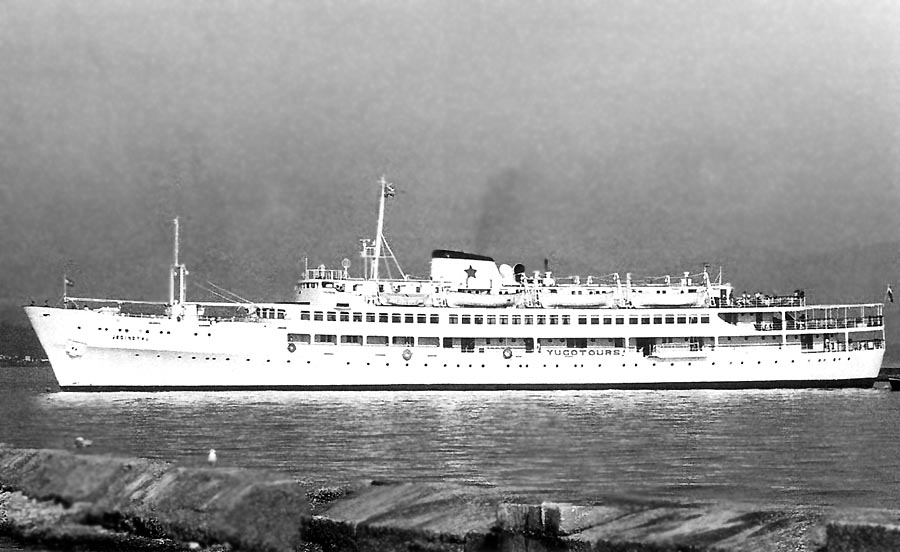 Here we the MS Jedinstvo cruising under charter to YugoTours
The delightful cruise ship MS Jedinstvo remained with Jadrolinija Line for nineteen years, during which time she had several upgrades and was superbly maintained.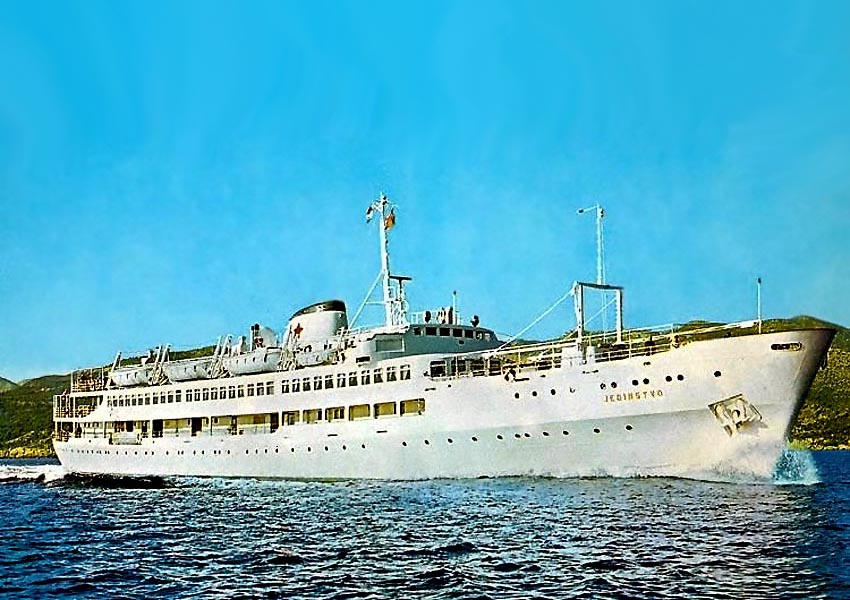 Another company postcard, this time one of the MS Jedinstvo
Incidents: During her career the Jedinstvo did have several incidents, for in August 1959 she collided with a small Italian marble vessel. The Italian ship had to be beached in order to stop it from sinking, but the Jedinstvo was barely damaged and could continue her voyage. Three years later in 1962 she collided at Rhodes with the small Typaldos Line cruise ship TSS Adriatiki, but little to no damage was sustained to the Jedinstvo and voyage was able to be continued. Although no information is available regarding the much smaller Adriatiki, which was built as a 1,200-ton warship.
MS

Dalmacija

& MS

Istra

:
As I have already stated earlier that in 1965 Jadrolinija Line had introduced their two larger new by far more glamorous ships, the 5,600-ton MS Dalmacija and her identical sister MS Istra. Considering that all First Class cabins and half of Tourist Class had private facilities and later after an extensive refit all cabins had private facilities, the last of the "J" Trio left sailing in the late 1970's needed to be sold, as the charterers would no longer charter the Jedinstvo.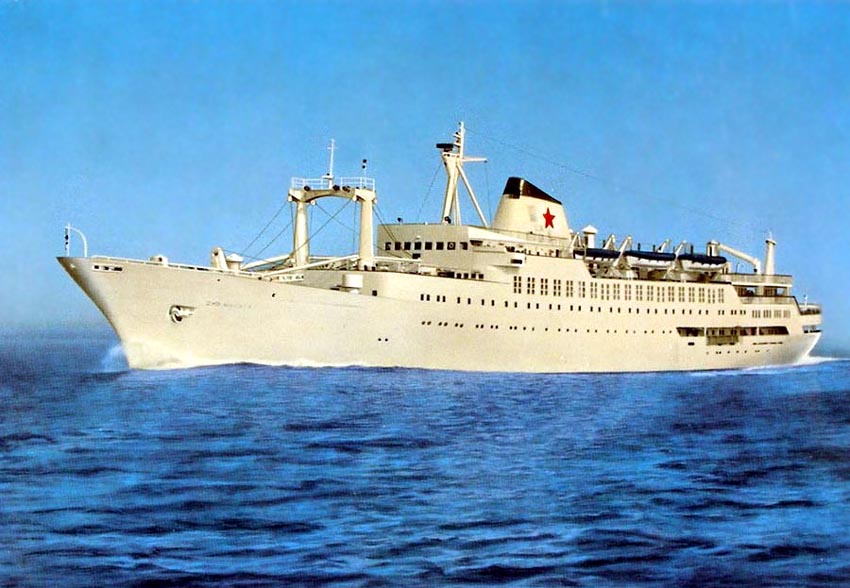 Company postcard of the their new ships the sleek and elegant MS Dalmacija and Istra
MV

Ambasador

:
Therefore with the two newer and larger ships having far superior facilities, Jadrolinija Line decided to sell the last of their Trio of "J" ships; the MS Jedinstvo in 1978. She was obtained by a State owned Travel Agency; "Atlas Jugoslavenska Putnica Agencija," based in Dubrovnik and they sent her to Split, where she received an extensive refit and she was renamed Ambasador (with just one 's').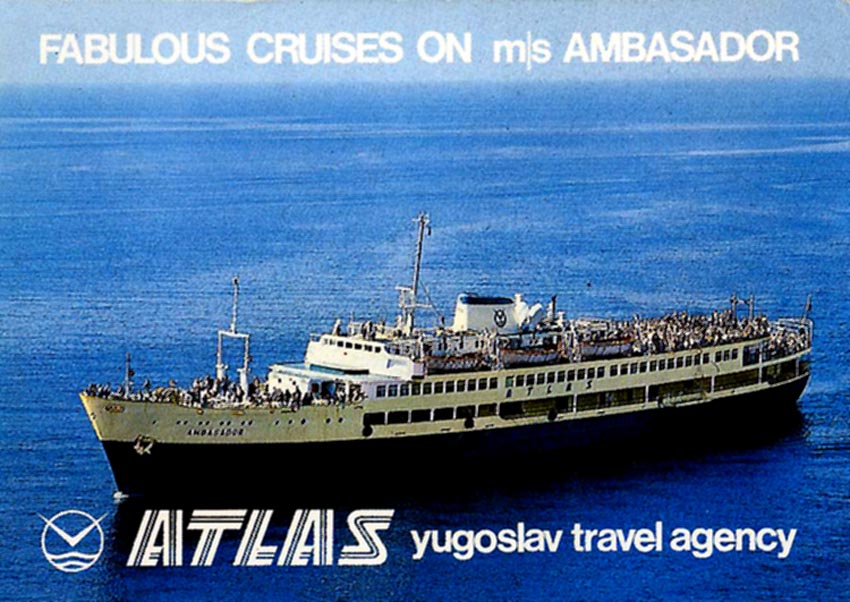 An Atlas postcard of the MS Ambasador
She was managed by "Atlas Ambasador Cruises" and the MS Ambasador operated 7-day cruises covering various ports, departing mostly from Dubrovnik. Apart from her regular ports she would also visit other ports, such as Genoa, Istanbul and a variety of ports.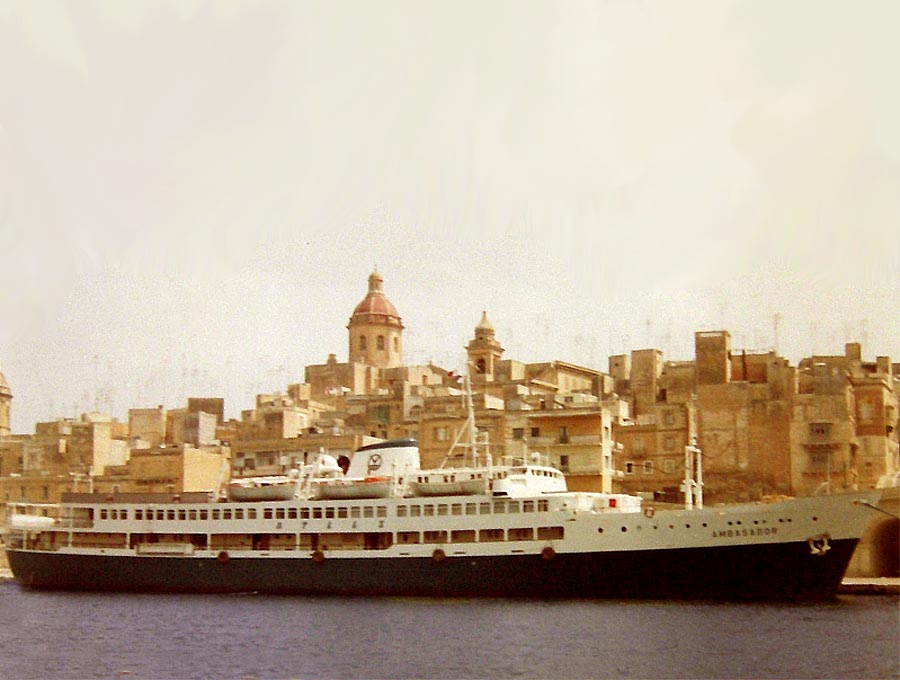 The MS Ambasador received a refit and a blue hull and she is seen here at Valletta Italy
Photographer is unknown – *Please see the photo notes at bottom of Page!
In 1985 she was chartered by to 'Sálen-Lindblad' and to make her ready for her new role she was extensively refitted for long distance expedition cruises. Upon completion, she accommodated just 120 passengers in greater comfort. She would operate around the Indian Ocean and other regions as required and as the operation was very successful it was felt that a larger ship was needed and in 1987, the two companies signed a preliminary contract with a Yugoslavian builder to build a larger ship. However the deal did not come to fruition, thus 'Sálen-Lindblad' obtained another ship in 1987.
With the ship returned to Atlas, they chartered the ship out to an agency who took her during the winter of 1987-88 to the Caribbean where she could operate a series of fly/cruises from Europe. Several changes had been made including raising the aft lifeboats and replacing them with new partially enclosed motorboats, which were raised up higher. Just aft of them there was new aft deck housing with windows making an ideal sun deck.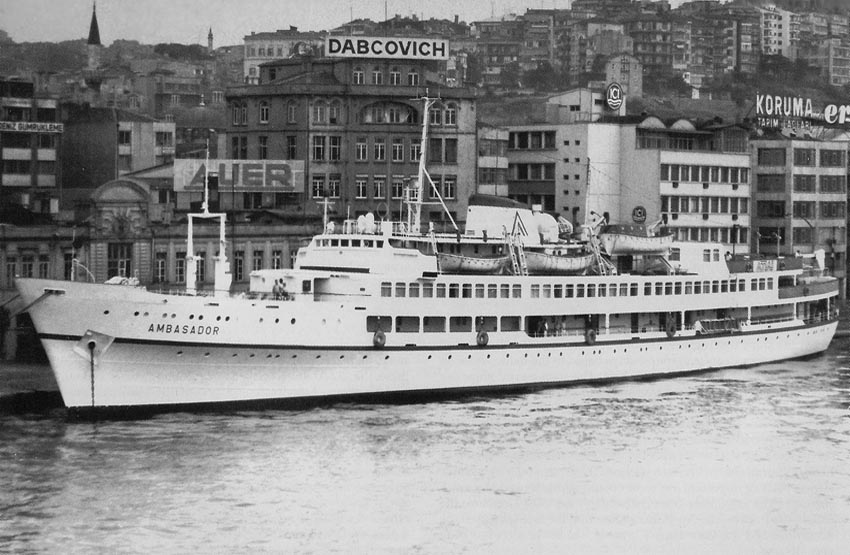 Atlas' MS Ambasador is seen in Istanbul, note a new stylised "A" logo on her funnel and the new aft lifeboat
It was well know in the industry that this fine ship was not as well maintained as had been as she had been in the days when she was with Jadrolinija Line who maintained her to perfection, for sadly now she was showing signs of wear and tear!
MS Aquanaut

Ambasador

:
The, ex Ambasador, Jedinstvo was sold ten years after being sold to Atlas in 1988 to Dive & Sail Holiday Ltd of Panama for around US$1.8 Million. But it was not until 1989 that she was renamed the MS Aquanaut Ambasador and her registration was changed for the first time from Rijeka Jugoslavija, where she had been registered since being built to Panama. She had been given a refit with hr hull returning to all white with a blue thick ribbon around it, and a red funnel with a white angled stripe.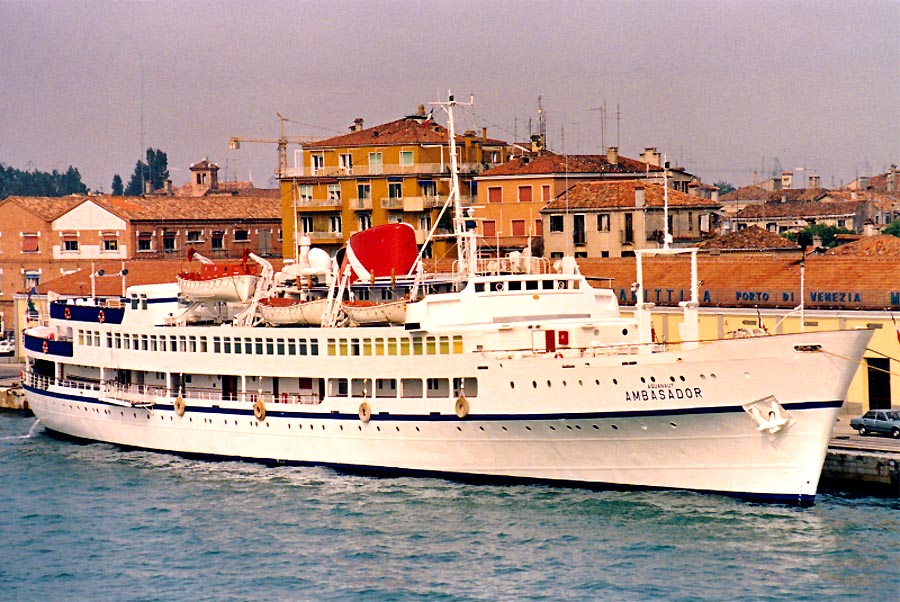 The MS Aquanaut-Ambasador was looking good with her new livery
Photograph by & © Clive Harvey
She would be operated by the, "Aquanaut Cruise Line" who already had several other smaller vessels operating in the Caribbean region. However, as the water sports cruises had not been the success as was hoped, the company decided to use her on regular cruises and she returned to her well-sailed area, for in the summer of 1989 she was cruising along the coast of Yugoslavia! However, these cruises did not prove to be the greatest of success and due to the ship suffering many problems, some due to very poor maintenance work on board, Dive & Sail Holiday Ltd failed rapidly and the MS Aquanaut-Ambasador was laid up.
She was purchased by Adriatic Cruises Ltd of Panama, and they sent her to the Zadar shipyards in Yugoslavia where she received a complete refurbishment. Externally her funnel was now blue with a circle and she was renamed Ambasador I, but her registration remained in Panama.
The MS Ambasador I returned to her original 7 nights and longer cruises of the Mediterranean and Adriatic, and some were very much longer as the ship was in demand and was chartered for special groups. During the summer months of 1991 she was under charter to around the coast of the British Isles. However, she did not receive rave reviews and in due course she was laid up in Piraeus Greece and she had been obtained by a Greek Company named the "New York, Ionian Transport Corp" as they were in need of a replacement of their Bucaneer that was due to be broken up and the Ambasador I, seemed to be the perfect replacement! However, she remained in lay-up for an extended time, but eventually she found a brand new career!
On July 19, 1993 the MS Ambasador now flying the flag of Ecuador was seen sailing through the Panama Canal heading west as she was on the way to Ecuador and Guayaquil that is located in the Guayas River, where she would be home based. She would be operated by "Islas Galapagos Turismos Y Vapores S.A.," and operate cruises around the famed Galapagos Islands. Having been modified greatly and having been made environment friendly, she now accommodate just 86 passengers, for obviously the region she would be sailing in was very delicate and visitors to the region was limited!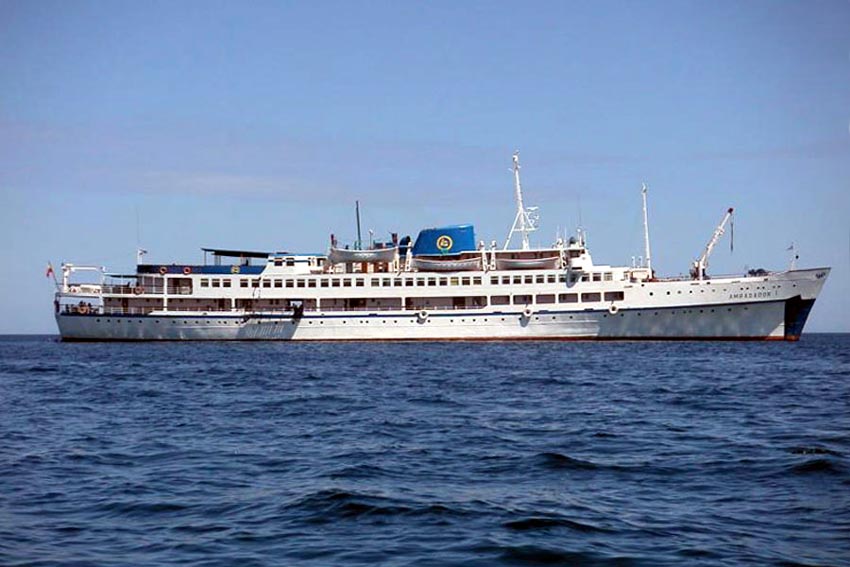 The Ecuadorian flagged - MS Ambasador I, is looking really good after her refit!
She now had Greek officers, but thankfully her Greek owners had employed her original Jugolavijan engineers to take good care of her and they certainly kept her engine room spotless and operating in perfect condition and the rest of the ships staff were all-local!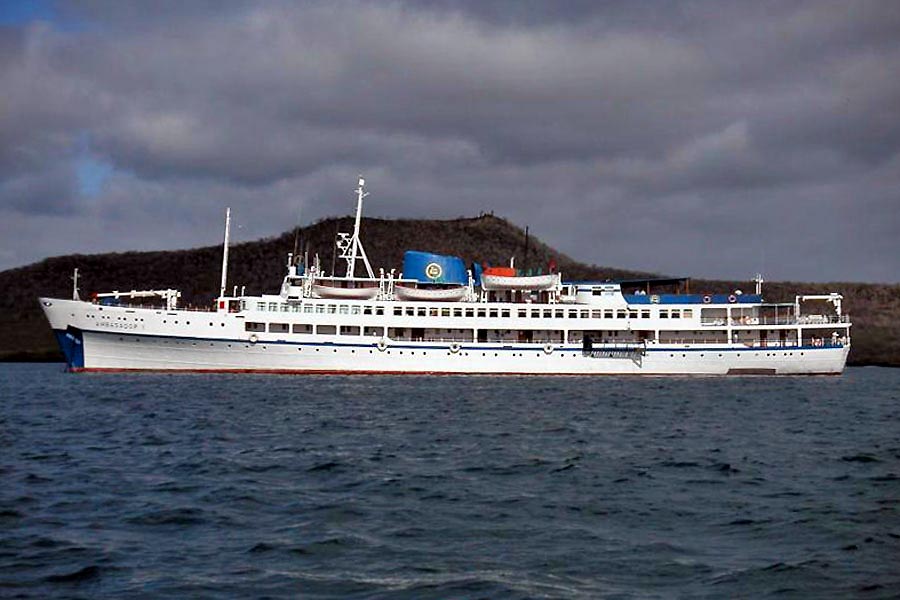 The MS Ambasador I looking good after a refit!
Her cruises proved to be a massive hit as did the ship herself for she had been block booked by Marine Expeditions who sold her as the Marine Ambassador, however her name was not changed, for she remained the Ambasador I right through to 2004.
However, eventually the time came that in 2004, this wonderful and well-built ship was laid up at Guayaquil and she was also scrapped there during that year. Thus, her final destination was far from her original home in eastern Europe … Guayaquil in Ecuador, South America.
"J" Class Ships Specification's:
1 = MS Jugoslavija - 2 = MS Jadran - 3 = MS Jedinstvo.
Built by:                      Brodogradiliste Uljanik "Split" Shipyards.
.                                 1 - 1956, 2 - 1957, 3 - 1958.
Tonnage:                     1 - 2,563, 2 - 2,564, 3 - 2637 GRT (Gross Registered Tons)
.                                 All 2,450 Dead Weight.
Power:                         1 & 3 Sulzer Diesels, 2 "Sulzer Type" Diesels.
Screws:                       Twin.
Speed.                         18 Knots.
Length:                        295ft - 89.9m.
Breadth:                      43ft - 13.1m.
Draught:                      1 & 2 - 15.3ft - 4.6m. 3 - 15.6ft - 4.75m.
Passengers:                  1 - 171 First Class - 38 Tourist Class & Deck Passengers.
.                                 2 - 159 First Class - 32 Tourist Class & Deck Passengers.
.                                 3 - 221 One Class, full time cruise ship.
Remembering the Three Fine "J" Ships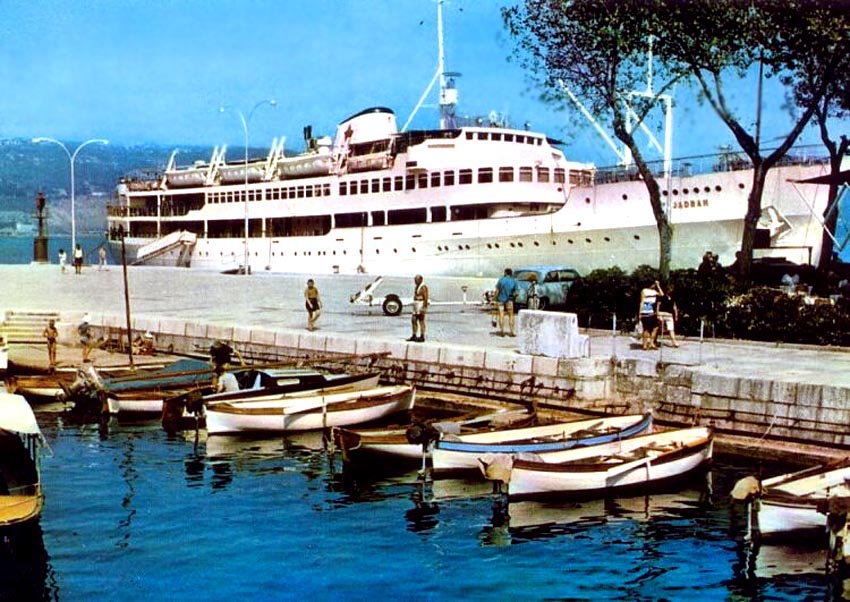 Above & below:

The delightful MS Jadran is seen whilst on a cruise and in port, but she was just one of

a

fine Trio of Ships. The Jadran is still afloat and is located at Toronto Canada to this day! (2014).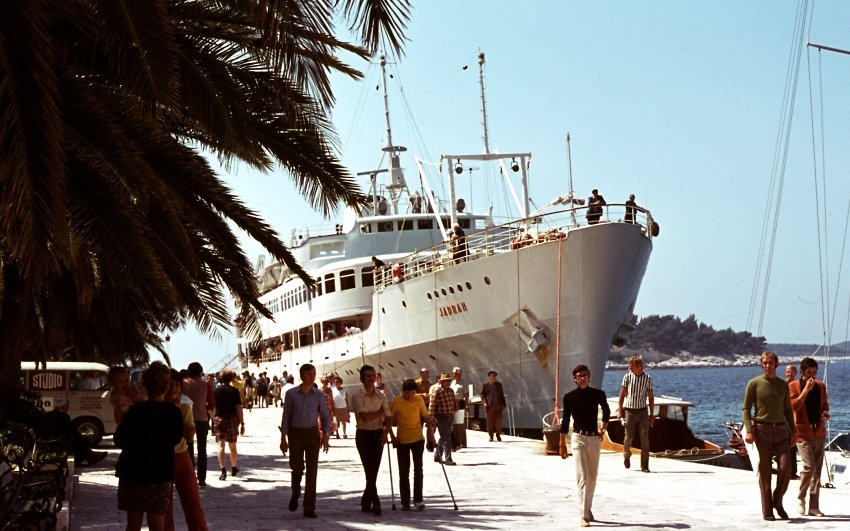 The photograph above was taken by & © Mr. Anton Heuff - the Netherlands
********************************
Also view the "J" Ships: Deck Plans
Also Visit: MS Dalmacija & Istra Feature
Return to the ssMaritime Main INDEX
ssMaritime.com & ssMaritime.net
Where the ships of the past make history & the 1914 built MV Doulos Story
Also visit my
"Save The Classic Liners Campaign"
Please Note: ssmaritime and associated sites are 100% non-commercial and the author seeks no funding or favours of any shape or form, never have and never will!
Photographs on ssmaritime and associate pages are by the author or from the author's private collection. In addition there are some images that have been provided by Shipping Companies and private photographers or collectors. Credit is given to all contributors. However, there are some photographs provided to me without details regarding the photographer/owner concerned. I hereby invite if owners of these images would be so kind to make them-selves known to me (my email address may be found on www.ssmaritime.com only), in order that due credit may be given.
This notice covers all pages, although, and I have done my best to ensure that all photographs are duly credited and that this notice is displaced on each page, that is, when a page is updated!
ssMaritime is owned & © Copyright by Reuben Goossens - All Rights Reserved