Aznar Lines M.S Monte Ulia-1948 -1969
Please Note: Firefox and some iPad's or iPhone's, etc are not suitable
Use Internet Explorer or Google for this page to load perfectly!

Click the logo above to reach the ssMaritime FrontPage for News Updates & "Ship of the Month"
With Reuben Goossens
Maritime Historian, Cruise'n'Ship Reviewer, Author & Maritime Lecturer
Please Note: All ssMaritime and other related maritime/cruise sites are 100% non-commercial and privately owned. Be assured that I am NOT associated with any shipping or cruise companies or any travel/cruise agencies or any other organisations! Although the author has been in the passenger shipping industry since 1960, although is now retired but having completed over 700 Classic Liners and Cargo-Passengers Ships features I trust these will continue to provide classic ship enthusiasts the information the are seeking, but above all a great deal of pleasure!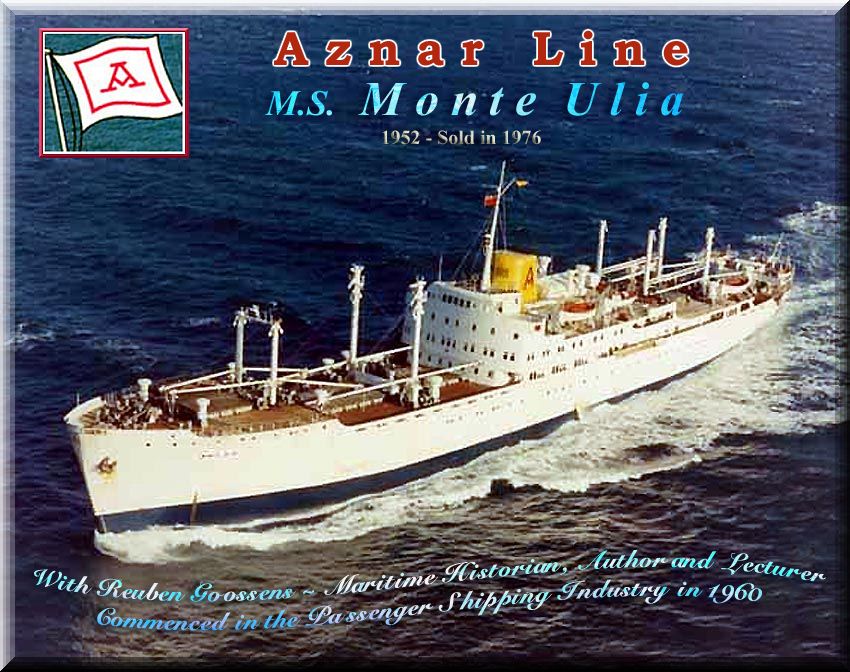 Aznar Line Background in Brief:
Aznar Line previously known as "Sota y Aznar" until 1939 operated cargo ships, as well as passenger-cargo (combination) liners from Spain to South America, later to the United States as well as the Caribbean. In due course Aznar Line was allocated an option to transport Canary Islands fresh "fruit and vegetables" to Britain, sailing to London as well to Liverpool.
With the company doing well in all sectors, it was late in the 1940s that the Spanish government planned and ordered six "Monasterio Class" Passenger-Cargo Liners all being around 10.000 GRT (Gross Registered Ton). Three of these ships were re-allocated to the Aznar Line, being 1. The MS Monte Urbasa of 1948, 2. Monte Urquiola 1949. 3. And last built is the elegant and far superior ship of the earlier two, the MS Monte Ulia of 1952, which looks more like a stylish passenger liner, as well as being a comprehensive cargo ship!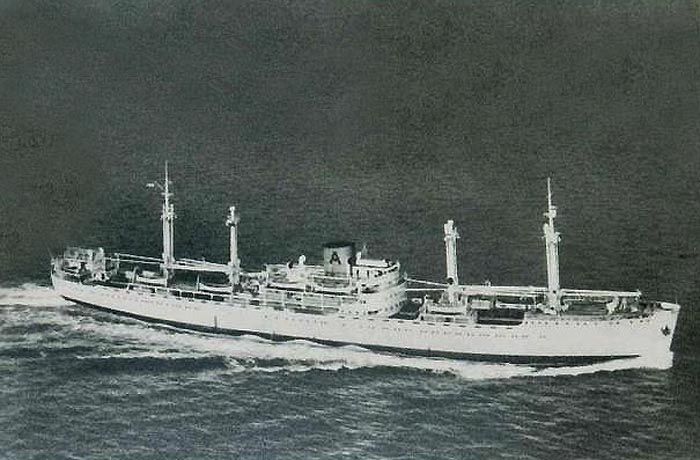 This is first of the "Monasterio" Class liners this is the MS Monte Urbasa completed in 1948 and sold in 196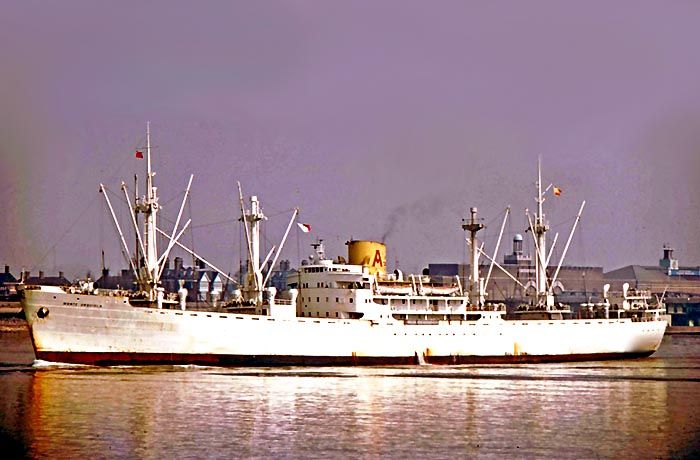 The second of the series the MS Monte Urquiola completed in 1949 and sold in 1974
Photograph was kindly provided by Felipe J. Herrera (Spain)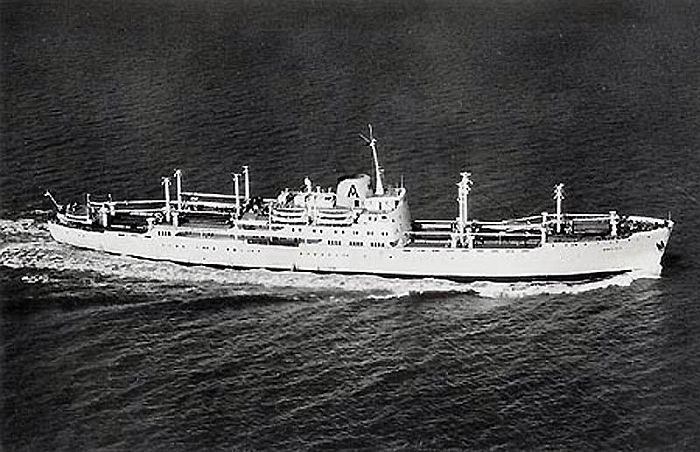 And this is the completely different, far more streamlined looking ship, the M.S. Monte Ulia
She was the last of these three "Monte" class of ships completed, the first two built being the Monte Urbasa & Monte Urquiola
Photograph by & © Michael Keyon
M.S. Monte Ulia from Construction to Delivery:
The MS Monte Ulia was built by Soc Espanola de Construccion Naval, Bilbao in Yard N°66 for "Empresa Nacional Elcano SA" (the State Fleet) and she was launched and officially named the MS Monasterio De El Escoria" on January 2, 1951.
However, before her completion she was sold to "Naviera Aznar SA (or Aznar Line) who renamed her "Monte Ulia" early in 1952. When the ship was completed she undertook her speed trails late in February 1952, and she reached a top speed of 16.5 knots.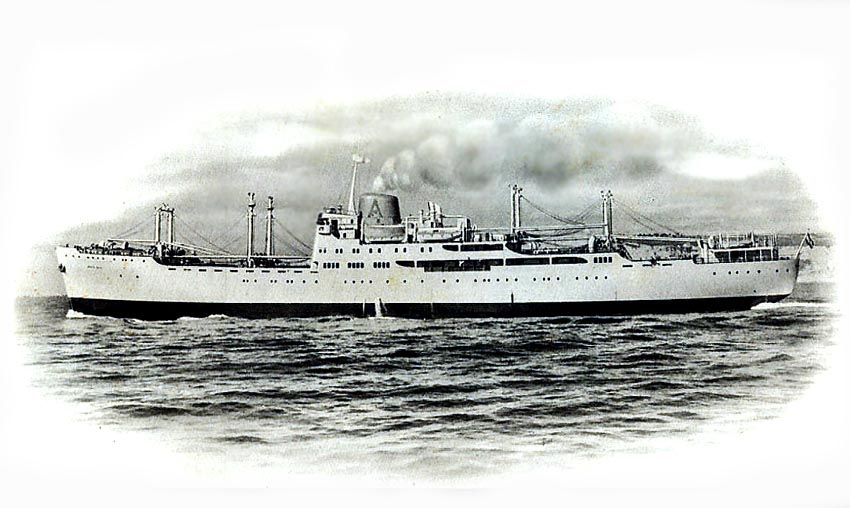 M.S. Monte Ulia an image from Aznar Lines new brochure interior image of the ship
Brochure from the author's private collection
Interiors:
Her internal layout was quite different from her two previous Monte ships, as Monte Ulia had two large De Luxe double bedded Suites, having a separate Lounge, being located forward, the upper par of the superstructure, just aft of the full width Smoking Room. Directly aft of these fine suites were 16 First Class single and two bedded cabins all having their own bathrooms. As both classes were graded, the next grade of First Class cabins were located directly below Upper D, with 14 two berth cabins al with private facilities, then just aft there were 11 two and three berth cabins these having shared facilities.
Other public facilities included the Main Lounge Main and Bar, Library and writing room for both classes, as well as a smoking room for Second Class. There was also a swimming pool.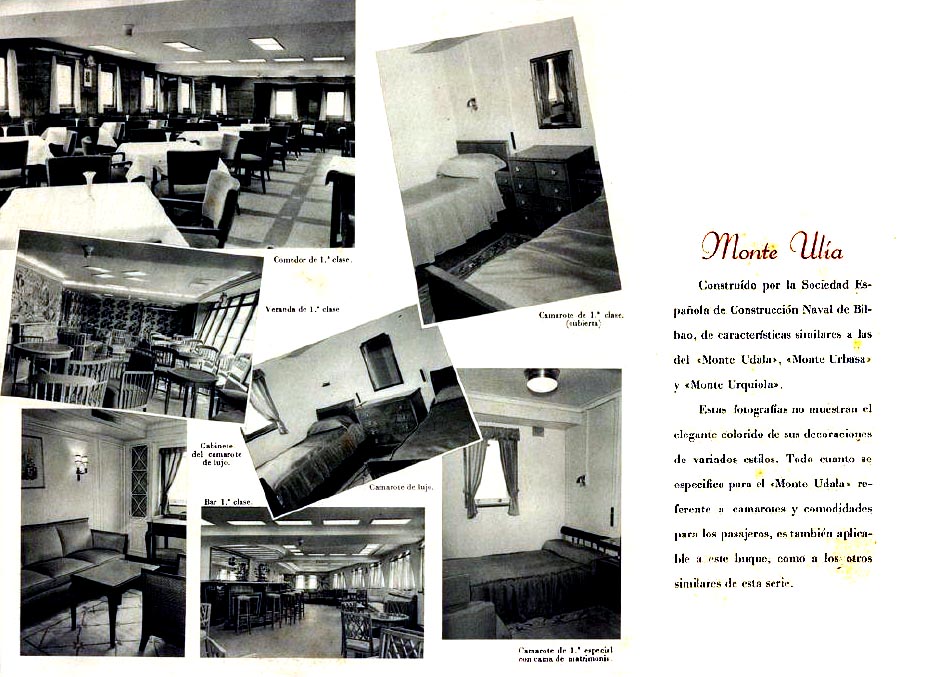 Although her exterior was modern and advanced, yet her interiors were more traditional in style, but very comfortable
Scanned from the Aznar Lines brochure, from the author's private collection
As built Monte Ulia accommodated 64 passengers in First Class and 146 in Second Class. However, when she was placed on sail via New York, there was an accommodation overhaul and from then accommodated 114 first Class passengers only, for thereafter she operated mostly to and from Tenerife only, as you will discover below. Cargo wise she had 5 holds with considerable refrigeration space to transport perishables.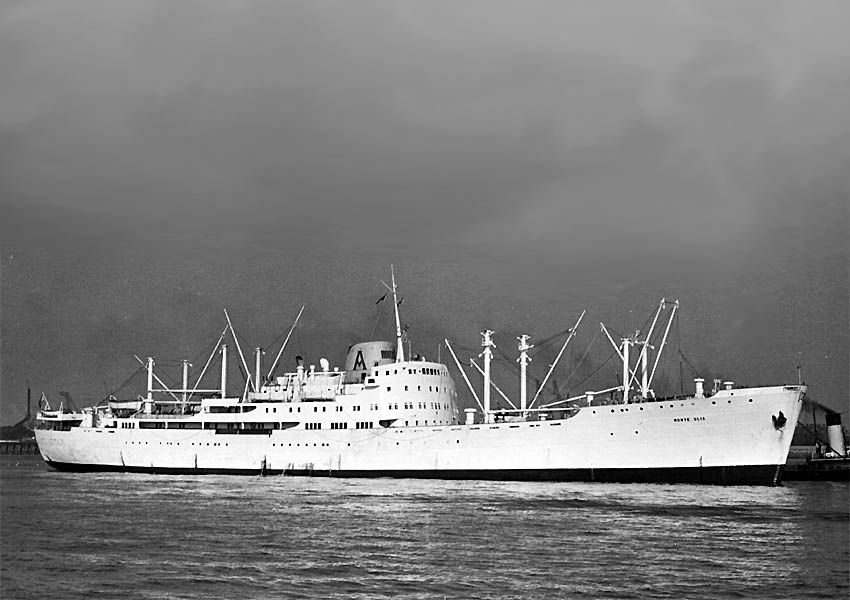 A fine photograph of the M.S. Monte Ulia seen on her starboard side
Delivery & Services:
MS Monte Ulia was delivered to her owners on March 2, 1952 and she soon departed on her maiden voyage on the Spain, via Genoa to Vera Cruz service which continued until she was placed on a new service from the early 1960s, sailing from Barcelona to New York, then the Caribbean and on to various South American Ports, she would then return on a similar route.
In 1962 she commenced the London via Las Palmas to Tenerife (Canary Islands) service and return, and during the summer she would operate from Cadiz to Tenerife and back. It is interesting to note that at 10,123 GRT the Monte Ulia was only ship in terms of tonnage, to sail on the Thames and under London Bridge to "New Fresh Wharf.
In July 1970 the Monte Ulia somehow collides with an oil jetty when heading for her berth in London, and she had her bow badly damaged. Having her passengers taken from the ship, she was laid up at "Gravesend Reach" on the River Thames until repairs could be arranged.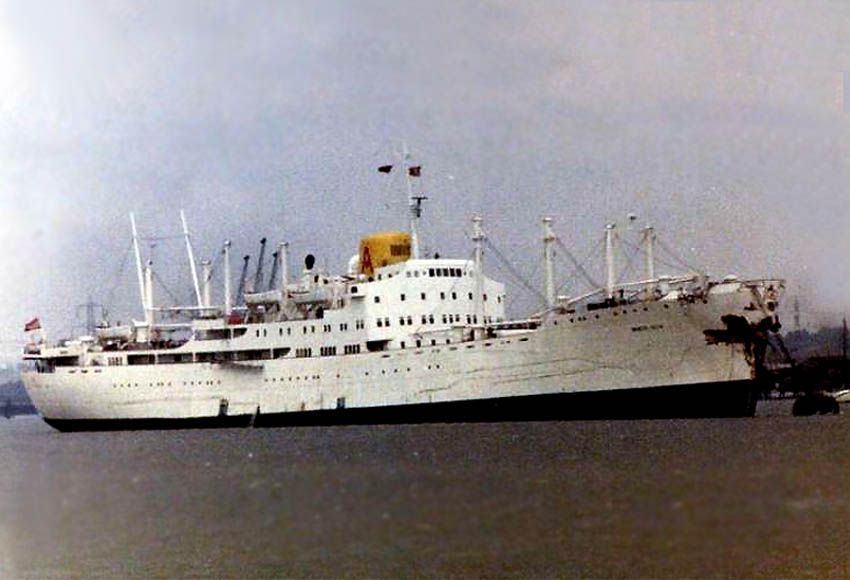 A sad looking Monte Ulia is seen here with that badly damaged bow laid up on the River Thames in 1970
Photograph by & © Robert Smith
Her Final Six Years with Aznar Line:
Having been repaired Monte Ulia returned to her service and continued to sail on her current service until 1974, when she was placed on the Liverpool to Tenerife service. However, as the mid 1970s came by loading began to lessen and Aznar commenced to consider what to do with the ship and selling her was sadly going to be the only option!
Her Concluding Short Time as the MS Climax Opal:
In 1976 she was sold to a Singaporean company "Climax Shipping Corp", who renamed her "Climax Opal" and was reregistered in Singapore. But sadly she suffered a severe fire whilst she was berthed at Belfast on April 2, 1977. The damage amidships was so bad that she was considered to be beyond repair.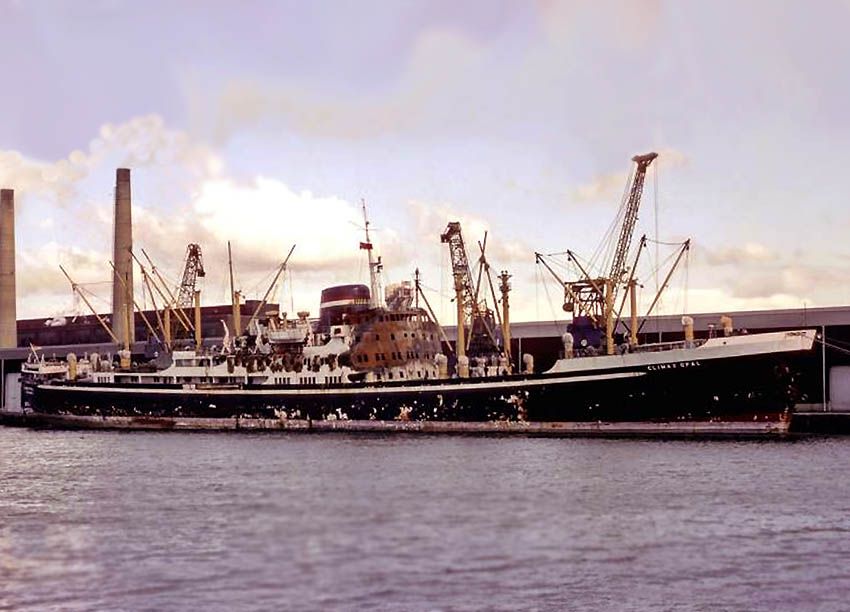 A tragic looking ex MS Monte Ulia, Climax Opal seen after the fire that damaged her beyond repair
Therefore Climax Shipping Corp decided, rather than a massive attempt to rebuild her, they would sell her to be broken up. Thus they sold her to a Spanish breaker "Recuperaçiones Submarines SA" on June 7, 1977. Climax Opal headed to the breakers yard at Santander, Spain where she was duly broken up in that same year.
Specifications 1. MS Monte Ulia 1952-1976 & 2. MS Climax Opal 1976-1977:
Built by:                "Soc Espanola de Construccion Naval", Bilbao
Yard:                    66.
Built for:               "Empresa Nacional Elcano SA, being the State Fleet.
Name:                  "Monasterio De El Escoria" 1951.
Renamed:              "Monte Ulia" for Aznar 1952.
IMO:                     5240746.
Owner:                 1. "Naviera Aznar SA", operating as Aznar Line, Spain.
.                          2. "Climax Shipping Corporation", Singapore.
Tonnage:              10.123 GRT, 14.800 DPL, 8.661 DW, 7.708 NET.
Length:                 148.5m - 487ft.
Beam:                   19m - 62ft.
Draught:               8.1m  26.3ft.
Engine:                 Sulzer Diesel 7,300 BHP.
Propeller:              Single.
Speed:                  15.5 knots service speed, and 16.5 maximum speed.
Passengers:           64 First Class & 146 Second Class as built.
.                          114 First Class only from early 1960s.
Crew:                   85.
Holds:                  5.
Sold:                    1976 renamed Climax Opal.
Flag:                    Singapore.
Broken up:            1977 by "Recuperaçiones Submarines SA" at Santander in Spain.
Remembering a Fine Spanish Ship!
M.S. Monte Ulia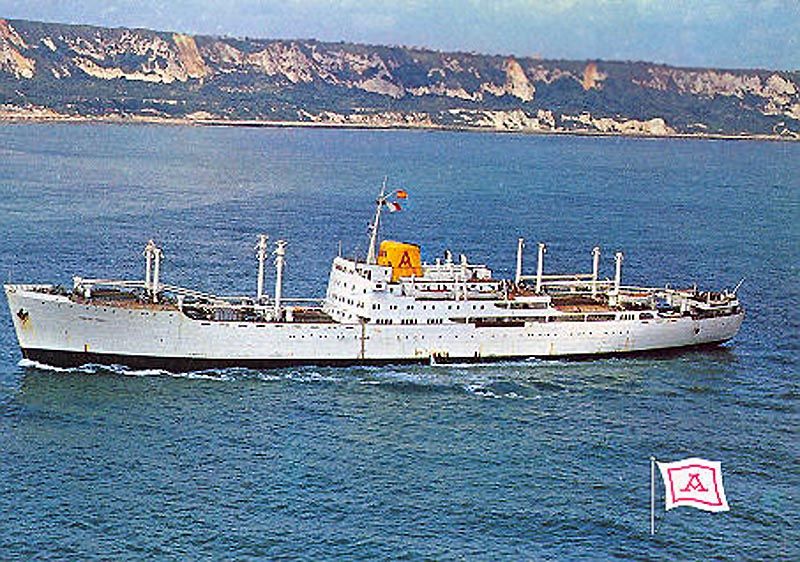 ************************
"Blue Water Liners sailing to the distant shores.
I watched them come, I watched them go, and I watched them die."
************************
ENTER OUR ssMaritime MAIN INDEX
Featuring over 1,084 Classic Passenger Liners, Passenger-Cargo Liners & Cruise Ships!
ssMaritime.com & ssMaritime.net
Where the ships of the past make history & the 1914 built MV Doulos Story
Photographs on ssmaritime and associate pages are by the author or from the author's private collection. In addition there are some images that have been provided by Shipping Companies and private photographers or collectors. Credit is given to all contributors. However, there are some photographs provided to me without details regarding the photographer/owner concerned. I hereby invite if owners of these images would be so kind to make them-selves known to me (my email address may only be found on www.ssmaritime.com), in order that due credit may be given.
This notice covers all pages, although, and I have done my best to ensure that all photographs are duly credited and that this notice is displaced on each page, that is, when a page is updated!
ssMaritime is owned & © Copyright by Reuben Goossens - All Rights Reserved