Click the logo above to reach the ssMaritime FrontPage for News Updates & "Ship of the Month"
With Reuben Goossens
Maritime Historian, Cruise'n'Ship Reviewer & Author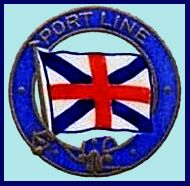 Original Port Line badge
Author's collection
MS Port Sydney
Later names: Akrotiri Express, Daphne, Switzerland, Ocean Monarch
Currently cruising as ~ Princess Daphne
Including MS Port Melbourne currently cruising as Princess Danae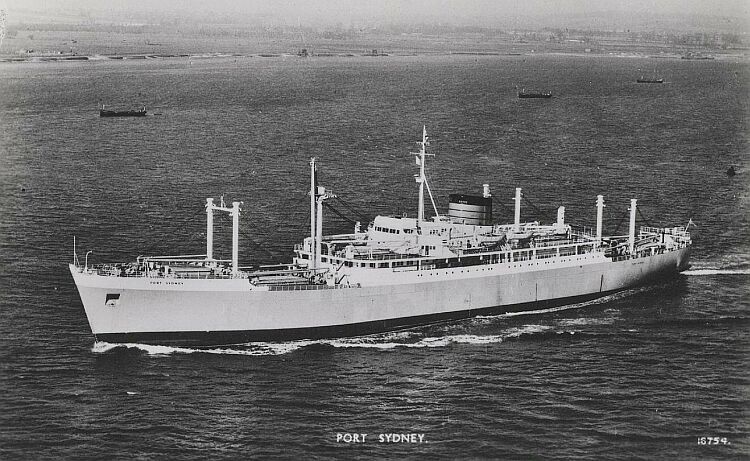 MS Port Sydney as built - Each Passenger received a copy of this postcard in their cabin
From the author's private collection
Ordered by Port Line Ltd., a subsidiary of Cunard for the use on their route between the UK and New Zealand and Australia via the Panama Canal, Port Sydney was laid down as hull no. 1827 on August 13, 1953 at the Swan Hunter and Wigham Richardson Yards, Wallsend-on-Tyne. She was launched on October 29, 1954 and ran her engine/sea trials on March 3 1955, seven days prior the launching of her sister the Port Melbourne, which was built at the Harland & Wolff Ship Yards in Belfast.
Port Sydney departed on her maiden voyage several days after her sea trials. Both ships accommodated twelve passengers in spacious cabins. Other passenger facilities included a Lounge, Bar, Dinning Room, a long sheltered Promenade Deck and a spacious Boat Deck and ample Sports Deck facilities. The Cunard inspired Port Line was very tradition minded and they had salvaged fine carved timbers and other fittings from an earlier ship named Port Sydney which had been sold in 1949, and they used this material into the ship, giving it a special elegance.
Although carrying twelve passengers, essentially they where refrigerated freighters, having six holds (also for general cargo), built to operate what was known as the "meat run" between Australia, New Zealand and Britain. Port Melbourne was launched on March 10 1955, and completed in great haste on July 7 and she joined her sister on the "meat run."
Port Line continued this service until 1968, when both ships were transferred to the management of BluePort Line, being a company formed by Blue Star Line and Port Line. Their service remained unaltered.
These fine ships operated between the UK to New Zealand and Australia from 1955 to 1971 when it was finally decided by BluePort to pull the ships from the run and lay them up and place them on the market as container ships were taking over the meat service from regular cargo ships, and passengers no longer choose to travel by sea as much and it seemed that travelling by jet began to rule.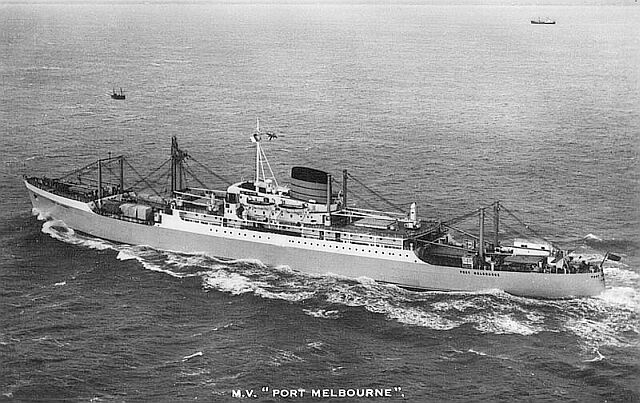 Postcard of the Port Melbourne
From the author's private collection
Specifications
Builder                                       Swan Hunter and Wigham Richardson, Wallsend, Newcastle upon Tyne, England
Hull No                                       1827
Built for                                      Port Line
Laid down                                   August 13, 1953
Launched                                   29 October 1954
Maiden Voyage                            5 March 1955
GRT                                                     10,166 GRT (Gross Registered Tons) – Port Melbourne 10,470 GRT
Length

                                      

162.40m / 532ft
Width                                        21.30m / 69.88ft
Draught

                                    

7.7m / 25.26ft
Propulsion                                   2 six cylinder Doxford diesels engines 12,200 hp
                                                View Port Sydney's Doxford type engines in action (YouTube Video)
                                                In addition also view the engines of Port Melbourne (YouTube Video)
Screws                                      Two
Service speed                             17
Passengers                                 12
Passenger decks                          3
Port of registry                            London
Livery                                        Grey hull, white superstructure, Red and black capped funnels with to black bands.
                                                Red boot topping
Holds                                         6 – Mostly refrigerated (also general cargo) for transporting frozen meat or dairy produce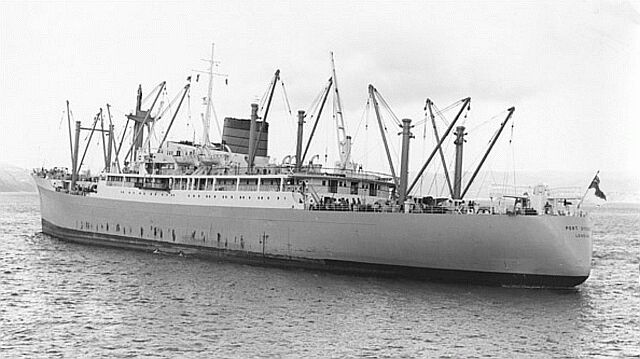 MS Port Sydney
Photo from the late John Dyson collection
Eventually both were sold in 1972 to the Greek shipping conglomerate J C Karras Company.
At first it is thought that it was planned to convert them into passenger car ferries and thus Port Melbourne was given the name of Therisos Express and the Port Sydney the Akrotiri Express. Both ships retained these names whilst awaiting their rebuilding.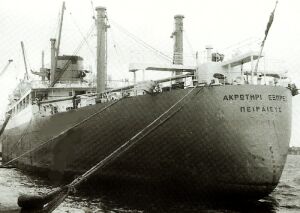 *MS Akrotiri Express

, ex Port Sydney seen laid up in Greece

However, the Greek Karras company wanted to diversify into the lucrative American cruise market as Karras Cruises and thus both ships were taken to the small Greek seaport Khalkis where they were moored in the inner harbour. Work commenced in August 1972. With work barges at their side, complete with cranes, their interiors (excluding their engines) were stripped and the entire superstructure was removed. At the conclusion both ships were simply a shell of a hull containing an engine. Thereafter, both ships were completely rebuilt into full scale passenger ships and upon completion they were beyond recognition. Their reconstruction has been likened to the remarkable rebuilding of the rather boxy looking Cunard passengers-cargo liner RMS Media, which became the remarkable ultra modern looking Cogedar passenger liner SS Flavia, or the Troop ship TSS Oxfordshire which became the beautiful Sitmar Line TSS Fairstar. Port Melbourne and Port Sydney certainly had remarkable reconstructions and they become like brand new ships, yet they have one thing that modern ships do not have, for they still have a classic heart and a solid hull thick steel!

Akrotiri Express (Port Sydney) was the first to be completed in June 1975 and she was renamed "Daphne" and entered service in July. Therisos Express (Port Melbourne) was completed next and she entered service for the Karras Cruise Line in 1976 named Danae.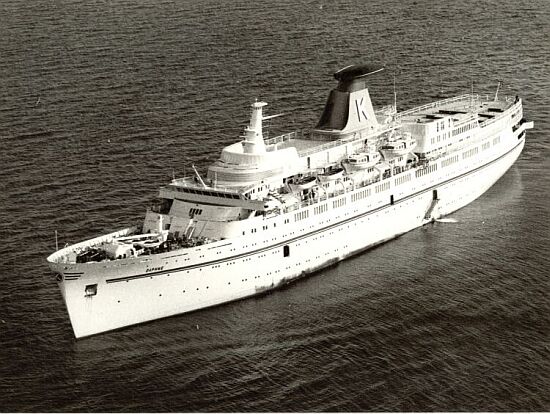 First to be completed in 1975 - Karras Cruises MS Daphne is seen here in 1976

From the author's private collection

MS Daphne was chartered to the Lauro Line

(Once better known as Flotta Lauro or Star Lauro) in 1978 and then to the Italian Costa Cruise Line in 1979. She was then purchased outright by Costa in 1984. In 1990 a joint venture between Costa and Sovcomflot created Prestige Cruises, which saw another technical change in ownership.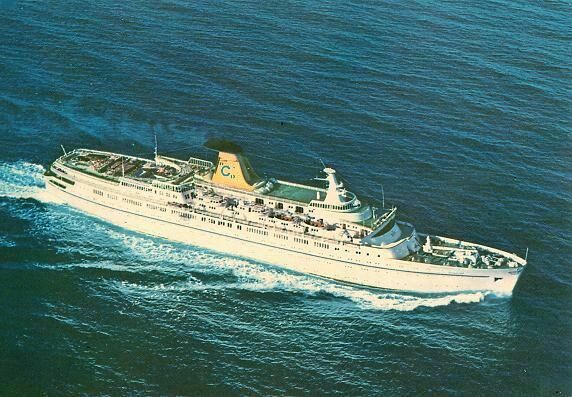 Postcard of the Costa Cruises cruise ship MS Daphne
From the author's private collection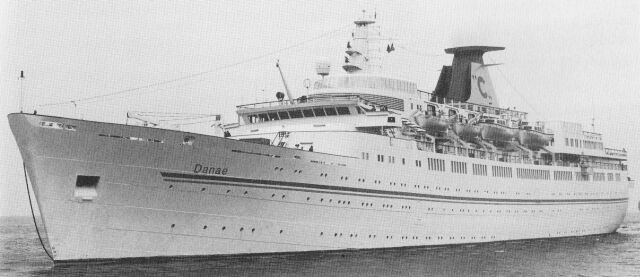 MS Danae was also chartered to Costa Cruises in 1970 and purchased by them in 1985
From the author's private collection
In 1996 Daphne was sold to Leisure Cruises of Panama, who renamed her Switzerland, She operated mostly for the Swiss market and undertook a world cruises and visited Australia and New Zealand in 1998.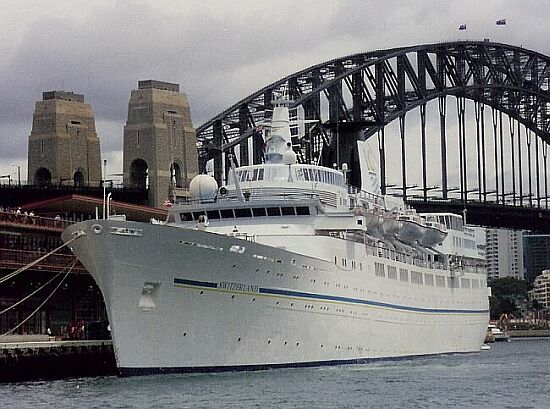 MS Switzerland in Sydney 6 October 1998
Photo by & © Reuben Goossens (the author)
After an extensive refit at Piraeus in February, 2002, she emerged as the MV Ocean Monarch for Majestic International of Athens and was chartered to the British travel company, Page and Moy, then operated by Hansa Kreuzfahrten of Bremen. Over the years, this classic liner has proved to be not only popular, but one of the most sought after by cruise lovers from around the world, especially the British, Australia, New Zealand and South African's. Obviously, although this ships is as modern as can be, she is still a true classic and she radiates it!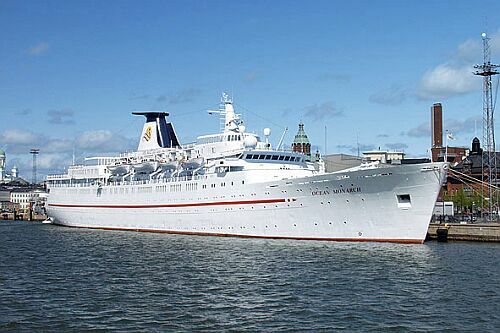 *MV Ocean Monarch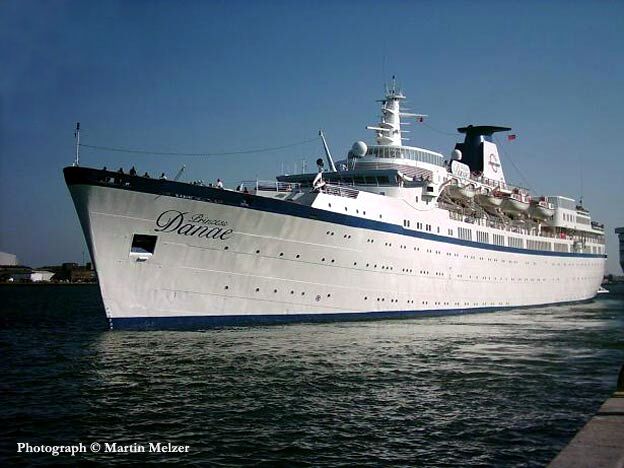 Princess Danae would soon become part of the Classic Cruises fleet
Photograph by & © Martin Melzer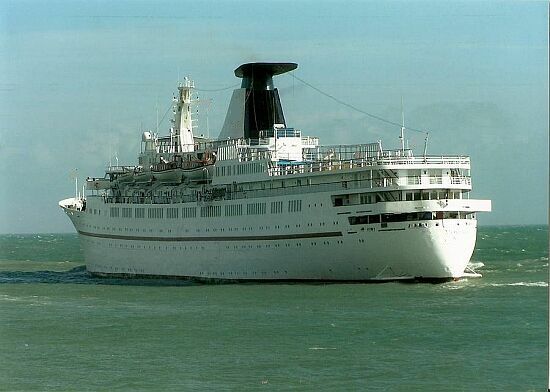 Princess Daphne (ex Port Sydney) seen before her refit in 2007/08
Photographer unknown
In November 2007 she was sold to Classic International Cruises who already operates her identical sister, the Princess Danae. After an extensive refit she joined the fleet of fine classic cruise ships and she was renamed MV Princess Daphne and sails on a variety of cruise schedules with the company. One day we hope to see her back in Australia!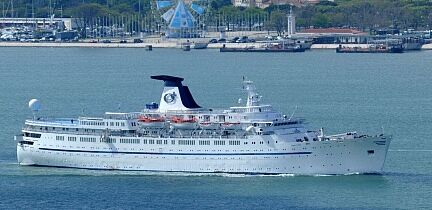 Classic International Cruises MV Princess Danae (ex Port Melbourne) seen during her sea trials 24 April 2008 after her refit
(Author's collection)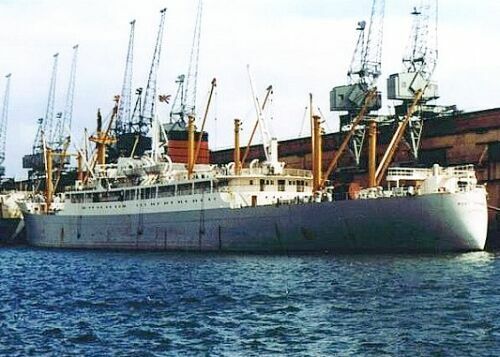 Memories of the old days – Port Sydney is seen here in Auckland NZ
Photographer unknown
Port Sydney - Princess Daphne -  INDEX
Page One:                 Read about the history of the Port Sydney – this page
Page Two:                Story & photographs by John Whitehead senior 3rd Engineer 1959/60 - on 3 pages – ssmaritime.com
                                  The Dave James Story A NEW Page – Dave - an engineer who sailed home to Australia on Port Sydney
Located on cruise-australia.net is …
Page Three:              Classic International Cruises – MS Princess Daphne
Page Four:                Princess Daphne DECK PLAN
Why not Cruise on this Ship, or one of the superb Classic Ships still sailing today
Believe me it is worth it!
Also visit the following features on CIC related Ships…
MS Stockholm on ssmaritime.com she is now the … MV Athena Cruise Review …
The author sailed on her from Australia to the UK in March/April 2011 on cruise-auatralia.net
MV Athena will be cruising Australia in 2012 / 2013 & 2014
SS Funchal on ssMaritime.com & MS Funchal on cruise-australia.net
Ex Trans-Atlantic Liner & Presidential Yacht built in 1961 sailing from Singapore & Hong Kong in 2012
MS Istra on ssmaritime.com & MV Arion on cruise-auatralia.net
Built as a Yugoslavian cruise ship in 1965
**************************************************
Use the Back button on your browser or Close the Page to return to the previous page
or go to our
INDEX
Who is the Author of ssMaritime?
Commenced in the passenger Shipping Industry in May 1960
ssMaritime.com & ssMaritime.net
Where the ships of the past make history & the 1914 built MV Doulos Story
Also visit my …
"Save The Classic Liners Campaign" & "Classic Ocean Voyages" pages
And …
Photographs on ssmaritime and associate pages are by the author or from the author's private collection. In addition there are some images that have been provided by Shipping Companies and private photographers or collectors. Credit is given to all contributors. However, there are some photographs provided to me without details regarding the photographer/owner concerned. I hereby invite if owners of these images would be so kind to make them-selves known to me (my email address may be found on www.ssmaritime.com only), in order that due credit may be given. I know what it is like, I have seen a multitude of my own photographs on other sites, yet these individuals either refuse to provide credit or remove them when asked, knowing full well that there is no legal comeback when it comes to the net. However, let us show these charlatans up and do the right thing at all times and give credit where credit is due!
This notice covers all pages, although, and I have done my best to ensure that all photographs are duly credited and that this notice is displaced on each page, that is, when a page is updated!
ssMaritime is owned and © Copyright by Reuben Goossens - All Rights Reserved