Lauro Lines MS Surriento 1948 to 1966
Please Note: Firefox and some other search engines are not suitable – Use "Internet Explorer" for this page to load perfectly!

Click the logo above to reach the ssMaritime FrontPage for News Updates & "Ship of the Month"
With Reuben Goossens
Maritime Historian, Cruise'n'Ship Reviewer, Author & Maritime Lecturer
Please Note: All ssMaritime and other related maritime/cruise sites are 100% non-commercial and privately owned. Be assured that I am NOT associated with any shipping or cruise companies or any travel/cruise agencies or any other organisations! Although the author has been in the passenger shipping industry since 1960, although is now retired but having completed around 680 Classic Liners and Cargo-Passengers Ships features I trust these will continue to provide classic ship enthusiasts the information the are seeking, but above all a great deal of pleasure! Reuben Goossens.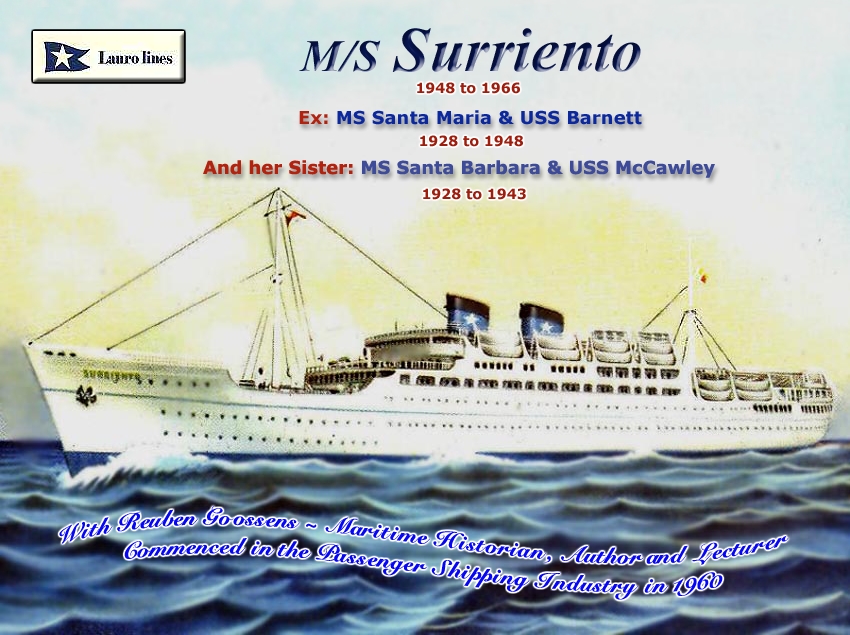 Page Two
Lauro Lines very First genuine Passenger Liner
The MS Surriento
A New Life as the MS Surriento:
The 1928 built Grace Liner MS Santa Maria was obtained in 1940 by the US Marines and was converted into an Attack Transport ship and renamed USS Barnett. During WWII she served bravely during countless dangerous situations, including being damaged and sadly troops onboard were killed and injured during an attack during her services. At the end of the war USS Barnett was awarded the "Seven Battle Stars" for her and her crew's amazing bravery!
Like so many ships that were used during the war, she was laid up and remained idle for several years, until finally in 1948 the US Government sold her at auction and the highly decorated USS Barnett, ex MS Santa Maria was officially purchased by the well known Italian Multi Millionaire ship owner Mr. Achille Lauro on April 13, 1948. Soon she headed for a Baltimore shipyard where she received some work to ensure that her engines that had been shut down for a considerable time, were back in full working condition. When the work had been completed she was certified for her delivery voyage to Italy!
Thus, the MS Barnett commenced her voyage across the Atlantic bound for Italy and she arrived at Genoa in July. She entered a shipyard where an extensive nine-month rebuilding programme commenced for her new role as a modern passenger and a migrant liner suitable for long voyages to Australia, as well as operating on the South American service.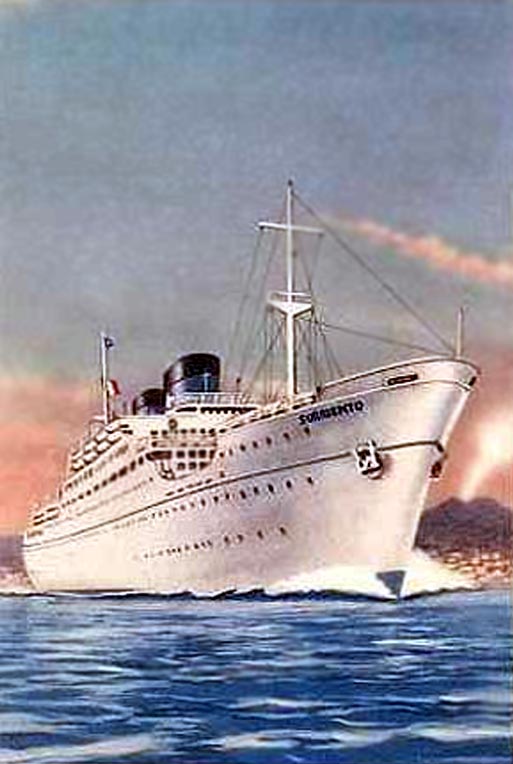 An advanced release Lauro Lines postcard with an artist impression of their new liner MS Surriento
External Changes:
Externally she became a more modern style looking ship with her newly designed raked bow giving her an additional three meters in length; in addition her superstructure was enlarged with some of her decks stretched forward and aft. with her passenger capacity being increased she required additional lifeboats and therefore looking at the starboard side, up on Boat Deck her original four lifeboats, remained, however now they were double stacked, whilst just aft on Shelter (B) Deck there were two further sets of double stacked lifeboats and a single lifeboat but atop of the two level small far aft superstructure. In addition there was just one more lifeboat up on the aft small superstructure deck, thus considering the two sides of the ship making a total of 26 lifeboats on the newly refitted liner! Over the years, lifeboat numbers kept changing somewhat!
Thankfully, her two funnels were restored, but they were much shorter than the original funnels on the Santa Maria in addition they now had raked tops. Hold number three had been used for internal use, thus the four remaining holds were serviced by eight derricks and although the six kingposts had been removed, the derricks were operated electrically by their original machinery that remained behind on both sides of the forward and aft masts.
Her new livery saw her with an all white hull, superstructure and masts, blue funnels with the traditional Flotta Lauro white star logo in the centre with black tops. Her hull featured a blue ribbon and her boot topping was also blue.
Interior Changes:
The ships interiors were completely stripped bare and new and spacious public venues, dining rooms and other new facilities were installed. In addition new accommodations were installed for 1,055 Passengers in two classes; 187 in First Class and 868 in Tourist Class. All First Class cabins were twin bedded with some having an additional bed/sofa for a third person, but all cabins had private facilities with a full bath or a shower. Tourist Class cabins offered from two, four, six to eight berth cabins as well as some dormitories. The vast majority of Tourist Class cabins had shared facilities. To make space for the additional new accommodations, hold number three had been removed providing for additional internal space, as well as external forward deck space forward of Promenade Deck and internal space on Shelter (B) Deck as can be clearly seen on the photograph below.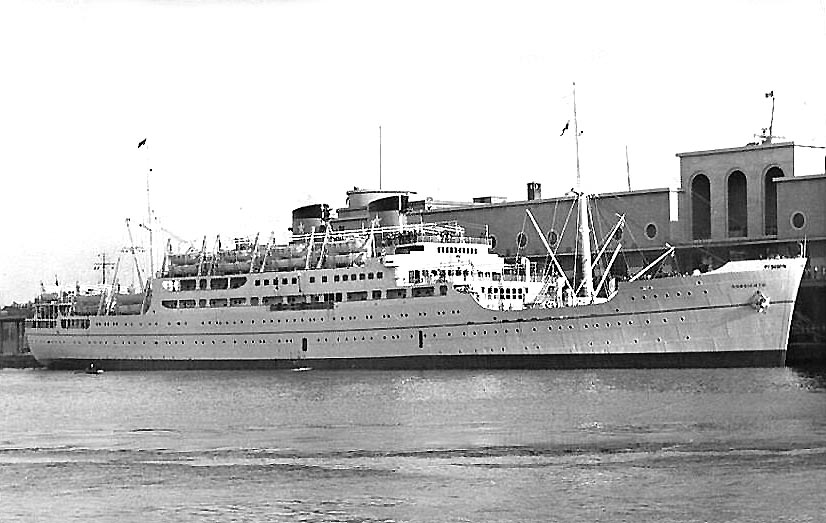 The completed MS Surriento is seen ready for departure to Australia
The massive refit was finally completed in May 1949, it was only then when the Lauro family officially named their new Passenger Liner, the "Surriento" and she was officially listed as being; 10,699 GRT and was registered in Genoa, Italy.
MS Surriento Australia Bound:
The delightful all white MS Surriento was ready to depart Genoa on her very first voyage to Australia in her brand new passenger/migrant liner role and her passengers boarded their respective class. Some of whom were tourists who were bound for Australia to visit their family or on vacation boarded the First Class part of the ship and were most impressed with the luxury they were presented with, for it was a fresh new style of modernistic Italian décor which was much loved by Italian and Europeans in general! Cabins were delightful and very comfortable! Whilst Tourist class also had Tourist's, but the vast majority would have been migrants who were heading for a new life in a far away and a strange new land! Their accommodations varied, pending the deck, having an outside cabin with a view, or inside cabin and the size of the cabin also could vary. Two berths cabins were mainly for tourists, whilst families were accommodated in 3, 4, or 6 berth cabins. But single migrants travelled mostly in 8 berth cabins or in a dormitory.
Finally MS Surriento departed Genoa on May 22, 1949 and sailing via Naples, Marseilles, Port Said, Suez, Colombo to Fremantle (Perth) in Western Australia.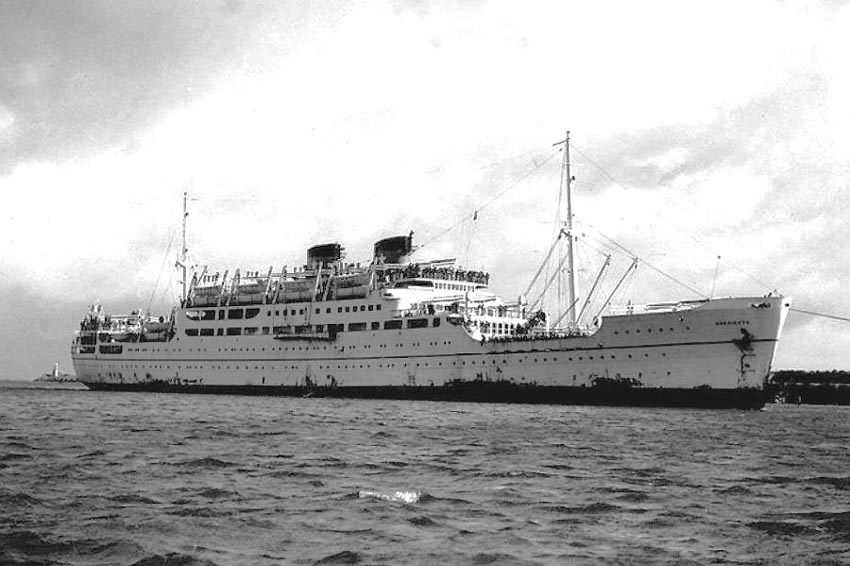 MS Surriento arrives in Australia as she is towed to her Fremantle berth in June 1949
As we can see, she the Indian Ocean gave her a tough ride with high seas taking a toll on her hull
She then continued to Melbourne (Victoria) and onto Sydney (New South Wales) where she arrived on June 27, and departed the next day June 28, and headed for Brisbane arriving on June 30, 1949 and she berthed at Hamilton. During the day, a special cocktail party was given on board to celebrate her maiden voyage, which was attended by a number of dignitaries. Of course there were a good number of Italian migrants disembarked in Brisbane as had been done in all Australian ports. Later that day she returned homewards and the Surriento headed north to Singapore, then to Colombo (Ceylon) sailing via the Suez canal with a call at Port Said, next in Naples, then Marseilles and home to Genoa arrived home August.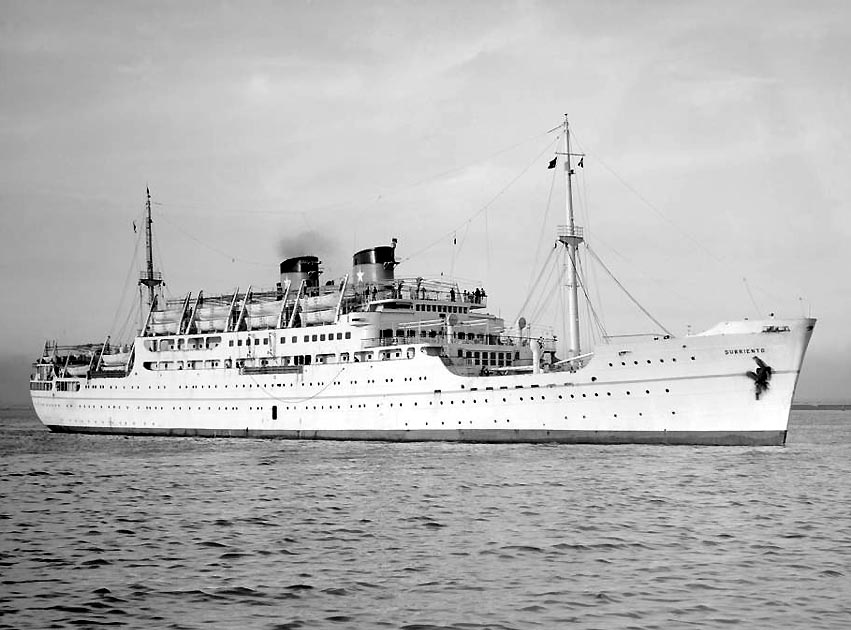 Here we see the completed all new MS Surriento, although she is seen
arriving well over a year later in Melbourne on December 25, 1950
Photograph property & © State Library of Victoria
Her ports of call were usually as follows; Genoa, Naples, Marseilles, Port Said, Suez, Colombo then Fremantle, Melbourne, Sydney, Brisbane, then heading north to Singapore (also at times to Djakarta)  and return via the same ports back  from Colombo back to Genoa.
Her second voyage from Genoa to Sydney Australia commenced on August 12, 1949 and she returned to Genoa on October 3, 1949. Her voyage to Australia in mid 1950, she arrived in Sydney on July 25, where she as on most times remained overnight and departed Sydney the next day on July 26, bound for Brisbane.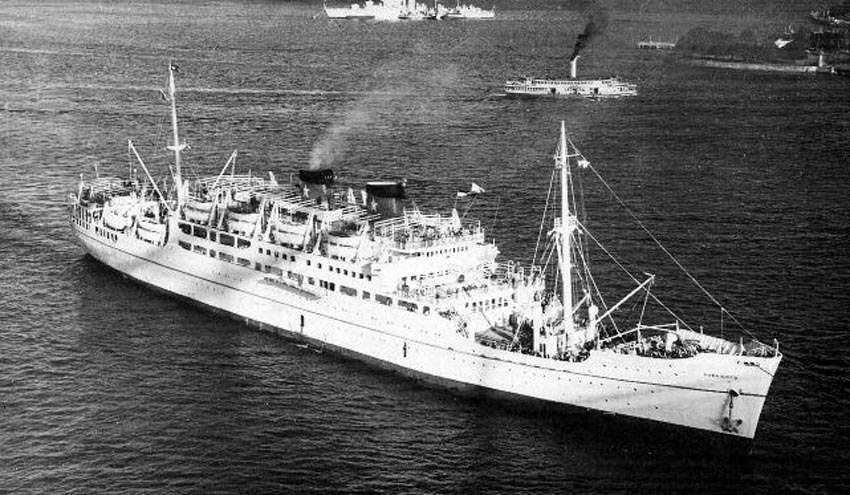 The Surriento is seen here in Sydney Harbour in 1950
Having departed Sydney she headed north for her two-night voyage and she arrived in Brisbane on July 28. This time, the Surriento once again remained overnight, and she Surriento departed on the 29th.and she headed north bound for Djakarta Indonesia where she had been sent to rescue Dutch Nationals from the ongoing turmoil that had been going on there for some time. The Dutch citizens' were relieved and enjoyed their voyage and disembarked at Genoa and they continued per rail to the Netherlands where they were either re-housed or they returned to their families.
New South American Service:
As two new ships had just joined the Flotta Lauro fleet and they had been placed on the Australian service, being the delightful SS Sydney and SS Roma, The company now better known as "Flotta Lauro Lines" decided to place the Surriento on the Central American service once again. Their new schedules were based on ports as follows; From Naples via Barcelona, Funchal, Santa Cruz de Tenerife, La Guairá, Maracaibo, Barbados, Santa Cruz de Tenerife, Barcelona and Genoa to Naples. This service was interrupted late in 1952,
A Minor Refit in 1952:
It was late in 1952 that the Surriento was given another refit, which saw a change in accommodations of 119 First Class and 994 in Tourist Class. At this stage I an aware that the First Class cabins offered twin beds and all having excellent private facilities, whilst Tourist Class had shared facilities and accommodations were still from two, four, six and eight berth cabins, as well as the dormitories. Upon completion she returned to her Central American duties.
Her Final Australian Season:
Thankfully she soon enough returned to the lucrative Australian service on March 19, 1953 and she continued on this service for three years, until 1956, she departed Genoa on August 30, 1956 for her very last voyage to Australia, arriving in Fremantle on September 22. Whilst there, local maritime safety inspectors came onboard and did their full inspection and they declared that the ships lifesaving equipment was found to be defective and Flotta Lauro was given a huge fine. The ship was forced to stay in Fremantle whilst repairs where undertaken, and she was finally cleared to depart for Melbourne a good six days later, on September 28. She finally arrived in Sydney almost to a week late, on October 3, 1956. The MS Surriento departed the next day on October 4, and headed home for Genoa and she would never return to Australian waters ever again. Sadly she did not get the usual send off, for Flotta Lauro did not advise any one that this voyage would be her very last voyage to Australia, for at that time they may not have been aware that it was?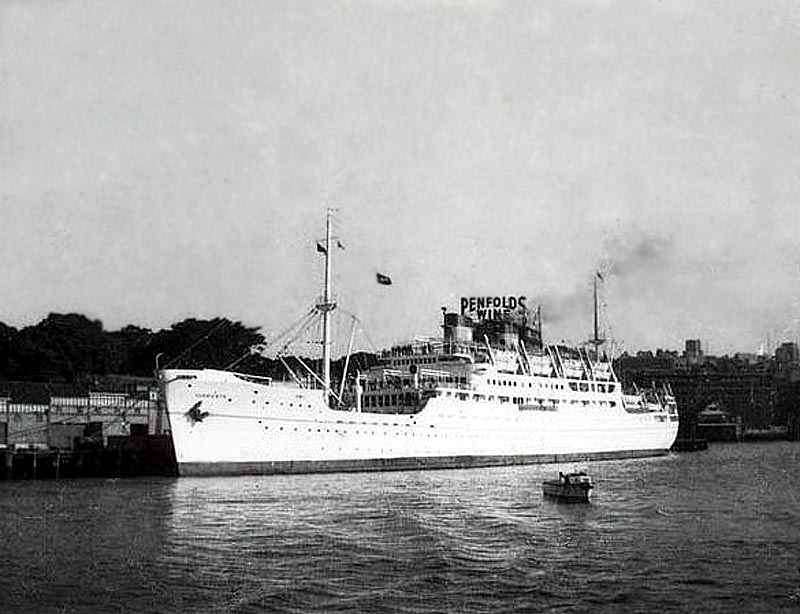 The Surriento seen in Sydney
Having returned to Genoa again Flotta Lauro Lines decided to place her back on her other regular service, the South American service and she operated this service for three years until late in 1959 for the company had great plans for their ship!
Flotta Lauro Lines Modernisation Plans:
Then in 1959/1960 the ship was given a massive refit, where her superstructure was again enlarged, externally the most obvious change was the removal of her forward dummy funnel, whilst her other funnel was heightened and beautifully modernised.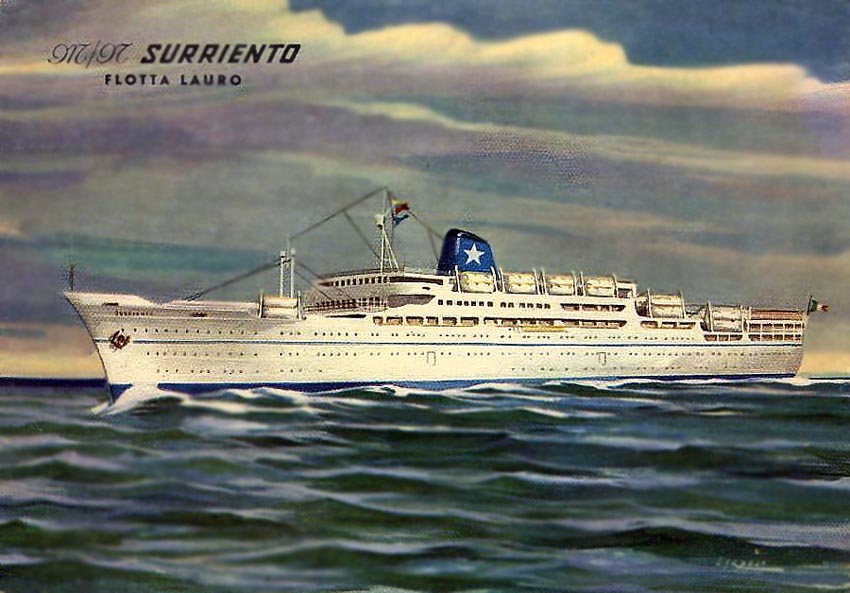 A pre release Flotta Lauro Lines artist impression postcard of their modernised MS Surriento
But there were other external changes, atop, but just aft of her Bridge was a brand new tall Tripod mast with a lookout high above and gone were her tall masts, the forward Mast and her aft Mainmast! The ship now just had her two forward holds, which were serviced by two new modern Kingposts with four derricks. Externally, when the ship was completed, the MS Surriento looked very much like a modern ship, if not a brand new one!
However, the biggest changes onboard were internal, for during this massive refit this previously Two-Class liner, she had become a One-Class ship as she now accommodated 1,080 Tourist Class passengers, being 33 passengers less than previously, however the it was said that many of the cabins were more spacious. All Staterooms and cabins were refurbished and they were now available with beds or berths for; single, twin, three, four or six, gone were the old eight berth cabins, gone also were the previous dormitories.
The other advancement onboard was that full air-conditioning was installed throughout the ship with individual temperature controls located in every cabin. Her public venues were refreshed and with new upholstery and other refinements, whilst certain deck spaces were not forgotten either, as a bar was installed and or upgraded by the pools, as she had two Swimming Pools.
When the refit was finally completed in 1960 the MS Surriento was a ship that certainly looked like a brand new and a far more modern liner and she soon returned to her Central American service.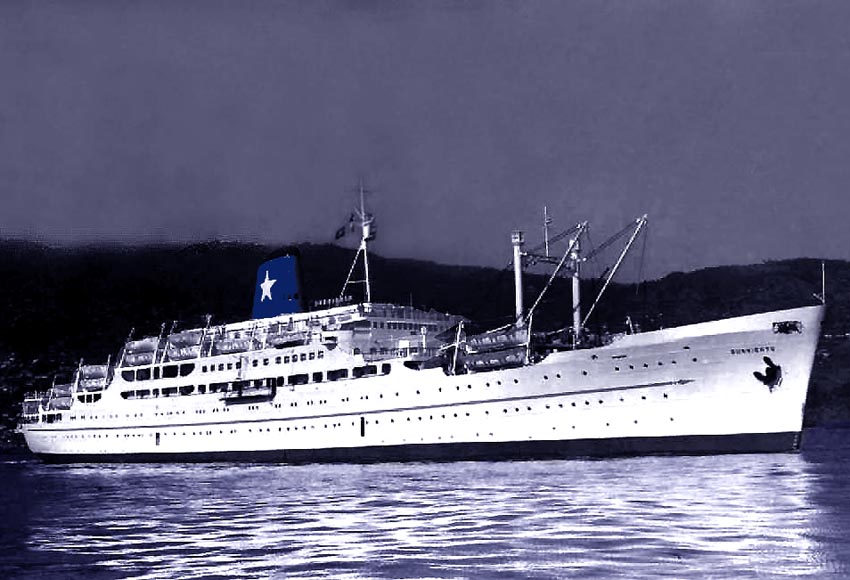 MS Surriento looking at her very best after her complete refit and external alteration
Her Final South American season:
The wonderful new MS Surriento now registered as being 10,928 GRT returned to her Central American duties to Venezuela with a slightly changed service sailing from: Naples via Genoa, Barcelona (Spain), Funchal (Spain), Santa Cruz de Tenerife (Spain), La Guairá (Venezuela), Bridgetown (Barbados), Santa Cruz de Tenerife, Barcelona and Genoa to Naples. She continued on this service for a further five years and she remained a relatively popular ship and presented the company with very few problems for a ship of her age,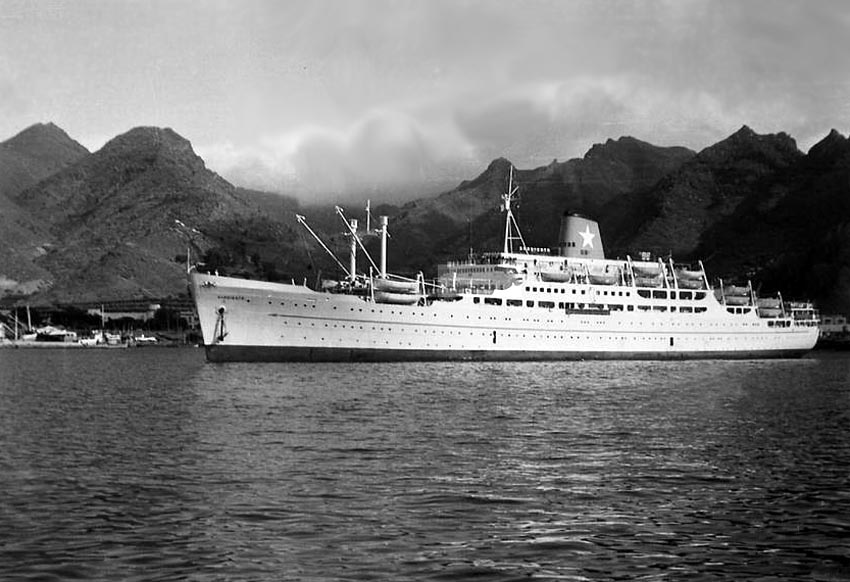 The all-new Surriento seen just at Santa Cruz (Tenerife) around 1962
Photographer is unknown - Please see the Photo Notes at the bottom of the page
The Final Year for the Amazing Santa Maria, USS Barnett and the MS Surriento:
In 1965 Flotta Lauro Lines decided to withdraw this the Surriento from service, but she was chartered to the Israeli Zim Lines, for whom she operated voyages from Haifa to Marseilles and return, however when the charter agreement concluded in June 1966, and no further work was available, or could be found for the Surriento, she was laid and was soon sold to an Italian ship breaker. She sailed under her own power and arrived at La Spezia on September 30, 1966, where she was broken up.
The Surriento had certainly been a much loved and a popular ship liner, and she presented Flotta Lauro Lines with little to no problems for a ship aged 39 years when she was finally sold to the ship breakers in 1966.
Summing Up:
The 1928 to 1940 MS Santa Maria, and the 1940 to 1948 brave Attack Troop Ship, USS Barnett and the delightful 1948 to 1966 MS or as the Italis would have it, M/N Surriento - gave a grand total of 38 excellent and brave service, and almost a year under charter with Zim lines. She brought countless thousands of people from all over Europe to their new homes, be it to South America or to Australia, there is no doubt that the Surriento is a ship that will not be easily be forgotten by many, especially not by Maritime History in general!!
Specifications for the MS Surriento:
Rebuilt:                           Genoa Italy - 1948/49.
Tonnage:                         10,699 GRT - 1949.
.                                     10,928 GRT - 1960.
Length:                           151.8m - 498ft.
Width:                            19.5m - 64ft.
Draft:                              7.62m – 25.1ft.
Engines:                          Two 8-cylinders, 2 Cycle Sulzer Diesel Engines
.                                     of 4,000 BHP each, a total of 8,000 BHP.
Screws:                           Twin.
Service speed:                 17 knots, top speed of 18.5 knots.
Passengers:                     1949 - 187 First Class and 868 in Tourist Class.
.                                     1952 - 119 First Class and 994 in Tourist Class.
.                                     1960 – 1080 One-Class.
Crew:                              289.
Livery:                            White Hull and Superstructure. Black topped blue funnel with the Flotta Lauro white star logo.
.                                     Blue line on the upper hull and blue boot topping.
Other:                             Fully air-conditioned as from 1960.
Remembering the MS Surriento
She gave Many Years of Faithful Service to both South America & Australia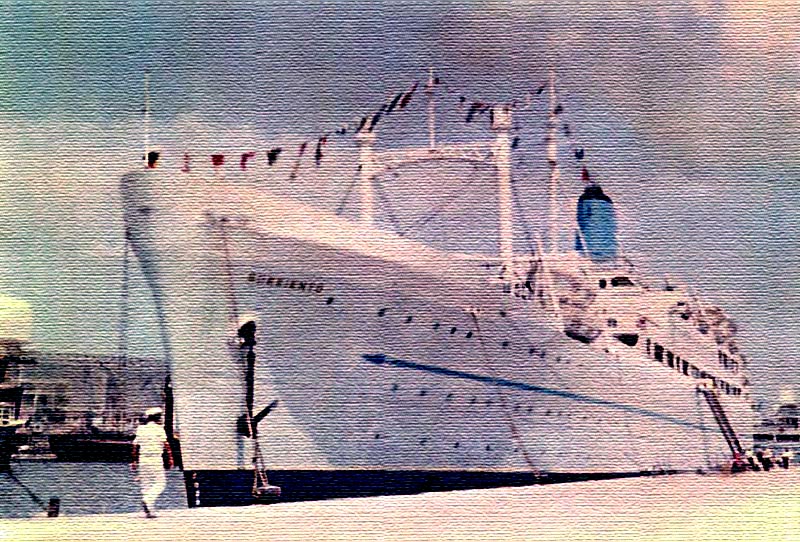 Return to: Page One:     Grace Lines MS Santa Maria 1928 to 1948
Other Flotta Lauro Ships:
C3 class as a cargo ships rebuilt into Passengers liners & commenced service in 1951
MV Achille Lauro - MS Angelina Lauro
Ex Dutch liners MS Willem Ruys (1947) & MS Oranje (1939)
"Blue Water Liners sailing to the distant shores.
I watched them come, I watched them go and I watched them die."
****************************
Visit our ssMaritime Main INDEX
Where you will discover well over 750 Classic Passenger & Passenger-Cargo Liners!
ssMaritime.com & ssMaritime.net
Where the ships of the past make history & the 1914 built MV Doulos Story
Please Note: ssmaritime and associated sites are 100% non-commercial and the author does not seek funding or favours and never have and never will.
Photographs on ssmaritime and associate pages are either by the author or from the author's private collection. In addition there are some images and photographs that have been provided by Shipping Companies or private photographers or collectors. Credit is given to all contributors, however, there are some photographs provided to me without details regarding the photographer or owner concerned. Therefore, I hereby invite if owners of these images would be so kind to make them-selves known to me (my email address can be found at the bottom of the page on www.ssmaritime.com), in order that due credit may be given.
ssMaritime is owned & © Copyright by Reuben Goossens - All Rights Reserved.