Lauro Lines MS Surriento – Ex MS Santa Maria 1928-1940, USS Barnett 1940-1948
Please Note: Firefox and some other search engines are not suitable – Use "Internet Explorer" for this page to load perfectly!

Click the logo above to reach the ssMaritime FrontPage for News Updates & "Ship of the Month"
With Reuben Goossens
Maritime Historian, Cruise'n'Ship Reviewer, Author & Maritime Lecturer
Please Note: All ssMaritime and other related maritime/cruise sites are 100% non-commercial and privately owned. Be assured that I am NOT associated with any shipping or cruise companies or any travel/cruise agencies or any other organisations! Although the author has been in the passenger shipping industry since 1960, although is now retired but having completed around 680 Classic Liners and Cargo-Passengers Ships features I trust these will continue to provide classic ship enthusiasts the information the are seeking, but above all a great deal of pleasure! Reuben Goossens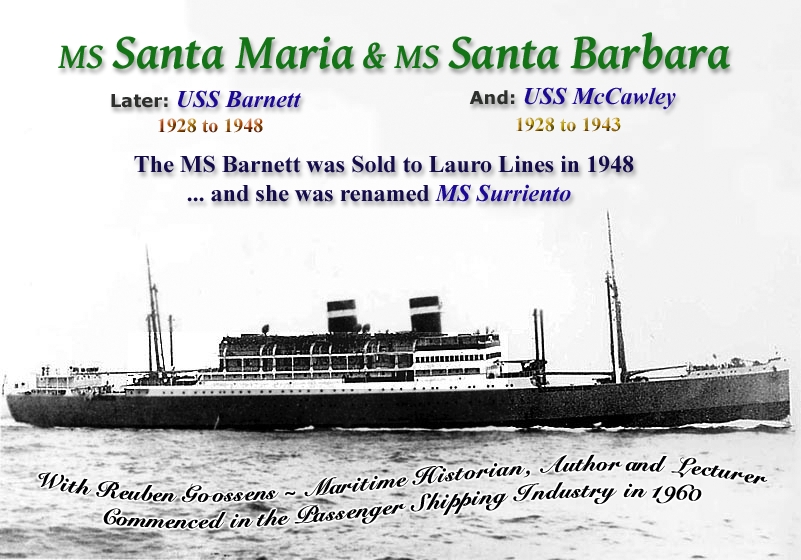 Please Note: I will deal with the MS Surriento on Page Two!
Photographs on these pages are from the author's private collection, unless stated otherwise!
Introduction:
The Lauro Lines Motor Ship, MS Surriento was originally built as the all First Class passenger Liner; 7,857 GRT (Gross Registered Tons) MS Santa Maria (2), which was named after an 1884 built 844-ton vessel. She was built at the same time as her identical sister the 7,858 GRT Santa Barbara (2), which was named after a 1916 built 4,846-ton ship, which was sunk during WWI.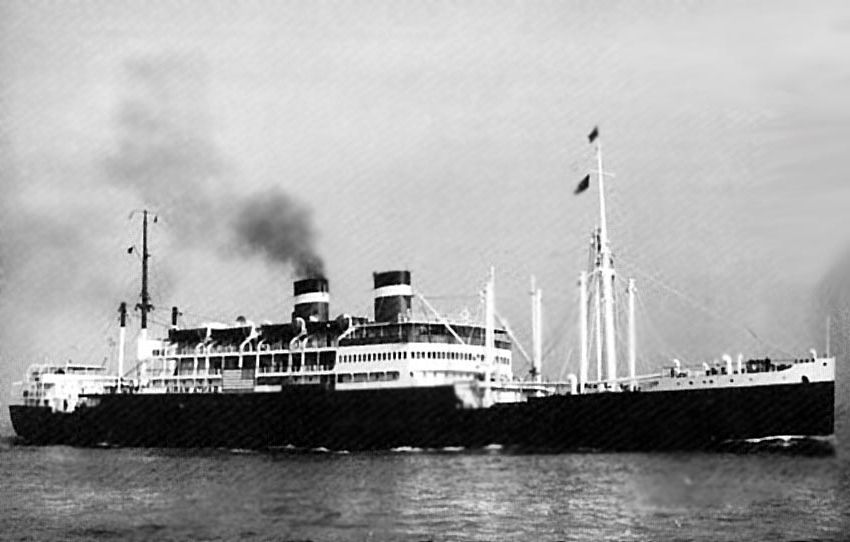 MS Santa Maria is seen here late 1939 or early 1940 as the United States flag is hanging from
the both sides of her Promenade deck of the ship, revealing that the US was not at War at that time!
For the American's the Santa Maria and Barbara were quite a novelty at the time, because it was extremely unusual for American ships to be built in another country and both ships were built by the Furness Shipbuilding Company, Haverton in the United Kingdom in 1927/28, for the American Shipping Company "Grace Lines."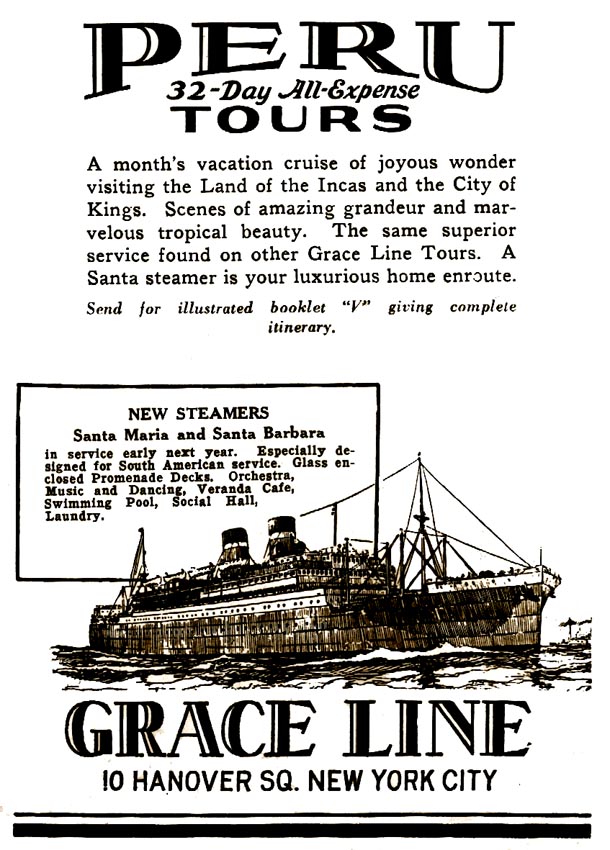 Here we see a 1927 pre-completion Grace Line Advertisement that was placed in an American Travel Magazine
The Santa Maria and was completed in April 1928, whilst her sister the Santa Barbara was completed in August of that same year. After their deep-sea trials and completion, both ships crossed the Atlantic to New York in order to commence their regular services from New York via the Panama Canal to the West Coast of South America. Grace Lines offered an all luxury First Class service and these ships offered accommodations for just 157 passengers in considerable style.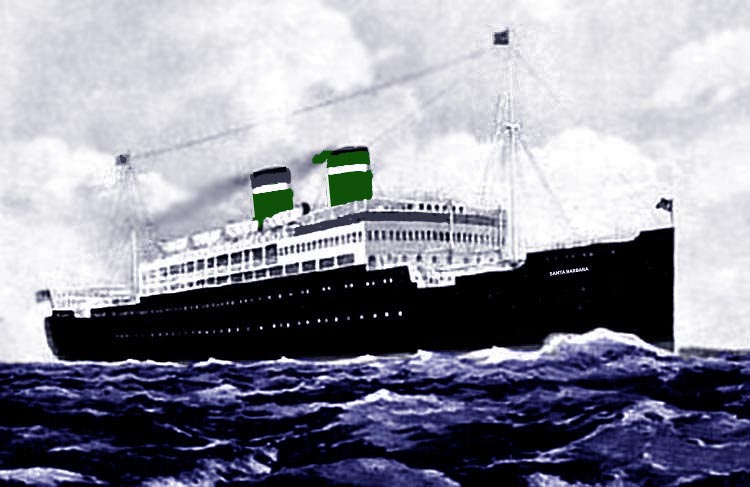 Here we see an advance publicity artist impression postcard of the Santa Barbara, however note how
the artist added smoke coming from the forward funnel; strange because it is a non-functioning dummy!
It certainly could not be said that they were the most attractive looking liners ever built for the service for they were rather "boxy" looking ships with their vertical sharp bow and angular three decks amidships superstructure. However, the designers did attempt to give them a somewhat grander "Ocean Liner" look by giving them two funnels, being slightly slanted, however the forward funnel was a useless dummy, with the aft funnel containing all the exhaust piping. Each ship were fitted with two 8-cylinder, 2 cycle Sulzer Diesel Engines, capable of 4,000 BHP each making a total of 8,000 BHP and sailed at a service speed of 17 knots, but they had a top speed of 18.5 knots.
These ships certainly did offer all the traditional Grace Line Luxuries and style, as the company's service and superb cuisine was along established one of excellence, and people had sailed with them knowing that only the best would do! Onboard there were superbly furnished Social Hall (Main Lounge), the elegant Smoking Room and the ever popular Veranda Café. The glass enclosed Promenade Deck was always a popular feature and it was the place to have your cup of hot morning Bouillon whilst chatting with friends. There was a Gym and of course an excellent Swimming Pool. Although these ships were relatively small, yet they had everything any of the great Trans-Atlantic passenger liners could offer, but on a far smaller and a more intimate scale!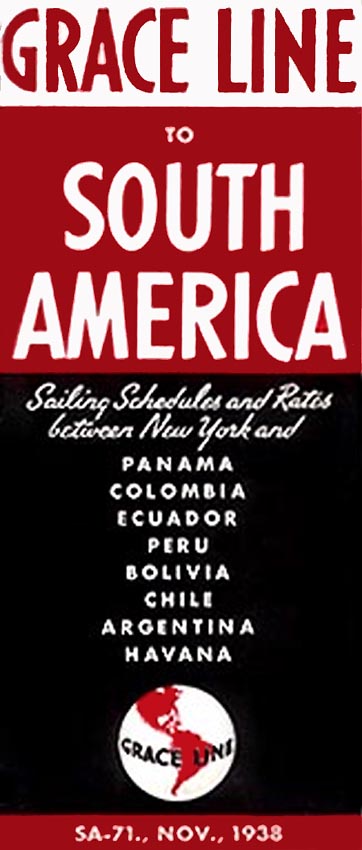 Grace Line: "Sailing Schedules and Rates" (fares) between New York and South American ports
for MS Santa Maria & Santa Barbara for sailings from November 1938 & September 1939
Provided with thanks to Björn Larsson of; www.timetableimages.com/maritime/index.htm
Their livery was traditional Grace Line of the day: An all black hull and a white superstructure, the traditional green funnels with a white band and a black top, together with the two tall masts it did make them look better. Besides being passenger liners, both ships also had considerable cargo capabilities having five spacious holds each, three forward and two aft. The holds were serviced by six sets of kingposts combined with their derricks. The masts and kingposts were all painted white completing the official Grace Line's colours. At some time later, around 1930, due to increasing passenger demand, both ships had their accommodations increased to 172 First Class passengers.
Varied schedules

between 1928-39

:
Sailings during 1928 and 1931 sailings the Santa Barbara & Santa Maria operated between New York and Valparaiso sailing via Havana, Cristobal, Balboa, Buenaventura, Guayaquil, Talara, Salaverry, Callao, Pisco, Mollendo, Arica, Iquique, Tocopilla, Antofagasta, Chañaral, Coquimbo and New York.
Then as from 1932 sailings were as followed; New York, Cristobal, Balboa, Talara, Callao, Mollendo, Arica, Tocopilla, Antofagasta, Chañaral & Valparaiso and returning via Chañaral, Antofagasta, Tocopilla, Callao, Talara, Buenaventura, Balboa, Cristobal, Havana and New York.
Whilst sailings late in 1935 to late 1939 was as follows; New York, Havana, Kingston, Cristobal, Balboa, Buenaventura, Manta/Bahia, Guayaquil, Talara, Paita, Salaverry, Callao, Mollendo, Arica, Tocopilla, Antofagasta, Chañaral, Coquimbo, Valparaiso and returning via Chañaral, Antofagasta, Tocopilla, Callao, Talara, Buenaventura, Balboa, Cristobal, Havana and New York.
From November 1938 to September 1939 the service was; New York, Havana, Cristobal, Balboa, Buenaventura, Guayaquil, Talara, Salaverry, Callao, Mollendo, Arica, Iquique, Tocopilla, Antofagasta, Chañaral, Coquimbo, Valparaiso & San Antonio to New York.
New Ships Livery:
MS Santa Maria and Santa Barbara continued with their popular services with considerable success over the years of their operation. However, around 1938, both ships had their hulls re pained grey being the company's new livery as all their new ships would now all feature this livery!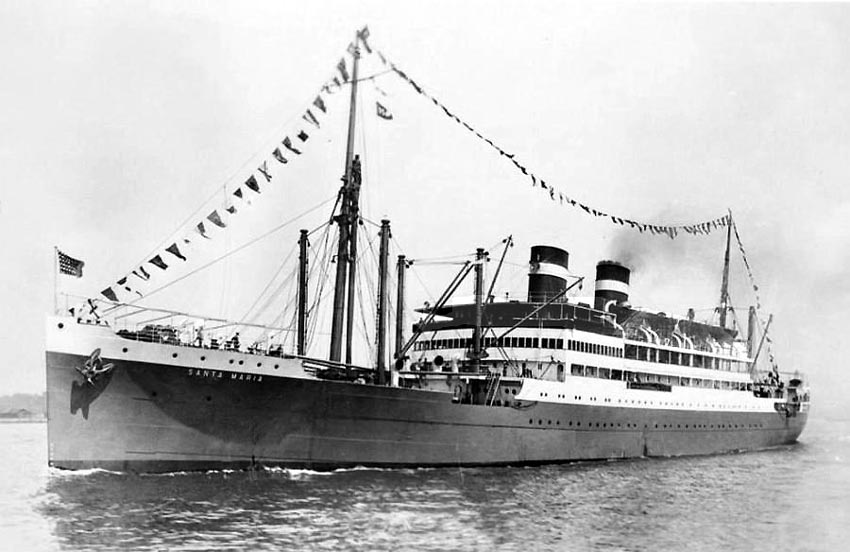 Above and below: Here we see the both the MS Santa Maria and Barbara with their new grey hull livery!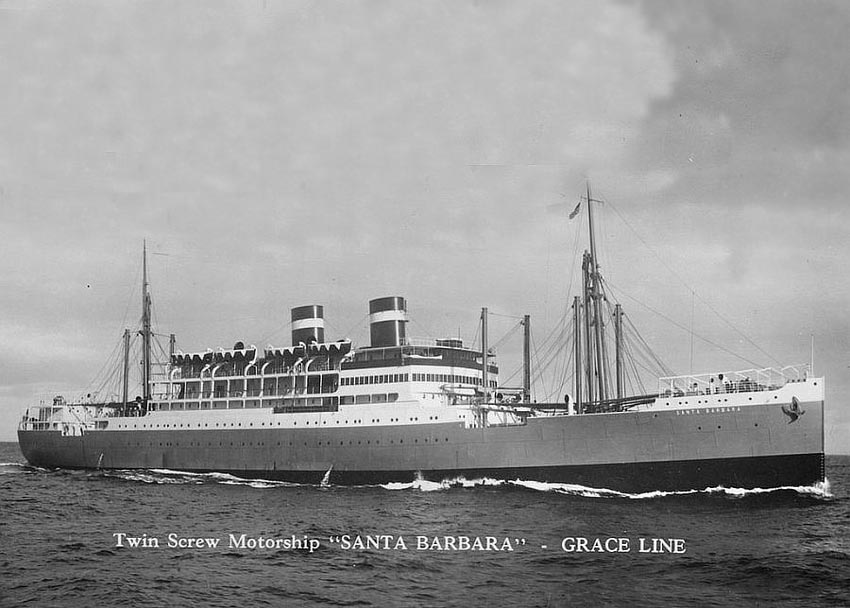 But then sadly suddenly World War II tragically happened to get in the way of their illustrious twelve-year passenger career! Suddenly it their time with Grace Line came to an abrupt end for these two fine ships as they had, according to the Constitution, go to War!
USS Barnett AP-11 & APA-5:
The Santa Maria was sold to the US Navy on August 9, 1940 and was send for a refit to Converted by Tietjen & Lang (Todd), Hoboken, N.J. to become a Navy Transport ship for 1,800 troops and she was given the Naval hull number of AP-11. She was fitted with a single 5 inch Gun mount in addition four 3 inch Gun mounts, plus eight .50 Calibre Machine Guns making her ready for anti aircraft defence.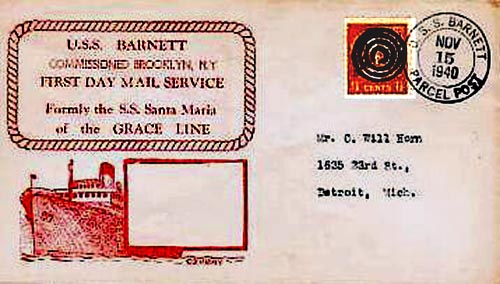 The AP-11 was officially commissioned in Norfolk on September 25, 1940 and renamed USS Barnett. From commissioning until December she was relocated to the Culebra-Vieques Islands and used to train Marines.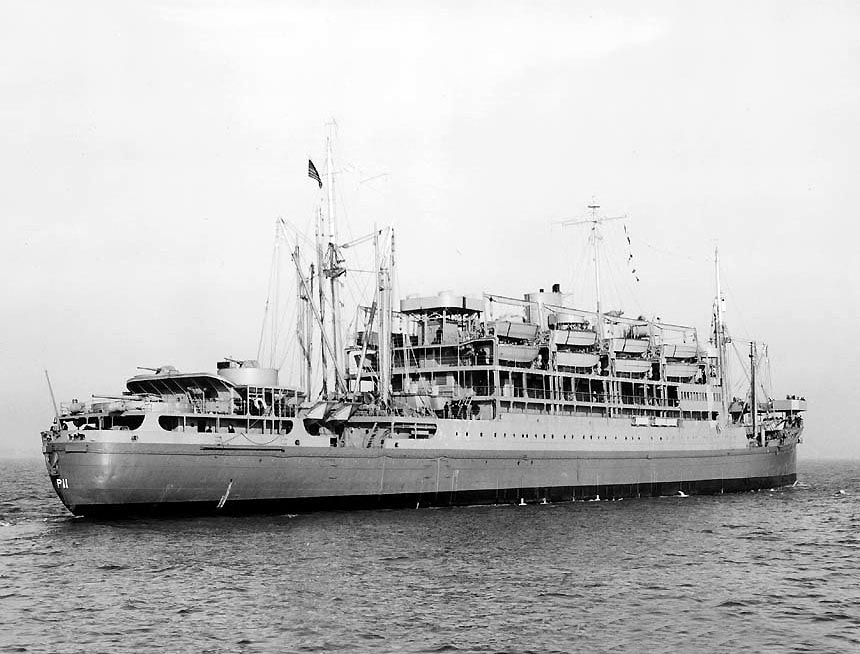 A great view of her starboard aft quarter, late in 1940 in her Grace Line late hull livery
Photographer and source is unknown – Please see the photo notes at bottom of the page!
But soon enough, in January 1941 the USS Burnett was recalled to Norfolk to be given a far more extensive refit to make her ready for her actual war duties. One of the most notable external changes would be the partial removal of her forward dummy funnel. This was completed on April 3, 1942. Until December returned to participate in amphibious and gunnery exercises with Marines as she had done earlier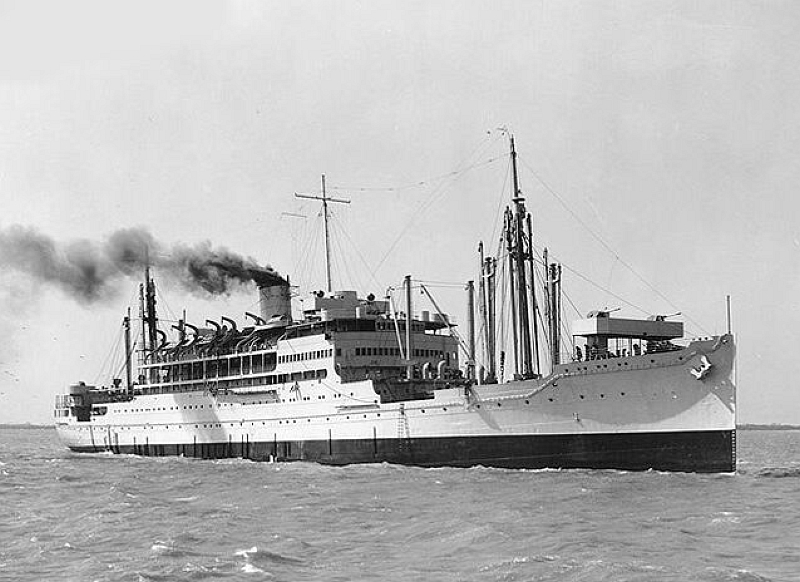 The USS Barnett AP-11 having been painted all white as seen in 1941 during her training ship service
During World War II USS Barnett operated both in the Atlantic and Pacific, transporting troops, as well as the casualties of war, as well as cargo when required. She provided logistic support during these vital operations: Guadalcanal-Tulagi landings (7-9 August 1942).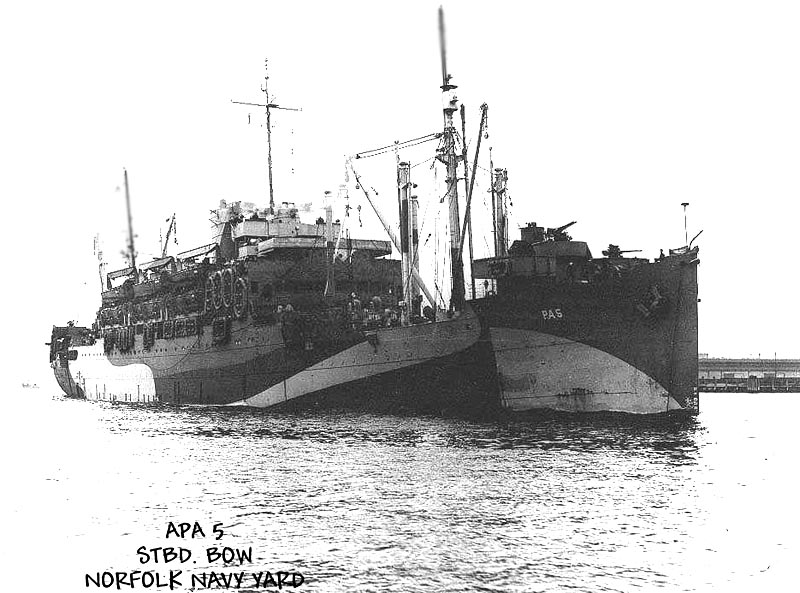 Here we see her as the USS Barnett APA-5
Photographer and source is unknown – Please see the photo notes at bottom of the page!
On February 1, 1943 she had received her camouflage paintwork and was officially reclassified as being an attack transport ship with the new hull number of APA-5 and she was kept very busy during many operations, including: The capture and defence of Guadalcanal, (August 9 and November 28, 1943); the Sicilian occupation (July 10 to 15, 1943); Landings at Salerno (September 9 to 12), the invasion of Normandy (June 6 to 19, 1944), as well as the invasion of Southern France (15 August 14 & September 25, 1944); and the assault and occupation of Okinawa (April 1 to 9, 1945).
However, during a bombing attack off the coast of Sicily on July 11, 1943, a bomb burst close to the USS Barnett's port bow abreast of the forward hatch placing a hole in the hull and causing subsequent flooding. Due to this the captain of the Barnett moved the ships ballast and made the ship list to starboard in order to bring the hole above the water line. But sadly seven good men were killed and 35 injured, all being Army personnel.
The USS Barnett steamed under her own power to Algiers, Algeria where she would be repaired and arrived on July 15, 1943. After the repairs were completed, she returned to service and she operated on the Pacific until September 26, 1945 when she returned to the United States where she was finally decommissioned on May 21, 1946 at Newport, Rhodes Island.
The USS Barnett was awarded "Seven Battle Stars" for her World War II service, but with her duties now at an end, on July 3 she was transferred to the Maritime Commission, and she was laid up with a countless of other of ships in the James River all awaiting to be sold by auction in due course, which would be in March 1948.
MS Santa

Barbara

- USS McCawley APA-4:
However, her sister the Santa Barbara was refitted by Atlantic Basin IW, Brooklyn, N.Y., as an attack transport ship with the new hull number APA-5, and yes, she also had her forward dummy funnel removed. The USS McCawley undertook countless commissions and she was fortunate not to have been scuttled on various occasions.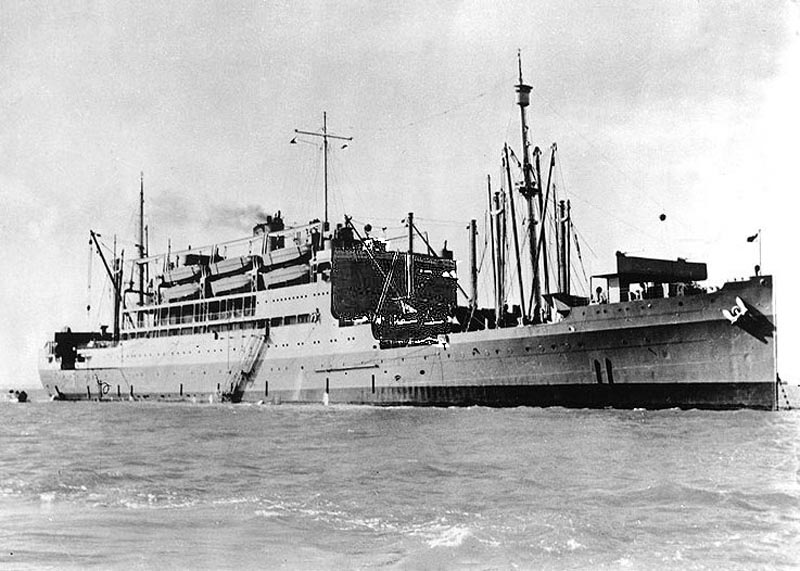 A fine photo of the USS McCawley APA-4
Photographer and source is unknown – Please see the photo notes at bottom of the page!
She served bravely in dangerous warzones as an attack transport ship, however on June 30, 1943 whilst she was off-loading at Rendova Island, near New Georgia (the Solomon Islands)) the USS McCawley was attacked the Japanese aircraft who bombed and damaged her, but not enough to damage to sink her and she was able to continue. But much worse was still to come for later that day, amazingly an American US PT Boat torpedoed the USS McCawley and it hit her engine room killing 15 of her crew, as well as knocking out all of the ships power. Therefore it was due to complete American stupidity, sorry, wrong word, it is officially called "friendly fire." The USS McCawley became an American casualty of war, thanks to the US of A, for she sank and remains a popular wreck site in the Solomon Islands.
As you can see from the specification below, there are just several very minor differences between the two ships, thus the use of their Yard numbers!
Specifications Yard 104 = Santa Maria & 105 = Santa Barbara:
Built by:                          1927/28 - Furness Ship Building Co, Haverton-on-Tees, England.
Yard No:                          104 - Santa Maria.
Yard No:                          105 - Santa Barbara.
Tonnage:                         104 - 7,857 GRT - 8,060 Displacement.
Tonnage:                         105 - 7,858 GRT - 8,060 Displacement.
Length:                           148.14m - 486ft.
Width:                            19.5m - 64ft.
Draft:                              7.62m – 25.1ft.
Engines:                          Two 8-cylinders, 2 Cycle Sulzer (Winterthur) Diesel
.                                     Engines of 4,000 BHP each, a total of 8,000 BHP.
Auxiliary Engines:             Four Sulzer Engines at 200rpm - 400BHP.
Screws:                           Twin.
Service speed:                 17 knots, top speed of 18.5 knots.
Passengers:                     1928 - 157 First Class Only.
.                                     1930 - 172 First Class.
Crew:                              Unknown.
Page Two Covers the continuing days of the ex MS Santa Maria & USS Barnett having been sold to Mr Achille Lauro of Lauro Lines in March 1948. See the Link below!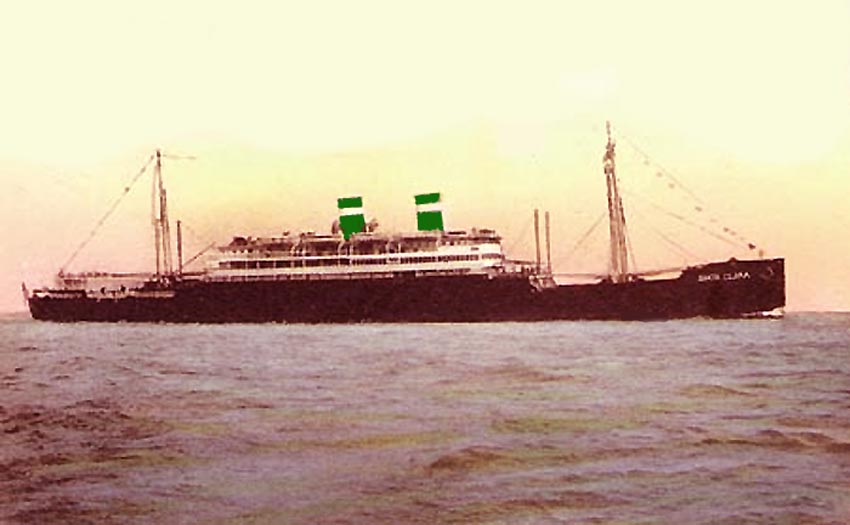 A hand painted colour postcard of the MS Santa Maria
Enter Page Two:     Flotta Lauro Lines MS Surriento 1948 to 1966.
Other Flotta Lauro Ships:
C3 class as a cargo ships rebuilt into Passengers liners & commenced service in 1951
MV Achille Lauro - MS Angelina Lauro
Ex Dutch liners MS Willem Ruys (1947) & MS Oranje (1939)
 "Blue Water Liners sailing to the distant shores.
I watched them come, I watched them go and I watched them die."
****************************
Visit our ssMaritime Main INDEX
Where you will discover well over 750 Classic Passenger & Passenger-Cargo Liners!
ssMaritime.com & ssMaritime.net
Where the ships of the past make history & the 1914 built MV Doulos Story
Please Note: ssmaritime and associated sites are 100% non-commercial and the author does not seek funding or favours and never have and never will.
Photographs on ssmaritime and associate pages are either by the author or from the author's private collection. In addition there are some images and photographs that have been provided by Shipping Companies or private photographers or collectors. Credit is given to all contributors, however, there are some photographs provided to me without details regarding the photographer or owner concerned. Therefore, I hereby invite if owners of these images would be so kind to make them-selves known to me (my email address can be found at the bottom of the page on www.ssmaritime.com), in order that due credit may be given.
ssMaritime is owned & © Copyright by Reuben Goossens - All Rights Reserved