Elder Dempser Lines Ltd of Liverpool, MV Aureol completed in 1951, she was lovingly known as "The White Swan"!
Please Note: Firefox, iPhones, iPads & some other Search Engines may not be suitable
Use Internet Explorer & Old Google for this Web Page to load perfectly!

Click the logo above to reach the ssMaritime FrontPage for News Updates
With Reuben Goossens
Maritime Historian, Cruise'n'Ship Reviewer, Author & Lecturer
Please Note: All ssmaritime and my other related ssmaritime sites are 100% non-commercial and privately owned sites. Be assured that I am NOT associated with any cruise or shipping companies or travel/cruise agencies or any other organisations! The author has been in the passenger shipping industry since May 1960 and is now semi-retired, but continues to write article on classic liners and cruise ships in order to better to inform cruise and ship enthusiasts for their pleasure!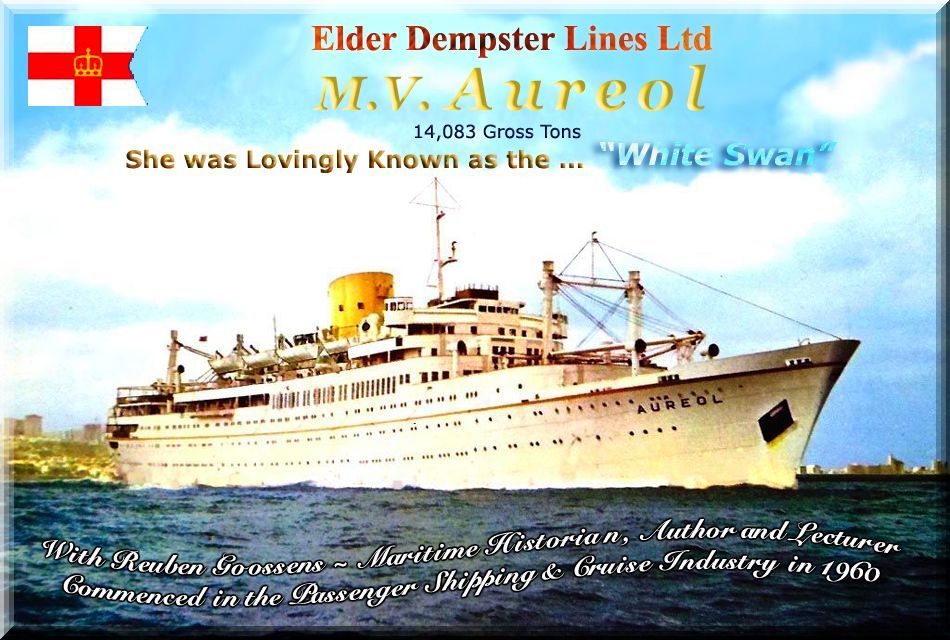 The above ssmaritime created logo is based on an original Elder Dempster Lines postcard of MV Aureol
MV Aureol
Known as the … -"White Swan"-
Please Note: Photographs on this feature are from the author's private maritime collection unless noted otherwise
Introduction:
Over many years there have been some excellent passenger liners that have been mid-sized, such as the hardworking Elder Dempster Lines' MV Aureol she was unlike some of the grander and faster "blue water" liners of her time.
It is for that reason such fine ships as the ship, which was so lovingly known as the "White Swan" that is seldom afforded much space in maritime history books or online for that matter. Yet I have found from a many emails received over the years that she was indeed a greatly loved ship by her loyal passengers and crew. I never heard a bad word about her, for everyone seemed to love the ship and gave her and the crew so much praise, be it from those who travelled in First Class or Cabin Class. From crew members, I can say that they were a most dedicated team, and believe me, I have heard from a ship's Engineer, several officers, stewards as well as a deckhand and they all seemed to have most memorable experiences.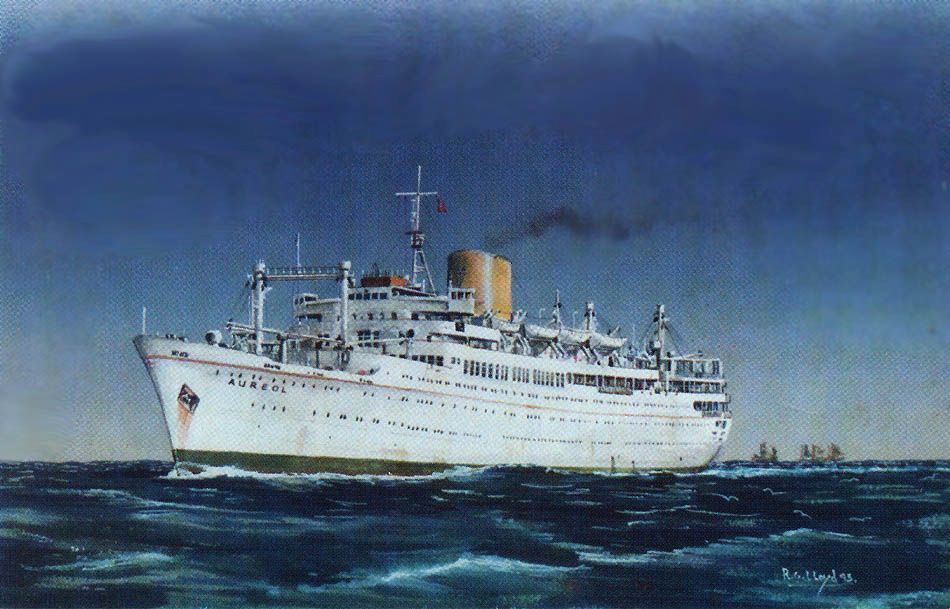 A very special postcard of mine, it is part of a limited edition ever printed of the MV Aureol
From an original painting by @ R.G. Lloyd
It is for this reason I am delighted to add the delightful MV Aureol to the huge list of ships I already have online, even though I commenced this feature back in 2012, but an email received not long ago made me look back what I had already commenced and decided to slowly finish it. I trust that you will enjoy learning more about the ship known as the "White Swan".
Reuben Goossens.
Order Placed, Construction to Delivery:
In March 1949 Elder Dempster Lines placed an order with Alexander Stephen & Sons Ltd to construct their new ship at their yard on the River Clyde Glasgow. This would be their last passenger liner in order for them to be able to operate a fortnightly service from Liverpool to West Africa with their two other slightly smaller ships in operation.
The new ship was going to be named "Aureol", being the name of large mountain that rises up behind the city of Freetown in Sierra Leone. Her keel was laid down in Yard 629 and construction continued until the time came she was ready to be launched.
She was officially named and launched on March 28, 1951 by E. Tansley, once in the water the Aureol was towed to her fit-out berth for completion and internal fit-out. Early October 1951 all work had been completed and she undertook her Speed Trials, which she did successfully and she was delivered to her owners directly after Speed Trials.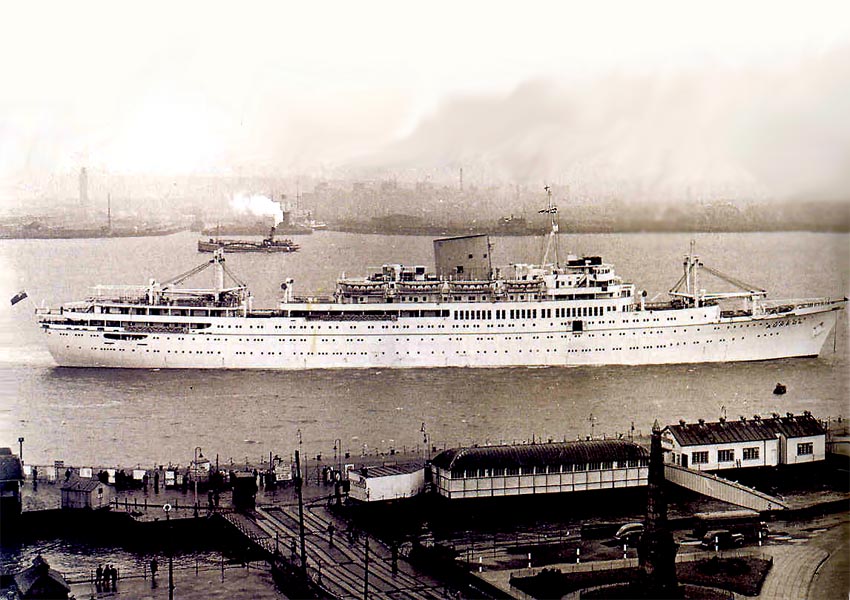 Her we see the brand new MV Aureol arriving at her Liverpool berth just after being delivered in October 1951
MV Aureol was the very last flagship ever for Elder Dempster Lines and she was also the largest passenger ship ever built for the company. At 14,083 Gross Tons, the MV two Aureol was somewhat larger than her earlier sisters, the 11,600 Gross Tonne MV Accra (1947) and the MV Apapa (1948), and the Aureol had cost twice as much to build as the two earlier ships together. MV Aureol accommodated 253 First-Class passengers, with another 73 in Cabin Class, although there were 24 cabins that were interchangeable, between First and Cabin Class. She had a crew of 145 to man her.

These are MV Aureol's running mates; the MV Accra and MV Apapa
Having arrived in Liverpool, many locals came to see Elder Dempster's new liner, and they loved what they saw, with her traditional style yellow funnel and gleaming white hull that had a thin band around her hull, combined with her beautifully raked bow and a perfectly designed and stacked superstructure, all this combined was the reason she earned the nickname, the "White Swan".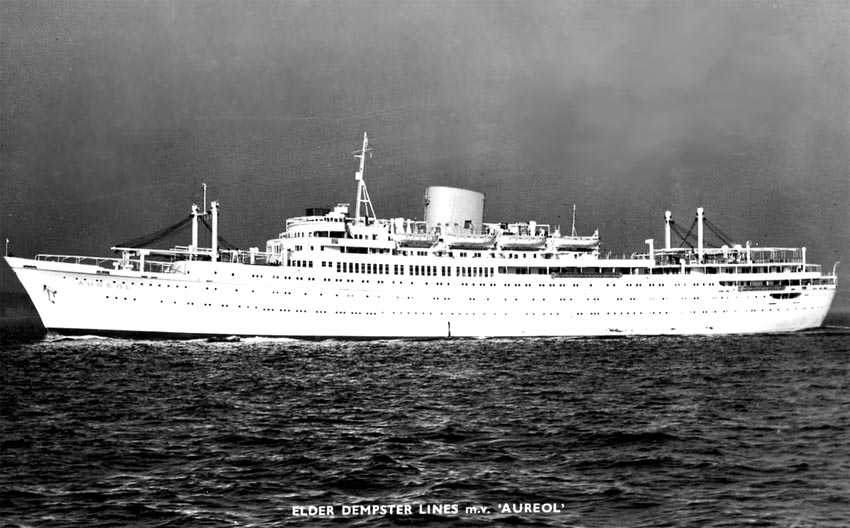 This is one of the early Elder Dempster Lines postcards of the MV Aureol
Passenger Facilities:
All First Class Social Rooms and the Swimming Pool were located on Lower Promenade (B) Deck which was glassed in forward, whilst Cabin Class Social Rooms were also on this Deck, but located aft. Up on Upper Promenade overlooking the Swimming Pool there was the Veranda and Cocktail Bar. Up on Boat Deck there was the Children's Facilities, with a Nursery, Games Room, Play Deck and their own pool. Both First and Cabin Class Dining Rooms were on Main (E) Deck.
Two large luxury Suites having their own Lounge, and full sized bath room were located forward on Upper Promenade Deck. All other cabins were located on C and D Decks. Those for First Class were either a single berth or twin bedded cabins and some of the interchangeable twin bedded cabins had an extra Pullman berth available for a third person or child. Only 17 rooms in First Class had a full bath room, whilst all others have a hot and cold basin in he cabin and a private toilet in their cabin. Cabin Class were all two or three berth cabins without private facilities, however, the accommodations were exceptionally comfortable and the showers, bathrooms and toilets were nearby and were always kept completely spotless! For interest she was fully air-conditioned and had four holds as well as refrigerated space for fruit and other perishables.
Elder Dempster Lines in Brief:
Alexander Elder was born in Glasgow in 1834. He was the son of David Elder, who for many years was manager of Robert Napier and Sons, the engine and shipbuilders and the brother of John Elder. Alexander Elder served as chief engineer of the "Columbian", an iron barque of 2,189 tons, which was fitted with a 400 horse-power auxiliary engine. Then in 1856 Alexander Elder joined "W. and H. Laird" to act as superintendent engineer for the "African Steamship Company".
John Dempster was born in 1837 in Penport, Thornhill, and Dumfriesshire where his father, William Dempster, was the builder for the Duke of Buccleuth. The Dempster family moved to Birkenhead in the 1840s, and in 1851 John also joined "W. and H. Laird", but as just as a junior clerk considering he was aged just fourteen.
However Alexander and John somehow worked together and "Elder Dempster and Company" was formed and began its commercial activities on October 1, 1868. Although, "Elder Dempster Shipping Limited" was formed officially in 1899. Among their early ships were the liner SS Monterey and the steamer SS Montezuma, both were chartered in early 1900's as British troop ships destined for South Africa during the Second Boer War. Also in 1900 they established a direct steamship service between the United Kingdom and the West Indies. Elder and Dempster became a big success story and they grey into a large company, which brings us to 1951.
In 1951, Elder Dempster Lines was one of the major shipping lines serving West Africa. In their heyday as well as operating many cargo ships they now operated three passenger liners, the brand new MV Aureol, and the 1947/48 built MV Accra and Apapa (as seen above) on scheduled services from Liverpool, England to Ghana and Nigeria in West Africa. Their headquarters was based in the India Buildings in Liverpool. Their three passenger liners were based at Brocklebank Dock in Liverpool and their liners boarded passengers at Liverpool Landing Stage "Pier Head", which was adjacent to the Liverpool Riverside Railway Station, meaning passengers could travel from all over the UK directly to their ship.
Maiden Voyage and her Services:
MV Aureol departed Liverpool on her maiden voyage on November 3, 1951 under the command of Captain J.J. Smith with a full complement of passengers.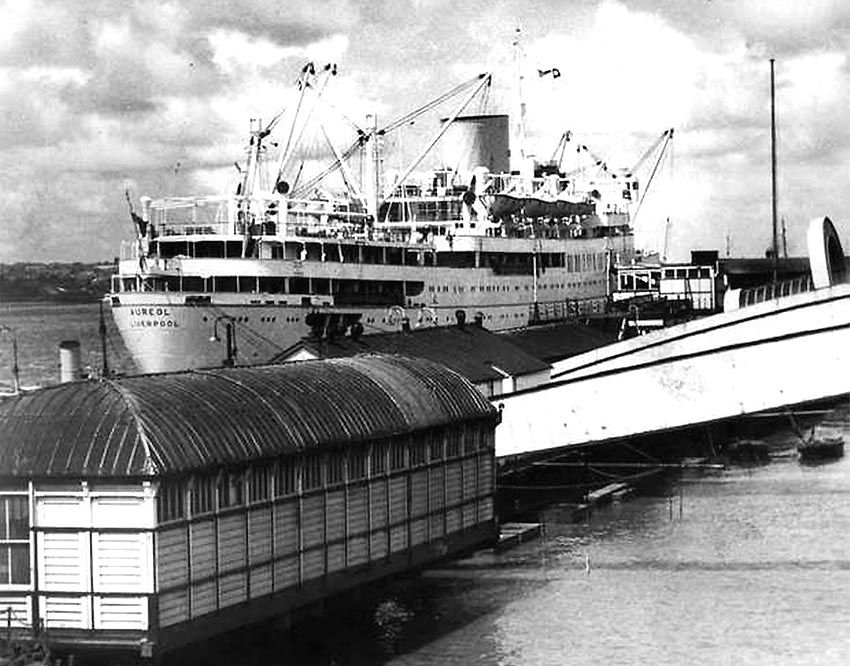 MV Aureol is seen her at Liverpool's Pier Head Landing Stage ready for departure
Very quickly passengers fell in love with the new spacious and more comfortable liner as she offered excellent public rooms, with fine accommodations and service was of a very high standard. Many passengers would return again and again, and then there would be the business traveller, who preferred the Aureol as their ship of choice!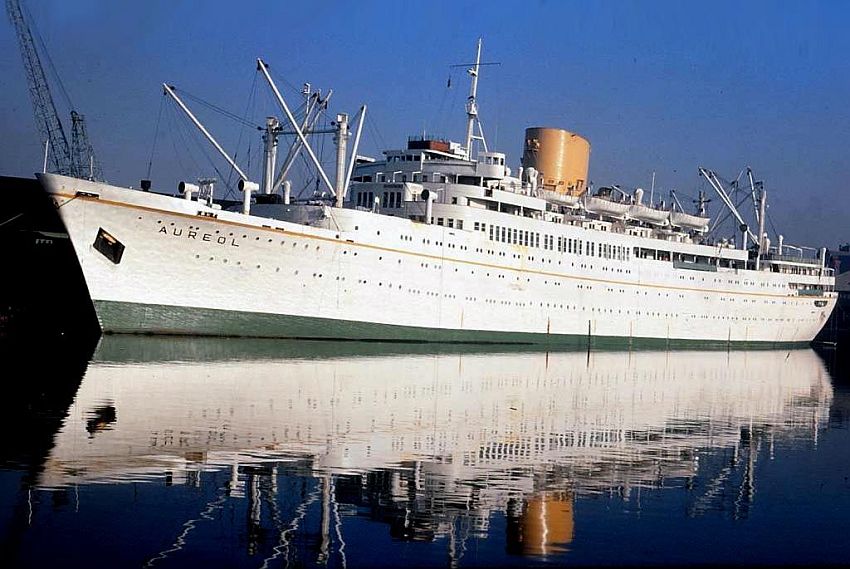 One of the most beautiful photographs of the MV Aureol I have ever seen
Sent in by Peter Martin (Wigan, UK)
Although the Photographer is unknown – Please see the Photo Notes at the bottom of the page!
MV

Aureol's ex Liverpool Schedules during her years of service:
1 - January to December 1953: Liverpool, Las Palmas, Bathurst, Freetown, Takoradi, Apapa.
2 - January to December 1961: Liverpool, Las Palmas, Freetown, Takoradi, Lagos, (Apapa).
3 - December 1967 to December 1968: Liverpool Las Palmas, Freetown, Monrovia, Tema, Lagos (Apapa). She called at Takoradi (instead of Tema) on her return voyages.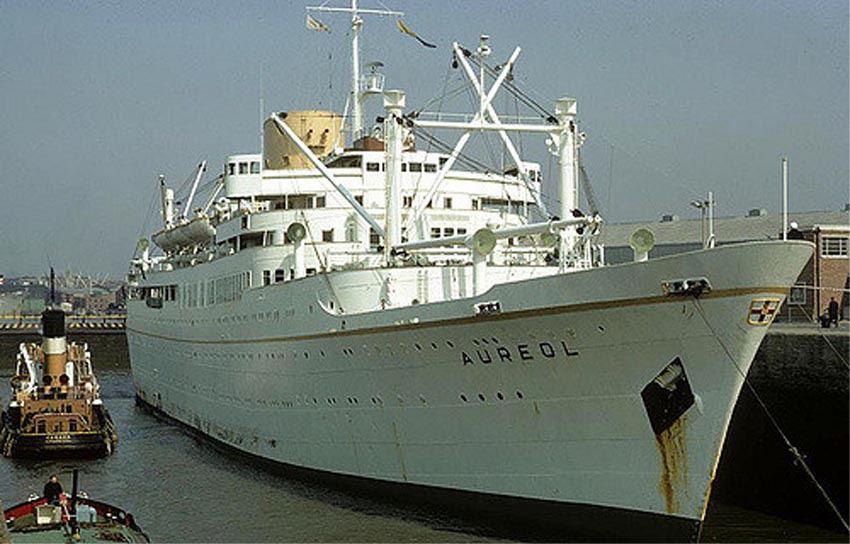 This is simply a great bow photograph of the MV Aureol!
Photographer is unknown – Please see the Photo Notes at the bottom of the page!
By the mid 1960s the MV Accra and Apapa were sadly becoming less profitable thus they were both sold in 1968, whilst the MV the Aureol remained to carry on duties on her own. However it was decided to convert her to a One-Class Liner with a maximum of 451 berths. Whilst the southbound voyages were normally fully booked, the northbound generally had a lower occupancy rate.
Peter F. Erlam, a director of Elder Dempster stated in November 1971; "The Aureol is now an old ship and is expensive to operate, maintain and repair". Somehow, many could see that the writing was on the Wall for the wonderful and much loved "White Swan". But she still had a few years left in her!
On March 16, 1972 the Aureol departed Liverpool for the very last time to make her final West African Voyage. Although her departure was held up due to thick fog which prevented the liner leaving her berth at the Brocklebank Dock for the landing stage. Later the Aureol was replaced by an Express Cargo service to West Africa from Liverpool and many traditional passengers were not particularly happy.

Here we see a silhouette of the much loved MV Aureol, she spent 23 years on the West African passenger service
The Aureol returned to Southampton at the end of the final voyage from Liverpool as the Mersey Docks & Harbour Company had closed the passenger facilities at the Landing Stage.
Thus Southampton remained the Aureol's Main Terminal and she continued her West African Voyages as per normal that is until October 21, 1974, two and a half years later.
This time it was G.J. Ellerton, the chairman of Elder Dempster Lines, who stated that the withdrawal of the Aureol was a matter of deep regret. It would mean the end of a service that begun in the 1860s, and for that reason they had hoped it would be possible to find a replacement ship which would enable a viable passenger service to be maintained, but of course there was never a replacement ship found, for everyone doubted that they even looked, for it had become all about cargo ships with containerisation if possible.
Thus after her final return to Southampton, on October 21, 1974, the 23 year old MV Aureol was laid up in the southern port after having completed 203 round voyages during her West African Passenger Cargo service from both Liverpool and Southampton. She was also placed on the market for a rapid sale.
The question begs, why was she taken off the service, was she in a poor condition, had she suffered poor passenger numbers and was she loosing heaps of money? The truth is quite otherwise.
I have received a statement from a senior officer aboard the Aureol at that time, who told me the following:
"Right to the very end she had a relatively good occupancy rate (passenger loadings) and she continued to make a profit, it was decided in 1974 to withdraw her mostly because of the following according HQ, for management stated, that it was; 'due to brittle post war steel used during her construction' I call that utter rubbish, she was in perfect condition!"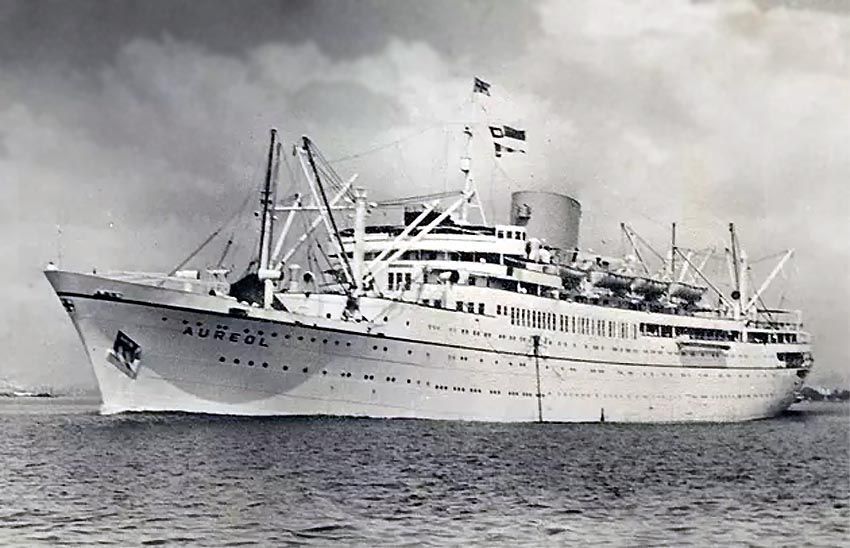 Great memories of the MV Aureol departing Liverpool as seen on this Elder's postcard
MV Marianna VI 1974 to 2001:
The Aureol was immediately sold to the Greek oil tycoon John S. Latsis, owner of "Marianna Shipping & Trading Company" registered in Panama. In November she headed under her own power for Piraeus, Greece where she was given a refit. Changes were made to her two forward Suites to become super luxurious for special guests, as well for Mr, Latsis' private use, also the Cabin Class Lounge was removed, but otherwise she remained very much as was with all her fine polished hardwoods, etched glass fixtures and brass. In January 1975 with all work completed, she was renamed 'Marianna VI' being the name of one of Latsis' daughters.
In March 1975 the Marianna VI headed for Jeddah in Saudi Arabia for the Latsis Groups had recently commenced major construction works in Saudi Arabia. She was used to accommodate management and workers on the company's works nearby.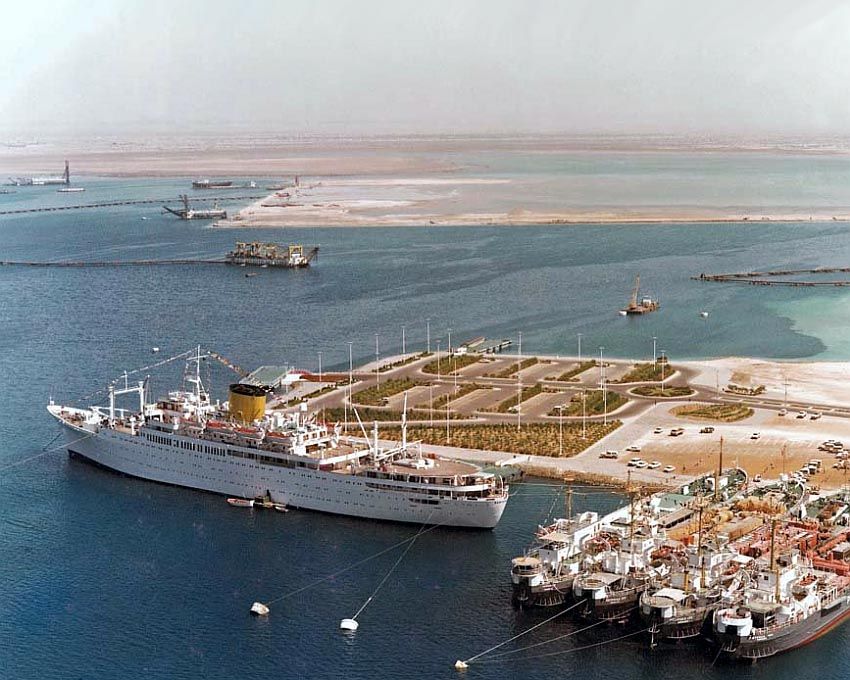 The freshly painted and refurbished MV Marianna VI is seen in the port of Jeddah in 1975
Photographer courtesy of; www.greekshippingmiracle.org/en/founding-supporters/john-latsis.html
During her time with the Latsis years, Marianna VI was beautifully maintained, and many diplomats who visited Saudi Arabia arranged to stay aboard the Marianna VI, even the visiting Henry Kissinger stayed in her prestigious Grand Owners Suite. She became the one of the finest accommodation ships around as she was a ship that offered perfection, and Mt Latsis ensured the finest cuisine and always had the best chef's and stewards on board to care for his privileged guests! Whilst all accommodations for workers, pilgrims and office staff, as well as public rooms and facilities was excellent, and offered a variety of dining options.
In February 1979, she was replaced by the much larger Margarita L, being the former Union Castle Line Flagship - RMS Windsor Castle. The Marianna VI returned to Piraeus where she received an overhaul and she was refurbished.
With her makeover completed around June 1980, the Marianna VI departed Greece and sailed once again to Saudi Arabia and headed this time to Rabigh on the Red Sea, being just 125 miles north of Jeddah. She became once again an office, accommodation and a leisure centre ship for senior staff and general workers of the "Petrola International Construction Company, S.A." She remained at Rabigh for just over eight and a half years.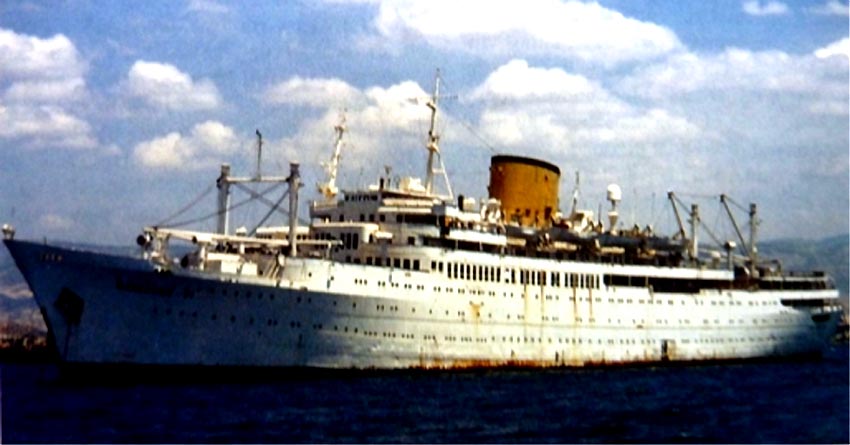 MV Marianna VI is seen here looking somewhat worn after eight years without external attention at Rabigh
The Ship's Lengthy Final Days:
Having served close to 14 years in Saudi Arabia the ex Elder Dempster's final passenger liner sailed from Rabigh to Piraeus in February 1989 and, this fine ship was still in excellent condition. Upon arrival, it was decided that she would was laid up at the nearby Eleusis Bay, where she remained for many years.
Whilst laid up at Eleusis the Marianna VI was well maintained internally, but, sadly as Mr. John Latsis' health deteriorated the sad truth ass that he had quite a number of vintage British liners and as he was unable to care for his beloved ships, they sadly began to suffered badly both internally, but also externally as her hull and superstructure began to look weather worn with a good deal of rust showing, and by 2001 it was very much worse!.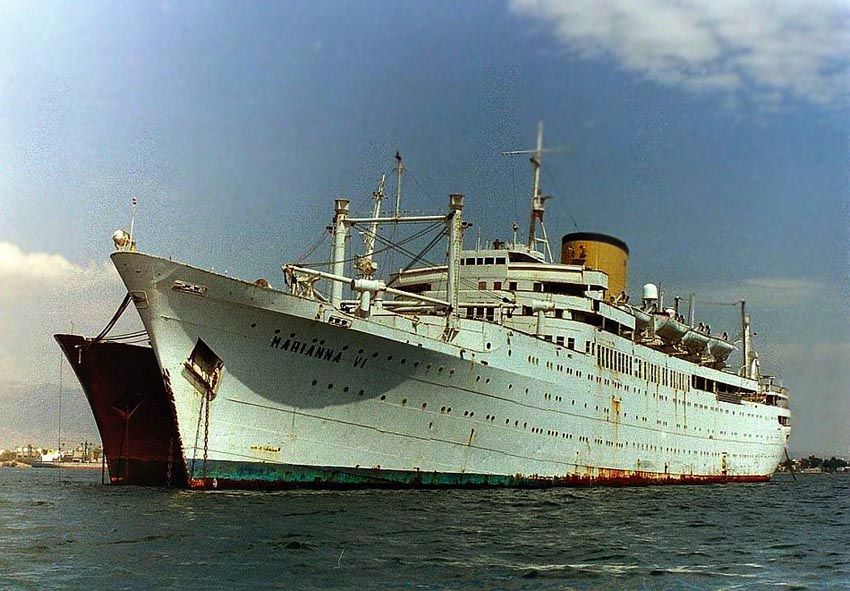 Here we see a sad looking Marianna VI whilst she was being neglected & she is seen laid up with an unknown ship
The sender tells me that as far as he knows this photo was taken around 1999 or 2000
Sent in by Peter Martin (Wigan, UK) Photographed by & © Peter J. Fitzpatrick
Having been laid up for a good 12 years, in March 2001, despite being in remarkably intact condition, but looking somewhat sad due to neglect, the former MV Aureol (MV Marianna VI) was sold to Indian ship breakers. She soon sailed under her own power via the Suez Canal to Alang, India arriving there on May 6, 2001. Thereafter, she was soon beached and breaking up commenced rapidly as the Indians tends to do.
Amazingly the MV Aureol / Marianna VI somehow spent more than half of her fifty years afloat in a static role, 14 years as an accommodation ship and 12 years in lay up at Eleusis Bay, Greece.
MV Aureol Specifications:
Name 1:                   MV Aureol.
Type:                         Passenger-Cargo Liner.
Owner:                      Elder Dempster Lines Ltd., 1951 to 1974.
Name 2:                   MV Marianna VI.
Type:                   Accommodation Ship.
Owner                        Marianna Shipping & Trading Company. 1974 to 2001.
Port of Registry:          Liverpool, UK.
INO N°:                      5030878.
Official Number:          183819
Builder:                      Alexander Stephen and Sons, Goven, Scotland.
Yard:                         629.
Launched:                  March 28, 1951.
Speed Trials:              October 1951.
Delivered:                  October 1951.
Maiden Voyage:           November 3, 1951.
Tonnage:                    14,083 GRT, 7,689 NRT, 8,827 DWT.
Length:                      163.6 m - 537 ft.
Width:                       70.4 m - 21.4 ft.
Draught:                    7.6 m - 25.1 ft.
Propulsion:                 Two x 4 Cylinder Doxford Diesels - 10,800 BHP.
Propellers:                  Two.
Service Speed:            16 knots.
Passengers:                329 total.
.                                253 First Class.
.                                76 Cabin Class.
.                                74 berths interchangeable between First & Cabin Class.
1968:                        451 Once Class.
Crew:                        145.
Broken Up:                 Alang India, 2001.
Remembering the Much Loved  "White Swan"!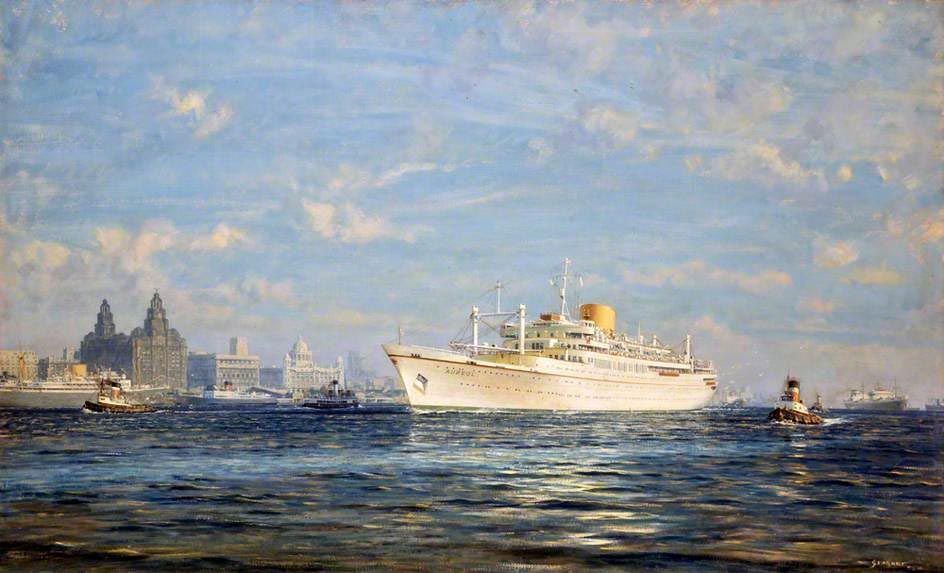 A wonderful painting and a treasured memory of the Aureol departing Liverpool
Painting by © maritime artist John Stobart
Also Visit another Elder Dempster Lines ship …
The: MV Calabar - Later renamed the "Semiramis"
********************************
Use the Back button on your browser or Close the Page to return to the previous page
or go to our INDEX
ssMaritime.com & ssMaritime.net
Where you will discover over 1,125 Classic Liners & the 1914 built MV Doulos Feature
Photographs on ssmaritime.com, & .net and associate sites are by: 1. By the author. 2. From the author's private collection. 3. Or as provided by Shipping Companies and their Publicity Companies as well as by private photographers or collectors. Credit is given to all contributors. However, there are some photographs provided without details regarding the photographer concerned., therefore I hereby invite if owners of those images to be so kind and make them-selves known to me per email at rg@ssmaritime.com in order that due credit may be given
ssMaritime is owned and © Copyright - Reuben Goossens - All Rights Reserved