Please Note: Firefox and some other search engines are not suitable – Use "Internet Explorer" for this page to load perfectly!

Click the logo above to reach ssMaritime Main-Page & the "Feature of the Month"
With Reuben Goossens
Maritime Historian, Cruise'n'Ship Reviewer & Author
Please Note: All ssMaritime and my other related ssMaritime sites are 100% non-commercial and privately owned sites. Be assured that I am NOT associated with any cruise or shipping companies or travel/cruise agencies or any other organisations! The author has been in the passenger shipping industry since May 1960 and is now semi-retired, but continues to write article on classic liners and cruise ships in order to better to inform cruise and ship enthusiasts for their pleasure!
As Founder and President of the …
"Save the Classic Liners Campaign"
I am proud to present a very special Australian ship for preservation
MV
Cape
Don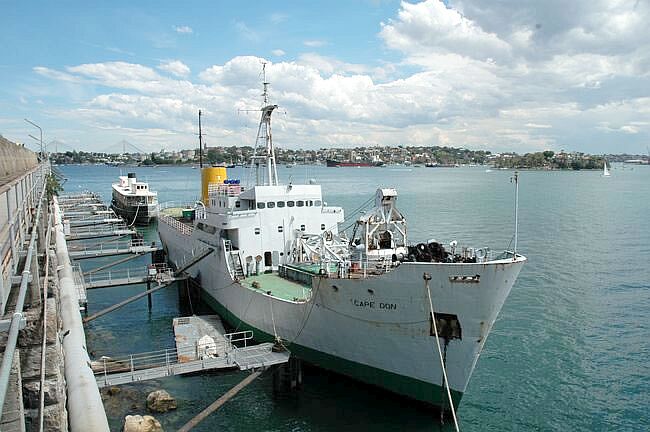 MV Cape Don and the ex Sydney to Manly ferry the MS Baragoola seen at Balls Head
Photograph © mvcapedonsociety.org.au
Introduction:
Like the famed historic Sydney Harbour ferry, the MS Baragoola, which I strongly support in saving and preserving, and I am now adding the delightful 1963 built MV Cape Don, which is a unique all Australian vessel that should, and must be retained at all costs!
The MV Cape Don is under the tender care of the excellent "MV Cape Don Society Inc" and she is berthed at Balls Head Drive in Waverton, Sydney located just forward of the Baragoola. I highly suggest that you visit their excellent webpage at www.mvcapedonsociety.org.au and read all about this fascinating ship, including their news updates and view the many photographs online of her interiors and exteriors. These photographs cover her throughout the years at sea as well as in ports around the country and as she is today. Although thanks to Mr. Warwick Riddle who is the curator of the CLS Museum has kindly sent a good number of excellent photographs, which are featured on this page.
MV Cape Don:
MV Cape Don was built at the Newcastle State Dockyards, NSW, and completed in January 1963, one of a unique class of ships purpose-built to service navigational aids (including manned lighthouses) around Australia, thus she was part of the "Commonwealth Lighthouse Service."
To fulfil these tasks, she was built as a mini-liner, with excellent passenger accommodation necessary to carry officials, technicians, relief lighthouse crews and their families, at times for prolonged periods at sea. She is powered by a 5-cylinder Australian Polar M65T diesel engine developing 2,000 BHP at 250 RPM, driving a 4-blade, 5 tonne Kamewa controllable pitch propeller, 9.2 ft (2.75 m) in diameter. For cargo handling she is equipped with one Clark Chapman electric crane SWL 12.5 ton (12.7 metric tonnes).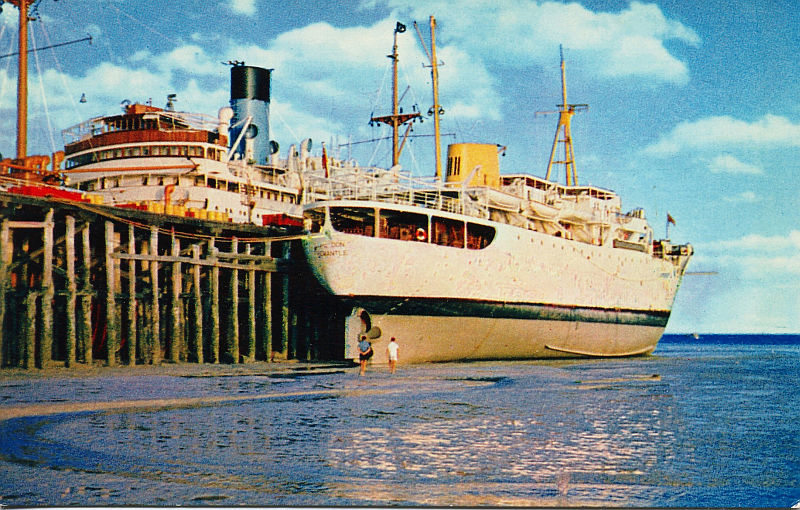 This is an excellent postcard of the MV Cape Don seen at Broome Western Australia
This postcard was kindly provided by Andrew Mackinnon
Above Image: The MV Cape Don is seen during low tide sitting on the mud which was quite a regular occurrence in this port and ships of the Blue Funnel lines such as the one seen alongside being the passenger cargo liner SS Gorgon or the SS Charon has hardened steel bottoms to cope. Their later ship the popular MV Centaur also had a strengthened hull to cope with having to sit on the mud at several ports on the Western Australian ports. The photograph was obviously taken sometimes between Feb 1963 when the Cape Don commenced sailing and May 1964 when these two Blue Funnel liners ended their career and were replaced by the brand new Centaur!
Preservation of the MV Cape Don:
Having been long retired, the MV Cape Don Society is now responsible for restoring this superb ship and they will be setting up a museum on board her to tell the story of her many years of dedicated service. The MV Cape Don Society has thankfully received a great deal of assistance from AMSA, as well as past crewmembers and the public who have donated artefacts, uniforms and a great number of photographs, etc. The museum will be set up on board the ship after the restoration has been completed inside.
MV Cape Don Photo Album
Most images below were provided by Mr. Warwick Riddle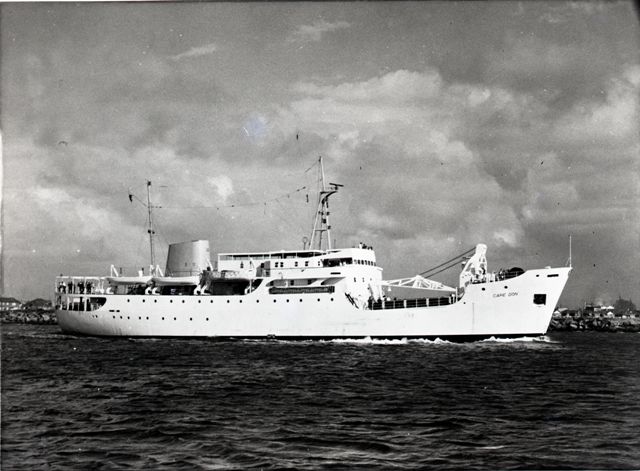 WR-Cape-Don-Sea-trials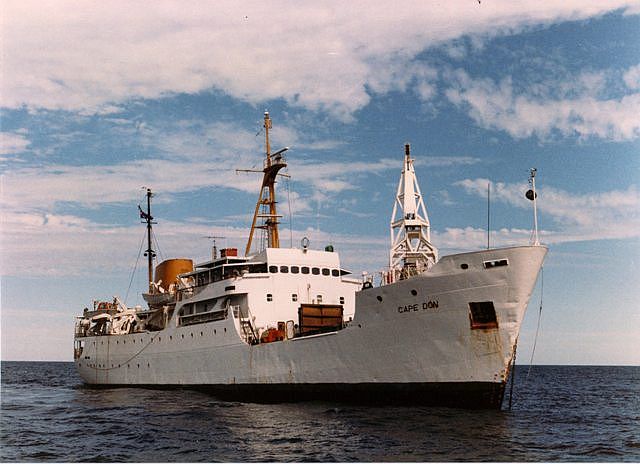 The Cape Don is seen here off Port Hedland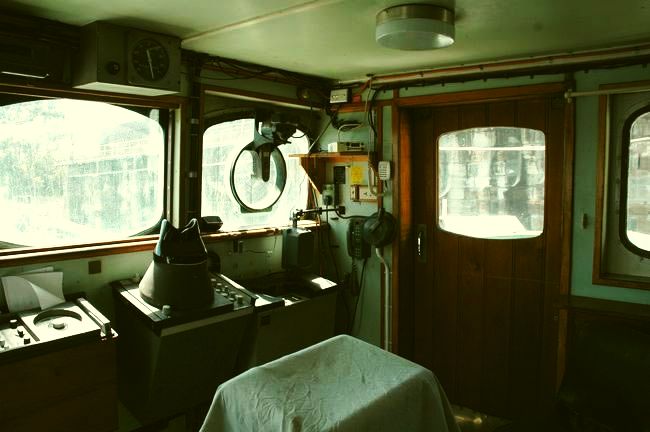 The ships Bridge as seen today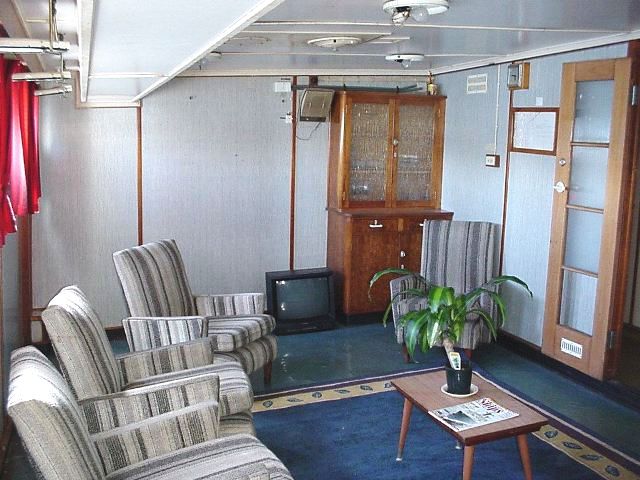 Cape Don's passenger-lounge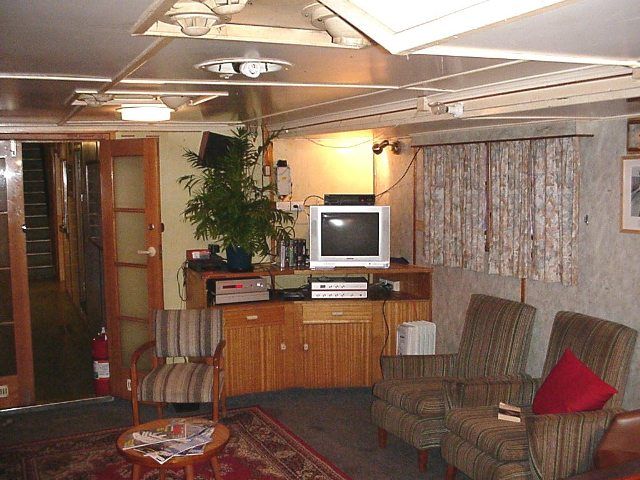 The passenger smoke room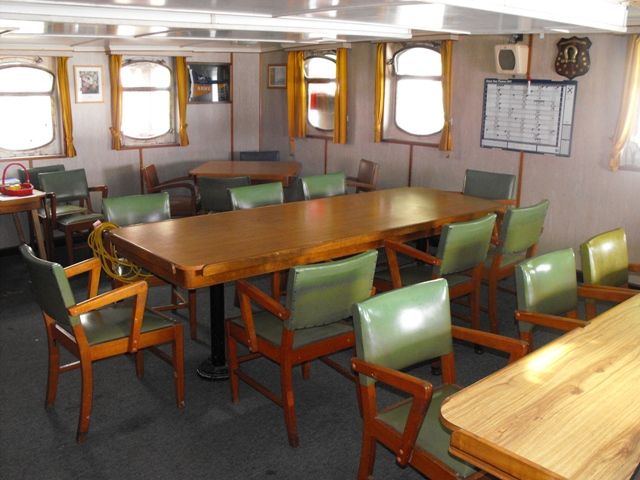 The Dinning Saloon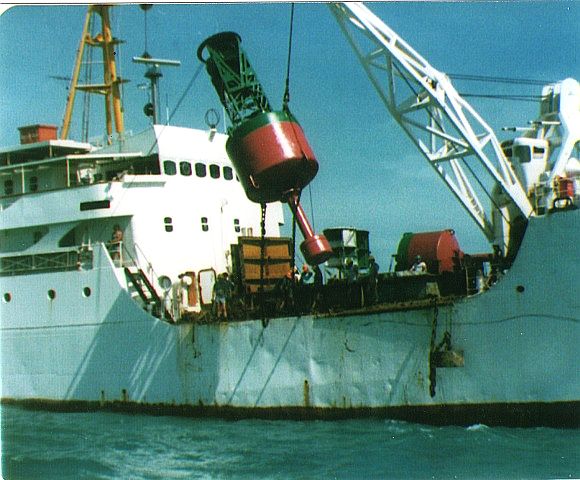 Cape Don seen off Port Walcott in March 1982, whist laying a new buoy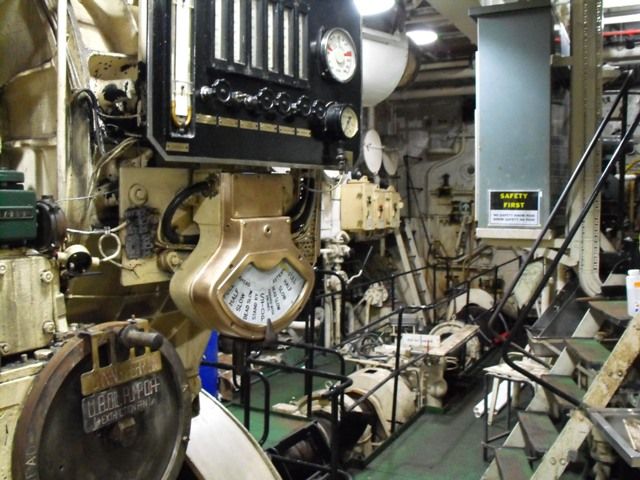 The engine room control platform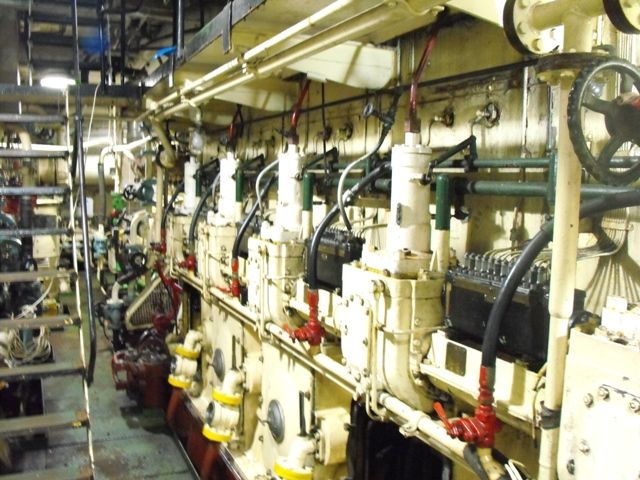 Cape Don's Engine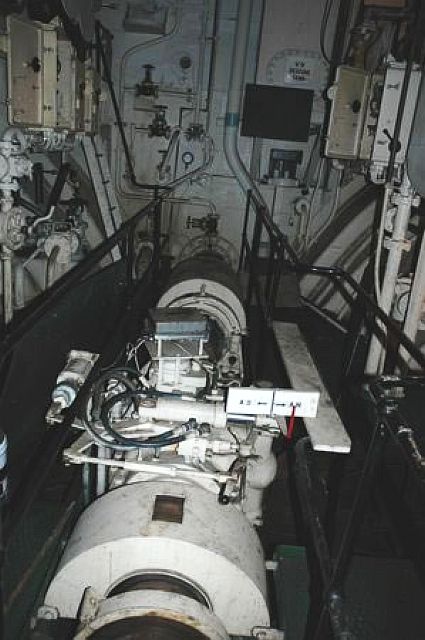 The propeller shaft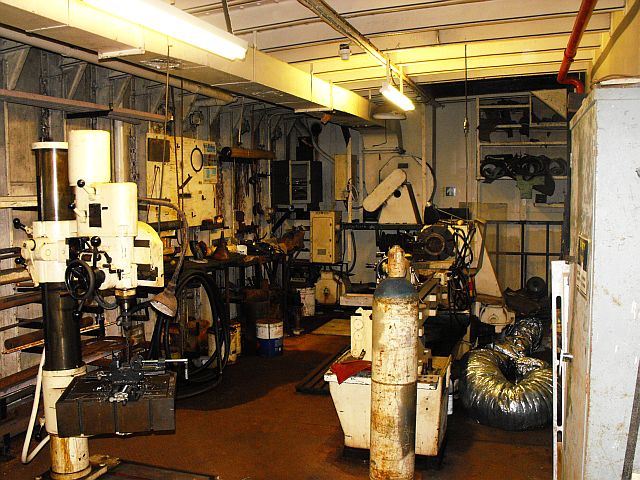 The ships workshop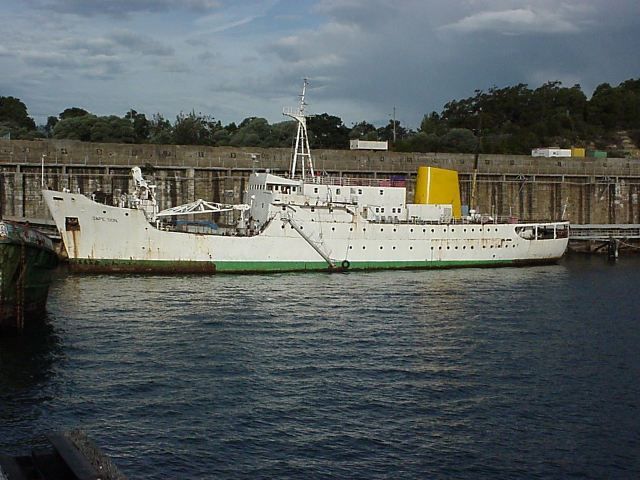 The delightful MV Cape Don is seen here at her current berth at Balls Head, Sydney in 2010
Cape Don needs your help - Today!
The MV Cape Don NEEDS YOUR HELP Right NOW, and I ask for all ship lovers to give a hand, be it by the means of assisting be it by the providing a donation, via their website, or assisting as a volunteer and be assured that you will be made most welcome!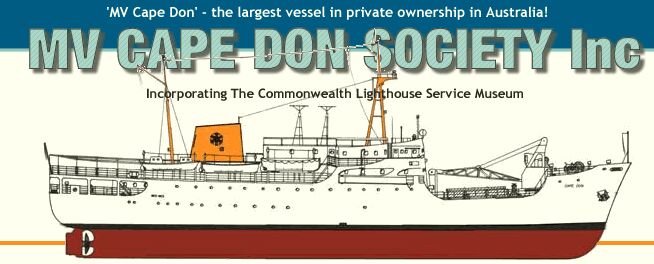 Click the IMAGE above to enter - http://mvcapedonsociety.org.au.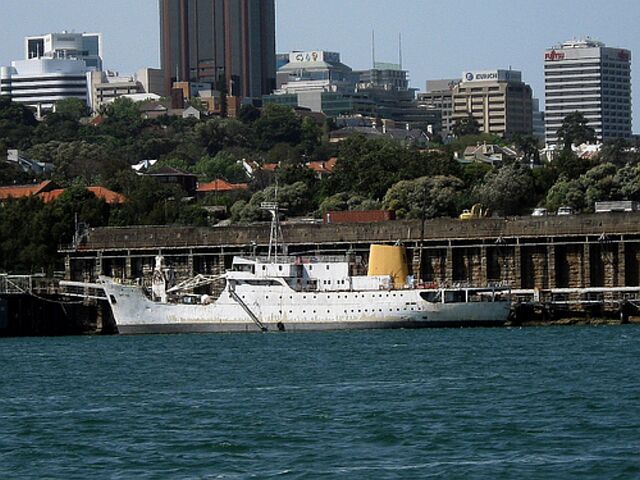 The Cape Don is a good-looking ship and she has many delights to be discovered on board!
Photographer unknown - *Please see photo notes at the bottom of page
****************************************
MV Cape Don - Specifications:
Length (over all)

243' 7"

74.25 m

Length (between perpendiculars)

220' 0"

67.05 m

Extreme breadth

42' 1.75"

12.846 m

Moulded breadth

42' 0"

12.802 m

Depth to upper deck

23' 6"

7.16 m

Depth to main deck

16' 0"

4.88 m

Bridge to stem distance

88' 0"

26.8 m

Height of foremast above Load Water Line

83' 0"

25.3 m

Height of bridge above LWL

28' 0"

8.53 m

Light ship draft

9' 3.25"

2.83 m

Maximum summer draft

14' 4"

4.37 m

Fresh water allowance

3.5"

88.9 m

Gross tonnage

2106.24 t

2139.8 mt

Nett tonnage

714.6 t

726.07mt

Light ship displacement

1565 t

1590 mt

Capacities:


Fresh water
Water ballast
Oil fuel

377 t
254 t
132 t

383 mt
258 mt
134 mt

Capacities, cargo:


Hold
'Tween deck
Lockers

276 t
145 t
14 t

281 mt
147 mt
14 mt

Daily consumption:


Fuel: steaming
Fuel at anchor
Fresh water –

6.0 t
0.5 t
7 t

6.1 mt
0.6 mt
7.1 mt

Service speeds:


at 230 rpm DP
at 200 rpm DP

12.7 knots
10.2 knots

Complement:


Crew
Passengers

39
12
The MV Cape Don needs your help – TODAY - Therefore …
Please Visit the www.mvcapedonsociety.org.au pages!
I wish to thank you for your support and I know that the hard working volunteers of the "MV Cape Don Society Inc" will be more than grateful!
Reuben Goossens.
Maritime Historian & Author
ssMaritime:
Featuring over 607 classic Liners:
Founder & President "SCLC" (Founded February 1999)
"Save the Classic Liners Campaign"
Ships that have been Saved in 2009/2010:
MV Royal Star, built in 1956 as the MS San Giorgio.
Currently the PV Ocean Mist cruising out of Mombasa. The
1914 built MV Doulos, now named Doulos Phos she is based
in Singapore. MS Kristina Regina, built in 1960 as the SS Bore.
She is now a Hotel in Turku Finland named Bore again.
MV Mona Lisa ex Kungsholm built in 1966 is now a hotel in Oman,
Founder of the "Save the SS Rotterdam Campaign" - built in 1959.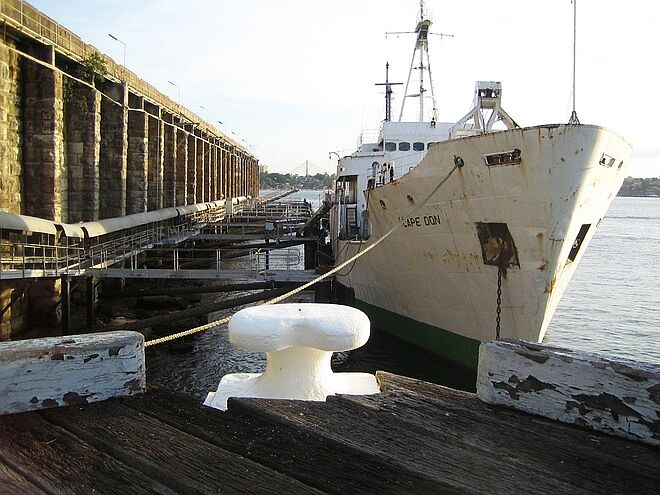 A bow shot of the Cape Don
Photograph © mvcapedonsociety.org.au
***********************************
Visit our ssMaritime Main INDEX
Where you will discover well over 600 classic liners!
ssMaritime.com & ssMaritime.net
Where the ships of the past make history & the 1914 built MV Doulos Story
Also visit my
"Save The Classic Liners Campaign"
Please Note: ssmaritime and associated sites are 100% non-commercial and the author seeks no funding or favours of any shape or form, never have and never will!
Photographs on ssmaritime and associate pages are by the author or from the author's private collection. In addition there are some images that have been provided by Shipping Companies and private photographers or collectors. Credit is given to all contributors. However, there are some photographs provided to me without details regarding the photographer/owner concerned. I hereby invite if owners of these images would be so kind to make them-selves known to me (my email address may be found on www.ssmaritime.com only), in order that due credit may be given.
This notice covers all pages, although, and I have done my best to ensure that all photographs are duly credited and that this notice is displaced on each page, that is, when a page is updated!
ssMaritime is owned & © Copyright by Reuben Goossens - All Rights Reserved