MV Prinses Margriet 1961 sold to Nauru in 1970 & Renamed MV Enna G
Please Note: Firefox and some other search engines are not suitable – Use "Internet Explorer" for this page to load perfectly!

Click the logo above to reach the ssMaritime FrontPage for News Updates & "Ship of the Month"
With Reuben Goossens
Maritime Historian, Cruise'n'Ship Reviewer, Author & Lecturer
Please Note: All ssMaritime and my other related ssMaritime sites are 100% non-commercial and privately owned sites. Be assured that my sites have never been associated with any cruise or shipping companies or travel/cruise agencies or any other organisations! The author commenced working in the Passenger Shipping Industry back in 1960 but is now very much retired and I hope that the well over 625 articles on classic liners and cruise ships that I have written will continue to inform and also bring much joy to ship enthusiasts for many more years to come!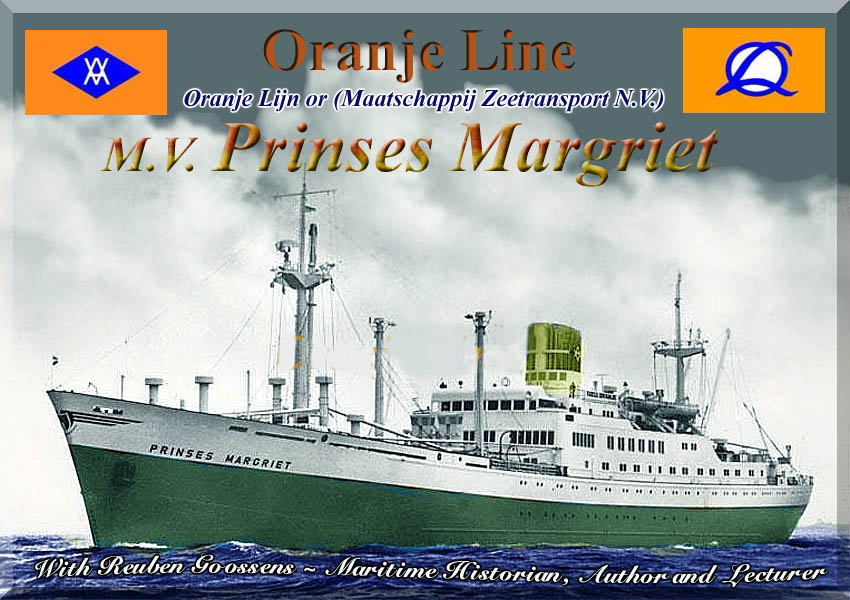 PLEASE NOTE
Photographs & Images are from a brochure or a deck Plan, whilst others are from the author's private collection or as noted!
Introduction:
I believe that this is a very special feature, for it covers a special Dutch company that is not considered as one of the greats of the world and to be honest, it certainly is not counted as one of the greats. Yet the Oranje Line has a fascinating history that began just in 1937 when a young man had a grand vision!
This vision blossomed into a fine fleet of 27 great ships that included 15 cargo ships that carried between 6 to 12 passengers, as well as their three final superb passenger-cargo liners which accommodated 60, 115 and 110 passengers. The two last ships were the most remarkable in design and also for their super luxurious appointments; in addition these ships were known for their fine service and sublime dinning!
This feature will cover the early years and I will just a mention several of the earlier ships as well and then the company's final three liners. But as you will have noticed, I am highlighting the finest of them all the MS Prinses Margriet, for she was in a way the Queen, the crowning glory of the Oranje Line!
A Background on the Oranje Line:
It would be on July 16, 1937 that a rather young 23 year old Mr. Anthony Veder founded the "N.V. Maatschappij Zeetransport" that later became known as "Oranje Lijn" – Oranje Line! He had the idea to commence transporting fruit and nuts from the south of North Africa and Europe to further afield. Thus he purchased two ships from Norway, which were known as "Lakers" ships that were especially build to sail on the Great Lakes. These ships were the "Harpefjell" and "Taborfjell" and were respectively renamed "Prins Maurits" and "Prins Frederik Hendrik." Anthony Veder decided that all the company ships would be named after the Dutch Royal Family, although there was just one coaster the MS Nieuwaal in 1940 being the exception, but she hardly served for the company as the WWII commenced and the Germans took her to Germany.
By the end of the war more ships would be built and some would even commence to carry passengers in excellent accommodations. In 1946 a ship that had been commenced prior to the war, but was damaged and was left in her damaged state until the builders could continue was the 2,680 GRT (Gross Registered Tons) MS Prins Willem IV and she was the first AV ship to offer accommodations for 12 passengers and operated on the Rotterdam to Canada service.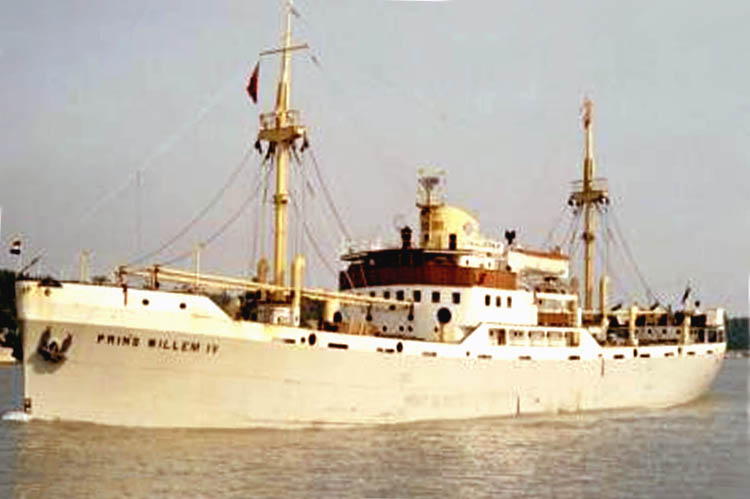 MS Prins Willem IV; note her early livery, with a yellow funnel with the AV logo for "Anthony Veder" on it
This logo would remain until the company officially became the "Oranje Lijn"
Other ships were soon built some operated as cargo ships, whilst others carried from 6 to 12 passengers in excellent accommodations. However, far greater things were to come from this company that was now establishing itself in the passenger trade from the Netherlands and the UK to Canada and the USA!
The First Passenger Cargo Liner for the Company:
The company's very first actual Passenger-Cargo liner was the MS Prins Willem van Oranje (2) built in 1953, which offered excellent accommodations for 60 passengers, all accommodated on two decks. Those on the Upper deck had three berths and the rest up on Passenger Deck with twin bedded and all had private facilities. This Deck also had a forward facing lounge, a spacious Dining Saloon along the portside and the Bar located aft.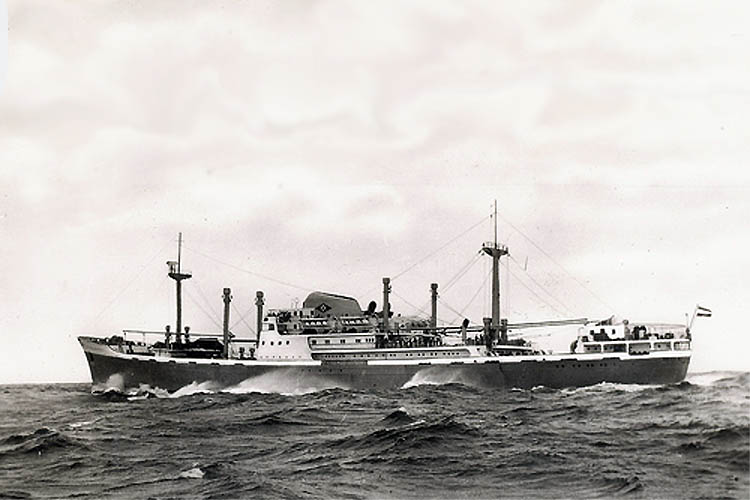 MS Prins Willem-van-Oranje-2 was Holland's fastest lines as she achieved an excellent 20 knots during her trails!
MS Prinses Irene:
The MS Prins Willem van Oranje was followed by the far superior and much larger 8,525 GRT MS Prinses Irene was built by "De Merwede" Hardinxveld, the Netherlands.

Here we see an advance starboard side view illustration of Prinses Irene, which was in building
She was launched by Dutch Royalty in July 1958 and she entered service in April 1959. She accommodated 115 One Class passengers in superb accommodations and fine facilities. Her accommodations were located on two decks and there were two deluxe suites, and other cabins were for two all having private facilities as well as folding beds, meaning that the cabin became a lounge during the day. The external feature was the unusual funnel with her curved blades that were designed for efficient exhaust clearance!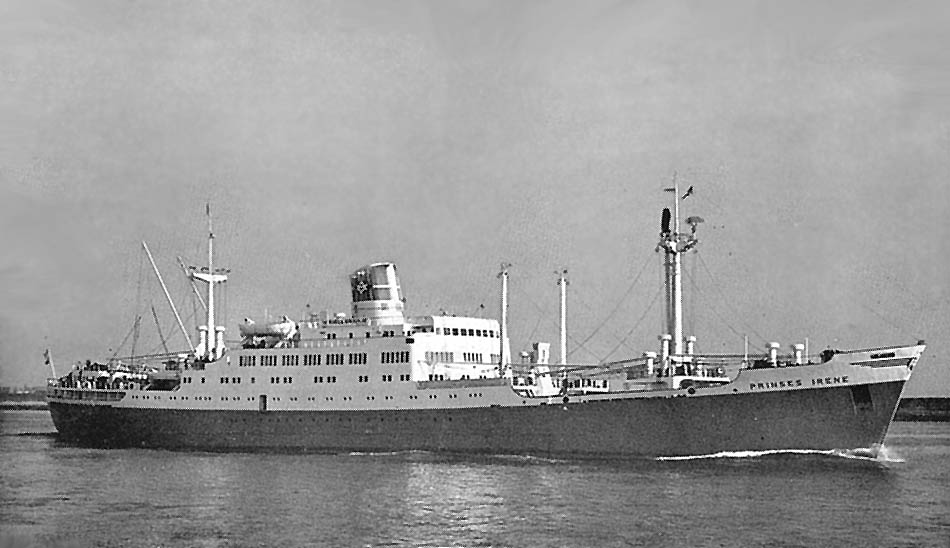 MS Prinses Irene is seen now featuring the Oranje Line logo on her funnel with the OL logo as see at the top of this page
MS Prinses Irene operated on the Netherlands to the USA/Canada service; although during the offseason she would make several round voyages to the Gulf of Mexico.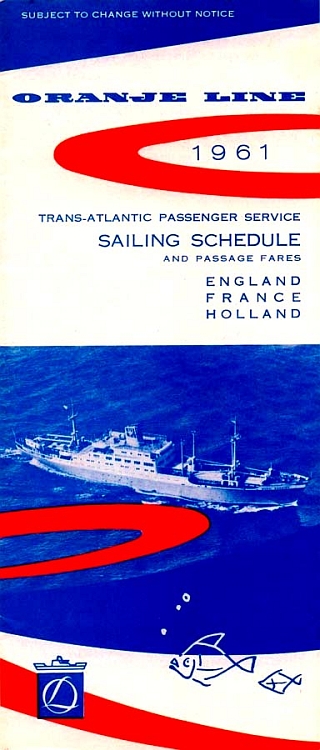 Here we see the Orange Line 1961 Schedule which features both the Prinses Irene and Prinses Margriet
However it is the Prinses Irene that is featured on the cover of the schedule
From June 1 to the end of September 1964 Prinses Irene was chartered to Cunard Line, after which in 1964 she was sold to Indonesia to be rebuilt into a passenger ship for Muslin pilgrims and was renamed in 1965 "Tjut Njak Dhien." In 1978 she was sold to Indonesian Navy renamed "Tanjung Oisina 972," but the very next year in 1979 she was rebuilt into a troop transport ship. She became badly neglected and she ended up beached near Djakarta where this once beautiful and luxurious liner now lies there in a derelict state!
MS Prinses Margriet: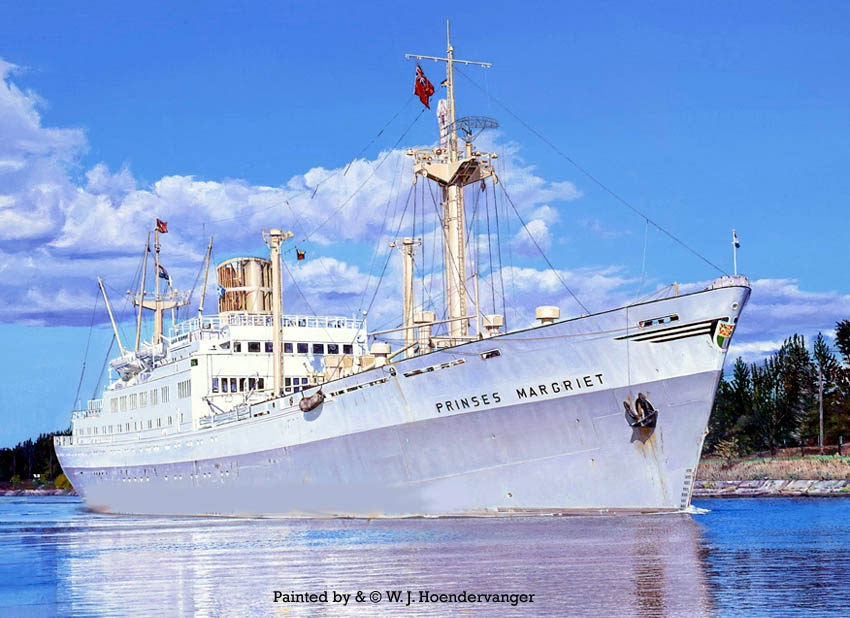 One of the fine paintings of the Prinses Margriet by a great Dutch Maritime Painter, Mr. W.J. Hoendervanger
For further paintings by Mr Hoendervanger, Enter: www.wjmaritiem.nl
With MS Prinses Irene in service, the company had their designer's busy working on a new, but a slightly larger ship. Yet it was decided that this new ship would be of a similar design but far superior and more luxurious. This resulted in the construction of the 9,423 GRT MS Princes Margriet, which saw her keel plate laid down on March 1, 1960 at the "De Merwede" Shipyards on the Merwede River at Hardinxveld, which was close to Rotterdam in the Netherlands.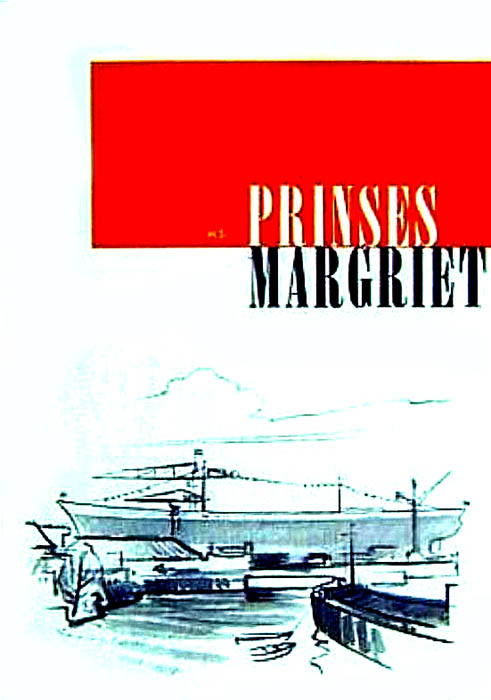 The cover of the Preview folder with information on the Prinses Margriet, this folder was handed to the Travel Industry on both sides of the Atlantic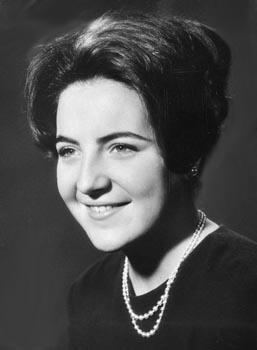 As I said earlier, Oranje Line's custom was to name all their ships after members of the Dutch Royal Family, who are from the "House of "Oranje" and their new liner would be officially named Prinses Margriet and she was and remains to this day the "God Mother" of the Dutch Merchant Navy, thus it was a worthy name for the Oranje Line's new ship!
Then on December 10, 1960 the Oranje Line passenger-cargo Liner, the Prinses Margriet was launched sadly not launched by her namesake due to illness, but by her eldest sister, Crown Princess, HRH Prinses Beatrix who did the honours cutting the ribbon attached to the bottle of champagne that smashed against her bow and she then slowly slipped down the slipway. It certainly was a festive and a well attended event with the burgers standing at every possible vantage point that was available to see the new ship slide down into the Merwede River!
HRH Prinses Margriet van Oranje
Once in the water, she headed to her fit-out berth and was completed and painted and fully fitted out internally to stringent conditions On June 6, 1961 she departed for her sea trials which were successful, although at one point she somehow stuck an underwater obstruction and when she returned to port it was decided for her to enter dry dock to have her hull checked, but with some minor hull damage being repaired she was soon back in the water and after a few other minor changes on board she was delivered to her owners on July 4, 1961 in Rotterdam. There she was manned with her officers and her crew, as well as being fully stocked for her passengers and crew needs for her maiden voyage would commence very soon.
The Ship and her Fittings: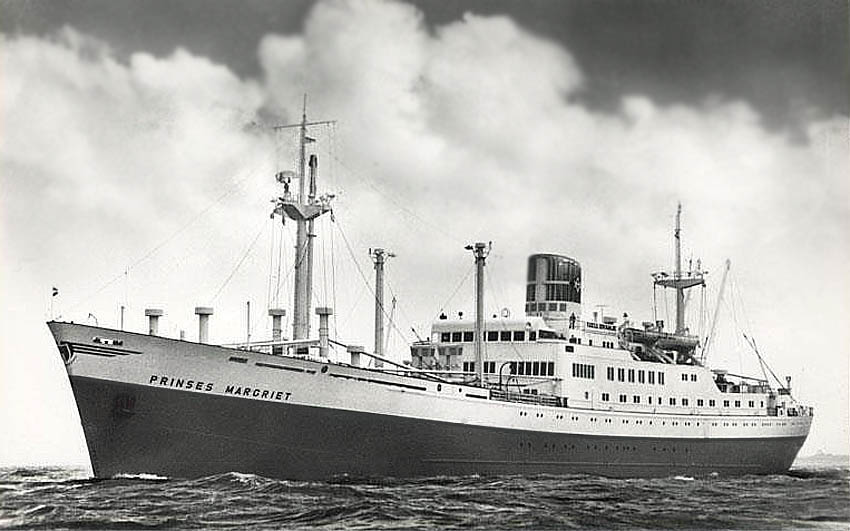 Oranje Line's - all new MV Prinses Margriet heading off to Canada
The Cargo Ship: Although having superb passenger facilities, it must not be forgotten that she did have a considerable cargo capacity, having five holds, three forward and two aft, which were serviced by a total of thirteen derricks from her two masts, sub kingposts and mini-kingposts.
Besides being a long and a sleek looking liner with a beautifully shaped bow, her livery was a grey hull up to just below her Upper Deck, with the rest and her superstructure all in white. Her yellow funnel certainly stood out due to the narrow vertical blades that surrounding most of the funnel. There was a narrow horizontal bar surrounding the funnel and in the centre there was the Oranje Line small "OL" logo. The idea for the blades was in order that an airstream could flow through the funnel and assist to carry the fumes away from the ship.
The Passenger Liner: There are no doubts that the MV Prinses Margriet's interiors were acclaimed by many for being "simply glamorous," - "luxurious and so full of charm." Thus she was noted for her many architectural and interior achievements and that included her accommodations as well as the magnificent service that was provided by her excellent crew. At the time all the reviewers noted; "The Prinses Margriet is in my opinion the perfect cargo-passenger ship, for she is a ship that has almost everything a fine Atlantic liner would have."
Public Facilities: Forward on Promenade Deck there was the ships Main Lobby with its beautiful and elegant curved staircase that served the three main passenger decks, Promenade, Upper and Main Decks below. At the lobby there were the large welcoming glass doors into the spacious and glamorous Lounge that swept across the forward section of the superstructure. The décor of this venue was sumptuous with timber wall cladding with art works featuring in all the right places, on there was quality blue and red patterned carpets and the venue itself was superbly furnished with cosy sofas and comfortable lounge chairs, However, the main feature of the venue was the huge floor to ceiling windows that overlooked the bow and the sides of the ship during the day, and were covered by red drapes in the evening. Along the starboard side there was the dance floor for there was music available for passengers to enjoy their nightly dancing.
Regarding the brochure with her interiors, considering I was unable to obtain any photographs of her interiors from her Oranje Line days, I used those from the brochure shown as well as her deck plan on the relevant page. Then there is a collection of postcards and other exterior photographs shown under both company liveries. But as you will see that the brochure I used is from her Holland America days in 1964. Enjoy!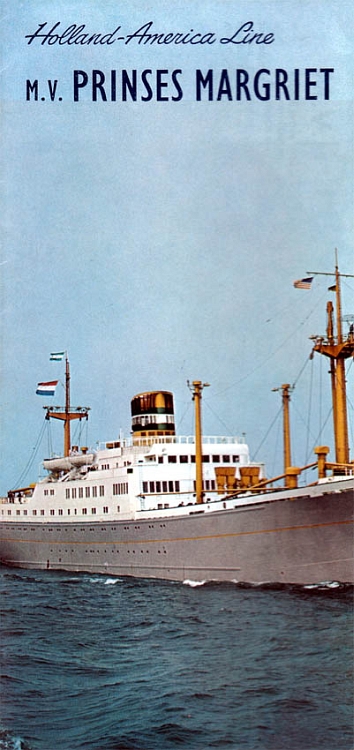 The Holland America Line Brochure Cover of the MV Princess Margriet as seen in 1964
All the colour images below of her interiors and one deck photo were sourced from this brochure which is from my private collection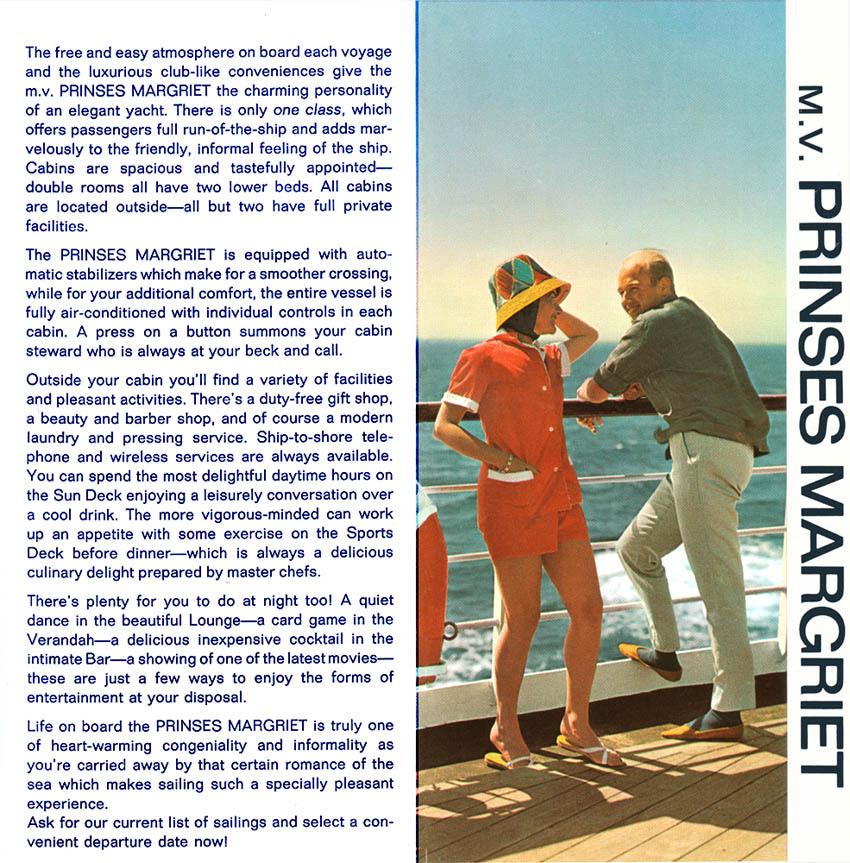 The opening page of this four-fold brochure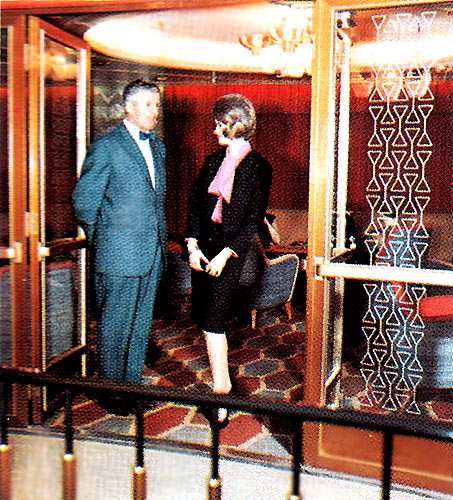 Entrance to the Lounge as seen from the lobby and the curved Stairwell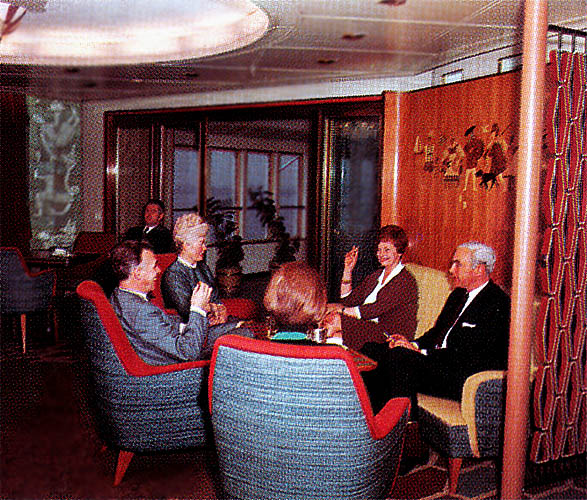 Starboard corner of the Lounge looking into the Verandah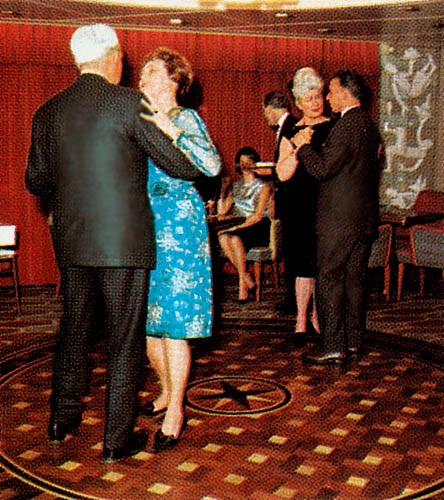 Just forward of the above photograph is the dance floor, but note the glass panel, which is also seen in the first photo!
On the port side of the Lounge, passengers could enter the luxurious and spacious 64-seat Dining Room, thus this venue was more than ample for her 111 First class Guests. The décor was stunning and honestly it could well be perfect on any 5 Star luxury cruise Ship, such as the Queen's Grill on a Cunard ship! Again it features those spacious windows, but more importantly the cuisine on board was equally excellent and the Oranje Line became famous for its presentation and quality! The Galley was located aft of the Dining Room.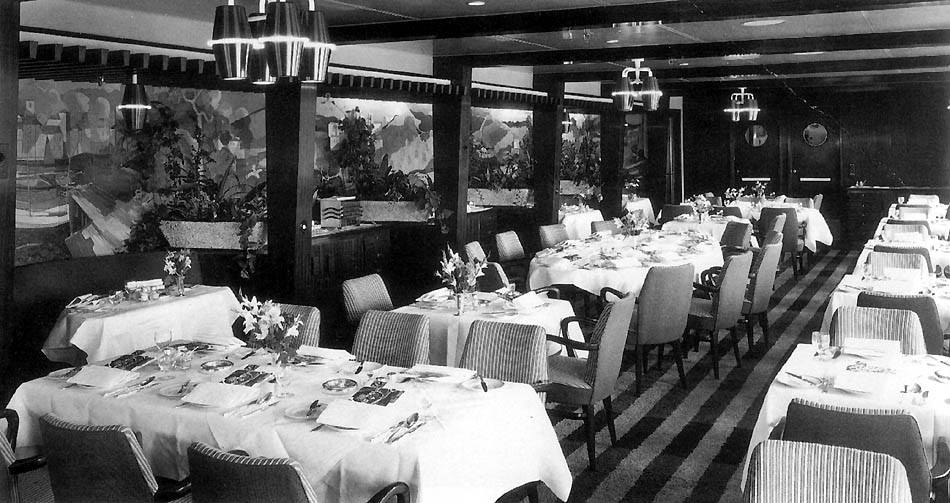 A view of the dining Room looking aft towards the Galley, note the alcoves and the beautiful artwork on the side walls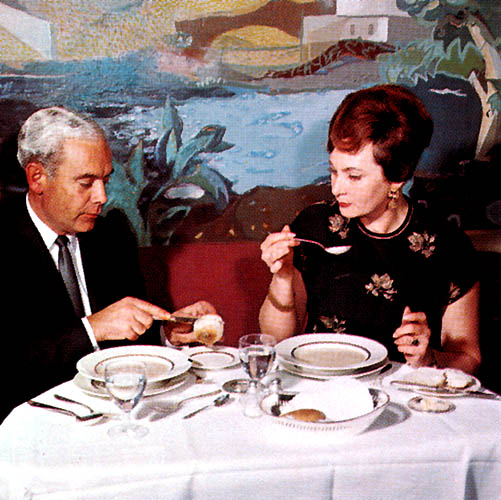 A couple having a meal in one of the alcoves and it does features the fine art
On the starboard side of the Lounge passengers could enter through glass doors into the long Verandah and just like the lounge there were those large windows the full length of the Verandah.
The Verandah had an elegantly decorated lounge area, with the aft long area being perfect location for relaxation in comfortable deckchairs and tables whilst enjoying the occasional refreshments and chatting with friends.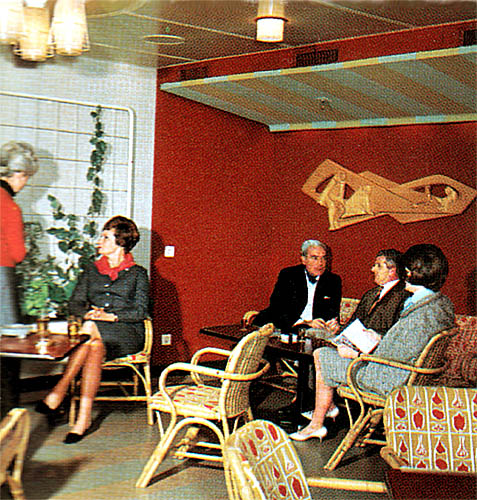 The Verandah was a long fully glazed in area and a popular space for relaxation whilst crossing the Atlantic
Also located on the Starboard side and accessible from the Verandah was the Writing Room and Library. This venue had an all timber cladding and bookcases with attractive artworks featured on the walls. The furnishings was the very same as used in the Lounge, except the carpets has a small check pattern. Aft was the Library section with a sofa, table and some lounge chairs, whilst forward here were the writing desks with chairs.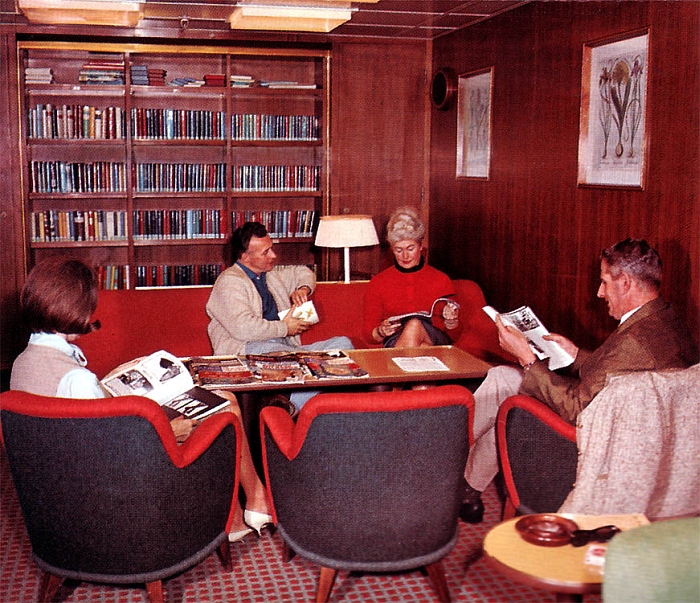 The delightful Writing Room and Library
Aft and accessible from the Veranda was the beautiful dark timber clad Ships Bar, which was obviously a very popular venue onboard. The slanted and rounded bar was located towards the starboard side of the venue, allowing ample space for a lounge area for two three-seat sofas, two long timber tables and four chairs. Middle aft of the venue there were two tables with for chairs each and there were eight bar stools along the Bar. Thus the venue could seat guests and that would overflow into the well-furnished Verandah!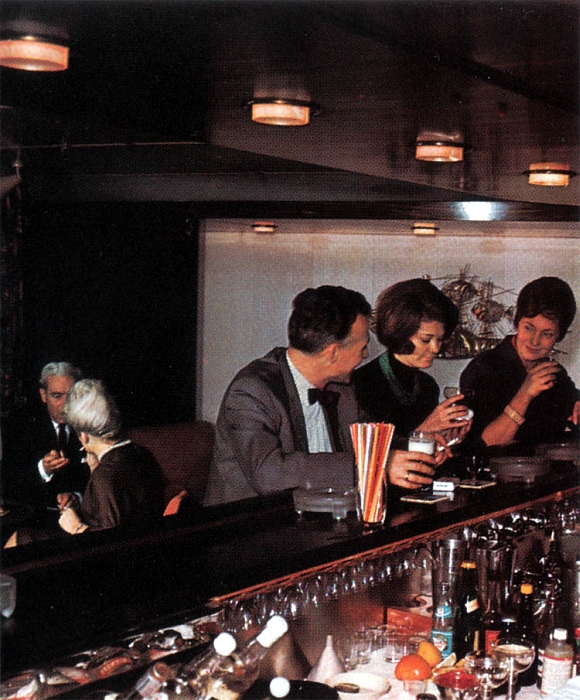 The Ships Bar
With a spacious deck space aft of it and ideal for sun baking or various minor sport activities, such as shuffleboard, etc. Her top Deck "Sun Deck" was another spacious deck for sunning or activities.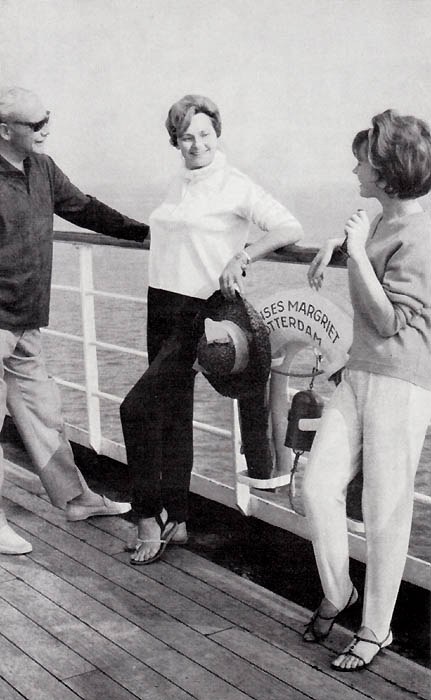 A view of the deck space aft of Promenade deck
Accommodations: Her cabins were either twin bedded or singled bedded rooms with *all having private facilities. The majority had a bath with a shower overhead, whilst the Single bed cabins bathrooms had a bathroom with shower closet.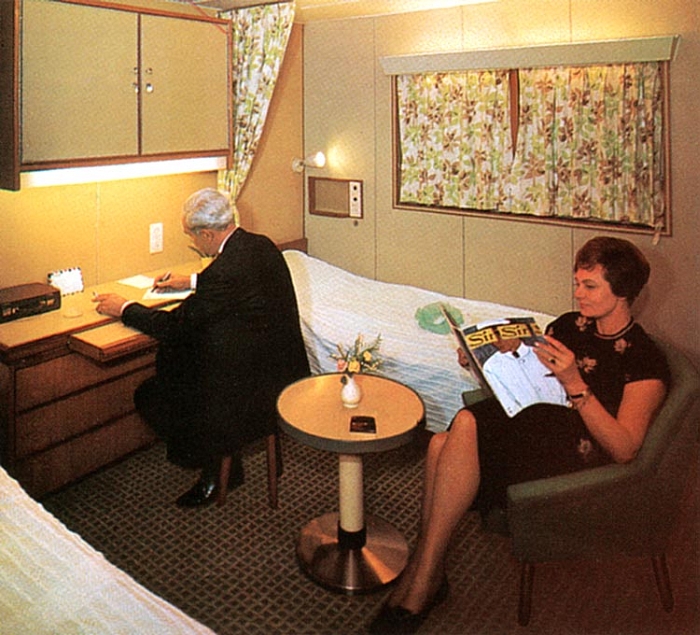 A twin bedded cabin on Main Deck with private facilities
In all cabins one of the lower beds would fold away and become a comfortable three-seat sofa during the day. In addition, if required, one upper Pullman berth could be fitted in some cabins only if a third passenger was travelling.
*On the Prinses Margriet there were just two cabins located far aft on Upper Deck, numbers 32 and 33 that did not have private facilities. However, they did have their private toilet directly outside of their door and there was a single shower reserved exclusively for these two cabins on the starboard side, opposite cabin 31, next to cabin 33. Thus it was not like on other ships where you had to wander far afield at night to find the toilet, for it was right outside your door!
Other Facilities: Aft on Boat Deck was the Phone booth and the Radio Room. Of course in the early 1960s the luxury of having a telephone in cabins was not as yet available! The baggage Room was located one deck down on Upper deck aft. Whilst located forward of the Lobby and the curved stairwell on Main Deck, was what was known as the heart of the ship, being of course the Purser's Office and right next to it was the Gift shop with the Hairdressers all neatly located together. Whilst further aft on the portside was the doctor's reception room and there a small two-bed hospital located further aft!
There was no doubt, but the late and the famed Maritime Historian Mr. Laurence Dunn who published the much loved Books, entitled: "Passenger Liners" certainly loved this delightful ship and he said in his book (she is) … "a ship notable for her charm, excellence of accommodation and also service." Thus this great man, I once knew is very much agrees with me when it comes to this amazing little liner!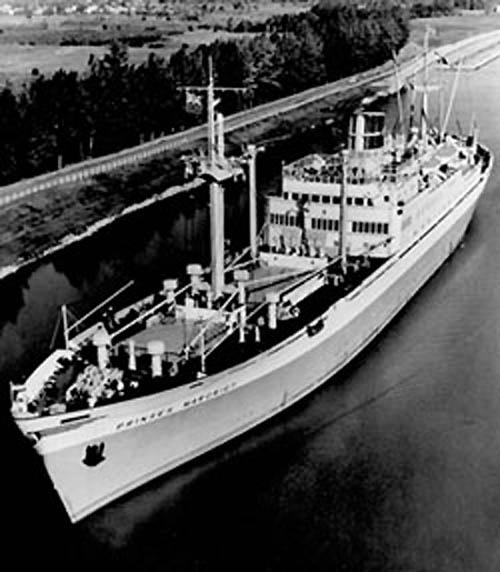 MV Prinses Margriet is seen sailing on the "Nieuwe Waterweg" heading for the North Sea
Now a Note of Fact:
However, by the time this perfectly designed passenger-cargo ship arrived on the scene, the truth is that it was really too late, for the time for this type of passenger transport was tragically on the way out! Today, we realise of course that slowly it would affect all of the passenger shipping trade and all major liners would be slowly either sold off or change direction and be refitted or rebuilt to operate in the more profitable cruise service! But small ships with around a 100 passengers were not suitable for the cruise industry, well not for very long any way for the demand would be for better and more facilities.
Her History:
Having been completed and delivered, she was fully stored and made ready for her maiden voyage on July 12, 1961. She first sailed to Antwerp and Hamburg for the reason to load cargo as well as Belgium and German passengers. She then returned to Rotterdam. This is a six-day round voyage not including the day of departure. Her Dutch passengers would now board and she commenced her first Trans-Atlantic crossing.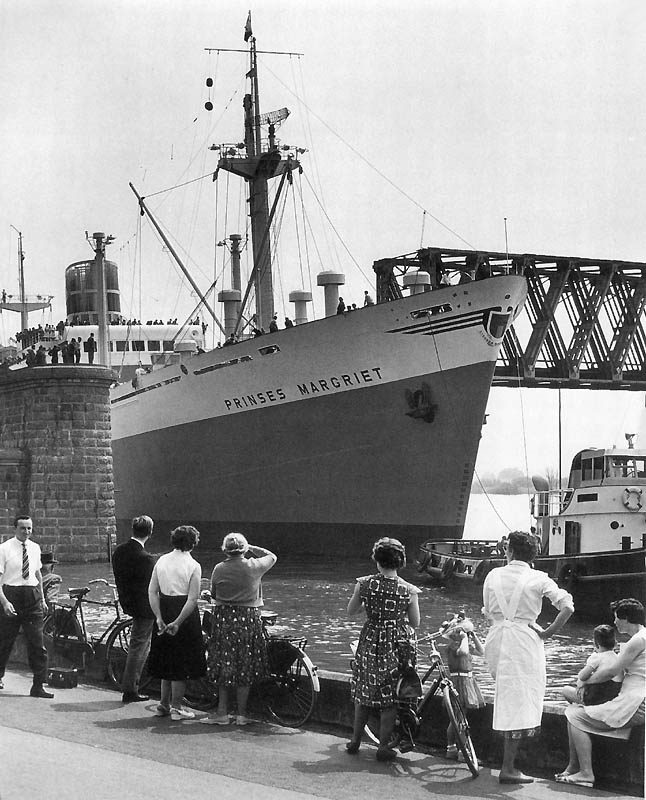 Prinses Margriet returns from Antwerp & Hamburg to Rotterdam during her Maiden Voyage on July 19
She would now collect her Dutch passengers and depart for her maiden Trans-Atlantic Voyage
Ports of call: Cowes Roads in order to collect further passengers, Le, Havre. From France it was across the Atlantic and up the St Lawrence to Montreal (two days), Chicago (nine days), Sarnia, and up the St Lawrence River again to Detroit (three days) and Montreal, returning to Plymouth, Le Havre, Rotterdam, where she would offload some of her passengers, and continue to Antwerp and Hamburg. The return Hamburg voyage would take a good sixty days. On later voyages, she would also make calls to Toronto and Cleveland.
During the winter season some of these voyages were simply not possible for many ships, but as the Prinses Margriet having an ice-strengthened hull, she was able to sail longer than most ships, but this was a difficult region! Therefore between July 1961 and May 1963 the Prinses Margriet was only able to undertake six prolonged voyages far into the North American Continent and just two sailings that were able to head up the St Lawrence River to Montreal before the cold and ice closed it in. But those were the same problem encountered by all companies!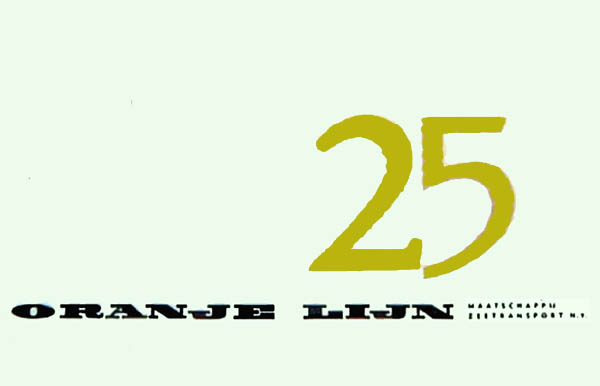 A special Anniversary Brochure as the Oranje Line was celebrating 25 Years in the shipping industry in 1962!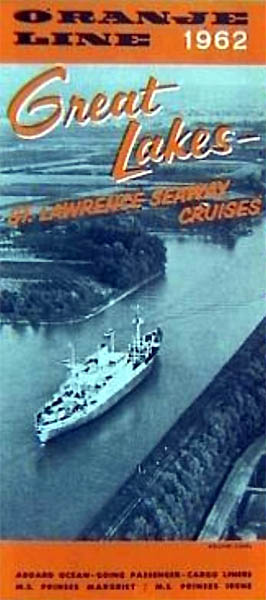 1962 sailing schedule for both the Prinses Irene and Margriet
The Oranje Line decided that during these times to operate her and her sister the Prinses Irene on the Europe/Rotterdam to New York service and even used the Prinses Margriet during the winter of 1961-62 several voyages to the America and the Mexican Gulf, which was popular with passengers. Ports were as follows: Rotterdam to Plymouth, Miami, Vera Cruz, Tampico, Coatzacoalcos, New Orleans, and Nassau back to Rotterdam. Then during the winter of 1962-63 the ship operated two cruises from Rotterdam via the Mediterranean to Haifa, Israel.
However, by early 1963 Oranje Line began to realise that somehow that their passenger operations sadly were just no longer a financially viable. Thus urgent decision needed to be taken. It was decided that the 60 passenger, 1953 built MS Prins Willem van Oranje would now operate just as a cargo ship only and the Prinses Irene was chartered to Cunard Line in 1964, and later that year she was sold to an Indonesian company or her to be converted to become a pilgrim ship.
Times are a Changing & Holland America Line:
Thus Oranje Line commenced to think of selling the pride of their fleet in the near future, then a little later in 1964 she was chartered by "Nederlandsch-Amerikaansche Stoomvaart Maatschappij N.V.," Rotterdam, or the "Holland America Line (HAL), which had its head office in Rotterdam. They placed her on what they called on their fortnightly service from Rotterdam to New York and she would operate together with the popular passenger-cargo liner the 12,146 GRT MS Westerdam!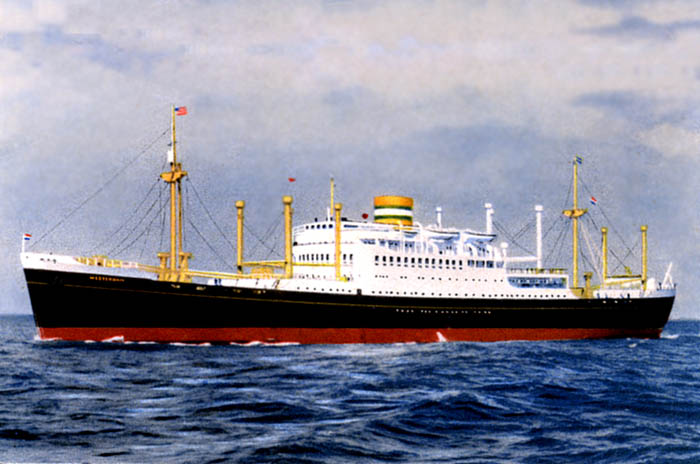 The Holland America Line MS-Westerdam 2 - (1946-65)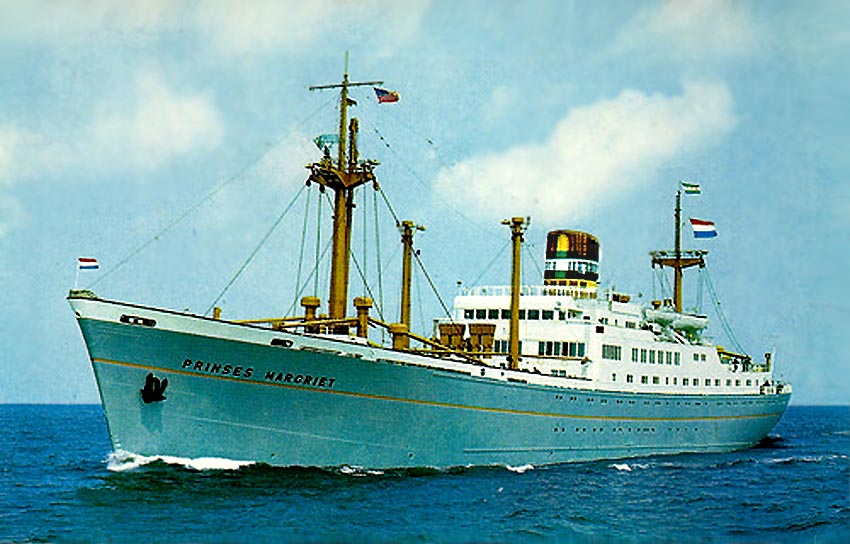 A Holland America Line postcard of the MV Prinses Margriet
However, as the Prinses Margriet fitted in perfectly in the HAL stable and being of a ship of such a high quality, she was purchased outright by Holland America Line. Yet the company decided not to rename this delightful ship in 1964. Thus, the Prinses Margriet became a very rare ship in the HAL fleet, in that she never had the traditional Holland America Line "dam" at the end of her name, like Westerdam. But, for the first nine years she remained very much the same luxury liner that was built by Oranje Line, although the ships Livery had changed, with her funnel now being yellow with the traditional HAL two green bands with the white one in the middle.
She continued relatively successfully through to 1970 and considering that countless ships were being withdrawn during the 1960s, the Prinses Margriet did well to continue so long, but she was popular with her passengers. Yet the Westerdam was suddenly sold to the breakers late in 1964, but with the success of the Prinses Margriet and she continued sailing. But it was obvious that passenger loadings were not what they used to be, although the repeat business was still good. But the other factor was that cargo trade was changing with containerisation slowly arriving on the scene. Thus the time came in 1970 that Holland America was making a decision what to do with her and she arrived to Rotterdam in June 1970 for the very last time! In all MV Prinses Margriet had made an excellent 53˝ round voyages from Rotterdam and New York
Her Tragic Final Years:
Holland America sold the superb liner officially in April 1970 to the Nauru Pacific Line, owned by Nauru Government, but HAL continued to operate her until June of that year. Having returned to Rotterdam she was taken to a shipyard for some maintenance work and a refit, then in October 1970 she was officially transferred and registered in Nauru and renamed Enna G, for the ship was named after Mrs. Enna Gadabu the wife of Chief Ray Gadabu who was a famed early Nauru Chief!
Nauru Pacific Line changed her livery, with her hull being painted all grey with only the amidships superstructure and masts being white and it certainly did nothing for her looks. Then her funnel was repainted in what was supposed to be in symbolic colours and an interesting, if not a strange explanation was given, but I did find it was interesting, but it had problems. The Nauru Line claimed that her dark blue funnel represented the ocean, not that I have ever seen the ocean that was royal blue! The yellow band stood for the equator and the Island of Nauru is located just south of the equator. Then there was that large twelve-pointed white star located lower on the funnel and this star was supposed to represent the twelve tribes in Nauru. Thus it although it was all rather symbolic and someone in Nauru would have had the brains to have carefully thought this all out, thus the expectation would be that this wonderful ship would be well run! But how wrong I was, for sadly over the next twenty years the manner the ship was run, she was nothing short of a financial disaster!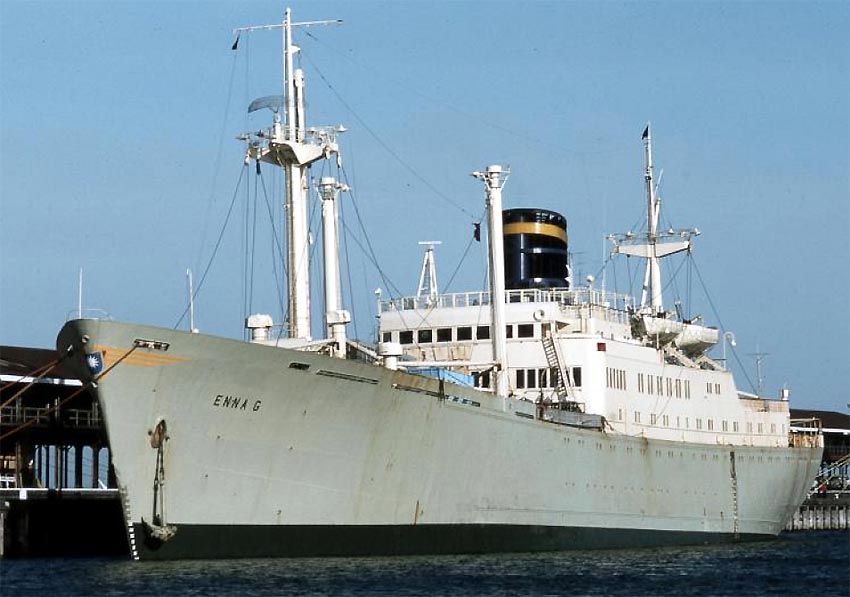 Here we see the Enna G berthed, note the funnel colours, if that blue represents the sea, then I am colour blind!
I know that I could tell a very long story about this small dot of an Island nation named Nauru, that due to copra suddenly became wealthy with the aid of Australia opting of assisting in stripping this little country of just about all of it in rapid time! Due to all this rapidly gained wealth they set up a shipping company, as well as an Air Line and any local citizen could make use of their ships or aircraft!
The ship was to be operated on the inter island trade as well as the occasional voyage to Australia. There was a time when the Enna G was filled with 111 schoolchildren who were heading to Australian schools and this was the only time ever that the ship had all her berths occupied! She returned to Nauru without any passengers. Later she would also visit ports in Fiji, Papua New Guinea as well as Guam; however that would decline for passengers loading became almost non-existent due to the people of Nauru deciding that it was better to use their airline rather than go on the ship, which was too slow. Thus the Enna G sailed mostly empty and with containerization having taken over in most ports, she was not carrying much cargo as well!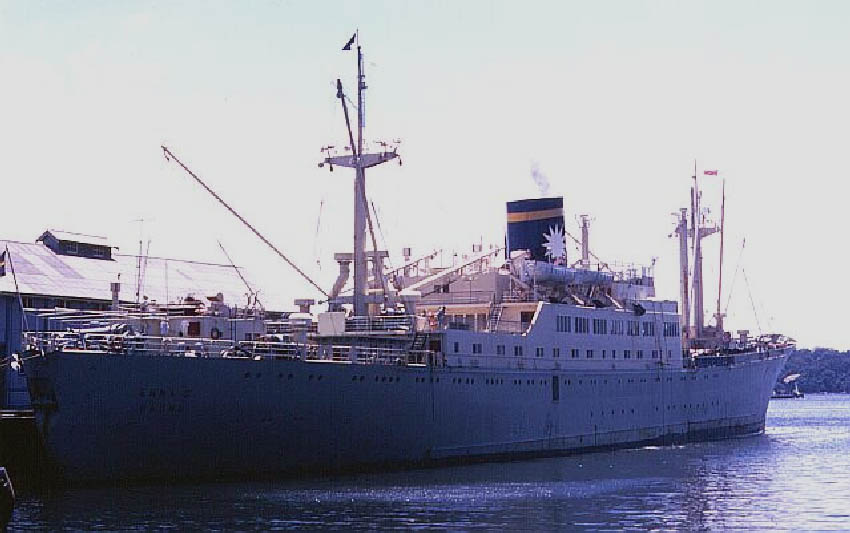 Above and below are two photographs of the Enna G, one still berthed and the next seen departing Sydney
Photographs by & © Stan Evans Newcastle Australia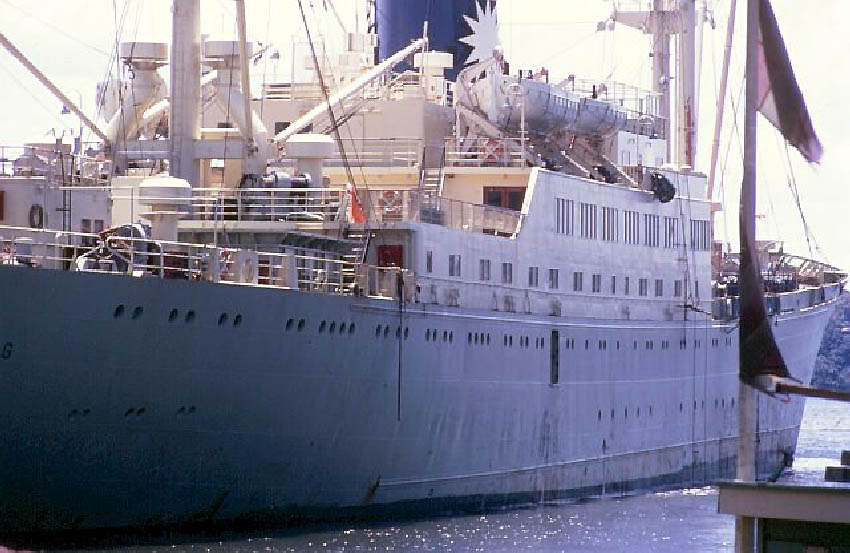 Having had a swimming pool installed in one of her aft holds during a refit in Japan, it was decided to operate her as a cruise ship out of Sydney and her first departure was in May 1972. Apparently, occasionally she also carried some cargo, but sadly the ship was plagued with mechanical problems and breakdowns, due to maintenance problems. Then there were problems with her crew, many of whom were Fijian and sadly the answer was, just to sack them all. Due to the aforementioned, the Enna G was laid up in Wellington New Zealand for four months for the severe treatment of the native crew and although there was a meeting between the Prime Minister of New Zealand and the President of the Republic of Nauru, it became, as it was reported "a heated one and came close to blows." In addition, there were the all too frequent arrests for non-payment of debts and it was getting worse and worse as time would pass.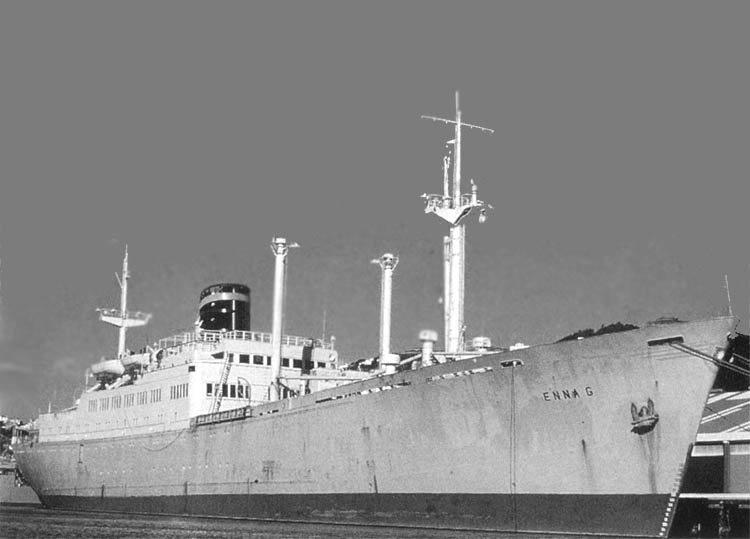 A ship most miserable under arrest once again for non-payment of debts, which was a regular event!
Considering she was unsuccessful both as a cruise ship for her owners it was decided in 1973 to place her on the Melbourne to Nauru service with visits to Sydney and Brisbane as required.
In 1975 Enna G headed for Japan were she receive a considerable refit, with the main purpose being to make her suitable for the transport of containers. Thus, both her fore and main mast was removed and two 10 tons cranes replaced her loading gear. In order to cope with the new weight requirement, her decks and hatches were reinforced as there would be three containers stacked up high. In addition, her passenger accommodation was slightly reduced to 103 passengers.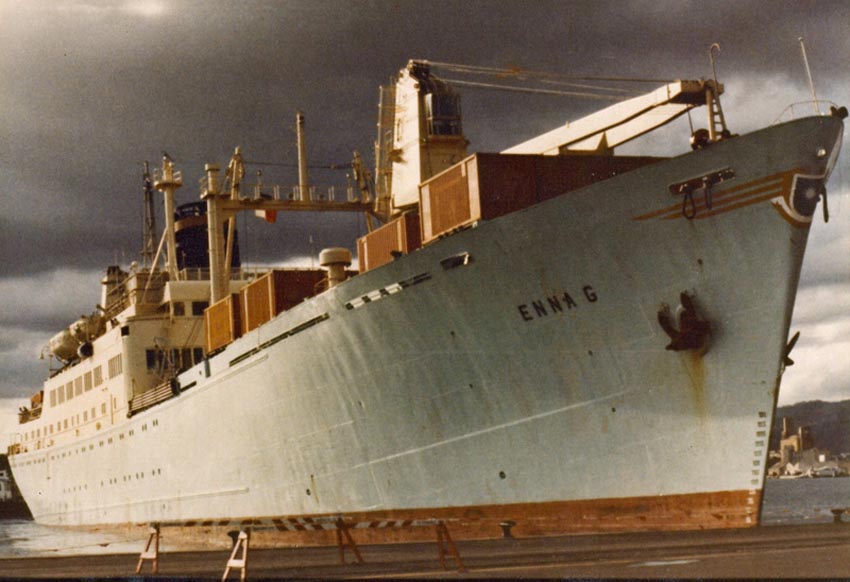 We see her close to her final days
After her refit she operated a number of failed services, then in 1977 the MV Enna G commenced a new Cruise and Container service, including visits to a number of small Pacific Islands such as; Majuro in the Marshall Islands, Ponape in Micronesia, Truk in the Caroline Islands, Saipan in the American Governed Mariana Islands and then to Honolulu and San Francisco, her new service began fairly successfully as a cruise and cargo liner but However considering that the MV Enna G was a foreign ship she was prevented to operate a passengers service due to "cabotage laws" between any of American administered Islands in the Pacific, especially Honolulu in Hawaii and the USA Mainland ports! It was decided to continue the operation on a cargo basis only, however soon enough with her high fuel consumption and exceptionally low cargo loadings, being mostly due to the larger and more fuel efficient ships were now taking the majority of the available cargo, thus sadly the Enna G became a burden for the company.
In 1980 the ownership of the Nauru Pacific Line vessels were transferred from the "Local Government Council of Nauru" to the "Nauru Corporation (Victoria) Inc.", but all ships remained registered in Nauru. But it had become obvious that the Enna G somehow had to make herself economically accountable.
She continued to operate from Melbourne to Nauru transporting containers and occasionally a few passengers, but once again, considering due to the sheer inefficiency and never ending breakdowns, due to maintenance problems she was returned to Melbourne where the this tragic ship the Enna G was laid up for twelve months. She was first located alongside the "Duke" dry-dock and then she was languishing next to the "Orr" dry-dock. Living aboard were four men who were mostly being paid to keep an eye on her as well as ensuring that she would not be vandalised.
Her End is

Near

:
This once great all First Class Luxury, Orange Line and Holland America Line passenger-cargo liner certainly did not fare well during her second phase as a ship owned by Nauru to say the least! As I have said several times her times with Nauru was simply "so tragic."
Originally, some of the greatest of maritime historians, including myself had laden this fine ship with highest praise for not just being luxurious and glamorous, but also a ship that offered the highest quality of service and finest of meals. And that was something that the Enna G owned by this tiny Island Nation failed to do. Let us be honest, the people of Nauru had almost no genuine maritime background and due to their poor management, they damaged this ships good name and all that was good about this once superior little passenger-cargo liner!
But, it was in 1983 that the final insult arrived, as the Enna G was relocated to Majuro Atoll a tiny atoll, so low that at some King Tides the Island could even disappear, it is part of the Marshall Islands. Amazingly this sad place would be her final official port of call as a Nauru owned ship for the next port was the breakers yard!
With the Enna G having been having been laid-up at Majuro Atoll for a long seven years she found in a disgusting run down state, thus it was decided to finally sell her the Thai Ship breakers in 1990.
As her engines were no longer operational having been completely neglected, she departed undertow in August of 1990 for her final voyage to Thap Sakae where she arrived on September 8, at the "Ocean Steel Co. Ltd." Breakers Yard. However it was not until March 13, 1991 that her breaking up began, and it was reported to be completed on July 14, 1991.
Comprehensive Details & Specifications:
Shipbuilder: "De Merwede" Shipbuilders, Hardinxveld The Netherlands.
Yard: 547.
IMO Number: 5285370.
Callsign: PGVS.
Homeport & Flag:---------Rotterdam/the Netherlands.
Keel laid down: March 1, 1960.
Launch Date: December 12, 1960.
Trials: June 6, 1961.
Delivered: July 4, 1961.
Maiden Voyage: July 12, 1961.
Tonnage: 9,336.00 GRT (Gross Registered Tonnage).
. 7,763.00 Deadweight Tonnage.
Engine built at: Verolme Machine Factory IJsselmonde N.V., Holland.
Engine details: Motor, Oil, 2-stroke single-acting.
Engine Type: Single 10-cylinder diesel engine of a M.A.N. design - 8,600 BHP.
Screws: 1.
Speed: 17.5 Knots.
Length: 456ft.
Beam: 61.1Ft.
Draught: 32.3Ft.
Decks: 5 passenger decks.
Passengers: 111 First Class.
Stabilized: Yes.
Ships Owners:
1961-1964: Oranje Lijn N.V., Rotterdam, Netherlands 1961-1964.
1964-1970: Holland America Line 1964-1970.
1970-1980: MV Enna G - Nauru Shipping (Nauru Government) 1970-1980.
1980-1990. MV Enna G - Nauru Corporation (Victoria) Inc., Nauru.
1990: MV Enna - Ocean Steel Co. Ltd., Thai ship breakers.
Remembering What was a Fine Classic
Passenger-Cargo Liner ~ The MV Prinses Margriet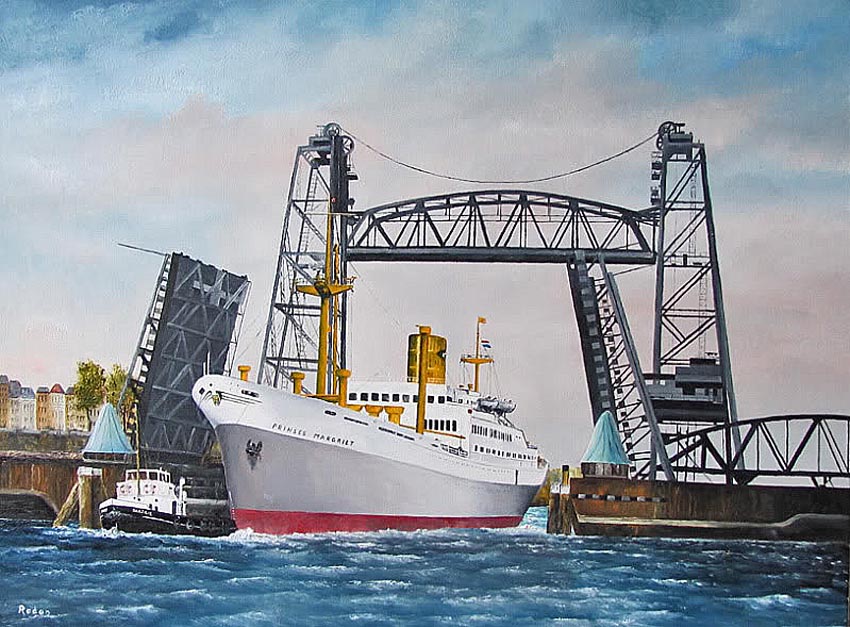 This fine painting of the MV Prinses Margriet as seen in her Oranje Line livery
A fine painting by the excellent Dutch Maritime Painter

Frans

Romeijnsen
Now go and see her Deck Plan
As well as further photographs, memorabilia and other items!
****************************
Visit our ssMaritime Main INDEX
Where you will discover more than 625 Classic Passenger & Passenger-Cargo Liners!
ssMaritime.com & ssMaritime.net
Where the ships of the past make history & the 1914 built MV Doulos Story
Also visit my
"Save The Classic Liners Campaign"
Please Note: ssmaritime and associated sites are 100% non-commercial and the author seeks no funding or favours of any shape or form, never have and never will!
Photographs on ssmaritime and associate pages are by the author or from the author's private collection. In addition there are some images that have been provided by Shipping Companies and private photographers or collectors. Credit is given to all contributors. However, there are some photographs provided to me without details regarding the photographer/owner concerned. I hereby invite if owners of these images would be so kind to make them-selves known to me (my email address may be found on www.ssmaritime.com only), in order that due credit may be given.
ssMaritime is owned & © Copyright by Reuben Goossens - All Rights Reserved.