T.S.M.V. Manoora 1935 to 1962 Page Two
Firefox and some iPad's or iPhone's, etc are not suitable
Use Google Chrome for this web page to load perfectly!

Click the logo above to reach the ssMaritime FrontPage for Ships of the Month & News Updates
With Reuben Goossens
Maritime Historian, Cruise'n'Ship Reviewer, Author & Lecturer
Please Note: All ssmaritime as well as my other related maritime & cruise sites are 100% non-commercial and privately owned sites. Be assured that I am NOT associated with any shipping or cruise companies or agencies or any other organisations! The author has been in the passenger shipping industry since May 1960, but although retired and unwell, I occasionally attempt to write an article now and then, in order to bring enjoyment and pleasure to ship enthusiasts past passengers and crew.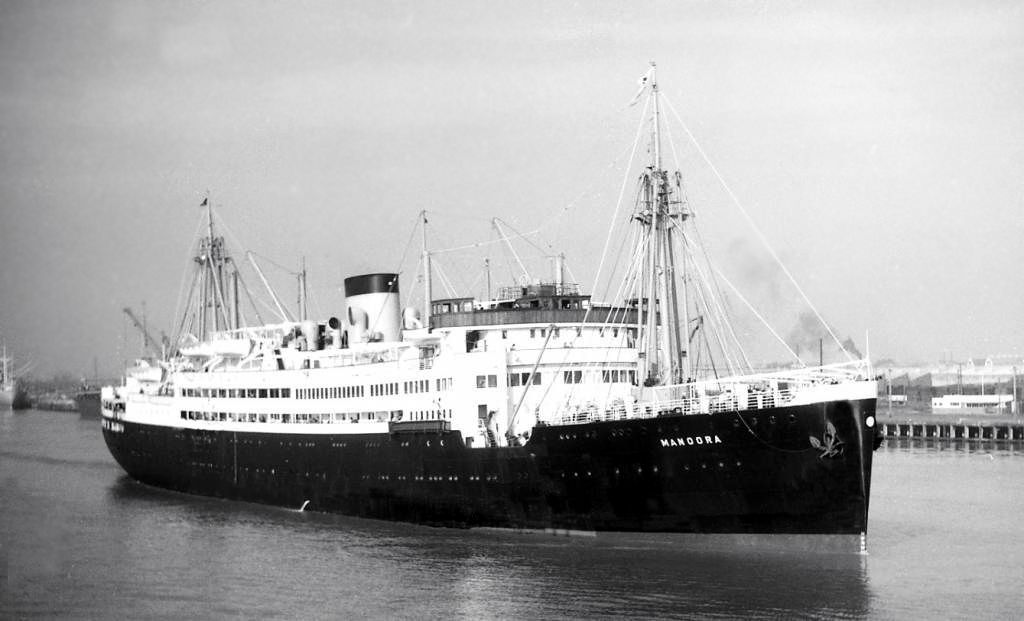 The T.S.M.V Manoora at the height of her career!
The word "Manoora" is Aboriginal for "Spring"!
From the author's collection
Page Two
Adelaide Steamship Company
T.S.M.V. Manoora
H.M.A.S. Manoora & T.S.M.V. Ambulombo, Affan Oceana, Ambulombo
A Three-Page Feature
A Special Page Full of Interesting Items of Memorabilia
Mostly Provided by ssMaritime Supporters
Part One - Passenger Tickets & Labels, etc:
This part came about due to receiving an email from a Mr. Jack Dwyer whose parent's, Mr and Mrs Mollie and Frank Dwyer sailed on the TSMV Manoora and Mr. Dwyer has kindly sent me a fine collection of items that has been retained since 1958, and I am certainly most appreciative to him for providing these memorable items as they will be of interest so many readers!
Mr and Mrs Dwyer Senior sailed on her, as the schedule below shows, on Voyage 173, departing Sydney on May 13, 1958, and they sailed via Brisbane where they were on May 15 & 16, then continued to Townville and Cairns, returning home via the same ports arriving back in Sydney on May 29.
On this page, I will commence with four departures of the winter schedule for 1958, followed up by a ticket envelope and the two sides of a luggage label, and an information leaflet. Then to complete the page there is part of the ever popular on board activity the Race Meeting and parts of the race booklet is also shown, and we end with the best of it all, the menu, which is dated Wednesday May 28, 1958, the night prior to disembarkation!
Whilst on Page Three you will find the Manoora Brochure complete with the full Deck Plan of the ship, and this was also provided by Jack Dwyer as his parents had retained it in their folder, and he sent it to me for publication! The Links are located on the Manoora INDEX at bottom of the page!
Part Two - Memorabilia:
Then in Part Two I present a wonderful collection of Memorabilia that have been presented by a number of past passengers or their relatives. Each item had the details noted and I am very grateful, for many of these have in fact been donated to me to be placed in my small but popular maritime museum. Although that as is this website remains as it has always been since 1995 100% non-commercial, for I do not take any paid advertising, even though I am offered a fortune, considering the hundreds of millions of visitors this site receives. Not am I associated with any shipping company's, and when I do go on a cruise, I pay my full fare, for if I do write a cruise review, I will always remain completely without bias!
But, to you my wonderful supporters and those who so kindly have provided images and items of memorabilia, be it a photograph of a precious item, or the actual item donated to the ssMaritime museum, I wish to thank send you a heartfelt thank you! Believe me, without you this site could never have been the success it has become and the wonderful Manoora would never have received the coverage that this fine ship really deserves!
A Personal Note:
Personally the time that Mollie and Frank Dwyer was on board the delightful T.S.M.V. Manoora, in fact their second day the ship was in Brisbane on May 16, 1958, was very significant day for me, for as it happened it was 1, my birthday, not that that was very special for it was not celebrated anyway, as we had left our home in Amsterdam and were staying in a hotel in Rotterdam, for my Mother and I departed Rotterdam the very next day May 17 and we left our tragic past, having survived the Holocaust and all its tragedies and sailed for our new home Down Under via the Panama Canal! The ship was the Rotterdam Lloyd M.S. Sibajak, an elegant 12,000-ton old liner that was sadly scrapped the very next year, but I dearly loved that ship and it was whilst I was on board that ship, I gained my great love of "ships and the sea" and I decided there and then that I would work in the Passenger Shipping industry, and I did! I started as in a passenger shipping company office and worked my way up the hard way, until I was the manager, then a managing Director, followed by the CEO of one of the largest Passenger Shipping Companies in the World, concluding operating a Cruise Line, now owned by Royal Caribbean International, after which I retired and in due course commenced my websites in the early 1990s. Thus 1958 is an important year in my history as well as the Dwyer's!
Reuben Goossens.
Maritime Historian, Author & Lecturer.
**************************************************
Part One
T.S.M.V. "MANOORA"
ITINERARY FOR QUEENSLAND WINTER SERVICE - 1958
TRIP 173

TRIP 174

TRIP 175

TRIP 176

Leave Melbourne

2 p.m.

Saturday

10th May

7th June

5th July

2nd August

Arrive Sydney

7 a.m

Monday

12th    "

  9th    "

  7th    "

  4th    "

Leave Sydney

7 p.m

Tuesday

13th    "

10th    "

  8th    "

  5th    "

Arrive Brisbane

7 a.m

Thursday

15th    "

12th    "

10th    "

  7th    "

Leave Brisbane

8 p.m.

Friday

16th    "

13th    "

11th    "

  8th    "

Arrive Townsville

a.m.

Monday

19th    "

16th    "

14th    "

11th    "

Leave Townsville

p.m.

Tuesday

20th    "

17th    "

15th    "

12th    "

Arrive Cairns

a.m.

Wednesday

21st    "

18th    "

16th    "

13th    "

Leave Cairns

p.m.

Friday

23rd    "

20th    "

18th    "

15th    "

Arrive Townsville

a.m.

Saturday

24th    "

21st    "

19th    "

16th    "

Leave Townsville

p.m.

Saturday

24th    "

21st    "

22nd   "

16th    "

Arrive Brisbane

7 a.m

Tuesday

27th    "

24th    "

22nd   "

19th    "

Leave Brisbane

7 p.m

Tuesday

27th    "

24th    "

24th    "

19th    "

Arrive Sydney

7 a.m

Thursday

29th    "

26th    "

24th    "

21st    "

Leave Sydney

2 p.m.

Saturday

31st    "

28th    "

26th    "

Overhaul and Lloyd's Survey.

Resumes W.A. Summer Service 26th September.

Arrive Melbourne

7 a.m

Monday

2nd June

30th    "

28th    "
***********************************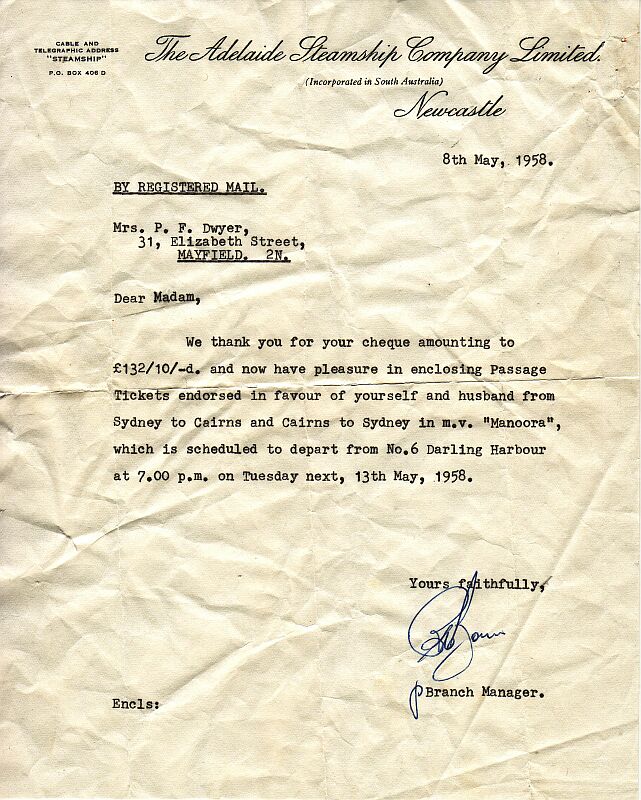 A letter from The Adelaide Steamship Co, Ltd., accompanying Mr & Dwyer's return Sydney, Cairns, Sydney Passage Ticket
All items below were provided by their son Jack Dwyer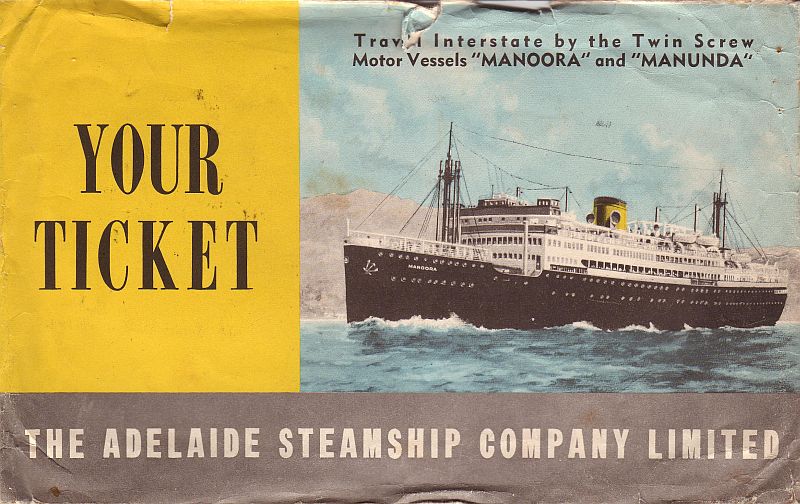 Ticket envelope for voyage in May 1968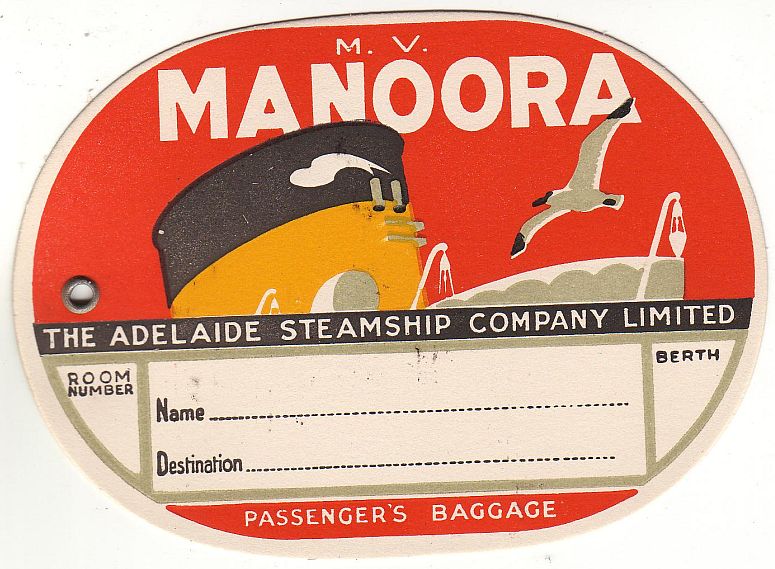 Above and below: Above & below: One of Mr & Dwyer's spare baggage labels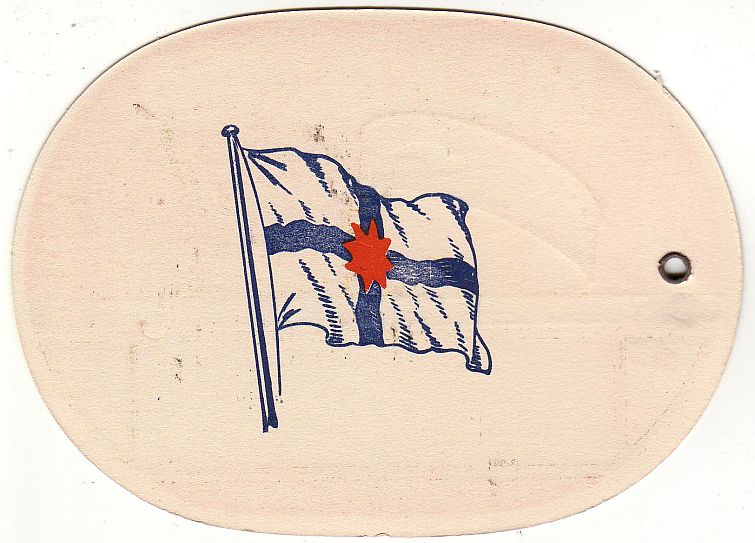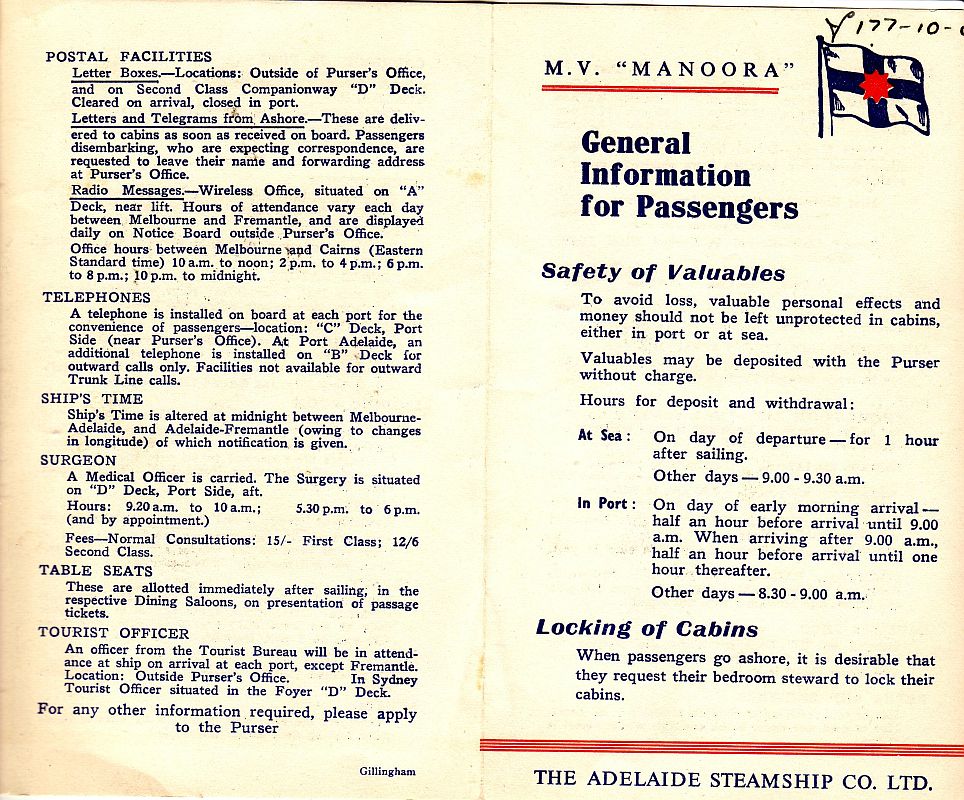 Above and below

: General Passenger information leaflet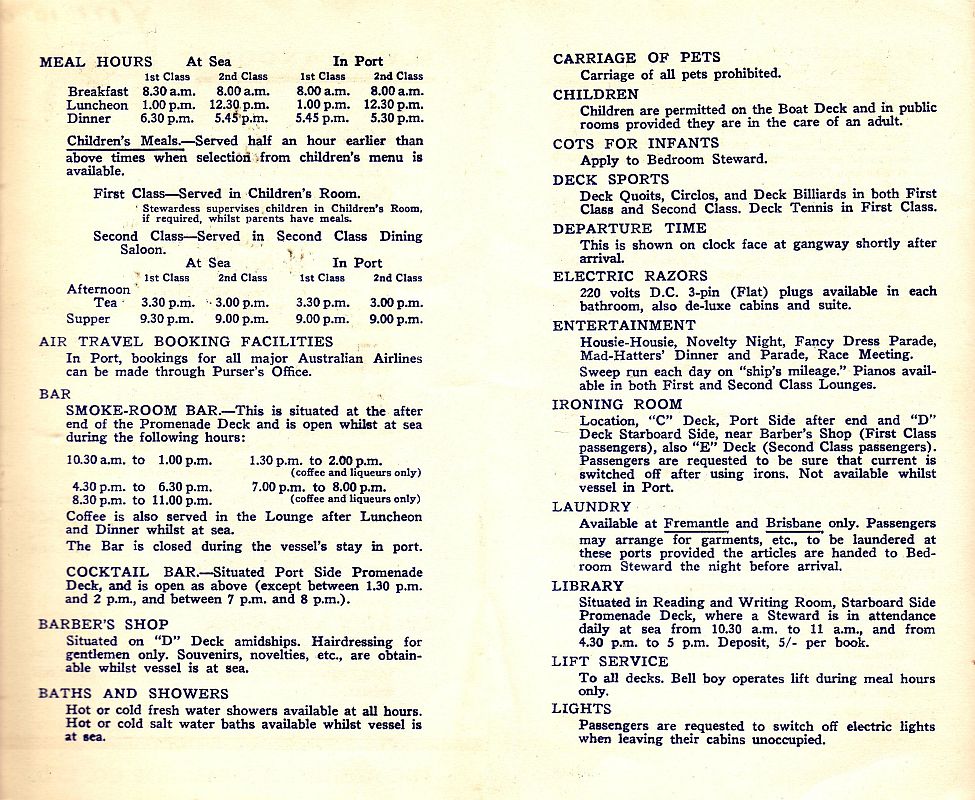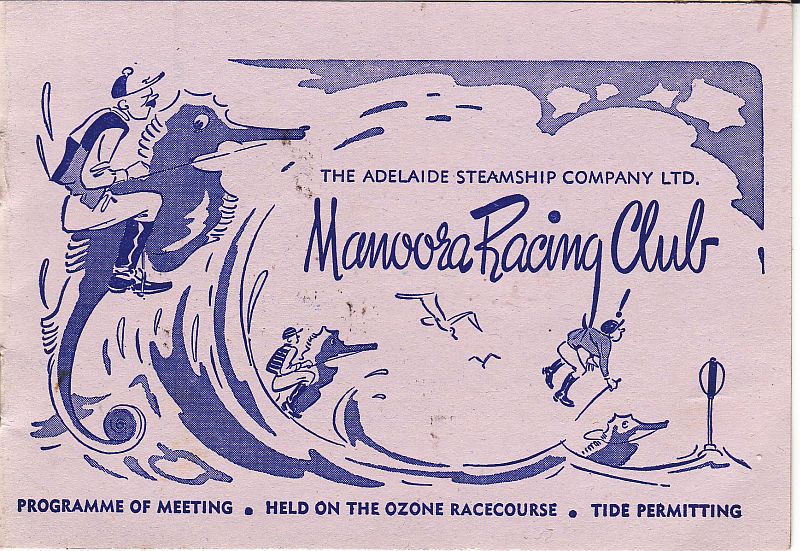 Manoora's Social activities: Horse race book cover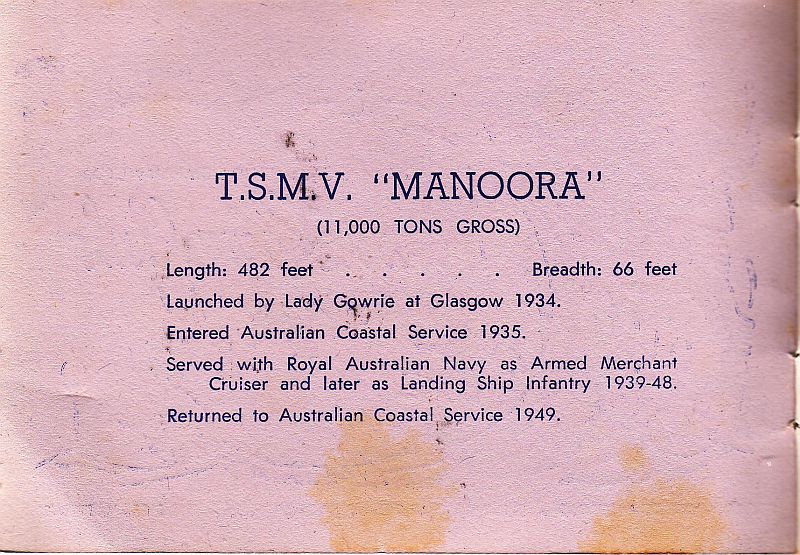 Racing book inside cover – with Manoora post war details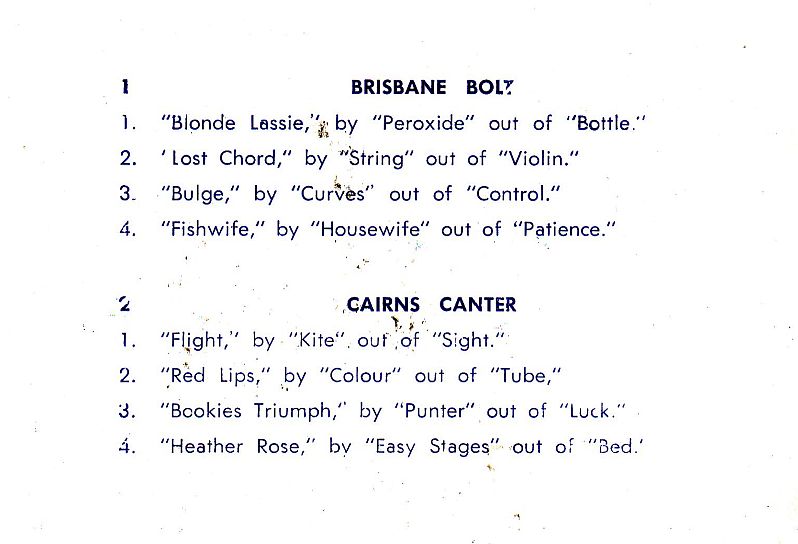 Here are two great games to lace a bet on!

- Let's go for #Four in Game 1, and #One in Game 2!

OK, so I am a man and yet let face it, Brisbane Bold Game One the name of #4 "Fishwife" by "Housewife" etc, is so very wrong in more ways than one, and would not be acceptable today! I hope that this horse did "Flight" and win?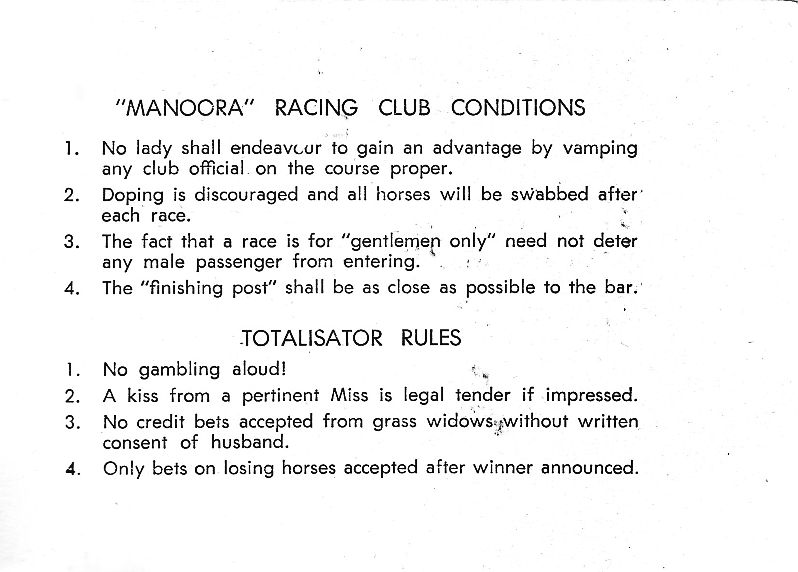 Racing conditions should obviously be taken very, very seriously!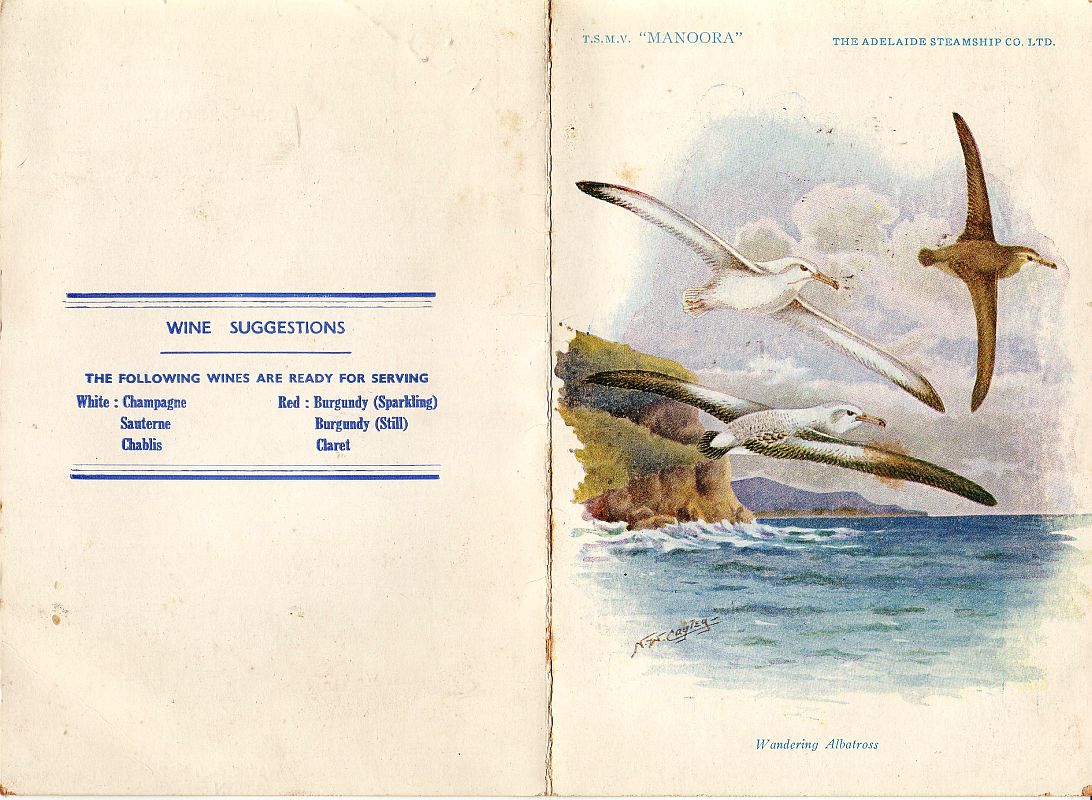 Above and below

: First Class Dinner Menu with Captain O Nilsson O.B.E. in Command

As we can see it is dated May 28, 1958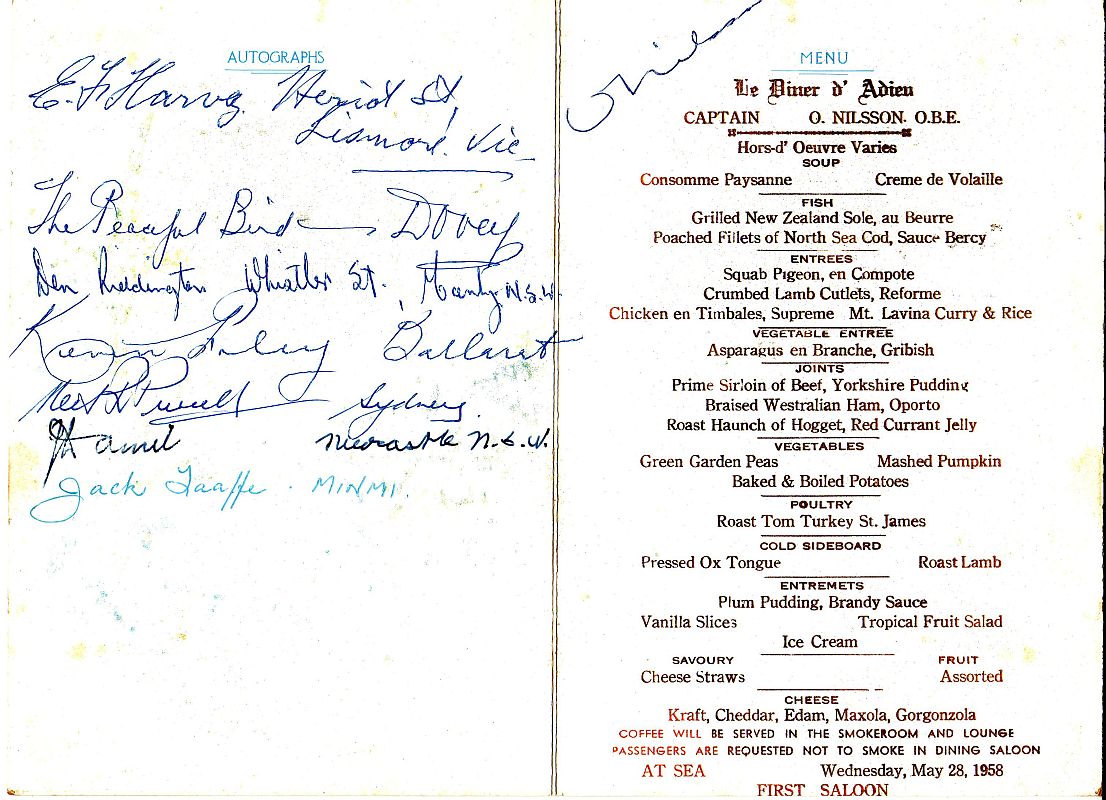 All the above were provided by Mollie and Frank Dwyer's son, Jack Dwyer
And I am so very grateful to him for his kind assistance in providing so much material, which will be enjoyed by so many!
***********************************
Part two
T.S.M.V Manoora ~ Memorabilia Section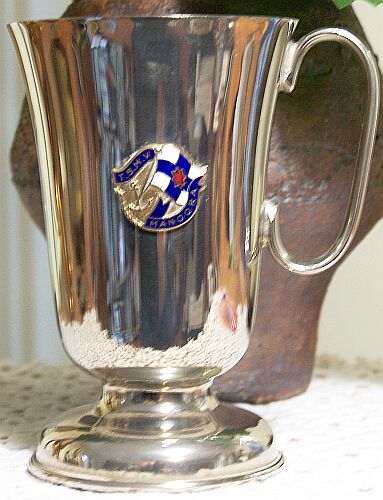 This fine silver mug may have been given out as a trophy for special events on board
The mug was generously provided to the author by Garry and Elspeth Jacobs
The elegantly crafted silver plated mug with the Manoora badge as seen above was made by Angus and Coote in Australia. Garry Jacobs located the mug in his parent's collection and decided to do some research on the ship online and found this page on the TSMV Manoora. Having contacted the author, Garry decided to have Angus and Coote look at the hallmark in the base, but he was advised that the records that contained this particular hallmark seemed to have gone missing in the space of time thus it could not be accurately dated. Although it was held that the hallmark did suggest the mug would have been made prior WWII. The hallmark is in old English lettering to denote that it is EPNS (Silver Plating) and the Angus and Coote expert said that this kind of lettering was certainly very unusual.
When Garry was young he sailed with his parents and his sister on Australia's largest and most luxurious ever liner, the TSMV Kanimbla from Melbourne to Sydney and return. But obviously as he discovered one day when going through the many mementos, his parents had also sailed on the TSMV Manoora when he was much younger.
Garry and Elspeth Jacobs very kindly donated this superb silver mug/trophy to the author's maritime collection and I am greatly appreciative to them both for providing such a magnificent item of Australian maritime history for us all to enjoy long in the future! It will be seen in due course in various Australian Maritime Museums as it will be loaned to their Australian passenger fleet displays, together with the many other items in my possession.
Other Silver Items from the TSMV Manoora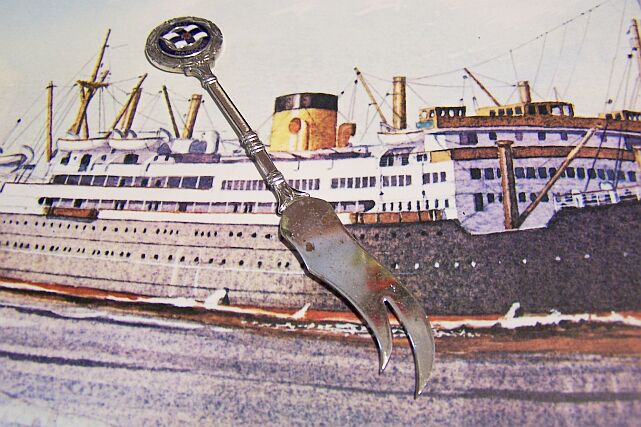 A silver cheese knife seen on an artist impression of the ship
The knife was kindly donated to the author by Holly Whillas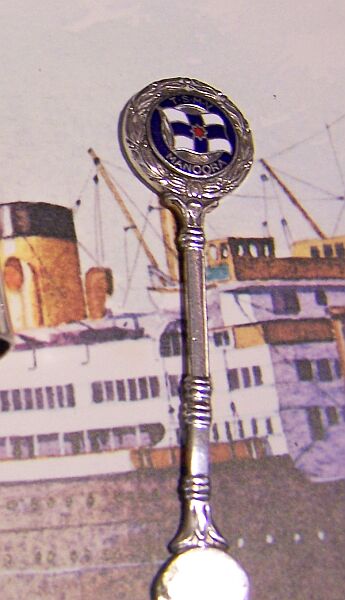 A closer view of the Manoora medallion
Kindly donated to the ssMaritime Museum by Holly Whillas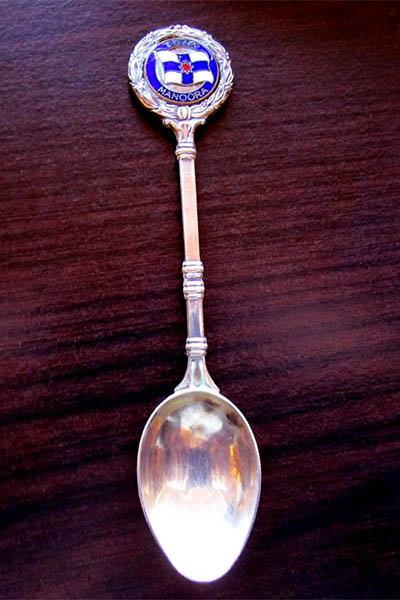 A teaspoon from the T.S.M.V. Manoora with a very clear view of the medelion
Kindly donated to the ssMaritime Museum by the Chynoweth family of Adelaide S.A.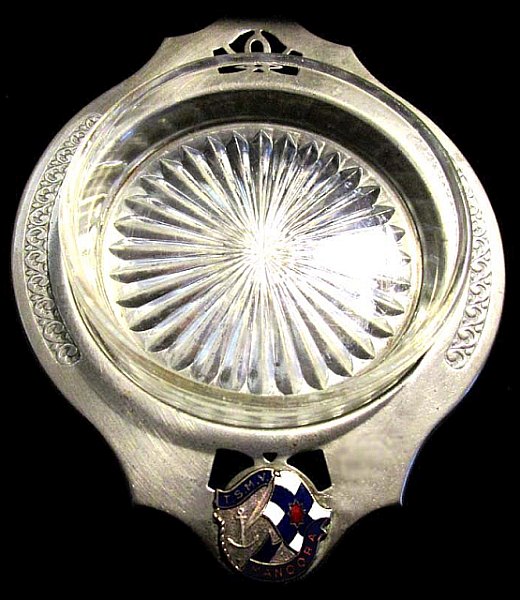 Silver plated and a crystal T.S.M.V. Manoora Butter dish
Kindly donated to the ssMaritime Museum by Sheryl Birch
On the bottom of the above Butter Dish there are six silver stamps and it was made by the famed "Armada Silver", being a firm that continues to trade to this day! Amazingly the original company goes as far back as 1581, and soon thereafter they found silver on a sunken Spanish Galleon, from the Spanish Armada in 1588. It was only then, or soon thereafter that the Scottish Company changed their name to "Armada Silver"!
Thus the base is a Sliver plated (EPNS A1) item, and Armada was used by the "Adelaide Steamship Company" for most of their silver plated items where used in First Class, which I was not aware of until I checked some of my other items, which are by the same maker.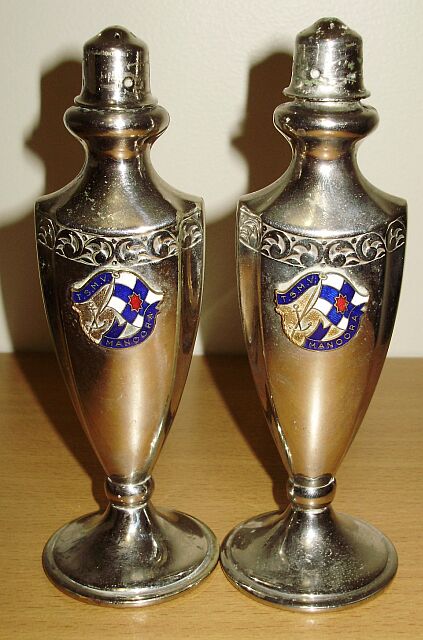 A superb set of TSMV Manoora Silver Salt and Peppershakers
The above and beautiful silver items below were kindly provided to the author by Jamie Duggin
Jame Duggin's Grandfather was a landing craft coxswain on the Manoora during the war and apparently he obtained these items (above & below) whilst he was on board during his service days!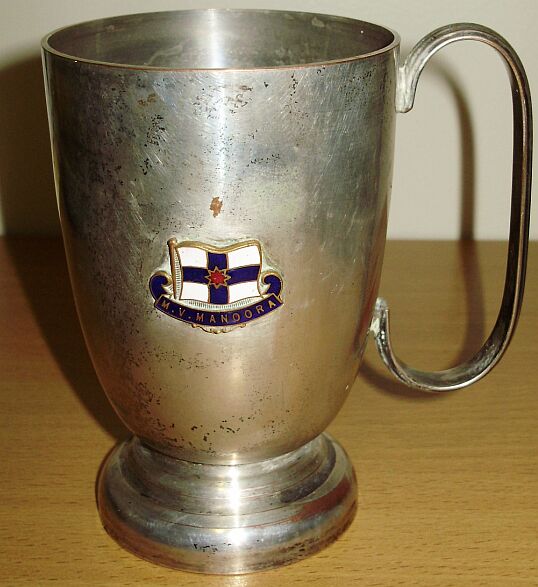 A Silver mug
Provided by Jamie Duggi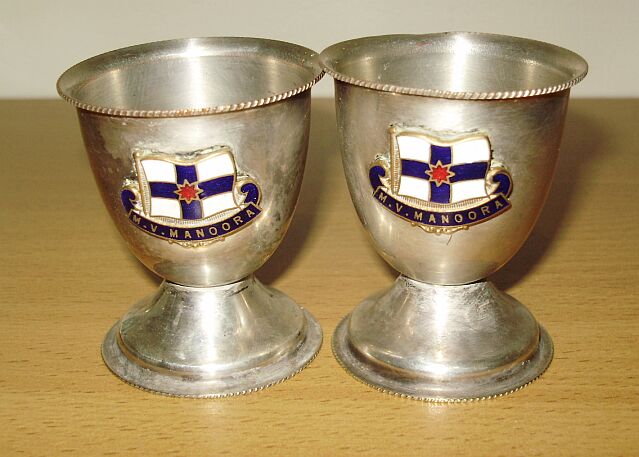 Two Silver eggcups
Provided by Jamie Duggi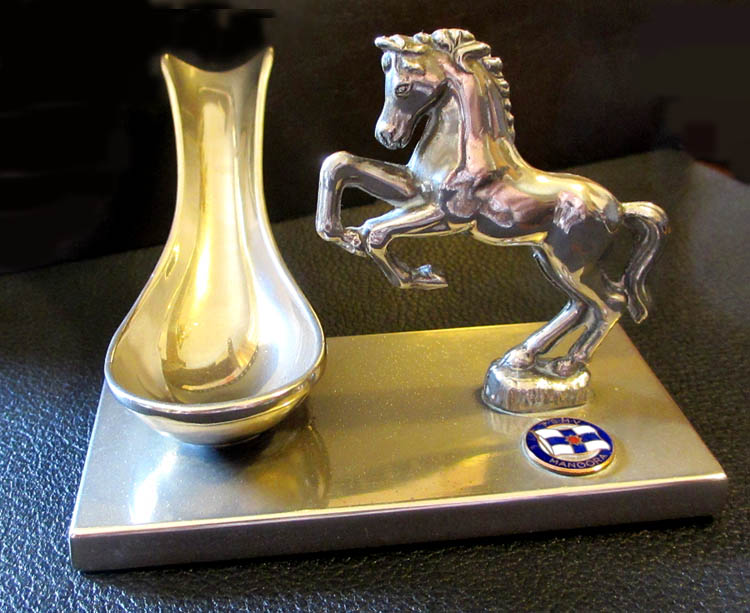 Above & below: Now here is something very rare, a pipe holder obtained from on board the TSMV Manoora

This beautiful item was kindly donated to the ssMaritime Museum by Mr &

Robert and Christine Barker from West Sussex, UK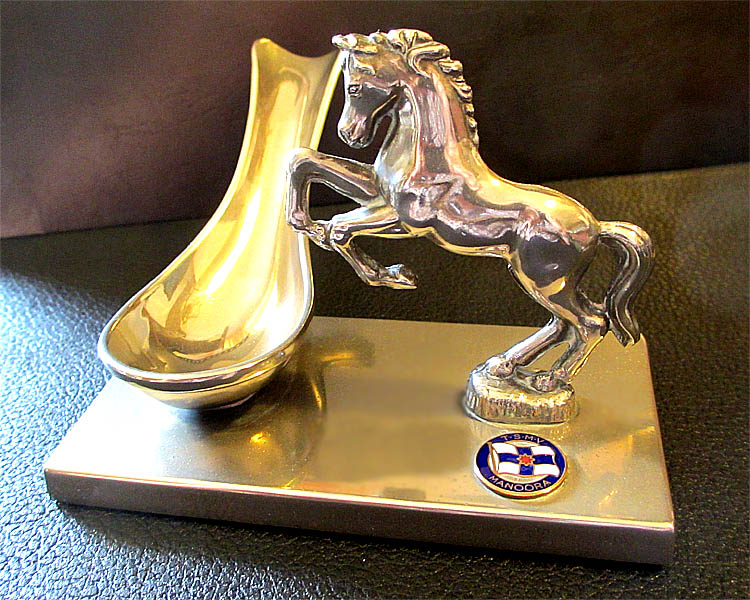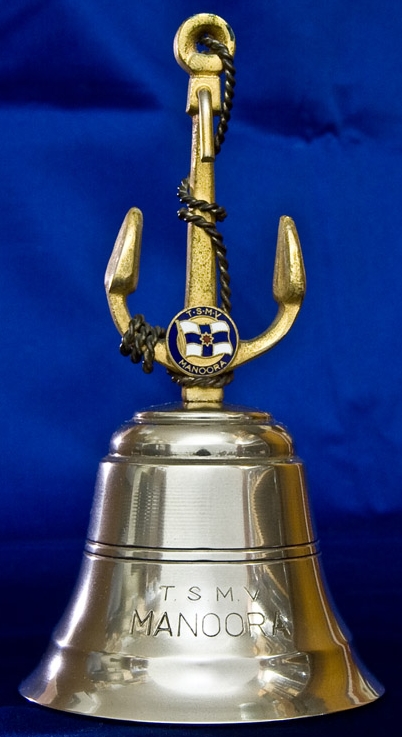 A beautiful Souvenir Manoora Bell obtained on a voyage in 1956
The bell was kindly donated to the ssMaritime Museum by Harold Wood who sailed on her as a 10 tear old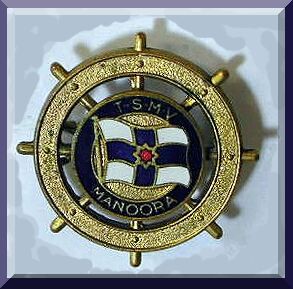 Another item of Manoora Memorabilia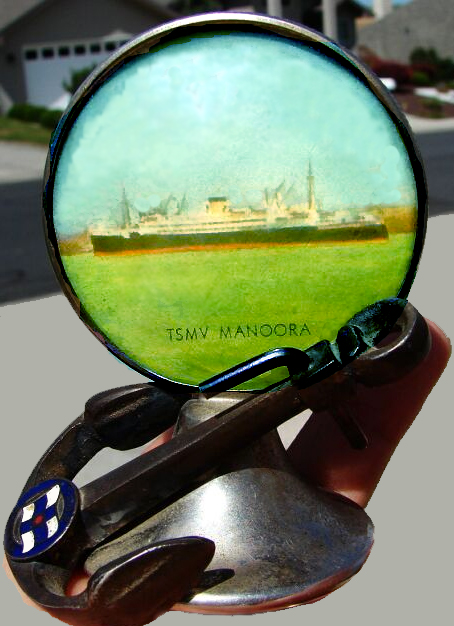 Another of the Manoora's souvenirs, a Pen or a Pencil holder, it is held at the top of the anchor
Sent in by a supporter, but from an unknown source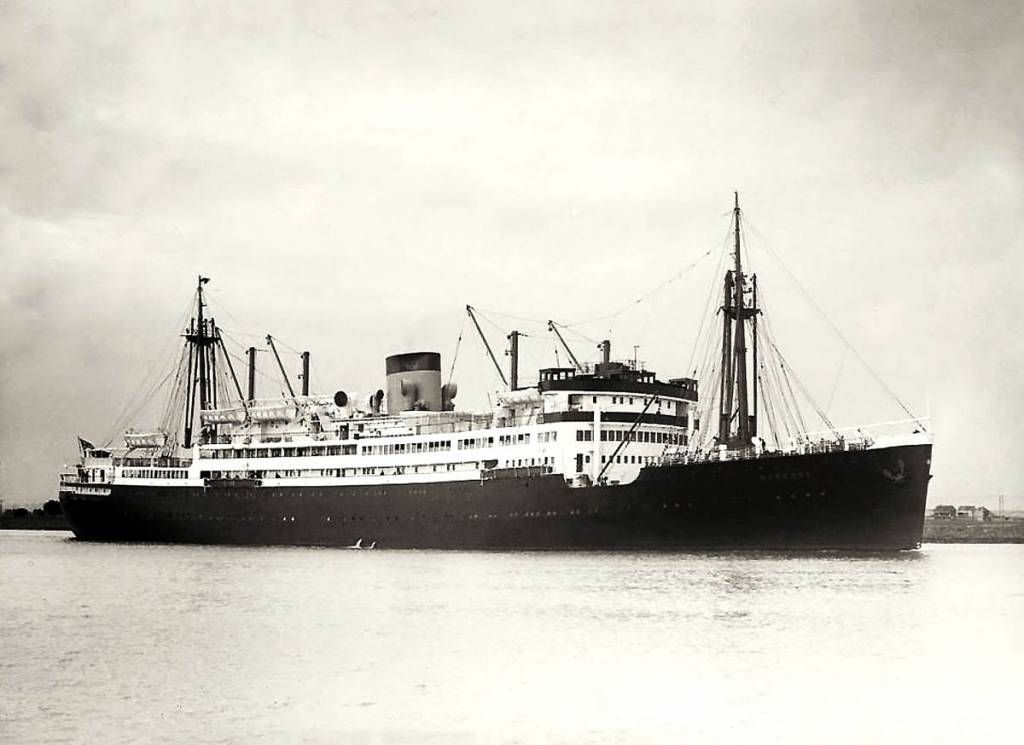 Another fine view of a great Australian liner, those days are now long gone. Then truth is they could never exist in these modern days as Australian crews would be far too costly. Australian owned, run and manned passenger ships would go broke faster than lightning, as they would not stand a chance in hell to

survive, I am sad to say!

T.S.M.V Manoora ~ INDEX:

Page One …                    The Ships history page.

Page Two …                   Mr &

Dwyer sail on the Manoora in MAY 1958 & the Memorabilia Page. (This Page).

Page Three …                 Ships Deck Plan provided by Jack Dwyer.

"Blue Water Liners sailing to the distant shores.
I watched them come, I watched them go and I watched them die."

****************************

Return to the ssMaritime MAIN INDEX

ssMaritime.com & ssMaritime.net

Where you will discover over 1,350 Classic Liners & the 1914 built MV Doulos Story

The Author has been in Passenger Shipping & the Cruise Industry for a good 60 years

Please Note: ssmaritime and associated sites are 100% non-commercial and the author seeks no funding or favours of any shape or form, never have and never will!

Photographs on ssmaritime and associate pages are: by the author or from the author's private collection. In addition there are some images that have been provided by Shipping Companies and private photographers or collectors. Credit is given to all contributors. However, there are some photographs provided to me without details regarding the photographer/owner concerned. I hereby invite if owners of these images would be so kind to make them-selves known to me (my email address may be found on www.ssmaritime.com only), in order that due credit may be given.

This notice covers all pages: although, and I have done my best to ensure that all photographs are duly credited and that this notice is displaced on each page, that is, when a page is updated!

ssMaritime is owned & © Copyright by Reuben Goossens - All Rights Reserved