T.S.M.V. Manoora 1935 to 1962 and she had three names thereafter
Firefox and some iPad's or iPhone's, etc are not suitable
Use Google Chrome for this web page to load perfectly!

Click the logo above to reach the ssMaritime FrontPage for Ships of the Month & News Updates
With Reuben Goossens
Maritime Historian, Cruise'n'Ship Reviewer, Author & Lecturer
Please Note: All ssmaritime as well as my other related maritime & cruise sites are 100% non-commercial and privately owned sites. Be assured that I am NOT associated with any shipping or cruise companies or agencies or any other organisations! The author has been in the passenger shipping industry since May 1960, but although retired and unwell, I occasionally attempt to write an article now and then, in order to bring enjoyment and pleasure to ship enthusiasts past passengers and crew.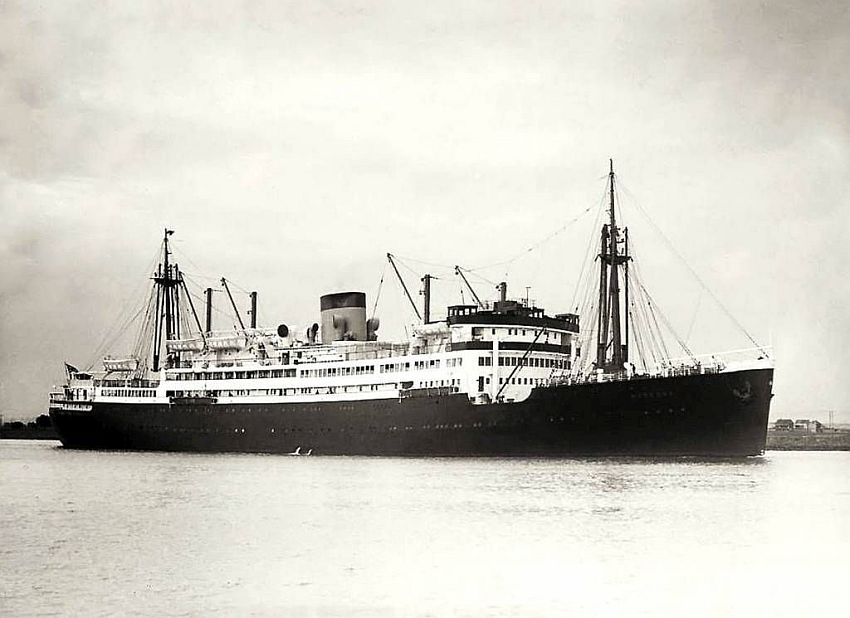 The magnificent Australian Coastal Liner T.S.M.V. Manoora
Photographs are from the ssMaritime historic collection - unless stated otherwise
Also with grateful thanks to the "Australian War Memorial" (AWM)
Page One
Adelaide Steamship Company
T.S.M.V. Manoora
H.M.A.S. Manoora & T.S.M.V. Ambulombo, Affan Oceana, Ambulombo
A Three-Page Feature
Complete with items of Manoora Memorabilia as well as a complete Deck Plan
This Page also includes a history of the … T.S.M.V. Manunda
Introduction:
Page One will commence with the history of two fine Australian Coastal passenger liners the T.S.M.V. Manunda of 1929, and the greatest ship of the fleet and the very last Australian coastal liner in service at the end of her career, the T.S.M.V. Manoora of 1935. Page Two has a Passenger story, as well as images of various items of memorabilia, and Page Three has her Deck Plan.
Enjoy this feature of two great Australian Ships!
Reuben Goossens.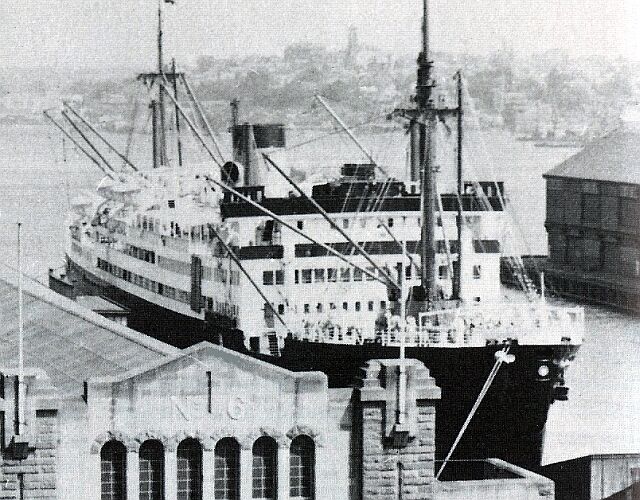 TSMV Manoora berthed in Sydney
Prior to World War I the Adelaide Steamship Company operated a number of smaller coastal passenger-cargo liners, all of which were used for wartime duties. After the war and with the economy being what is was the company decided to operate mainly its cargo services with very limited passenger facilities.
1. TSMV Manunda: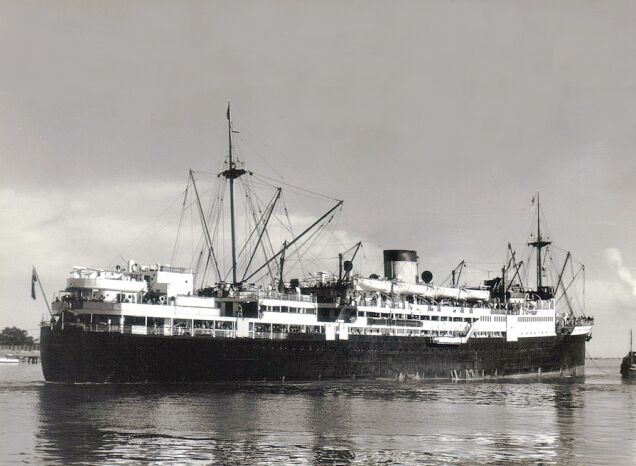 A delightful stern view of the TSMV Manunda
In 1927 a new 9,119 GRT liner was ordered, which was to be built by William Beardmore & Co, Dalmuir Scotland for the Adelaide Steamship Company. This ship was to recommence the company's fulltime Australian coastal passenger services. The T.S.M.V. Manunda was built and commenced her duties in 1929.
She was the largest ship the company had ever built and she accommodated 176 First Class and 136 Second Class passengers and she sailed at a comfortable service speed of 15 knots. Her story will be continued as this the page continues.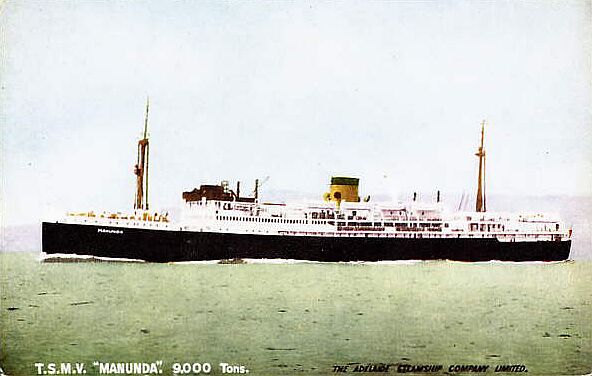 A colour postcard of the Manunda
2. TSMV Manoora: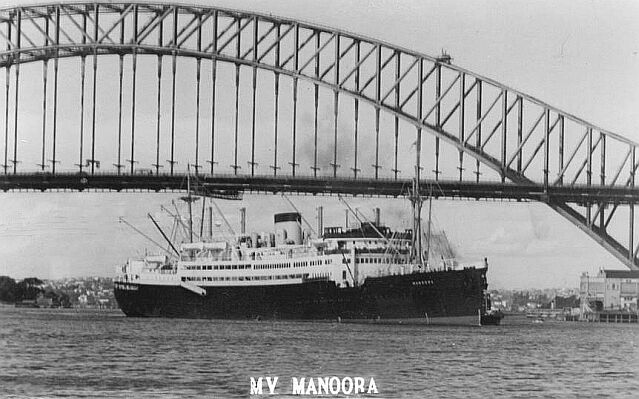 A wonderful view of the Manoora passing under the Sydney Harbour Bridge – the famed "Coat Hanger"

With the success of the Manunda, the company decided to build an even larger and faster ship and thus ordered the TSMV Manoora to be built by Alexander Stephen & Sons, Glasgow (Govan), Scotland

. Her first steel plate was laid down in July 1934; her completed hull was launched relatively quickly on October 25, 1934, and she was fully fitted out and completed on February 7 1935.

After her relocation voyage to Australia she made her maiden Australian coastal voyage from Sydney to Fremantle (Perth Western Australia

) on April 11, 1935. There is no doubt that the Manoora enjoyed a great deal of success along the Australian coast and she later sailed alongside another famed Australian liner, the TSMV Kanimbla.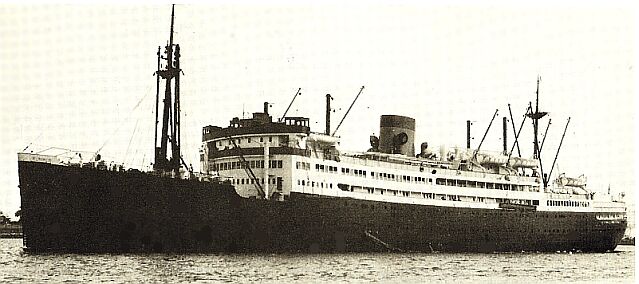 Manoora is seen entering the Brisbane River
****************************
Wartime duties with the Royal Australian Navy
1. HMAS Manoora:
Sadly war tends to destroy passenger services but it is very necessary in such difficult times! The Royal Australian Navy requisitioned the Manoora on October 11, 1939 and she was sent to Garden Island in Sydney to be refitted for service as an armed merchant cruiser (AMC) and she was officially commissioned on December 12, 1939. Her complement was drawn almost entirely from the Royal Australian Navy, including Australian reservists having a total complement of 345. She was fitted with, 7 x 6-inch guns; 2 x 3-inch anti-aircraft guns and 2 x Lewis light machine guns. HMAS Manoora took up patrol duties in the Coral Sea and in The Pacific.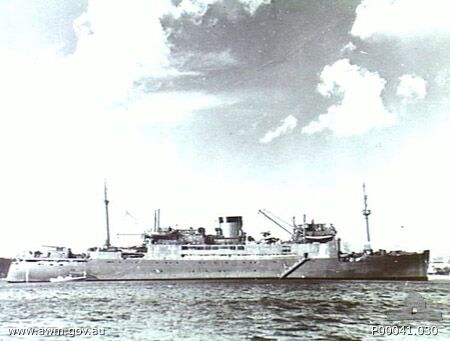 HMAS Manoora seen in her role as an armed merchant cruiser in 1942
Australian War Memorial (AWM) - Catalogue number P00041.030
Whilst writing this article, I have been corresponding with brothers Michael Cooke (in Australia) and Martin Cooke (an Opera singer in Germany); whose father James Cooke was an original crew member on the TSMV Manoora. He was a chief petty officer / chief steward. He was in charge of the canteen and responsible for the hygiene on board.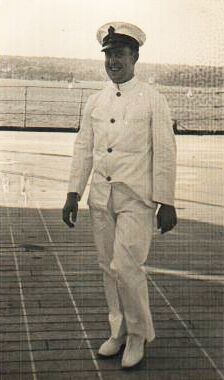 Manoora's Chief petty officer James Cooke (1939?)
He remained with the ship throughout the war until she was decommissioned. There is no doubt that James saw some terrible battles during those years. The HMAS Manoora was a well fitted-out ship with her multiple six inch guns as well as numerous two pounder guns and multiple Bofors similar to a light cruiser, but obviously with an enlarged superstructure.
The HMAS Manoora was constantly hounded by Kamikaze aircraft strikes and was also under attack by long range Japanese shore batteries. She seemed to escape each time without damage. However she inflicted considerable damage on other ships.
The 9,870-ton Italian (Lloyd Triestino) liner M.S. Romolo departed Brisbane on 5 June, knowing that her sister ship the MS Remo had already been impounded at Fremantle, as Italy had declared loyalty to Nazi Germany. For that reason the captain of the MS Romolo decided to make a run for it and headed for Cape York Peninsula. Although HMAS Manoora had originally been ordered to shadow her, for some reason she had been called off, she was again called upon to locate and stop the MS Romolo. HMAS Manoora located the MS Romolo approximately 220 miles south west of Nauru. The captain of the MS Romolo ordered the crew to scuttle her and abandon ship. HMAS Manoora finished the job using her six inch guns and sunk her.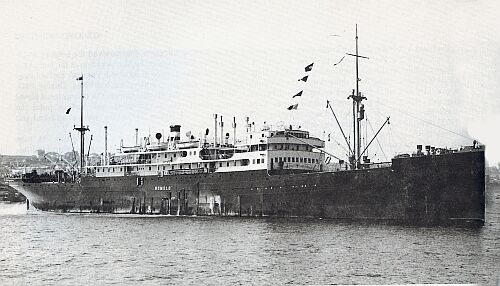 The Italian Liner MS Romolo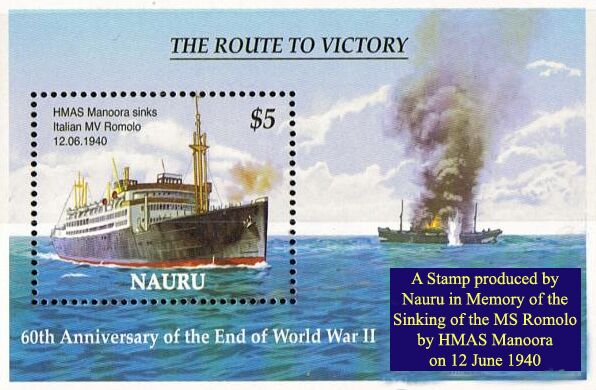 HMAS Manoora returned to Sydney on September 30, 1942 to be converted to a Landing Ship, Infantry (LSI), and was completed by February 2, 1943. She was officially reclassified on that date. For this role she had been fitted with 1 x 6-inch gun, which was later replaced by 2 x 4-inch guns, 2 x 3-inch anti-aircraft guns, 8 x 20mm Oerlikon anti-aircraft guns. She also carried one Seagull V aircraft that was housed forward of her funnel. Added later were 6 x 40mm Bofors anti-aircraft guns.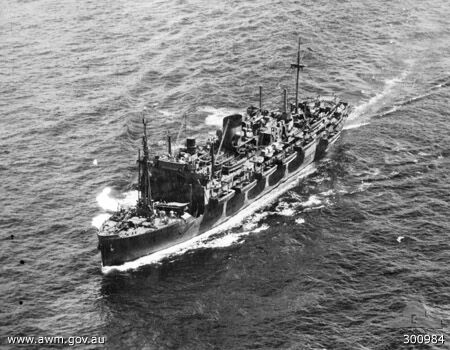 Landing Ship, Infantry (LSI) HMAS Manoora seen in 1943
AWM catalogue number 300984
As an LSI the HMAS Manoora had a capacity to carry 1,230 troops. She saw a great deal of action in an allied push in the north, as well as in the Lingayan Gulf, Tarakan, Labuan and Balikpan. Thereafter she also transported troops from India and the Dutch East Indies (Indonesia) to Australia. With the HMAS Manunda back in action, the HMAS Manoora was used to bring back repatriated prisoners of war from Singapore.
Stoker Richard 'Laurie' Johnson, RAN, 1942-1945, served on HMAS Manoora from mid 1944 to late 1945, having been involved in the Allied amphibious landings at Philippines, Luzon, Borneo, and the occupation of Rabaul. It was there the crew of the HMAS Manoora witnessed the formal surrender of the Japanese.
Richard 'Laurie' Johnson currently lives in Newcastle Australia and is eighty-three years of age (at the time of writing)!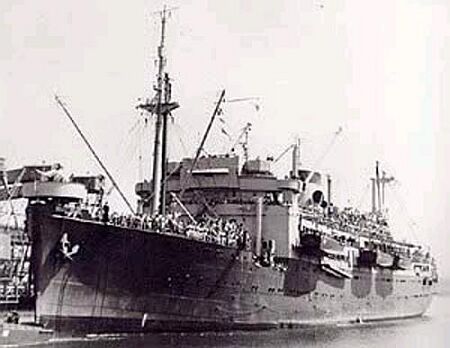 Another photo of the HMAS Manoora (LSI)
(Source unknown)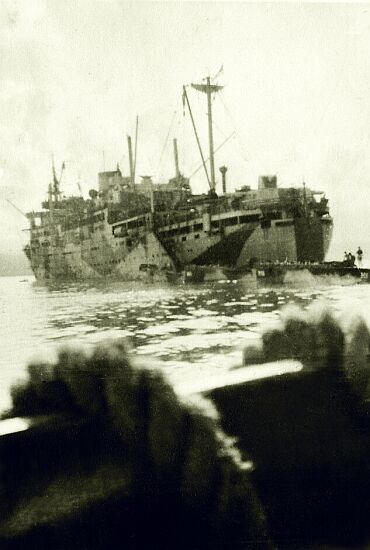 HMAS Manoora seen in action during the latter end of the war
Note her camouflage livery
Photograph was provided by Alan Burns
****************************
2. HMAS Manunda:
The TSMV Manunda was requisitioned in September 1939 and she was converted into a fulltime hospital ship. HMAS Manunda was officially commissioned on May 25 1940 after which she operated four voyages to the Middle East to bring back wounded troops to Australia.
On February 19, 1942 during a Japanese bombing raid whilst the ship was at anchor in Darwin harbour, a bomb hit right through the music room skylight, which exploded down on C deck tragically killing 12 and injuring 157 others. The next day she sailed for Fremantle with 266 patients. Whilst in Fremantle she was repaired and made ready for her next chapter in the war effort.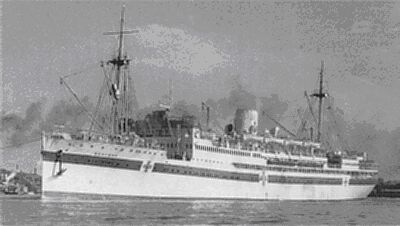 Hospital Ship HMAS Manunda
From Fremantle she was sent to Milne Bay in Papua where she acted as a floating hospital for the Allied forces stationed there.
In addition HMAS Manunda made a number of voyages from Milne Bay to Brisbane and Sydney transporting wounded troops. As the war continued she was relocated as required and followed the Allied forces to the various islands around the Pacific. During the war she carried well over 30,000 casualties to safety. Manunda's final wartime voyage was to New Zealand transporting civilian passengers.
After the Japanese surrendered HMAS Manunda was dispatched to Singapore to repatriate Australian soldiers and others who had been imprisoned in the infamous Changi Prison.
****************************
Return to civil duties:
Having served her country with great honour, HMAS Manoora was decommissioned on December 6, 1947. Whilst the TSMV Manunda received an extensive, 18 months, refit in Melbourne and returned to service on April 2, 1948. For some reason the Adelaide Steamship Co decided to give the TSMV Manoora a twelve month lay-up and then give her an extensive refit. She was not returned to her regular services until August 31, 1949.
Together the TSMV Manunda and the TSMV Manoora sailed the vast Australian coast as did the somewhat more luxurious TSMV Kanimbla. These services lasted until 1956 when the company decided to reduce its passenger operations, due to the competition taking place in the sky, with domestic air fares becoming more and more affordable.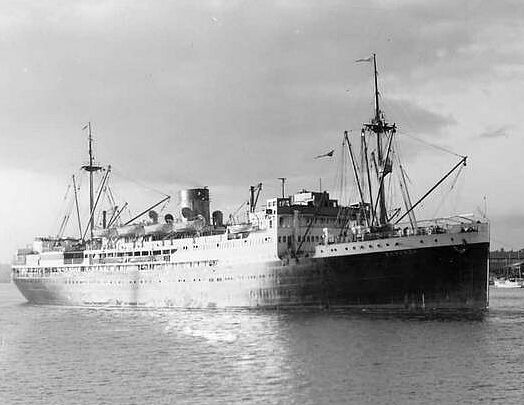 TSMV Manunda sailing up the Brisbane River - Seen towards the end of her career
The final days for TSMV Manunda:
Sadly in September 1956 TSMV Manunda was withdrawn from service and placed on the market. She was sold to "Okadagumi Shipping Ltd" of Japan. She departed Sydney for the last time named the Hakone Maru on October 4, 1956. However the company's plans for her did not eventuate and she was resold to be broken up the following year in Japan.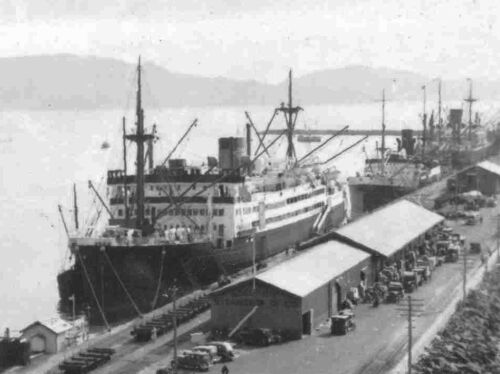 TSMV Manoora seen in Townsville
The photograph of the Manoora above was provided by Peter Johnson - Stoker Laurie's son
TSMV Manoora continued to sail on but passenger numbers were rapidly declining. Much the same as it was with all liners around the world. With air travel becoming the popular mode of city to city travel, in 1959 Adelaide Steamship Company changed their operations and commenced a series of South Pacific cruises. She did this with considerable success, although this was not deemed to be a long term solution. Thereafter she returned to coastal duties, making the TSMV Manoora the very last Australian coastal liner to do so!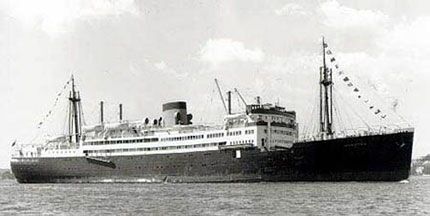 The Manoora departs Australia on a cruise looking a delight being fully dressed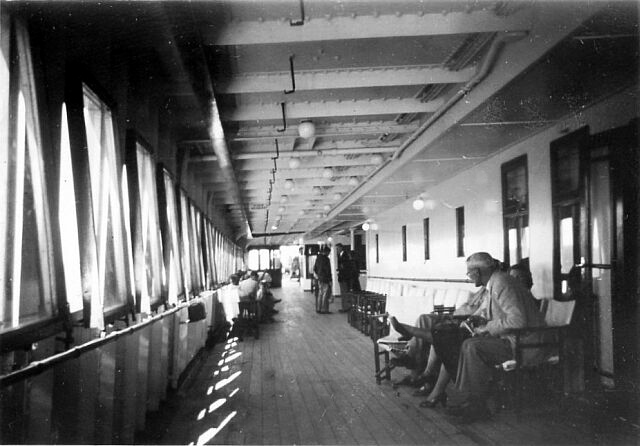 Passengers seen relaxing on the glass enclosed Promenade Deck during one of her voyages
Sent in by a supporter, but sadly details have been lost, Please see my photo notes at bottom of page!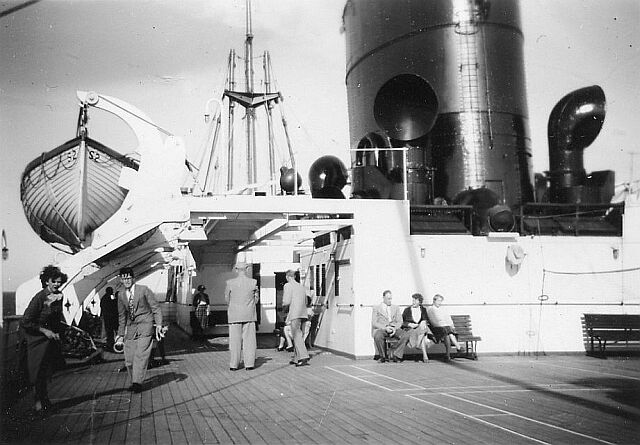 Whilst sailing in sunny Queensland it was the perfect time to have fun and enjoy the sun and a few games up on Sports deck
Sent in by a supporter, but sadly details have been lost, Please see my photo notes at bottom of page!
T.S.M.V. Manoora Specifications:
Builders:            Alexander Stephen & Sons, Glasgow (Govan). Scotland.
Yard:                 540.
Launched;          October 25, 1934.
Tonnage:           10,856 GRT (Gross Registered Tonnage).
Length:             150 m / 482 ft.
Beam:               20.19 m / 66.3 ft.
Draught:            7.3 m / 24 ft.
Engines:            Burmeister & Wain Geared Diesels.
Screws:             Twin – 8,830 BHP.
Speed:              16 knots (Max 18.5).
Passengers:        260 First Class.
                        100 Second Class.
****************************
The end of Australian services for the Manoora:
Sadly in 1961, the Adelaide Steamship decided to place their beloved TSMV Manoora on the market and she was purchased by the Indonesian Government, who renamed TSMV Ambulombo before she departed Melbourne with an Indonesian crew for the last time on 26 August, 1961.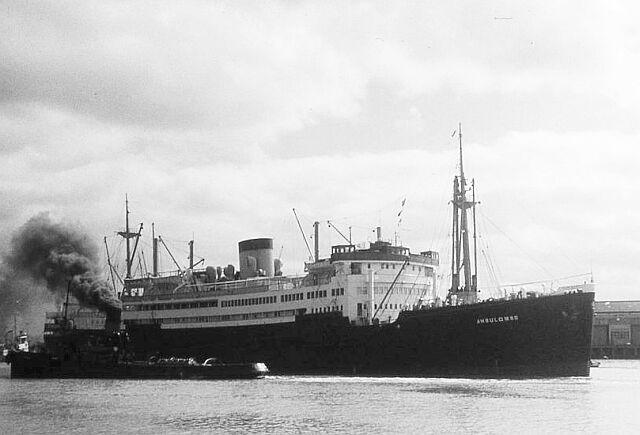 The ex Manoora is seen here departing Melbourne in August 1961
TSMV Ambulombo having been refitted as a pilgrim ship, she commenced her duties carrying pilgrims to Mecca. She undertook many voyages in addition she also operated some cruises.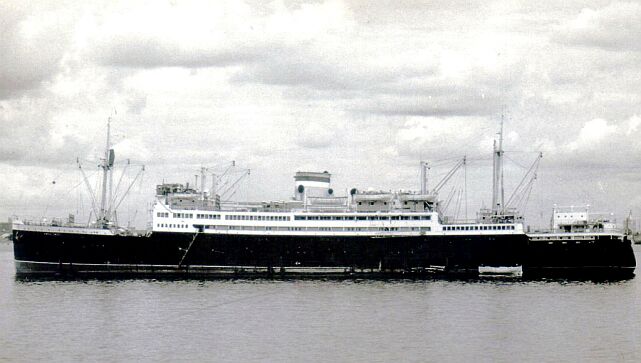 She is seen here as the TSMV Ambulombo
In 1965 she was sold to another Indonesian company, PT Affan Raya, who renamed her TSMV Affan Oceana and she continued in her previous role as a pilgrim ship.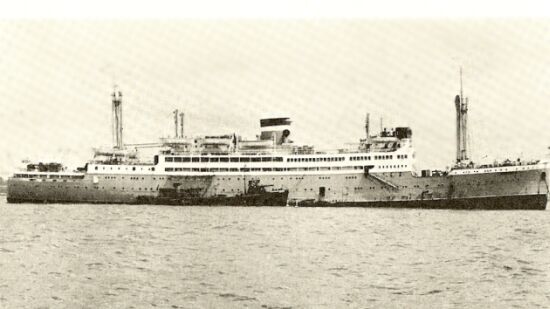 This image is after she became the TSMV Affan Oceana
In 1966 she was sold to PT Perusahaan Pelajaran who restored her to her first Indonesian name Ambulombo and she resumed her regular pilgrim duties. However, from 1970 she was laid up until she finally was sold to Taiwanese ship beakers in 1972.
However, whilst under tow from Djakarta to Kaohsiung, by the Japanese tug Fujisan Maru where she was to be broken up, TSMV Ambulombo sprang a leak and duly sank off Luzon on November 18, 1972, and she lay's in position 18°19' N-120°34' E. We could call this in maritime terms, "a dignified end for a great lady", which is better than men crawling all over her and with countless blow torches cutting her into little pieces for scrap metal and razor blades, etc!
In Conclusion:

The Manoora and Manunda covered great distances and transported countless thousands of people around the coast of Australia. I have not included a complete wartime history on these ships, for there are other sites that will have much more. This page has been created for you to relive the days when Australia had some damn fine Coastal Liners and they were the days when we went to the wharves and looked at these ships and marvelled at them with great pride. Australia once had a proud maritime history, which is all but a memory. I hope this page will bring back some of the magic of yesteryear - Bon Voyage!

A special thank you, to: Michael and Martin Cooke for providing information and an image of their father James Cooke who served on the HMAS Manoora before and during the war. Also, thank you Peter Johnson, Stoker Laurie's son for your contributions and Keith Fry (Perth Australia) for editing this article! For photo credits, see below.

T.S.M.V Manoora ~ INDEX:

Page One …                    The Ships history page. (This Page).

Page Two …                   Mr &

Dwyer sail on the Manoora in MAY 1958 & the Memorabilia Page.

Page Three …                 Ships Deck Plan provided by Jack Dwyer.

"Blue Water Liners sailing to the distant shores.
I watched them come, I watched them go and I watched them die."

****************************

Return to the ssMaritime MAIN INDEX

ssMaritime.com & ssMaritime.net

Where you will discover over 1,350 Classic Liners & the 1914 built MV Doulos Story

The Author has been in Passenger Shipping & the Cruise Industry for a good 60 years

Please Note: ssmaritime and associated sites are 100% non-commercial and the author seeks no funding or favours of any shape or form, never have and never will!

Photographs on ssmaritime and associate pages are: by the author or from the author's private collection. In addition there are some images that have been provided by Shipping Companies and private photographers or collectors. Credit is given to all contributors. However, there are some photographs provided to me without details regarding the photographer/owner concerned. I hereby invite if owners of these images would be so kind to make them-selves known to me (my email address may be found on www.ssmaritime.com only), in order that due credit may be given.

This notice covers all pages: although, and I have done my best to ensure that all photographs are duly credited and that this notice is displaced on each page, that is, when a page is updated!

ssMaritime is owned & © Copyright by Reuben Goossens - All Rights Reserved