Please Note: Firefox and some other search engines are not suitable – Use "Internet Explorer" for this page to load perfectly!

Click the logo above to reach the ssMaritime FrontPage for News Updates & "Ship of the Month"
With Reuben Goossens
Maritime Historian, Cruise'n'Ship Reviewer, Author & Maritime Lecturer
Union Steam Ship Company
S.S. Marama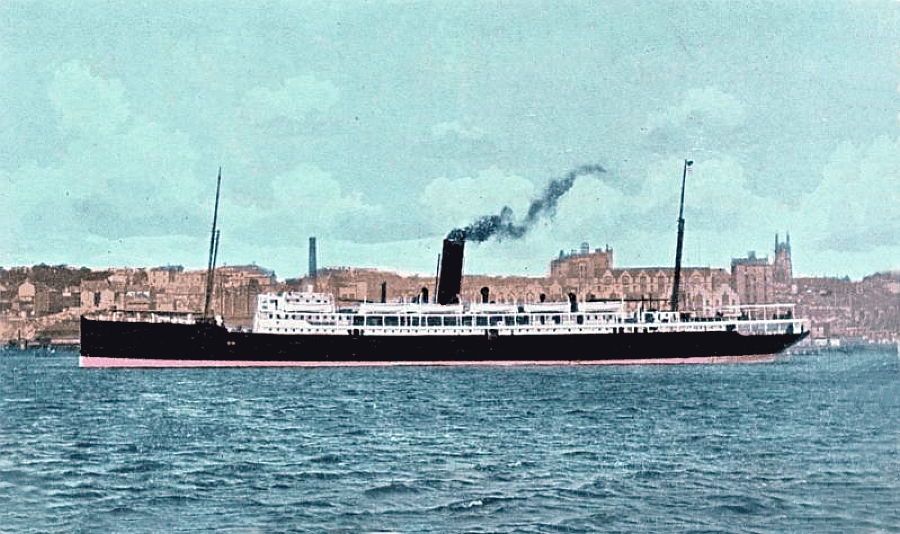 A true classic liner built in Scotland and delivered to the Union Steam Ship Co in New Zealand in 1907
Postcard from the author's private collection
SS Marama Page Two
Introduction:
This page contains a delightful series of SS Marama menus and booklets and passenger Lists dating from 1931 to 1934, all of which has been kindly donated to the author by Mr. John Alexander of Wellington New Zealand. John is a dear friend of mine and he has proved to be a fine sailing companion. I was most fortunate to sail with him on the excellent cruise ship MV Athena in April 2012 from Australia to England. As many may well know, the Athena was originally built as the delightful Swedish Trans Atlantic liner MS Stockholm back in 1948 and she was comprehensively rebuilt from her solid steel hull up in 1994/95 into a superb luxury cruise ship! Today she would be one of the oldest passenger ships still in full operation, as well as being in perfect condition and one of the cleanest and finest maintained ships I have sailed on, during my 125 voyages/cruise to date
The Keith Alexander story:
John Alexander's dear late father; Mr. Keith Alexander (A.K.) who was an officer with the USSCo, being the fifth engineer during the time of these cruises that the SS Marama undertook during the early thirties, he was able to collect a number of menus, Cruise booklets and Passengers Lists, etc. Of course as was the norm in those days, with him being an officer, he would host a table in the First Class Dining Room each evening and on that special night, the "Farewell Dinner" when the Souvenir Menu" was printed, passengers at his table would usually sign each others menus, including his. His signature was always located on the front cover of the inside of the menu, and the Captain always had signed at the bottom, right hand side corner of the Autograph page. Gladly Keith retained quite a few of his memorabilia items over the many years after he had left USSCo, and as his son John who dearly loves passenger ships, especially those of the Union Steam Ship Company (USSCo), Keith made sure that he ended up with these, and he like his father has kept them safe many years! Now they are with me and available on this page for all of us all to enjoy and see the delights of the  old time cruise scene from way back the 1930s, when things were so different to today. However, voyages in those days were unique for it was a genuine ocean going experience and ships had that delightfully nautical feel, with public rooms that were superbly lined with fine timbers and heavy sofas and chairs, art adorning the walls. Yet the accommodations were still very simple although comfortable. Cabins did not have private facilities in those days, just water and a basin, and passengers would have to make arrangements during the first evening with the "Bath Steward" a time for them to use a bath room each day for their daily bath! Indeed how things have changed, but although today's ships provide all the facilities, but they have become huge square floating apartment blocks, that are more like giant shopping centres, come resorts! That is why both John Alexander and the author prefer to sail on the Classic International Cruises - MV Athena!
Apparently Keith Alexander worked on the Marama for a considerable time and then he transferred to other USSCo ships and worked his way up the ranks of engineer until he became Chief Engineer!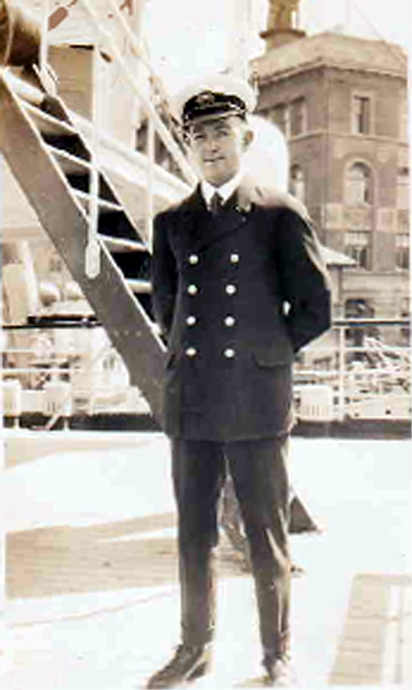 Fifth Engineer Keith A. Alexander seen on board SS Marama
Photograph provided by Keith's son John Alexander
John Alexander wrote:
"My Dad served as an engineer on the following USSCo ships: SS Marama, the old Wahine, Tamahine, Waiotapu and finally the Sussex. After the Sussex he finally decided to come ashore and he served as an engineer at "Tomoana Freezing Works" in Hastings, a company that was part of the well known "Vesty" Group of "Blue Star" fame."
Below you will find a series of Historic Cruise Itinerary's and Information booklets, but you will notice I have scanned the only - covers, the inside cover (once) and the itinerary. Although, all of them have from 11 to 16 pages in them, and some even have large fold out maps. I will also show several pages that contain the General (ships) information. I may scan some more of some of these books later, should time permit. In the meantime I trust that you will enjoy this remarkable page of remarkable an historic cruise memorabilia, for this is very rare material indeed!
I hereby wish to thank John Alexander for his friendship and kindness for his donation and permission to have this material shared with the world on this site!
However, NONE of this material should be copied without express permission from the author as it is Copyright ©. For those who wish to use anything for any reason whatsoever, they should email the author via the email that is located on the MAIN PAGE; see the link at bottom of page.
*********************************************
SS Marama Christmas Menu 1931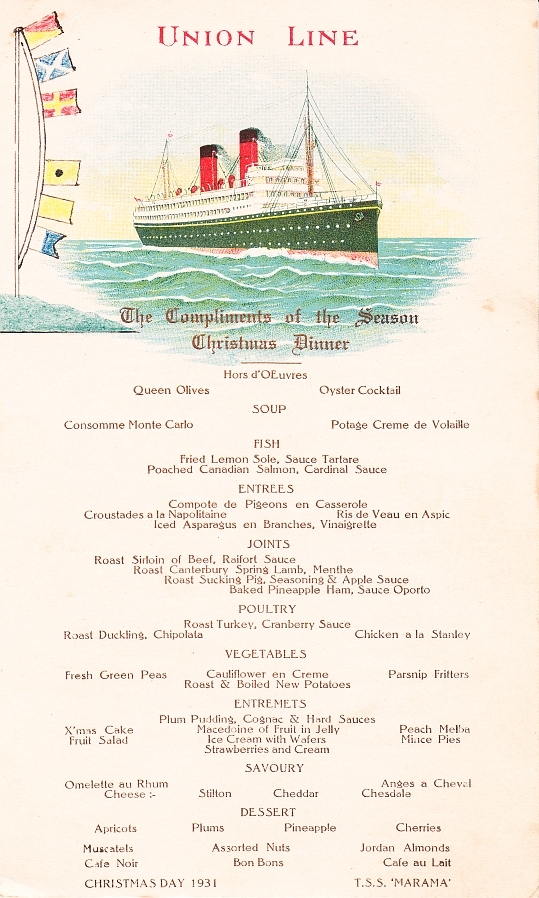 -----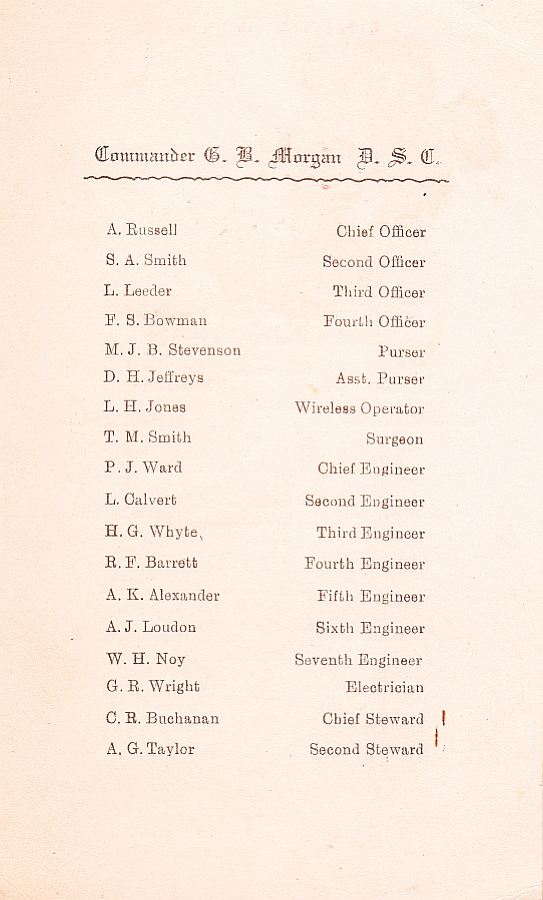 This is a menu from a Trans Tasman crossing – The ship shown is the SS Niagara, but the menu is from the SS Marama
SS Marama Christmas Menu 1932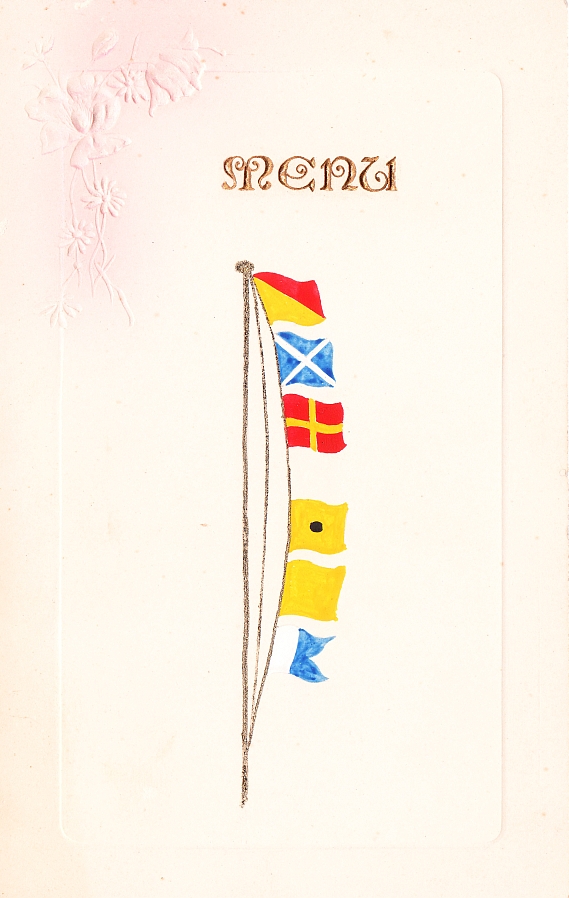 The Cover Christmas menu from the 1932 Trans Tasman voyage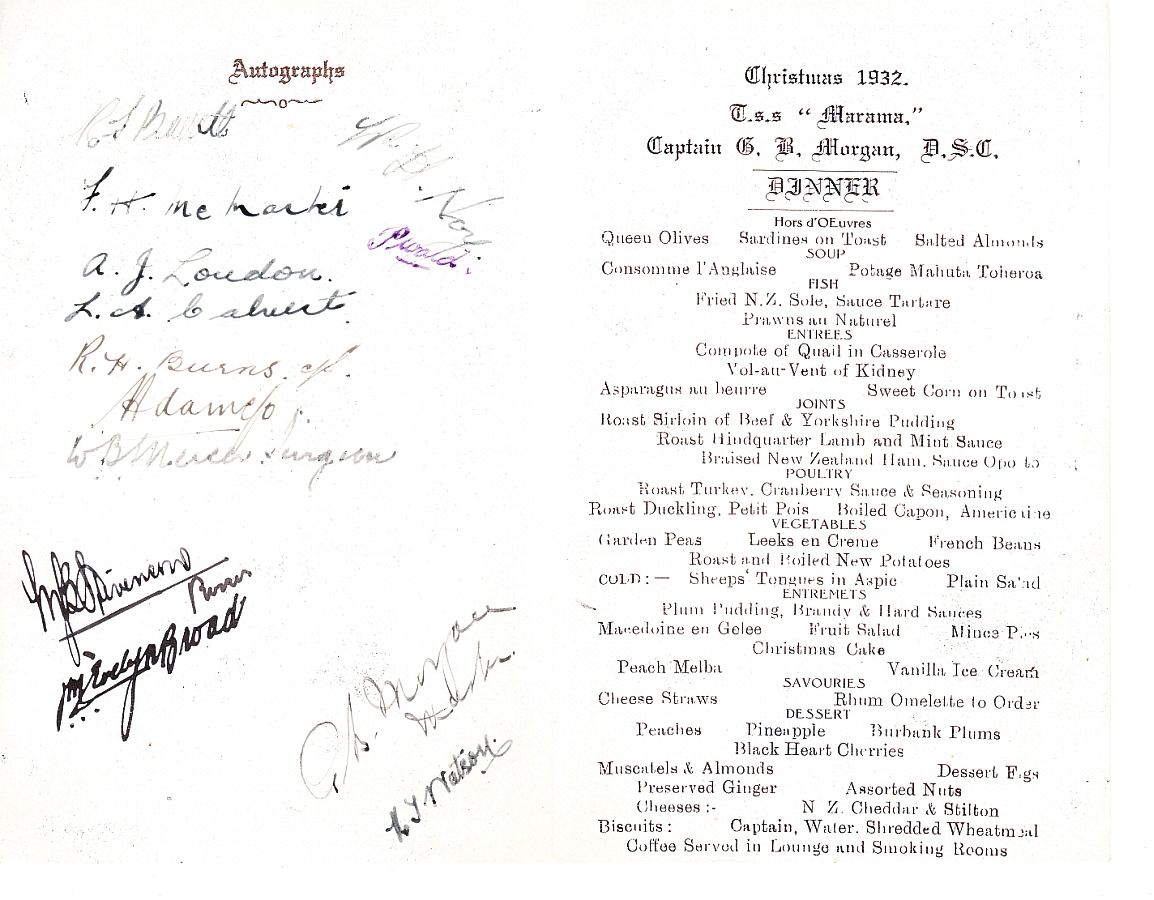 Another Christmas menu from the 1932 Trans Tasman voyage
SS Marama Hauraki Gulf Cruise departing Auckland February 13, 1933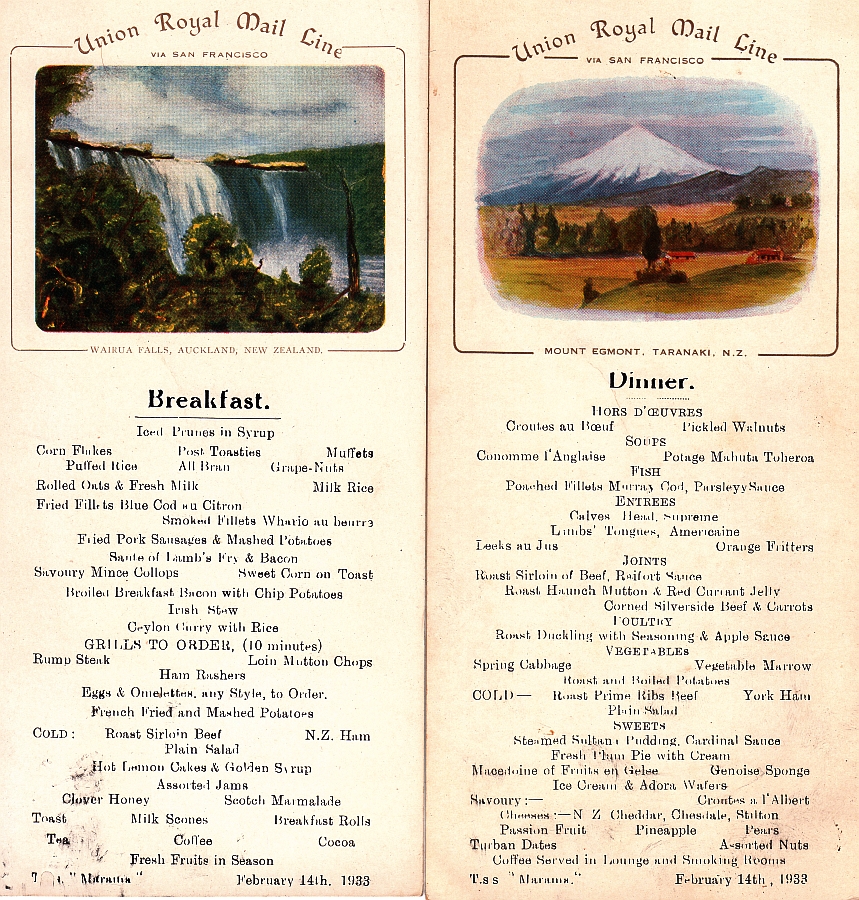 Here we see the more simple menus for breakfast and Dinner for a regular day for February 14, 1933.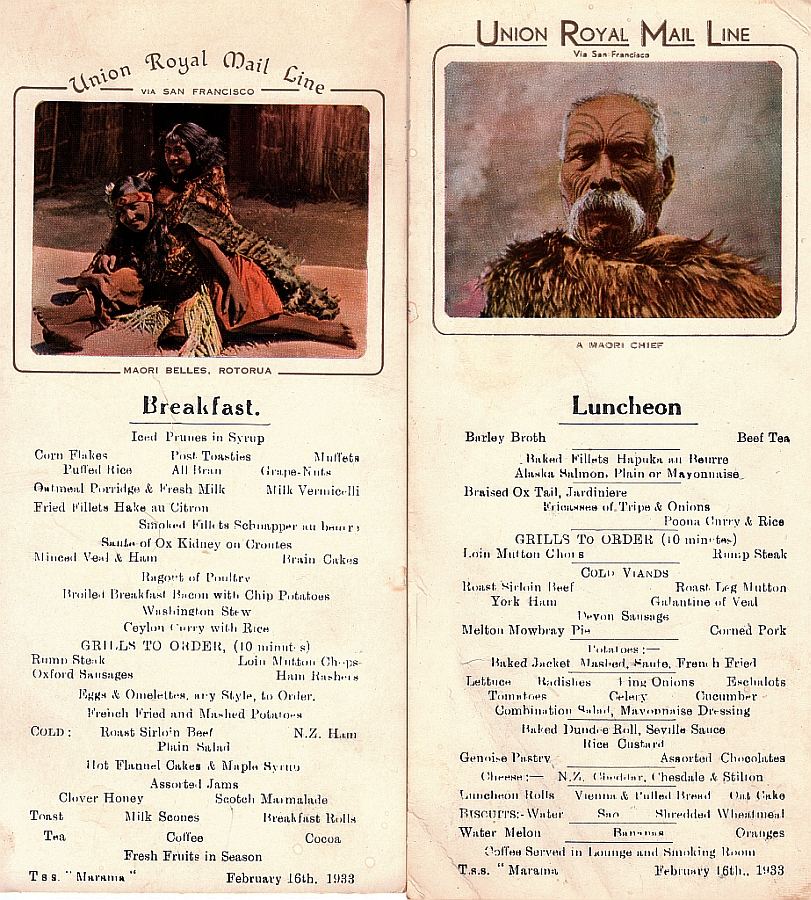 Breakfast and Lunch for the last day of the cruise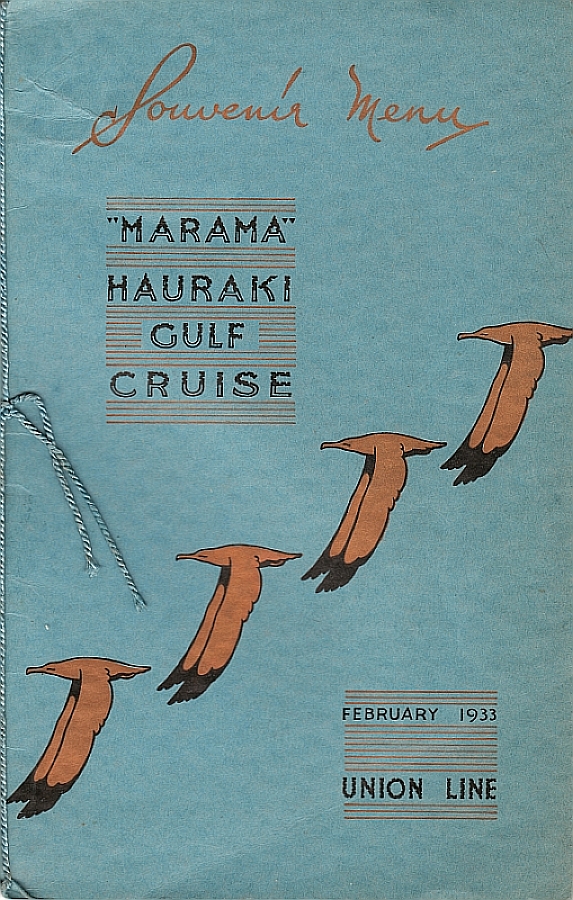 -----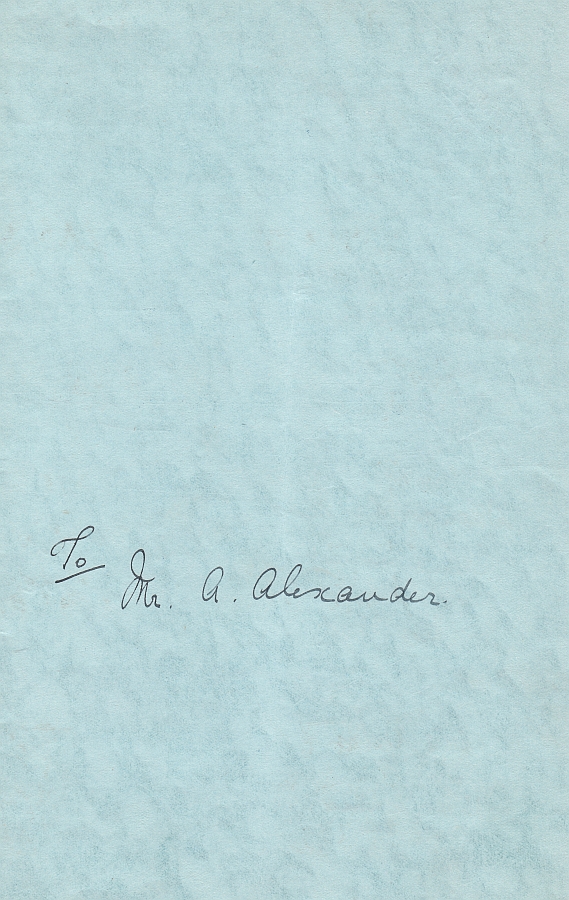 SS Marama's Souvenir "Farewell" Dinner Menu cover for February 16, 1933 / The inside front cover of all menus contains (5th.Engineers) Mr. Keith Alexander's signature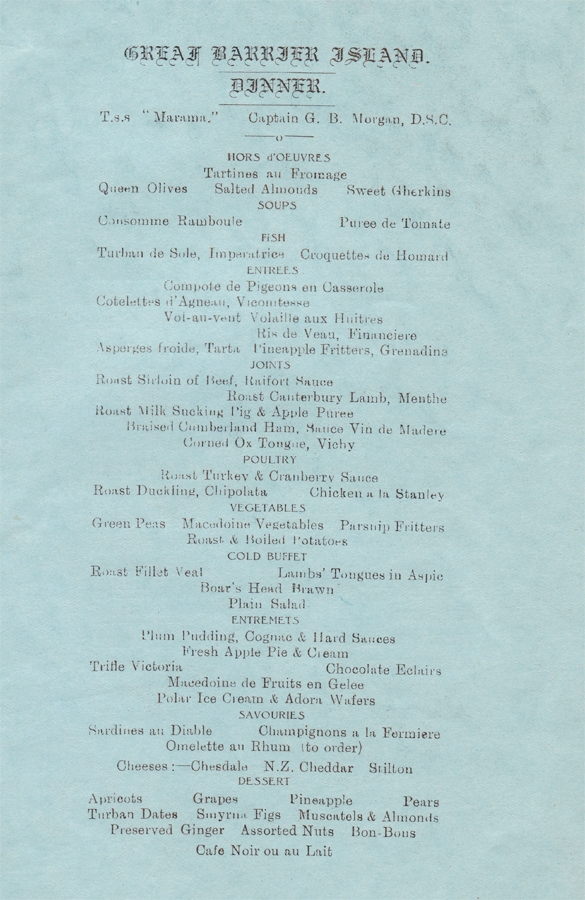 The menu page – sadly the print was somewhat pale, but still readable
Below is the Passenger List for the above Cruise February 13 to the 17th.1933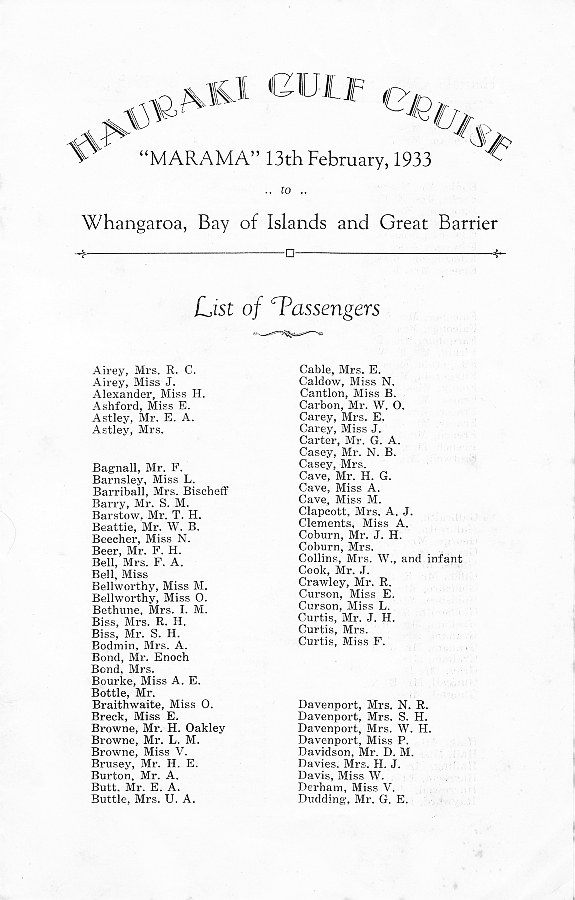 -----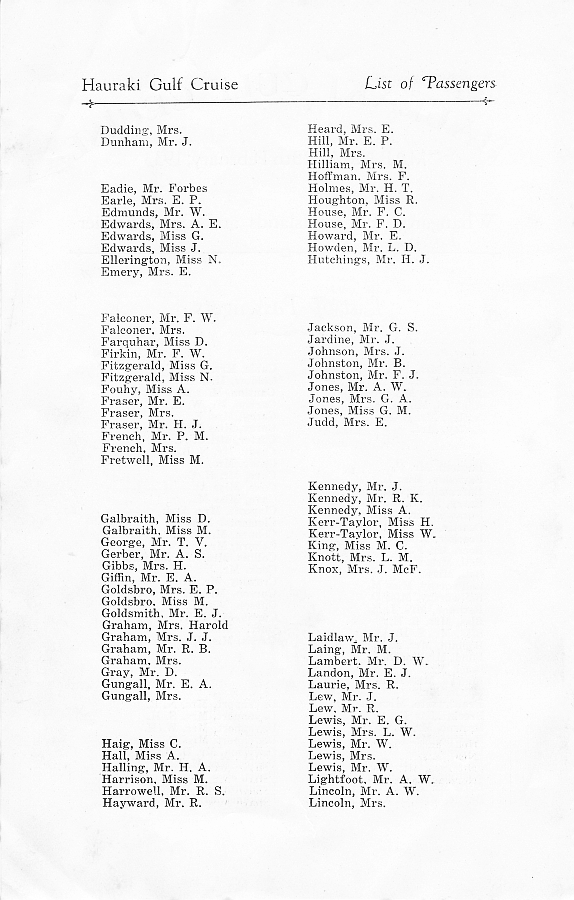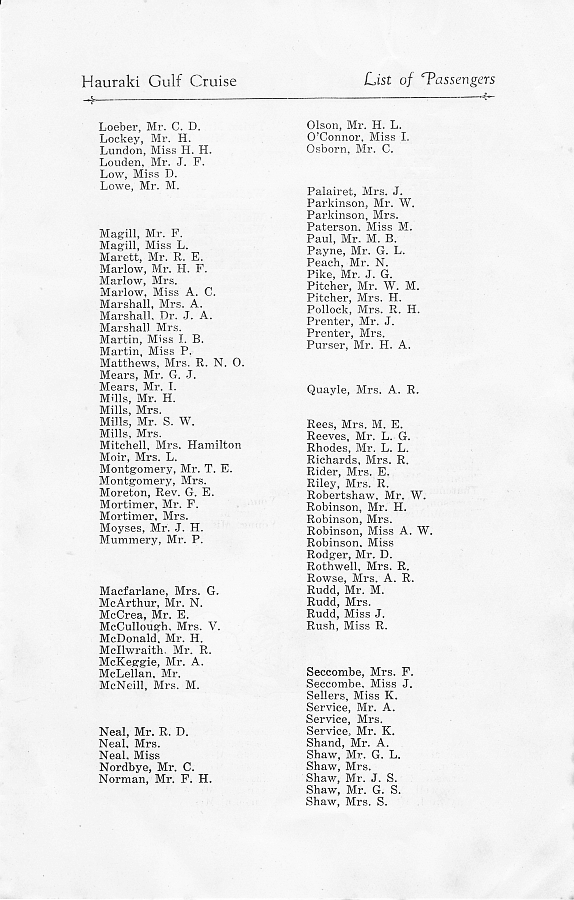 -----
SS Marama Christmas Menu 1933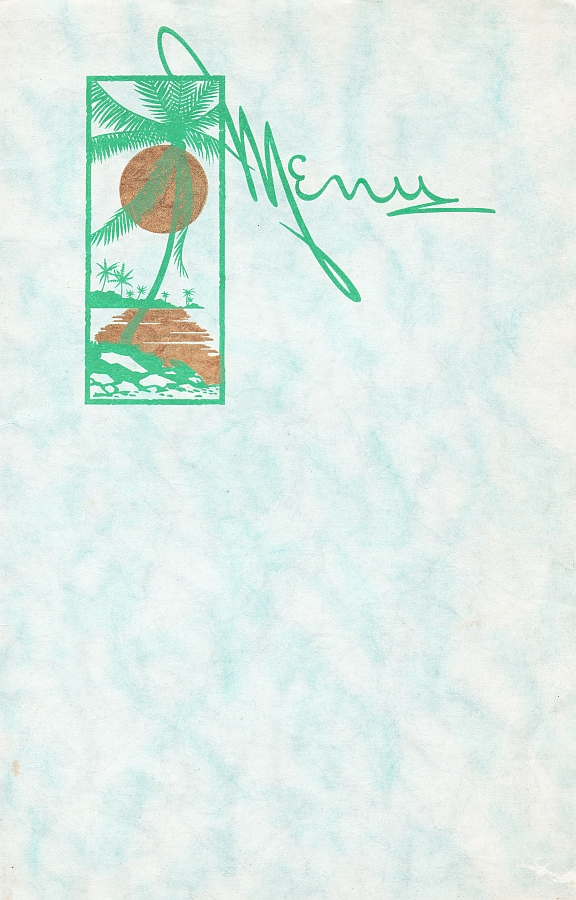 -----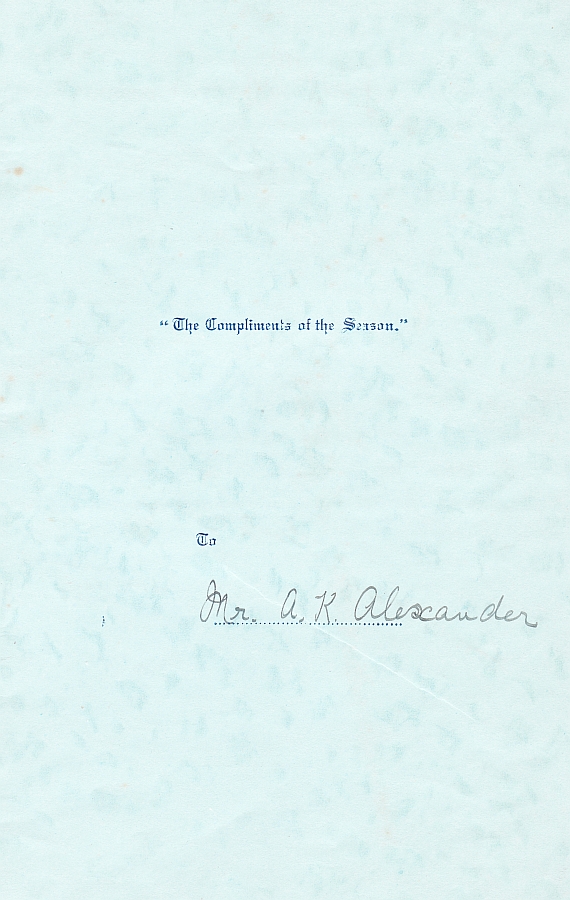 Here we yet another Trans Tasman Christmas Menu for `1933, including Keith's signature on the inside front cover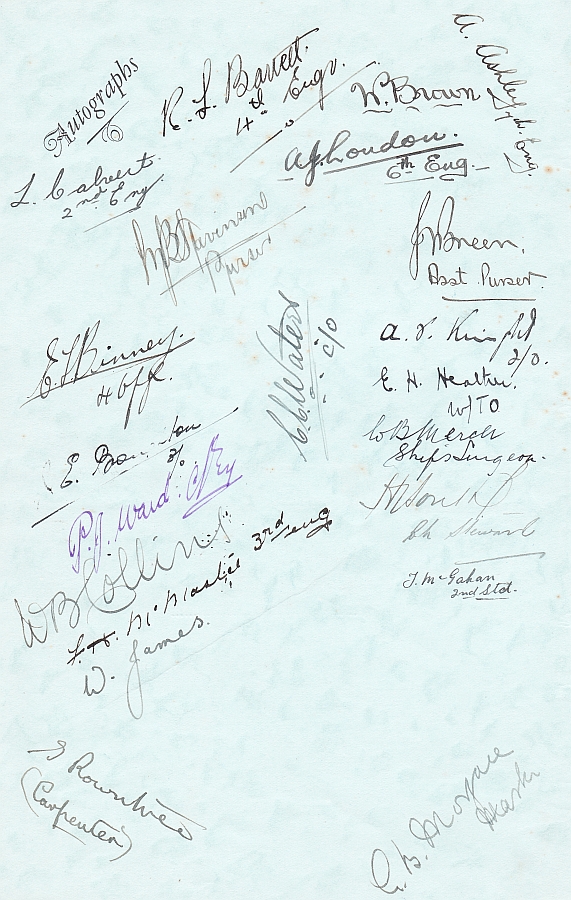 --  ---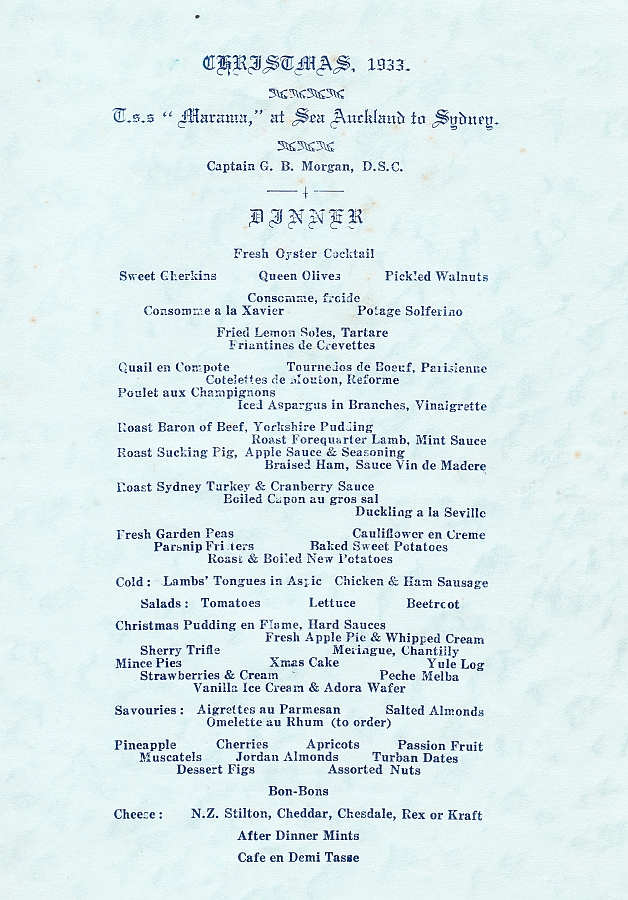 Passengers have signed the Autograph Page as has Captain C. B. Morgan, and there is the special menu
SS Marama Hauraki Gulf Cruise ex Auckland February 15, 1934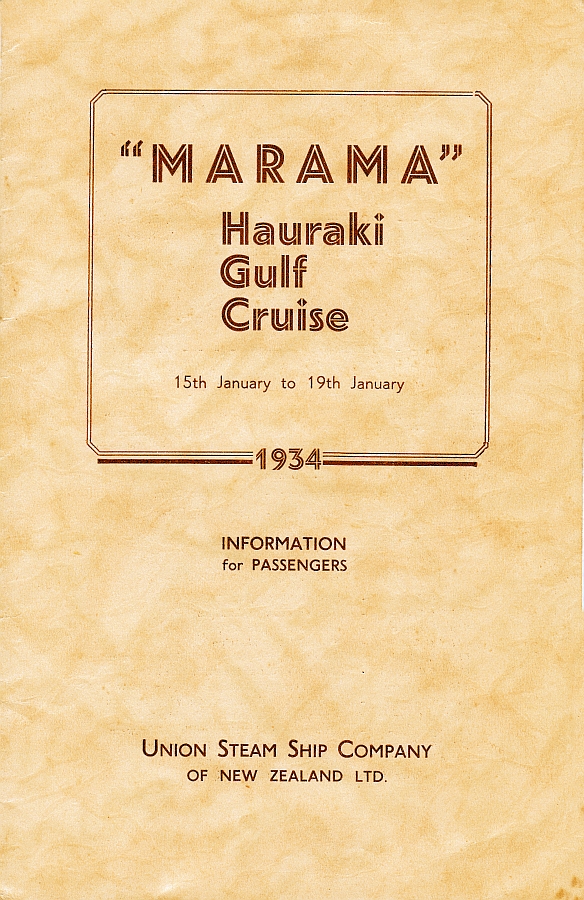 -----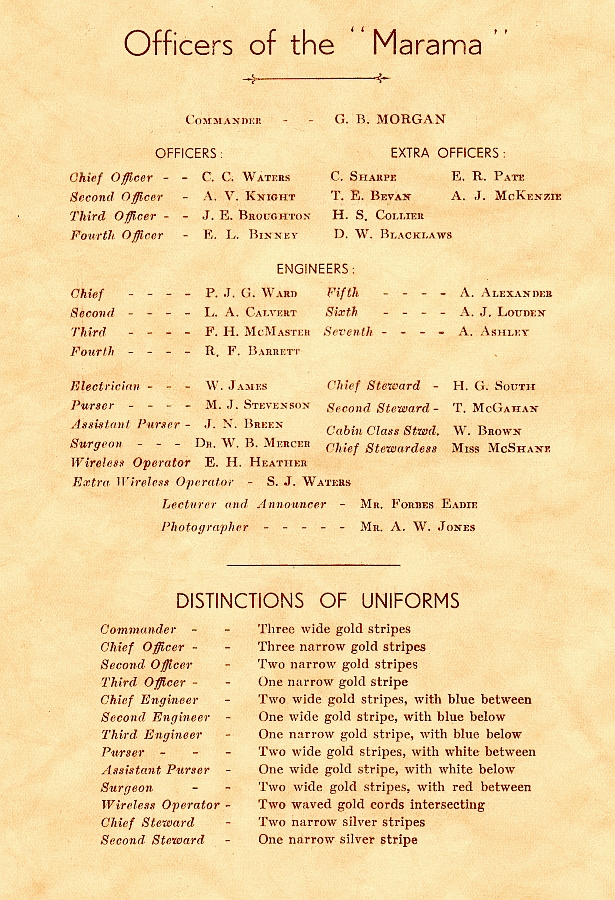 The cover and inside cover of the Hauraki February 15, 1934 Gulf Cruise booklet
All passengers received a copy of this booklet upon boarding the SS Marama as it contained their itinerary as well as the ships General Information
A complete guide to all stops made during their cruise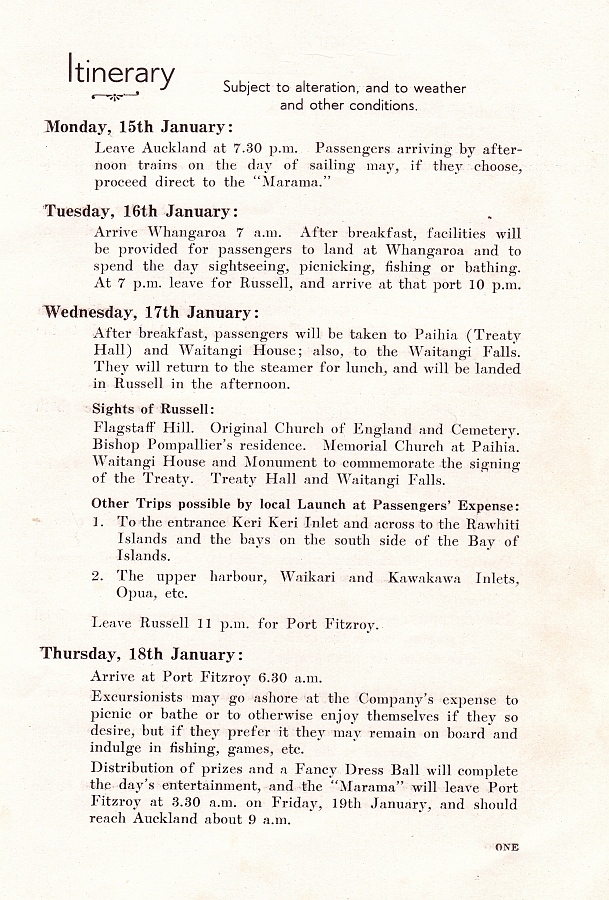 The itinerary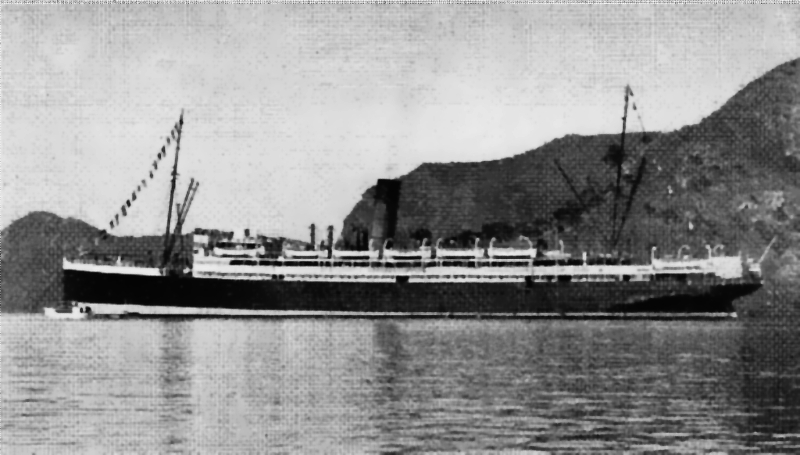 This is the photograph of the ship on the last page in the Hauraki Gulf Cruise booklet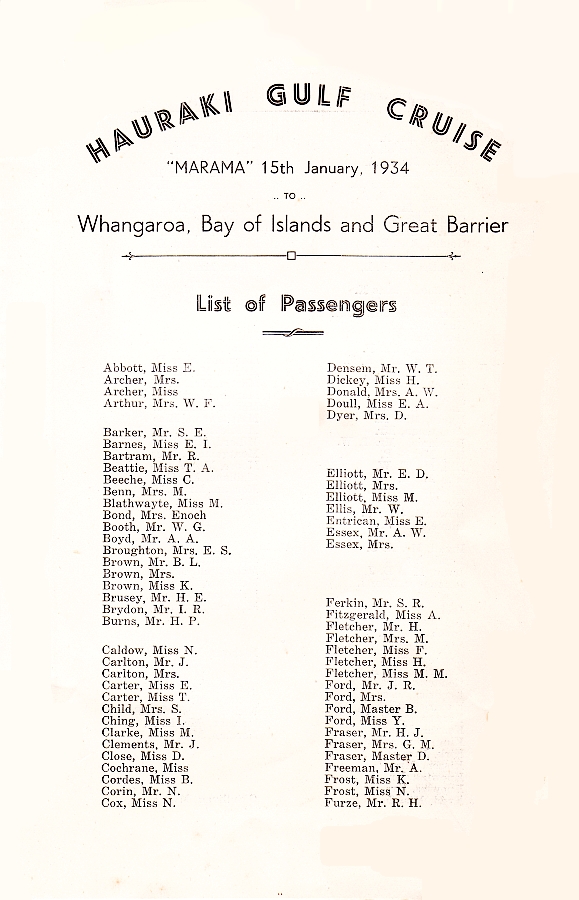 Above and Below: The Passenger List for this cruise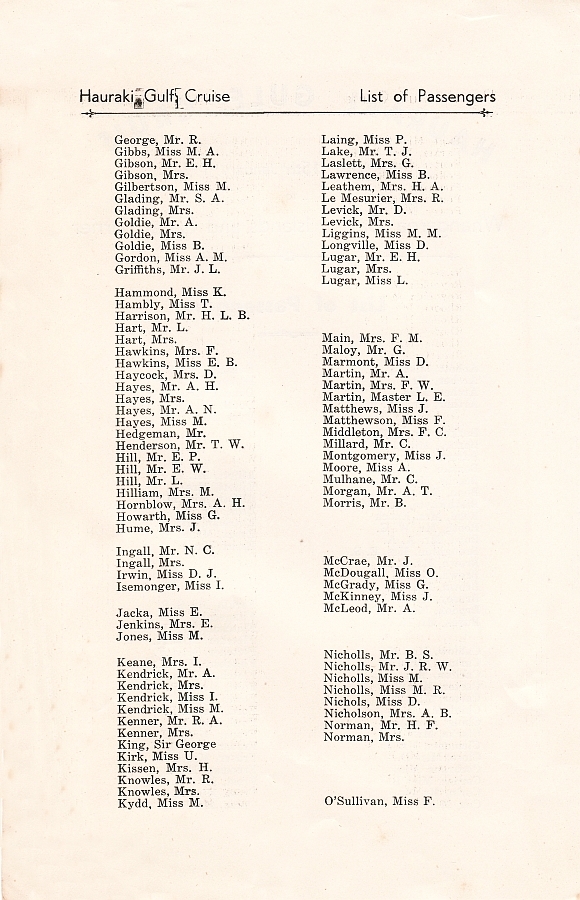 -----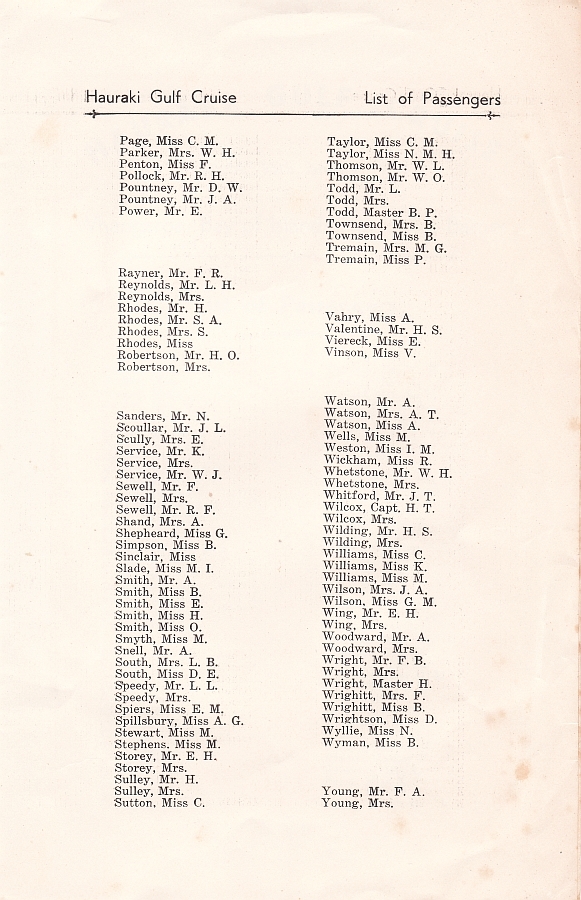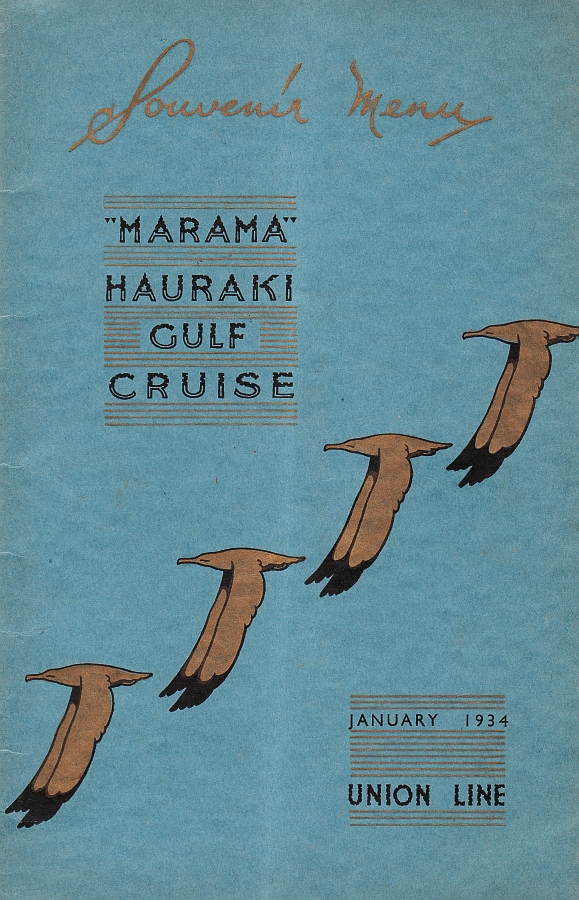 Farewell Dinner Souvenir Menu Cover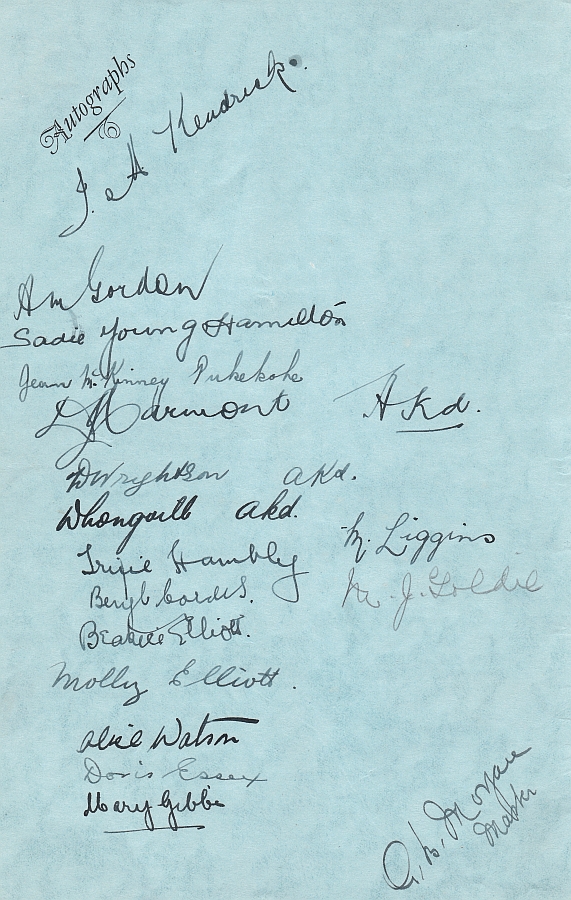 -----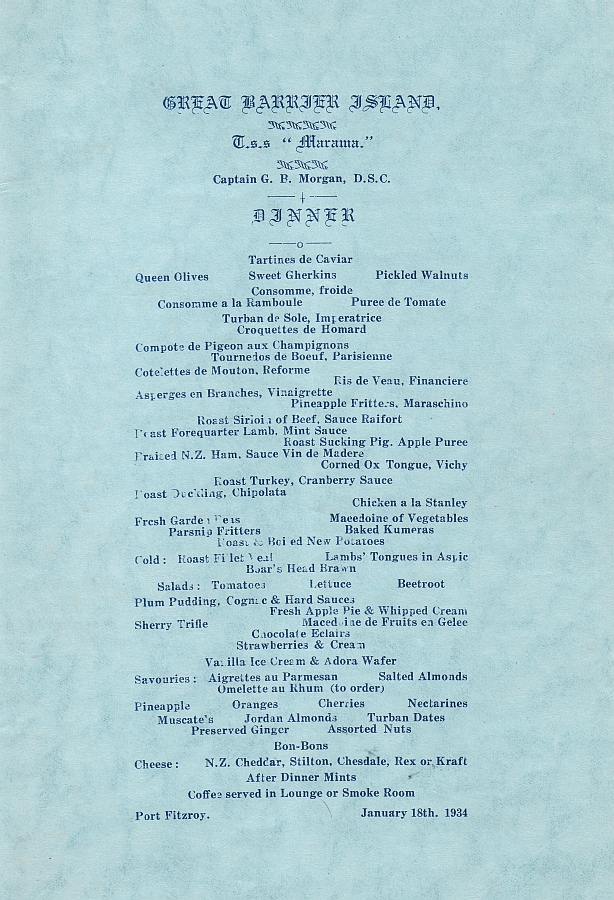 Autograph Page and the Farewell Menu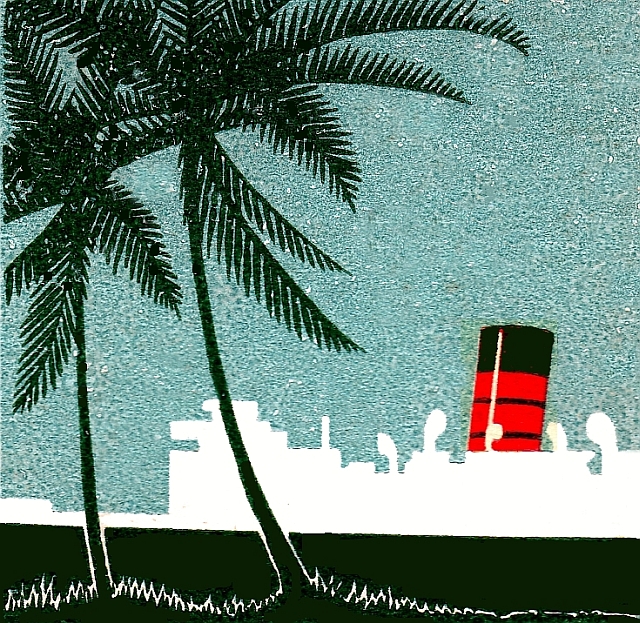 I trust that you enjoyed these historic memories of the wonderful 1930's!

*******************************************

To be continued on

Page Three

I will endeavour to have this page up as soon as possible!

Return the SS Marama & Maheno Main Page

Once again a very special thank you to John Alexander for his wonderful help in bringing this

ship to world's attention and providing his and his father's collection to the world!

Also view the other USSCo Passenger Ships online, from oldest to the last ever built

SS Waitaki /

SS Moeraki & Manuka

/ SS Marama & Maheno / RMS Aorangi

TSS Monowai / TSS Awatea / MV Matua & MV Tofua

***********************************

Use the Back button on your browser or Close the Page to return to the previous page
or go to our INDEX or MAIN PAGE

Who is the Author of ssMaritime?

Commenced in the passenger Shipping Industry in May 1960

ssMaritime.com & ssMaritime.net

Where the ships of the past make history & the 1914 built MV Doulos Story

Also visit my …

"Save The Classic Liners Campaign"

Photographs on ssmaritime and associate sites are by the author or from the author's private collection. In addition there are some images that have been provided by Shipping Companies and private photographers or collectors. Credit is given to all contributors. However, there are some photographs provided to me without details regarding the photographer/owner concerned. I hereby invite if owners of these images would be so kind to make them-selves known to me in order that due credit may be given.

This notice covers all pages, although, and I have done my best to ensure that all photographs are duly credited and that this notice is displaced on each page, that is, when a page is updated!

ssMaritime is owned and © Copyright by Reuben Goossens - All Rights Reserved