Please Note: Firefox and some other search engines are not suitable – Use "Internet Explorer" for this page to load perfectly!

Click the logo above to reach the ssMaritime FrontPage for News Updates & "Ship of the Month"
With Reuben Goossens
Maritime Historian, Cruise'n'Ship Reviewer, Author & Maritime Lecturer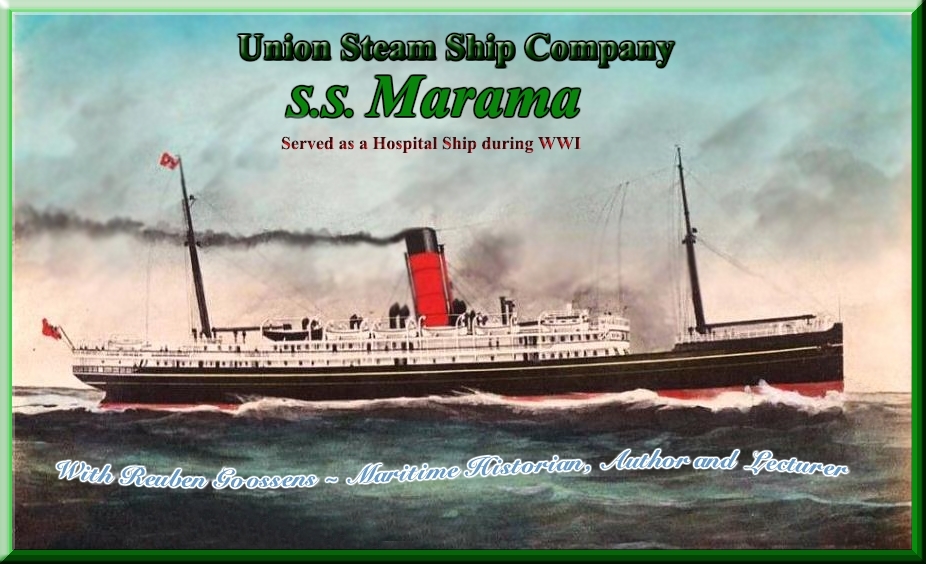 A postcard restored by the author
A Special Note: Unless stated otherwise photographs & postcards are from the author's private collection. There are some from an unknown source; please see "Photographs" at bottom of the page for details.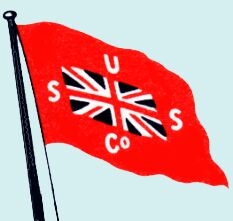 The Union Company, Union Steam Ship Company:
The Union Company, Union Steam Ship Company (USSCo), or Union Line had its beginnings in Dunedin, New Zealand, in 1875, when it was floated by James Mills. Mr. Mills was originally a clerk to a Mr. John Jones operator of the "Harbour Steam Company."
After Mr. Jones passed away, Mills who had worked his way into the top management level floated the Union Steam Ship Company with backing from Scotland's Peter Denny in return for orders for his Dumbarton shipyard in Scotland. The USSCo became a major shipping line, and with hard work, they had close to a monopoly on Trans Tasman service.
In the mean time, a new shipping company was first registered by Mr.James Huddart in 1893 by the name of "Canadian-Australian Steam Ship Company", this new shipping line would operate services between Sydney, Brisbane, Honolulu, Victoria, British Columbia (BC) and Vancouver, BC. However for some reason the Brisbane call was abandoned in later in 1893 and was replaced by Suva, Fiji. The service again changed in August 1897 as it had been decided to sail from Sydney via Wellington to Suva, Honolulu, Victoria BC, Vancouver.
Just five years after registration the company was reconstituted becoming the "Canadian-Australian Royal Mail Steam Ship Company" under the joint management of James Huddart and the "New Zealand Shipping Company" who took complete control of the shipping line in 1898.
But it was in 1900 when the Union Steam Ship Company of New Zealand acquired a controlling interest in the company and assumed full responsibility for all outstanding contracts and agreements. And thus ten years later, being 1910, the purchase of the company was completed, and the "Canadian-Australian Royal Mail Steam Ship Company" became the integral part of the Union Steam Ship Company of New Zealand fleet.
However, James Mills who became the builder of the USSCo in the early 1900s was born in Wellington, and he was knighted in 1907 and made a K.C.M.G. in 1909. He became an official UK resident as from 1907, and he later died in London.
SS

Marama

Introduction:
The Union Steam Ship Company (USSCo) which started off as Canadian – Australian Line SS Marama was built in 1907 by Caird and Co Greenock, Scotland the same company that built many of the fine P&O ships over the years. The ship that cost some ?166,000 (pounds) was initially built for the Trans Tasman service, but she was transferred to the Vancouver and San Francisco mail routes, but due to the "Great War" she was converted to become a hospital ship in 1915 and retuned to passenger services again after she completed her duties successfully! It has been said that the SS Marama did not excel the Maheno for speed; however, the Maheno was a triple screw ship, but she not the most reliable and had to be given new engines at a later date.
The vast majority of her history on this page relates to her early days as well as her time as a Hospital ship, serving her country well! Therefore I trust that you will enjoy reading about this charming little liner. However, sadly I have no interior photographs of this ship at this time, therefore I ask, if anyone can assist me, I would be most obliged, and be assured I will provide full credit as is due!
Reuben Goossens.
Maritime Historian, Author and Lecturer.
Commenced in the Passenger Shipping Industry in 1960.
Email me at: info@ssmaritime.com.
SS Maheno:
The SS Maheno was built by William Denny & Brothers Dumbarton and launched on Monday June19, 1905, completed same year. She was 5,282 Gross Registered Tons, 3,318 Net. 400ft long, 50ft beam and 31ft draught - (122 x 15.3 metres). She had triple screws with steam turbine engines making an amazing 19.8 knots. Although at a later date she was converted to operate on just two screws.
She proved over the years as one of the most remarkable of the USSCo ships and she certainly became one of the "gems" of the merchant marine. In fact, she held the Sydney to Wellington speed record of 2 days and 21 hours, and she would power at an amazing 19 knots, and for those days that was remarkable. But her record stood for a good 25 years! Operating on the busy Trans Tasman service she took in ports such as Melbourne, Sydney and Hobart, as well as Wellington and Auckland and Port Chalmers (Dunedin) and other ports as required such as Hobart in Tasmania. She also operated some services between New Zealand and North America.
She was a triple screw turbine steamer and thus she was capable of her excellent speeds! She offered excellent luxury accommodations for 254 First Class and 201 Second Class passengers. She had spacious decks and wonderful saloons and restaurants featuring fine carpeting and timber panelling. She was built in the traditional style of old as can be seen below!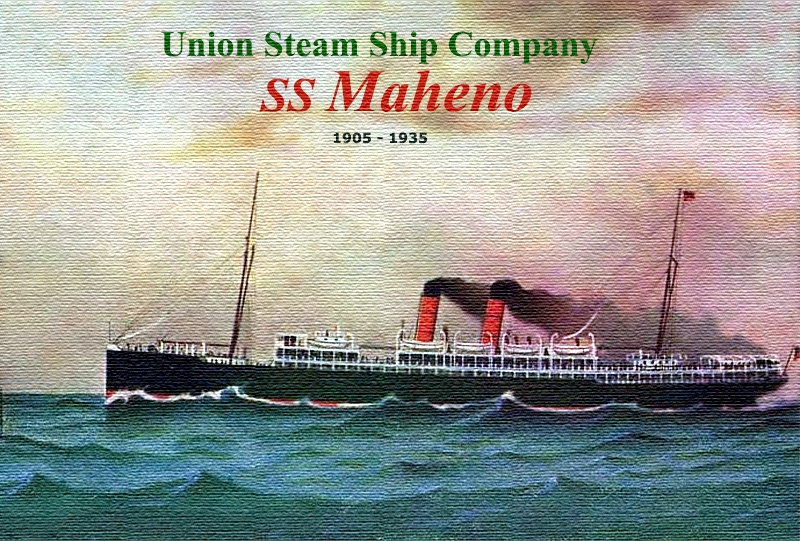 A colourised postcard of the SS Maheno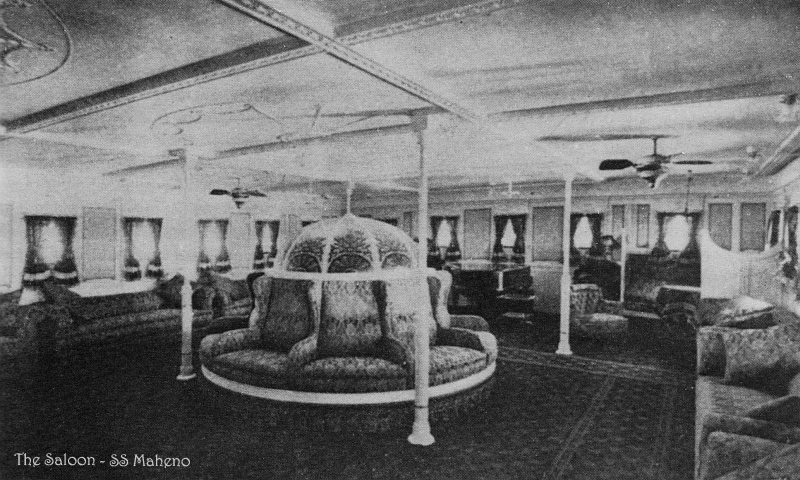 The First Class Saloon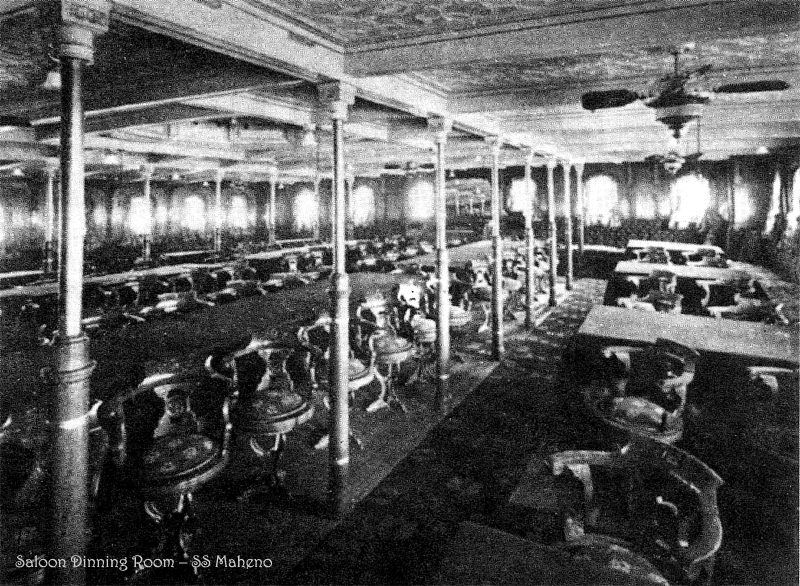 The Dinning Room
SS

Marama

the Ship:
At the time of her building she was a beautifully laid out ship as well as being superbly furnished throughout. Her lounges and other venues were so well planned that they, as well as the cabins were roomy for the times and her deck space was exceptional for a ship of just 6,437-tons.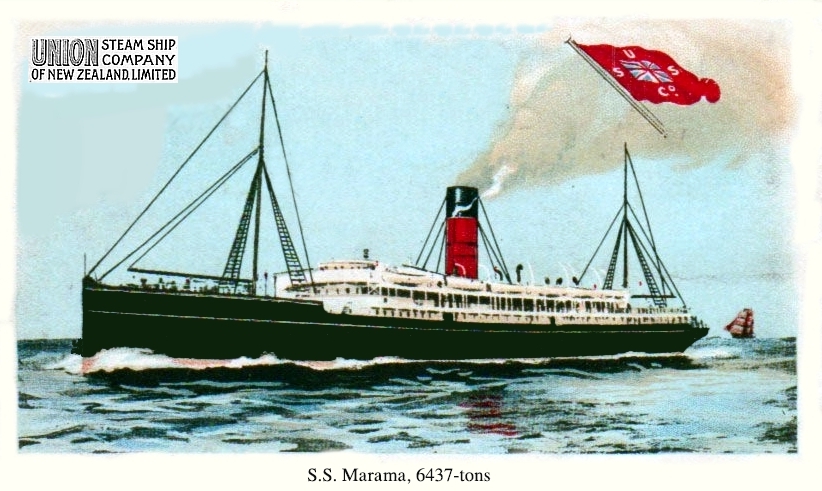 An early USSCo SS Marama postcard
She was able to accommodate a total of 488 passengers being made up of; 270 Saloon Class, 120 Second Class and 98 fore cabin passengers, and a total of 140 crew members. Her passenger accommodations were arranged over three decks, being Main Deck, Hurricane Deck and Promenade Deck.
Her Saloon Class Social Hall was designed and furnished on the principle of the traditional Drawing Room principle. It was well lighted with large windows and quite unique for the time it had electric lights, which was to be found throughout the entire ship! The furnishings were of highest quality, and the finest timbers of various kinds were to be found on the wall cladding and elegant touches to be found throughout the ship such as the stairs, etc,. Her Promenade Deck was particularly spacious and offered every possible comfort for the passenger! Her Saloon Class cabins were quite spacious and offered the finest facilities possible for the times. Second Class were somewhat less, but quite adequate, where as the fore-cabin was not the best and reserved for immigrants and certainly not the type of accommodations we would choose today! But for the times, they were better that in earlier times as at least the bedding was comfortable!
Delivery Voyage:
She departed from Mill Bay Plymouth England with Captain Gibb in command and the ship having been laden with 3,000 tons of coal, she left at 9 am sharp on Thursday September 26, 1907 as the beautifully proportioned liner being a three passenger deck schooner rigged ship, with a green hull, white superstructure, her two tall masts and her tall slanting red and black hat funnel, she certainly looked stunning as she sailed out to sea passing the famed Eddystone Lighthouse as she was bound for Dunedin New Zealand, being the Head Quarters of the USSCo.
On board there were a small number of guests who stated that when they arrived and first saw her she looked most yacht like! Two of the passengers on board were the USSCo Managing Director, Sir James Mills, as well as his wife, Lady Mills.
SS Marama sailed via the Cape and although the winds and seas were typical of the region she behaved admirably and showed her excellent sea-going abilities! Even during heavy weather the ship maintained an average speed of 15. 3 knots, but no fast speed steaming was attempted at all during the voyage. Stops were made at Cape Town and Durban.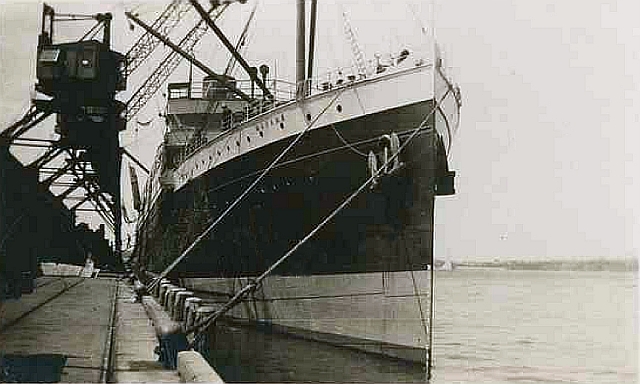 This is a fine view if her bow whilst in port
Photo provided by a supporter but Photographer is unknown - *Please see Photo notes at bottom of page!
Having taken on another 1,200 tons of coal at Durban the Marama headed directly for Melbourne. However the voyage across the Indian Ocean proved to be rather unpleasant with ongoing strong winds that became gales that blew from the north-west and the south-west and also continual heavy cross seas that did cause the Marama to roll considerably. Thus, this time her sea-going abilities were being tested even further, but she came through the worst of it with flying colours! It was reported by one of those on board; "When she rolls she does so gently," thus considering the weather her seaworthiness was not too bad at all, for what we would call a rather small ship these days!
By Wednesday October 30, at 5 pm the ship reached Williamstown, Melbourne Australia, and amazingly considering the weather she managed to beat all previous records by two days between South Africa and Melbourne having sailed at an average speed of 16.1 knots.
After just over a day in Melbourne the Marama headed for Dunedin on Thursday at 7.30 pm at an average speed of 16.46 knots, which was a performance that had never been achieved by any other ship. She arrived off Port Chalmers (Dunedin's Port) on November 4, at 7 am, however she did not enter the harbour and dropped anchor at the heads at 8 am. Later in the morning she slowly headed towards Port Chalmers and dropped anchor "a cable length from the wharf" a little after 10 am, although it had been planned for her to berth, but the port was packed with ships at the time, including her older SS Manuka, which was fully dressed with flags to welcome her, and other ships sounded their whistles and horns as she arrived. Soon a tug laden with officials, such as the Major of Port Chalmers, councillors, industry and commerce leaders and other prominent citizens headed for the SS Marama for the official welcome. They boarded the ship and where ushered to the main saloon where Sir James and Lady Mills awaited them and the official speeches were made. The first address was by the Town Clerk, with a reply by Sir James, being followed by lunch and drinks.
Her First Few Years of Service: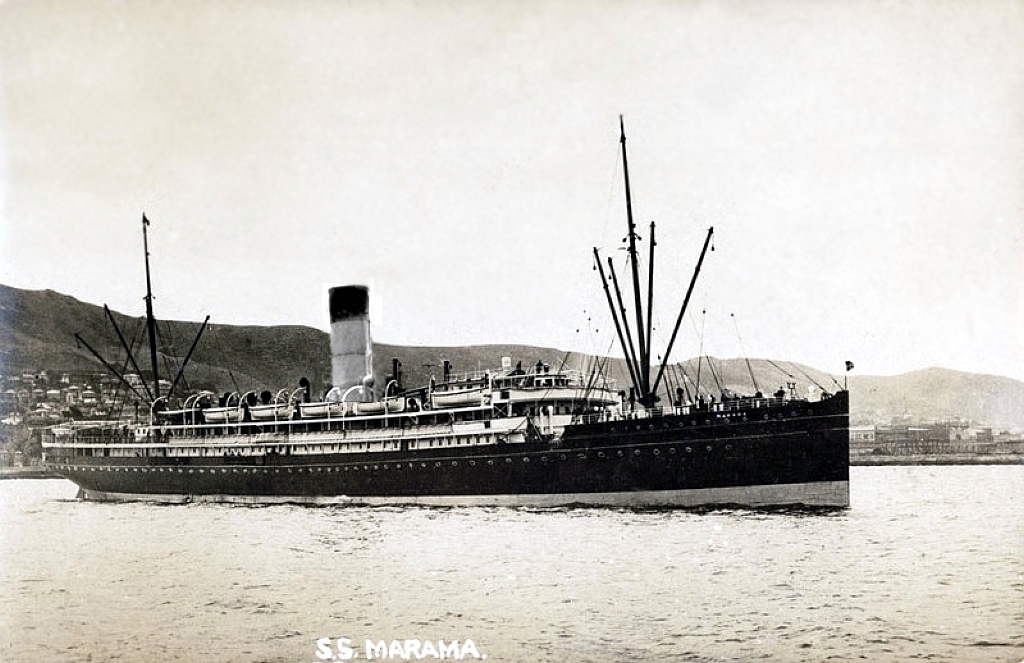 SS Marama arrives in Wellington on December 045, 1907
This fine new USSCo liner sailed from New Zealand on the ever popular Trans Tasman service from Wellington to Sydney, as the New Zealand Australia link was a vital economically! She operated on this service until 1908.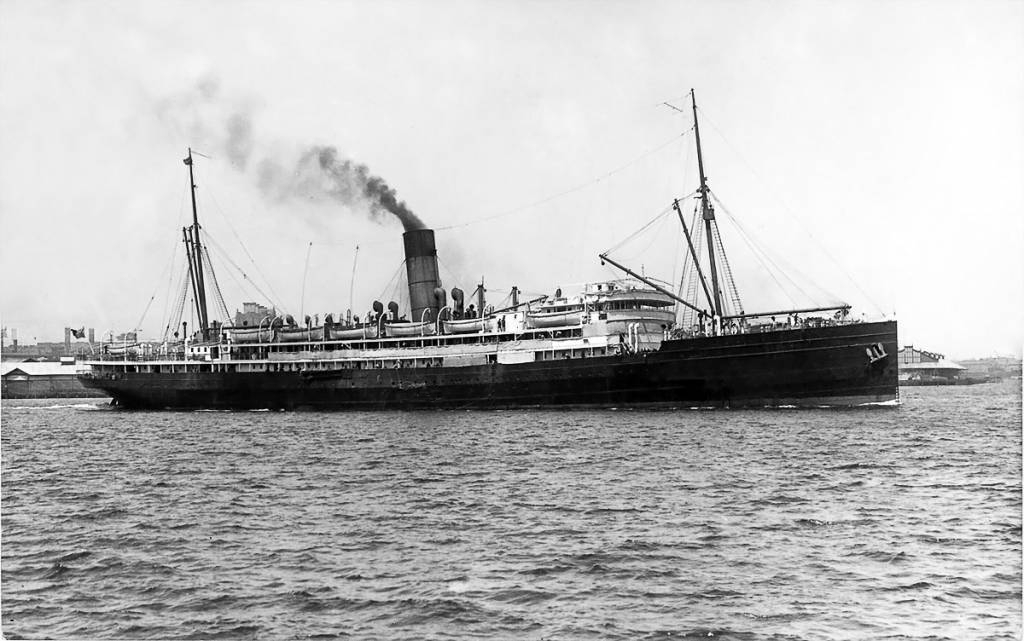 SS Marama arrives in Sydney
Later in 1908 the USSC0 management decided to place her on another profitable service, the Trans Pacific route sailing from Sydney, Wellington, Rarotonga, Papeete to San Francisco and return. This schedule lasted for around twelve months awaiting another ship to come in to service and later in 1909 she returned to her regular duties, the Trans Tasman service where she remained until mid 1914. During this time she visited various Australian ports besides Sydney, including Melbourne and as the photograph below clearly shows in Hobart Tasmania in 1910.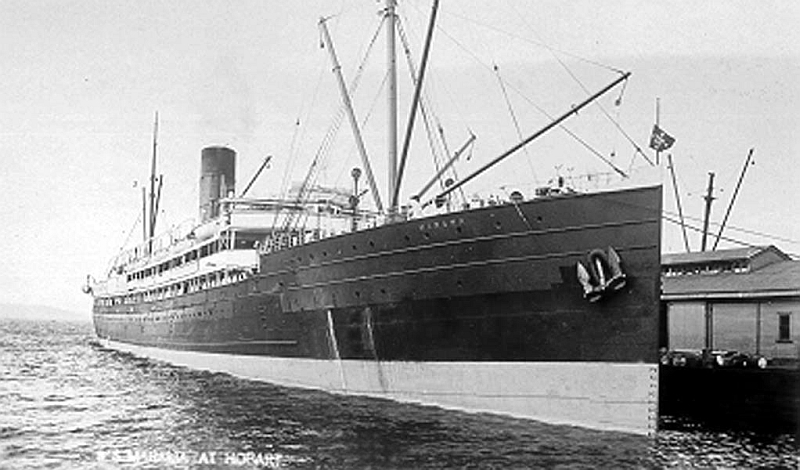 SS Marama seen in Hobart around 1910
Photo provided by a supporter but Photographer is unknown - *Please see Photo notes at bottom of page!
Buy in mid 1914 she was placed once again on the Trans Pacific service. However, late January 1915, when SS Marama was entering San Francisco harbour, she apparently was "grounded slightly" and several of her hull plates were buckled. Thus she remained in San Francisco for a short time for repairs to be made before she was able to continue her voyage.
See the news paper clipping below for details!

But times were rapidly changing as the ":Great War" was about to fall upon the world, and shipping worldwide would be severely effected and ships from countries around Europe, including Britain, the United States, Canada, Australia and New Zealand of course would be called upon to serve as troop ships. With suddenly with the War having commenced, there was a great need of sea transport for wounded and sick soldiers. The first of the Union Steam Ship Company ships to be chosen to become a Hospital Ship was the 5,323 GRT, 1905 built SS Maheno.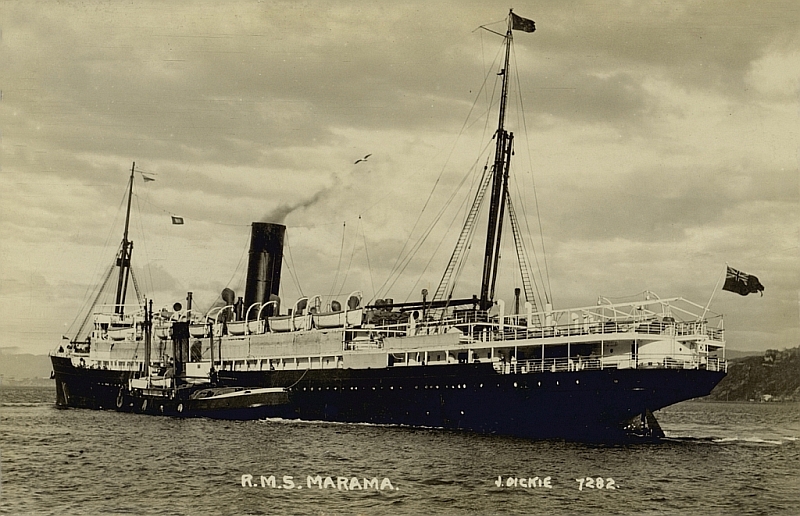 This is a delightful stern study of the fine looking SS Marama
Note; she has her wind canvasses up, and must be expecting some weather ahead!
Hospital Ship SS

Maheno

– 1915 - 1920:
With the need of good hospital ships it was understood by the New Zealand Government that action needed to be taken and an appeal was made to His Excellency, the Earl of Liverpool, Governor General of the Dominion of New Zealand, for funding to refurbish the USSCo liner SS Maheno as a hospital ship and send her off into service as a hospital ship. The Maheno was indeed refitted and the HMNZ Hospital Ship Maheno departed Wellington on July 11, 1915 bound for her wartime duties.
In command of the ship was Captain W. Maclean whilst Colonel, the Hon. W. E. Collins was in military command, and the staff included a matron some thirteen nursing sisters, five medical officers, a detachment of sixty-one orderlies of the New Zealand Medical Corps, chaplains.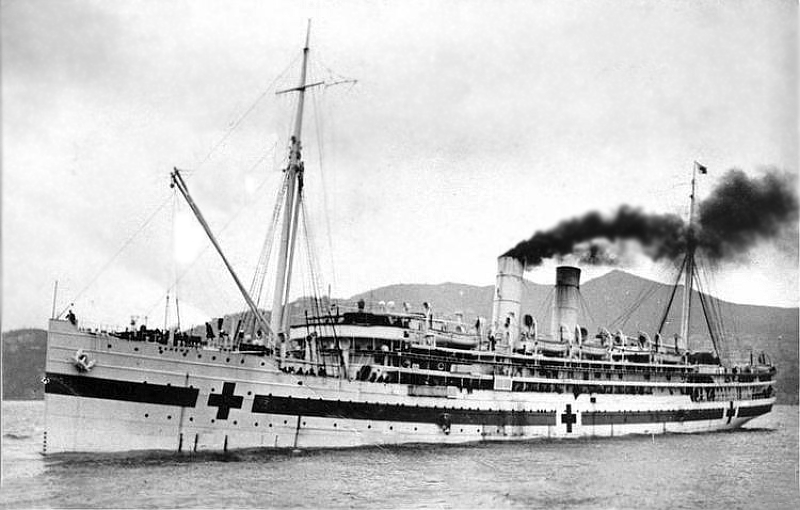 The twin funnelled, HMNZ-HS (His Majesty New Zealand - Hospital Ship) Maheno
During the voyage everyone was kept very busy in preparation of material and training of the orderlies for the job that they would encounter continued. Another sixty four nurses had travelled from New Zealand on the ship as far as Egypt. Upon arrival at Alexandria, orders were received to proceed directly to Mudros and the Maheno arrived there on August 25, departed the next day, arriving the same day at what we now know as "Anzac Cove" to see a cruiser and a destroyer in full action close by. As the Maheno slowly made her way to her position there were bullets falling on her deck and all on board now knew with certainty that they were deep in the war zone!
With a huge battle going on at Hill 60 the wounded from this battle began to arrive at the ship. The severely wounded were sent to the wards at once, and the walking wounded or those in somewhat less need but still injured were fed and had their wounds dressed on deck and sent in lighters to Mudros. The operating theatres were in busy, for three days non stop - that is from August 27 to the 29th. The HMNZ-HS Maheno like the Marama would serve bravely over her five years. More om her at the bottom of the page! Omega Replica Watches
Hospital Ship SS

Marama

– 1915 - 1920:
Not long thereafter further funds were forthcoming when the larger SS Marama was called to duty, in fact the official announcement was made on September 20 in New Zealand's Capital Wellington and it appeared in the Newspaper the next day. Below you can read the actual details!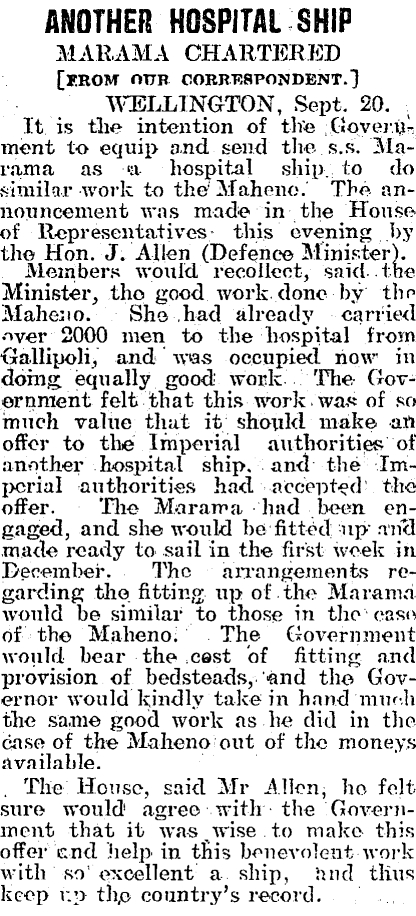 Marlborough Express September 21, 1915
She headed for the refitting berth and was fitted out as a hospital ship. With the Marama being the larger ship of the two New Zealand ships selected, she was fitted with 600 hospital beds and she was the superior of the two in many ways having other excellent facilities. But what was remarkable the transformation was completed in a record twenty-three days, as hundreds of workmen had been employed to 24/7. The total amount of money donated amounted was ?66,000 and remember that was a huge amount for those days!
The SS Marama was superbly equipped and that was very much due to the many donations that had been made, such as a vast amount of equipment and other materials and requirements that had been delivered to the ship. In addition,Rolex Replica Watches much needed Red Cross medical stores was freely given and the holds were stocked up to the brim! Then came the next surprise when two excellent motor launches were donated, one from Wellington and the second from Auckland and obviously these launches became part of the ships essential fast service, which was vitally needed, especially when she was at places such as Gallipoli, when under fire.
The completed N SS Marama sailed from New Zealand on 5th December, 1915, under the command of Captain B. M. Aldwell, whilst the Medical and Military Officer in charge was Lieut Colonel P. R Cook, NZMC. She headed for Alexandria, Egypt.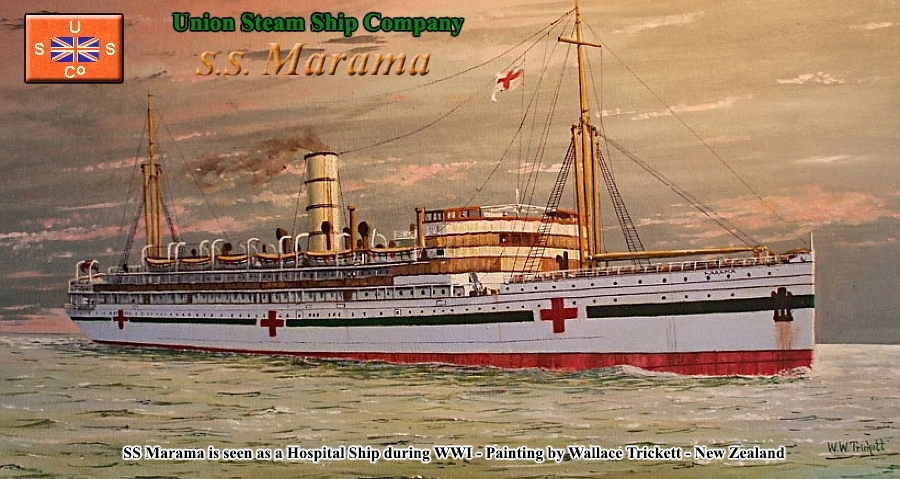 HMNZ-HS Marama
A painting by New Zealand Maritime Artist Wallace Trickett
Visit Wallace Trickett's website - Email Wallace at:? wallace.t@paradise.net.nz
When she arrived at Alexandria she took on board some 500 patients from Gallipoli and Salonika, all were bound for Southampton. Having taken them all to the United Kingdom, she again returned to Alexandria, and after few days proceeded to Marseilles, and took on coal at the port of C?te France, thereafter headed for Stavros, sailing via Salonika. It was there where the Eastern flank of the British troops from the Balkans had been at their time off and having some leisure, as well as being used as a temporary hospital base, and the Marama was used as a base hospital until she left filled with patients for Malta. Thereafter she once again took 500 patients to Southampton, and then she sailed to Alexandria once again where she was delayed for three weeks as she awaited her new orders. When it did arrive, it stated that hey were to "embark the New Zealand General Hospital and sail for Southampton." She arrived there just in time for the "Somme offensive." She quickly crossed the channel to Boulogne. From this time the Marama was part of a huge White Fleet of ships that carried the wounded from that great battle fields without delay to the hospitals back in England.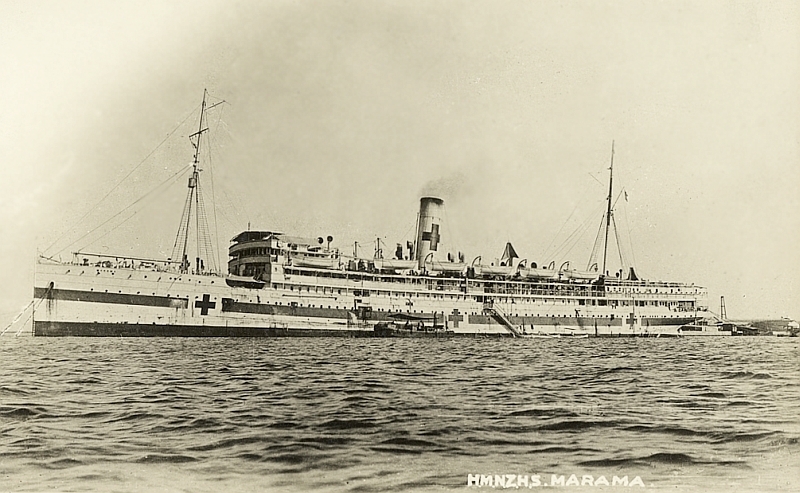 The sick and wounded are being brought on board by local launches here
On one occasion the Marama had on board no less than an amazing 1,636 wounded, sick and other soldiers she had picked up at Le Havre. Sadly so many of the wounded were of the worst kind and it was amazing how some of these brave men who were so badly hurt could even survive. One of the other big problems was not just the open wounds but those who suffered severe shell-shock and this also was one of the? frequent problems that many patients that came on board from Europe. Due to the great efficiency of so many good men and women, most patients would be on one ship or another ship within just twelve hours of their being wounded in the trenches or nearby towns or villages. The work excellent that was done with the wounded and they brought them to the hospital ships, was a remarkable tribute to the brilliant work and organisation of the RAMC, or the "Royal Army Medical Corps", who where indeed one of the wonders of this war, for they knew that if their patients did not get to the ship at least within twelve hours, their wounds would become septic and their lives would be in danger. Nurses and orderlies were all engaged day in and day out cleansing and dressing wounds. Walking patients, of whom there were usually from four to five hundred, and then there would always thousands more ready to come aboard soon!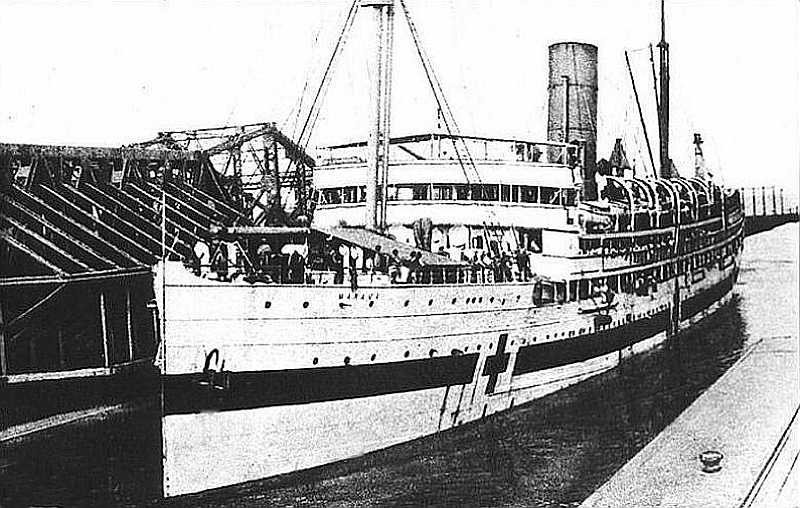 Here we see a greatly laden Marama
It should be made clear that those who were classed as "walking cases" where not necessarily what would be called the "slightly wounded" as, owing to the difficulty of transport, cot cases in war are reduced to the absolute minimum. If a man is able to walk in some way, no matter how badly he is wounded in the upper part of the body, but he is still able to stand and walk alone, with an aid or assistance, he is classified as a walking case. Many of the "walkers" were in most cases usually severely wounded. Some of these patients would fall down asleep due to total exhaustion the moment they reached the ship. The truth was that would be a warm and dry place for them and a hot drink and food and was all that mattered to them, or a cosy spot just to sleep it off. It was sheer luxury for the wounded even to escape from the sounds of the battle, now all they had to do is rest and be healed and go home,. Many were English soldiers, or Australian as well as New Zealand soldiers, and for all the sight and comfort of the Marama was sheer delight!
The as she continued her hospital duties, on August 25, 1916 HMNZ-HS Marama was recalled to New Zealand and she sailed with some 500 New Zealand wounded and sick soldiers on board. She arrived home to a tumultuous welcome home!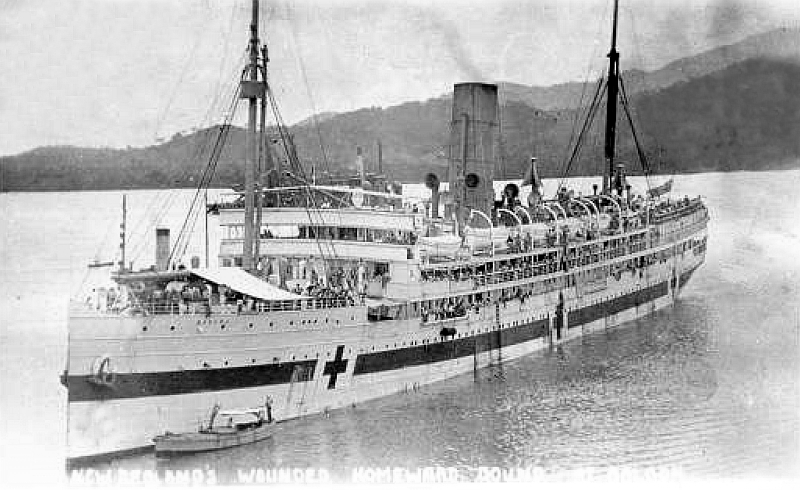 Again a full ship is seen!
During this commission, the Marama steamed 52,251 sea miles and carried 12,639 patients and 580 hospital passengers.
For the most of the soldiers on board the Marama, fighting the war would be over, as the wreckage of war was was slowly drifting homewards. These men were had been in a great battle and they were all suffering great pain, some in body, mind or both! Yet as it was said by one of the nurses from the Marama, not once in all of our crossings of the channel did I ever hear one word of complaint, it was simply amazing.
The Marama had worked together with countless other fine hospital ships from various nations. Then although not required, a message of thanks had been conveyed to all the crew and staff on board the Marama by the Lord's Commissioners of the Admiralty and by the Commander-in-Chief.
After the Channel work the Marama under Colonel Collins sailed on her second commission on November 12, 1916, and sailed to Bombay where she collected her wounded and other paitients. She then went to Suez after which she proceeded to Southampton and all patients disembarked. However awaiting the Marama were a good 540 wounded awaiting her, both bedridden and walking wounded, etc., they soon came on board to be taken home to New Zealand. However, just a few days after having left Southampton the Captain became aware that a ship had been torpedoed and the Marama was made ready to rescue any of her survivors, and they did. But then an unexpected shock came to the scene when the German U-Boat that had torpedoed the other ship suddenly appeared close by, but thankfully its captain decided to leave the fully marked hospital ship alone.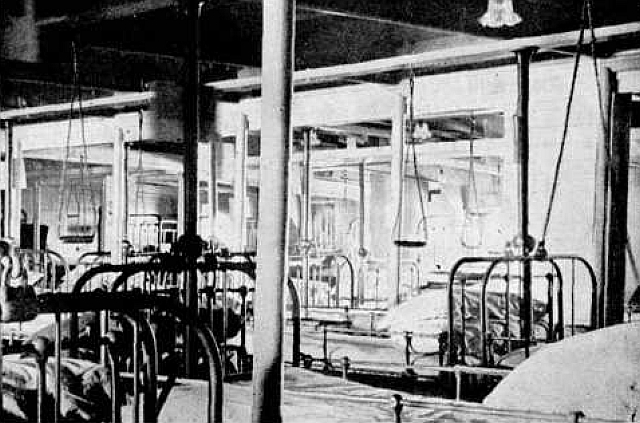 This is just one of the Hospital wards on board
Photo provided by a supporter but Photographer is unknown - *Please see Photo notes at bottom of page!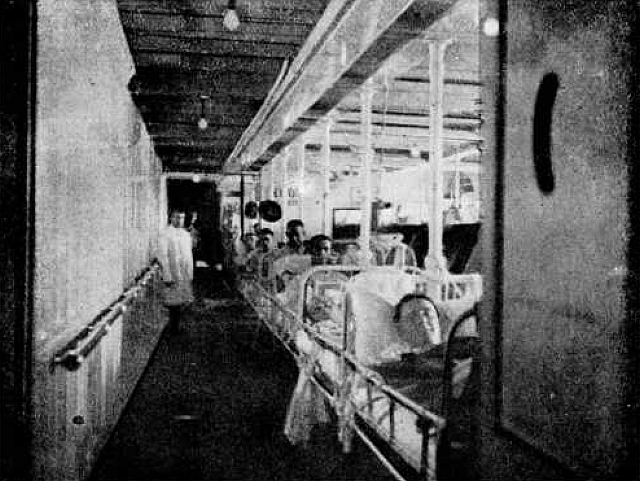 And here we see the passage was alongside the ward, obviously6 space is at the minimum
Photo provided by a supporter but Photographer is unknown - *Please see Photo notes at bottom of page!
Having arrived home in New Zealand with all the soldiers thankful to see home again, as well as all the crew, nurses, orderlies and doctors, but soon enough the Marama had to sail again for England. She departed on March 22, 1917, and again headed for Bombay and collected further wounded as well as some from Mesopotamia to Suez. However, whilst in Suez, the Captain received orders that the Mediterranean had become unsafe and thus not to head there and to go south. The nurses were ordered to disembark in Suez, and the Marama headed south for Durban.
During this time, with patients on board and without the nurses, it would be the orderlies who were placed under a considerable test, for they had to nurse and look after a good number of severe cot cases, but it has to be said for the record they rose very much to the occasion and succeeded exceptionally well. A stop was made to take on coal and stores and the ship soon departed Durban, but not long having left Durban a fierce storm arose, at one stage a huge wave swept the decks and tragically a patient and an orderly were washed overboard and drowned and a few others were injured.
Having made a stop at Cape Town and Sierra Leone, SS Marama continued her voyage to Avonmouth (Bristol) and once again returned to New Zealand with a ship packed with KIWI soldiers who had been wounded on the battle this time due to the problems in the Mediterranean she sailed via the Panama Canal and the South Pacific.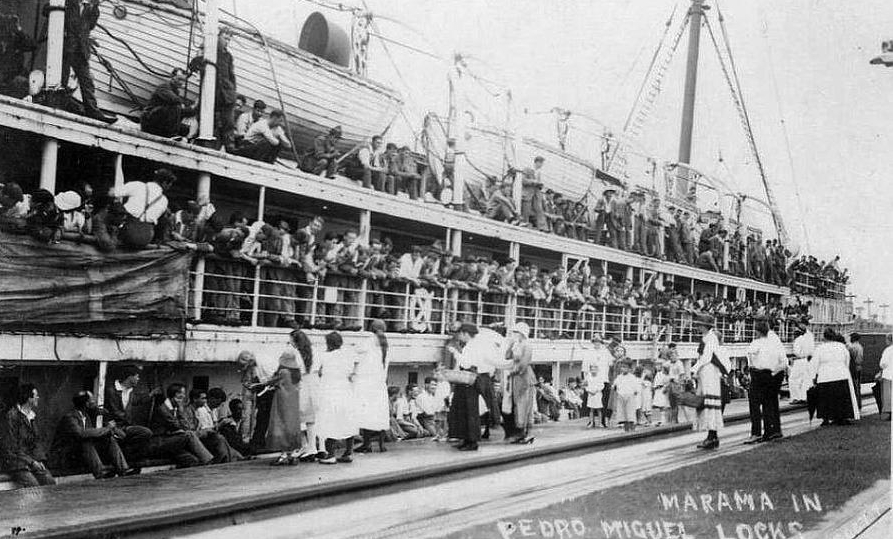 The HMNZ-HS Marama is seen here sailing through the Panama Canal and is at the "Pedro Miguel" Locks
Again we see the numbers on board and the onlookers. Many are the orderlies and crew as well as the walking wounded
Photo provided by a supporter but Photographer is unknown - *Please see Photo notes at bottom of page!
The next time she would sail on her commissions, there would be dental officers on New Zealand's two hospital ships and did wonderful services and of a high standard, especially considering hey were at sea!
HMNZ-HS Marama departed for her third commission this time under Lieut.-Colonel Cook, and then for her fourth commission she was under Colonel Collins. During each of these commissions' she made a good number of voyages to England for the sole purpose of closing emptying the New Zealand Hospitals in England and the ship would transport them to the required ports en route to New Zealand as required.
I am sad to say that there is no details available regarding the final years of her duties, thus I am somewhat short on detail from here on!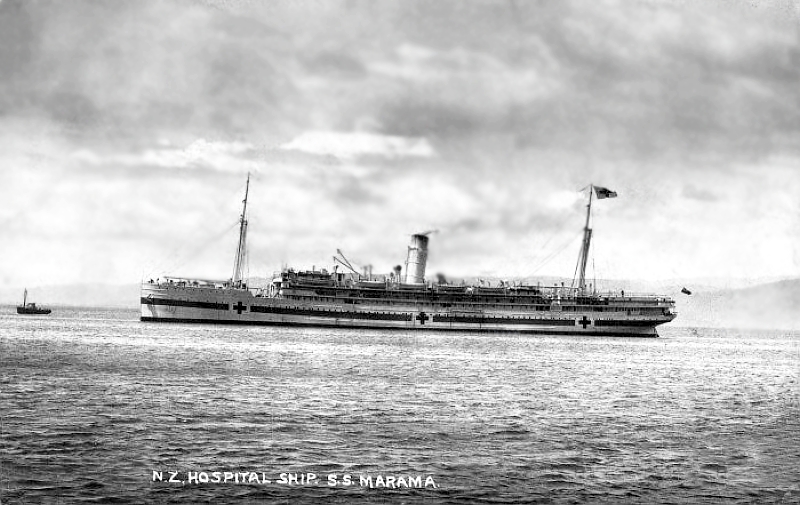 The Kiwi Hospital Ship will soon be able to sign off and return to civil duties, as she was decommissioned in 1919
SS

Marama

Returns to Service:
Having completed all her commissions with honour HMNZ-HS Marama was officially decommissioned late in 1919 and the was SS Marama sent to Vancouver, for it would be there where she would be restored to her former USSCo glory.
Thus the SS Marama was completely refurbished at Vancouver and there would be a slight change in her tonnage increase to 6,496.67 GRT. In addition work was undertaken to change her for being coal burning steam ship and she was converted to burn oil.
On the passenger side there were also many improvements made to her facilities ensuring some new comforts to her accommodations. Rather than having three classes, she was now just a two class ship with 242 Saloon Passengers, 214 Second Class and 32 Interchange passengers, these could pay either Saloon or Second Class fares and spend their day time in the relevant facilities and restaurants, etc.. Crew numbers remained unchanged.
Externally there was a slight difference as the aft deck now had facilities to be covered and thus could be a multi purpose facility, be it for relaxation, shade, or dancing at night in the open air. Her hull was repainted the traditional colours, but this time the top bow section was now painted white, as can be seen in the photograph below as she departs wellington for Sydney. In June 1920 the Marama returned once again on her regular duties, the Trans Tasman service.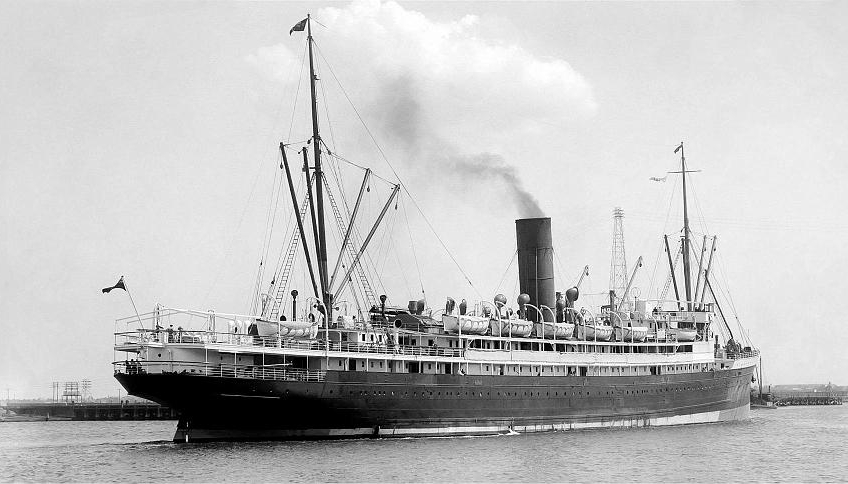 Here we see the fully refurbished SS Marama with her aft deck reworked and the white fore section of her bow!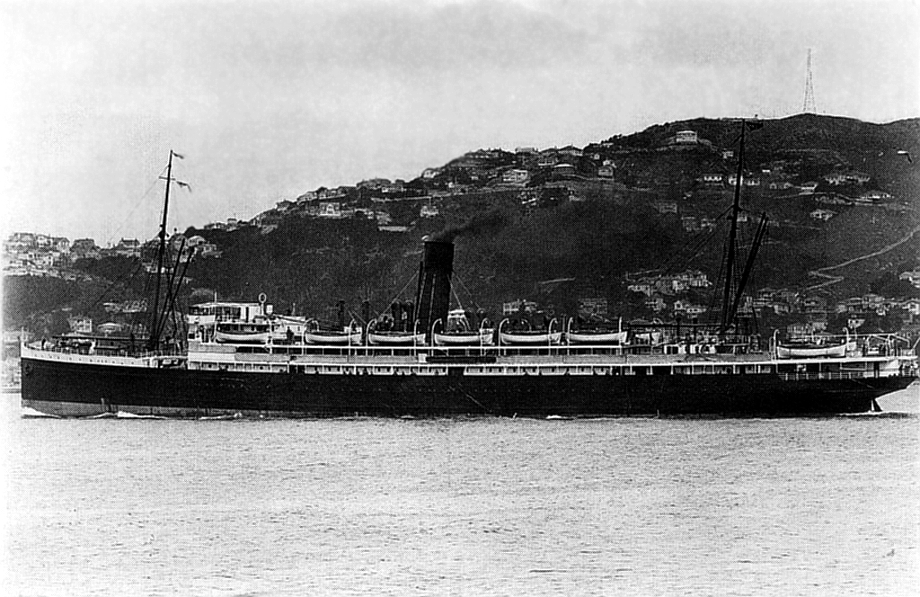 SS Marama seen departing Wellington bound for Sydney
Having had several years on the Trans Tasman service, it was decided to give her another turn on what was now called the "Inter Colonial" 1922 Put on the "Inter-Colonial South Sea Islands, Trans Pacific" service in 1922. this continued for almost three years.
Then in 1925 she was re turned to the New Zealand and Australian traffic operating just the Trans Tasman, combined with the Trans Pacific run in conjunction with the SS Niagara and the famed SS Tahiti as well as operating occasional coastal cruises around New Zealand, but especially visiting spectacular to Milford Sounds. These were very popular with Australian's, but also with New Zealander's!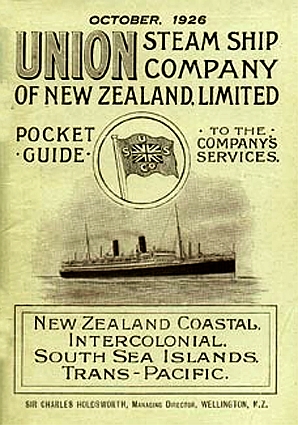 This is the pocket guide to USSCo ships sailing to and from NZ and Australia, as well as Trans Pacific for 1926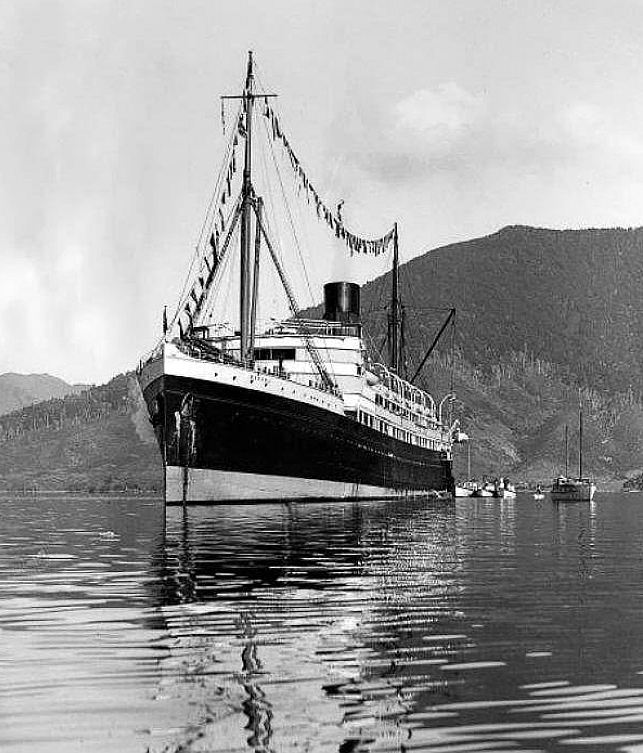 The Marama is seen here at anchor in Milford Sound during one of her pleasure cruises
However, she did return voyaging to the American west coast again, but her final visit to San Francisco and North America was in 1930, for there after she returned mostly to cruises departing Australia to New Zealand, either to the South Pacific, or New Zealand coastal cruising, with long visits to Milford Sounds. But slowly her days were running out and the old hard working girl at the good age of 29, which was considered to be very old in those days for a ship, which mostly lasted a little more than 20 to 24 years, thus the delightful Marama was laid up at Evans Bay in 1936.
Whilst laid up at Evans Bay in Wellington when a ship was suddenly required to operate the overnight Inter Island service to Lyttelton, the Marama was made ready, and being in top condition, she sailed that very night.
However the time came that the Union Steam Ship Company realised that the now 30 year old liner has had her day, and thus sold the faithful SS Marama on July 9, 1937 to Asian company of Lingham Docks and Engine works. She soon departed Wellington for Shanghai China. However, having been laid up after her arrival, in 1938 she was sold once again for a reasonable profit to Miyachi K.K.K. of Kobe Japan and sailed there and was soon broken up in Japan.
For Interest: The "Marama Hall" at the University of Otago in Dunedin contains a large board that is headed; ""1914-1918. The Following Served with the MEDICAL DEPARTMENT on the HOSPITAL SHIPS MAHENO and MARAMA, During the Great War." The lists cover officers, N.C.O.s and men of the Medical and Dental Corps, women of the Nursing Service and Chaplains for each of the charters. There are over 1,000 names on the board. Obviously this is a wonderful memorial to all who served on these two fine ships!
In the Otago Museum there is a fine model of Maheno and a painting of Marama, both shown in their hospital ship livery's, in addition there is also a lifebuoy from Maheno.
SS Marama Specifications:
Built by:????????????????????????????????? Caird and Co of Greenock, Scotland in 1907.
Yard Number:?????????????????????????? 313.
ID:????????????????????????????????????????? 117597.
Launched:??????????????????????????????? Saturday June 22, 1907.
Delivery voyage:?????????????????????? September 29, 1907.
Tonnage:???????????????????????????????? 6,437 GRT – 3,952 NET.
Engines:????????????????????????????????? 2 x 4 Cylinder Triple Expansion low-pressure (coal fired) Steam Engines, 9,000 HP.
Refit 1920:???????????????????????????? Converted to Oil fired.
Screws:?????????????????????????????????? Twin.
Speed:???????????????????????????????????? Maximum service speed 17 knots.
Length:??????????????????????????????????? 420 ft.
Breadth:????????????????????????????????? 53.2 ft.
Draught:????????????????????????????????? 31.2 ft.
Passengers:????????????????????????????? 488 - 270 Saloon Class, 120 Second Class and 98 fore cabin.
Refit 1920:???????????????????????????? 488 - 242 Saloon Passengers, 214 Second Class and 32 Interchange (Saloon or Second) passengers.
Crew:????????????????????????????????????? 140.
The End of the SS Maheno:
After the SS Maheno had given 9 years of quality service from both sides of the Tasman, and then she served, as we have read above, bravely as a hospital ship during World War I. She transported some 25,000 sick, wounded and dying soldiers who were all valiantly cared for on the Maheno, especially as she traversed the English Channel during the battles in Europe, and all of her five years of her valiant service. But then she was returned to be refitted as a passenger liner again!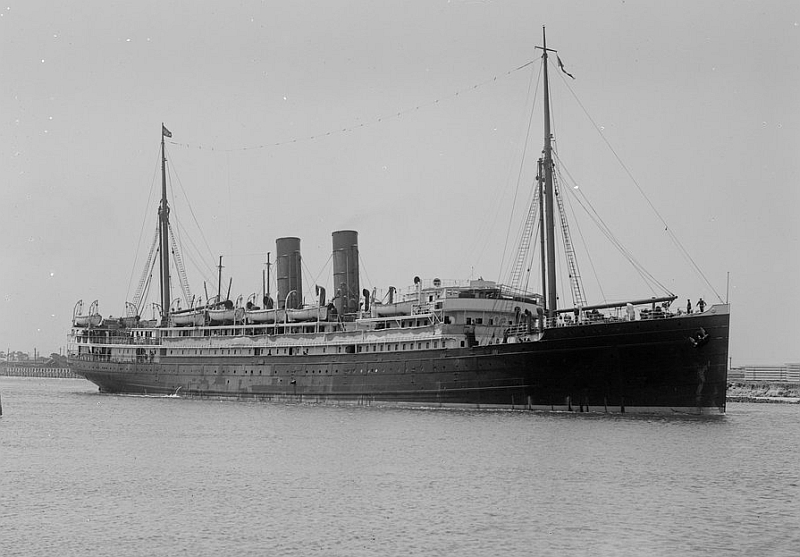 SS Maheno
After the war, she was returned to passenger services, and she undertook six voyages from New Zealand to England and return. And then she returned to her regular Trans Tasman service. But in due course the advent of internal combustion engines, ironically improved by the war, that would inevitably lead to her demise as newer, faster and much cleaner ships came to the scene and took to the high seas, Thus as she was aging, it was time for USSCo to sell the old girl that had served the company so well!
Thus the now out dated and out classed Maheno was decommissioned whilst she was in Melbourne Australia in 1935, and she was soon sold to the Japanese firm "Taminosuke Myachi" of Kobe Japan who intended to have her broken up for scrap metal.
The SS Maheno departed Melbourne on June 25, 1935 under tow behind the SS Oonah, a 1,700 ton coaster that had also been sold to the same buyer. However disaster was to strike the Maheno as they reached the shores of Australia, for a fierce cyclone broke out and the tow rope broke that saw the Maheno adrift and on July 9 she was stranded on Cathedral Beach on the world's largest sand Island "Fraser Island" in July 1935. Various attempts were made to refloat the Maheno, but they all failed and it was decided in due course to abandon the ship where she was.
Sadly, the beginning of World War II the ship was used as target practise by the Bundaberg aviation training school and square holes remain in the middle section of the hull to this day, all resulting from the World War II practice by the Z force commandos, using limpet mines.
However, to this day, the ex luxury SS Maheno has proven to be a magnet for tourists as she has drawn them from countries around the world. Fraser Island is certainly one of the most beautiful places on earth, and this combined with the fascinating wreck of the Maheno is spellbinding! Of course the author has been there and seen this old timer, but, at least, the breakers torches did never touch her and she is still with us to this day to some degree, although she is declining due to rust taking its toll!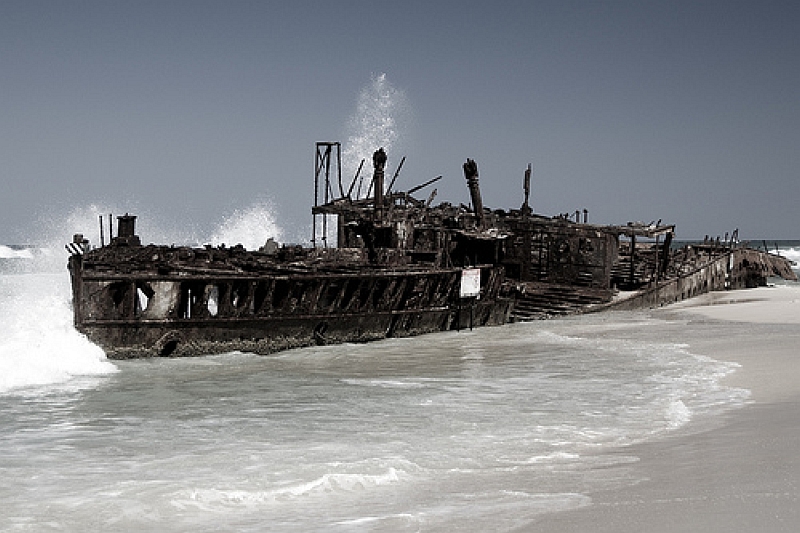 The Maheno is seen here on Fraser Island around the 1970/80s?
Photo provided by a supporter but Photographer is unknown - *Please see Photo notes at bottom of page!
A Wonderful Memory of the USSCo - SS Marama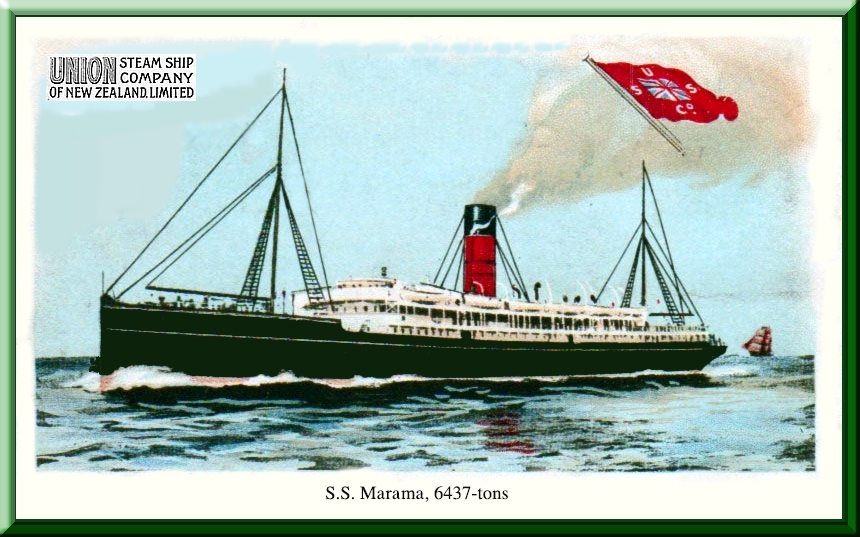 NOW Visit Page Two for a superb variety of menus, passenger Lists and Cruise booklets, etc,
These were all kindly donated by my good friend Mr John Alexander of Wellington New Zealand!
Enter Page Two
Also view the other USSCo Passenger Ships online, from oldest to the last ever built
SS Waitaki / SS Moeraki & Manuka / SS Marama & Maheno / RMS Aorangi
***********************************
Use the Back button on your browser or Close the Page to return to the previous page
or go to our INDEX or MAIN PAGE
Who is the Author of ssMaritime?
Commenced in the passenger Shipping Industry in May 1960
ssMaritime.com & ssMaritime.net
Where the ships of the past make history & the 1914 built MV Doulos Story
Also visit my …
"Save The Classic Liners Campaign"
Photographs on ssmaritime and associate sites are by the author or from the author's private collection. In addition there are some images that have been provided by Shipping Companies and private photographers or collectors. Credit is given to all contributors. However, there are some photographs provided to me without details regarding the photographer/owner concerned. I hereby invite if owners of these images would be so kind to make them-selves known to me in order that due credit may be given.
This notice covers all pages, although, and I have done my best to ensure that all photographs are duly credited and that this notice is displaced on each page, that is, when a page is updated!
ssMaritime is owned and ? Copyright by Reuben Goossens - All Rights Reserved