Matson Lines S.S. Mariposa & SS Homeric
Please Note: Firefox & Google Chrome other search engines may not suitable
Please use Internet Explorer or old Google for this page to load perfectly!

Click the logo above to reach the ssMaritime FrontPage for News Updates
With Reuben Goossens
Maritime Historian, Cruise'n'Ship Reviewer & Author
Please Note: All ssMaritime and other related maritime/cruise sites are 100% non-commercial and privately owned. Be assured that I am NOT associated with any shipping or cruise companies or any travel/cruise agencies or any other organisations! Although the author has been in the passenger shipping industry since 1960, although is now retired but having written on well over 700 Classic Liners, humble Migrant Liners and Cargo-Passengers Ships I trust these will continue to provide classic ship enthusiasts the information they are seeking, but above all a great deal of pleasure!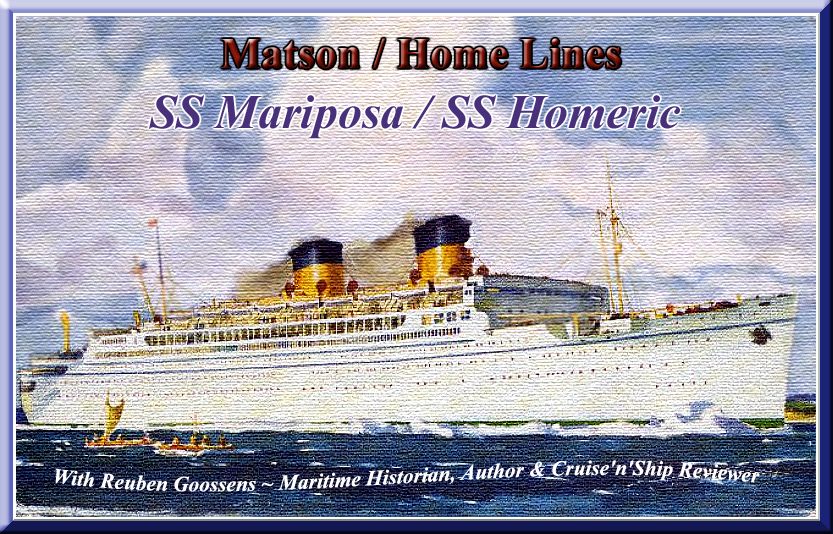 A generic Matson Lines postcard released prior the "White Fleet" commenced sailing
Original postcard from the author's private collection
Brief Introduction:
After the red-hulled SS Malolo built in 1927, the luxury American ocean liner, SS Mariposa the first of three ships in the Matson Lines to be known as the "White Fleet."
1 … Mariposa (2) was launched July 18 1931. In 1954 she was sold, and her details are on this page below.
2 … Monterey was also launched in 1931, renamed Matsonia in May 1957, renamed Lurline in 1963. In May 1970, she was sold and became the successful Chandris passenger liner, the RHMS Britanis.
3 … Lurline was launched on July 18 1932, and was the only ship to retain her original name until being sold in September 1963 to become the Chandris Liner the RHMS Ellinis.
Although all these ships had further careers with other companies after Matson Lines, sadly the SS Mariposa did have the shortest life at sea of them all, whilst the second ship of the trio, the SS Monterey then named the Britanis ended her career in 2000, and the third ship, the SS Lurline named Ellinis ended her days in 1987.
SS Mariposa (1):
The first Mariposa was built in 1883 William Cramp & Sons Shipbuilding Company in Philadelphia the "Oceanic Steamship Company," which had been founded in 1881 by John D. Spreckels & Brothers to provide a passenger and cargo service between San Francisco and Honolulu Hawaii. Later the service was extended as far as New Zealand and Australia.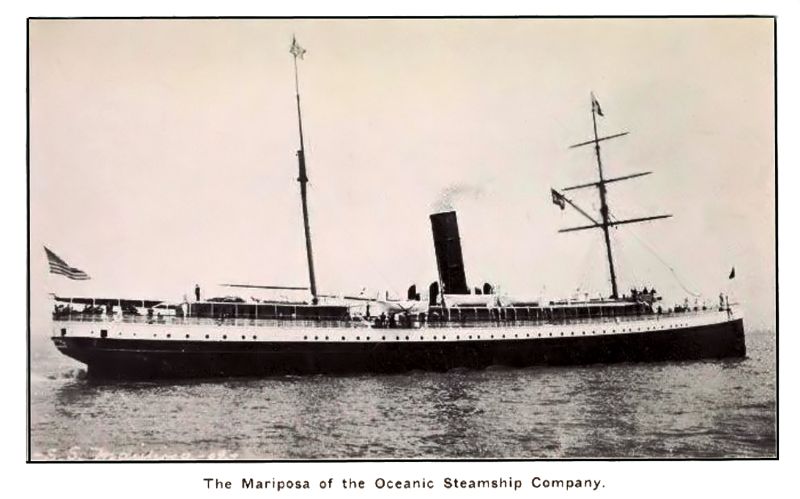 A fine postcard of this first SS Mariposa
Postcard from the author's collection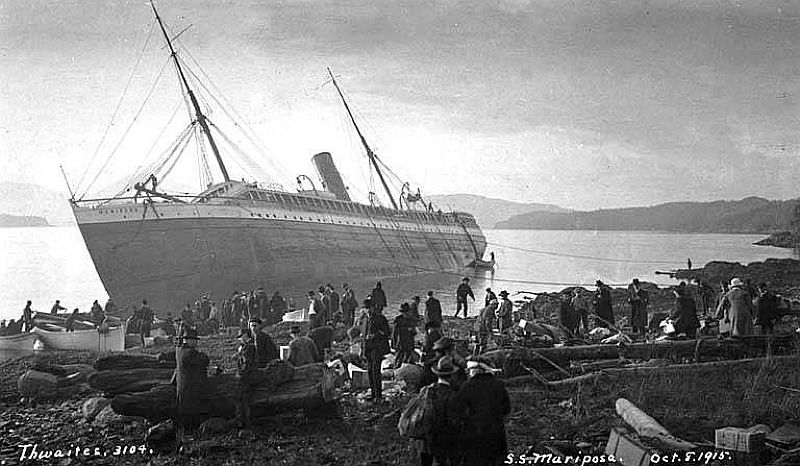 Here we see the passengers ashore and the ship floundering
Photograph by "Thaites," – but part of the author's private collection
She was sold in 1912 to the "Alaska Steamship Company," retaining her original name. However, just five years later on December 18, 1917, she hit a reef off the coast of British Columbia and took on water and soon capsized, all passengers and crew were able to abandon ship. In 1926 the "Oceanic Steamship Company" was bought out by Matson Line and it became a full subsidiary.
SS Mariposa (2):
Withy the SS Malolo having been placed in operation in 1927 and proving to be very successful, Matson Lines decided to build a trio an even more luxurious liners, the first being the 18,000 tonner, SS Mariposa to be built by the famed Bethlehem Ship Building Corporation, Quincy, Massachusetts. She was launched on July 18 1931 and was completed on December 14. Having made her deep-sea trial successfully she headed for the West Coast of America to be stored up and fully manned. Obviously the publicity machine was in full operation to get booking flowing and it proved to be successful!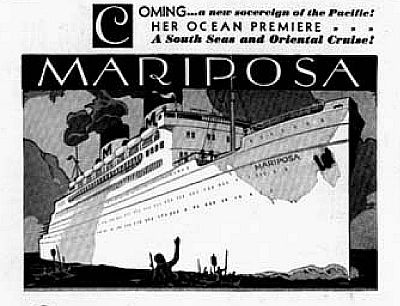 Part of an advertisement announcing the arrival of the Luxurious SS Mariposa
From the author's private collection
The magnificent SS Mariposa (2) departed San Francisco for her maiden voyage on February 2, 1932 bound for Honolulu, Auckland, Wellington and Sydney arriving there on 21 February and departed the next day. She proved to be very popular, as did her sister that followed her soon after, the SS Monterey.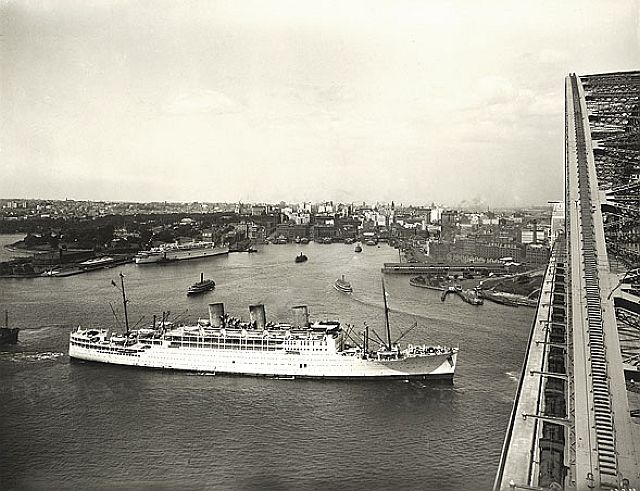 Here is a rare photograph with a view of Circular Quay in Sydney with the SS Mariposa is seen
berthed. The RMS Strathnaver is seen just arriving. Mariposa was on her Maiden voyage to Australia
and this photograph was taken on February 22, 1932
Photographer unknown – Please see photo notes at the bottom of the page!
The Mariposa and her sisters soon became famed for being some of the most handsome and certainly the fastest ships on the Pacific. She had? long sleek lines with her all white livery and a low slung superstructure and her two beautifully placed funnels combined with her slim tall fore and main masts. And as Mariposa had crossed the Pacific during her maiden voyage at an average spewed of 22 knots she proved that she and her two sisters were indeed a force to recon with! Her sister SS Monterey (1) followed her into service on May 1932.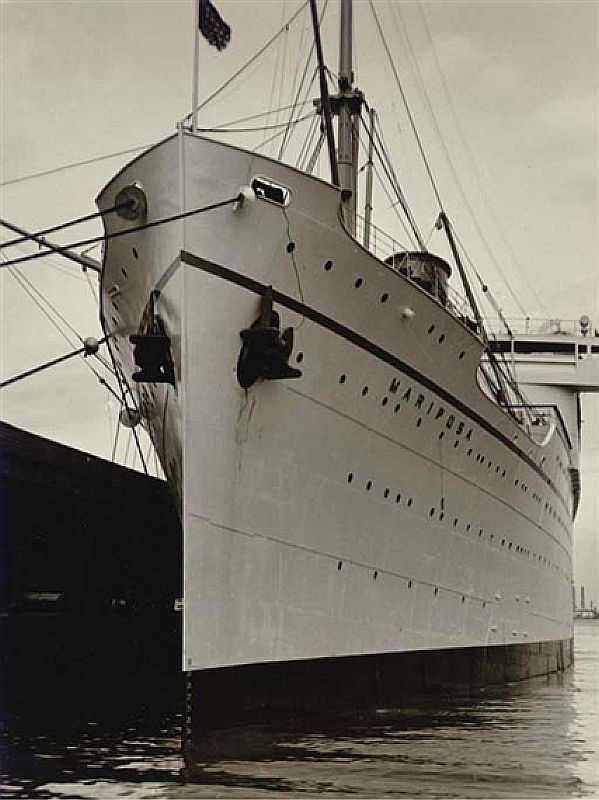 A fine view of he bow
Photographer unknown – Please see photo notes at the bottom of the page!
Although many say that the Mariposa was very much designed in similar vain to the SS Malolo, they are in fact quite different! The most obvious is that Malolo's lifeboats are slung low on boat deck, whilst on the "White Fleet" they are raise up high!? The length was far greater and her superstructure was a superior one and more integrated with her hull design in addition it was aerodynamically superior. Another unusual feature was that the aft funnel was slightly shorter than the forward one, thus giving the ship a more stylish overall profile. This very same idea was adopted by many great companies throughout the world in the future, until a single funnel became more popular.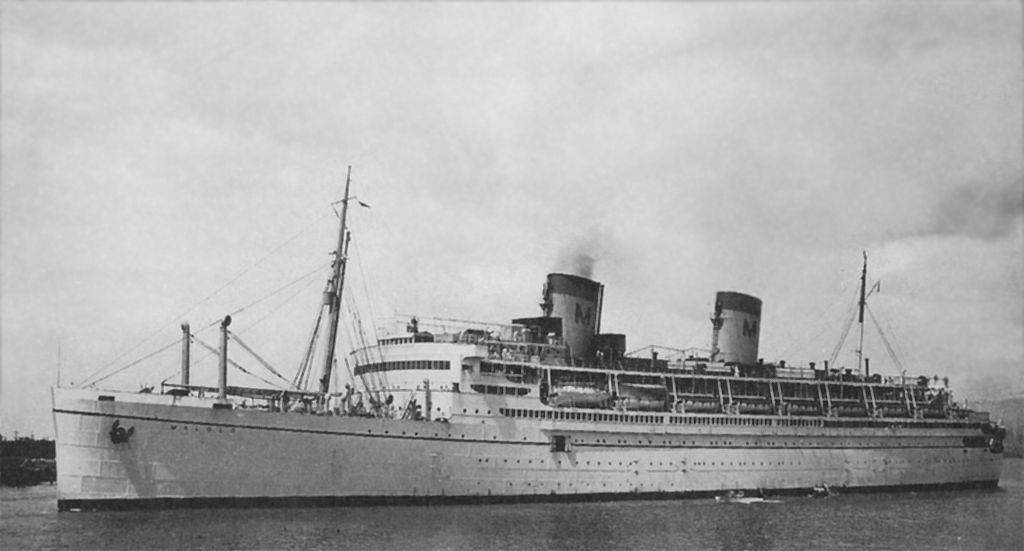 SS Malolo seen in Sydney November 26, 1929, after having been painted
all white from her previous all red hull
Provided by Dr. K. G. Jamison Jnr.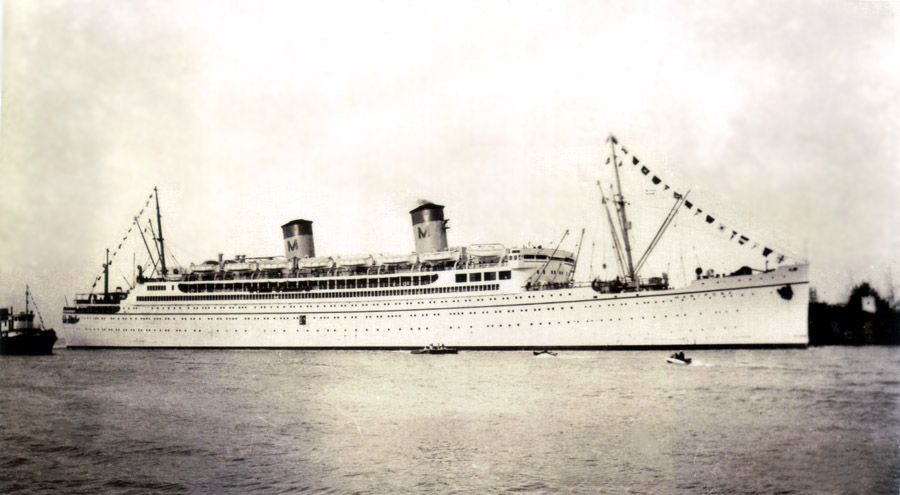 An elegant looking SS Mariposa
Photograph by John Smoot, from the Rich Turnwald collection
Interiors:
Mariposa's interiors had that traditional glamorous Matson feel, with spacious public venues and sumptuous accommodations. In those early days of ocean travel was the new idea of air-conditioning, and the Mariposa introduced it into their spectacular First Class Dining Room, which made dinning in the humid climates of the South Pacific and heat in Australia so much more comfortable!
The Images below represent the SS Mariposa as well as other ships in the "White Fleet." Sadly not a great number of pre-war images are available, and these are the only ones that seem to have survived, but they provide a marvellous idea of the luxury provided on these ships!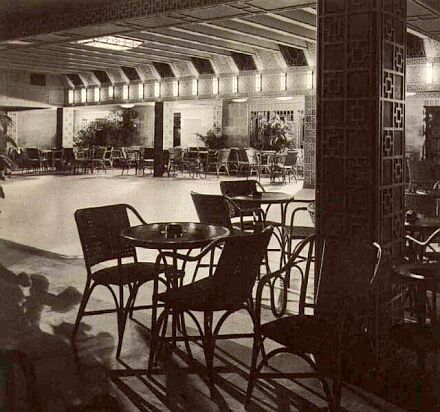 Verandah-Caf?
All images are from the author's private collection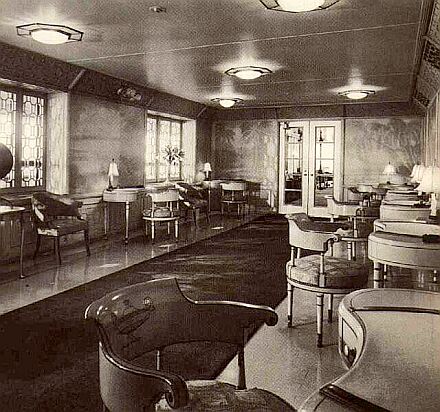 Writing-Room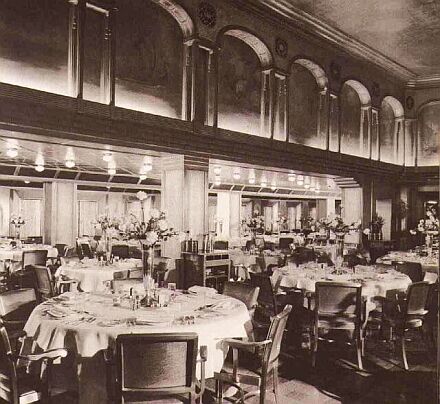 The Grand Dinning Room was two decks high and had a band stand above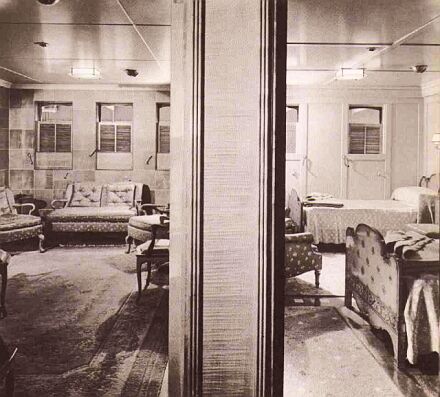 One of the six deluxe Suites with a lounge and a separate bedroom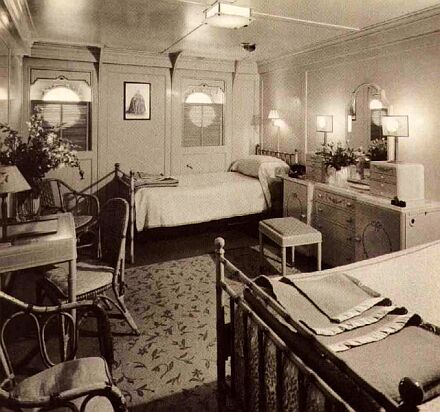 A spacious twin bedded Stateroom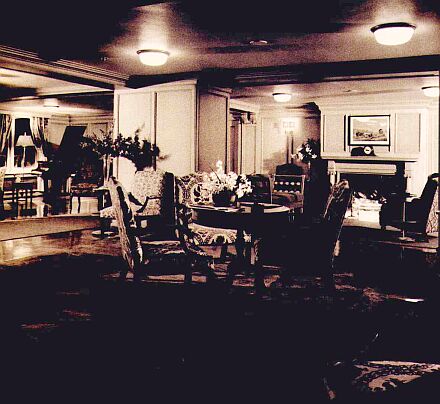 The Cabin Class Lounge was elegant and led into the Ball Room
Down Under the SS Mariposa became a greatly admired ship, being the first of the trio and she was extremely popular, thus many Australian's and New Zealander's would sail on her, either as a round voyage, come cruise, or even as a short Trans Tasman voyage. The short Tasman voyages was an opportunity for some to experience that special American luxury, a style that was beyond compare in those days, and the ship was simply one of the finest, even Cabin Class offered excellent style and service! And when they came home, hey were able to say, "I sailed on the Luxury Speed Queen of the Pacific" and everyone would know that it was the Matson liner Mariposa!
However, her speed record was overtaken in 1938, and no not by a British ship, or another American ship, but believe it or not, a brand new super luxury liner built especially for the Union Steam Ship Company of New Zealand, the TSS Awatea. The Mariposa had departed Auckland for Sydney and the Awatea departed about four hours later, bust she passed the Mariposa in the Tasman on June 13, 1938, as she has an average speed of 23.1 knots, making her the "Greyhound" of the Tasman as well as the Pacific! One thing the Tasman Sea is very famous for and that is some of the wildest seas anywhere and Mariposa had to fight her way through a good number of these over the years, but, more often than not the Tasman will be as smooth as silk, for the author has sailed the Tasman around 24 times and only struck it bad twice.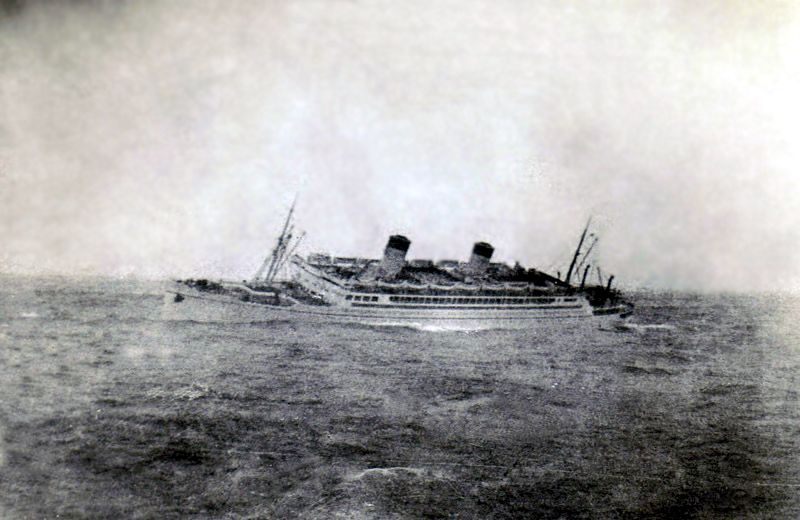 This is what the Tasman Sea can be like
From the author's private collection
Mariposa, like all Matson liners were famous for extravagant Dining Rooms and the finest of meals and service in both classes. But there was one feature that stood out until the final two Matson ships, the Monterey and Mariposa which were sold to the Pacific Far East Line in 1970, that saw the end of Matson passenger fleet! But, what was that one feature that is still treasured by past passengers and maritime collector's throughout the world, the "Matson Line Menus" for they are famed for their excellent covers, that have water colours that highlight the Pacific and The Ports of Call, as well as covers that a very special and unique! I will show just two below.?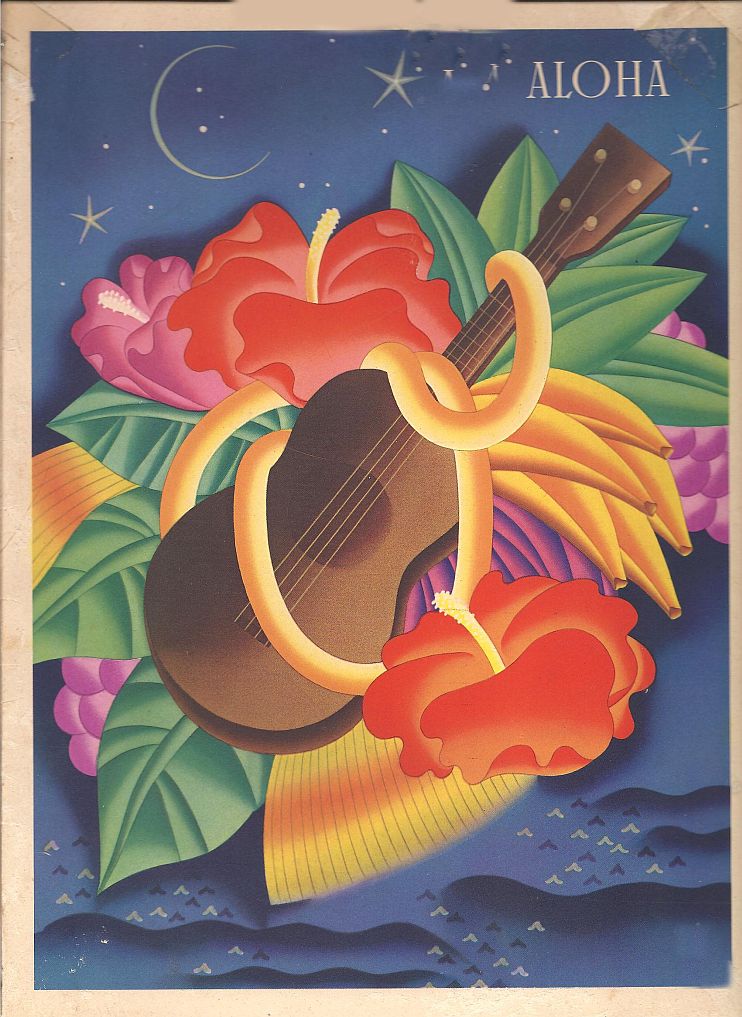 Above and below: A series of Pacific inspired menus covering a number of years
All three menu covers have been provided by past passengers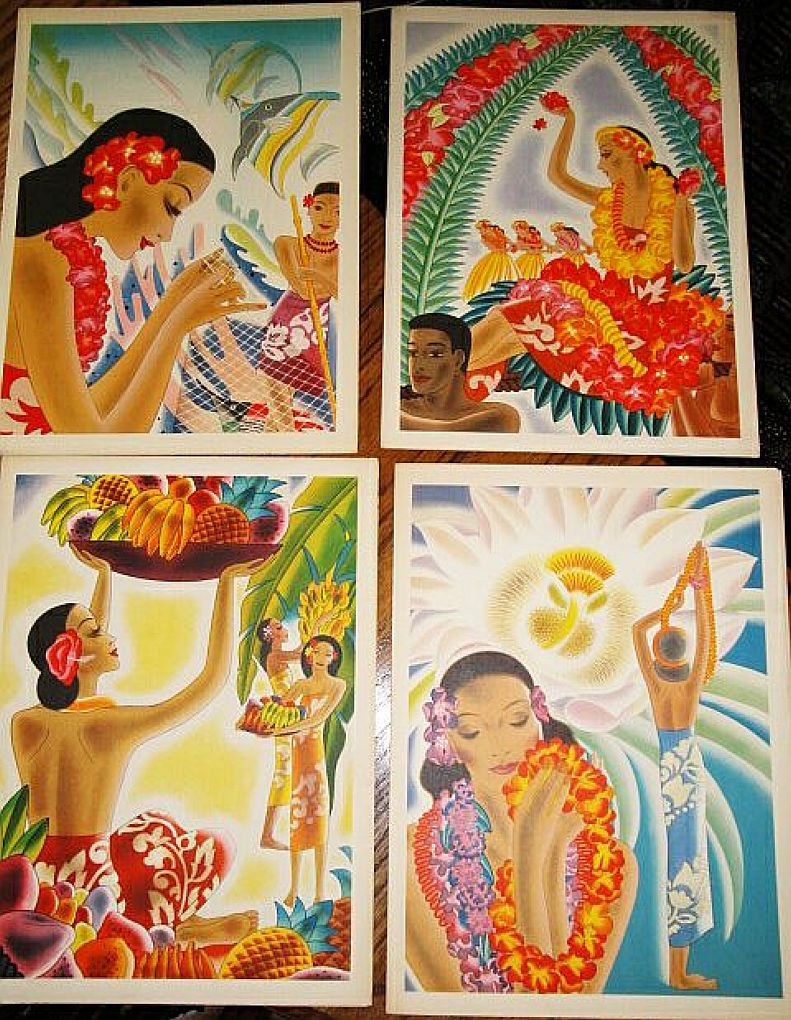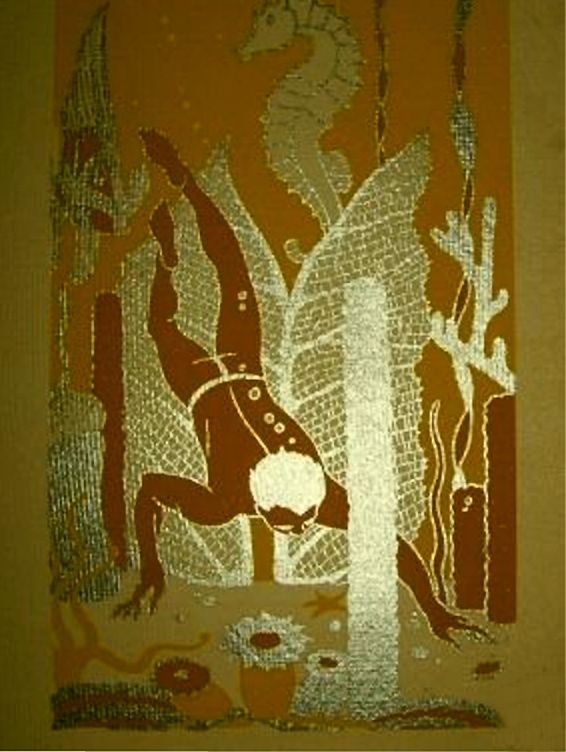 Here we see one of the unique covers with a touch of gold and velvet, this menu was for a formal evening
These days, menus are in plastic covers and are not dates as most are used over and over again
Only some are given to passengers who want them as a souvenir
World War II – The Trooper:
Like most passenger ships around the world, Mariposa's career was cut short late in 1941 as she had been requisitioned by the United States Government and she was to be converted for the use as a troopship. She was laid up side by side with her sister the Monterey and after the attack on Pearl Harbour she received her refit and was soon ready for duties as a trooper for the next five years. The poor Mariposa as a ship suffered badly during her service, but she continued courageously.
Please note: I have little to no information available regarding her active duties, thus if anyone can assist with an outline of her service it would be greatly appreciated!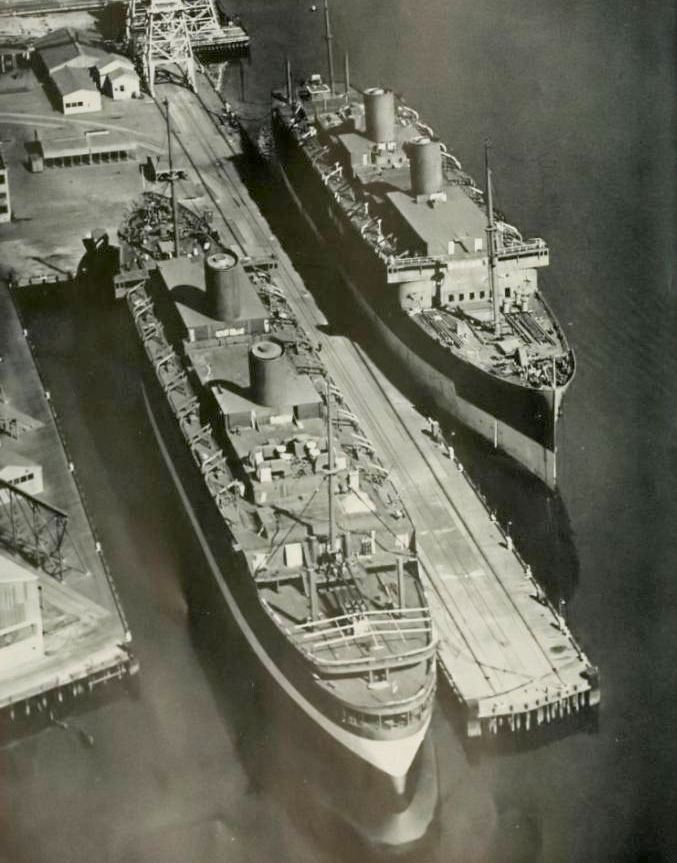 SS Mariposa (left) and Monterey seen laid together awaiting conversion for war duties
Photographer unknown – Please see photo notes at the bottom of the page!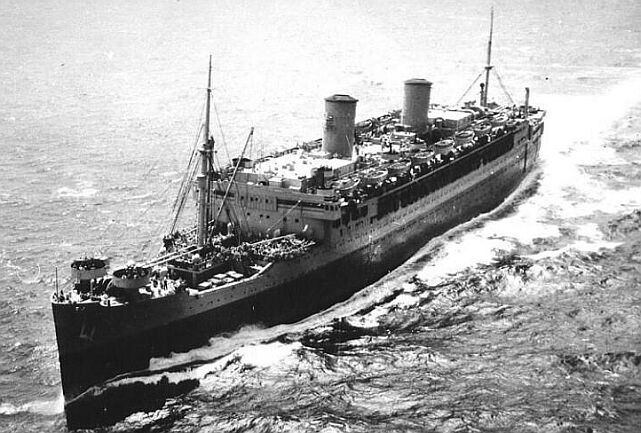 Mariposa seen fitted with her guns and full of troops at sea
Photographer unknown – Please see photo notes at the bottom of the page!
Once glamorous liner SS Mariposa was returned to her owners in 1946, she looked sad and very tired indeed, thus Matson sent her to Alameda California where she was to be refitted and restored to her former glory. However, upon inspection the directors of Matson decided that the cost of refitting her would be far too great, considering her extreme poor condition and felt it would be better to retain her in lay up condition until a latter date. This turned out to be a grand total of six years, until 1953 when she was placed on the market.
Mariposa's Specifications:
Builders:????????????????????????????? Bethlehem Ship Building Corporation, Quincy, Massachusetts.
Yard:?????????????????????????????????? 1440.
Launched;???????????????????????????? July 18, 1931.
Tonnage:????????????????????????????? 18,017 GRT (Gross Registered Tonnage) – 18,152 GRT in 1941 as a trooper.
Length:??????????????????????????????? 192.6m / 632ft.
Beam:????????????????????????????????? 24m / 79ft.
Draught:?????????????????????????????? 8.6m / 28ft.
Engines:?????????????????????????????? 6 steam DR Geared Turbines (28,000 SHP).
Screws:??????????????????????????????? Twin.
Service speed:?????????????????????? 22 knots.
Passengers:????????????????????????? 475 First Class.
?????????????????????????????????????????? 229 Cabin Class.
Crew:?????????????????????????????????? 350.
Livery:???????????????????????????????? White hull and superstructure, yellow & blue funnels & green boot topping.
SS Homeric (2):
A sad looking SS Mariposa was sold in 1953 to the Italian Home Lines of Genoa, which was registered as Home Shipping Co. S.A., Panama. Previously Home Lines had already purchased the SS Malolo and as she was proving to be successful after an extensive refit, the company was looking for a slightly larger ship and obviously another Matson liner was the perfect option, especially as she was an empty canvas as she had almost been stripped for the war effort! Before she could be moved her engines were completely overhauled by Todd's Shipyard at Alameda and then operated her sea trails successfully she was renamed Homeric and she sailed still in a bare state for Trieste, Italy in 1954.
In Trieste she entered the famed Monfalcone Shipyard where she would be fully refitted into a modern luxury liner, come cruise ship that would be in due course, mostly used for the American market. Upon completion her external look was very pleasing indeed, for now she had a very pleasing raked bow, and her superstructure was more enclosed, where there were large windows, in the forward section of Promenade Deck, there were now cabins, some with larger square windows. One deck down amidships, the ex six Lanai Suites (3 each side) had three floor to ceiling windows each, just like her two slightly newer Matson sisters would have after their refits. Other changes were that her aft derricks and hold, as well as her funnel caps were removed. With the hold and masts gone an new spacious Lido Deck was installed complete with a swimming pool. However, she even retained her old livery, except that her funnel was nor a slightly brighter yellow and blue top, with a blue circle logo containing a gold crown. But overall she still looked very much a Matson ship as although there were differences, but her overall look had not changed. During her deep-sea trials the Homeric reached a remarkable 23.5 knots, but it was decided that she would sail at an average speed of 20 knots.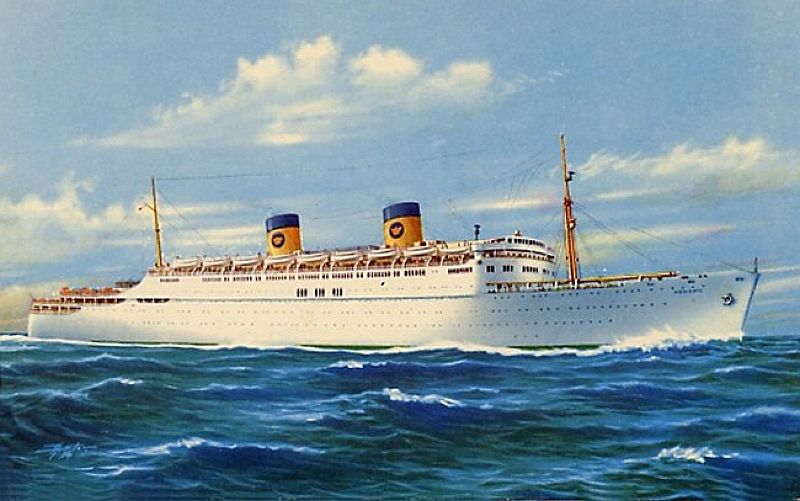 Popular SS Homeric postcard released by Home Lines
From the author's private collection
Interiors:
First Class public Rooms were on Promenade deck, with the pool aft one deck lower. Tourist Class venues were aft on Main deck. The most attractive and greatly loved d?cor was very much based on ancient Greek themes! Cabins were a simple delight on the Homeric as the were light and beautifully installed, most featured beds folded into a recess, or become a sofa during the day, making the room so much more spacious and useful as a sitting room. All cabins on Upper, Main and half of those on A deck had their own private facilities. As already mentioned there were six magnificent two roomed deluxe suites on Upper deck, but also thirty superb Tourist suites on Main deck. There was no doubt that both classes offered the very best any ship could offer, and whenever she became a one class ship during her winter cruises out of New York, and later as a full time American cruise ship, she was one of the best around!
Trans Atlantic Liner: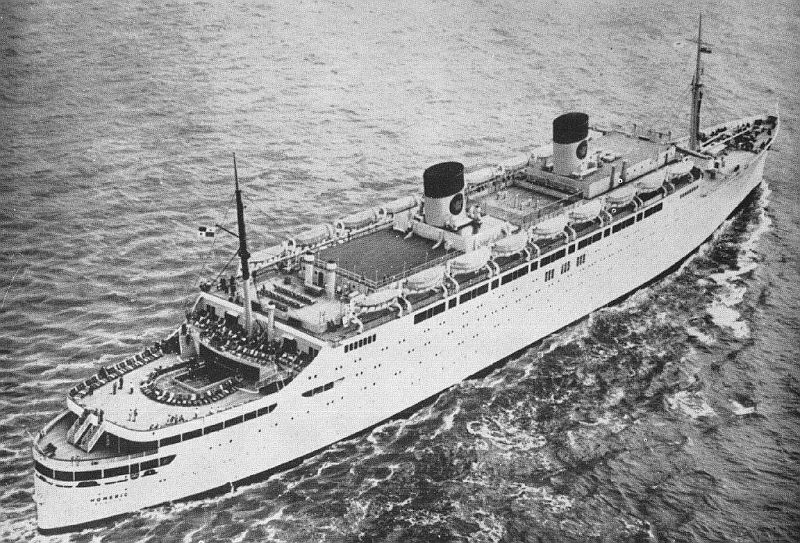 The Homeric seen during an Trans Atlantic crossing
Home Lines promotional Image - From the author's private collection
She departed on her maiden voyage from Venice on January 24, 1955 bound for New York, and there is no doubt, but she became one of the most popular ships on the east coast crossing the Atlantic to England (from May 1955) and Italy. In 1957 she made her first voyage from Le Havre to Montreal, and occasionally Cuxhaven to Montreal. Thus her Atlantic career was quite varied! However, from the very beginning of her career, she would operate the Atlantic services most of the year, however during the winter months she would operate cruises to the Caribbean cruises out of New York and her passenger complement was reduced to just 700.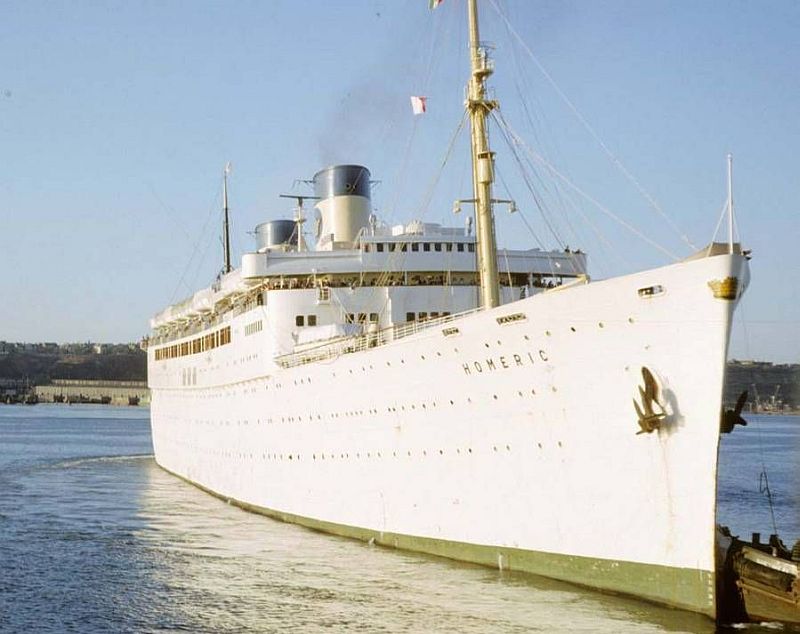 An excellent photograph of the Homeric in New York
Photograph by Vic Scrivens, from the Rich Turnwald collection
Homeric, the Cruise Ship: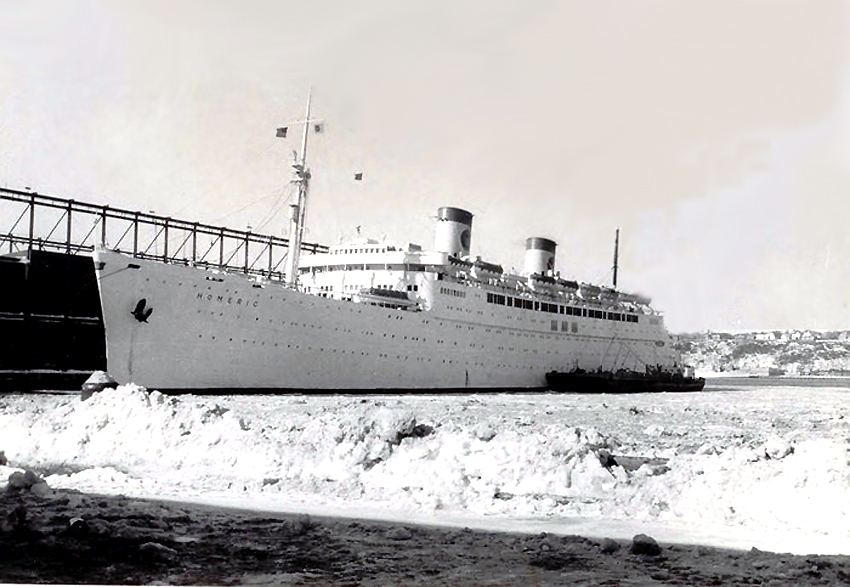 The SS Homeric at her New York berth during the winter of 1969 before departing on a cruise to the Caribbean
Photographer unknown – Please see photo notes at the bottom of the page!
Home Lines already having had considerable experience with their winter cruise operations, which had proved to be highly successful, and they decided it was time to redeploy the SS Homeric to the United States and have her cruising there on a full time basis, as American's had fallen in love with this elegant and luxury liner! She had an extremely successful ten years sailing from various US ports to the lush tropical Islands of the Caribbean and other near by destinations. In fact she proved to be one of the most admired ships of her time!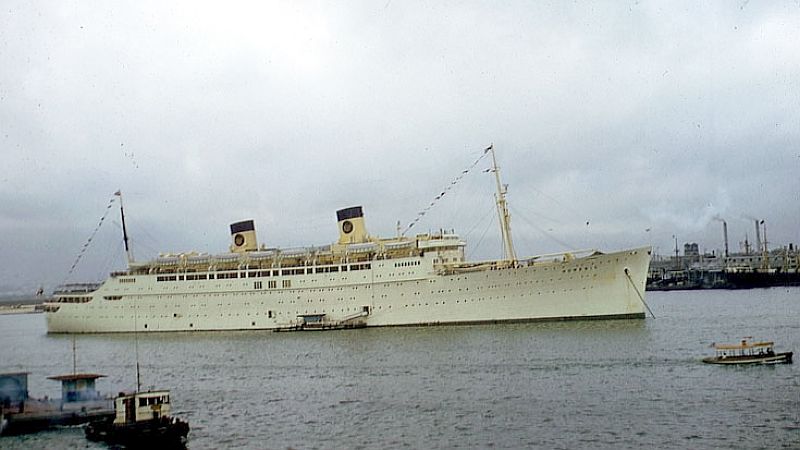 SS Homeric is seen at anchor during a cruise
Photographer unknown – Please see photo notes at the bottom of the page!
Homeric's Final Days:
As the super successful Homeric cruised on, it would sadly end abruptly on July 1, 1973, whilst she was on a cruise and she suffered a fire in her galley's and dinning rooms. She was some 90 nautical miles west of Cape May and considering she was unable to continue the cruise she for the nearest suitable port. The then sailed to Genoa under her own power for repairs, but as the damage was so extensive, Home Lines decided not to go ahead and sell her to the breakers. She was purchased and headed for Kaohsiung, where she arrived on January 29, 1974, at the Nan Feng Steel Enterprises Co., and was laid up for a short time alongside the famous Holland America liner, the SS Nieuw Amsterdam that was also awaiting her demolition.
However, the Homeric's steam turbines were sold to Chandris Lines who where still operating her two sister ships, the second ship of the trio, the SS Monterey then named the RHMS Britanis ended her career in 2000, and the third ship, the SS Lurline named RHMS Ellinis ended her days in 1987. Homeric's turbines and other fittings were fitted to the Britanis when she received a major refit in 1986, thus the SS Mariposa lived on for another 26 years!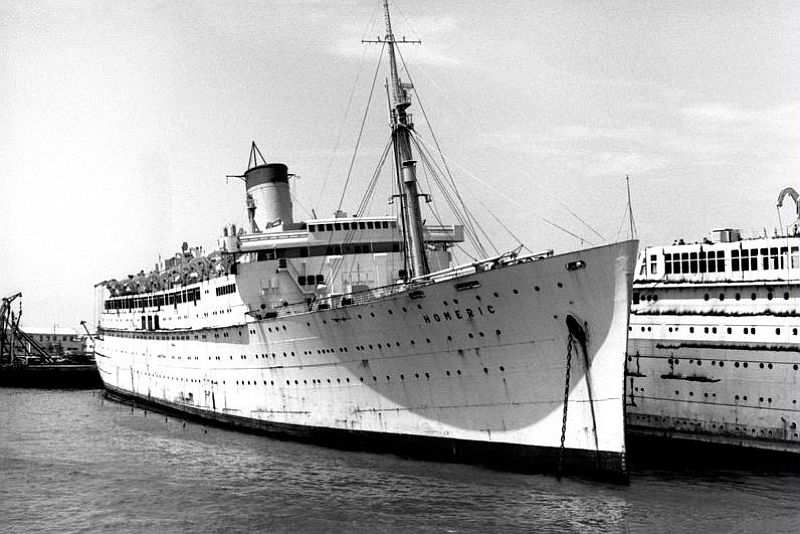 The Homeric seen at Kaohsiung Taiwan in 1974, at the breakers yards – note her aft funnel is gone
Photograph by & ? Karsten Petersen Denmark - http://global-mariner.com/index113ShipFerries.html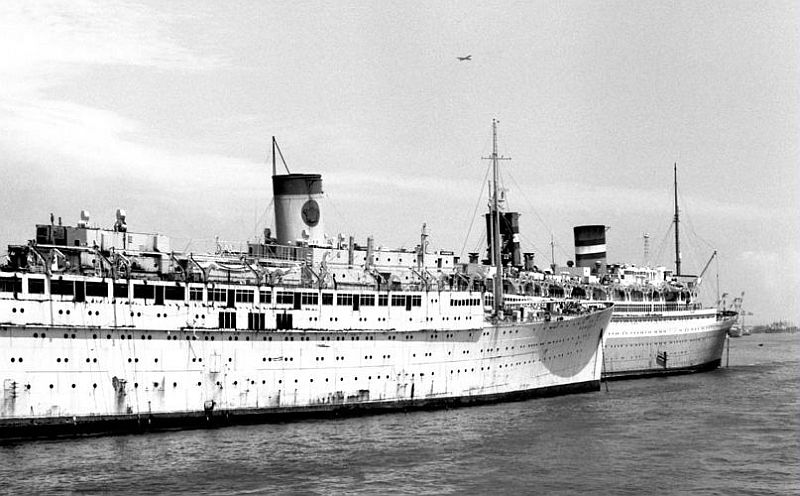 Another photo of the Homeric in Taiwan, waiting to be broken up. Next to her and just forward is the famous SS Nieuw Amsterdam
Photograph by & ? Karsten Petersen Denmark - http://global-mariner.com/index113ShipFerries.html
Homeric's Specifications:
Builders:????????????????????????????? Bethlehem Ship Building Corporation, Quincy, Massachusetts.
Yard:?????????????????????????????????? 1440.
Launched;???????????????????????????? July 18, 1931.
Refitted:?????????????????????????????? Monfalcone Shipyard, Trieste 1955.
Tonnage:????????????????????????????? 18,563 GRT (Gross Registered Tonnage).
Length:??????????????????????????????? 195.5m / 641ft.
Beam:????????????????????????????????? 24m / 79ft.
Draught:?????????????????????????????? 8.6m / 28ft.
Engines:?????????????????????????????? 6 steam DR Geared Turbines (28,000 SHP).
Screws:??????????????????????????????? Twin.
Service speed:?????????????????????? 22 knots.
Passengers:????????????????????????? 147 First Class.
?????????????????????????????????????????? 1,096 Tourist Class.
?????????????????????????????????????????? 700 One Class whilst Cruising.
Remembering the SS Mariposa – SS Homeric 1932 to 1974
36 years of superb service, including her war duties, but less her lay up's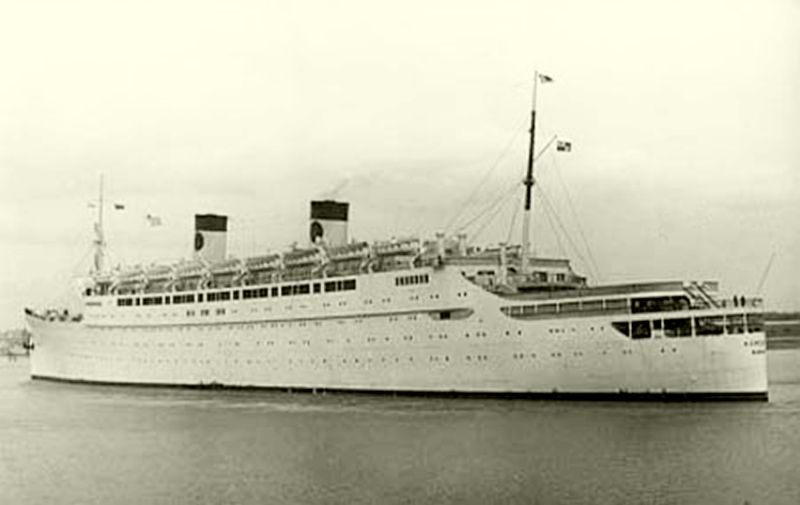 A fine view of the ships stern, a good way to remember the first of the Matson Lines trio built
known as the "White Fleet" as well as later becoming the superb Home Lines SS Homeric
Photographer unknown – Please see photo notes at the bottom of the page!
"Blue Water Liners sailing to the distant shores.
I watched them come, I watched them go and I watched them die."
****************************
Visit our ssMaritime Main INDEX
Where you will discover well over 700 Classic Passenger & Passenger-Cargo Liners!
ssMaritime.com & ssMaritime.net
Where the ships of the past make history & the 1914 built MV Doulos Story
Please Note: ssmaritime and associated sites are 100% non-commercial and the author seeks no funding or favours of any shape or form, never have and never will!
Photographs on ssmaritime and associate pages are by the author or from the author's private collection. In addition there are some images that have been provided by Shipping Companies and private photographers or collectors. Credit is given to all contributors. However, there are some photographs provided to me without details regarding the photographer/owner concerned. I hereby invite if owners of these images would be so kind to make them-selves known to me (my email address may be found on www.ssmaritime.com only), in order that due credit may be given.
ssMaritime is owned & ? Copyright by Reuben Goossens - All Rights Reserved