Union Steamship Company MV Matua
Please Note: Firefox and some other search engines are not suitable - Use "Internet Explorer" for this page to load perfectly!

Click the logo above to reach the ssMaritime FrontPage for News Updates & "Ship of the Month"
With Reuben Goossens
Maritime Historian, Cruise'n'Ship Reviewer, Author & Maritime Lecturer
Please Note: All ssMaritime and other related maritime/cruise sites are 100% non-commercial and privately owned. Be assured that I am NOT associated with any shipping or cruise companies or any travel/cruise agencies or any other organisations! Although the author has been in the passenger shipping industry since 1960, although is now retired but having completed around 680 Classic Liners and Cargo-Passengers Ships features I trust these will continue to provide classic ship enthusiasts the information the are seeking, but above all a great deal of pleasure! Reuben Goossens.

Union Steamship Company
The Twin Screw Motor Vessel
MV Matua
Page Two – A Voyage Report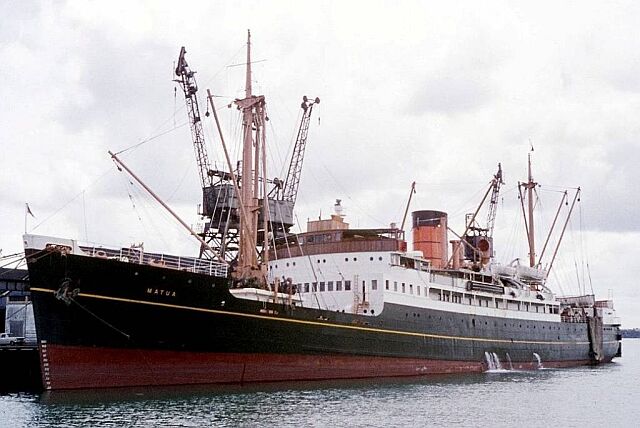 MV Matua seen berthed at Auckland in the 1960's
Photograph by R. Rassmassen
My Voyage on the MV Matua
By Bill Stevens
In 1962 I decided to go on a three week around the Pacific voyage on the MV Matua and it was a great trip. We sailed from Auckland to Lautoka, which took if I remember right took about four days. The ship was only there for the day to unload some general cargo. As there no wharf labour in Lautoka three taxi's full of wharf workers had been driven from Suva to work on the ship. This also enabled some of the passengers to travel overland to Suva as the workers would sail back on the ship to Suva. A tarpaulin was hoisted above one of the hatches, and they travelled as deck cargo, as did many locals travelling around the Islands!
There were ten of us who decided to take the taxis to Suva, staying overnight at the Korolevu Beach Resort for a total cost 12 Pounds! As soon as Matua arrive we went back aboard and after a total of four days in Suva we sailed to Tonga, were we stayed for the day.
We then set sail for Apia Western Samoa, were we spent, as I recall, three days there. As it was back in 1962, and there were no wharves built as yet in Apia, the Matua was moored to large steel boys, approx one kilometre offshore. Ferries (launches) would then ferry services to & fro from the ship. Large barges transferred cases of bananas out to the Matua. The last passenger ferry would leave Apia at midnight and if you missed it, like me, it was quite common to have to sit on top of cases of bananas about twelve high on one of the large barges to travel back to your ship in the swell of the ocean.
After leaving Apia we sailed back to Suva for three days, and then it Matua would sail back home for Auckland with a total of 28,000 cases of bananas on board. I know it is unbelievable, but in those days a case could be bought for just 10 shillings & 6 pence in those days.
In those days entertainment it was well non existent for we either enjoyed the lounge and bar or just sat outside at night and enjoyed the warm evenings. Some of the interesting evenings was when we sat and listened to the Islander's happily sing and dance, for they would travel between the various Islands on top of hatch covers. They would have a large tarpaulin rigged above them over the hatch to resemble a large ridge poll type of tent! They were the best entertainment and such happy people and we enjoyed their company! Whenever they sailed they brought all had their food with them and they just paid the basic travel cost, which I believe was only about NZŁ4 or 5 pounds.
I can remember dining at Captain Bennett's table for we who were doing the complete round trip, and thus we had turns as being a guest of the Captain. The First Officer was, if I recall right, from Poland and later he also became Captain. In addition I was fortunate to spend some time, usually after dinner, with the very interesting 2nd Engineer in the Bar which was right at the rear of the ship on the top deck.
One day he invited me down to the engine room to have a look around, and on the way back to Auckland from Suva we struck two days of really bad weather, and the ships slowed right down to about 8 knots for quite some time as the propellers were coming out of the water as she buried her bow into huge seas! But what an experience to be down the shaft tunnel was quite an experience and I can tell you quite scary!
Meals on the Matua were very good indeed and the choices were more than plentiful as the menus prove!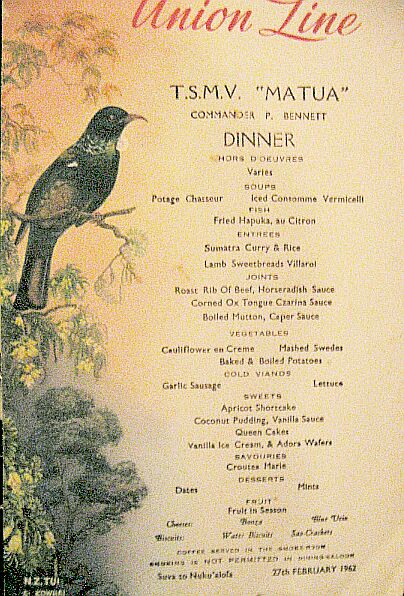 Above and below: Two Menus from my voyage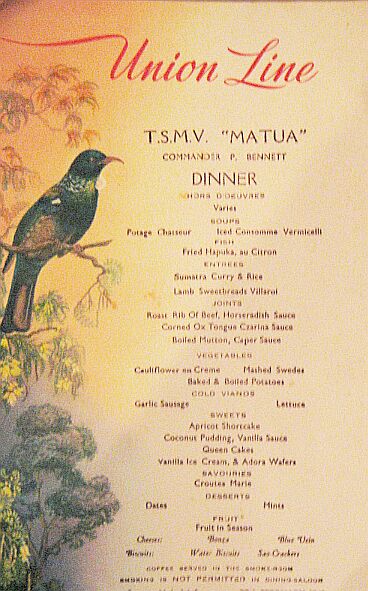 Although I am now in my 70's, but my voyage on the Matua provided me with so many wonderful memories and I am glad that I was able to share some of these here. For interest, I booked my voyage on the Matua through a Mr. Ian Williamson at the Union Steam Ship Company at Port Chalmers (Dunedin) and I still remember that the fare was just NZŁ101 and 2 shillings.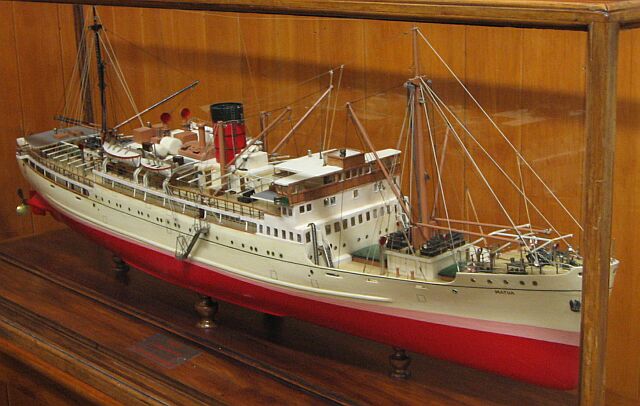 A model of the MV Matua (during her white hull days) in the Dunedin Museum - Maritime section
Photograph © by Bill Stevens
Return to Page One: MV Matua - The History page
Also view the other USSCo Passenger Ships online, from oldest to the last ever built
SS Waitaki / SS Moeraki & Manuka / SS Marama & Maheno / RMS Aorangi
TSS Monowai / TSS Awatea / MV Matua & MV Tofua / TS Loongana
"Blue Water Liners sailing to the distant shores.
I watched them come, I watched them go and I watched them die."
****************************
Visit our ssMaritime Main INDEX
Where you will discover around 680 Classic Passenger & Passenger-Cargo Liners!
ssMaritime.com & ssMaritime.net
Where the ships of the past make history & the 1914 built MV Doulos Story
Please Note: ssmaritime and associated sites are 100% non-commercial and the author does not seek funding or favours and never have and never will.
Photographs on ssmaritime and associate pages are either by the author or from the author's private collection. In addition there are some images and photographs that have been provided by Shipping Companies or private photographers or collectors. Credit is given to all contributors, however, there are some photographs provided to me without details regarding the photographer or owner concerned. Therefore, I hereby invite if owners of these images would be so kind to make them-selves known to me (my email address can be found at the bottom of the page on www.ssmaritime.com), in order that due credit may be given.
ssMaritime is owned & © Copyright by Reuben Goossens - All Rights Reserved