Union Steamship Company MV Matua
Please Note: Firefox and some other search engines are not suitable - Use "Internet Explorer" for this page to load perfectly!

Click the logo above to reach the ssMaritime FrontPage for News Updates & "Ship of the Month"
With Reuben Goossens
Maritime Historian, Cruise'n'Ship Reviewer, Author & Maritime Lecturer
Please Note: All ssMaritime and other related maritime/cruise sites are 100% non-commercial and privately owned. Be assured that I am NOT associated with any shipping or cruise companies or any travel/cruise agencies or any other organisations! Although the author has been in the passenger shipping industry since 1960, although is now retired but having completed around 680 Classic Liners and Cargo-Passengers Ships features I trust these will continue to provide classic ship enthusiasts the information the are seeking, but above all a great deal of pleasure! Reuben Goossens.

Union Steamship Company
The Twin Screw Motor Vessel
MV Matua
Page One – Her History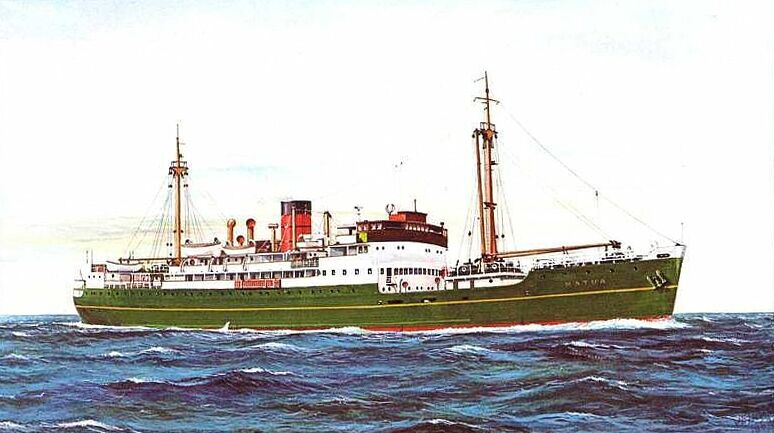 A fine painting of the MV Matua in her latter years by J. E. Hobbs
I add this page as I recall my days on this fine little ship. I worked for the Union Steamship Company in the early sixties and obviously spent a great deal of time on her and the newer Tofua. However, there was something about this little "homely" ship that attracted so many annual passengers for a round voyage to the Island on the famed "Banana Boat."
In the 1930's the first cruise ships started to appear off the coasts of various South Pacific islands, lured there by the exotic destinations, the weather, the golden beaches and the friendly islanders. From New Zealand the Banana Boatsquickly found some cabin space for tourists and so a number of vessels started to call at various islands, one of the early ships being the SS Tofua I.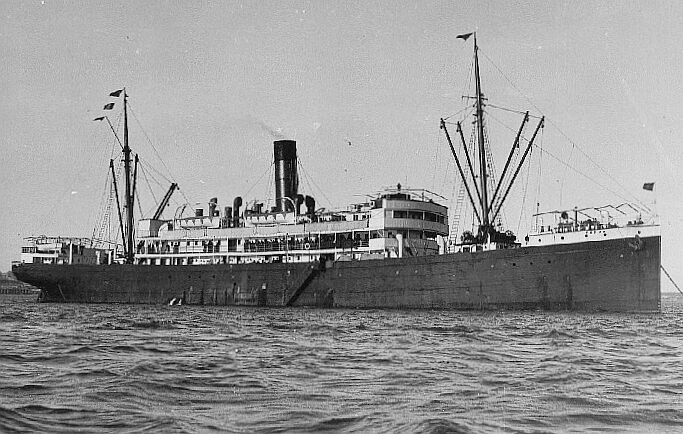 SS Tofua I, built in 1908
From the Author's private collection
However, the SS Tofua I completed its last Pacific Island run in 1932 and other ships, like the SS Monowai II and the Niagara, took over the circuit for a few years until New Zealand's Union Steamship Company's MV Matua made its maiden voyage to Tonga, Samoa and Fiji in August-September of 1936.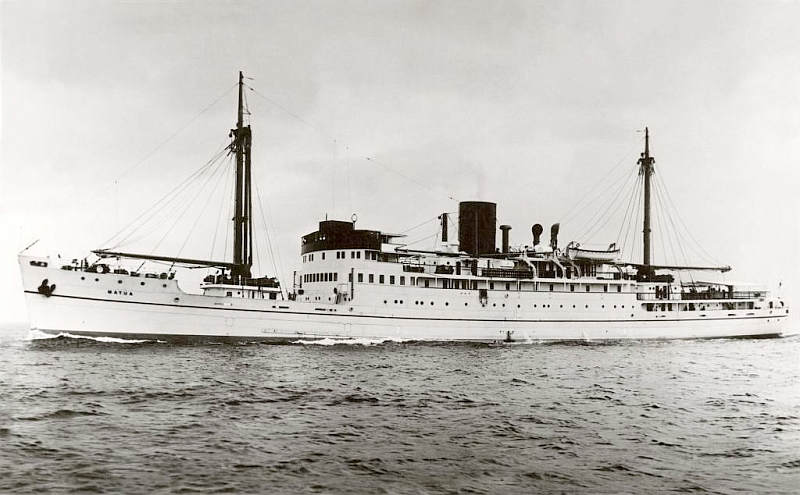 The Matua, looking like an elegant white yacht
From the Author's private collection
MV Matua had been purposely built for the Auckland, Fiji, Rarotonga, Samoa and Tonga service, offering single, two and three berth cabin accommodations for 39 one class passengers.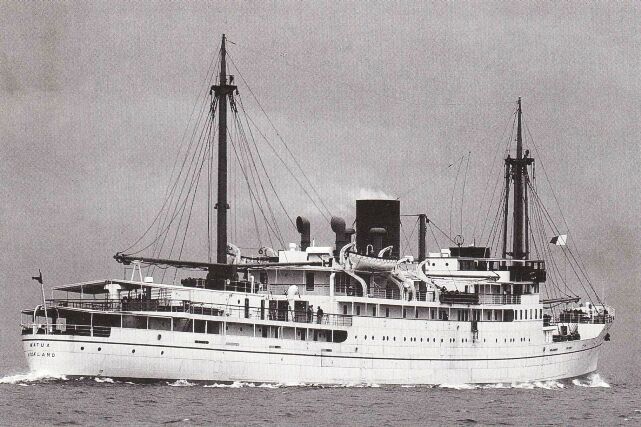 A fine stern view of the MV Matua!
From the Author's private collection
Whilst she had a white hull she had a Green hull band and Blue boot topping, however in 1949 having had a constant battle with rust on her hull, she finally changed to the standard USS Co colours, being the bronze green hull with a yellow hull band. Although during WWII she had been painted grey.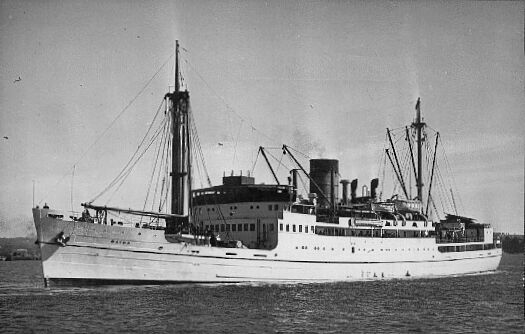 Matua still in her white livery, but she is seen here with her new refit and aft build-up
From the Author's private collection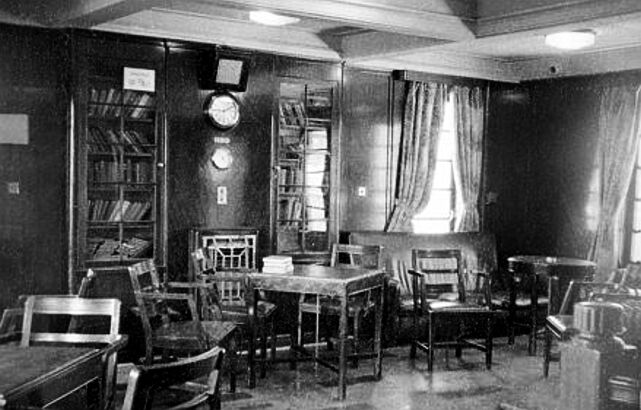 The Smoking Room & Library
From the Author's private collection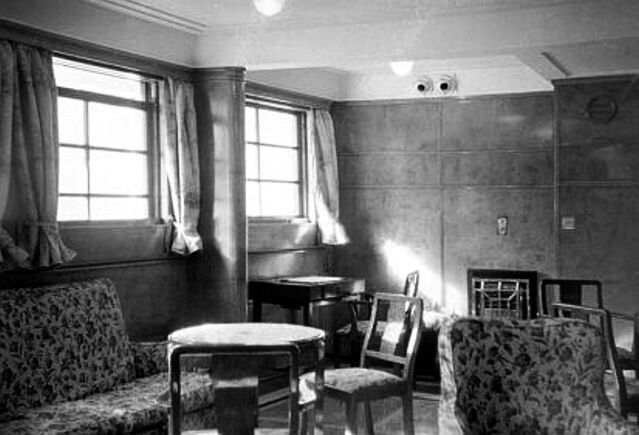 A corner of the lounge
From the Author's private collection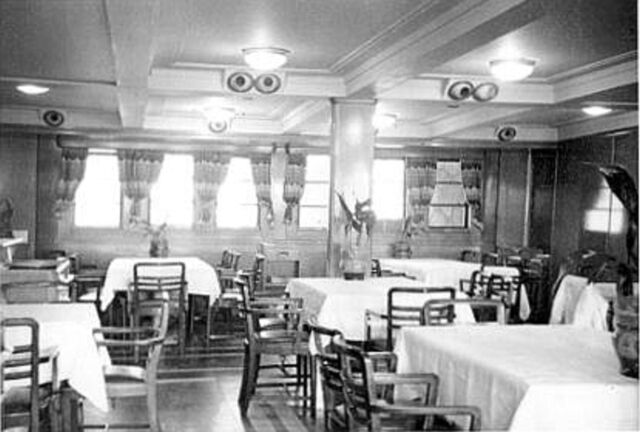 The Dining Room
From the Author's private collection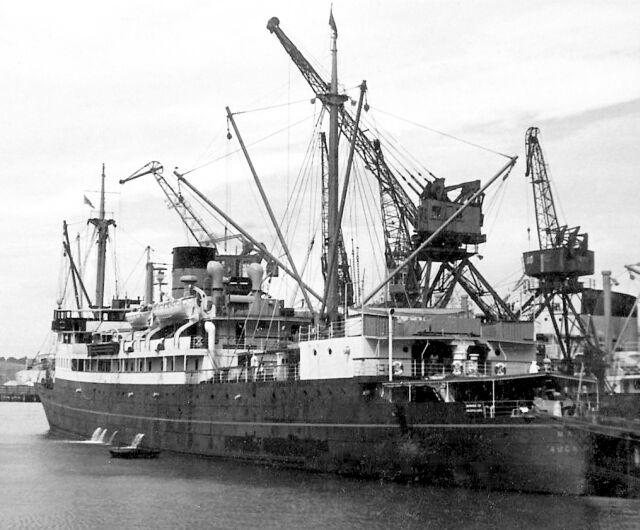 MV Matua seen in Lyttelton, being the port of Christchurch in the South Island of New Zealand
Photograph by and ? Dave Edge
In addition to the tourists onboard, Matua could also cater for a considerable number of deck passengers to enable Pacific Islanders to sail overnight between the Islands. Awnings were erected over the after deck to provide shelter. "Deck passage" only provided transport with the individual responsible for providing their own sleeping mat/mattress and food for the duration of their voyage. The most popular sector was between Nuku'alofa and Vavau when there could be up to 120 deck passengers. Throughout her service Matua was a popular vessel and was reputed to be a f"vourite of Her Majesty Queen Salote Tupou of Tonga who preferred this vessel to the later and more modern MV Tofua II.
Usual ports of call, Auckland, Lautoka, Suva, Nukualofa, Apia, Suva, Auckland, however, several other ports could also be visited on certain voyages.
The word "Matua" is common to most Polynesian languages and usually means "kinship." In New Zealand and around the Islands she was popularly referred to as "the banana boat." Matua was rarely diverted from her monthly Islands run but she did make occasional calls to Lyttleton and Wellington, and sailed across the Tasman from time to time to Sydney and Melbourne to load oranges for New Zealand In Australia she was lovingly referred to as "The pocket liner."
Apart from the odd mishaps and experiencing the occasional cyclone, Matua was a very successful ship and she served the Union Steamship Company for a magnificent 32 years. One of her recorded mishaps occurred on her maiden voyage when apparently she hit a reef at Aitutaki, damaging one of her propellers. Then the following year she struck a buoy whilst negotiating the southern entrance to Nuku'alofa harbour when again she damaged a propeller. Then in 1957 she grounded on Duff Reef some 10 miles east of "Wailangilala" in the Fiji Group of Islands and she was towed off undamaged by the American destroyer the "James E. Keys."
Early in her career she was refitted and her tonnage changed to 4,192.53 GRT. Another refit took place in 1948 which saw her tonnage change again, this time to 4,349.98 GRT.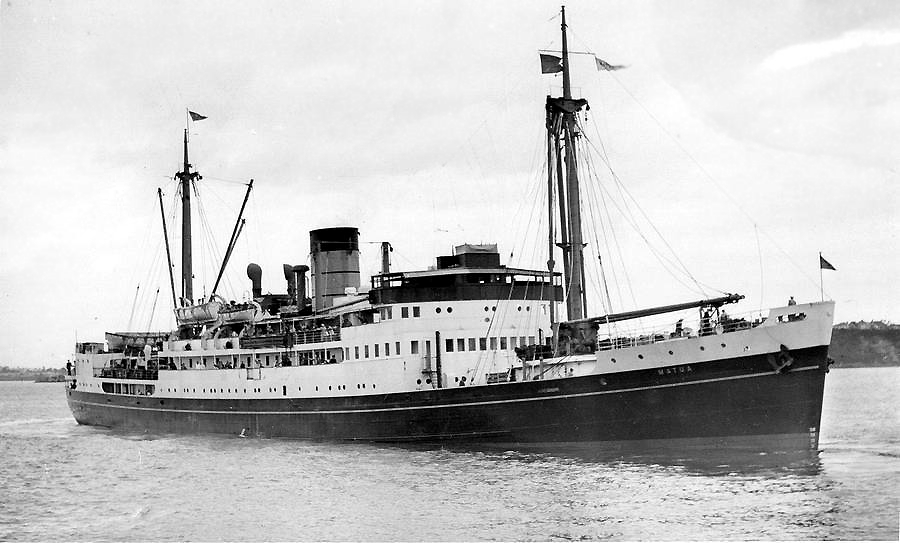 The Matua is seen here with her traditional Union Steamship Green Hull and yellow ribbon around her hull
Photographer unknown – *See Photo notes at bottom of page
The end of her days with the Union Steam Ship Co
!
After 32 years of faithful services, having carried Royalty and commoners alike, the Matua's days were about to end with the USSCo. Shaving been such a faithful ship for so long, but her time was up and she was sold in 1968 to a Pilipino Company "E.K.Litojua" or "K. Shipping Corp" of Manila who renamed her Sultan K.L.
Her departure was a special occasion, for the Port of Auckland was amassed with the sounds from all the ships in port blowing their ships horns as the now ex MV Matua sailed out of the harbour for the last time.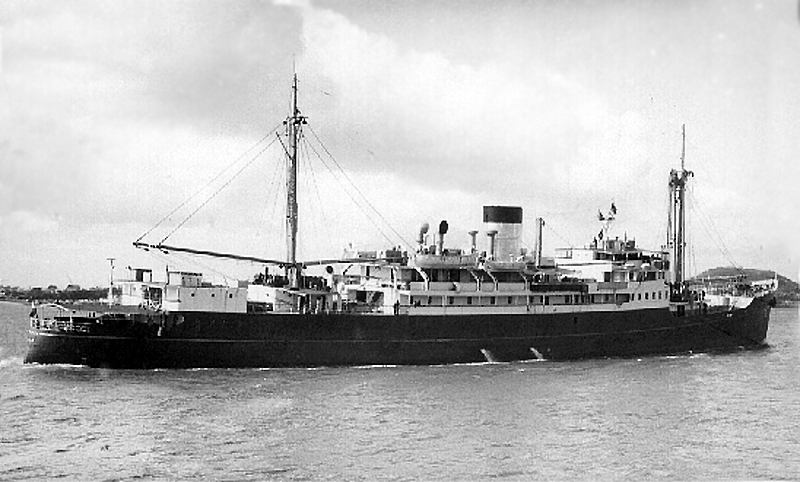 MS Sultan K.L. is seen departing Auckland
Photographer is unknown – *Please see photo notes at the bottom of the page
She headed up to Asia where she would be employed, however, just over a year later sadly this delightful ship ran aground in Manila Bay during a severe typhoon and she later she was salvaged by a Taiwan ship breaker and was towed to Kaohsiung where she was broken up in 1970. Thus our beloved Matua found herself in foreign hands, but it not them, it was the horrors of a storm of storms that eventually took the Sultan K.L. on the rocks, that brought about her demise!
Specifications
Built by:??????????? R & W Hawthorn Leslie & Co. Ltd at Hebburn-on-Tyne, England
Launched:????????? March 1936
Delivered:????????? June 1936
Length:???????????? 355.2 ft / 108.26 m
Beam:?????????????? 50.5 ft / 15.39 m
Draft:??????????????? 21.75 ft / 6.63 m
Tonnage:?????????? 4,166 GRT / Gross Registered Tons
Propulsion:??????? Two sets of Armstrong-Sultzer six cylinder diesel engines
Screws:???????????? Twin
Speed:????????????? Achieved 17.027 knots at trials / general max 16.6 knots / service speed 14.5 knots
Cargo capacity:?? 2,500 tons, partially refrigerated
Passengers:??????? 39 (1936-1940) / 93 (1941 – 1951) / 69 (1951– 1968)
MV Matua carries special meaning in the hearts of all those who know the this remarkable little ship; she is remembered by many families as the lifeline between the Pacific Islands, especially Tonga and New Zealand in the 1930s, 40s and 60s until she was replaced in 1952 by the MV Tofua II, which was a fine ship, but did not have the "Matua – Kinship" with the people of the Islands!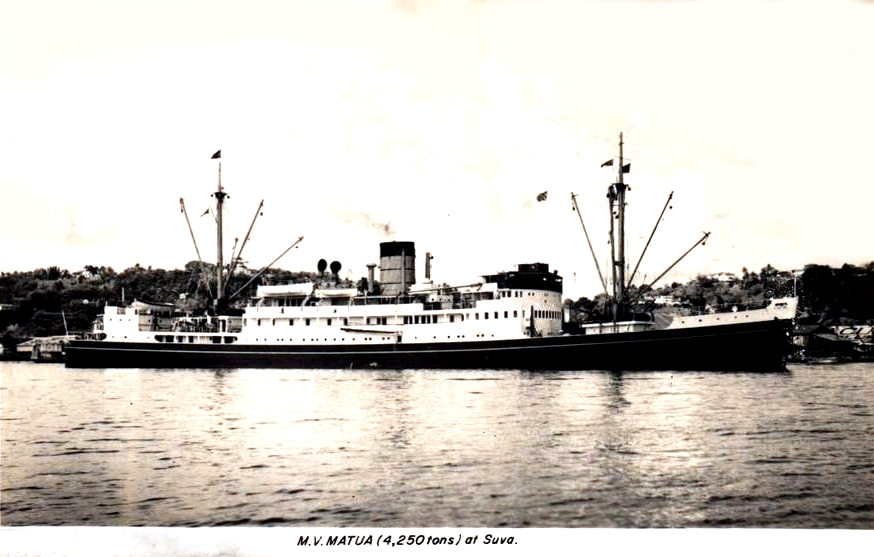 The delightful USSCo postcard of the MV Matua and she is seen here in Suva, and she will always be remembered for she was just like FAMILY!
The author certainly remembers his many visits to the ship and the wonderful meals on board!
From the Author's private collection
Page Two: Bill Stevens sails on … Matua in 1962
Also view the other USSCo Passenger Ships online, from oldest to the last ever built
SS Waitaki / SS Moeraki & Manuka / SS Marama & Maheno / RMS Aorangi
TSS Monowai / TSS Awatea / MV Matua & MV Tofua / TS Loongana
"Blue Water Liners sailing to the distant shores.
I watched them come, I watched them go and I watched them die."
****************************
Visit our ssMaritime Main INDEX
Where you will discover around 680 Classic Passenger & Passenger-Cargo Liners!
ssMaritime.com & ssMaritime.net
Where the ships of the past make history & the 1914 built MV Doulos Story
Please Note: ssmaritime and associated sites are 100% non-commercial and the author does not seek funding or favours and never have and never will.
Photographs on ssmaritime and associate pages are either by the author or from the author's private collection. In addition there are some images and photographs that have been provided by Shipping Companies or private photographers or collectors. Credit is given to all contributors, however, there are some photographs provided to me without details regarding the photographer or owner concerned. Therefore, I hereby invite if owners of these images would be so kind to make them-selves known to me (my email address can be found at the bottom of the page on www.ssmaritime.com), in order that due credit may be given.
ssMaritime is owned & ? Copyright by Reuben Goossens - All Rights Reserved