R.M.S. Mauretania (1) 1906 to 1935
Please Note: Firefox and some other Search Engines may not be suitable
Use Google Chrome for this Web Page to load perfectly!

Please Note: All ssMaritime and other related maritime sites are 100% non-commercial and privately owned, thus ssmaritime is NOT associated with any shipping company or any other organisation! Although the author has worked and been involved in the passenger shipping industry for well over 60 years, but due to his old age and poor health, he was forced to retire. Yet, he has completed well over 1,435 Classic Liners, Passenger-Cargo Liners as well as humble converted C3 converted Migrant Liners, which has transported countless thousands folk to the new world, as well on vacations'. I trust the features online will continue to provide Classic Liner and Ship enthusiasts both the information they are seeking, but more so provide a great deal of pleasure and relive many happy memories!
This is a pre-launch Cunard postcard of the R.M.S. Mauretania and I decided to use it for this feature's logo
Please Note: Postcards, photographs & other images are either from the author's private collection or from my supporters.
Thus a very special thank you to five very special ssmaritime supporters for sending me their wonderful
photographs & images for I could not have completed this feature to this point.
I am sorry but some of the images shown may not be of the highest quality, but they are the best that are available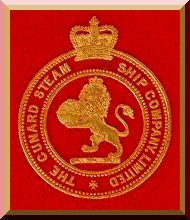 Page One
A Special Note:
I am fortunate to have a copy of the "Shipbuilder Magazine" covering the R.M.S. Mauretania, which has given me so much information not available anywhere else, thus I am sure you will thoroughly enjoy revisiting this remarkable liner!
Although this is about to go online in 2022, I actually wrote most of this back in 2004, and for some reason, I filed it away and somehow forgot about it as I had so many projects going on at the time, and together with health issues even back then it was forgotten until I rediscovered it recently together with a good number of other ships that needed some finishing touches. Some of these are already online which I have done with the help of a long standing dear friend, who I have known since 1983. He has been of a great help as obviously my health is now so poor, I just can no longer do it all by myself.
Thus enjoy the remarkable R.M.S. Mauretania for she is very special indeed!
This is a Three Page Feature, this page covers the R.M.S. Mauretania's complete history, whist on Page Two we will tour the entire ships and view every single lounge and other Venues, and Suites, Staterooms and Cabins of course and all the other facilities she had to offer, and believe me, she was some ship! Whilst on Page Three are all those special surprises, such as some of the most amazing brochures you will have ever seen, then a number of Menus of each of the Three Classes, followed by an amazing range of spectacular Souvenirs and items of Memorabilia and finally two excellent Deck Plans, complete with links to extra-large ones which I have placed online. I am sure you will really enjoy this feature!
Reuben Goossens.
A Brief Intro:
R.M.S. Mauretania when launched and departed on her maiden voyage on November 16, 1907 was the largest moving structure ever built at 790 ft long and 31,938 GRT (Gross Registered Tons), but that was only until the R.M.S. Olympic arrived on the scene in 1911.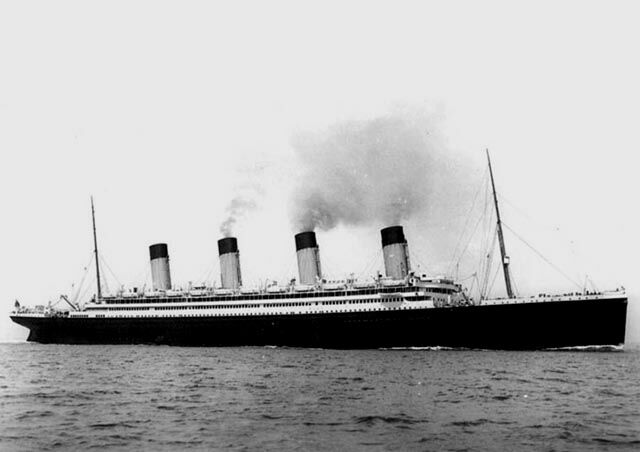 R.M.S. Olympic at 883 ft long and 45,324 GRT
How the R.M.S.
Lusitania

and the R.M.S.

Mauretania

came about:

Although this feature is predominately about the "Mauretania" but I need to include the "Lusitania" in order to understand how they came about.

With the Germans dominating the Trans-Atlantic trade as by 1906 they operated five grand four-funnel super liners with four of them being owned by the "North German Lloyd" and were of what were known as the "Kaiser Class". But then at the very same time the American financier "J. P. Morgan's International Mercantile Marine Co" was about to monopolise the Shipping Industry, as he had already acquired Britain's other  large Trans-Atlantic Company, the "White Star Line".

Thus in the face of the competition, "Cunard Line" really had to do something very big in order to regain the prestige and the dominance in Ocean Travel, not just for the company, but also for the United Kingdom

By 1902, "Cunard" and the British Government had reached an agreement to build two super liners, the 31,550 GRT  "Lusitania" and the slightly larger 31,938 GRT "Mauretania" with a guaranteed service speed of no less than 24 knots. The British Government was to loan UK£2,600,000 Pounds for the construction of the ships, at an interest rate of 2.75%, to be paid back over twenty years, with a stipulation that the ships would be able to be converted for wartime use if required. In addition the Admiralty arranged for "Cunard" to be paid an extra UK£150,000 per year to operate the Royal Mail.

The "Lusitania" was launched on June 7, 1906 and made her maiden voyage on September 7, 1907, whilst the "Mauretania" was in both cases several months later. Also the "Mauretania" was somewhat larger than her near sister, for there were some differences between them.
A Brief Note regarding the R.M.S.

Lusitania's

Fateful End:
As is well known, it was on May 7, 1915 when the "Lusitania" was nearing the end of her 202nd crossing from New York to Liverpool, and had 1,266 passengers and a crew of 696 on board, a total of 1,962 people. She was roughly 11 miles (18 km) off the Old Head of Kinsale when the ship crossed in front of the German U-Boat U-20 at 2:10 pm. The commanding officer of the U-boat, Walther Schwieger, gave the order to fire one torpedo and it struck the "Lusitania" on the starboard bow, just below the wheelhouse. Moments later, a second explosion erupted from within "Lusitania's" hull where the torpedo had struck, and the ship began to founder rapidly, listing to starboard and she sank fast. Tragically a massive precious 1,198 people lost their lives on that sad day!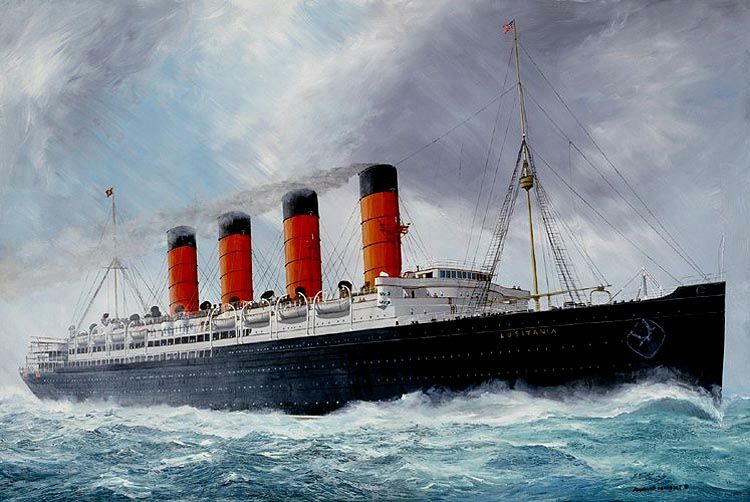 R.M.S. Lusitania a magnificent liner, which had the most unfortunate tragic end!
Designing and Completing the "

Mauretania

":
But there is no doubt that the "Mauretania" became the most successful and certainly the most graceful Edwardian-era passenger liner that was ever built as she became a greatly loved and a much admired liner!
She, and the R.M.S. Lusitania were very similar ships, but there were differences between them, but they were built at almost the same time. Both were designed by the well known Cunard naval architect Leonard Peskett, with "Swan Hunter" and "John Brown" <![if !vml]>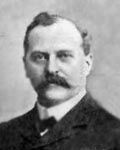 <![endif]>working from plans for an Ocean Greyhound with a stipulated service speed of twenty-four knots in moderate weather, according the terms of her mail subsidy contract. Although Peskett's original configuration in 1902, was for the "Mauretania" to be a three-funnel liner, as originally it had been planned for her to have reciprocating engines installed.
Cunard's Naval Architect, Mr. Leonard Peskett
The "Shipbuilder's magazine" even published an image of a large model of her with the three funnels, yet Cunard soon decided to change the power plants to the brand new-super efficient Parson's 'turbine' technology engines, and thus her design was modified and Peskett added a fourth funnel to enhance "Mauretania's" profile.
With plans finalised and having received a Government subsidy, "Cunard" ordered their new liner to be built by "Swan Hunter & Wigham Richardson", Tyneside, and this exciting ship began its days with the laying of her keel on August 18, 1904 in yard 735.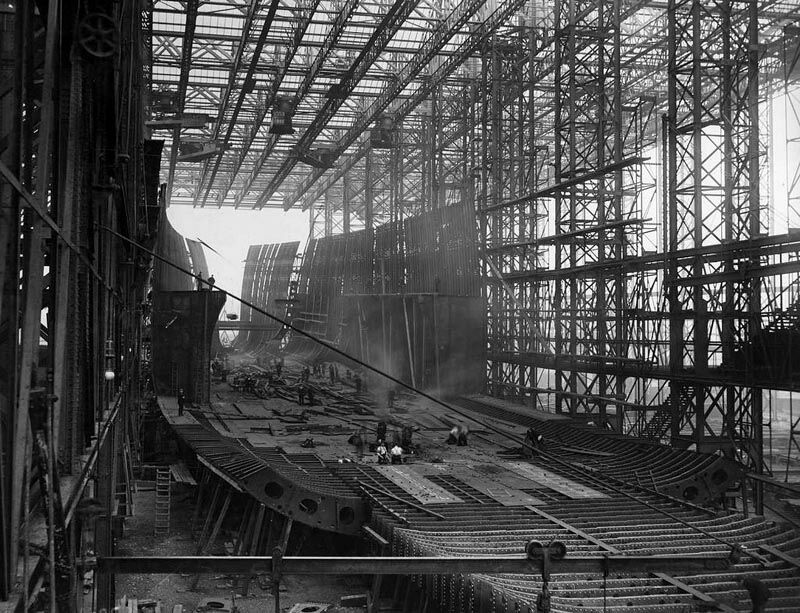 Above & below: Three photographs of the "Mauretania" in construction her keel and hull framing seen being raised up
 Then her hull completed and her stern showing her quadruple three blade screws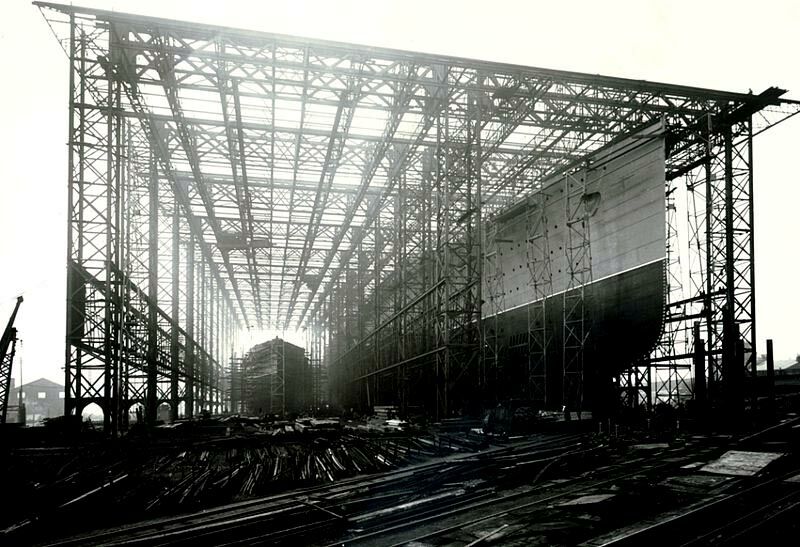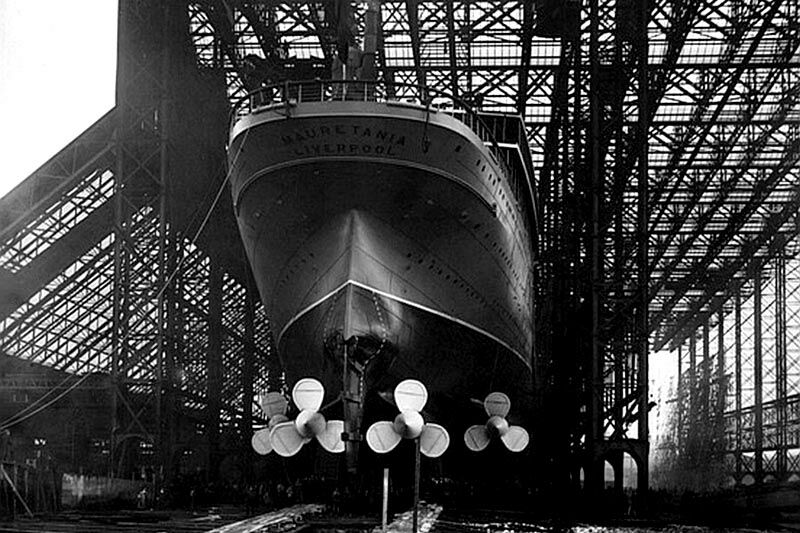 By tradition, the hull was painted in a light grey colour for photographic purposes during her launch; being a common practice of the day for the first ship in a new class, for it made the lines of the ship clearer for the black-and-white photographs.
The Mauretania was christened and launched by 'Mary Innes-Ker', the 'Duchess of Roxburghe' on September 20, 1906.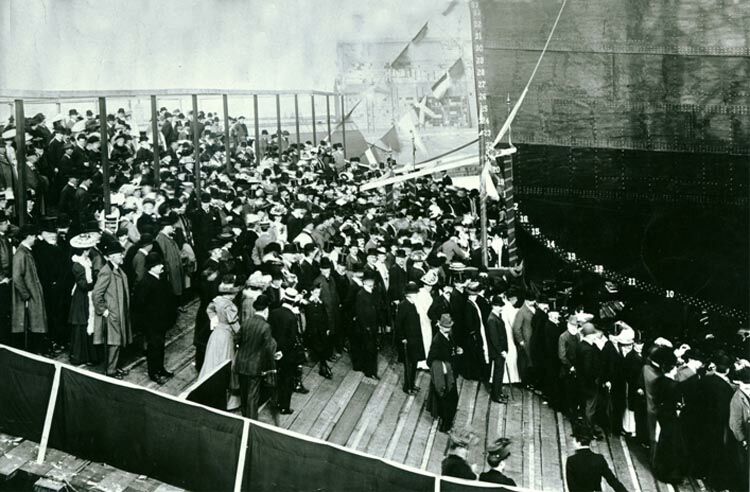 1.
Above & below:
Five photographs of Mauretania's launching, 1. The launch party, 2. The 'Dutchess of Roxburghe'
3. Next we see her going down the slipway, 4. And then we see her stern slip into the River Tyne
5. Finally she is afloat and ready to be towed to her Fit-out berth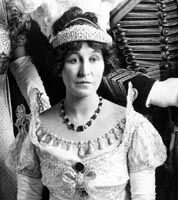 2.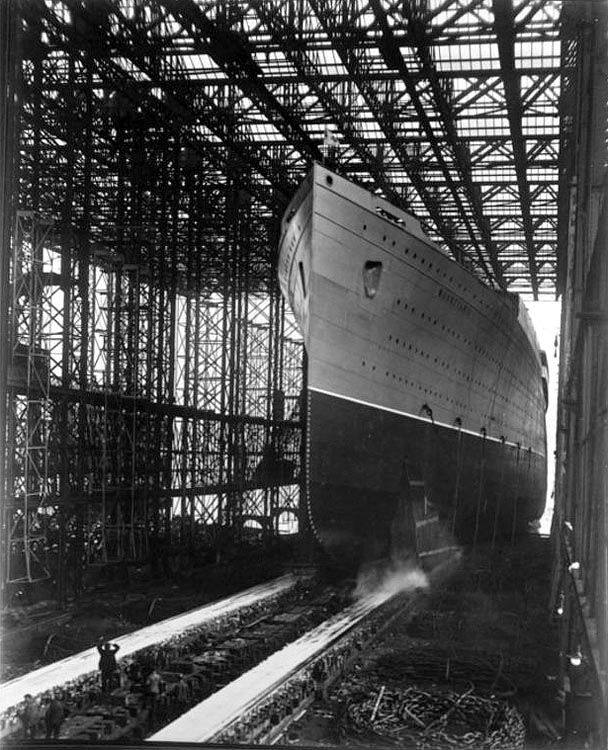 3.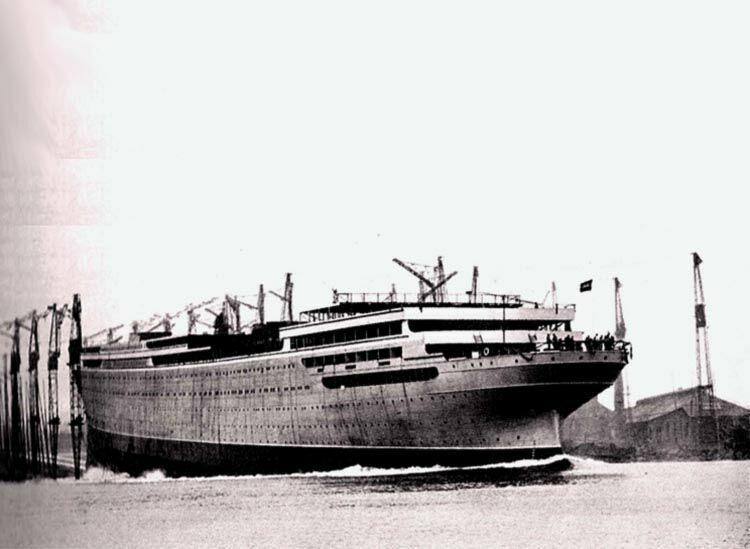 4.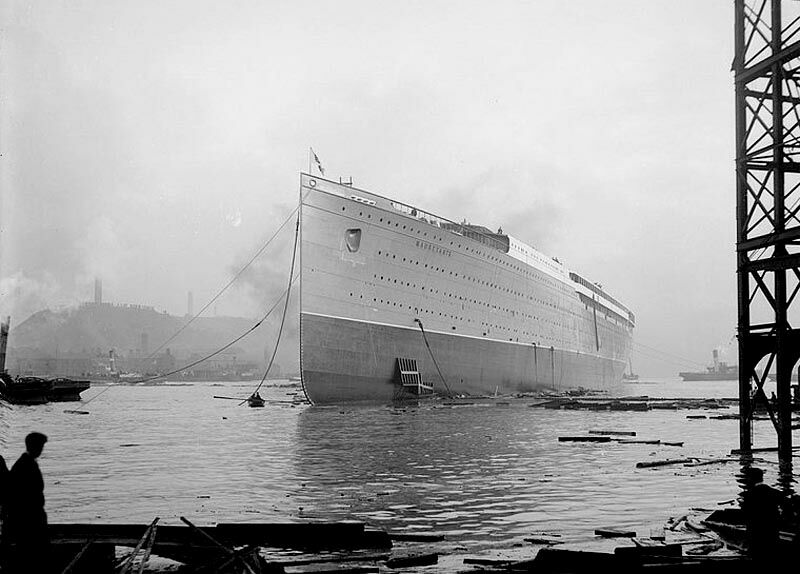 5.

During her fit-out

her superstructure and internal fittings were completed, and her funnels were added, and all electrical and plumbing fittings were completed and tested, but the big job was the highly specialised décor of all her interior spaces, that had to be perfection plus!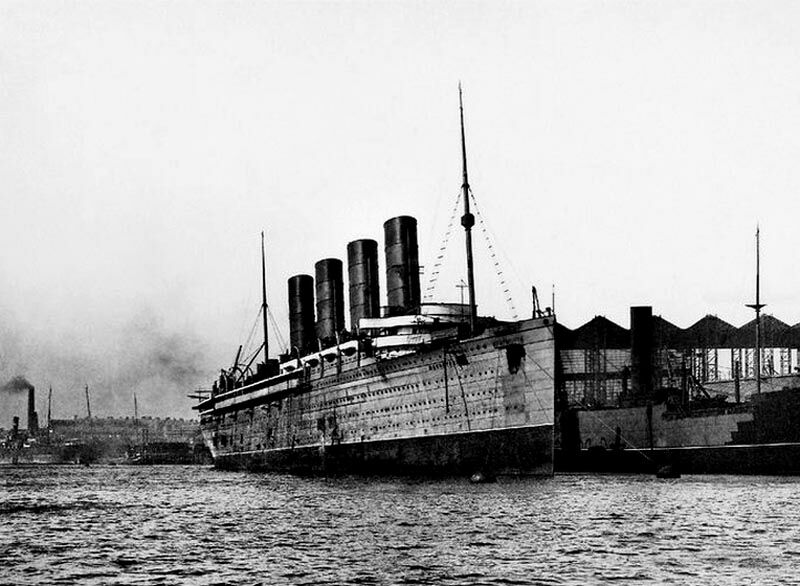 She is seen at her fit-out berth with funnels installed and some of her first lifeboats fitted
Work continued and her interiors began to take shape and carpets were fitted throughout and furnishings finally had arrived, she started to look like a liner.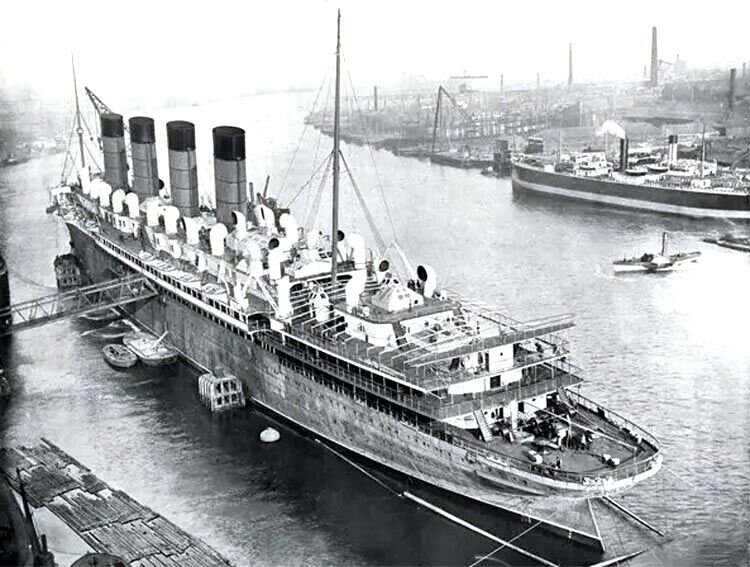 The "Mauretania" is seen here when she is so close to being completed
In all her fit-out took a good thirteen months to be completed, but finally on October 22, 1907, the R.M.S. Mauretania left her fit-out berth under tow and it took just 80 minutes to arrive at the mouth of River Tyne and she commence her two day Sea Trials.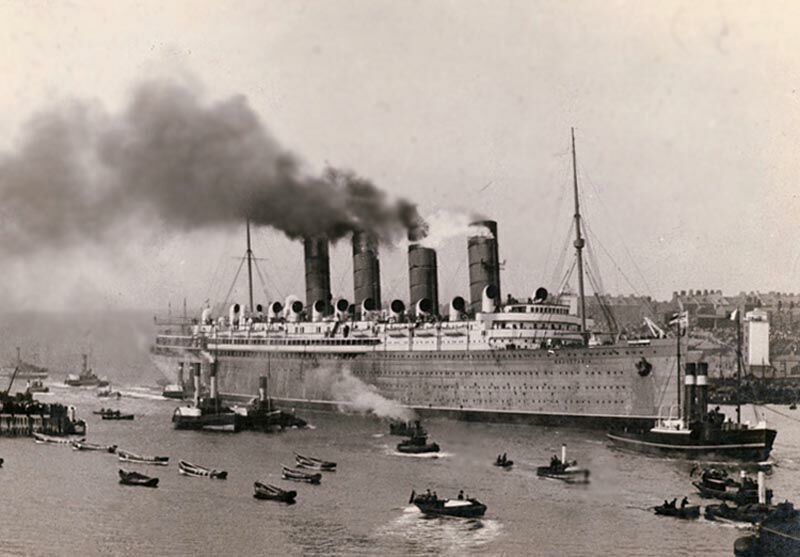 The "Mauretania" is seen on the River Tyne covering the 10 miles
to the mouth of the river heading out to sea for her Trials
But, during her speed trials there was significant vibration, whilst she had achieved maximum speed of just over 25 knots.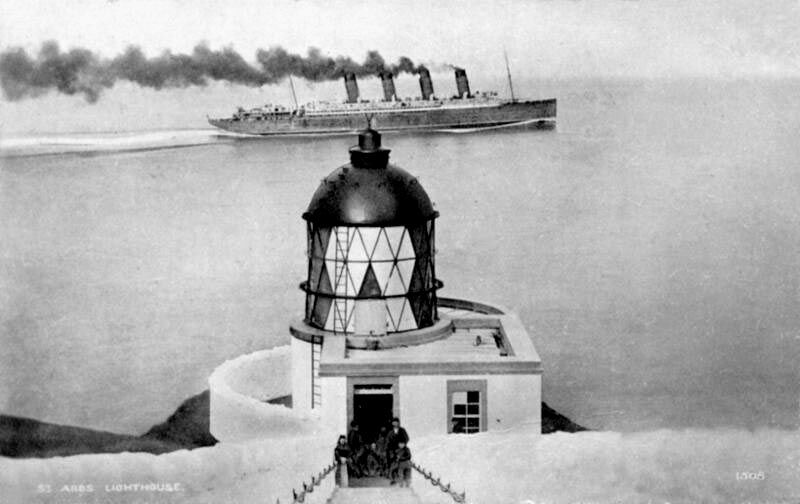 "Mauretania" has just completed her speed trials and discovered bad vibrations
Thus when back at the yard the "Mauretania" required considerable work to be done, such as strengthening aft sections and redesigned propellers before she was able to enter service, as the change had reduced the vibration greatly.
When all work had been finally completed, she was delivered to her owners at Liverpool on November 11, 1907.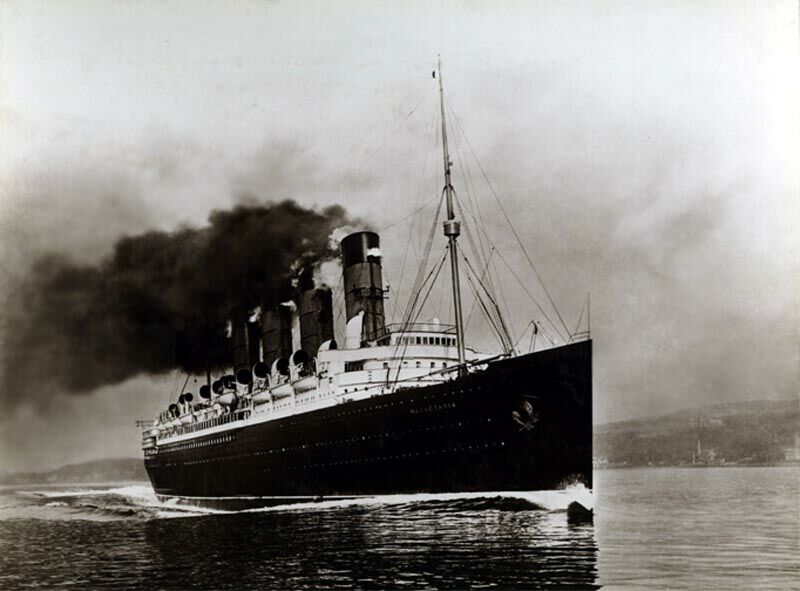 R.M.S. Mauretania is seen during her delivery voyage to her owners at Liverpool
*********************
General Ship Information:
"Mauretania's" Starting Platform: Below we see a very good view of the engine room controls. The small inner wheel of the 'Starting Platform' that is located in the middle of the photo was used to control steam to the low pressure turbine for manoeuvring. Whilst the larger outer wheel was used for ocean steaming and it controlled the main steam flow to the high pressure turbines.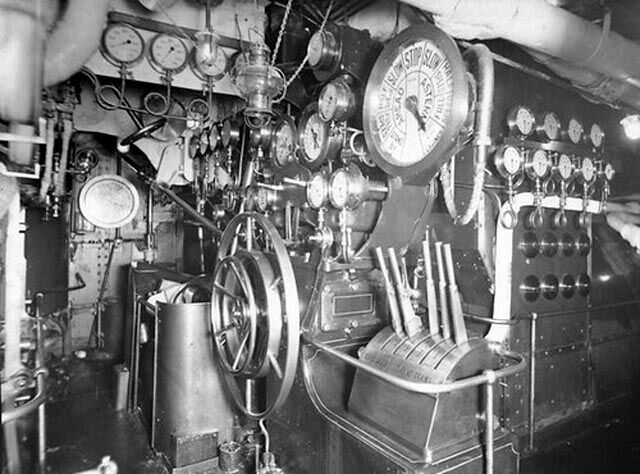 The Starting Platform in the Engine Room
Her engines were 'direct-action Parsons steam turbines', two being high pressure, and two low pressure.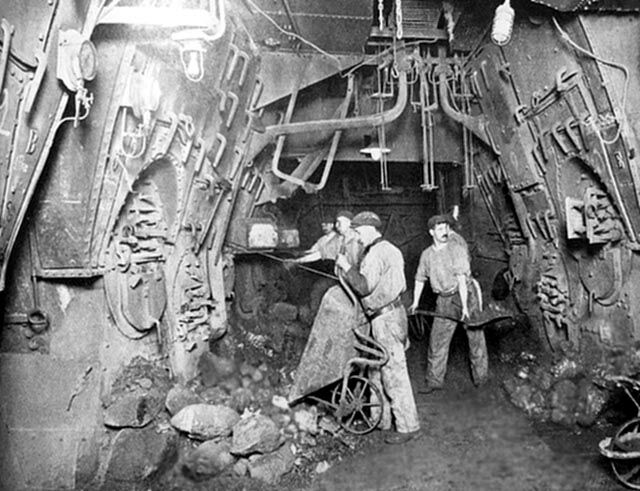 Here we see her as built when she was a coal fired ship
The "Mauretania" burned 850 to 1,000 tons of coal per day, depending upon its travelling speed. When running at full speed she boasted the equivalent of 76,000 horsepower.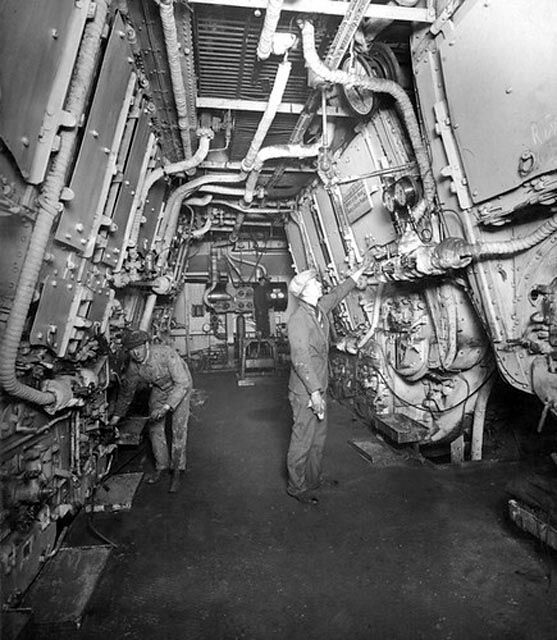 And here we see a much cleaner boiler room when she was changed over to oil firing in 1921
In 1908 it was decided to place her back into dry dock and replace her three bladed screws. These new screws which had been especially made for her, completely eliminated all past vibrations on board!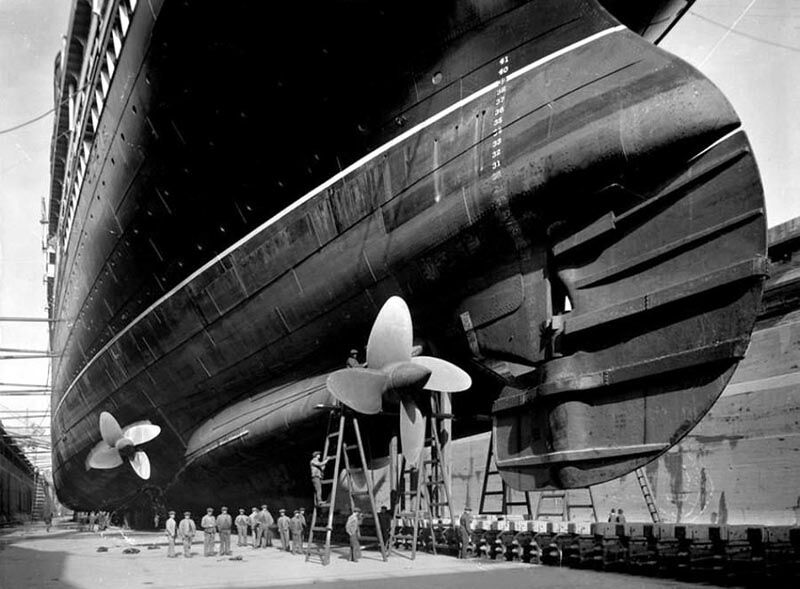 A great view of her lower stern and those huge screws
*********************
<![if !vml]>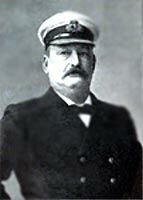 <![endif]>Her Maiden Voyage:      

Having been fully manned with a crew of 812 and fully stocked and made ready for her maiden voyage to New York, R.M.S. Mauretania with her passengers on board, she departed

Liverpool on Saturday November 16, 1907, under the command of Captain John Pritchard.

Captain John Prichard

Then on the return voyage from New York on November 30 to December 5, 1907, she captured the "Blue Riband" for the fastest eastbound crossing of the Atlantic, having sailed at an average speed of 23.69 knots. Below are the official "Blue Riband" details;

*She sailed from 'Beady Hook' to 'Queenstown' - 2,807 nautical miles (5,199 km) 4d, 22h 33 m, average 23.69 knots.

She broke this record eight times eastward and once westward. But her best was as follows in 20 to 25 August 1924;

*She sailed from 'Ambrose 'Light House' to 'Cherbourg' – 3,198 nautical miles (5,923 km) 5d, 1h, 49 m, average 26.25 knots.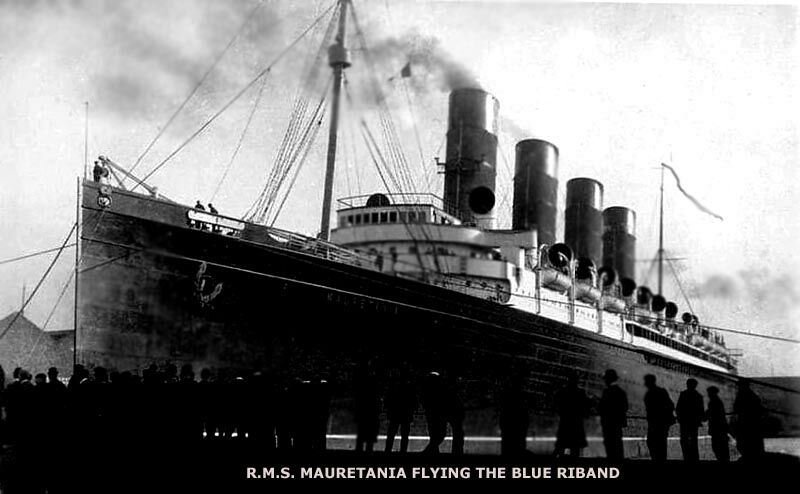 The "Mauretania" is flying her Blue Riband
She continued her voyages and became extremely popular, with all classes filling well in advance, especially first and second classes they were extremely popular!
HRH King George V and Queen Mary boarded the R.M.S. Mauretania on July 11, 1913, in Liverpool and it is the first time a reigning Monarch boarded a ship built by the "Cunard Line".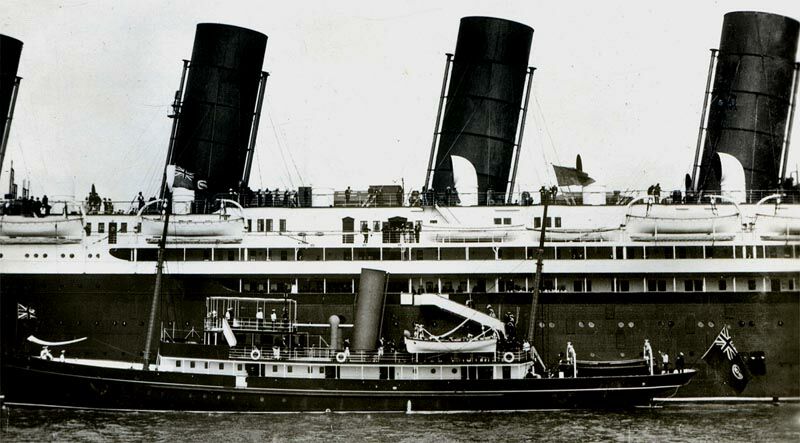 The Royal party is seen going up the gangplank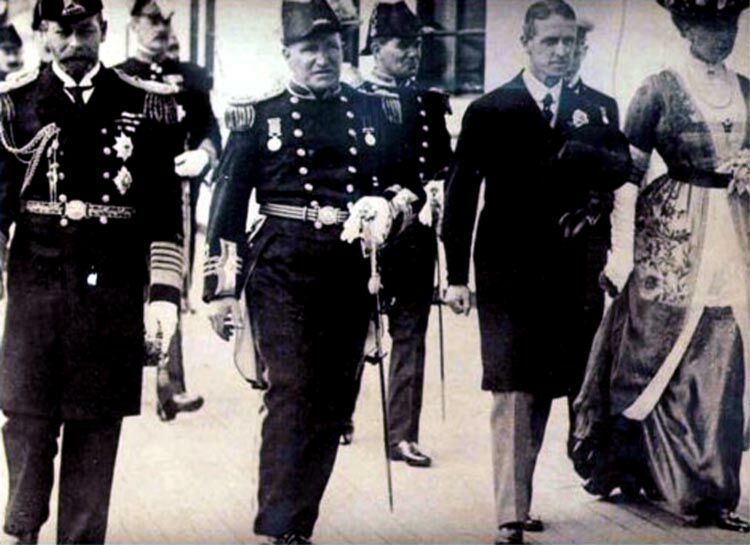 HRH King George V and Queen Mary are seen on board the "Mauretania: during their inspection
She sailed on and made her last voyage to America August and during her return voyage in August 1914 she was commandeered for war duties.
*********************
Her Interiors:
"Mauretania" was designed to suit Edwardian tastes. Thus her interiors represented the very best that money could buy at the very time when Britain was striving to regain supremacy in the North Atlantic commercial trade from Germany. Her interiors were designed by architect 'Harold Peto' and her public rooms were designed and fitted out by two-well known and notable London design houses, "Ch. Mellier & Sons" and "Turner and Lord" who used twenty-eight different types of timbers, along with marble, the finest of tapestries, and a host of the best of furnishings including stunning grand octagon table in the smoking room. It took 300 woodworkers two years to carve the Mauretania's magnificent interior decorations.
The multi-level Grand First Class Dining Saloon of 'Straw Oak' was decorated in what is known as 'Francis 1' style and topped by a huge dome skylight. A series of elevators, which at the time was a rare new feature for liners had grilles composed of the relatively new lightweight aluminium that had been installed next to "Mauretania's" walnut Grand Staircases on either side.
Decorations ranged in style from French Renaissance to English Country, and the woods that were used came from British as well as French forests. Wood panelling in her First Class venues were supposedly as stated before, done by three hundred craftsmen, whist the majority of the second and third class areas were executed by the yard or were subcontracted. The "Mauretania's" First Class Main Lounge was decorated in an 18th-century French style and it was considered one of the ship's most impressive Lounges.
As this feature is rather huge, I have dedicated a Page to "Mauretania's" magnificent interior's, and believe me it will be a most comprehensive and an exciting page! But below you will see just a small sample!
Up on Boat Deck, (later A Deck) there were four magnificent Lounges and each one had a spectacular stained glass dome above them allowing light to enter the venue from above as it reached up onto Sun Deck.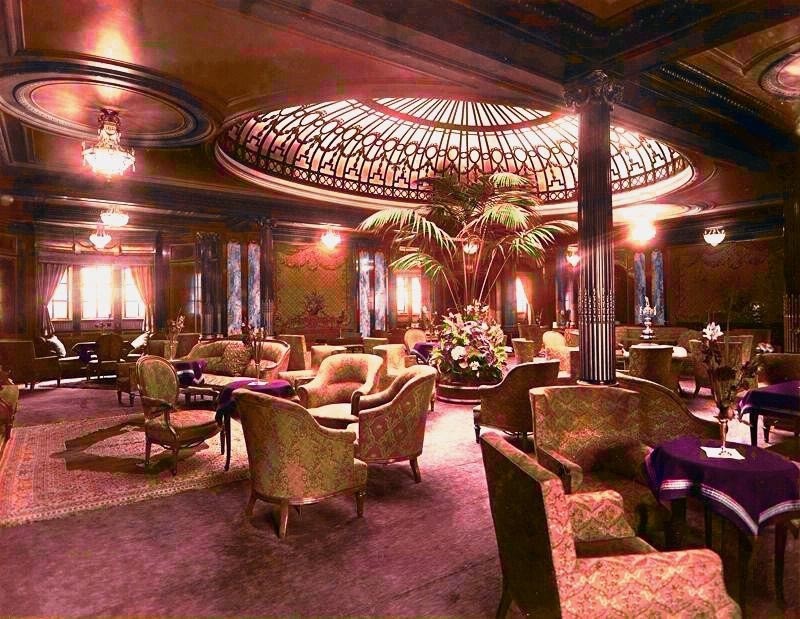 The magnificent First Class Lounge and Music Room
The interior page (Page Two) also contains her two deck plans, each having a link to a large version online.
*********************
Word War One:
On August 1, 1914, the Mauretania sailed from Liverpool on her westward voyage. Four days later she received wireless instructions to make with all speed for Halifax, Nova Scotia. Great Britain had declared war on Germany. The Mauretania had been specially built to permit the mounting of 6-inch guns for service as an Auxiliary Cruiser in time of war. She continued, however, to serve the Atlantic route until October, when she was requisitioned by the Government in accordance with the Cunard Company's undertaking.
The Mauretania, however, was never used as an Auxiliary Cruiser. The use of large armed merchantmen as war vessels had been proved to be a mistake. The "Mauretania" was therefore laid up until with the Dardanelles campaign and thus an opportunity was found for her to be used. Having been made ready, in May 1915 the H.M.S. Mauretania made her first voyage as a troopship from Southampton with 3,182 troops on board, bound for the Allied base of 'Mudros', on the Greek Island of 'Lemnos' in the Aegean Sea.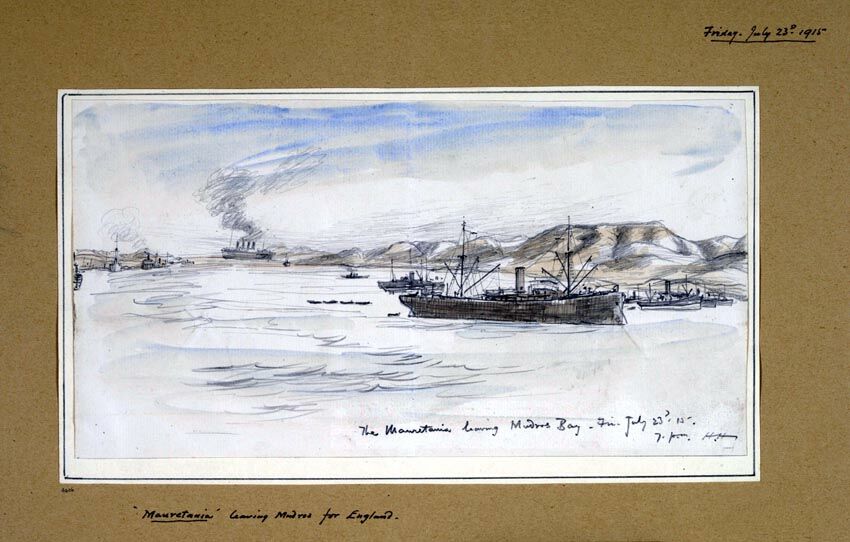 An artist's impression of the "Mauretania departing Murdos at 7 pm on July 23, 1915
Tragically on May 7, 1915, the very similar sister ship, the "Lusitania" which was carrying passengers across the Atlantic to Liverpool, was tragically torpedoed off the Old Head of Kinsale, Ireland, and she was sunk with the loss of 1,198 men, women <![if !vml]>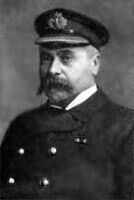 <![endif]>and children.
By August 1915 the Mauretania had by then made three voyages to Mudros, carrying 10,391 officers and men. It was in the Mediterranean that the Mauretania came within a narrow margin of sharing the fate of her sister ship. For the commander of the "Mauretania" Captain Daniel Dow saw the track of an approaching torpedo on the starboard bow and he instantly turned the ship's wheel hard to port and the torpedo missed by a narrow margin of about 5 ft.
Captain Daniel Dow
Calmness and quick thinking on the bridge was certainly connected to great courage down below in those confined spaces for in the engine-room and stoking area the men stood by their jobs, crowding on all revolutions to stave off the perils that threatened them all on board.
A New Phase for the
Mauretania

:

The world's fastest liner received another refit as she now became a hospital ship. For this role she was painted white with buff funnels and had a thick green band around the ship and three large medical Red Cross emblems on each side and this was of course to clearly indicate that she was engaged in peaceful and a humanitarian mission.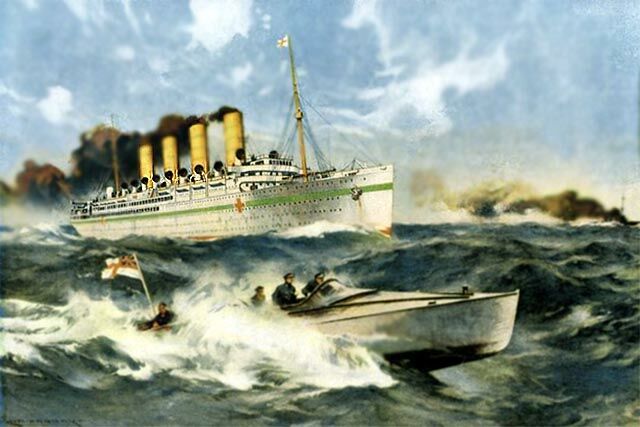 A painting of the "Mauretania" as a Hospital Ship
Thank you James O'Donnal, he advised me that he believes it may be by a Mr. C. A. Padday
Internally, her magnificent public rooms were turned into hospital wards were filled with bed's, even the promenade and shelter decks were used.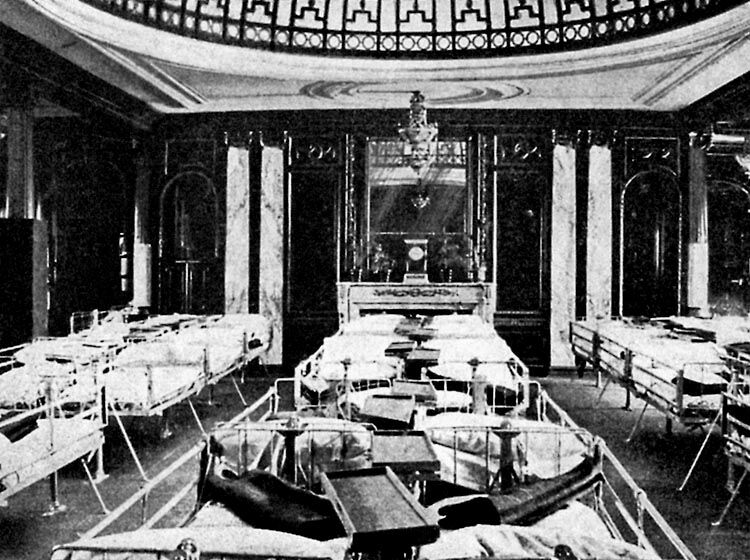 This is the magnificent Lounge  and Music Salon, as seen up above,
which has been turned into a hospital ward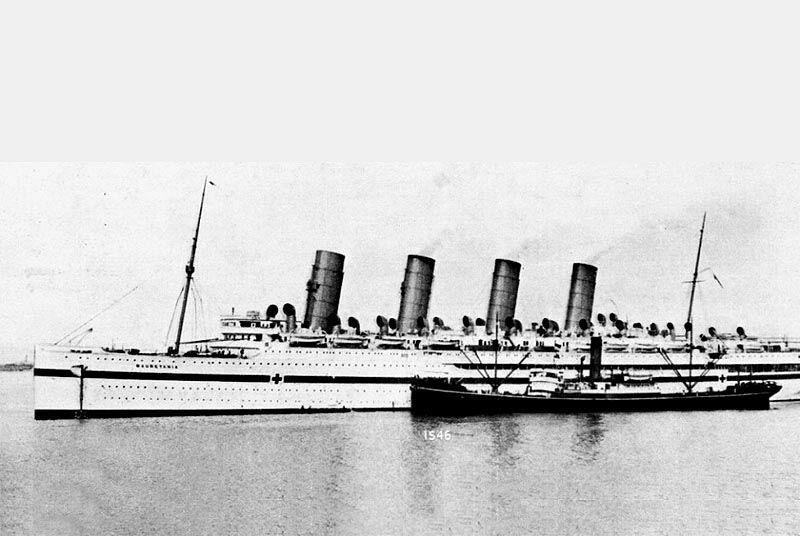 The Hospital Ship H.M.S. Mauretania
For three voyages the "Mauretania" headed to 'Mudros' and the Greek "Island of Lemnos".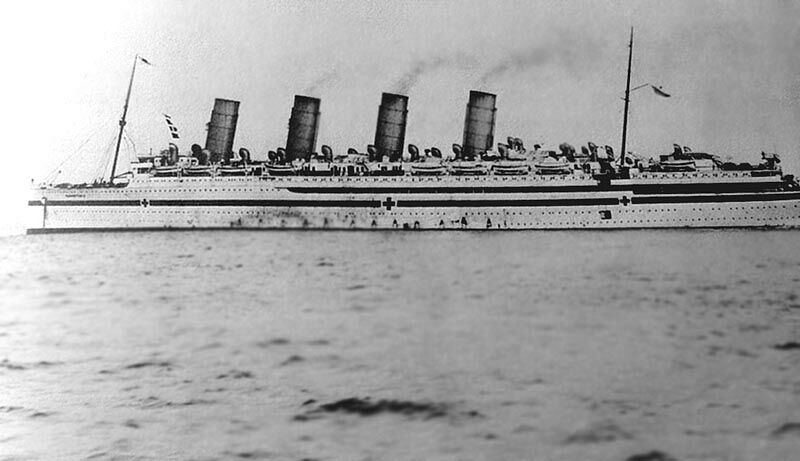 Another view of her, but just before she would end her medical service
After she had taken on board all those who were to go home and attended to the urgent cases, she went back to the UK carrying 2,307 medical staff and 6,298 sick and wounded.
She continued as a hospital ship until January 25, 1916, and she was paid off and her hospital equipment was all removed and she was again laid up until she would be reactivated nine months later.
She became a Troopship Again:
H.M.S. Mauretania was once again altered to become a troopship and in October and November 1916 she headed to Halifax, Nova Scotia and she made two voyages from there to Liverpool, carrying some 6,000 officers and men as part of Canada's contribution to the struggle on the 'Somme'.
The "Mauretania" was actually known by the Admiralty in the UK as H.M.S. "Tuberose" right until the end of the war, but her name was never changed officially and her actual name "Mauretania" remained on her bow and stern at all times.
Her war duty was certainly not yet over, for when the United States declared war on Germany in April 1917, she was once again commissioned as a troopship but this time she was used to bring American troops to France.
Commencing in March 1918, Mauretania received two forms of dazzle camouflage, a type of abstract colour scheme designed by Norman Wilkinson in 1917 in an effort to confuse enemy ships. The first camouflage scheme, applied early in March 1918, was curvilinear in nature and largely broad areas of olive with blacks, greys and blues.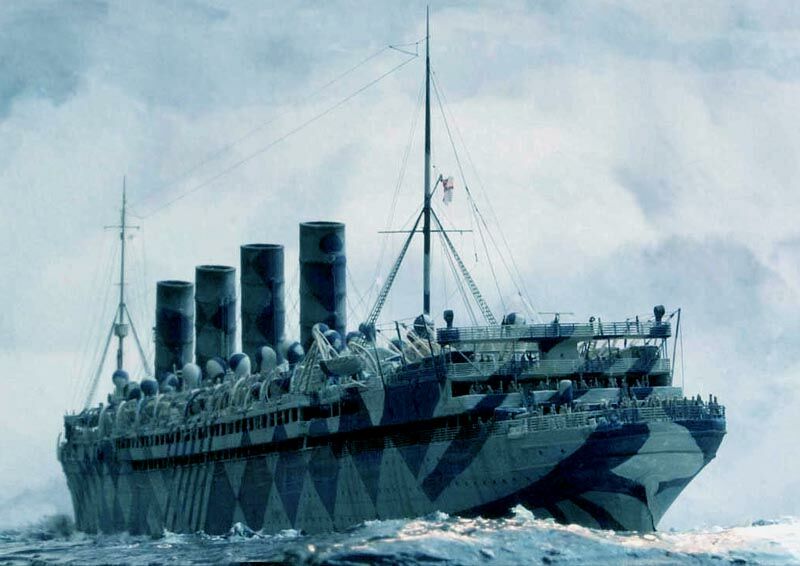 This is the first of her Dazzle Livery
The second scheme was the more geometric design commonly referred to as "dazzle", this design, applied by July 1918, was mostly several dark blues and greys with some black.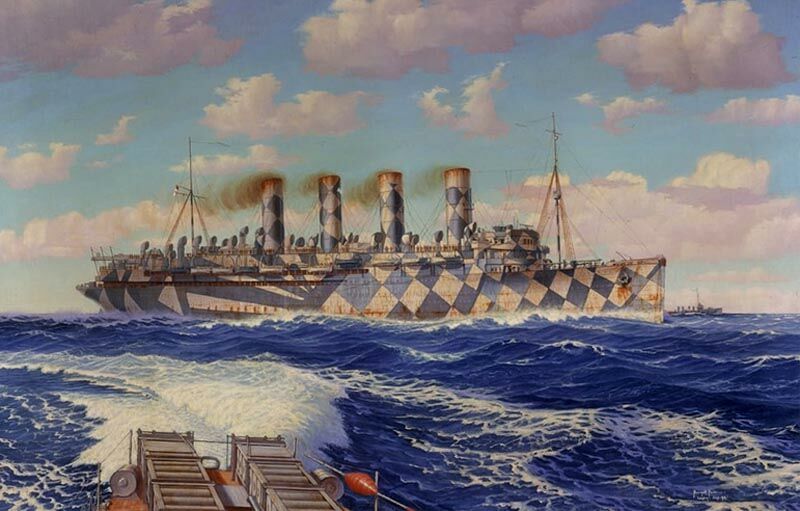 And here is a painting of the dramatic diamond blues and blacks,etc
Painting by the late Mr. Burnell Pool
Her work continued for seven months steadily reinforcing the Western front with divisions of American troops. Continual news updated of the wars were flashed to the "Mauretania" whilst she was on the high seas, and it was in the same manner she received the welcome news of the Armistice.
Thereafter followed a very different time for the "Mauretania" as she then commenced to return service men from the past war zones to their homes and their loved ones, having fought their wars and in many ways so many were mentally wounded.
One voyage I do know off is that the "Mauretania" arrived in New York on April 7, 1919, and she was filled with returning American service men from Europe. Interestingly, also shown on the far right, is the U.S.S Ammen (DD-35) and she was a "Monaghan Class" Destroyer, although there are also several other US Naval vessels, but I have no information on them.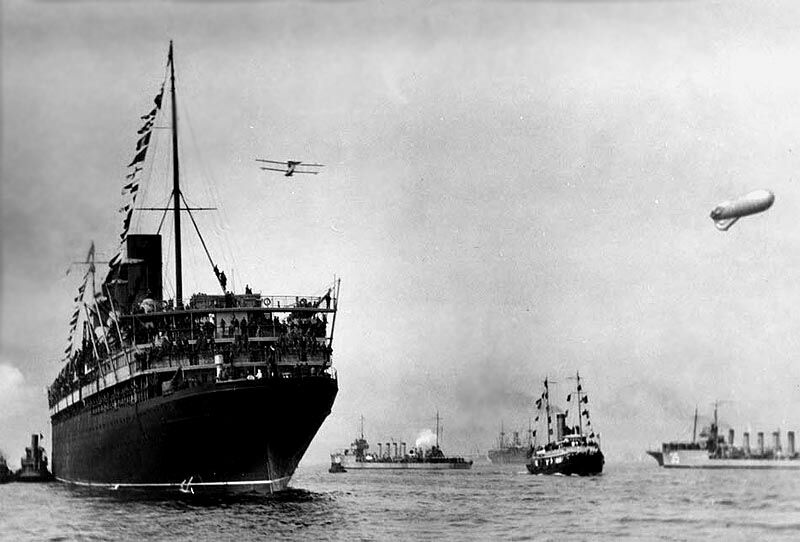 The "Mauretania" arrives in New York on April 7, 1919 laden with American troops from Europe
Then on May 27, 1919, the "Mauretania" was finally paid off and she was handed back to "Cunard".
*********************
Post War Operations:
At some time, although it may have been as early as 1912 her deck names and details were altered and became as shown in the brackets () below.
Bridge Deck, Boat (A) Deck, Promenade (B) Deck, Shelter (Upper C) Deck, Upper (Saloon D) Deck, Main (E) Deck, Lower (F) Deck (no longer a passenger deck), Orlop (G) Deck (used for coal, stokehold and other spaces).
Please Note: Several Deck Plans are shown on Page Two, which also contains all her magnificent interiors.
Having been restored to being a passenger liner again, R.M.S. Mauretania finally returned to her Trans-Atlantic services on September 21, 1919. But due to her very busy schedule, she was unable to halt her services in order for her to have an extensive refit that had been scheduled for 1920.
But believe it or not and this sounds very strange, but it is not, her fortunes increased, for in July 1921, due to an outbreak of a fire which gutted cabins on the Lower (E) Deck and did some damage one deck up on Main (D) Deck above. Thus Cunard Line obviously was forced to remove her from service and gave that much needed overhaul. They sent her back to the company that built her; "Swan Hunter & Wigham Richardson" on the River Tyne.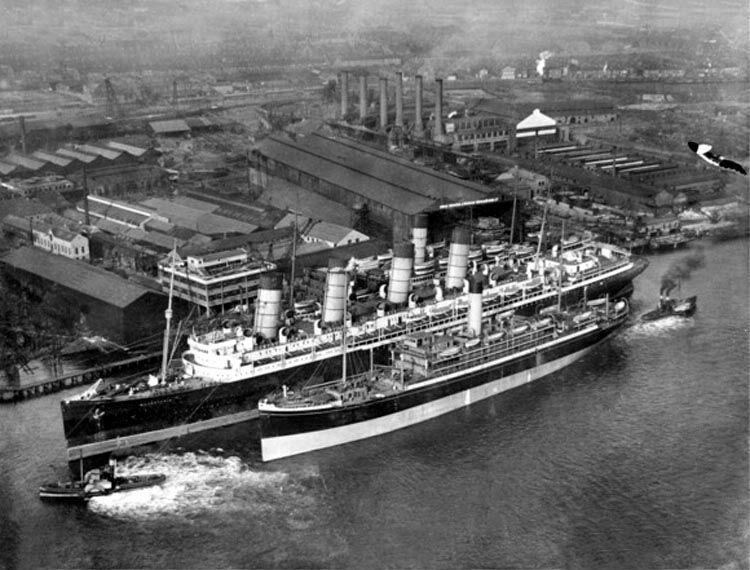 R.M.S. Mauretania is seen moored at the "Swan Hunter and Wigham Richardson Ltd"
shipbuilding yard, on the River Tyne in 1921 for her overhaul
Whilst there she was converted from coal burning to oil burning, for obviously "Cunard" had been fully aware of the countless advantages of oil as a fuel, in addition the obvious repairs were also made and her promenade was also enclosed. The "Mauretania" returned to her regular duties in March 1922.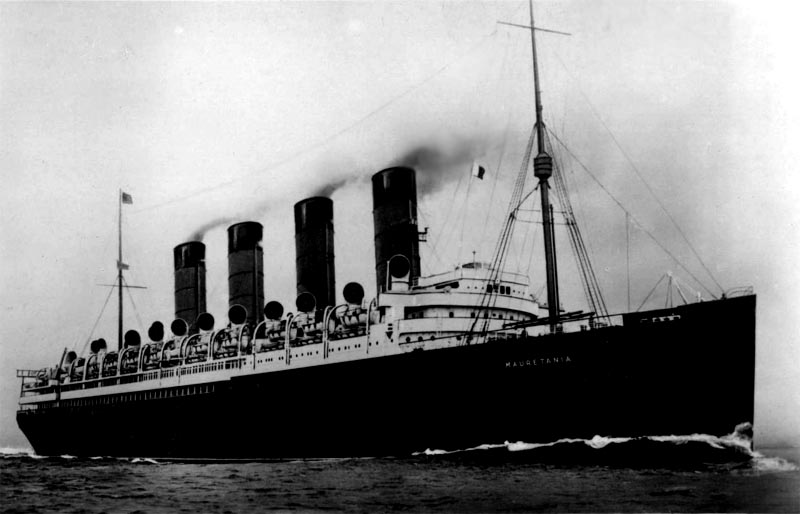 R.M.S. Mauretania with her glass enclosed promenade is about to arrive in a port
After her conversion to oil burning, Cunard did notice that the "Mauretania" struggled to maintain her regular service speed. Although the ship's service speed had somewhat improved and it now burned only 750 short tons of oil per 24 hours, compared to 1,000 short tons of coal previously, it was not operating at her pre-war service speeds. On one crossing in 1922 the ship managed an average speed of just nineteen knots. Cunard decided that the ship's once revolutionary, but now aging turbines were obviously in desperate need of an overhaul. Thus in 1923, a major re-fitting was begun of her turbines at Southampton and her turbines were dismantled. However, halfway through the overhaul, shipyard workers suddenly went on strike and all work was halted and there would be no return for a very long time. Thus "Cunard" rapidly made other arrangements and had her towed to Cherbourg, France where the work was completed at another shipyard. In May 1924, the ever popular "Mauretania" returned to her Trans-Atlantic services, and the occasional off season cruises.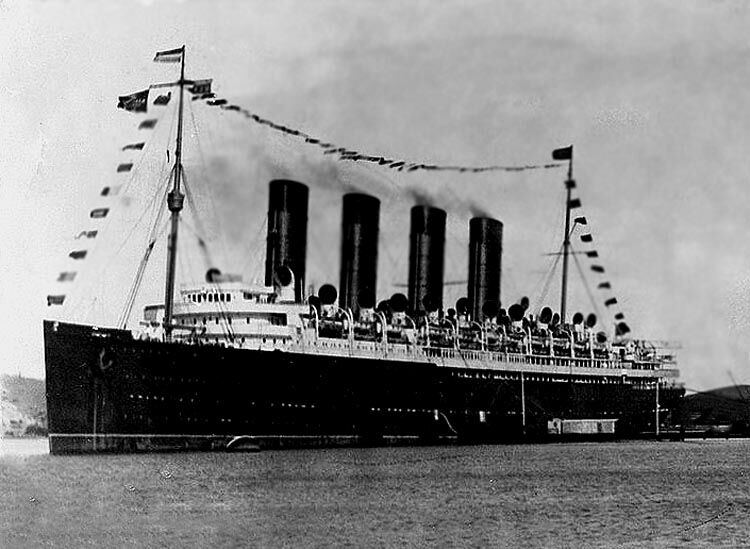 The "Mauretania is seen at anchor in Willemstad, Curacao late 1925.
Ii was decided that in 1928 the R.M.S. Mauretania would receive a comprehensive internal modernisation with her interiors receiving a new design. As in the next year her long standing speed record was broken by the German liner, "Bremen" having achieved a speed of 28 knots. On August 27, 1928, "Cunard" permitted their former ocean greyhound to have one final attempt to recapture the record from the newer German liner. She was taken out of service and her engines were adjusted to produce more power to give a higher service speed; however for two hours a speed of 26 knots was maintained, but sadly it was not enough, as the Bremen was simply far more powerful and technologically advanced than the ageing Mauretania. Even though she did not beat her German rival, the ship lost by just a fraction after decades of design improvements and she did beat all her own previous speed records both east and westbound.
On November 27, 1929, the "Mauretania" collided with a train ferry near the Robbins Reef Light just after leaving New York. No one was killed or injured in the collision, but Mauretania's bow was damaged. The hole in her bow was repaired within 24 hours
In 1927 the Mauretania was given an overhaul and was reconditioned at Liverpool, when completed she arrived at Southampton on Sunday afternoon February 7, 1927. But early on that same morning a speed trial was carried out whilst in the English Channel, and for two hours a speed of 26 knots was maintained.
In 1930, with a combination of the Great Depression and newer competitors on the Atlantic service the "Mauretania" became a dedicated cruise ship operating six day cruises from New York to Halifax, Nova Scotia.
Then on November 19, 1930, the Captain and his wife Mrs. Carlson as well as the with 26 crew members, not to forget the ships cat, were all dramatically rescued from the Swedish cargo ship the S.S. Ovidia which foundered in the Atlantic Ocean 400 nautical miles south east of Cape Race, Newfoundland, by the "Mauretania".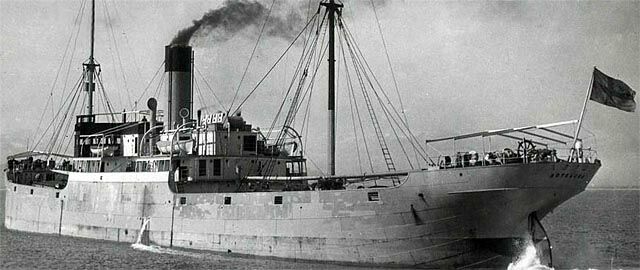 The 3,343 GRT S.S. Ovidia seen in better days
The "Mauretania" was now operating more and more cruises in the Mediterranean, the West Indies, and the Bahamas. While these were popular with Americans desiring to escape 'Prohibition', the "Mauretania" by design was in reality ill-equipped for such environments.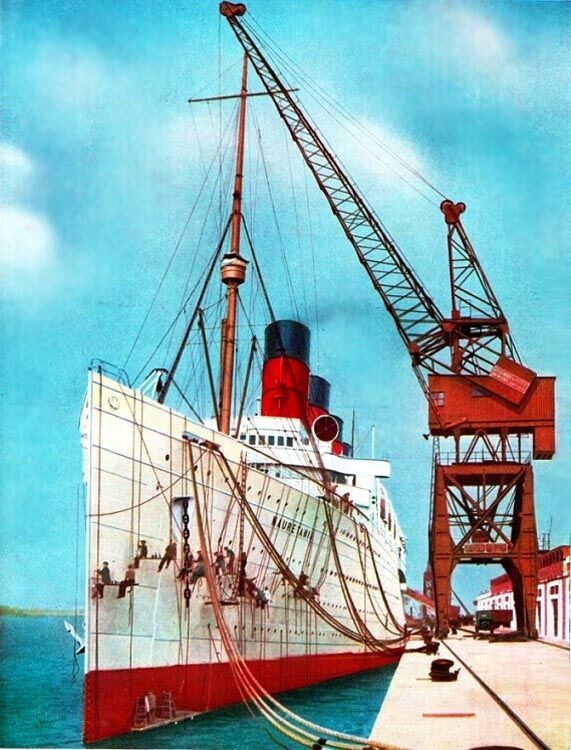 Her new all white cruising look
To reduce the effects of heat Cunard decided it would be best to paint her all white and that was completed in June 1933, and she looked very much a cruise ship.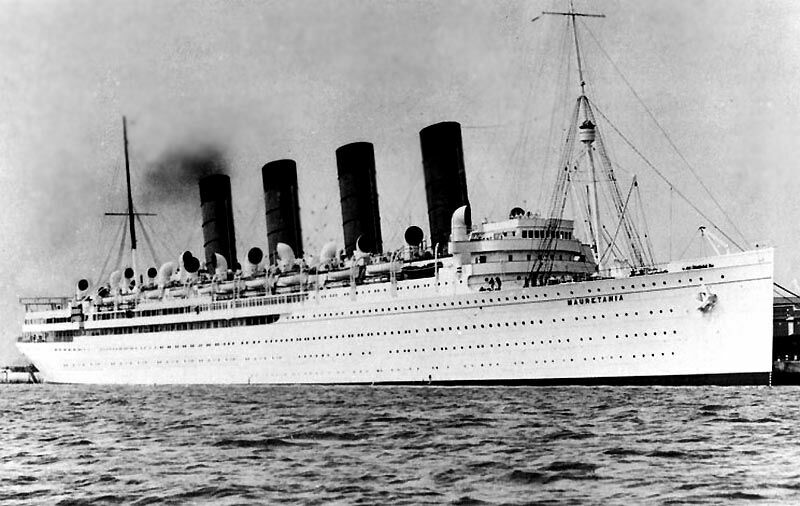 The all white cruise Ships "Mauretania" is seen here at Southampton
When Cunard Line merged with White Star Line in 1934, Mauretania, along with Olympic, Homeric, and other aging ocean liners, were deemed surplus to requirements and were due to be withdrawn from service in the near future. And there was no doubt that, age and the relentless movement towards all things modern were slowly relegating the "Mauretania" to the dangers of becoming nothing short of being outdated.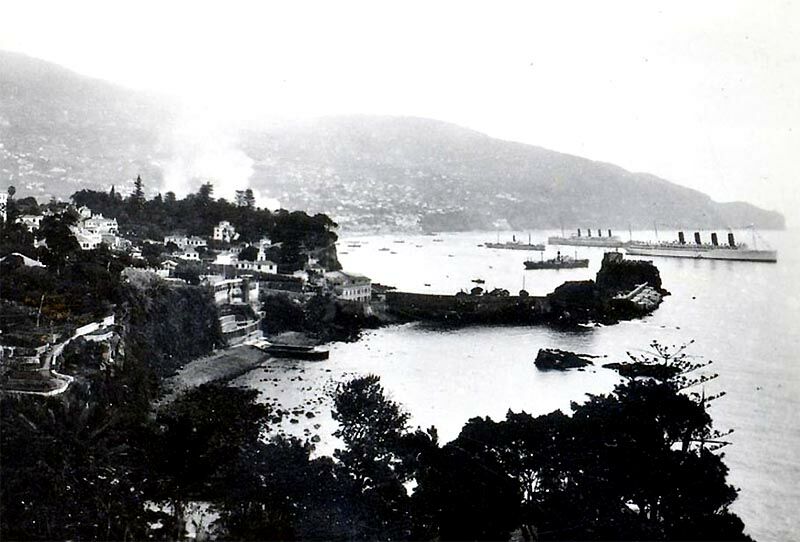 The Mauretania (left) and the Arundel Castle seen at Funchal, Madeira
Then suddenly a decision was made, which could not have been arrived at easily, "Cunard" decided to withdraw the "Mauretania" from service and following her final passenger sailing from Southampton on June 30, 1934, which just happened to be the very day that "Cunard Line" and "White Star Lines" merged.
During her final voyage she averaged a speed of 24 knots, which was still a remarkable speed for this old liner now in her final days. After two further cruises to the West Indies she returned to Southampton on October 2, 1934. But now with the competition of the R.M.S. Queen Mary and the merger with "White Star" it did mean that the fleet had to be reduced as soon as possible, and as "Mauretania's" Trans-Atlantic service was being replaced by the R.M.S. Queen Mary which would enter service in 1936, the venerable "Mauretania" was now just too outdated and she was laid up in Southampton and late in March 1935, "Cunard-White Star" officially decided to place her on the market.
A buyer soon came on scene and the "Mauretania" was purchased on April 3, 1935 by the ship breaker "Metal Industries Ltd" of Glasgow. However, all her fixtures and fittings were auctioned off at Southampton Docks on May 14, 1935.
On July 1, 1935, the grand old dame, the R.M.S. Mauretania departed for the very last time from Southampton and she headed to the 'Naval Dockyard' (where the company had a long standing lease) at Rosyth, Scotland.
On July 3, she reached the "Firth of Forth" and she passed under the Forth Rail Bridge and moved to "Rosyth" where she would be dismantled. This journey was immortalised in a painting "The Mauretania" that hung in the First Class Lounge on board the R.M.S. Queen Mary.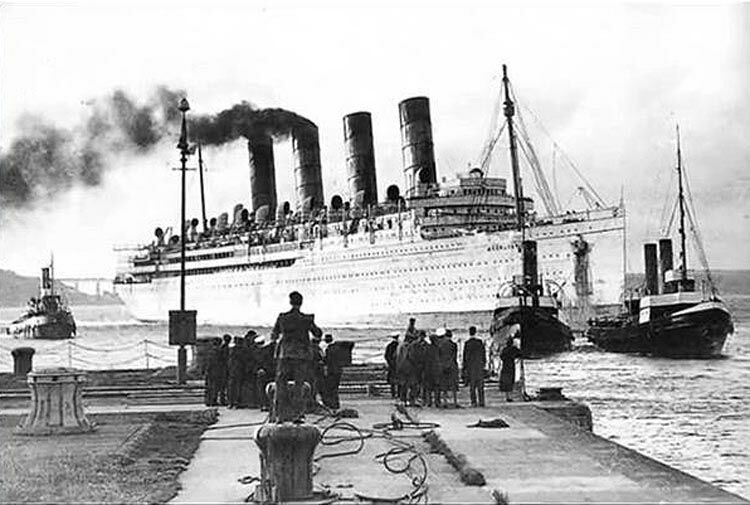 The "Mauretania" is seen arriving at Rosyth on June 1, 1935
Among the admirers of the "Mauretania" was President Franklin D. Roosevelt (U.S. President) who said of her; "Every ship has a soul. But the Mauretania had one you could talk to. At times she could be wayward and contrary as a thoroughbred."
One of her Captain's on the ship's retirement gave her the most fitting epitaph of them all. Captain Sir Arthur Rostron said; "She gave of her best, served Cunard well, was an honour and a credit to her builders, to her owners and to Britain, was loved by all who ever served on her and admired by all who crossed on her."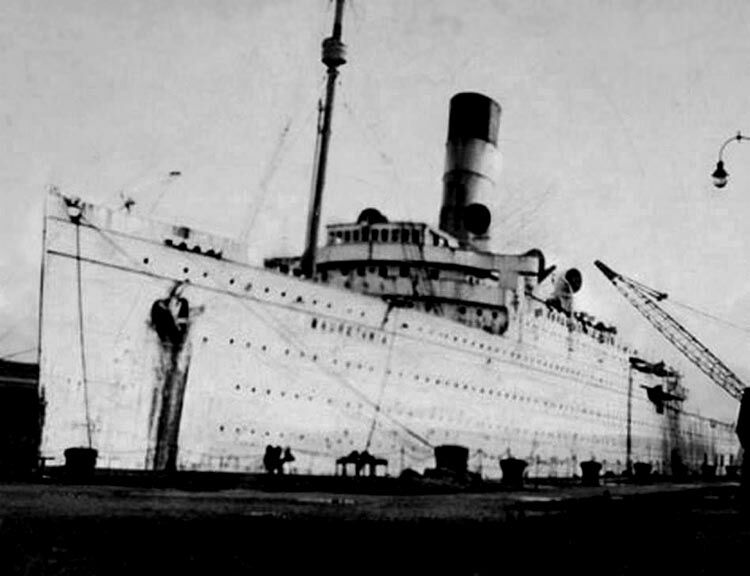 The once magnificent liner is seen slowly disappearing!
Few liners during their active service received the masses of affections as was lavished upon the "Mauretania" by her loyal passengers. It was certainly not without regret that the "Mauretania" disappeared from the "Cunard" roster. Those who had travelled aboard her in such sheer luxury and even those who migrated in Third Class seem to have common ground and they echo the nostalgic sentiment befitting the passing of this great Ocean Liner. But sadly after her long and illustrious career it was time to say farewell to the R.M.S. Mauretania, for she was indeed the Grand Dame of the Sea.
*********************
Specifications & Details - R.M.S. Mauretania:
Name:                             Mauretania 1906 -1935.
Nickname:                       "The Maury".
Type:                              Passenger Liner & Refrigerated Cargo Ship.
Holds:                             2 forward, with 4 insulated spaces on Orlop Deck,
.                                     and a general cargo area over two decks below.
Owner:                            Cunard Line 1906–1914.
.                                     Royal Navy 1914-1919.
.                                     Cunard Line 1919-1934.
.                                     Cunard White Star Line 1934–1935.
Operator:                        Cunard.
Port of registry:                Liverpool.
Route:                            Liverpool, later Southampton to New York.
Builder:                           "Swan Hunter & Wigham Richardson", Tyneside, England.
Laid down:                      August 18, 1904.
Yard No:                          735.
Launched:                       September 20, 1906, by the Duchess of Roxburghe.
Trials:                             October 22, 1907.
Delivered:                        November 11, 1907.
Maiden Voyage:                November 16, 1907.
Tonnage:                         31,938 GRT.
Length:                           790 ft - 240.8 m.
Beam:                             88 ft - 26.8 m.
Draught:                         33 ft - 10.1 m.
Depth:                            33.5 ft - 10.2 m.
Installed Power:               Direct-action Parsons steam turbines (two high pressure, two low pressure) - 68,000 shp (51,000 kW) nominal at launch, 76,000 shp (57,000 kW) on record run, later increased in 1928 to 90,000 shp (67,000 kW) July 1929.
Propellers:                       Quadruple three bladed screws as built.
.                                     Quadruple four bladed screws in 1908.
Speed:                            25 Knots service speed, 28.5 knots maximum.
Accommodations:             2,165 passengers total.
.                                     563 First Class, 464 Second Class & 1,138 Third Class.
Decks:                            6 passenger decks, 8 in total.
Crew:                              812 (See separate crew list below).
WW1:                             During the war she was known by the Admiralty as H.M.S. Tuberose, but her actual name was never changed on her hull.
Out of service:                 September 1934.
Fate:                               Departed to her new owner "Metal Industries" ship breaker on July 1, 1935 arriving on the 4th at Rosyth, Scotland.
Complete Crew List:
.                                     Captain 1.
.                                     Officers 8.
.                                     Petty Officers 15
.                                     Marcony Operators 2.
.                                     Chief Engineer 1.
.                                     Engineers 29.
.                                     Refrigerating Engineers 3.
.                                     Pursers 3.
.                                     Chief Stewrad 1.
.                                     Head Chef 1.
.                                     Cooks 40.
.                                     Bakers 2.
.                                     Leading Stewards 4.
.                                     Matrons 2.
.                                     Stewards 305.
.                                     Stewardesses 10.
.                                     Doctor 1.
.                                     Seamen 40.
.                                     Carpenters 2.
.                                     Joiners 1.
.                                     Greasers 21.
.                                     Firemen 192.
.                                     Trimmers 120.
.                                     Typists 2.
.                                     Mail Sortists 3.
.                                     Barbers 2.
.                                     Inspector 1.
*********************
You will find that there is also a feature on the two funnelled R.M.S. Mauretania (2) of 1936, and the link is located below the image "Remembering The Great R.M.S. Mauretania of 1906" below, and this features' 'Index'.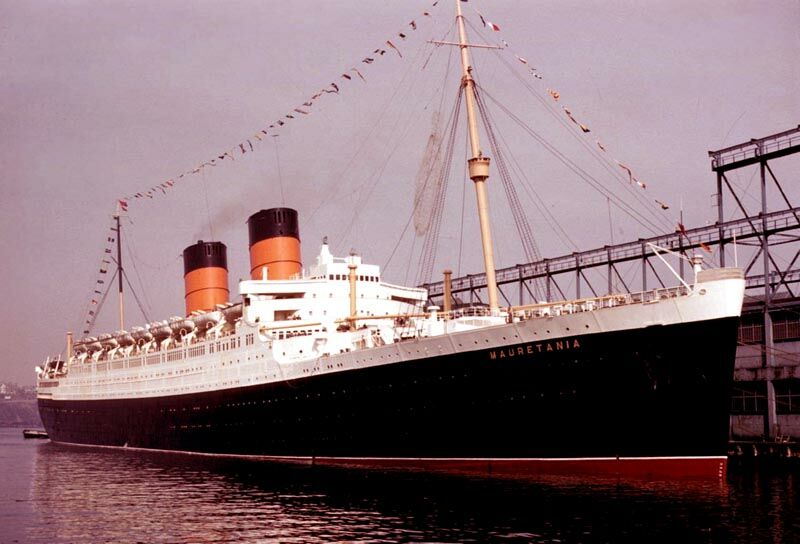 R.M.S. Mauretania (2) - 1938 to 1965
*********************
      

R
emembering the
G
reat …
  

          

 

  

R.M.S.
Mauretania
of 1906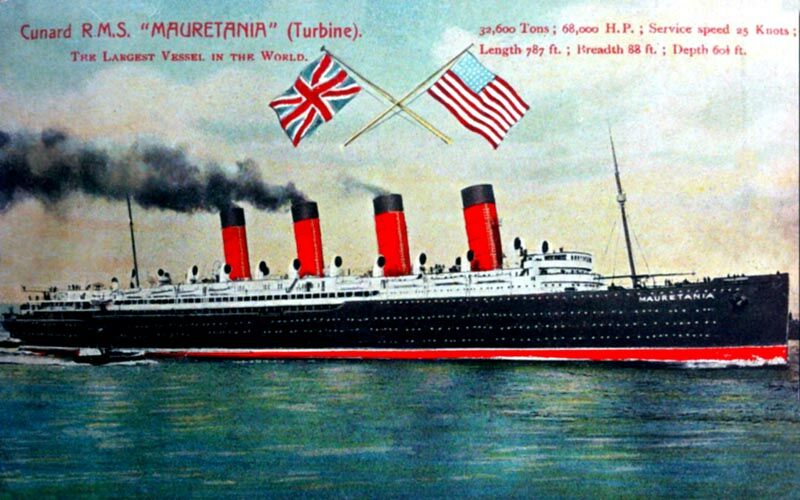 A very early postcard of the R.M.S. Mauretania (1) was released within days of her maiden voyage
R.M.S. Mauretania 1 & 2 - INDEX:
R.M.S. Mauretania (1) 1906 …     Page One - Her History (This page).
R.M.S. Mauretania (1) …             Page Two - Her Interiors, Deck Plans and other items.
R.M.S. Mauretania (1) …             Page Three - Deck Plans and other items.
R.M.S. Mauretania (2) 1938 …     Enter - She was considered being the slightly smaller "Queen Elizabeth"
**************
"Blue Water Liners sailing to the distant shores.
I watched them come, I watched them go and I watched them die."

Featuring over 1,435 Classic Passenger Liners, Passenger-Cargo Liners & Classic Cruise Ships!

Or ENTER HERE

For interest: Sadly an email service to ssMaritime is no longer available, due to the author's old age and chronic illness as well as being disabled, etc. In the past ssMaritime received well over 120 emails per day, but

Goossens can no longer handle the same. He sincerely regrets this!

*********************

ssMaritime.com & ssMaritime.net

Where the ships of the past make history & the 1914 built M.S. Doulos Story.

The Author has been in Passenger Shipping & the Cruise Industry for well over 60 years

In addition he was the founder of "Save the Classic Liners Campaign" in 1990.

Please Note: ssmaritime and associated sites are 100% non-commercial and the author seeks no funding or favours of any shape or form, never have and never will!

Photographs on ssmaritime and associate pages are by; the author or from the author's private collection. In addition there are some images that have been provided by Shipping Companies and private photographers or collectors. Credit is given to all contributors. However, there are some photographs provided to me without details regarding the photographer/owner concerned.

This notice covers all pages; although, and I have done my best to ensure that all photographs are duly credited and that this notice is displaced on each page, that is, when a page is updated!

ssMaritime is owned & © Copyright by Reuben Goossens - All Rights Reserved