Mercy Ships - MV Africa Mercy
Please Note: Firefox, iPhones, & some other Search Engines may not be suitable
Use Google Chrome for this Web Page to load perfectly!

Click the logo above to reach the ssMaritime FrontPage for Ships of the Month & News Updates
With Reuben Goossens
Maritime Historian, Cruise'n'Ship Reviewer, Author & Lecturer
Please Note: All ssmaritime as well as my other related maritime & cruise sites are 100% non-commercial and privately owned sites. Be assured that I am NOT associated with any shipping or cruise companies or agencies or any other organisations! The author has been in the passenger shipping industry since May 1960, but although retired and unwell, I occasionally attempt to write an article now and then, in order to bring enjoyment and pleasure to ship enthusiasts past passengers and crew.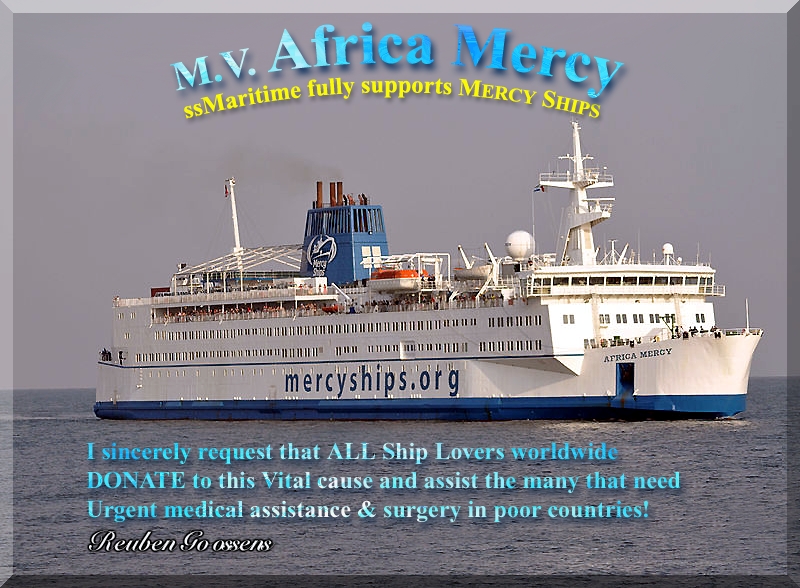 Part One
Introduction:
The truth is that I have had a long personal interest with MERCY SHIPS an amazing 100% volunteer medical organisation that travels the world by ship and provides free medicine and surgeries wherever it is needed. This wonderful mission commenced in 1978 with their first ship the ex Italian Lloyd Triestino passenger Line MS Victoria, and they continued with a number of further fine classic style ships. The current ship in operation is the subject of this feature which is not as old as any of the previous ships, for MERCY SHIPS required a ship that was as reliable as possible to reach lands far afield and touch as many lives as possible for as long as possible! But before I get to her, let me say a little more about MERCY SHIPS and their very first ship!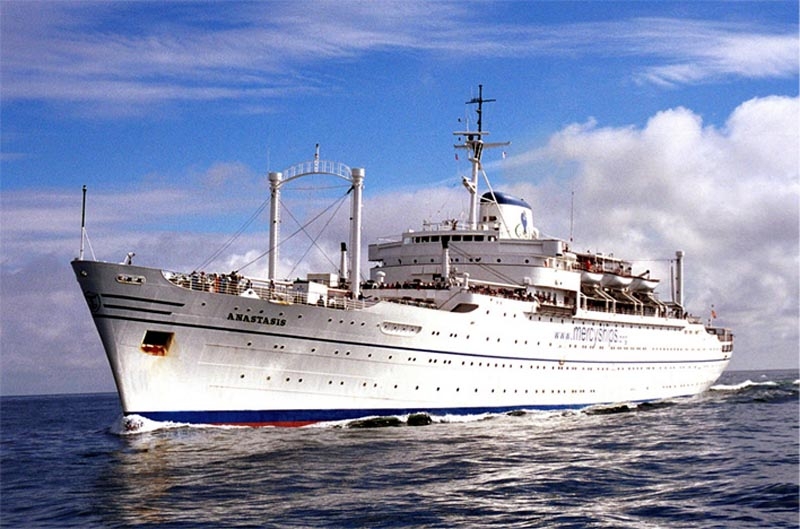 A postcard of one of the much loved and the very FIRST of the Mercy Ships Hospital ships, the MS Anastasis
Her story is located down the page and she also has her own website
In 1978 Mercy Ships obtained the MS Victoria which was extensively remodelled into a floating medical centre, theatres and hospital and was renamed MV Anastasis and she sailed for many successful years until late in 2007. But her full story and all the other ships are available on her very own page, see link at the bottom, but currently it is the modern MV Africa Mercy that sails the oceans and visits those who are poor and needy! In addition, the good news is that there will be a new ship in the works and she should be completed from construction and ready to sail late in 2017 or 2018 and there is a page on her as well!
But let us briefly take a look at what MERCY SHIPS actually do, via the images below?

You can help a dear little one with a whole new life by giving generously to MERCY SHIPS!
The above is just one of thousands who receive help on board the MV Africa Mercy
Do I need to say more?

Please SUPPORT this Noble Cause by DONATING NOW!
Please Note: Although the link takes you to the Mercy Ships Australian site you can donate there for it will do the same thing
Or visit: MERCY SHIPS International: www.mercyships.org/international - for a list of many countries to donate!

Friends, I am sure that you will have noted that the reason for my writing about MERCY SHIPS is to seek support for this very special cause, for every single person that joins the Mercy Fleet cause will be supporting a volunteer and that is regardless their job on board the ship, from cleaning the ship, or a nurse, to a well known and highly qualified doctor and surgeon, or a kitchen hand, a top chef, chief engineer or the ships captain. Everyone onboard are fully qualified in their individual field and many will have additional skills as often they will be needed. But the point is that each and everyone is unpaid and thus willing volunteers who love doing what they do, helping those who desperately need our help!
Therefore MERCY SHIPS relies entirely on the support of those who have a heart to give to those who have nothing and who are in desperate need of medical care and in so many cases require urgent surgery! As for me, I have already joined the fight for these people need us desperately and it is also the love of ships and the work that is being done, knowing that lives are being saved and healed!
Here is what the Great Nelson Mandela, the Late President of South Africa, Ellen Johnson Sileaf, President of Liberia and John Howard, Former Prime Minister of Australia had to say;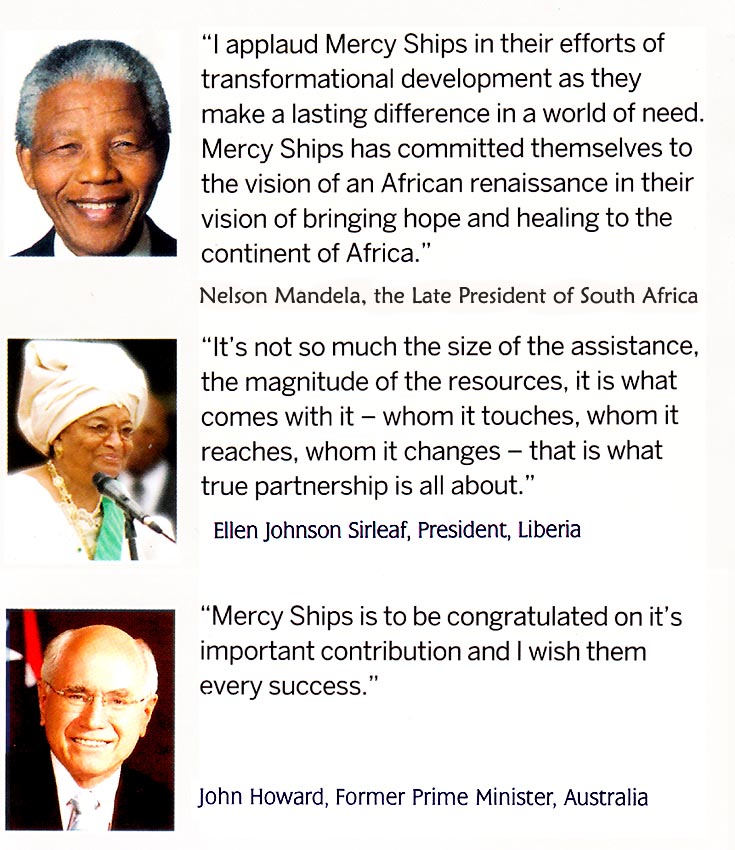 It is important to know that your donations will help to provide FREE surgical operations and medical care to the poorest of the poor who cannot afford it or do not have access to medical care!
Therefore, I thank you for donating, but please keep on reading about MERCY SHIPS for I will now cover their latest operational ship, the MV Africa Mercy below.
Reuben Goossens.
Part Two
The Current MERCY SHIP, ex MV

Dronning

Ingrid - 1980:
The Africa Mercy was built as a Danish rail ferry, the MV Dronning Ingrid by "Helsingor Skibsvaerft A/S," at Elsinore, Denmark at a cost of 180 million Krona in 1980. She had four-rail tracks, two on the portside and two starboard, with the rail carriages being pushed onto the rail deck by rail "horses" from the bow and once again removed from the bow at the other end as her bow lifted up high! She operated for almost 19 years, but was placed on the market in 1999.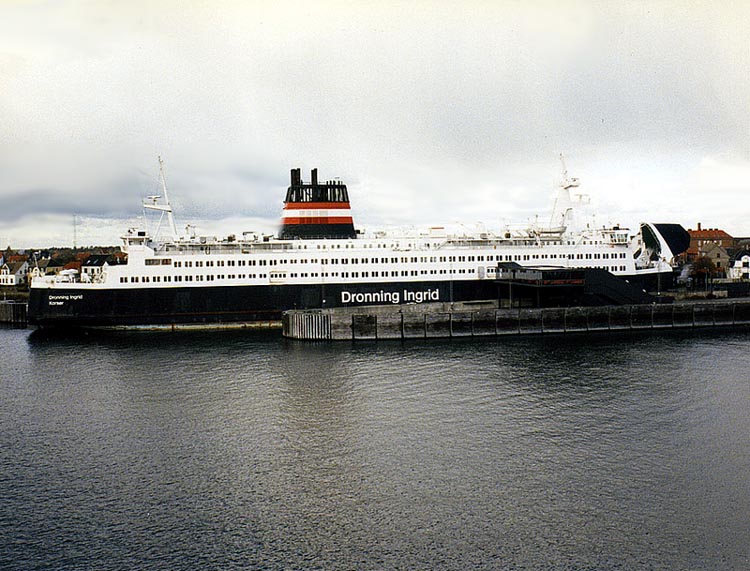 The ferry MV Dronning Ingrid is seen with her bow raised high in order to load rail carriages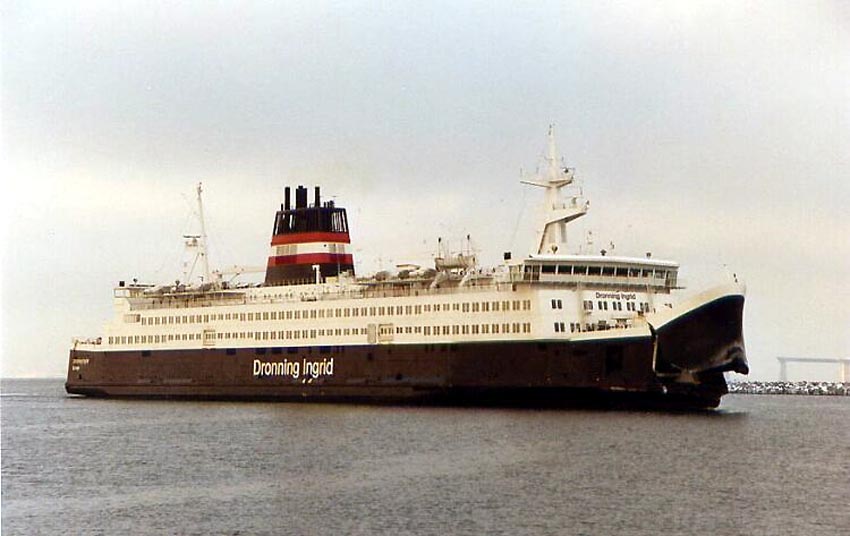 The ferry MV Dronning Ingrid is seen at sea with her bow still partially raised, note her aft additional Bridge
Photograph by & © Marko Stampehl
The MV Dronning Ingrid was acquired by MERCY SHIPS in 1999 and she was at first renamed "Ingrid" whilst undergoing extensive conversion from a being typical Danish rail ferry into the world's largest non-government fully operational Medical Centre and fully functioning Hospital Ship.
What makes MERCY SHIPS so special is that it is fully funded by both private donors and it is without doubt that without individual donors MERCY SHIPS just could not survive and thankfully it has done just that since 1978!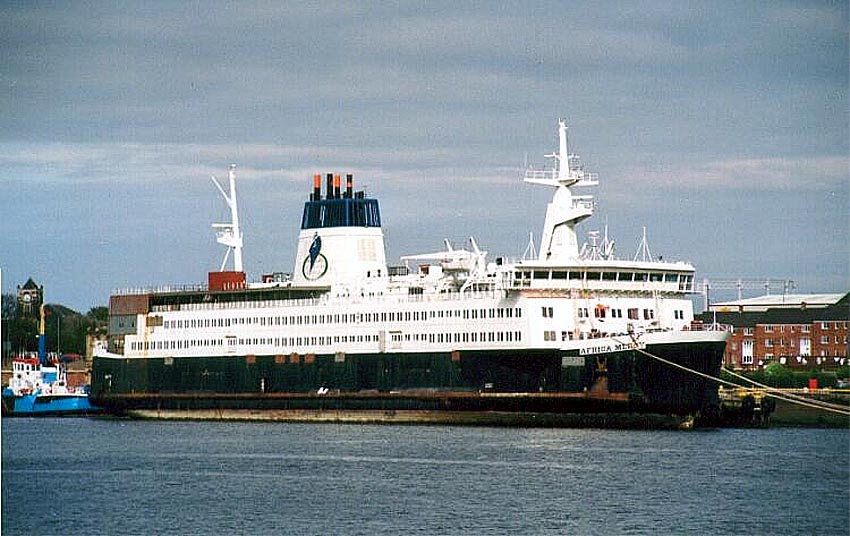 Although still officially named Ingrid she had the name Africa Mercy stencilled onto her bow temporarily during her conversion
We can also see the aft rebuilding taking place for she did have a 2nd.aft Bridge as built as can be seen in photo's above
Photograph by & © Rob de Visser
During the reconstruction of the MV Ingrid she had two new hospital decks installed and had many new operating theatres and an 82-bed ward as well as a doctors surgeries and a number of waiting rooms and other typical hospital venues
MS Africa Mercy:
Having been renamed the MS Africa Mercy she had become a complete and fully functioning hospital and medical centre at sea, for she has ample meeting and workspaces as well as accommodation for a crew and staff of around 450.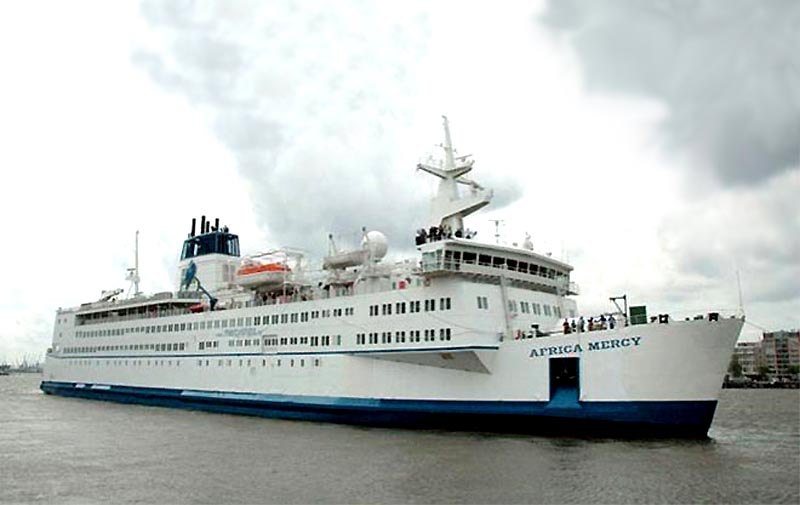 This is the Africa Mercy with her original white funnel and we can see that her bow was now beautifully welded
Every single person working on the ship does a job on a 100% volunteer basis, regardless the position; the Captain, Chief Engineer, Deck hand, Chief Surgeon, Doctor, Nurse, or a Chef, They  all rely on your donation, for they, as well as the upkeep of the ship to continue to do the wonderful work the Africa Mercy has been doing!
For the staff and crew, the ship has 474 berths that are split between 26 family cabins, 25 two-berth cabins for couples, as well as somewhat larger shared cabins and single cabins for individual occupants. All cabins are designed to maximize space and have a small wardrobe, a desk area for each person, Internet access with the majority of cabins having a private bathroom. For the single member onboard they will bunk in a multi-berth cabin. There are a limited number of double-bedded cabins that are reserved for married couples – see the photograph below.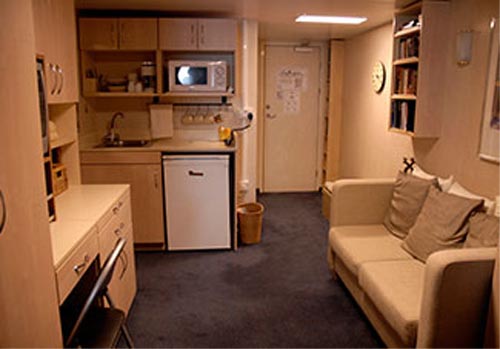 This a Double Cabin for a married couple
Officers setting a course on the Bridge
Safety & Security:
The MV Africa Mercy is fitted with an automatic sprinkler system throughout the accommodation and hospital areas. She has an addressable smoke detector system pinpoints the exact location of the source of any potential fire. Machinery spaces are covered by CO2 gas flooding system as well as a "Hi Fog" system which can be very effective in controlling localised fires in the machinery space. Ghurkha security guards man the gangway 24 hours a day with metal detectors and other screening devices. They are backed up by CCTV around the ship, while critical spaces such as the bridge and engine room remain locked at all times.
Specifications:
Builder:                              Helsingor Skibsvaerft A/S, Elsinore, Denmark.
Yard:                                  418.
Delivered:                           1980.
Main Engines:                      4 Burmeister & Wain (3120 kW each).
Speed:                               19.9 knots (as built).
Tonnage:                            16,572 GRT.
Length:                               152 m.
Breadth:                             23.7 m.
Draft:                                 6.0 m.
Cargo Capacity:                   1,724 m3.
Accommodations:                 474 Staff & Crew.
Registered:                         Malta.
Surveyed By:                       Bureau Veritas.
MV Africa Mercy - Facilities & Features:
Hospital:
The hospital covers most of the original rail deck that is approximately 1,200 square metres. It is divided into quadrants containing supply and services, with six operating theatres, recovery and intensive care as well as low-dependency wards with space for 82 patient beds. The annual medical capacity is at least 7,000 surgical procedures onboard, that includes some cataract removals and lens implants, but also countless tumour removals, cleft lips and palate reconstructions, orthopaedics and obstetric fistula repairs. Thankfully the hospital has a CT scanner, which is a blessing for some countries this is an unknown, and this is a life saving piece of equipments! There is also X-ray and laboratory services as well as a Nikon Cool scope that allows remote diagnosis almost instantaneously. Whenever required, diagnoses are transmitted via an onboard satellite communication system to doctors in developed countries far away!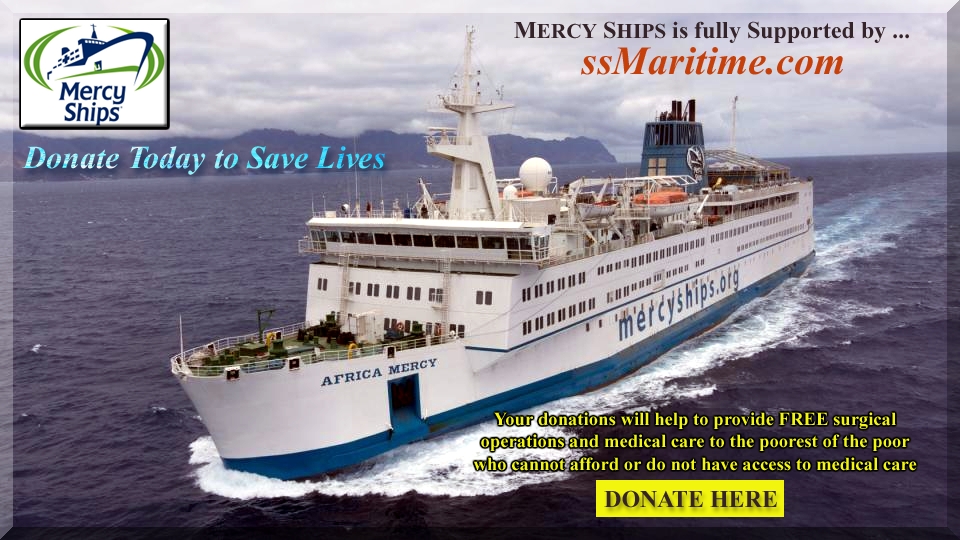 MV Africa Mercy is seen here in her current livery - Please click the IMAGE and DONATE!
MERCY SHIPS Websites:
Mercy Ships International: www.mercyships.org/international - Australia: www.mercyships.org.au
Canada:  www.mercyships.ca - The Netherlands: www.mercyships.nl - & United Kingdom: www.mercyships.org.uk
Other countries are listed on the international site!

Please SUPPORT this Noble Cause by DONATING NOW!
Please Note: Although the link takes you to the Mercy Ships Australian site you can donate there for it will reach the very same area!
Or visit Mercy Ships International: www.mercyships.org/international for your country.
Also view a 3.48 minute The Surgery Ship" trailer
Enter this Link … https://youtu.be/I_5Rei4jFeA
These are just some of the Programs Ashore:
In addition to the many operations performed onboard, there are also ship-based teams working in local villages that provide a wide array of services to increase health and well-being. These include dental clinics, medical clinics, community health education, HIV/AIDS intervention, water and sanitation projects including well drilling, construction, agriculture and micro-enterprise projects.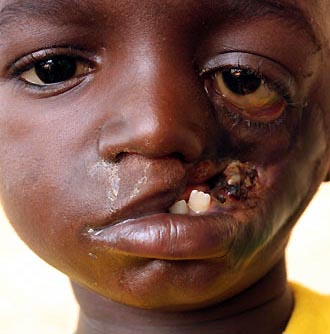 --------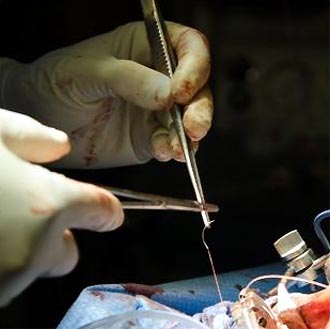 This and so many other amazing surgeries are done by Mercy Ships doctors and surgeons!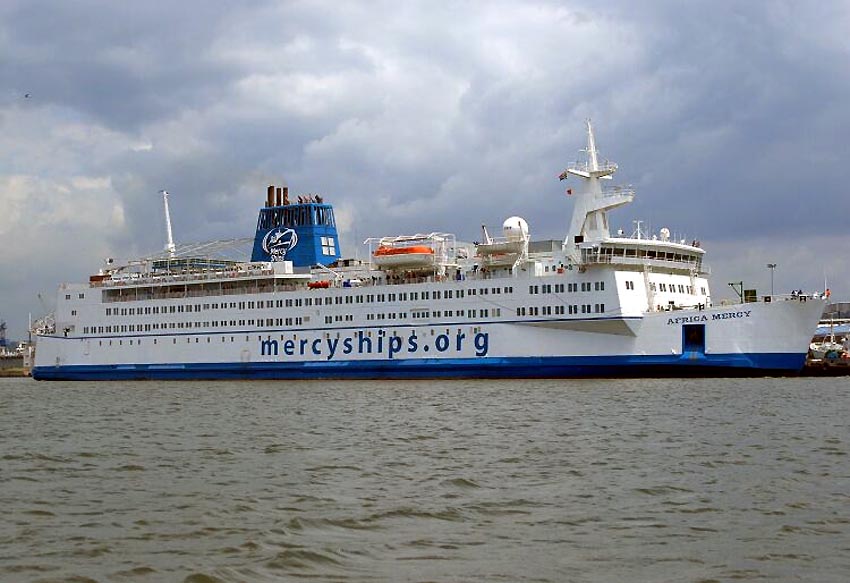 MV Africa Mercy is an excellent ship and has served MERCY SHIPS well and she will continue to do so!
For Interest, Since 1978:
To date, MERCY SHIPS have performed more than 1.7 million services valued at over $670 million and impacting more than 1.9 million people as direct beneficiaries. Some of the more notable statistics include:
Performed more than 32,500 surgeries such as cleft lip and palate, cataract removal, straightening of crossed eyes, orthopaedic and facial reconstructions.
Treated more than 212,000 people in village medical clinics. Performed more than 183,000 dental treatments.
Taught over 14,500 local health care and professional workers, who have in turn trained many others in primary health care.
Taught 95,000 local people in primary health care.
Trained local medical professionals in modern health care techniques.
Delivered more than $60 million worth of medical equipment, hospital supplies and medicines.
Completed more than 900 community development projects including construction of schools, clinics, orphanages, water wells and agriculture programs.
Demonstrated the love of our Heavenly Father to people in over 550 ports visited in 70 different nations.
More than 850 career crew from over 40 nations will serve on board a Mercy Ship these days.
More than 1,600 long and short-term volunteers, doctors, nurses and other caregivers and a host of workers and crew serve with Mercy Ships each year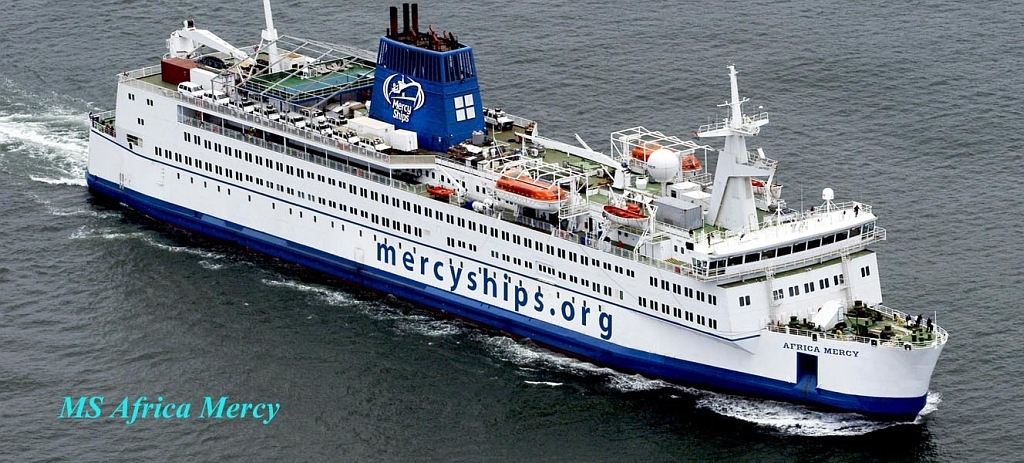 Thank you for supporting MERCY SHIPS and if you have not done so
as yet PLEASE click the button below for even a small amount helps!

Or visit Mercy Ships International: www.mercyships.org/international for your country

View a short "Surgery Ship" trailer 3.48 minutes

Enter:  https://youtu.be/I_5Rei4jFeA

"He who is kind to the poor lends to the LORD, and He (the LORD) will reward him for what he has done."

Proverbs 19:17

MERCY SHIPS INDEX:                                                

1… MV Anastasis:                                          ex MV Victoria.

2…

MV Island Mercy:                                     ex MV Good Samaritan & Petite Forte.

3…

MV Caribbean Mercy:                               ex MV Polarlys.

4…

MV Africa Mercy:                                      ex MV Dronning Ingrid (Operational).

*************************

"Blue Water Liners sailing to the distant shores.
I watched them come, I watched them go and I watched them die."

Return to the ssMaritime MAIN INDEX

ssMaritime.com & ssMaritime.net

Where you will discover over 1,270 Classic Liners & the 1914 built MV Doulos Story

The Author has been in Passenger Shipping & the Cruise Industry for some 60 years!

Also visit the …

"Save The Classic Liners Campaign"

Founded in the early 1990's - The author is the founder and president

Please Note: ssmaritime and associated sites are 100% non-commercial and the author seeks no funding or favours of any shape or form, never have and never will!

Photographs on ssmaritime and associate pages are by; the author or from the author's private collection. In addition there are some images that have been provided by Shipping Companies and private photographers or collectors. Credit is given to all contributors. However, there are some photographs provided to me without details regarding the photographer/owner concerned. I hereby invite if owners of these images would be so kind to make them-selves known to me (my email address may be found on www.ssmaritime.com only), in order that due credit may be given.

This notice covers all pages; although, and I have done my best to ensure that all photographs are duly credited and that this notice is displaced on each page, that is, when a page is updated!

ssMaritime is owned & © Copyright by Reuben Goossens - All Rights Reserved