Mercy Ships - MV Africa Mercy
Please Note: Firefox, iPhones, & some other Search Engines may not be suitable
Use Google Chrome for this Web Page to load perfectly!

Click the logo above to reach the ssMaritime FrontPage for Ships of the Month & News Updates
With Reuben Goossens
Maritime Historian, Cruise'n'Ship Reviewer, Author & Lecturer
Please Note: All ssmaritime as well as my other related maritime & cruise sites are 100% non-commercial and privately owned sites. Be assured that I am NOT associated with any shipping or cruise companies or agencies or any other organisations! The author has been in the passenger shipping industry since May 1960, but although retired and unwell, I occasionally attempt to write an article now and then, in order to bring enjoyment and pleasure to ship enthusiasts past passengers and crew.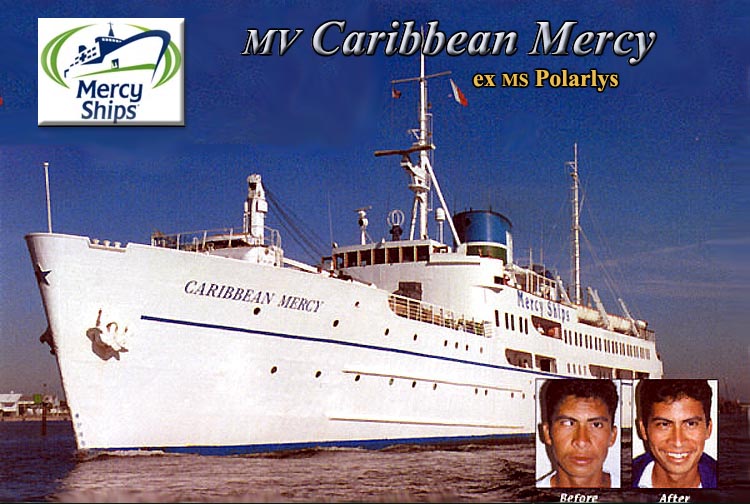 Part One
Introduction:
The truth is that I have had a long personal interest with MERCY SHIPS an amazing 100% volunteer medical organisation that travels the world by ship and provides free medicine and surgeries wherever it is needed. This wonderful mission commenced in 1978 with their first ship and continued with a number of fine classic style ships, one of these being another fine and well-known classic ship.
The MS Polarlys Story
:
The famed Hurtigruten or Postal/cargo and passenger service from Bergen to northern Norway had ordered a fleet of ships and the thirteenth ship was delivered on September 27, 1952 and she was the last to be built. She was given a traditional name from Bergen Steamship Company's third new Norwegian coastal ship originally built by the Aalborg Shipyard and the all new MS Polarlys took over as the final ship of the fleet and therefore it was now possible for daily departures to as far north as Kirkenes.

This is a drawing of the MS Polarlys seen as built with the original kingposts and derricks forward
Also seen are the two small electric cranes that remained when the new larger crane was fitted later
Copyright © Mike Bent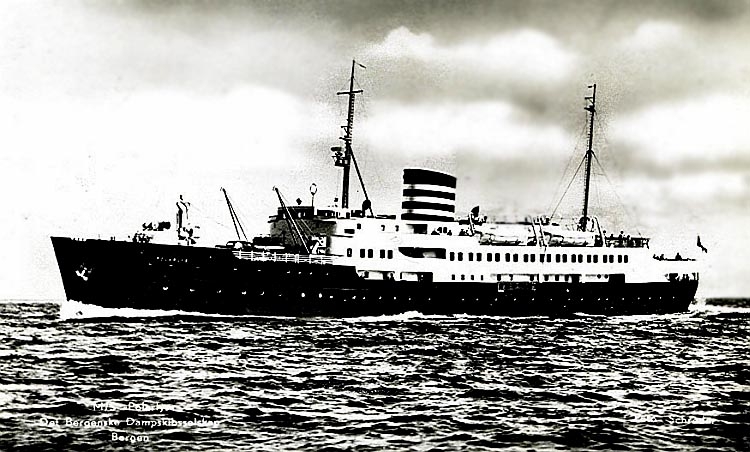 Here we see the Norwegian MS Polarlys as built; she proved to be an exceptionally reliable ship!
Note her new large electric crane on her forward bow
As built the Polarlys was 2,163 GRT (Gross Registered Tons), or with a Dead Weight of 600-tons, a length of 80m - 262ft, width of 12.2m – 40ft. She was powered by an 8-cylinder Burmeister & Wain – 2,950 BHP that gave her a speed of 15.5 knots.
Decor was quite attractive having a spacious Buffet Restaurant for both First and Second Class and lounges were grouped together on Promenade Deck, whilst the majority of accommodations were located on the B and C Decks. In total she could berth 186 bunks passengers, however, she was certified to carry an additional 264 deck passengers between short haul ports.
A fine bow view of this delightful ship
The delightful MS Polarlys as history proved had an amazing and a reliable career for 42 years sailing Norwegian waters and at time further afield, but with new ships being built she was slowly becoming obsolete and was sold to TFDS in January 1979, for 32 million Krona, but she continued sailing with Hurtigruten until later that year. On August 30, the MS Polarlys was officially handed over and she received a refit and her registration was changed to the city of Tromso. She still operated the coastal postal services, but also operated cruises, which meant that and she would now departed her own shores and head further afield, even as far as Mexico City.
However it was decided in November 1981 to give this fine old lady a new set of engines and after the old ones had been removed they inserted brand new MAK engines with 3,670 BHP offering superior power and she became a faster ship by a good 2 addition knots, now sailing at 17.5 knots, but with a top speed of over 18 knots. She was delivered in March 1983
However, mid 1993 would be the Polarlys' conclusion with Hurtigruten and her connection with Norway, for whilst she was on her final cruise to Ireland and Dublin on June 6 returned and offloaded her passengers. Thereafter she returned to Aalborg in Denmark where she was originally built and arrived to a massive fanfare and welcome for this was her final port of call before being sold. When her last passengers had disembarked, she was de-stored and laid up waiting to be sold!
Part Two - A Ship of Medical Miracles!
MERCY SHIPS -
MV
Caribbean Mercy
It would be at the end of April 1994 that the MS Polarlys was sold to MERCY SHIPS in Lindale, Texas, being a wonderful 100% volunteer medical humanitarian organisation "MERCY SHIPS" and she was renamed the Caribbean Mercy. Having received an extensive makeover she became an efficient floating hospital and medical center and she served primarily in Central America and around the Caribbean basin providing free medical services to all who were in need, be it from minor heath care to major cranial reconstructions, as well as life saving surgeries!
During her excellent 12-year history with MERCY SHIPS it is said that the MV Caribbean Mercy contributed around 20% of Mercy Ships' total output in terms of the number of services, value and she proved to be a perfect ship for them at that time.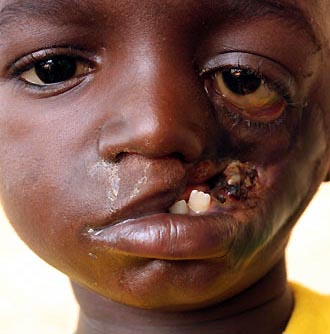 --------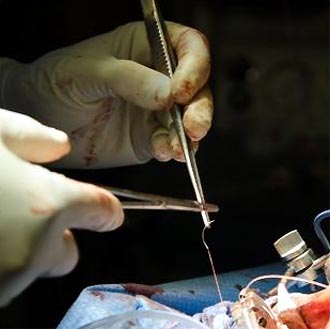 This and so many other amazing surgeries are done by Mercy Ships doctors and surgeons!
As a maritime historian, it was of great interest to me that during her first 42 years the MS Polarlys sailed mostly along the Norwegian coastal waters and that only briefly whilst she was the Adriatica cruise ship she made a few voyages further afield. But after her transformation into a hospital ship and her 12 years of service as a Mercy Ship she has visited 137 total ports in a good 18 countries. There are further details on her amazing achievements below!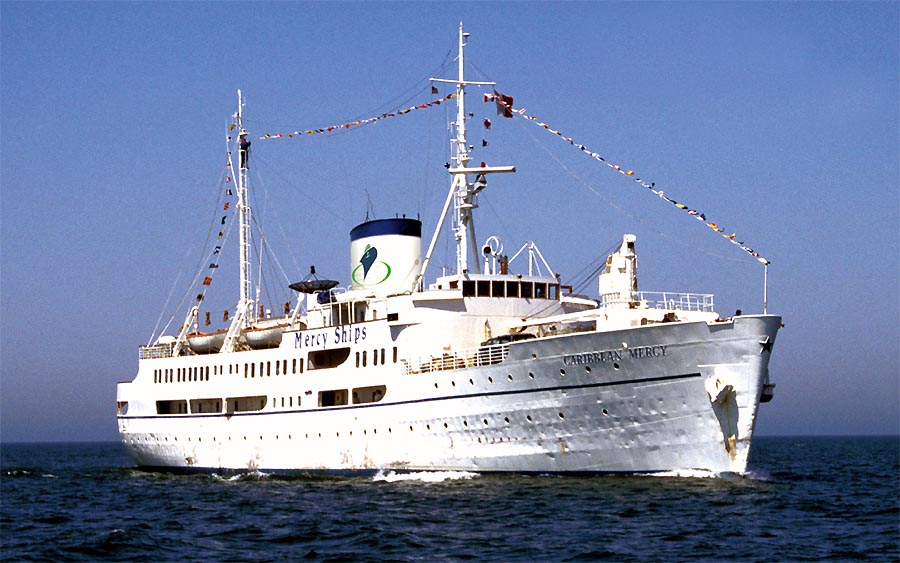 This is a Mercy Ship's postcard of the MS Caribbean Mercy
During her 12-year history with MERCY SHIPS, the Caribbean Mercy contributed more than 20% of Mercy Ships' total output in terms of number of services, value and beneficiaries, serving primarily in Central America and the Caribbean basin. Whilst she was in port she hosted an average crew of 120 volunteers from more than 20 nations.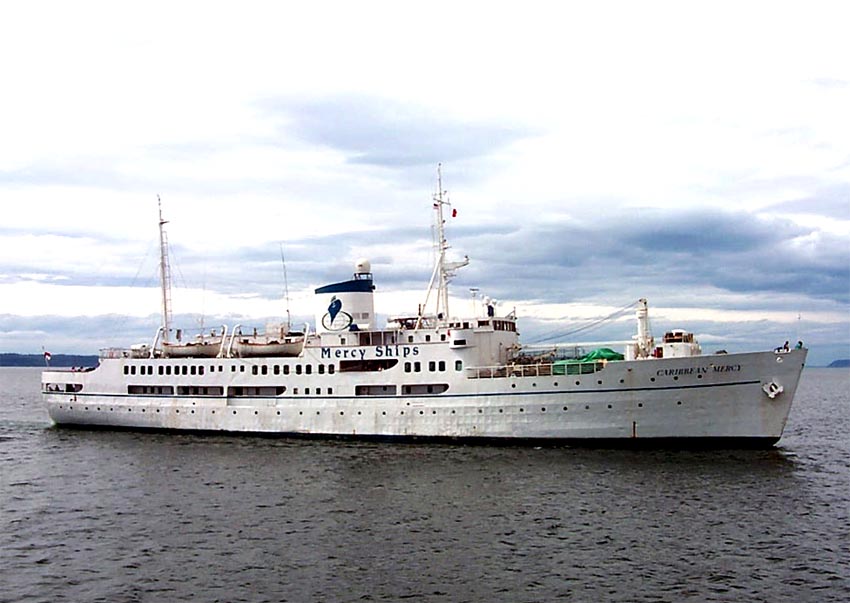 Seen here heading for her next destination where is much needed
Facilities & Features
The Caribbean Mercy was also fitted with a highly specialised eye surgery unit, and could accommodate up to 150 people while she was in port. She also had facilities for conference and seminar facilities as a variety of programmes were offered to update medical teams in ports of the latest techniques. Her fuel and water tanks provided a cruising range of 12 days or a good 3,600 miles.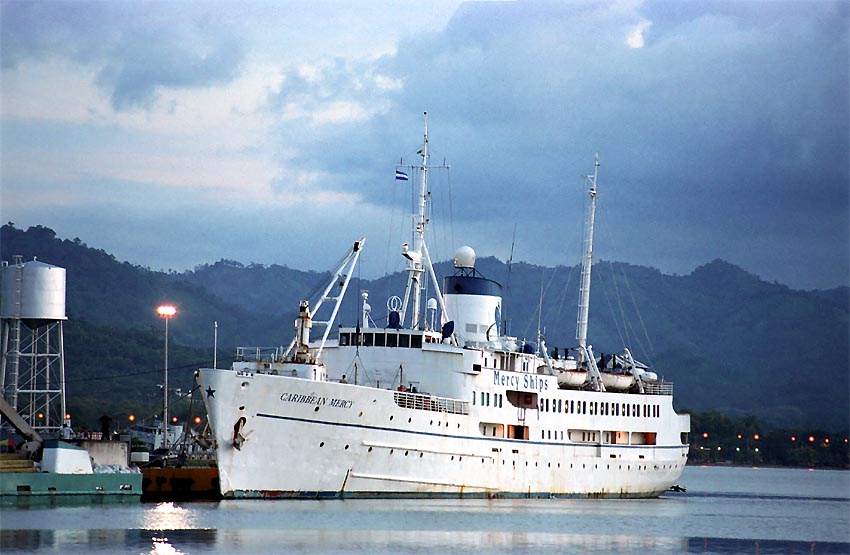 Here we see the MV Caribbean Mercy in port where she is undertaking countless operations and other services on board
As well as having teams at clinics ashore helping their trained nurses and doctors with their patients!
Services Delivered
Crew onboard the Caribbean Mercy offered close to 289,000 services, at a value of over $100 million and with 348,800 people as direct beneficiaries.
Performed more than 7,000 surgeries such as cataract removal, strabismus, dental and countless orthopaedic procedures.
Treated more than 54,300 people in village medical clinics.
Performed 18,200 dental treatments.
Taught more than 1,500 local health-care workers, who have in turn trained many others in basic health care.
Trained local medical professionals in modern health-care techniques to carry on after the ship's departure.
Delivered more than $2 million of medical equipment, hospital supplies and medicines.
Completed more than 140 construction and agriculture projects including schools, clinics, orphanages and installed bores and water wells.
Ports Visited
The Caribbean Mercy visited 137 total ports in her 12-year history, and conducted 56 field assignments in 18 nations, including: Dominican Republic, Haiti, Nicaragua, Guatemala, El Salvador, Russia, Korea, China, Philippines, Colombia, Puerto Rico, Honduras and Belize.
Trivia
During her first 42 years the ship only travelled within Norway. During her 12 years of service as a Mercy Ship, she visited 18 countries. In 2006 she was sold to a family foundation to be renovated.
Specifications: (Bold = MS Polarlys):
Built by:                             Aalborg Vaerft, Aalborg, Denmark 1952.
Registered:                         1952 Bergen, 1979 Tromso & 1994 Monrovia.
Main Engine:       8-cylinder Burmeister & Wain – 2,950.
.                                        1 MAK diesel (3,670 BHP).
Speed:                               15.5 knots.
.                                        17.5 - max 18 knots.
Tonnage:                            2,163 GRT.
.                                        2,125 GRT.
Length:                               80 m - 262 ft.
Breadth:                             12.2 m - 40 ft.
Drought:                             4.5 m – 14.9 ft.
Crew:                                 87.
Cargo Capacity:                   688 m3.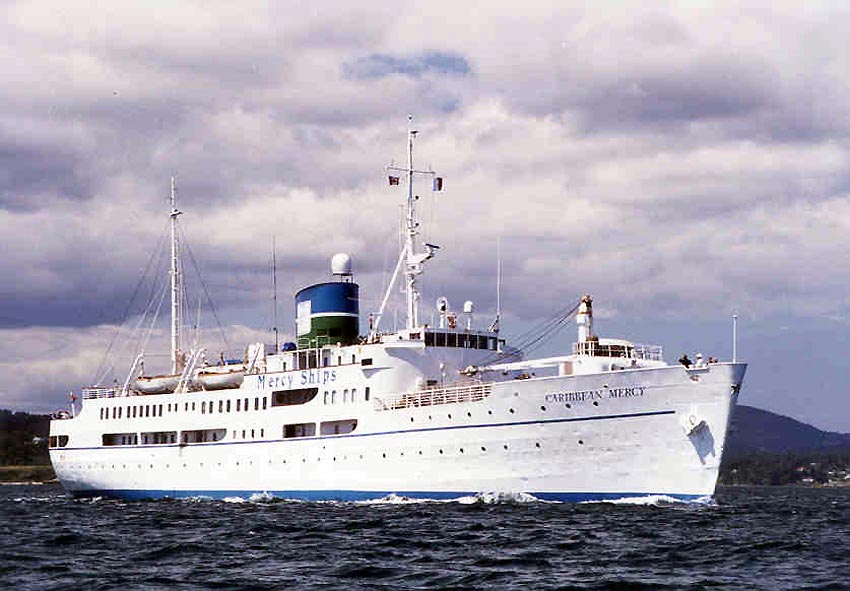 Being a well-designed Scandinavian ship, she looked simply beautiful right through to the very end!
Due to the soon arrival of a new ship the Caribbean Mercy was sold in 2006 to the Sherman Family Charitable Foundation. The new owner wanted to the now renamed ship Home II to be renovated, but she quickly deteriorated and this sadly hindered their plans. She was finally in sold 2010 and 2011 she was broken up in Cristobal in the province of Colon, Panama.
As I Am a
Supporter of MERCY SHIPS I will ask, will you Please HELP those who urgently need your help?

Do I need to say more?
The Current Ship is the Africa Mercy

Healing

countless thousands of those in need!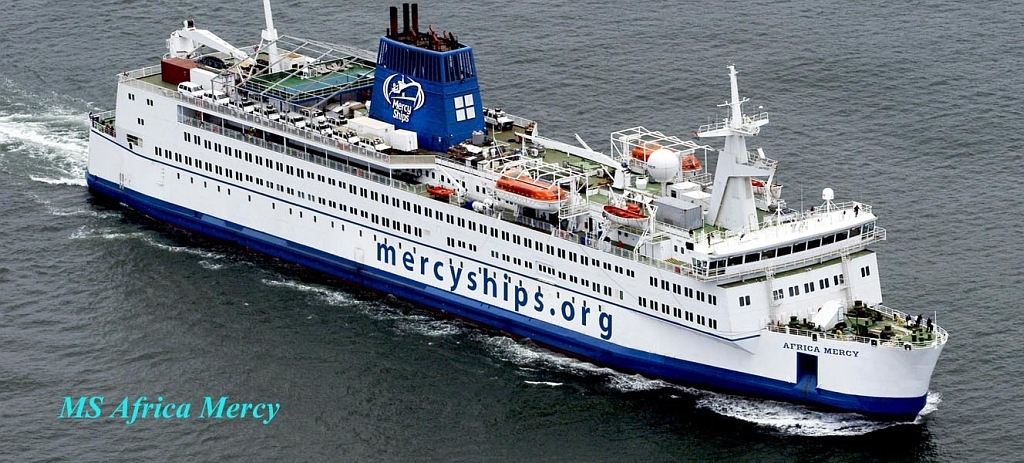 Thank you for supporting MERCY SHIPS and if you have not done so
as yet PLEASE click the button below or even a small amount helps!

Or visit Mercy Ships International: www.mercyships.org/international for your country

View a short "Surgery Ship" trailer 3.48 minutes

Enter:  https://youtu.be/I_5Rei4jFeA

"He who is kind to the poor lends to the LORD, and He (the LORD) will reward him for what he has done."

Proverbs 19:17

MERCY SHIPS INDEX:                                           

1… MV Anastasis:       ex MV Victoria.

2…

MV Island Mercy:        ex MV Good Samaritan & Petite Forte.

3…

MV Caribbean Mercy:       ex MV Polarlys.

4…

MV Africa Mercy:       ex MV Dronning Ingrid (Operational).

*************************

"Blue Water Liners sailing to the distant shores.
I watched them come, I watched them go and I watched them die."

Return to the ssMaritime MAIN INDEX

ssMaritime.com & ssMaritime.net

Where you will discover over 1,270 Classic Liners & the 1914 built MV Doulos Story

The Author has been in Passenger Shipping & the Cruise Industry for some 60 years!

Also visit the …

"Save The Classic Liners Campaign"

Founded in the early 1990's - The author is the founder and president

Please Note: ssmaritime and associated sites are 100% non-commercial and the author seeks no funding or favours of any shape or form, never have and never will!

Photographs on ssmaritime and associate pages are by; the author or from the author's private collection. In addition there are some images that have been provided by Shipping Companies and private photographers or collectors. Credit is given to all contributors. However, there are some photographs provided to me without details regarding the photographer/owner concerned. I hereby invite if owners of these images would be so kind to make them-selves known to me (my email address may be found on www.ssmaritime.com only), in order that due credit may be given.

This notice covers all pages; although, and I have done my best to ensure that all photographs are duly credited and that this notice is displaced on each page, that is, when a page is updated!

ssMaritime is owned & © Copyright by Reuben Goossens - All Rights Reserved